Europe in winter is a magical place, and while you certainly can find several places for winter sun on the continent, this post is all about enjoying the festive side to Europe!
From traditional Christmas markets in Germany to dog sledding and Northern lights chasing in the Arctic, here are all the best places to go in Europe in winter!
Key Things to Pack for Europe in Winter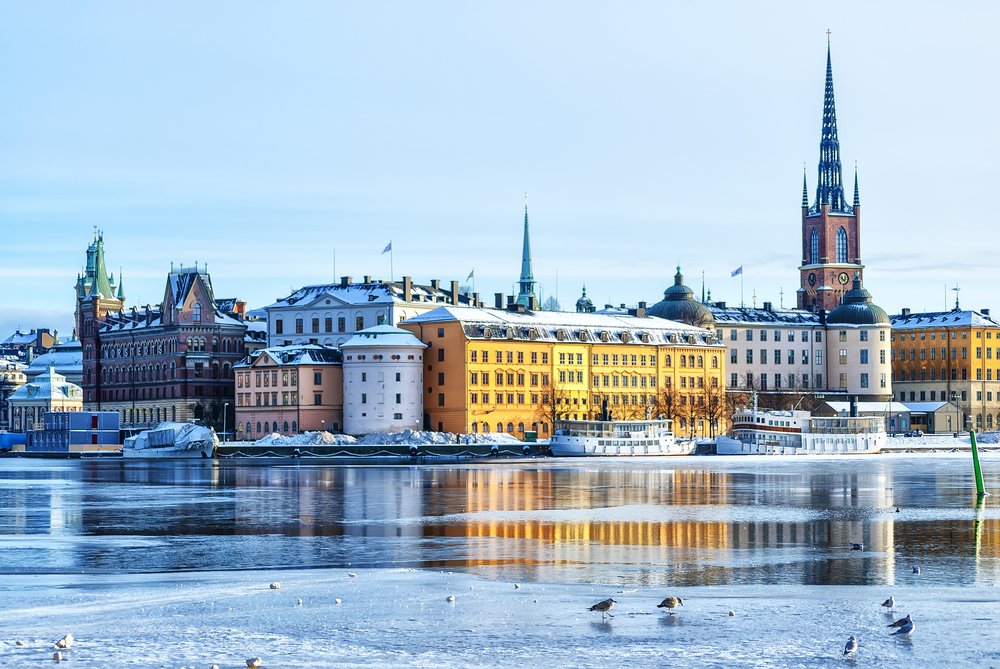 Note: This post contains affiliate links, which means I may receive a small commission if you purchase something through one of these links. Thank you for supporting the free content on this site! For more information on affiliate links and cookies, see my disclosure page for more details.
A good, waterproof parka
While Europe's weather can vary dramatically in the winter, it's best to prepare for the worst and risk being overdressed than the alternative. I am a huge fan of The North Face because they guarantee all their products for life and will fix or replace literally anything you send to them — which I've tested by sending in a much used-and-abused down jacket that was returned looking like new.
Their jackets aren't exactly budget-friendly, but they're a great investment if you're looking for a winter coat that will last a lifetime. This is the parka I own and I'll use it for life (unless North Face cuts me off for how badly I abuse my clothing).
Thermal layers
A good winter parka goes a long way, but unless you're matching that down jacket with proper layers underneath, you won't be maximizing your potential warmth.
Everyone raves about wool's warmth-retaining properties but I can't tolerate it – it makes me so itchy that I want to tear off all my skin. If you can stand wool, something like these merino wool leggings paired with a cashmere sweater layer will serve you very well.
Personally, I constantly wear these 32 Degrees thermal layers during European winters — I have about 5 tops that I rotate during the winter between laundry days. On bottom, I wear these fleece-lined leggings.
Waterproof boots and warm socks
I've never really felt like snow boots are entirely necessary unless you really are planning on spending a lot of time in deep snow, like if you're staying in a cabin in the woods or spending a significant amount of time in Lapland or ski resorts around Europe.
When it comes to packing for winter in Europe, if your trip is mostly in the cities, you just need two things in your boots: they need to be waterproof and have good traction. I first bought a pair of Blondo waterproof leather boots in 2008 and still own and love them to this day.
Despite many years of abuse and New York winters, I only had to get them resoled once in the last nearly 10 years. I've worn these in every European winter and they've always held up great.
If you plan on doing a lot of hiking in the snow, you may want a proper snow boot. The Elsa snow boot by KEEN is waterproof, insulated, and looks super cozy, and comes highly recommended as one of my friend's favorite hiking boot brands.
Finally, no matter how insulated your boots are, you need proper socks to match – sad, thin cotton socks won't do the trick. I bought these excellent Smartwool socks after hesitating because of the price, but I'm glad I did.
Although I generally hate wool, the skin on my feet is thick enough that I don't mind wearing wool socks at all and can get all the lovely warm wool benefits without the itchiness.
Rome, Italy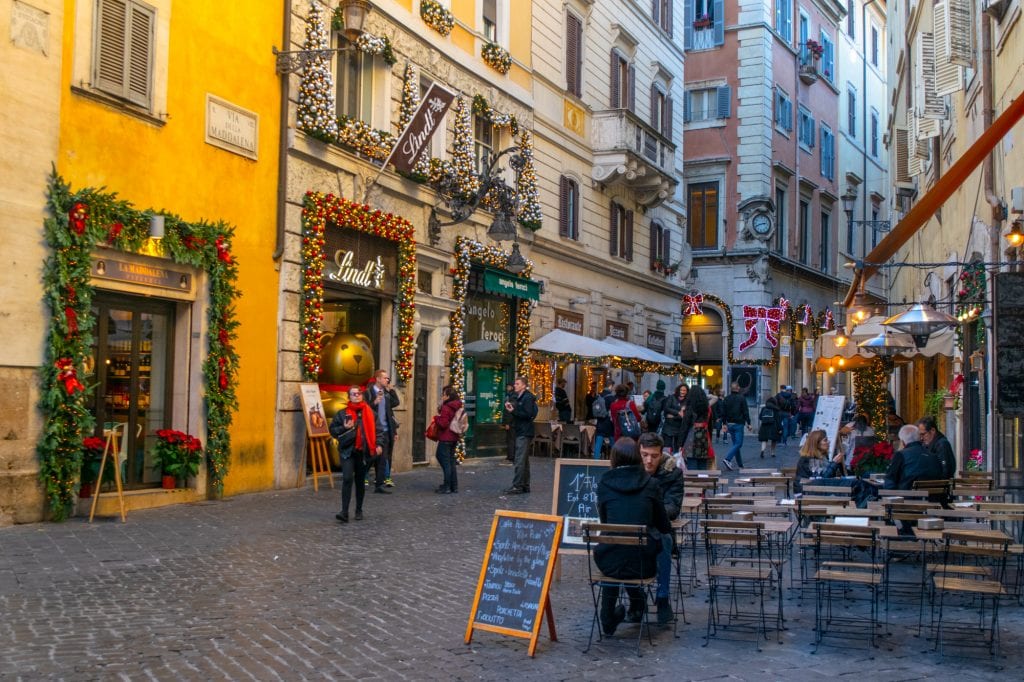 Contributed by Kate of Our Escape Clause
The Eternal City is a delight at any time of year, but visiting Rome in winter means being treated to mild weather, very few crowds, and the chance to have some of Rome's most iconic sights (almost) all to yourself.
With plenty of Christmas decor to see in the city in December and a truly endless list of things to do, you can't go wrong with a winter trip in Rome.
While you're there, be sure to:
See the nativity scene in front of St Peter's Basilica. Not only does St. Peter's Square boast a beautiful Christmas tree during the holiday season, it is also home to an absolutely stunning nativity each year that is carved out of sand!
Watch the sunrise over the Colosseum. There's never a better time of year to get up for sunrise and stay out for sunset–the short winter days make it easy to see the city in its best light.
Stroll down Via Condotti. This avenue near the Spanish Steps is home to some of the best holiday decor in the city.
Eat all the artichokes. Rome is known for its artichokes! They start coming into season in November and really pick up steam in February, making them the perfect dish to try in late winter.
Wander Centro Storico and Trastevere. These two popular neighborhoods in Rome are at their best in winter, when the crowds clear out and Rome's infamous heat dies off. Just be prepared for gray skies!
In addition, December visitors to Rome can enjoy a handful of Christmas markets in the city–but there are much better places to head in Europe in winter for markets! Rome's charms in winter lie outside that classic holiday escape.
Trento, Italy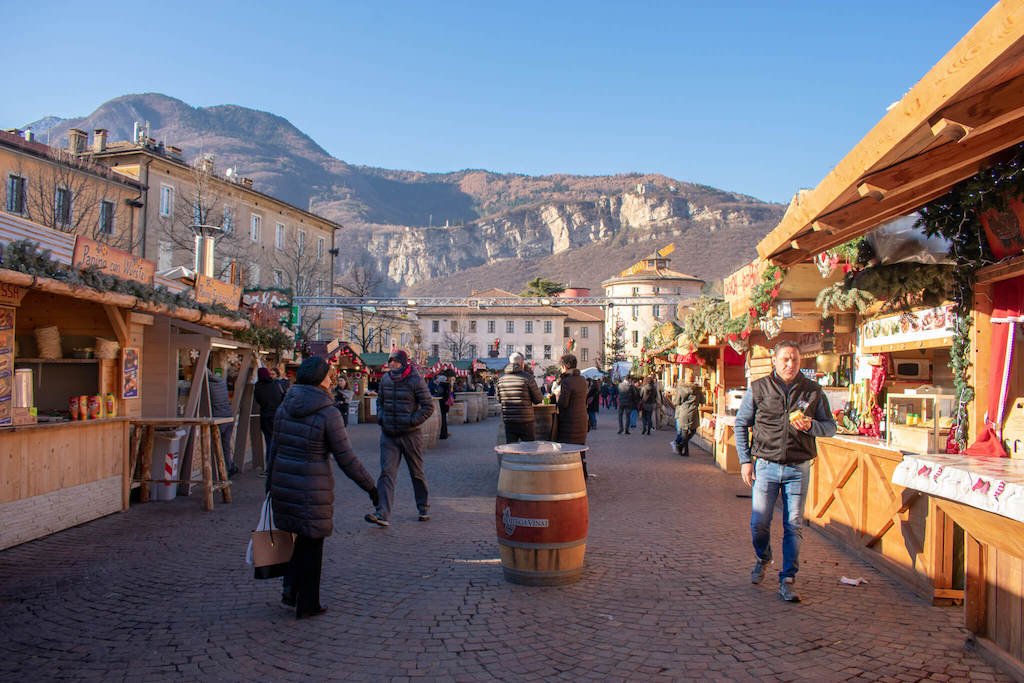 Contributed by Emily of London City Calling
The pretty little Alpine town of Trento sits quietly nestled within the Brenta Dolomites in the Trentino–Alto Adige region of northern Italy. While it may not be as well known as other cities in Italy, Trento is one of the countries real hidden gems, especially during the winter months.
There are so many reason's you should visit Trento during the winter, from wandering down the quaint cobblestone streets looking up at the snow-covered mountains which peek out from behind the city's Italian Renaissance architecture, to indulging on Tortel di Patate washed down with a warm mug of mulled wine at Trento's traditional Christmas markets.
Here are a few things you have to do in Trento in winter:
Visit the main Trento Christmas Market in Piazza Fiera, a real-life winter wonderland with plenty of food and drinks traders, as well as stalls selling artisan products, Christmas decorations, gifts, and more.
Stop by Santa's Grotto and write a letter to 'Babbo Natal' in Piazza Santa Maria Maggiore.
See the giant illuminated Christmas tree in Piazza Duomo.
Hop on the 'Christmas train' and take a ride around Trento's historical center
Take a day trip into the Trentino region for outdoor winter activities such as skiing and tobogganing.
Lake Como, Italy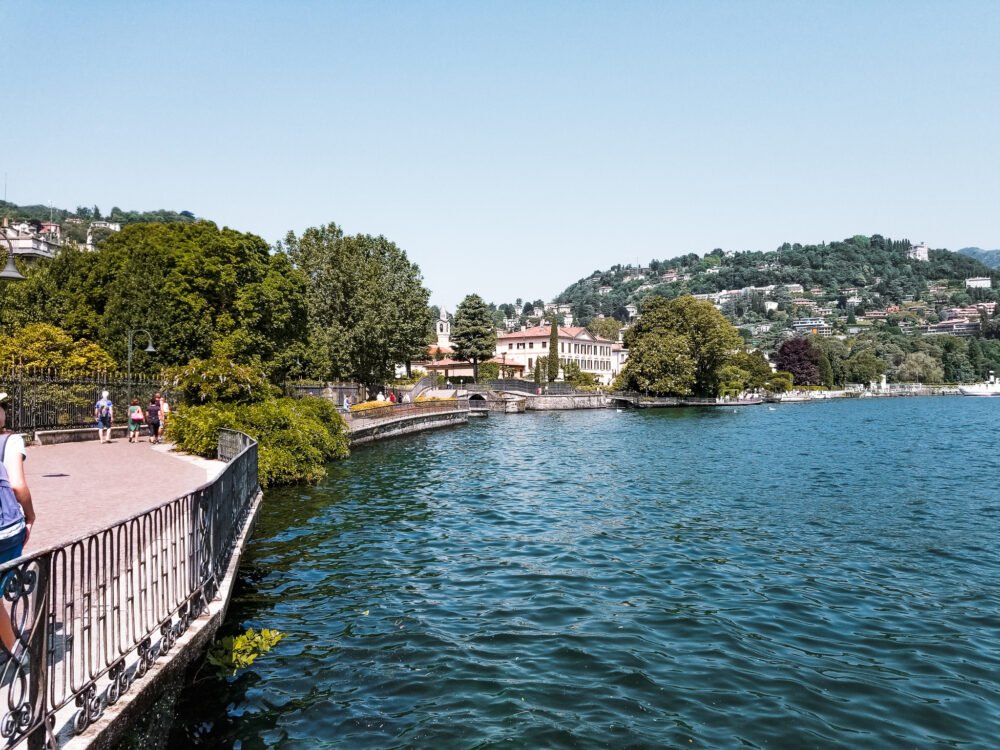 Contributed by Paula of Paula Pins the Planet
Lake Como near Milan is one of the most scenic destinations in Italy all year-round, but it's during winter that the magic happens. The view of the lake nestled amongst the Alps covered in snow is an awe-inspiring sight.
It is not just the beauty of Lake Como in winter that makes it so special. Wintertime is considered low season, which means the prices are lower and it is less crowded.
Just a short trip by train from Milan, Lake Como draws travelers from all over the world to enjoy the stunning lakeside villas with their colorful houses surrounded by the mountains. The diverse landscape gives ample choices for winter activities, and some that you cannot miss are:
A ferry tour to visit the other amazing villages of Bellagio, Varena, and Menaggio
Enjoy the breath-taking Christmas lights in the city of Como, giving the opportunity for a charming Christmas atmosphere.
Christmas Markets can be found around the city of Como, and the opportunity to taste the local delicacies, like local cheese and wine.
Enjoy the ski resorts: some of the most popular ones are Piani di Bobbio, Monte Sighinola, and Valchiavenna.
Spoil yourself at a spa. Como offers many incredible options of luxury spas where you can warm up with a hot stone massage, followed by a jacuzzi overlooking the lake.
Bolzano, Italy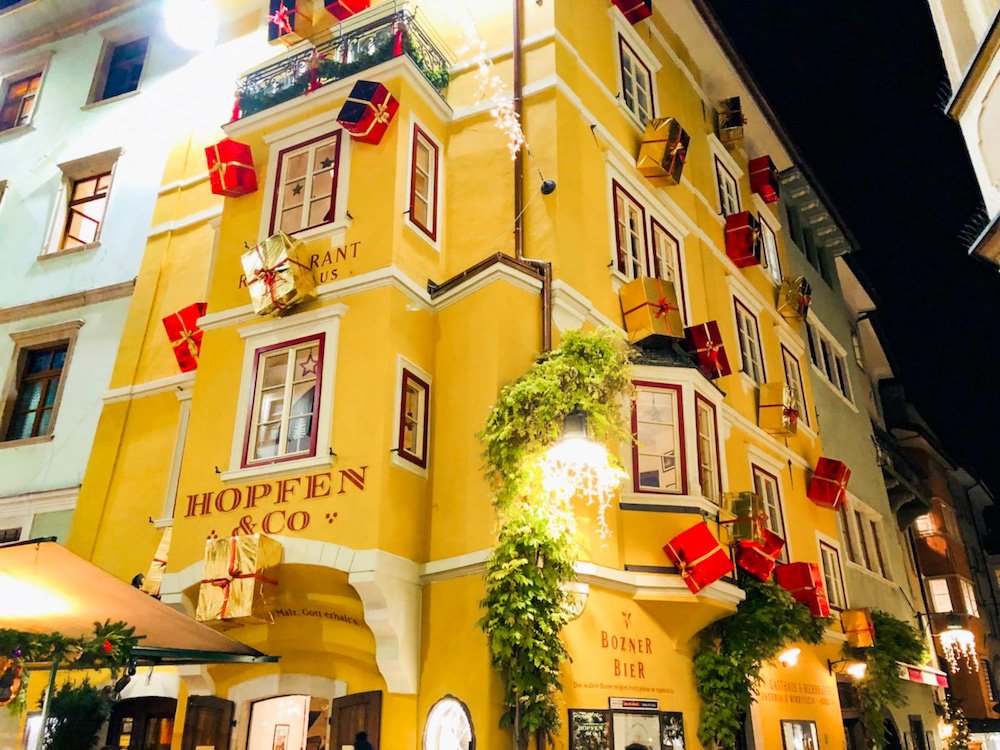 Contributed by Linda of La Dolce Fit Vita
There is no better place in Europe during winter than to be right in the middle of the Dolomites. Surrounded by some of the most beautiful snowcapped mountains in the world, Bolzano is that perfect little Italian town that encompasses that all around fuzzy feeling you might be yearning for during Christmas.
Besides its adorable little Christmas Market, if you're a fan of chocolate and wine then this is hands down the place for you… and I mean who isn't a chocolate and wine fan?
Bolzano is home to the largest Loacker production facility- meaning you will see wafers and hot cocoa pretty much everywhere. Also, the town is right on 'La Strada del Vino dell'Alto Adige.' Translated, the Wine Road of South Tyrol. That means there are dozens of vineyards to explore. And guess what? Wine-tasting, even in winter, is a thing!
There are also a handful of outdoor activities to indulge in – skiing and snowboarding being the most popular. There are so many different ski slopes to pick from, each with different scenery or level of difficulty. Not a fan of winter sports? No sweat, you can head to QC Terme Dolomiti, one of the most luxurious spas in the entire region. And guess what, it's three floors of relaxation and pools and only 45 euros for a day pass… gasp!
As you wander around the town you will find mulled wine on every corner and roasted chestnuts waiting for you every hundred meters or so. In being smaller than other European Christmas Markets, the overall feeling is much cozier. The area surrounding Bolzano is known for its wooden carvings so make sure to not leave without a handmade wooden Christmas ornament!
As a recap:
Go wine tasting on the Wine Road of South Tryol
Treat yourself to a chocolate tasting tour of Loacker products
Hit the slopes to ski or snowboard in the Dolomite mountains
Go to the spa at QC Terme Dolomiti
Wander the Christmas Market and shop for wood-carved souvenirs
Can winter in Europe get better? Wine, chocolate, spas, snow, and Christmas… I think not!
Colmar, France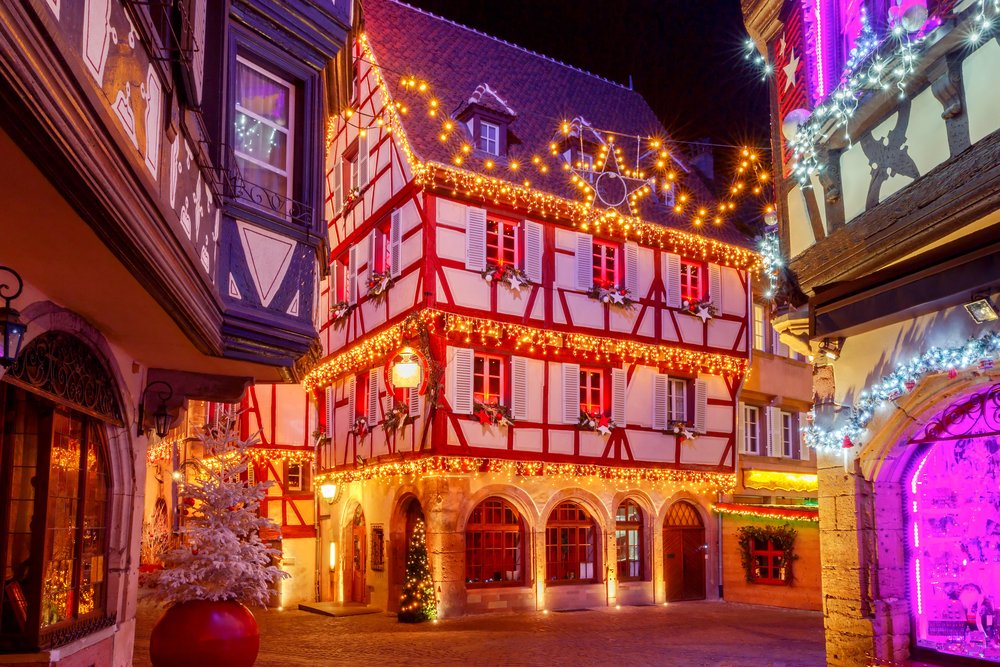 Contributed by Maartje of The Orange Backpack
Colmar in France is one of the best cities in Europe to visit in winter, especially during the holiday season. This charming town in the Alsace in northeastern France is at its most beautiful during the winter months of the year.
The picturesque streets with monumental houses will be decorated with lights and Christmas trees. The medieval setting with half-timbered houses the Alsace is known for will definitely get you in the holiday mood. There will be many Christmas markets to buy souvenirs or get some wintery food, although it's not sure yet if there will be any in the winter of 2020.
The best things to do in Colmar:
Wander around the charming streets and spot the most colorful traditional houses, especially around the area of Petit Venise.
Visit one of the Christmas markets around town.
Visit the Unterlinden Museum for medieval art or the Toy Museum to see the history of toys.
Make some day trips to other Christmas markets in picturesque towns like Riquewirh and Ribeauvillé.
The best way to visit Colmar? Combine your visit with some other charming medieval towns for the perfect road trip in the Alsace. Especially Riquewirh, Ribeauvillé and Kaysersberg are definitely worth a visit and have the same colorful half-timbered house.
Paris, France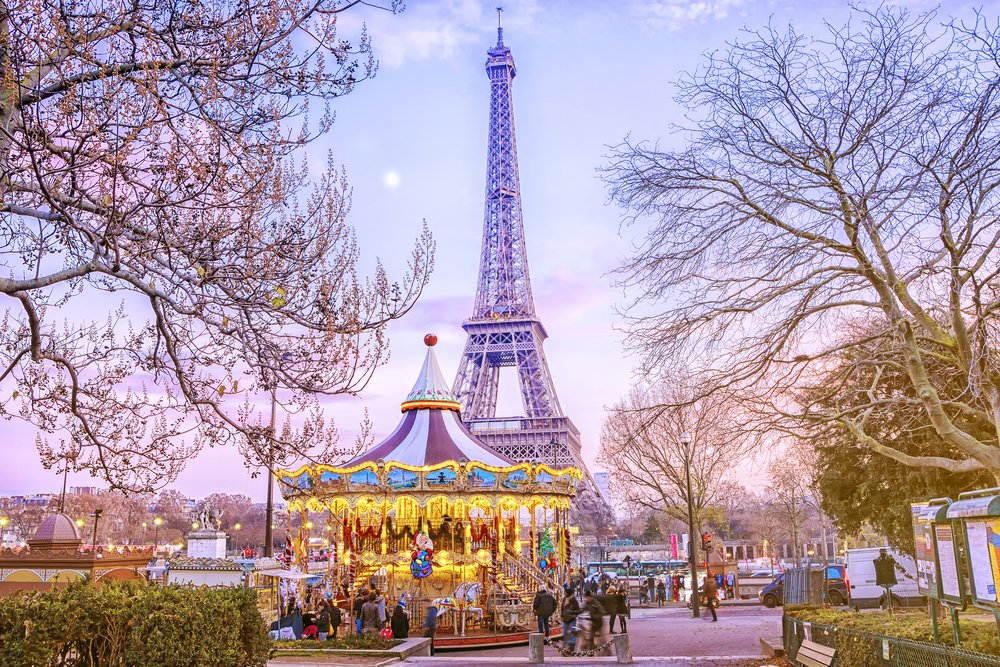 Editor's Choice
Paris is always a good idea: and in winter, that goes even more so!
From charming Seine-side strolls with views of the iconic Parisian art nouveau architecture to ice rinks in front of the Eiffel tower to Christmas Markets and festive lights everywhere you look, winter in Paris is a dream.
Here are the highlights of winter in Paris:
Visiting the massive La Defense Christmas Market, the largest in Paris
Shopping for books at the adorable and historic Shakespeare & Company – and heading up to the second floor to relax in the reading room
Visit the Galeries Lafayette department store for all sorts of Christmas pics
Stroll through the cities iconic covered passageways
Spend time in iconic museums like The Louvre and Musee D'Orsay
Strasbourg, France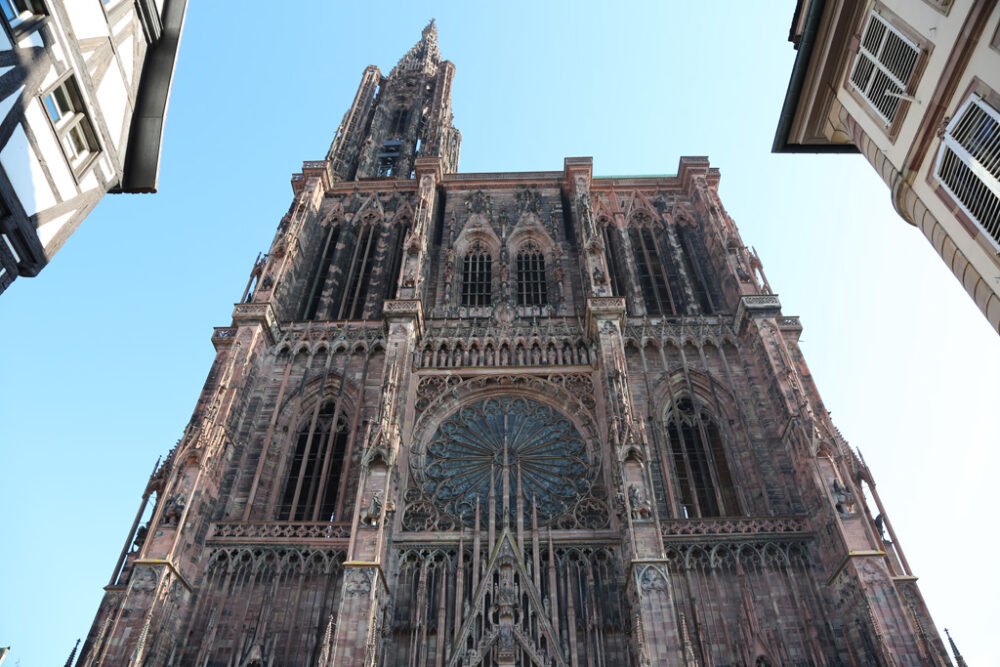 Contributed by Elisa from France Bucket List
Strasbourg is one of the most beautiful cities to visit in France and a good destination to visit all year round, also in wintertime. Strasbourg, in eastern France, is the capital city of the historical region of Alsace and also the capital city of the French region of Grand Est.
Strasbourg hosts one of the most famous Christmas markets in France, and also the oldest. It is also a good destination for sightseeing or a gastronomic trip so if you cannot make it to Strasbourg during the Christmas holidays there are still plenty of things to do around.
We recommend spending at least 2 days in Strasbourg – check out this Strasbourg itinerary to see the main sights. If you have more days available, consider a day trip to visit an Alsatian village or doing part of the Alsace wine route.
If you are visiting the city before or after the Christmas holidays, these are the top things to do in Strasbourg in the winter:
Visit Notre Dame de Strasbourg, one of the most beautiful Gothic cathedrals in France
Explore La Petite France (the tanneries neighborhood) the most picturesque area of Old Strasbourg
Visit the European neighborhood, home of European institutions like the European Court of Human Rights
Learn about the Alsatian wines, perhaps with a wine tasting tour
Try at least one of the popular winstubs – a type of traditional wine bar and restaurant-specific to Alsace. With a warm and rustic atmosphere and good local food, they are super cozy in the wintertime.
Lyon, France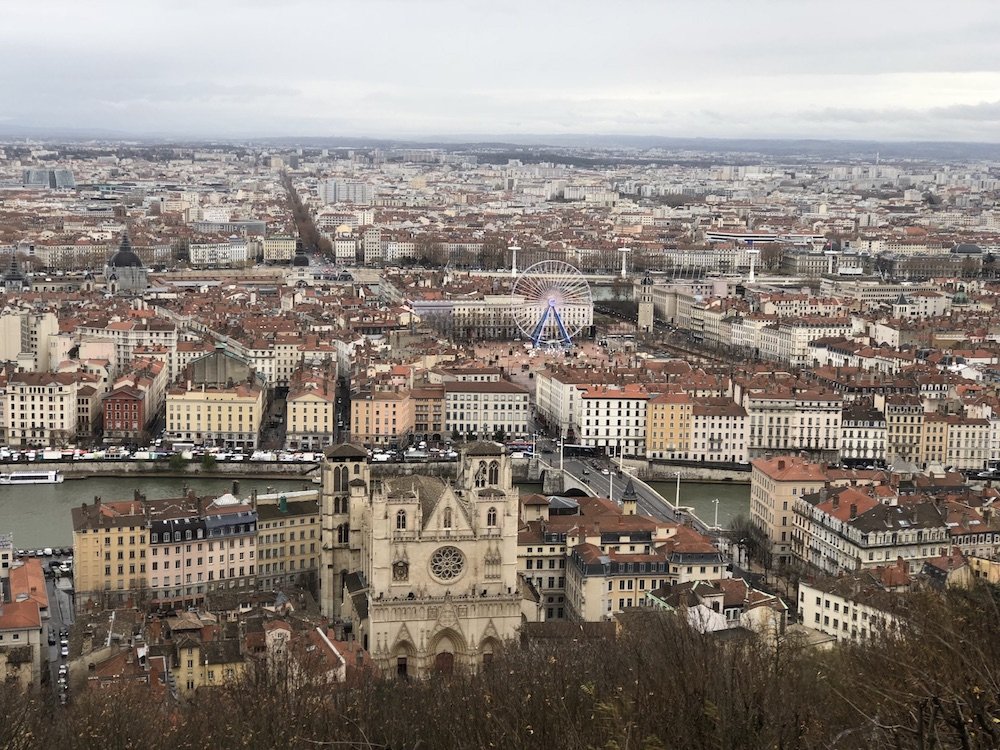 Contributed by Stefan of Nomadic Boys
Lyon is our favorite place in France. It's a city famous for being the gastronomic capital of France, it has a really picturesque old town and a gorgeous backdrop across the Presqu'île where the Rhône and Saône rivers converge. We also love Lyon's gay scene, which is mainly spread across the northern side of the Presqu'île.
Lyon is also particularly special during the winter months when the city is bustling with Christmas markets and the iconic "Fête des Lumières" (Festival of Lights) takes place. The famous festival takes place over 4 nights in early December. As well as being one of the most exciting festivals in Lyon, it is the best light show in France.
During the days of the Light Festival, the entire city traditionally places a candle on their windowsill as a thank you to Mary (mother of Jesus) who was said to have spared the city from the plague when it was spreading across the country back in 1643.
During this time, an impressive light show also takes place every evening across the main sights in the Old Town and the Presqui'île as a nod to the Lumière Brothers who invented the early motion-picture camera and projector in Lyon, called the Cinématographe, or simply, the cinema!
The winter months are also super cozy in Lyon when people gather to dine out at the city's renowned "bouchons" (restaurants) and drink lots of vin chaud (mulled wine) at the many Christmas markets.
Explore the Vieux Lyon (Old Town) and its unique Renaissance passageways called "traboules"
Climb up to the Fourvière Basilica for the best views of Lyon
Visit the Musée des Beaux-Arts de Lyon: the largest fine art museum in France after the Louvr
Discover Lyon's murals: there are around 100 large paintings around the city to spot
Pay homage to the Lumière brothers at the Institut Lumière
Andorra La Vella, Andorra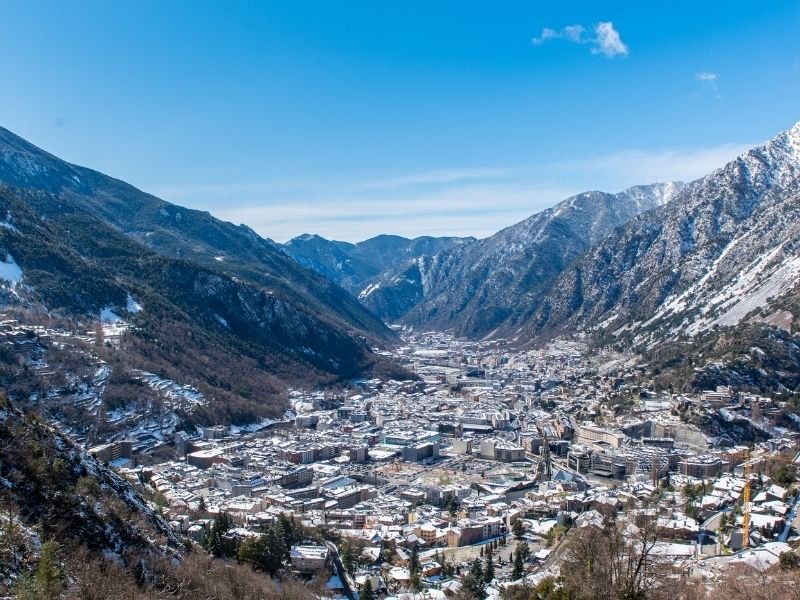 Contributed by Stephanie Craig of History Fangirl
Andorra La Vella, the tiny mountain capital of the micronation of Andorra, makes for a great day trip from Barcelona or as a point of entry to a fabulous Andorra winter getaway.
The country is a popular winter destination since there are so many specific winter activities in Andorra, from dog sledding to skiing in the fabled Pyrenees to winter mountaineering.
However, don't skip spending some time in the capital, since there is at least enough to fill a day or two just in town.
Andorra is also famous for its hearty, winter cuisine, so enjoy some fabulous local Catalonian dishes that will keep you fueled up while you explore. Make sure to spend time on the following:
Visit the December Christmas Market
Exploring the city's Barri Antic (Old Quarter) on foot
See the famous Dali statue La Noblesse du temps (The Nobility of Time)
Shop for tax-free luxury goods
Warm-up at Caldea, Andorra la Vella's mountain spa
Innsbruck, Austria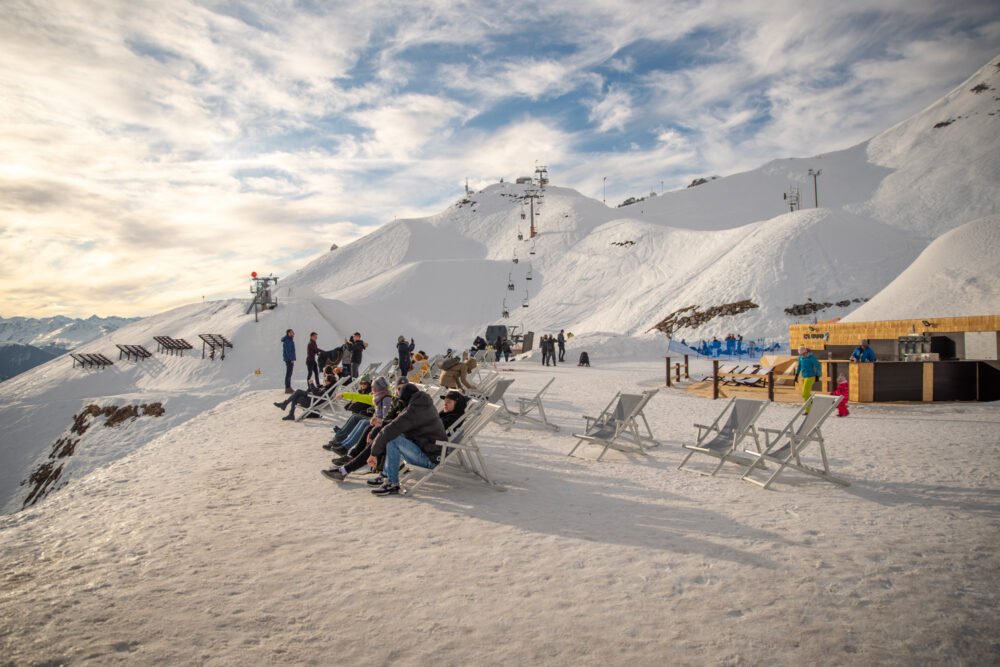 Contributed by Nadine of Le Long Weekend
An alpine city brimming with historical attractions, Innsbruck is much more than your usual ski town.
Spend the day on the slopes before sinking into a cosy restaurant to feast on Tyrolean dumplings, or skip the fields altogether and browse the charming streets of the old town instead.
You'll find plenty of attractions to amuse both young and old, including the Swarovski Museum, Austrian Christmas markets, and the Imperial Palace. Here are a few of the best things to do in Innsbruck in Winter:
Take the Nordkette Cable Car for the best views in town. Even if you're not skiing, you can ride the cable car to the top of the mountain where you'll find sled rides for kids and a bar with a view for the adults.
Visit the Swarovski Crystal Worlds for an immersive experience into the world of these iconic crystals.
Shop at the Christmas markets. Austria really knows how to do Xmas in style, and the markets in Innsbruck are among the best. Fill up on punch and warming treats as you browse the stalls selling trinkets and winter woolies. The markets start in late November and run right through to early January in Innsbruck.
See the Golden Roof – completed in 1500 to mark the marriage between Emperor Maximilian I and Bianca Maria Sforza. The roof is adorned with over 2600 copper tiles, giving it a beautiful golden shimmer.
Wander the colorful Old Town with its curious buildings, gorgeous boutiques, and intricate architecture.
Vienna, Austria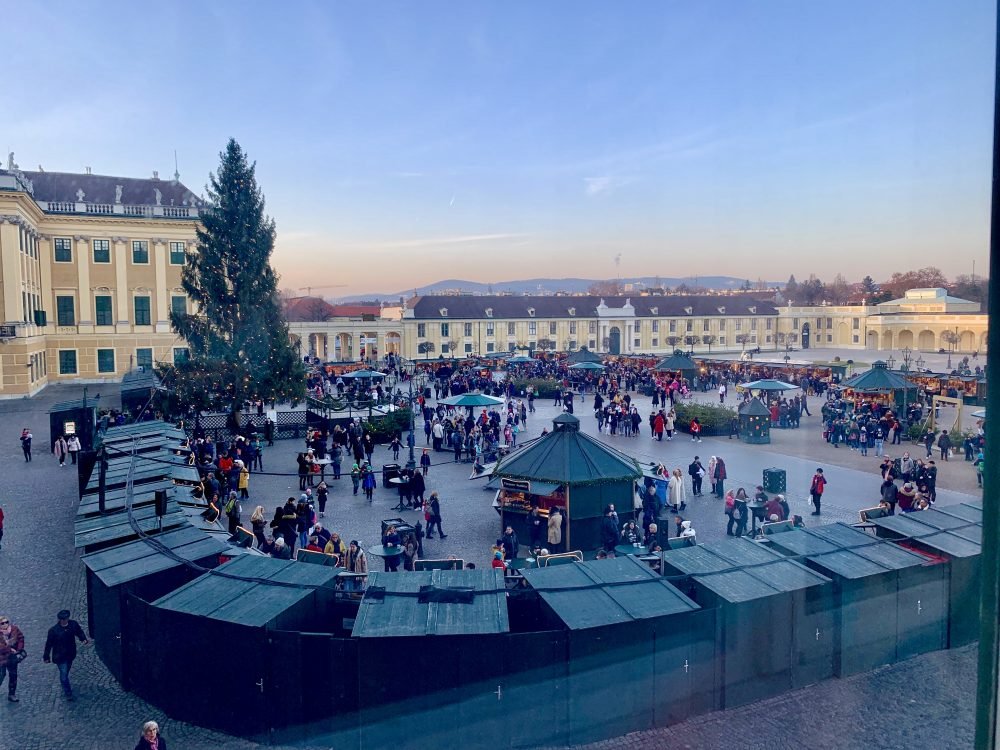 Editor's Choice
Emanating wintry charm from everywhere you look, Vienna in winter shines brighter than you could imagine.
From the Christmas markets and festive lighting scattered all around the city to the shops beautifully decorated and enticing you to enter, Christmas in Vienna is simply a magical time.
There's no denying it's one of the best cities to visit in Europe in winter! A few of the best things to do on a winter trip to Vienna include:
Visiting the Christmas Market in front of Schönbrunn Palace for its delicious spaetzle and garlic soup
See a show at the Spanish Riding School, where equestrians perform beautiful dressage shows
Window shop on the pricy yet beautiful Der Graben boulevard and take in all the beautiful Christmas lights
Take a fiaker (traditional horse and carriage ride) around Vienna's historic city center
Eat all the lebkuchen (gingerbread) your stomach can take!
Salzburg, Austria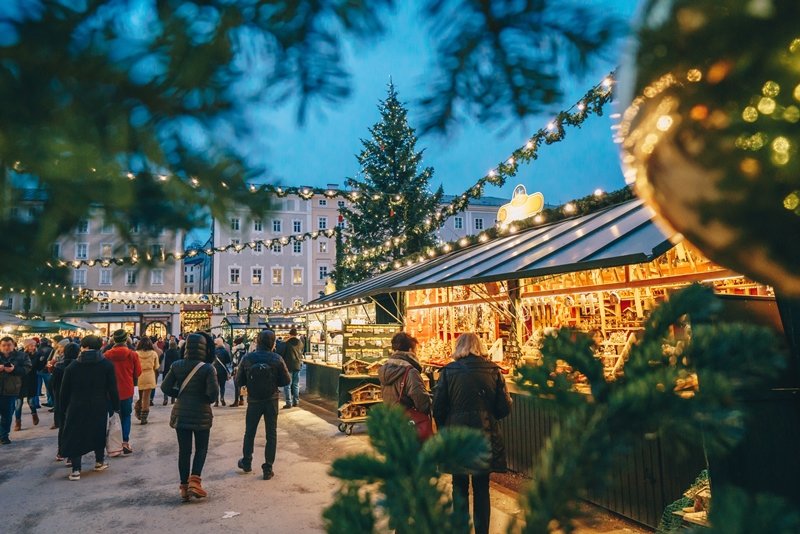 Contributed by Samantha from The Wandering Wanderluster
Salzburg is Austria's fourth largest city. Located just 10km from the German border, Salzburg which literally means "Salt-Fortress", is one of the country's most beautiful cities and the second most visited. While the city is a delight to visit anytime of the year, a trip to Salzburg during the winter is especially magical and some may say it is the best time of year to go.
Visitors are spoilt for choice for things to do during winter. With nature on the city's doorstop there is a plethora of outdoor activities available, including a range of skiing options within a short distance of the city.
The Altstadt (Old Town) district sparkles with fairy lights and glitzy trees in the month of December, and if it snows, you can take in the snow-covered roofs, Christmas lights and mountain views from one of Salzburg's best viewpoints.
Those staying within the city limits can enjoy multiple seasonal activities in the month of December including:
Visiting the Christmas Markets in the Altstadt
Going ice-skating on Mozart Square
Listening to seasonal classical music concerts inside the Mirabell Palace
Checking out the Christmas Market at Hellbrunn Palace just outside Salzburg
Taking a magical trip to the birthplace of the Christmas Carol "Silent Night" in Oberndorf
If you would prefer to keep warm, Salzburg has many cozy cafes to enjoy a sweet treat and a hot chocolate, and a fair few churches and museums that are worth visiting, many of them linked to the famous Composer Mozart, who was born in Salzburg. In fact, you can even tour his birthplace, located in the Altstadt.
Berlin, Germany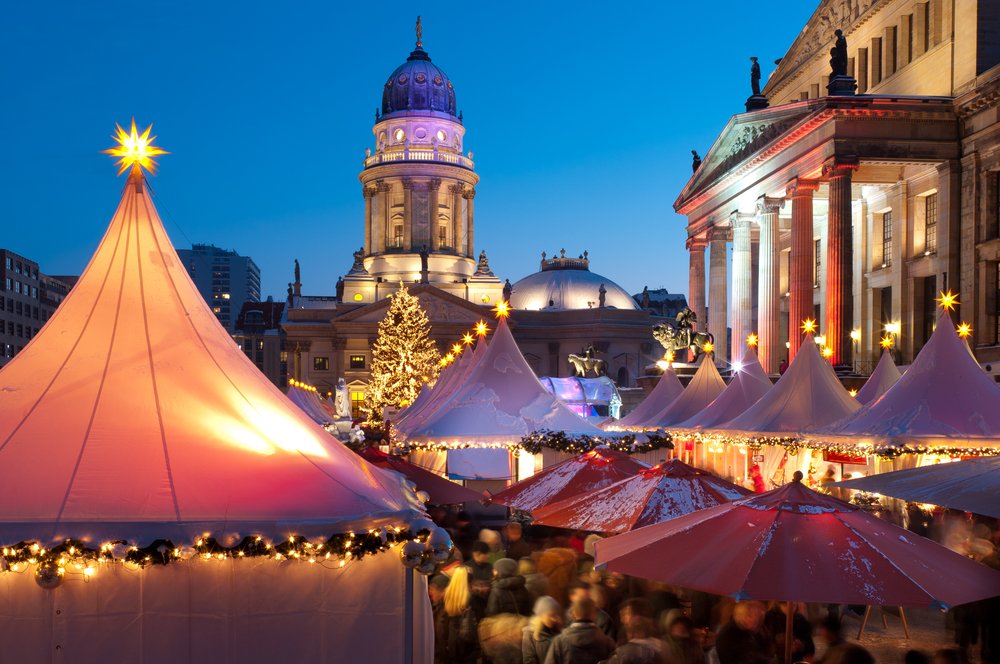 Editor's Choice
Berlin is a fabulous winter destination in Europe.
Incredible Christmas markets, crisp winter weather, German and international food restaurants that are truly world-class, excellent museums: Berlin has everything you want in winter.
You could easily spend a week enjoying all the best things to do in Berlin in winter, but my favorite winter highlights are:
Take a wintry stroll through Tiergarten up to the decorated tree at the Brandenburg Gate
Warm up checking out the museums of Museuminsel
Shop 'til you drop on Ku'damm and at KaDaWe
See the decorations at the Reichstag
Visit the adorable Christmas Market at Gendarmenmarkt
Frankfurt, Germany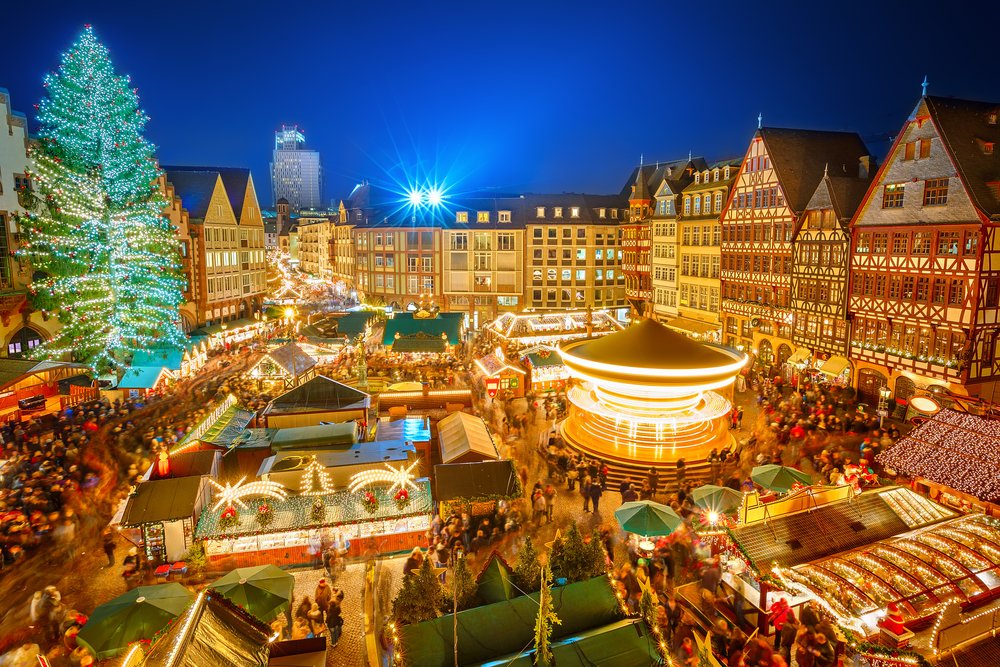 Editor's Choice
Frankfurt is thought of more as a layover city than as one of the most interesting cities to visit in Germany… but I beg to differ!
Frankfurt has an amazing international food scene, a beautifully reconstructed Old Town, excellent Christmas markets, phenomenal coffee shops, and so much more to enjoy in winter.
Here are a few highlights in Frankfurt in winter:
Have delicious ramen at Takumi which specializes in chicken-based broths
Warm up with spicy Ethiopian-Eritrean food at African Queen
Visit the enormous Frankfurt Christmas Market and drink Gluhwein and Dampfnudel until your heart can take no more
Hear a concert at the beautiful Frankfurter Dom
Check out the Gay Christmas Market (Pink Market) for an alternative festive market experience
Dresden, Germany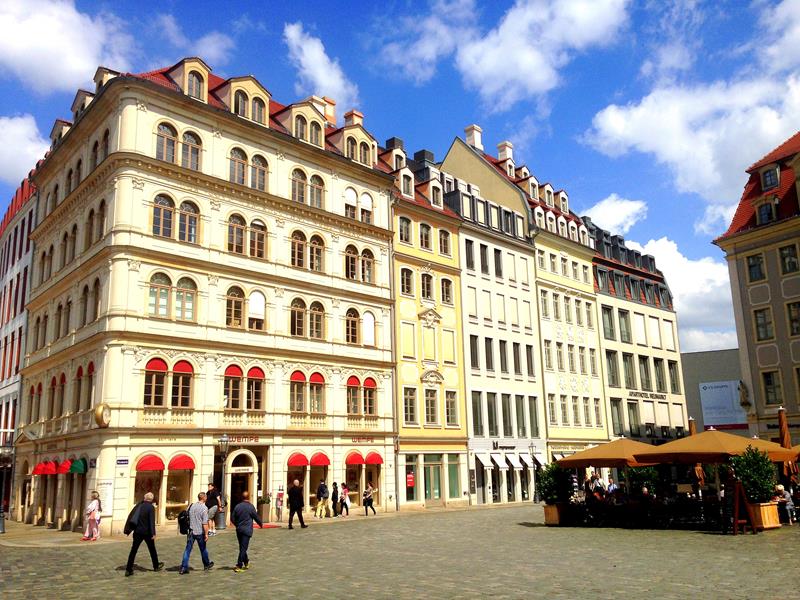 Contributed by Chris from Punta Cana Travel Blog
Dresden is a beautiful city in the German state of Saxony, located mid-way between Berlin and Prague.
While it is well-known and has its fair share of tourists, it's usually not mentioned in the first place when talking about the German cities to visit. However, Dresden is absolutely worth visiting as it has one of the most beautiful and historic old towns and amazing scenery along the river Elbe.
When visiting Dresden in winter, it's a must to explore the famous Christmas market of the city, the Striezelmarkt. It's one of the oldest Christmas markets in the world – dating back to 1434 – and features an abundance of local Christmas decorations (such as Schwibbogen, smoking men or nutcrackers) as well as various typical foods and drinks from Saxony, for example, gingerbread from nearby Pulsnitz or the famous Stollen, which is home to Dresden and has one of its origins in Saxony.
Besides the famous Striezelmarkt, there are numerous further Christmas markets in Dresden. While most of them are not worth mentioning, you should have a look at the medieval Christmas Market at Stallhof, a part of the former Royal Palace. It's always an interesting spectacle to see and experience the various traditional costumes, individual decoration and charming atmosphere, all focusing on the medieval theme. This place is so much different than most Christmas markets in Germany.
As you should not come to Dresden just to visit the Christmas markets only, the following are my Top 5 for further activities in Dresden:
Walk through the historic Old Town and admire the beauty of the historic buildings
Visit the New Town with its art cafés, alternative bars, and international restaurants
Visit Panometer Dresden, a former gasometer with impressive 360-degree panorama installations, usually about Dresden's history (perfect for a rainy day)
Take one of the two funiculars of Dresden to reach the best viewpoints of the city
Take a day trip to Saxon Switzerland, an area with picturesque rock formations and stunning scenery
Nuremberg, Germany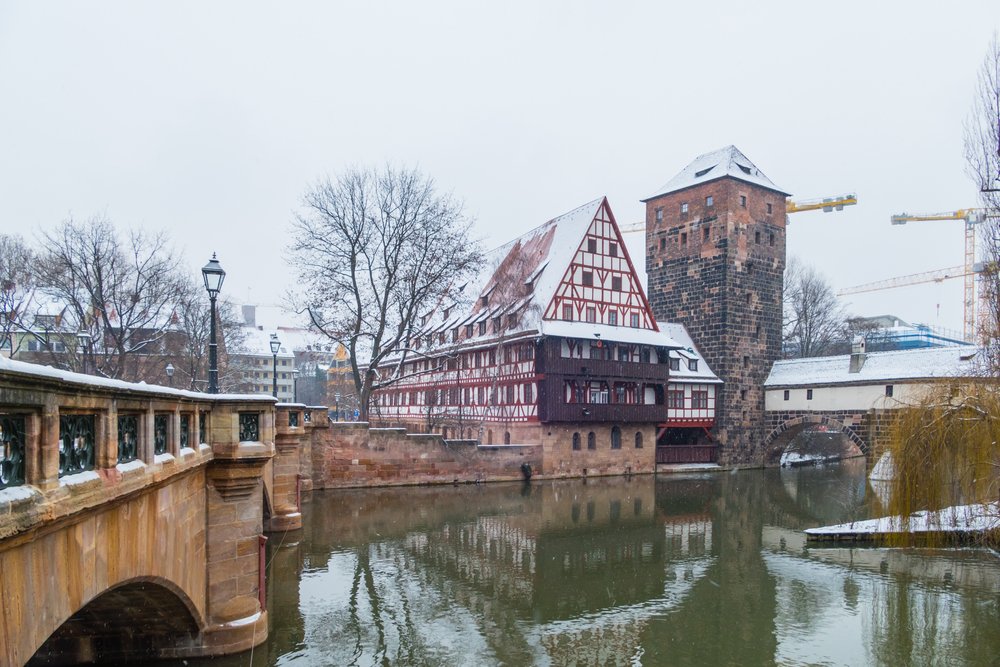 Editor's Choice
If you're looking for one of the best Christmas markets in Germany, you can't miss Nuremberg! It's one of Germany's oldest and most traditional Christmas markets.
Besides the market, you can enjoy Bavarian cuisine, stroll along its charming bridges and waterways, admire half-timber and traditional architecture, and feel like you've stepped into a true winter wonderland.
Visit the Altstadt (Old Town) with its historic walls
See a show at the Staatstheater
Visit the amazing museum at the Albrecht-Dürer-Haus
Learn about Nuremberg's dark role in the Holocaust at the Nuremberg Trial Courthouse and the Documentation Center Nazi Party Rally Grounds
Amsterdam, Netherlands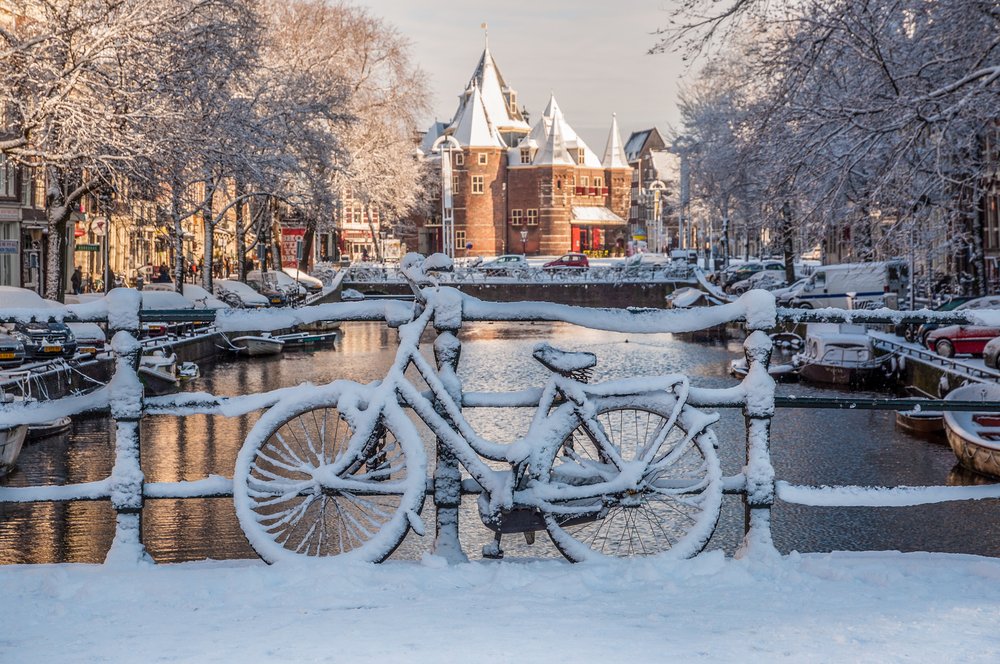 Editor's Choice
Canals, Christmas Markets, and stroopwaffels: these are what my EUrope in winter dreams are made of.
Any time in Amsterdam is guaranteed to be a good time, as long as you leave the touristy center, but Amsterdam in winter has even more charm.
While of course you have to see the scenic Canal Ring (Grachtengordel) area, there's much more to Amsterdam than you'd think, so be sure to leave the center a bit and explore!
See the canals all lit up and twinkling during the Amsterdam Light Festival — even better on a boat tour!
Visit the Netherlands' best art museum, the Rijksmuseum
Wander around the hip 9 Straatjes (9 Streets) neighborhood with its boutiques and cafes
Visit the Christmas market on Rembrandtplein
Try spicy Surinamese and Indonesian food in East Amsterdam (Oud-Oost) – I recommend Lalla Rookh for Surimnamese and Warung Sranang Makmur for Indonesian
Utrecht, Netherlands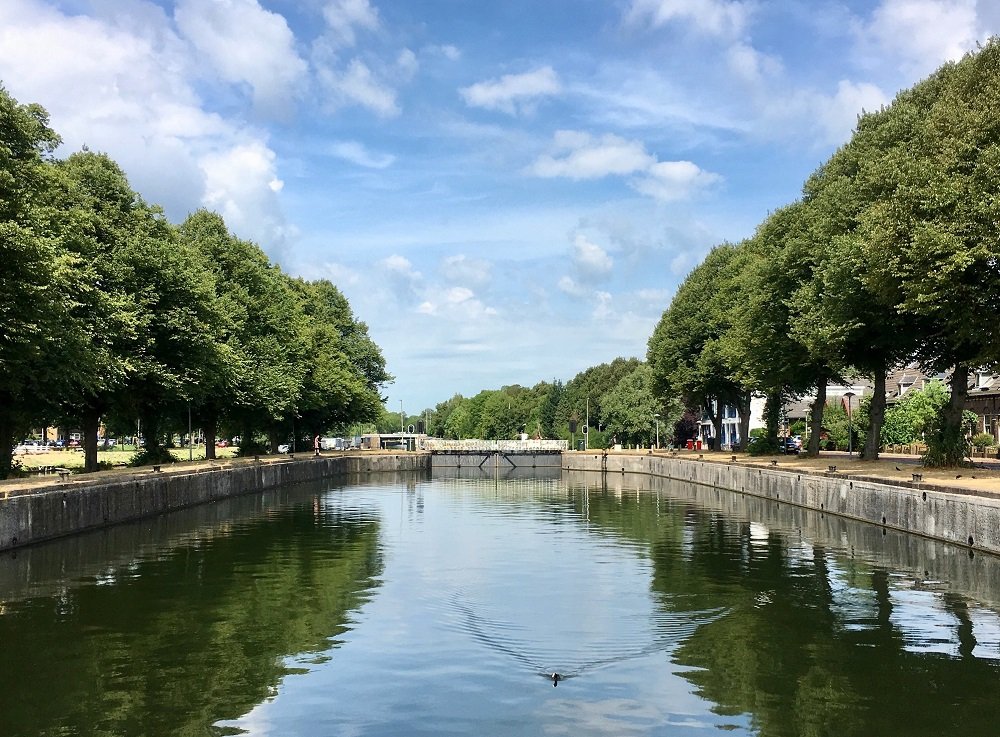 Contributed by Lotte from Beste voor Kids
Utrecht is the 4th largest city in the Netherlands and is located in the identically named province of Utrecht. It's a great city to visit any time of year but winter is especially enchanting in this charming Dutch city.
Utrecht was granted city rights in 1122 and has a beautiful medieval center with pretty canals, gorgeous old houses, and plenty of cozy cafes, restaurants, and bars.
As a Utrecht local it's hard for me to narrow down the list of things to do as there are so many worthwhile places to visit in Utrecht… However, below you can find some of my favorite Utrecht highlights:
The Old City Center: stroll around the lovely city center with Neude, St. Janskerkhof, and the pretty canals around de Oude Gracht.
Visit the Miffy Museum: if you're visiting Utrecht with kids this is a must-do in any season but in winter there is a special Christmas Theme so it's even more fun to visit with your little ones.
Ice skating at the Spoorwegmuseum: the Spoorwegmuseum is another great place to visit with kids or for anyone interested in the history of train travel in the Netherlands. During the Christmas Holiday, there is a special theme called Winter Station during which you can go ice-skating at the temporary ice rink!
Climb the Dom Tower: enjoy a bird's eye view from the tallest church tower in the Netherlands. This 112-meter-tall tower is a city icon and offers beautiful views of Utrecht city all the way to Amsterdam and Rotterdam!
Go shopping at Hoog Catharijne: revamped Hoog Catharijne is an indoor shopping mall connecting Utrecht Central Station to Utrecht city center and is transformed into a winter wonderland during winter. Admire the Christmas decorations, shop for souvenirs or a Christmas outfit, or have a drink or lunch at one of the restaurants in the mall.
Brussels, Belgium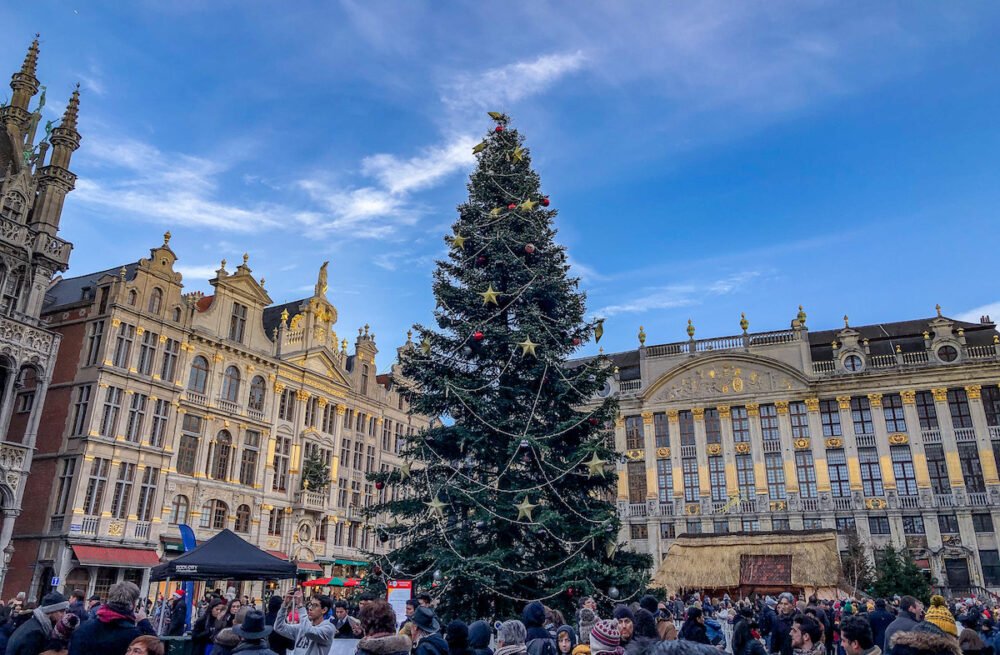 Contributed by Sarah of CosmopoliClan
Right in the heart of Brussels, you'll find its most eye-catching landmark: Grand Place. The interesting gothic City Hall, grand King's House and stately guild houses adorned with the most intricate gold leaf details are a feast to the eyes any time of the year.
During the festive season, this magnificent place comes to life under a twinkling Christmas blanket. A trail of lights and wooden chalets connects this wonderful location with other enchanting sites that are part of the Brussels Christmas market.
And the wintry fun doesn't have to end there: Around mid-February, the city hosts a spectacular light festival called Bright Brussels. It's the perfect occasion to see some of the city's classic sights with an interesting twist.
Visiting Belgian's capital in winter comes with an added bonus: Brussels' central location also makes it the perfect starting point for winter escapes to other European cities.
Watch the captivating Sound and Light show at the Grand Place that takes place every night during the Christmas festivities.
Indulge in a fluffy waffle topped with Belgian's legendary chocolate.
Let the Ferris wheel whisk you up for an unforgettable view over the twinkling city. You'll find it at Vismet during the Brussels Christmas market.
Explore the city in a different light during the Bright Brussels Light Festival.
Visit the Royal Galleries and enjoy a hot chocolate at one of the city's most enchanting locations.
Haarlem, Netherlands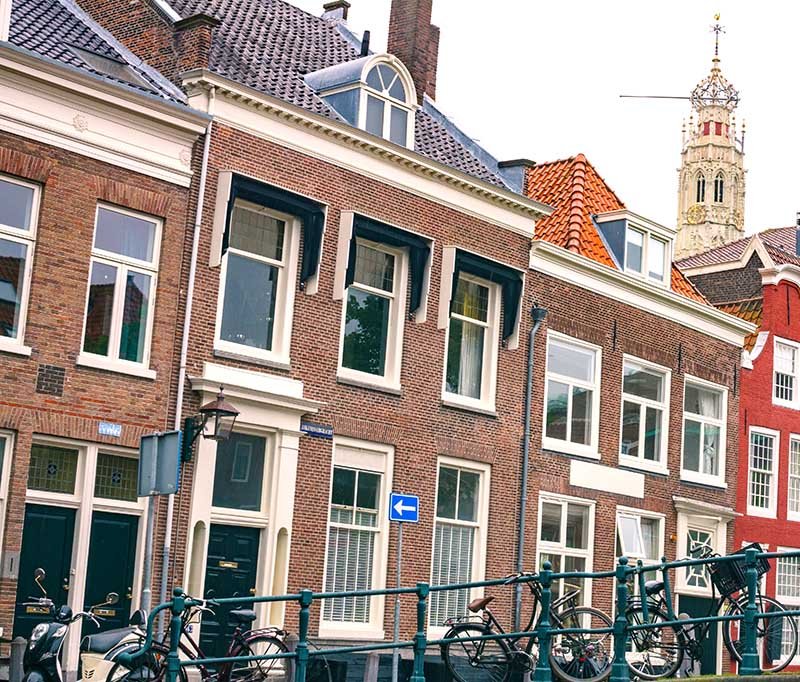 Contributed by Manon of Visiting The Dutch Countryside
Haarlem is one of those Dutch cities that is charming, and when you add winter to the mix, you get a magical combination.
Admire its picturesque streets, explore the incredible museums, visit a Christmas market and so much more. Haarlem has everything you could wish for when visiting Europe in winter.
Visit the Christmas market in Haarlem: One of the Netherlands' biggest Christmas markets takes place here. And not only will you find many tasty Dutch treats here, but there are more than 300 stalls to find your perfect Christmas presents. There are also performances, and there's even a Christmas sing-a-long.
Go ice skating at Ijsbaan Haarlem: When you're visiting The Netherlands in winter, ice skating is part of the deal. We love it. The ice rink is opened from September until March, and you can rent ice skates here.
Get cozy at the Jopenkerk brewery: This Dutch beer brewery is found in a beautiful church. So, not only can you taste some amazing Dutch craft beer here, but it's also found in a beautiful surrounding.
Sit in front of the fireplace at Het Veerkwartier: Dutch winters can often be very windy, rainy, and chilly. This is the perfect place in Haarlem to visit when you want to warm up in front of the fireplace.
Admire incredible museums in Haarlem: Haarlem is filled with fantastic museums, think of the Teylers Museum, Frans Hals Museum, Corrie Ten Boom, Museum Haarlem and Museum van de Geest.
Zurich, Switzerland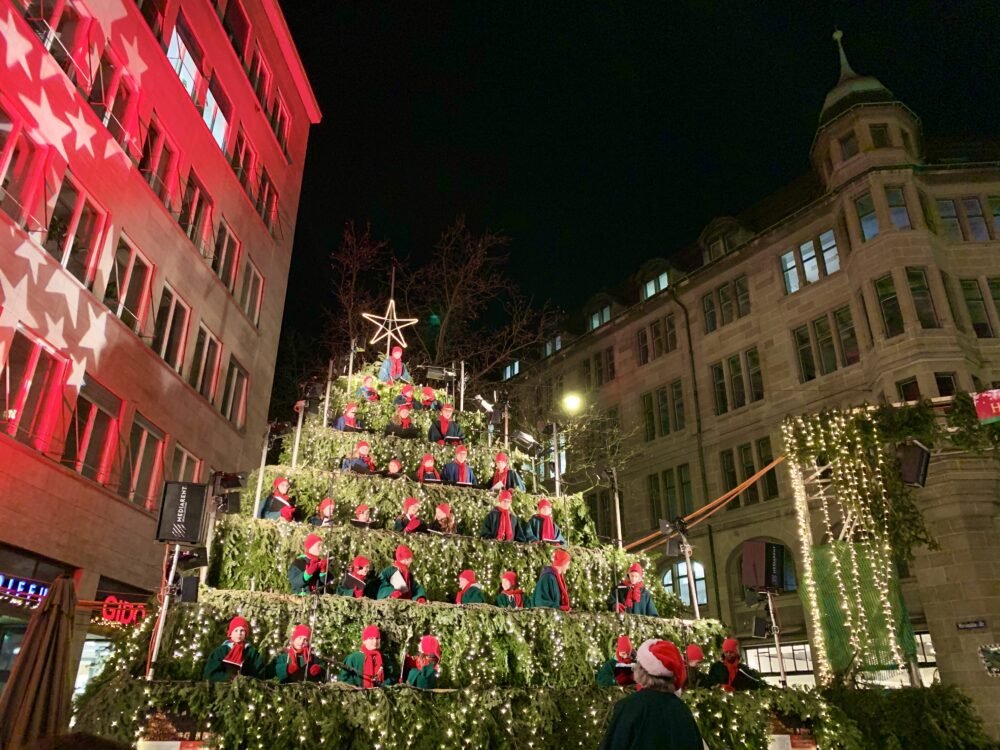 Contributed by Smita of My Faulty Compass
Rich in culture and history, Zurich is a centuries-old city dripping with charm and beauty. A stunning lake and a lovely river along with snow-covered mountains surrounding it add to its stupendous charm.
Zurich in the winter is magical and beautiful with the holiday season transforming the city into an even more spectacular place!
Twinkling fairy lights adorning the streets, unique Christmas trees and markets, a multitude of Advent events and the enticing aromas of hot chocolate or fondue make it an unforgettable experience to spend winter in Zurich.
Here are some of the best things to do in Zurich in the winter,
Take a stroll around the old town of Zurich – Start at the famous shopping boulevard of Bahnhofstrasse and make your way to Niederdorf, the old town district situated next to the river.
Visit the Christmas markets – Zurich has many many Christmas markets and some of the best of them are at the train station (the largest covered market in Europe!), at Sechseläutenplatz and at Bahnhofstrasse (boasting a singing Christmas tree!).
Check out some Christmas events – Several popular events take place around the holiday season including the Lichterschwimmen floating candle event (candles placed into the river make for a beautiful sight) and the Samichlausschwimmen tradition (Santa's swimming across the freezing cold river!).
Enjoy winter sports – Several ski slopes are located a very short distance from Zurich where you can enjoy skiing, tobogganing, or snowboarding.
Enjoy the Zurich lake – Take a stroll along the lake promenade or a ferry ride on the beautiful lake
London, England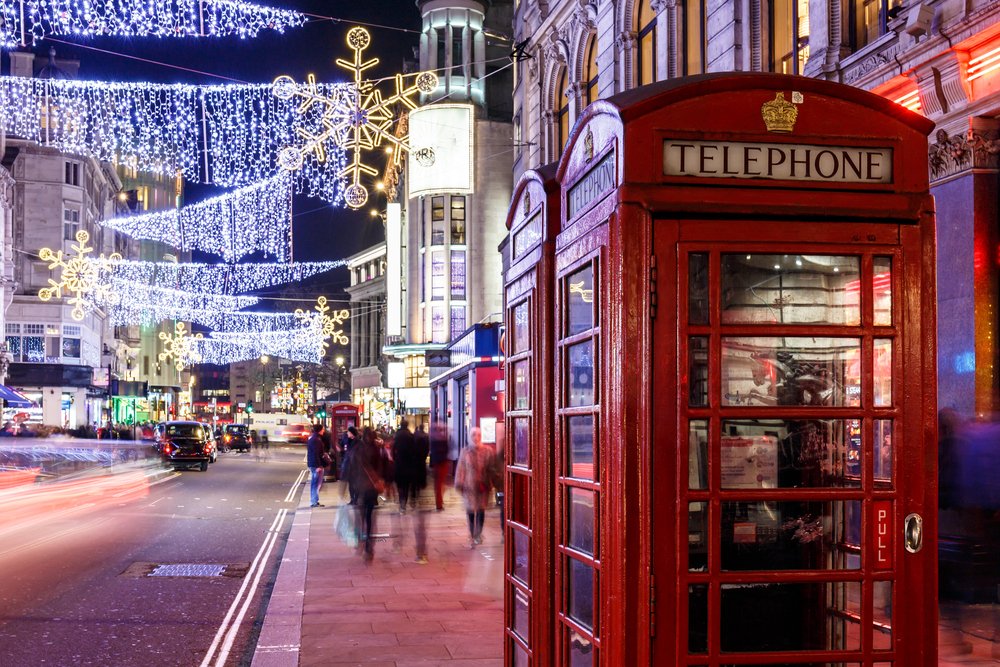 Editor's Choice
London in winter is a European dream: it's gorgeous and festive, yet not so cold that you don't want to do some sightseeing.
There are plenty of day trips to take to explore castles and other scenic English towns and cities in the area, but there's also so much to do in London in winter that you can easily spend the entirety of your trip just exploring London.
After all, "When a man is tired of London, he is tired of life," according to Samuel Johnson!
Here are my favorite winter things to do in London:
Check out the hip neighborhood of Shoreditch for its street art, cute cafes, and tasty food
Shop at the beautifully decorated Borough Market for Christmassy souvenirs
Have a tasty afternoon tea to escape from the cold and recharge for evening sightseeing
Check out the numerous Christmas Markets throughout the city
Have a traditional Sunday roast dinner at a local pub
Galway, Ireland
Contributed by Bruna of Maps 'n Bags
Galway is the perfect place to visit in Europe winter to get into the Chrismas spirit!
As one of the world's friendliest cities, Galway has a combo of Irish attractions and a relaxed atmosphere that you can't afford to miss!
Walk down Quay Street to spot a wide variety of shops and venues, from vintage bookshops to traditional Irish pubs to colorful storefronts.
Visit the Christmas Market. Boasting over 50 wooden stalls that sprawl through the city center, which is one of the best places to stay in Galway, it's a must-do. There you can watch the choirs or carol singing, indulge in European food, and feel slightly adventurous in the Big Wheel.
Breathe the fresh breeze of the sea and stroll along the Salthill promenade. It's a 2km long path with peaceful views and, of course, many spots to savor some local seafood along the way.
Have a pint of Guinness (or a few) at Busker Browne's Pub, a venue housed in a historic building in the Latin Quarter dating back to the 17th-century. This building used to be a meeting point for the tribes of Galway, a Dominican convent, and more.
Pay a visit to arguably the most important structure in Galway, the Spanish Arch. It's the last surviving arch from the defenses of the city.
Kyiv, Ukraine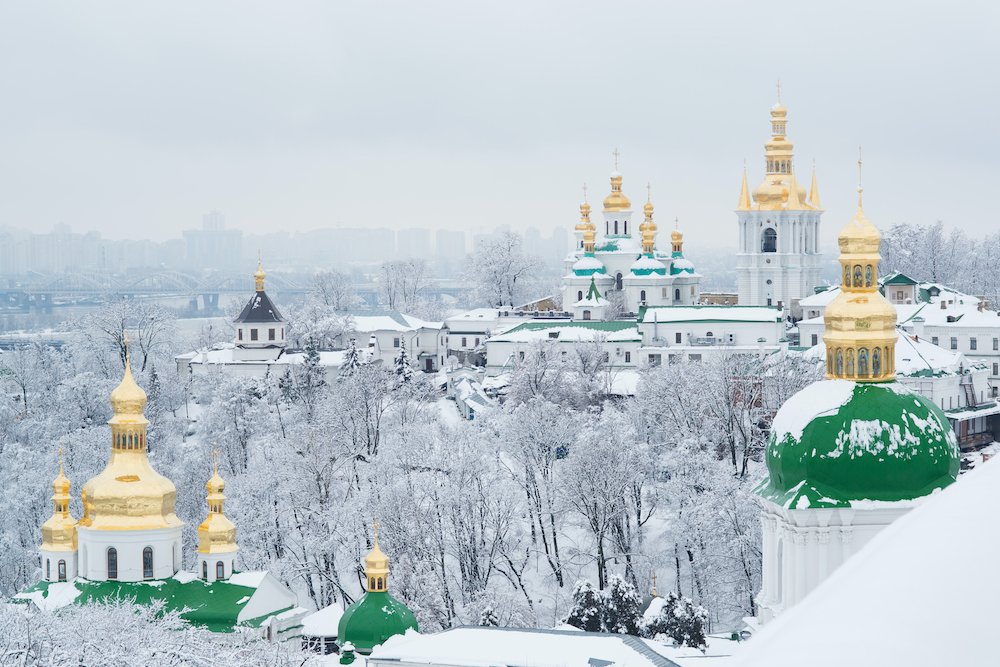 Contributed by Megan Starr of Megan & Aram
Kyiv is a gorgeous city to visit in winter and it has so much to offer during the Christmas and New Year's holiday season. Do note that Ukraine celebrates the Ukrainian Orthodox Christmas in early January, and not in December if you are traveling there for the holidays.
The Ukrainian capital is teeming with lights and festive Christmas decorations and you'll find small stalls throughout the city where you can purchase small trinkets or traditional food.
Here are some exciting (and cozy) things to do in Kyiv during winter:
Eat Varenyky: While you can indulge in this Ukrainian dumpling at any time of the year, it definitely tastes best during the colder months! While you can find varenyky almost everywhere throughout the city, SHO and O'Pana's have some of the best and both restaurants are located in the city center.
Get Acquainted with Kyiv's coffee scene: Kyiv has some incredible cafes and you will find some of Europe's best third-wave coffee in the city. While Kyiv may be enduring sub-zero temperatures outside, the cafes are always cozy and warm. You can find several cafes worth visiting in Podil or you can opt for The Journalist right on Khreschatyk.
Head to the Opera: Kyiv is home to the Taras Shevchenko National Opera and Ballet Theatre of Ukraine and nothing is quite as festive and seasonal as enjoying a night at the opera during winter. The remarkable building dates back to 1901.
Hunt for Soviet Architecture: Kyiv is a city with an endangered Soviet architecture scene. And tracking down some of the obscure buildings is definitely one of the best things to do during winter while they look mysterious under the foggy, grey skies. Don't miss the Salyut Hotel and Kyiv Crematorium, two masterpieces by Abraham Miletsky.
Take a day trip out of Kyiv: The city can be cold and alluring, but there are some fantastic day trips from Kyiv. Opt to head to Slavutych if you already have Chernobyl on your itinerary. The purpose-built city was constructed in 1988 by the Soviets for those who suffered tragedy at Chernobyl. Every neighborhood of Slavutych is different and was built by an architect from a different Soviet republic.
Visting Kyiv in winter is a great choice of travel plans and it is one of Europe's best winter destinations if you love large cities with a lot to do.
Budapest, Hungary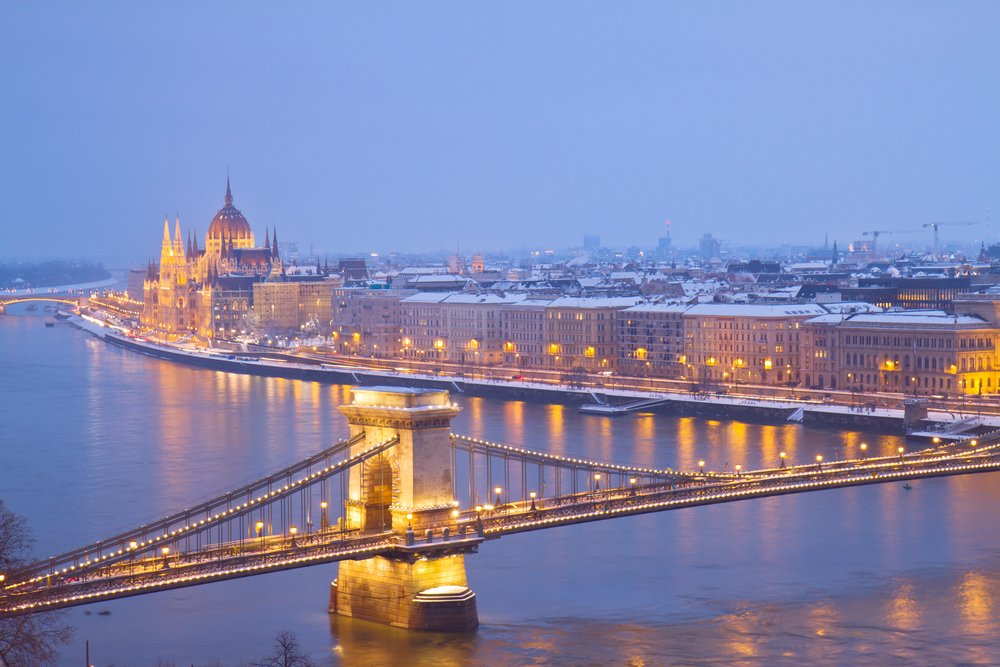 Editor's Choice
Budapest in winter is a dream — beautiful architecture bedecked in snow, Christmas Markets on seemingly ever corner, hearty food that matches the wintry weather, and tasty wines to indulge in when the sun goes down early.
Bathhouses offer a great escape from the cold, but outdoor activities like ice skating, Danube river cruises, and even caving under Budapest are all great winter activities as well.
Don't miss beautiful sights like Fisherman's Bastion, Buda Castle, the sights from Citadella, and Vajdahunyad Castle while you're visiting Budapest in winter!
Take a steamy soak on a winter day in one of the thermal baths around Budapest — my favorite is Gellért, but I also love the outdoor baths at Széchenyi
Try a tasty kürtőskalács (chimney cake) at one of the many Christmas Markets around the city
Grab an espresso and a tasty slice of cake at one of third wave coffee shops like Espresso Embassy or at one of the pricy yet beautiful traditional coffee houses like New York Café and Central Café
Wander through the beautiful Central Market Hall, loading up on strudel and souvenirs
Do an incredible wine tasting experience with Taste Hungary
Prague, Czechia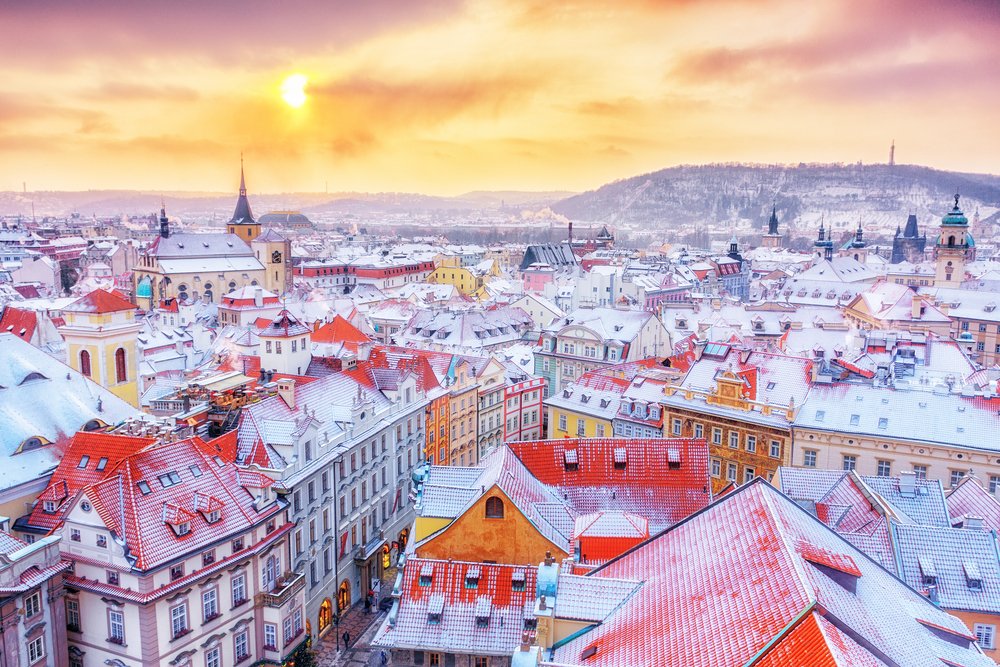 Editor's Choice
One of the most traditional choices for celebrating the winter in Europe is visiting Prague with its beautiful Central European architecture and adorable Christmas Markets.
The Old Town Square can get really crowded in the winter, with crowds moving slowly through the tiny winding roads, but if you veer off the beaten path a bit, you'll find plenty of wonderful places to celebrate winter in Prague sans crowds.
Jiřího z Poděbrad, Náměstí Míru, the markets just to the left when you cross the Charles Bridge in Malá Strana, and the area around Palladium Shopping Mall are 4 of my favorite markets in the city: none are totally "offbeat" and unknown, but they won't be nearly as crowded as the Old Town.
Of course, you can't miss a winter visit to Prague Castle and its gorgeous St. Vitus Cathedral, a stroll down the dreamy Golden Lane, and just wandering the castle district of Prague and the beautiful architecture which marks every street.
Here are a few of my best recommendations for Prague — from someone who used to live there!
Have a tasty beer at the place where the first Pilsner Urquell was tapped at U Pinkasu — don't miss their tasty food, either!
Eat tasty, heart-warming Czech food. My favorites are guláš s knedlíky (Czech-style goulash stew with handmade sliced bread dumplings), vepřo-knedlo–zelo (roast pork with cabbage and bread dumplings), and česnečka, a delicious garlicky broth laced with caraway seeds and topped with rye bread croutons.
Go ice skating in the cute square at Ovocný Trh
Take a short cruise down an icy Vltava River
Take a sauna on the river in the pop-up Lázně na Lodi
Cesky Krumlov, Czechia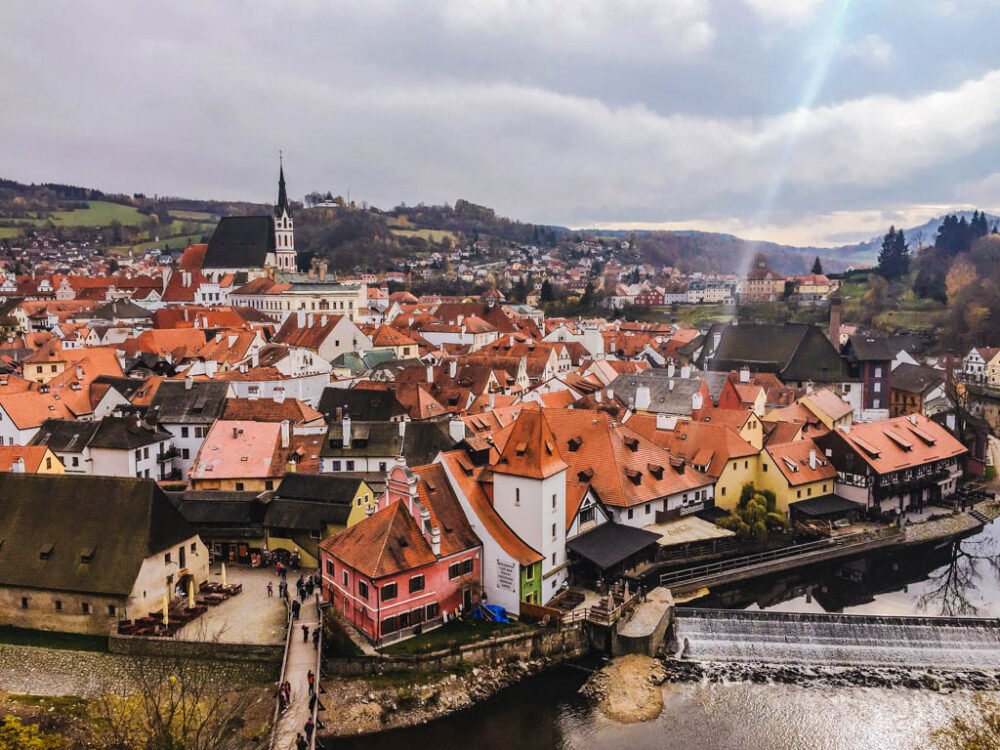 Contributed by Riana of Teaspoon of Adventure
Cesky Krumlov is one of the best places in Europe to visit in the winter. Cesky Krumlov is a small medieval town just a few hours south of Prague in the Czech Republic.
The entire town is designated as a UNESCO World Heritage Site, so you know it's going to be beautiful! Many people visit Cesky Krumlov on a day trip but I suggest you spend a night or two to really appreciate the charm of the town and discover all it has to offer.
In the summer, Cesky Krumlov can get very crowded. It's the most popular day trip from Prague! So one of the best reasons to come in the winter is that you can have the entire place to yourself. Visiting in the winter also ups the fairytale factor of this cobblestone covered little city when it's blanketed in snow.
5 things to do in Cesky Krumlov in the winter
Go on a free walking tour of the city and learn about its royal history
Visit the Cesky Krumlov Castle Tower complete with views over the entire city
Warm up in one of the many adorable cafes throughout town (Ideal Coffee comes recommended)
Stroll through the Castle Gardens that will hopefully be covered in snow
Shop at the charming Christmas Markets in the town square
Bratislava, Slovakia
Editor's Choice
If you're planning a winter trip through Central Europe, don't miss the magic of Bratislava in winter. I'm sure this city is charming at any time of year, but in the winter, Bratislava just shimmers.
Compared with its more popular Central European neighboring capital cities – Prague, Vienna (just an hour away and a world apart), and Budapest, to name a few – Bratislava is an oasis of calm. Even the beloved Bratislava Christmas markets don't do much to add chaos to Old Town, dispersing the tourists in smaller, more manageable numbers.
Whatever the reason, if you make Bratislava a priority – and you should – you'll be delighted that you included this gorgeous Central European city to your winter in Europe itinerary
Here are the highlights of Bratislava in winter:
Admire the (hopefully) snow-capped Bratislava Castle grounds
Stroll the Danube and check out the quirky UFO Bridge
Warm up from the Bratislava winter with some comforting Slovak food at Bratislavský Meštiansky Pivovar.
Marvel at the baby blue Church of St. Elisabeth
Cozy up in an adorable café — I love St. Germain
Krakow, Poland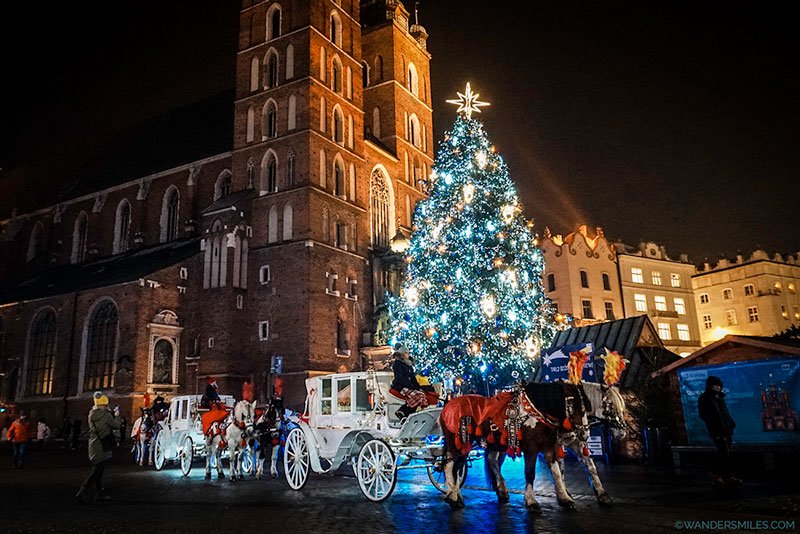 Contributed by Vanessa of Wanders Miles
As the second-largest city in Poland, Krakow has a fascinating history, unique architecture, hip art scene, delicious food, craft beer, and is great value for the money. This is the perfect recipe for a fabulous European city break.
Krakow is a true delight for history buffs. Krakow Old Town one of the first-ever urban UNESCO World Heritage Sites dating back to the Middle Ages. Wawel Royal Castle located on the Vistula River majestically overlooks the city. Learn about the harrowing story of the Jewish population in WWII within the city or by taking a day trip to Auschwitz-Birkenau.

One of the main highlights of visiting Krakow in December is feeling the festive vibes in the main market square, Rynek Glowny. The elegant horse-drawn carriage is a win for tourists and the huge Christmas tree displayed in front of St. Mary's Basilica is a stunning sight to see. Visitors to the traditional Polish market will hear Christmas carols sung by performers and see the display of elaborate cribs (szopki) submitted for the contest which has been held at the start of December since the 19th century.
You can't visit without sampling traditional Polish dishes from smoked cheeses, grilled meats, and sweet gingerbreads. Christmas souvenirs, Polish pottery and jewellery from the folklore handicraft stalls are a great memory from your trip. If you fancy a sip of the good stuff, try the mulled wine (Grzaniec Galicyjski) or craft beers poured from the wooden barrels.
You will also find beautiful classical performances at St. Peter and Paul's Church and St. Mary's Basilica, both fine examples of Polish Baroque architecture.
Take a tour of Wawel Royal Castle
Attend a concert at St. Joseph's Church
Walk over the Vistula River on the Bernatek Footbridge
Learn about the Nazi occupation in Oskar Schindler Museum
Get creative in MOCAK (Museum of Contemporary Art in Krakow)
Warsaw, Poland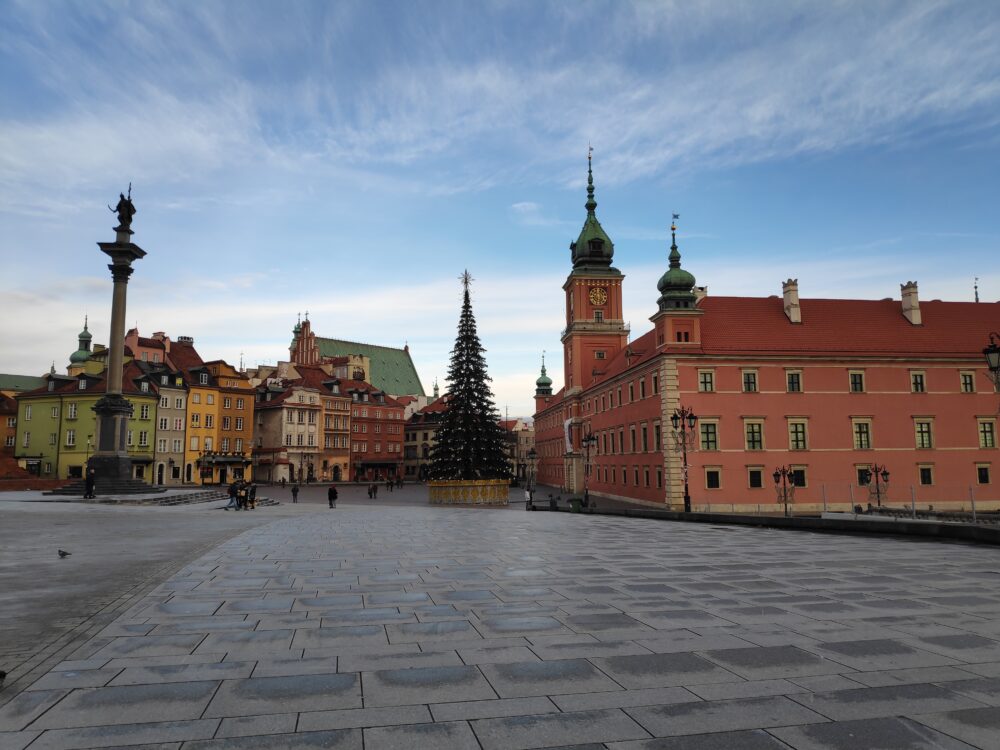 Contributed by Bec of Poland Travel Expert
Poland is fast becoming a hot destination for travellers and there is no better city to visit than Warsaw. It is a city that has a proud and extremely sad past but it is also one that is looking to the future.
Warsaw is a city that feels like home when you arrive and Warsaw in winter is a beautiful time to visit. If you are a family, a solo traveler or a couple there is so much to do in Warsaw.
Polish food is absolutely amazing and very filling. From zapikanka to pierogi there is something for everyone and all tastes. You can find so many little street stalls (you will find a favorite) or you can find a restaurant that has been around for years to enjoy a meal.
If you love history, a visit to Warsaw is a must. There is so much to learn in the city about WWII and how the city was rebuilt after being nearly totally destroyed. From museums to wandering the Old Town the scars are everywhere.
Here are a few things to do in Warsaw in winter.
Visit the traditional Christmas Markets in the Old Town
See the amazing Christmas light displays through the city
Try some Grzane Piwo (mulled beer)
Visit the Palace of Science and Culture (in the basement there is a 'milkbar', a traditional Polish kitchen)!
See a Chopin performance
Zagreb, Croatia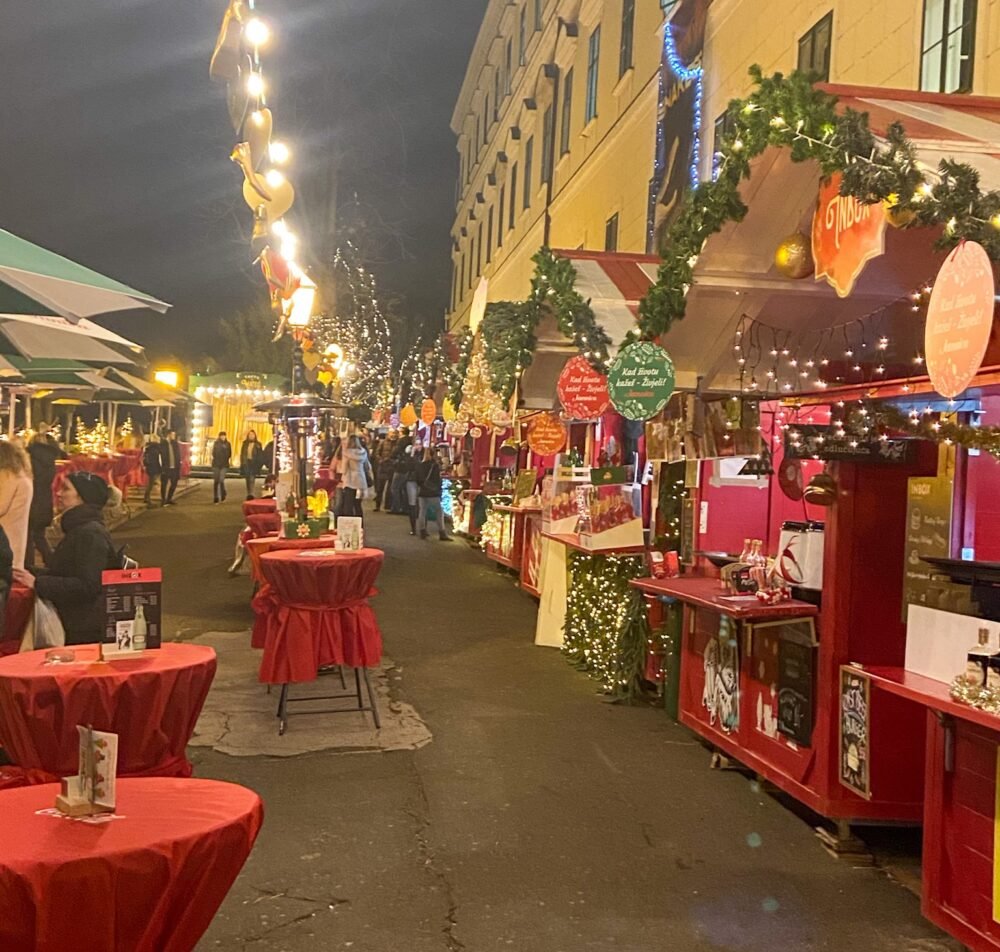 Contributed by Ciara from Wellness Travel Diaries
Zagreb, the beautiful capital of Croatia, is filled with stunning architecture influenced by Gothic and Austro-Hungarian styles.
During winter, this magnificent city hosts a spectacular Advent Christmas market throughout the entire town. This sensational market has been voted one of the best markets in Europe for three consecutive years according to European Best Destinations.
With numerous holiday activities for families, couples, and solo excursions, it's no wonder this winter destination is a traveler's favorite city.
This magical market starts in late October and ends in January with a bustling list of winter activities to do. Some of the best activities include:
Exploring the Christmassy wonderland at Ban Josip Jelačić Square
Taking a stroll at Zrinjevac Park
Walking through the semi-underground Advent Christmas tunnel
Visiting the Christmas market at European Square
Ice skating at Tomislav Square
These activities merely scratch the surface of all the things to do when visiting the Christmas markets in Zagreb, Croatia. The mood is set with festive wooden stalls charmingly decorated with fresh trimmings, and cheerful lights.
These stalls sell an abundance of goodies including mulled wine, traditional Croatian foods, and artisanal handcrafted items ranging from ornaments, scarfs, teas, and more.
On top of the breathtaking Christmas festivities, Zagreb does get cold during the winter months so I highly recommend packing layers and a winter coat for enjoying your strolls through the impressive holiday market.
Copenhagen, Denmark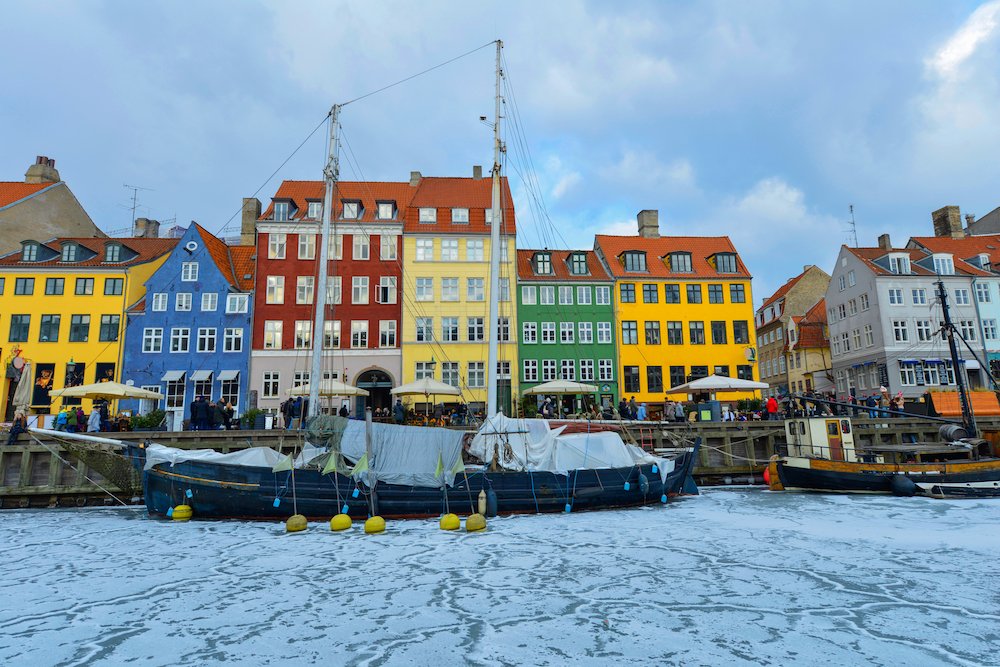 Editor's Choice
For a winter Europe destination that will impress you with its beauty, you can't miss a trip to Copenhagen!
Whether it's traversing its historic Danish Castles and Roskilde Cathedral, learning about the country's Viking history, or walking around the charming streets of Copenhagen's neighborhoods, there's no denying Denmark is a charming place to spend winter: this is the country that introduced hygge to the world, after all!
Here are a few choice things to do in Copenhagen in winter:
Stroll the charming grounds and Christmas Markets of Tivoli Gardens amusement park, all lit up for the holiday season
Grab delicious Danish and international foods at Torvehallerne — grab some Mikkeler craft beer at the bottle shop here as well!
Snap fairytale-esque photos from the home neighborhood of Torvehallerne, Nyhavn, with its colorful houses on the canal
Take in the view from the Rundetaarn
Walk around the trendy and diverse Nørrebro neighborhood and stop for ramen at Ramen to Biiru
Aarhus, Denmark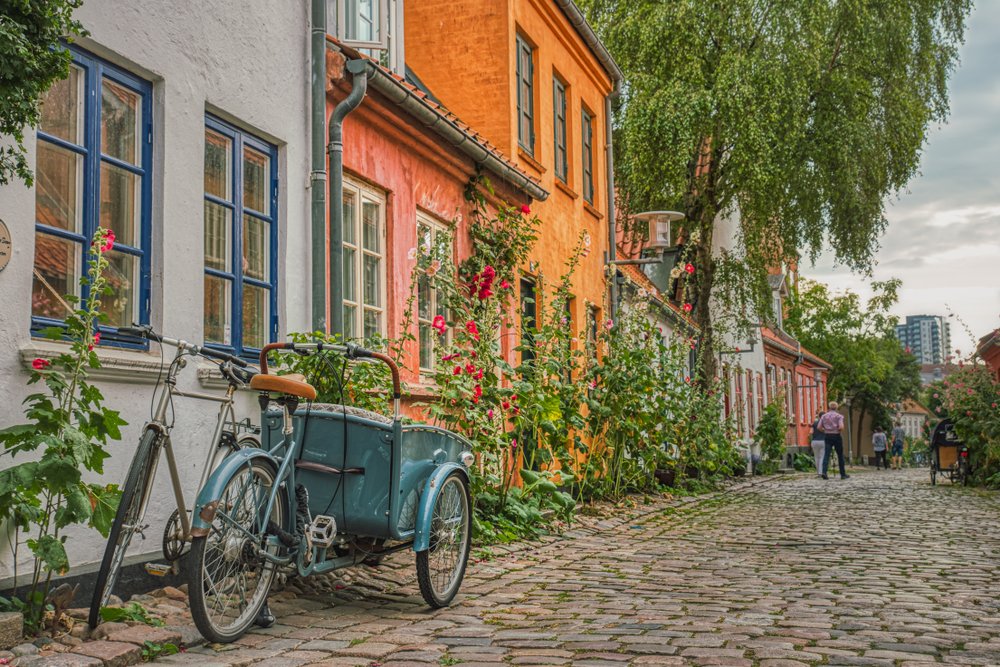 Editor's Choice
Denmark's little-known second-city is rarely visited by tourists, but it's a charming well-kept secret that more travelers should know!
Winter in Aarhus is a great time to come and explore the city as its easily accessible from Copenhagen by train yet it offers a totally different side to the country than Copenhagen does.
Here are a few things I recommend doing in Aarhus in winter:
Check out great works of art at ARoS Aarhus Art Museum
Walk around the Aarhus Ø district and see its most iconic buildings like The Iceberg: an emblem of Danish design
Learn about Danish history and culture at the Old Town Open Air Museum
Instagram your way through Aarhus's most scenic street, Møllestien, as well as the photogenic Latin Quarter
Dine til you drop at Aarhus Street Food, a permanent indoor/outdoor street food market
Reykjavik, Iceland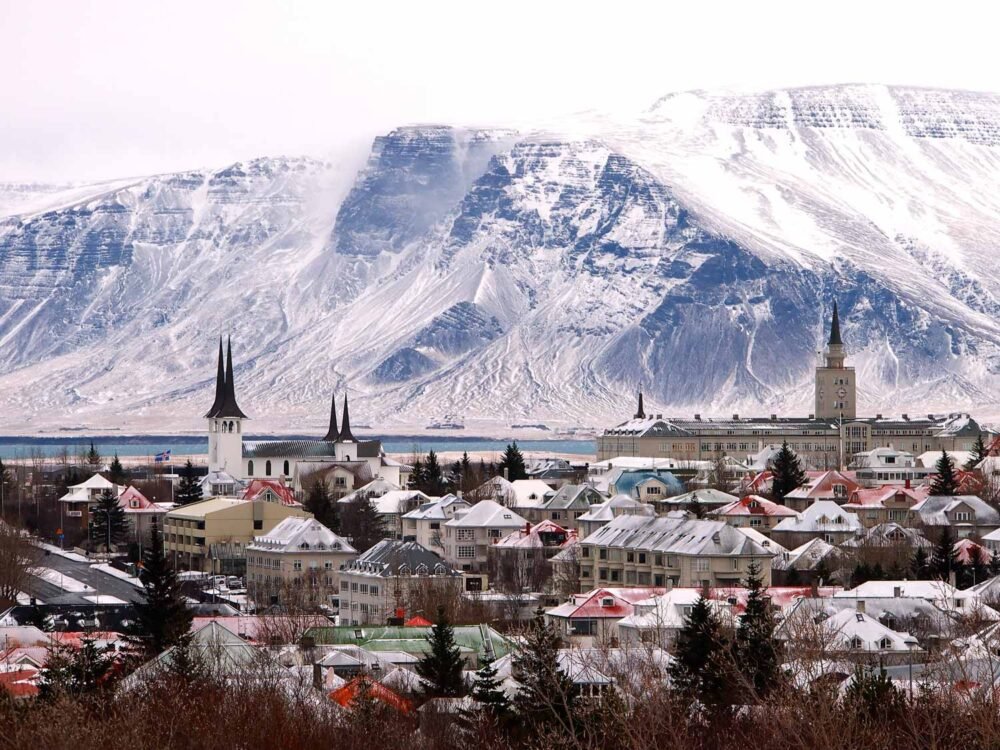 Contributed by Amanda from A Dangerous Business
When it comes to winter destinations in Europe, a lot of people will immediately think of mulled wine and Christmas markets. But there's another city removed from mainland Europe that you don't want to forget: Reykjavik, Iceland.
Iceland is most popular during the summer months, when long days leave ample time for road trips and outdoor adventures. But winter in Iceland – and in Iceland's capital city – can be just as great.
Reykjavik is the heart of Iceland. Not only is it the country's capital, but it's also where the majority of Iceland's population lives. Even in the dark days of winter, Reykjavik is lively and makes for a great long weekend escape.
The top things to do in and around Reykjavik in winter include:
Cozy up with a coffee in one of Reykjavik's trendy cafes.
Take the elevator to the top of Hallgrimskirkja to enjoy snowy views of Reykjavik and the surrounding landscape.
Spend a morning soaking at the Blue Lagoon. Yes, you can visit these thermal pools even in the winter time!
Go on a Northern Lights chasing tour to try to spot the aurora borealis dancing in the sky. The Lights are sometimes bright enough to see right in downtown Reykjavik.
Stay in Reykjavik for the city's famous New Year's Eve party, which includes bonfires and a massive fireworks display.
Reykjavik is also a great base for exploring Iceland's natural wonders during the winter months. Day trips to see the geysers of the Golden Circle and the waterfalls along the South Coast run year-round, or you could get even more adventurous and go hiking on a glacier, or horseback riding in the snowy volcanic landscape.
Oslo, Norway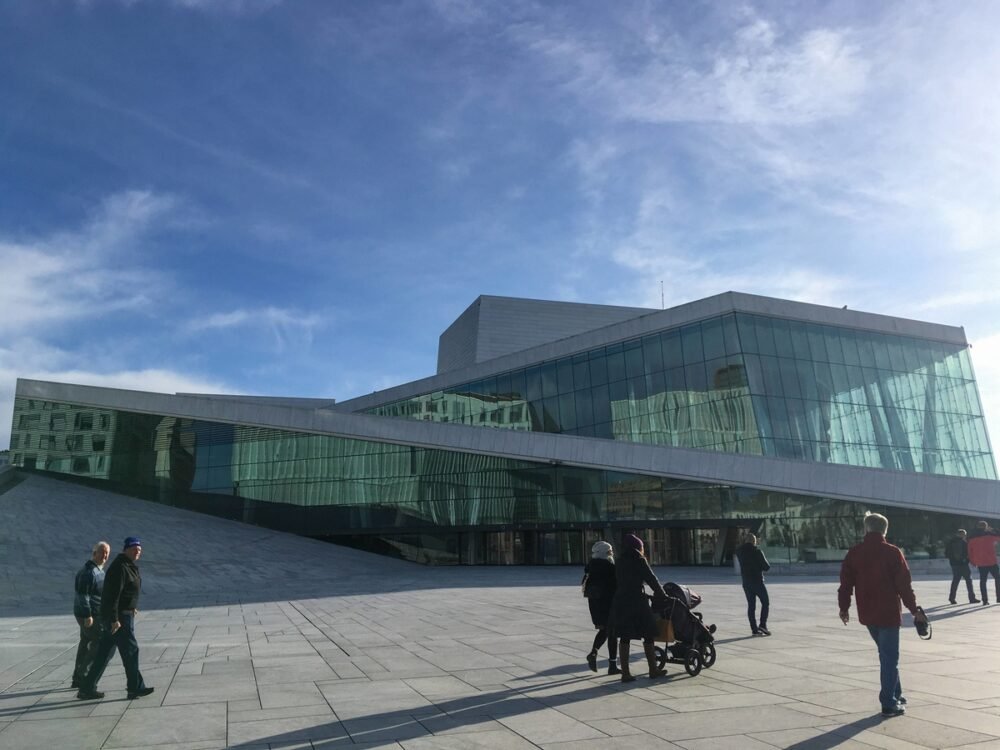 Contributed by Ella from Many More Maps
Oslo, the capital of Norway, is undoubtedly one of the best places to visit in Europe in winter. Known for its stunning setting overlooking the Oslo Fjord, you'll be treated to spectacular winter scenery and scenic cruises during your trip here.
For a great introduction to the city, plan to stay at least 2 days in Oslo. This will be enough time to hit up all its highlights, soak up its unique vibe and try some of Oslo's totally unique and completely delicious food.
As one of the safest cities in Europe, you won't need to worry about walking alone after dark in Oslo (and it gets dark very early in winter!).
What's more, contrary to what you've probably heard, with a bit of advanced planning Oslo can easily be seen on a budget.
Purchase the Oslo pass to cover your transportation and museum entry tickets, and stay at the Smarthotel Oslo, where you can score a room for as cheap as €55 per night!
Sample the famous Norweigan meatballs at Kaffistova.
Walk up to the roof of the Oslo Opera House for a free, only-in-Oslo experience.
Take a sauna right on the Oslo Fjord for one of the best sunset views in the city.
Marvel at the bizarre sculptures at the Vigeland Park.
Head to the Viking Ship Museum to see three reconstructed Viking ships that were found buried near Oslo.
Tromso, Norway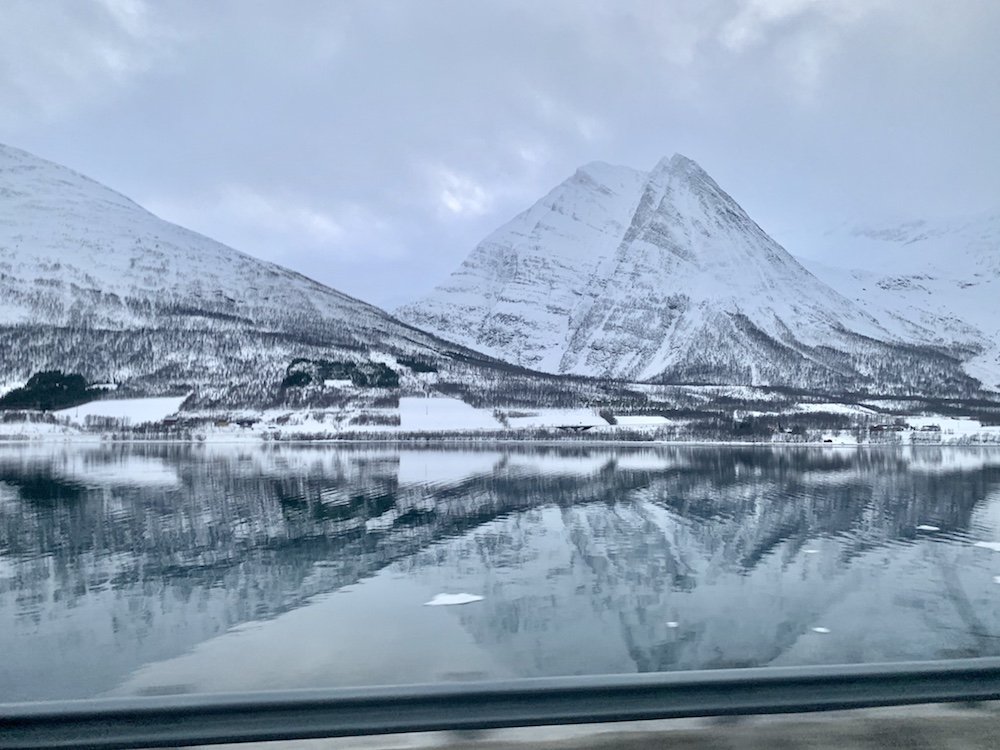 Editor's Choice
How does going north of the Arctic Circle sound for winter in Europe?
With some days where the sun never rises above the horizon and freezing temperatures and snow nearly every day, it may sound a bit crazy. But trust me on this: Tromso doesn't need sun to be beautiful in winter!
While you won't find the traditional Europe in winter staples of Christmas markets and lit-up trees, you will find plenty of active adventure to get you out and about in Norway's gorgeous arctic nature.
Here are a few incredible things to do in Tromso in winter:
Take a self-driving dog sled red with a team of enthusiastic huskies
Visit the Tromso Ice Domes, a scenic ice hotel rebuilt each year located about 90 minutes from Tromso city.
Go whale watching for orcas and other whales during whale season (November through January) if conditions permit
Visit a Sami reindeer camp and learn about the customs and lifestyles of the indigenous people of Sapmi (which settlers named Lapland)
Take an aurora minibus tour and chase the Northern lights — sometimes all the way into Finland!
Gothenburg, Sweden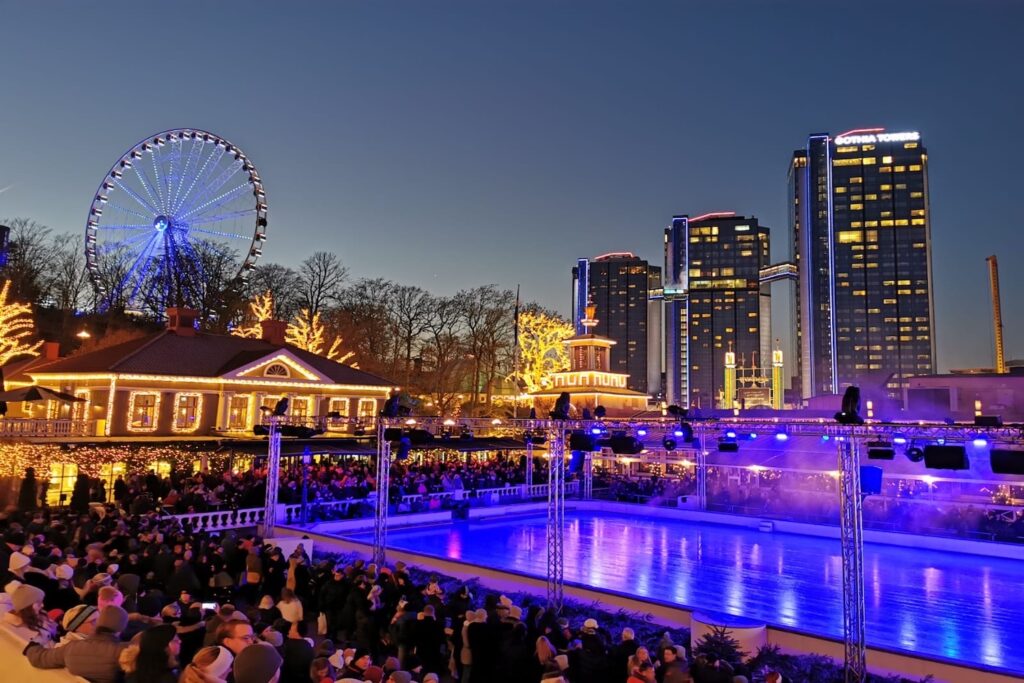 Contributed by Roshni of The Wanderlust Within
As the second largest city in Sweden, Gothenburg, is perfect for a winter break. There are four amazing Christmas markets in Gothenburg all scattered across the city, and focusing on different themes.
The most traditional is at Kronhuset, the most modern one, that sells local designer goods is at Roda Sten Art centre, and the foodie focused Christmas market is in Haga.
However the most popular and largest Christmas market in Sweden is at Liseberg amusement park. Running for most of December, the attraction combines roller coasters with festive ice skating shows, over 80 Christmas stalls and Santa's grotto.
The Christmas Markets sells everything from hand decorated baubles to traditional Swedish gingerbread, called Pepparkaka.
There is also a wonderful Swedish Christmas buffet dinner available (book well in advance), that serves all the local festive favorites such as pickled herring, saffron buns, cured salmon, and a long table full of chocolates and sweets known as a 'gottebord'.
Top things to do in Gothenburg in winter include:
Explore the city on a Paddan canal cruise
Try the largest cinnamon rolls in Sweden at Cafe Husaren in Haga
Visit the free palm tree house and explore the tropical botanical gardens
Go ice skating at Liseberg theme park
Check out the singing Christmas tree, a choir arranged on a platform in the shape of a Christmas tree, performing all your favorites
Stockholm, Sweden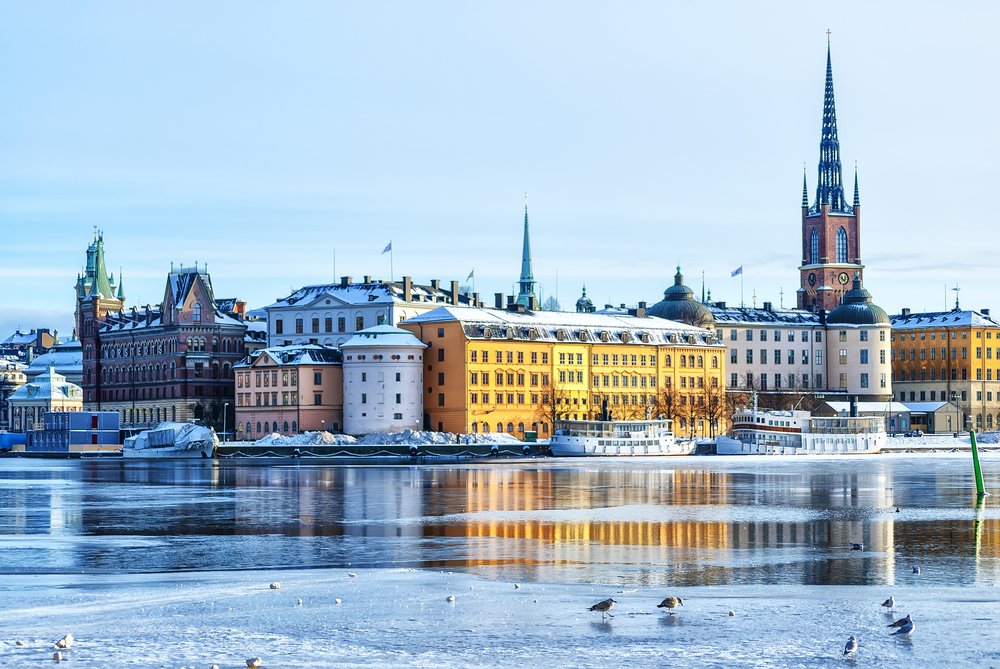 Editor's Choice
From exploring the museums, stopping for coffee breaks and Swedish pastries, visiting Christmas markets, and enjoying scenic boat rides through canals, there are countless things to do in Stockholm during the winter season.
If you visit Stockholm in November or December, try to time your vacation around the Christmas markets. The Christmas lights and cheer somehow make the snowy, dark days feel a little brighter.
Here are the best things to do in Stockholm in winter:
Experience a genuine Stockholm winter by visiting the Christmas Market in the heart of the Old Town, Gamla Stan.
See an expertly preserved ship 17th century ship at the Vasa Museum
Eat your heart out at the indoor marketplaces: Hotorgshallen and Östermalms Saluhall
Spend a day at Centralbadet (Central Bath), a beautiful bathhouse with Art Nouveau décor, plenty of saunas, and several heated swimming pools to choose from.
Take a boat tour around Stockholm's 14 islands
Abisko, Sweden
Editors Choice
While I'm sure Abisko, Sweden is a lovely place to visit at any time of year, it truly shines in winter.
You can see Northern lights dancing overhead almost literally every night, walk amongst frozen waterfalls in the national park, snowshoe across epic landscapes, and experience all the wonder of Lapland.
Here are my top picks for what to do in Abisko in winter:
Go Northern lights spotting with a guided tour or independently out on the frozen-over Torneträsk lake
Go dog sledding and cuddle some husky pups
Chase (frozen) waterfalls in Abisko National Park
Learn about the indigenous Sámi culture on a day tour
Visit the ICEHOTEL in Jukkasjärvi
Helsinki, Finland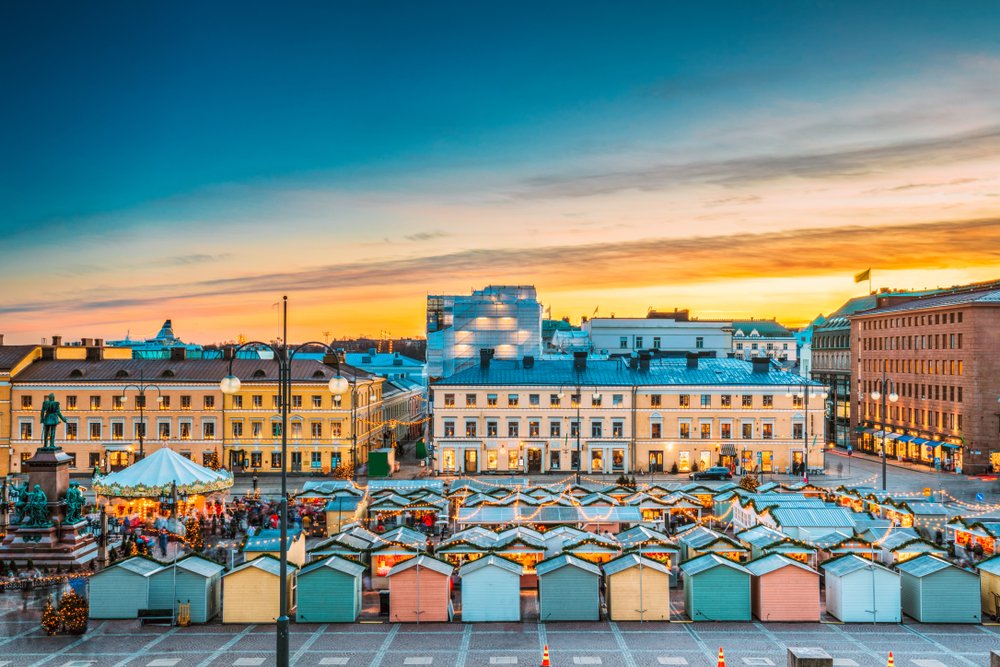 Editor's Choice
Helsinki in winter may not be the first choice that comes to mind for a winter in Europe, but keep an open mind and you're sure to love the Finnish capital city in winter, even when the sun sets just after 2 PM!
From Christmas Markets in December to festivals all winter long, winter in Finland is all about getting cozy at cute cafes, sweating it out in saunas, enjoying tasty Nordic cuisine at trendy restaurants, and enjoying Helsinki's architecture on strolls through the city.
Here are a few can't-miss winter activities in Helsinki:
Drink some glögi (mulled wine) at one of the Christmas Markets in the city — the cutest is at Senate Square
Visit the snowy island fortress of Suomenlinna, a UNESCO World Heritage Site, which you can access by a quick ferry from Helsinki
Visit during the Lux Festival in January to see Helsinki Cathedral all lit up beautifully
Take a traditional Finnish sauna at a public sauna house like the trendy Löyly — and jump into the icy Baltic Sea after, if you dare, like a true Finn!
Warm up indoors at the Old Market Hall and snack on all sorts of traditional treats
Rovaniemi, Finland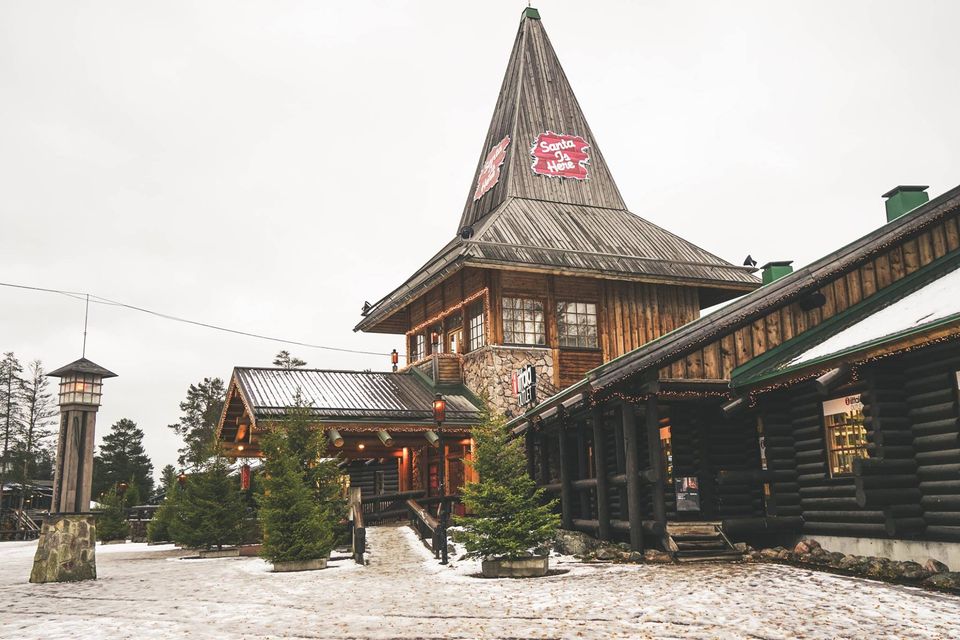 Contributed by Jordan of Inspired by Maps
Rovaniemi is the capital of Lapland, in northern Finland, is one of the best cities to visit in Europe in winter.
Not only is it renowned for being the home of the 'real' Santa Claus', but there is husky-sled ridding, incredible museums, sauna's and it is one of the best spots to see the Northern Lights from.
Rovaniemi is also surrounded by spectacular picturesque photography locations — including virtually infinite stretches of pristine Nordic forests and wilderness — all of which are even more stunning when blanketed in the winter snow. The Northern Lights perform in Lapland roughly 200 nights of the year-and can be observed from Rovaniemi every third night during the winter.
While in Rovaniemi in winter, you should download the Aurora prediction app and head down to the Arktikum Park and Lake for an adequate chance to see the action when the app tells you. There is a little light pollution here, however, so a more reliable way to see the phenomena is to go out on a Northern Lights tour with expert guides who know how to expose Lapland's beauty to tourists.
Other than Northern Lights viewing, there are so many other things to do in Rovaniemi on a European winter escape including:
Learn more about the nature, community and history of Lapland at the prestigious Arktikum Museum of Science.
Appreciate a genuine Finnish sauna experience, both in your hotel or one of the public saunas in the city.
Head out to the Santa Claus Village and cross over in the Arctic circle.
Get your artistic fix at the Museum of Art in Rovaniemi or by exploring the modernist Rovaniemi Library, designed by the famous architect Alvar Aalto.
Feel the wind racing and get your heart pounding while embracing the chill of the wilderness on a husky sledding tour in the Lappish wilderness.
Tallinn, Estonia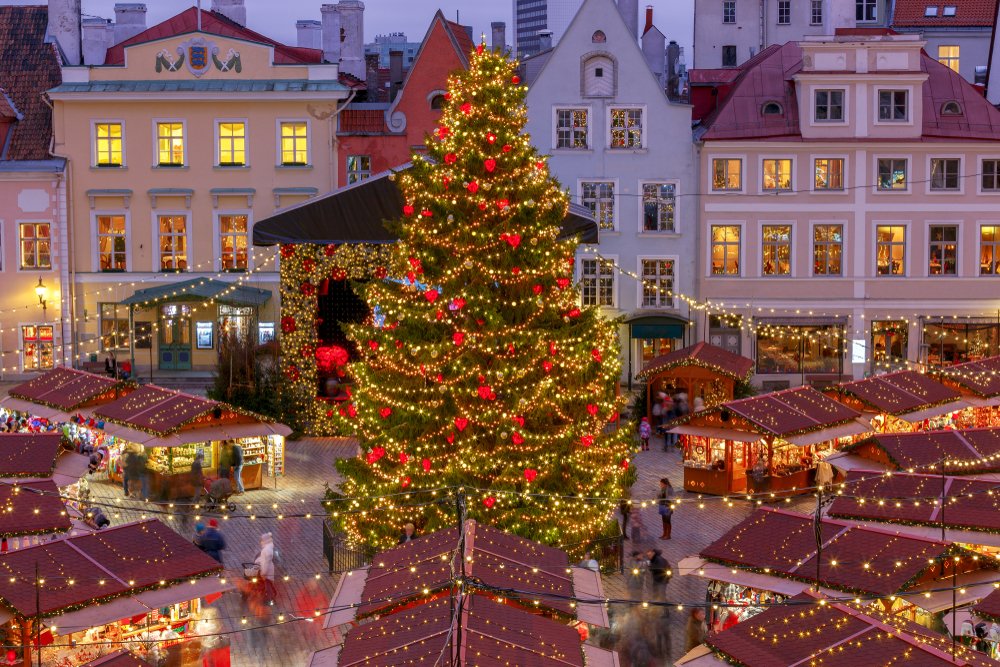 Editor's Choice
Tallinn is one of my favorite places to be in Europe in winter, hands down! I have a huge crush on all things Estonia, and I think it's one of the most underrated countries in Europe.
With a thriving hip scene in the trendy area of Kalamaja, trendy restaurants serving up beer pairings with new takes on Estonian cuisine, and tons of historic charm to add a refreshing context to the forward-focused city, Tallinn is Europe's best kept winter secret.
Here are a few great things to do in Tallinn in winter:
Grab coffee at a cute local cafe — I like Kohvik August in the city center and pretty much anywhere in the Telliskivi Creative City area
Spend the dark afternoons in one of Tallinn's many cool museums: my preferences are the KGB Museum, KUMU (art museum), and Seaplane Harbor Museum.
Eat tasty food and sip on local beer at the redesigned Balti Jaam market
Drink mulled wine and shop for hand-crafted souvenirs at Tallinn Christmas Market
Take in views of Tallinn from its three best viewpoints: Toompea Hill, Kohtuotsa, and Piiskopi.
Riga, Latvia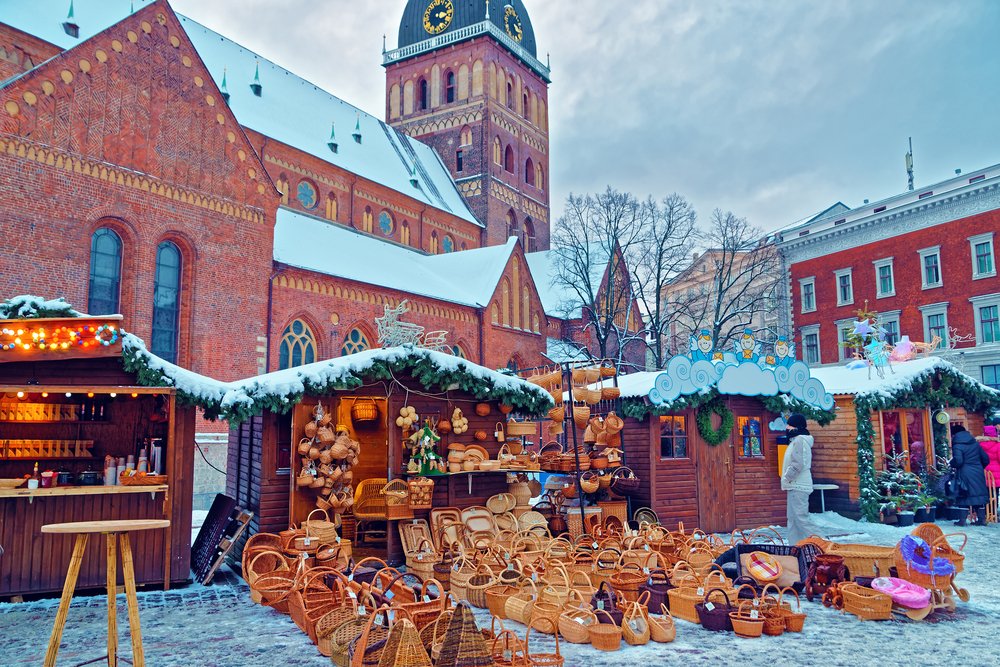 Editor's Choice
Another little-traveled Baltic gem, Riga in Latvia doesn't usually come to the forefront of people's minds when thinking of where to spend winter in Europe, but I think that's a huge mistake!
While yes, Riga is often frigid and dark in the winter, that just means that you have more excuses to indulge in delicious Latvian food and beer and check out cool museums around the city.
Here are a few picks of what to do in Riga in winter:
Stop for a cake and Instagrammable surroundings in the charming Café Parunasi in Riga's Old Town
Climb to the top of St Peter's Church for epic views of the Old Town
Visit Riga's most iconic piece of architecture, House of the Blackheads
Take in sweeping views with a delicious drink at Skyline Bar
Warm up from the inside out by trying Riga's signature liquor, black balsam, at any local bar
Moscow, Russia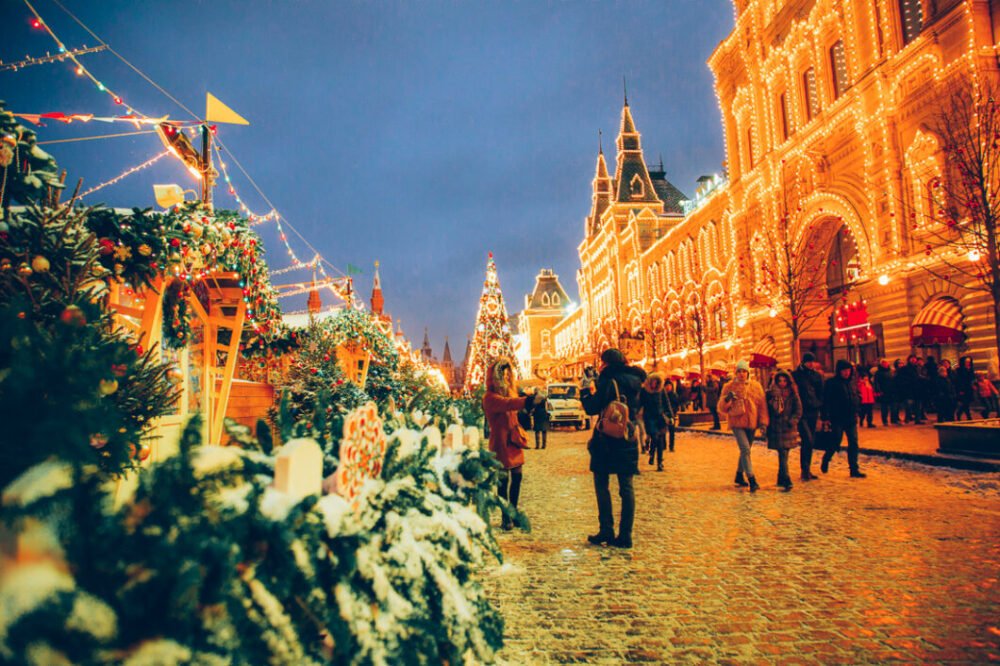 Contributed by Lindsey Puls of Have Clothes, Will Travel
Moscow in winter is simply magical and looks as though the city were plucked straight from a fairytale. There are many beautiful Christmas lights displays, as well as Christmas markets that begin in late November and run to the end of February.
The most famous Christmas market is held in Red Square. Here you can shop and marvel at the snow-covered St. Basil's Cathedral and the Kremlin, with a mulled wine in hand.
Some more of the best things to do in Moscow, especially in winter, are:
Visiting a traditional Russian banya! In short, a banya is similar to a sauna. In the winter, you can cool off in between sessions by jumping in a snowbank or even a frozen lake!
Enjoying a show at the Bolshoi Theatre. This historic theatre holds some of the world's best ballet and opera performances. If possible, I highly recommend seeing a ballet performance on the Historic Stage. And if you're visiting at Christmastime – The Nutcracker ballet performance is, hands down, the best performance I've seen in my life.
Shopping at Izmailovksy Market: Izmailovsky Market is a year-round market that has the best prices on Russian souvenirs.
Touring the Moscow Metro. Moscow's metro is considered one of the most beautiful in the world!
Exploring the Kremlin Armory. This is Moscow's most famous museum and houses more than 4,000 exhibits – the collection of rare, ancient carriages of Russian rulers is not to be missed!
Tbilisi, Georgia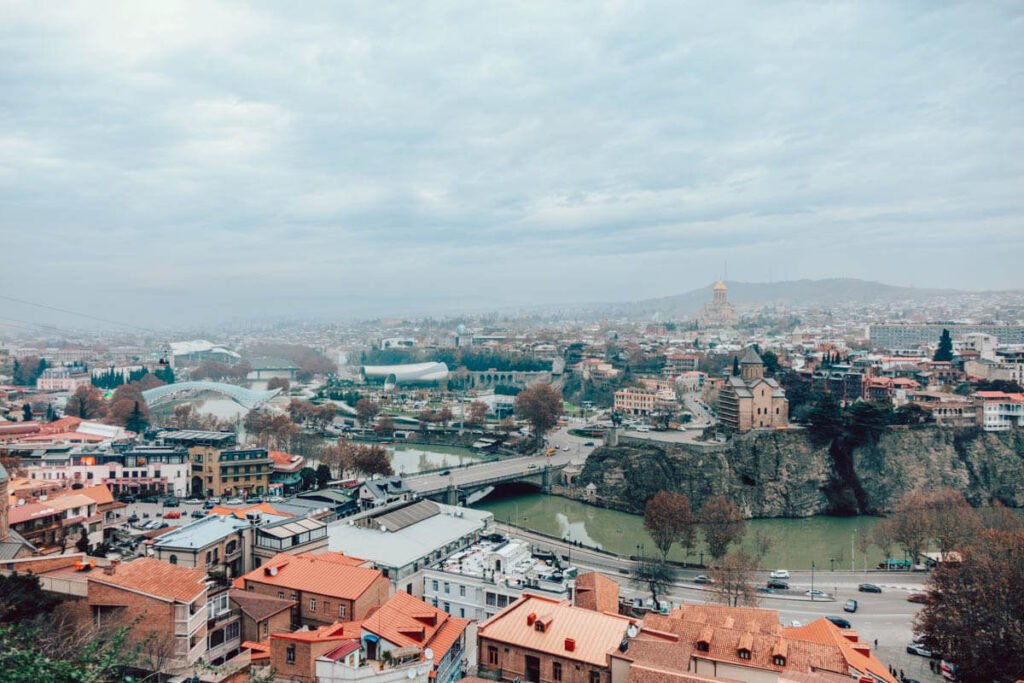 Contributed by Baia of Red Fedora Diary
Tbilisi, the capital of Georgia, is one of the best cities to visit in Europe in winter because of its mild weather. It rarely snows here, so it's perfect for those who'd like to explore warm places during winter break. Moreover, prices for accommodation drop during winter months, so you can easily find a cute Airbnb or a hotel room.
The city is rich in history and shows the trace of Russian and Persian rulers in its narrow cobblestone streets. Therefore, it's a perfect juxtaposition of old and new, with modern architecture backdropped with ancient fortresses, churches, Soviet brutalist architecture, and Art-Nouveau buildings.
There are plenty of things to do in Tbilisi, so everyone can find something that suits their taste. However, the top experiences to have here are as follows:
Climb the 4th-century Narikala Fortress for amazing views of the old town
Take a sulfur bath in Abanotubani to relax after a long day of exploration
Learn more about the country in the National Museum and its Soviet occupation hall
Pay a visit to Jumah Mosque where Sunni and Shia Muslims pray together
Indulge in comfort food and taste Georgian cuisine
If you come here during Christmas or New Year, beautiful lights and decorations do adorn the city, while small Christmas Markets are scattered in the central parts of the city. Find them at Rose Relovultion Square and Orbeliani Street.
Pin This Guide to Winter in Europe
Allison Green is a former educator turned travel blogger. She holds a Masters in Teaching and a B.A. in English and Creative Writing. Her blog posts merge her educational background and her experience traveling to 60+ countries to encourage thoughtful travel experiences that both educate and entertain. She has been a speaker at the World Travel Writers Conference and her writing, photography, and podcasting work has appeared in National Geographic, CNN Arabic, CBC Canada, and Forbes, amongst others. Now based in the San Francisco Bay Area where she grew up, she has also lived in Prague, Sofia, and New York City.