Equal parts gritty and pretty, Bucharest has some tricks up its sleeve. It's a city that rewards you for taking your time and experiencing it slowly.
Frankly, its main sights — the Palace of the Parliament, for one — aren't the real draw.
Bucharest tends to be a quick stop on everyone's Romania itinerary – they give it a quick pass before going to the more charming fairy-tale towns and cities in Transylvania.
What's best about Bucharest is the way it slowly reveals itself to you over time.
Hidden cafés, forgotten architectural gems on tucked away corners, and quirky bars that are hard to find are all the things make this oft-bypassed capital city so unique.
It's not as easy as just ticking the main things to do off a Bucharest checklist, the way you might in Paris or London.
But if you're the kind of traveler who's a sucker for hidden gems, you may just find yourself drawn to Bucharest's faded grandeur, eccentric shops, and understated charm.
While I highly recommend getting lost (a cheap Uber is never far away, and are much more reliable than the price-gouging taxis), if you're one of those travelers who needs a spot of guidance, here are a few of my favorite things to do in Bucharest.
My top things to do in Bucharest
Explore the beautiful bookstores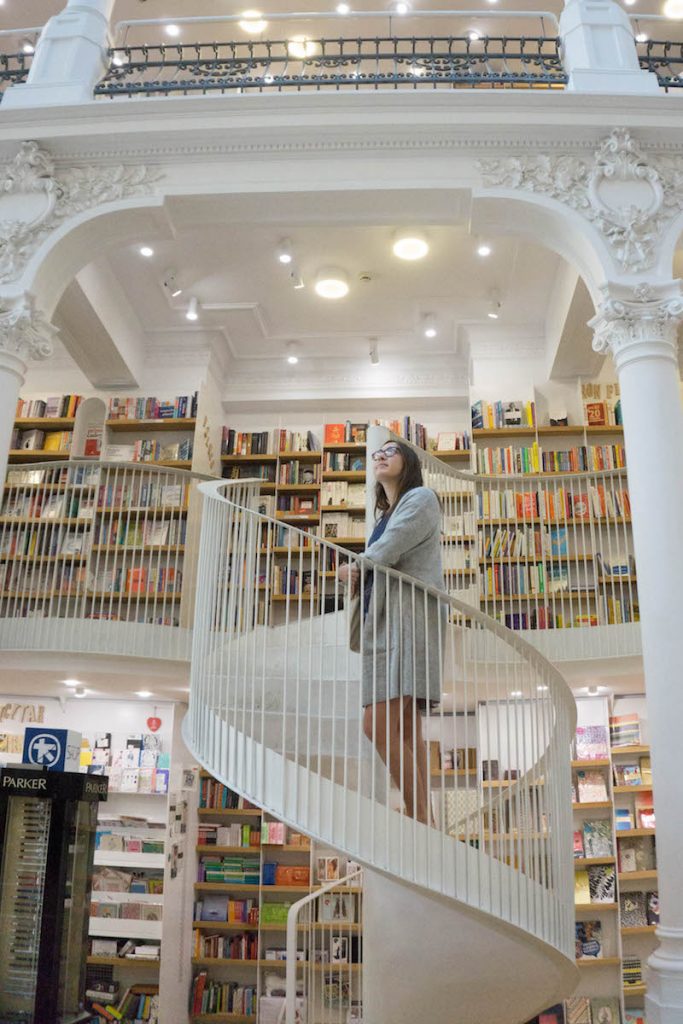 Note: This post contains affiliate links, which means I may receive a small commission if you purchase something through one of these links. Thank you for supporting the free content on this site! For more information on affiliate links and cookies, see my disclosure page for more details.
There are many reasons to visit Bucharest, but number one should be its excellent book stores!
Carturesti is a small Romanian chain of bookstores. Their most famous and perfectly picturesque branch, Carusel, is conveniently located right in the heart of Bucharest's (not so) Old Town, on Lipscani Street.
While Carturesti Carusel is more Insta-famous, I actually preferred the Verona branch near Piata Romana.
It's tucked into a historic former home, full of different rooms and levels with stairs that squeak and rooms that have that lovely, musty book smell that is an aphrodisiac to nerds everywhere.
Every room and level felt like another little hidden gem – some full of books, others knickknacks and clothes.
Unwind in the Cismigiu Gardens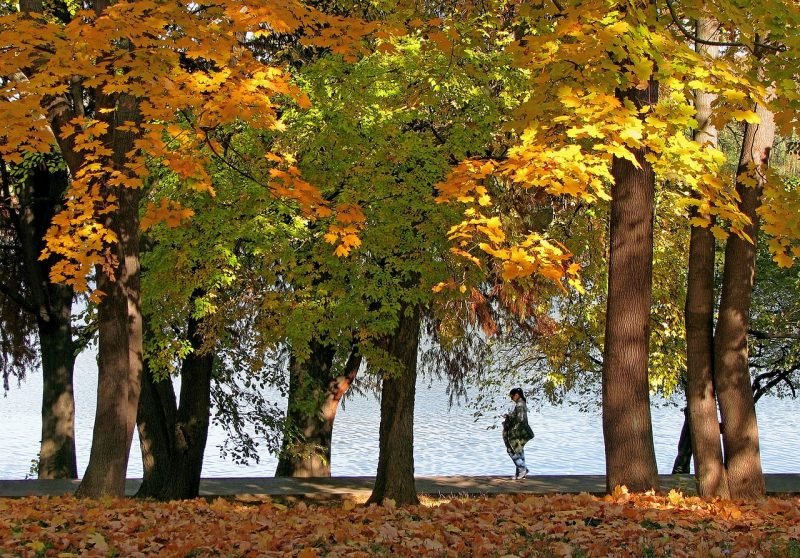 I've been to nearly every Balkan capital city so far, and Bucharest is by far the most frenetic and busy, especially the nonstop traffic coursing through the city.
Luckily, there are plenty of green spaces not far from Bucharest's Old Town: my favorite being Cismigiu Gardens, which I'd say is kind of like Bucharest's Central Park. Full of fountains, monuments, and bridges, this charming spot is especially beautiful in autumn.
Have a coffee or tea in one of many outdoor café-gardens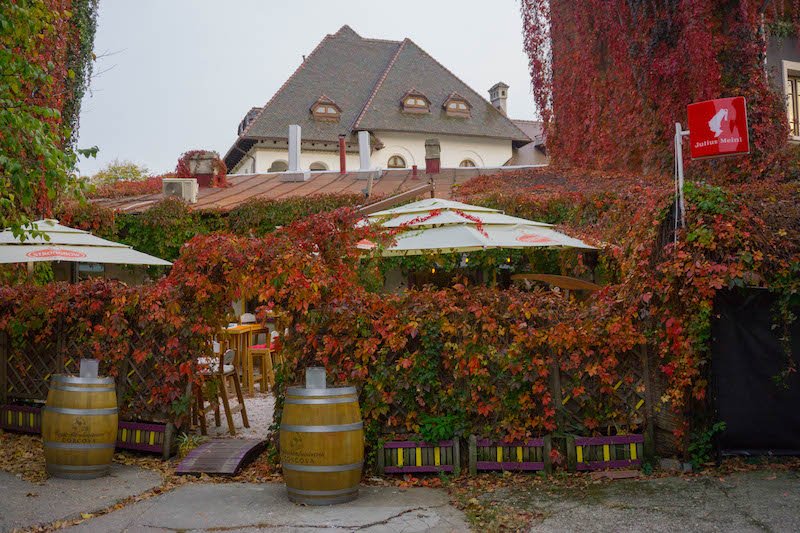 Just look for the word "gradina" — Romanian for garden — and you'll find a series of tucked-away little cafés and bars nestled in alleyways just off the beaten path.
A few of my favorites were Gradina Verona (right by the Carturesti near Piata Romana), Gradina Eden, and Serendipity Tea House: having a cup of coffee in these gardens was one of my favorite things to do in Bucharest.
A note: smoking is quite common in Romania (and the rest of Eastern Europe), so if you're particularly sensitive to smoking you have some trouble.
I personally don't mind, but others I were traveling with mentioned this bothered them. Something to keep in mind!
See the oddly misguided Memorial of Rebirth in Memorial Square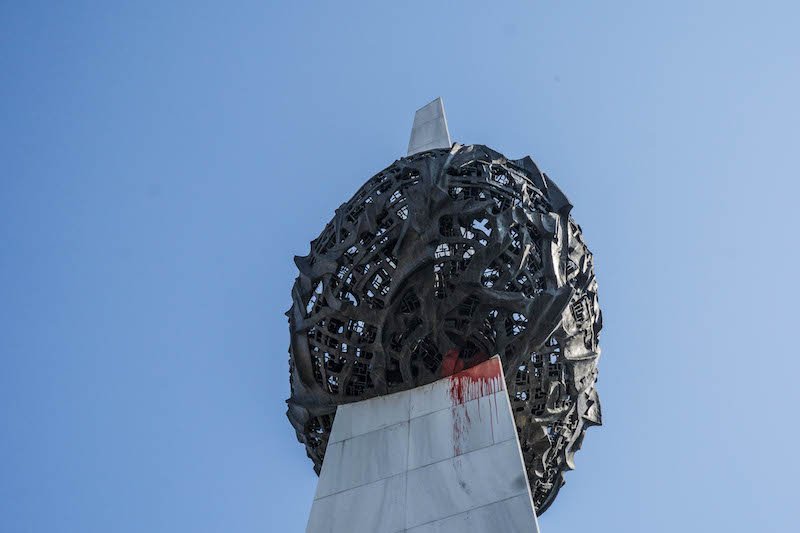 Memorial Square is the site where the Romanian Revolution took place in 1989, where Nicolae Ceaușescu gave his last address amidst mass protests rising all around Romania and then fled by helicopter, before he was executed days later.
The statue was erected in this place in 2005, with mixed emotions. Many Bucharest residents either view the memorial with indifference or disdain.
Some think it's too abstract and doesn't properly memorialize the thousand plus lives lost during the revolution. The younger generation seems not to care at all, and have turned the statue's surrounding plaza (piata) into an after hours skate park.
Four years back, a man shot the statue with a red paintball, and the paint has never been removed.
I like to think it makes the memorial look like a brain on a spike (others say a bloody potato).
I doubt either is the artist's intention, but it's a quirky point of interest in Bucharest all the same.
Tip: If you're interested in tracing Bucharest's communist history through its architecture, I recommend doing a Communism-themed walking tour.
See the burgeoning street art scene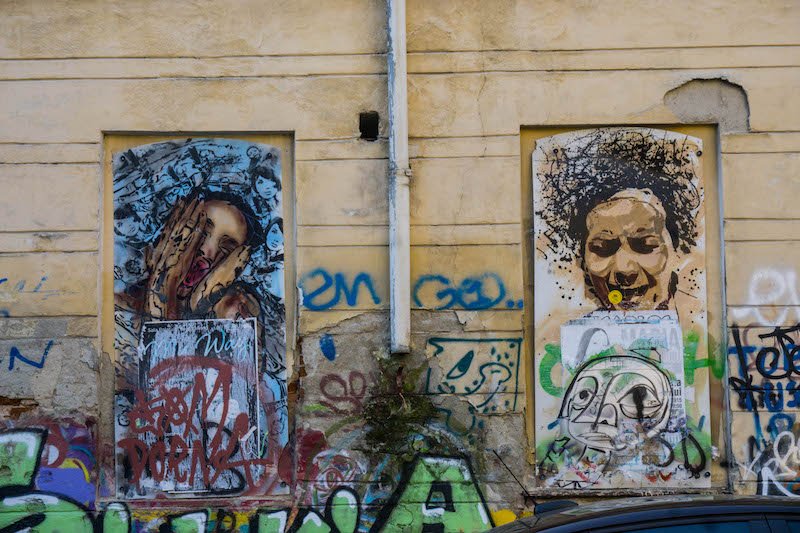 Bucharest isn't widely known for its street art, but if you stray outside the center just a tad you'll find a ton of interesting murals near Piata Romana.
Strada Arthur Verona is probably the most decked-out street of all, with a few interesting walls of murals.
If you start by the Carturesti and work your way east, you'll see plenty of interesting street art by a variety of graffiti artists and muralists alike.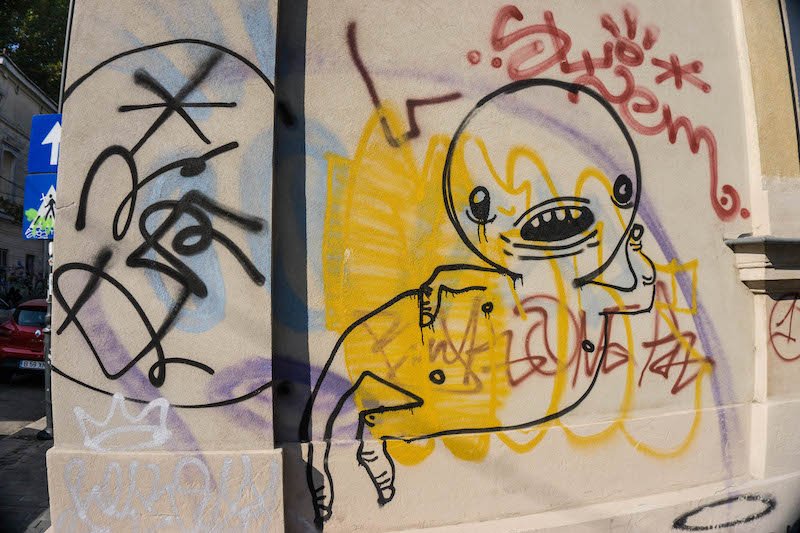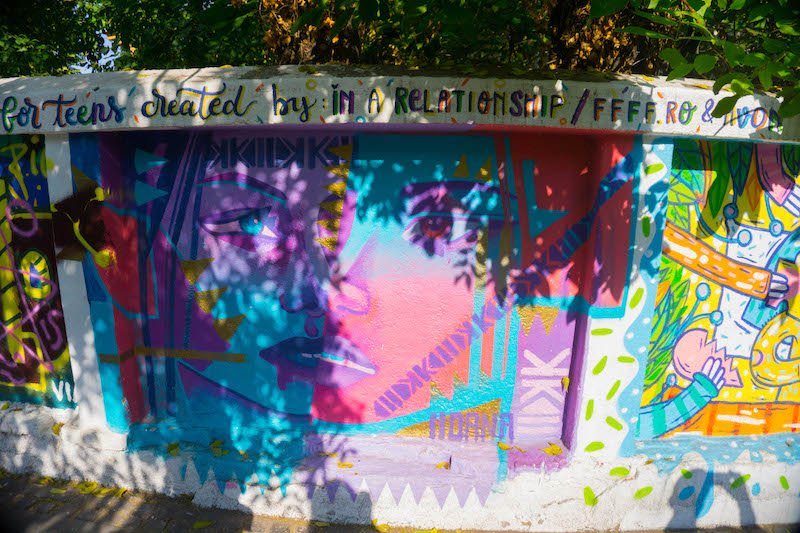 My favorite street art murals, however, are done by Sweet Damage Crew, who create some really next-level street art.
Two are within walking distance of Piata Romana and should not be missed! Definitely one of the top things to do in Bucharest.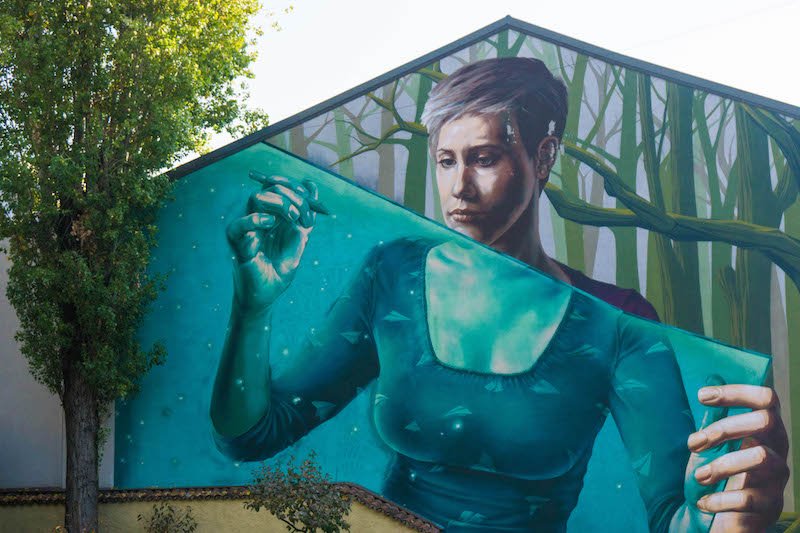 See a slice of the real Old Bucharest
Once considered "Little Paris" for its wide boulevards and Art Nouveau architecture, the 20th century was not kind to Bucharest.
First World War II, then a brutal period of Communism, then a rough period of rebuilding: it's no wonder Bucharest is a little rough around the edges.
Still, there are bits and pieces of Bucharest's storied past hiding behind the buildings in disrepair.
Hidden in plain sight, Curtea Veche – the old court of Bucharest – is chilling just a few blocks from the raging Bucharest nightlife scene that marks most of Bucharest's Old Town.
Quiet and peaceful, this court was actually constructed by Romania's most famous "villain" – Vlad Dracula, aka Vlad the Impaler, as a summer residence before Bucharest became the political and economic hub it is today.
If you want to ensure you understand the history of Bucharest, there are free walking tours available daily.
Photograph the famous "Umbrella Alley" (Pasajul Victoriei)
Oh, Instagram — it's so weird how predictable we are because of you.
Throw up a few colorful umbrellas and watch every tourist who's in Bucharest pop by for a photo. This isn't really a "hidden gem" anymore, and is quite easy to find as it's right on Calea Victoriei, but hey! It fills out a list and it's pretty! If you're obsessed with Instagram, this is probably one of the first places to go in Bucharest.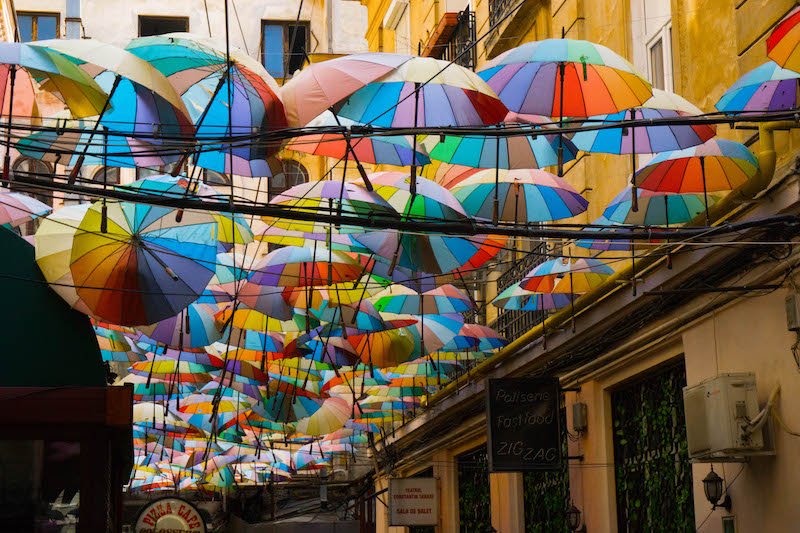 Get away from it all at Therme Spa
City noise got you down? I hear you. Whether you want to sweat out your hangover from last night in the Old Town (I'm not telling you to not go to the Shoteria, but you probably shouldn't go to the Shoteria), or you just want to relax and unwind, Therme is luxury writ large — really large.
As in, it's the "biggest relaxation, wellness, and indoor entertainment center" in Europe big. And, since it's right by the airport, it's the perfect spot to unwind before your flight home.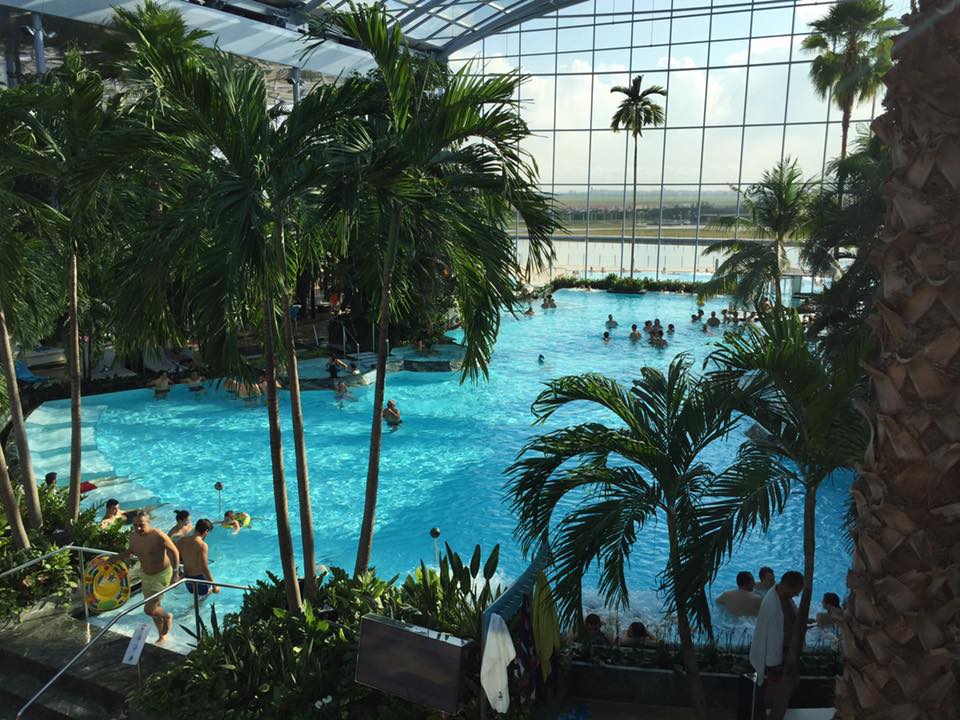 I personally never made it there, because I suck at life, but if I ever return to Bucharest I know that's where I'll be spending one of my afternoons.
Indulge in "third wave" coffee culture
f you want to feel like you're in Brooklyn in the heart of Bucharest, head on down to Origo, where you can have delicious freshly roasted beans done any way you like it, even with your choice of origin (the day I went, espresso bean options were from Nicaragua and Ethiopia). Artichoke also has delicious coffees, with cute Scandinavian-inspired design.
What can I say? Hipster coffee shops make me feel all warm and fuzzy inside.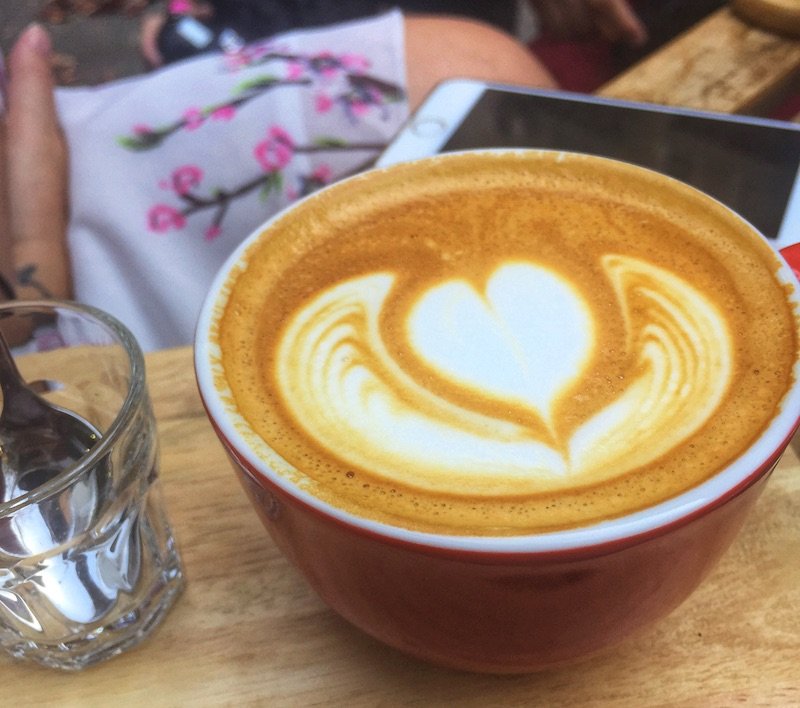 Try the Romanian version of a donut at La Mama
I'll admit, after nearly three weeks in Romania eating nothing but Romanian food, I'm not a big fan of their cuisine (I might well cry if I see polenta ever again). However, their desserts are a whole 'nother story.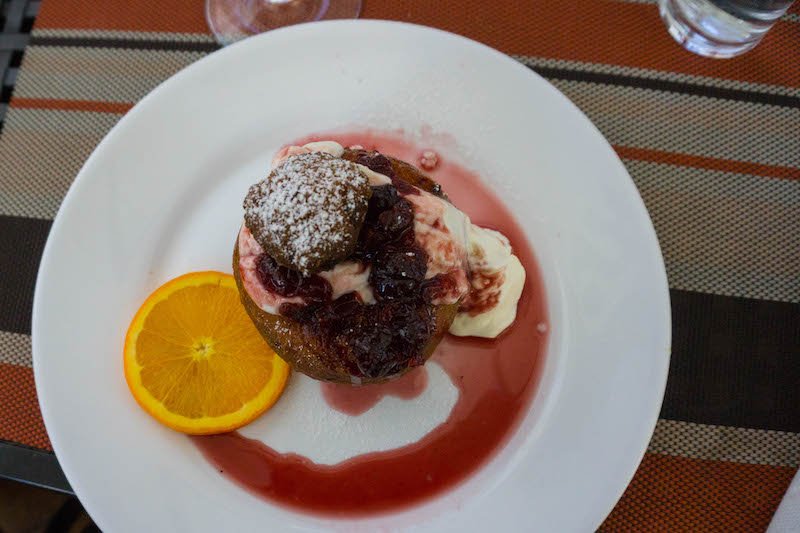 The papanasi at La Mama is EVERYTHING. It is so simple yet so, so good.
A mouthwatering fried piece of dough, doused with sour cream and tart cherry jam, topped with a cute little donut-hole hat and garnished with a slice of orange. Absolutely delicious. For sweet tooths, it should be #1 on your list of things to do in Romania!
Explore the unique architecture nearby Piata Romana
The wealthiest neighborhood of Bucharest is just to the east of Piata Romana. There you can see tons of interesting architecture unlike anything I've seen anywhere else.
A mix of Ottoman, traditional Romanian, and Western styles, the architecture in this part of Bucharest is truly unique.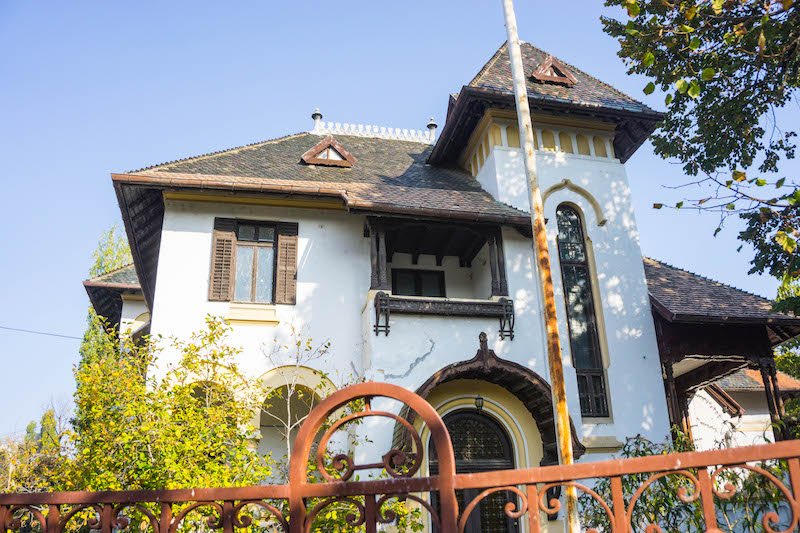 Visit the Romanian Athaeneum
Located right on Calea Victoriei just a few minutes' walk from the Memorial of Rebirth, this is another one of those "hidden in plain sight" places to visit in Bucharest.
From outdoors, the building looks lovely yet understated, but it hides a major architectural beauty inside.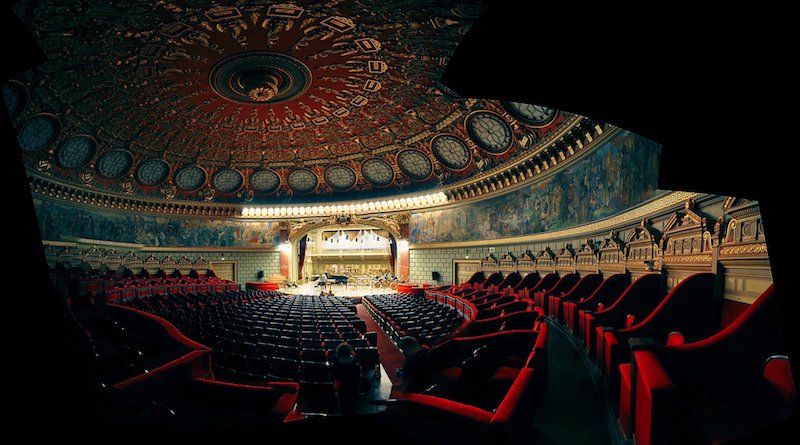 Being the terrible travel blogger that I am, I had no idea you could go inside until after I left (d'oh!) so learn from my mistake: you can go in as long as there's no practice ongoing!
See a slice of Little Paris at Pasajul Vilacrosse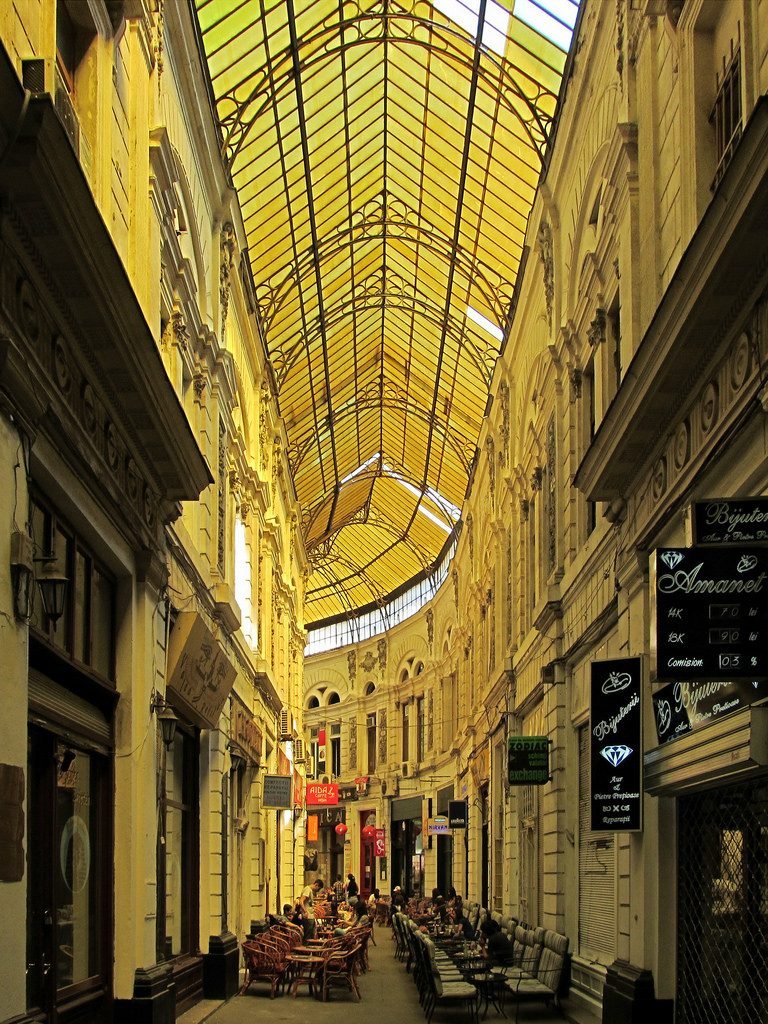 Passajul Vilacrosse intersects with Calea Victoriei right before Lipscani (if you're walking from any point North, that is) and is so understated you might miss it the first pass or two.
Inside are just a few restaurants and stores, but its old-school charm will have you understanding Bucharest's former nickname of Little Paris — the arcade style is definitely reminiscent of France in the 19th century.
Get a taste of nostalgia at the Kitsch Museum
I didn't get a chance to visit this museum, but since it perfectly fits the off the beaten path theme of this post I couldn't help but include it.
My friends Kate and Jeremy of Our Escape Clause were kind enough to send me a photo, though, so you can see the quirkiness! It's located right in the Old Town, so it's worth giving it a peek if strange museums full of cultural oddities are up your alley.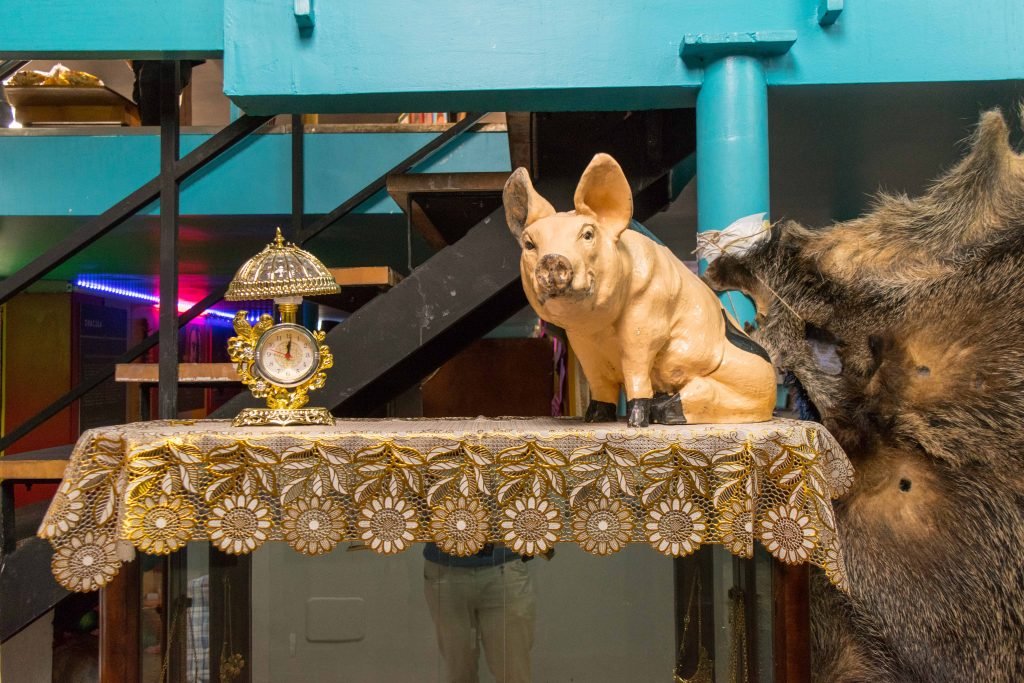 Taste some Romanian craft beer
My friend Megan got my interest piqued in Romanian craft beer after reading her guide to craft beer in Timisoara. On my first night in Bucharest, I popped into Fabrica de Bere Buna (literally, Factory of Good Beer) and tried a few of the local beers.
They sell several types of craft beer both on tap (my favorite — I hate buying bottled beer at bars, it just feels stupid) and in bottles.  Their house beer, Zaganu, which is an unpasteurized IPA, was my favorite. A lot of the places in the Old Town can be a little too popular with the "lads on tour" crew, so I also enjoyed the more subdued atmosphere.
If you're interested, this is the exact walking tour that I did.
Note: If you want a more structured beer experience, this beer and walking tour looks like an excellent introduction to Romanian craft beer with a side of history and architecture – and some traditional beer snacks, of course.
.
Éclairs to die for
Bucharest's nickname is Little Paris because it has the best éclairs ever. Okay, well, the second part may not be true, but word on the street is that French Revolution serves up the best desserts in all of Bucharest.
I wasn't able to go during my time in Bucharest but didn't stop hearing about them — guess that means I know where my first stop is if I return.
See Bucharest's own Arc du Triomphe
Further upping the "Little Paris" claim to fame is Bucharest's Arcul di Triumf, a replica of Paris's famous Arc du Triomphe on the Champs-Elysees.
This is actually the arch's third iteration. It was originally built in a hurry in 1878 to celebrate the Romanian independence movement's victory. Later, a temporary arch was built on that same site post-World War I, which was later torn down and re-erected for the third and final time in 1936.
It's an interesting oddity, but it's a bit far away from downtown, so I'd recommend taking an Uber if you want to see it (it should cost you about $2.50 each way)
Things to Know Before Visiting Bucharest
Taxi scams in Bucharest are the worst I've experienced anywhere but Vietnam. I literally even had one man lie to us, saying he'd use the meter, then refuse to use it. After we left his cab, he shouted at us angrily, sped down the street, and then literally threw a bottle of water on us as we walked past. Use Uber, Taxify, or CleverTaxi instead – SIM cards in Romania are as cheap as can be.
Romania uses the Romanian language, which is closely related to other Latin-derived languages like Italian. If you speak a romance language, you'll recognize plenty of words in Romanian.
That said, virtually all young people and people working in tourism speak excellent English
Bucharest is well-connnected and a great gateway to the rest of Romania; check out these other gorgeous fairy-tale destinations in Romania 
Bucharest has some issues with stray dogs. The situation has improved dramatically in recent years (thought their tactics several years back when it comes to reducing the stray dog population is frankly pretty upsetting). Many dogs have been vaccinated and fixed and will have a tag on their ear indicating that. Be careful when approaching street dogs as not all are as friendly as they look.
Traffic in Bucharest is nothing short of insane and crossing the road is a challenge. Book travel insurance before you go – I use and recommend World Nomads for all my  Eastern Europe travels.
Where to Stay in Bucharest
Budget: After having a bad experience with the owner of Pura Vida and Little Bucharest, I cannot in good conscience recommend them to other travelers, especially solo female travelers. Instead, I would recommend Funny Hostel (8.2 rating on Booking.com) or Friends Hostel (also an 8.2 rating on Booking.com).
Mid-range: Omega House is a gorgeous boutique hotel (which also has a few dormitory style rooms if you are a solo traveler), with excellent design and a great co-working space where you can take full advantage of Bucharest's lightning fast WiFi. It's located nearby Piata Romana, my favorite neighborhood in all of Bucharest (and where a majority of these recommendations are located). With a 9.0 rating on Booking.com (read reviews here), I'd highly recommend this for travelers who want a step above a hostel without paying a fortune.
Luxury: I stayed at the Grand Hotel Continental during my time in Bucharest and I can't recommend it enough. The rooms were gorgeously furnished and the bed was insanely comfortable. The bathroom and room itself were large and spacious, and I loved being only a 10-minute walk away from the Old Town (as staying in the Old Town itself is super loud with drunk people at all hours of the night). Highly recommended and has a 9.0 rating on Booking.com from others.
Enjoy the post? Why not pin it and save it for later?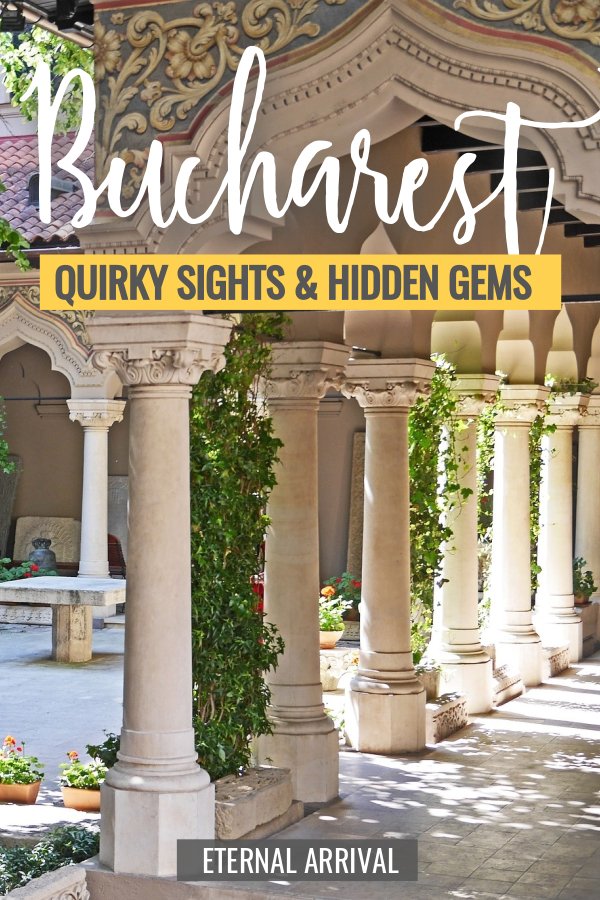 Note: I was a guest of Experience Bucharest/Experience Romania during the majority of my time in Bucharest. All opinions are my own.
Allison Green is a former educator turned travel blogger. She holds a Masters in Teaching and a B.A. in English and Creative Writing. Her blog posts merge her educational background and her experience traveling to 60+ countries to encourage thoughtful travel experiences that both educate and entertain. She has been a speaker at the World Travel Writers Conference and her writing, photography, and podcasting work has appeared in National Geographic, CNN Arabic, CBC Canada, and Forbes, amongst others. Now based in the San Francisco Bay Area where she grew up, she has also lived in Prague, Sofia, and New York City.