For someone who loves making lists far in advance of when it's appropriate to, it's kind of weird that I haven't already made a mega-post of travel gift ideas yet.
That's probably because I'm a bit of a self-admitted Grinch. The stress of Christmas gets me every year – I hate the obligation of buying presents and often wait until noon on the 24th to run out to the department stores, grab a few scarves, and call it a day.
But you're probably a better person than I am, and maybe you've decided that you're looking for some unique yet useful travel gifts that your intrepid traveling friend, daughter, or sister could use.
So, without more of my needless rambling, here are my top ideas for gifts for female travelers that they'll actually use (written by a former carry-on only traveler – so I know how much usefulness and portability matters).
NOTE: This list was created by a female traveler with women & femme travelers in mind — but I'm sure men and nonbinary people will enjoy the majority of items on this list as well!
Useful Travel Gifts & Stocking Stuffers (Budget)
I'm a huge fan of LUSH solid shampoo and have tried a few different ones (Seanik wins out, though). I have fine hair that easily gets greasy: LUSH shampoos are not only great for travel, they're just great period — I'd use them even if I wasn't traveling all the time.
Plus, they're packaging-free, and any reduction in plastic is a great thing in my book. Don't forget to grab a reusable metal tin!
Note: I have to mention that if you buy this in-store at your nearest LUSH it's almost half the price – this Amazon link is for convenience.
---
Tiger balm is basically the traveler's cure-all.
Whether it's sore muscles from lugging around a backpack, mosquito bites from leaving the windows open on a muggy night without AC, a persistent cold, or a wicked headache from last night's ill-advised drinks, tiger balm will always help out with aches and pains.
---
Note: This post contains affiliate links, which means I may receive a small commission if you purchase something through one of these links. Thank you for supporting the free content on this site! For more information on affiliate links and cookies, see my disclosure page for more details.
Guys. This sleep mask is seriously a game-changer. I'm actually on my third one because I keep leaving them behind but can't imagine living without one anymore.
It's contoured, meaning that the sleep mask doesn't press down on your eyes while still shutting out all the light. It's perfect for anyone who has trouble sleeping or is light sensitive. A good night's sleep is one of the most useful travel gifts you can give!
---
Let's talk realness: having a place to store your dirty laundry while you're on the road, while not exactly sexy, is super important.
You don't want your loved one to resort to doing the sniff test on everything, right? Uh, not that I ever do that. A cute laundry bag keeps dirty clothes separate and will be used basically every day on the road, which is what you're aiming for when you're picking out a practical travel gift!
---
An ultra-light down jacket is one of my top picks – I had one from Uniqlo that lasted me several years and I recommend that one as well (but it's a bit steep at $70).
This one
is a bit cheaper but still super useful.
---
Adorable? Yes. Ridiculous? Maybe. Useful? Undoubtedly.
While I'm a fan of just your average U-shaped travel pillow that you'd find overpriced at any airport store, it doesn't exactly make the most thoughtful travel gift. This adorable travel pillow, though, actually converts from a stuffed animal to a neck pillow! It's unique while still being a useful travel present.
---
This is a great gift to give a first-time international traveler or even a frequent traveler. After all, we've all lost an adapter from time to time — it never hurts to have a spare, especially when they're compact like this one.
This adapter will cover virtually every country. I especially love having multiple USBs so I can charge 3 devices simultaneously (#bloggerproblems).
---
I need three things from my power bank — lightweight, more than one USB port, and can hold several charges in a row because I'm horrible at remembering to charge my power bank.
The Anker does all that and at under $25 to boot.
---
Note: my friends Katie and Geoff over at Wandertooth created this, so I may be a bit biased!
If your traveling friend or relative is into adult coloring books, I can't think of a better gift than this coloring book. Each page was hand-drawn from a photo they took along their travels, so this makes a great and unique present.
---
If your friend has a DSLR, mirrorless, or any kind of nice travel camera — you'll want to grab them this cheap and super useful gift. Even if they already have one, it's useful to have a spare so you can keep one in every bag.
I've seen firsthand how smudges and bits of dust can ruin otherwise beautiful travel photos and videos. A LensPen is a great way to keep that from happening.
---
Useful Travel Gifts (Mid-Range)
Thinking of what to get an eco-conscious traveler or someone's who traveling a bit off the beaten path?
There are now reusable filtered water bottles which get rid of nasties (bacteria, viruses, parasites, chemicals) in tap or standing water.
This lets you drink the water in places like Mexico, Thailand, etc. where you normally have to rely on bottled water. Multiple clinical trials guarantee this gets rid of over 99.99% of parasites and bacteria. It can be used 1,000 times before the filter needs to be replaced and can save a fortune on bottled water.
---
This is the perfect gift for a solo traveler or really any traveler who's getting serious about their photography. Good for "selfies" or long-exposure photography.
This tripod is great because it's extremely small and easy to fit in most bags while still being versatile enough to help you get the shots you need.
It's rugged and great for taking photos on unsteady terrains (traditional tripods need flat ground), and you can set the JOBY to grip trees, railings, etc. if you want a different perspective.
---
If you're looking for a good gift for a light or first-time traveler, one of the best gifts you can give is the gift of organization. There's nothing more frustrating than having your clothes be a jumbled mess when you're trying to pack or get dressed quickly.
Packing cubes
keep everything sleek and organized and save a ton of space, plus they come in all sorts of different colors for personalization. Here's a guide to some of the best packing cubes.
---
An external hard drive is essential for travelers, especially those who like to take lots of photos. But it's not exactly the most thoughtful or sexy of gifts.
What I'd recommend is buying an external hard drive, then finding a few movies, albums, e-books, photos, etc. to stick on it so that there's a sweet little surprise when they open it. Both thoughtful and super useful!
---
For the discerning coffee snob and travel fiend in your life, there's probably no better gift than the Aeropress.
This isn't just a "travel coffee maker" – the Aeropress was my primary coffee maker when I lived in my tiny NYC apartment, because the quality of the coffee it makes is first-rate.
It's also super compact and easy to travel with, and I've brought it with me on many a trip.
It's a fantastic gift for van life travelers who want an easy but delicious way to make a cup of coffee (that, most importantly, won't take up a lot of space!)
Not quite the right gift? Check out these other gifts for coffee lovers.
---
Atlas Obscura
is one of my favorite resources for looking up quirky, little-known gems even in the most well-traveled places.
While I usually surf online, there's no denying that if I had a long-term home this would be one of my favorite coffee table books for browsing for new and undiscovered places.
---
For the country counter in your life who loves to document and track their travels, a scratch-off map is the perfect travel gift for them to decorate their home with.
---
Goodbye, ugly money belts that should have never been a thing.
This cute infinity scarf – created by a travel blogger, so you know its useful – will hold things like your keys, money, ID, and a few essentials near and dear to you where it's almost impossible to lose. Great if you're worried about pickpockets or theft, or if you just don't want to carry a purse.
---
Okay, this present might be a bit personal for some, so it depends on the closeness of your relationship.
However, my little sister got me a Diva Cup for Christmas two years back and I've never looked back since. The Diva Cup is AMAZING for travelers (and pretty much everyone, in my opinion). It severely cuts back on waste, saves you money, and can come in handy when you're trying to find tampons in places where they are hard to find, like Southeast Asia.
---
While a small backpack is one of the most convenient ways to carry around your daily essentials while you travel, the fact that you can't keep your eye directly on it means that you are at an increased risk of theft.
After nearly getting pickpocketed (pick-backpacked?) in Hanoi — luckily my savvy friend noticed what the man was doing and slapped his hand away — I swore to not wear a daypack unless it had some theftproof features, like locking zippers. Mine is from Pacsafe but it's out of stock. This backpack from Travelon has RFID blockers, locking zippers, and slash-resistant materials.
---
Useful Travel Gifts (Splurge)
Tinggly Gift Experiences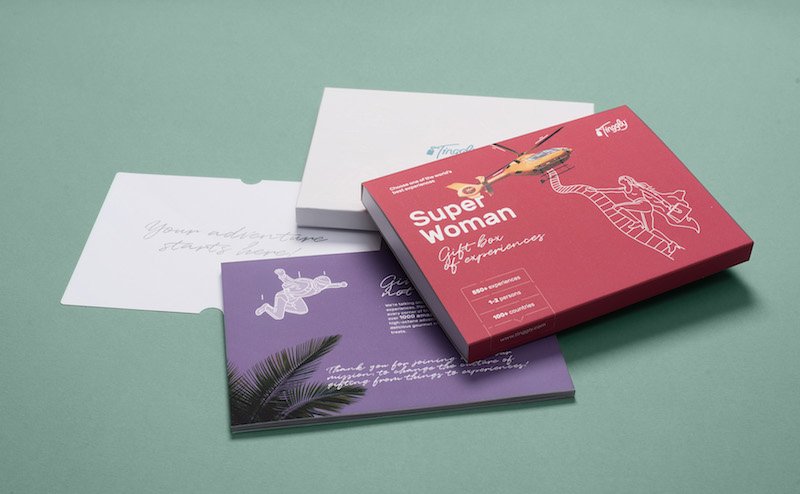 One of the best gifts you can give a picky travel-lover is the opportunity to treat themselves to any one of a variety of adventures on their next journey! From tasty food tours to cave kayaking, there's a Tinggly gift experience for every type of traveler.
Their Superwoman package lets your favorite female traveler pick from one of 560+ experiences in over a hundred countries — and you don't have to worry about it expiring, because your gift recipient has five whole years to redeem their experience. Check out experiences & buy your gift box here!
---
If you know someone who's a huge reader, but hasn't invested in a Kindle yet — this is a super useful travel gift.
I used to think that I'd never want an e-reader, that I loved books too much to help contribute to the death of print culture. Then I backpacked around Europe for 5 months and changed my mind entirely. No matter how much you like physical books, it can be hard to find a good variety of English-language options in other countries (plus, books are heavy). Load up the Kindle with one or two favorite travel-related (or not related) reads, or perhaps a PDF of a Lonely Planet to whereever they're going on their next trip, to make the gift a little more personal.
---
The Polaroid for the Instagram generation.
Perfect for travelers who love candids and in-the-moment snaps, the Instax mini is a portable and affordable addition to their travel gear.
---
If the thought of shelling out for a pair of Bose headphones makes you want to weep, these headphones are a great alternative.
They nearly saved my life on the bus ride from hell — the noise-cancelling factor is quite good, and they're way more comfortable than your standard in-ear buds.
---
If you know a yoga-lover who's also a frequent traveler, a portable yoga mat is a great idea. This one literally folds up to the size of a newspaper!
Of course, the YOGO mat won't replace a perfectly squishy roll out mat, but it's great for yoga on the go. I've used it personally and the mat is "sticky" like you want it to be, and is a big improvement over doing yoga without a mat – though it doesn't provide the most cushioning.
---
Useful Travel Gifts (The Big Bucks)
I personally bought the DJI Spark and it's a fantastic starter drone.
The Mavic is wayyy more powerful and to be honest, I'll likely upgrade in the future. But if you're looking for a powerful yet compact and affordable drone, nothing can beat the DJI Spark at this price point, or for a bit more, the Fly More combomore than doubles the range of the Spark.
---
Easily one of the most powerful cameras in this price range, the Sony A6000 is the only camera I personally use (though I've upgraded from the kit lens).
It takes super detail-rich photos and performs great in low light. It has all the power of a DSLR camera in a camera that weighs less than a pound. Plus, you can upgrade it as you go with different lenses, meaning it's the kind of camera that can grow with you for years. I personally don't like fixed-lens cameras — their usefulness is limited and I got rid of my Fujifilm X20 after less than a year.
---
Great for the video lovers in your life, the DJI Osmo Mobile is one of my favorite pieces of equipment.
It elevates standard iPhone footage to a professional quality — I've made some fantastic travel videos using just an iPhone and the Osmo.
Note: This post contains sponsored content from Tinggly, who reached out to me about their Tinggly gift experiences. I genuinely think it is an awesome gift for female travelers, which is why I included it, but I'm disclosing this for transparency.
Allison Green is a former educator turned travel blogger. She holds a Masters in Teaching and a B.A. in English and Creative Writing. Her blog posts merge her educational background and her experience traveling to 60+ countries to encourage thoughtful travel experiences that both educate and entertain. She has been a speaker at the World Travel Writers Conference and her writing, photography, and podcasting work has appeared in National Geographic, CNN Arabic, CBC Canada, and Forbes, amongst others. Now based in the San Francisco Bay Area where she grew up, she has also lived in Prague, Sofia, and New York City.