Spectacular beaches, world-class massages, mesmerizing landscapes, outrageously delicious food… Bali is absolutely stunning. I'm writing this from a beautiful villa in Canggu, feeling safe as can be. But because of the rumblings of an angsty volcano, the tourism-driven island economy is suffering. People working in hospitality are losing their jobs left and right, and businesses are being forced to shutter. 
The reality is that while Mount Agung is active, there's no telling when the eruption will be: it could be today, a few weeks later, or even a year from now — or it could die down completely. Stay away from the 12-kilometer exclusion zone (easy to do, as Bali is a massive island) and you're in no danger.
So if you're hedging on coming to Bali, let me assure you: now is a great time to visit. Your dollars will make a huge difference to an economy devastated by the decrease of tourism, and you'll be rewarded with the least crowded Bali has been and will be for years to come. If you're not yet convinced, here are 6 absolutely magic places to stay in Bali that are perfectly safe to visit now, volcano or not!
Live the high life in Seminyak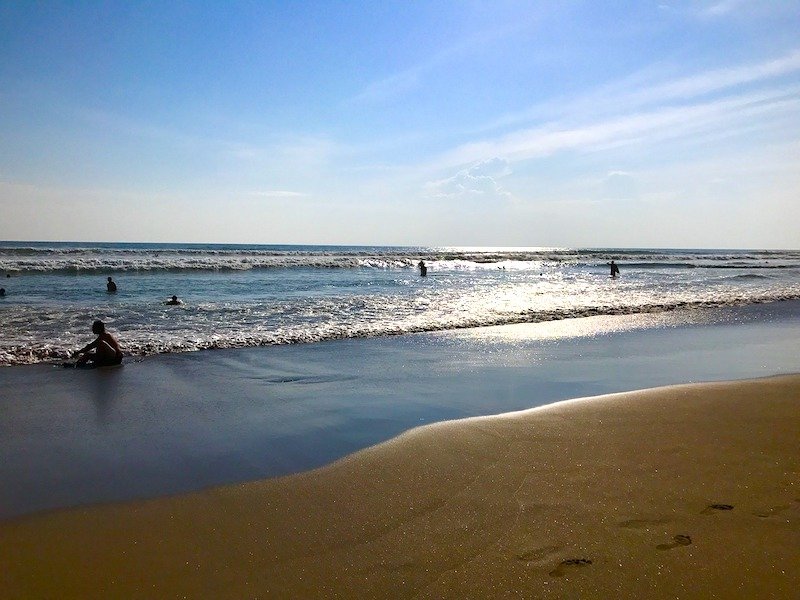 Note: This post contains affiliate links, which means I may receive a small commission if you purchase something through one of these links. Thank you for supporting the free content on this site! For more information on affiliate links and cookies, see my disclosure page for more details.
Seminyak is one of Bali's top luxury destinations, where the best beachfront hotels in Bali dot the shoreline and fine restaurants and boutiques line the neighboring streets. The Legian Bali is one of a handful of five-star resorts in Seminyak with an exclusive spa and lush tropical gardens, while premium dining and entertainment venues such as Ku De Ta and the Potato Head Beach Club are popular hangouts for dinner and cocktails when the sun goes down.
Besides the luxe hotels, Seminyak is also known for being the epicenter of Bali fashion, with tons of trendy and one-of-a-kind boutiques to be found. Auguste the Label and Paulina Katerina are two favorites, but there are countless more boutiques to be found in Seminyak.
Relax and unwind in spiritual Ubud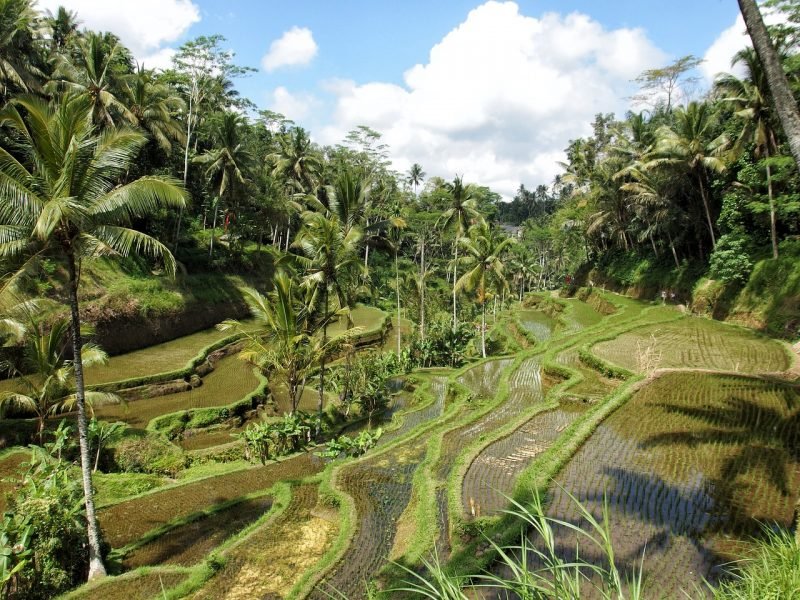 One of the main stops for travelers backpacking in Bali, Ubud is one of Bali's most beautiful cities and the cultural heart of the island, and most people spend at least a few days in Ubud.
The sense of a home away from home can be credited to the people – the Balinese are some of the friendliest people on the planet.
Bali has become known as a yoga and wellness destination, and nowhere is that clearer than in Ubud, a hippie little city about an hour inland. Here, you can take all the yoga classes you like, cycle through the rice paddies, dine in delicious cafés, enjoy the Campuhan ridge walk, or visit temples and markets.
Ubud is renowned as the cultural haven of Bali and the place to discover art galleries, museums, dance and traditional Indonesian crafts. There's the excellent Seniwati Gallery, which exhibits female artists, plus the Neka Museum, which showcases artworks by Balinese and international artists.
Even the drive to Ubud is a treat: tranquil terraced rice paddies sit side by side with ancient Hindu temples offering a window into the real Bali.
Even better, Ubud is a great hub for chasing some of Bali's best waterfalls.
Visit the real "Wild Bali" in northern Lovina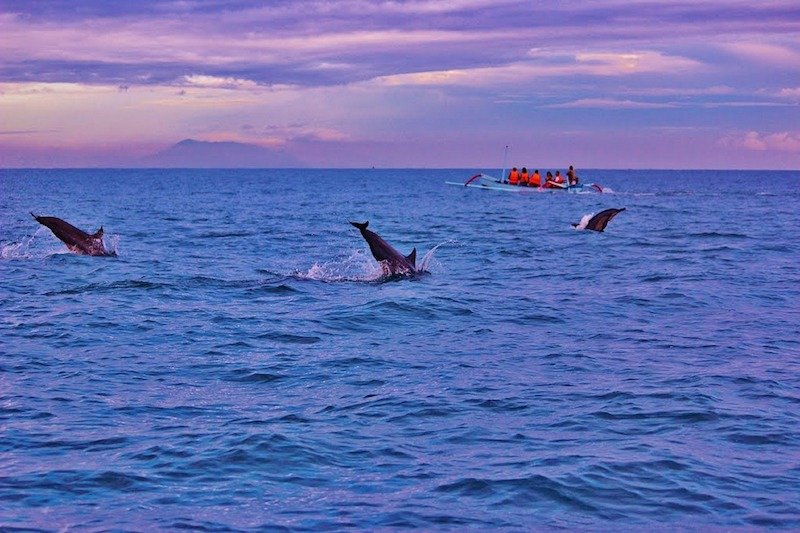 The north of the island is Wild Bali and an area that's well off the familiar tourist trail.
But if walking in lush paddy fields, strolling on peaceful black sandy beaches, trekking to waterfalls, dolphin watching, snorkelling and authentic travel are of interest, it's well worth a journey.
The best way to experience the quieter areas of the island is to book a private local guide or driver who can tailor the trip to your tastes.
Normally, I'd recommend the area around Amed, but even though it's outside the exclusion zone it's still a bit close to Mount Agung for comfort. Instead, try the area around Lovina – it's stunning and famous for its wild dolphins.
Snorkel or dive in crystal-clear waters near Sanur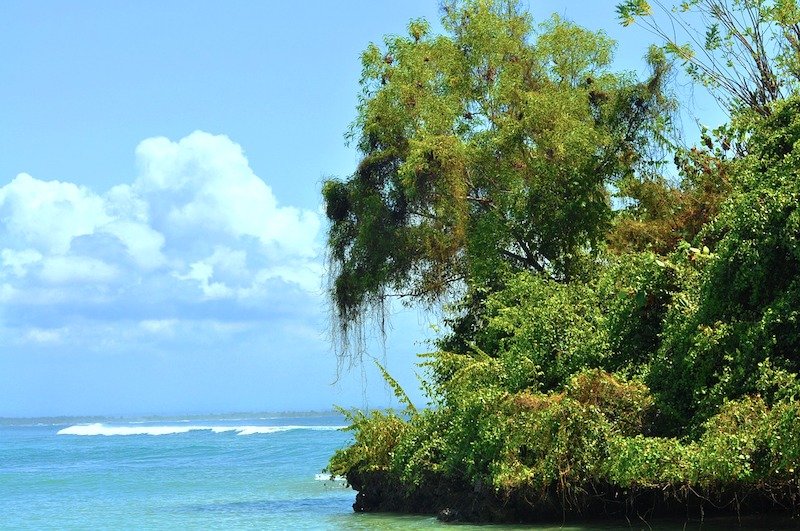 While the south of Bali is blessed with world-class surf breaks for which the island is so famed, there are also several beaches with calmer waters to the north, east and west that are ripe for snorkeling and diving.
Nusa Penida, Pemuteran Bay, and Nusa Lembongan are fantastic areas of coastline and surrounding islands to snorkel, with warm turquoise waters inviting you in to explore coral gardens, coves, and tropical habitats packed with rare marine life. 
Sanur is a great base when traveling to these spots and has a handful of local dive shops which can arrange snorkeling or diving tours by boat, plus it's home to some of the most delicious restaurants in Bali.
Get your surf on in Uluwatu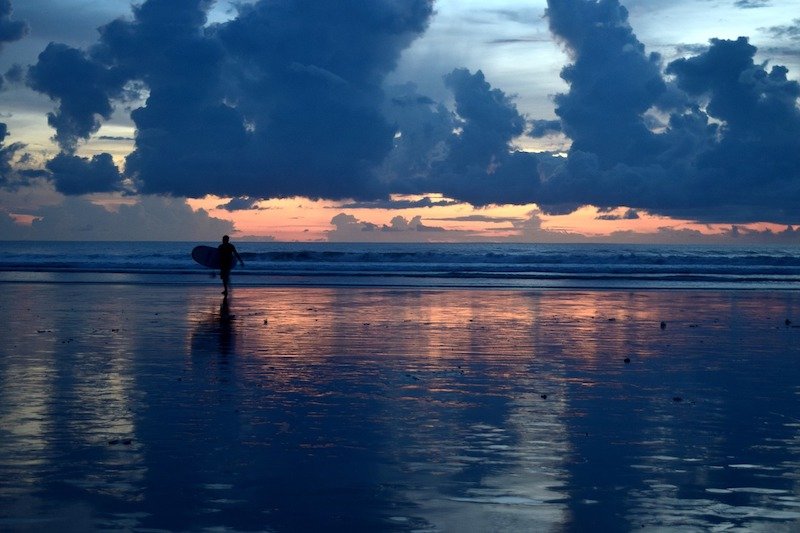 Surfers from around the world congregate in Uluwatu's beaches, which are considered the #4 surf destination in the world.
It's a great place to get lessons or even check out a surf camp or retreat.
If you're not much of a surfer, Uluwatu is also home to plenty of stunning hotels with infinity pools looking out to over the ocean and countless bars serving up delicious cocktails.
Hang out in hip Canggu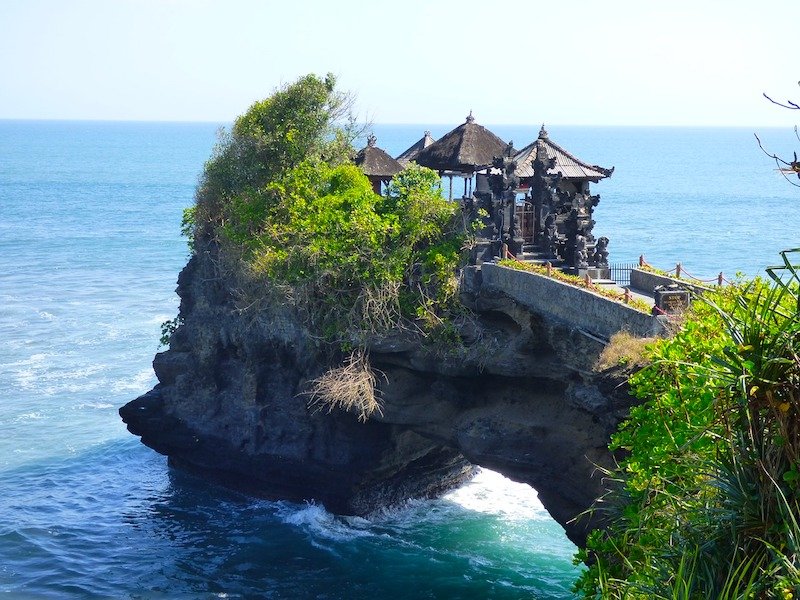 Canggu is kind of like the Brooklyn of Bali — filled with yoga studios, delicious cafés serving organic and vegetarian-friendly options, and some of the best coffees I've ever had.
But even for all its cafés, tattoo shops, and beach bars, Canggu is still decidedly rural. Rice paddies dot the streets in between the main avenues with all their shops, studios, and restaurants. This is where you'll find most of the hostels in Bali so you'll be surrounded with plenty of fellow travelers.
Canggu is also a great surfer destination, with waves not nearly as intense as in nearby Uluwatu. And, bonus, Canggu is home to the stunning Tanah Lot temple, which is one of the most beautiful temples in all of Bali.
Allison Green is a former educator turned travel blogger. She holds a Masters in Teaching and a B.A. in English and Creative Writing. Her blog posts merge her educational background and her experience traveling to 60+ countries to encourage thoughtful travel experiences that both educate and entertain. She has been a speaker at the World Travel Writers Conference and her writing, photography, and podcasting work has appeared in National Geographic, CNN Arabic, CBC Canada, and Forbes, amongst others. Now based in the San Francisco Bay Area where she grew up, she has also lived in Prague, Sofia, and New York City.