The mistake is often made — myself included — in thinking that Australia is a small island.
Really, it only looks that way because our Northern hemisphere-centric maps artificially squeeze Australia's size. In fact, it's about 80% of the size of the continental U.S., making it perfect for long extended Australia road trips.
While many people who plan a road trip in Australia stick to cities on the East and the Great Barrier Reef, venture off the beaten path a little to see the best Australian landmarks: wonders of the Outback, tropical rainforests, national parks, hidden waterfalls, and so much more you never knew Australia had.
So hop in your car, pack up your car, and take the Australia road trip of your dreams!
The Top Australia Road Trips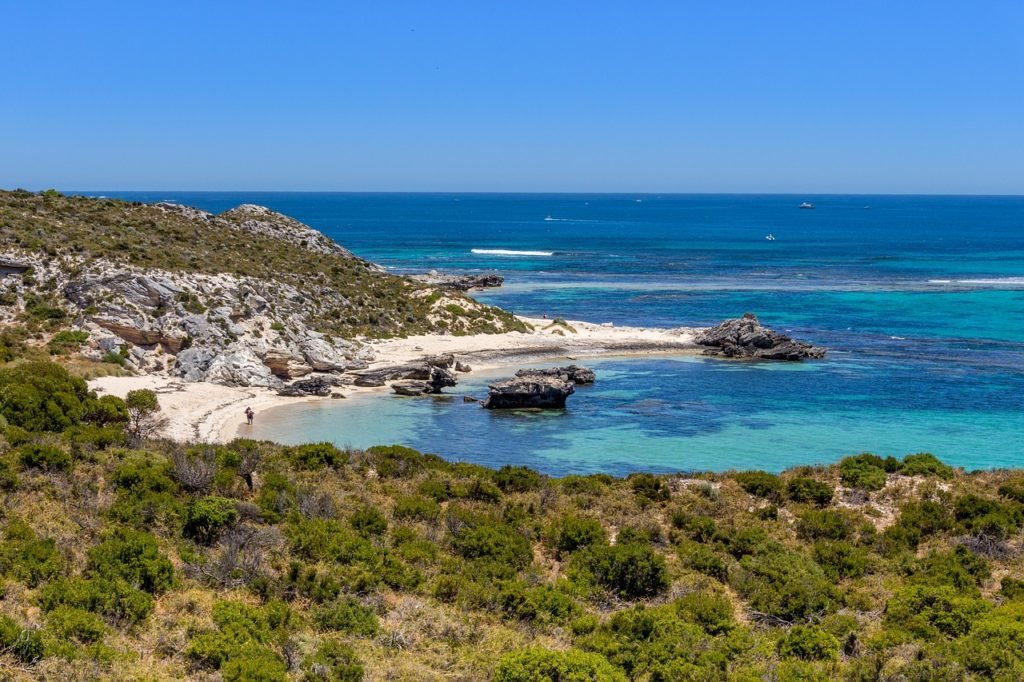 Note: This post contains affiliate links, which means I may receive a small commission if you purchase something through one of these links. Thank you for supporting the free content on this site! For more information on affiliate links and cookies, see my disclosure page for more details.
Adelaide to Darwin
By Tom of The Travelling Tom
As far as I'm concerned, the absolute best way to travel is to road trip around Australia is by car. There's so much to see that you would be missing out otherwise! Perhaps the best road trip in Australia is from Adelaide to Darwin. On this trip, you cut through the heart of the country, as you make your way to the tropical North.
Admittedly, it's not an easy trip. At over 3,000 km (1,800 miles) it's a beast of a drive! However, that just means there's more places to see! Surprisingly, for a route that takes you through Australia's outback, there's a lot of them!
You can visit the underground town of Coober Pedy, which is the site of the world's largest opal mine. The temperatures here are so hot that living underground is a necessity!
One of the best parts of the trip is going to the Uluru Kata-Tjuta National Park. Here, you get to see one of the most iconic images of Australia, Uluru (Ayers Rock). It's an amazing sight and a must visit!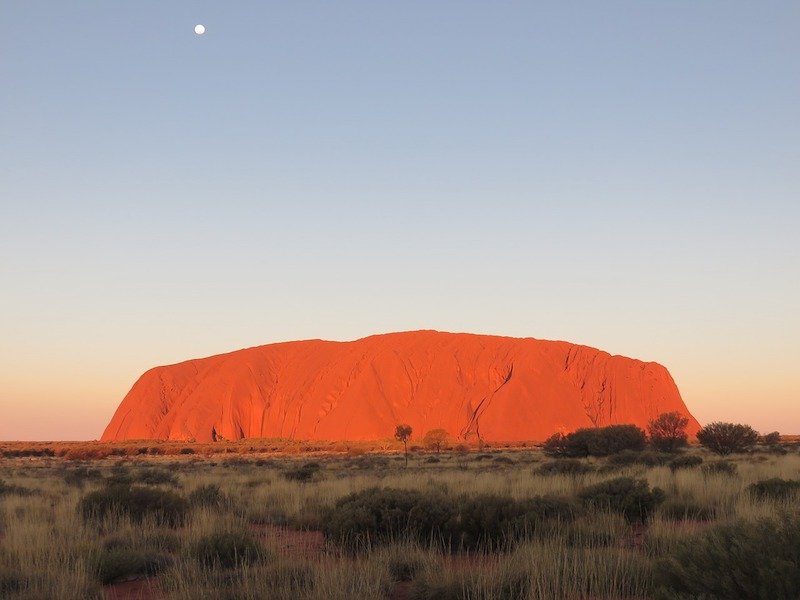 As well as Uluru, there's also Kata-Tjuta and King's Canyon that you can explore here as well. Both are great destinations in their own right and are somewhat overshadowed by Uluru. Make sure you walk through both Kata-Tjuta and King's Canyon as the views are spectacular and you really get to appreciate the gigantic scale of the place!
From Uluru onwards there's a few more interesting places to explore. Not far from Alice Springs are the Devil's Marbles, which are freestanding boulders that look like they have carefully place in position. Yet, they are the result of thousands of years of erosion!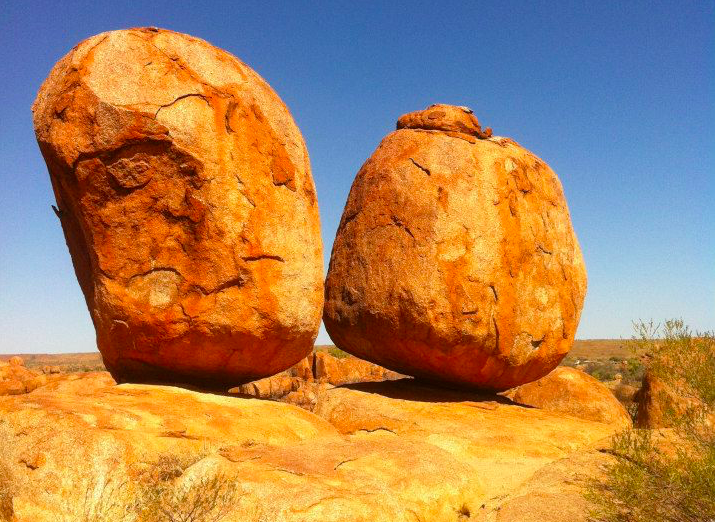 The Mataranka Thermal Pools are about halfway between Alice Springs and Darwin. They're a great place to stop and relax for a few hours if you're sick of being in your car.
Finally, before you reach Darwin, you can visit Nitmulik National Park which has some beautiful scenery and great hikes. Checking out Katherine Gorge here is an absolute must!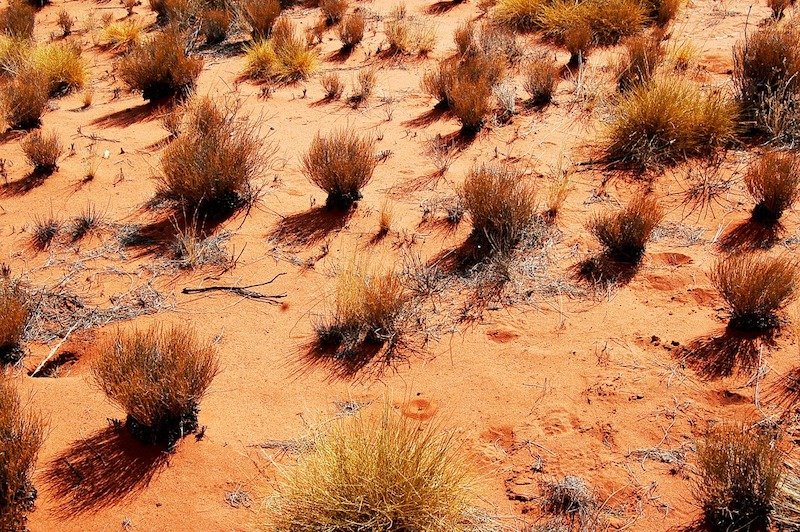 It's a long trip that takes about a week, but it's more than worth it! Seeing the landscape change from arid desert to tropical plants is incredible. You'll see things you won't see anywhere else in Australia. The East Coast is great, but get off the beaten track and road trip around Australia and you'll be greatly rewarded!
Brisbane to Sydney and back
By Emily of Australia Up Close
Road tripping from Brisbane to Sydney is the perfect way to see a swath of Eastern Australia's most picturesque coastline. Make it a loop by returning to Brisbane via the alternative inland road, and you'll also experience some of the region's best small towns and impressive interior landscapes on one long Australia road trip.
This route might not have the same reputation as the Great Ocean Road, but it's a favorite among locals and a rite of passage for anyone who grew up in Queensland.
The 1,000 kilometres (620 mile) drive involves at least 10 hours on the road one-way, so you'll want to pace yourself and spread the driving out over at least 5 days. It's not difficult – there are plenty of pit stops to make along the way.
From Brisbane, head south via the Gold Coast Highway, crossing the border into New South Wales to visit charming Mullumbimby and iconic Byron Bay, known for its swimming beaches and cafe culture. Be sure to visit the Cape Byron lighthouse, Australia's easternmost Point.
The small town of Ballina just south of Byron is a good place to rest for the night. If you're wanting to tick some 'giant objects' off (pretty much essential on an Australia road trip), here is your first: Ballina's Big Prawn.
Continuing south, Coffs Harbour and Port Macquarie are both worthwhile stops on your way to Newcastle, one of Australia's most underrated cities, in on the Northern NSW road trip section.
Spend a few days here to visit the Ocean Baths and walk along the beaches and wharves, admiring the inner city's heritage architecture, antique shops, and museums dedicated to its industrial past. The final leg of the drive takes you through the gorgeous Central Coast before arriving in Sydney.
Also worth visiting is Blue Mountains National Park, which you can incorporate into your itinerary either by taking a short detour on the way into Sydney, or visit on the way back if you're returning to Brisbane. Katoomba and Blackheath are both beautiful little towns with quaint bed-and-breakfasts and access to the area's best hiking and lookout points.
For a nice contrast to the coast, take the inland route back to Brisbane via Tamworth (Australia's country music capital), Armidale and Stanthorpe, all lovely country towns.
Darwin to Uluru
By Melissa of Camp Essentials
A road trip through Australia's red center is an epic journey. Across some 2000 km, you'll experience the beauty of Australia's outback, including spectacular landscapes, amazing wildlife encounters, and learn about Australian history including Aboriginal culture and how locals live in the harsh environment of the Australian outback.
Start in Darwin where you can spend a few days before starting the road trip. Head down to the lagoon on Darwin's Waterfront for swim or a picnic. Close by you can visit the Royal Flying Doctor Service and the Bombing of Darwin Museum at Stokes Hill. There are also some great restaurants around here too. If you happen to be in town on a Sunday or Thursday night don't miss the Mindil Beach night markets.
Your first stop after leaving Darwin is the Top End's Litchfield and Kakadu National Parks. Here you'll see spectacular waterfalls, swim in freshwater rock pools and marvel at massive termite mounds. The area is best visited with a 4WD, but you'll access plenty of wonderful sites with a standard vehicle. Also don't miss a cruise on Yellow Water to see some amazing wildlife including some of the biggest crocodiles you've ever seen!
The next major stop is Katherine where you will see the beautiful Nitmiluk (Katherine) Gorge. The gorge is stunning and as well as cruises in the gorge there are plenty of walking trails, hidden waterfalls, and aboriginal art to explore as well as swimming in the hot springs.
Alice Springs is another great town on this road trip. A visit to the school of air is well recommended where you can see how kids in outback Australia do their schoolwork. Other great attractions in town include the Reptile Centre and the Kangaroo Centre.
Of course, the most iconic sight on this road trip is Uluru – but also go a little further and don't miss the mighty Kings Canyon. Make sure you bring some good walking shoes, because the best way to explore these stunning areas is on foot. Don't miss a sunrise and a sunset here – the colors are spectacular.
With almost 2,000 km on this road trip, expect to have some long days driving. However, you will be surprised how fast it goes with so much to see along the way. Allow at least two weeks to do this trip.
Adelaide to Melbourne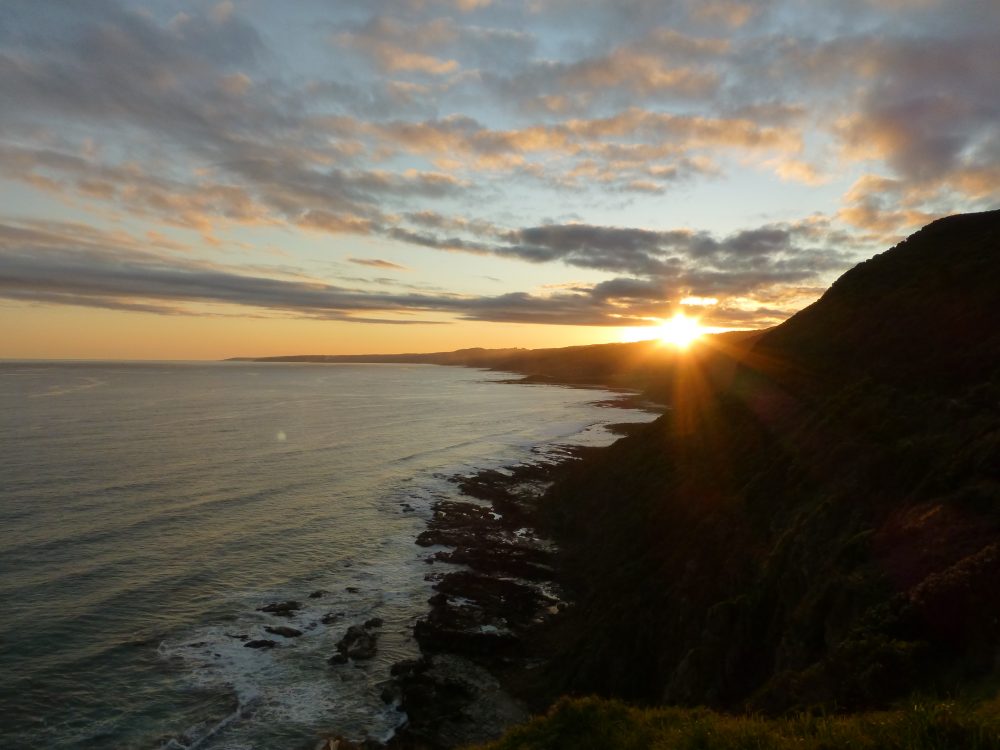 By Holly of Globeblogging
While it may not be the most direct route, driving between Adelaide and Melbourne via the Great Ocean Road is one of the great Australian road trips. While the 243 kilometers of the Great Ocean Road is a spectacular display of the Victorian coastline, much of the stretch of road between Adelaide and Melbourne follows the coastline if you choose to take it.
If you are taking your time on the drive then Victor Harbor is worth a stop after leaving Adelaide. At the right time of year, it is known for its sightings of whales and is surrounded by National Park. You can also take a horse-drawn tram out to Granite Island, in the middle of a marine park.
It offers a great launch point for a drive through the Coorong National Park which runs along the coast and offers some fabulous views. Robe is a potential spot to stop for the night. Between Robe and Port Fairy, the road will divert inland for a time. Call in at Mount Gambier to check out the spectacular Blue Lake.
Approximately 280 kilometers from Melbourne is the little fishing town named Port Fairy, home to the oldest licensed hotel in Victoria which puts out a good meal. From here take a walk to check out Griffiths Island, which has a breeding colony for the Short-tailed Shearwater and a lighthouse that is picturesque even though it isn't open to the public.
This stretch of coastline between Port Fairy and Cape Otway is known as the Shipwreck Coast, and is the watery grave of over 600 ships. As such the coastline is populated by a number of lighthouses.
The Split Head lighthouse, star of television and film at Airey's Inlet is open to the public, offering views of the Eagle Rock Marine Sanctuary wrapping around the point. It is also worth a visit to Cape Otway to see the heritage-listed lighthouse which has the honor of being Australia's oldest working lighthouse. The National Park offers the opportunity to walk through rainforest and see a number of waterfalls.
Naturally, the Twelve Apostles need to feature on any Great Ocean Road itinerary. While several of the limestone pillars standing off the coast have collapsed into the ocean, it is still a popular tourist attraction.
It is best to plan your trip in order to be there early, not only because the tour buses get there from Melbourne in the mornings and it can be like Disneyland queues on the coast, but because the sun is over the ocean in the afternoon, making the light challenging for good photos. The nearby towns of Lorne and Apollo Bay offer accommodation and photo options.
One thing is for sure, once you are on this stretch of road you will find there is no shortage of things to see. It is best to plan plenty of time, it's easy to underestimate how long it can actually take!
Outback Queensland
By Emma Riggs of MY RIG Adventures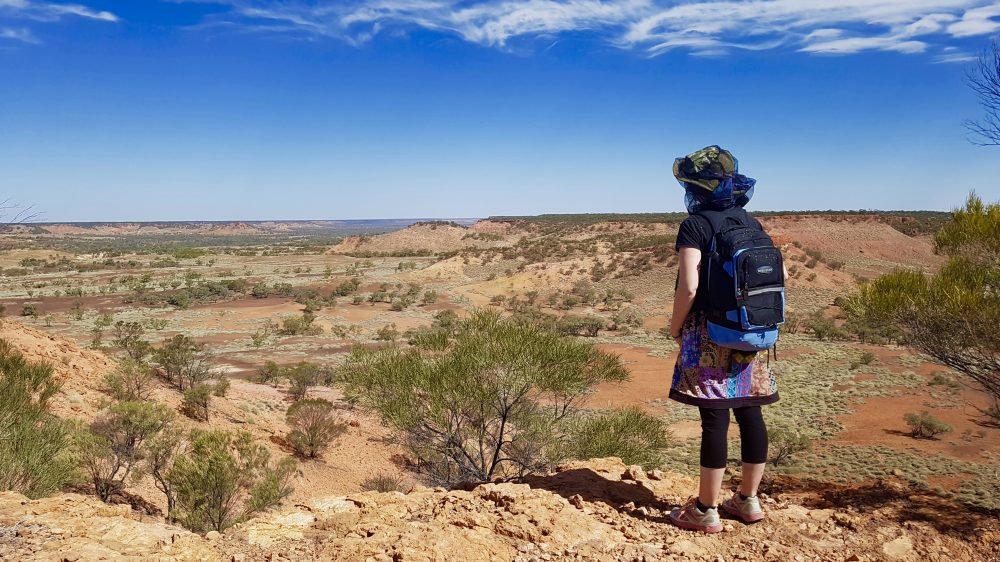 One of the most rugged and iconic experiences you can set out to do in Queensland is a loop through the Outback. Get ready for vast landscapes and wide, open spaces.
It's important to be mindful that you will be entering a hot and dry part of the country, so picking the right time of year is crucial. The cooler months in the middle of the year are ideal (from May through to August).
The daytime temperatures will be warm and even hot as you head further west, but be prepared for very cold nights. Be sure to pack warm clothing for night time as well as a wide-brimmed hat, T-shirts, and sunscreen for during the day.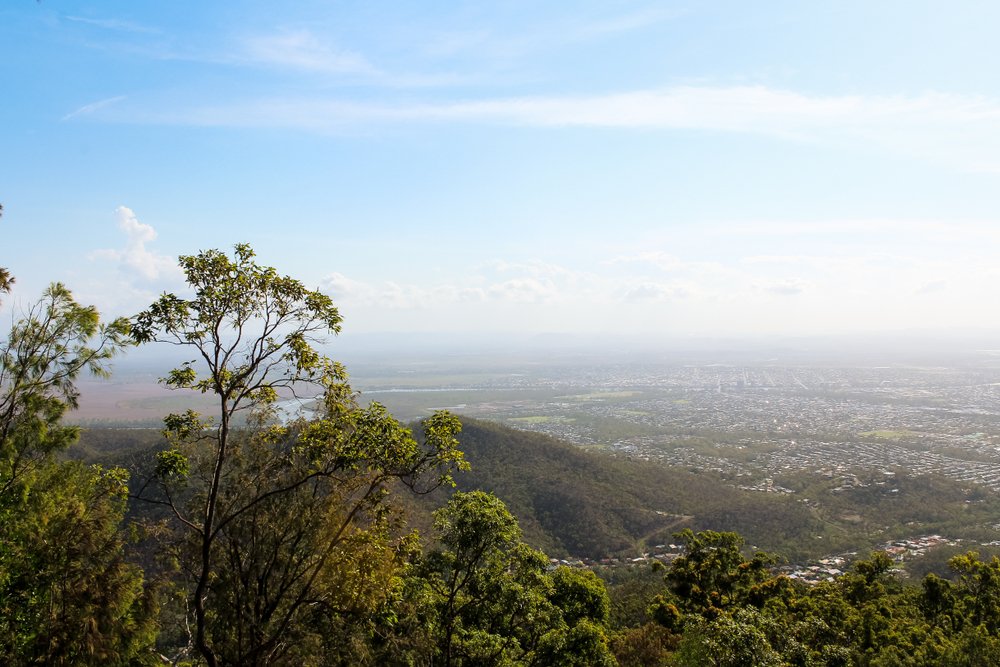 Heading off from Rockhampton, head west through Emerald and out to The Gemfields. Yep, you guessed it – the first stop is all about fossicking for Sapphires! As you turn off the highway, you'll be entering a world like you've probably never seen before.
You will likely notice lots of signs pointing you in the direction of 'fossicking parks,' 'tag-along-tours' and 'gem shops.' The best way to tackle The Gemfields is to head to a Fossicking Park, where your Miner's Licence and equipment is all included for you in your entry cost. The staff are more than willing to teach you how to find Sapphires and identify them for you as well.
Once you've had your gemstone fix, continue west to Longreach, the real gateway to Outback Queensland. Longreach is famous for a few things, but most notably the QANTAS Founders Museum. QANTAS is a huge commercial Australian Airline, which interestingly started at roots level in the middle of the Outback.
The Museum is huge, with many interactive attractions included. You can even walk out onto the wing of a Jet and stand in one of the massive engines (don't forget to get your photo taken!). For the full Australian Outback experience, be sure to also do the Stockman's Hall of Fame, which is right across the road to the QANTAS Museum.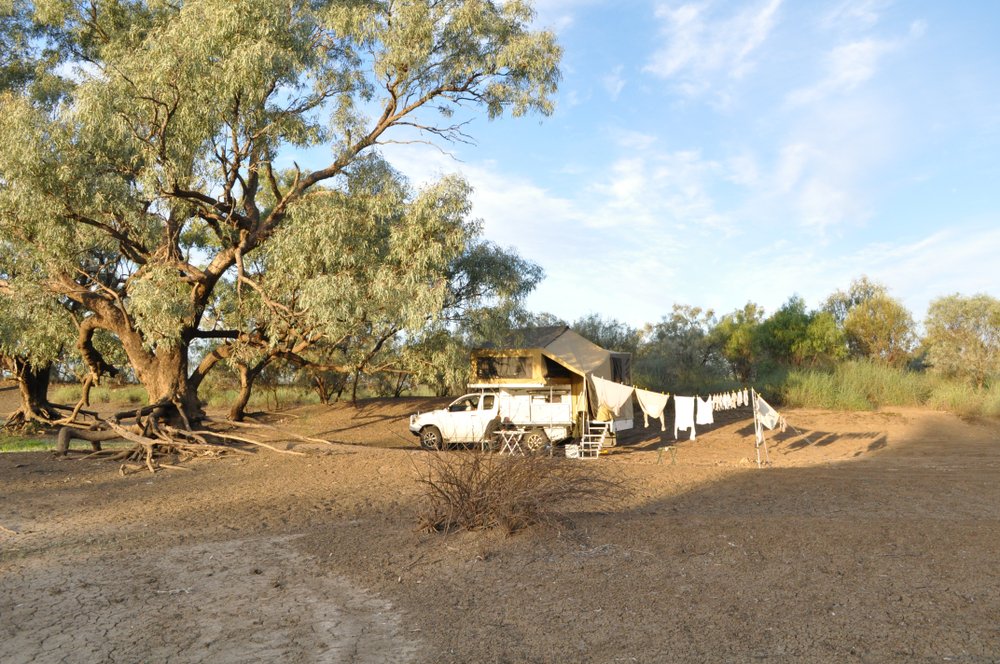 Making your way further west still, you will run into the town of Winton. Here you'll find the biggest piece of Australia's Dinosaur Trail – the Australian Age of Dinosaurs.
Even today, they are still digging up ancient dinosaur fossils and bones out there as we speak. There are three other parts to the Dinosaur Trail, the second is about an hour south of Winton in Opalton.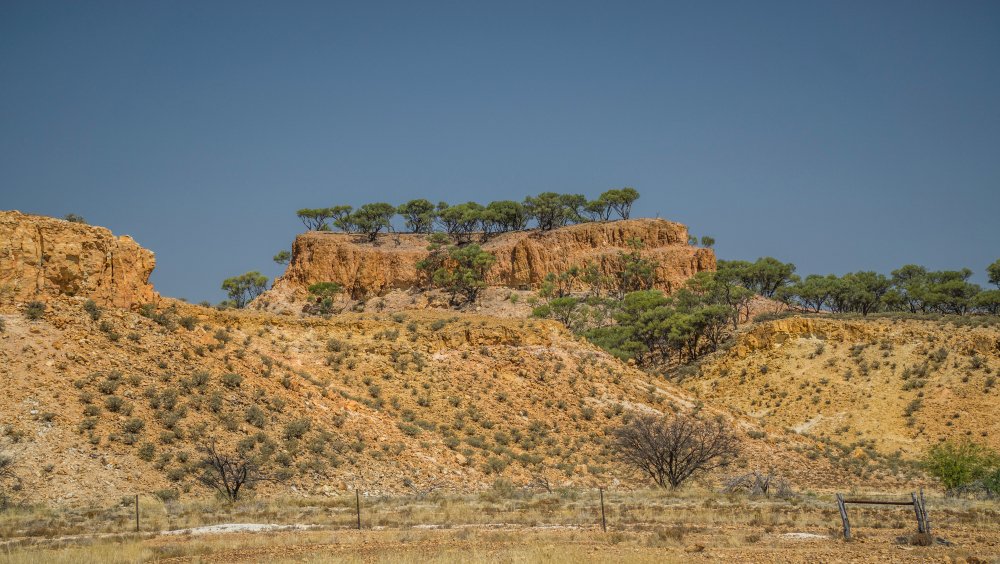 After you've completed the first two parts of the dusty Dinosaur Trail, it's time to continue west to Julia Creek for a well-earned Artesian Bath. The tiny little town, with a population of 500 has put itself on the map with its four recently built Artesian Bath Houses.
Located at the local Caravan Park, you can book yourself in for a 45-minute private session where you'll get to sip on champagne while watching the sun set over the Outback plains. The claw foot baths are filled with steaming hot water straight from the Artesian Basin below.
Now it's time to turn right and start making your way back towards the Queensland Coast. Along the way you will be able to complete the final two parts of the Dinosaur Trail in the towns of Hughenden and Richmond.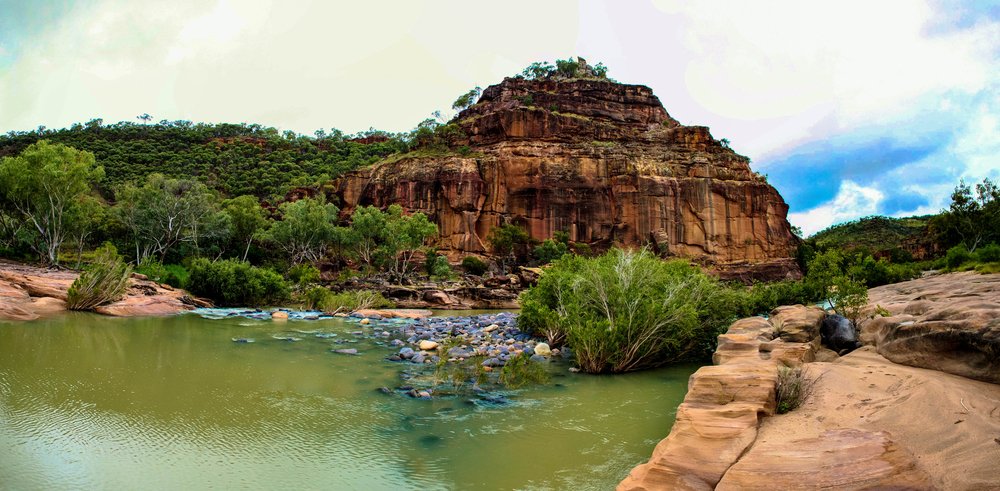 From there, if you take a slight detour north for 60km you can hike down into the gorgeous Porcupine Gorge. Although it's only a 1km walk down into the gorge, do not be deceived – it's a very steep climb to get back up, especially in the heat of the day! In fact, some people call it 'Australia's mini Grand Canyon.'
While that wraps up your Outback Queensland experience, there is still a 400km drive back to Townsville on the coast. So, take your time and make sure you've always got plenty of food, water, and fuel.
Top End
By Shandos of Travelnuity
When most people think of visiting Australia, their thoughts drift to Sydney, Melbourne, the Great Barrier Reef, Uluru. Most of which take forever to fly to from nearly anywhere in the world (and are separated by huge distances).
But there is one place in Australia that is closer to the rest of the world: the Top End. With flights from Bali or Singapore taking just a few hours (far less than from Sydney or Melbourne), it's an ideal destination to head to for just a quick trip. And the best way to experience this fairly compact region? On a road trip around the Top End!
Darwin will be the first stop on your trip, as it's the location of the international airport and all the hire car companies. More of a large country town than a city, it's still worthwhile spending some time here to check out the Museum and Art Gallery of the Northern Territory, World War II historic sites and the twice-weekly Mindil Beach Sunset Market.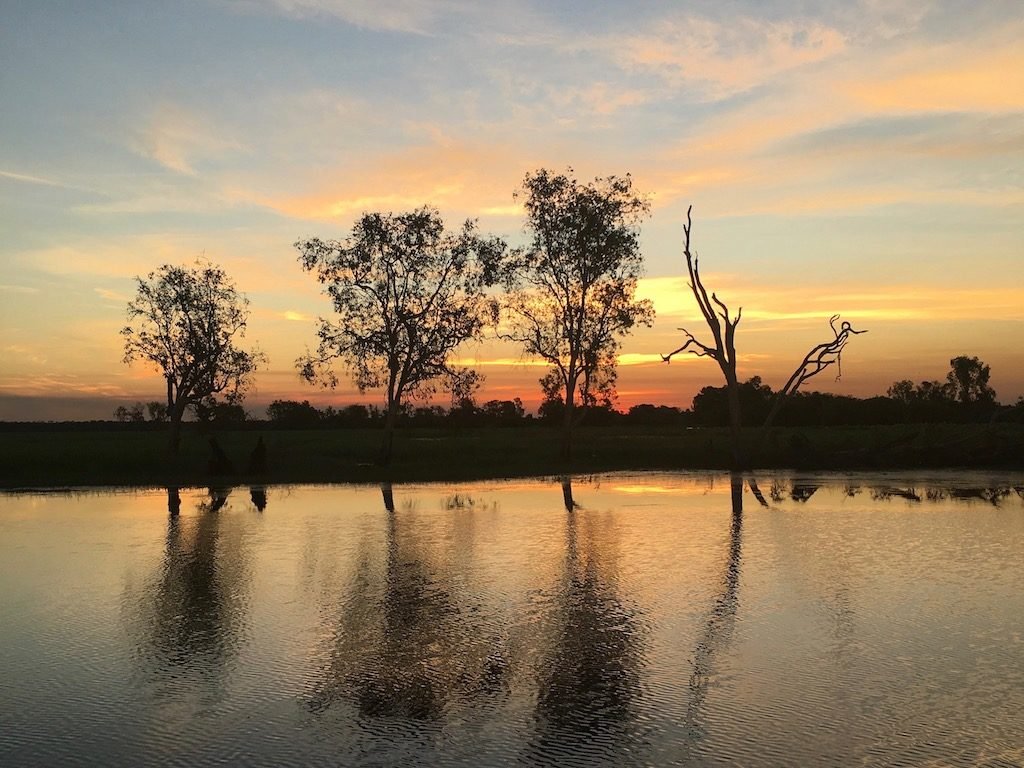 But next it's time to head out of town and grab a taste of the Outback. Top of your list should be Kakadu, the huge national park that's only a couple of hours down the road from Darwin.
Home to a huge expanse of wetlands, the edge of the Arnhem Land sandstone plateau and thousands of years of Aboriginal culture, there's so many must-visit sites. Don't miss the wetland cruises at Yellow Water, the rock art at Ubirr Rock and Nourlangie, or exploring the gorgeous gorges and waterfalls at Gunlom, Maguk, Jim Jim or Twin Falls (4WD required).
For a more chilled out waterfall experience, head back to Darwin via the Litchfield National Park. Must-do waterfalls are Florence, Wangi and Buley Rockpool. All are easily accessed on sealed roads with a 2WD hire car. The last is my favorite – it's like a natural outdoor spa, particularly if you visit midweek and manage to have it to yourself.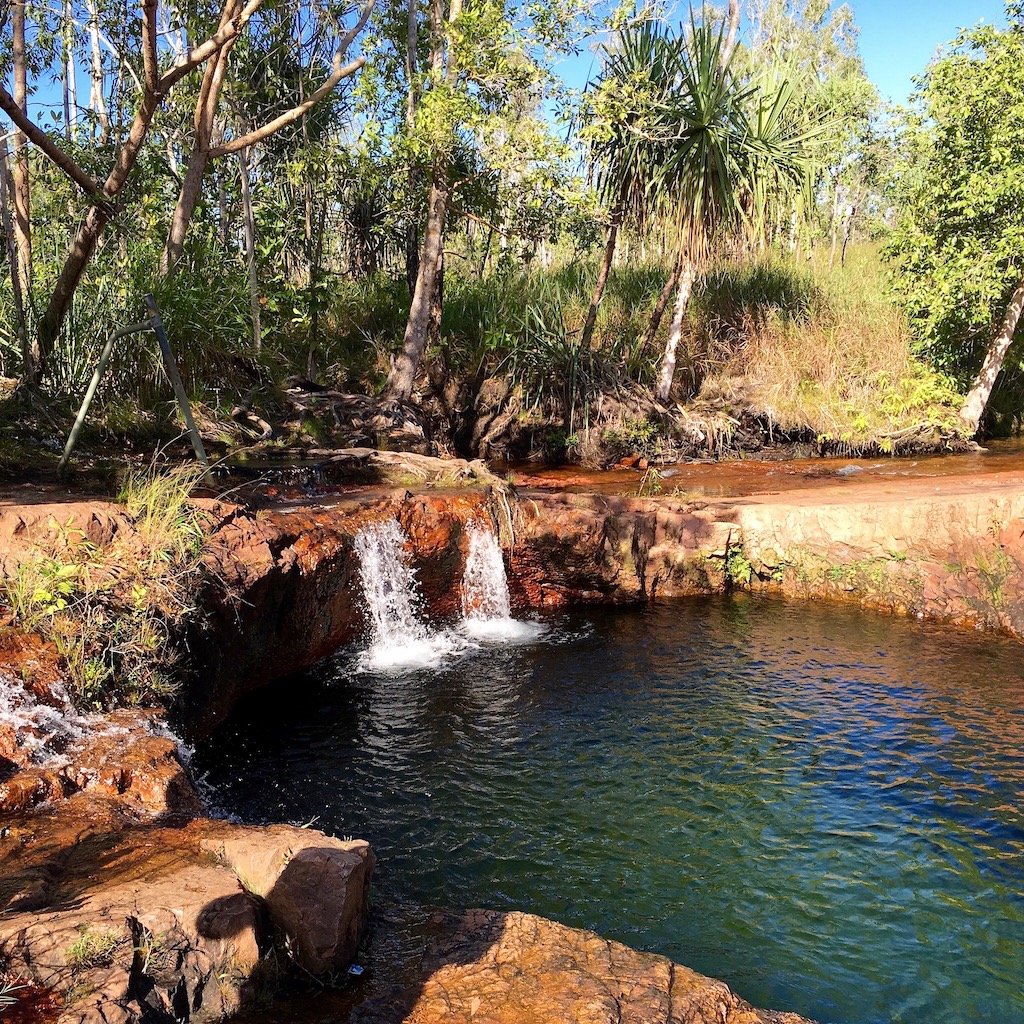 If you've got extra time on your trip, it's only a few hours further south to Nitmiluk or Katherine Gorge. Take a boat ride up the series of gorges, or hire a canoe and take your time exploring the sandstone cliffs, sandy beaches, and Aboriginal rock art.
Oh, and of course I've got another waterfall recommendation for you: Edith Falls, not far north of the gorge, where you can camp right next to the waterhole in Outback style!
The Limestone Coast
Contributed by Natalie & Steve of Curious Campers
If you have driven along the Great Ocean Road or are heading west across Australia, make sure you explore the Limestone Coast between Mount Gambier and Adelaide in South Australia. You could drive the 550 kilometers it in a day, but don't. There is so much to see it's worth taking your time.
Mount Gambier is a picturesque town built around a volcanic landscape. Its centerpiece is the Blue Lake that sits in a dormant volcano. During summer, the water turns iridescent royal blue, it is a spectacular sight.
There are many other craters, caves, and sinkholes in the area. The best known are Piccaninnie and Ewens Ponds. They are both world-renowned dive sites. Ewens Ponds is also suitable for snorkeling. Underwater visibility can be as much as 80 meters and the underwater gardens are beautiful.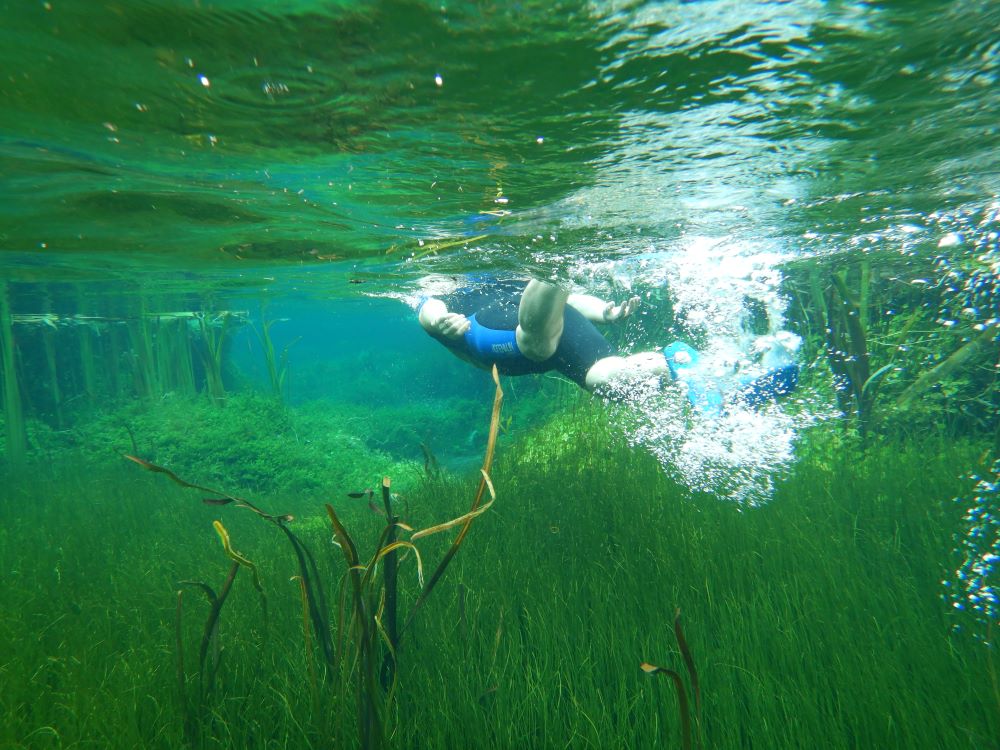 The Coonawarra is one of South Australia's best-known wine regions. It is definitely worth visiting a few of the nearly 50 cellar doors to try the local product. Katnook Estate, Wynns Coonawarra Estate and Leconfield Wines are amongst the most popular wineries.
The next stop is Naracoorte. The World Heritage-listed Naracoorte Caves not only have many ornate structures, they are also home to a significant fossil collection. Guided tours are available.
From Naracoorte, turn east towards the seaside town of Robe. It has beautiful white beaches, stunning coastline, lakes and bushland to explore. Get off the bitumen and onto the sand at Long Beach. With 17 kilometers of coastline you're bound to find a little patch of sand to call your own.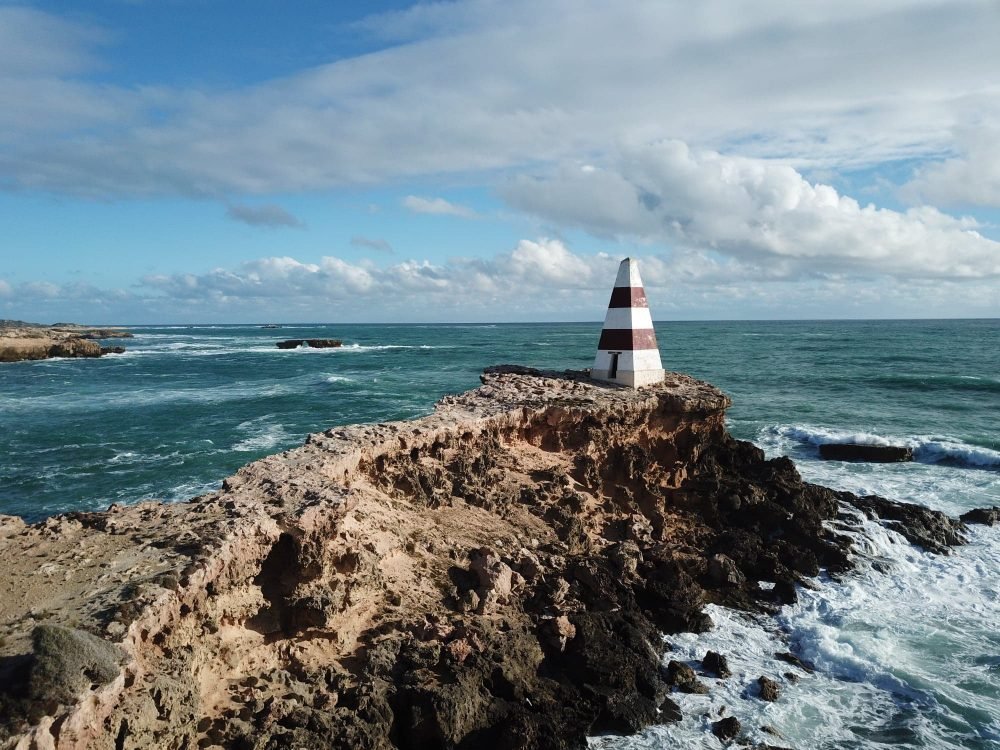 Back on the road, on your way to Meningie you'll drive alongside the Coorong National Park. It is a large system of lagoons and sand dunes. If you have camping gear it is an interesting place to spend a night. The birdlife is fantastic.
If you are not packing a tent, from Meningie you can access lookouts and walking trails through the Coorong. Meningie sits on the shore of Lake Albert and is a great spot to stop and have lunch. The local bakery is sensational.
The final stop before Adelaide are the Adelaide Hills. While only 30 minutes from Adelaide, it feels a world away. Dotted with historic villages, great wineries, and wonderful views, the Adelaide Hills are a great spot to explore year-round.
Visit Cleland Wildlife Park and feed kangaroos and emus and cuddle a koala. They really are as cute as they look! The Mount Lofty lookout, five minutes away, has fantastic sunset views across the city.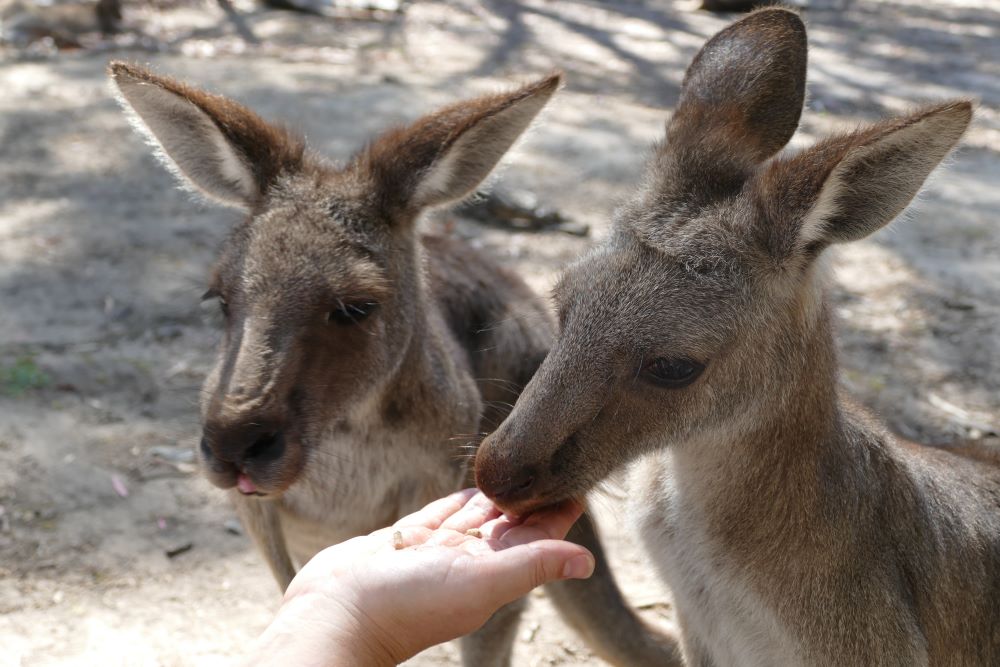 Your final destination, Adelaide, is a gem. It lacks the hustle and bustle of Sydney and Melbourne and his home to a thriving boutique bar and restaurant culture. Just 20 minutes from the CBD are a strip of beaches perfect for cooling off in summer. Adelaide is also the launching pad for two more iconic Australian road trips – the drive across the Nullarbor Plain or heading North to Darwin.
Brisbane to Cairns
By Keri of Our Globe Trotters
The stunning eastern coastline of Queensland stretches for an incredible 3000kms, and the drive from Brisbane to Cairns alone, just shy of 1,700kms.
The main highlight most visitors come to Queensland to experience is the UNESCO World Heritage Listed Great Barrier Reef that stretched along most of the Queensland coast; however, there are plenty of fabulous stops on dry land too.
Whilst conservatively you could cover the drive in 7-8 hour stints in 3 days, you'd be doing yourself a huge injustice not to allow yourself at least 2 weeks to take on this incredible coastal journey – plus time to be spent at either end in Brisbane and Cairns.
The first stop as you head north just 1.5 hours away is the Sunshine Coast, a string of beach suburbs that have now merged into one stretching from Caloundra to Noosa Heads. It is a hugely popular beachside escape for Australians so it can be quite crowded but there are still quieter spots to be found.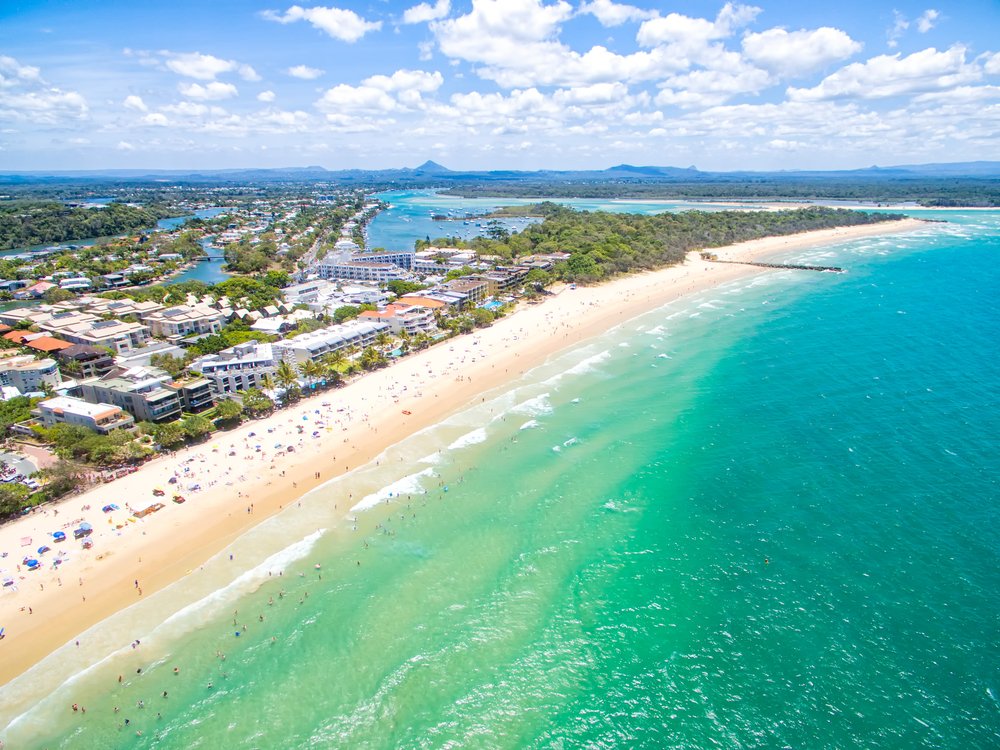 Head inland to the Sunshine Coast Hinterland and dramatic Glass House Mountains. Base yourself a couple of nights in Noosa to explore the surrounding region.
You can continue up the Bruce Highway for much of your journey north, or those with access to a 4WD can take an even more scenic coastal route known as the Great Beach Drive, from Noosa North Shore all the way up to Fraser Island, an incredible journey for wildlife lovers – those camping equipped can make several stops along the way.
If you aren't keen on self-driving, there are many companies that can help get you over to the world's largest sand island, Fraser Island.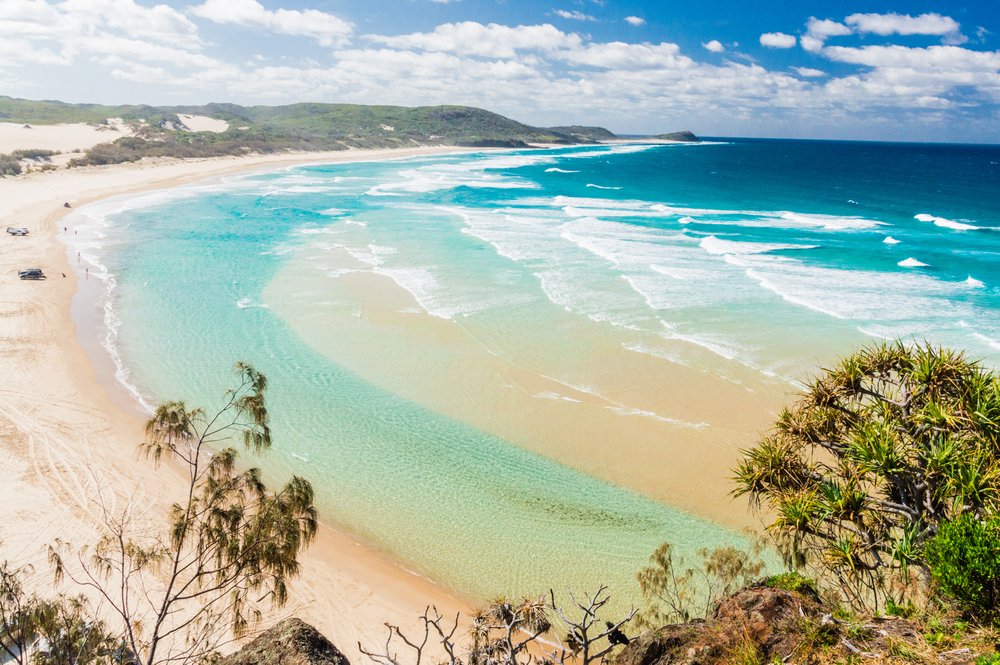 If you're sticking to 2WD, 1770 (yes that's a town!) and Agnes Water make stunning stops where you can catch reef cruises and enjoy the beautiful beaches, Yeppoon and a day trip out to great Keppel is another alternate to try further north. Don't miss a stop at Bundaberg on your way north to try the infamous Bundaberg Rum distillery tour.
Our next mustn't miss stop is Airlie Beach as a launching point to the incredible Whitsundays. You will not believe how white the sand is until you see it! This is tropical Queensland at its best – charter your own yacht and find your stretch of island paradise, or head with a commercial boat service to Daydream Island or Hamilton Island – very popular honeymooning destinations.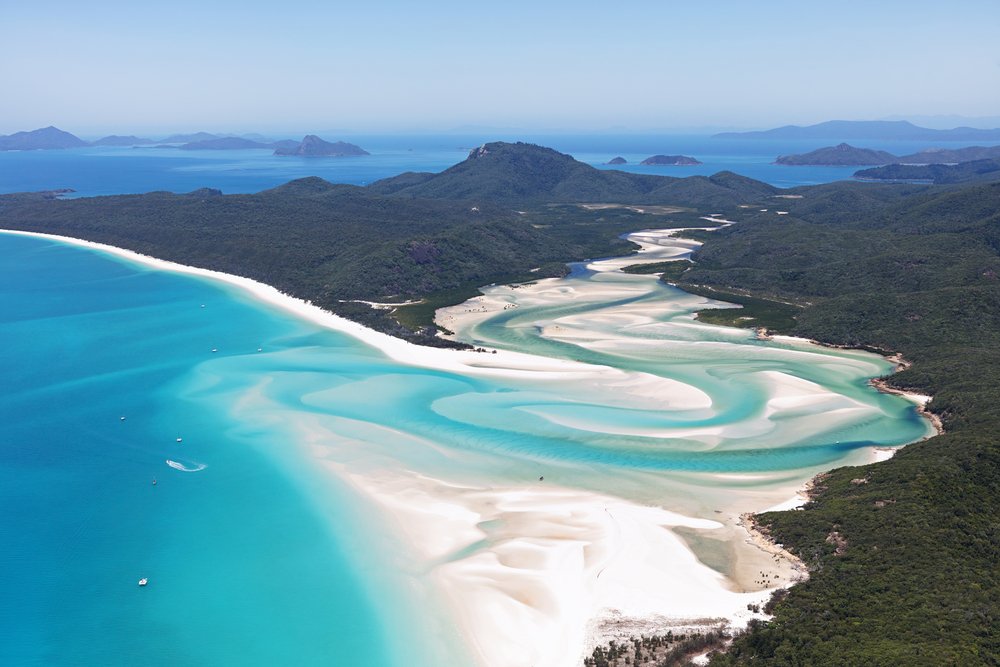 The next driving stretch is quite long, from Airlie Beach to Cairns so a stop in the regional city of Townsville is in order; Townsville is the gateway to Magnetic Island and further reef tours.
Take the final leg to Cairns through the more scenic Atherton Tablelands route to experience the lush and fertile lands, fresh produce, and incredible waterfalls.
It is truly one of the most spectacular and rewarding drives in the world for beach and nature lovers.
Western Australia
By Amy and Nathan of Two Drifters
In 2013, we flew to Australia, bought a campervan, and headed up Australia's west coast. We also eventually drove all the way to Sydney, but no region of that huge, beautiful country was quite as wonderful as Western Australia. This is much more remote and far less touristed than other parts of Australia. But it is epically beautiful, and one of the best places to road trip around Australia.
The ideal WA road trip starts in the capital city of Perth. A few days spent there should be enough to see the main sites. Don't miss Rottnest Island off the coast (home of the adorable Quokka) or the hip town of Fremantle.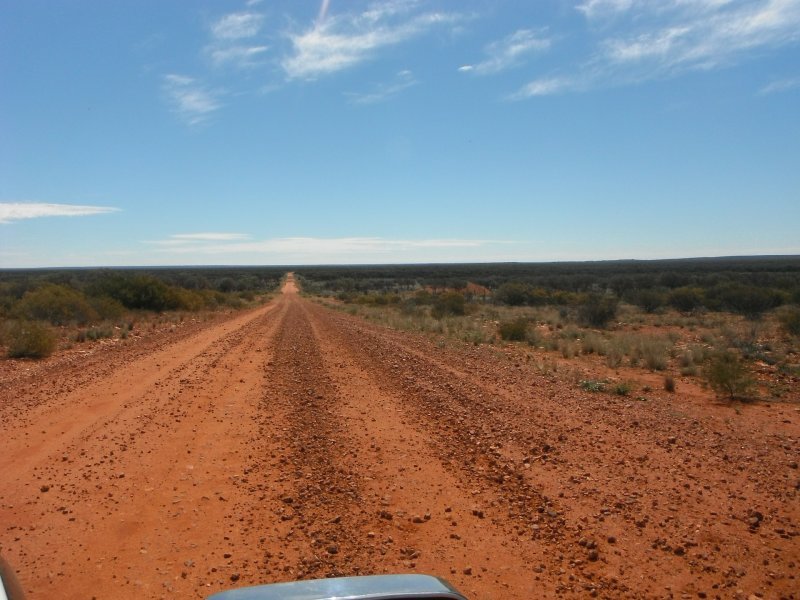 Driving up the coast, you'll want to stop next at the Pinnacles of Nambung National Park. These bizarre earth formations will fascinate you.
Next up, stop anywhere along the endless coastline. The beaches here are just lovely, and you can enjoy a stunning Indian Ocean sunset.
Many hours of driving (it's a big state) will take you up to Kalbarri National Park, one of our favorite places on our whole trip to Australia. There are breathtaking coastal cliffs on the ocean as well as the inland national park, which is all desert, red rocks, and fantastic hikes. Take a few days to have adventures here.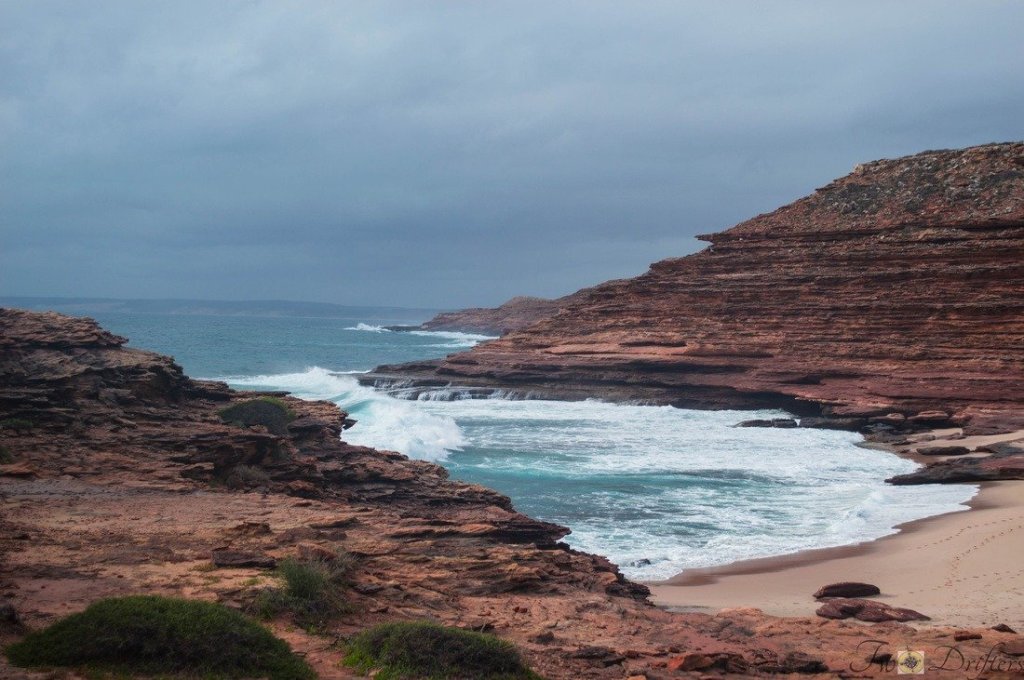 Continue north and visit the idyllic area of Shark Bay and Monkey Mia. The water here is turquoise and stunning, and at Monkey Mia you can see a daily dolphin feeding.
Finally, your last stop will be Exmouth, WA. This is at the very tip of the northwest and is a fantastic place to go snorkeling and, for the brave, whale shark swimming. If you only have time to visit one region of Australia, we highly recommend WA!
Tasmania
By Dawn of 5 Lost Together
Tasmania (Tassie) is the land of rugged landscapes, sparsely inhabited towns and huge swaths of parkland waiting to be explored. We spent 10 wonderful days exploring Tasmania and hitting all the major hot spots on the east coast.
Start in the capital Hobart, a city rich in history and culture. You don't want to miss the Saturday Salamanca Markets, driving up to the top of nearby Mt Wellington and the wandering the heritage streets of Battery Park.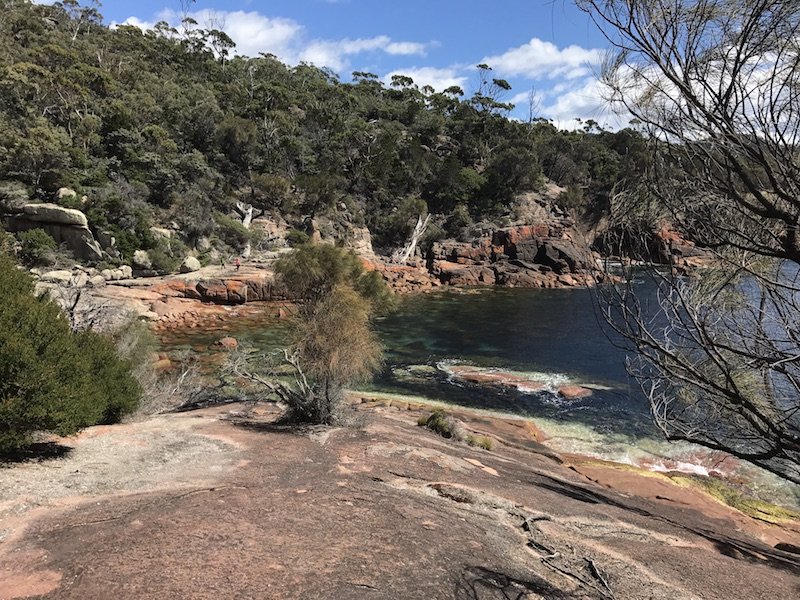 Next stop should be the Tasman Peninsula where the main attraction is the UNESCO World Heritage Site of Port Arthur, the best preserved convict site in Australia. This open air museum is full of fascinating historical buildings and stories. The day we visited was a dreary rainy day, perfectly setting the tone for this place of horror and hardship. The Tasman Peninsula also offers up some incredible geological formations and Fortescue Bay in the Tasman National Park is a great wilderness spot to camp and hike.
Continue to head north along the eastern coast to one of the most photographed spots in Tasmania: Wineglass Bay at Freycinet National Park. This sandy wineglass shaped bay set within rugged pink and white boulders is just as pretty in person as it is in photographs. You can see fairy penguins at Bicheno as you cruise up the coastline.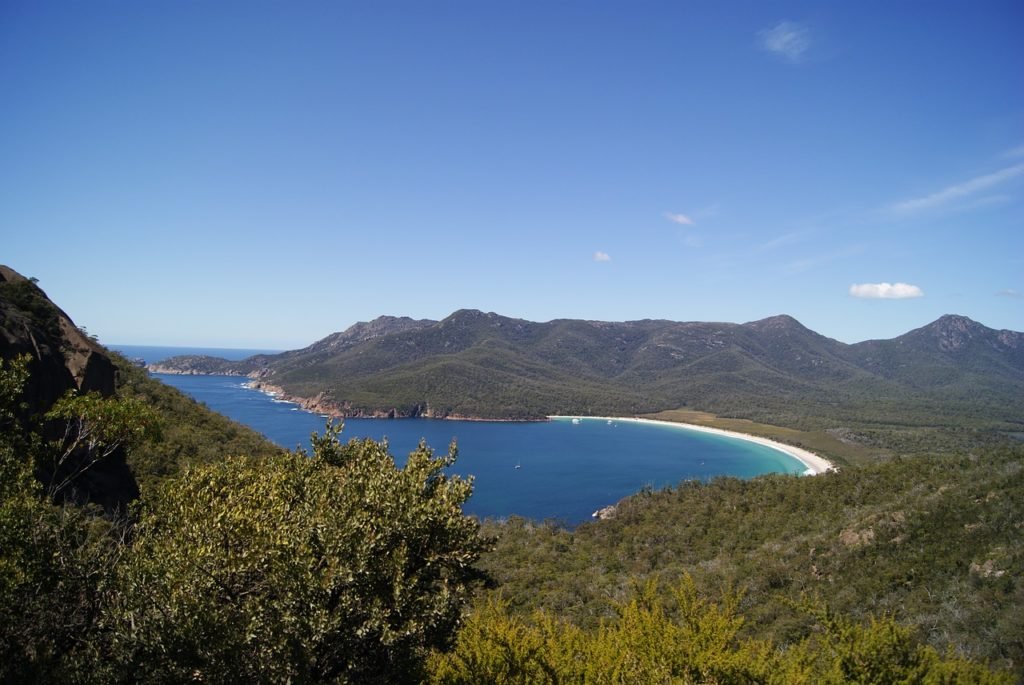 It is worth the extra time to get to the breathtaking Bay of Fires where you will have the secluded boulder-strewn beaches mostly to yourself. The turquoise waters may be chilly, but they will beckon you in.
Next up is the second largest city in Tassie, Launceston where you will want to spend some time at the lovely Cataract Gorge. You can also explore the nearby wine region of the Tamar Valley, while also feasting on the fresh produce and foodie delicacies of the Cradle to Coast tasting trail.
Last stop should be the beautiful Cradle Mountain. As you ascend into the National Park the landscape changes into a misty, eerie brush land. Dove Lake is the best place to get your shot of the iconic Cradle Mountain. The early evening is a great time to spot wombats in the grasslands.
Enjoy the mountain air and wilderness before routing back to Hobart. Tassie makes for a great road trip in Australia. Be flexible and allow yourself to get off the beaten path, wander aimlessly and soak in the fresh island air.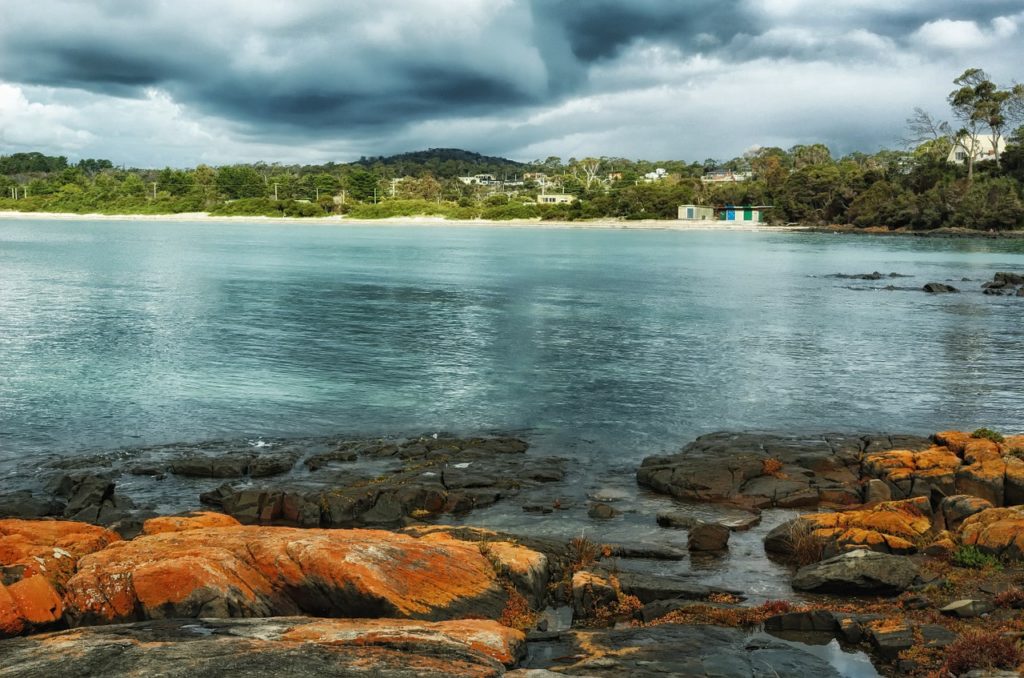 East Coast
By Dane of Holiday From Where
I recently finished a road trip around Australia's east coast from Melbourne to Cape Tribulation in the Daintree Rainforest. In a straight line, it is about 4000kms so you can expect to do some driving, but there are so many amazing sites and things to do that you never actually drive much more than a few hundred kilometres in a day. There are so many more, but these are a few of the must-see spots.
If cities are your thing then Melbourne is a must see. It is by far the most cultural city in Australia and also very beautiful. From museums to the botanical gardens it has almost everything you could want from any modern city. It is also just a short drive to the Great Ocean Road which is a must-see if you're in the area.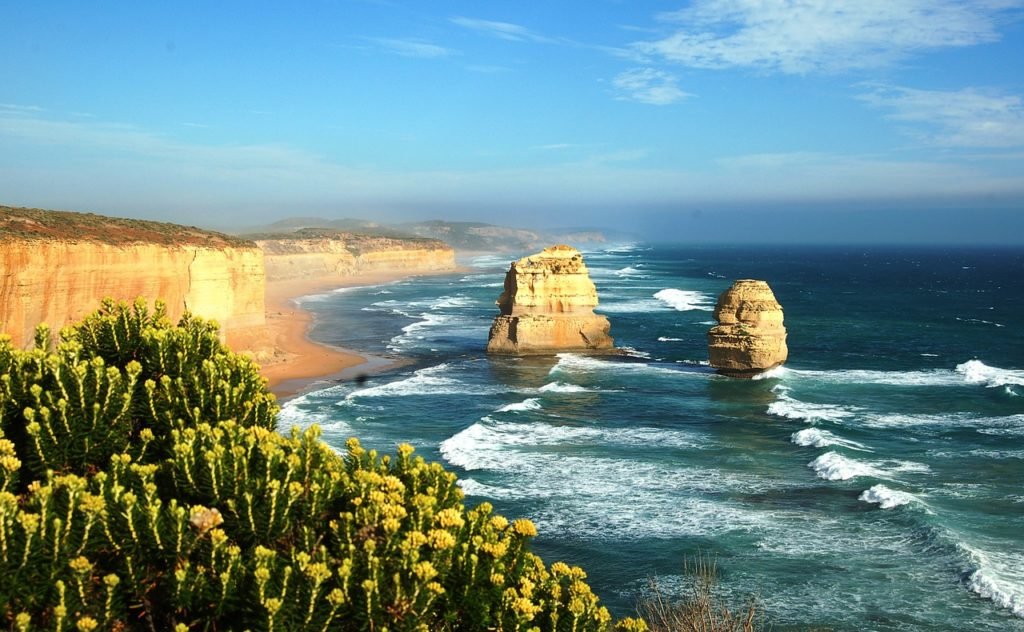 After Melbourne head to Buderoo, which is a national park southwest of Wollongong. It starts about 30-45 minutes inland and continues for a few hours. It is scattered with amazing rainforest walks and several different waterfalls and swimming holes.
About 2 hours north of Sydney is Nelson Bay. It is home to a range of different beautiful beaches and mountains. There is a hiking trail to the top of Mt Tomaree where you can get an incredible sunset view over the beaches and mountains.
Next up is Byron Bay. This one is actually my hometown! It's an incredibly beautiful town with some of the most amazing beaches in Australia. It is a perfect place to try surfing for the first time or if you have surfed before there are amazing beaches all around the area! The lighthouse walk to see the sunrise or sunset is highly recommended as you will either see the sun rise over the ocean or set over the mountains.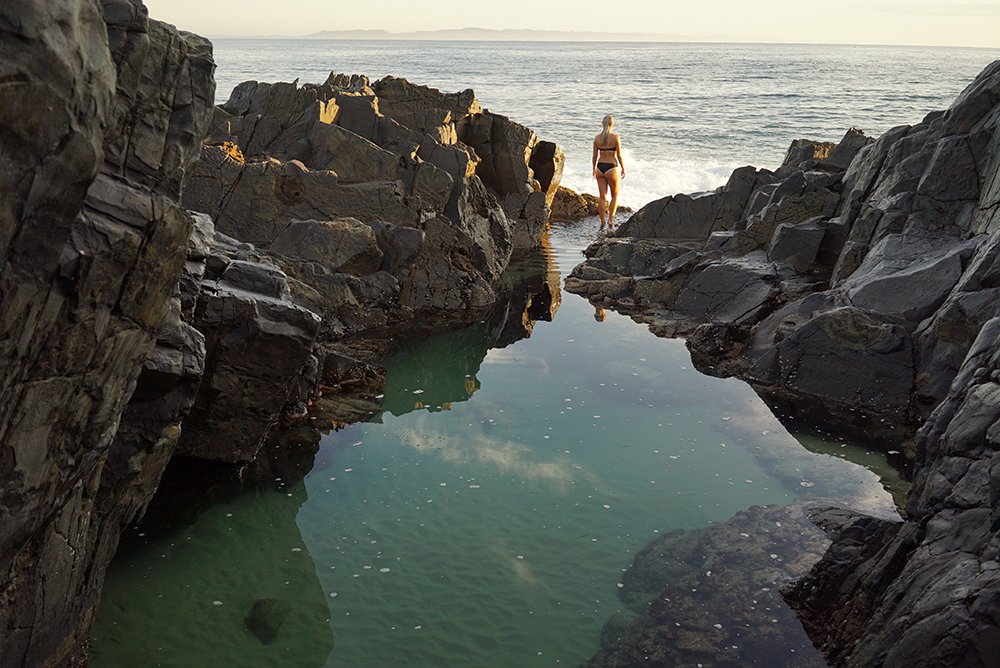 Noosa Heads is another small town a lot like Byron, it can be quite touristy but that is normally pretty easy to ignore once you step into the beautiful Noosa National Park and take the long walk around the points and beaches. With beautiful beaches and natural rock pools to swim in it is a really nice beach stop.
Next up is Wallaman Falls, north of Townsville. There's an incredible 268 meter high waterfall that breaks into a large pool. The rocks can be slippery but it you are brave enough you can go for a dip. Although not recommended if you are not sure footed.
Finish up at Cairns/Port Douglas. This region is your access to the Great Barrier Reef, Palm Cove, The Daintree Rainforest and a ton more amazing natural wonders in Australia. This is a must-see. It is a long way north but totally worth the drive!
Brisbane To Thredbo
By Matt of Fittness AU
A road trip from Brisbane (Queensland) to Thredbo (NSW) is a popular drive for those looking for the ultimate Aussie ski holiday. Or, if you're planning to go during summer, Thredbo is popular for adventure activities like hiking and mountain biking.
The direct drive could be done in 15 hours (1,394 km / 866 mi) and takes you along a great deal of the beautiful east coast of Australia. Although it's best to take at least 5 days for your trip so you can stop and enjoy the sites along the way.
Here's a great route to take for this epic Australia road trip. As you leave Brisbane, make your first stop in Byron Bay. Just 2 hours south of Brisbane, this is a popular holiday spot with a beautiful main beach. Either walk along the beach up to the lighthouse, or stay overnight and head to the Beach Hotel for a drink and a party with live music most nights.
Next up on the road trip is Port Macquarie, just 4 hours south, a gorgeous beachside town worth a stop to relax, go for a swim, and enjoy a local meal at one of the local Surf Clubs overlooking the ocean.
After that, you'll head to Newcastle – Australia's second-largest regional center after the Gold Coast. Its rich mining history has been overtaken by its popularity as a coastal hotspot for Sydneysiders looking for a weekend getaway. Take in the beautiful beaches and coastal walkways before you hop back in the car.
Stop off in cosmopolitan Sydney to experience Australia's most populated city. Visit the Opera House and perhaps even climb the Sydney Harbour Bridge for an adventure? A night or two in Sydney won't disappoint with an almost unlimited amount of restaurants, bars, cultural activities and natural hotspots such as Bondi Beach.
Your last stop before reaching Thredbo is Canberra. The nation's capital is the place to be to discover more about Australia's history, whether of its war heroes, aboriginal culture, or political upheavals. You can even sit in on a Parliament meeting at Parliament House or take a guided tour.
The last stretch of driving from Canberra to Thredbo is exciting as you take in the natural surroundings of mountains and forests covered with crisp white snow.
Be sure to get a good night's sleep so you can hit the slopes of Mt. Kosciuszko early!
Pin These Australia Road Trips for Future Inspiration!
Allison Green is a former educator turned travel blogger. She holds a Masters in Teaching and a B.A. in English and Creative Writing. Her blog posts merge her educational background and her experience traveling to 60+ countries to encourage thoughtful travel experiences that both educate and entertain. She has been a speaker at the World Travel Writers Conference and her writing, photography, and podcasting work has appeared in National Geographic, CNN Arabic, CBC Canada, and Forbes, amongst others. Now based in the San Francisco Bay Area where she grew up, she has also lived in Prague, Sofia, and New York City.