New Orleans…. you're one of my favorite cities in the United States, and it's not just because you ask me if I want my cocktails to go. You're vibrant, full of life and music. You're delicious, your food the very embodiment the word Creole, a mix that celebrates diversity the most delicious way possible. Plus, you're just plain quirky and don't take yourself too seriously.
Tennessee Williams once said: "America has only three cities: New York, San Francisco, and New Orleans. Everywhere else is Cleveland."
I don't think he's wrong.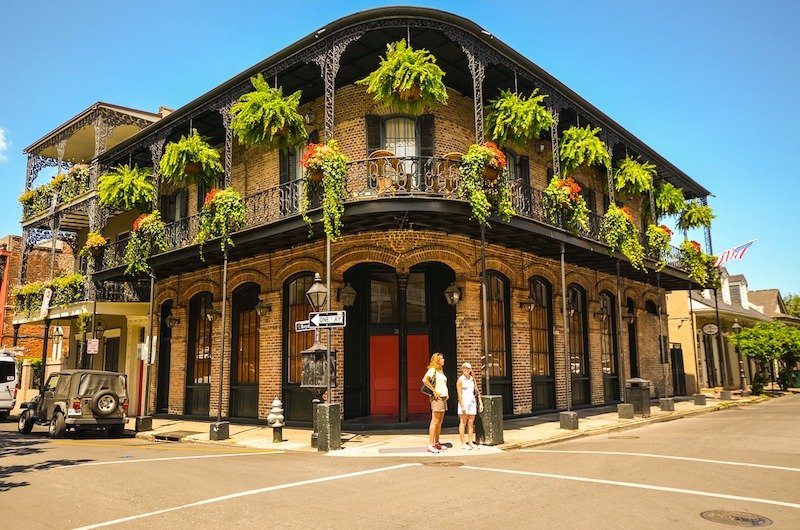 Note: This post contains affiliate links, which means I may receive a small commission if you purchase something through one of these links. Thank you for supporting the free content on this site! For more information on affiliate links and cookies, see my disclosure page for more details.
Here's the thing — you've got to experience New Orleans off the beaten path. Get past the Bourbon Street slushies, lukewarm pizza, and drunk middle-aged holidayers trying to relive their 20s, and you'll find a city that's easy to love.
Instead, dive into the offbeat music scene, eat the local food, explore the unique boutiques, and you'll see why New Orleans has a spirit no hurricane could ever crush. Here's how to spend the perfect 3 days in New Orleans for first-time visitors.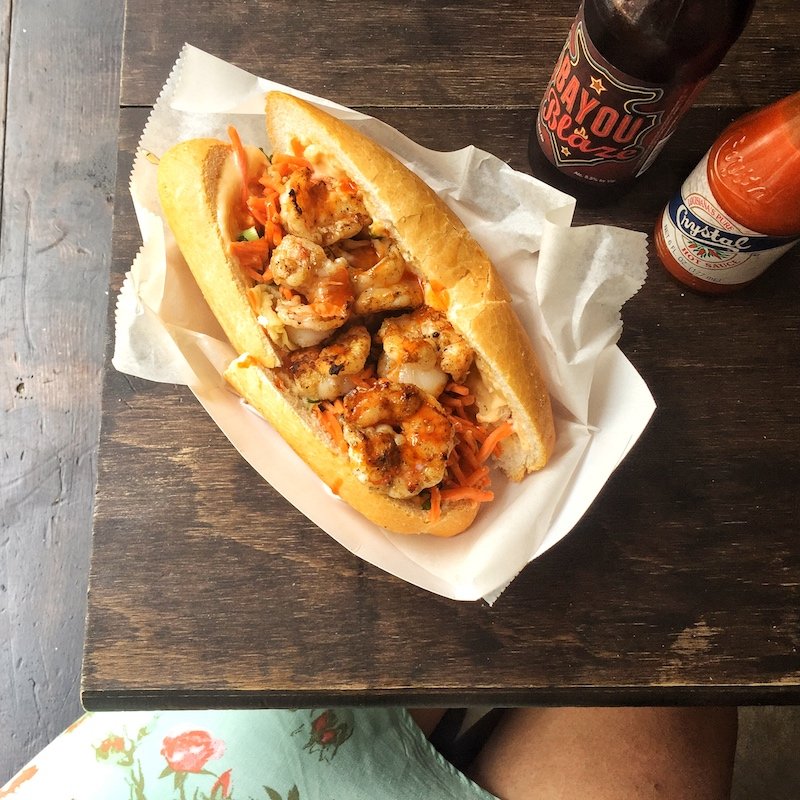 2 Days in New Orleans: Your Offbeat Itinerary for a Perfect Stay
Day 1 in NOLA
Explore the Garden District
The Garden District is probably my favorite part of New Orleans. It's where I stayed in New Orleans and I think it was a great choice for a first time trip. The historic charm of the houses, the way the leafy canopy of trees protects you from the Louisiana sun, funky offbeat details everywhere…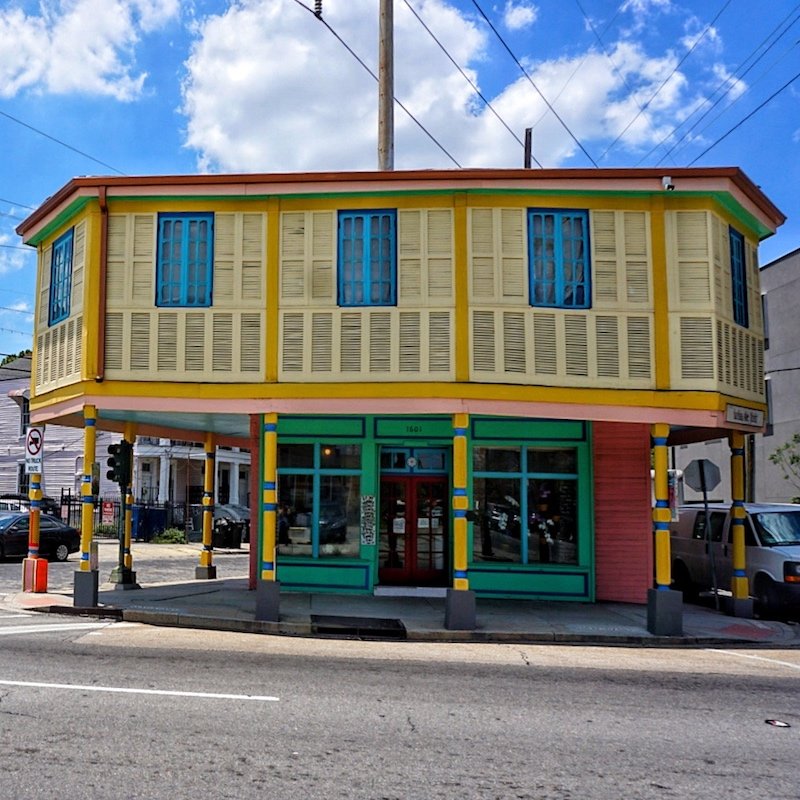 Magazine Street is the main thoroughfare of the Garden District; you can also take the St. Charles cablecar which runs roughly parallel to it pretty much the whole length of the Garden District.
There are tons of funky boutiques up and down Magazine Street, which was perfect for me as the geniuses at Greyhound somehow managed to lose my suitcase with nearly everything I owned in it. There are tons of bars and restaurants among the shops as well.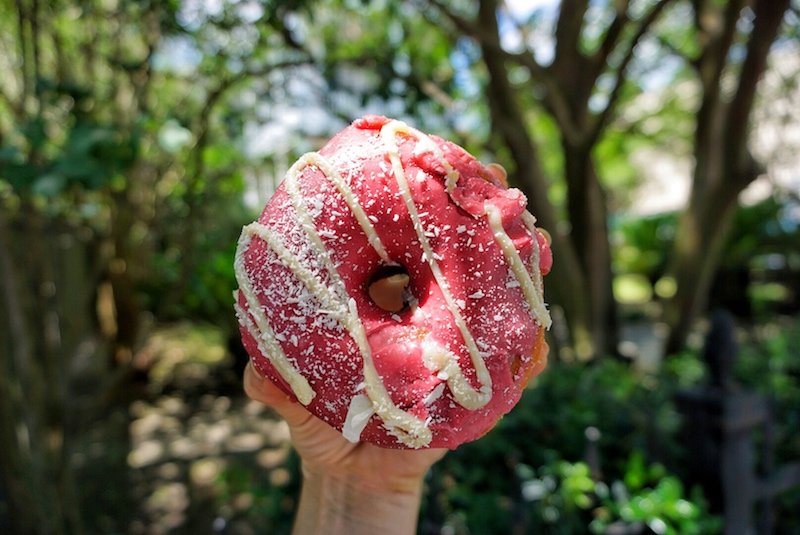 A few favorites: The peaceful Lafayette Cemetery, Defend NOLA for clothes and odds & ends, District Donuts for… do I even need to say it?, and Lilly's Vietnamese for some of the best bún I've eaten outside of Hanoi. If you've got 2 days in New Orleans, make sure you spend at least part of one exploring the Garden District.
It's easy enough to visit the Garden District by just wandering down Magazine Street and checking out all the cute side streets, but there are also walking tours available (check prices & availability here) if you'd like more historical context and guidance.
Take a culinary tour of the city
To understand the patterns of migration that have marked New Orleans and made it so unique, it's best – and most delicious – to do so via a culinary tour. Have a light breakfast and save lunch for the food tour – with only 2 days in New Orleans, it's the best possible way to taste as much as you possibly can without wasting time or food.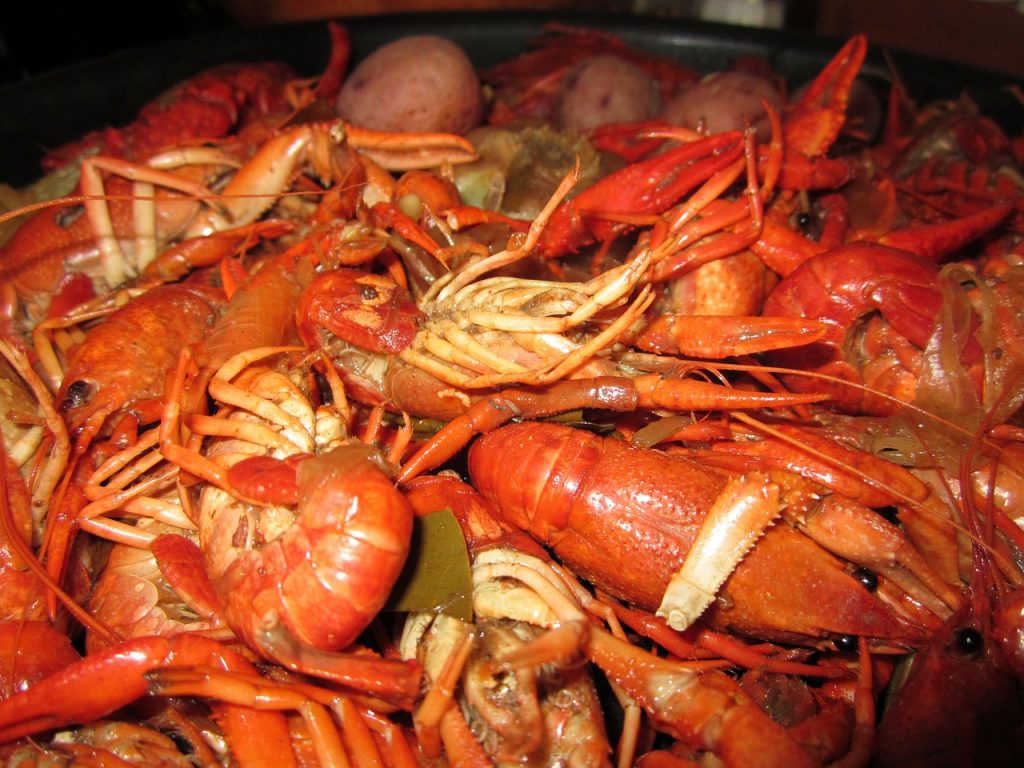 I highly recommend taking a tour with Doctor Gumbo if possible (this is the exact food tour I took) – it's one of the best food tours I've taken, and I'm a huge fan of food tours. Dylan, the guide, is hilarious and manages to weave together food, politics, and history in an engaging way — while making sure delicious eats are never far away to maintain your attention.
Some of the things we ate on the tour: pork cracklings, boudin balls, sweet potato beignets, po'boys, muffuletta sandwiches, hot sauces, pralines, beef brisket (also often called "debris") and naturally, gumbo!
Have a cocktail (or two, or three…)
Forgo the enormous slushies in to-go cups on Bourbon Street and save what's left of your liver for some classic cocktails. New Orleans quite literally invented America's cocktail scene. Among its greatest contributions: the Sazerac, the Vieux Carré, Ramos Gin Fizz (my personal favorite), and the Hurricane.
Go on a self-guided cocktail tour, being sure to sample the above-mentioned cocktails and others. Alternately, opt for a guided cocktail tour to make your New Orleans getaway slightly more educational (while just as boozy).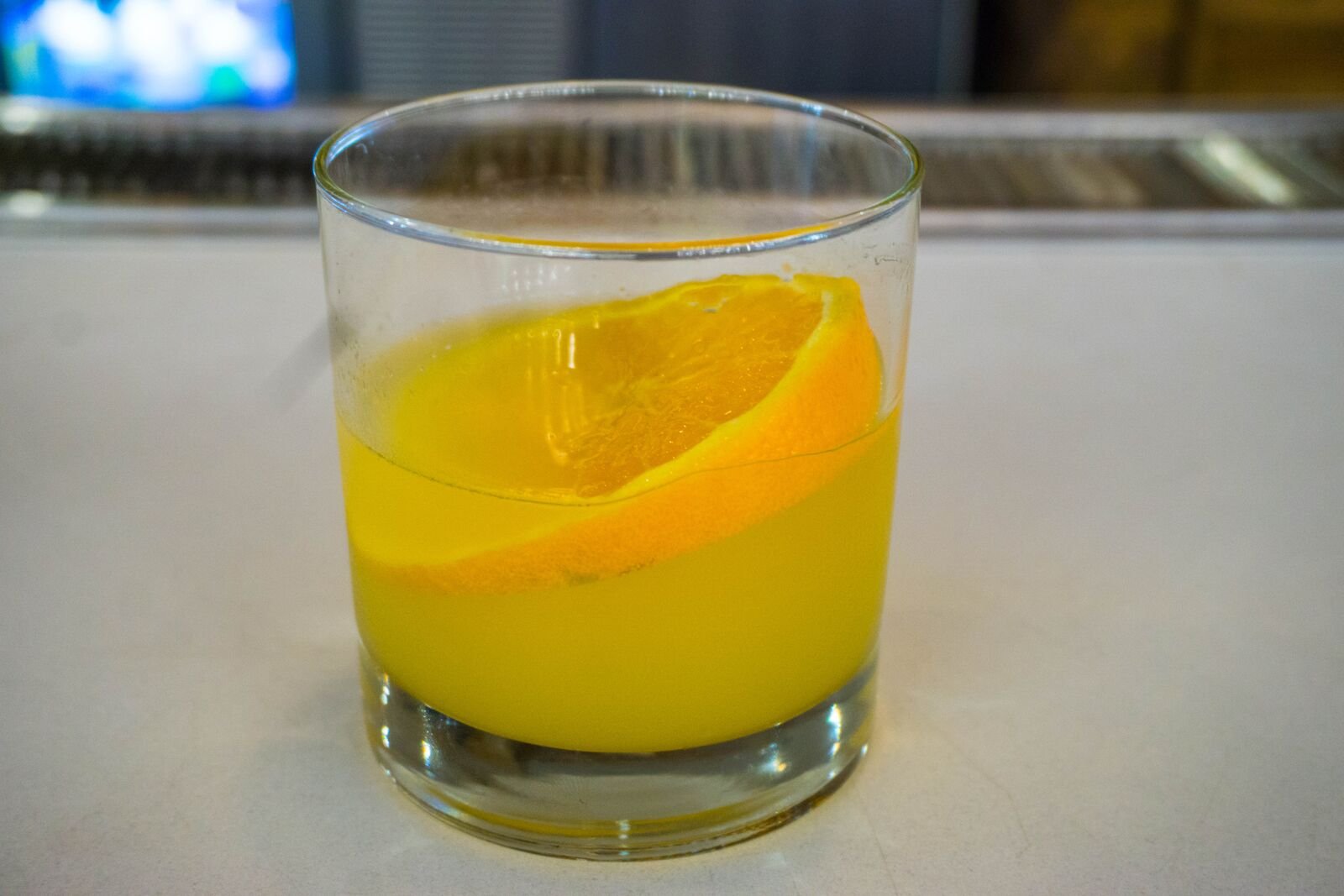 With just two days in NOLA, I didn't have time to go on a proper cocktail tour, but since I had such a good food tour with Doctor Gumbo, I'd trust them to deliver on the cocktail & history tour (check time, availability & pricing here). You can also do a combo food + cocktails tour and save a bit of money by combining the two – check it out here.
Enjoy the music
New Orleans is one of the best spots in the entire country for jazz music, so don't miss visiting Frenchman Street where the music scene is off the hook — definitely a must-visit on any New Orleans itinerary. It's a bit more off the beaten path compared to the French Quarter, though still well known by music lovers everywhere.
If you're into the jazz scene, it's possible to take a music tour through the Tremé neighborhood popularized in David Simon's beloved TV show with a local guide, as well as Marigny and Frenchman Street.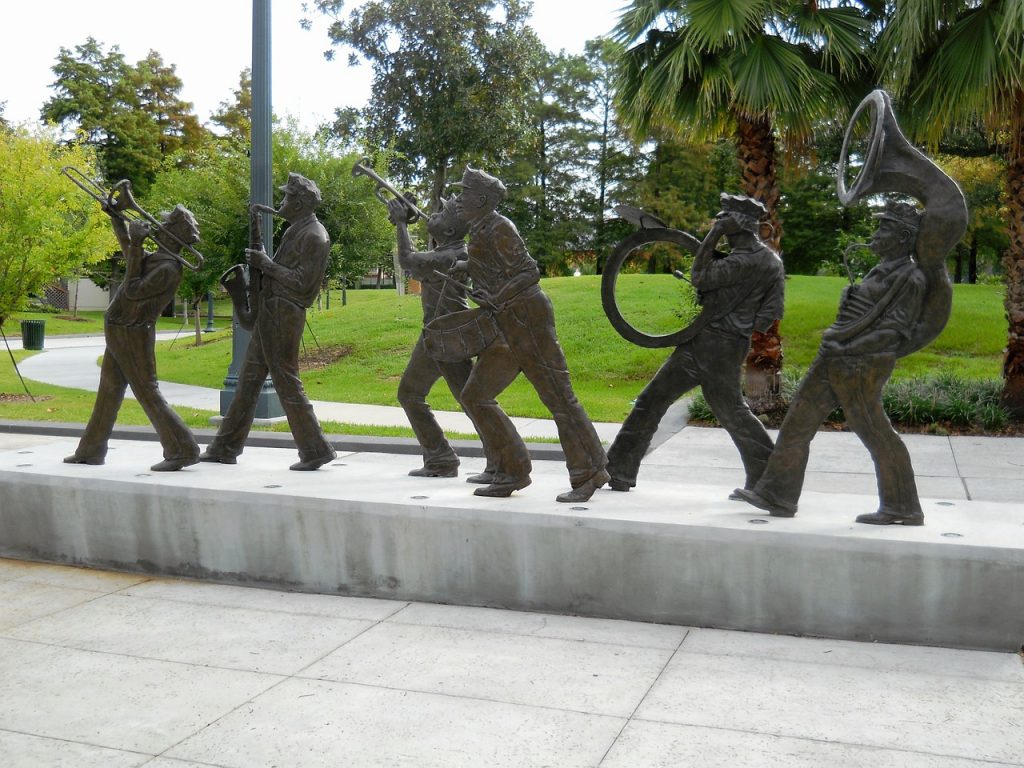 If you're not looking to stray far from the French Quarter, the Royal Sonesta Jazz Playhouse is also a great venue and it couldn't be more conveniently located right on Bourbon Street — this is a true hidden gem right in the heart of downtown, far away from the drunken antics you normally associate the street with.
I saw Nayo Jones perform and she was simply fantastic, with a voice that even Etta James would shed a tear for. And the cocktails are top notch — definitely a must-visit spot.
I also loved the free shows at the Ace Hotel — there was a fantastic cellist, Helen Gillet, who played some beautifully haunting music. I believe she performs most Wednesdays, so check their schedule and see if she's on — you won't regret it.
If you're into late night partying, Saint is supposed to be legendary in the wee hours, and it's located right in the heart of the Garden District.
The most traditional, however, is definitely Frenchman Street, so if you're a jazz music lover and you only have a weekend in New Orleans, that's where I'd recommend you go your first night in the city.
Day 2 in NOLA
Explore history and nature on a plantation and bayou tour
Two things figure heavily on many people's New Orleans' itineraries – learning about the macabre history of plantations in near proximity to New Orleans and seeing the beautiful swampland that makes Louisiana's geography so distinctive in the United States.
Unless you have a car, it's easiest to do this on an organized day tour. This top-rated tour combines a morning plantation visit to Oak Alley Plantation with a boat ride through the bayou in the late afternoon.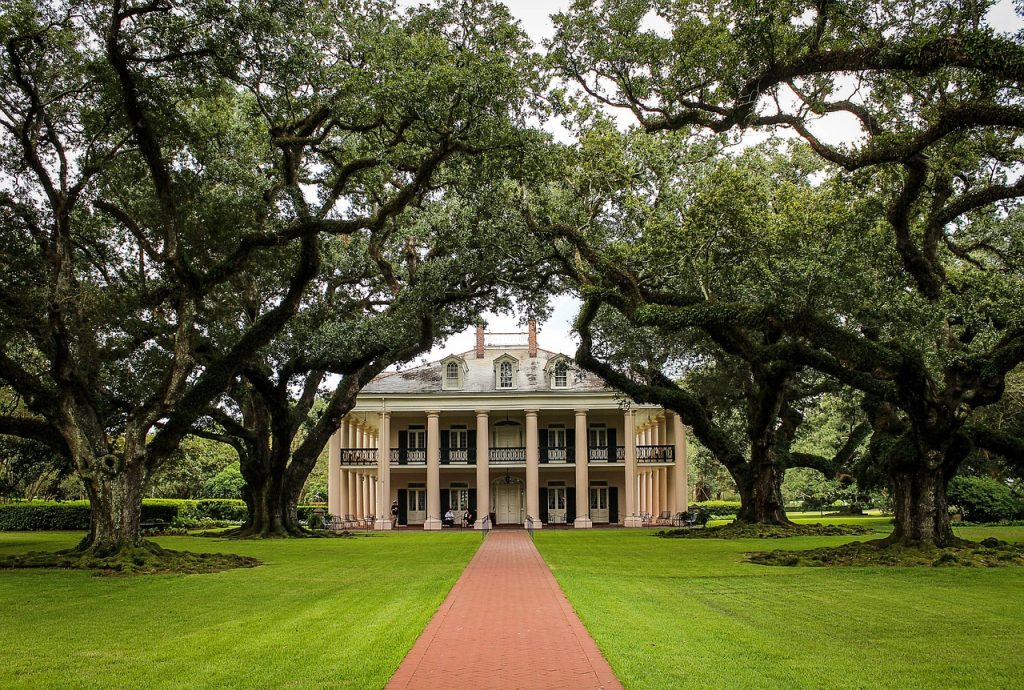 Oak Alley is a place of profound contradictions: a beautiful setting with an over 300-year-old tunnel of oak trees framing a gorgeous plantation house, where some of America's most shameful history took place.
It's hard to understand how a place that is so beautiful was also the site of such dehumanization and abject cruelty.
It's certainly something somber to think about, and I urge you to consider and process the history of the place before posing and posting photos for Instagram. In fact, just don't. Treat Oak Alley with the same consideration as you would any site of massacre or historic evil.
On another note, the peaceful Louisiana bayou is a wonderful way to spend an afternoon, exploring the backwaters of the swampland outside of New Orleans and spotting some real-live crocodiles, if you're lucky (or not, depending on how you feel about massive aquatic reptiles).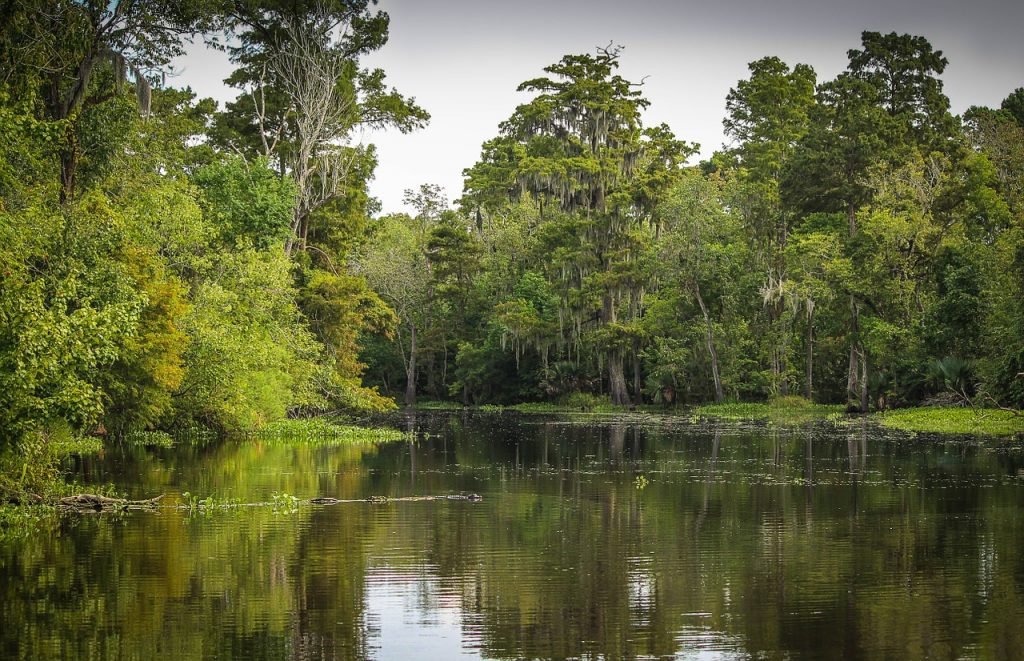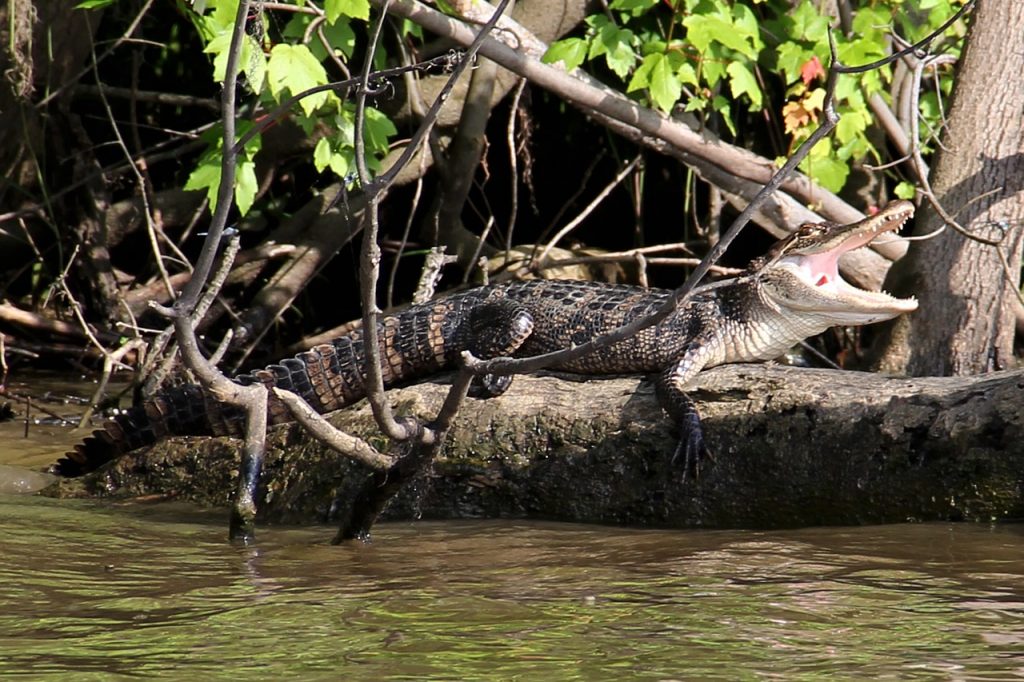 It's amazing how just a short drive outside of New Orleans brings you to such wildly different and unique places, the likes of which are hard to find elsewhere in the U.S.
All in all, the combination swamp plus plantation tour takes about 7 hours in total, leaving at 10:30 AM and returning to the NOLA area around 5:30 PM – just in time to have another fantastic meal and explore the unusual, offbeat side of New Orleans by night!
Have one last epic dinner in New Orleans
If you only have two days in New Orleans, you better bring your stretchiest pants so you can make every meal count!
Whether it's having one of the best phos you can find in the U.S. at Lilly's Café in the Garden District, indulging in the best fried chicken at Willie Mae's, or scouring the Eater Hot List of best restaurants in New Orleans for the buzziest restaurant in town – it's hard to go wrong in a city as known for its food as New Orleans.
Explore the spooky side of New Orleans
There's likely no more offbeat city in the U.S. than New Orleans. From voodoo to horror stories, there's something for everyone who has an interest in the offbeat and slightly dark.
While not off the beaten path, New Orleans' cemeteries are a major tourist attraction. They're mostly above ground thanks to chronic flooding issues, making the mausoleums an interesting and distinctly New Orleans sight to be seen.
Supposedly, Nic Cage even has a pyramid here (for if he ever dies).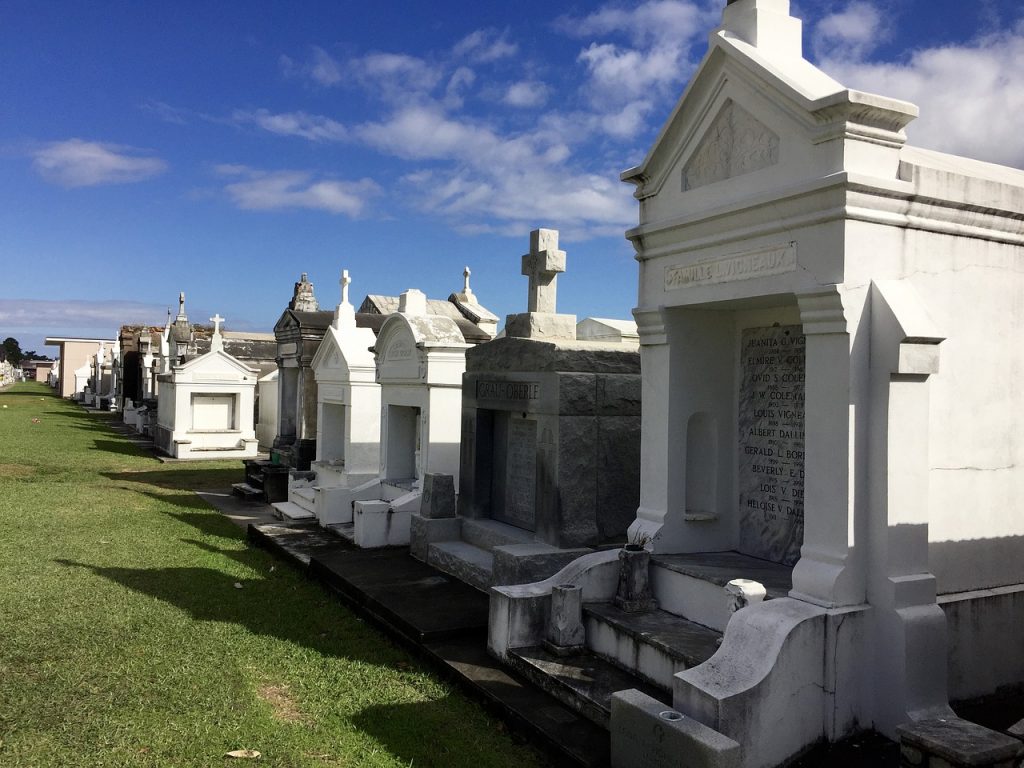 Voodoo is also not just a myth in New Orleans, but rather an important part of its history. It is a syncretic religion that combined elements of West African religions brought over by enslaved Africans as well as Catholicism which was dominant in New Orleans.
For that reason, voodoo history is much like the history of New Orleans itself, a Creole mishmash of cultures brought together by humanity's best and worst impulses. There's a daily night tour of Voodoo history in New Orleans at 7:30 PM.
However, if you have to pick between a voodoo or ghost tour of the city, I'd recommend doing the 8 PM ghosts and vampires walk through New Orleans, the #1 voted haunted tour in the city.
Learn local history and lore on a two-hour tour, hearing stories from the twisted tale of the serial killer and torturer Madame Lalaurie to the Mad Butcher, the owner of a sausage factory whose wife met a rather unsavory end.
If you get there early, enjoy 2-for-1 hurricanes courtesy of The Voodoo Lounge before your tour!
Where to Stay in New Orleans
There are several options for where to stay in NOLA, including several vacation rental options and lots of great hotels and even a handful of good hostels!
Budget: Hands down, I'd recommend The Quisby, a boutique hostel in the Garden District. It has an in-house bar serving surprisingly upscale cocktails, a delicious free breakfast including all the biscuits, ham, cheese, and coffee you can eat and drink, and a cool lounge area. The Quisby is without a doubt the best hostel I've stayed at in the entire U.S.
It's also priced fairly for an upscale hostel, with a bed in a dorm costing about $27-3o per night. But the best part — the reception staff is outstanding and will give you so many awesome suggestions, even offering you a little booklet cheat sheet of all their favorite places in NOLA. The hostel bar has a great chilled out vibe, so you can socialize or just chat with the bartenders over some drinks. Dorms and privates available. Check out reviews (9.0 on Booking.com) & availability here.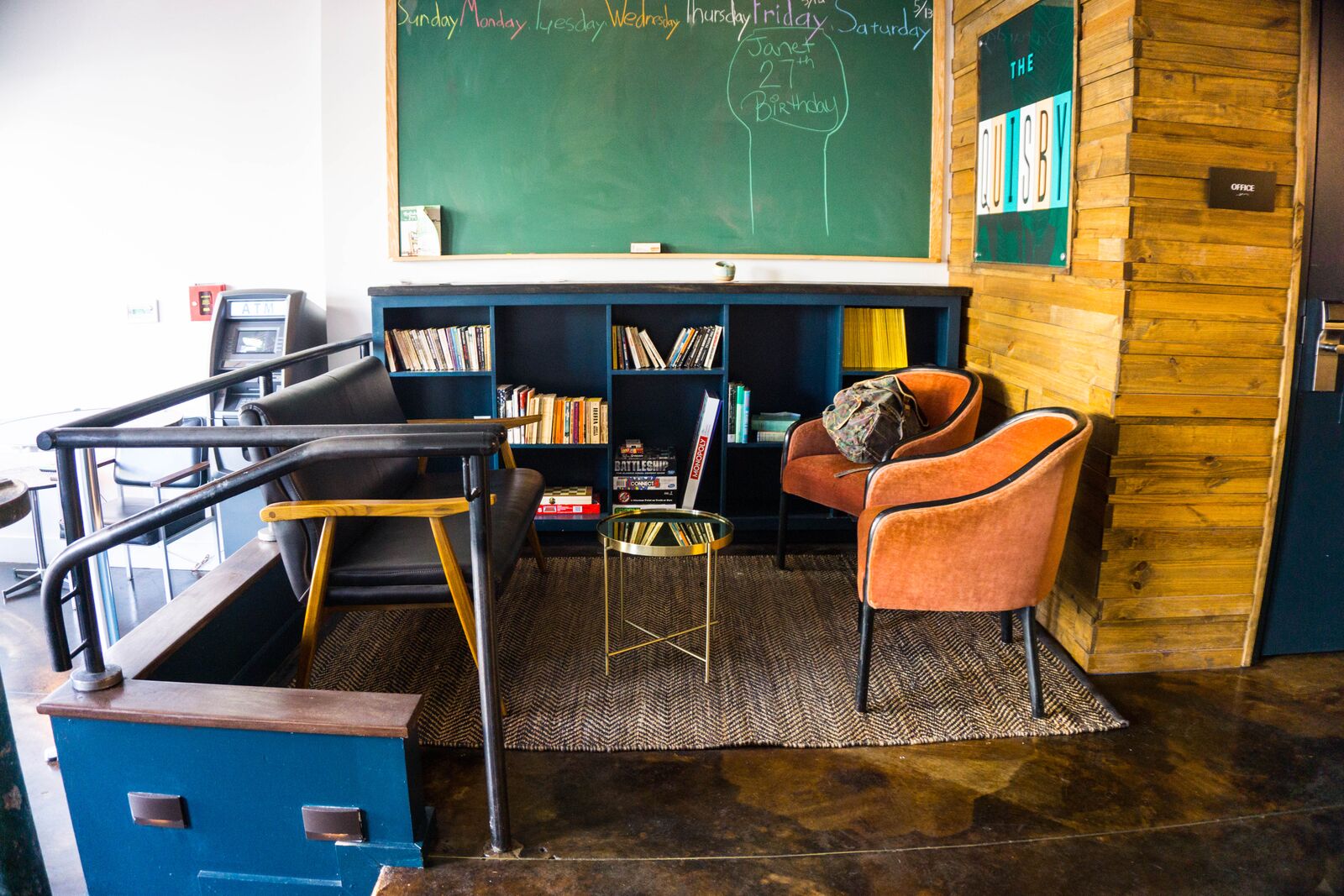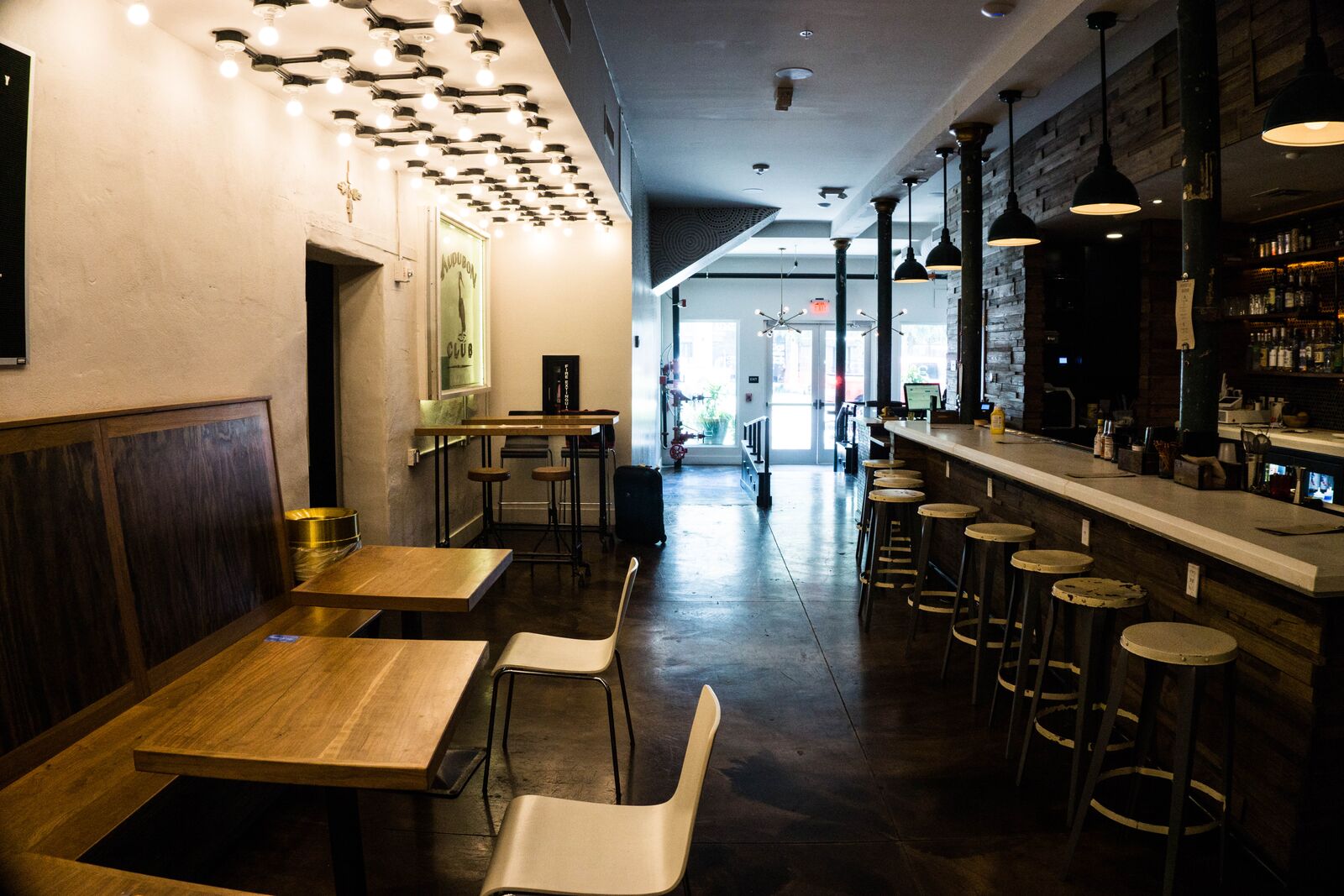 Mid-Range: If you want a little more privacy than a hostel affords while you travel then New Orleans has a decent range of options for people with a slightly higher budget. If you don't want to splurge too much, I'd recommend staying at a guesthouse-style accommodation rather than a hotel. The Burgundy B&B, restored from the 1890s with adorable Southern charm décor, has rave reviews on Booking.com and is a 20-minute walk from the French Quarter in a quiet neighborhood. Check reviews (9.0 average rating on Booking.com) & availability here.
Luxury: Having spent some time in their lounge area and stayed at other Ace locations, I'd highly recommend the Ace Hotel, which can be actually be quite affordable outside of peak season (though the price on weekends can often soar). It's one of the trendiest and most stylish hotels in town, and the bar downstairs is always bustling. Check reviews (8.7 average rating on Booking.com) & availability here. If you want a quieter, more classic NOLA experience, The Royal Sonesta is a New Orleans favorite, located right on Bourbon Street, with an excellent jazz playhouse downstairs (with the most delicious grilled oysters — seriously, you've got to try them!). Check reviews (8.8 average rating on Booking.com) & availability here.
Note: Thank you to The Quisby for hosting me and to the New Orleans CVB for their assistance in organizing the food tour with Doctor Gumbo. All opinions are my own. This post contains affiliate links, meaning I may make a small commission if you use one of my links to make a purchase – at no extra cost to you.
Allison Green is a former educator turned travel blogger. She holds a Masters in Teaching and a B.A. in English and Creative Writing. Her blog posts merge her educational background and her experience traveling to 60+ countries to encourage thoughtful travel experiences that both educate and entertain. She has been a speaker at the World Travel Writers Conference and her writing, photography, and podcasting work has appeared in National Geographic, CNN Arabic, CBC Canada, and Forbes, amongst others. Now based in the San Francisco Bay Area where she grew up, she has also lived in Prague, Sofia, and New York City.