If you want to impress your loved one on an upcoming trip to Dubai — or you're a local looking for a special Dubai date night idea — keep reading!
This guide to the most romantic places in Dubai will make sure you and your significant other have a fantastic night out, making memories that will last a lifetime!
Dubai offers such a variety of unique experiences and romantic places at all price points and for all travel styles — so surely, you'll find a great date idea on this list!
Ready? Let's go — here are some of the most romantic spots in Dubai and the best ways to experience them!
Best Romantic Things to Do & Romantic Places in Dubai
Hot Air Balloon Ride: Go for a date in the sky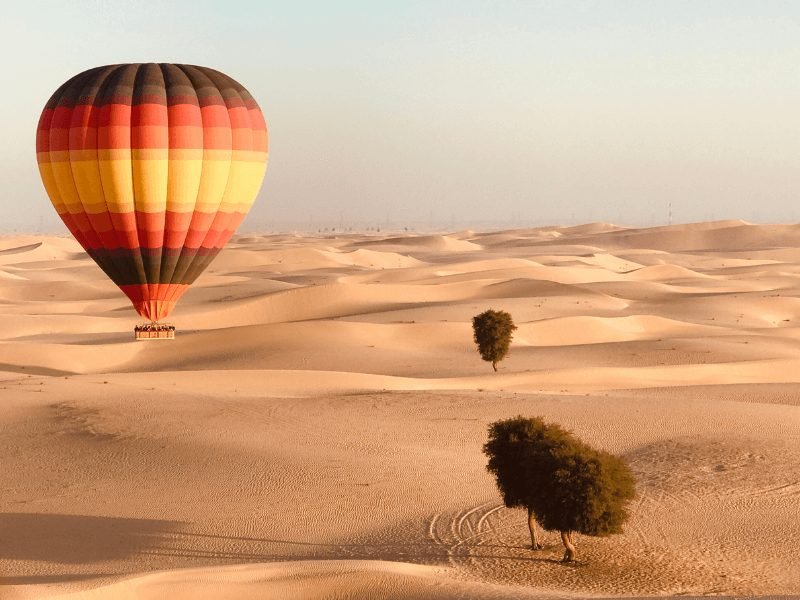 Note: This post contains affiliate links, which means I may receive a small commission if you purchase something through one of these links. Thank you for supporting the free content on this site! For more information on affiliate links and cookies, see my disclosure page for more details.
Are you in search of an unforgettable experience when you're planning a special date with your significant other?
There's nothing more unforgettable than a hot air balloon ride — especially over the Dubai desert!
Balloon Adventures Emirates provide unforgettable hot air balloon flights over the deserts, oases, and mountains.
It's about an hour's drive into the desert to get to the actual place, and going with an organized tour, you'll arrive before sunrise — typically leaving Dubai around 4:30 AM.
Yes, it's early, but the sunrise views over the desert are absolutely worth the early wake up call! Plus, this way you avoid the worst of the desert heat while enjoying a bird's eye view over the desert at sunrise.
Before the hot air balloon ride, you will be offered traditional Arabic coffee and breakfast nibbles.
Just when the sun is rising, the balloon will take off. The stunning views of the desert from the air is a whole new perspective!
Taking in the sunrise from above the sand dunes, beautifully aglow from the rising sun, with your loved one by your side is just about as romantic as it gets!
Hot air balloon rides are typically for about an hour — but the fun doesn't have to end there.
You can either book just a hot air balloon experience (with transfer and breakfast), or you can do a hot air balloon followed by the full-on desert safari experience, including a camel ride, dune bashing, quad biking, and visiting a traditional Bedouin camp for breakfast.
Book your sunrise hot air balloon experience, or also add on desert safari fun!
Night Desert Safari: An overnight date in the desert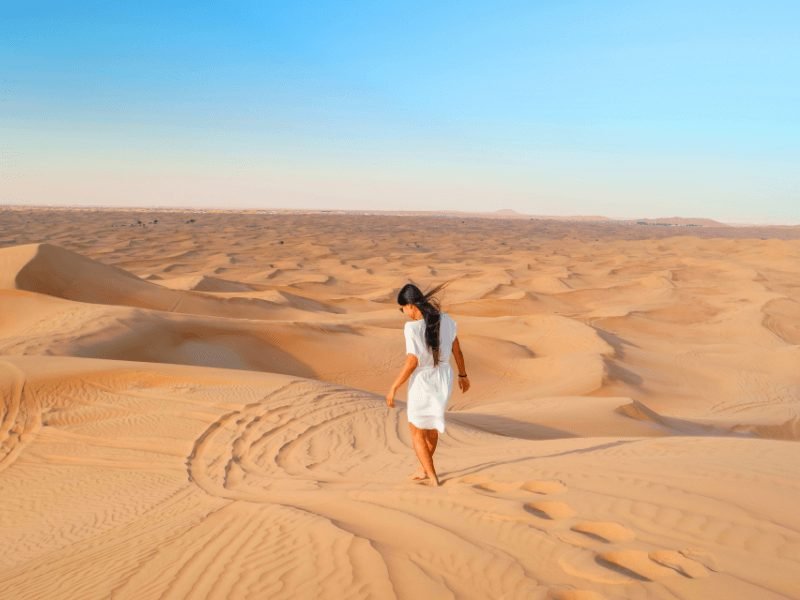 Spending a night in the desert with your significant other while watching the stars is as romantic as it gets. This is a romantic date you will never get over, ever!
OceanAir Travels provides the whole overnight desert getaway package, from pickup and drop-off and everything in between!
You can choose your adventure, from going dune bashing, sandboarding, taking a camel ride, going horse riding, enjoying shisha, watching traditional belly dancing, enjoying a BBQ dinner, getting henna painted, and more!
You will arrive at your campsite, surrounded by palm trees and decked with comfy carpets and cushions for you to relax.
After whatever adrenaline-pumping adventure activities you choose, you can enjoy a diversity of shows like the fire show where performers show their skills!
And if you're a food lover like me, many varieties of dishes are also available at the campsite that you can choose from.
Plus, spending time under the stars as they sparkle overhead in the beautiful Dubai desert is a sight you and your loved one will never forget!
While the Dubai skyline is breathtaking, you should also experience the natural side of the United Arab Emirates while you're visiting — it's just as romantic and beautiful!
Dhow Boat Fountain Show: Cruise along the dancing fountain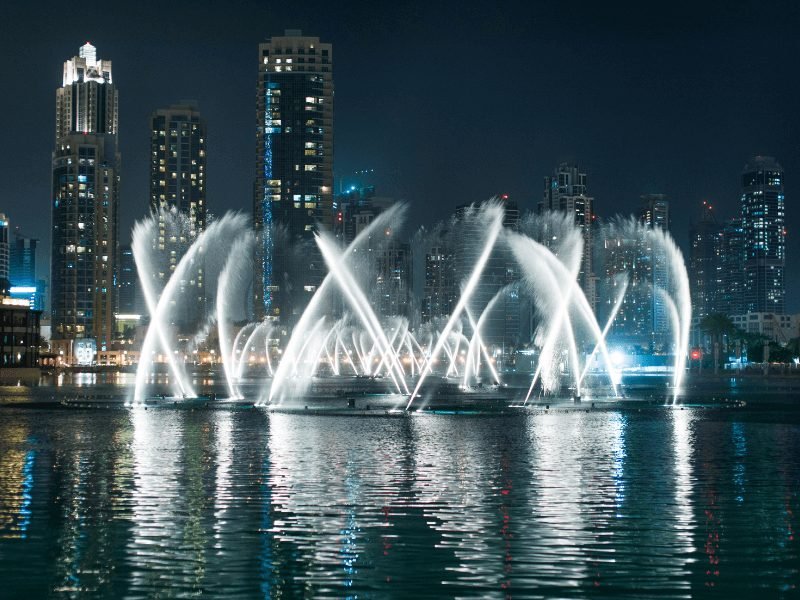 The Dubai Fountain is where water, music, and light come together to make a beautiful spectacle in Downtown Dubai, near the Dubai Mall.
This is world's largest choreographed water fountain, and it's a great place for a date due to its romantic vibes and engaging music.
And what better way to enjoy the fountain show than by being up close to it while on a traditional Dhow boat cruise?
You'll literally be cruising around the dancing fountains in a traditional boat and trust me, you'll definitely want to dance along with the the fountains and the music!
The fountain has over 1,000 different water features and 50 different color projectors, and it plays different types of music from romance to classical and even traditional Arabic songs.
The show lasts for 5 minutes, and restarts every 30 minutes. All the dhow cruises are timed so that they will ensure that you visit at a key part of the fountain spectacle so you won't miss it!
If you're planning a Dubai date night activity and you're looking to do something romantic and magical — without a huge price tag (it's about $20 per person) — there's nothing I'd recommend more than to take them on a traditional dhow boat ride to see the dancing fountains.
And if you don't want to spend money on a dhow cruise, you can just watch the fountain show for free! It'll be no less spectacular, but you won't quite have the magic of cruising up close to the action.
It's definitely one of the best things to do in Dubai at night!
The Burj Club Restaurant: A romantic rooftop dinner date with a view of Dubai's skyscrapers
It is kind of cliché, but what is a date without food? But this is Dubai — you can make a plain old dinner date and make it an unforgettably romantic dinner experience.
Take your love out to eat at one of the most romantic places in Dubai. And where is that you may ask?
One of the classic places for a date night is at the Burj Club restaurant, located inside the Burj Khalifa, the tallest building in Dubai (and the world!), on the 5th floor of the iconic building.
(Want to go higher for your meal? Keep reading — the tallest restaurant in the world is on this list!)
At the Burj Club, you can enjoy its incredible rooftop and fountain views of downtown Dubai that really help set the mood!
The club is best known for its delicious food, fresh drinks, and all-day pool access that you can enjoy with your loved one. The club even has its own DJ that can set the mood for your romantic lunch or dinner date!
Apart from the food, the club also offers a spa which you can enjoy and relax with your date and spend quality time with each other.
But that's not all that makes it a great date idea. It's Instagram-crack and the vibe is always festive and buzzing with its live performances.
In my opinion, that makes one heck of a memorable date!
Best of all, booking your Burj Club experience online ahead of time includes not only a romantic 3-course dinner, but also admission tickets to "At the Top" on the 124th floor of the Burj Khalifa, a Dubai must-visit!
Pierchic: Italian vibes with a romantic dinner with a view
Pierchic is a multi-award-winning Italian restaurant in Dubai with its super romantic vibes and great views on a pioer, overlooking the magical azure waters of the Arabian Gulf.
In my opinion, this has to be one of the best places to take your partner on a date if you're foodies who enjoy a meal with a view!
I celebrated my birthday there and as requested, they gave us a table facing the Burj Al Arab which was amazing!
There was a variety of dishes to choose from, from its tasteful and fresh seafood options to its delicious variety of drinks. Everything was beautifully plated, and the service was also great!
I also can't forget about the background music. It was classical and romantic, and the volume was not too loud so that we could easily have a conversation with each other. The music only made the aura more romantic!
If you're looking for a great date idea in Dubai to make a lasting impression, this is a great romantic place in Dubai — it will dazzle your eyes and your tastebuds!
Café Ceramique: A fun and artistic date night
If you and your date aren't so into the idea of a candlelight dinner, why not gets hands-on and try ceramic arts dinner?
With Café Ceramique, you get to enjoy a nice meal while also painting on a ceramic utensil of your choice.
During the couple of times I've been here, I not only enjoyed a nice meal but was also able to get a ceramic, paint it, and later use the it for eating or drinking!
It really creates a more personal vibe and gives you a sense of accomplishment — plus, you get to bring home whatever you paint with you as a forever-memory of your date!
All the art supplies will be available to you at the venue, and the idea might be a bit of a splurge but it's unique and fun!
Apart from being a fun place, Café Ceramique itself is designed to be a chill place where people and couples can chill and relax in the café's comfortable seating arrangements without feeling rushed to give up their table once they finish their meal — great for lingering chats!
Escape Room: Solve mysteries on your date
Love solving mysteries and puzzles? Why not do it together at one of the many escape rooms in Dubai!
Escape rooms are one of my go-to Dubai date ideas! It's a really good ice breaker, especially if either or both of you are the shy-yet-smart type!
Escape rooms are actually pretty useful, whether it's a first date or a fun way to strengthen am existing relationship.
It's a fun way to work together and use your communication skills to find a way out in time — this is especially fun if either you or your date (or both of you) have a competitive nature!
And if it's a first date, you don't need to worry about ice breakers or making small talk: you just need to find clues and have fun with each other!
It was definitely a fun experience for me! I personally tried Escape Hunt, where we were being hunted down and had to find a way out before the time runs out.
With the time ticking, it can be really stressful.. which can be your opportunity to step up and help your date work through this situation, but it also may be too intense for a first date!
There are other kinds of escape rooms that are a little less high-pressure, Brain Game Dubai (which also has a fun rooftop terrace for chilling afterwards!) and Escape Reality Dubai are two good options — and you can also find a full list of other escape rooms in Dubai here!
Go Karting: Competitive date night fun
If you and your date are adventurous and young at heart, go-karting is definitely the perfect date for you!
Kartdrome Dubai provides you with the best go-karting experience in the whole of the UAE! It has both indoor and outdoor tracks that you can race on.
I am a very competitive person when it comes to these things so I really had a good time — and if you and your date are anything like me, you will to!
To make the experience more authentic, all the racers will be equipped with suits, gloves, and helmets!
The night races are probably my favorite when the race track is lit up with flood lights, it just makes the whole place look like you're in an actual race — amping up the date night fun!
You can even get a race car where one of you can sit on the passenger side and the other can drive.
It can also be super fun when you're trying to race the other players there, and it's also great for double dates!
The Boardwalk: Picturesque and breathtaking views on the Dubai Creek
The Boardwalk is a stunning restaurant that overlooks the beautiful Dubai Creek. This restaurant is located right on the water, and there's no spot that is more perfect for a candlelit dinner!
The Boardwalk is a Mediterranean restaurant located in the Dubai Creek Resort. Since its debut 25 years ago, Boardwalk, which is tucked away on the beaches of the picturesque Dubai Creek, has become a well-known Dubai landmark!
The menu at Boardwalk is inspired by the Mediterranean, and customers can choose from a wide variety of fresh fish and shellfish that are cooked to order, as well as freshly baked pizzas and calzones straight from the pizza oven.
I just so happened to visit Boardwalk during the sunset and let me just say, it was so breathtaking. Your date may be competing with the sunset on who looked the best that evening!
Ossiano: Seafood and scenery
Ossiano is a cutting-edge fine dining establishment with an underwater theme. It's like eating at the Dubai Aquarium… except this restaurant just so happens to have won a Michelin star!
Located in Atlantis the Palm, Ossiano is a Dubai staple,
Imagine enjoying a meal in one of Dubai's most unique restaurants while stingrays, sharks, and fish swim right by your table!
It's an extraordinary experience to eat there. Although the cuisine is excellent, the ambiance definitely wins. Due to its grandeur and elegance, this location is a must-see, and it's also a fantastic Instagram spot!
Your dining experience at Ossiano, a trip inspired by the waters and seas, is meant to evoke feelings of wonder both at your surroundings and of the food — something you and your date are sure to love experiencing together.
A night out here is not cheap. The classic Ossiano experience is the 9 "wave" (course) tasting menu (priced at 1095 AED, approximately $300 per person).
The amazing food pest paired with their vast wine menu that has been meticulously chosen to transport you to a world unlike any other (they've won a Sommelier Award in addition to their Michelin star!).
Across the variety of options to have, I'd say the cocktail "The Pearl Diver" was definitely my favorite and worth trying!
Villa Beach: Boho beach vibes
Enjoy Mediterranean cuisine near the Burj Al Arab Jumeirah at one of the many outdoor tables that are just feet from the water!
As the sun sets over the Arabian Gulf, savor a delicious diner on the wood-deck patio lit by romantic hanging lanterns.
With its relaxed, boho environment, Villa Beach, which is part of the Jumeirah Beach Hotel, provides you with a taste of the tropics in desert Dubai!
The cozy, beach-style décor creates a resort-like atmosphere for your date experience, with high ceilings, clean, modern furnishings made of dark wood, and rattan chairs.
A delicious menu of hot and cold appetizers, cured meats, platters for two, and fresh seafood has been put together by the head chef to go nicely with the casual dining atmosphere.
The Braeburn apple tart and traditional baked Alaska are just a couple of the tempting dessert options available to cap off your evening.
In fact, the desserts were my favorite part. Every single option was so tempting and very beautifully presented. I definitely recommend saving room for at least one dessert if you go!
Royal Mirage: Stunning architecture in a tranquil setting
At the One&Only Resorts, Royal Mirage is a luxurious restaurant where you can indulge in a delicious meal surrounded by stunning Arabesque architecture.
You are welcomed by more than 65 acres of beautiful gardens, tranquil fountains, arches, domes, and elaborate Arabic features, right in Jumeirah Beach.
The restaurant is fantastic, but it's also a great place to stay in Dubai! Not only do you get to enjoy the beautiful grounds, but you also have access to huge private beaches, wonderfully temperature-controlled swimming pools, and their lush green gardens.
During my visit to Royal Mirage, they even gave me a complimentary access to the Aquaventure Waterpark, one of the best waterparks in Dubai. How amazing is that?
Al Maha: A luxury resort and spa
If you're looking for a romantic place to stay, why not stay in the Dubai desert at a luxurious desert resort?
The exclusive, guest-only Al Maha Desert Resort and Spa is located right in the heart of the Dubai Desert Conservation Reserve's renowned sand dunes and lush palm groves.
The hotel offers magnificent views of the vast plains and Hajar Mountain massif, all in a peaceful isolated solitude that will make you forget Dubai is just a short 45-minute drive away.
Here, you can go for a memorable horseback ride (Scared of horses? Just remember: horses communicate through their ear position!) through the dunes.
You can also go on a camel safari or nature stroll. Take part in a famous desert safari or learn about Dubai's traditional sports of archery and falconry.
Their 42 rooms blend discrete sophistication with genuine regional antiques, local antiquities, and careful nuances at their five-star hotel, which features private swimming pools with magnificent dune and mountain views.
You can stay here overnight, or you can visit as a guest of the spa if you don't have the budget for their rooms.
I didn't know about this place until the guy I was dating at the time recommended we go there one weekend! I was a bit skeptical, but it was really romantic and fun.
Although we are no longer together, this is still a top pick for me if you're looking for a beautiful desert romance experience on a date!
Atmosphere Grill And Lounge: Highest restaurant in the world
Atmosphere is located on Level 122 of the tallest building in the world, the Burj Khalifa. It offers breathtaking views of the Arabian Gulf in addition to an excellent food selection!
The highest restaurant in the world from the ground up, this prestigious, award-winning fine dining establishment delights guests with its romantic ambiance, mouthwatering cuisine, and first-rate service.
Atmosphere is arguably the most well-known lounge and restaurant in Dubai. Both its brunch and dinner menus are particularly beloved.
Atmosphere is both a restaurant and a lounge, with the restaurant being more formal and the lounge being more laid back.
If you get invited to a date at Atmosphere, let's just say they really care about you!
Not only is this place rather expensive, but it arguably also has the best views in the entire Dubai… though that is expected considering that it is the highest restaurant in the world!
You should know that you do have to make a reservation to come here since it does get pretty packed!
Dubai Miracle Garden: Breathtaking backdrops for your date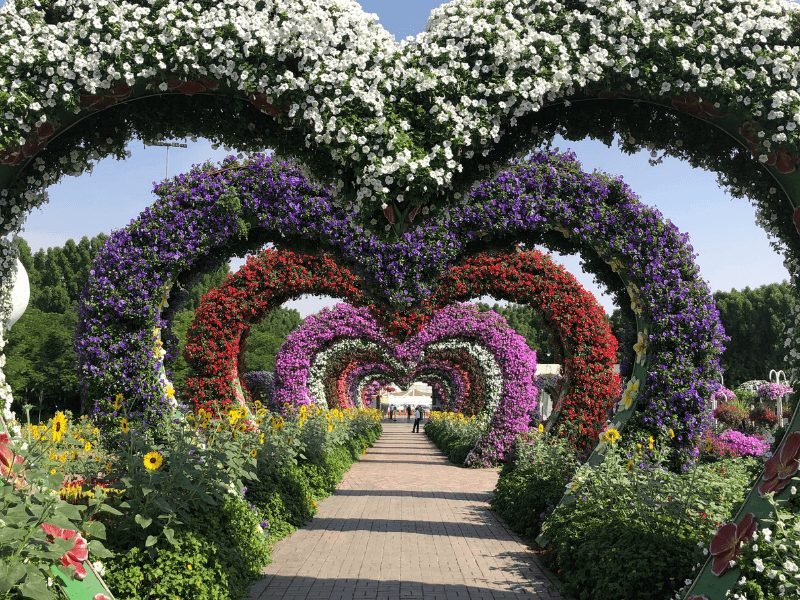 Did you really go on a date in Dubai if you didn't Instagram it? I didn't think so! I know I would always try to get the perfect Instagram picture… even if the date didn't go that well!
And honestly, if you go to the Dubai Miracle Garden for your date, you'll end up with so many stunning pictures, you won't know which to post!
If you and your date enjoy aesthetics and taking photos, this is definitely the place to be! It's a beautiful place to stroll hand-in-hand while admiring the beautiful flowers.
It's even more fun when your date is just as into getting the perfect shot as you are. Teamwork makes the dream work!
I'd say definitely show up as early as possible, somewhere right around when they open, as this way you'd avoid the crowd.
I made the mistake of going a bit late and we ended up having quite a few photobomb moments, which was a bit awkward!
6 Bonus Ideas for Fun & Romantic Things to Do in Dubai
Kayaking in the Dubai Marina area or doing other fun Dubai water sports for some thrills!
Wandering around Old Dubai at night, admiring the souks and taking an old fashioned abra boat down Dubai Creek
Taking a dinner cruise in the Dubai Marina
Spending the day at one of Dubai's fun water parks like Wild Wadi or Atlantis Aquaventure or one of the theme parks like Motiongate or Bollywood Parks.
Admiring the views over the Palm Jumeirah — either skydiving or enjoying the view at the Palm Observatory.
Flying drones over the unique Love Lake outside of Dubai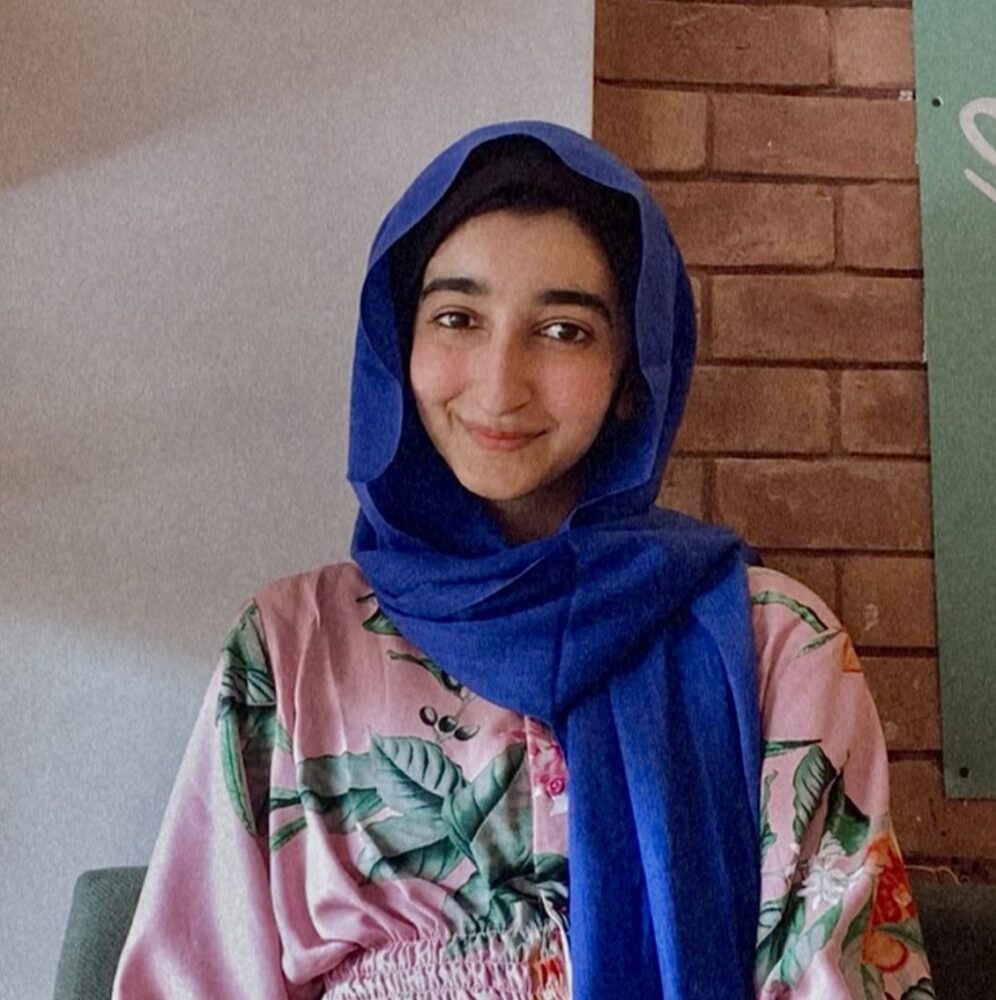 Alyaziah is a professional content writer and an accounting student. She grew up in the UAE and lived there for about 16 years before moving back to Pakistan to pursue her degree. She often travels back to the UAE and loves exploring new eateries and amusement parks in the area.