Exploring Dubai at night is an incredible experience. This city has all the advantages and infrastructure of a top modern city, blended with a rich cultural history, as well as tons of fun activities and excursions.
Dubai is a place for all types of travelers to come and enjoy — young or old, in a family, in a couple, or even as a solo traveler.
Dubai by night is an absolute must for anyone and everyone to come and experience. Regardless of your age, gender, or travel style, Dubai offers a plethora of amazing nighttime activities!
If you're visiting Dubai soon and wondering about things to do in Dubai at night — or if you're just looking for even more reasons to mark Dubai as your next go-to destination — this article is for you!
After reading this article, we have no doubt you'll agree that the nightlife scene in Dubai rocks! Given its hot climate during the day, one could argue that this desert city gem only really comes alive at night.
From strolling through its over-the-top gardens to sipping on cocktails at chic rooftop bars, to defying gravity while taking in a bird's-eye view of Dubai from the top of the Burj Khalifa – there are so many great ways to enjoy Dubai at night.
And that's just to mention a few. There is so much to see and do in Dubai — and arguably even more so at night!

Come along with us as we highlight some of Dubai's top nighttime attractions and activities!
Is Dubai Safe at Night?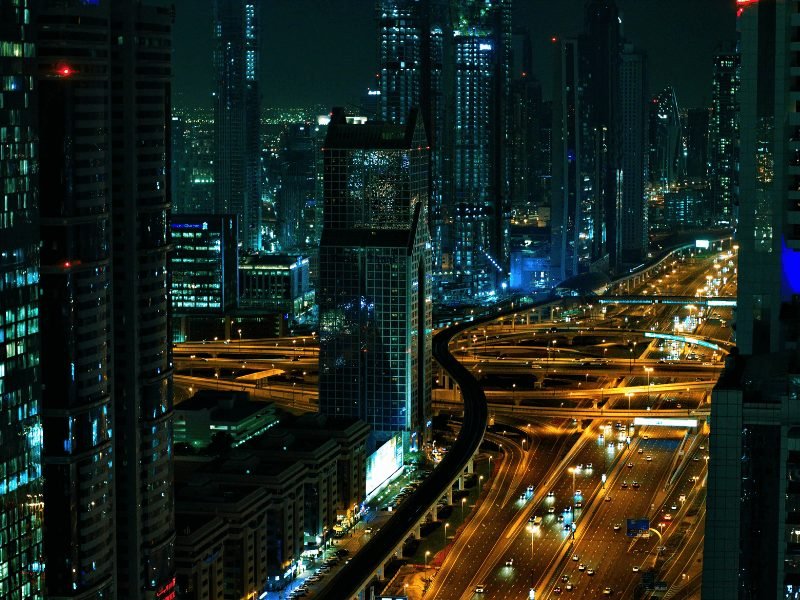 Note: This post contains affiliate links, which means I may receive a small commission if you purchase something through one of these links. Thank you for supporting the free content on this site! For more information on affiliate links and cookies, see my disclosure page for more details.
As a female traveller, one of the things I cherish the most when travelling to a different country, is having the freedom to get around on foot and explore.
I've seen some beautiful countries – all different in their own right, all with unique attractions and highlights.
Personally, I have found that I'm much more likely to enjoy a place when I can walk around freely and when I feel safe doing so.
Dubai is one city where I feel totally safe, and there are so many incredible night-time walking experiences to enjoy!
There's something special about having your feet on the ground while you're traveling — it just feels like the most authentic way to truly experience and explore a place.
Traveling by foot allows for spontaneous detours, following your nose, and of course, my favorite: looking up at the incredible skyline above you!

Best Things to Do in Dubai at Night
Explore Dubai's Global Village.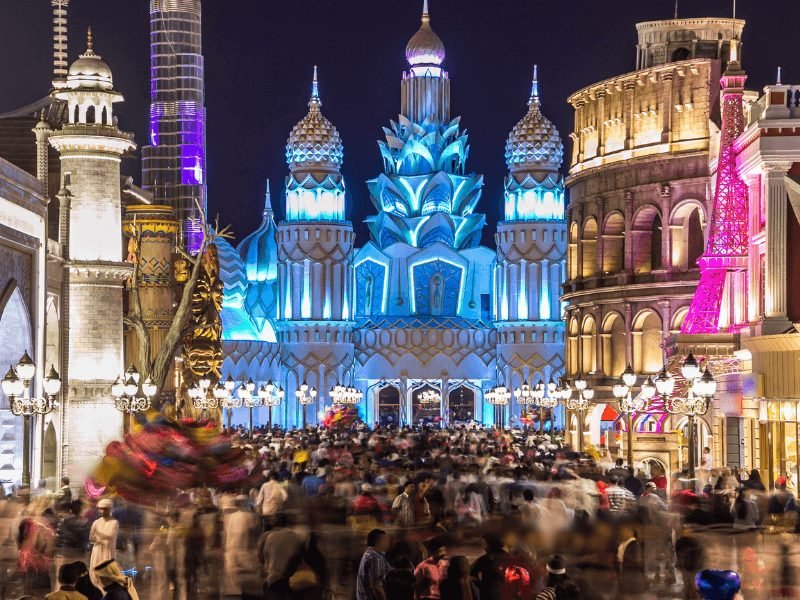 Here's an experience people of any age can enjoy: Dubai's Global Village – a one-stop-shop for the best in entertainment, shopping, dining, and attractions, all inspired by cultures around the world!
You know how most major cities have their own little pockets of subcultures… for example, how pretty much each city has a Chinatown?
Well, perhaps you could think of Global Village kind of like that, except it is inclusive of all well-known cultures and attractions!
It's a bit like taking the best attractions from around the world and making mini versions of them so they could all fit into one smaller space.
For example, this open-air market features smaller, glow-in-the-dark versions of Big Ben, the Taj Mahal, the Eiffel Tower, and many others!
In that way, it's similar to theme parks like the Epcot World Showcase in Orlando, Florida.
In addition to this, it's also a great place to get some food and do some shopping – it's the perfect place to stock up on Dubai souvenirs.
It's only open during the winter months, so make sure you plan ahead! As an insider tip, Global Village usually shuts for the season in April, which is when many vendors will offer discounts to clear stock!
The Global Village is open Saturday to Wednesday from PM until midnight (Monday is ladies only); Thursday and Friday from 4 PM until 1 AM.
Wander around Dubai Garden Glow.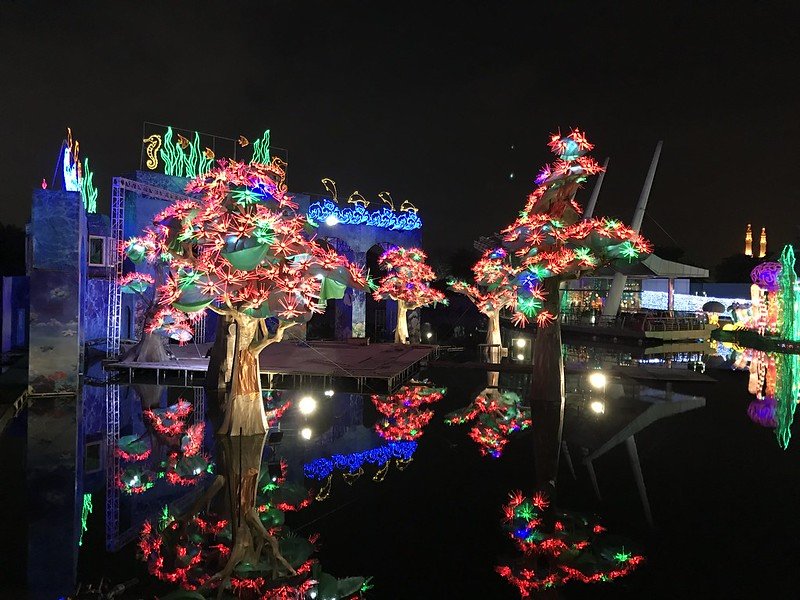 The magnificent Dubai Garden Glow is a 40-acre park (located within Zabeel Park) that features a variety of glow-in-the-dark art pieces!
All of the displays are made using recycled material and millions of energy-saving LED light bulbs.
It's really cool walking through and marveling at all the details – if you're on a date it could be quite romantic, and if you're with family or friends it would be super fun too!
Best of all, if you're an Instagram junkie, you will love this place!
Watch the Dubai Fountain show.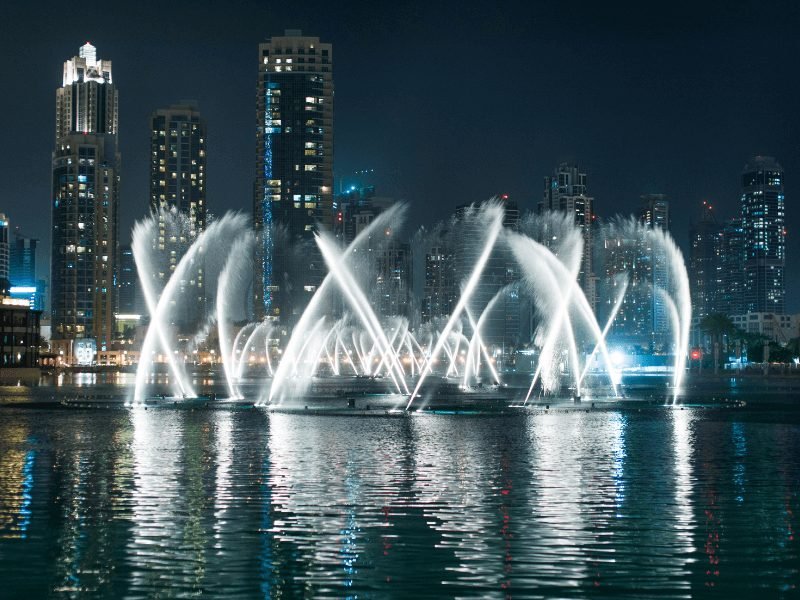 The Dubai Fountains are a set of choreographed fountains, set up to "perform" in synchronicity to lights and music.
It's located on the massive manmade Burj Khalifa Lake in downtown Dubai, right at the base of Dubai's tallest building.
I've seen many a fountain show, but in a city where the philosophy seems to be bigger is better, the fountain show is also bigger and better!
There are many places where you can watch the Dubai Fountains free of charge, or you can watch them from the Burj Lake in a traditional abra (used to ferry people over water) for an even more spectacular view!
Another way to view the fountains is to settle in at one of the many restaurants that offer awesome (and comfortable) fountain views!
Stroll around the Dubai Marina.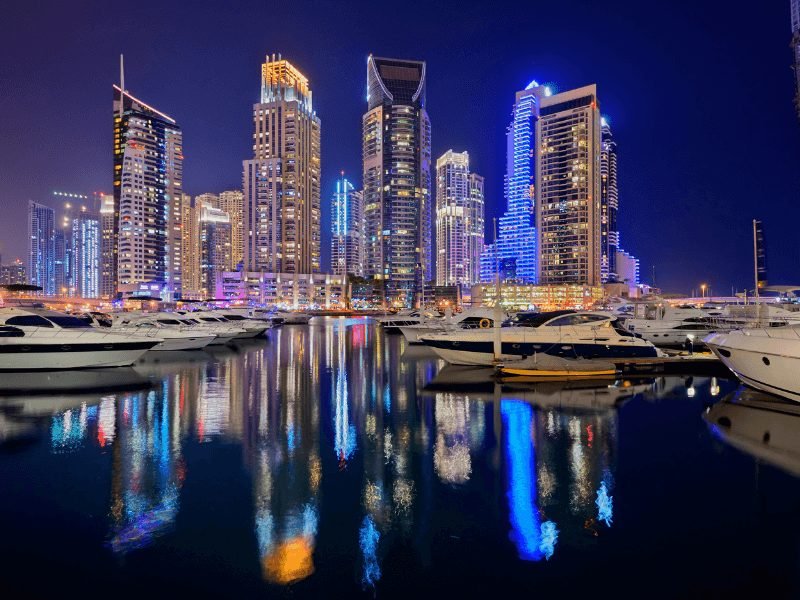 What could be more serene than strolling alongside the impressive Dubai Marina, wholly illuminated by the very tall skyscraper lights reflected in its waters?!
If your timing is good, you may even catch a fireworks display!
There are also usually tons of other late-night entertainment along the banks, consisting of live music, pop up theatres, food stalls, and more!
Chill and enjoy La Mer Beach.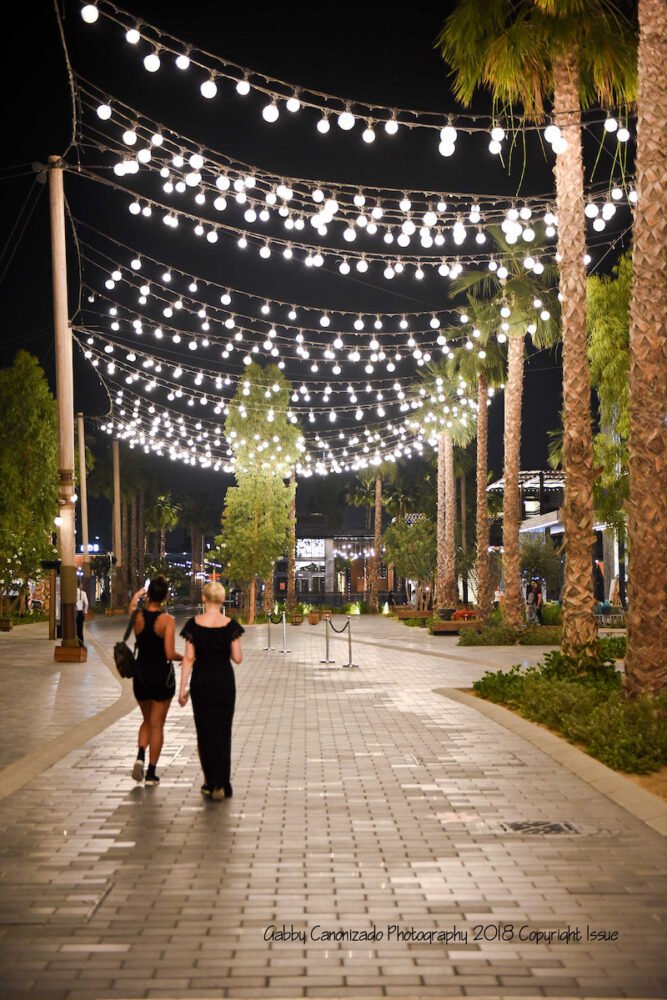 This new beachfront destination in Dubai is less of a beach (as the name would suggest), and more of a big park slash market!
The La Mer Beach area consists of walkways, restaurants, movie theaters, loungers, and all sorts of entertainment!
Just as popular in the evening as it is during the day, the beach may close for safety at sunset, but the party continues on in the huge array of restaurants, colorful food trucks and playful touches — perfect for adults and kids alike.
Admire the nighttime view from the Burj Khalifa.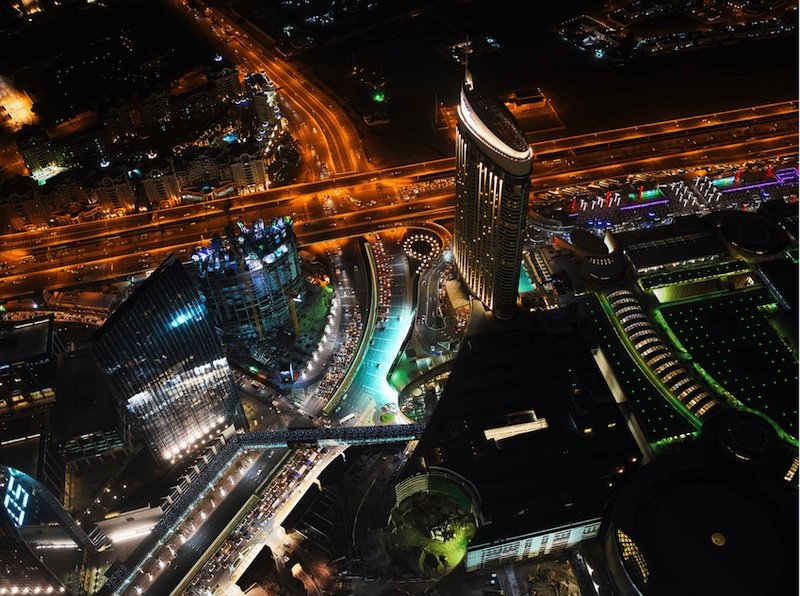 The Burj Khalifa is not just any old building — it's a multi-word record holder and an integral part of the iconic Dubai skyline.
Presently, it holds the following Guinness World Records:
Tallest building in the world
Tallest free-standing structure in the world
Highest number of stories in the world
Highest occupied floor in the world
Highest outdoor observation deck in the world
Elevator with the longest travel distance in the world
Tallest service elevator in the world
That's pretty impressive!
As if the above were not reason enough to check it out, one of the best ways to see Dubai by night is from the top of the Burj. From here, you can take in the entire city all at once.
While you're there, you can also get some refreshments at their famous SKY lounge.
Being one of Dubai's top attractions, you need to make sure you make reservations ahead of time – especially if you want to see the sunset.
Watch the sunset from a rooftop bar.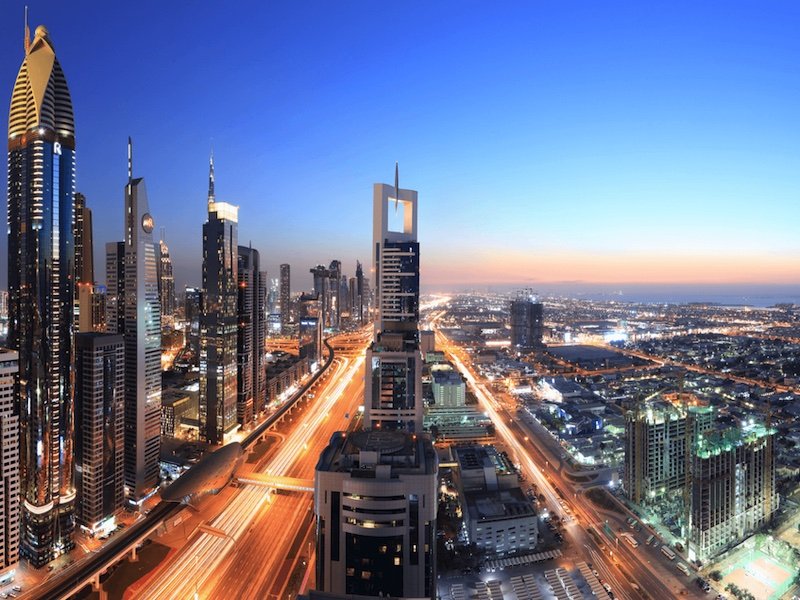 The sunset in Dubai is truly otherworldly. It's something you absolutely must see while you're in the city — and it's a great romantic thing to do in Dubai if you're visiting with your significant other!
As a city full of skyscrapers, one of the best ways to see the sunset in Dubai is from an amazing rooftop bar!
If we're going on interiors alone, the 43 Sky Lounge by Sheraton doesn't seem all that special, but it does have some spectacular 360-degree views of the city!
This is perfect for watching the setting sun reflecting in the windows of the tall glass buildings.
Another fun rooftop bar, The Iris, can be found at the Oberoi Hotel in Dubai and is a personal favorite of mine for its laid back vibe and good music.
Located on the 27th floor of The Oberoi Dubai, it's often seen as one of the it-spots in Dubai. Prices here can be quite steep – but the views more than make up for it!
Feel like dancing? Check out MOOD Rooftop Lounge in Dubai. This rooftop bar has a stylish garden-set up where natural elements are found everywhere, perched at the top of the The Meydan Hotel.
It's located high above the hustle and bustle of the city, you get sweeping views of the iconic Dubai skyline, especially around sunset — the perfect view for dancing!
Located at the 17th floor of the five star Raffles Hotel in the older part of Dubai (not in Dubai city center), this is the place to catch the most amazing views of the skyline. There's just something really special watching the city from a distance as night falls.
Want more Dubai nightlife options? We got you! Siddharta Lounge by Buddha Bar is probably one of the most well-known and popular lounges in Dubai.
This iconic rooftop bar in the Dubai Marina has great lounge seats, beautiful cabanas, and tables where you can enjoy the view and the amazing food.
Another well known spot that seems to get it right is CÉ LA VI Dubai! I always recommend this place for its cool ambiance and excellent service.
Not in Downtown Dubai? No problem! Hop in a cab to Park Regis Kris Kin Hotel for one of the best rooftop bars outside of Downtown Dubai and the Marina, which offers a breath-taking 360 panoramic view over old Dubai and the magnificent new skyline.
Cool off at Ski Dubai.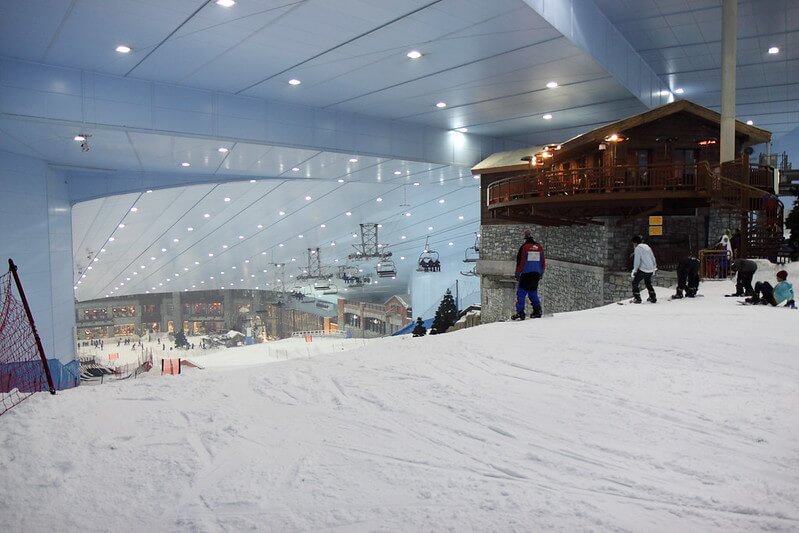 Still feeling hot even after the sun has set? Escape the Dubai heat at Ski Dubai, an indoor ski and snowboarding resort with 22,500 square meters of indoor ski area — pretty impressive for being in the middle of a desert!
The park maintains a temperature of -1 degree to 2 degrees Celsius (30-35 degrees Fahrenheit) throughout the year.
It is a part of the Mall of the Emirates, one of the largest shopping malls in the world. The park closes at 11 PM, which gives you plenty of time to get a little snow action after dinner!
Take a nighttime dhow cruise.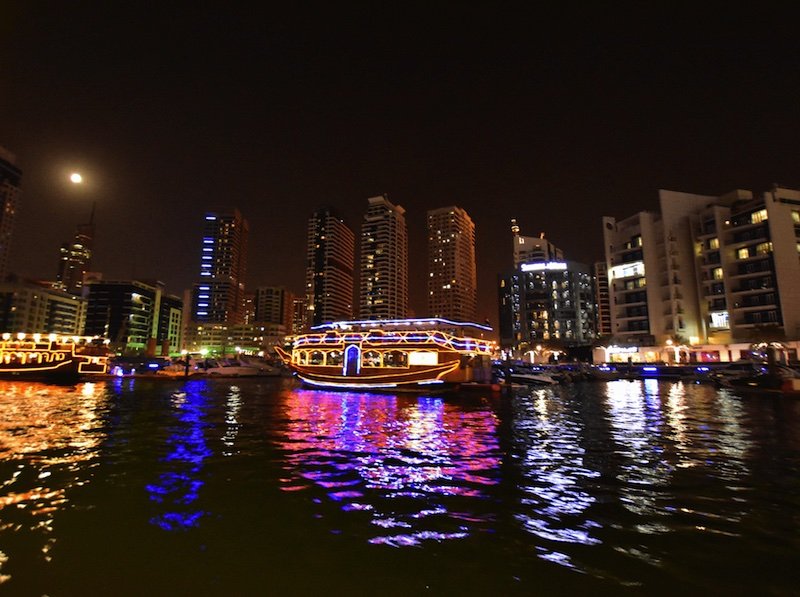 Another thing you can do in Dubai at night is take a traditional dhow cruise.
A dhow is a traditional Arabian vessel, and they usually combine sumptuous buffet dinners and other elements traditional Arabian culture.
A dhow with large deck windows will offer a breathtaking view of nighttime Dubai. There are traditional dhows with open air decks for an even better sightseeing!
There are a lot of different companies offering dhow cruises — I suggest doing your research and booking your dhow cruise ahead of time to have the best experience.
There are several locations where you can try this including the Dubai Creek, the Dubai Canal and Dubai Marina.
This is an especially romantic option if you want to have a special night with your significant other!
There's also the option of booking a private dhow cruise for a special event!
Take a Big Bus Night Tour.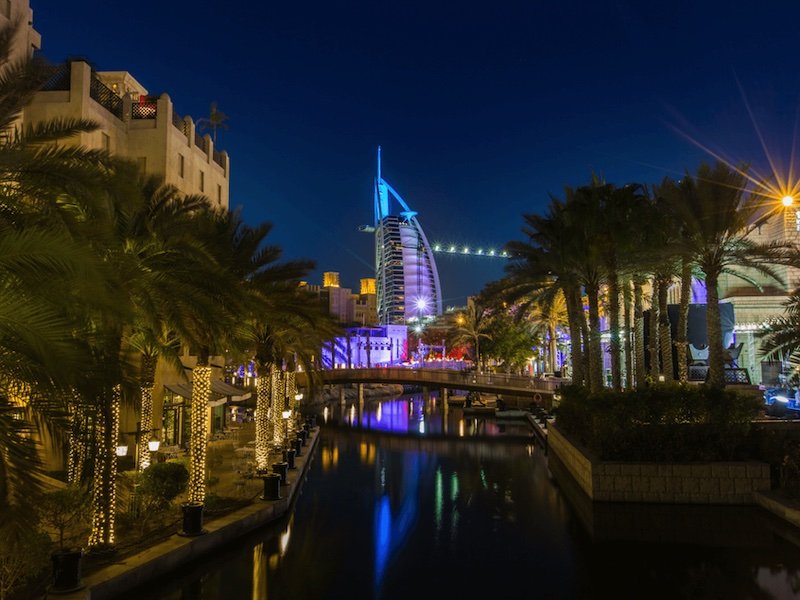 If you prefer sitting back and are not in the mood for walking, another great way to see Dubai at night is by going on a Big Bus Night Tour!
You'll see all of Dubai's best landmarks, including the Burj Khalifa, the Dubai Mall, Atlantis on the Palm, and the Jumeirah Mosque.
I've actually only ever tried bus tours during the day, but I can imagine how fun this must be at nighttime — plus, no need to worry about that pesky hot sun and getting burnt!
Club the night away!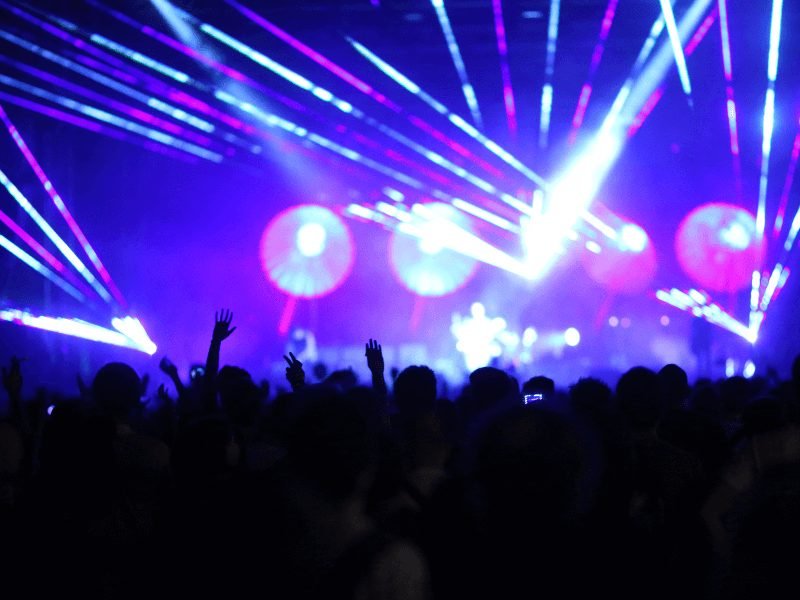 Despite Dubai being painted as a city whose culture is considered "conservative", clubbing in Dubai is huge!
The Cavalli Club, Billionaire Mansion, Toy Room, and White Dubai are a few of Dubai's best-known nightclubs.
Keep in mind that Dubai's legal drinking age is 21 – learn more about legally drinking in Dubai here.
While drinking may be legal, public drunkenness is not, so be sure to not drink too much and take a taxi or Uber back from the nightclub back to your hotel or between destinations to avoid any issues.
Catch a performance at the Dubai Opera.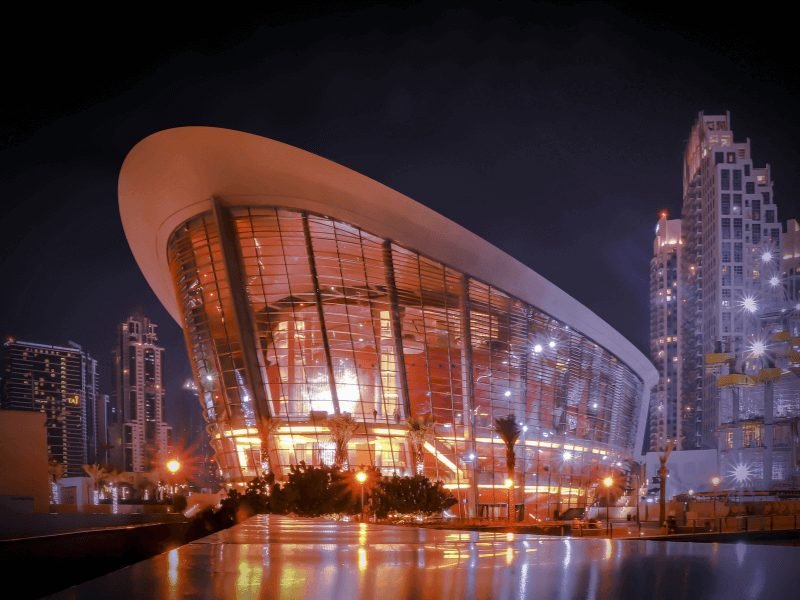 The Dubai Opera is one of the most incredible places to visit in Dubai at night!
You can see everything from operas, ballets, and concerts here — and so much more!
Even if you're not attending a show, the opera house is a work of art in itself.
Sadly I've not had the pleasure yet of seeing an actual opera or play here, but even just walking around this area and taking everything in is truly memorable!
Watch the incredible La Perle show.
La Perle is another fantastic Dubai nighttime show option!
It features breathtaking aerial stunts, brilliant light shows, and awe-inspiring technological wonders.
It is a nighttime experience that you will certainly never forget when thinking back on your nights in Dubai – see how to book your La Perle tickets here, as it often sells out!
Wander the souks of OId Dubai.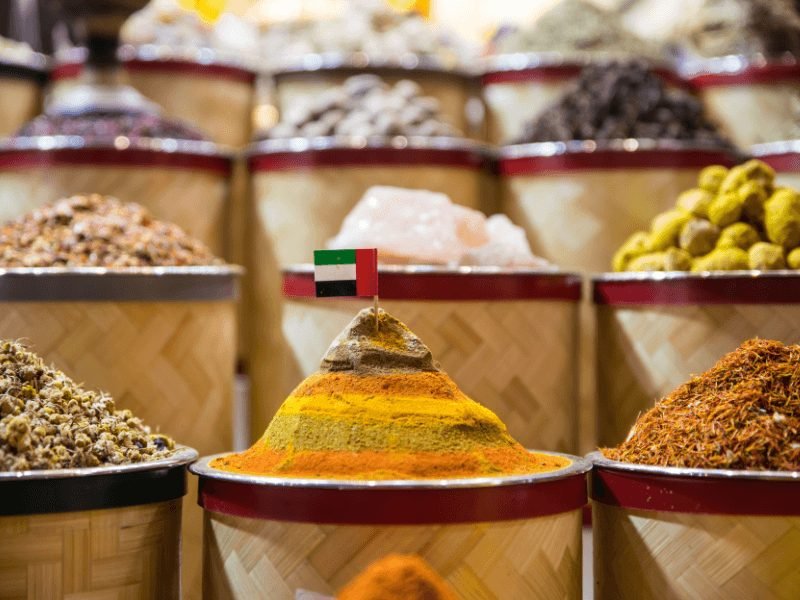 The Old Dubai quarter is one of the more tranquil areas of Dubai to enjoy, and it's even more peaceful at night!
Spend some time wandering through the marketplaces (souks), especially the gold souk and spice souk, where you can pick up some fun souvenirs.
Enjoy a nighttime yoga class on the beach.
It is true that Dubai is known for its huge shopping attractions and nightlife scene.
However, if you find yourself craving something a little more on the spiritual side, then why not spend an evening flowing it out under the night sky?
Organized by Talise Spa in Madinat Jumeirah, they allow you to practice yoga on Jumeirah Beach for 95 AED (approximately $25 USD) per person.
Best of all? Their full moon yoga classes, which are epic if you can time it properly!
Check out the Dubai Aquarium & Underwater Zoo.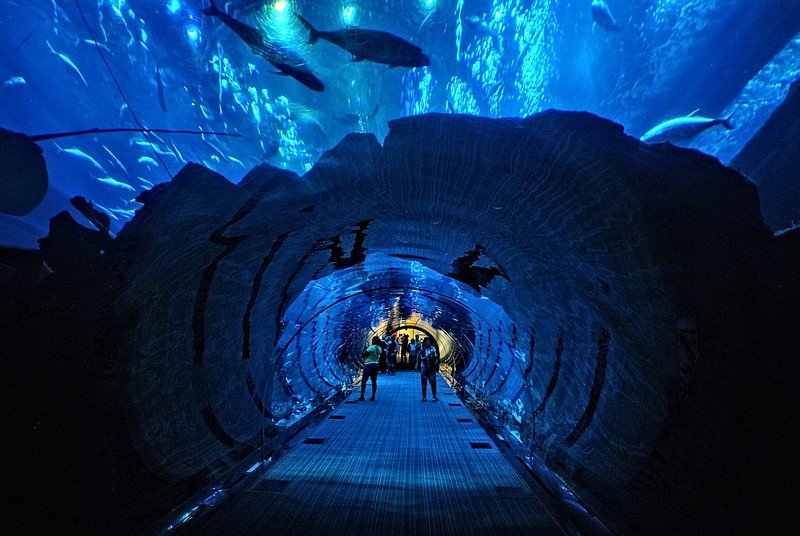 Wait, an aquarium in a nightlife guide? It's Dubai — many places are open quite late at night!
The Dubai Aquarium and Underwater Zoo, located in Dubai Mall, is open until midnight Thursday through Saturday and until 10 PM Sunday through Wednesday, making it a great after-hours activity.
Walk through the 150-foot long underwater tunnel, marveling at the sharks and rays swimming above you, then enjoy all the other wonderful features of the aquarium without the typical daytime crowds.
Go for a desert safari experience.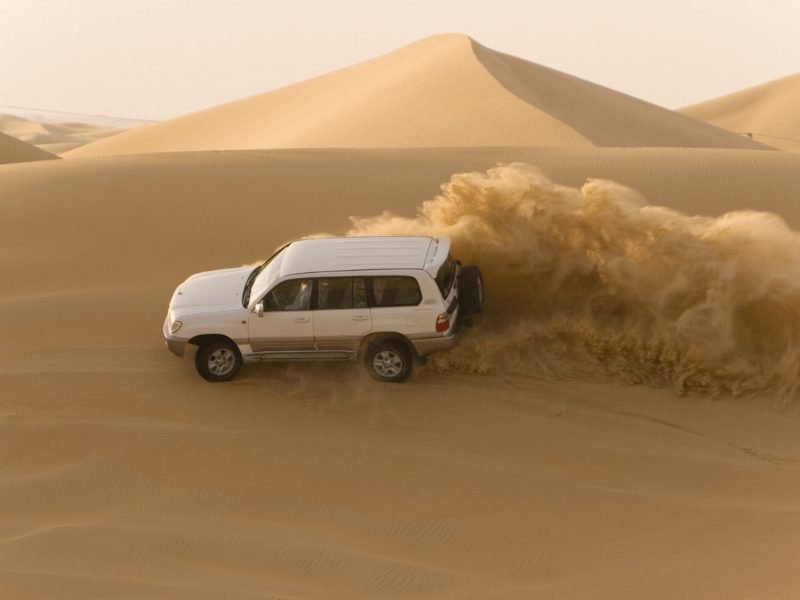 As a final option, if you feel like getting out of town completely, you could go on a nighttime or overnight desert safari!
A desert safari offers all kinds of fun activities, including camel riding, quad biking, enjoying BBQ dinner, sandboarding, dune bashing, watching belly dancing, and everything in between!
They'll pick you up at your hotel and bring you into the desert and back, so you don't have to arrange anything personally — win!
If you book a Dubai desert evening tour, you also get to see a culture show that features falconry and belly dancing.
If you stay overnight, you'll get to enjoy some epic stargazing, traditional Bedouin hospitality, and a delicious breakfast the next day!
The desert does get cold at night, so in the winter months, make sure you take some warm clothes with you.
Conversely in the summer, it can be an incredibly sweaty experience so plan accordingly!
Want to know more about what to expect on a Dubai desert safari? Read this guide here!
FAQs About Nightlife in Dubai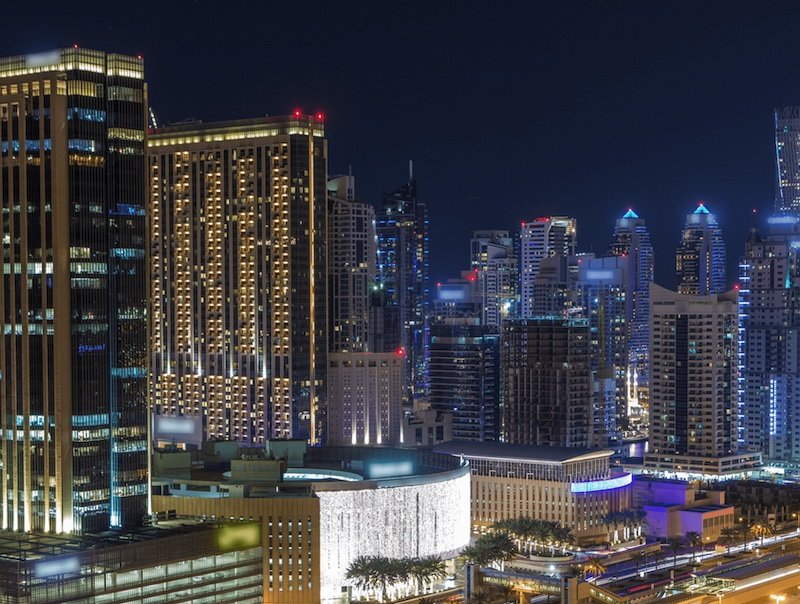 Here are some handy FAQs and tips that will aid you in planning your Dubai night-time excursions:
Should I carry local currency?
The United Arab Emirates currency is the Emirati Dirham (abbreviated as AED), and while most places will accept credit cards and have card facilities, it's always a good idea to carry a bit of cash on hand in their local currency.
This also makes it easier to pay for any on-demand transportation, street food, souvenirs, etc. you may want!

How hot will it be?
Let's not forget, Dubai is situated in the middle of the Arabian Desert. Like many places in the Middle East, summers are extremely hot — to the point where it may not be enjoyable to visit!
With an average high of 106° F (41° C) during the day, and an average low of 86° F (30° C) at night, it's easy to see why most people plan to visit Dubai and Abu Dhabi during their winter months (between November and March).
While Dubai is well-prepared to handle this heat and you will find well air-conditioned places pretty much everywhere, I personally wouldn't recommend visiting the UAE between the months of June through October, due to the unbearable heat – even at night!
What should I wear?
While I've heard many people say that you should keep your clothes more on the conservative side (even though temperatures can get exceptionally hot), I've never experienced any issues with wearing sleeveless tops or shorts, or even mini dresses when going to clubs and bars.
In general, if doing so, I'd opt for private transportation like taxis or Uber instead of public transportation or walking around.
This is my personal experience though, and one should always try to be mindful and respectful of the country's culture you are a guest in.
Is it safe for female travelers to walk alone at night?
Honestly I think if I had to pick one reason about why I love Dubai so much, this would probably be it!
Dubai is one of the places I've felt the safest while traveling. It has some of the lowest crime rates of any city in the world, and is ranked as one of the best places for personal safety.
This is because they have some very strict laws in the UAE, which leads to greater safety for women.
Can you consume alcohol?
Yes, you can! Most clubs and bars do serve alcohol, and so do some restaurants.
Just be mindful that you can't drink whenever and wherever you please, so don't assume that every place you frequent will serve alcohol.
It's not hard really, you'll know when you can drink depending on the place you're at and simply judging by what the people around you are doing.
And typically, wherever alcohol isn't available, shisha is — and that's a fun Dubai nightlife experience in and of itself, too!
Is public transport safe and accessible?
Yes and yes. However, do note that it's forbidden to eat or drink in the metro (and that includes chewing gum).
Cabins are reserved for different categories, like women only and gold class, so watch the signs!
Most metros run until about 1 AM, so if you're staying out late at night, you'll need to opt for a taxi — they run 24 hours a day. Book a cab by calling 04-2080808, or use an app like Uber.
Cabs have a minimum meter charge of Dhs 12, with any charges if you need to take toll roads.