Dubai is unlike any city on the planet and it's easy to see why it's been dubbed The Gem of the Middle East.
A unique fusion of Bedouin heritage and an ultra-modern culture, Dubai will not only live up to but completely exceed your expectations!
At first thought, Dubai conjures up vivid angular images of high-rise skyscrapers offering beautiful views over Dubai, beautifully reflected in the blue canals – a scene filled with silver and blue hues.
Thinking of Dubai's grandiose architecture, it's almost difficult to remember that Dubai is situated in the middle of a desert!
So when you picture the typical Dubai skyline, allow your mind to jump to the vast desert landscape that surrounds this modern-day city oasis.
Picture a silky landscape of orange and beige mounds of soft sand that stretch as far as the eyes can see into the distant horizon… and this is exactly what you'll experience at a Dubai desert camp.
If you've always wanted to experience a Dubai desert safari or have been thinking about doing so, this article is for you!
Come along with us as we walk you through all you need to know before going on a magical Dubai desert safari, with notes on what to know before you go as well as notes from my personal experience there as a traveler.
This contributor post was written by Karma Spies, a traveler from Cape Town, South Africa who frequently visits Dubai, and is based on her personal experience traveling there!

What to Know Before Booking a Dubai Desert Safari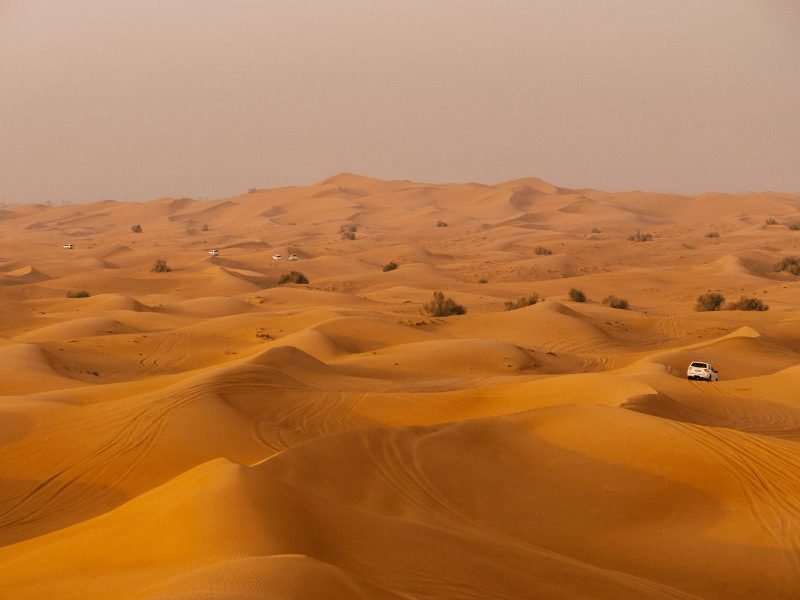 Note: This post contains affiliate links, which means I may receive a small commission if you purchase something through one of these links. Thank you for supporting the free content on this site! For more information on affiliate links and cookies, see my disclosure page for more details.
Here are some general tips you should know about Dubai and the desert safari experience that will help you feel more prepared for your trip!
Language
Even though there were a couple of signs written in Arabic that I couldn't decipher for the life of me, rest assured there's no need to worry about learning any Arabic before visiting Dubai.
While Arabic is the official language of the UAE, English is the language of business and is spoken by almost everyone here. Trust me, you will get by just fine on English alone.
That said, and as is the case when visiting any country and culture, it always goes a long way with the locals if you could learn to just say even the basics like hello and thank you in their native tongue.
Learning these basics has often opened doors for me while travelling that otherwise would probably stay closed.
Here are a few words to learn!
marhaba – hello
maasalaamah – goodbye
shukran – thanks
la, shukran – no thanks
Money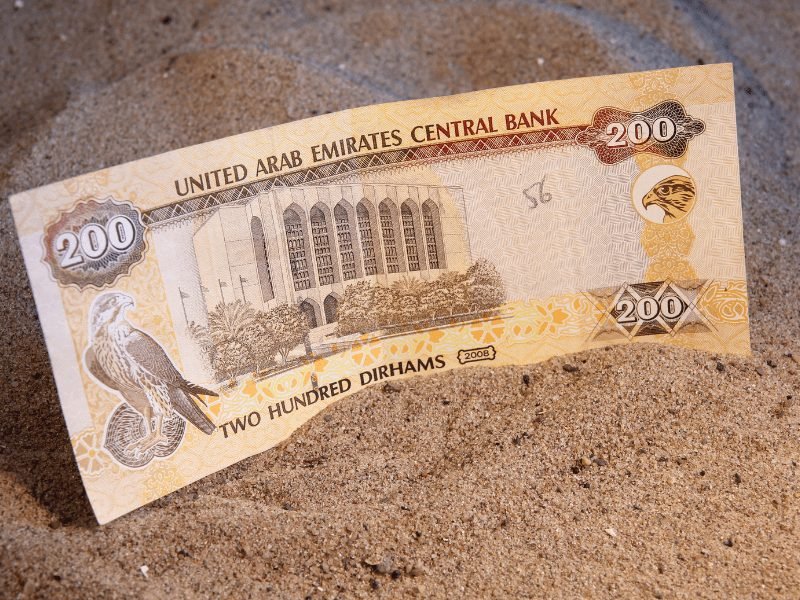 The UAE's currency is the Emirati dirham (abbreviated as AED or Dh).
If traveling from the US or Europe, currently the exchange rate is roughly 1:3.5 (if something is $10 USD or 10 euro, it's roughly 35 AED — you can also just divide the price by 3 and it'll be close enough, though obviously not exact).
This is based on the exchange rates of May 2022 and are subject to change, but I wanted to give you a simple ratio for calculating currency on the fly, which is helpful when you have to make quick decisions about spending money!
While most places will accept credit cards and have card facilities, it's always a good idea to carry a bit of cash on hand in the local currency.
This also makes it easier to tip for service should you feel the desire to do so!
Want to understand the tipping culture of the UAE a little better? This guide by Visit Dubai gives some good guidelines for who and how much to tip.
Climate
Dubai is in the desert and the summers are extremely hot — to the point where it may not be enjoyable to visit.
With an average high of 106° F (41° C) during the day, and an average low of 86° F (30° C) at night, it's easy to see why most people plan to visit the United Arab Emirates during their winter months (between November and March)!
Dubai is obviously well-prepared to handle such heat and you will find well air-conditioned places pretty much everywhere (and even indoor skiing slopes), but remember that there is no air-con out in the desert!
Dress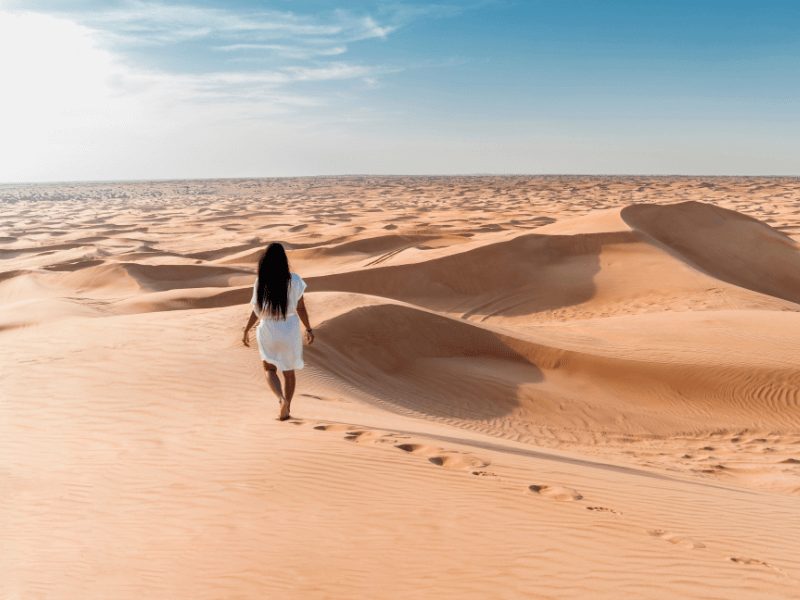 While I've heard pretty much everyone say that you should keep your clothes more on the conservative side (even though temperatures can get exceptionally hot), I've never experienced any issues with wearing sleeveless tops or shorts.
There are typically different expectations for tourists vs. locals, and taking a desert tour is quite a typical touristic activity, so I wouldn't fret too much.
Same goes for doing activities like water sports in Dubai – you are pretty much expected to dress as you would back at home, though it is more polite to wear slightly more covered-up swimsuits as opposed to very revealing ones.
This is my personal experience though, and one should always try to be mindful and respectful of the country's culture you are a guest in.
When heading out on a desert safari in Dubai, remember the most common rule of the desert: hot during the day, cold at night.
I'm someone who gets cold relatively easily, so I made sure to pack sleeping clothes with long sleeves, which kept me nice and cozy during the night.
As always when venturing out into a sunny area, pack a good sunscreen and a hat!
It's also recommended to wear sandals that are secure, rather than wearing closed shoes, as they will get really hot and sticky — not to mention how much sand they will trap!
Safety
As far as cities go, Dubai is probably one of the places I've felt the safest at while traveling! Dubai at night is very safe and peaceful, including for female travelers.
It has very low crime rates, including petty theft like pickpocketing, compared to any other city in the world.
It's also ranked as one of the best places for personal safety. Well, the same safety goes for desert safaris in Dubai!
Unless you opt for a private desert safari, you will generally be surrounded by other guides and tourists, and at no point at all did I ever feel unsafe.
Keep in mind there is also very limited (if any) cell phone reception in the desert, so your social media will have to wait until you get back into the city…. which is best practice for safety, anyway!
Health Risks
Please note that desert safari tours – due to the potentially hazardous nature of activities like dune bashing and sandboarding, as well as the heat risk and sand storm potential, etc. – are not suitable for children under three, pregnant women, people with back problems, or people with mobility impairments.
You can inquire further about this directly from your tour operator or agent should you have any concerns or questions about your ability to participate in the tour.
How to Pick a Desert Safari Tour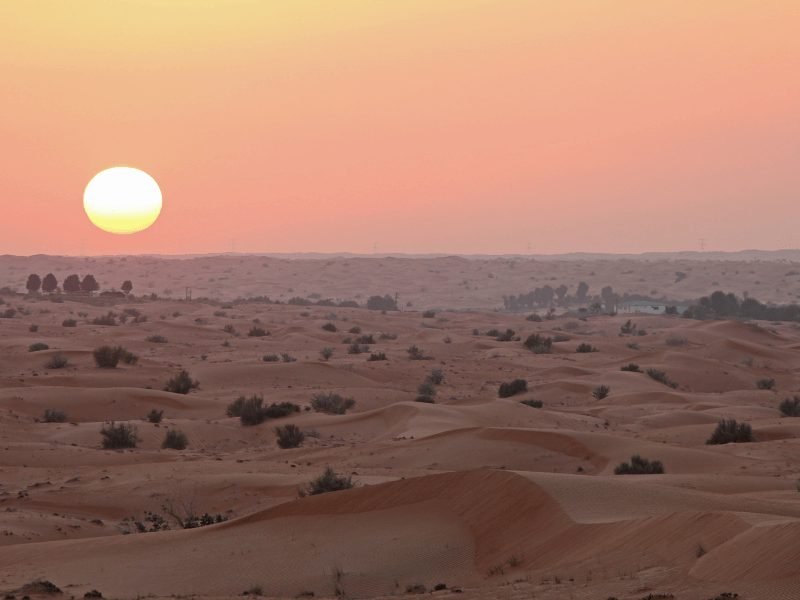 The general rule-of-thumb to finding a reputable tour guide for any day trip experience is to always do your research, and especially pay attention to those customer reviews!
On most tour booking websites, you'll see a star rating next to each specific tour, and you are usually able to click through on those stars to read reviews written by people like you and me.
I find in the reviews section that people usually write very honestly, and sometimes include handy little tips and tricks to keep in mind when booking your trip!
Another important thing to check is whether or not they offer refunds, in case of the unfortunate event that you are not able to make the tour, due to whatever reason.
I typically book my experiences through Get Your Guide as they only allow reviews from verified guests (unlike Trip Advisor, which is easily gamed by people who have not actually experienced the tours).
As a bonus in these particularly uncertain times, Get Your Guide also has the extra perk of offering free cancelation (with full refund — not just a voucher!) as long as it's within 24 hours.
Often, when you book directly with a tour company, you won't receive the same flexibility if you need to cancel, but using a third party tour aggregator gives you more security.

Of course, best practice is if you personally know a family member or friend who's experienced something similar who has a similar travel style to you — you can ask them for guidance and good references.
If not, we hope that this article detailing my experience on an overnight desert safari in Dubai will serve to help you in making a good choice!
Logistics of Taking a Desert Safari
Most desert safari tour groups offer transportation to and from your hotel, so if that is something that you're wanting, make sure that's included in your package.

For an extra level of security and peace of mind, many people prefer to book via a third party provider such as Get Your Guide or Viator, which details exactly what you'll get on your tour, whereas a tout selling you a tour in person may make some promises that aren't kept (or at least, this was the editor's experience when doing a desert safari in the Sahara).

That said, my desert safari was absolutely incredible, and of all my friends who have experienced it, I've never heard any complaints, either.
You should ensure that your tour includes pick up and drop off at your hotel. If you're doing an overnight stay, make sure that your desert experience includes a BBQ dinner and everything you need for overnight camping, such as sleeping bags, tents, etc.
Day Safari vs. Evening Safari vs. Overnight Safari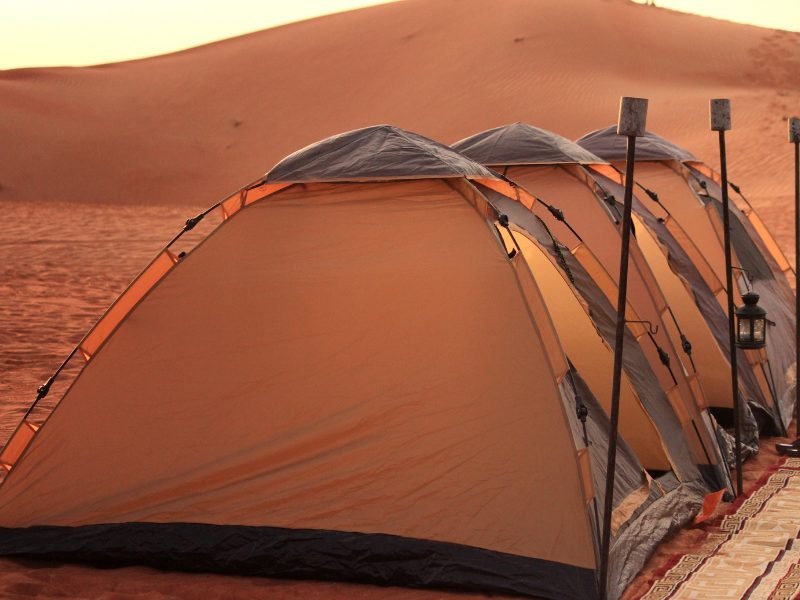 Usually there are a couple of different ways to experience a desert safari Dubai-style: a sunrise safari, a morning safari, a full day safari, an evening desert safari, or an overnight safari. 

The sunrise safari leaves quite early — think 4 AM — whereas the morning safaris will have you leaving more around 8 AM. Both of these options will take about 4 hours and will include some but not all of the activities.

The full day safari usually starts at sunrise and carries on into the late afternoon. Tours usually allow you to plan your activities in advance and you can select from camel riding, to quad biking, to dune bashing, to sand boarding, and more… perhaps even henna painting or a belly dance show, depending on the tour you choose.

The evening desert safari is also really cool, as you get to watch the setting sun turn the desert sands even redder.
But personally for me, it feels too short-lived — and you'll feel a little twang of jealousy for the people staying overnight as you start to make your way back to Dubai.

That's why I always recommend taking the full overnight safari. This way you can experience what it's like sleeping underneath the stars in the vast open desert and not have to feel like you need to rush anywhere.
This really allows you to soak in the atmosphere and the stillness of being out in the desert. Plus, if you're visiting with a significant other, it's one of the most romantic things to do in Dubai, stargazing under the desert night sky!
After enjoying some Arabic coffee and a delicious breakfast the next morning, you will be brought back to Dubai refreshed and with a better understanding of how miraculous the existence of Dubai is given its desert context.
My Experience on a Dubai Desert Safari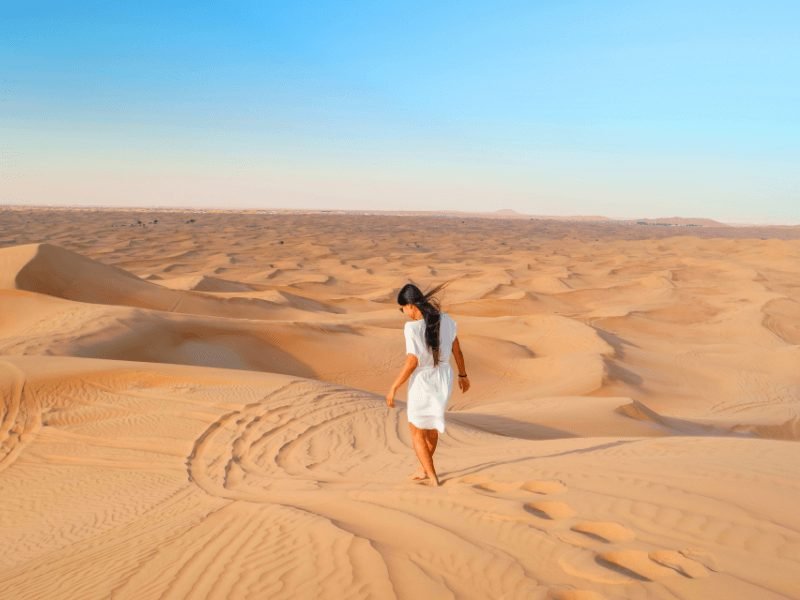 We've all heard plenty of stories about the mystical desert – think Aladdin, Sinbad, Alibaba, Arabian Nights – and when experiencing the desert for oneself, it's easy to see where so many writers drew their inspiration from, and how the desert aided in feeding their imaginations.

Did you know that the Arabian Desert is the second largest desert in the world, surpassed only by the Sahara Desert in North Africa?
The desert is as vast as it is unforgiving, and it serves as a constant reminder about how powerful and omnipresent nature really is, which is part of the reason of what makes Dubai so exhilarating — the sheer determination of its existence despite the harshness of desert reality.
On the tour day, my group was collected from our hotel by Azul, our guide. He did run about a little bit late, but hey, we're on holiday so who cares, right?

Azul helped us to pack our belongings into the 4WD Land Cruiser, and then we had one more stop to collect two more guests along the way.
It was about a 40 minute drive to get to the Dubai Desert Conservation Reserve, and as you get closer to the desert, you'll notice that the color of the sand becomes redder the further away from the city you get.
Often the drivers choose to play English-language radio stations, which for me personally I feel like I hear enough of back home, so don't be shy to ask him to change it to something a little more local!
Before reaching the safari area, we stopped at a service station for a few minutes so that Azul could deflate the tires of the 4WD — very necessary for the upcoming dune drive!
This was like a small rest stop, and we used this opportunity to go to the restroom or buy some water.
Finally it was time to depart into the dunes and Azul started putting pedal to the metal! We started gliding quickly over the dunes which gave me butterflies in my tummy… in a good way!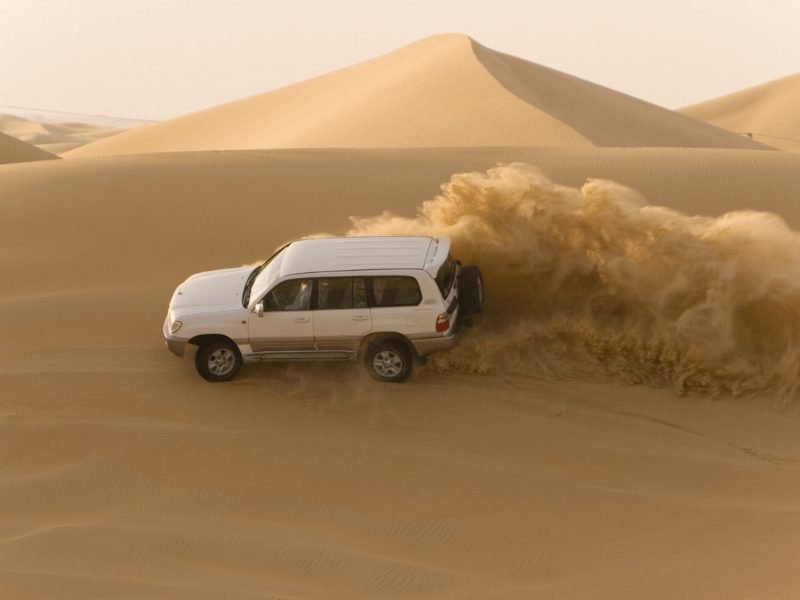 I will say at this point, by far my favorite part of the entire desert safari experience was dune bashing for various reasons!
For one, you get to experience all the thrill of the desert but without the discomfort that usually comes with it. The 4x4s are all fully air-conditioned and usually very comfortable!
You can't help but sport the goofiest smile on your face going over the dunes and feeling the car's wheels drifting and sliding underneath you.
I wouldn't say this is a scary experience at all, it's absolutely exhilarating and thrilling, and we felt super safe with our trusted driver.
Now is a good time to mention that it's probably not a great idea to eat a large meal before going dune bashing, though (and if you suffer from motion sickness, perhaps take some Dramamine beforehand)! For me, though, this experience was a solid 10/10.
Personally, I did not enjoy the camel riding nearly as much. The camels have a very sharp and pungent smell to them, they are also bloody uncomfortable to sit on (like, feel it the next day uncomfortable), and the desert weather is unrelenting!
Dubai is also not the only place to experience a camel safari, so in my opinion, if it's not something you are seriously keen to do, you can give it a skip. But if you've never ridden a camel before and it's on your bucket list… go for it. Just don't complain to us that we didn't warn you!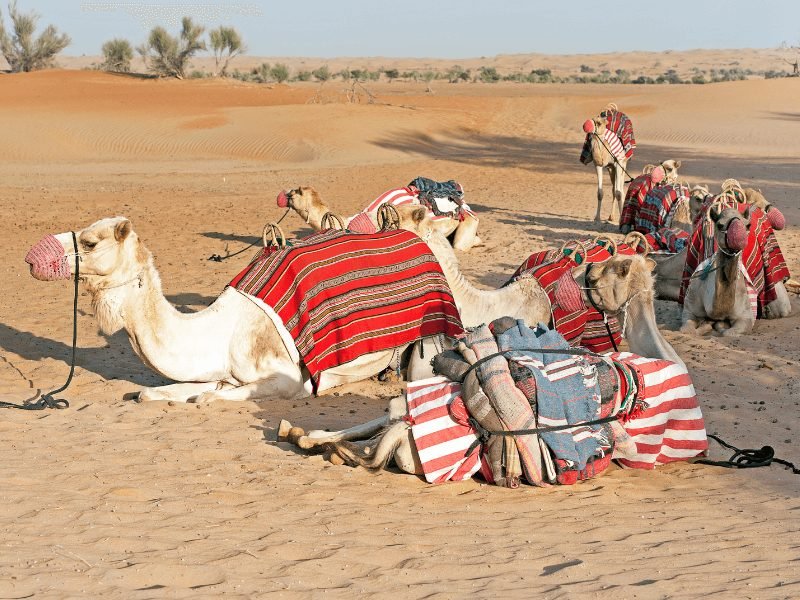 If you prefer having more power but also like to be in control, then perhaps try the ATV / dune buggy driving. The tour will provide compulsory helmets for safety.
Of course, stay close to the Bedouin camp, because if you venture too far you could struggle to navigate your way back. I've never heard any stories about anyone getting lost before, but better safe than sorry!

Lastly, of all of the activities on offer, there is also the option to try sandboarding. I gave this activity a skip, seeing as I didn't think eating a bunch of sand would be that fun.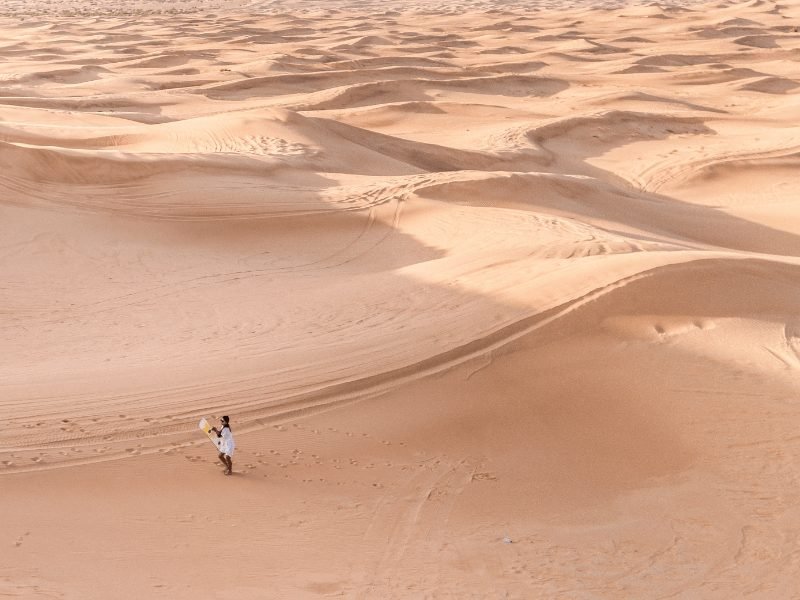 However, my partner did it and he had a blast! I guess it comes down to knowing what you enjoy and personal preference, and that's why a Dubai desert safari is so fun — the level of customization which you can take full advantage of to create the perfect desert adventure!

As the sun sets and the sky turns from blue to orange, and after a day jam-packed with sandy activities, it's time to head back to camp for dinner.

The camps are probably not really what you're picturing in your head. I wasn't expecting the campsite to be as large as it was – it was more like a tented village! And by "tent" I mean more like built wooden structures, rather than actual tents.
The tent we had was very spacious and comfortable – so no complaints there. Obviously, don't expect it to have the same sort of amenities you'd find in a regular hotel room — you're in the desert, after all! There were no mirrors, and we also had to share a communal bathroom.

Organized in a big horseshoe shape, the tents are situated around the main arena where one can watch a fire show, tanoura dance, and belly dancing at night, while having dinner.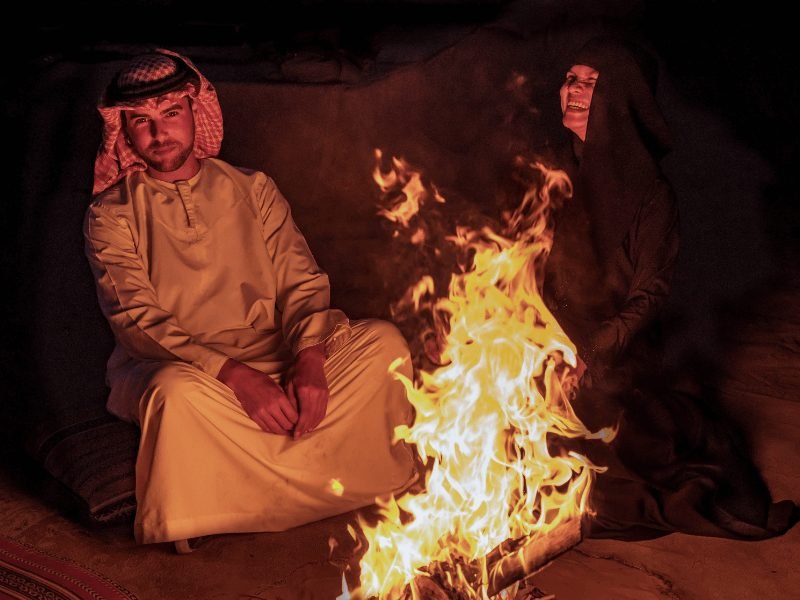 The BBQ buffet dinner was excellent — I didn't try everything but of the food I did try, I really enjoyed it. Besides meat choices, there are also plenty of salad-type options, like potato salad, tabouli, baba ghanoush, and fruit salad, so veg people will be quite happy as well!

For meats we got a few options like Shish Tawook, which is essentially grilled chicken with spice. There were beef and fish options, too.
We also got unlimited soft drinks, tea, mineral water and Arabic coffee – and if you've been to the UAE before you'll know that the coffee is quite strong! They also did have alcoholic beverages for sale if you wanted something stronger to go with your barbecue dinner.
What's an Arabic desert safari without smoking a bit of shisha pipe? It was the perfect way to end our evening while watching the belly dancer do her thing underneath the stars!
The next day, after a tasty gourmet breakfast we left out overnight desert safari to return to our Dubai hotels, memories of our wonderful overnight desert camping experience forever in our minds.
Is A Desert Safari Package in Dubai Worth It?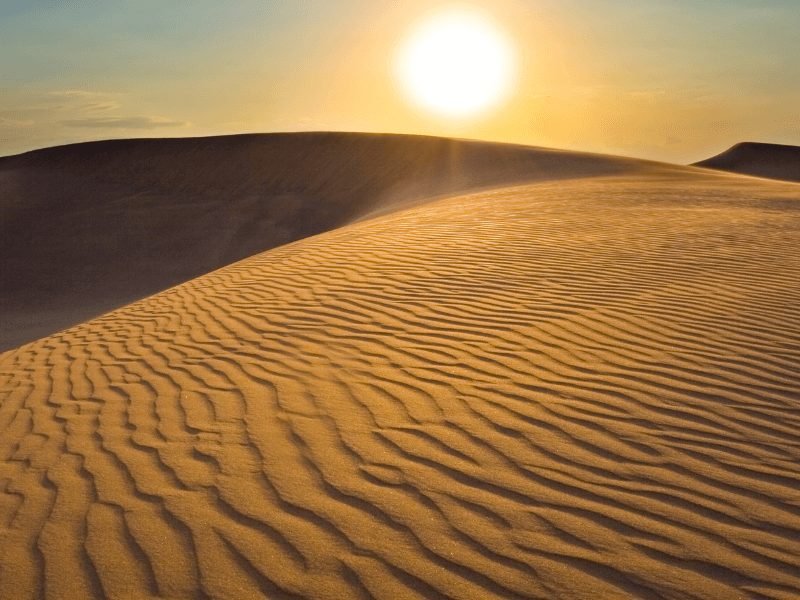 In a word… yes!
I feel like everyone should try this experience at least once, if not more, because it honestly is so fun and memorable!
You also get plenty of opportunities to take photos — our driver actually stopped a few times over some of the bigger red dunes for this.
Relatively speaking, desert safari tours are quite well priced, considering most of your food and beverages will be included, as well as an overnight stay.
You can customize the tour cost to your budget by choosing the length of your stay and what inclusions you want on your tour. You don't have to do everything!
Prices range from around $35 USD for the most basic experience to $180 for an overnight desert stay, with additional add-ons possible.
But if you're debating, and budget isn't a huge concern, I really recommend going for the full camping experience with the night stay. It's the most memorable option if you have the time!
The Best Desert Safari Tour Options
Half Day (Afternoon & Evening)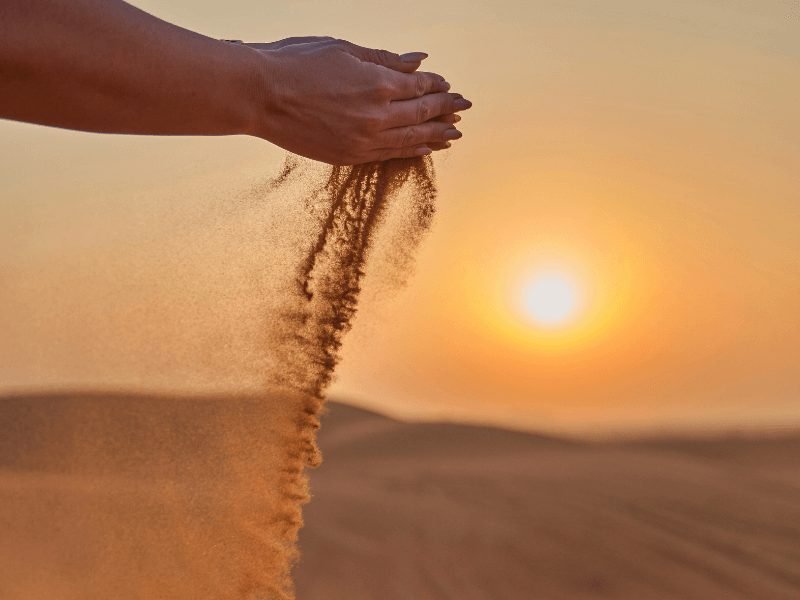 If you don't want to stay overnight but you still want the full experience, this is the desert safari for you! With an average rating of 4.9 out of 5 stars and over 20,000 reviews, it's pretty safe to say that this tour enjoys a pretty stellar reputation.
This tour includes hotel pickup and drop off, sand boarding, dune bashing, a short camel trekking experience, henna tattoo painting, a falcon experience, and a BBQ dinner.
During the dinner, there will also be live shows and performances. You can also add a 35-minute quad bike ride for an additional cost, or request a private vehicle as opposed to a shared vehicle.
This tour departs at 3:15 PM daily from downtown Dubai and lasts 7 hours, bringing you back around 10:30 PM, just in time to hit the hay… or the Dubai nightlife scene!
Book your 7-hour desert safari experience with BBQ dinner here!
Overnight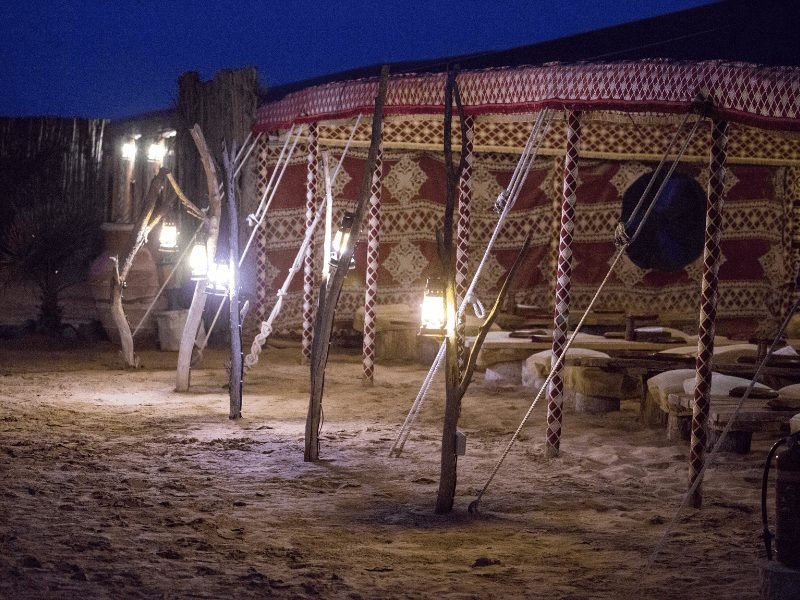 This tour is very similar to the above tour, as it's run by the same tour operator. However, this tour includes an overnight stay at the camp, where you get to stay in a tented camp overnight!
And of course, they'll provide a delicious morning breakfast in the traditional Arabian style before you head back to Dubai.
It's a little pricier than the half-day option as it includes overnight accommodations, but it's well worth it for what it includes, in my opinion!
Morning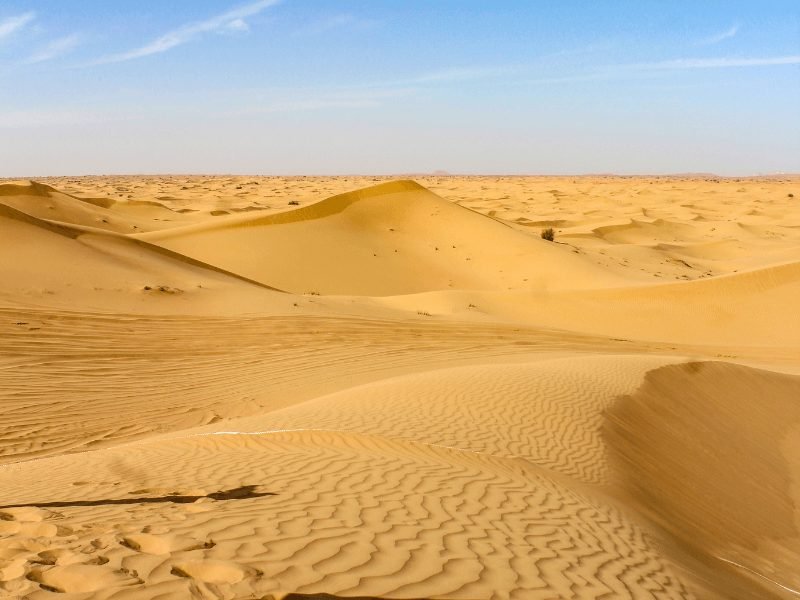 If you want to do a morning tour that leaves at 8 AM and gets you back to Dubai around noon, this is a great option. They also have tours that leave at 9 AM (returning at 1 PM) and 10 AM (returning at 2 PM) if you prefer to sleep in a bit.
These tours last 4 hours and will give you a glimpse of the desert without it taking up your entire day, which can be really nice if you have only a short amount of time to visit Dubai, such as spending a weekend in Dubai.
This tour has the typical inclusions — camel riding, sandboarding, dune bashing, etc. — but without the shows or any meals.
Sunrise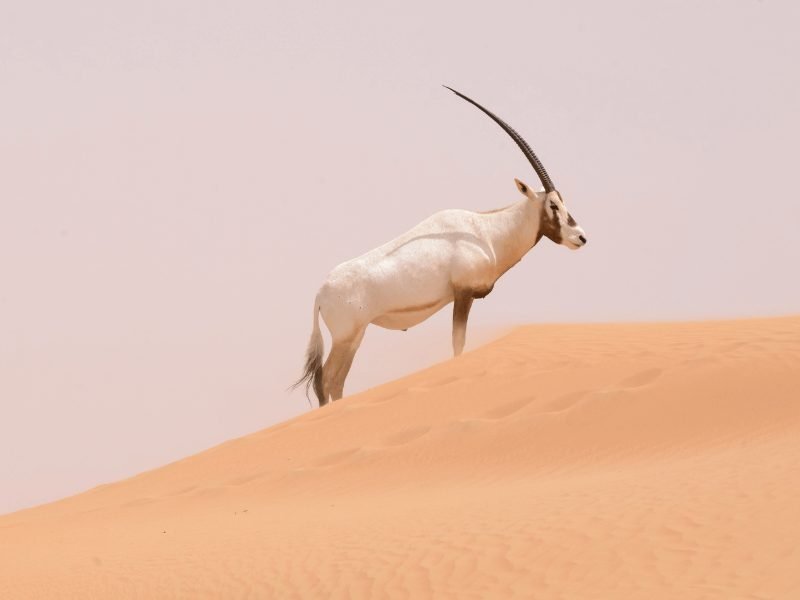 If you're willing to make a 4 AM wake-up call, this is a great option for some epic views of the Dubai desert if you can't make a full-day or an overnight tour fit into your itinerary.
This tour has a wildlife focus so it won't include many of the cultural activities like henna painting, dancing, etc. However, you'll have the opportunity to go dune bashing in a 4WD car as well as try sandboarding if it appeals to you.
After the sunrise, you'll be treated to a picnic breakfast, before making stops at two wildlife spotting places, looking for the beautiful desert animal called the oryx, as well as stopping at the beautiful Al Qudra Lake!
This is a marvelous way to see all the ingenious creatures who have adapted and found ways to live in the desert in some of the harshest imaginable conditions!