Whether you are planning a day trip from Minneapolis or visiting Minnesota for the first time, these charming small towns in Minnesota offer something for everyone!
Minnesota's diverse landscape and unique culture is on full display in these 13 fantastic small towns.
This guide to the best Minnesota small towns was written by Erica Blanchard, a Twin Cities local. Take it away, Erica!
The Best Small Towns in Minnesota Worthy of Your Next Getaway
Grand Marais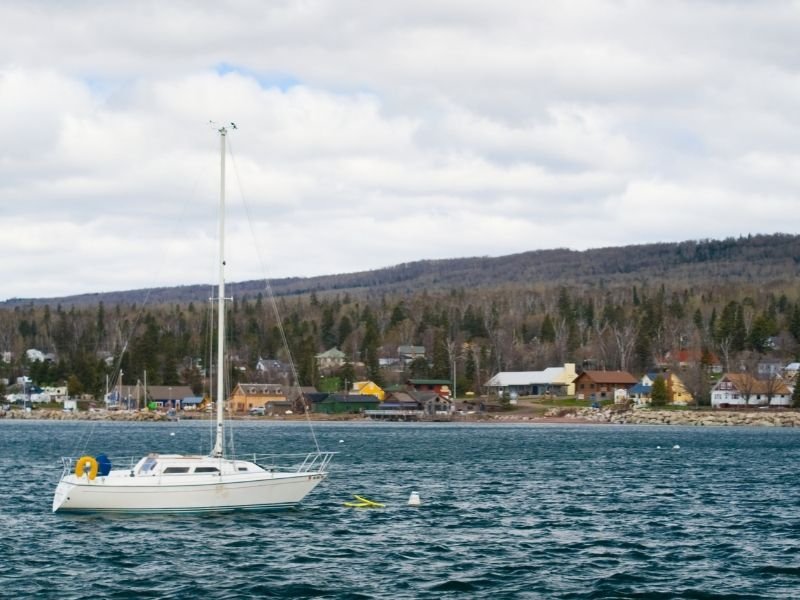 Note: This post contains affiliate links, which means I may receive a small commission if you purchase something through one of these links. Thank you for supporting the free content on this site! For more information on affiliate links and cookies, see my disclosure page for more details.
Population: 1,332
Located on the picturesque North Shore of Lake Superior, Grand Marais is likely to be a favorite small town stop for anyone wanting to witness the natural beauty of the Northwoods.
The view of the Sawtooth Mountains meeting the crystalline lake water is really something to behold!
The town itself is chock-full of local shops, art galleries and cafes. The donut and ice cream shops are typically family favorites (we recommend Sydney's Frozen Custard!), but there are plenty of crafts and antiques to keep adults happy as well.
If you are looking for more of an outdoor adventure, the Superior Hiking Trail provides over 50 miles of miles for all skill levels. It's easy to spend an entire weekend getaway here taking in all Grand Marais has to offer!
For those willing to brave a little steep terrain, the Honeymoon Bluff Lookout located on the Gunflint Trail is a must see.
From the top, you are rewarded with a stunning view of both Hungry Jack Lake and Wampus Lake!
Where to Stay in Grand Marais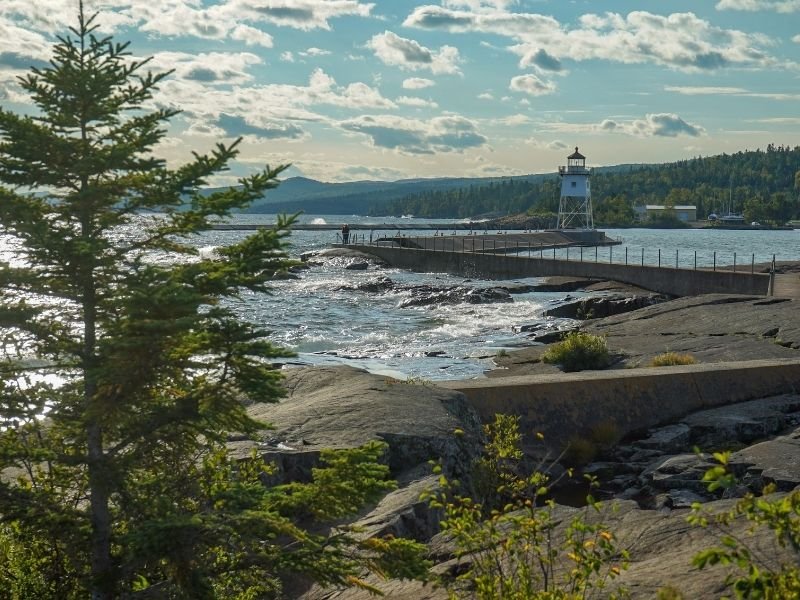 Located right on the lake with stunning views basically anywhere you turn your head, East Bay Suites is a no-brainer for when you are figuring out where to stay on a Grand Marais getaway.
The outdoor deck area is the perfect place to spend a summer day and the suite-style rooms have everything you need, including kitchenettes and balconies, to enjoy your stay.
But really, what you're picking this place for is easy access to the lake and those exquisite views!
Ely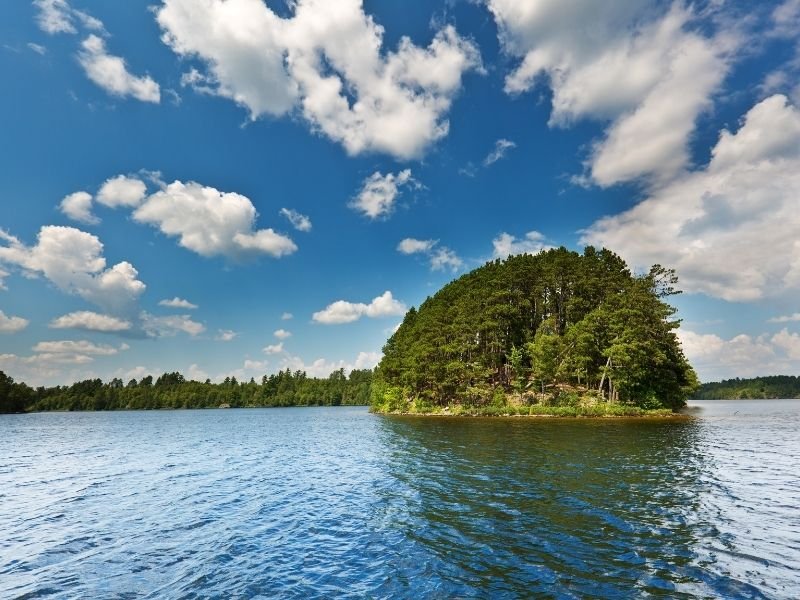 Population: 3,390
Ely serves as the gateway to The Boundary Waters Canoe Area, one of the largest off-the-grid and untouched wilderness areas in the United States!
The Boundary Waters is a bucket list experience for any camping enthusiast… and Ely is where the trip begins!
However, Ely is not just a stop before moving on to the BWCA; it has many wonderful sights on its own right, such as many museums and historical monuments to explore.
We recommend the Ely-Winton History Museum, which covers local history including artifacts from the Ojibwe people who are native to these lands.
Ely is also Home to the International Wolf Center and the North American Bear Center as part of its dedication to preserving Minnesota's wildlife for future generations.
Where to Stay in Ely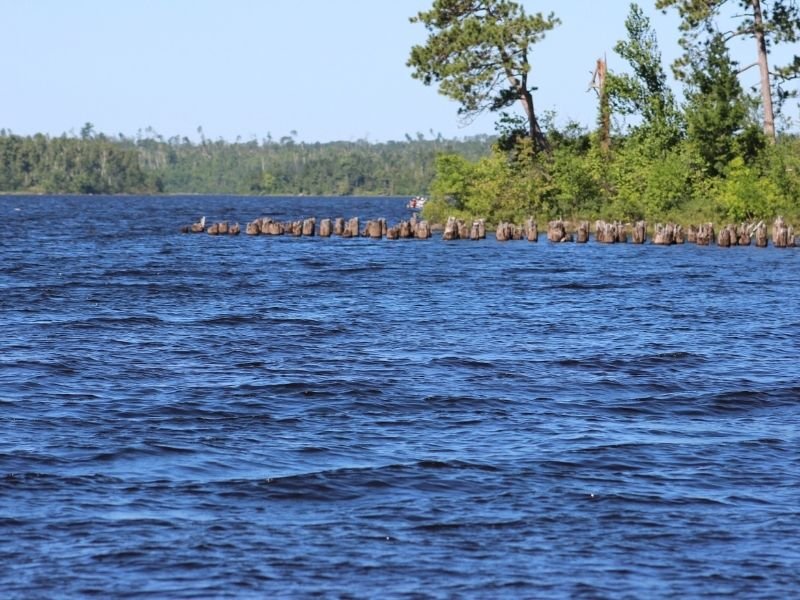 The charming A Stay Inn is the best place to stay in Ely, MN! This cute B&B has just about everything you need for a comfortable stay in Ely.
Enjoy the comfortable cabin-like environment, complete with plenty of board games you can borrow and a fireplace to huddle around at night when there's a chill in the air!
The rooms are updated so that they are modern yet cozy, the perfect balance of rustic and comfort.
Taylors Falls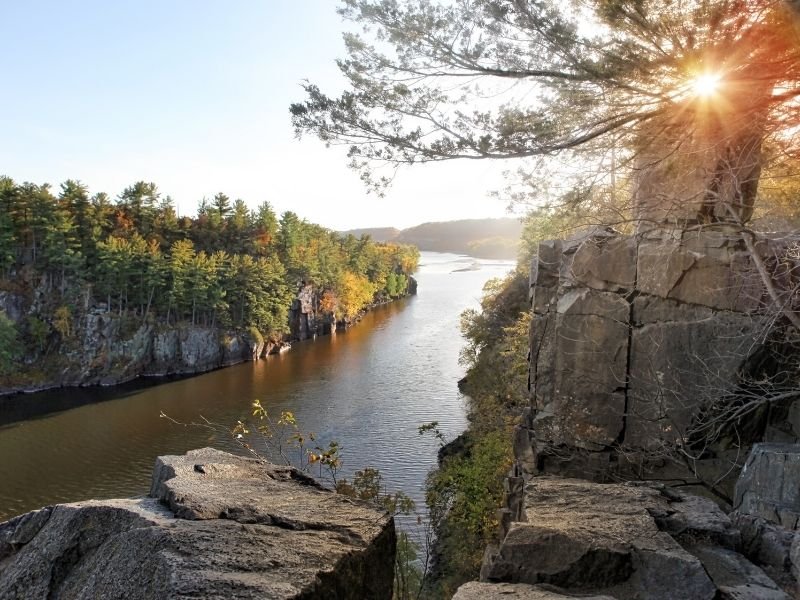 Population: 1,090
Just a 45 minute drive northeast of Minneapolis on the St. Croix River, Taylors Falls provides for family fun year round!
From biking and canoeing in the winter to skiing and snowshoeing in the winter, there's truly never a dull day here, no matter the time of year or the weather.
The cliffs and bluffs that line the river provide a gorgeous backdrop for any trip… but in particular, the fall colors cannot be missed.
In recent years, Taylor Falls has also seen a blossoming live music scene — you can find more information here.
Nearby Wild Mountain Winery offers wine tastings and brick-oven pizza. You can also take a leisurely stroll through their vineyard. Their German-style ice wine is particularly popular with visitors!
Where to Stay in Taylor Falls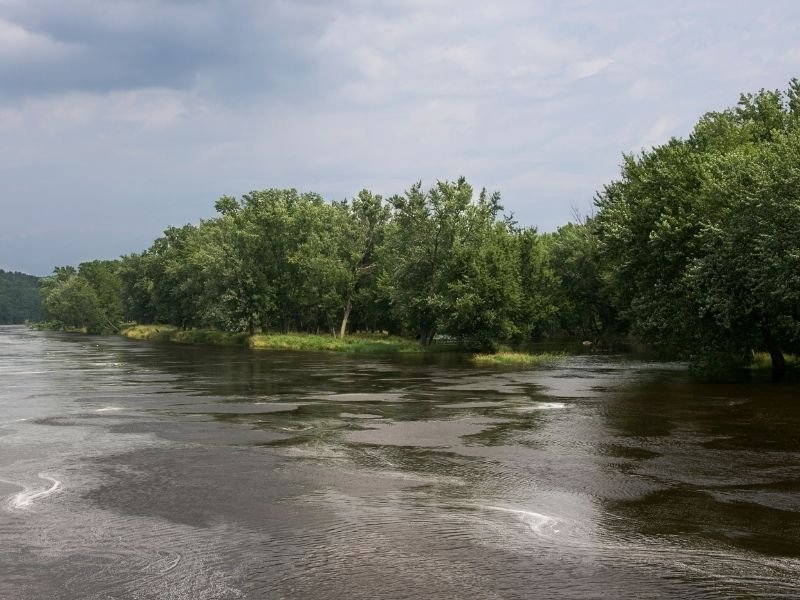 For a unique option of where to stay, check out the Old Jail Bed & Breakfast — yes, really, it used to be a jail!
This cute little B&B is set in a saloon that was in use during the 1800s, which even had its own adjoining jailhouse (I guess the saloon-goers were fairly rowdy!).
You can rest assured though that the comforts have been updated since then, and this is a lovely place to stay — think big cozy beds, not jail cots!
Check availability and rates on the Old Jail B&B website here.
Two Harbors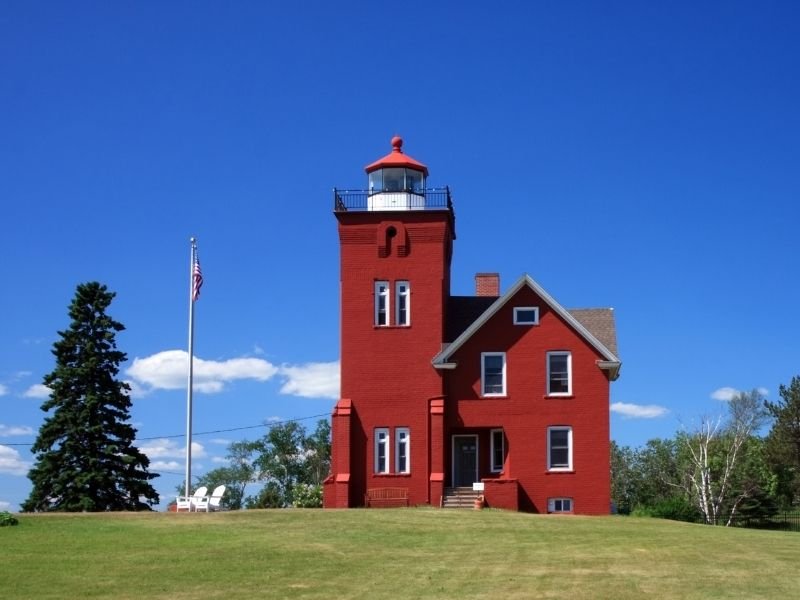 Population: 3,509
Two Harbors was built on the export and movement of iron ore, a practice that still continues today.
From the first shipment in 1884 until now, iron has been transported from the harbor on large ships that then travel around the Great Lakes.
It should be unsurprising then that the water is what makes Two Harbors so special!
Spend the day walking the waterfront and watching the ships come and go. Agate hunting and rock skipping are also a classic pastime at Agate Bay.
Two Harbors also features a world class assortment of restaurants where fresh local fish is always on the menu! We recommend Lou's Fish House and McQuade's Pub and Grill.
After you're done with your meal, don't forget to visit the oldest operating lighthouse in Minnesota, Two Harbors Lighthouse Museum, which overlooks Agate Bay.
The stunning Split Rock Lighthouse is also gorgeous and worth seeing and is just a short drive north up the lake shore.
Where to Stay in Two Harbors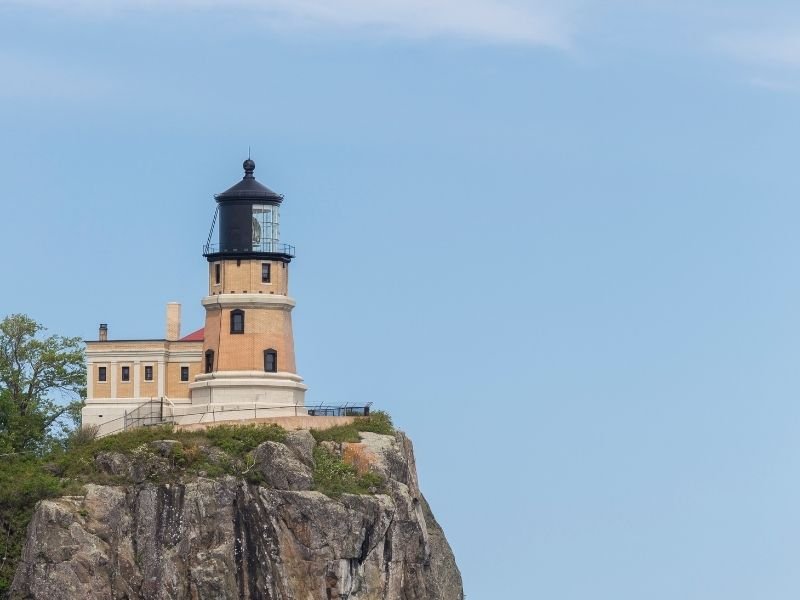 The charming Country Inn Two Harbors is a great place to stay if you're looking to relax in nature while still having close access to town.
You can easily access some of the nearby sights like gorgeous Gooseberry Falls (just 13 miles away) while also having a place to return to and relax each night, making use of amenities like their pool, spa, and sauna.
Some rooms even come with their own hot tub — score!
Best of all are all the fun outdoor things you can do on-site, such as enjoying miniature golf or going for a hike in the summer months or snowmobiling or cross-country skiing in winter!
Check availability and rates at Country Inn Two Harbors here!
Lake City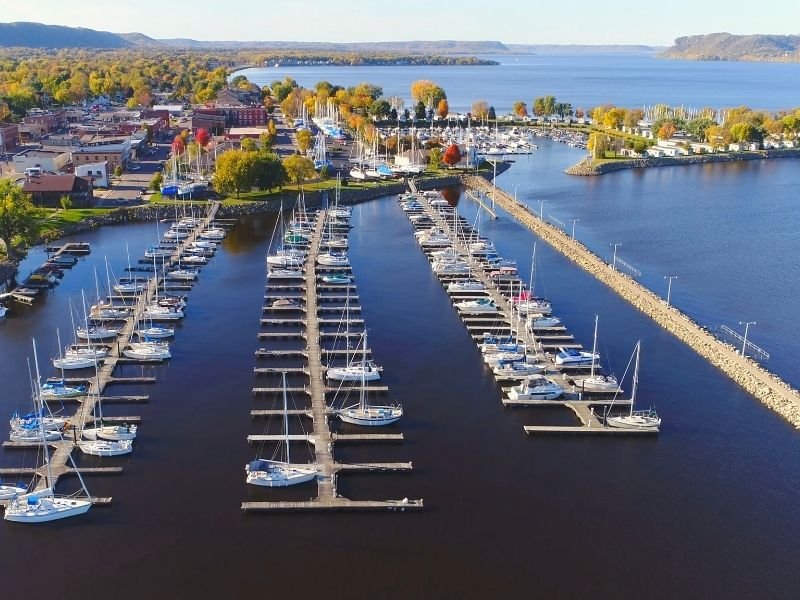 Population: 5,261
Referred to as Minnesota's South Shore, Lake City lies along the shores of Lake Pepin.
Fun fact: water-skiing was invented here in 1922 by Ralph Samuelson, and it remains a popular summer activity!
The large and calm lake have made the town a prime destination for boating and fishing activities at the Pepin Marina.
There are a wide variety of festivals year round, such as the 100-Mile Garage Sale, Water Ski Days and Tour De Pepin Bike Tour.
These more specialty events and festivals are complemented by frequent street markets throughout the summer.
For those on the hunt for a truly unique experience, Eagle Hang Gliding offers a chance to really fly!
A specialty boat launches you into the sky to take in the beauty of Lake Pepin on a hang glider. Perhaps not for the faint of heart, but certainly a once in a lifetime experience for those brave enough!
Oh, and if you're a fan of The Little House on the Prairie, be sure to check out the Laura Ingalls Wilder Museum in town!
Where to Stay in Lake City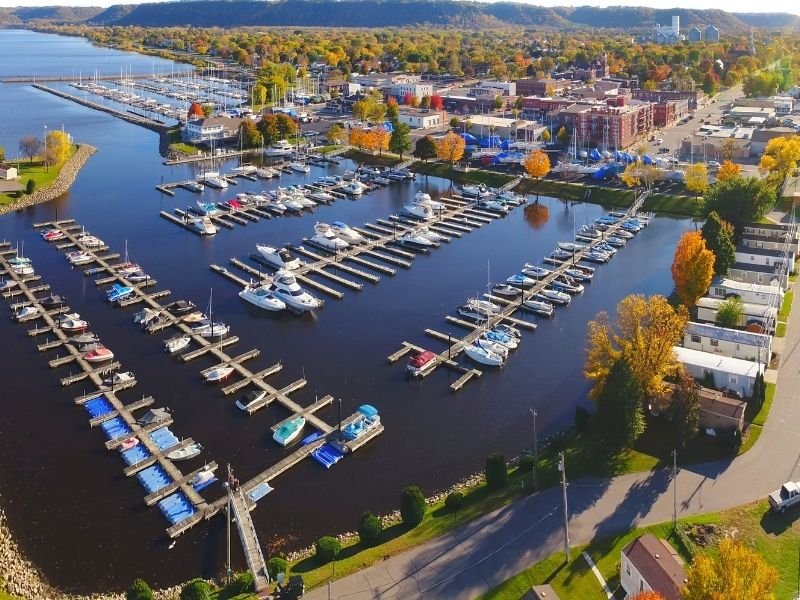 For a charming place to stay in Lake City, look at the Harbor Hill Inn downtown.
This cute little guesthouse is located in a 19th-century Victorian building, just one block from the marina, so you can be waterfront in a matter of minutes!
The rooms have that typical Victorian B&B charm with vintage furnishings and an elegant but comfortable atmosphere.
Lindstrom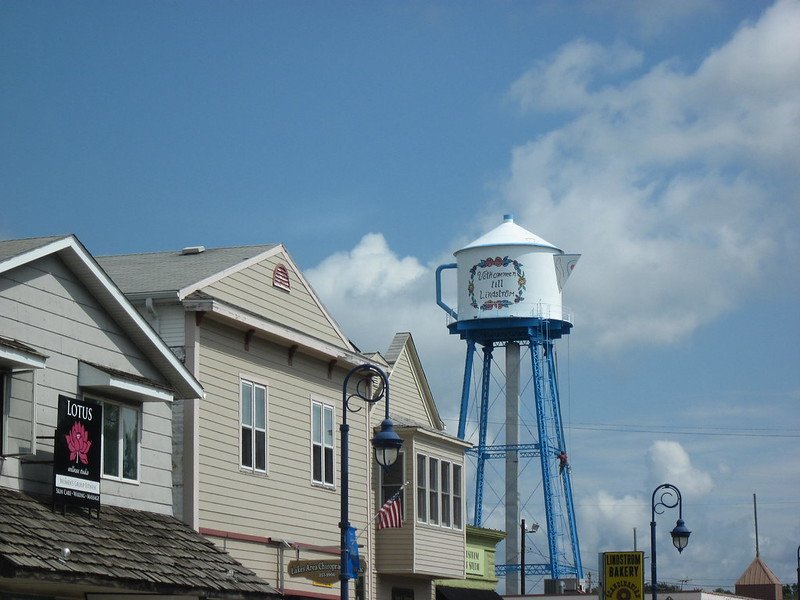 Population: 4,614
Lindstrom, also known as "America's Little Sweden", is one of the cutest small towns in Minnesota. It can be easily identified by its iconic coffee pot water tower!
Founded in 1894 by Swedish immigrants, the town has retained and embraced their Swedish heritage.
There is a historical walking tour and the Swedish Heritage Museum for those interested in digging into the storied past of the area.
In the summer they host Harmony in the Park, a popular concert series. Also taking place during the summer months, Karl Oskar Days is a Swedish festival with activities ranging from local shopping to a car show.
Those looking to find out more about the Scandinavian and Swedish influences present throughout Minnesota will love it here.
Lindstrom offers a perfect balance of culture and history that will delight any Minnesota small town aficionado!
Where to Stay in Lindstrom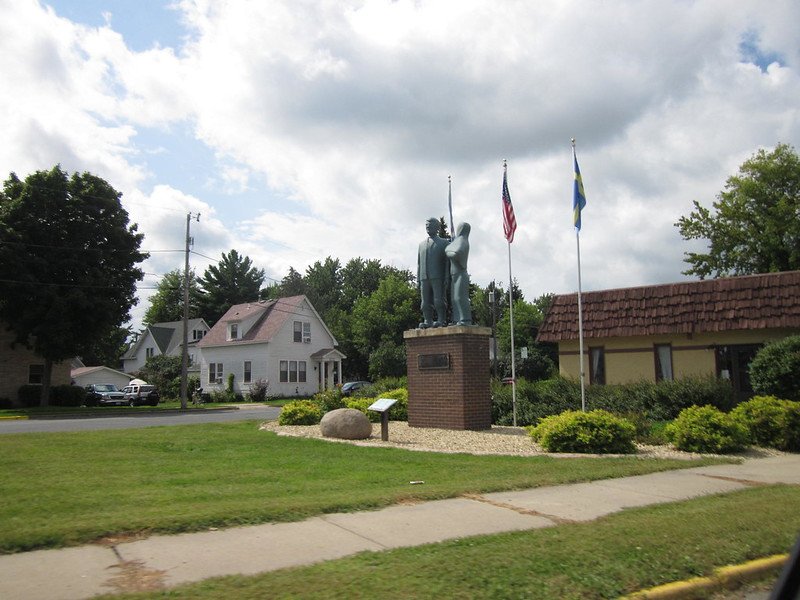 There aren't too many choices in Lindstrom, but nearby Chisago City just a five-minute drive away has a handful of good options!
The best option there is the AmeriVu Inn & Suites, which offers a variety of spacious rooms. Some have a couch and TV area to relax in; others have a relaxing hot tub in the suite itself!
Several rooms are designated as ADA disability access rooms, making it a great choice for travelers with accessibility needs.
Pipestone
Population: 4,092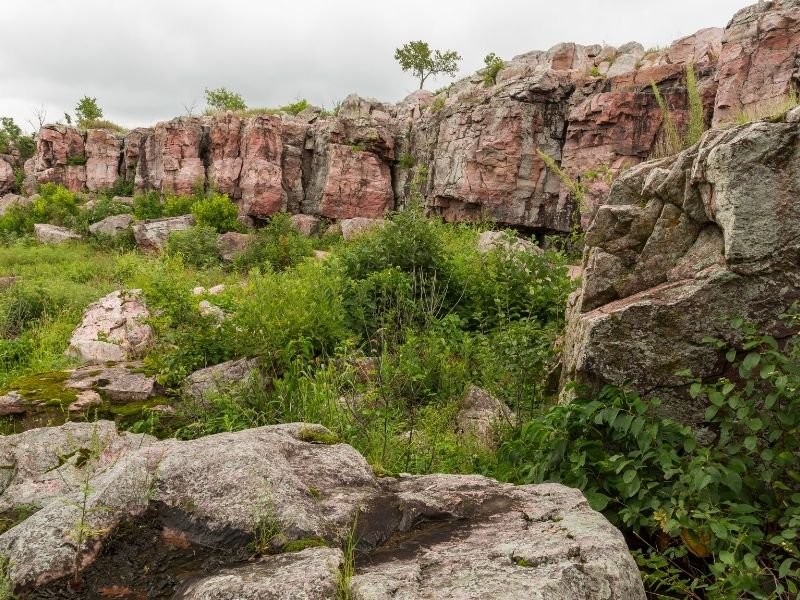 This town is home to Pipestone National Monument. More than 23 Native American tribes have historical ties to the quarry, which has served as a quarry for sacred red pipestone for generations.
The stone that is mined there is then carved into pipes and used in prayer, and it has also been used as a slate for petroglyphs, many of which you can still see at the National Monument.
Due to the nature of the red pipestone and its uses, this area is a very sacred space for many. As a result, it's a great place to learn about the traditions and history of Native American peoples across the Midwest.
Beyond its national monument, the charming small town itself has a number of beautifully preserved historical homes and buildings.
Leaning in to the rumors of these old buildings being haunted, the city even hosts a ghost walk where a costumed guide details the spooky side of Pipestone history!
Where to Stay in Pipestone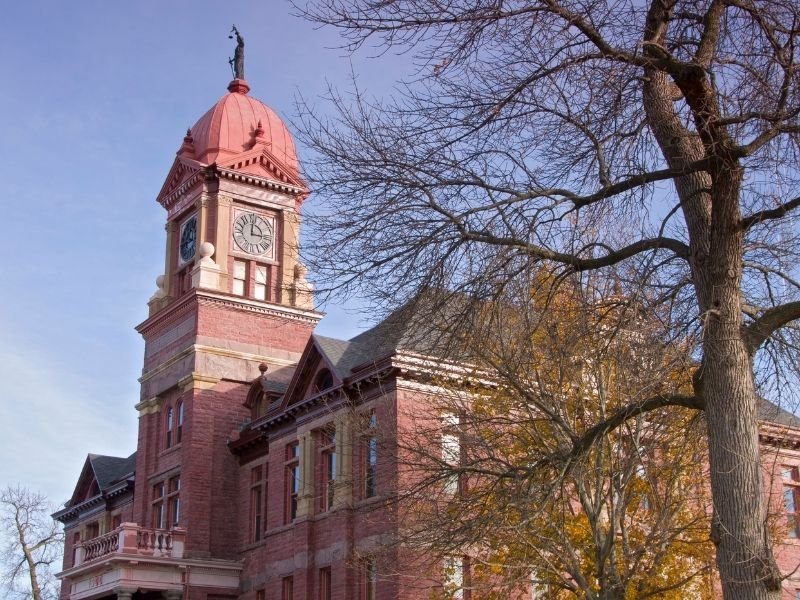 Love historic accommodations? Pipestone is your perfect Minnesota small town for that!
The charming Historic Calumet Inn is a fantastic place to stay the night for an overnight getaway or a weekend trip.
Not only is it set in a historic building, but the rooms feature vintage historic furniture that will make you feel transported back in time — though you can still enjoy modern amenities like a jacuzzi tub or flatscreen TV!
Excelsior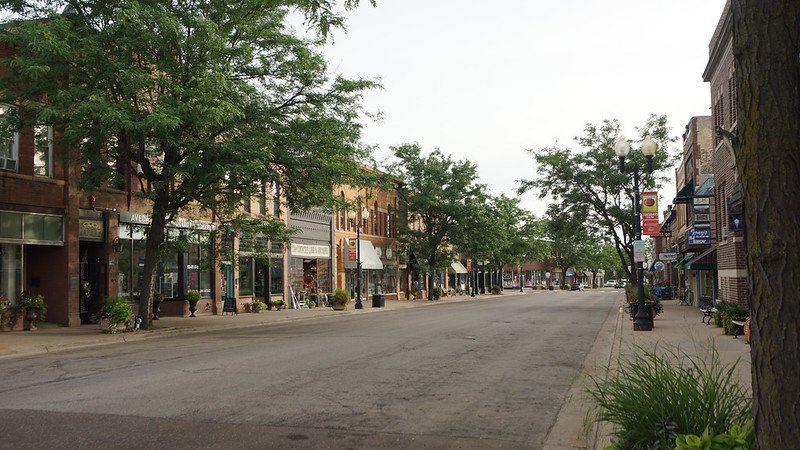 Population: 2,434
Excelsior is a little slice of paradise and you barely even have to leave the Twin Cities!
Located on the large and popular Lake Minnetonka, the city caters to boating and fishing hobbyists year round.
If you don't have your own boat, hop on a dinner cruise or even the steam powered Steamboat Minnehaha.
As the shores of the lake are lined with large and extravagant homes, you'll get an architectural tour thrown in for free!
Excelsior has excellent boutique restaurants, including some of our favorites, Coalition for New American upscale dining, Red Sauce Rebellion for exquisite Italian food, and Olive's Fresh Pizza Bar for a fantastic slice.
Don't forget to finish it up with a few fantastic beers from Excelsior Brewing!
You could spend many happy summer nights here looking out onto the water with a drink in hand.
Where to Stay in Excelsior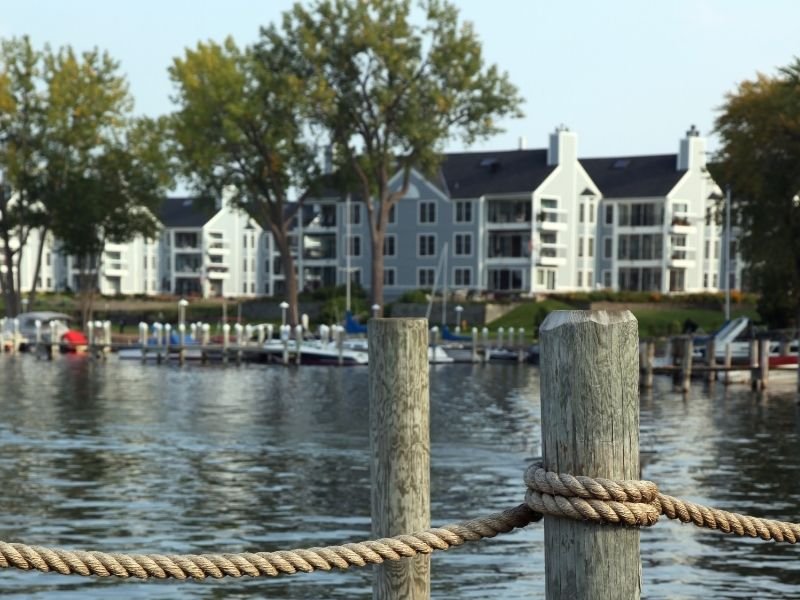 Excelsior is too small of a Minnesota town to have a ton of accommodation choices, but look just 3 miles out at Chanhassen and accommodations abound!
The best place to stay in Chanhassen just a stone's through from charming Excelsior is The Country Inn & Suites.
This lovely hotel has a gorgeous lodge-like atmosphere in its common areas and wonderful shared amenities like an indoor pool and fitness area, plus a fantastic on-site restaurant.
Meanwhile, the rooms are spacious with comfortable beds and convenient perks like working areas and electric fireplaces!
Grand Rapids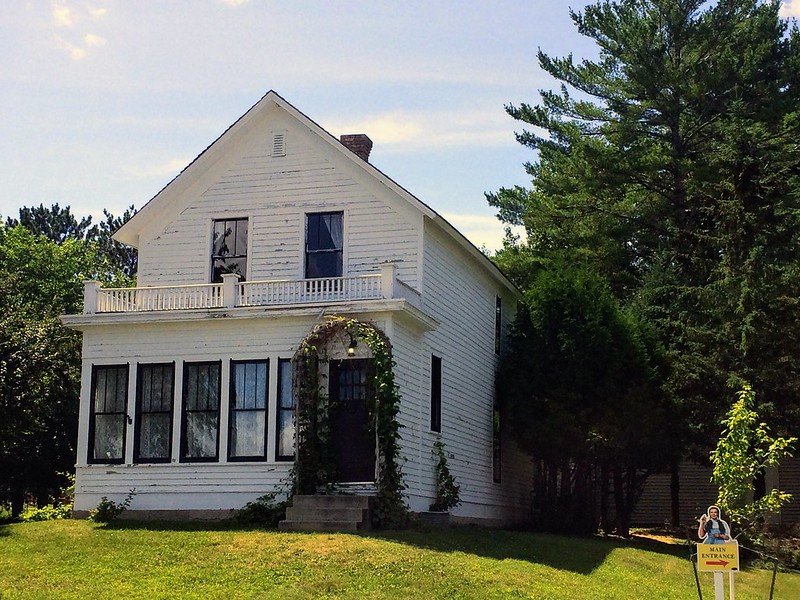 Population: 11,165
Grand Rapids' main claim to fame is that it is the birthplace of Judy Garland, but the town has so much more to offer once you scratch the surface!
The Judy Garland Museum displays an authentic pair of the ruby slippers worn by Judy in The Wizard of Oz!
Fun fact: the slippers were actually stolen in 2005 and not recovered until 2018! The fascinating (and bizarre) history of the slippers and the theft is explained at the museum exhibit.
Looking for a small town Minnesota getaway in winter? Grand Rapids is the premier destination for winter trail sports and ice fishing!
There are hundreds of miles of snowmobile trails carved every winter that allow exploration of the Northwoods beauty.
The Tioga Recreation Area has more than 25 miles of multi level mountain biking trails for winter riding.
Where to Stay in Grand Rapids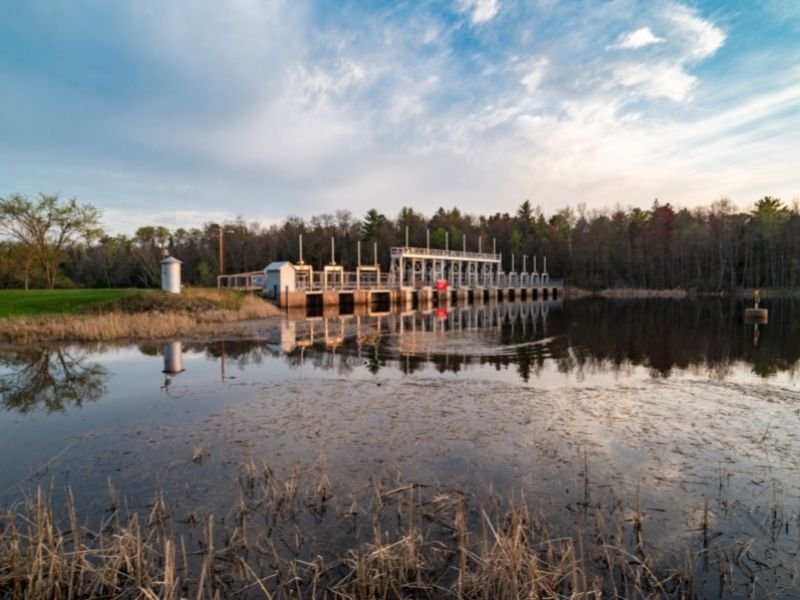 The lovely small MN town of Grand Rapids has quite a bit to offer in terms of where to stay! Being one of the larger small towns on this list, there are several options.
The best, in my opinion, is I M Hotel by Timberlake. In addition to enjoying good reviews, it also has a lot of amenities and perks for all travelers to enjoy, such as flat-screen TVs, A/C, additional seating areas, and more.
Plus, the hotel grounds are gorgeous, with gardens blooming with flowers everywhere in spring and summer!
Park Rapids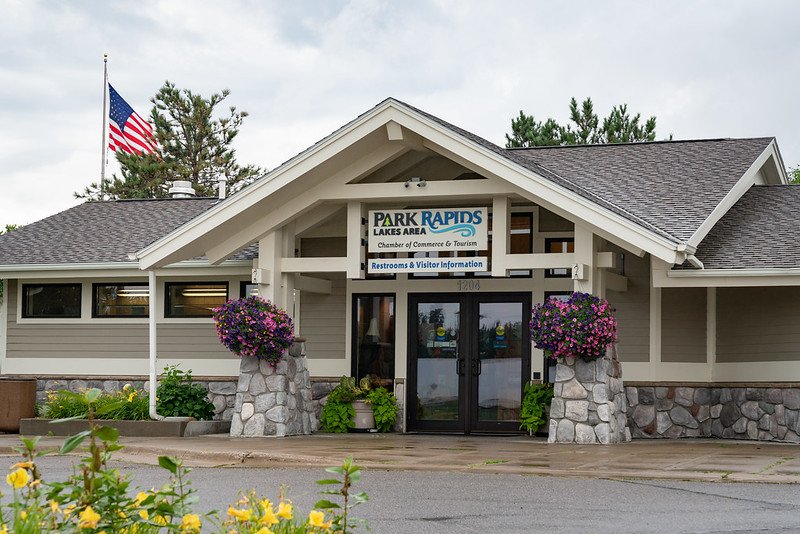 Population: 4,054
Park Rapids is where the mighty Mississippi begins, so of course, you can't miss this important and historic Minnesota town!
The headwaters of the Mississippi River are located in Itasca State Park, which is a beautiful place for a stroll any time a year.
Half a million visitors a year come to see the beginnings of the river that shaped the industrial landscape of America — not bad for a small town in Minnesota!
The 49 square acre park also preserves old growth white and red pines, a symbol of the Upper Midwest landscape.
The Itasca Sports Shop inside of the park allows visitors to rent bikes, kayaks and canoes during the summer months if you're craving some outdoor activities.
Park Rapids also features the quaint, quintessential Main Street that every small town needs!
You can buy everything from Amish furniture to local baked goods. Here, small town and locally owned businesses walk hand in hand to create the perfect Minnesota getaway spot.
Where to Stay in Park Rapids
Just a 10-minute walk from the river, the fun and funky C'mon Inn is a great place to stay in Park Rapids, MN!
On-site perks include an indoor swimming pool and hot tub and spacious comfortable common areas.
The rooms aren't particularly modern in terms of decor, but they are spacious and have perks like large plasma TVs and iPod docking stations so you can enjoy your music in the comfort of your own room.
Lanesboro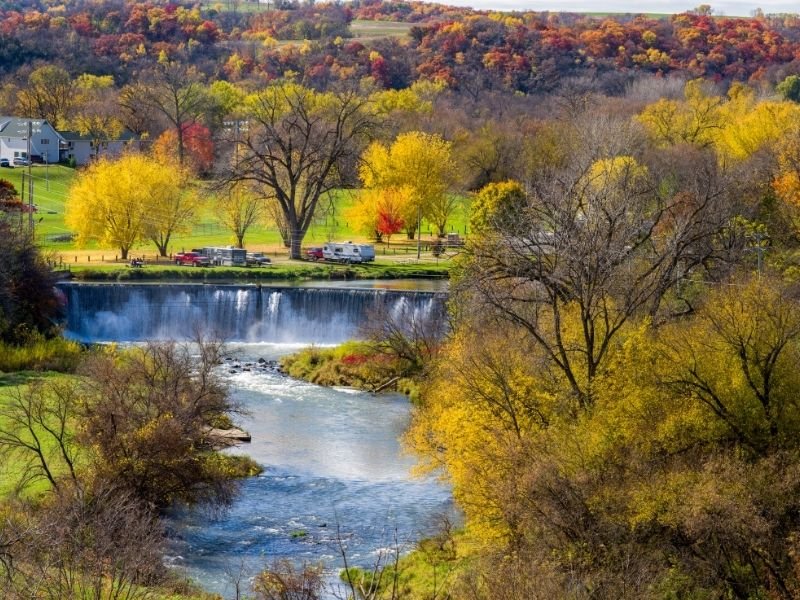 Population: 673
Founded in 1856, Lanesboro is quite old by Midwestern standards!
It thrived primarily as a small milling town until the 1970s when an old, unused rail line was converted to a bicycle trail.
That move would skyrocket tourism to the area, and that small change made Lanesboro the Bed and Breakfast Capital of Minnesota!
Lanesboro has put extensive time and energy into cultivating a rich art scene featuring live theater, art galleries and tours.
For such a small town, they have an outsized reputation for excellence in art and culture, so if you're a fan of the arts, you better start planning your trip!
Lanesboro is also home to Niagara Cave, one of only two publicly accessible caves in Minnesota. The cave is privately owned and offers one hour guided tours in the spring through fall.
Traveling 200 feet underground in a gorgeous limestone cave, you can discover fossils that are 450 million years old!
Where to Stay in Lanesboro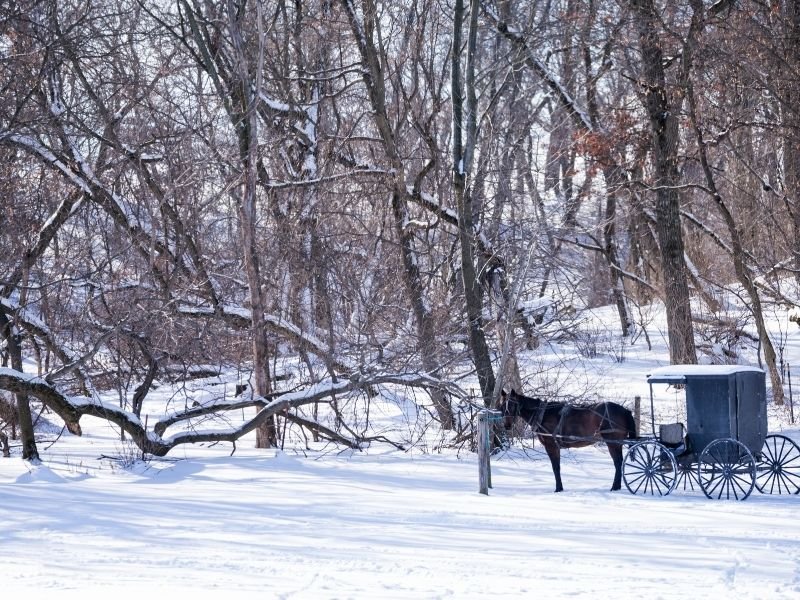 The charming small town of Lanesboro doesn't have too many options but there are a few vacation homes for rent in its neighboring town of Whalan.
One cute place to stay is the charming Bluff Country Retreat which offers a wonderfully private place to stay on 80 acres of gorgeous land just 7 miles from Lanesboro.
Its decorated in the typical log cabin style, with a kitchenette, charcoal grill, fireplace, and plenty of space to spread out and enjoy!
There are also outdoor areas like fire pits and patios to enjoy on beautiful warm days, and hiking trails to enjoy in summer (which become snowshoeing trails in winter!)
Nisswa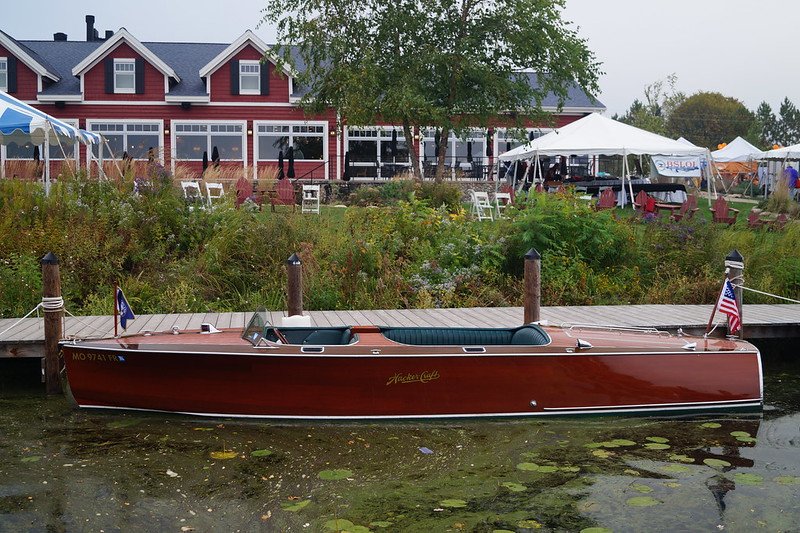 Population: 1,817
Originally called Smiley Township, the town's name was changed to honor its Ojibwe heritage.
The name of the town derives from the Ojibwe word "nessawae" (which alternately means either "in the middle" or "three").
Surrounded by lakes that are plentiful with fish, Nisswa has become a huge summer destination for those looking for prime fishing.
If you are looking for a unique experience, the town holds turtle races every Wednesday through the summer!
Kids delight in guessing which turtle will cross the finish line first and root loudly for their chosen reptile.
The area is also home to 450 holes of top-rated golf. Several of the courses have been recognized nationally for their excellence.
Where to Stay in Nisswa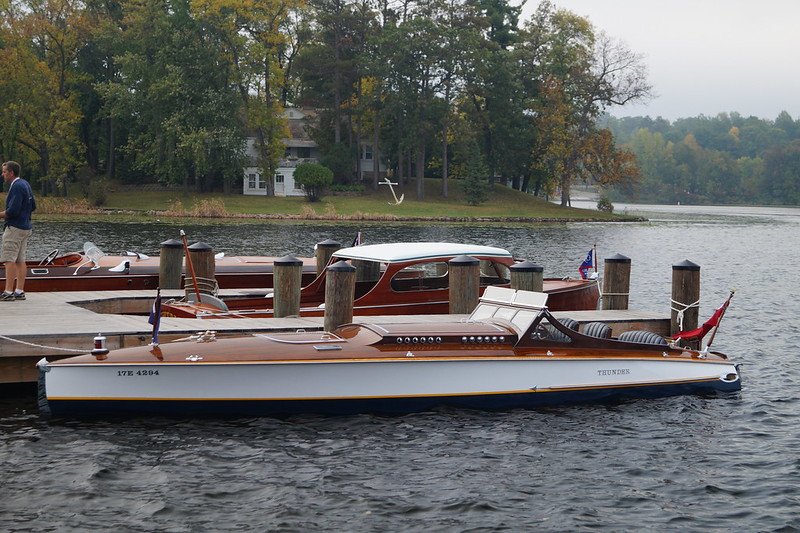 The stunning Bay Colony is a condo that can be rented out to guests within walking distance of innumerable lakes, including Gull Lake, Round Lake, North Long Lake, and literally dozens of others.
The apartment is ultra-modern and you can enjoy amenities like a gas grill and a fire pit with a view of the lake.
The apartment itself has a full kitchen area so you can cook your own meals — great if you want to save money or are traveling with kids who are picky eaters!