Fes is a historic city with an immense, labyrinthine medina: the largest car-free urban area in the world.
Wandering the medina is equal parts fascinating and frustrating. You can — and will — get lost over and over again.
But each time you get lost, it can be an opportunity to discover new routes, beautiful doors and buildings, and hidden madrassas tucked away down alleyways, stacks of goods and sacks of spices, and all the shopping one's heart could desire.
And of course — traveling around Fes can also get tiring. Each time you step outside, you'll be passing by touts trying to bring you to the tanneries, vendors trying to get you to buy their wares, and guides offering their services.
That's why you need the perfect place to stay to get away from it all — as well as to help you organize guides, tours, and make sense of the befuddling madness that is traveling Fes (and frankly, Morocco as a whole).
The best oasis from the chaos of staying in a medina is by picking an excellent riad in Fes to escape from it all!
While normally, I tend to think of hotels as just a place to lay my head at night, in Fes, riads are an essential part of the experience.
Fes riads are at the heart of your travel experience — which is why I think it's essential to pick the best riad in Fes possible for your budget.
Your riad owner generally works three important jobs — your host, your travel agent, and your chef.
They help with everything from obtaining souk guides to bus tickets to guided tours and providing delicious homecooked breakfasts and often dinners upon request.
While I generally recommend staying in a riad in Fes, you may want to stay outside the chaos of the medina.
In that case, I would suggest picking one of the beautiful luxury hotels on the outskirts in Fes, which are located outside the medina.
What to Know Before Staying in a Riad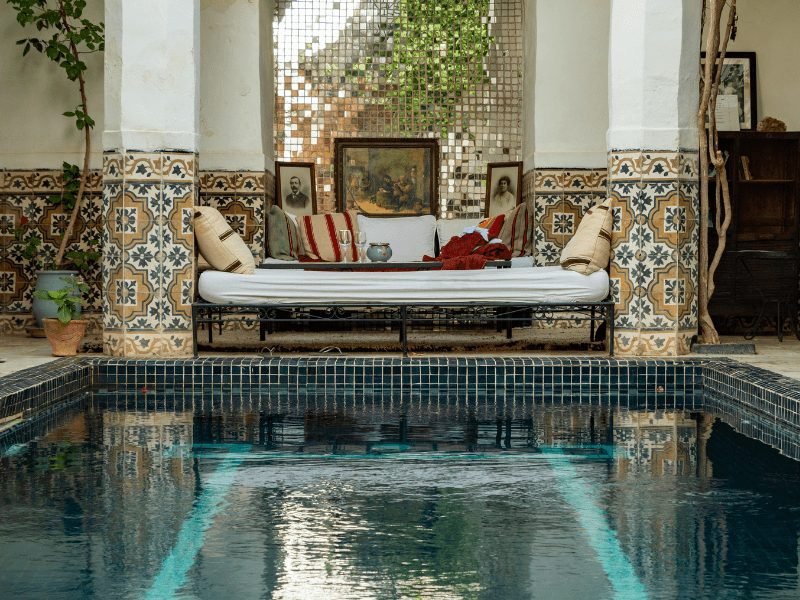 Note: This post contains affiliate links, which means I may receive a small commission if you purchase something through one of these links. Thank you for supporting the free content on this site! For more information on affiliate links and cookies, see my disclosure page for more details.
There are a few key things to know before you stay in a riad in Morocco, since it's a little different than anywhere else.
The name 'riad' comes from the Arab word 'ryad', which means garden. Every riad has a central courtyard or garden area which is a communal public space for all guests to enjoy.
That public space can range from quite basic — a few comfortable seats in a lovely setting — or quite fancy, with a plunge pool, library, or even an in-hous hammam!
Riads tend to be older, traditional houses that have been converted into small, boutique guesthouses, so while most are renovated beautifully, be aware that there might be some antique quirks!
Riads are also quite private places, so there's not a lot of windows out to the streets, but rather inward, towards the central courtyard area.
As a result, riad rooms may be a little darker than the traditional hotel room you may expect, but there is often beautiful ambient lighting to correct for that.
Riads also tend to not look like much from the outside. Sometimes, frustratingly, they won't even have a sign!
But often, once you open the door to the riad, it's like entering a beautiful portal to another world — a world far away from the hecticness that surrounds it.
Riads are also typically quite small — they are converted houses, after all, so there typically aren't a ton of rooms. As a result, the riad owners will get to know you well.
For me, I find this wonderful, especially as I was alone when I was staying in a riad in Fes. My riad owners took care of me and made me feel looked after.
However, if you're looking for an anonymous hotel experience — a Moroccan riad just ain't it.
Best Riads in Fes for Budget Travelers (Under $75/Night)
Riad Razane
This beautiful Fes riad is located just a brief walk from the medina, and it has a history that dates back to the 14th century.
Despite its low price tag, Riad Razane is a 4-star accommodation straight out of an Instagrammer's dreams!
At its heart is an intricately painted and detailed courtyard, where you can lounge and sip on some Moroccan mint tea and escape from it all.
There is a small fountain in the middle, and some indoor potted plants are also strategically arranged to refresh the senses after a day walking around Fes.
This is a really nice place to take photos, as the already-beautiful surroundings are made even more more luxurious due to the ornate chandelier!
This small boutique riad in Fes has a total of 7 rooms, so you're guaranteed an intimate experience with plenty of individualized attention.
The economy rooms are more sparse and modern, whereas the triple and quadruple rooms have nice wooden furniture with detailed paintings.
Each room has different styles and materials used, but the overarching theme is the colorful tiles with different patterns and designs which scream Moroccan decor.
All rooms have a private bathroom with free toiletries, an A/C (an absolute must if staying in Fes in summer — I suffered when I stayed with only a fan) and free WiFi. 
They serve a free traditional breakfast which past guests have loved. Just in case you wish to try something else, you can ask their staff, and they can give you a map with some nearby restaurants.
If you are adventurous, you can try the different local street food which you can find near the hotel.
While there isn't a proper hammam at the riad, you can request to get some nice massages on-site; just ask their front desk. 
Dar Mehdi
Dar Mehdi is not your typical Fes riad, as it doesn't have a courtyard…. but it's still a wonderful place to stay!
Dar Mehdi is one of the oldest houses in Fes, and you can still see a lot of old intricate mosaic tilework.
The painted wooden roof terrace serves as a sort of communal space like many courtyards in riads do.
The rooftop terrace has lots of comfortable seating plus plenty of pillows, and it's is a nice place to relax since it has stunning views of the town. You can also have your breakfast here!
The rooms are simple and clean, and there are some Arabic words framed or painted on the walls as a motif.
Past guests have noted that the mattress was a little firm: not something for people used to really soft ones, but great if that's your preference.
All rooms have a private bathroom and a balcony where you can view the medina views.
The private bathrooms are quite stunning because of the designed tiles; even the sinks look like lovely ceramic bowls!
If you want an affordable, clean place to stay — and don't mind sacrificing the inner courtyard area — this is a fantastic choice.
Riad Ibn Khaldoun
This is one of the most colorful riads in Fes you will ever see!
You will see stained glass windows, patterned floor tiles, painted walls, intricately carved wooden furniture and so on.
It doesn't just end in the common areas – even the rooms are like that! 
The beds will make you feel like you're sleeping like a queen, with sheer canopies and very luxurious bed covers with designs.
It is quite difficult to describe how well-decorated this riad is. Every corner is perfect for the 'gram – all you need to do is work on finding your perfect angle when you take your photos!
Breakfast is served daily, and it is included with your stay. Guests loved the food and many even said that the food was the best they tried in the city!
You can also order and try the tasty tagine they cook for dinner, aside from the other à la carte Moroccan dishes they offer. 
There is an ATM on-site, as well as a currency exchange center. The guests loved how helpful and friendly the staff was on this property!
You can directly ask them to help you with transfers, guides, and other necessities, so you get fair prices and avoid any hassle.
The Best Mid-Range Riads in Fes ($75-150 Per Night)
Riad El Amine Fes
If you were to choose one word for this Fes riad, it would have to be majestic.
You won't even believe how beautiful and surreal it is once you are here! It is so photogenic that it's almost impossible to take a bad photo here.
The best spot to take a photo would be the pool area! It's the perfect area to relax in the beautiful, fresh water — great for a dip after a day walking around the medina.
You can also relax here and they have some themed restaurant nights, where you can listen to some traditional music — or even get a henna tattoo in the comfort of your own riad.
They have rooms and suites, which are stylish, fully-furnished and spacious. They have extra-long beds with bold and vibrant colored sheets.
Some have headboards with intricate paintings and carvings that you pretty much want to steal and take back home with you (or at least I do!).
All rooms have an A/C, heating, washing machine, safety deposit box, ironing facilities, and a minibar.
The ensuite bathroom has golden sinks and faucets, golden mirrors plus the typical Zellige Moroccan tiles carefully decorated to create beautiful patterns.
Toiletries are included, but towels and extra sheets are available for a small extra fee. There are also balconies in all rooms, and you can see the garden from here. 
The free breakfast is delicious and you can choose from eggs, breads, and pastries which you can pair with hot milk, coffee, orange juice, or tea.
The price range is a little high compared to local restaurants, but guests found it was well worth it when it comes to taste. 
You can also check their on-site restaurants, Essâadia and El Bahia, which serve authentic Moroccan dishes like tagines, pastillas and salads. 
There is also an on-site spa that offers different kinds of treatments with local ingredients like black clay, Ghassoul, and essential oils — plus all treatments end with a yummy cup of Moroccan mint tea! 
Riad Fes Authentic Palace & Spa
Riad Fes Authentic Palace & Spa offers 13 guest rooms with the usual riad layout.
Aside from being close to the Blue Gate, it is nearby to a car-accessible road which makes it really convenient compared to many of the other best riads in Fes on this list.
Many of these riads would require you to walk 10-15 minutes before you can reach it, which can be a hassle. This will also make it easy for tour shuttles to find you!
This riad is practically made for Instagrammers, with countless beautiful spots in the riad to snap photos.
Personally, it's hard to pick the best spot to take photos here, but the roof terrace, the pool area, and the courtyard are all contenders!
Most of the rooms have a balcony with a view of the pool or nearby mountains.
They are also fully equipped with all the things you need like a fridge, coffee machine, and A/C that also has heating capabilities in case you're visiting in winter (yes, Morocco can actually get quite chilly in winter!).
The furniture — such as beds, tables, and chairs — are done in the typical Moroccan style with beautiful carvings. The mattress and pillows are covered with embroidered bed covers with a local flair.
If you are planning to book two rooms, you can ask for interconnecting rooms — great for families and groups of friends.
The private bathroom has rain-style showerheads and colorful tiles – and some even have tubs, a great way to relax after a long day of sightseeing. You will also be provided toiletries at no extra cost.
Closet spaces and cabinets are also available, so you can also store your personal toiletries if in case you brought some.
The riad is quite family friendly. Parents can leave their kids with a sitter and safety gates for infants are available upon request. The TVs also have children's networks they can watch, plus there are some toys and books they can read.
The spa services are next level, as to be expected from a riad with spa in the name!
There are full beauty services, such as manicures and pedicures, hair styling and treatments, waxing, as well as other wellness services like massage, body scrubs and wraps, facials, etc.
There's also a hammam for Moroccan style bathing — a must-do for any spa enthusiast!
What guests loved the most is the hospitality of the staff. They will even escort you the moment you arrive at the riad.
You are definitely treated like royalty in this palace-like accommodation!
Riad Kettani
This French-owned pet-friendly riad will surprise you once you enter and see the spectacular architecture and style.
The typical horseshoe-shaped arches and mosaic tiles are in pristine condition, and the riad is decorated with intricately carved furniture made out of wood and metal.
The mosaic tiles on the floors and walls do not make use of bold colors – most are dark blue and help in creating a more toned-down look perfect for people who prefer a calm and elegant atmosphere.
The best spot to take photos here would be the courtyard, the rooms, and the charming terrace on the rooftop. 
They have different room types to choose from (doubles and suites) and housekeeping performs daily maintenance.
Note that the double beds are just two single beds placed together, which can be annoying for couples, so keep that in mind.
There are no elevators on the property and the stairs can be a bit steep, so it may not be suitable for elderly guests or those with mobility needs.
Guests appreciated the 24-hour service desk which is on call to attend to their needs like booking activities and tours, exchanging currency, storing luggage, and reserving car rentals. 
The restaurant Nezha serves Moroccan dishes daily, and you can get a 3-course meal for Є18 (around $20 USD) — plus you will dine in the beautiful main hall. Special menus and something for kids is also available!
Best Luxury Riads in Fes ($150 USD+ Per Night)
Riad Alkantara
This riad tones down the patterns and prints by keeping it simple and elegant.
The rooms are all suites and laid out on the floors are gorgeous Moroccan rugs (it'll make it hard to leave without one!)
You will also notice traditional Moroccan details in the bedrooms, from the octagonal side tables to the canopy-framed beds to the ornately embroidered pillows and covers.
Private bathrooms are complete with lovely-smelling L'Occitane bath and body products.
The outdoor pool is surrounded by a garden with palm trees and ivy-covered walls, and it looks simply picture perfect.
There are also loungers where you can just lay back and feel the warmth of the sun. You can also listen to the birds as they sing a sweet melody for you — you truly won't feel like you're in the city at all in this oasis of a riad!
The shaded terrace is where you can find the lounge bar. There is also a restaurant with an international gastronomic selection, as well as the all-time Moroccan favorite dishes such as tagine.
If you want to buy some souvenirs, you can get them at their gift shop. You can see here some clothes and small hand-made precious items. It is also an exhibition area where they display Moroccan artistry!
Riad Palais Bahia Fes
Riad Palais Bahia has a beautiful courtyard without the usual bold colors, offering a more refined and elegant aesthetic.
A panoramic view of the houses, lighting up at the medina (amidst the mountain background) awaits you on their rooftop terrace during sunset – just like a postcard! 
The menu at their restaurant has delicious Moroccan, Spanish, and Italian dishes. You can also order wine to pair with your meals — not always an easy task in the often-dry Morocco!
The restaurant is open from 6:30 AM until 11 PM and serves breakfast, lunch, and dinner.
The poolside bar, aside from being very photogenic, is a nice place for some drinks and to cool off at the pool at the same time. 
There's never a dull moment in this riad because there is a library with a collection of nice books (you might just learn something new or, better yet, find a lovely trashy pool read to relax by the water with).
The service desk can also help you book tickets, guides, and day tours. Pets are also allowed, though there might be extra fees charged.
It is also very convenient for travelers because an on-site currency exchange center is available so you won't have to go out of the alleyways in search of an ATM!
You can also dip in the pool or optionally unwind in the steam room or get a deep tissue massage for the ultimate in relaxation!
Palais d'Hotes Suites & Spa Fes
This riad was once a small palace that was restored in 1944 and transformed into a guest house that accepts guests from all over the world!
The rooms have different styles, and the double rooms make use of French country furniture — an unexpected twist with the exterior Moroccan decor.
The junior and deluxe suite options both have a patio or a terrace with a view of the pool or the city. 
The grandest of all rooms is the premier suite, and it does look like a sultan's room! It has huge windows that have heavy decorated curtains that drape down to the floor.
Luxurious Moroccan carpets cover the floor, and you'll also find design elements like a comfortable sofa and candelabra that make you feel even more elegant.
All of the rooms feature a bathtub (rare in a Fes riad!) in their private bathrooms. 
The only thing that guests found a bit off about the location of the property is that there is a long alleyway that you need to walk through before you reach it.
This is quite common in Fes; however, it can be a bit of a hassle if you want to book a taxi, but a brief walk is not always a bad thing!
Luxury Hotels in Fes ($150+ USD Per Night)
Hotel Sahrai
Hotel Sahrai is not a riad, but it's still a great place for where to stay in Fes. This is an extremely luxurious 5-star hotel that has modern features executed in a very Moroccan manner.
It doesn't have a traditional courtyard, but it has a similarly styled lounge area that has really high decorated ceilings and beautiful origami-like lamps which exude an opaque romantic glow at night. 
The modern soundproof rooms and suites have a little touch of Andalusian artistry. The walls are either adorned with a Beni Ourain rug or exposed brick, and it helps complete a more sophisticated look.
The private bathroom has glass walls, but there are curtains too in case you want a bit more privacy.
For ultra luxury, opt for the Sahrai Suite. It has a terrace which has a huge glass door that you can open to allow fresh air. There's also a sun lounger and a table with some chairs where you can have an al fresco breakfast. 
Speaking of breakfast, it is optional and you can get it for $21 USD. This is quite pricy for Morocco, but it may be worth it if you don't want to venture outside the hotel bright and early in search of breakfast.
Guests loved the relaxing vibe of the Relais de Paris Restaurant, which serves a Parisian brasserie menu. If you are up for some local dishes, then you have to try Amaraz Restaurant.
There are two bars; for a party you and your friends can't forget, there's the Jungle Bar, but if you want something more laid-back, then Arcades Bar is for you.
The 24-hour service desk and concierge can help you rent cars and other activities. Free parking is also available in the hotel.
The Givenchy Spa is everything you want a luxurious spa could have! It offers treatments and services all using the designer label products to complete that 5* experience.
Palais Ommeyad Suites & Spa
Palais Ommeyad Suits & Spa is a 5-star hotel that has a modern twist to make you feel like royalty.
This 18th-century building is located on the far edge of the medina and offers 32 rooms complete with hot tubs. Yes, hot tubs!
There's still a lot of Moroccan vibes and spots where you can get really nice photos here. A lot of windows have stained glass cathedral-like glow when the lights hit them – no filter necessary!
The hypoallergenic rooms are spacious, luxurious, and elegantly furnished. The rooms feature long beds with the Palais Ommeyad signature engraved on its headboard. The bedding is comfortable, and you can really tell you get what you pay for.
The chandeliers are of different styles and lighting is a little dim but romantic. They used Moroccan mosaic tiles on the walls to create a unique aesthetic.
There are also dual sink basins aside from the Jacuzzi in the private bathroom. It does feel great to soak after a long tiring day!
Breakfast is served from 6 AM until 11 AM, and there is a wide variety of food in the buffet.
There's also a restaurant inside that serves international dishes, and they have special menus for kids and for those who need to meet dietary requirements. 
If you're not going around the nearby attractions and have nothing left to do, you can optionally check the offers of the wonderful in-house spa!
They offer anti-stress and energizing massages and rejuvenating treatments. There's also a hammam and heated pool where you can soak all your worries away!
Allison Green is a former educator turned travel blogger. She holds a Masters in Teaching and a B.A. in English and Creative Writing. Her blog posts merge her educational background and her experience traveling to 70+ countries to encourage responsible, enriching travel. She has been a speaker at the World Travel Writers Conference and her writing, photography, and podcasting work has appeared in National Geographic, CNN Arabic, CBC Canada, and Forbes, amongst others. Now a full-time traveler, she has lived in Prague, Sofia, New York City, and the San Francisco Bay Area.