Stunning architecture, world-class food, vibrant cultural neighborhoods, and beloved sports teams, all set on the beautiful shore of a stunning lake.
Sounds enticing? Well then, you need to start planning a weekend in Chicago as your next getaway!
Chicago is America's third-largest city, and the Time Out Index has ranked Chicago as #12 of their Top 15 Best Cities — all the more reason to plan a trip to the Windy City.
If you're not sure what to put on your Chicago itinerary, don't fret — we've tapped a Chicago local, Riley Wharton, to give her input on the perfect 2 day Chicago itinerary.
Here are her tips for the perfect weekend in Chicago!
Where to Stay for a Weekend in Chicago: River North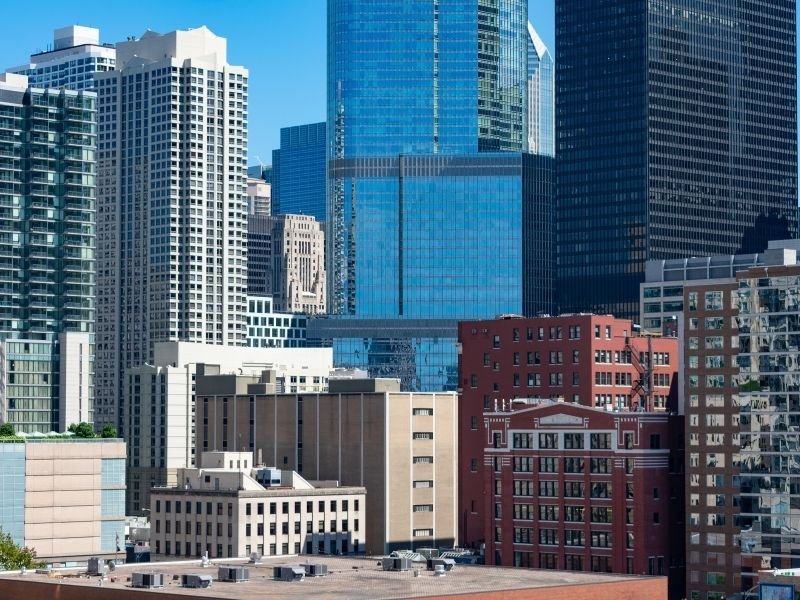 Note: This post contains affiliate links, which means I may receive a small commission if you purchase something through one of these links. Thank you for supporting the free content on this site! For more information on affiliate links and cookies, see my disclosure page for more details.
In order to be in the heart of the city and have easy access to everything the city can offer, you should stay downtown in River North.
River North gets its name for a simple and easy-to-remember reason: because it is on the north side of the Chicago River.
River North has some of the city's best restaurants, nightlife, and shopping. You will truly get to see what it is like to be a Chicagoan if you stay in this neighborhood!
There are hotels on nearly every block of the neighborhood; the neighborhood hotels can accommodate all budgets!
If you would like to be close to the river and the riverwalk, you should consider staying at the Westin Chicago River North, the Kinzie Hotel, or Residence Inn/Springhill Suites by Marriott.
Day 1 of Your Chicago Itinerary
Stop for a quick and casual breakfast.
You just arrived in Chicago, and you dropped off your belongings at your accommodation. To get you on your merry way, you should grab a quick breakfast today.
Foxtrot has become a Chicago staple. Foxtrot is an elevated convenience store concept that embraces the idea of bougie on a budget!
You can order coffee, tea, hand-crafted smoothies, avocado toast, breakfast tacos, or breakfast sandwiches for either in-person dining or carry out.
If you are staying in River North close to the river, Fox Trot – Hubbard at Wells & Hubbard is the best location for you!
If you are looking for something sweeter, Chicago has become a doughnut lover's paradise!
Firecakes and Doughnut Vault are two of the most popular doughnut shops in the city. Since they are both small batch shops, when they are out, they are out for the day!
The downtown Firecakes location is in River North at Clark & Hubbard. It's a small batch doughnut shop with great variety. You can even get vegan or gluten-free doughnuts!
Doughnut Vault is also a small batch shop. They have two special flavors per day that rotate, and they always have buttermilk old fashioneds and glazed.
Watch the views sweep by on a boat tour.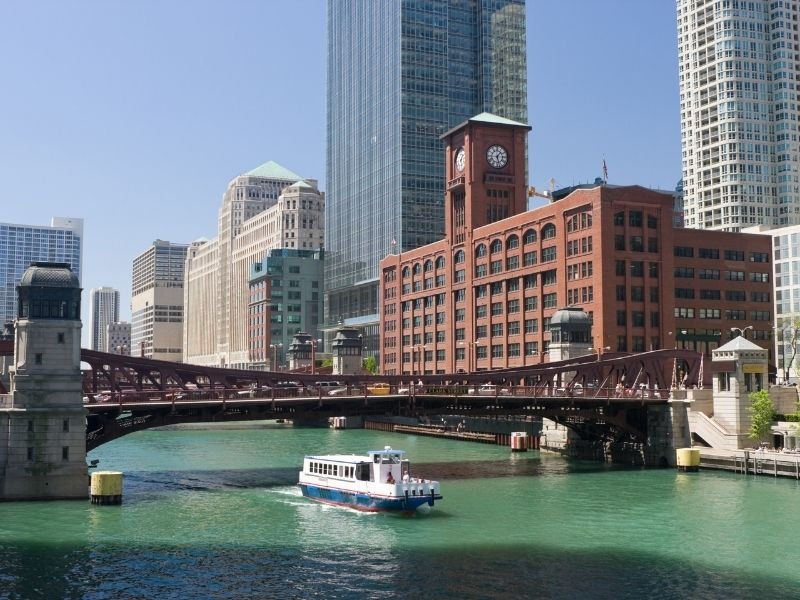 After your quick and casual breakfast, it's time to truly experience downtown. The best ways to see the city are from the sky and from the water!
First, let's go by water the classic Chicago way: on a Chicago architecture boat tour!
On this quick boat tour, you will see some of the city's tallest and most beautiful and iconic buildings, including the Willis Tower (formerly Sears Tower), from the Chicago River Architecture Boat Tour.
This particular tour is only 45 minutes long, so you have plenty of time to explore the city more on your own!
Check out the views from above on the Sky Deck at 360 Chicago.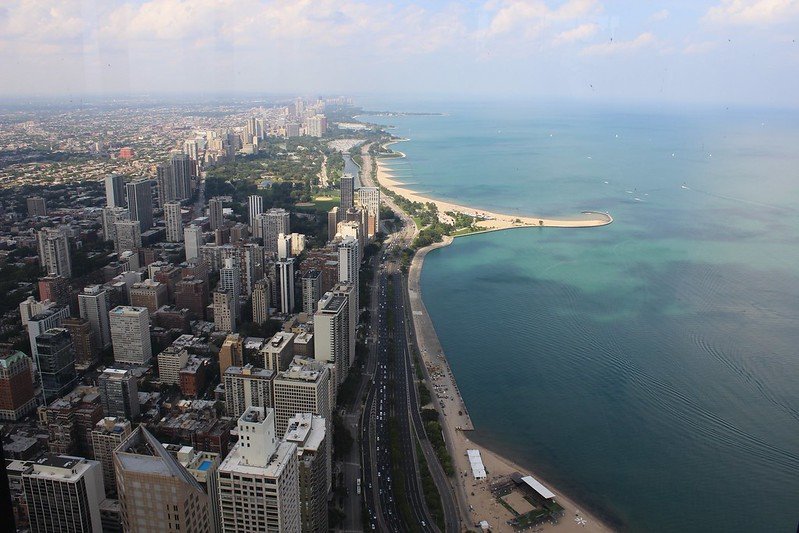 After your Wendella Boat Tour, you will make your way north of the river to head towards 360 Chicago.
Located on the 94th floor of the John Hancock Building, now called 360 Chicago, this is one of the best places to get a great view in Chicago!

The easiest way to get to 360 Chicago is to take the L. From the boat tour dock, you will walk south across the river to get to the L station at State & Lake.
You can buy a one-day CTA/Ventra card at the station for $5, then hop on the Pink Line towards Washington/Wells. You will ride to the second to last stop, Quincy, then walk one block west.
Both of these attractions are extremely popular. You must order your ticket in advance! Ticket options are included in the links above and below!
Don't miss out! Book your tickets to 360 Chicago in advance!
Enjoy some classic Chicago eats for lunch.
After your visit to 360 Chicago, we have some options for lunch! We'll head back down south of the river near the Willis Tower (take the L to Quincy), where there are lots of great lunch options.
Chicago is known for its deep dish pizza, so if you want to give it a try, there's no better time than this weekend in Chicago to do so!
If you're in the mood for pizza, you can't miss Giordano's Downtown/Central Loop at Jackson & Franklin. They are known for their stuffed deep dish pizzas!
They have $10 lunch combo specials, or you can order a whole pizza to split among your group.
If you are not exactly sure what you want to eat for lunch, Revival Food Hall is a large food court with 15 Chicago-based food vendors.
It is a half-mile east (8-minute walk) from the Willis Tower area, and it is located at Clark & Adams.
Aloha Poke Co. poke bowls, Fat Shallot sandwiches, and Smoque BBQ meats are just a few of the many Chicago-based options you can choose from!
Explore Millenium Park.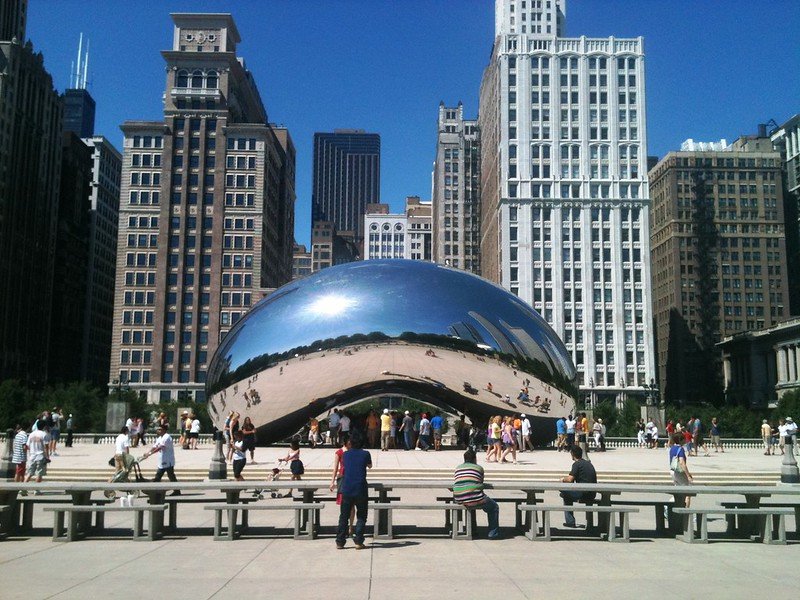 Your next stop is Millenium Park!
From lunch, you can either walk or take the L. If you take the L, you should get off at Washington/State or Washington/Wabash.
Millennium Park and Maggie Daley Park are connected. Both parks have gardens and greenery, and they are iconic to Chicago's Loop neighborhood!
Millennium Park is known for "The Bean", or Cloudgate as it is more formally called — one of the defining images of any trip to Chicago!
It is also known for the Jay Pritzker Pavilion and Lawn, which hosts events during the summer.
If you are here during the summer, you should see if Music or Movies in the Park is taking place. You can bring your own food and drinks and relax on the lawn with fellow Chicagoans
Check out the adjoining Maggie Daley Park.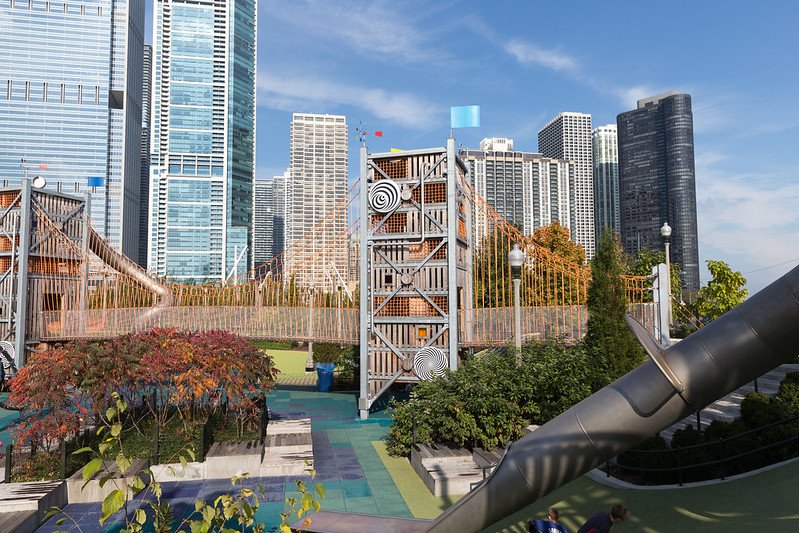 Maggie Daley Park has attractions for the action seeker. During the summer, you can rollerblade on the skate ribbon, climb a rock wall, and play mini-golf.
You must pay to participate in all of these activities, and rental equipment and lockers are also available.
If you have any children under the age of 12 in your group, they will absolutely love the Play Garden playground at Maggie Daley!
Explore the Navy Pier and Centennial Wheel.
After your time at the parks, it is time to go to Navy Pier — another favorite tourist attraction in Chicago!
It is about a 20-minute walk, so if your feet are tired, I would recommend hailing a cab or ordering an Uber so it is only a 5-minute drive
The main attraction at Navy Pier is the Centennial Wheel. At over 200 feet tall, it is one of the largest Ferris wheels in the world.
While you are on the Ferris wheel, you will have impeccable views of Lake Michigan, the entire pier, and the skyline. Order your ticket in advance since lines here can get crazy and tickets can even sell out for hours at a time!
Skip the lines and book your tickets to the Centennial Wheel online here!
If you want an afternoon snack, stop at Garrett's Popcorn for the Chicago-style mix.
Who would've thought that cheddar and caramel could go together? But they do — surprisingly well! It's unlike any other popcorn you have ever had.
To get back to your accommodation, you can hop on the CTA 29 bus from Navy Pier to 95th/Dan Ryan (Red). You can use your Ventra card that you bought earlier. This bus line will go directly into River North, and you should get off at State & Marina City.
Enjoy dinner and a show.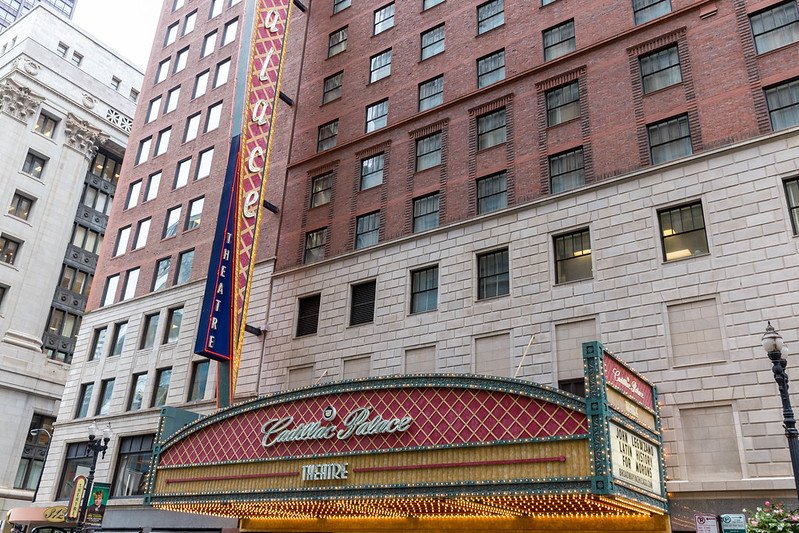 Chicago has a lively, vibrant theater scene. In order to secure a seat, it is best to buy tickets in advance.
If you love Broadway musicals, check out the Broadway In Chicago website to see if there are any shows in town during your visit.
All of the musicals are at classic venues, like the Cadillac Palace Theater and Nederlander Theater, and they allow you to take a step back in time to the Gilded Age.

The Chicago Theatre is one of the city's most popular concert and event venues. Comedians, musicians, and podcast hosts have all performed at the Chicago Theatre, and there are shows nearly every night of the week.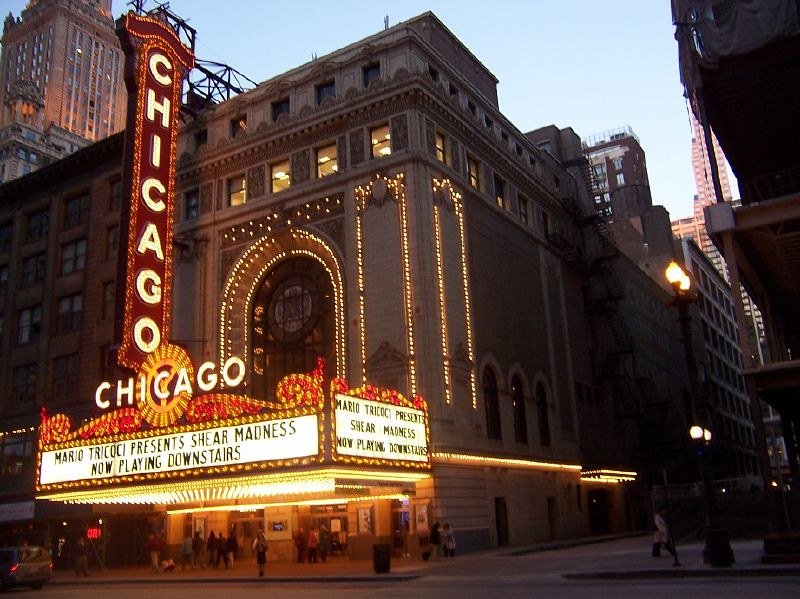 Outside of Broadway, Chicago has one of the best comedy scenes in the nation.
The most prestigious comedy venue is The Second City. Famous alumni include Steve Carell, Tina Fey, and Stephen Colbert. You might witness a future star of SNL perform!
If you are seeing a Broadway show or a show at the Chicago Theatre, you should consider making a dinner reservation along the river.
These restaurants are all within walking distance of your hotel and the theater. Seafood fans will enjoy RPM Seafood, and Chicago Cut is a premier steak house.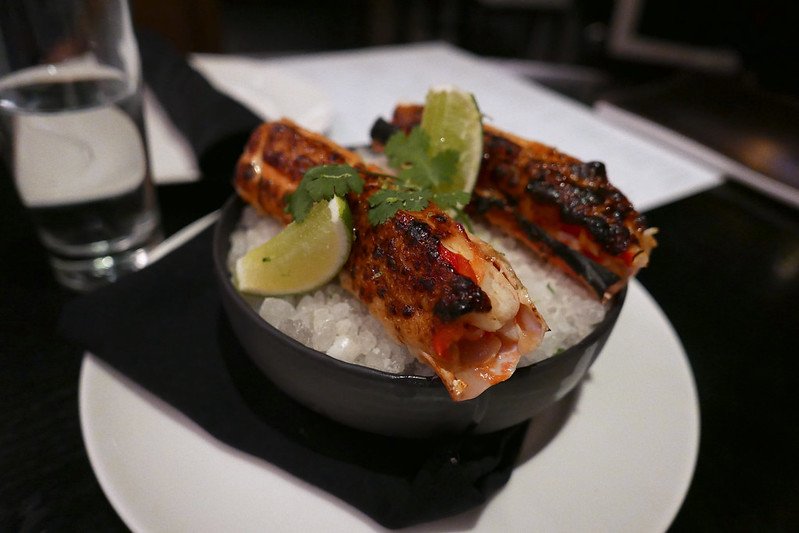 Closer to the Theater District, The Dearborn is known for upscale casual cuisine, including a tasty version of fish and chips.

If you are going to see a show at The Second City, you should have dinner in Old Town somewhere along Wells Street.
To get to Old Town, you can take an Uber, Lyft, taxi, or the CTA 156 bus. The 156 line towards Belmont/Halsted has stops at nearly every block of LaSalle Street in River North.
You will get off at LaSalle & Shiller, then make your way one block west to Wells Street. To get home later at night after the show, I would recommend an Uber, Lyft, or taxi.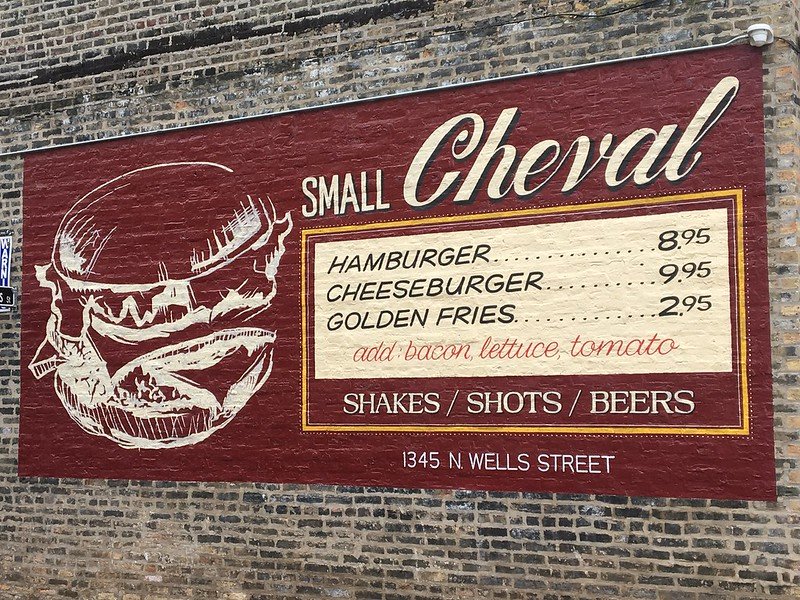 Small Cheval is inspired by its big brother in the West Loop that has the best burger in the city, Au Cheval.
Small Cheval is a casual burger joint – they only serve burgers and fries! It is carry-out or patio dining only; note that they do not take reservations.
Topo Gigio is a Tuscan-inspired Italian restaurant that has been a staple to Old Town for over 20 years, and I highly recommend making a reservation.
Day 2 of Your Chicago Itinerary
Start the day with a classic Chicago breakfast.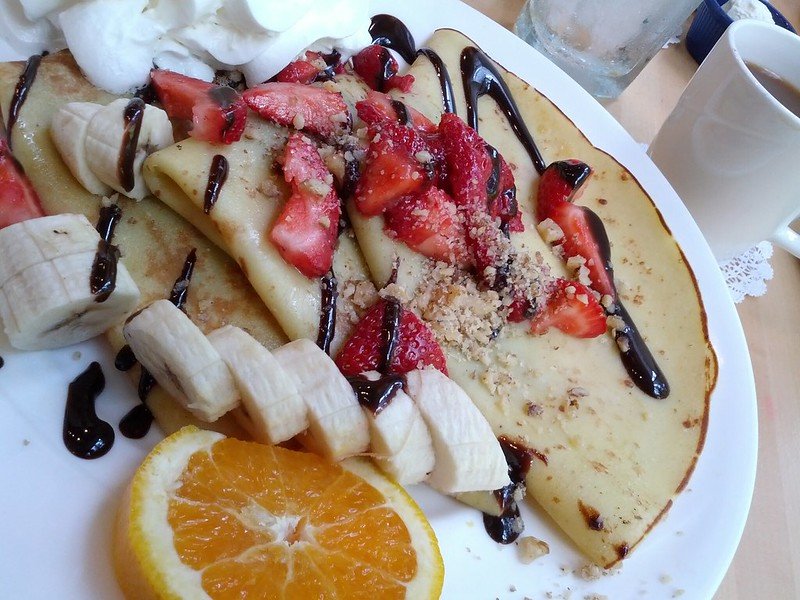 Beatrix at Clark & Grand and Yolk in River North/Marina City at State & Kinzie are two delicious sit-down breakfast options.

Beatrix is part of the Lettuce Entertain You chain of restaurants. The food is incredible, and it is a great mix of casual dining in a more upscale setting.
I personally enjoy the Bacon & Cheddar Egg Sandwich and the Egg White Omelet. They have a gluten-free menu, and if you are not interested in sitting down for a sit-down meal, you can take advantage of the dessert and pastry counter or coffee bar.
Yolk is a more casual dining experience, but that doesn't make it any less delicious! It has been voted Best Breakfast in Chicago, and eggs are the star of the show.
I love to create my own omelet, skillets, or scrambler. If eggs are not your favorite, Yolk also has pancakes, French toast, and sandwiches.
Shop along the Magnificent Mile.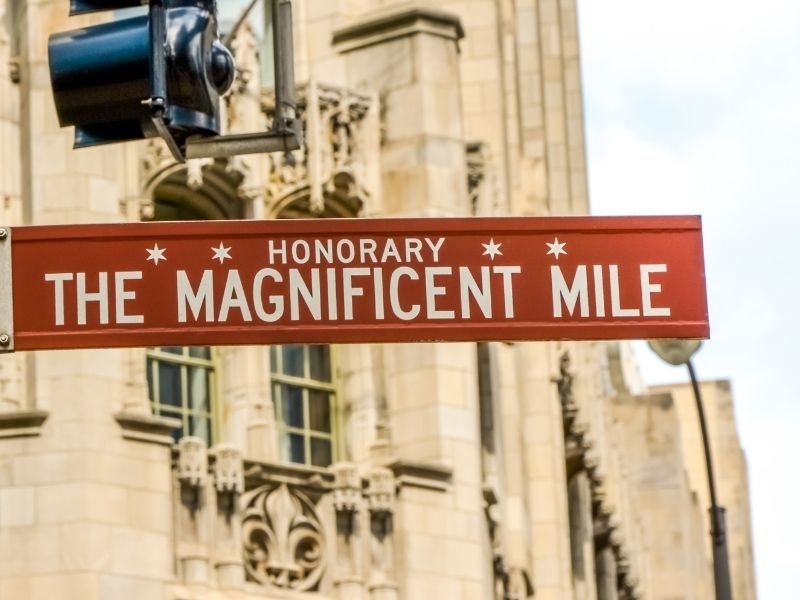 Today is your shopping day!
After breakfast, you will make your way east to Michigan Avenue to see The Magnificent Mile, Chicago's best-known shopping district..
Any kind of shopper on any budget is bound to find something they like. There are over 450 retailers in this shopping district!
Here are some of the big names: Macy's, Nordstrom, Bloomingdales, Burberry, Cartier, Nike, and Under Armour.
If you want a snack or a coffee break, the Starbucks Reserve Chicago Roastery is part of the Magnificent Mile.
Located at Michigan & Erie, this Starbucks Chicago Roastery is one of six international locations. You are not able to find their drinks and food at other Starbucks locations worldwide!

After your shopping spree, it is time to go back to your accommodation, drop off your bags, and change. You are going to Wrigleyville!
See a Cubs game.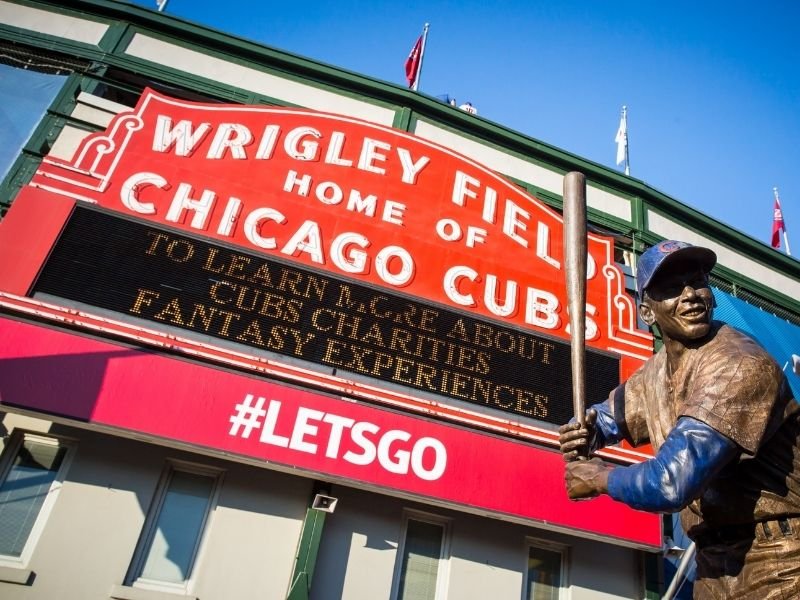 You can't come to Chicago and not go to a Cubs game! World Series Champs!
The easiest and most efficient way to get to the Cubs game is to take the L. You will take the Red Line towards Howard, and you will depart from the station at Grand & State.
It won't be hard to know when to get off the train – you will see the Wrigley Field sign!

There are plenty of restaurants/bars in Wrigleyville. You can walk into any establishment on Clark Street, and they will have food and drinks galore.
Some of my personal favorites are Old Crow and The Cubby Bear.
If you don't want to go to the game, there are always plenty of people dressed up in Cubs gear watching the game at the bars.

After the game ends, go back to the Addison station and hop on the Red Line towards 95th/Dan Ryan. You will get off at Grand, then go back to your accommodation to freshen up for dinner and a night on the town.
Have one final awesome dinner in Chicago.
The West Loop and Fulton Market are where Chicagoans dine to see and be seen. It is by far the trendiest food area in the city!
Chicago social media influencers, professional athletes, and other A-list celebrities are seen in this neighborhood regularly.
The three newest restaurants in the neighborhood are Lyra, Alla Vita, and Rose Mary. In order to get into any of these restaurants, you must make a reservation.
Lyra is a Greek restaurant in Fulton Market with an open-kitchen concept. Because of its great popularity and high demand, Lyra is only accepting reservations 30 days in advance.
Rose Mary is Top Chef winner's Joe Flamm's restaurant. It is down the street from Lyra, and it serves Croatian cuisine. The menu consists of vegetables, fish, meat, pasta, and risotto.
Alla Vita is in the West Loop, and it is known for family-style Italian cuisine. The homemade pastas and insanely beautiful decor are drawing people in and making it one of the hottest spots in the city.
Go bar hopping on Hubbard Street.
After dinner, you will head back towards your accommodation in River North to go bar hopping on Hubbard Street.
Hubbard Street is lined with bars and clubs. Some of my favorite bars are Point & Feather, Joy District, and Bub City.
Point & Feather is a modern darts bar, Joy District is a multi-level concept with an outdoor patio, and Bub City is a country bar with live music.

If you and your friends want more of a bottle service or club experience, you should go to Celeste. The most unique element of this club is the outdoor rooftop garden.
At the end of the night, you should be walking distance from your accommodation. If you do not want to walk, Ubers, Lyfts, and taxis are abundant.