When my friend Megan and I began to plan our Faroe Islands itinerary, we knew we wanted to do things a bit differently. It was my first trip to the Faroes and Megan's second, so of course, I wanted to see some of the islands' most famous sights: the Gásaladur waterfall, the optical illusion of Lake Sørvágsvatn, the Kalsoy lighthouse, and a few others. But we also purposely decided to skip some of the Faroes' most famous (and therefore most negatively impacted) sights – namely, Saksun and Mykines – in lieu of getting a bit off the beaten path and encouraging future travelers to the Faroes to spread out a bit for sustainability's sake.
Unfortunately, the nature of people making their travel plans based on Instagram means that too often, people go to the same places over and over again. In a big city or a vast countryside, perhaps that wouldn't matter so much. But when it happens in a place like Saksun – a village of 14 inhabitants – you notice.
This is part of the reason why we decided to give ourselves an overnight in Suðuroy. While Suðoroy is the third largest of the Faroes' 18 islands, it is one of the least discovered by tourists. This is largely because people often skip Suðuroy due to its distance from the rest of the Faroes. From Tórshavn, it's a two-hour ferry, which is a small hurdle in and of itself as most other ferry rides in the Faroes take only 20 minutes or so.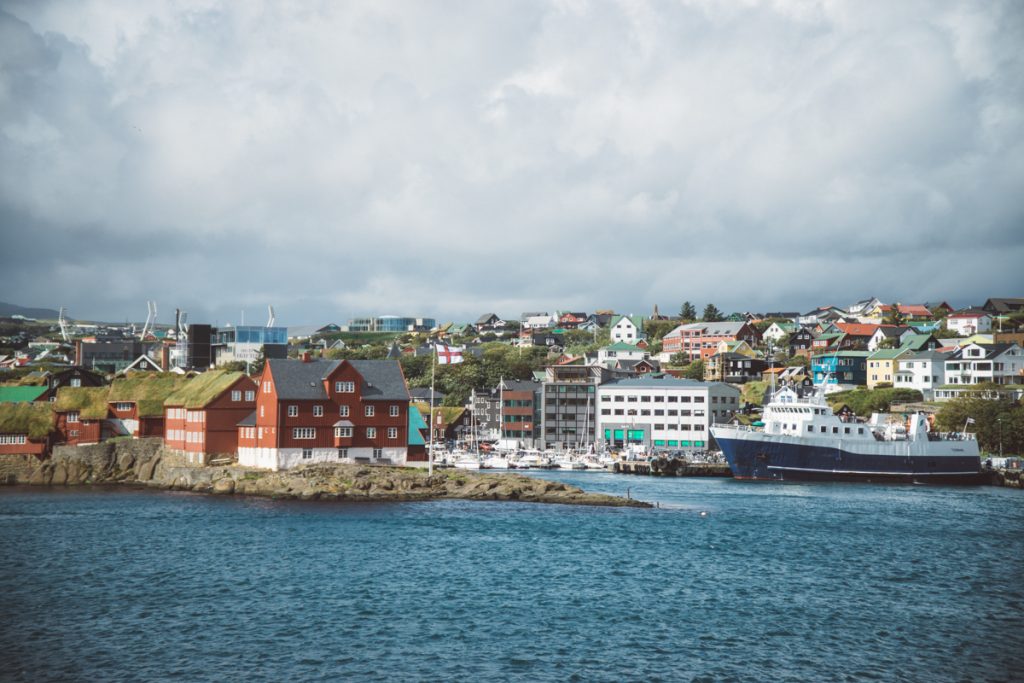 Note: This post contains affiliate links, which means I may receive a small commission if you purchase something through one of these links. Thank you for supporting the free content on this site! For more information on affiliate links and cookies, see my disclosure page for more details.
Another stumbling block to visiting Suðuroy is that since there are only two or three ferry departures daily, you definitely have to plan it in advance. Visiting Suðuroy not something you can tack on at the last minute, unlike many places in the Faroes which are connected by an impressive network of subsea tunnels.
However, those who do opt to discover Suðoroy will be pleasantly surprised to find a stunning island of sea cliffs and black sand beaches almost all to themselves. We spent one full day with an overnight in Suðuroy, and while we got a beautiful introduction to the island, it was definitely not enough time to see it properly. Suðuroy has several excellent hiking opportunities, so it would behoove you to spend at least two nights, perhaps three on this gem of an island, especially considering that you are at the whim of the ferry schedules.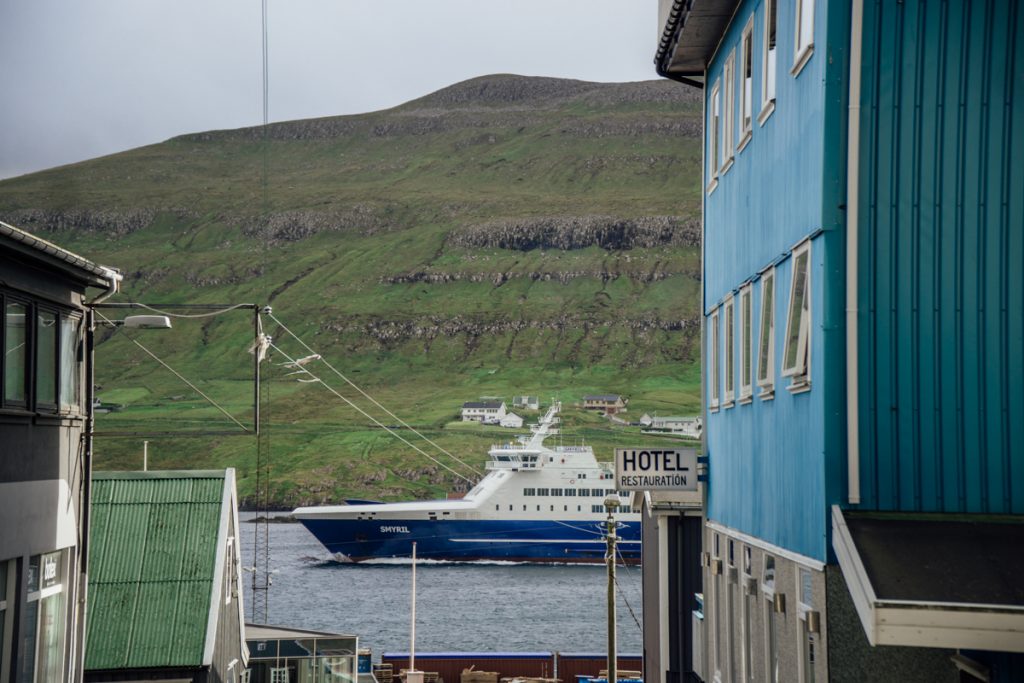 Where to Go in Suðuroy
With just one full day in Suðuroy, we opted not to tackle the island's best hikes, but rather to visit its villages to get a sense of the island as a whole. While we were happy we did it that way, we wished we gave ourselves more time to explore Suðuroy at leisure. It is the third-largest of the Faroe Islands and there are several great day hikes that make Suðuroy well-worth spending several days hiking and exploring. It's also a great place to visit during high season (June-August) as it is less popular than other places in the Faroe Islands, giving you an off-peak feel even in the highest tourism season.
While I definitely have to return to Suðuroy to explore it more deeply, here is a quick guide to a few of the most important villages and sights on beautiful Suðoroy, Faroe Islands.
Tvøroyri
When you arrive in Suðoroy by ferry, you will arrive across the bay from Tvøroyri, one of the larger towns on the island, with a popular of 844. Tvøroyri is located on the edge of one of the most beautiful fjords in the Faroe Islands, Trongisvágsfjørður.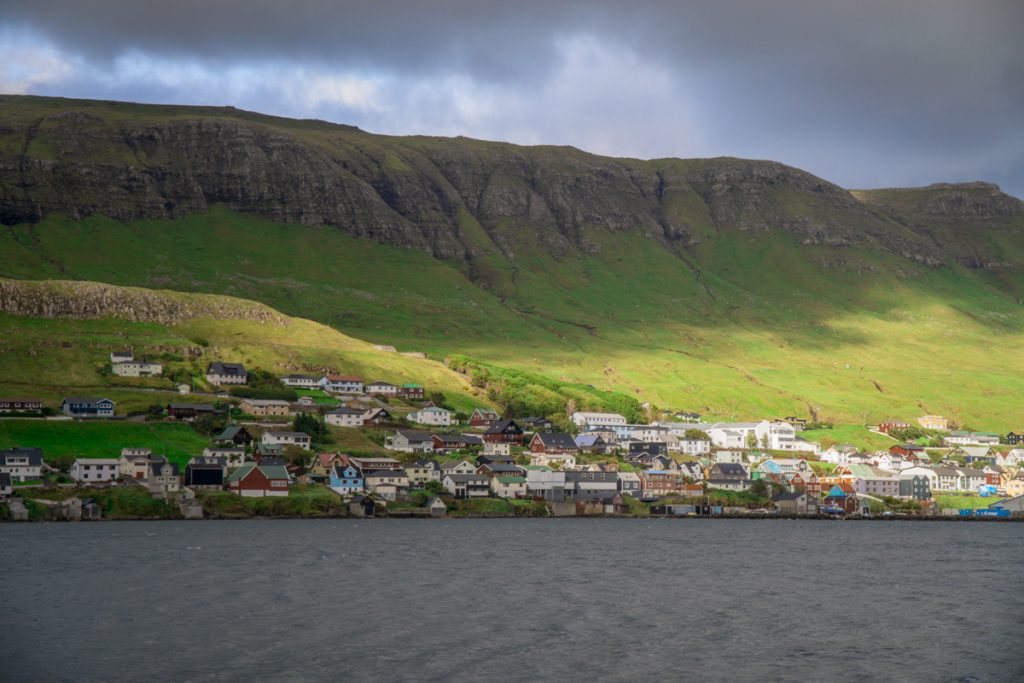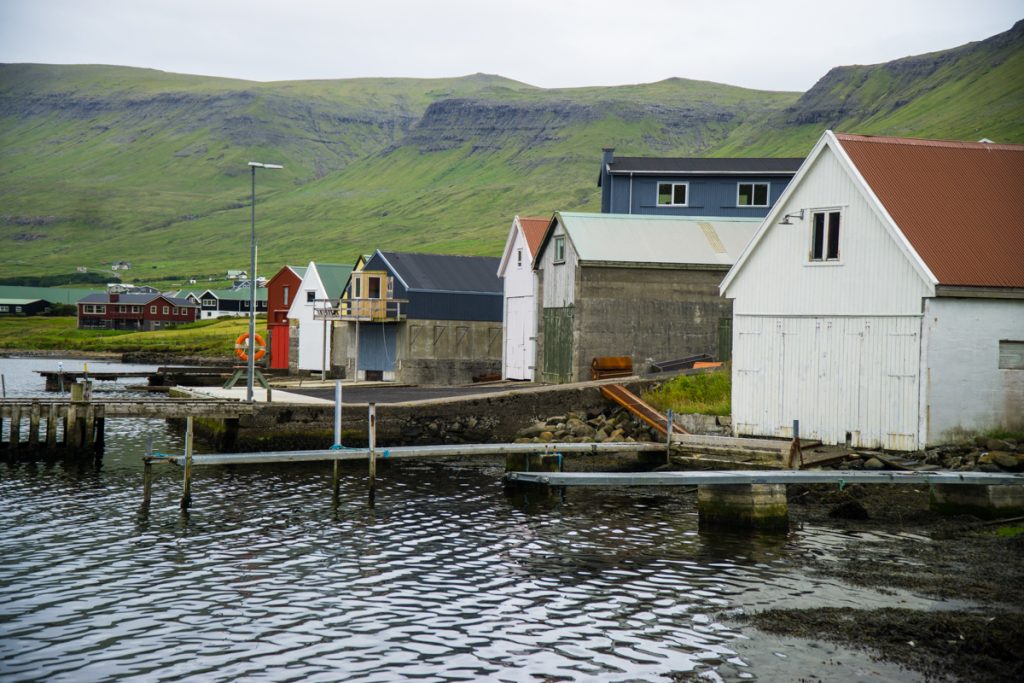 As a small village, Tvøroyri doesn't have a huge number of activities to offer, but you will likely pass through it due to it being so close the ferry terminal and it is well-worth a visit. The area around the harbor looking over onto the other side of the fjord is beautiful.
One of the most common reasons why people visit Tvøroyri is to complete the beautiful hike to Hvannhagi, with its interesting geological formations and stunning circular lake called Hvannavatn. We didn't have time to make the hike when we were in Suðoroy as we were prioritizing seeing the different villages, but it's supposed to be one of the most beautiful hikes in the Faroe Islands.
Another great thing to do in Tvøroyri is to enjoy a heimablídni, which literally means 'home hospitality' and refers to a meal eaten in a local's house. We enjoyed a meal with Elin and her family (and the world's cutest smiling dog, Bella) while in Tvøroyri.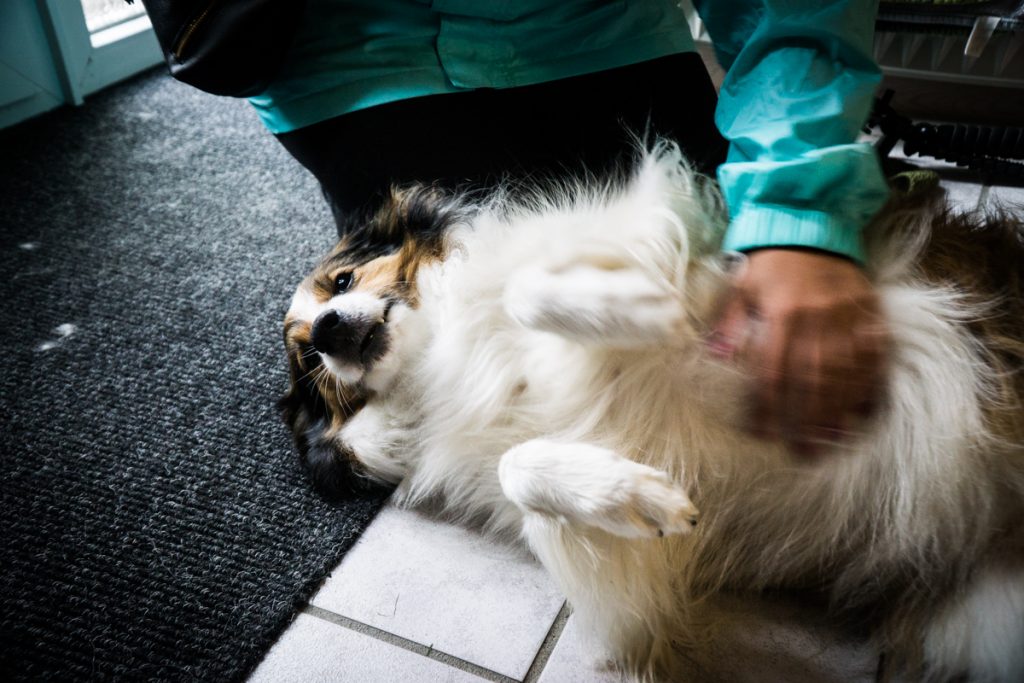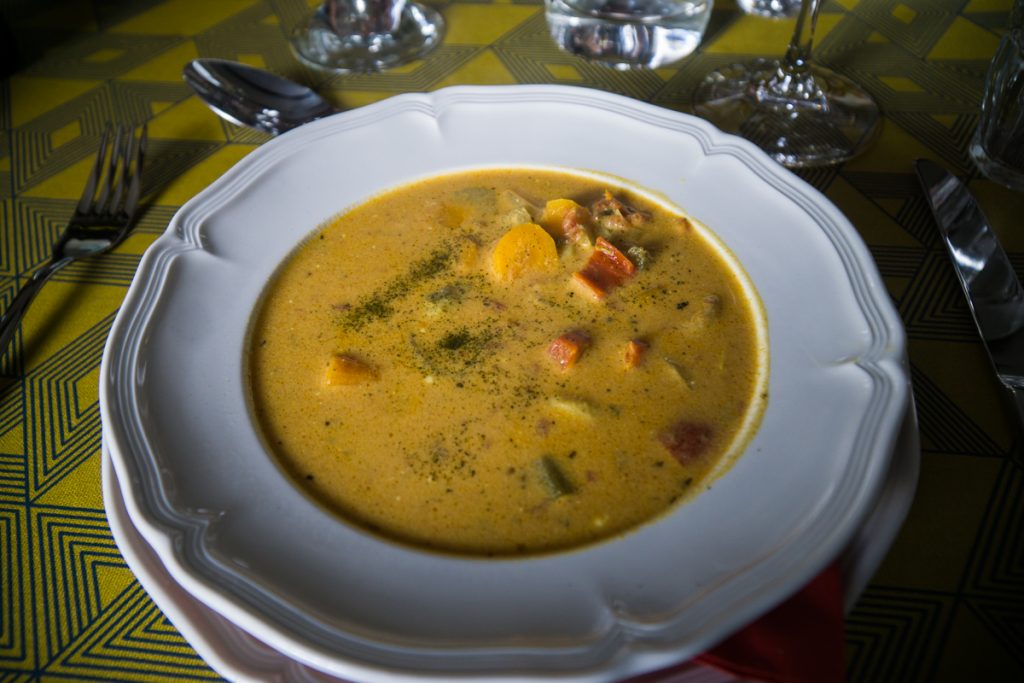 It was a great opportunity to actually get to know a few locals in the Faroes, something that is often a bit difficult to do in the Faroe Islands, as tourists tend to spend a lot of time in their cars driving from place to place or looking at the world from behind the camera. We got to speak to them about their thoughts on tourism in the Faroe Islands, sustainability, misconceptions about the Faroe Islands' whaling practices, and what it's like to live in one of the most isolated yet beautiful places in the world. To schedule a heimablídni dinner, you'll have to book in advance (find information here).
We stayed overnight in Tvøroyri, at a B&B run by a lovely woman named Bindi. We had the entire furnished bottom floor of the house, which had two bedrooms, a kitchen, a cozy living room, and a large bathroom. I can't speak highly enough about our B&B – especially with its stunning fjord views and a delicious breakfast. If you'd like to book, you can contact Visit Suðuroy or check out the B&B's Facebook page.
Froðba
Not far from Tvøroyri, Froðba is thought to be the oldest settlement on Suðuroy and in the Faroe Islands in general. To be honest, I didn't find it particularly interesting or charming compared to other parts of Suðuroy, but since it is so close to Tvøroyri it is not a bad idea to make a short detour.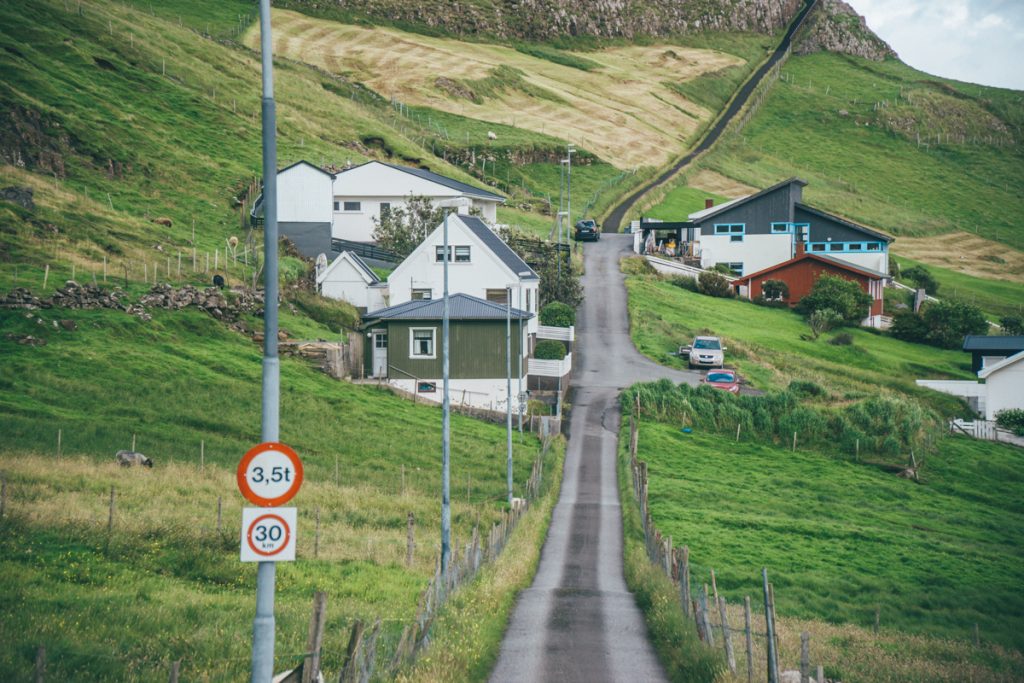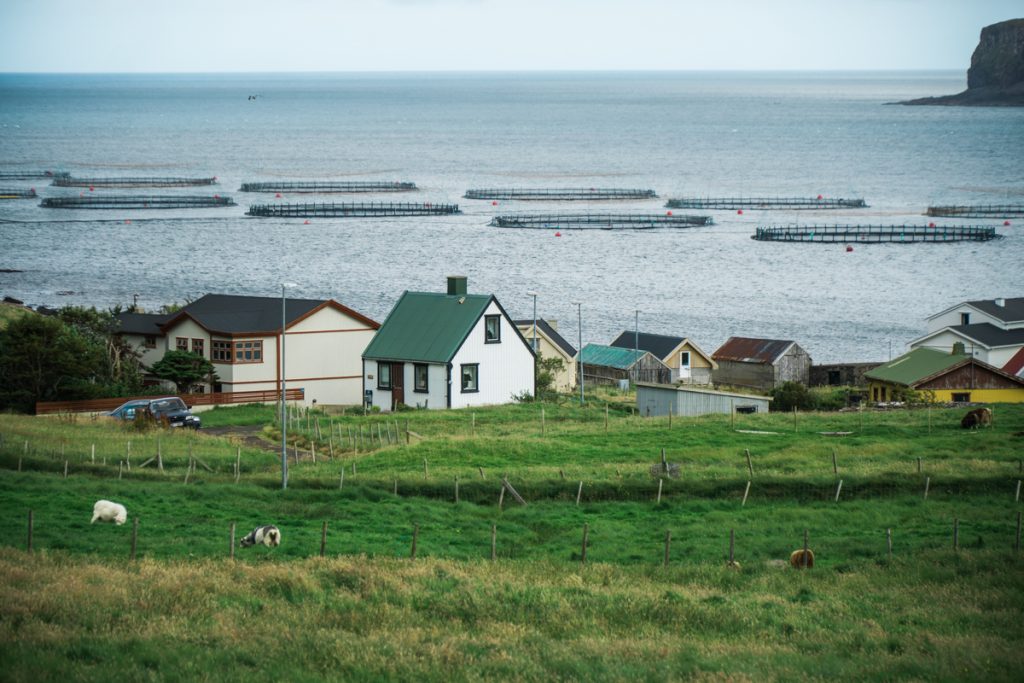 There are some interesting basalt columns on the road between Tvøroyri and Froðba, as well as a bench with what just may be one of the better views in the Faroes.
Hvalba
Hvalba is in the north of Suðuroy and is one of the largest villages on the island, with 626 inhabitants.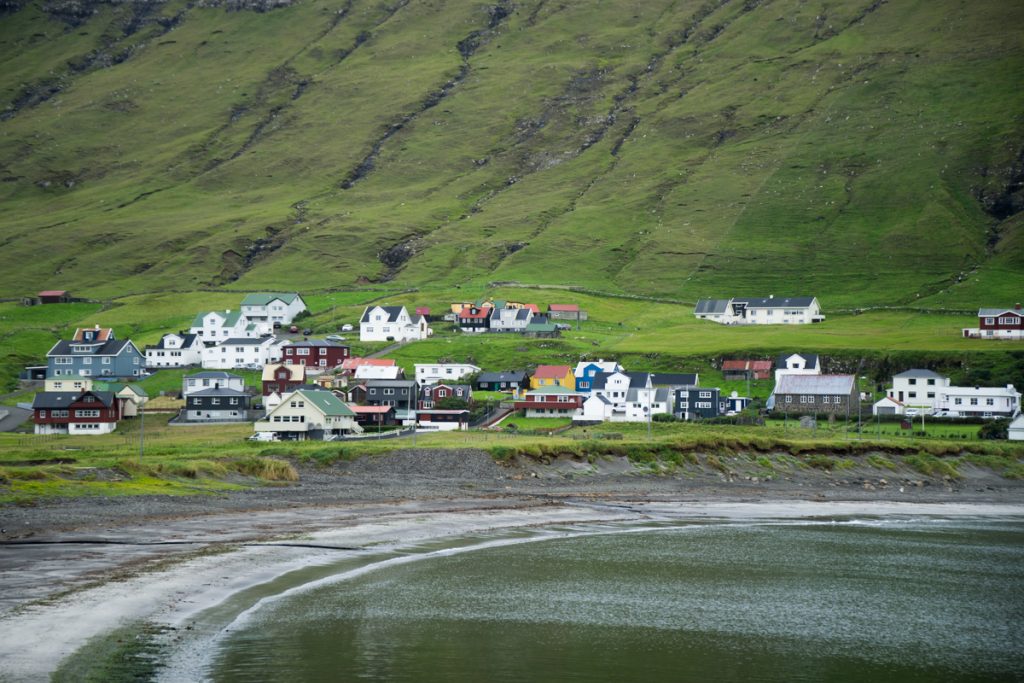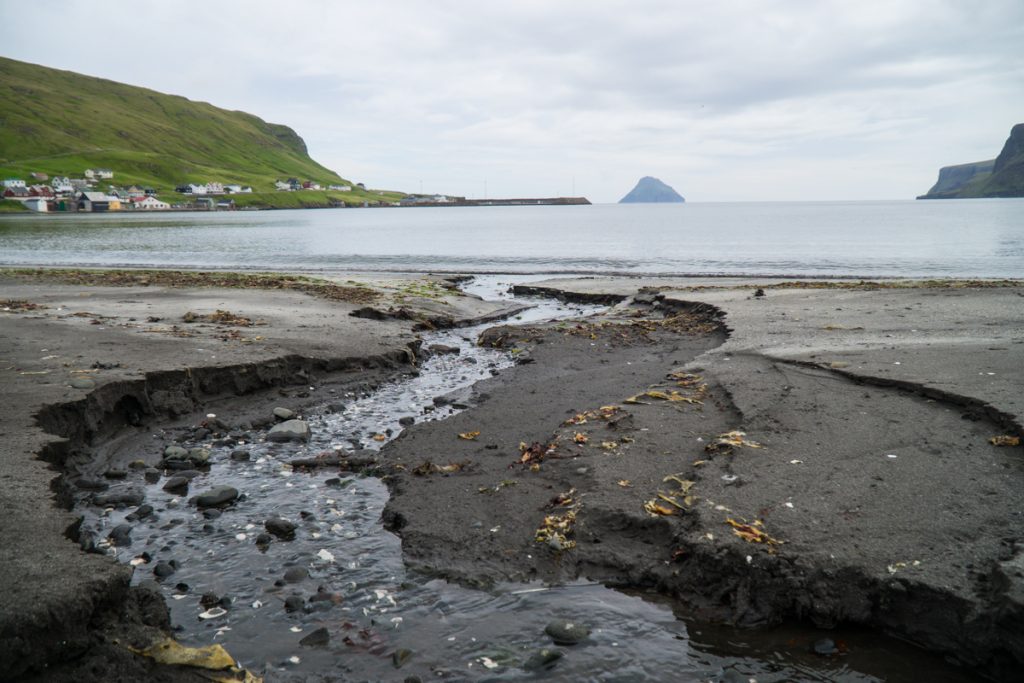 Hvalba was one of my favorite places we visited in Suðuroy, largely because of the gorgeous black sand beach with a view of the tiny uninhabited island of Lítla Dímun. The beach is in the middle of town and we really enjoyed taking a cold summer afternoon's walk along the edge. The old harbor area of Hvalba, called Fiskieiði, is very photogenic and worth visiting when in town.
We ended up doing a short hike in Hvalba, past quiet Lake Norðbergsvatn and onwards to the sea cliffs of Norðbergseiði, where the water is far rougher and the scene more dramatic than the calm bay in Hvalba. You can park by the public restrooms and enjoy a short walk – about 30 minutes in each direction – to get to Norðbergseiði.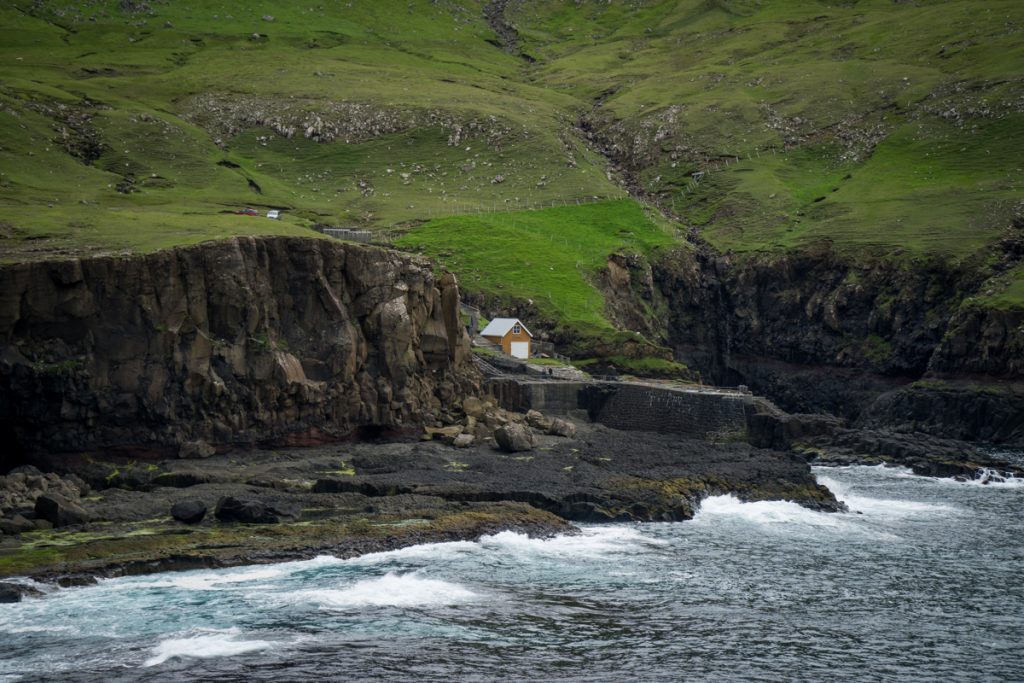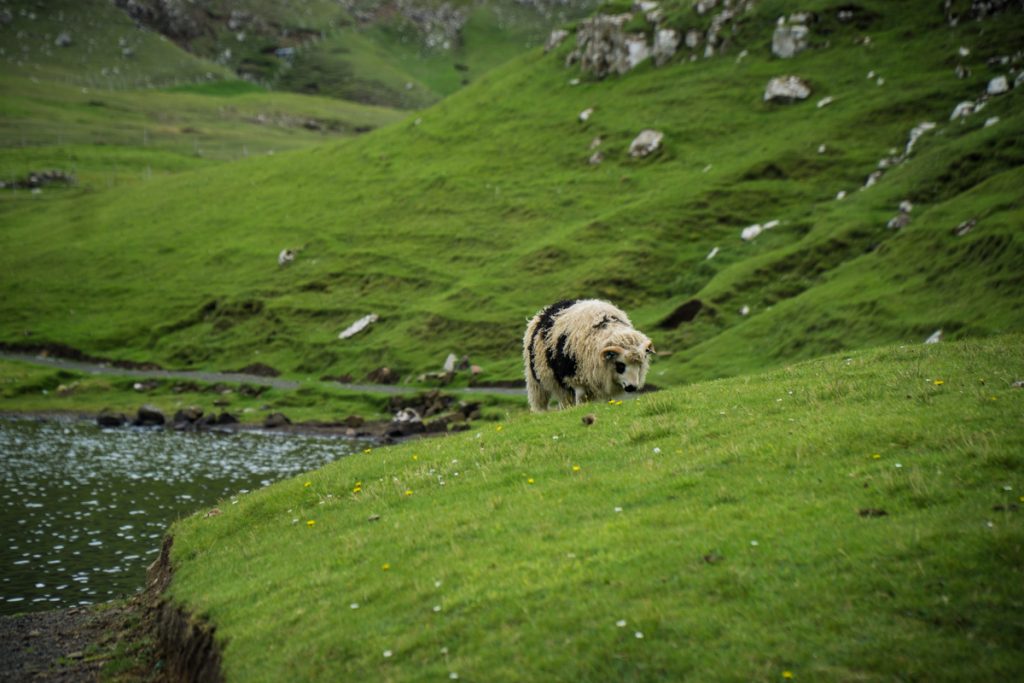 Back in the town of Hvalba, there are a few places to eat if you're hungry – Grillbarrin (a fast food place where you can buy things such as hot dogs and burgers), Ruth'sa Café (which also works as the tourist center), and Bakkhús, where you can stop for groceries or baked goods. We just packed some sandwiches so we didn't have a chance to try any of the places in Hvalba for lunch.
Sandvík
The northernmost town on the southernmost island, Sandvík is pretty quiet with only 161 residents, especially compared to the relatively "bustling" Hvalba and Tvøroyri. There is a lovely beach area between the town of Sandvík and the tunnel that connects it to Hvalba. There is also a small harbor area. There aren't any shops or restaurants in the town, to my knowledge.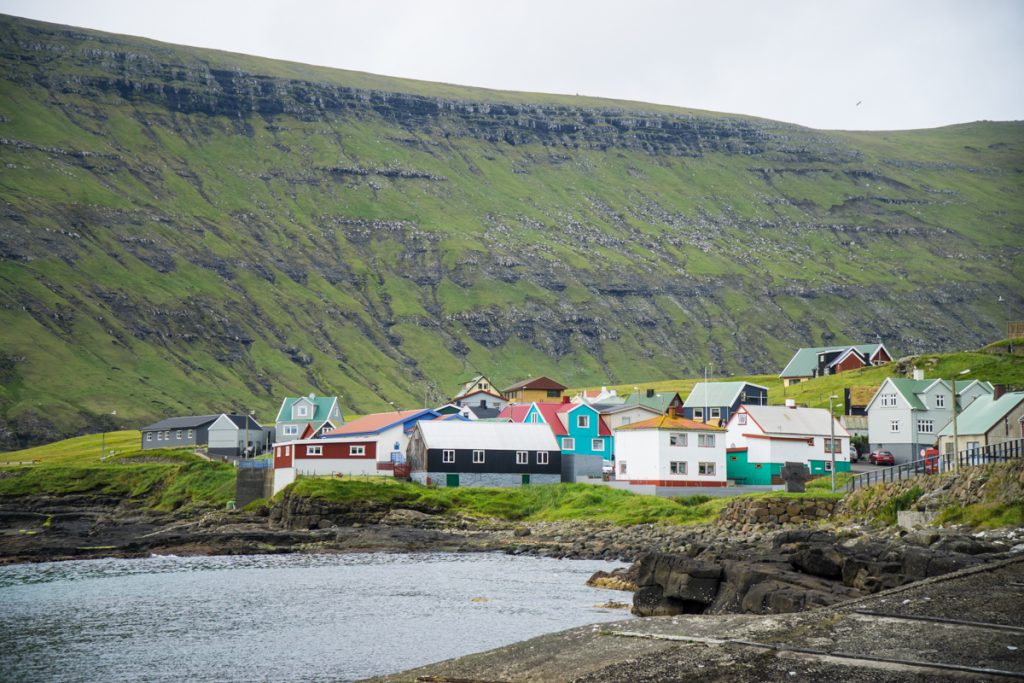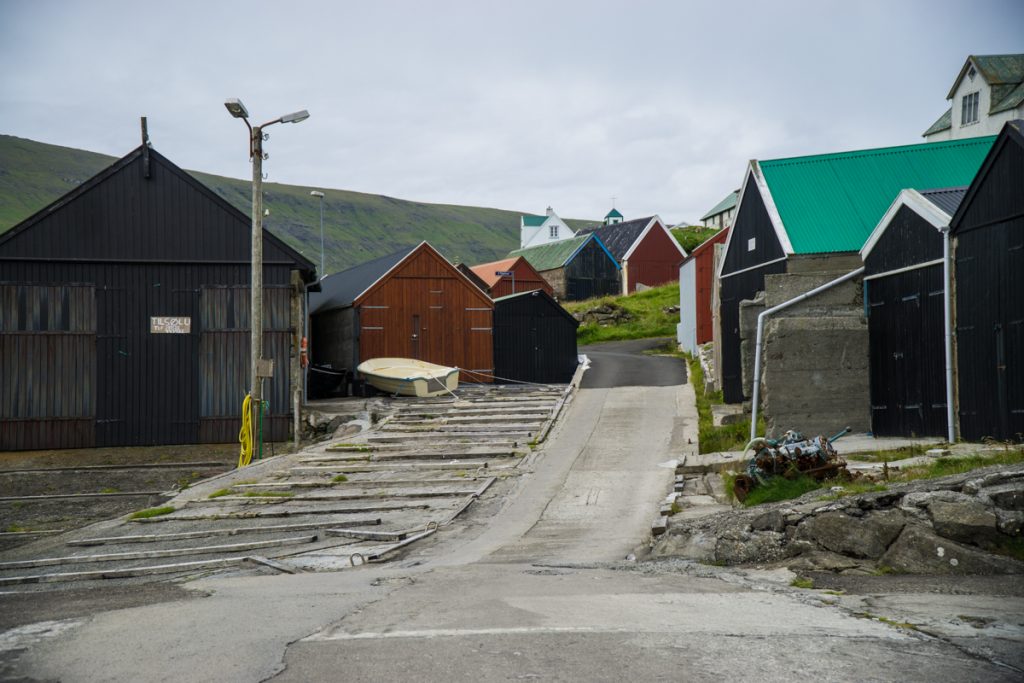 If you have time to explore the area, the sea stacks in the area of Asmundarstakkur offer great views and birdwatching opportunities. Alas, with only one day in Suðuroy, we had limited time.
Vágur
By far the largest town in Suðuroy with a population of 1,356, Vágur is well worth a stop during your time in Suðuroy. It's home to a beautiful church and some amazing sea cliffs just outside the city. Near the football field, you'll find signs for Vágseiði, which you can follow for amazing views of Vágsvatn Lake and the Eggjarner cliffs, one of the most scenic places in Suðuroy.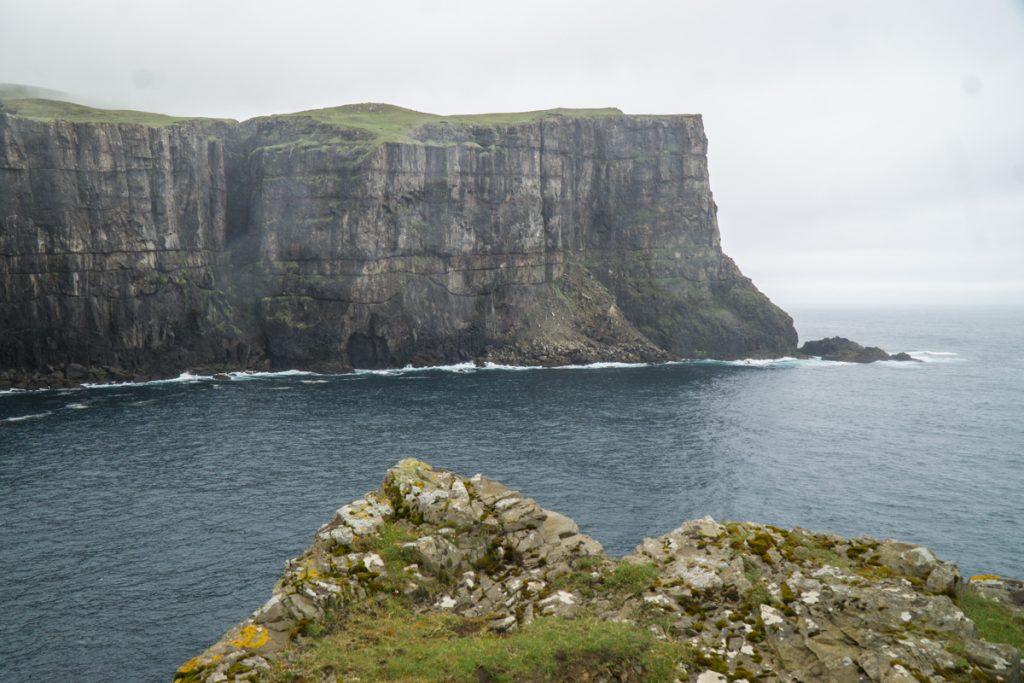 Vágur has a few restaurant options. There's a restaurant called Báran, a cute café called Hjá Jugga, a fast food restaurant called Skýlið, and finally Pizzakøkurin, a pizza restaurant. The restaurants are all along the main road that goes through Vágur, Vágsvegur, so they are hard to miss. You'll also find a small maritime museum on this street.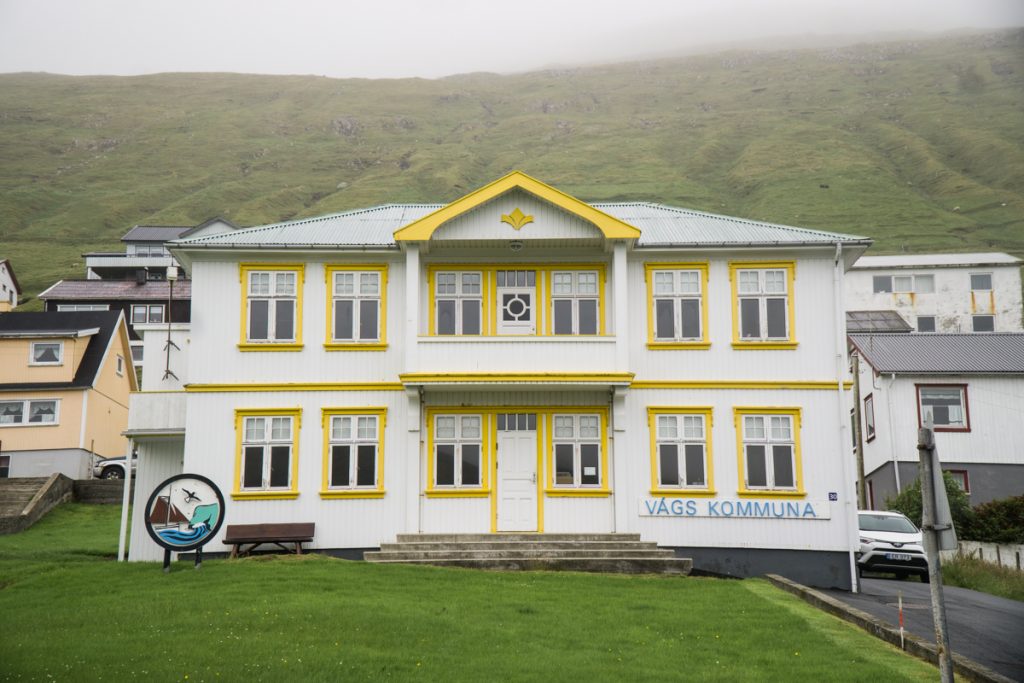 Sumba
After crossing through the longest land tunnel in the Faroe Islands, you will reach Sumba, the southernmost town on the southernmost island in the Faroes (look at all those superlatives!).
Sumba is a cute town and well worth a visit. Just beyond Sumba, you can find Akraberg Lighthouse, which is the actual southernmost point in the Faroe Islands. This isn't in Sumba per se, but in Akraberg about 5 kilometers outside of the town. We got a little lost looking for it as there wasn't any clear signage – but clearly, we weren't mad about it because we got some awesome panoramic views of the town.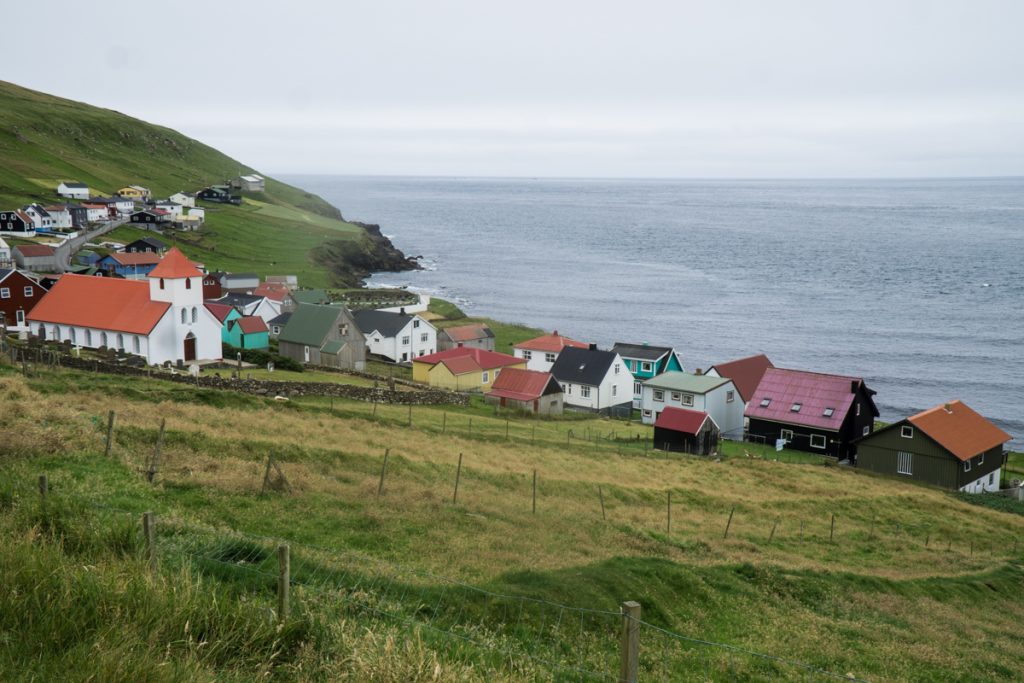 Be very careful on the drive to Akraberg as the road is very narrow with ditches on either edge, and there are more cars making the drive than you'd expect. There are designated places to pull over to allow cars to pass, so it is definitely doable, but be cautious.
Getting to Suðuroy
Suðuroy is well-served by ferry, which has room for 200 cars and nearly 1,000 people on board. Unlike the ferry to, say, Kalsoy, you won't have any issues getting a spot on board the ferry to Suðuroy so there is no need to show up that early. However, if you are in Tórshavn and planning on taking the ferry to Suðuroy later in the day, you may find it helpful to park your car in the waiting area for the ferry, as parking in Tórshavn can be a bit difficult to find.
As with all ferries in the Faroe Islands, you pay the return price on only one of the legs of the journey. On the trip to Suðuroy, you do not have to pay, but on your way back to Tórshavn you will have to pay. You can buy your ticket on board the ferry at a kiosk on Deck 5 on your way back to Tórshavn – don't forget to hold onto your ticket as you will be asked for it when it is time to disembark the ferry.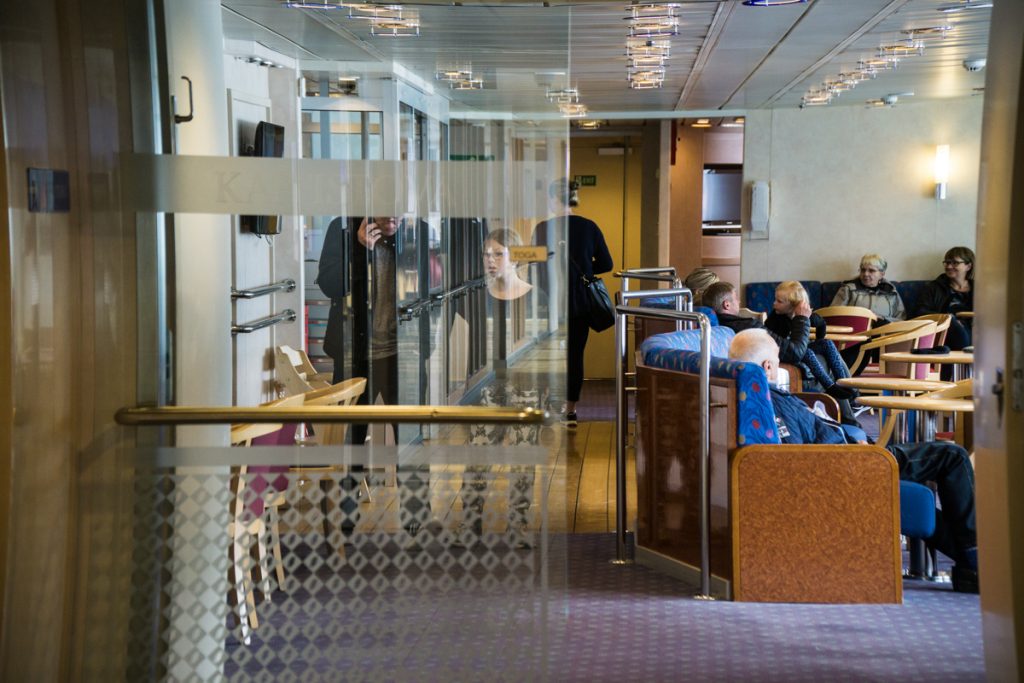 The ferry to and from Suðuroy is very comfortable and modern, especially compared to the tiny ferry to Kalsoy, which brought out my claustrophobia hardcore. There's a restaurant on board where you can buy drinks and snacks for the two-hour long journey. I can't find the exact cost breakdown of the ferry, but I believe we paid roughly 300 DKK (about $45 USD) for our return ticket for two people and one car. The cost will be a lot cheaper if you are not bringing a car, but it would be quite hard to get around Suðuroy without one, so I don't recommend it.
Where to Stay in Suðuroy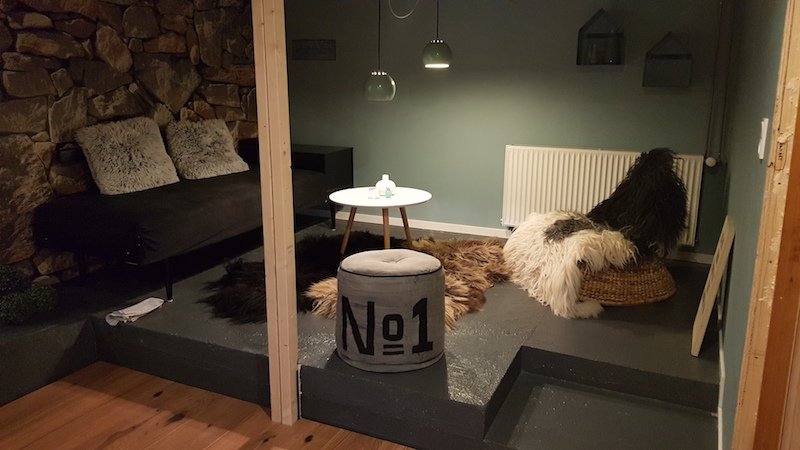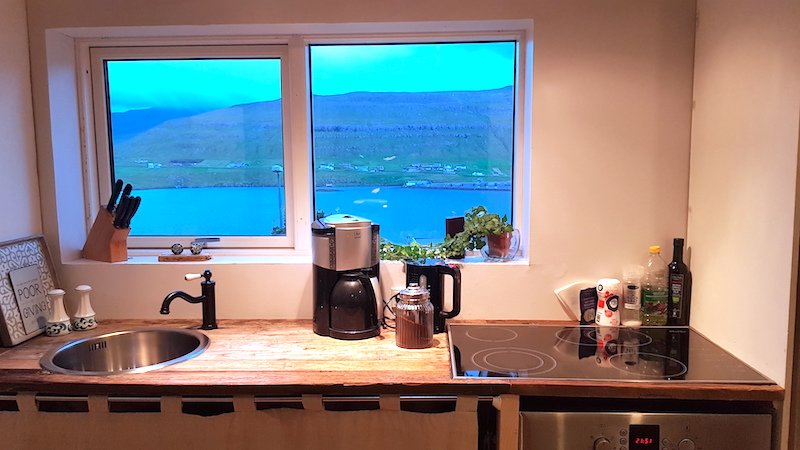 As I mentioned before, we stayed at Bindi's B&B in the town of Tvøroyri. We absolutely loved our stay there, and it'd be perfect for a longer stay as you have access to a kitchen which is a great perk in the Faroe Islands, where eating meals out can get quite expensive. With two big bedrooms and a very spacious living room and kitchen area, it's perfect for friends, couples, or families alike and the price is very reasonable. You have the option to rent one or both bedrooms.
To ask about availability, check out the B&B's Facebook page.
Note: I was hosted by Visit Faroe Islands on my trip to Suðuroy. All opinions expressed are my own.
Allison Green is a former educator turned travel blogger. She holds a Masters in Teaching and a B.A. in English and Creative Writing. Her blog posts merge her educational background and her experience traveling to 60+ countries to encourage thoughtful travel experiences that both educate and entertain. She has been a speaker at the World Travel Writers Conference and her writing, photography, and podcasting work has appeared in National Geographic, CNN Arabic, CBC Canada, and Forbes, amongst others. Now based in the San Francisco Bay Area where she grew up, she has also lived in Prague, Sofia, and New York City.