The fog was so dense that driving through it almost made me queasy. I drove slowly, hugging each hairpin turn, hating that I had no idea just how far down the cliff edges went. It was like driving on top of a cloud. I've never had a fear of heights, but the sudden not-knowing of just how high we were was somehow terrifying.
We were quiet in the car, a little nervous about our upcoming excursion to the Vestmanna bird cliffs. Perhaps foolishly, we had scheduled it for the final day of our trip. At the time, we didn't consider just how often fog in the Faroe Islands can offset even the best-laid plans (see: that time we camped out at the viewpoint at Lake Sørvágsvatn for two hours, only to have the fog stubbornly refuse to move, and left us unable to capture that classic "optical illusion" effect photo)
We descended from the foggy apex of the mountain pass, and in time, the colorful harbor town of Vestmanna came into focus. Clear, nearly fog-free focus.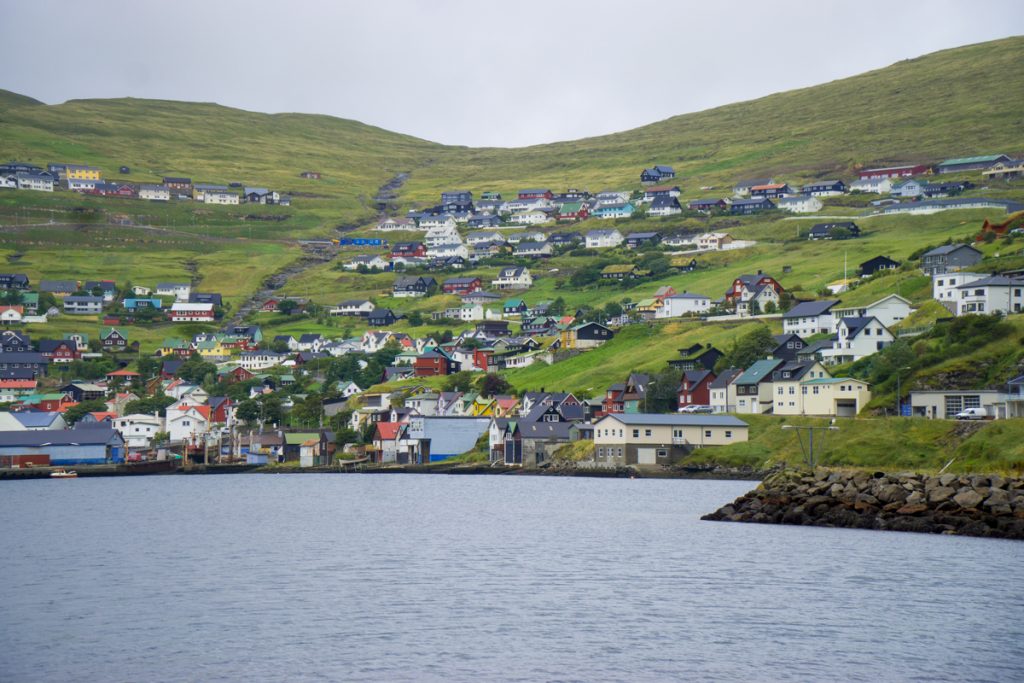 Note: This post contains affiliate links, which means I may receive a small commission if you purchase something through one of these links. Thank you for supporting the free content on this site! For more information on affiliate links and cookies, see my disclosure page for more details.
We popped into the tourism center and sorted out our tickets for the boat tour through Vestmannabjørgini, the 700-meter high sea cliffs that are home to so many of the Faroe Islands' bird life. The boat tour lasts two hours, traversing the rugged coast of the island of Streymoy, navigating narrow straits and sea grottos along the way.
We got on the tiny boat and began heading from the harbor towards Vestmannabjørgini, where the cliffs begin. Along the way, as we edged away from the town of Vestmanna, we passed ramshackle boathouses, errant sheep nibbling on grass, and tiny sheds perched atop impossibly steep cliffs.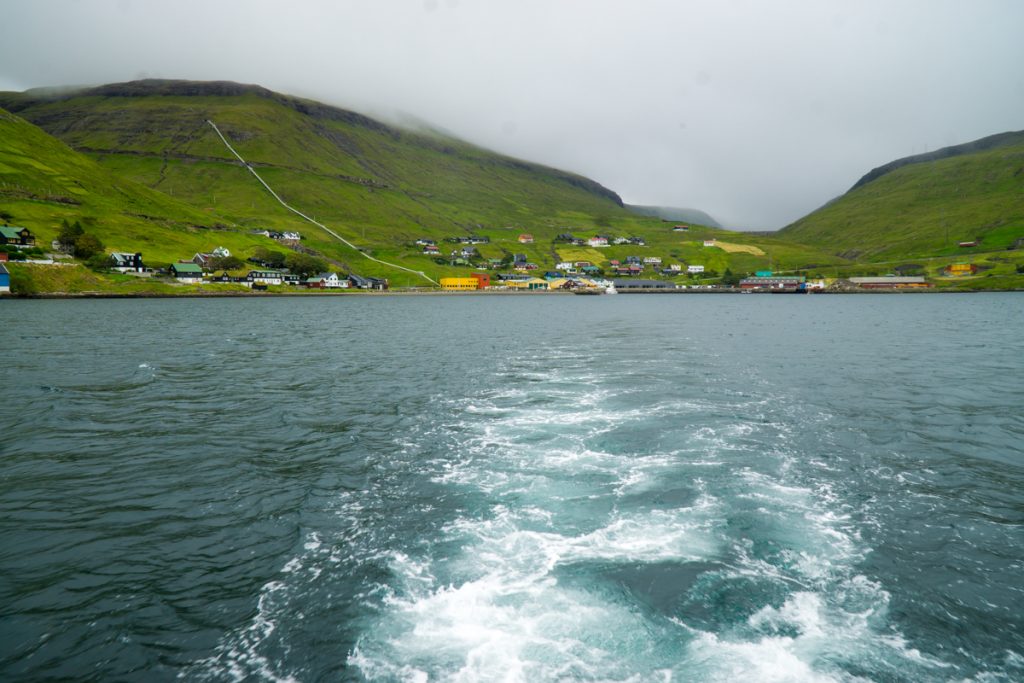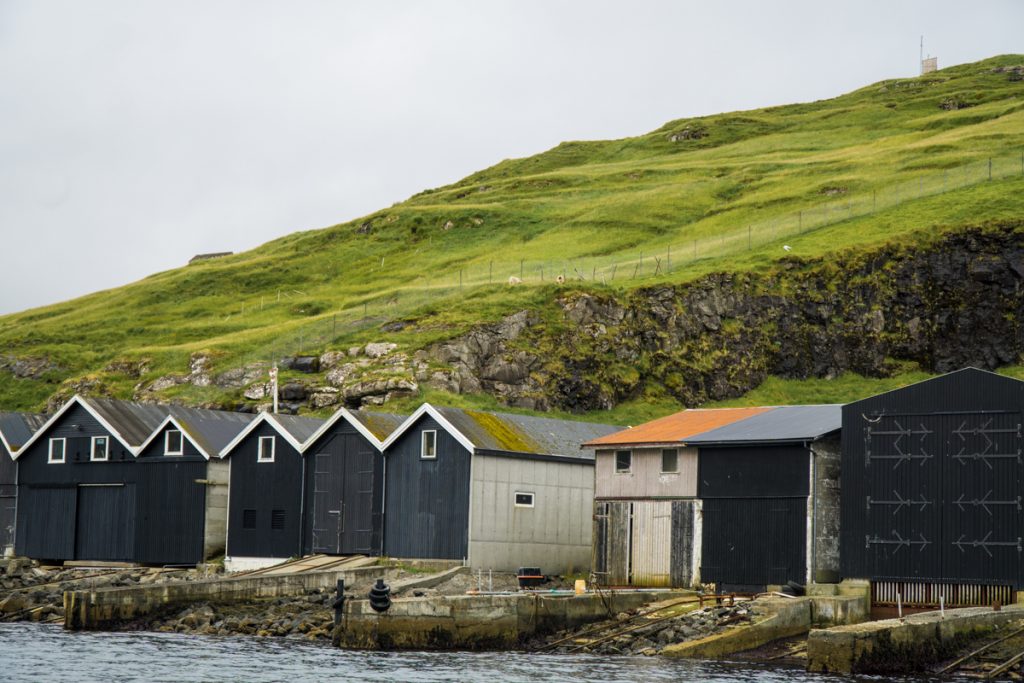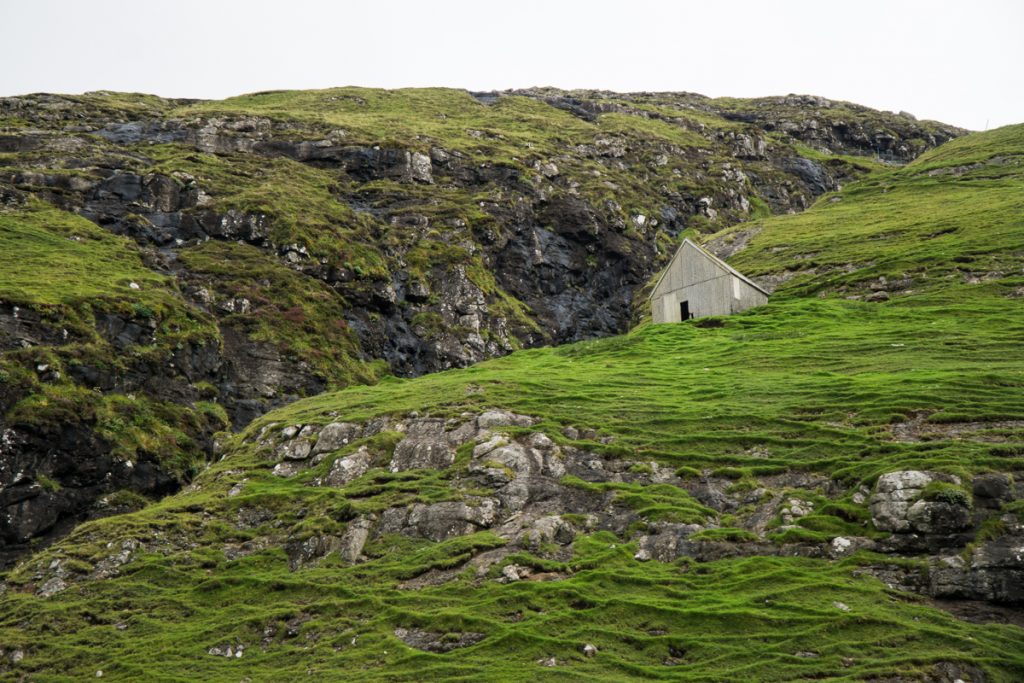 As the town of Vestmanna disappeared, the water surrounding us seemed to brighten to a near-Caribbean shade of turquoise, despite the moody sky overhead.
Elsewhere, waterfalls tumbled into the sea, cutting jagged lines in a landscape straight out of Jurassic Park.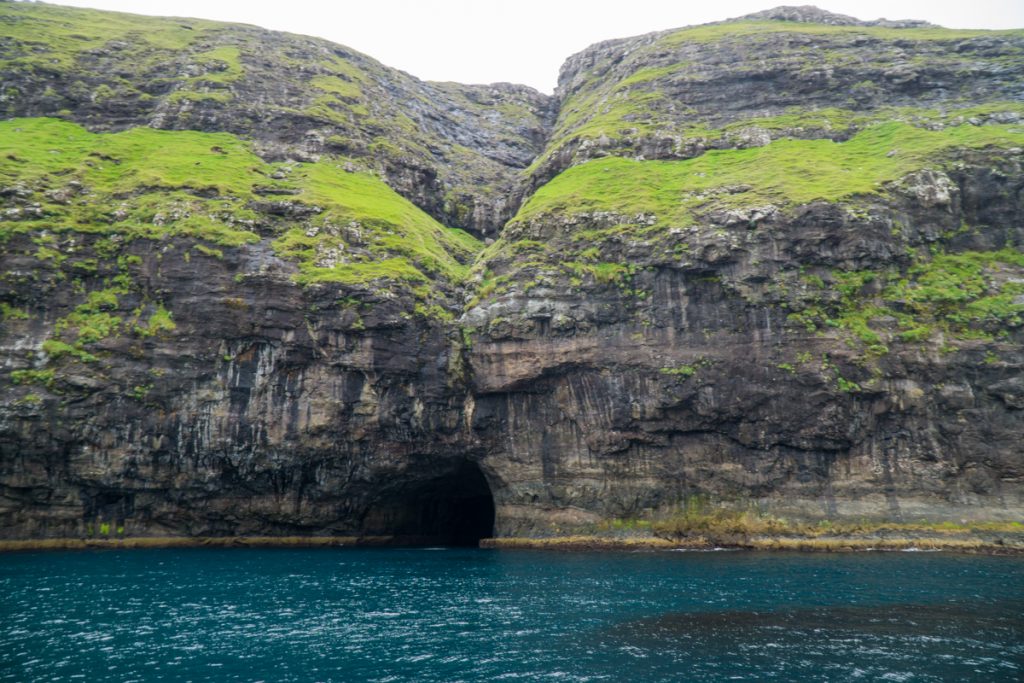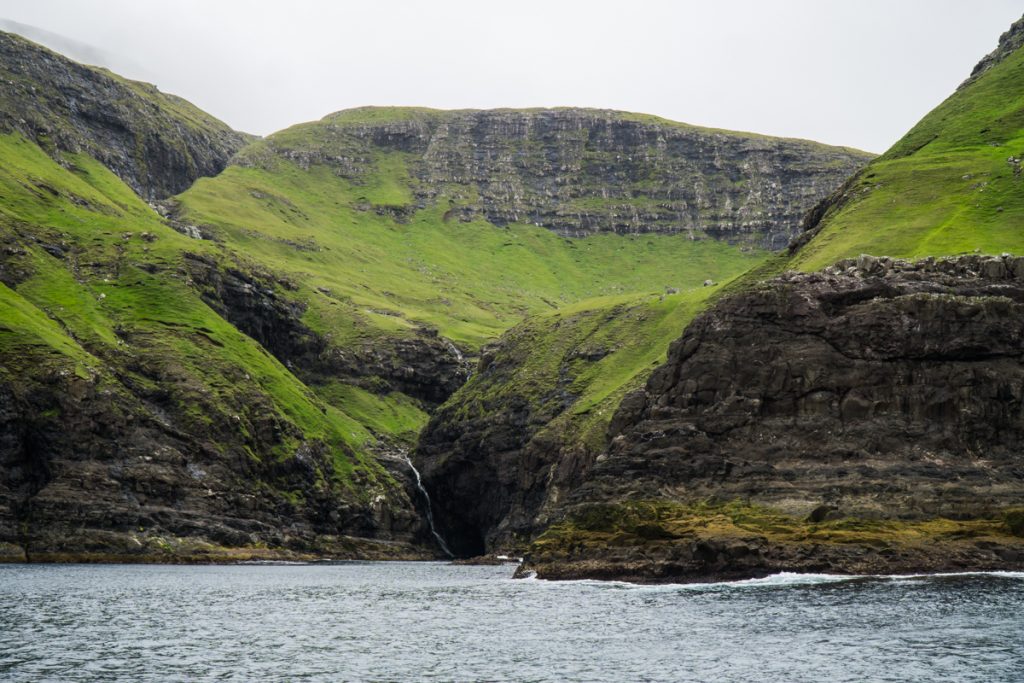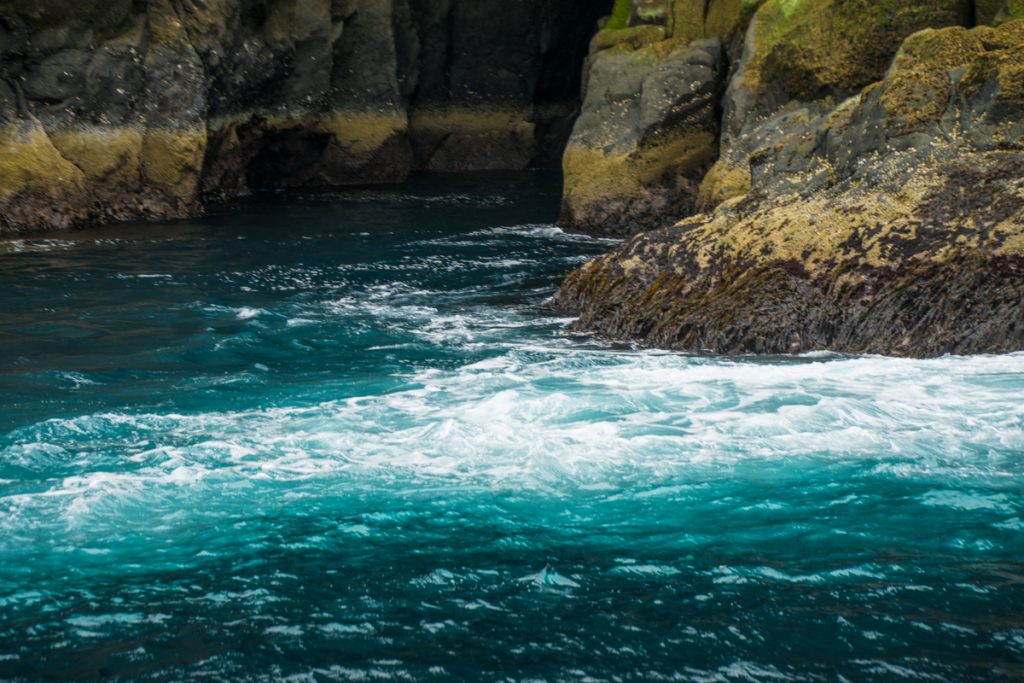 As we got out to the sea cliffs, a familiar nervousness began to gnaw at my stomach. Fun fact about me: I just basically probably shouldn't travel. I have massive travel anxiety, which results in me showing up to airports several hours early convinced I will miss my flight and has me gripping armrests preparing my last will and testament basically every time the plane even has a slight jitter of turbulence. But worse than my anxiety is my motion sickness, which is especially bad on boats: a fact I often conveniently forget until I am actually on the boat.
Luckily, I was so gobsmacked by the scenery around me that I was able to push aside my slight seasickness and take in the beautiful scenery. The Vestmanna cliffs in the Faroe Islands are dizzyingly high, stretching over 2,000 feet into the sky: a height you can truly appreciate all the more at the choppy ocean base, surrounded by countless birds swooping above our heads.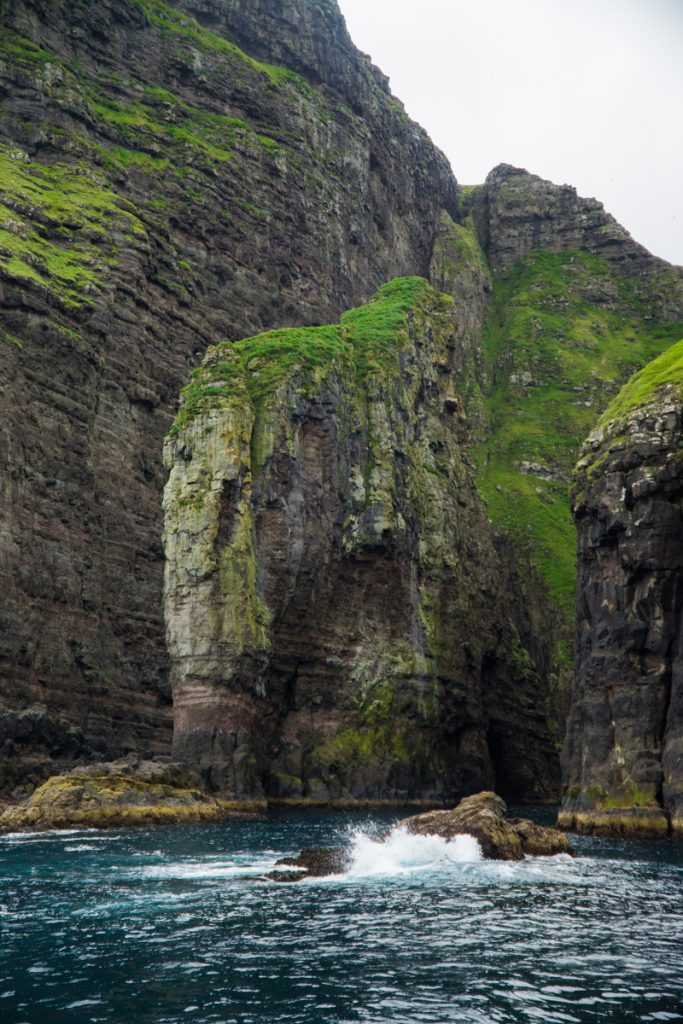 For nearly an hour, I was completely able to forget the tumult in my stomach, thrilled by the birds who soared above me and the towering magnitude of the cliffs around me. For birdwatchers, Vestmanna is the stuff of dreams for birdwatchers. A few of the bird species who call these cliffs home are the razorbill, puffin, guillemot, and fulmar, among others.
Several people on our tour had thought to bring binoculars; I didn't and resorted to looking through my zoom lens to get a better glance at the birds. I was unlucky and didn't spot a puffin; my friend Megan got lucky (more like has better eyesight) and spotted two.
I tried to snap a few photos of the birds, but let's just say I don't have a career as a wildlife photographer anytime in the near future.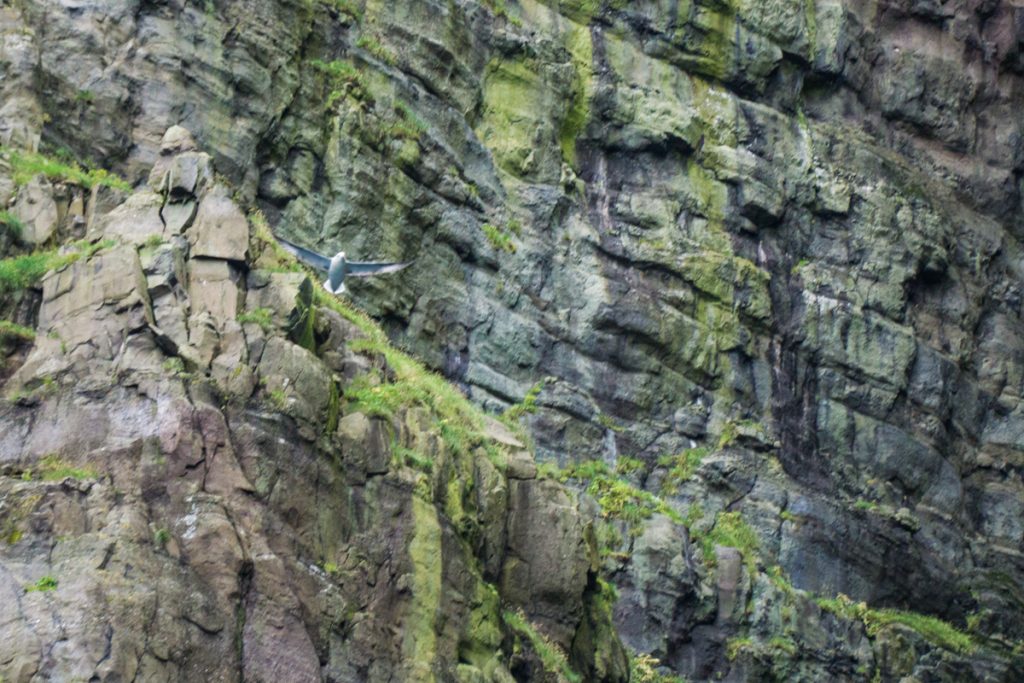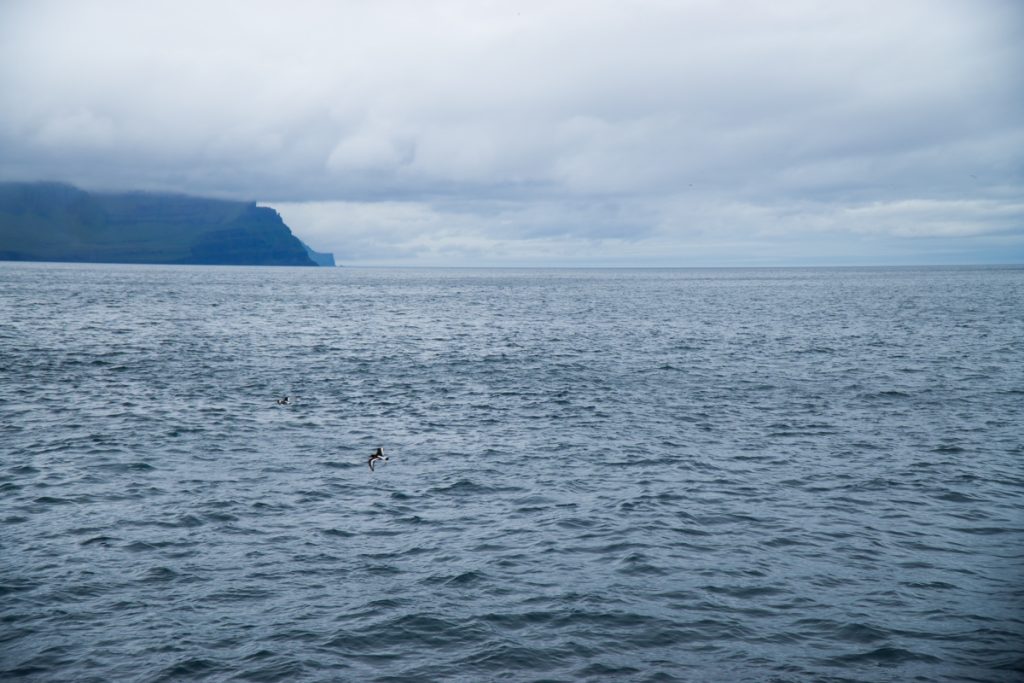 Eventually, my seasickness got the best of me. About an hour and fifteen minutes into our Vestmanna boat tour, I had to go sit inside, focus on my breathing and my pressure points, and try to keep my breakfast inside me.
I wasn't the only one feeling sick – the choppiness of the water is no joke this far north in the Atlantic. I recommend bringing someseasickness bands or motion sickness pills (the non-drowsy variety unless you want to sleep all day) if you are in any way susceptible to seasickness.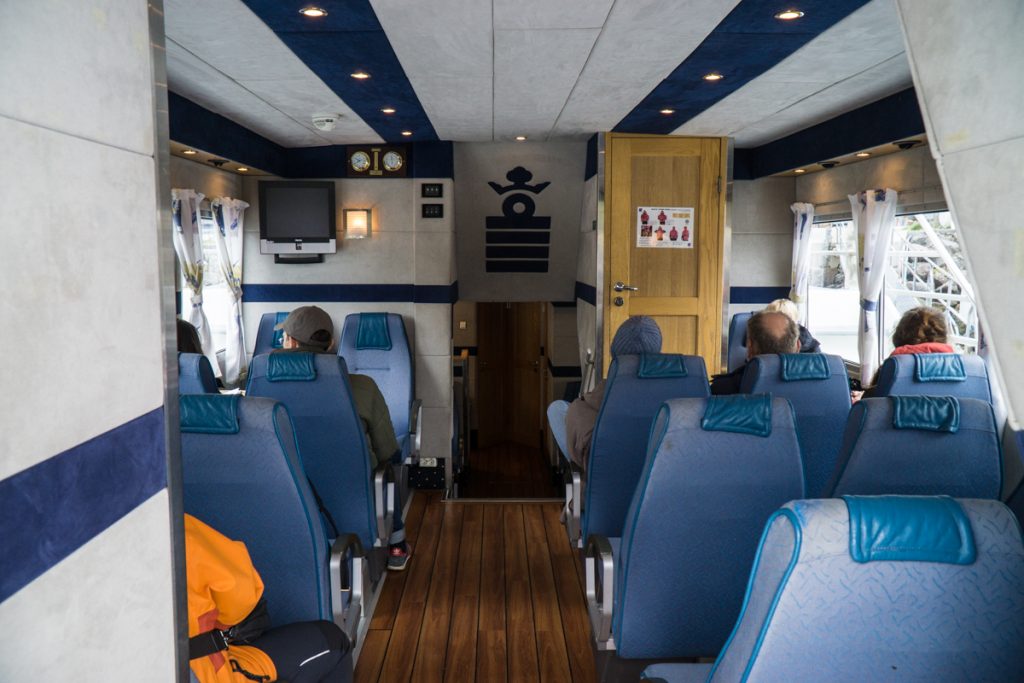 Luckily, after some deep breathing and focusing on the horizon, I was able to go back out and snap a few more photos of the beautiful area around Vestmanna as we got back to the harbor.
I mean seriously – how pretty is this part of the Faroes?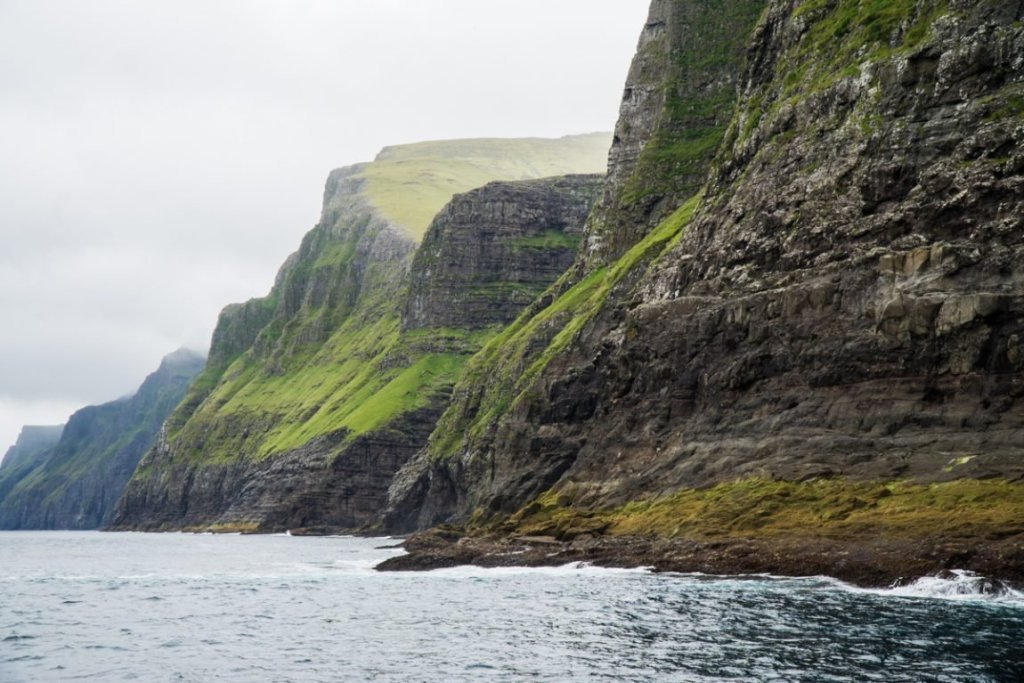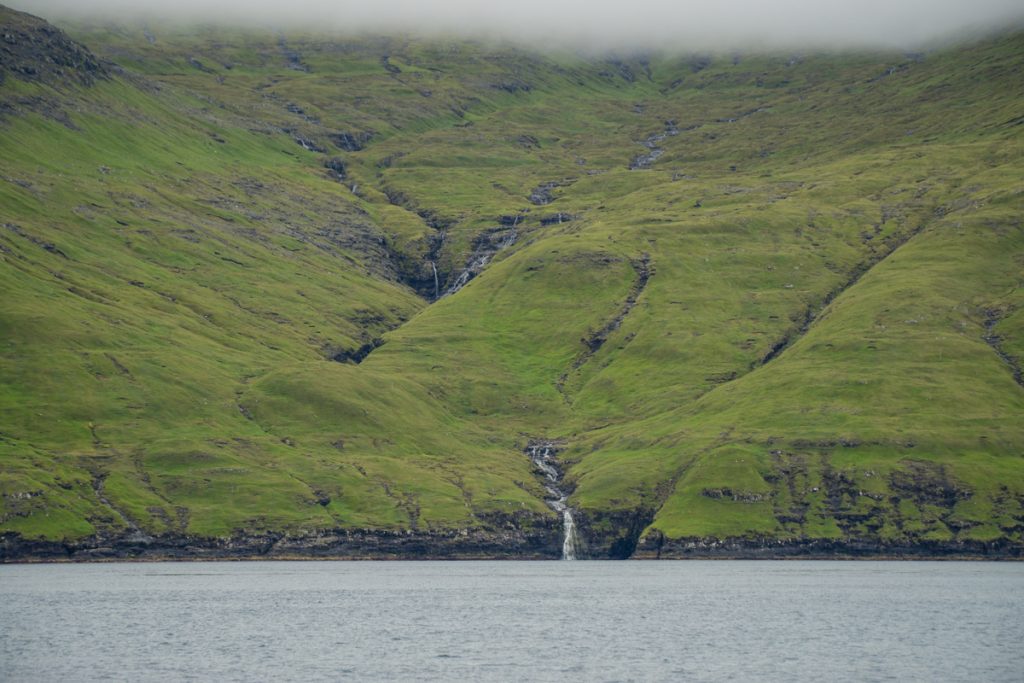 How to Plan a Vestmanna Boat Tour
The Vestmanna Tourist Center organizes one or more boat trips daily during the peak season, which runs from April to September. Here are the departure times:
April: Weekdays and weekends at 10:15am
May 1st to September 30th:  Weekdays at 10:15am, 2:15pm and 4:20pm & weekends at 11:15am, 2:15pm and 4:20pm
I recommend booking in advance just in case as the boats are not very large and there is a possibility it could fill up, as seeing the Vestmanna bird cliffs is on many tourists' wishlists for the Faroe Islands. I'd also recommend not booking it for your final day if possible, just in case a storm or foggy weather means that your boat can't depart or that visibility will be really bad.
Show up at least 10 minutes early as the boats depart promptly on time.
Address: Fjarðarvegur 2, 350 Vestmanna, Streymoy
Phone Number: (+298) 471500
Email address: [email protected]

What to Pack for Your Vestmanna Boat Tour
If you're planning on visiting Vestmanna to see the stunning sea cliffs during your stay, there are just a few extra things you should pack. If you get seasick I recommend bringing either these seasickness bands (which really work – I've used them before) or motion sickness pills. If buying a motion sickness medicine, make sure you buy a non-drowsy formulation. I accidentally took normal Dramamine once and nearly fell asleep on the boat. If you normally don't get seasick, you won't need any of these things – I am just awful on boats.
It can get quite cold out on the water as it is very windy and the air is both cold and high humidity, the kind of cold that really cuts through whatever you're wearing. I recommend bringing a waterproof windbreaker at the very least – I use and love this Marmot PreCip rain jacket. I'd also recommend a hat that covers your ears, a scarf if the weather is especially chilly, and some gloves. I didn't have gloves with me and I really regretted it, as my hands got quite cold but I wanted them out at all times so I could be taking photos. Bring a pair of lightweight, smartphone-compatible gloves.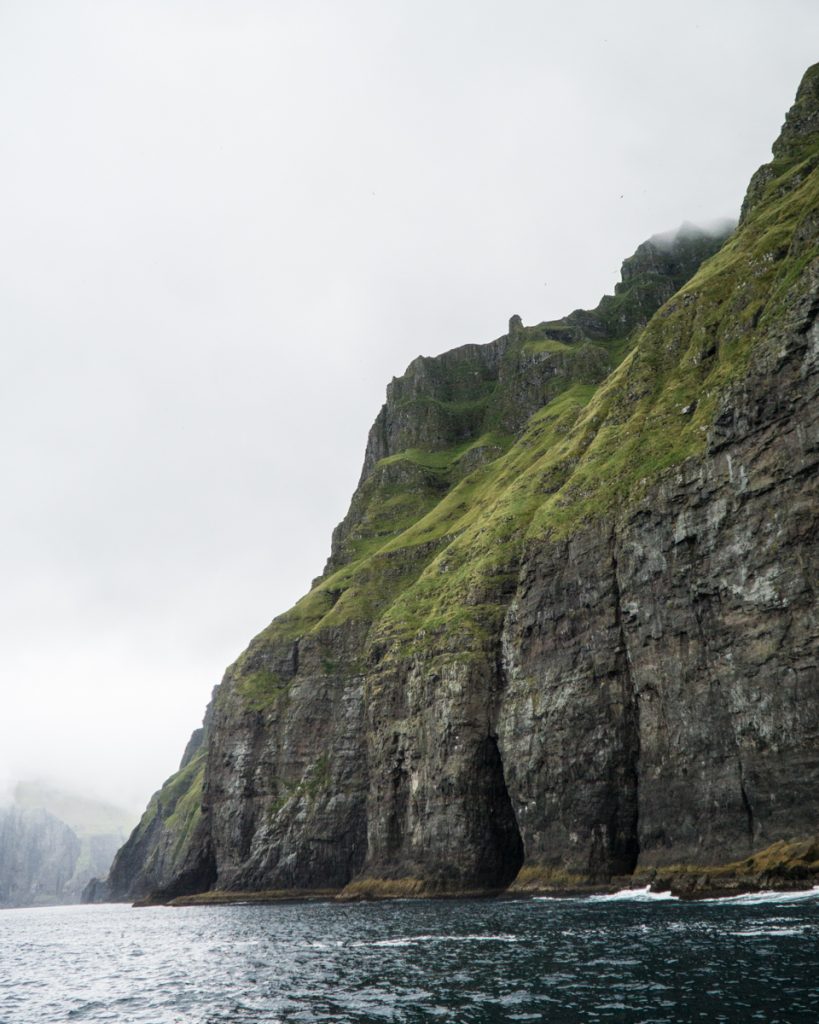 I brought my Sony A6000 camera with its 18-105mm zoom lens. I loved having a versatile lens like this for Vestmanna, since you truly need a wide angle lens to even be able to come close to capturing the scale of the sea cliffs. However, 105mm isn't quite enough zoom to get great photos of the birds themselves (as you've probably surmised from my photos). If you really want to be able to capture great photos of the birds, you should have something that is at least 200mm, but 300mm would be better.
Finally, if you're a big birder, you'll definitely want to bring along a pair of binoculars!
Note: I was hosted by Visit Faroe Islands on my trip to Vestmanna and the Faroe Islands. All opinions are my own. 
Allison Green is a former educator turned travel blogger. She holds a Masters in Teaching and a B.A. in English and Creative Writing. Her blog posts merge her educational background and her experience traveling to 60+ countries to encourage thoughtful travel experiences that both educate and entertain. She has been a speaker at the World Travel Writers Conference and her writing, photography, and podcasting work has appeared in National Geographic, CNN Arabic, CBC Canada, and Forbes, amongst others. Now based in the San Francisco Bay Area where she grew up, she has also lived in Prague, Sofia, and New York City.