I remember my first time spending the winter in Europe. The year was 2009, and my semester living in Prague was coming to a close. The Christmas markets were in full swing, the snow coating the houses of the Old Town was straight out of a fairy-tale — and I was freezing my ass off, mostly because my California-addled brain had never learned to dress properly for the winter.
If it weren't for the many cups of piping hot cups of svařák (Czech mulled wine) I was drinking at inappropriately early hours, I likely never would have survived.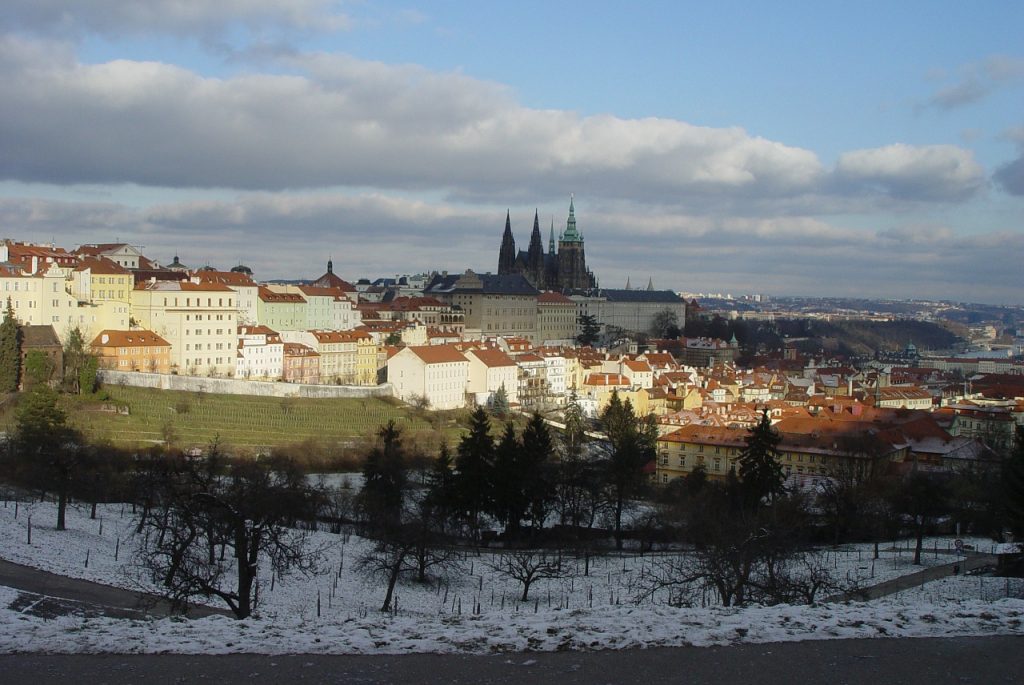 Note: This post contains affiliate links, which means I may receive a small commission if you purchase something through one of these links. Thank you for supporting the free content on this site! For more information on affiliate links and cookies, see my disclosure page for more details.
Fast forward nearly a decade and several winter trips to Europe later, and I've finally mastered the art of packing for Europe in winter without wanting to die.
It's a combination of not giving a crap if you look like a fat, fluffy dumpling and layering with actual winter-specific layers rather than what I was doing… which was piling some summery clothes on top of a pair of leggings and cute pea coat and wondering why I was still cold. California, guys. Growing up there does things to you.
After all that trial and error, here's my full winter inn Europe packing list, detailing exactly what I recommend you wear for winter in Europe.
What to Pack for Europe in Winter
What to Pack Everything In
If you're visiting Europe in winter, my number one recommendation is to travel with a backpack rather than a suitcase. While it is definitely possible to travel with a suitcase, and there are times when it is more convenient – I can also assure you that there will be times when you regret it hard, such as when you're trying to lug your bag across snowy cobblestones and cursing your life. Take it from an idiot who brought a rolling suitcase to Finland in November.
I prefer to travel light with a backpack that fits carry-on restrictions because I hate paying for baggage fees and waiting at the airport. Even traveling Europe in winter, I've found that having a 44L backpack is perfectly fine, and there's no need for a massive backpacker-style backpack unless you truly love clothes and want a jillion options. I've used and sworn by Tortuga Backpacks for the last three years – this is the one I'm carrying now. I've traveled around Europe in winter for the last few years and never truly needed a larger bag.
One thing that makes packing for winter in Europe so much easier is using packing cubes – having an organized system, especially with all the layers you need for winter travel – makes your life a lot easier, especially if you are traveling to more than one city or country. This packing list for Europe in winter includes a few of the things that I swear by all year round, not just winter, for helping me organize my clothes and belongings when I travel.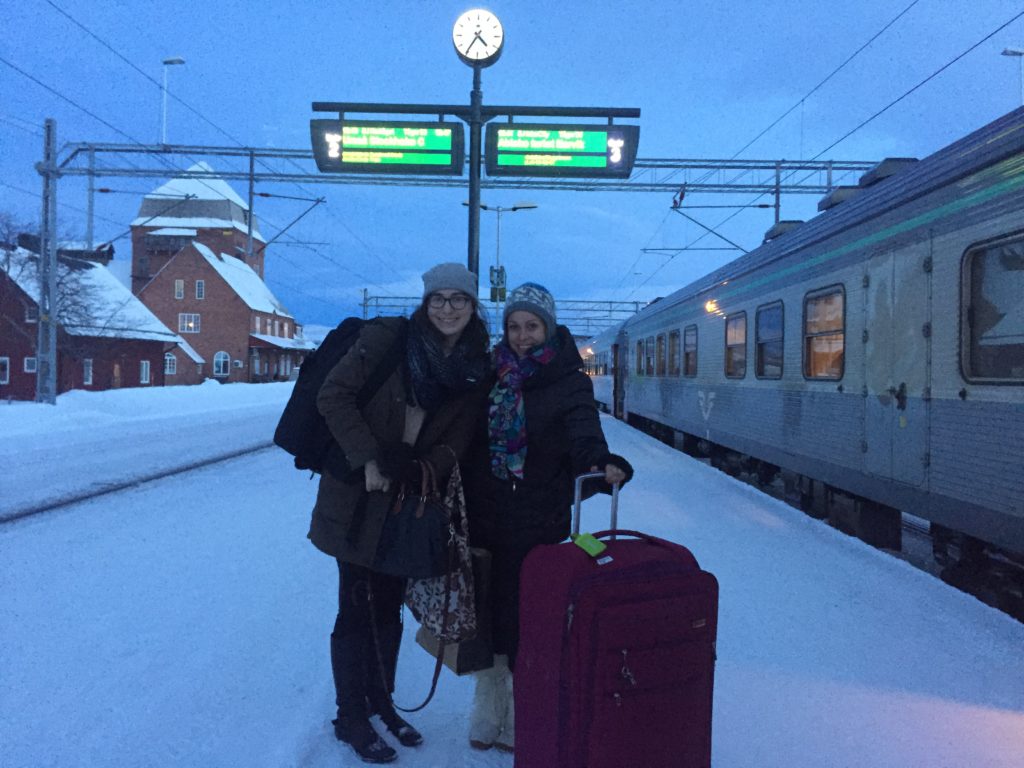 While rolling suitcases can be great for in summer and fall weather, they aren't a great idea for winter travel. For one, there will likely be snow or ice on the ground – meaning that you will have to drag, not roll, your suitcase… which kind of defeats the purpose of having a rolling suitcase.
Trust me, you're way better off with a travel backpack that you can easily carry across snow, cobblestones, and other various obstacles that are the hallmarks of traveling Europe in winter. I am a light packer, so the Tortuga Backpack is the main backpack I need. I've spent two 5 month trips through Europe with it, including winter months, plus I take it on all my short term travels.
Why do I recommend Tortuga so much? Here's why: this bag is 45L and has got three main compartments: one for a laptop and other flat objects, one giant rectangular compartment perfect for packing cubes stuffed with clothing, and one smaller compartment with pockets for passports, pens, odds and ends, etc. that I stash all my extras in – plus one small outer zipper pocket for anything you want quick access to.
It also has a water bottle holder on the outside as well as buckles so that you can strap something like a yoga mat to the outside. Plus, it's quite comfortable to wear, with a padded hip belt and comfort-molding shoulder straps complete with a chest strap so that you can distribute weight perfectly across your body in the event that you need to wear your backpack for longer than usual. Check out more specs and details here.
Does it pass European budget airline requirements? I've never once had to check it in on a budget airline flight, and I've taken probably 50+ Ryanair and Wizzair flights at this point. I just buy priority boarding so that I have a guaranteed spot on board for my bag (plus a second personal item bag), which adds about $5 onto my total flight cost instead of the $20-40 or so that a heavy checked suitcase or backpack would. This adds up massively over time – with a bigger bag, I would have paid $1,000+ extra in baggage fees over the past few years. That's massive savings.
Need a bigger backpack? Despite these long term trips, I haven't personally used a bigger backpack (mostly because I have the back of a 90 year old woman). That said, I've heard great things about the Osprey system. If I ever were to upgrade my backpack capacity, that's what I would choose. But I'm cheap and hate paying baggage fees, even at the expense of having less clothing options, which is why I prefer Tortuga. When flying budget airlines, I never check the bag, but I just purchase priority boarding for a few dollars (usually around $5) so I can have this bag on board with me, plus another personal item.
Packing cubes will save your travel sanity. These easily zippable bags are wonderful when it comes time to pack and organize your clothing.  It keeps everything contained when you open your backpack, so if luggage clothing explosions drive you half as crazy as they drive me, investing in packing cubes will save you some serious therapy costs down the line.
I use these packing cubes and love them more than a logical person should love a simple zippable bag. Especially when packing for Europe in winter, when you have tons of accessories and layers to organize, this becomes extra essential.
If you are traveling Europe in winter, your clothing will take a beating. Wet, dirty, covered in snow – basically, prepare to change your clothes at least once a day. I love having a laundry bag with me in addition to my packing cubes so I can keep dirty stuff separate and ready to go on laundry day.
You don't need anything fancy – any bag will do – but I like having a cute one like this one from Kikkerland though, because I'm impractical and easily won over by a cute design. In a pinch, some plastic grocery bags will do as well.
Packing for Europe in winter means you'll need a few special toiletries (hint: bring ALL the moisturizer). After struggling to find a good way to organize my toiletries, I stumbled across this  hanging toiletry bag and purchased it on a whim to give it a try… and I promptly became a product evangelist.
It's perfect for organizing your travel toiletries like shampoo, moisturizer, make-up, hairbrushes, tweezers, etc. It has a lot of organizers and seperators so you can really maximize your organization without taking up much excess space. It fits quite a bit – it's like the Mary Poppins bag you always needed but never knew existed. It's wonderful for girly girl travelers like myself who have a hard time leaving make-up behind when they travel.
It comes in a large size – I do just fine with the regular size, but those with lots of toiletries and odds and ends to organize will probably want to size up.
I always use a daypack rather than a purse when I travel because it's so much more comfortable, especially because I often carry lots of camera equipment with me. That said, I don't want to look like an American bum (though I often do anyway) so I splurged on this adorable PacSafe Citysafe backpack. 
This bag is so amazing that I basically wrote a love letter to it here. My favorite feature about this travel backpack is that it has tons of awesome security features (locking zippers, slash-proof mesh on the inside of the bag, RFID blockers, etc.) but it looks adorable and not at all horrendous.
I use it pretty much every single day whether I am traveling or not. It's one of the crucial things I bring with me on every trip, and it's key when packing for a trip to Europe in winter because it's the perfect size for squeezing in layer upon layer of cozy winter clothing.
5 Most Essential Things to Pack for Europe in Winter
When it comes to what to pack for winter in Europe, it's best to bring all your essentials from home and try to minimize what you need to buy abroad. Most of the time, you won't save any money by shopping in Europe. Prices tend to be a little higher than in, say, North America because 20% VAT is often rolled into the prices.
Also, depending on where you travel, in many countries the currency is currently quite strong compared to the US/Canada/Aussie dollar, so you won't be at an advantage when it comes to shopping. For that reason, I recommend planning your winter in Europe packing list beforehand, and buying all your winter travel necessities before arriving in Europe.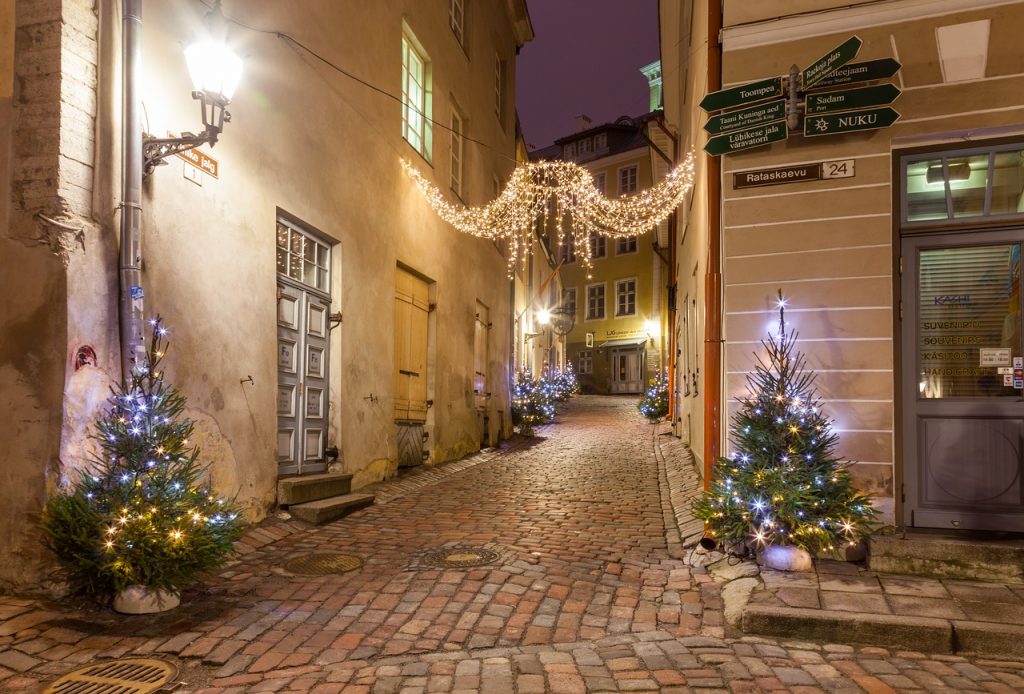 A good, waterproof parka
While Europe's weather can vary dramatically in the winter, it's best to prepare for the worst and risk being overdressed than the alternative. I am a huge fan of The North Face because they guarantee all their products for life and will fix or replace literally anything you send to them — which I've tested by sending in a much used-and-abused down jacket that was returned looking like new.
Their jackets aren't exactly budget-friendly, but they're a great investment if you're looking for a winter coat that will last a lifetime. This is the parka I own and I'll use it for life (unless North Face cuts me off for how badly I abuse my clothing). If you don't have a lot of money to spend on a new jacket but still want to ensure warmth in the winter, try buying a down jacket liner like this one and layer it between your warmest coat and winter layers.
Thermal layers
A good winter parka goes a long way, but unless you're matching that down jacket with proper layers underneath, you won't be maximizing your potential warmth. Everyone raves about wool's warmth-retaining properties but I can't tolerate it – it makes me so itchy that I want to tear off all my skin. If you can stand wool, something like these merino wool leggings paired with a cashmere sweater layer will serve you very well. Personally, I constantly wear these 32 Degrees thermal layers during European winters — I have about 5 tops that I rotate during the winter between laundry days. On bottom, I wear these fleece-lined leggings. I bring about 2-3 pairs of fleece-lined leggings on a winter trip since I can wear them several times before they start to feel gross. You'll definitely want at least 2 pairs so you can change them out if they get wet from snow or bad weather. With thermal layers and a parka, you're nearly set for any kind of weather in Europe.
Waterproof boots and warm socks
I've never really felt like snow boots are entirely necessary unless you really are planning on spending a lot of time in deep snow, like if you're staying in a cabin in the woods or spending a significant amount of time in Lapland or ski resorts around Europe.
When it comes to packing for winter in Europe, if your trip is mostly in the cities, you just need two things in your boots: they need to be waterproof and have good traction. I first bought a pair of Blondo waterproof leather boots in 2008…  making this my longest-term relationship ever, eek, and one of my favorite travel shoes ever.
Despite many years of abuse and New York winters, I only had to get them resoled once in the last nearly 10 years. I've worn these in every European winter and they've always held up great – even in the Arctic Circle of Sweden.
If you plan on doing a lot of hiking in the snow, you may want a proper snow boot. The Elsa snow boot by KEEN is waterproof, insulated, and looks super cozy, and comes highly recommended as one of my friend's favorite hiking boot brands.
Finally, no matter how insulated your boots are, you need proper socks to match –  sad, thin cotton socks won't do the trick. I bought these excellent Smartwool socks after hesitating because of the price, but I'm glad I did. Although I generally hate wool, the skin on my feet is thick enough that I don't mind wearing wool socks at all and can get all the lovely warm wool benefits without the itchiness. You don't need that many pairs – two or three will do – because wool is really odor-absorbent and dry really fast, you can stretch out a few pairs whereas you'd need a fresh pair of cotton socks for each day.
Reusable water bottle
 The tap water in Europe is drinkable almost everywhere so make sure you bring a reusable water bottle. I've been to nearly every country in Europe and it's super rare that I can't drink the water, even in the Balkans. The only major city I can think of where I wasn't able to drink the tap water was Kiev, Ukraine.
If you don't already have one, try one from Klean Kanteen. If you drink a lot of hot beverages like tea or coffee, I recommend bringing a Thermos that will keep your drinks (and hands!) warm during the cold.
Moisturizer with SPF
If there's one thing you don't forget to pack for Europe in winter, let it be this. The cold in Europe is brutal on your skin, especially when combined with super-drying heating systems. Make sure you fight back with a heavy duty moisturizer. For the daytime, I use Aveeno moisturizer as I have sensitive skin but also want SPF protection.
Remember you need to use SPF even – if not especially – only cloudy days as UV rays are always lurking, even in the winter, ready to prematurely age your skin. (I'm super melanin-challenged, so perhaps I'm a bit paranoid). I don't want to wear SPF at night, so I have a thick Olay night cream that I use while I sleep to put some moisture back into my dry skin.
Finally, travel insurance
Yes, I know this isn't something that you physically pack for Europe – but it is just as essential to consider during the packing process.
Personally, I think it's extra important to have travel insurance in winter. European winter weather is hard to predict, so it is best to be prepared and protected in case of trip cancellation/delays, lost luggage, illnesses, or accidents. I recommend buying travel insurance as far in advance as you can, as I've found it's always cheaper that way than booking shortly before departure.
I have been a paying customer of World Nomads for years and use them to cover me when I travel. The contract is very clear as to what it covers, the prices are affordable, the excess/deductible is very low, and if you find yourself extending your trip it's very easy to modify your insurance on the go.
What to Wear in Europe in Winter (Quick Checklist)
In a word (well, three): Layer, layer, layer!
I went into more detail above, but basically, here's how I dress for winter in Europe. I start with a base layer – for me, that's my fleece-lined leggings and thermal top, but many people prefer wool base layers. On top of my thermal layers, I usually wear just a simple acrylic sweater and jeans.
To seal in all the warmth, I add wool socks, waterproof leather boots, a scarf, a hat that covers my ears, gloves, and of course – my ridiculously warm parka. That will usually keep me warm enough for just about any winter situation in Europe.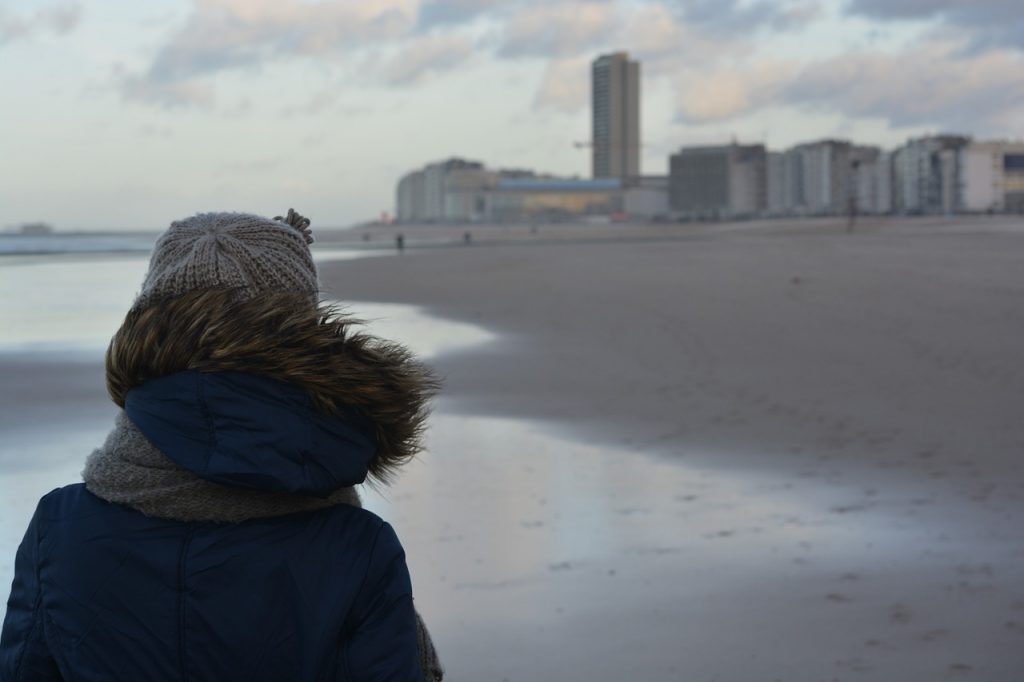 Here's a quick packing list plus a few product recommendations for what to wear for winter in Europe:
2-3 thermal tops
I use these 32 Degrees thermal layers  – I recommend having a few to swap between as they tend to get kind of sweaty during the day.
3 warm sweaters to layer on top
I love H&M for their non-itchy acrylic sweaters, but wool/wool blends also work great
2 pairs fleece-lined leggings
I am obsessed with my favorite fleece leggings – they are insanely warm!
2 pairs jeans
I wear these as an extra layer over my leggings. You can skip the leggings if it's not that cold.
1 heavy jacket
Above, I recommended my North Face parka. While that's my favorite, any warm jacket will do. What to look for: down or synthetic down lining, hood, waterproof, and windproof.
2 bras
 Or however many you want, you do you.
7+ pairs of underwear
This depends on how long your trip is, but I prefer to have a week's worth of underwear and do laundry on the road.
Bathing suit
 If you plan to go to any thermal baths or saunas or the like while in Europe. If not, skip.
Flip flops
For walking around in your hotel/hostel when you don't want to put on your boots.
1 or 2 knit hats
Since I'm addicted to fleece in the winter, this fleece-lined knit hats is a favorite
1 pair of gloves
I recommend a pair of touchscreen-friendly gloves so you don't have to constantly take off your gloves to use your phone.
1 super-warm infinity scarf
I love infinity scarves like this one that you can wrap super close to your face and not have to worry about the wind with.
What to Pack for Backpacking Europe in Winter
There are a few special things you should bring if you are staying in a hostel or dorm in Europe in winter, which you can find below.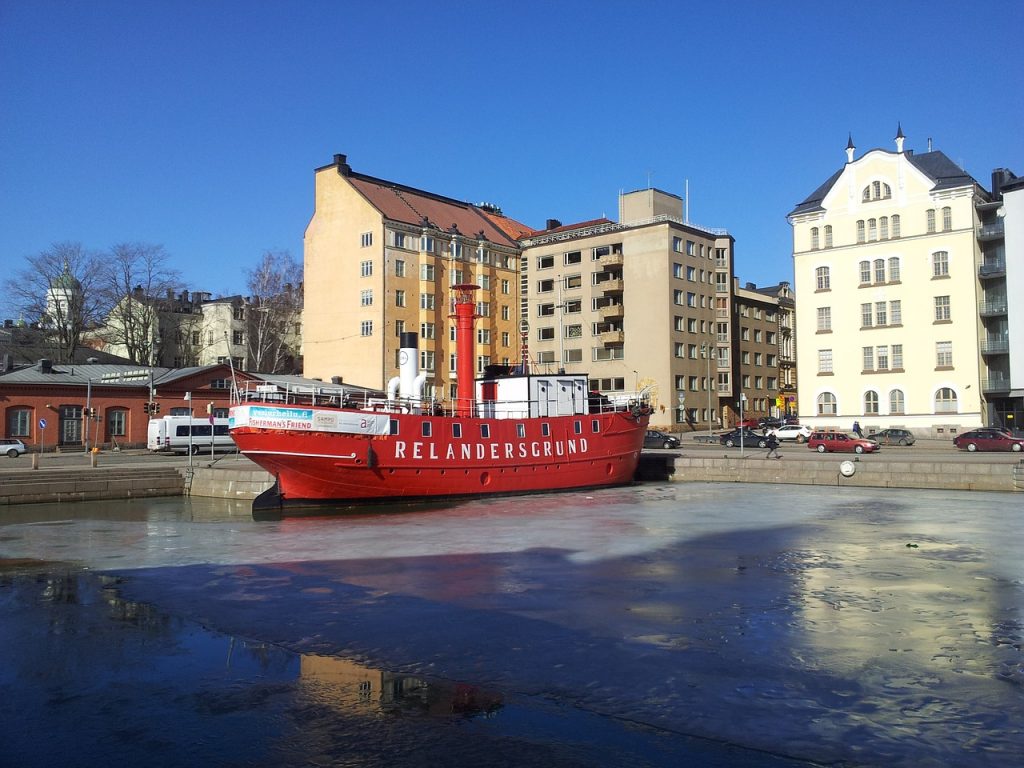 1 pair flip flops
I mentioned it above, but it goes double if you staying in a hostel!
Most hostels in Europe don't provide towels to guests and charge you to rent one. This can add up quickly if you are staying in multiple cities throughout Europe, so I recommend just bringing your own. Make sure you get the largest size or risk flashing everyone!
I lived in hostels for the better part of a year and I swear by this contoured eye mask- it completely blocks out light, without putting annoying pressure on your eyes.
Some earplugs or good noise-canceling headphones
I love Hearos — they're the gold standard for ear plugs. Alternately, if you listen to music to help you sleep, noise-canceling headphones can work wonders at drowning out inconsiderate roommates
Travel-sized toiletries
Most hostels don't provide shampoo, body wash, etc. so make sure you bring your own. Instead of buying travel-sized toiletries, I recommend buying reusable GoToobs so you can pack your favorites from home.
I always check reviews of hostels to ensure that they have lockers available, as the risk of theft from fellow travelers is not something to take lightly. It's really easy to just travel with a combination lock in case your hostel doesn't offer their own locks so you can keep your valuables safe at all times.
Toiletries to Pack for Europe in Winter
Even though it is generally pretty easy for me to find all of my preferred brands in Europe, I do recommend bringing them from home if you can. For one, it'll likely be cheaper. For another, it's good to continue using the same products as back home as I find that travel and cold weather really stresses my skin and it's nice to have continuity in the products that I use.
Here is a basic list of toiletries I typically pack: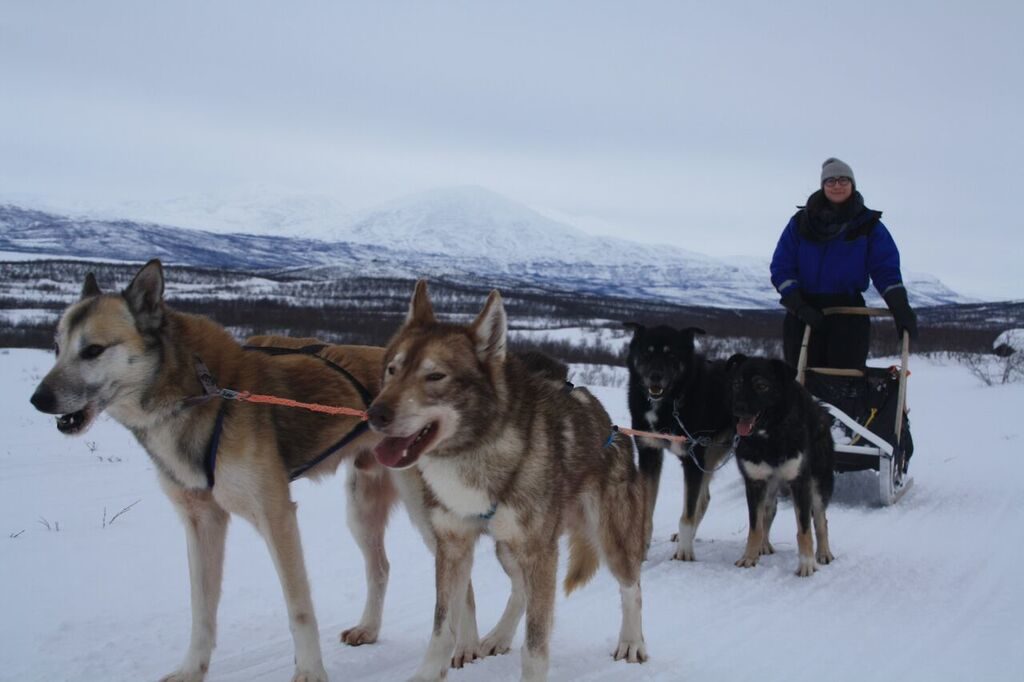 ALL THE MOISTURIZER
 Again, winter in Europe will destroy your skin. Even if you think you have oily skin, you will want moisturizer – the cold plus the overzealous heating in many cities means dryness, dryness, dryness. For daytime, I use Aveeno with SPF on my sensitive skin and Olay night cream for replenishing moisture overnight.
 I seem to always get a cold when doing winter travel so it's nice to have these on hand
LUSH solid shampoo
Great at reducing your liquid load when you travel and makes my hair feel amazing – just trust me. Buy online or in store from LUSH and you'll save serious money over Amazon. As a bonus, it's totally packaging free, so you reduce your plastic waste.
Menstrual cup or your favorite tampon/pad brand, if applicable
If you have a specific brand allegiance, you may not find it. I switched to a Diva Cup for travel and now I never have to think about stocking up on tampons, which is awesome.
Deodorant
I am not a huge fan of European deodorant. The options have gotten slightly better in the last decade, but I love Secret Clinical Strength and stash up on it every time I'm home… but then again, I am sweatier than most people are. Even in winter.
Basic medicine
You will be able to find all this in Europe, but trust me — you want to have the basics on hand in case you need them on the road.
I carry Pepto-Bismol for standard stomach troubles, Imodium as a nuclear option (i.e. riding the bus when I am sick), some sort of painkiller like ibuprofen for headaches and minor pains, and some sort of motion sickness tablets.
Cold medicine
If you're prone to getting sick in the winter. be sure to buy some cough or cold medicine – especially if you are traveling to Scandinavia or Germany. I've found out firsthand that they are really stingy with some of the ingredients over the counter in Northern Europe. You'll want to have some as backup if you are used to being able to take cold medicine, as that is not necessarily the case in, say, Germany.

Electronics to Pack for Europe in Winter
The most important thing to remember about traveling in winter is that batteries drain extra quickly. You will want to bring extra batteries for everything — especially your camera — and a portable battery charger for your phone and other electronics. Trust me on this!
If you are serious about your photography, I recommend bringing a tripod as well. Since there are fewer daylight hours in Europe in winter, you'll likely want to do a bit of night photography (especially if you are visiting around Christmas-time and are around a lot of photogenic Christmas markets!). I travel with a cheap tripod and find it works well enough for most situations.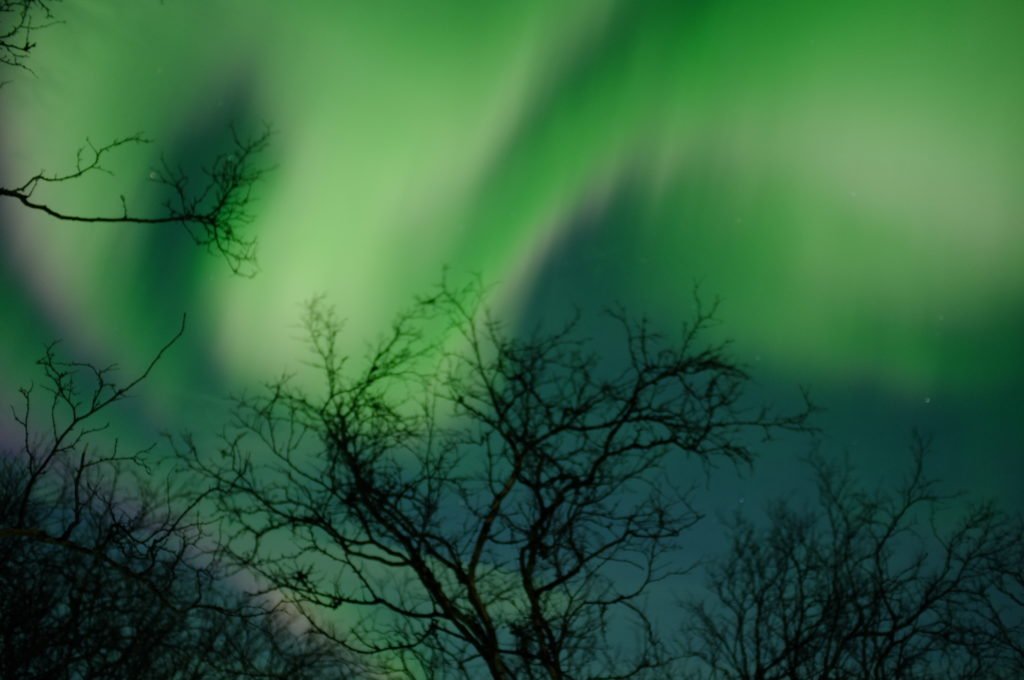 Where it not for my tripod, I wouldn't have been able to capture this!
Laptop, if necessary
I bring my 13″ MacBook Air everywhere but other people may prefer a tablet or an inexpensive netbook. I work on the road so a user-friendly, lightweight laptop is a must.
In general, I've found that it's not too hard to find English-langage bookstores in Europe (or at least an English-langauge section), but still – I love having a Kindle so that I can buy any book there is just via WiFi.
Travel camera
For all my photos when I travel, I use a Sony A6000 because it's lightweight for a professional caliber camera, inexpensive, and a HUGE step up from a smartphone. I'm hoping to upgrade to the Sony A7 III soon, but it's outrageously expensive so I am struggling with making the plunge. But a few of my friends have this camera and their photos are nothing short of magical!
Travel tripod
There are a few reasons why you might need a tripod for traveling in Europe in winter – if you are going somewhere where you may see the Northern lights or want to do night photography, such as lit-up Christmas decorations. I use a simple, cheap 50″ Amazon tripod and it works just fine and fits in my carry-on sized bag. If you plan to just take daytime photos, there's no need for a travel tripod.
Your camera and phone lose battery like crazy when in the cold, so be sure you don't forget a portable charger when you travel in winter.  Anker is a reliable brand and what I personally use. I make sure I buy something that can hold multiple charges, so that if I forget to charge it one night it won't be a big deal.
 The UK, Ireland, and Malta use a different plug than the rest of continental Europe, and Switzerland's plug is slightly different than the standard European plug. So do a bit of research about where you are going before you get there. I recommend buying it in advance because while adaptors are easy to find everywhere, it can be annoying to try to find one on your first day.
Headphones
I use simple iPhone headphones typically but you may want noise-canceling headphones if you are noise-sensitive.
***
While this sounds like a lot of things on your winter in Europe packing list – and it is – I am typically able to fit it all in a carry-on sized bag by choosing thinner but warmer materials, wearing my heaviest stuff on the plane, and picking my daypack and backpack for travel carefully!
Is there anything I've forgotten to pack for Europe in winter? Is there anything else you're wondering if you should bring? Let me know in the comments!
Allison Green is a former educator turned travel blogger. She holds a Masters in Teaching and a B.A. in English and Creative Writing. Her blog posts merge her educational background and her experience traveling to 70+ countries to encourage responsible, enriching travel. She has been a speaker at the World Travel Writers Conference and her writing, photography, and podcasting work has appeared in National Geographic, CNN Arabic, CBC Canada, and Forbes, amongst others. Now a full-time traveler, she has lived in Prague, Sofia, New York City, and the San Francisco Bay Area.