My first visit to Garmisch-Partenkirchen was actually a complete accident while exploring Bavarian towns like Füssen, but as I drove into town, I could already tell that this would be one of my favorite places in Germany.
Home to Germany's highest mountain, Garmisch is the idyllic Bavarian mountain town of your dreams!
You can spend your days wandering around mural-painted streets, hiking through fairytale gorges, climbing mountains, and eating some of the best Bavarian treats you'll ever have.
This year-round destination has something to offer for every traveler!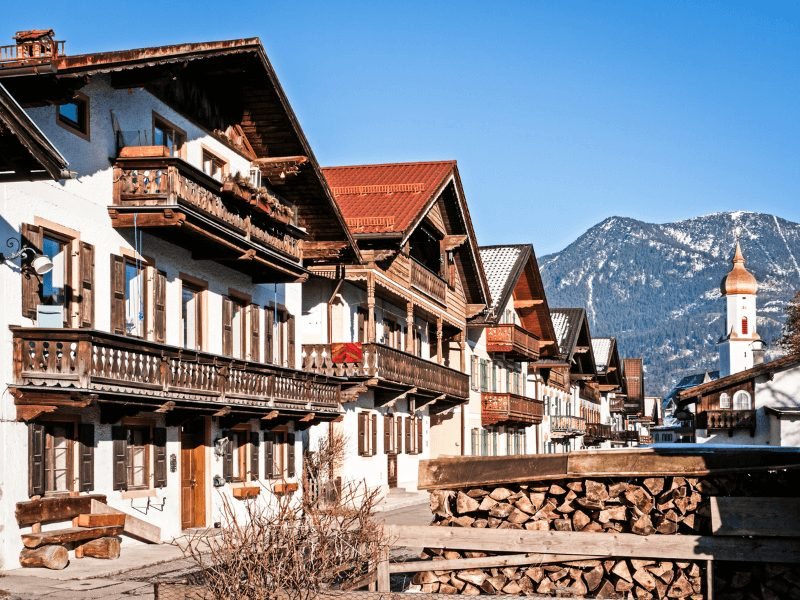 Note: This post contains affiliate links, which means I may receive a small commission if you purchase something through one of these links. Thank you for supporting the free content on this site! For more information on affiliate links and cookies, see my disclosure page for more details.
Visit during the winter months to ski around glaciers, book a fall trip to swoon over the foliage, lay in the wildflowers come springtime, or cool off in crystal clear lakes when the weather warms up.
There's literally no bad time to visit Garmisch!
Plus, it's just an hour away from Munich! Drive over for a day trip or spend a few days exploring everything that Garmisch has to offer before exploring places like the Black Forest Germany to the east, or Innsbruck in Austria, which is just south across the border.
Just don't be surprised if you never want to leave!
Where to Stay in Garmisch
Located in an adorable robin egg blue traditional house, the centrally located Werdenfelser Hof won't break the bank while still offering you a convenient place to stay in the heart of town.
It also has an adorably retro restaurant with photographs and art clustering every square inch of the walls, serving up delicious local Bavarian cuisine.
The rooms are rather simple — some have single beds, others bunk beds, others double beds — but have what you need for a comfortable stay.
The stunning aja Garmisch-Partenkirchen is a modern German spa hotel that you'll truly find it hard to check out of.
With its gorgeous outdoor pool with a view of the mountains (as well as an indoor heated pool), you could spend your entire time in Garmisch enjoying the pool alone.
Plus, the bar area of this hotel is so cool. I mean, they literally have wine on tap, poured straight from the wine barrel!
The rooms themselves are also quite nice, minimalist but not Spartan, with plenty of space and modern bathrooms.
Germany does spa hotels better than perhaps anywhere, and Werdenfelserei is no exception to this rule!
Still in a convenient location near town, a 5-minute walk from its museums and restaurants, you'll enjoy one of the most stunning pools with a direct view of the mountains.
Meanwhile, there's also a steam room and a sauna to sweat it out in, with a lovely wood-cabin-feeling relaxation area to chill out in afterwards.
The relaxing vibes don't stop at the spa itself, too — all of the suites, like the Fire Suite and Chalet Suite, have their own in-room soaking tub right in the bedroom!
The Spa Suite even has its own private sauna!
Getting Around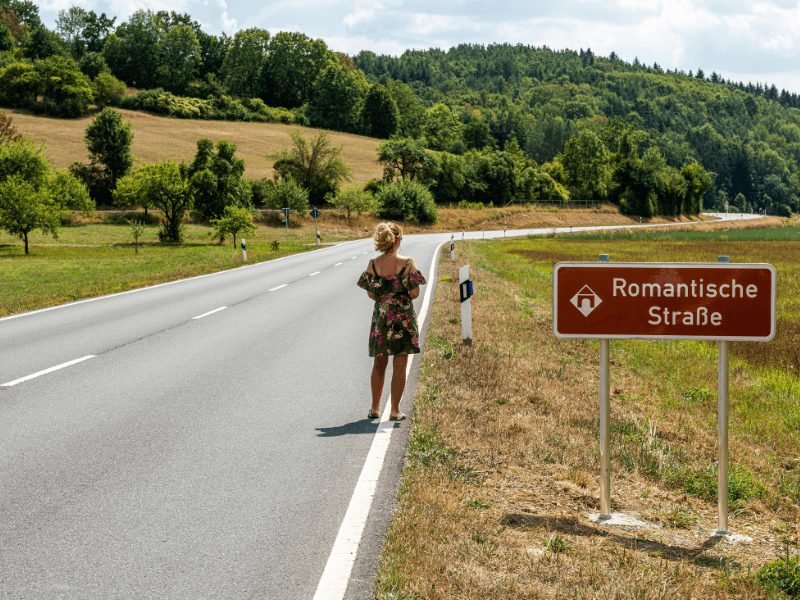 Germany does have a robust public transportation system that makes getting to most of these places doable without a car.
Still, I loved having a car for peace of mind and flexibility and for helping me get between charming towns like Füssen and Oberammergau easily, as well as to the lakes and views for sunrise!
Having a car just makes everything easier, so I recommend renting a car. You can pick it up in Munich for the best price if that's where you're flying into!
I always use Discover Cars to find the best deal for my rental, since it searches over 500+ agencies to compare prices — plus, I like how it also shows reviews of all the agencies, so you won't get stuck with a bad one.
10 Best Things to do in Garmisch
Hike the Partnachklamm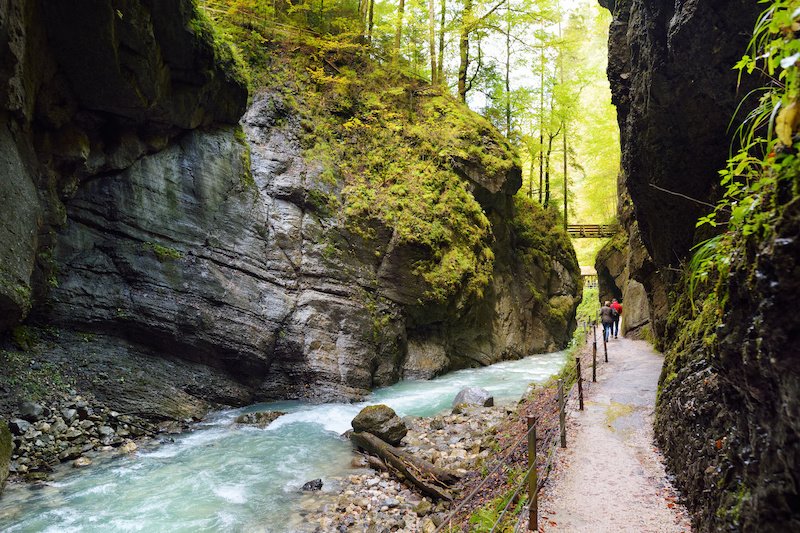 Every moment in Garmisch feels magical, thanks to its towering mountains and charming Bavarian streets, but the gorges are what really seal the deal for me, and none more so than the Partnachklamm.
This gorge is nearly 300 feet deep, extends over 2,000 feet long, AND you can walk through it! What more could you want?
Crystal clear, turquoise water? Don't worry, that's here too, because the Partnachklamm has it all!
You'll feel like you've entered a fairytale world as you walk through the darkened gorge (headlamps recommended) coated with bright green moss.
You'll be soothed by the sounds of dripping water, and a rushing river so colorful that it doesn't even look real. Just don't forget your raincoat!
To get here, you'll have to park at the Garmisch Olympia Stadium (where you can admire some impressive ski jumps!) and take a short, scenic walk to the start of the gorge.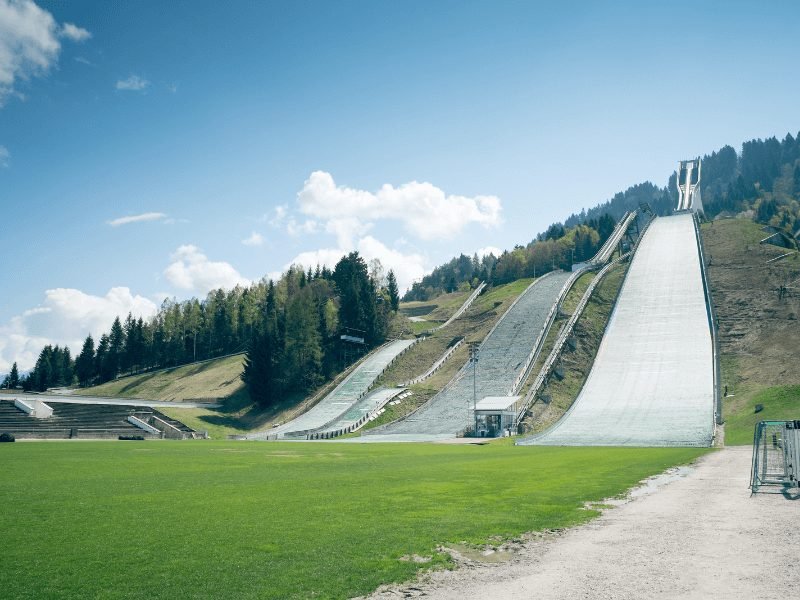 Once you get there, it's time to whip out your online reservation (€7.50 per person) and get to exploring!
The gorge remains open all year-round and each season has something amazing to offer. Imagine seeing this already spectacular gem dotted with colorful fall foliage, or covered in shiny icicles!
Just keep in mind that while winter and spring are a great time to beat the crowds, it's common to have last minute closures due to safety hazards.
Choose your journey to Alpspitze.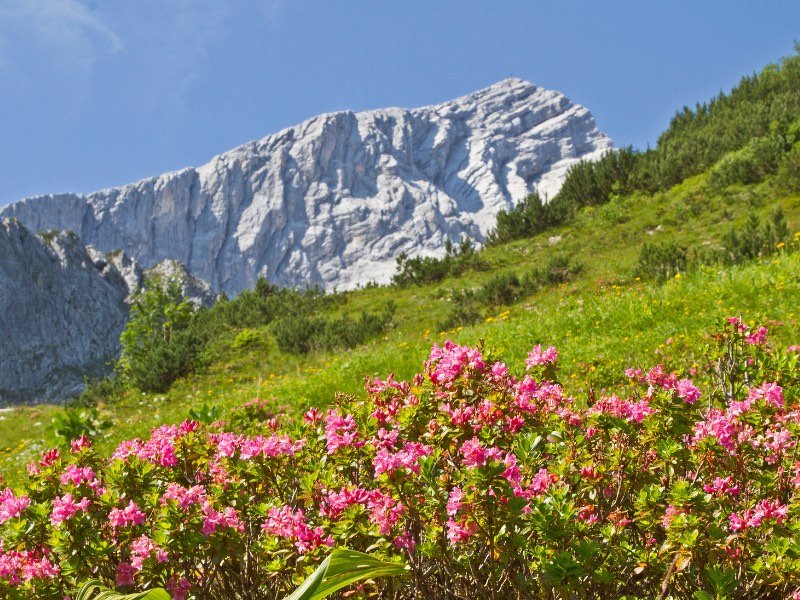 Although it's not the highest peak in Germany (we will get there), Alpspitze is definitely one of, if not the most recognizable mountain in Garmisch.
All of those awesome mountain pictures you took back in town? Yeah, Alpspitze was probably the star of the show.
Towering just under 9,000 feet, Alpspitze's pyramid-like shape is what really gives it away but if you still weren't sure, look for the mountain with all the cable cars leading up to the top!
Alpspitze has three cable cars to choose from but if you're really feeling adventurous, you can opt to hike instead.
Let's evaluate your options!
The Alpspitzbahn Cable Car will take you right to the top, whereas the Kreuzeckbahn and Hochalmbahn cable cars will take you almost all of the way (minus about 1,400 feet).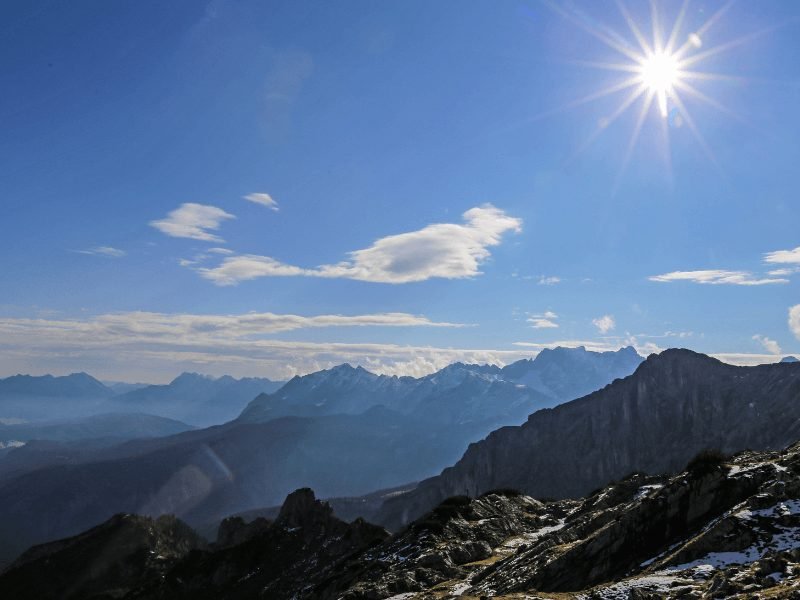 This makes it a great option for people who still want to get a hike in but don't want to commit to a challenging 4,600 foot elevation gain from the base of the mountain.
The Garmisch Classic ticket will get you one ascent and descent via a cable car of your choosing for €29.
If you also want to visit Zugspitze (and trust me, you'll want to check it out!), you should opt for the 2 Peak Pass for €71. I promise it's worth it!
Once you get to the top, spend as much time as you'd like enjoying the incredible panoramic views, grabbing a bite to eat at the restaurant, or hiking (or cross-country skiing).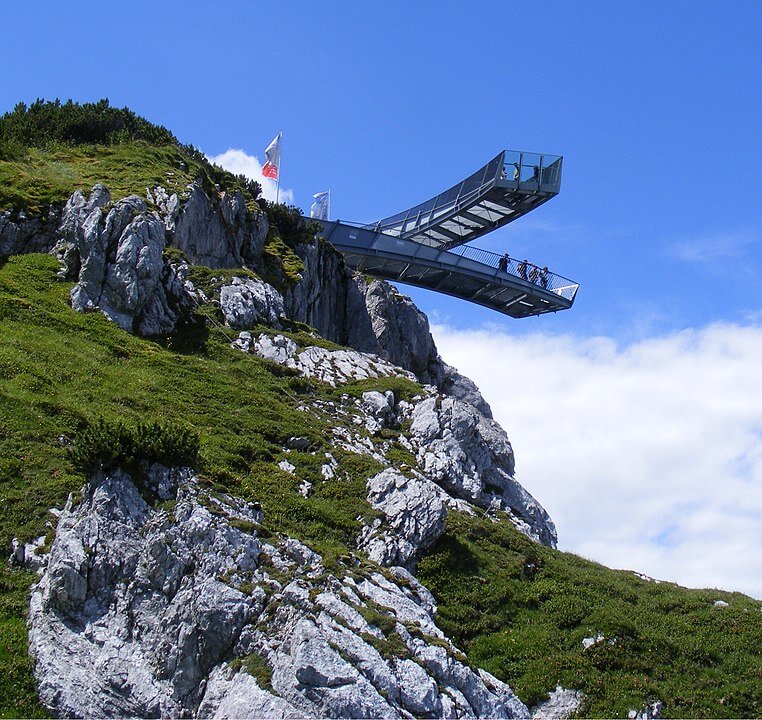 Of course, you can't miss visiting the very unique AlpspiX!
And let me tell you, AlpspiX is the coolest! This viewing platform jets out of the rugged mountainside to form an X shape, creating two unique viewing areas.
Wherever you stand, you'll be rewarded with both unmatched views and the slightly unnerving feeling of floating more than three thousand feet up in the air!
Take a stroll down Ludwigstraße in town.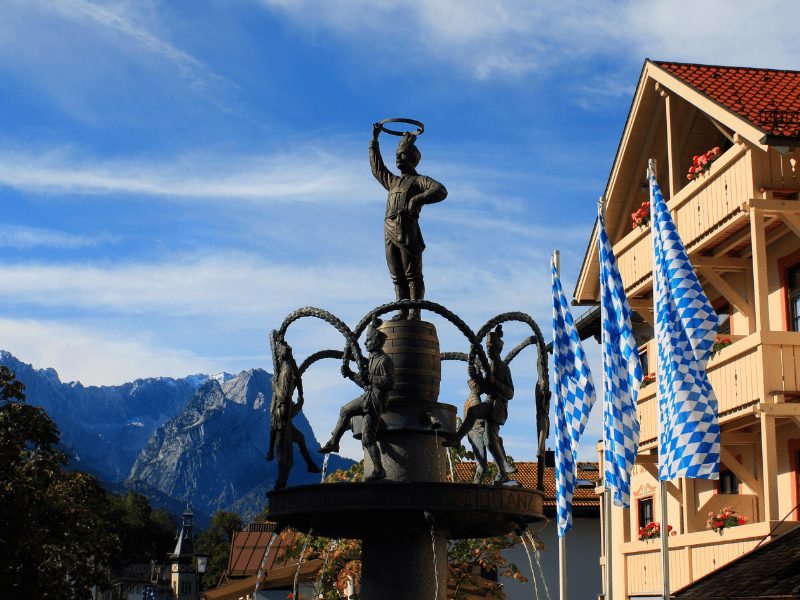 No trip to explore a new German town would be complete without a visit to its charming pedestrian zone and it just so happens that Ludwigstraße is the most charming of them all.
Like most other pedestrian zones, you'll be treated to cobblestone streets, unique shops, and picturesque views but the thing that makes Ludwigstraße stand out amongst the rest is its Bavarian style buildings.
These colorful homes each have their own special mural painting, known as Lüftlmalerei, that tells the story of the people who once lived there.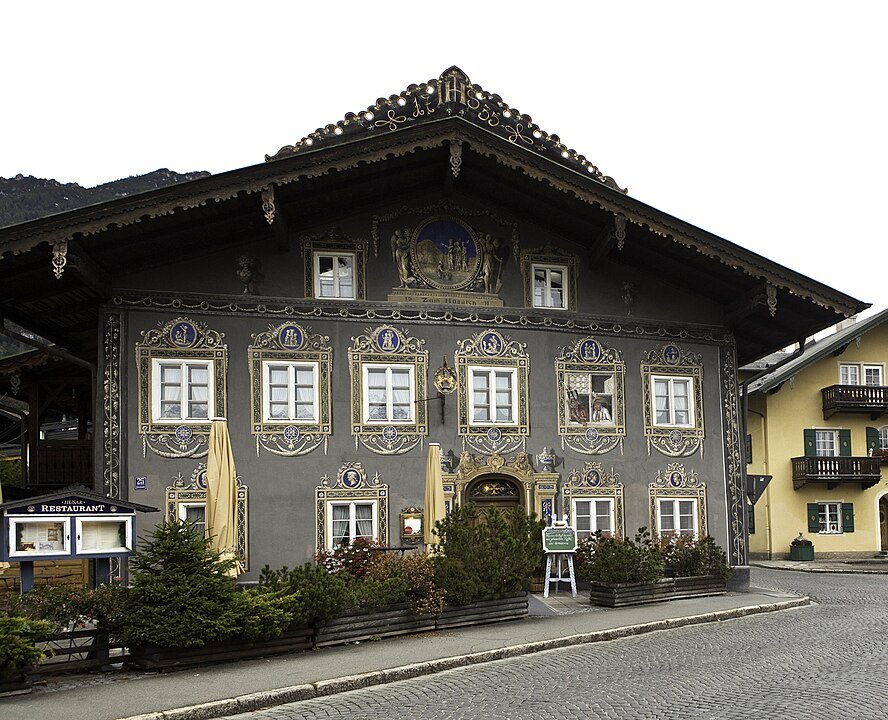 You can spend all afternoon admiring the murals and learning about what life was once like here in the mountains.
This style of art can only be found in this corner of Bavaria so it's a real one of a kind treat!
And speaking of treats… Make sure to stop at Benedict Sieß while you're there for a delicious pastry to enjoy on the go!
Experience Lake Eibsee.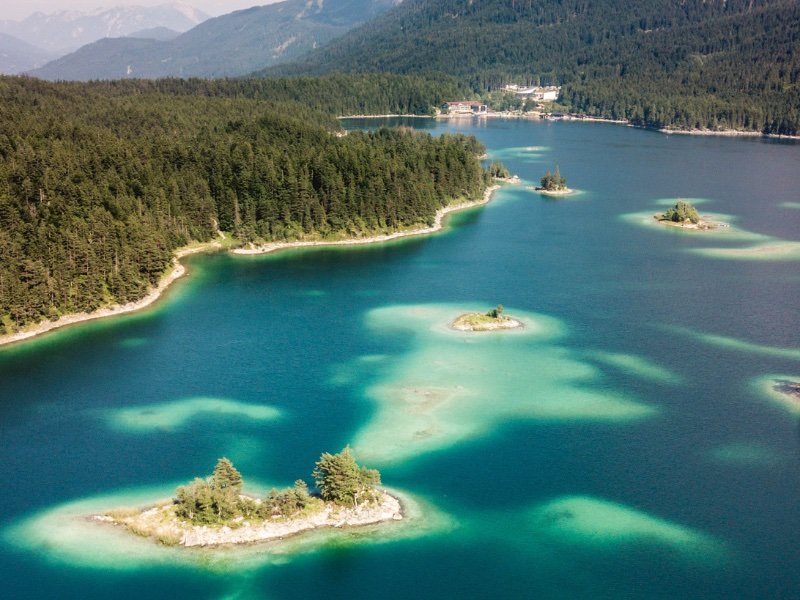 Nestled at the base of Germany's highest mountain, Lake Eibsee is everything you could hope for in an alpine lake, and so much more.
The emerald green water paired with the surrounding forest and towering mountain range makes this the place for a perfect photo op.
Even better, in the early morning, the water is so calm that you can literally see Zugspitze reflecting in it (I mean, c'mon!).
But, if making all your Instagram followers jealous isn't the (only) reason you came to Garmisch, you'll be happy to know that there are tons of other ways to experience Eibsee!
Go for a guided boat tour, rent a paddleboard, hike around the lake, eat at one of the lakefront restaurants, go for a swim… The options are endless!
Whatever you do, save some time to visit Eishütterl am See for an ice cream treat that you'll be dreaming about for weeks!
This is a great activity to pair with a visit to Zugspitze since the cable car up the mountains leaves from the same parking lot…
And speaking of parking lots, be prepared to pay a pretty penny to park in this one!
It costs €18 for a 4-hour minimum, though you do get €10 back if you use the mountain railway.
Explore the Werdenfels Castle ruins.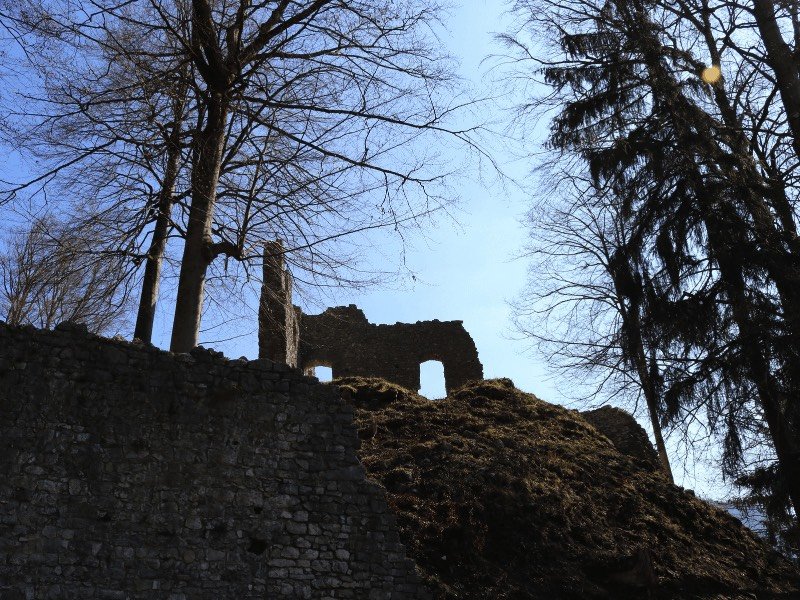 Sitting high above the Loisach River, the Werdenfels Castle ruins are the definition of a hidden gem!
With so many things to do in Garmisch, it isn't surprising that Werdenfels stays off the radar, but it's part of what makes this place so spectacular!
Imagine this… you're exploring the ruins of a mysterious fortress dating back to the 13th century, mountains towering over you in every direction.
You look through an arch to see the river below… and there is not another soul in sight.
It doesn't get much better than that… except it does, because it's free!
Visit the marvelous Oberammergau.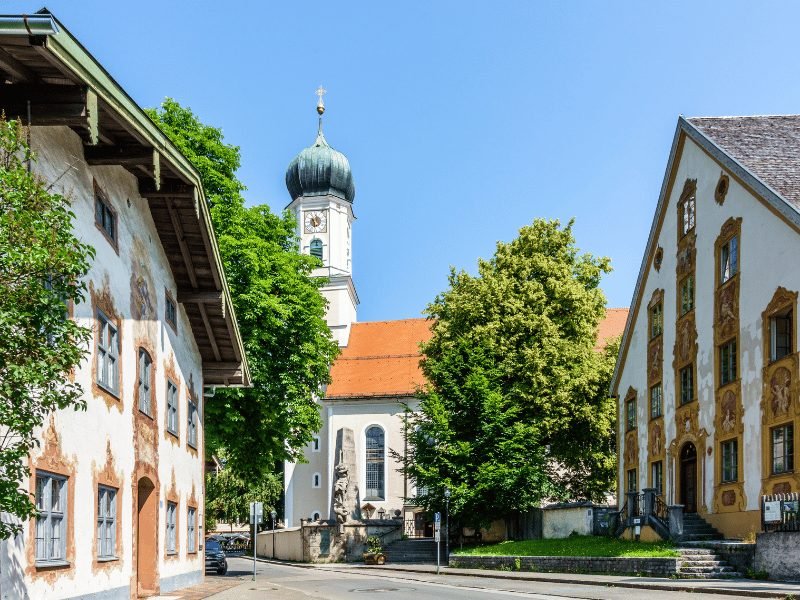 If you've fallen in love with Ludwigstraße's special murals, then you absolutely have to visit Oberammergau.
Nestled in a serene valley bordered by a towering forest and an even taller mountain range, the town of Oberammergau takes the term "picturesque" to a whole new level.
Here, you'll find the famous Lüftlmalerei paintings on a grander scale!
There is even a Lüftlmalerei that tells the story of Hansel and Gretel so keep an eye out! (If you look closely, you'll find Little Red Riding Hood too!)
When you aren't marveling at the painted stories, you can shop for a variety of wood carved goods.
Wood carving has been a staple at Oberammergau for centuries and there are more than 60 local wood sculptors to choose from.
Once you've picked up a unique souvenir, it's time to check out the Passion Play Theater.
In 1634, the residents of Oberammergau made a Passion Play pledge in an effort to be spared from the bubonic plague by divine intervention.
Since then, this play has been faithfully reenacted every ten years!
It draws in thousands of visitors and nearly half of the town's 5,000 residents participate in one way or another.
Don't worry if your trip doesn't hit the ten year mark! Exploring the theater where the play is held is an experience in its own right.
Stand atop Germany's highest mountain.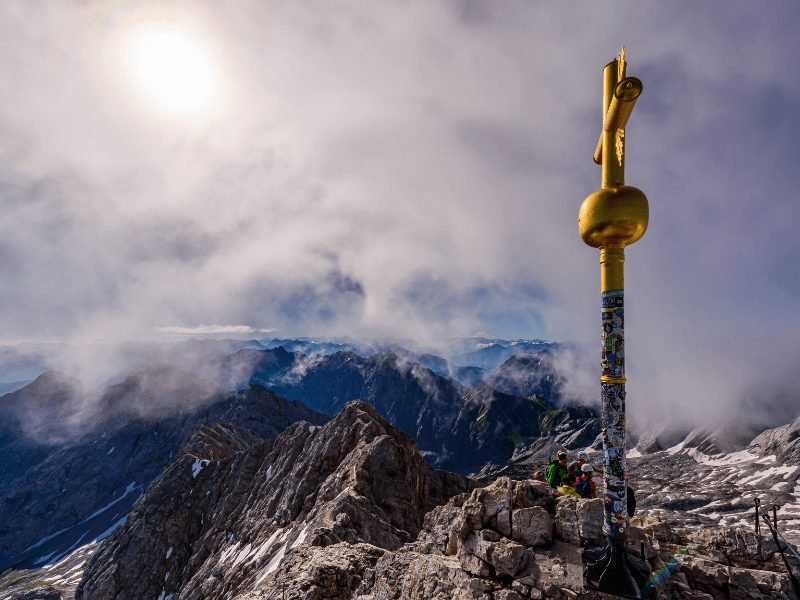 With Germany's highest mountain right at your fingertips, it'd be wrong to plan a trip to Garmisch that didn't include a visit to the top of Zugspitze.
Ambitious travelers can choose to hike to the top, but even if you take the cable car up, you'll still be able to brag about standing at the very top of Germany.
From the top, you'll have panoramic views (obviously) of the surrounding area so don't forget to wave hello to Austria and Italy!
You can also make a valiant attempt to count all of the notable mountains you can see in the distance — but be prepared, because on a clear day, it can be around 400!
Depending on the season, you can spend some time hiking or skiing around the mountaintop and then follow it up by a delicious meal at the cafeteria.
You can even choose to spend a night up here at the Münchner Haus.
P.S. It's not uncommon to see wedding ceremonies happening here. Talk about romance!
Indulge in Kaiserschmarrn.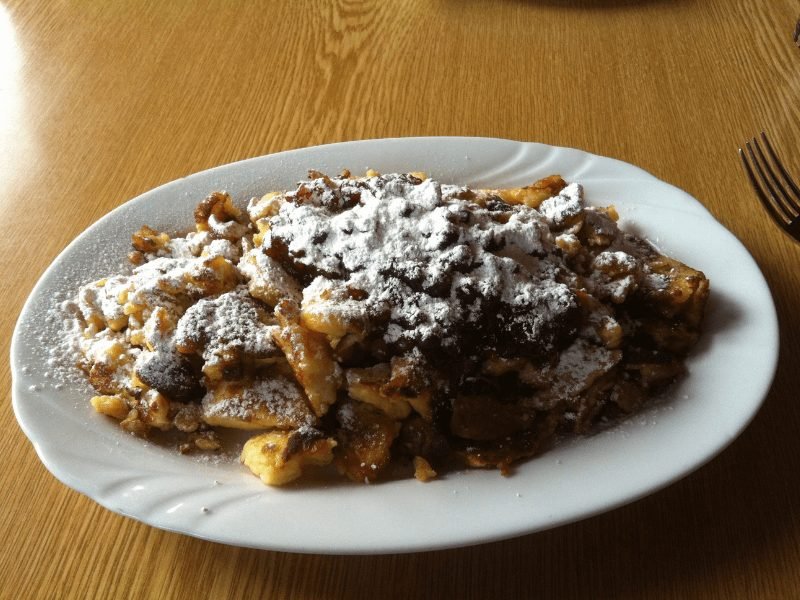 Also known as a scrambled pancake, I'm pretty sure I could eat nothing else but Kaiserschmarrn for the rest of my life and be perfectly content.
Sure, you should absolutely try a wide variety of traditional Bavarian food while you are in Garmisch but you should not miss an opportunity to indulge in some Kaiserschmarrn.
You're probably going to see this sweet treat on just about any menu in Garmisch but my absolute favorite place (and trust me when I say I ordered it everywhere I went) is Gasthaus zur Schranne.
I swear I'm not saying that just because it has an awesome beer garden (but I mean, it doesn't hurt that it does).
Explore the scenic Riessersee.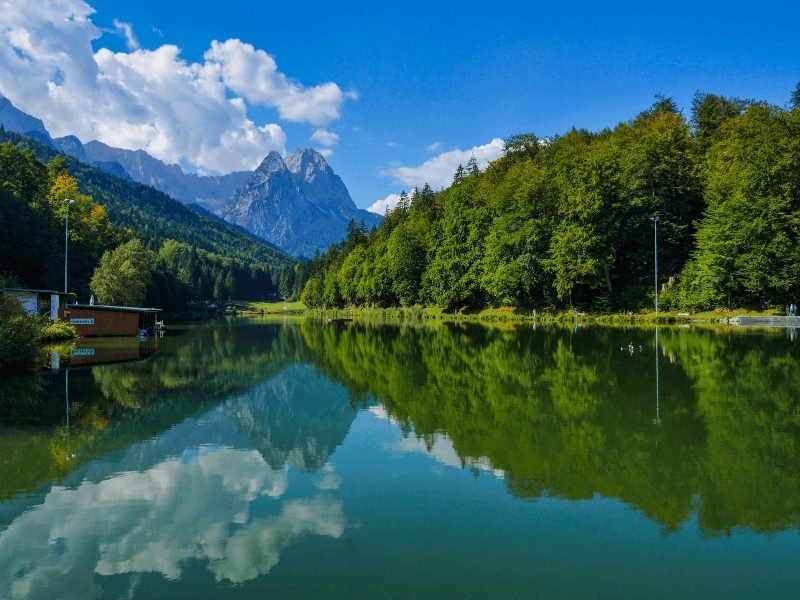 With all of the attention focused on Lake Eibsee, Riessersee is often overlooked and that's part of the reason why it's one of my favorite places in Garmisch.
But even though I'm not complaining, I'm still surprised it doesn't get more attention.
Not only does this breathtaking lake date back to medieval times, but it also has hosted many famous competitions like the Olympic Winter Games of 1936.
Now don't get me wrong!
You'll still see people here cooling off with a swim in the summertime or skating around when the lake turns to ice come winter, but it's not nearly as busy as Eibsee.
Plus, the lake is large enough that you can always find a nice, quiet space all to yourself. It'll even have spectacular mountain views to boot!
Watch the sunset… or sunrise.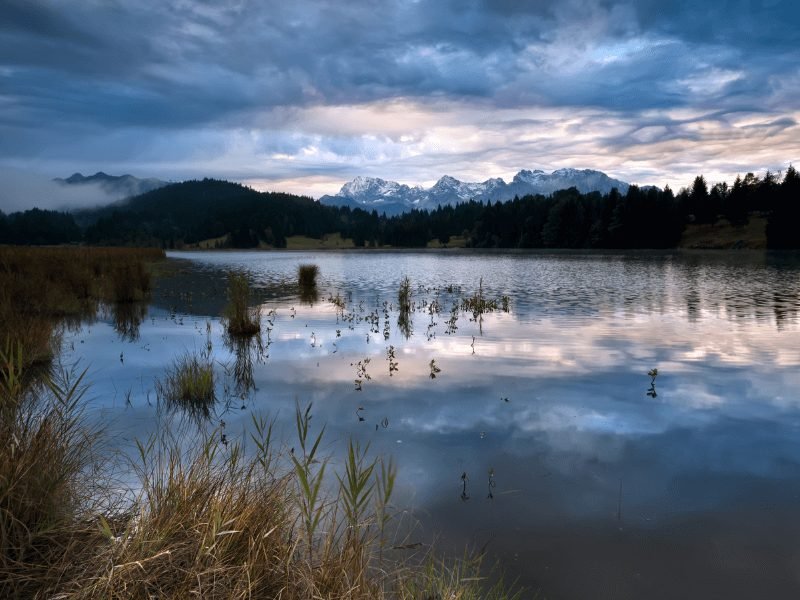 Imagine some of those incredible views that I've been talking about. Now, imagine them at sunset or sunrise.
There's absolutely no bad place to watch the sunset as long as you make an effort to be outside.
Watch it from Lake Eibsee or even Ludwigstraße street, but just make it happen.
Plus, with the towering mountains, you won't get much of the actual sunrise/sunset so you don't have to worry about being in the "perfect spot". Instead, what you'll get is a spectacular, colorful sky in every direction. Like I said, no bad place!
But, if I had to pick just one of my favorite sunset/sunrise spots it would be Lake Geroldsee.
This adorable moor lake's calm waters make for the perfect mountain reflection everytime and the fairytale huts peppered around the valley create a magical feel.
A short hike will take you right to the water's edge and guarantees a sunset/sunrise experience that isn't crowded with other people.
While the morning light is still in full radiant effect, stop by Lake Kochel to keep the great views coming!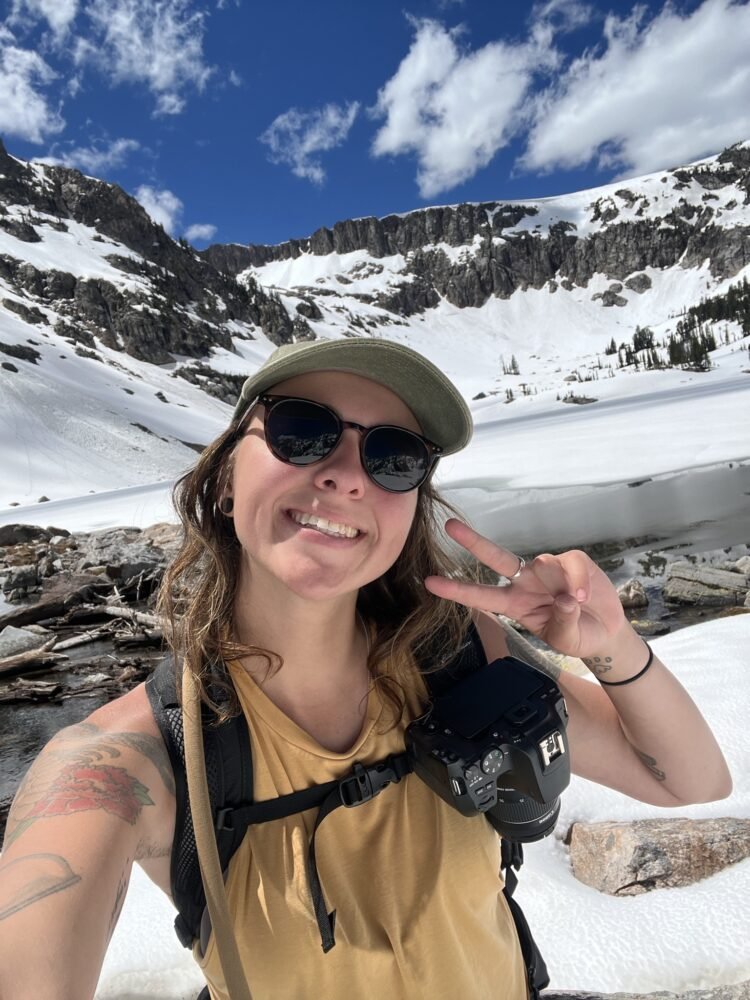 Nicole is a freelance travel writer who loves traveling and hiking in America's National Parks, particularly in Utah, Wyoming, and California. Her favorite place is just about anywhere where snow-peaked mountains can be seen in the distance.