Seeing the Northern lights is a true bucket list must, and the part of Norway north of the Arctic Circle is one of the best places in the world to tick it off your list!
You can just as easily see the Northern Lights elsewhere in Northern Europe, like Swedish hotels or Finland glass igloos or Iceland Northern lights hotels.
However, I personally think Norway is underrated here! It has some amazing Northern lights hotels that specifically bring in design elements that enhance the experience of viewing the aurora.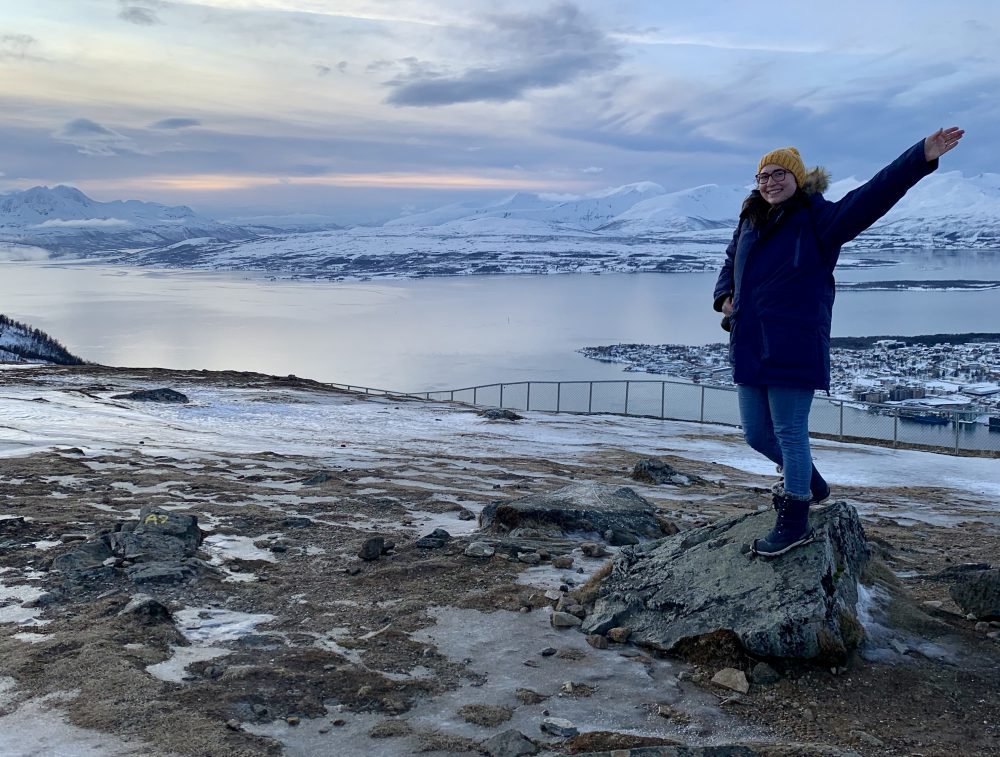 Note: This post contains affiliate links, which means I may receive a small commission if you purchase something through one of these links. Thank you for supporting the free content on this site! For more information on affiliate links and cookies, see my disclosure page for more details.
I've picked out the best hotels in Northern Norway where you can see the Northern lights dancing overhead — no Northern lights tours required (although they are quite fun!)
For the purpose of this post, I've focused on unique hotels offering something special to the Northern lights experience, whether that's staying in an ice hotel, a glass igloo, or having access to incredible winter activities.
So, let's get into it: here are my top picks for the best Norway Northern lights hotels!
My Top 3 Norway Northern Lights Hotels
This post goes into detail about all the great places to stay, but it's quite exhaustive, with 13 possible options… which may cause decision fatigue for some.
If you're in a hurry, not to worry — I've narrowed it down to my top 3 and shared why I think each one has a unique edge that makes it an epic choice.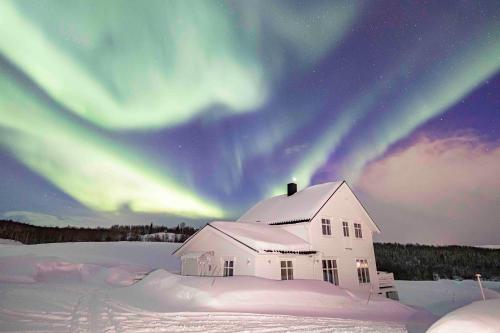 ⭐️⭐️⭐️⭐️⭐️
Aurora Borealis Observatory
✔️ Glass igloos available (check their "one bedroom bungalows")
✔️ Gorgeous hot tubs to watch the aurora from!
✔️ Fine dining New Nordic restaurant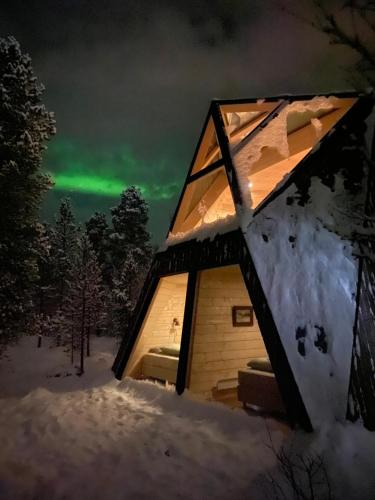 Trasti & Trine
✔️ Unique "Radderud" two-story aurora cabins with lots of glass walls
✔️ 60-strong husky farm on-site for dog-sledding & cuddles!
Tromso, Norway's Best Northern Lights Hotels
The All-Inclusive Experience with Whale Watching or Snowmobiling: Aurora Camp Tromso
The city of Tromso is often a hub for Northern lights tours; however, the city itself is not the best place to see the lights.
I stayed there for one week, and I was only able to see the Northern lights from my Airbnb in the city on time, when the lights were especially active.
As a result, if you want to stay in a Northern lights hotel in Tromso, you're better off staying in a hotel outside the city center, away from the light pollution. Tromso is a city of nearly 75,000 people, after all — the third-largest city in the Arctic Circle.
Located in the Lyngen Alps, you can organize an overnight trip from Tromso including either a snowmobiling tour or a whale watching tour (November-January only).
Your overnight stay includes a night in a crystal lavvo. Wait, what's a lavvo?
It's a traditional indigenous Sami lodging style that is comparable to a tipi in shape and construction.
Of course, these lavvos are a little different. Rather than being constructed with reindeer pelts like Sami lavvos are, they are made of panes of glass joined together.
This makes a beautiful panoramic view where you can watch the Northern lights dance in front of you!
Your stay also includes transportation from downtown Tromso and a tour (either snowmobiling through the Lyngen Fjord and Alps, or whale watching tour in Skjervoy).
You'll also get to enjoy a group lunch, the ability to choose between a snowshoe or cross-country ski activity, and a photography workshop for the Northern lights complete with tripod rental.
Of course, then you have free time to enjoy your glass-roof lavvo and snap as many photos of the aurora as you can — weather permitting of course.
The tour also includes dinner and breakfast the following morning as well as return transit to Tromso the next day.
Book your overnight stay at the Aurora Camp Tromso here — pick between the snowmobiling or whale watching option!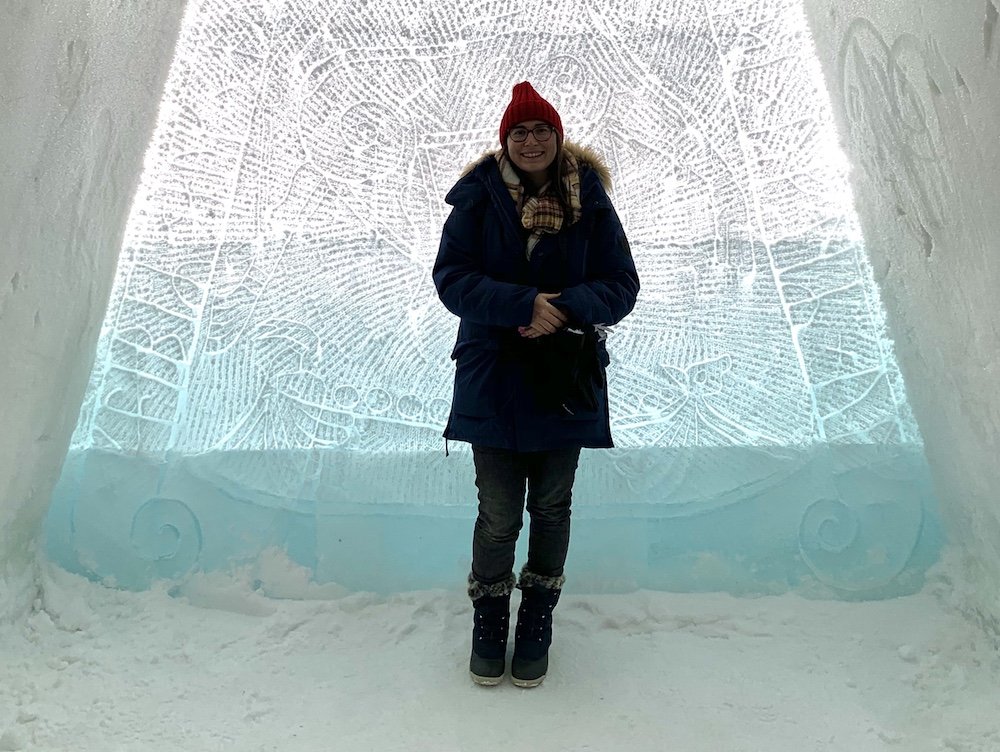 The first ice hotel on this list, Tromso Ice Domes is a fantastic place to stay free of light pollution so you can see the Northern lights in their full glory.
However, do note that the ice hotels have no windows (you are encased in ice, after all!) so you will have to leave your room to see the lights dance.
The Tromso Ice Domes are constructed entirely from ice derived from a river near the Finnish border, where the colder temperatures allow for ice blocks to form more easily.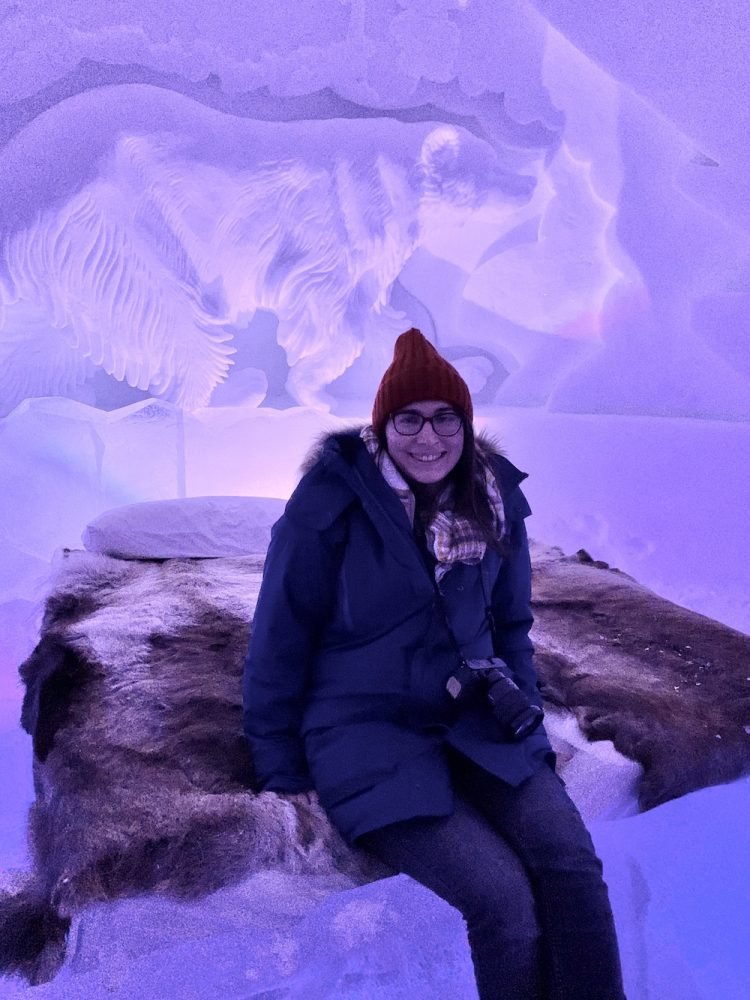 It takes about two months each year to build the Ice Domes from scratch, and they're open for just a few months each year — from December 10th to March 31st.
Tromso is actually too warm to support the cold temperatures that the Ice Domes require to be structurally sound.
For that reason, despite the name, the Tromso Ice Domes are actually located in the Tamok Valley, about an 1.5 hour drive from the city of Tromso.
However, there are organized tours that you can book will bring you there for a day trip including roundtrip transportation, or you can stay overnight in one of the handful of rooms by booking online here!
I've visited the Tromso Ice Domes in person, and you can read my post about my day trip there here!
Book a day tour or an overnight stay here!
This budget-friendly aurora hotel near Tromso, located on the island of Kvaløya, is a good choice if you don't want the fanciest accommodation option, but you do want a good chance of seeing the Northern lights.
MelisHome Aurora Observatory is a little bare bones in terms of rooms and amenities (although they do have a sauna!), but the location can't be beat, located right on a fjord with no light pollution to disturb your aurora watching.
Note that you will need to arrange transportation or have a rental car in order to get around here, since it's a bit out of the way from downtown Tromso.
However, once you're there, you'll find you have all you need, including a kitchen to make your own meals if you are trying to save money there.
Senja, Norway's Best Northern Lights Hotels
Located on Senja Island about 10 minutes from Finnsnes, away from light pollution the Aurora Borealis Observatory is a fantastic place to stay to see the Northern Lights in Norway.
This is one of the hotels where you can stay in a "glass igloo" style accommodation (the likes of which you've probably seen in those viral photos of those famous igloo hotels in Finland!).
From your glass igloo, you can enjoy nearly 360-degree views of the sky, all from the comfort of your own bed at this beautiful Northern lights resort.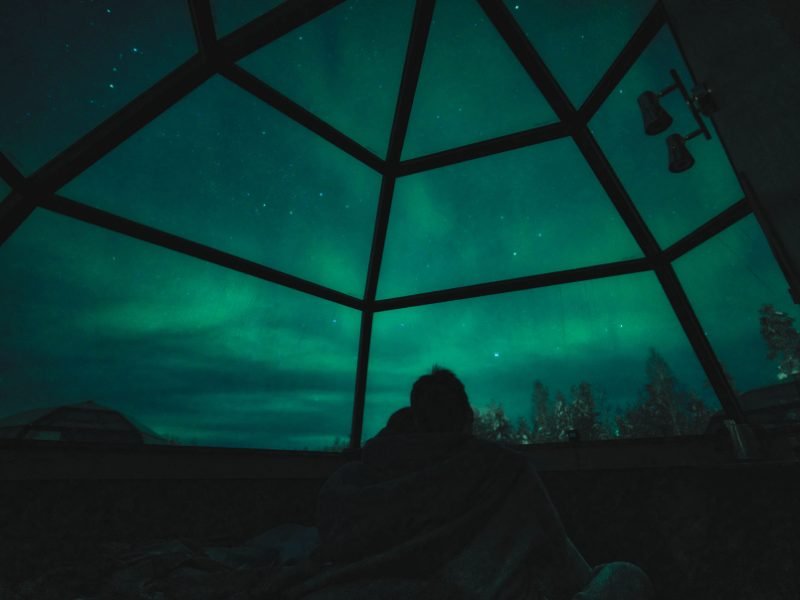 There are also other more traditional styles of suites, but everything comes with huge windows so you can appreciate the beautiful aurora right from your own hotel!
There are ski rentals available so you can enjoy the natural winter beauty of Senja Island by day, while waiting for the aurora to make its appearance at night… which you can enjoy from a Jacuzzi or from the wide-windowed privacy of your own aurora suite.
Daily breakfast is provided and there is also a restaurant on-site providing fine dining options, including a beautifully-executed tasting menu that celebrates Northern Norwegian cuisine.
Tip: If you want to book the glass igloo, it's listed as the "one bedroom bungalow" on the website!
Check prices and availability at Aurora Borealis Observatory here!
Alta, Norway's Best Northern Lights Hotels
Best Arctic "Pyramid" Cabins: Trasti & Trine Boutique Hotel – Book Here
Close to the conveniences of Alta just over five miles from the city and near to the Alta River, Trasti & Trine is the perfect Northern lights hotel in Norway: convenient, but far enough away from the city lights so you can see the beautiful aurora borealis!
Trasti & Trine has a variety of room types, from double rooms in a typical hotel to self-contained cottages better for a larger group.
They also have their own private pyramid-shaped Arctic cabins in a completely unique geometric design, way different than the igloos you're used to seeing online!
Their unique tiny-house like "Radderud" cabins are built over two stories, with lots of angled glass panes, so you get a great panoramic view no matter where you are in the cabin!
Note: These are listed as the one and two-bedroom cottages on Booking — take a look at the photos to ensure you're booking the right room type!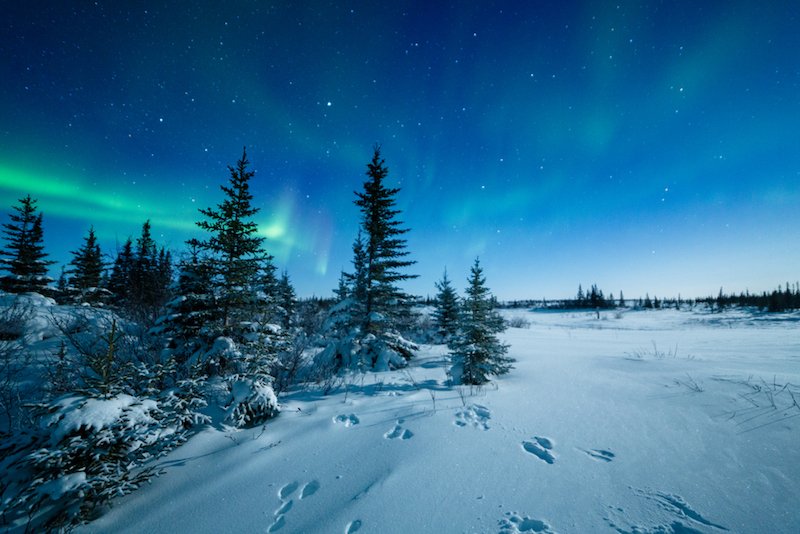 Besides having a prime aurora watching location, you can also go snowshoeing, hiking, or cross-country skiing on trails that leave right from the hotel!
This is also a great place to stay for foodies, as this hotel serve all-organic delicious breakfasts and dinners prepared by their team of chefs, who can cater to a variety of dietary needs.
But best of all?
Trasti & Trine is located just a short walk from their in-house dog kennel that houses 60 beautiful Alaskan huskies who are excited to welcome visitors — when they're not busy dog sledding, that is!
Located with a pristine view of the Gammelbollo River, Sorrisniva Arctic Wilderness Lodge is a stunning Norway Northern Lights hotel option in Alta.
This is probably the best luxury hotel option of all the Northern lights accommodations suggested here.
Sorrisniva is quite simply an incredible Arctic hotel, and it even has its own on-site ice hotel. (Which we'll talk about in the next section, as it's listed separately!)
Beyond the ice hotel rooms, they also have typical warm rooms with gorgeous floor-to-ceiling windows so you can aurora-watch from your comfortable bed.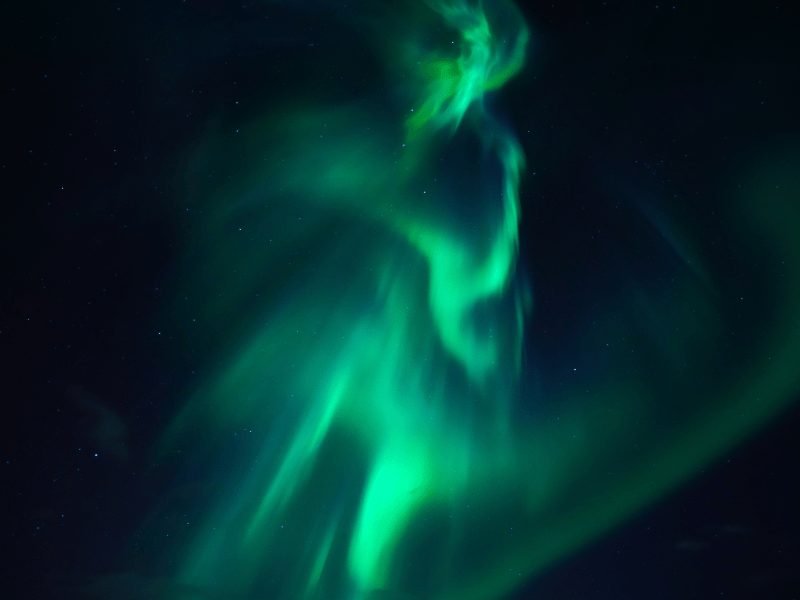 These rooms also have a patio area where you can sit outside and see the aurora privately from your own terrace if you don't mind the brisk night air!
They also have huskies who live there who are available for dog-sledding, and they offer really extended excursions — like a 30 kilometer full-day husky sledding trip (most dog sledding tours in Norway only last a few hours maximum!)
They also offer all sorts of other on-site experiences, from snowshoeing to snowmobiling to going fishing for king crabs to reindeer sledding with Sami reindeer herders and more!
It's a great place to have a mash-up of cultural experience, nature escape, and an absolutely luxurious getaway — in equal parts!
Check prices and availability at Sorrisniva Arctic Lodge here!
Sorrisniva's exclusive Igloo Hotel is one of the most incredible Northern lights hotels in Norway for a unique experience.
There are only three rooms, which you have to book way in advance (and is listed seperately from the rest of the lodge).
However, do note that the ice hotel rooms won't have a good view of the aurora, since they are totally surrounded by ice with no windows.
So if you are looking for aurora spotting from your room, you will want to book one of the standard 'warm rooms' in the wilderness lodge above.
You'll also get to enjoy all the amenities of the wilderness lodge, so staying in the Igloo Hotel is a great way to have the best of both worlds.
You can also stay one night in the Sorrisniva Igloo Hotel for the experience (which you likely only really need one night!) and then switch to a warm room in the neighboring lodge with panoramic windows for the rest of your stay.
Personally, that's what I'd choose, especially since these rooms are quite pricy.
If you want to stay in a unique accommodation with lots of huskies to keep you company, Holmen Husky Lodge is your dream Norway Northern lights hotel!
Holmen Husky Lodge offers glass lavvos (tipi-style accommodations) that have a panoramic window to enjoy the aurora.
Worried about being cold? Don't be – the lavvos are carpeted and heated, and electric blankets are also provided for your comfort.
And as you might have guessed from the name, huskies abound at Holmen Husky Lodge!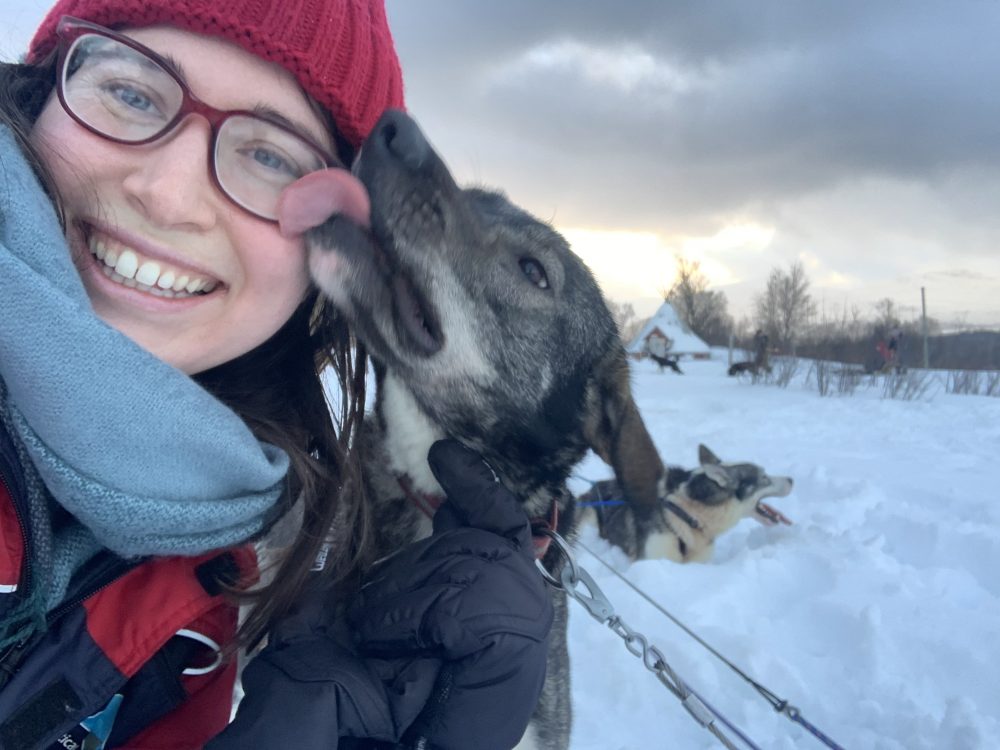 You can play with these friendly guys or you can go dog-sledding with the team.
There is also an outdoor hot tub which you can watch the aurora from, and you can warm up in the sauna any time you choose!
There is also a barbecue hut where you can prep meals and an outdoor fireplace for all to enjoy.

Arctic glamping, anyone?
One of the more unique ways to stay in a Northern lights hotel in Norway is to stay in a tented dome with GLØD Aurora Canvas Dome!
You get to stay in a tent with see-through paneling so you can watch the aurora dance overhead on nights with a clear sky — all while you still feel very at one with nature.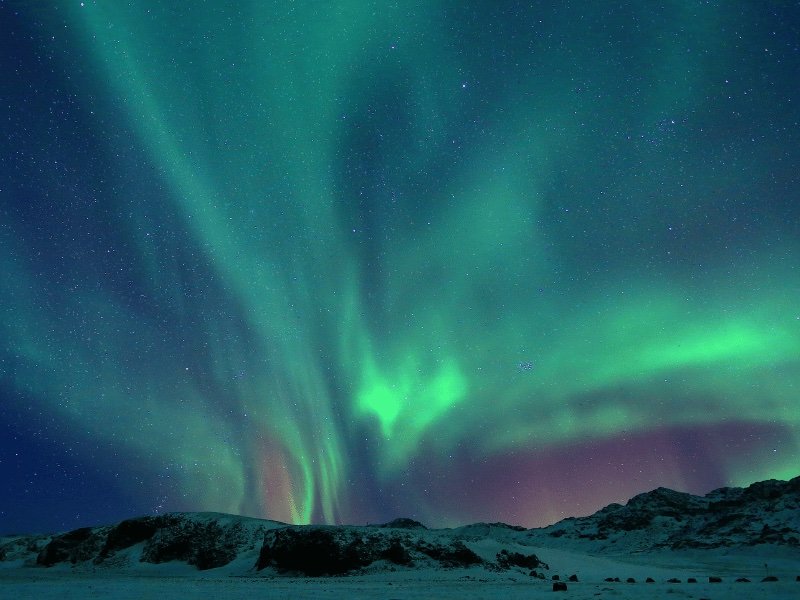 Don't worry about feeling cold — the canvas dome comes with a log-fueled fireplace and electric blankets are also available so you're sure to feel extra cozy.
Note that the bathroom is located outside the canvas dome in an outhouse right nearby the tents.
Also, there is a sauna available for guest use!
One of the best Northern lights hotels in Alta is the Flatmoen Natur Lodge!
The accommodation style is a bit unique here in that each suite is a standalone wooden cabin with large floor-to-ceiling windows on 3 sides of the cabin, giving you nearly 360-degree views to enjoy aurora watching!
The design is very typically Scandinavian and comfortable (the Norwegian word for that would be koselig!)
Each unit comes with its own private hot tub, so you can watch the aurora dance overhead from the privacy of your own little fenced-in private terrace.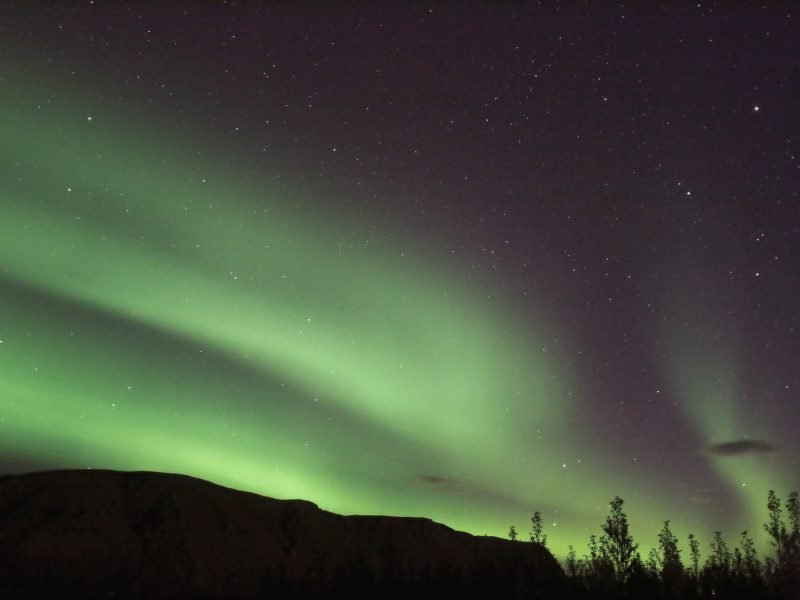 The cabin has great heating so you can be sure to be toasty warm despite all the glass walls!
There is also an en-suite bathroom unlike some of the other options on this list which require you leaving the accommodation to use an outhouse, so it's great if that's a concern for you!
There are only two of these glass cabins, so be sure to book in advance if this is the right Northern lights hotel in Norway for you.
Lofoten Islands, Norway's Best Northern Lights Hotels
Best Rorbuer-Style Traditional Fishing Huts: Hattvika Lodge
The charming Hattvika Lodge located in Ballstad in the Lofoten Islands is a great choice for a Norway Northern lights hotel.
In general, the Lofoten Islands are more of a summer destination, when the midnight sun allows for hours of Arctic water sports like sea kayaking and even surfing!
As a result, it's a little harder to find a Northern lights hotel in the Lofoten Islands, but Hattvika Lodge is one of those hotels that works really well for aurora spotting as well as summer activities.
The Lodge features "Rorbuer", which are traditional fishing huts that have been modernized beautifully.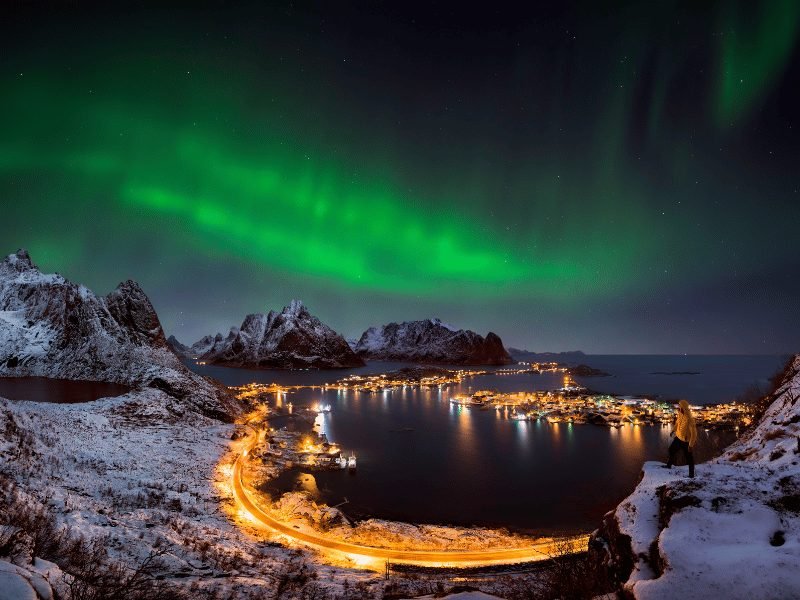 Each little hut has been updated with modern Nordic design, evoking a beautiful modern mountain lodge vibe on the inside, despite being located in a small fishing village!
The rooms feature have large windows and comfortable amenities like saunas and hot tubs great for enjoying the winter nights!
Tip: The Deluxe Studio and the Deluxe Two-Bedroom have the best windows for aurora spotting and amazing views day or night!
Located in Leknes in the Lofoten Islands, Lofoten Basecamp is simply beautiful.
Its fishing cabins perched over the water are pretty much the closest thing Norway has to overwater bungalows — just Arctic-style, so you'll hardly want to jump in!
Each little unit has its own terrace that offers a stunning overlook of the sea view — and the Northern lights at night!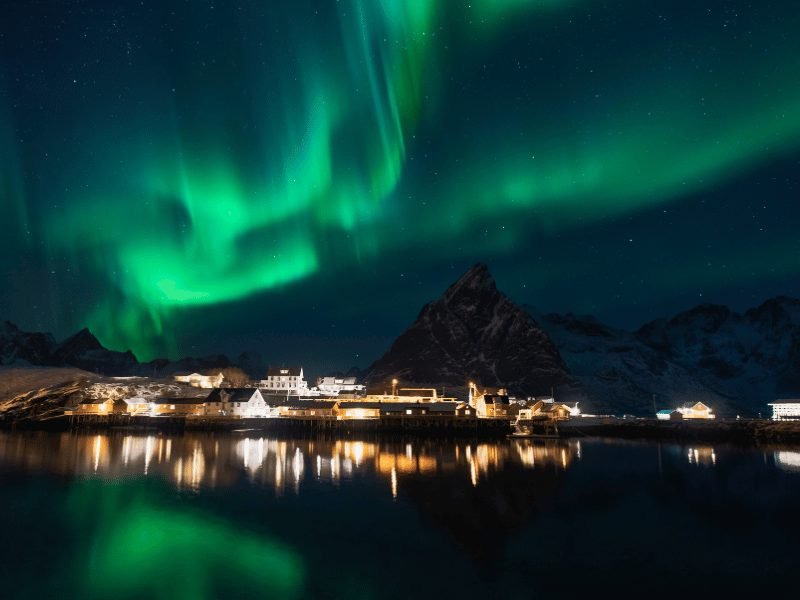 Each unit also has a kitchen with dishwasher, oven, and fridge, so it's perfect if you are self-catering to save some money (or cater to a dietary requirement) while you are traveling Norway.
Enjoy the stunning sea and mountain views from your private terrace, where you can enjoy the Northern lights at night.
More Northern Norway Northern Lights Hotels
One of the best options is Snowhotel Kirkenes, about 6 miles from the Northern Norwegian city of Kirkenes.
This snow hotel is simply spectacular to behold, made entirely of blocks of ice and snow. The property also has a sauna, restaurant, and free WiFi on-site.
Inside the handful of snow suites, your room will feature ice sculptures, and have thermal bedspreads and sleeping bags available so that you can stay warm despite the air temperature being below 0 Celsius.
Wondering how you use the bathroom in a snow hotel? There is a bathroom facility in the building nearby.
Not feeling up to staying in a snow hotel? There are also wooden cottages, inspired by traditional Sami architecture, with large windows perfect for viewing the Northern lights!
You can also enjoy all sorts of traditional Northern Nordic winter activities here, such as dog sledding, husky rides, snowmobile safaris, and more.
What Causes the Northern Lights?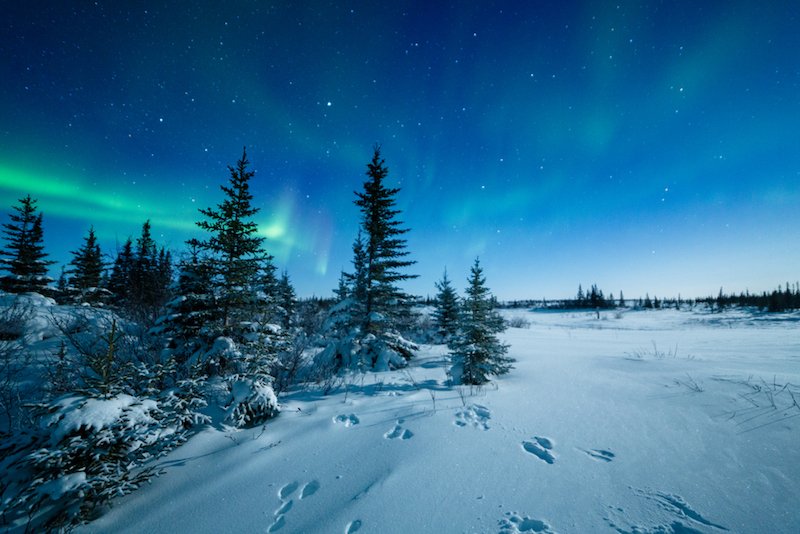 The Northern Lights are an entirely natural phenomenon that occurs when gas particles that are free-floating in the Earth's atmosphere interact and collide with other particles released by the sun.
These particles from the sun occur after solar storms produce massive clouds of particles that are electrically charged (ions) — and when they collide with the Earth at certain latitudes, the magnetic fields of the Earth create beautiful light shows.
The different colors of the aurora relate to different gases, as well as how high the particles are when they interact.
The most common color you'll see is green, which is characteristic of low-altitude oxygen. If you see a scarlet red, that's also oxygen, but interacting at a high altitude (which is atypical unless there is high solar activity).
You may also see purple, pink, and blue, which are caused by nitrogen particles.
Keep in mind that photos you see of the aurora are typically more intense than the Northern lights you see in person.
This is because the eye takes in light information at, well, the speed of light, whereas as a camera taking photographs of the northern lights is typically set on a tripod and takes photos for anywhere from 1-5 seconds, which allows for more light collection and thus more vibrant color.
This is not to say that the photos are altered per se, but that the camera "sees" differently than the human eye does.
That said, I've seen the Northern lights on nearly a dozen separate occasions, and you can absolutely see the lights with your naked eye quite dramatically when they are particularly active, and I've even been able to snap good photos with a simple smart phone.
If you want more information about the aurora, I wrote a post about seeing the Northern lights in Sweden which applies to seeing the Northern lights in Norway just as well!
When Can You See the Northern Lights in Norway?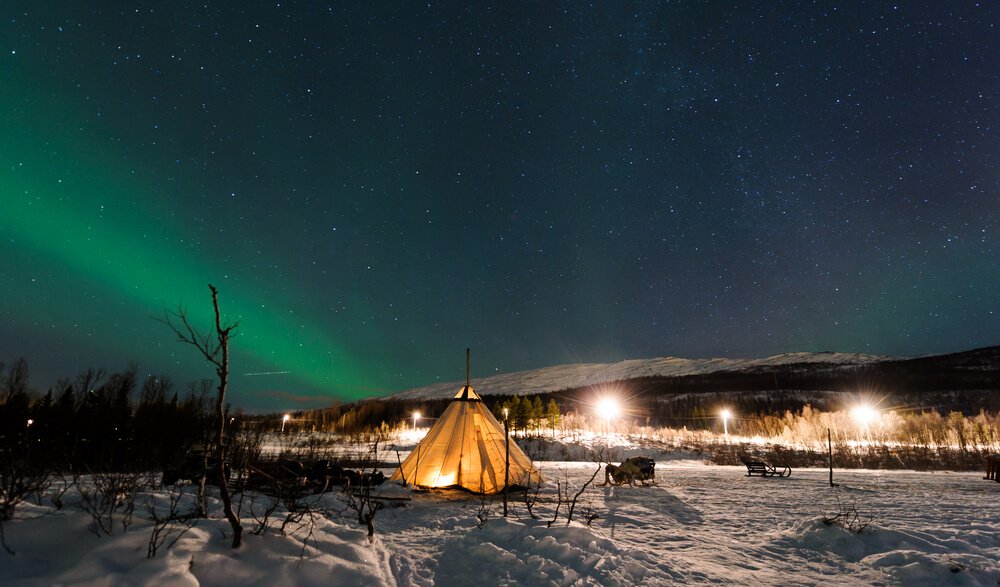 Solar activity technically happens year-round, but you won't be able to see them during the midnight sun. You need enough hours of dark night sky to be able to see the aurora, after all, as it's not visible during the day.
Technically, the aurora may be visible as soon as there's enough darkness, which may be as early as the end of August or the end of April. However, typically, the best Northern lights season is typically between October and March.
I've typically gone to Lapland area in February, which allows a nice combination of some daylight hours after polar night has ended, with plenty of hours still for aurora chasing.
It also allows time for activities like dog sledding, ice fishing, snowmobiling, reindeer sledding, etc. which are popular if you are visiting Tromso in winter and want to pack a full winter itinerary.
There are also all sorts of Northern lights tours from Tromso that you can do in case you decide you'd rather have a city trip and just do Northern lights excursions.
If you're planning a Northern lights trip, I recommend either January or February. Pick January if you also want to go whale watching and have the chance to see killer whales, since they leave the Tromso area by the end of January.
Recommended Photography Equipment for Taking Photos of the Northern Lights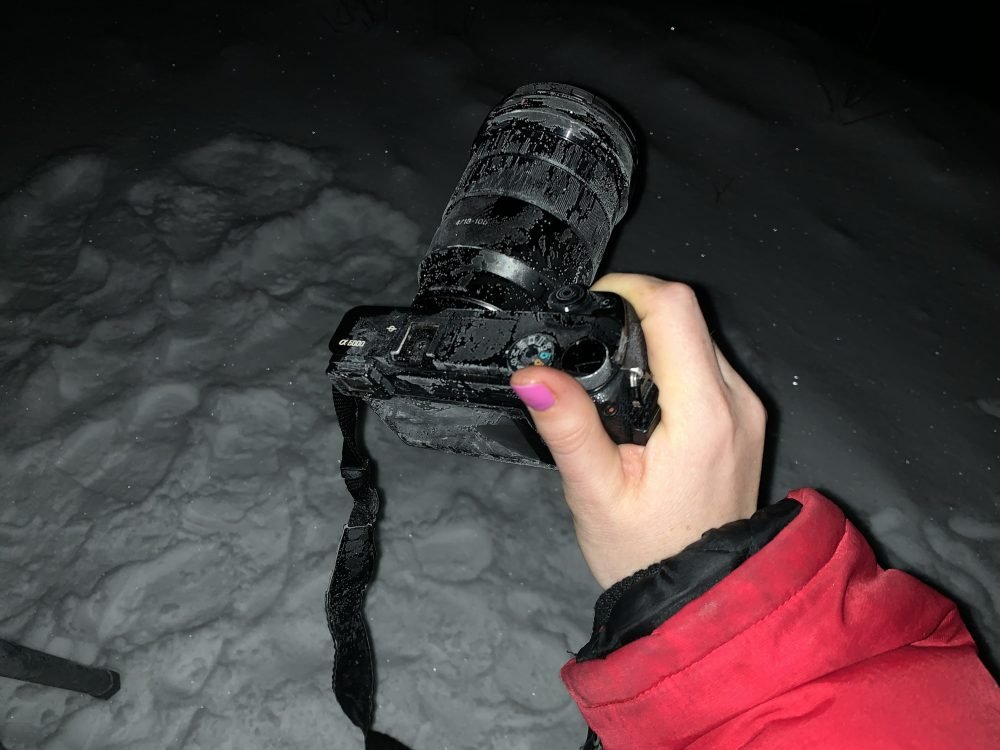 Mirrorless or DSLR Camera
Personally, I prefer mirrorless cameras because they are really lightweight. Ever since I started blogging in 2016, I've been using the Sony mirrorless series.
I now use a Sony A7 II camera body, which is a step-down from their top-tier full frame camera, but it is still professional grade.
Before that, I was using a Sony A6000, which is a more affordable option.
Wide Angle Lens
Besides your camera body, you'll also want to make sure you have a wide-angle lens (like this one for the Sony full frame series, or this one for the Sony crop sensor cameras).
As a rule of thumb, full frame camera gear tends to be pricier than crop sensor gear, especially when it comes to adding lenses to your gear kit.
However, you will be able to capture a lot more of the night sky with a full frame camera with a wide angle lens than you will with a crop sensor, which has a magnifying effect.
Lens Warmer
If you have a large camera lens, you may want to grab a lens warmer which will keep your camera from icing up.
This happens a lot when shooting the Northern lights (take it from me and the photo above!)
Tripod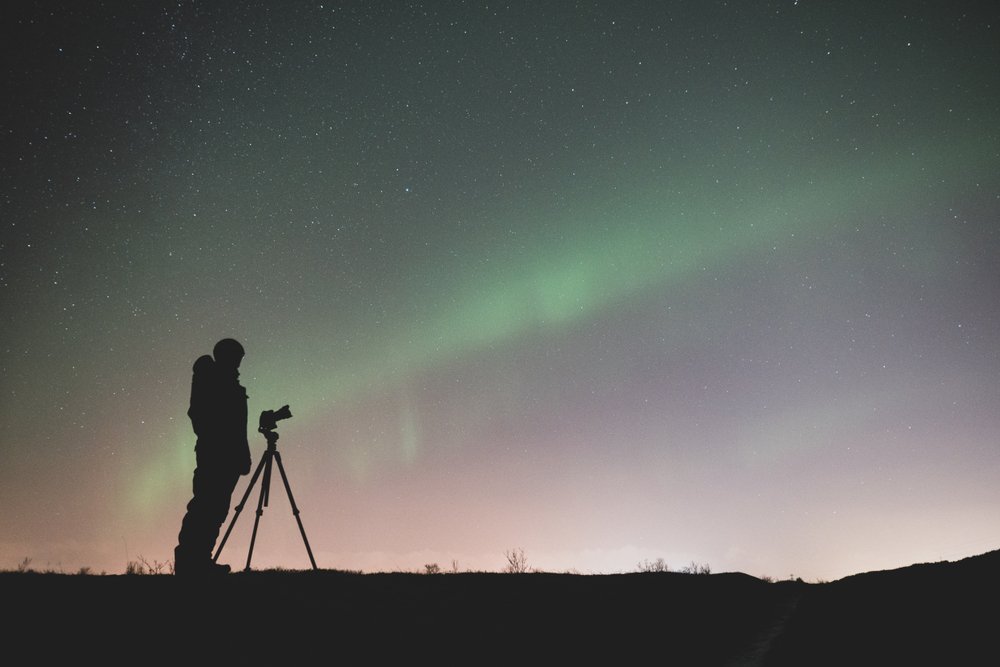 You'll absolutely want a sturdy tripod to stabilize your camera for Northern lights photos.
I suggest setting up a two-second delay on taking photos, so that there is no camera shake from you pressing the shutter button.
The Sony cameras also have a feature where you can control snapping photos with your smartphone, which will also reduce the potential shake but allow you more control of when exactly you snap the photo, so you don't miss anything.
You don't need a super expensive tripod, but it does need to have a little heft to it so that wind does not shake it and blur your photos, so resist the urge to buy the cheapest possible Amazon option.
Hand Warmers
It gets super cold while waiting for the Northern lights a lot of the time, and there'll be a lot of waiting… patience is a virtue, here.
These rechargeable hand warmers are great to keep in your gloves or mittens, or in your pocket to keep your batteries warm!
Extra camera batteries
Be sure to have lots of extra batteries with you, fully charged.
The cold will zap the battery way faster than you are used to!
This four-pack of Sony-compatible batteries will serve you well.
Don't Forget Travel Insurance!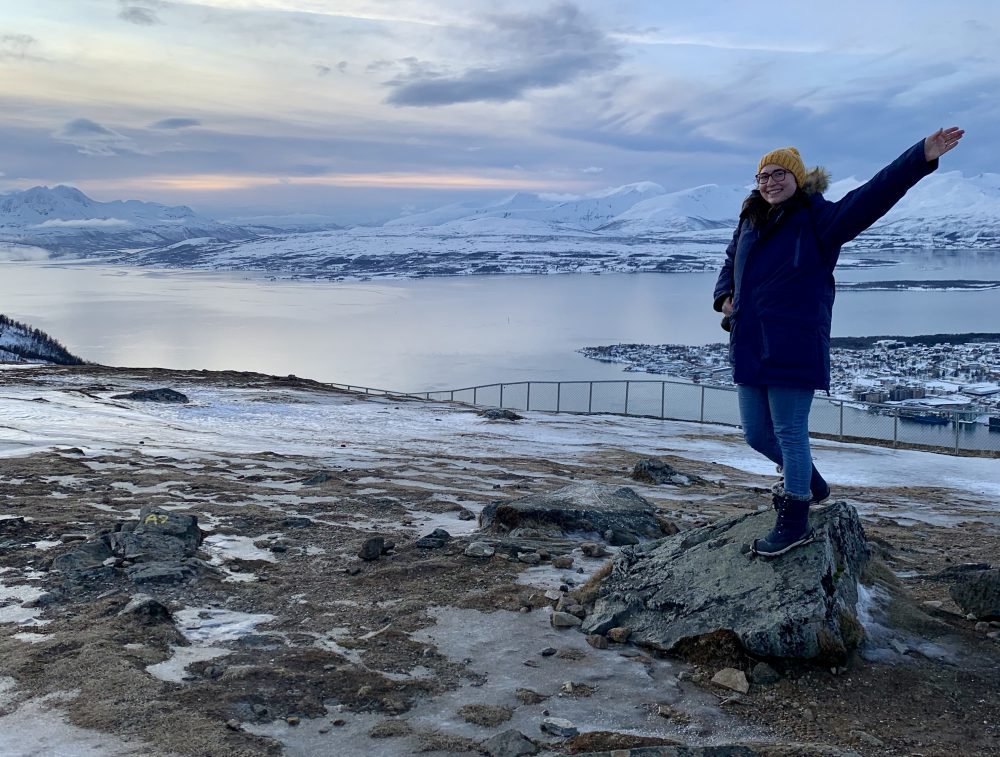 When planning any trip, especially a winter trip, be sure not to forget about travel insurance!
I use SafetyWing and its Nomad Insurance to insure all of my trips for its affordable rates and comprehensive coverage for all my travel needs.
For a trip as expensive as traveling to Norway, it's especially important for me to have coverage. Plus, it's a Norwegian company!
It provides both travel insurance (coverage for trip delays, cancellations, interruptions — the likelihood of which increases in winter) and travel medical insurance (coverage for things like accidents, illnesses including Covid, etc. — also more likely in winter!).
When you throw in travel to the Arctic, things get even more unpredictable with the weather, and you'll be especially glad for the peace of mind!
Coverage is really affordable — for me, it costs roughly $11 USD for a week of coverage outside of the U.S., with a policy max of $250,000 after a deductible of $250. Not bad!
Allison Green is a former educator turned travel blogger. She holds a Masters in Teaching and a B.A. in English and Creative Writing. Her blog posts merge her educational background and her experience traveling to 60+ countries to encourage thoughtful travel experiences that both educate and entertain. She has been a speaker at the World Travel Writers Conference and her writing, photography, and podcasting work has appeared in National Geographic, CNN Arabic, CBC Canada, and Forbes, amongst others. Now based in the San Francisco Bay Area where she grew up, she has also lived in Prague, Sofia, and New York City.