Paris is a gorgeous city any time of year, but in the winter, it's a bit extra delightful.
The tourists are as gone as they'll ever be, scared off by the cold temperatures and or lulled into Germany or Austria instead for Christmas Market fever.
Yes, winter in Paris is cold, and the weather in Paris in December through February isn't exactly enticing, but getting to see the City of Lights as close to empty as it gets is not a bad trade-off.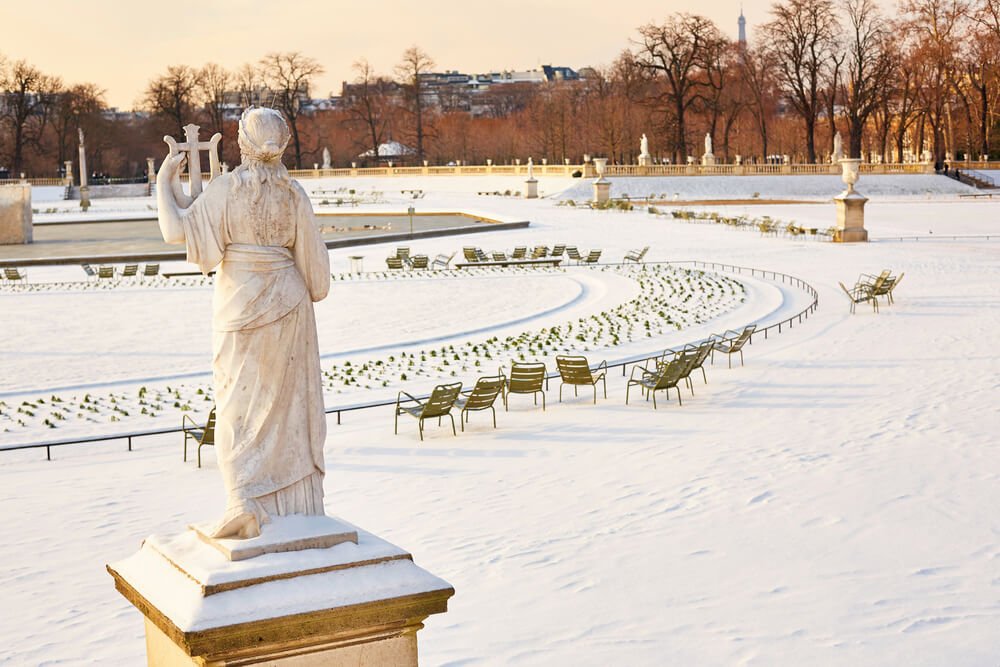 Note: This post contains affiliate links, which means I may receive a small commission if you purchase something through one of these links. Thank you for supporting the free content on this site! For more information on affiliate links and cookies, see my disclosure page for more details.
In order to enjoy your time visiting Paris in winter, you'll want to pack appropriately.
Whether you're visiting Paris on a solo trip or you're going with a partner, friends, or family, you'll need to know how to dress and what to bring for a winter trip.
I've nailed down exactly what to wear in Paris in winter to keep you bundled up and warm, yet looking as chic and feeling as comfortable as possible.
Paris Weather in Winter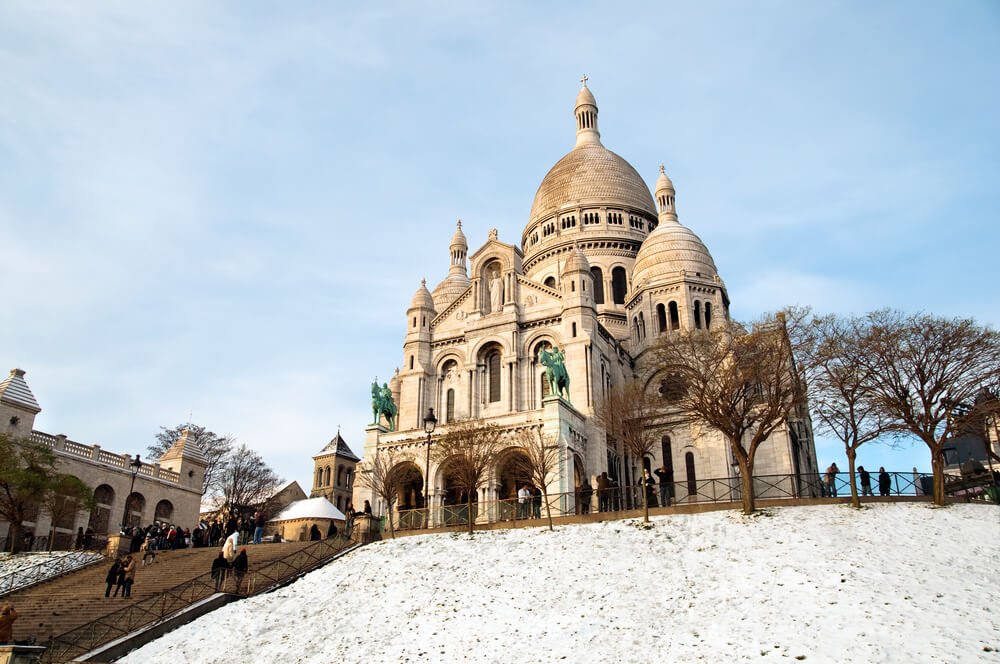 First of all, before you decide what to wear in Paris in winter, you should probably figure out just how cold it'll be.
Luckily, Paris's winter weather is not that cold: throughout the winter, we're talking average highs of 46-48° F (8-9 °C) and average lows of 37-39 °F (3-4 °C).
However, that of course doesn't account for extremes which are possible. Climate change means more volatility; France shattered its heat wave record this last summer.
Snow is possible but not necessarily likely during your winter trip to Paris. It really can vary — some months there'll be no snow at all, other months, it can pile up. In 2010, there were 14 snowstorms that December in Paris with temperatures as low as -10 °C / 14° F and even lower in the surrounding suburbs.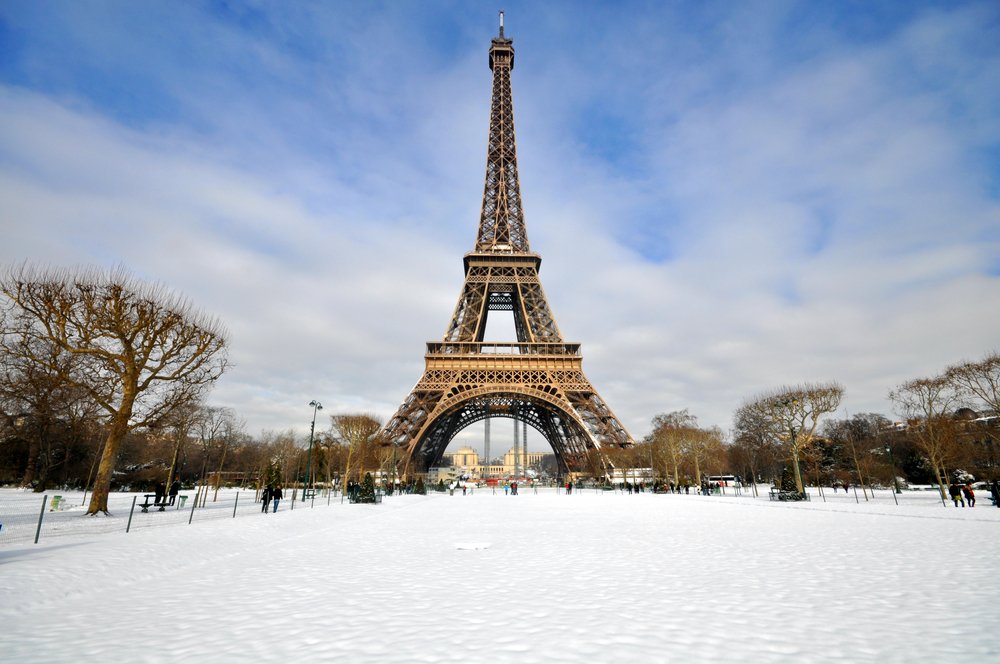 I tell you this wide range not to be unhelpful, but to remind you to prepare for the worst weather and hope for the best when deciding how to pack for Paris in winter.
When it comes to packing for winter in Europe, I think it's always better to be a bit overprepared than underprepared.
Otherwise, you risk having to spend a day of your trip looking for all your winter needs and buying some things impulsively that aren't quite right, rather than preemptively bringing or buying things you love.
There's so much to do in Paris — from visiting the Louvre and Catacombs to taking a day trip to the Champagne region to exploring a more unusual side to Paris, that there's really no point in spending the time shopping for appropriate clothes just because you didn't pack right!
Where to Stay in Paris in Winter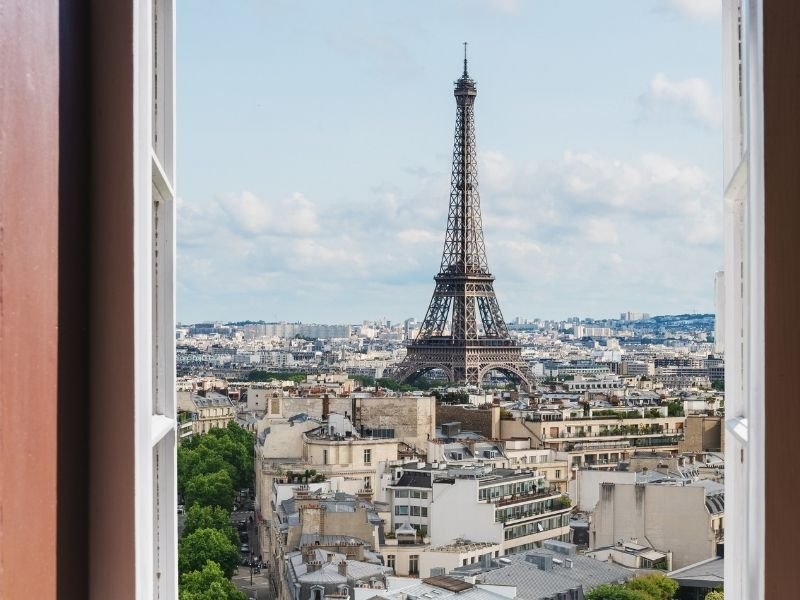 If you're visiting Paris in winter, I suggest opting for an awesome place (perhaps with an Eiffel Tower view?) that takes advantage of the fact that you're visiting in the off-season!
Whether that's a chic Airbnb in Paris or a luxury hotel with an unbeatable view, it'll improve your trip to Paris in winter drastically.
EIFFEL TOWER VIEW | For a chic hotel with an Eiffel Tower view that won't totally break the bank, the Jardins Eiffel is a fantastic choice for a dash of luxury at a reasonable price. the rooms are quaint and lovely with a real Parisian touch to them. Prices from $250/night and up. Check details on Booking.
MODERN BOUTIQUE | citizenM is one of my favorite hotel chains as they offer all sorts of great modern amenities, incredibly vibrant styling, and well-thought-out rooms at budget prices. They offer a smaller footprint per room but designed in a way that doesn't seem tiny, and passing on that discount to you. Prices from $200/night and up. Check details and availability on Booking.
LUXURY APARTMENT | For a lovely apartment-style stay, you'll need to be careful to pick an apartment rental that stays within Paris's short-term rental laws. Résidence Charles Floquet is a condo-hotel that does just that, offering all the apartment amenities with the confidence of a hotel, ranging from 1-bedrooms with courtyard views to duplexes with Eiffel Tower views. Prices from $400/night and up. Check details and availability on Booking.
What to Wear in Paris in Winter: The Essentials
Here is my complete list of what to wear in Paris in December through February, with product recommendations to things I love, as well as a few Paris winter outfit ideas along the way.
A winter coat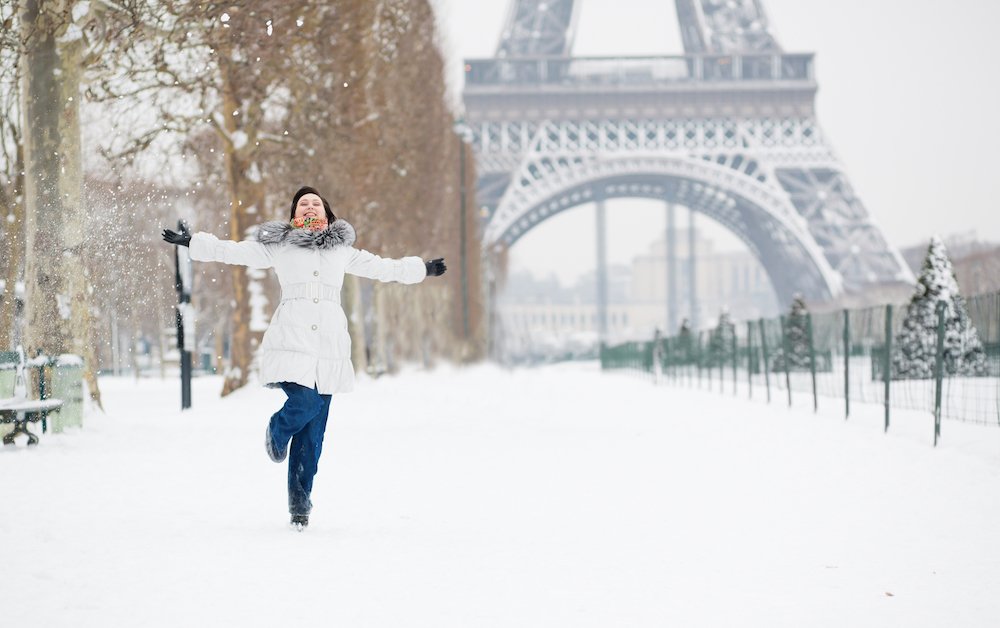 What coat you should pack for Paris in winter depends on how warm you like to be. I personally run cold in general and come from a magical place (California) where winter barely exists: where people freak out and pull on the Uggs and fleece jackets as soon as temperatures drop below 50 °F (that's 10 °C for you non-Americans out there)
I struggled with winter a lot when I first moved to New York. It was a rough wake-up call. After two years of trying to make cute woolen peacoats work for me in sub-freezing temperatures Gossip-Girl-style, I eventually packed in it, called it quits, and invested in a proper winter coat. My life changed overnight, even if I definitely lost quite a few fashion points.
This is the exact North Face parka that I bought. I love that it comes down to mid-thigh, which makes a world of difference over a jacket that ends at the hip. You really have no idea how much heat you lose in that area until you wear a jacket that covers it!
While North Face gear is pricy, it will last you a lifetime, as North Face products have a lifetime guarantee (hold onto your receipt though just in case).
I tested this guarantee when my zipper came unstitched after two years of heavy use, wearing it every day including when I was biking to work in the winter.
North Face promptly fixed it up and sent it back as good as new. This isn't sponsored, for the record – I've paid out of pocket for my North Face gear and would happily buy it again.
However, I know for some people, the idea of wearing a puffy winter coat in Paris in winter makes them cringe. And I get it — I mean, I suffered through two winters of being ridiculously cold for the sake of fashion as well.
So what instead I would suggest, if you really want to look cute without sacrificing warmth, is to buy an ultra-thin down jacket like this one (make sure it has no hood) and layer it underneath a cute wool peacoat – I love this one in red. Make sure the coat has a high neck so the layer doesn't peep through!
Best Shoes for Paris Winters
Since Paris doesn't really snow that often in the winter, you can safely leave the snow boots behind. What I do suggest is something waterproof, as Paris is quite rainy all winter and it'll also work in case it does snow while you're in Paris as well.
For me, the winter boot I can't live without are my Blondo waterproof leather boots. I bought this pair in 2008… which means I'm celebrating my 10-year anniversary with them this year, which is longer than most of my friendships and every relationship I've been in so far.
In 10 years of heavy use, I've only had to get them resoled once, which set me back about $60 in NYC. However, for a pair of shoes I wear nearly every day for 3-4 months per year, it was 100% worth it.
The traction is excellent, the look is sleek and streamlined, and I've tested their waterproofness in many a filthy slush puddle and emerged with my feet unscathed. They stand the test and that's why they're the only shoes I think you need to wear in Paris in winter.
Since it's been literally a decade since I bought these boots, the exact original version I bought is no longer available, but these look exactly like the ones I have and are the same Blondo brand.
If you want a shorter Chelsea-style ankle boot rather than a knee-high look, Blondo also makes a really cute version here that I'm eyeing for this winter.
One last note: Be sure to pair your winter boots with proper wool socks. No matter how insulated your shoe is, it won't do much good if you are wearing thin, crappy cotton socks (another thing that took me several years to learn… why do I suck at winter so badly? Oh yeah, California).
I invested in these Smartwool socks after much hemming and hawing about the price and I'm so glad I did. You don't need that many pairs because you can actually re-wear them a few times before they get smelly because Smartwool is odor-absorbent and basically kind of magical. I'd bring 3 pairs for a week-long trip and give them a day to breathe in between wears.
Winter Hat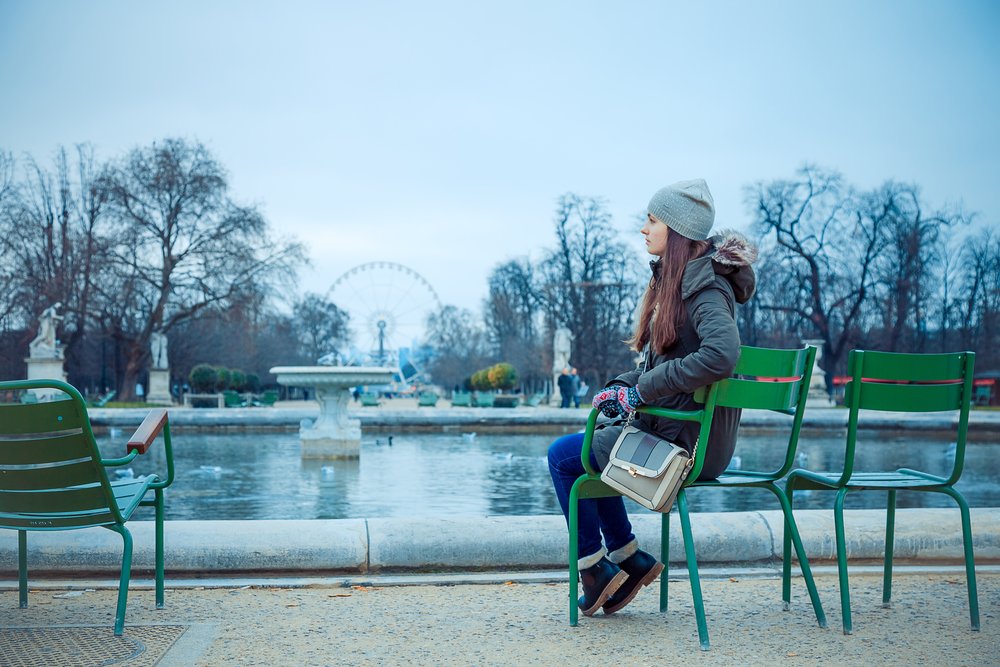 Winter accessories are really what make or break whatever you decide to wear in Paris. As long as you have a hat, gloves, and scarf, you can almost get away with wearing whatever you want as your base layer – as long as you have the right jacket and shoes like I recommended above as well.
In terms of a hat, I recommend wearing a tightly-knit hat that fits firmly on your head and covers your ears completely — bonus points if it is lined with fleece!
I lose my hats constantly since I'm a hot mess of an adult, so I go through several each winter. I recommend a beanie knit hat with fleece, kind of like this one.
I like colorful ones with a pompon on it, because it adds a bit of color and interest to your winter photos (where you can otherwise just look like an all-black blob).
Touchscreen-friendly gloves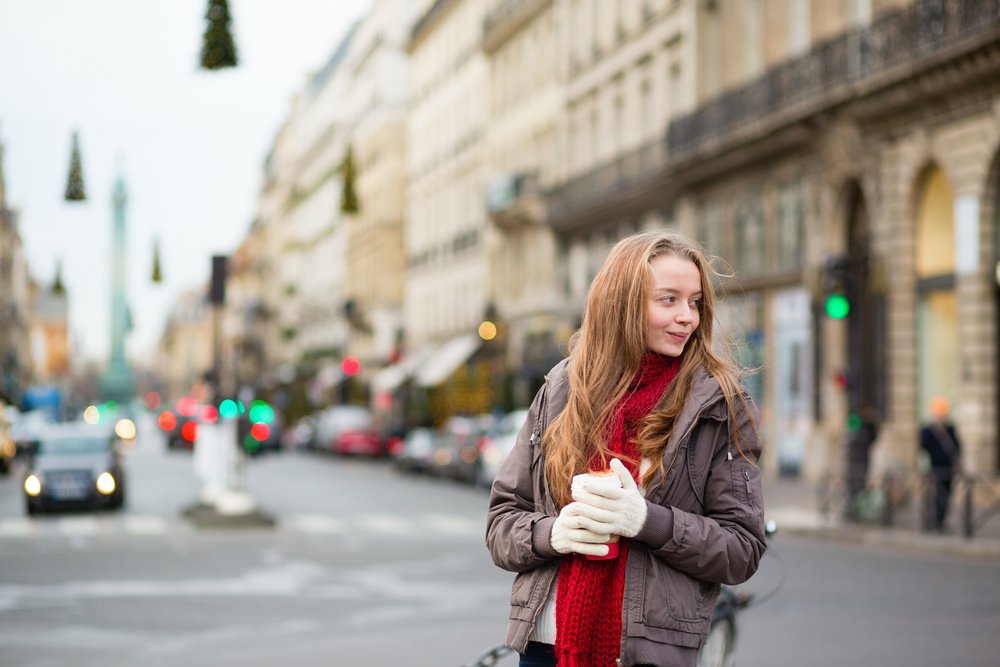 For gloves, look for something that is both touchscreen compatible and warm. However, you really don't need something waterproof or crazy high-tech. I recommend a simple pair of gloves like these ones.
You'll have your hands in your coat pockets most of the time anyway, but it'll be nice to have touchscreen-friendly gloves so you can use your smartphone without having to take them off.
Plus, if you're traveling to Paris with teenagers, they'll definitely want easy access to their phones!
Winter scarf
For scarves, I recommend the biggest, most wrappable scarf you can find. I tend to go for something huge, chunky, and made of acrylic.
I like acrylic because it's gentler on my skin than wool, which tends to make me itchy with when it's in direct contact with my skin (with socks being the exception, since the skin on my feet is much less sensitive than everywhere else).
However, other people may be fine with wool, in which case I'd definitely say go for a wool scarf as wool can really trap in heat and keep you ultra-toasty.
I prefer an infinity style knit scarf for winter that I can wear super tight around my neck to keep in as much warmth as possible. Every bit counts!
I suggest at least one but better yet two scarves if you can fit it. Since it's an outer layer, it'll show up in all your photos, so choose a pattern or print you love that goes well with your winter coat, which you'll likely only have one of, and adds variety to your photos.
Winter Leggings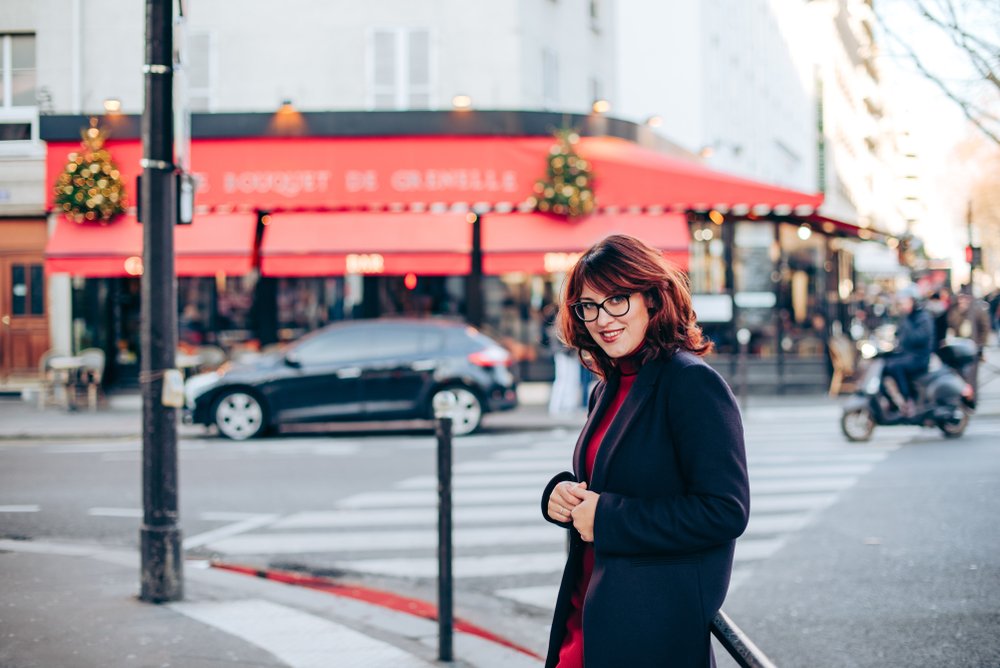 Now, I'm going to let you in on my #1 secret weapon when it comes to what to wear in Paris in winter. Three words: fleece lined leggings.
These leggings are magic when it comes to surviving just about any winter. If you can tolerate wool, you'll probably be even warmer with something like these merino wool leggings.
But since I can't, I substitute fleece-lined leggings like these ones. On a cold day, I typically wear them underneath a pair of jeans and I am toasty and warm all day long. I prefer the ones without feet because they sag less during the day, and then I can wear my own warm socks with them. I generally pack 2-3 for a one-week trip.
What to Wear in Paris in Winter: Complete Clothing Packing List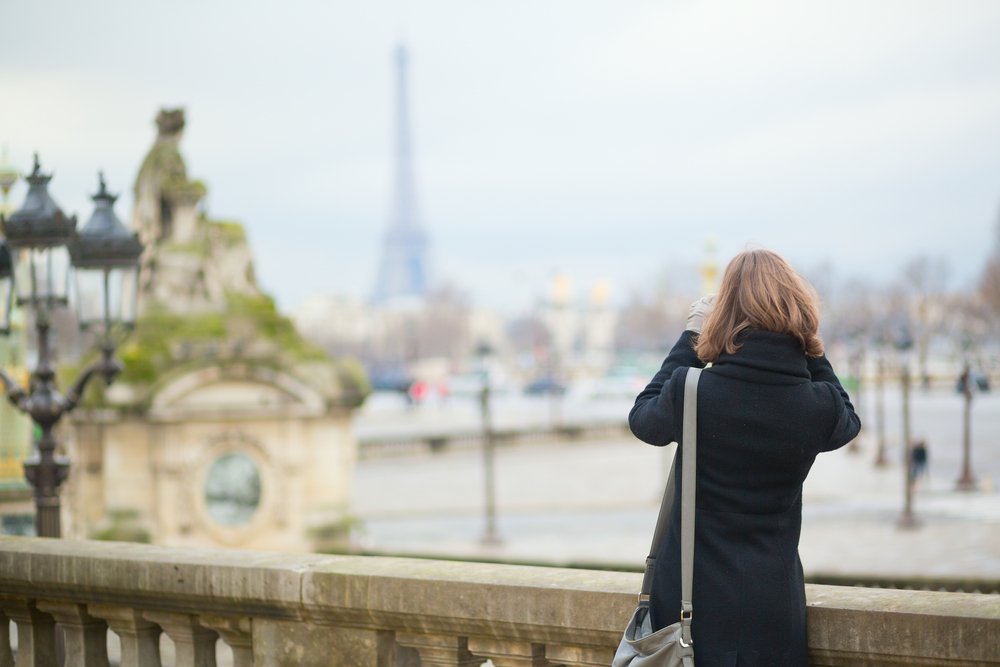 If you've followed my advice up to this point — warm jacket (preferably down or faux down), waterproof leather boots, wool or fleece-lined leggings, and all the winter accessories — you can pretty much get away with wearing whatever you want with them.
I tend to choose a lot of sweater dresses because I am lazy when I travel and don't like to pack a lot of different things that I have to mix and match, when just one dress will do perfectly. But you can also just wear jeans and sweaters on your trip so long as you have the appropriate winter accessories, shoes, and outerwear.
Here's my complete Paris in winter packing list (well, clothing at least).
This list is assuming you'll be in France in winter for one week.
Feel free to add or subtract clothing items as it makes sense depending on the length of your trip as well as your personal taste and style.
It includes the above-mentioned outwear accessories so you don't forget it!
Several pairs of fleece-lined leggings. 3 pairs should do you well for 1 week.
1-2 base layer thermal tops if you run cold. You can skip these if you don't get cold easily or you're used to cold temperatures.
1-2 sweater dresses, picking colors that pair well with your leggings
1-2 pairs of jeans (slightly loose is better; too tight will be hard to layer), which you can wear over leggings if it's especially cold.
2-4 warm sweaters. I recommend wool if you can tolerate it. 100% cashmere sweaters tend to be everyone's favorite, but I find even cashmere itchy personally. I wear synthetic or acrylic sweaters with a base layer underneath.
1 thick jacket like the North Face parka I recommended, or a cute pea coat or something similar.
1 thin down jacket to layer underneath a less warm coat. You can keep this rolled up in a day bag, that's how small it is, and add and subtract it as a layer as needed.
3-5 pairs of wool socks.
1 pair waterproof leather boots or similar boot that can withstand snow and rain.
1-2 knit hat.
1 pair gloves, making sure you pick ones that you can use with your smartphone.
1-2 ultra big, cozy warm scarves. I especially suggest infinity style wrap scarves which trap in heat.
1 large-ish cross-body purse or even a cute backpack for daily use.
What Else Should Be On Your Paris in Winter Packing List?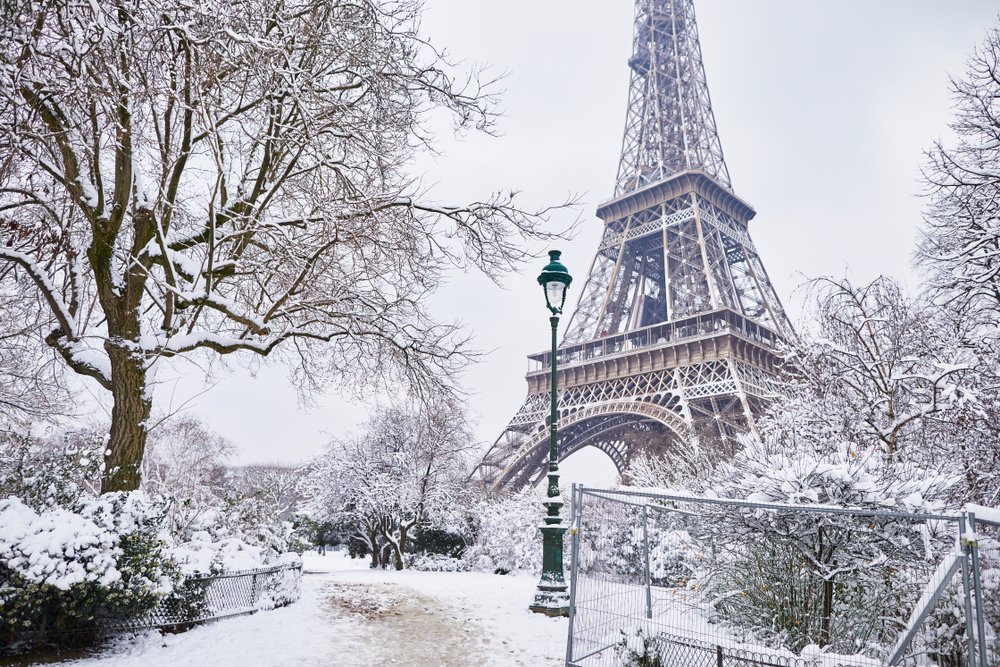 So, you've determined what to wear in Paris in winter – the last thing to decide is what other extras to bring.
Here are my essentials: however, you know what you need, so feel free to adapt as you see fit.
Toiletries & Personal Items
Lip balm: I tend to get dry lips in winter from the cold air and overheated buildings. I love this Aquaphor as it doesn't dry my lips out the way many balms do (which trick you into continuing to use them!).
High-quality moisturizer: For the same reason as above – the combination of winter weather plus heat will do a number on your skin.
Sunscreen: Don't discount the need for sunscreen even in the winter! I like this fancy Japanese Biore sunscreen for my face as my skin is quite sensitive and acne-prone, and this is really gentle on my skin.
Hand sanitizer: Perfect to use after getting off the metro, before eating, or any place with less than sanitary conditions. You don't want to get sick on your trip! I always find I get way sicker when I pick up illnesses abroad, so prevention is key. I carry a mini bottle of Purell like this one with me.
Kleenex
Everyday make-up
Shampoo & conditioner
Hair brush & other hair accessories
Body wash
Body lotion
Deodorant
Prescription medicine, if needed
Other medicines (ibuprofen, Pepto-Bismol, etc.)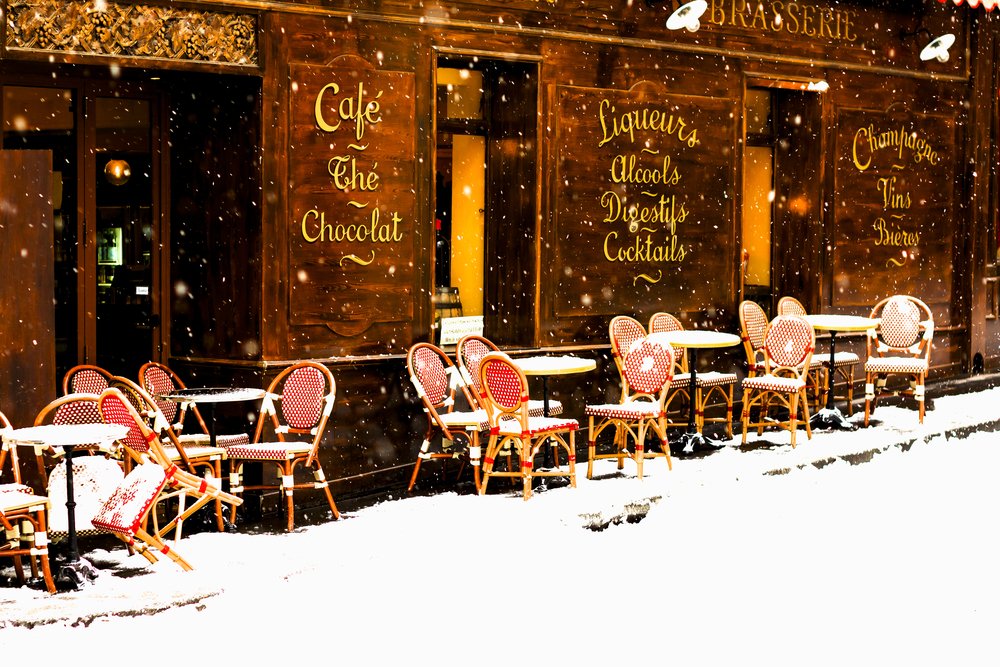 Electronics
High-powered portable battery pack: Your phone battery will get run down very quickly on a cold winter day in Paris, so be sure to pack a portable battery charger like an Anker battery pack: this is what I swear by as a blogger who needs fully charged electronics at all times!
Camera: I personally use a Sony A6000 mirrorless camera, which is the perfect travel camera for producing professional-quality photos without taking up much space or weighing too much. I have several lenses for it but most people will be fine with the kit lens. Be sure to pack several extra batteries as well, for the same reason as above (winter weather = zapped electronics)
Adaptor, if visiting internationally: If you are visiting from continental Europe, North America, South America, most of Asia – basically, anywhere that doesn't use UK plugs – you'll want an international adaptor for sure. If bringing something that is reliant on heat, like a hair dryer or straightener, be sure to bring a voltage converter as well.
Smartphone and charger
Laptop or tablet and charger
Kindle, if you use one
Noise-canceling headphones, if you have them
Of Course, Don't Forget Travel Insurance!
When planning any trip, especially a winter trip, be sure not to forget about travel insurance!
I use SafetyWing and its Nomad Insurance to insure all of my trips for its affordable rates and comprehensive coverage for all my travel needs.
Especially when traveling in winter in Europe, with its unpredictable weather and cold and flu season going strong, you'll want to be covered!
SafetyWing's Nomad Insurance provides both travel insurance (coverage for trip delays, cancellations, interruptions — the likelihood of which increases in winter) and travel medical insurance (coverage for things like accidents, illnesses including Covid, etc. — also more likely in winter!).
Coverage is really affordable — for me, it costs roughly $11 USD for a week of coverage outside of the U.S., with a policy max of $250,000 after a deductible of $250. Not bad!
Allison Green is a former educator turned travel blogger. She holds a Masters in Teaching and a B.A. in English and Creative Writing. Her blog posts merge her educational background and her experience traveling to 60+ countries to encourage thoughtful travel experiences that both educate and entertain. She has been a speaker at the World Travel Writers Conference and her writing, photography, and podcasting work has appeared in National Geographic, CNN Arabic, CBC Canada, and Forbes, amongst others. Now based in the San Francisco Bay Area where she grew up, she has also lived in Prague, Sofia, and New York City.