Hilo is one of the "major cities" of the Big Island of Hawaiʻi. However, it is no metropolis by any means!
The Big Island's cities are pretty small when compared to, say, Honolulu on Oahu.
That said, Hilo is a beautiful small city with lots to do in and around the surrounding area regardless of its size.
The Big Island consists of six moku (districts). Hilo is its own moku surrounded by the moku of Puna, Hamakua, and Kaʻū, with the closest access to Puna and Hāmākua.
When you come to Hilo, you will see that a tight-knit community lives here. There are many small businesses to support, the wonderful Hilo farmers market to enjoy, and endless things to do in Hilo Bay.
Plus, you will find many exciting day trips from Hilo.
We're about to get into all the best things to do in Hilo, but first, a few notes before visiting Hawaiʻi.
TIP: Planning to visit both Hilo and Kona? Follow our 5-day Big Island itinerary for full details on how to plan the perfect Big Island trip!
This post was first written on June 10, 2021. It was written by guest writer Allison Coulter, who lived on the Big Island of Hawaii for six months, traveling by van around the island. It has since been updated several times to reflect Covid updates and changes. It was last updated March 29, 2023.
A Note About Visiting Hilo, Hawaii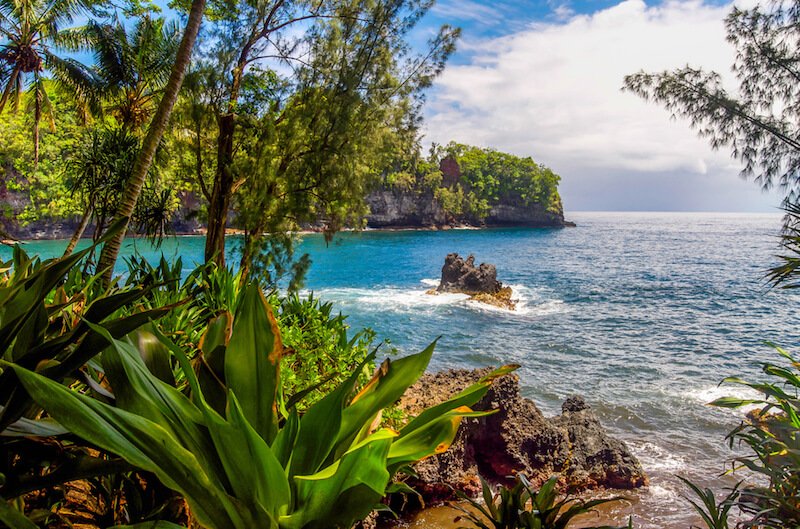 Note: This post contains affiliate links, which means I may receive a small commission if you purchase something through one of these links. Thank you for supporting the free content on this site! For more information on affiliate links and cookies, see my disclosure page for more details.
It is essential to state that when you visit Hawaiʻi, you understand that this is the home of the Kingdom of Hawaiʻi, a monarchy with centuries of history and culturethat was overthrown by the U.S. government and is still presently occupied.
Like most land in the nation now known as the United States, this land is stolen land.
As magnificent as Hawaiʻi is, remember where you are when you come to Hilo. Honor the traditions of the Hawaiian people and move with the aloha spirit throughout this sacred land.
Aloha is more than just a greeting that means both hello and goodbye, as has been popularized through culture; aloha is a way of life.
Aloha is a word that describes the life-force energy of love and connection that runs through us all and the land. It comes from two Hawaiian words, "alo" which means 'share' and "ha" which means "essence/breath of life".
Live with aloha. Honor the Hawaiian ancestors and present-day kānaka maoli (Native Hawaiians). Be respectful and leave nothing behind when you visit the Big Island.
Getting Around Hilo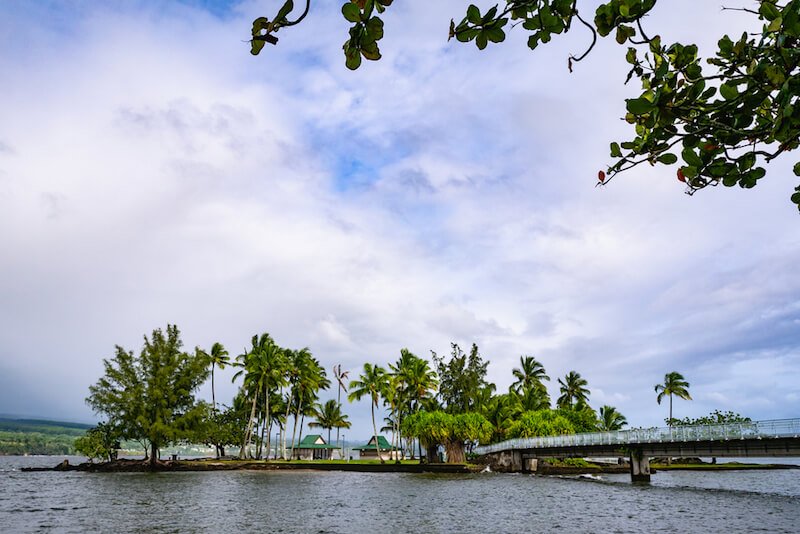 Your best bet is to rent a car when you come to the Big Island. The public bus system does not always follow its schedule, and it is just not reliable, especially if you want to see all you can.
Not sure where to get the best deal on your rental? I've rented cars dozens of times through various search engines and have settled on Discover Cars as the best car rental search engine – it searches over 500 trusted rental companies to find the cheapest price for your rental! Compare prices for car rental from Hilo Airport here.
If you stay in downtown Hilo, you can certainly walk to some of the major downtown attractions. However, many of the places on this list of things to do in Hilo require a car to visit properly.
You may also want to rent a bike to explore Hilo proper. Mid Pacific Wheels, LLC can help you out with a bike rental.
Where to Stay in Hilo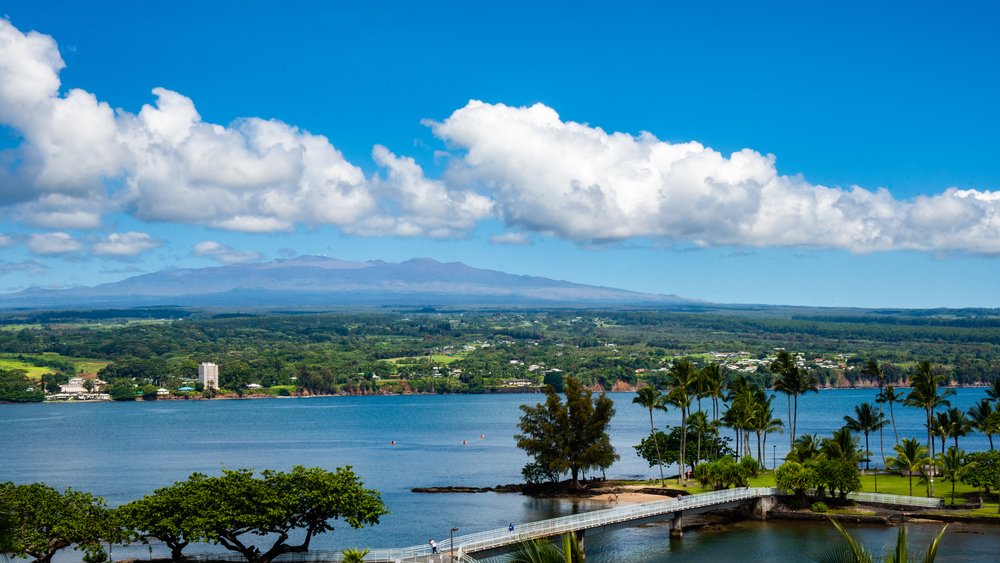 One option, especially if you are on a budget, is the Wild Ginger Inn, an outdoor hostel and inn. There are dorms as well as private rooms. The rooms are basic and sit among palm trees and tropical vegetation.
>> Check reviews, photos, and availability here!
Orchid Tree Bed and Breakfast is another fabulous option. You'll enjoy fresh fruit in the mornings along with their pool and hot tub. They also have a lovely lanai (covered porch) and easy access to the beach and downtown Hilo.
>> Check reviews, photos, and availability here!
For a more bougie stay, Castle Hilo Hawaiian Hotel is your choice. Most rooms have a private lanai which will offer spacious views of Hilo Bay and Mauna Kea. Plus, I mean, it has the word castle in the name…
>> Check reviews, photos, and availability here!
The Inn at Kulaniapia Falls is also an incredible place to stay. Enjoy views of the falls and farm-to-table eating. They also offer cooking classes. They have rooms, suites, and off-grid cabins in which to stay. They are stewards of the land here, with sustainability at the heart of their business practices.
>> Check reviews, photos, and availability here!
Best Things to Do in Hilo Town, Hawaii
Marvel at the incredible Rainbow Falls.
One of the most enticing things about traveling to the island of Hawaiʻi is the opportunity to see waterfalls: the island is jam-packed with them.
In fact, there is a great one right in Hilo town, Rainbow Falls. This is part of the Wailuku River State Park.
Rainbow Falls (Wainuenue) has easy access from downtown Hilo and does not require much of a hike — just 0.1 miles in fact. There is a parking lot and restrooms here.
Because of its easy access and incredible beauty, it is one of the most photographed waterfalls in all of Hawai'i.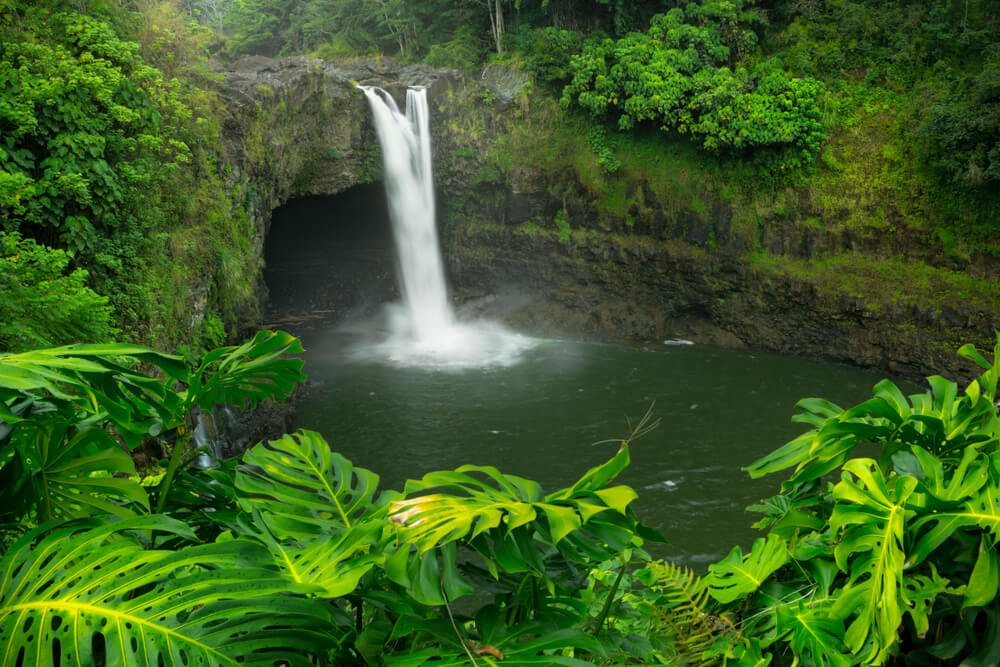 Check out the majestic 1,000-year-old banyan tree.
If you walk towards the top of the falls at Wainuenue, you'll find a banyan tree over 1000 years old!
It has been there since before Hawaiʻi was a territory and then state of the US, and it stands as a testament to the long, ancient history of Hawaiʻi.
I love to imagine the centuries of children of Native Hawaiians who enjoyed this tree, basking underneath and climbing within this tree. It will be hard for you to resist the urge to do the same!
Hike to Wai'ale Falls and its Boiling Pots.
Nearby Rainbow Falls (Wainuenue) is another set of falls, Wai'ale Falls, also part of Wailuku River State Park in Hilo, Hawaii.
When you visit Wai'ale Falls, you will also have the opportunity to view the Boiling Pots Lookout (Pe'epe'e Falls).
This area is vibrating with movement from the water. It is a worthwhile stop when checking out the best Big Island waterfalls!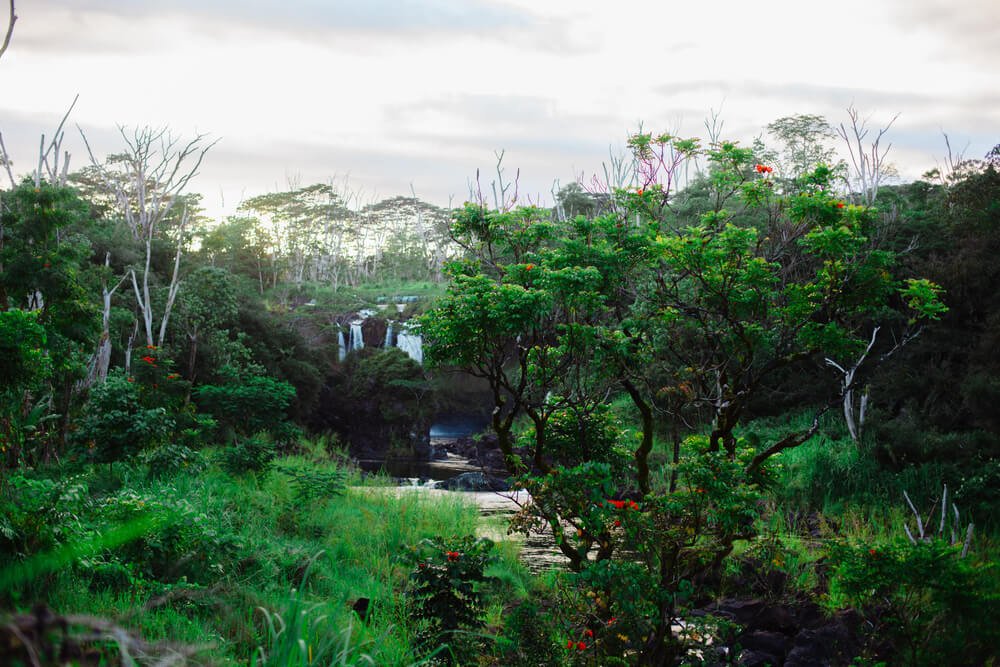 Visit the Hilo Nursery Arboretum.
Head to the Hilo Nursery Arboretum located at 19 East Kawili St in Hilo town.
Visitors are allowed to fill up one grocery bag of fruit per day. Just make sure you check-in at the visitors center for permission first!
There are breadfruit trees, cacao trees, citrus trees, and more!
Shop at the Hilo Farmers Market.
You can also hit the Hilo Farmers Market. The market has vendors 7 days per week from 6 AM to 3 PM.
The big market days are on Wednesdays and Saturdays where there are more vendors, so prioritize those days if you can.
Whichever day you go to the farmers market, you will find an abundance of fruit, veggies, fresh-cut tropical flowers, and artisan goods!
You can find soursop or sweet bread, turmeric pastes, or longon fruits, among dozens of other delicious delights!
Whatever your pleasure, there will be something for you to enjoy and take back to your lodgings.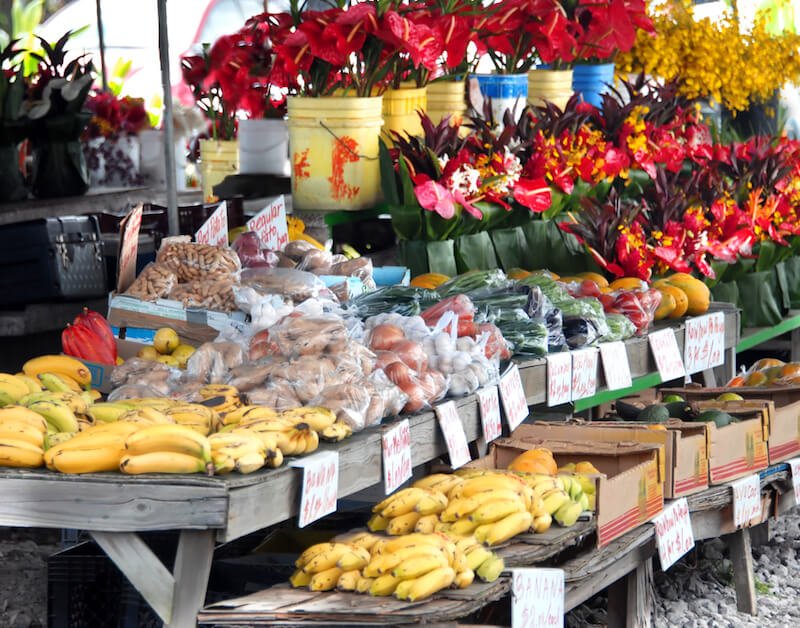 Explore downtown Hilo.
In downtown Hilo, there are many shops and restaurants to explore. You can enjoy boutiques and galleries in the wooden waterfront buildings (hundreds of years old!).
Check out one of the bookstores to find books on Hawaiian culture and spirituality. You can also get ice cream or Hawaiian shave ice, a popular local treat!
We suggest checking out Two Ladies Kitchen for Japanese-style desserts. For one of the best burgers on the island, hit up Hilo Burger Joint.
Want to do some learning? Head to The Mokupapapa Discovery Center for a Hawaiian cultural experience featuring an aquarium.
Visit Kaipalaoa Landing.
This historic place in Hilo is considered a "wahi pana" or a "legendary place" in Hawaiian culture.
It is believed that King Kamehameha loved to surf here and it is here where he gave the town of Hilo its name.
You'll find a white lighthouse here with several numbers printed on it. These numbers represent four years that tsunamis hit Hilo (1946, 1952, 1957 and 1960). Each year is marked with a line, which represents the height of the tsunami waves that hit the town.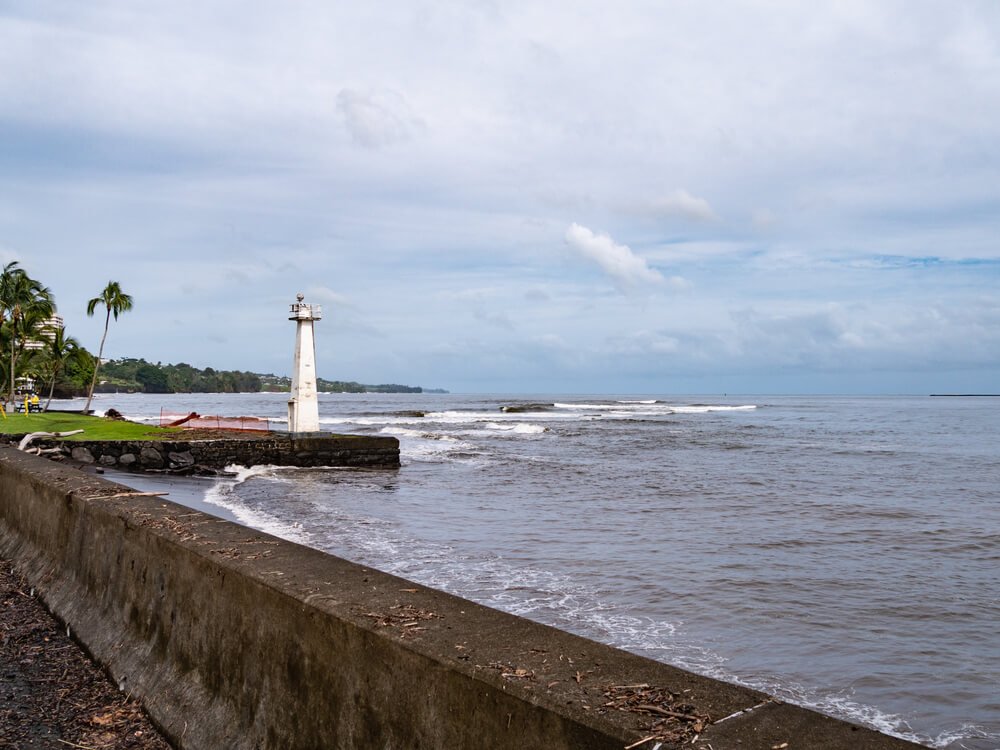 Check out the 'Imiloa Astronomy Center.
You don't need to leave Hilo to be one with the stars!
The marvelous 'Imiloa Astronomy Center features interactive exhibits, a domed planetarium, and beautiful gardens of native Hawaiian plants. It is run by the University of Hawaii.
One thing that's particularly cool about the 'Imiloa Astronomy Center is how it showcases the particularly Hawaiian relationship to astronomy, and how the first Hawaiians navigated to these islands from Polynesia using the stars.
The gift shop here is also particularly excellent.
Learn history at the Pacific Tsunami Museum.
As an island state, it's unsurprising that Hawaii is particularly susceptible to tsunamis.
Over the years, several tsunamis have devastated the island of Hawaiʻi and in particular, the east coast side of the island and Hilo.
This museum explains how tsunamis are formed and goes over the history of the 1946 Pacific Tsunami and the 1960 Chilean Tsunami and how they impacted Hilo, Kona, and other parts of the the Big Island.
Enjoy a tasty loco moco.
A visit to Hawaiʻi is not complete without enjoying a loco moco plate lunch.
Loco moco is a popular dish featuring rice, gravy, and some kind of meat, usually a beef patty or spam.
For this, you want to go to Hawaiian Style Cafe, whichis also a super popular spot for brunch. They have some of the best Hawaiian food in town!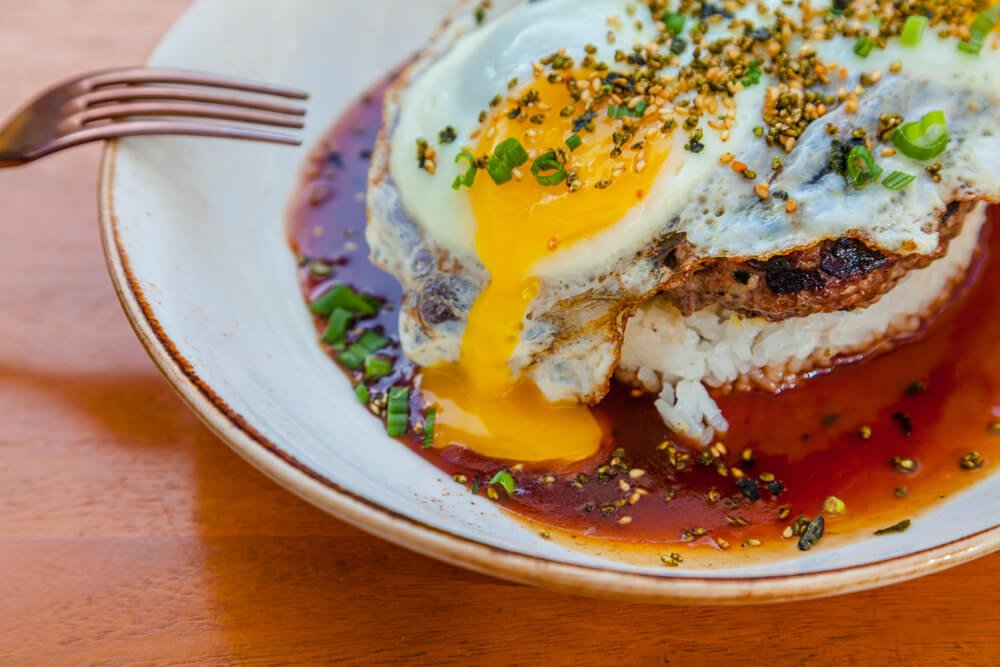 Watch the surfers at Honoli'i Beach Park.
Located just two miles from downtown Hilo, this gorgeous black sand beach is a great place to while away a few hours!
Head there early in the morning or at sunset to see surfers navigating these epic waves!
Check out the Lyman Museum.
The Lyman Museum (also called the Lyman Mission House) is the oldest wooden house on the island of Hawaiʻi.
It was built in the late 1830s after a married missionary couple, David and Sarah Lyman, arrived in Hawaiʻi from New England after a six-month sea voyage.
While the history of missionaries has always been problematic, particularly their drive to import their culture into another, the house itself is an interesting historical place.
It once hosted many important guests, including members of the Hawaiian royal family and famed author Mark Twain.
Sample some incredible poke.
You will also want to try out some poke, which is a Hawaiian raw marinated fish dish served with rice and veggies.
In Hilo, Poke Market is the spot for this. Not only can you get poke dishes, but this is also a fish market.
Come here for fresh-caught fish and poke created by a world-class chef. Plus, locals run this restaurant and market, and they are wonderful and worth supporting!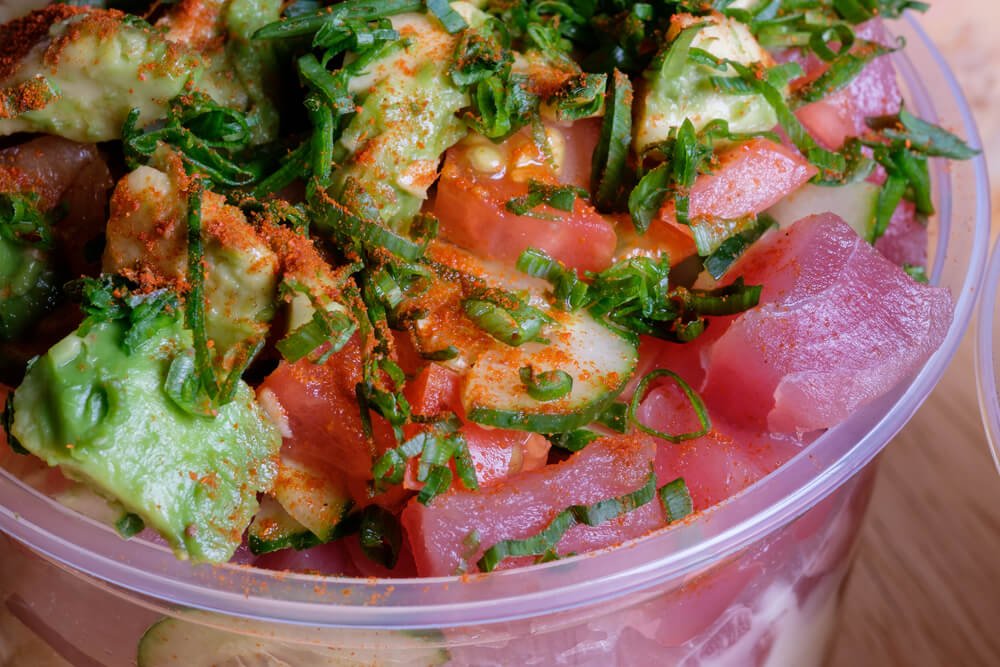 Visit the Liliuokalani Park and Gardens
The gardens are right on Hilo Bay, so you will enjoy views of the water and Mauna Kea while you stroll.
They are named after Princess Lili'uokalani, the last sovereign of Hawai'i before the United States illegally seized the Hawaiian islands.
At the gardens, you will find a Japanese Garden with peaceful streams running throughout through these gorgeous gardens, as well as traditional pagodas and other Japanese garden fixtures.
This garden was created in tribute to all the immigrants from Japan who have shaped modern-day Hawaiian culture and identity.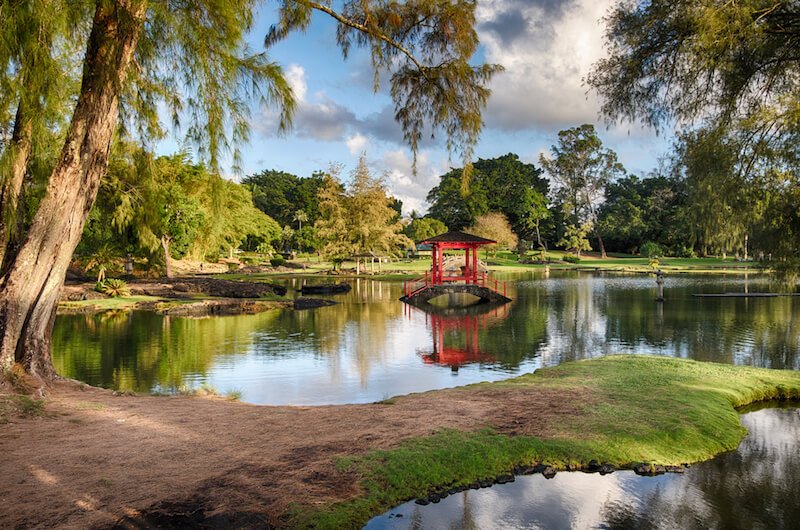 Check out the scenic Banyan Drive.
Liliuokalani Botanical Garden is also within proximity to Banyan Drive.
Banyan Drive is also called the "Hilo Hollywood Walk of Fame." Celebrities planted the banyan trees here.
It is yet another opportunity to enjoy these massive trees with their vinous trunks and climbing branches!
Take the bridge to Coconut Island.
Another great thing about visiting Liliuokalani Park and Gardens is that the gardens have easy access to Coconut Island via a land bridge.
Coconut Island was initially called Moku Ola, "healing island," as Native Hawaiians believe the island to have healing properties.
Healing powers or not, Coconut Island has two great sandy beaches that are protected from the waves by the pier in Hilo, so it's a great place for a calm swim or wade, and the beaches are beautiful to stroll along even if you don't want to go for a swim!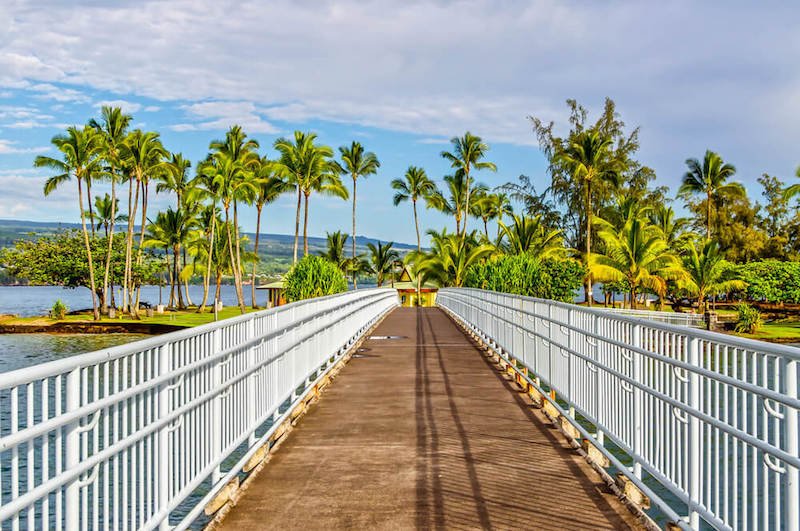 Head to Hilo Bay for a snorkeling adventure.
You can enter the water in a myriad of places in Hilo to enjoy the coral and diverse ocean wildlife of Hawaiʻi!
You may see Hawaiian spinner dolphins or the humuhumunukunukuapua'a, the state fish of Hawaiʻi. You may also see spearfishermen hunting beneath the surface!
Take out your snorkel mask at Richardson Ocean Park.
There are many great places to snorkel near Hilo. Richardson Ocean Park is one of the best spots in the area!
If you don't have your own gear, or if you're a little hesitant to head out on your own, many tour outfitters can take you on a tour if you are new to snorkeling.
If you are more experienced, you can simply hop in the water with your snorkel gear, and you will find yourself immersed in the wonder of the beautiful sea creatures of Hilo Bay!
Take note: It is best to snorkel in calm waters with no cloud cover for the best underwater visibility.
Even if you don't feel like snorkeling, it's a great place to walk around, with lots of beautiful tropical flora right alongside the beach.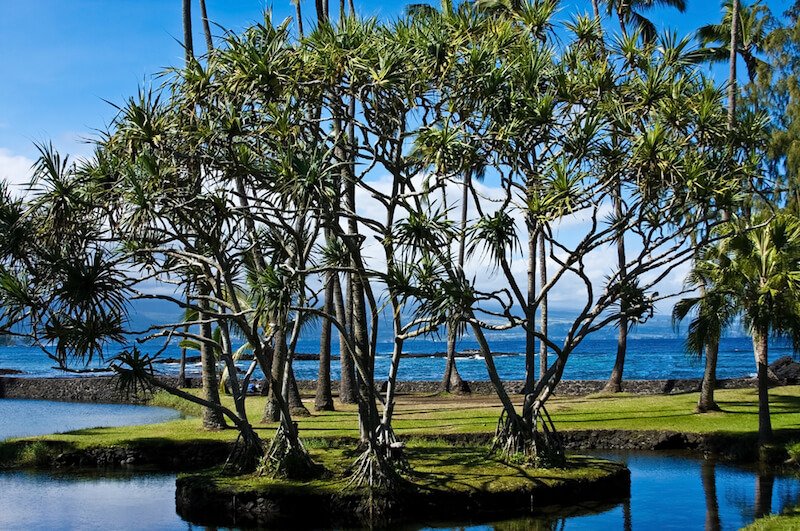 Grab some beers or draft kombucha in Hilo town.
Head on over to Hilo Brewing Company, where you can sample some beers and great eats!
We like the Hilo Golden Ale and the Mauna Kea Pale Ale. Foodwise, they serve hot dogs, wings, charcuterie, hummus, nachos, and sandwiches.
You may perhaps instead want to sample draft kombucha. You can find Big Island Booch at The Booch Bar.
Draft kombucha is significantly better than bottled booch. It is so much more refreshing from the tap!
Also, the Booch Bar is known for its "living" food. Their food menu consists of many fermented foods, salads, and vegan options, great for you if you are health-conscious.
Fermented food provides precious probiotics to aid in your gut health. It also is just delicious. We love The Booch Bar!
Relax in the lagoons of Carlsmith Beach Park.
While many of the beaches near Hilo have some rough surf, Carlsmith Beach Park is a nice and relaxing place with calm waters.
This is a great place to bring out your snorkel and try to spot some sea turtles and tropical fish. There are also tidepools to explore and picnic tables if you want to bring your own lunch.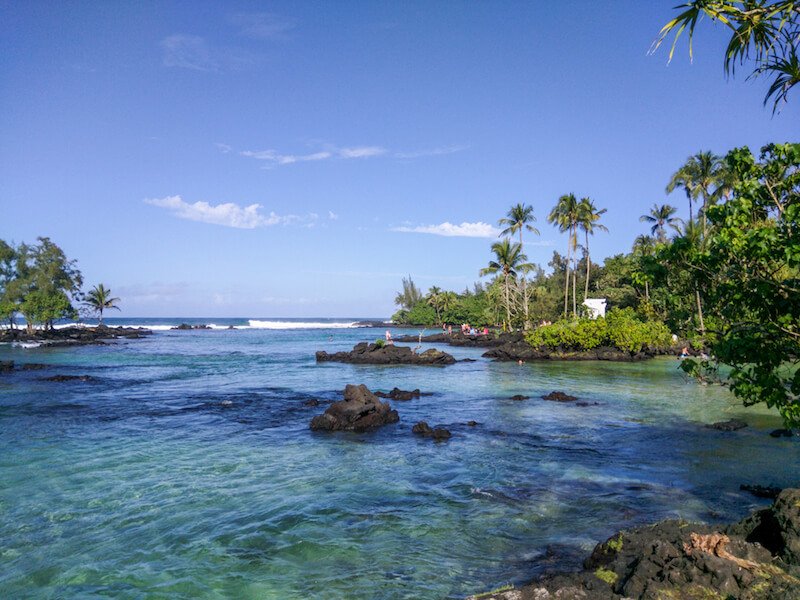 Best Things to Do Near Hilo: Day Trips & Excursions
Take an incredible helicopter tour over volcanoes and waterfalls.
The best way to see the views around Hilo? By helicopter, of course!
This Circle of Fire and Waterfalls Helicopter tour will show you all the best of the Big Island from a convenient departure point in Hilo.
You'll fly over Hawaii Volcanoes National Park, seeing both the Kilauea and Mauna Loa volcanoes from a sky-high perspective.
You'll also get to see the Halemaumau Crater and other important sites that make up the national park, and as you return, you'll pass by the Hamakua Coast and its many gorgeous waterfalls.
See the breathtaking ʻAkaka Falls State Park.
For another waterfall adventure, head out of town to visit ʻAkaka Falls State Park in the North Hilo District!
These falls offer more of an opportunity for jungle hiking than the waterfalls mentioned above. It is only a 0.4-mile loop trail, but it will definitely get the heart pumping!
There are a lot of stairs and pavement as you descend and ascend among bamboo and palms. These tall falls are absolutely gorgeous.
They are just a 10-minute drive from Hilo Town, and they're one of the best things to do near Hilo!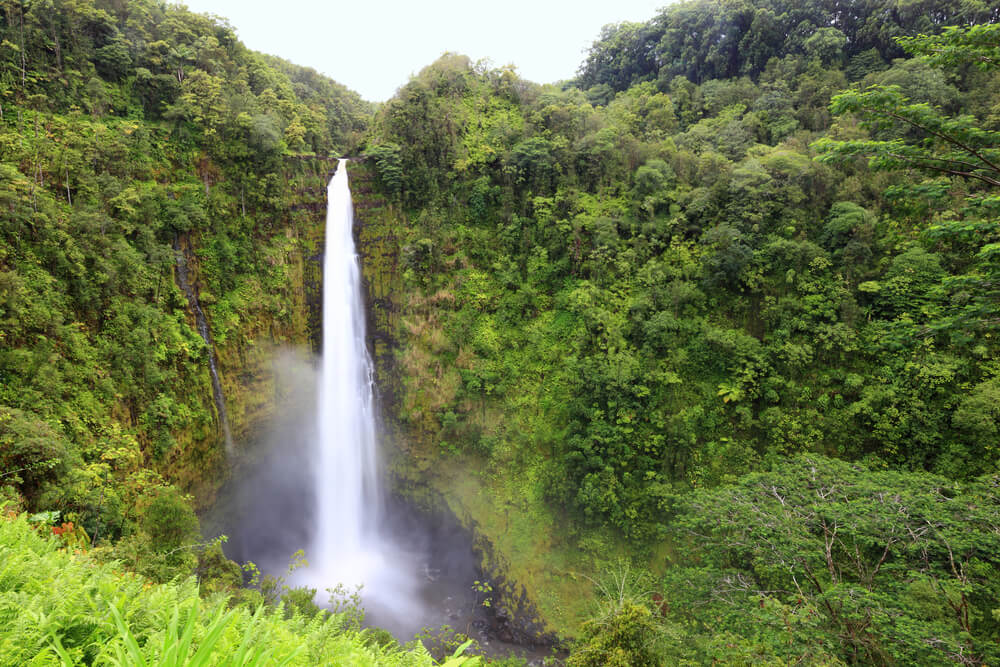 Spend the night camping at Kole Kole State Beach.
Kole Kole is a lovely little coastal state park with plenty of grassy areas to set up your tent.
The grassy camping area in is adjacent to a beautiful set of cascading falls, which flow right into the ocean.
They are great for climbing and swimming in as you enjoy the view of the wild Pacific Ocean. The beach is full of pebbles and rocks to explore as well — bring water shoes!
There are no designated campsites, just a field to set up your tent in. You will have ocean views as you sit in a valley flanked with vertical, green hills.
There are restrooms here and a pavilion with electricity to charge your phone or set up speakers for music.
Just respect your neighbors if you choose to use the electricity at this park — do not have bright lights or loud music, and turn everything off at a reasonable hour so people can rest.

Snorkel with sea turtles and dolphins.
We already suggested a few places in Hilo where you can snorkel and possibly see sea turtles, but there are also guided excursions from Hilo that offer small-group snorkel tours (no more than six people per group).
This is a good way to go if you've never snorkeled before and you want a bit of a primer before you hit the waters! Snorkeling is easy but it can be intimidating if it's your first time, so going with a group can be a good idea.
Book your sea turtle snorkeling excursion here!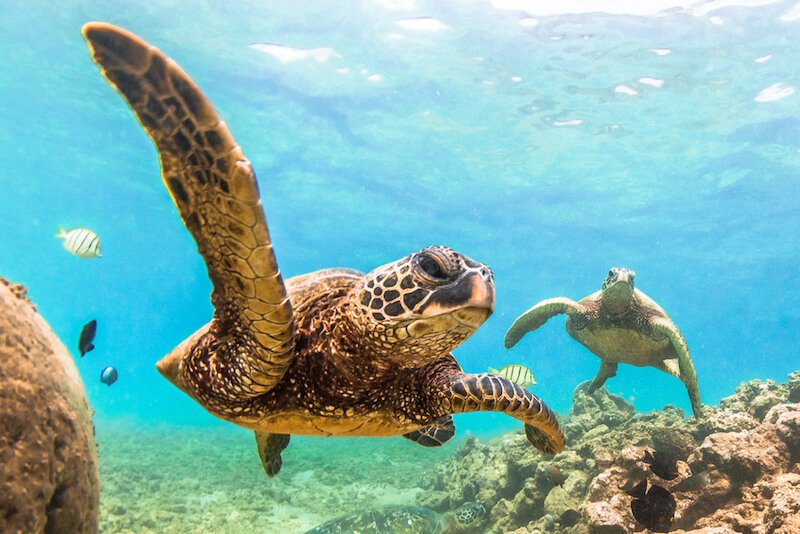 Enjoy a relaxing kava experience in Puna moku.
Kava, also known as ʻawa, has been used in Hawaiʻi for over two thousand years.
It is one of the original "canoe plants," which means it was brought over from Polynesia when the original Hawaiians left those islands.
Kava is a mildly psychoactive plant that has a very calming effect. You will drink a cold tea made with the roots.
When you partake in a kava experience, it's a practice to honor the earth, the ancestors, and your third eye. Ask your "bartender" to show you the ropes as to how to drink kava properly.
The kava bar you will be going to is Uncle Robert's Awa Bar. It is located in Pāhoa, a 30-minute drive from Hilo, in the same spot where there is a weekly night market.
Dance to the music at Uncle Robert's Night Market.
You can find the night market near Uncle Robert's Awa Bar. It has been hosted for many years by a local Hawaiian family.
This night market will bring you local vendors selling all kinds of artisan crafts and delicious food. You can get yourself some delicious macadamia ice cream (a Hawaiʻi must!) or a T-shirt with original art from a local Hawaiian artist.
There is also always live music at the night market. It is a beautiful opportunity to see Hawaiian and popular music!
The ukuleles will be strumming, guitars humming, and voices will be harmonizing. Get out on the dance floor and enjoy the night at this market with neighbors in the lava fields of Pāhoa.
Note: Uncle Robert's Night Market happens every Wednesday night from 5 to 10 PM.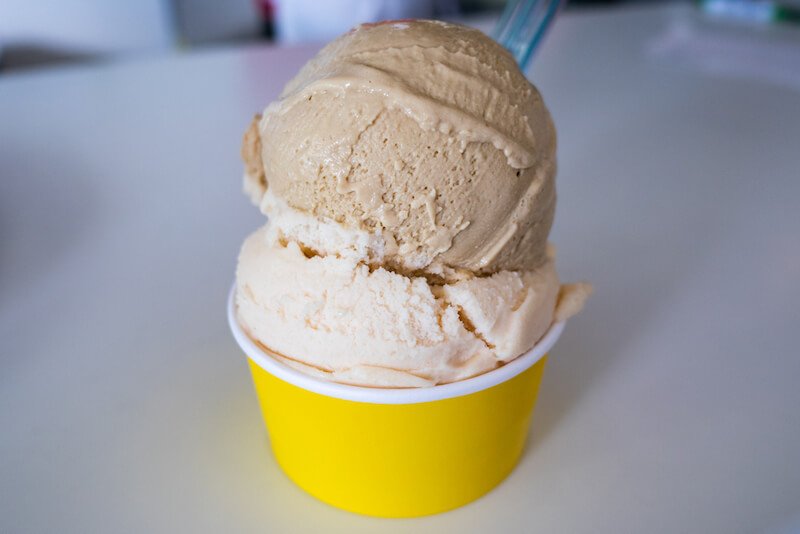 Take a day trip to Hawaiʻi Volcanoes National Park.
Hawaiʻi Volcanoes National Park is one of the most unique national parks you may ever have the privilege to visit!
All in one place, you can hike in the jungle or along a desolate crater. You'll also find lava fields, steam vents, and petroglyphs.
There are several ways to visit Hawaiʻi Volcanoes National Park, either by guided tour or self-driving.
Guided tour is the easiest way to go, and it can also combine several other of these Hilo day trips into a single one-day tour.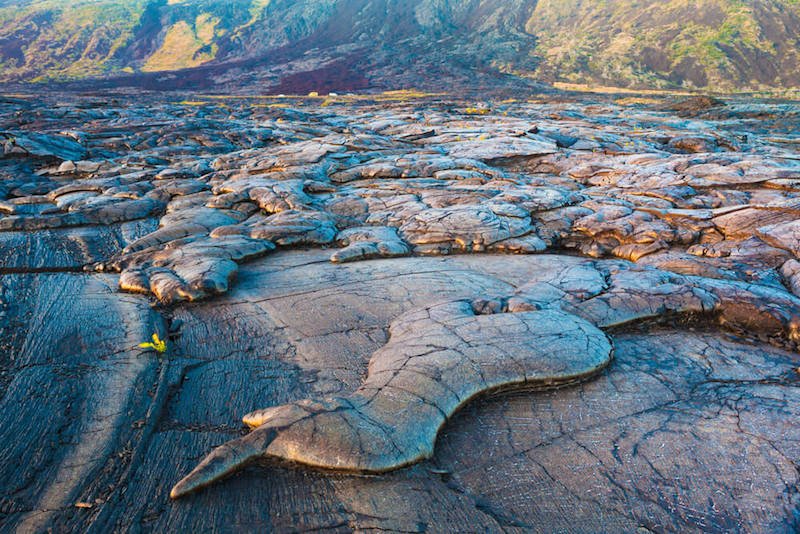 This tour of Hawaii Volcanoes National Park also includes stops at the Waipio Valley waterfalls and Punalu'u Black Sand Beach.
It's a small group tour (maximum 15 people) and you'll enjoy a picnic lunch in Hawaii Volcanoes National Park and be given ample time to hike a few miles around the stunning volcanic landscapes if you choose.
You'll also get to check out a private lava tube at Kauhi Cavern (access is exclusive to the tour!) and spend time checking out active steam vents and lava craters, including Halema'uma'u and Kilauea Iki craters.
If you are self-driving, drive along Chain of Craters Road to see the many craters and spacious views of the Pacific.
This beautiful scenic drive has easy access to some petroglyphs. Plus, it ends at Hōlei Sea Arch!
As lava poured into the ocean 550 years ago, it made the arch. The arch will eventually crumble into the sea, so it is lucky to view a fleeting structure such as this.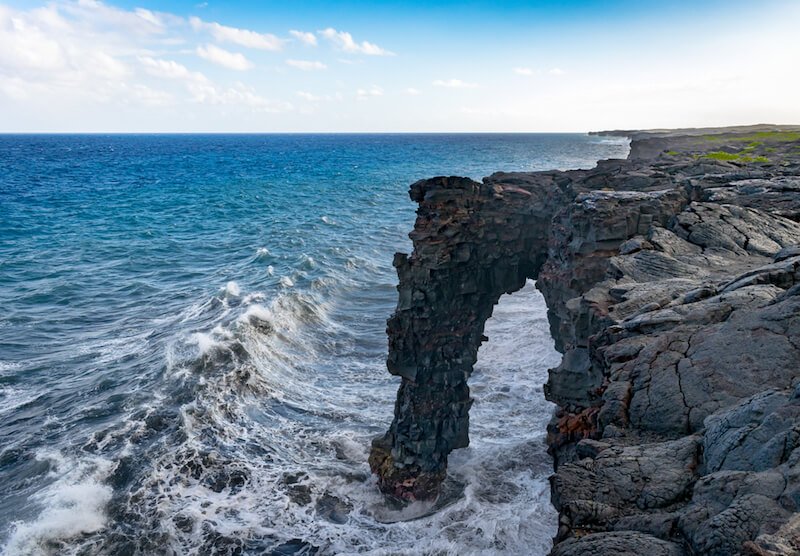 One of the other main highlights of Hawai'i Volcanoes is the Halemaumau (Pelehonuamea) Crater on the Kilauea Volcano.
It is an active volcano with a crater that glows red from the lava flowing below! You can see the glow as you approach the national park from the west at dusk and night.
There is a museum and several overlooks to view the steaming, glowing crater.
When it comes to Hawaiian spirituality, Halemaʻumaʻu is the home of the volcano goddess Pele. Tutu Pele is the goddess of destruction and rebirth, she who shapes and forms the land.
In Hawaiian culture, she is highly revered. She may wrap you up in her mothering arms or chew you up and spit you out. If you respect Hawaiʻi when you visit, she will most likely wrap you up in her arms.
However, sometimes we just need some destruction to be reborn into new life — a story the island of Hawaiʻi knows well, as both the youngest and largest of the Hawaiian islands!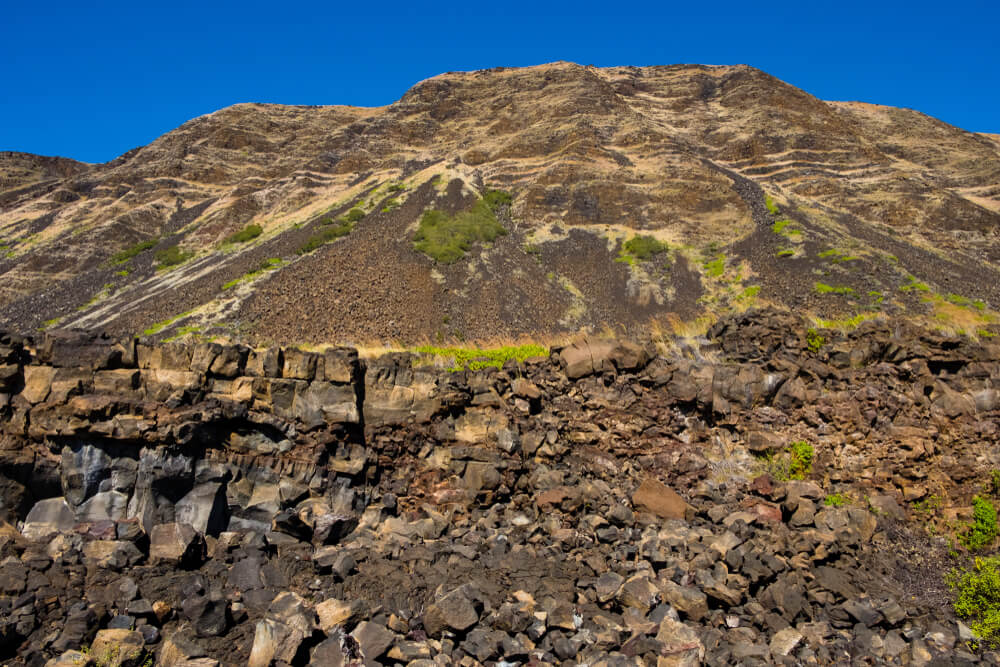 Take a ride on a wa'a (a traditional Hawaiian canoe).
The wa'a (pronounced "vah-ah") is the same type of vessel that the original Hawaiians used to make their way thousands of miles across the Pacific over two thousand years ago.
These canoes look like a traditional canoe with a deep body and an outrigger. Riding in one is a unique excursion to experience when in Hilo!
There are multiple tour companies available to give you an experience rowing these vessels on Hilo Bay.
It is a great workout and an even better way to glimpse into history. It is just awe-inspiring to think about how the ancient Polynesians crossed the Pacific navigating with the stars to reach these islands thousands of miles away across the open ocean.
Check out Kaumana Caves State Park.
This state park near Hilo is an interesting place to go to see the geological history of the island firsthand!
It's only a 10-minute drive from Hilo, but it feels like another world.
These caves are actually lava tubes formed by the eruptions of Mauna Loa, another one of the active volcanoes on the Big Island.
You can hike in the lava tube. Bring sturdy, closed-toe shoes (the lava rocks are slippery) and plenty of light sources, like a flashlight or headlamp. Just a cellphone flashlight won't cut it!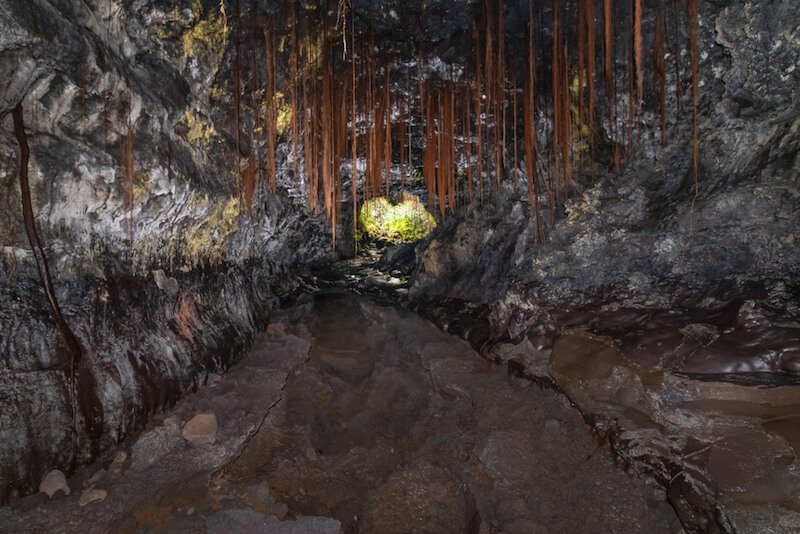 Sip wine in the town of Volcano.
Make your way southwest, 45 minutes from Hilo, to the town of Volcano.
Note: This excursion would pair nicely with your visit to Hawaiʻi Volcanoes National Park!
Volcano Winery and Tea Farm is a lovely winery and farm. Their award-winning Infusion Tea Wine is one of the most delicious things I have ever tasted!
You will like it, especially if you love tea. They also have wines featuring classic Hawaiian flavors of macadamia nut or guava and traditional wines like pinot noir.
You can get a flight and try them all!
They do not serve food here, but perhaps you can take some of your farmers' market finds with you.
They allow picnicking on the premises. So, I guess you can call it a BYOF (bring your own food)!
Feast your eyes on rainbow eucalyptus.
Head back up north to Kalōpā State Recreation Area in Honoka'a. On your way into the park, you can view rainbow eucalyptus along the road!
These magnificent trees have brightly colored bark with hues of pinks, greens, and purple.
They're quite magical and you won't be able to resist taking some photos!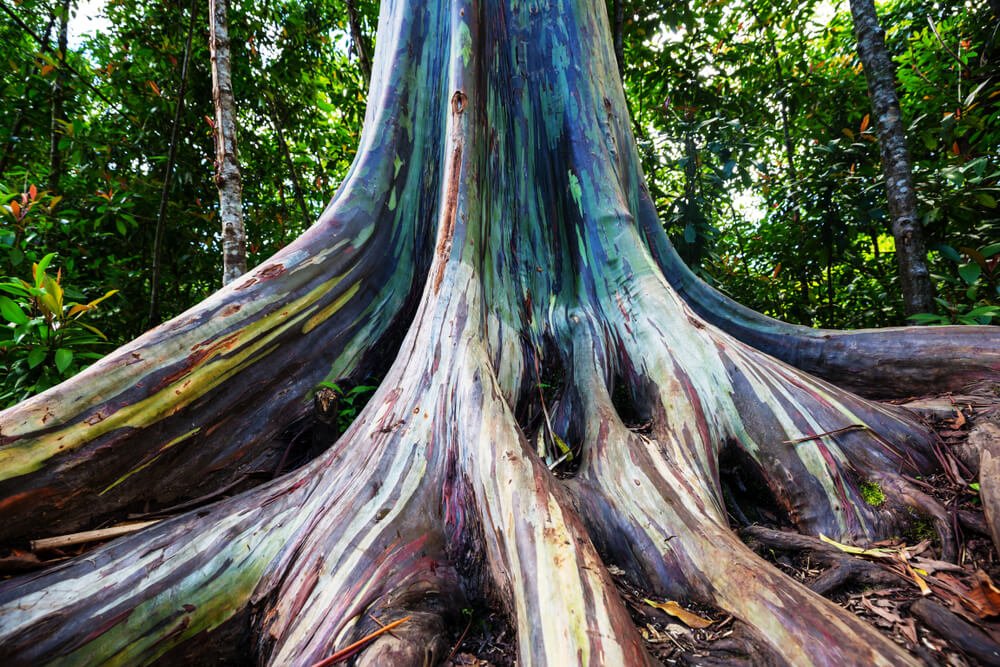 Check out the native 'ohi'a forest in Kalōpā.
Additionally, there are great hiking opportunities in Kalōpā, along with camping and cabins.
They also have a native 'ohi'a forest to check out. These trees are sacred to Hawaiians. They are the first vegetation to grow in the lava fields, a desolate environment where little vegetation can survive naturally.
They are responsible for creating the first soil to build on the lava where other plants can eventually grow. So, they are responsible for the lush forest that you will experience at Kalōpā and all around the island.
There is a legend connected to the 'ohi'a tree and its flower, the lehua flower.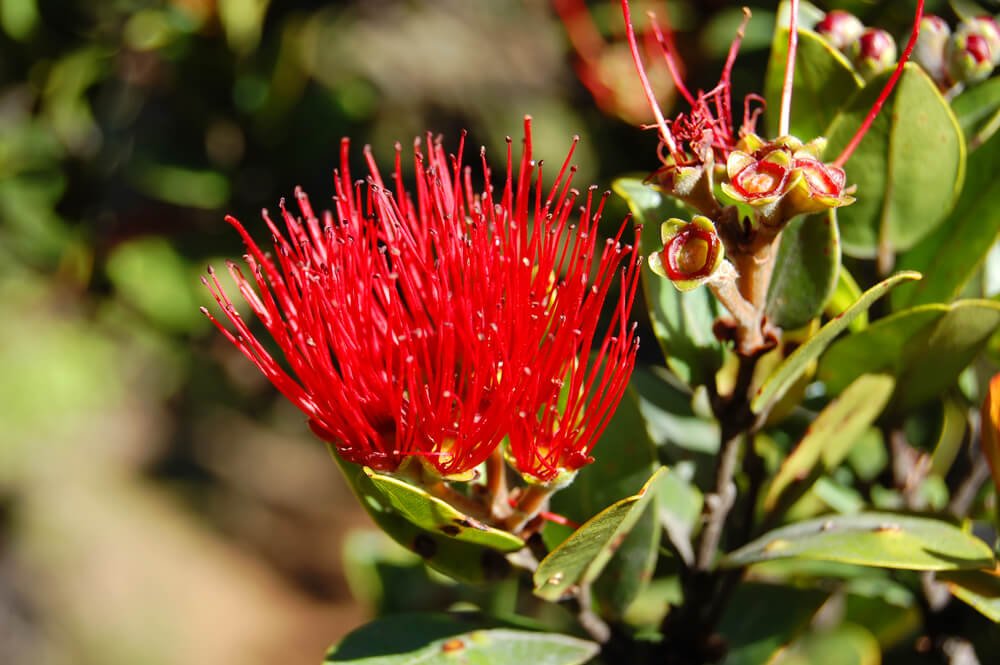 'Ohi'a was a love interest of Pele. However, he was already in love with Lehua. Pele, in her fury, turned 'Ohi'a into a tree. The gods were dissatisfied with this.
In turn, they made Lehua a flower of the tree so she and 'Ohi'a would never be separated.
According to legend, if you pluck a Lehua flower, it will rain that day, as they are the tears of the lovers who never want to be separated.
Check out Puna moku and the Kalapana Lava Fields.
In Puna, make your way to the Kalapana Lava Fields or experience the ocean along the Red Road. You can also visit steam vents in the area!
Kalapana is where you can view the lava flowing into the ocean when the volcano is erupting. This is not something that will constantly be occurring.
The last lava flow ended in May 2021, but you may still be able to see this depending on when you visit. If you are lucky enough, it will blow your mind!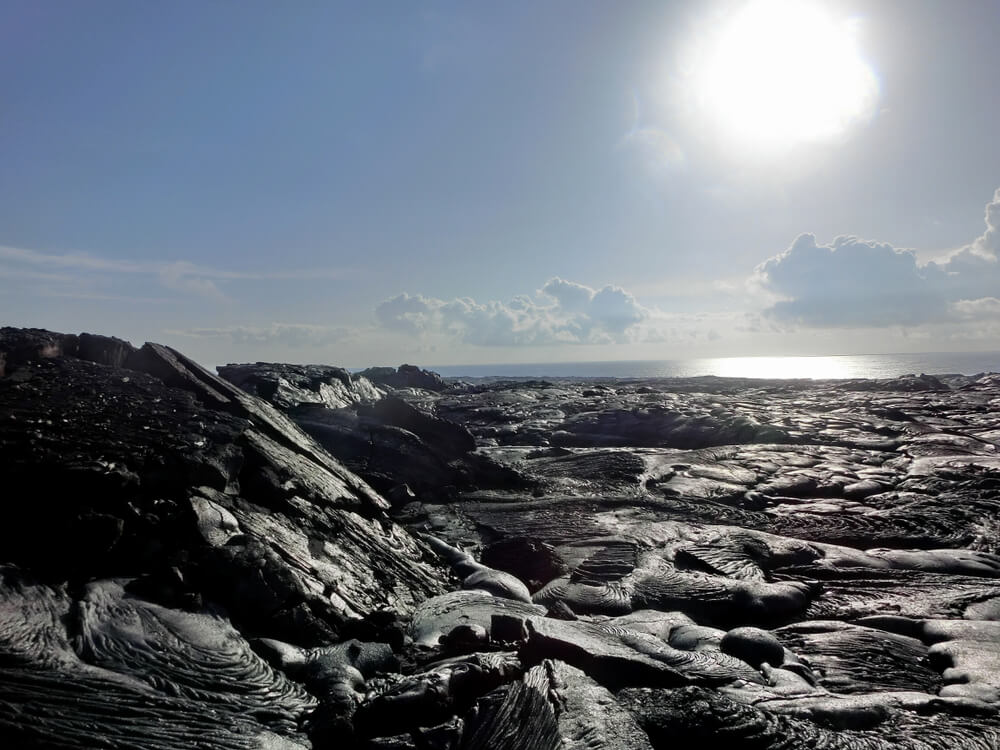 Bring aloha spirit to the town of Pāhoa.
In the Puna moku, you will find Pāhoa. It rains a lot here, so there are beautiful lush forests.
Pāhoa itself is a charming little town. When visiting, bring aloha spirit with you.
Large areas of Pāhoa were wiped out in 2018 when lava consumed Leilani Estates and numerous beloved natural areas.
I used to live in Leilani Estates (in 2016). It broke my heart to know that the lovely house in the rainforest where I lived was swallowed by lava.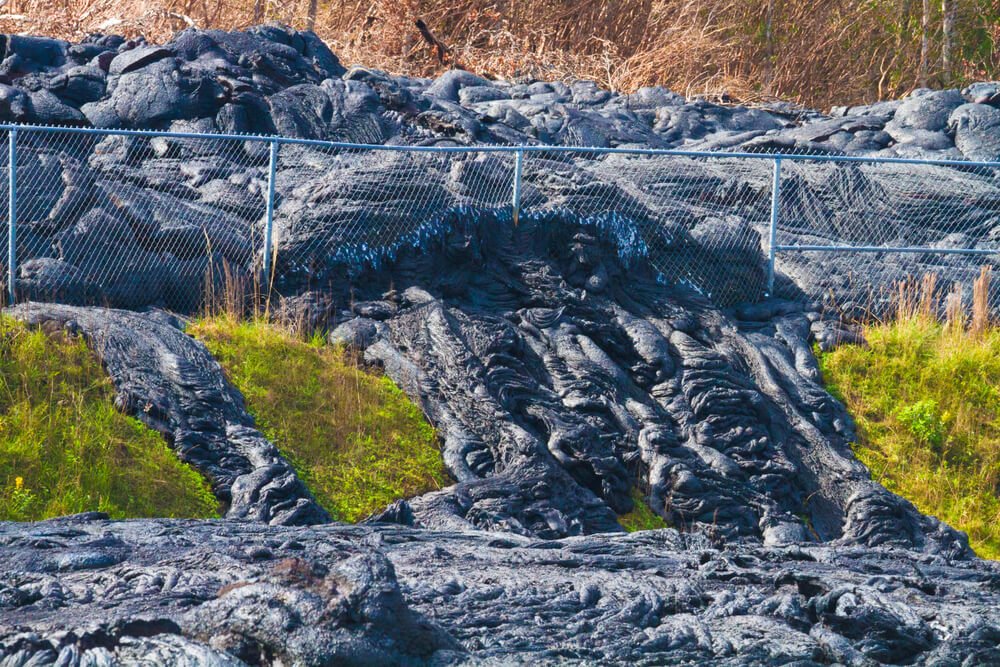 However, the people of Pāhoa are resilient and eccentric. Come here to support this vibrant community.
There are many opportunities to dance to live music or drive along beautiful winding roads surrounded by the rainforest of Pāhoa and the Puna district. Plus, Pāhoa town has many cool shops and great spots to grab a bite.
We especially recommend Pho' 19. Be sure also to check out the beautiful Painted Church!
Additionally, there are many communes and opportunities to volunteer for discounted rates at one of the many eco-retreats in Puna moku.
We recommend Hedonesia Eco-Community, where you can participate in art and garden projects as you stay in one of their structures in the rainforest. Some may stay in a converted bus or a lovely little hut.
You may also want to check out Cinderland Eco-Community who offer WWOOF'ing (Worldwide Workers On Organic Farms) opportunities.
Hit the road to explore the Pepe'eoko Scenic Drive.
Head north of Hilo on Highway 19 to traverse 40 miles up to the Hamakua Coast, ending at Waipio Valley (more on Waipiʻo below).
You will get to tour one of the most beautiful parts of the island with this drive. The views are endless and the waterfalls are plentiful!
Visit ʻAkaka Falls (as mentioned above) and feast your eyes on Kahuna Falls at the World Botanicals Gardens, another worthy stop on your journey.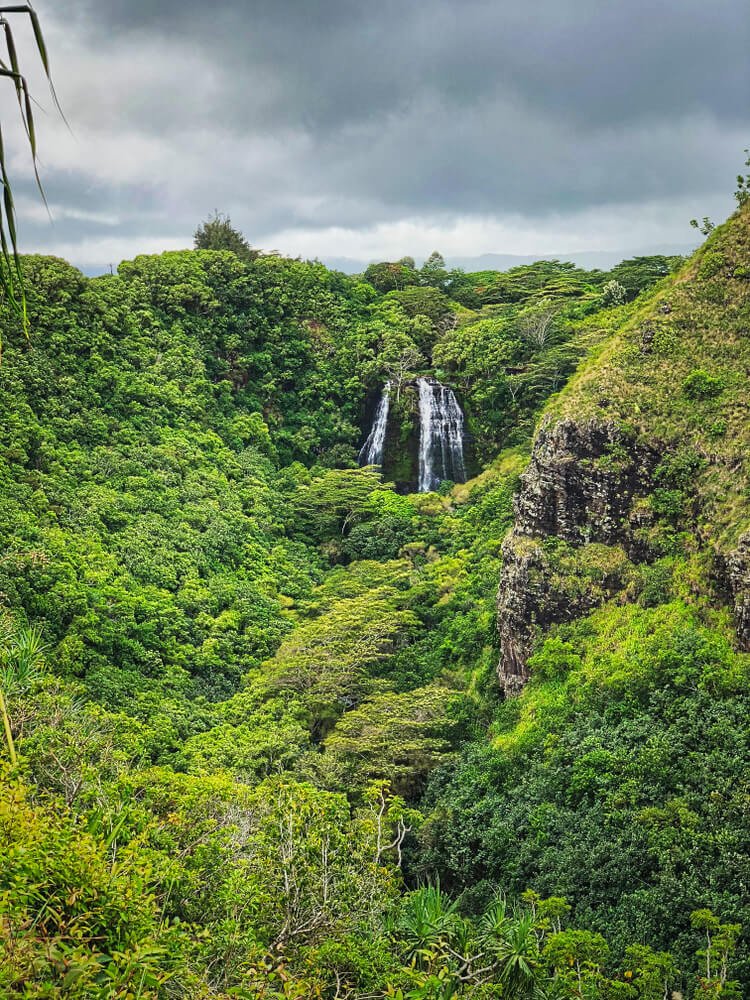 Check out the Hawaii Tropical Botanical Garden.
As you drive on Highway 19, there are many little shops and vendors selling fruit and coconuts along the way.
One place not to skip is the Hawaii Tropical Botanical Garden at Onomea Bay (less than 9 miles from Hilo), which is self-described as "a beautiful garden in a valley on the ocean".
These gardens are truly spectacular. It is a place to learn about plant botany, marvel at the beautiful tropical flowers, take a stroll, and enjoy the majesty of nature!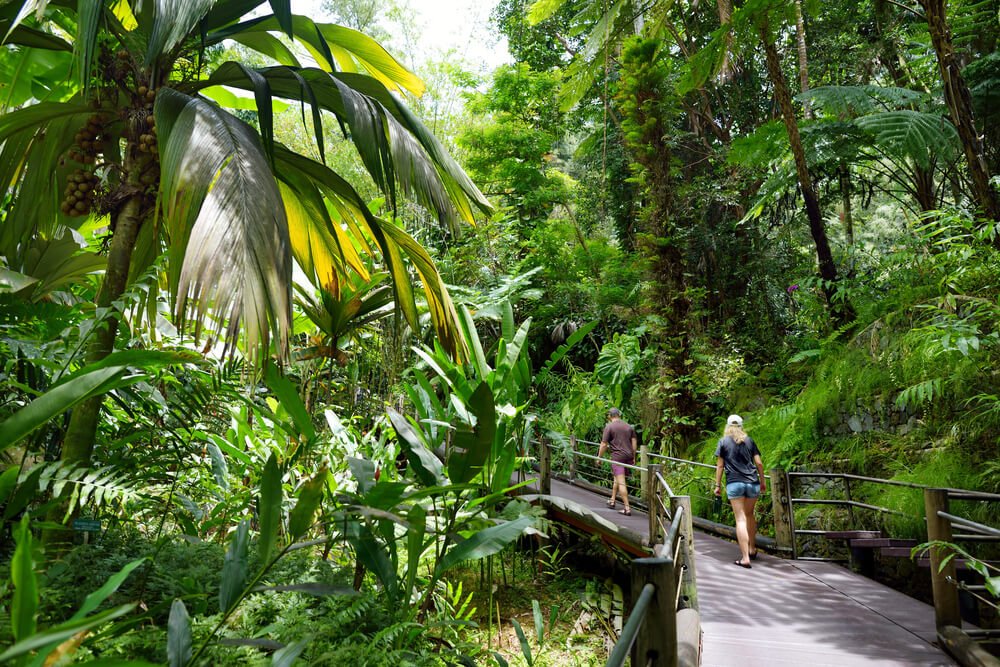 Take a detour to Honoka'a for some shopping and eating.
Additionally, you'll want to take a detour into Honoka'a, a quaint little town at the "doorway to Waipiʻo Valley."
There are many shops and boutiques in the charming town of Honoka'a. You can find Hawaiian-made goods and stunning batik sarongs.
Plus, you should stop at Tex Drive-in for malasadas (Portuguese stuffed donuts). You will then be able to make your way to Waipiʻo Valley, the next place on this list of things to do in Hilo.
Engage in a spiritual journey down into Waipiʻo Valley.
Waipiʻo is one of the most iconic locations on the Big Island! The view from the lookout is stunning enough to fill your soul.
However, if you choose to hike down into the valley, you will indeed be moved by the energy here, as it is a sacred place to the Hawaiians.
Waipiʻo was home to King Kamehameha. He is a highly revered figure in Hawaiian culture. You will see his name everywhere.
According to lore, King Kamehameha stood at 7 feet tall and is remembered for rolling the Naha Stone.
An ancient Hawaiian prophecy once stated that whoever could move the stone would unite the islands, which he did. He rolled the two-ton stone and subsequently joined the islands, ending 100 years of war. You can see the Naha Stone in Hilo today, in front of the Hilo Public Library.
It is not an easy hike down into the valley as it is very steep. You will hike 4.7 miles round trip when exploring Waipiʻo.
Along the hike, there are black sand beaches and a view of Wailoa River.
Take note: after rain, the stream can be flowing pretty intensely, so use caution should you desire to cross the creek for additional exploration.
If you can't drive or don't plan on renting a car while in Hilo, you can take a guided tour of the Waipio Valley.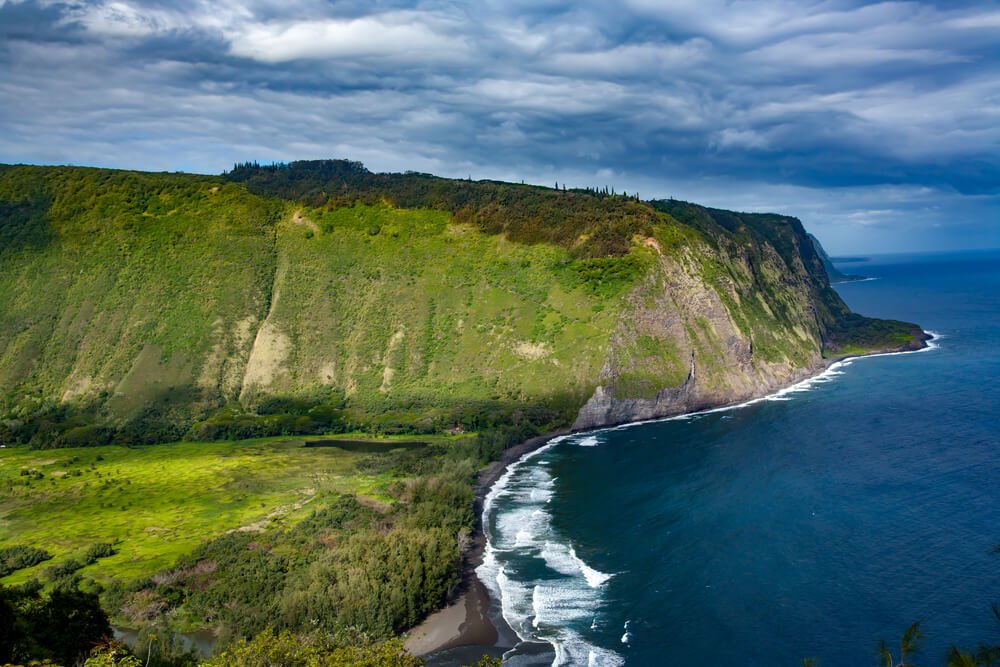 See the stars on Mauna Kea.
When it comes to viewing the night sky, there is no better place than Hawai'i. Seriously. You will be totally in awe.
Head through Saddle Road and then up to Mauna Kea. You can ride up to the Visitor Center and observatory to view the stars through a telescope.
However, it is still amazing to just head up Mauna Kea (Maunakea in Hawaiian) and view the stars on a hillside!
When I was there, I was lucky enough to see the Perseid Meteor Shower. The show was insane.
I could see long golden trails as hundreds of shooting stars flew across the sky. I simply brought a blanket, laid down with friends, and watched in awe. You can do this too, meteor shower or not!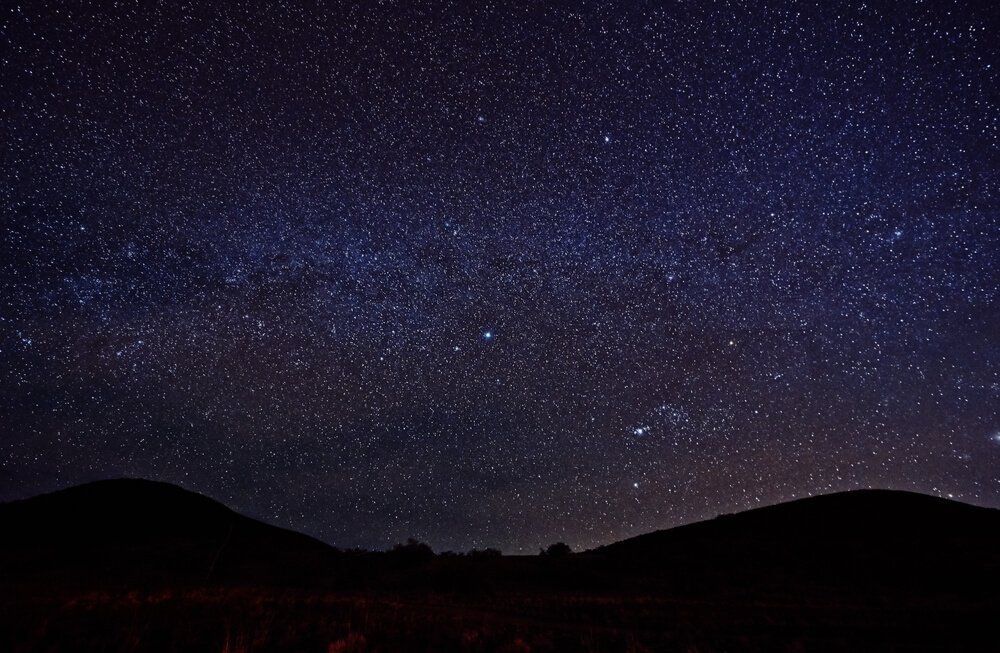 Another way to see the stars on Mauna Kea is through a guided stargazing tour.
This includes a transfer to Mauna Kea from Hilo, and once you arrive, you will get to borrow their large-aperture telescopes to see all the incredible galaxies and nebulas and planetary bodies from some of the darkest skies on Earth.
The guided tour is led by astronomers who are experts in their fields, having written numerous scientific articles and worked at world-class observatories, and they're here to share their guidance with you!
If you want to go stargazing on Mauna Kea, under one of the darkest skies you'll find on all of planet Earth, this tour is a must-do.
Book your stargazing tour of Mauna Kea here!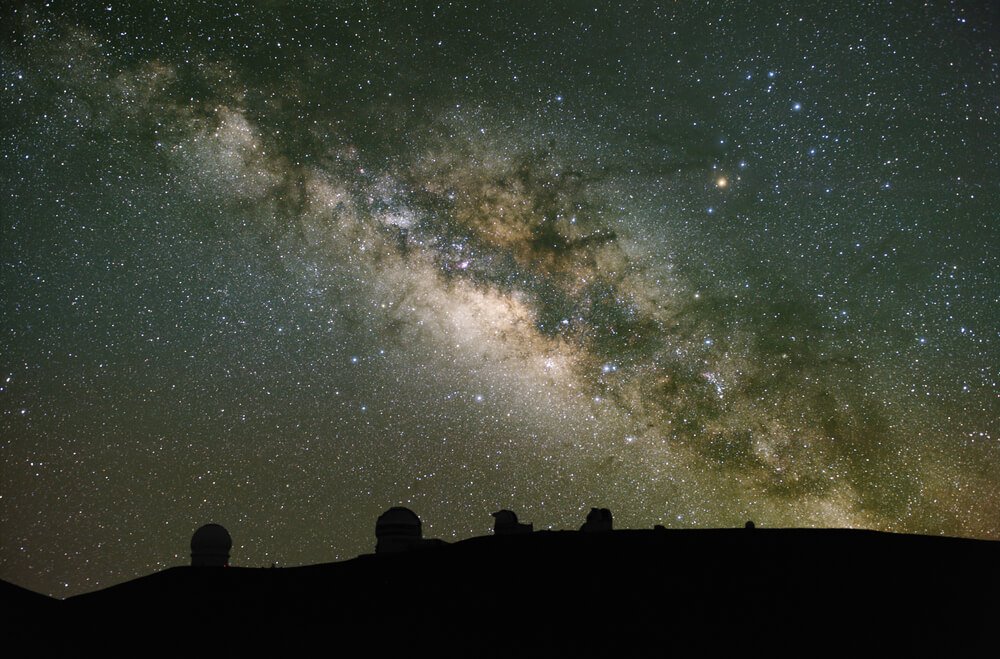 An important thing to note is that Maunakea is a sacred mountain to Native Hawaiians. There is much controversy over the fact that large, obtrusive telescopes were built on her.
Please be respectful when you come up here and acknowledge that Maunakea is a place where the desires of U.S. settlers and Native Hawaiians collide.
That does not mean you cannot or should not come for stargazing, but come with awareness of how Native Hawaiians feel about the larger telescope projects. Do your best to treat Maunakea with the same awe that they do.
There is currently controversy around another planned telescope, the Thirty Meter Telescope, which has set off protests and revived calls for more Native Hawaiian sovereignty over their sacred lands.
You can read a bit more about the protests and the young activists leading the way here.
Fun Fact: Mauna Kea is the tallest sea mountain in the world. And, if you count what's below sea level, it is taller than Everest.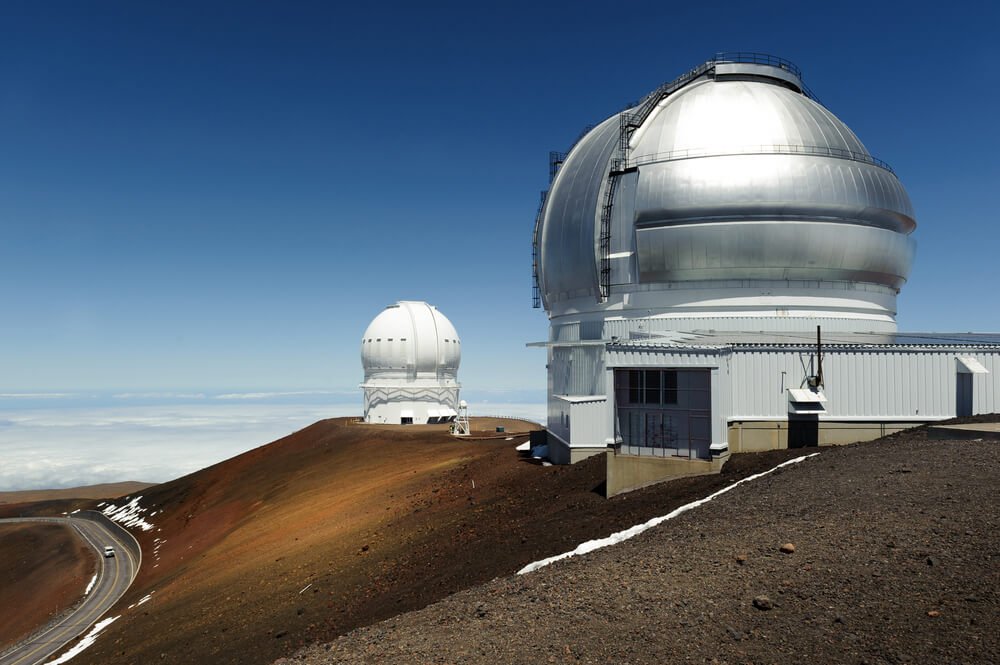 Drive your way to Kaʻū moku.
Many of Kaʻū's sights are about an hour and a half drive from Hilo.
The drive will be worth it as it offers captivating views of dramatic pali (Hawaiian for cliffs), the Kaʻū Desert, and of course, the Pacific Ocean!
Check out the southernmost point in the U.S.
When you head to Kaʻū, you will be able to see some of the highlights of the Big Island.
One such spot is South Point (Ka Lae). South Point is the southernmost point in the United States.
You will see many people jumping off of South Point into the ocean below. It is dangerous to do, so only participate if you are an experienced cliff-jumper and a strong swimmer.
Hike to Green Sands Beach (Papakōlea).
From the parking lot at South Point, you can hike south along the dirt road to Green Sands Beach (Papakōlea). It is accessible by four-wheel-drive vehicles with high clearance as well.
After you make the 2.5-mile journey to this stunning beach, a beach coated in olivine crystals and smatterings of black sand among the white sand with greet you.
You can relax on the beach or swim in the water. Be aware that the water can be pretty rough, so proceed with caution!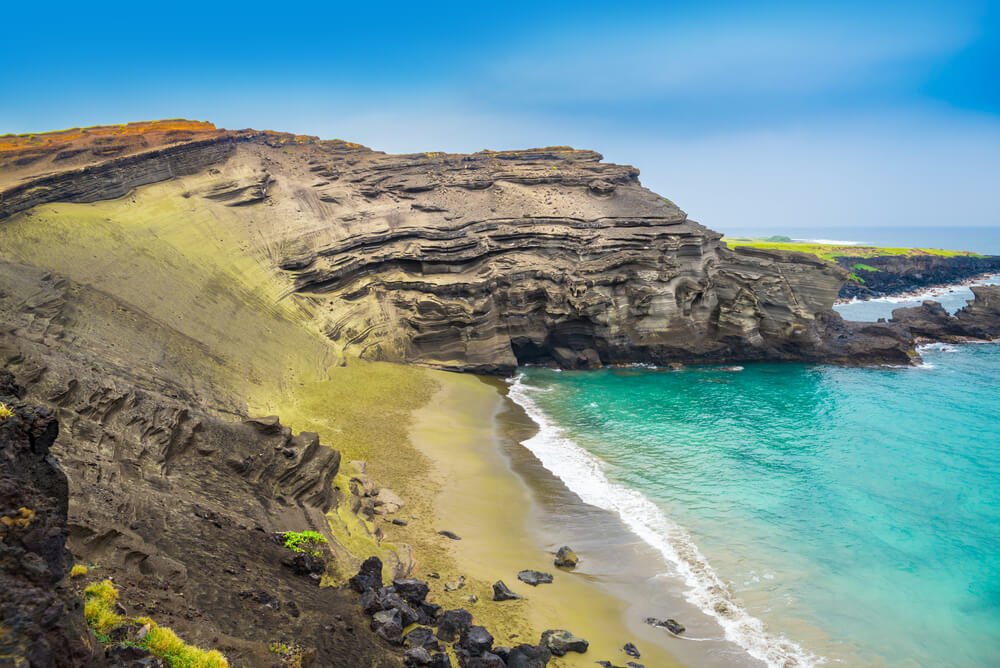 Check out the town of Nāʻālehu.
From Green Sands, head back towards Hilo and stop in the town of Nāʻālehu (Naalehu). You can get some great eats here!
For incredible burgers and loco moco, Hanahou Restaurant is your stop. I just love this small family-owned restaurant. Sometimes there is even live music and hula.
You can also hit up Punalu'u Bake Shop, "the southernmost bake shop in the United States." They are known for their malasadas and tasty Hawaiian sweet bread.
If you need a pick-me-up, they serve coffee and other beverages. They have outdoor seating in their garden, too!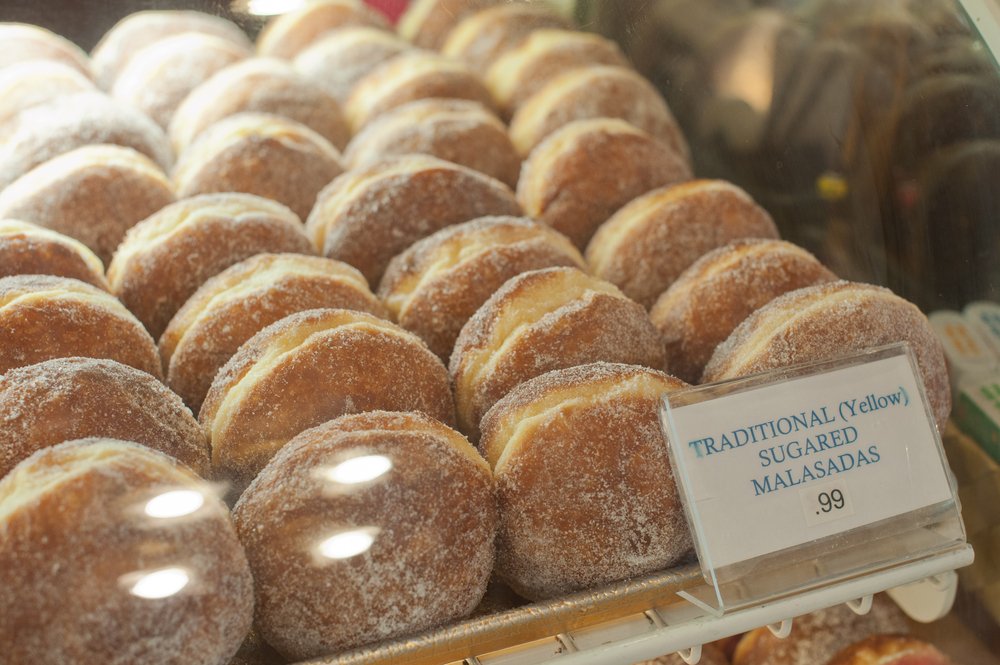 Marvel at the black sands of Punalu'u Beach.
Another highlight of Ka'u is Punalu'u Beach (Black Sands Beach). It is a great beach!
You will most likely see honu (sea turtles) resting on the beach. You can also hop in the water and enjoy snorkeling here.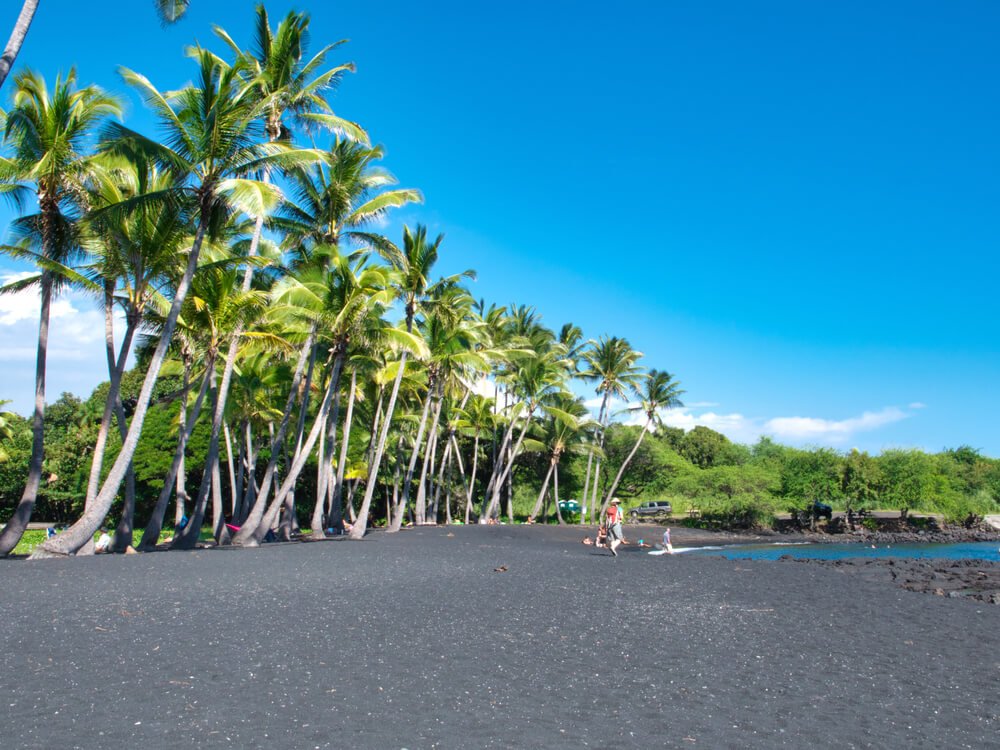 Bask in the glory of a trip well spent.
These suggestions are but a few of the many experiences you can have on the Big Island while you are based in Hilo Town.
Seriously, the list goes on and on! However, I hope that you will find these ideas fulfilling and fun and you have lots of ideas for what to do in Hilo and around it.
The Big Island is a magical place for you to visit. You will be awe-struck by the views, the waterfalls, and the stars.
Romp around the rainforest, take a drive along the coast, and take in the sights of Hawai'i Volcanoes National Park.
No matter what, the people are friendly and welcoming. The memories you will make will be etched in your soul.
I encourage you to open yourself up to the aloha spirit as you traverse this island. Respect the Āina (land). Treat every human, creature, and piece of land with aloha. You will be glowing with mana (spirit energy) when you head back home.
With that, I leave you with: Aloha Āina (love the land). Malama pono (take good care).
Allison is a writer, herbalist, musician, and lover of nature. She is an avid traveler and backpacker, having traveled throughout most of the United States and through parts of Asia and Europe. She has lived in Hawaii, Philadelphia, New Jersey, Boston, and of course, California. Allison has lived in California for 5 years, working on farms and in Yosemite National Park. She has been all over the state, enjoying many cities and of course, the many amazing outdoor wonders California offers. She currently resides in Aptos, Santa Cruz County, CA.