If you are considering a trip to the Big Island (aka the island of Hawaiʻi), your head is in the right place!
Picture yourself basking beneath waterfalls or hiking over lava fields. Perhaps you will relax on a beautiful black sand beach or enjoy the warmth of a geothermal pool.
As you can see in just a few words, there is no place quite like the Big Island of Hawaiʻi. it is one of the most spectacular places to visit in the world!
Plus, despite being the largest island, it is one of the quieter and more rural Hawaiian islands.
By now, islands like Maui and Kauai have largely been taken over by tourism, and Oahu is the most developed and industrial of the Hawaiian archipelago.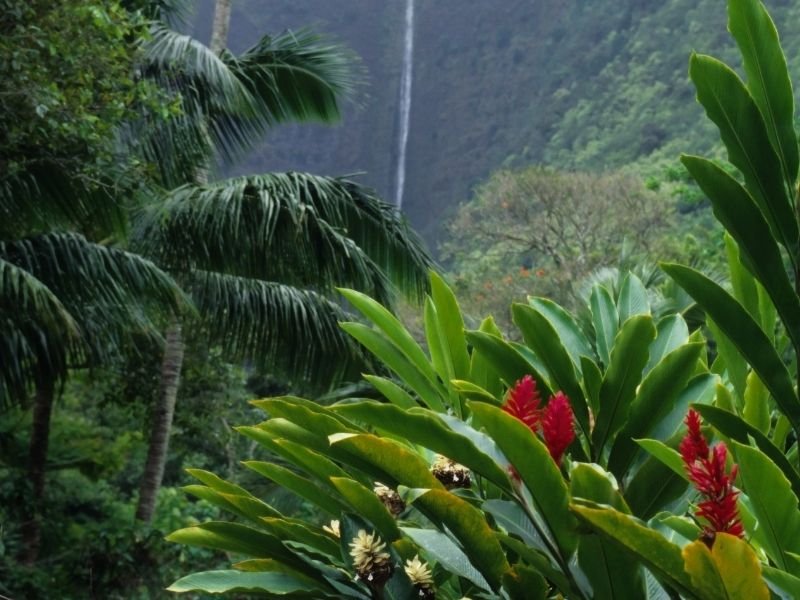 Note: This post contains affiliate links, which means I may receive a small commission if you purchase something through one of these links. Thank you for supporting the free content on this site! For more information on affiliate links and cookies, see my disclosure page for more details.
Hawaiʻi is different, with more undeveloped small towns and beautiful stops that haven't quite succumbed to mass commercialization in the same way.
While Kona and Hilo are rather developed, there's a whole ton of area in between that is far less built-up!
On this 5 day Big Island itinerary, we'll start on the Kona side of the island, and then we'll road trip over to the Hilo side.
This post was first written on June 13, 2021. It was written by guest writer Allison Coulter, who lived on the Big Island of Hawaii for six months, traveling by van around the island. It has since been updated several times to reflect Covid updates and changes. It was last updated March 29, 2023.
PLANNING FOR BIG ISLAND AT A GLANCE:  

When to Go: The Big Island of Hawai'i is a pleasant destination with beautiful tropical weather all year round!

But even with that, some months are better than others and in that case, May through October is the best time to visit the Big Island when the sun is fully out and the chances of rain are low. Spring and fall is also a good time to visit if you want to escape the influx of tourists and enjoy lower rates on accommodation.

Though hurricanes are rare on the Big Island, be sure to check the weather before you travel during the hurricane season which is June through November - or entirely avoid this time if you're not sure.

Where to Stay: For this itinerary, I recommend basing yourself in Kona, and Hilo to get the most out of your Big Island trip.

In Kona, I recommend staying at Kona Coast Resort (boutique hotel), Royal Kona Resort for a resort stay, or Four Seasons Resort Hualalai for a luxurious stay. And if you want a homey feel, you'll love this beautiful beachfront condo.

When in Hilo, I suggest staying at Hilo Vacation Rental for a charming and budget-friendly stay, SCP Hilo Hotel for a bit of luxurious yet affordable stay, Arnott's Lodge & Hiking Adventures for backpackers, or Grand Naniloa Hotel (boutique hotel). If you want a homey feel, I suggest staying at this Oceanfront luxurious house.

How to Get Around: Having a car is essential if you want to fully enjoy the Big Island and visit places public buses cannot go. You could use taxis, Uber, Lyft, private tours to get around but that can get expensive pretty fast and that's why I think renting a car is much better.

If you do choose to rent a car, compare car rentals and prices from here.  

Best Activities: Don't want to drive or plan? Booking a few different activities can help you eliminate the need for driving around. You can book a stargazing tour on Mauna Kea, a snorkeling tour in Kealakekua Bay, or a manta ray snorkeling experience.

3 Things Not to Forget to Pack: Since you'll spend plenty of time on the beach, I recommend taking this Dock & Bay travel towel which is 100% made from recycled materials. You'll need a swimsuit to fully enjoy the beaches -- this is my favorite swimwear  -- and of course sunscreen -- I love SunBum SPF 50 with Vitamin E — it's moisturizing and soothing for you and also harmless for marine life! 
A Note on Visiting Hawaiʻi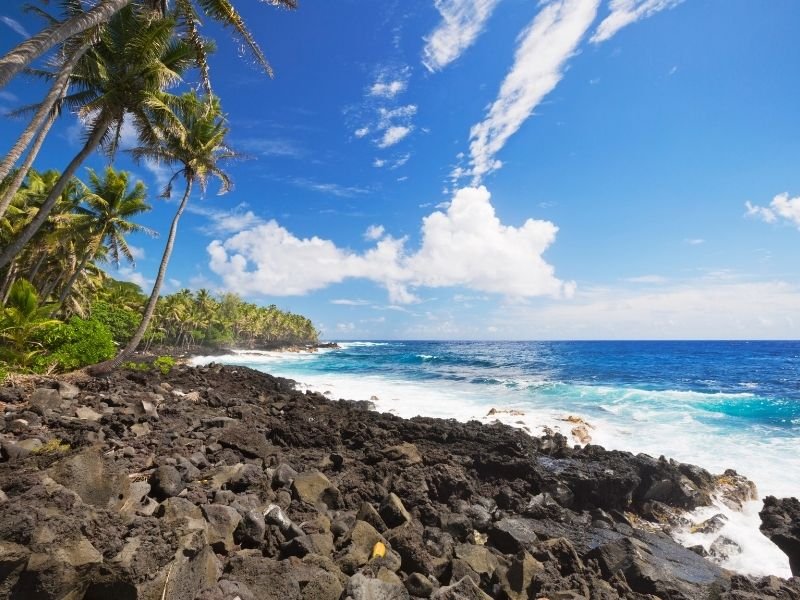 One important thing to mention about the island of Hawaiʻi is that it is the home to the Kingdom of Hawaiʻi, which is under U.S. occupation.
When you visit this island, be curious and respectful of the Native Hawaiian way of life. The state we now know as Hawaii was forcibly annexed, without treaty or legal right, from the Kingdom of Hawaiʻi.
This island is their ancestral land, and many of the locations mentioned here are sacred to them. Do not take anything from the island, including lava rock. It is said it will bring you bad luck if you do!
If you are respectful, you will have a wonderful time on this island. It is full of magical, intense energy. With the right mindset, visiting the Big Island, the land of aloha, can be transformative.
Move with Aloha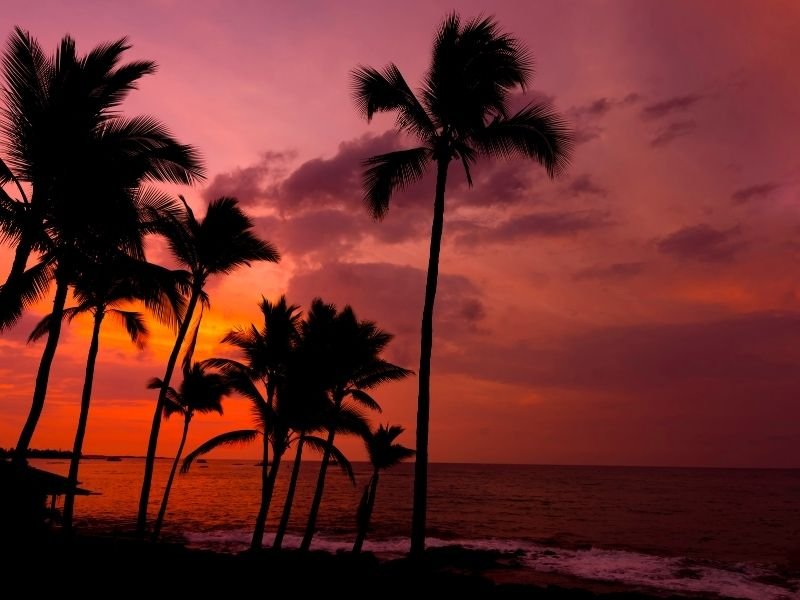 A note on the concept of aloha: Despite what popular culture portrays, aloha is more than just hello and goodbye!
In the Hawaiian language, "Alo" means "presence." "Ha" means "the essence of life." It is an expression of love and understanding that we are all connected to spirit.
When you live with aloha, you live with passion and considerations for the natural world, its creatures, and your fellow humans. Isn't that a great way to be?
So try it out while you move through this Big Island itinerary. I promise you won't regret it, and you may walk away with a new point of view!
Enjoy and move with aloha in your heart during your five days on the Big Island.
Where to Stay on the Big Island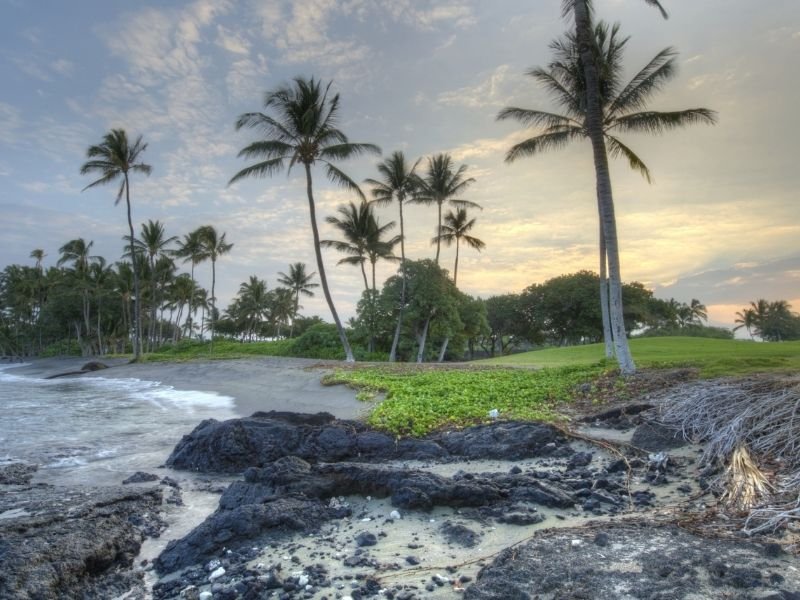 It might be called the Big Island but it's actually pretty small which makes getting around easy.
This means that you can choose 2 towns (Kona and Hilo in this case) to make your base and visit everything else from here since most of the popular attractions are within driving distances from these towns.
Kona Accommodations
BOUTIQUE | Traveling to Hawaiʻi means staying close to the beach as much as possible and Kona Coast Resort offers just that.
This beautiful resort features 2 outdoor swimming pools, a tennis court, 3 hot tubs, and a sauna. Not yet sold?
This resort also offers large air-conditioned villas with a fully furnished kitchen, a living, and a dining room to accommodate even big families. If you ask me, your Big Island stay can't get any better than this!
Check availability and rates on Booking.com | Book on Hotels.com
RESORT | If you want a resort stay, I recommend staying at Royal Kona Resort. It has its own private beach so you don't have to worry about the summer influx that crowds most "public" beaches.
The resort also has a saltwater lagoon, an outdoor swimming pool, an on-site restaurant, and the best part? It has no resort fees!
And don't worry if all the activities on the island tire you out, you can just head to the on-site spa and wellness centre for a relaxing massage.
Check availability and rates on Booking.com | Book on Hotels.com
LUXURY | Kona might have a number of resorts but nothing speaks luxury like Four Seasons Resort Hualalai.
From the beautiful sunsets on the beach, the stunning views, the Golf Course, the top-notch service, to the large rooms with Hawaiian-inspired décor, everything is perfectly designed to make you feel at home while enjoying all the luxuries it provides.
It's safe to say that Four Seasons Resort Hualalai is your best bet at experiencing maximum luxury while in Kona!
Check availability and rates on Booking.com | Book on Hotels.com
VRBO | I understand that not everyone wants to stay in hotels! If you're that person who prefers a homey feel while traveling, I recommend staying at this beautiful beachfront condo.
Designed with a beachy and a tropical eclectic style with a mix of Hawaiian decor, this place will make you feel like you're in Hawaiʻi whether you're inside or outside.
The condo features a modern kitchen with all appliances should you need to make your meals, a sizeable bathroom, and not forgetting the stunning beach views from the balcony. It's also in a few minute's walk to almost everything you'll need.
Hilo Accommodations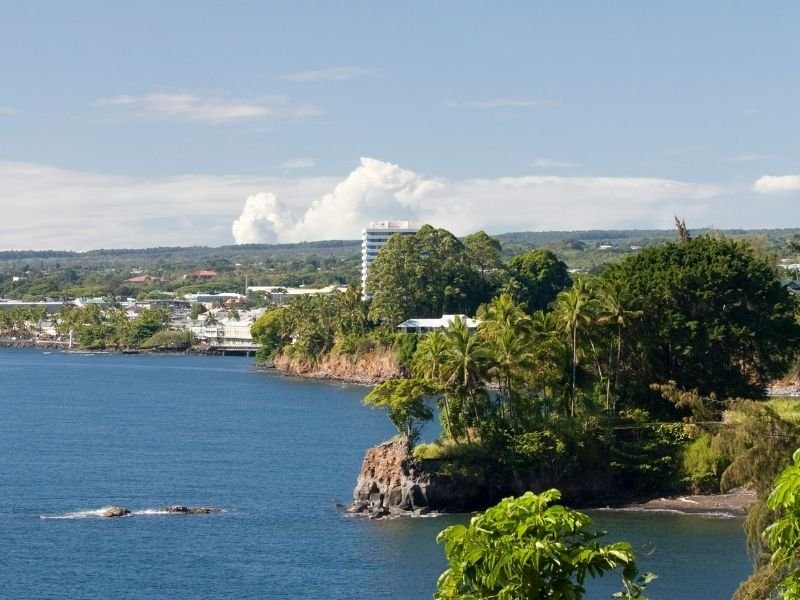 BOUTIQUE | Located just 30 miles from Hawaii Volcanoes National Park in the heart of Hilo, Grand Naniloa Hotel, a Doubletree by Hilton is the best hotel to stay for the stunning ocean or harbor views of Hilo Bay at an affordable cost.
The hotel features an outdoor swimming pool, sundeck, and an on-site restaurant that serves local seafood dishes — perfect for indulging in the local Hawaiian cuisine!
Check availability and rates on Booking.com | Book on Hotels.com
MID-RANGE | If you thought you couldn't have a piece of luxury at an affordable price, SCP Hilo Hotel will make you think twice.
Eco-friendly and cozy, this hotel has modern, clean, and comfortable rooms with an inviting lobby designed to make you feel welcome.
And if you're a traveler who wants to stay fit while on the road, you'll love their fitness room!
Check availability and rates on Booking.com | Book on Hotels.com
BUDGET | If you want something affordable yet still comfortable, I recommend staying at Hilo Vacation Rental.
While there is nothing extraordinary to boast about, this guest house offers a kitchen, clean rooms, a TV installed in each room, a clean and large bathroom, and an outdoor gas bbq to socialize with other travelers. It might seem basic but it provides the best bang for your buck.
Check availability and rates on Booking.com | Book on Hotels.com
What to Pack for the Big Island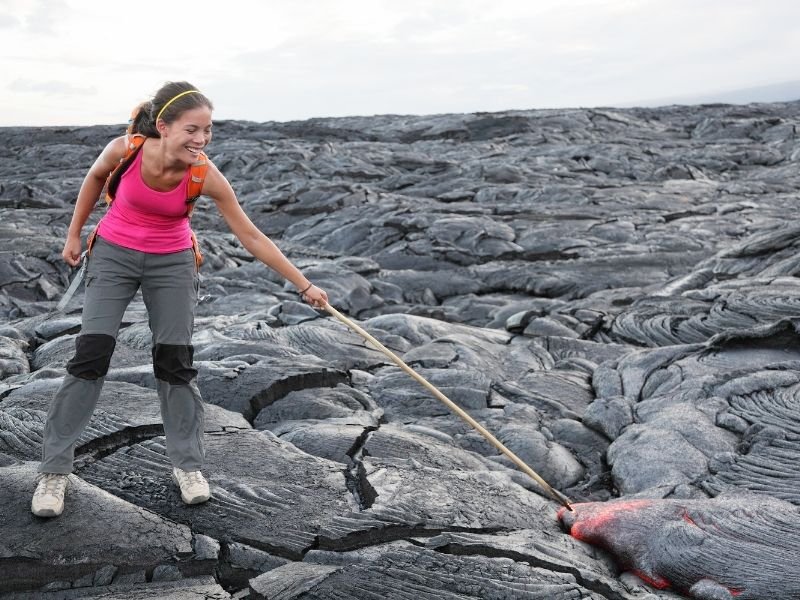 Travel Guides: I have included everything that I think will help you enjoy your stay on the Big Island but I found this Hawaii The Big Island Revealed Guide book offers the most in-depth information.
While blogs are great, guidebook companies have far more resources to put extensive time into research. So combine my personal experience with this highly rated guide book and you can be assured of an amazing time on the Island.
An awesome travel towel: With all the beaches on the Island, you'll definitely need to take a towel and I am not talking about the small microfiber towel that almost does nothing!
I am talking about the true microfiber towel that not only works well on a beach day but also after a long shower. I am in love with this amazing towel from Dock & Bay. It's eco-friendly (100% from recycled materials), and it repels all sand with just one single shake. Let's see your standard beach towel do that!
Bathing suits you love: A Big Island vacation is incomplete without bathing suits! Take a swimsuit that will make you feel comfortable.
I love wearing a two-piece but I usually get that awkward discomfort especially after enjoying all the local dishes but after a number of trials, I found the answer. High-waisted swimsuits!
I love this one, and this one is a great plus-size option with a high waist and a classic shape. You should choose to take 2-3 swimsuits to the Big Island to avoid having to put on a wet swimsuit — yuck.
Reef-safe sunscreen: Sunscreen is essential when visiting the Big Island! But don't just take any random sunscreen. Take and use one that is not only great for your skin but also for marine life too.
I love SunBum SPF 50 with Vitamin E — it's moisturizing and soothing for you, and harmless for the animals who call Big Island's waters their home! Not only is it the right thing to do, but bringing chemical-laden sunscreen is actually illegal when visiting Hawaiʻi.
Comfortable travel sandals: It's going to take a lifetime for anyone to convince me that there are better travel sandals than my Birkenstocks — I could be buried in them if it were possible!
I may sound a bit hyperbolic, but honestly, that's how essential I feel they are when I travel. I personally love the Birkenstock Gizeh leather thong style but the classic two-buckle Arizona slides are also cute and comfortable. These are the exact shoes I have and love!
One tip, though: Wear them for 2-3 days before your trip so they can form the shape of your foot. They'll be a bit uncomfortable at first but nothing major (I just bought a second pair recently and I can vouch for them for the second time).
Chemical-free insect repellent: Just like the sunscreen, the bug spray you take should be chemical-free to not harm the sensitive ecosystem of Hawaiʻi especially when you go in the water.
A simple lemon eucalyptus spray like this will keep most mosquitos away without the harsh chemicals which can mess up delicate ecosystems.
Getting Around the Big Island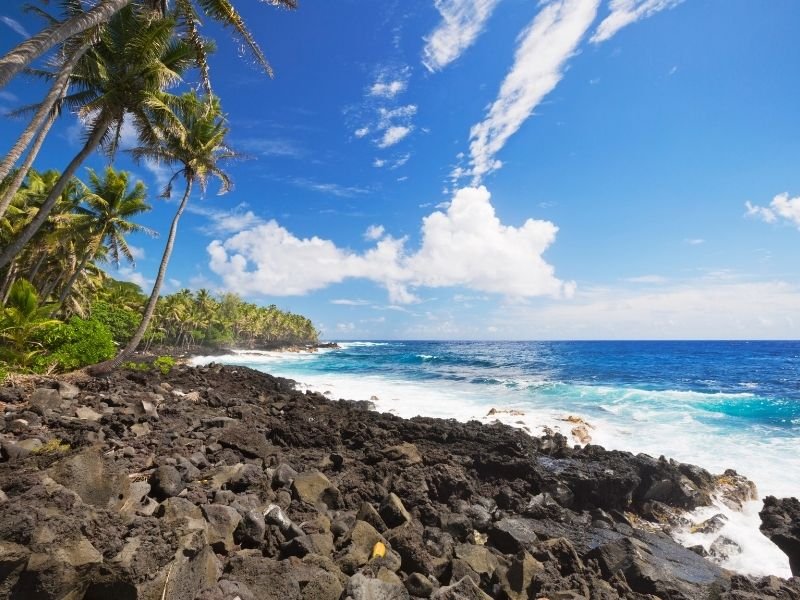 Trying to get a lot done in a short amount of time? Your best bet is to rent a car when you come to the Big Island.
It can be pricy depending on when you travel, but it will save you a lot of time and headache.
The public bus system does not always follow its schedule, and it is just not reliable, especially if you want to see all you can with just 5 days on the Big Island.
If following this itinerary, you'll want to rent your car from Kailua-Kona Airport.
Not sure where to get the best deal on your rental? I've rented cars dozens of times through various search engines and have settled on Discover Cars as the best car rental search engine!

It searches over 500 trusted rental companies to find the cheapest price for your rental, so you know you're getting the best deal. Compare prices for car rental from Kailua-Kona Airport here.
5 Day Big Island Itinerary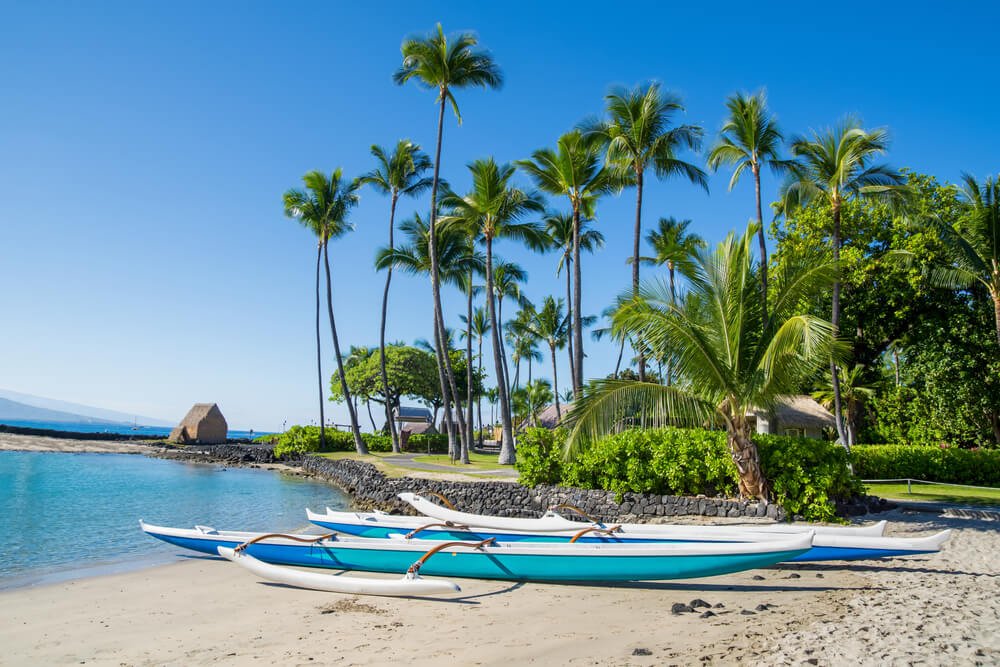 Day 1 of your Big Island Itinerary: Kailua-Kona
You will most likely fly into the Kona airport when you visit the island of Hawai'i. It is one of the most populated areas of the island and definitely the liveliest!
There are beautiful places to eat Hawaiian food and plenty of beaches to explore, so let's dive into this Hawaii itinerary headfirst!
Eat a tasty and hearty breakfast.
To start your day off right, head over to 808 Grindz Cafe for breakfast! I promise you it will be "ono," which is Hawaiian for delicious!
You can enjoy waffles or eggs benedict. Plus, they have an extensive moco menu!
Loco moco is a classic Hawaiian dish. They also have vegetarian options, so there's something for everyone.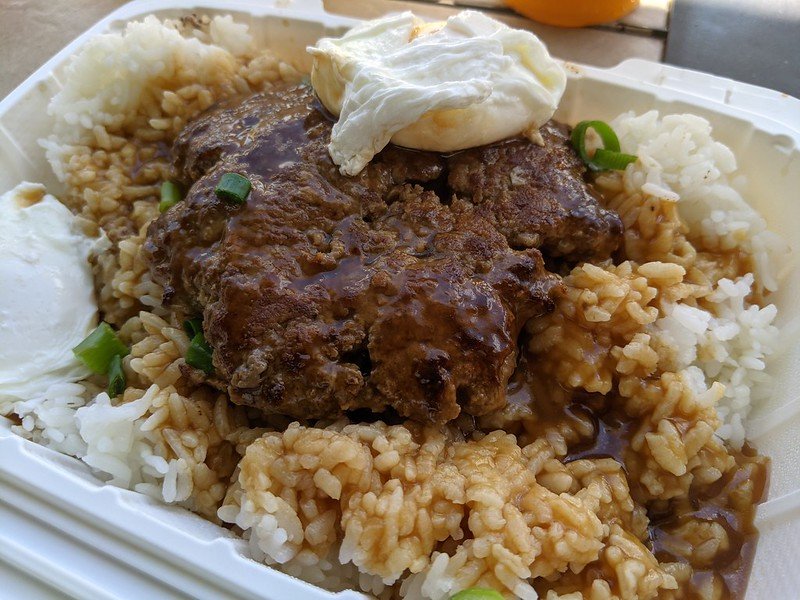 Hop in your rental car and drive north.
I always find that taking a drive in a new place is a great way to get to know it! To start this Big Island itinerary, I suggest heading north to Pololū and the town of Hawi.
Pololū Valley is a magical place on the island. It was once home to the ancient Hawaiians, where they enjoyed a plethora of plant life like the Hawaiian staple, taro.
The view from the lookout at Pololū is stunning, so be sure to bring your camera.
Hike down into Polulū Valley.
You will be even more enchanted when you hike down into Polulū Valley!
It is a very steep but short hike of just over a half-mile. Keep in mind that it can be pretty slippery and muddy after rainfall… which is fairly often; after all, Hawai'i is a tropical island!
Down in the valley, you will find rocky shores, black sand beaches, and a couple of swings for your Instagrammable moments!
You can also follow the path to the other side of the valley and hike some more for great views of the neighboring valley.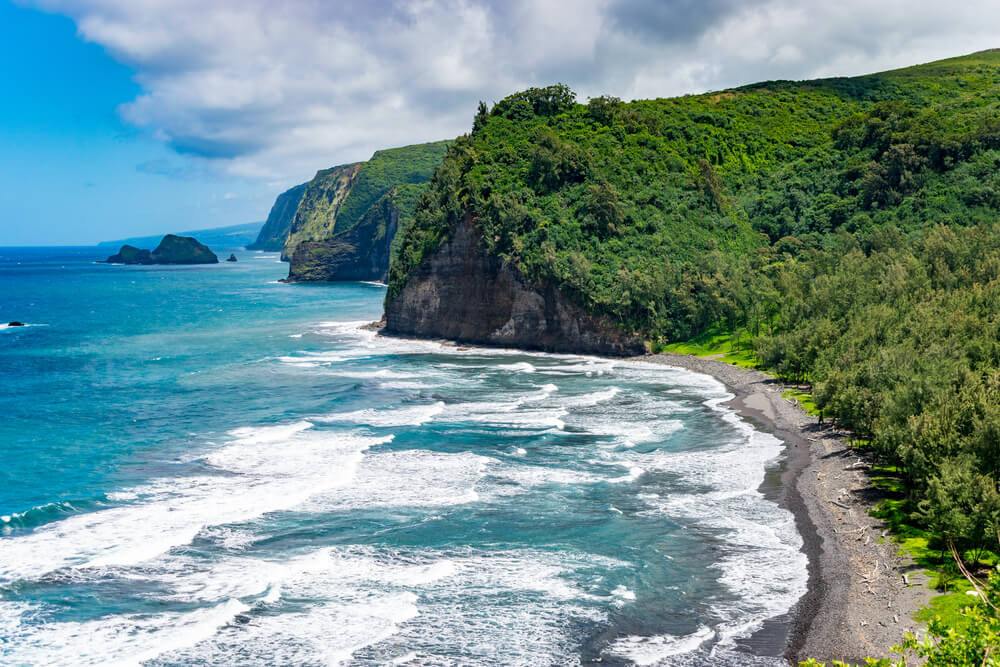 Visit the charming town of Hawi.
Once you have enjoyed your time relaxing or hiking in Pololū Valley, head back towards Hawi. This town is extraordinary!
There are some great coffee shops in town. There is excellent coffee in Hawai'i, in general — Kona coffee is famous for a reason!
We suggest going to Kohala Coffee Mill, which is our favorite in Hawi. They have an extensive sandwich menu, pastries, ice cream, and Hawaiian shave ice.
In Hawi, you will also find the vegan comfort food restaurant, Sweet Potato Kitchen. I highly highly recommend this place, even if you are not vegan!
The food is incredibly healthy and even more delicious. You will sense how much love is put into the food here.
After lunch, you can spend an hour or two walking the main road of this small and captivating town. There is an incredible apothecary, as well as art galleries and clothing and souvenir shops.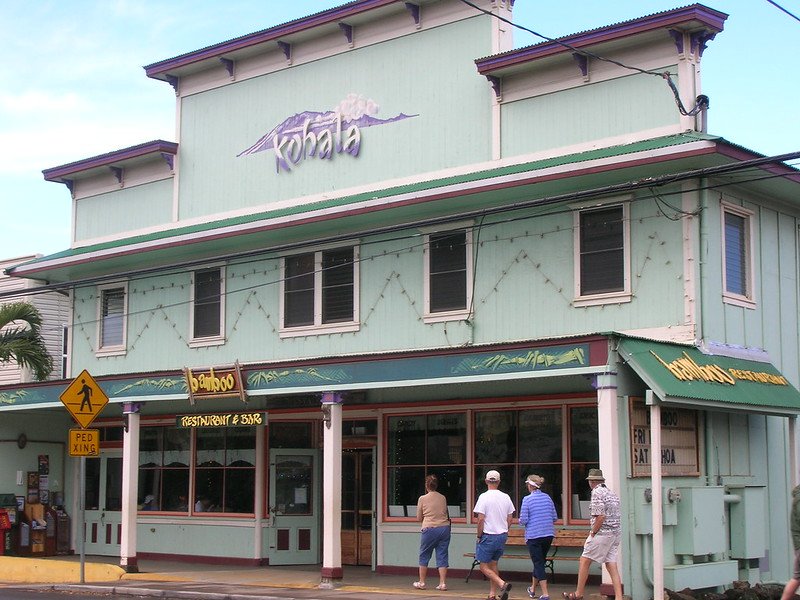 Drive back to Kona via the coast.
Once you have had your fill of Hawi, begin heading back to Kona along the Kona coast.
Enjoy the view and the salt air in your hair as you drive down the coastline, windows down of course!
You may want to stop at another beach on your way down into Kona. We will leave the choice up to you, but we suggest Manini'owali Beach!
You may instead want to just head into Kona for dinner before your night tour… yes, we've got something special up our sleeve for your first night in Kona!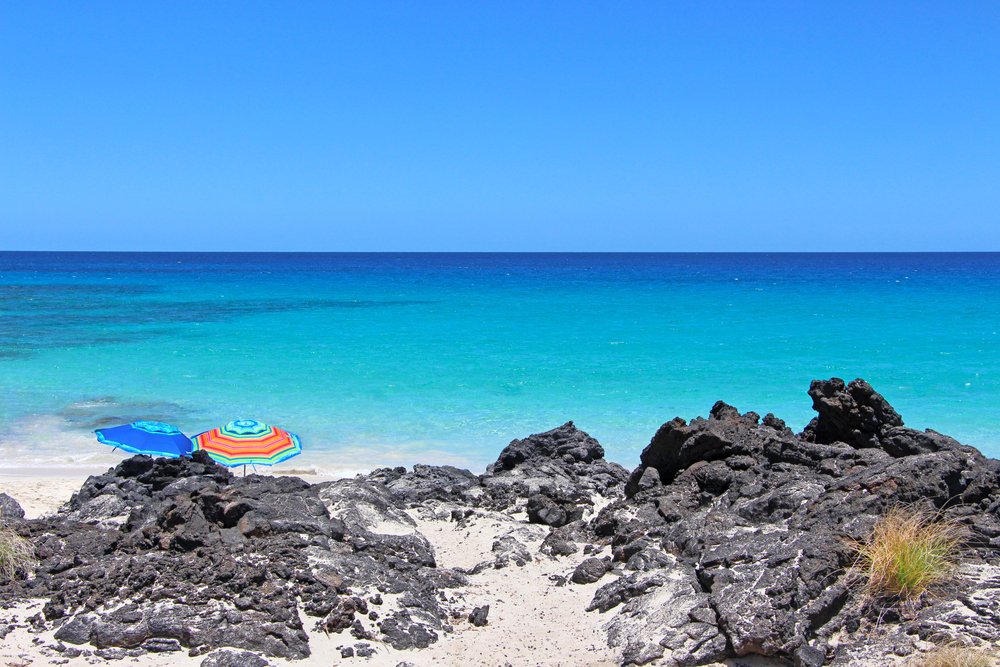 Grab an early dinner.
You cannot visit Hawai'i without enjoying an oceanside meal!
In Kona, Foster's Kitchen is the place for dinner with a view. Enjoy dishes featuring ahi tuna, flatbread pizzas, or their fantastic goat cheese bruschetta! They also serve steak, fish, pasta, and more. You will find this place to be ono, trust us!
Prepare for an incredible manta ray snorkel experience.
After dinner, you will want to head back to your hotel to prepare for your night tour!
The tour we picked for you will be a highlight of your trip! Tonight, you will get to swim with manta rays — in the dark!
The manta ray night snorkeling tour starts at 6:30 PM, so plan your Big Island itinerary accordingly.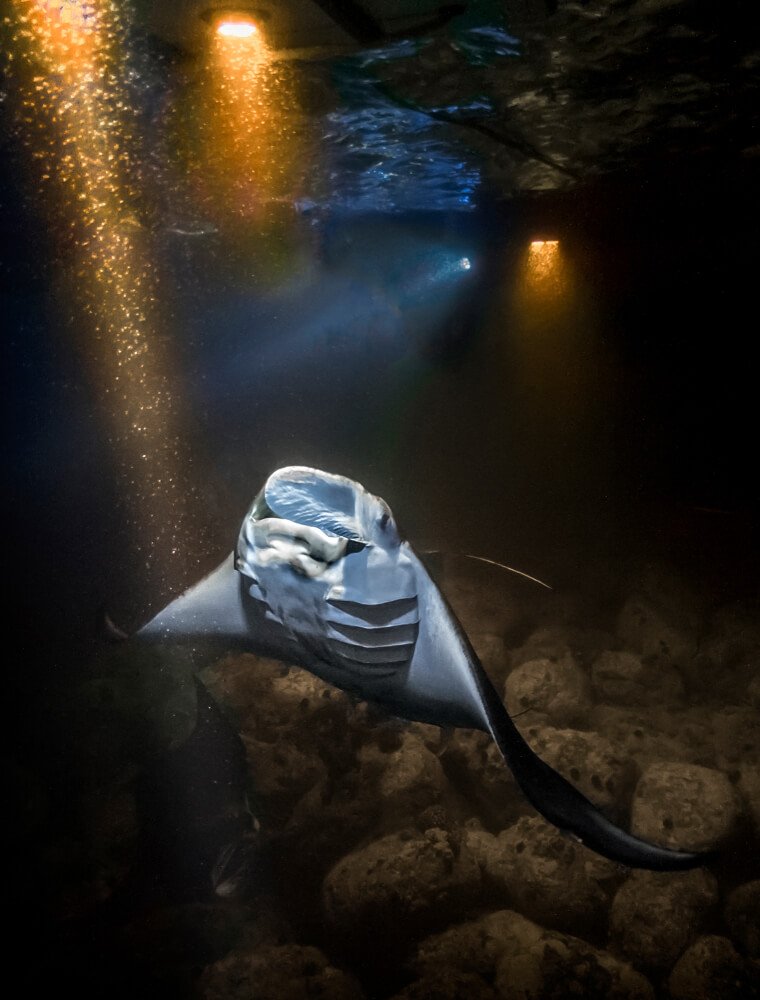 The tour features a sunset cruise on a 34-foot catamaran with the opportunity to then float among manta rays!
These gentle giants are angelic, graceful, and beautiful…. don't be afraid of the 'ray' in their name, these animals are truly docile and gentle.
This is one of the coolest things to do in Kona, so don't miss it!
The tour will have you on their float, lit with LED lights (so yes, you will be able to see them, even though it's dark out!).
These lights attract the manta rays, so it is almost a 100% chance that you will see them. Plus, you will get to float and snorkel with other sea creatures.
That is just an awesome way to end your first day in Hawai'i!
You will probably be keen on heading back to your hotel after a busy day. Get some rest and prepare for another spectacular day on the Big Island. It will be an early start tomorrow!
Day 2 of your Big Island Itinerary: Kailua-Kona
Start the day with a snorkel trip.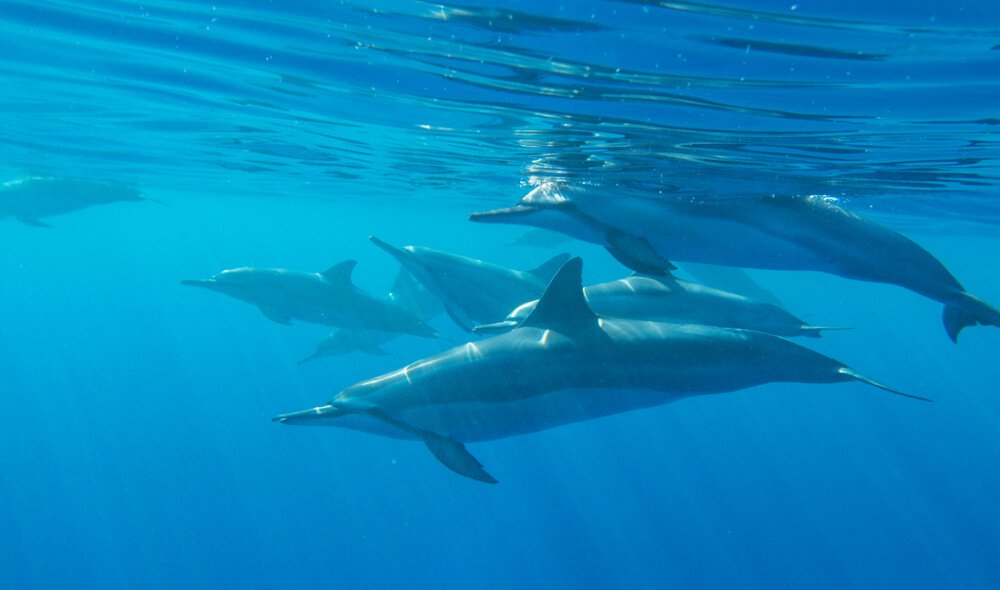 To begin your day, you will be snorkeling in Kealakekua Bay along the Kona coast!
The bay is famous for the presence of Hawaiian spinner dolphins, which frequent this area regularly, so you have a great chance of seeing them and possibly even snorkeling with them.
This 4-hour tour begins at 8:00 AM so, try to arrive early. We suggest having a very light breakfast beforehand, such as a piece of toast and some fruit. You don't want to overeat, but you don't want an empty stomach either!
There will be a safety briefing, and they will provide snorkel equipment, snacks, and beverages. You can also rent an underwater camera to document your time snorkeling in Kealakekua Bay!
Not only will you likely see dolphins, but you will explore underwater caves, plus many species of coral and fish. What a stellar way to start your day!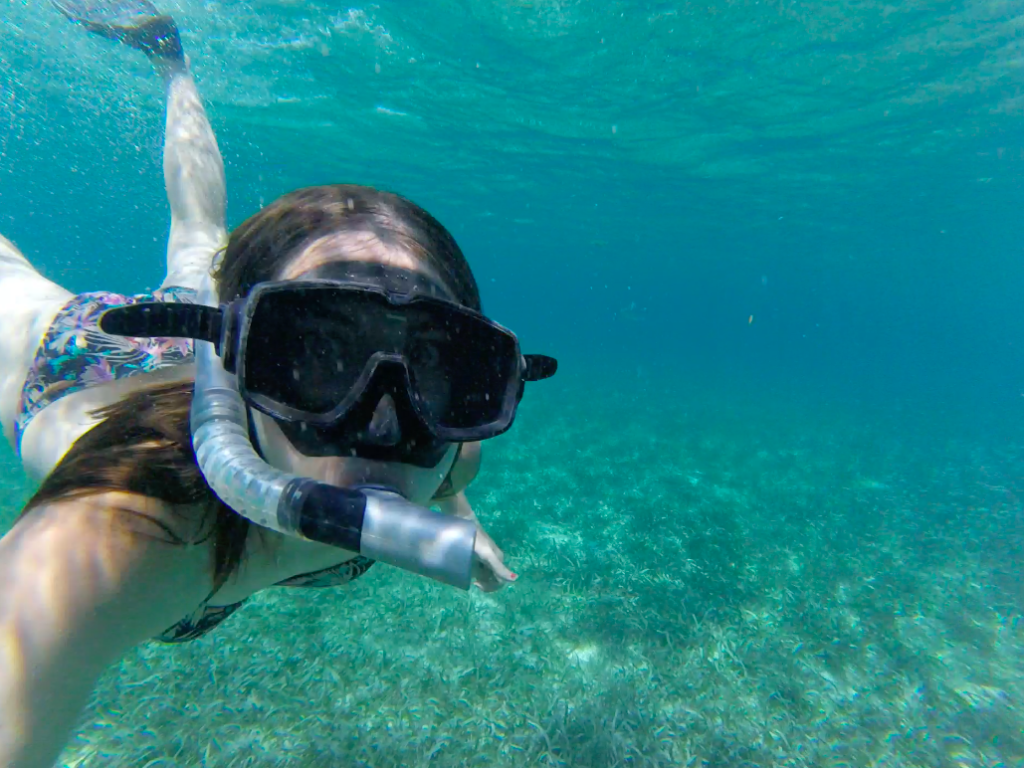 Have a tasty lunch back in Kona.
After your tour, make your way back towards Kona for lunch.
Where to? The Coffee Shack is our favorite spot, and it is right near Kealakekua Bay!
Don't let the name fool you; they have an excellent menu and sit-down dining with a view of the Pacific Ocean.
The papaya special is one of the best items on the menu. You can also enjoy sandwiches, salads, and pizza.
They also have lilikoi (passionfruit) cheesecake and coconut cream pie, among other fabulous Hawaiian desserts.
Check out a local coffee farm.
Kona is famous for its eponymous coffee, and no trip to Kona would be complete without visiting a coffee farm!
After lunch, head to Hala Tree Coffee Farm. This organic coffee farm offers tours and will have you swooning over their coffee by the end. Plus, it is a beautiful property!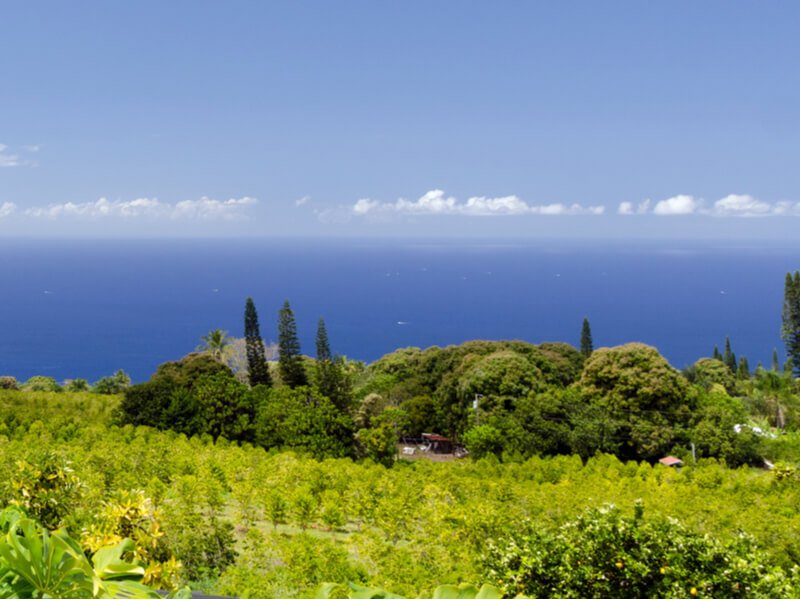 Relax your muscles at the Mamalahoa Hot Tubs.
After your coffee farm visit, head back towards Kona and stop at Mamalahoa Hot Tubs and Massage to give your muscles some love after your snorkel tour!
Each hot tub is made of teak wood and sits under its own private "hale," Hawaiian for "hut."
After your moment of rest and relaxation, why not have a beer? You earned it.
Grab a beer at the Kona Brewing Company.
A stop at Kona Brewing Company is a must for any Big Island bucket list.
They are steadily working on becoming one of the most sustainable, eco-conscious breweries in the world, and they deserve our applause and support!
When you visit, you will enjoy a vast food menu, perfect for dinnertime. You can sample their great beers right from the source, too.
Their menu even includes beer pairing to give your tastebuds the ultimate experience!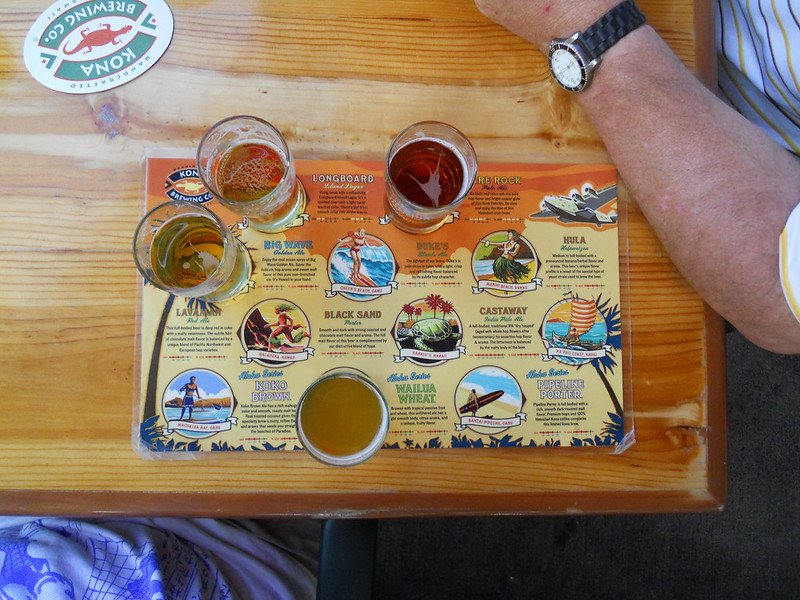 Catch an incredible sunset.
For sunset, stop at Pāhoehoe Beach Park for a gorgeous view. You can even walk there from Kona Brewing Company!
Magic Sands Beach Park is also an excellent option and is a shorter walk, as well as just about anywhere on Ali'i Drive!
Hawaii is one of the best places in the world to see a sunset. You may even be lucky enough to see the "green flash."
The green flash is a natural phenomenon in which the sun lights up green just as it goes past the horizon. Hawai'i is one of the few places in the world to witness this!
[editor's note: I've seen it once or twice in California — it's pretty incredible, but also pretty rare!]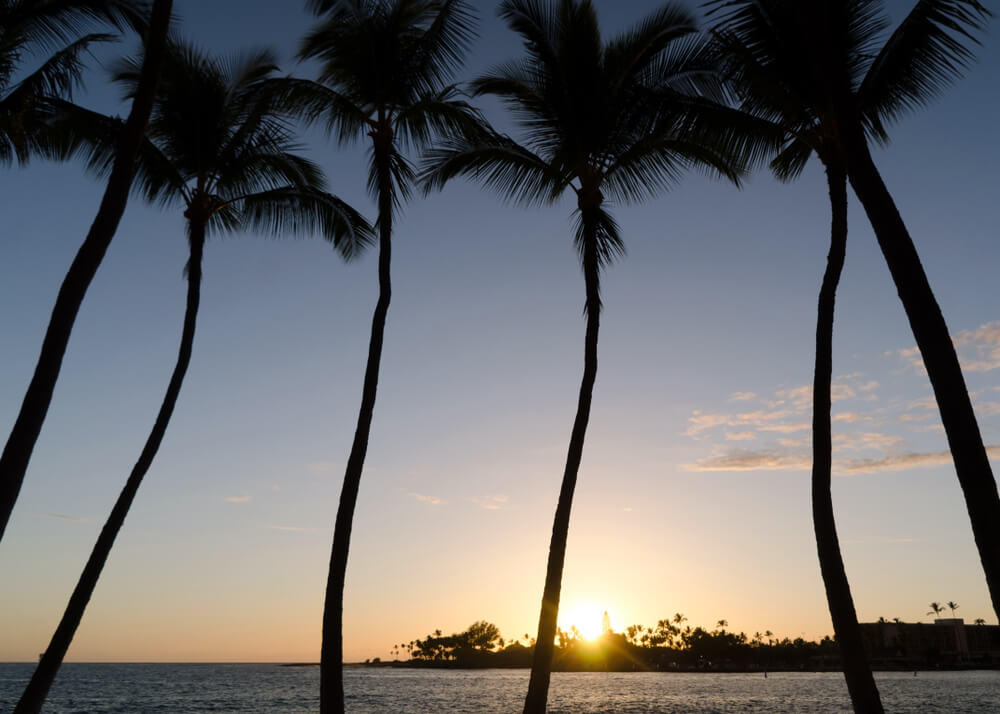 Check out the Kona nightlife.
If you are not too tired out, you may want to continue your evening exploring Kona's nightlife along Alii Drive.
Laverne's Sports Bar is a local favorite. Humpy's Big Island Ale House is also a great spot, along with Gertrude's Jazz Bar. Enjoy the night on your tropical vacation.
Make sure you get some solid sleep, too: we've got another jam-packed day on this Big Island itinerary… you've only got 5 days in Hawaii, after all!
Day 3 of your Big Island Itinerary: Kailua-Kona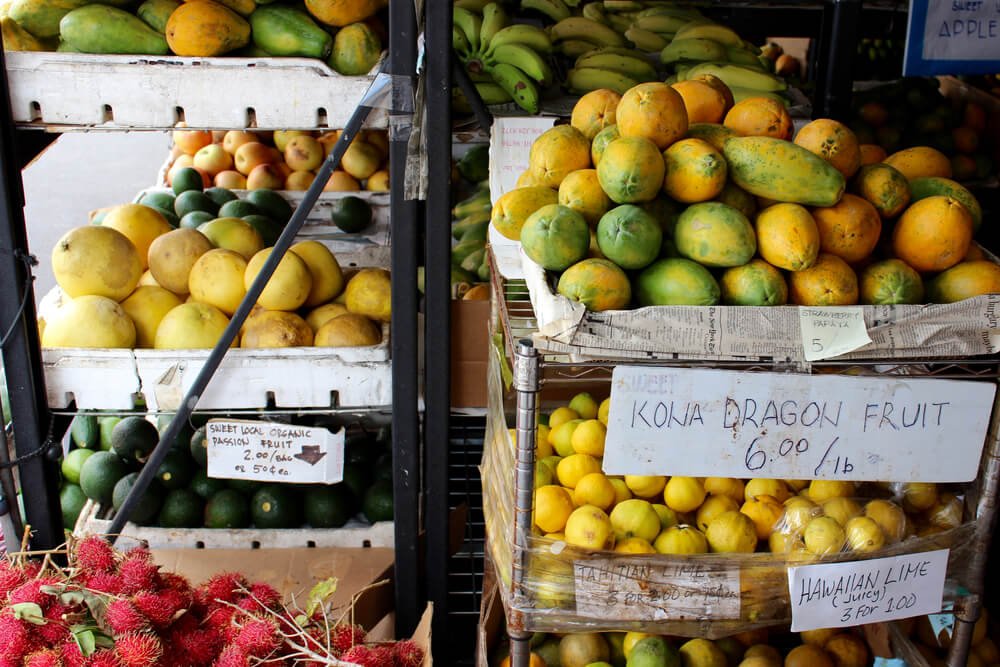 Okay, so here we go, day 3. Your final day in Kailua-Kona.
We are going to make this one an epic beach day!
Fuel up for the day.
Stop at HiCo Hawaiian Coffee to charge up for the day with a quick breakfast.
They serve locally grown coffee and a Hawaiian staple, musubi. Musubi is similar to sushi as it contains meat and veggies wrapped in rice and seaweed. The most famous is spam musubi!
Their menu also features chia pudding, paninis, and more.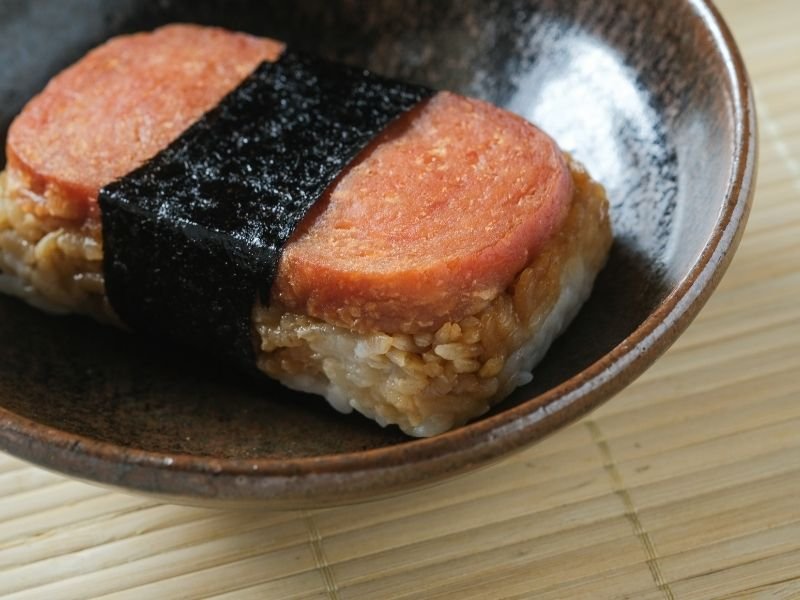 Pack up a picnic lunch.
From there, head to the local grocery store, Island Naturals, to get supplies for lunch.
It is good to bring a backpack to store your lunch choices as you will be taking a bit of a hike to get to our beach recommendation!
Island Naturals sell insulated shopping bags to help you keep your food at a proper temperature. Be sure to pack plenty of water…. and a hammock wouldn't hurt either!
Take a hike to Makalawena Beach.
Next, you will head north out of Kona towards the trailhead for Makalawena Beach.
You can find the trailhead on the road towards Mahai'ula Bay between the 90 and 91-mile markers on Highway 19.
It is about a 1-mile hike to reach the beach, and it's not too intense, though it can be hot, hence the water we told you to bring!
You will be thrilled by the calmer waters and white sandy beaches flanked with palm trees. Rest, relax, or swim until you're ready for your beach picnic lunch.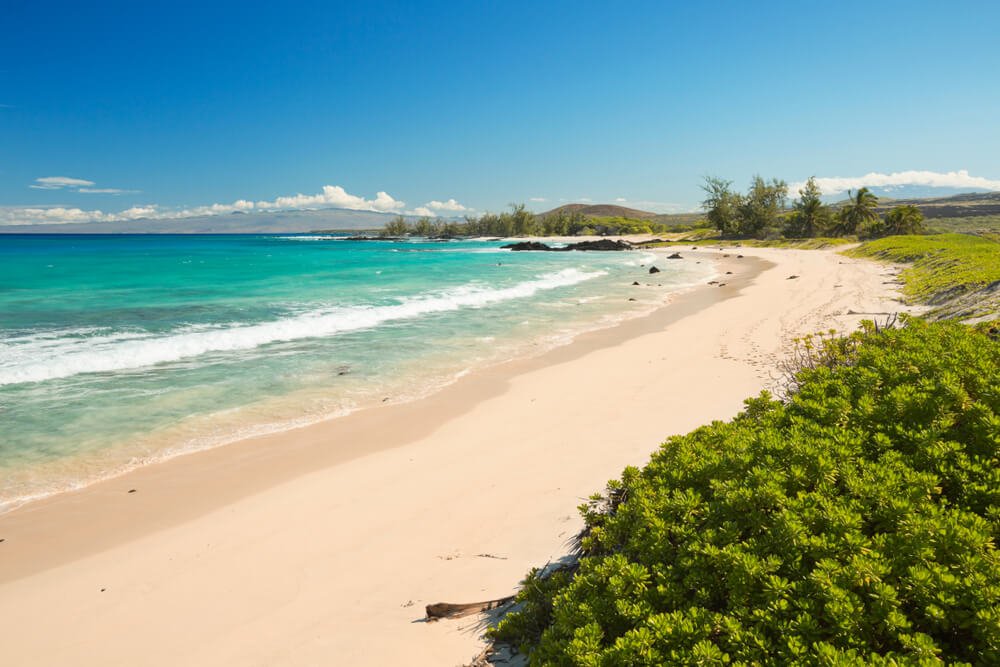 Head back to Kona for a whale watching tour.
After that, you will need to head back to Kona for your afternoon whale-watching tour.
You will be hoping to see the beautiful and majestic humpback whales that migrate past Hawaii — they are quite a sight to see.
Take note, the best time to see humpbacks on the Big Island is from December to April, but you will likely be able to see whales year-round.
The Big Island of Hawaii is the only spot in the US where humpbacks mate, nurse, and calve their young!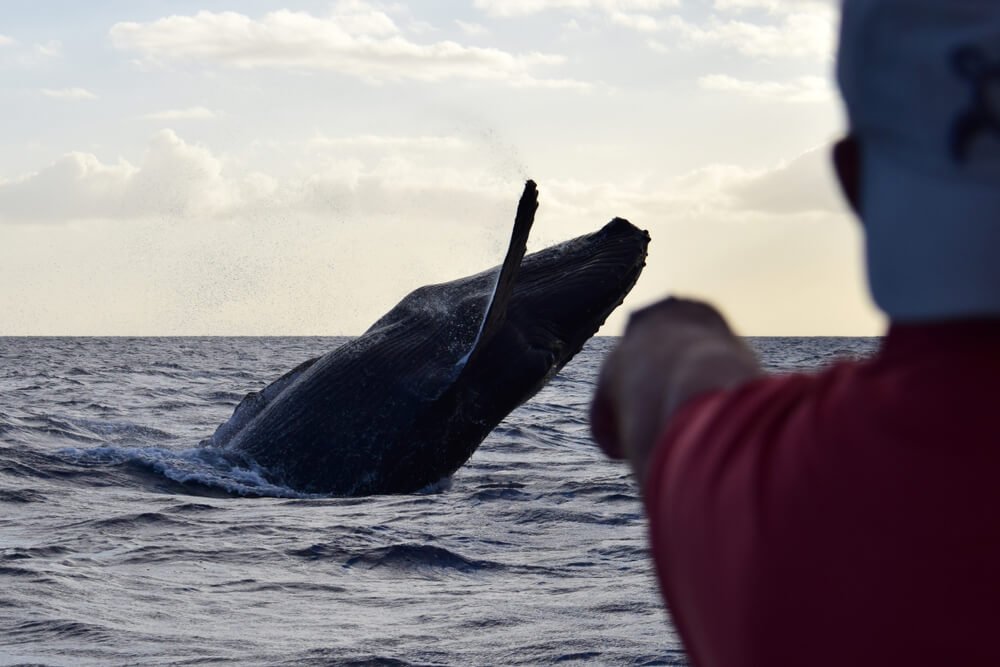 This tour consists of 2.5 hours on the Pacific Ocean, taking in the island's sights while trying to spot whales and their calves!
They will provide snacks and beverages along the tour, so don't worry about needing to grab lunch beforehand.
Best of all, you can use their hydrophone, which will allow you to listen to whalesong! It's a remarkable feature of this tour. If your timing is right, this tour will leave you inspired!
Check out Honaunau Bay.
After your cruise, head over to Two Step on the Honaunau Bay, one of the most popular snorkeling spots on the island of Hawai'i.
It is located south of Kailua Kona in Captain Cook. Spinner dolphins frequent this spot to rest and play!
You very well may get to swim with dolphins a second time here!
You will also see countless coral and maybe even the Hawai'i state fish, the humuhumunukunukuapua'a, a species of triggerfish.
Try to say that Hawaiian word ten times fast!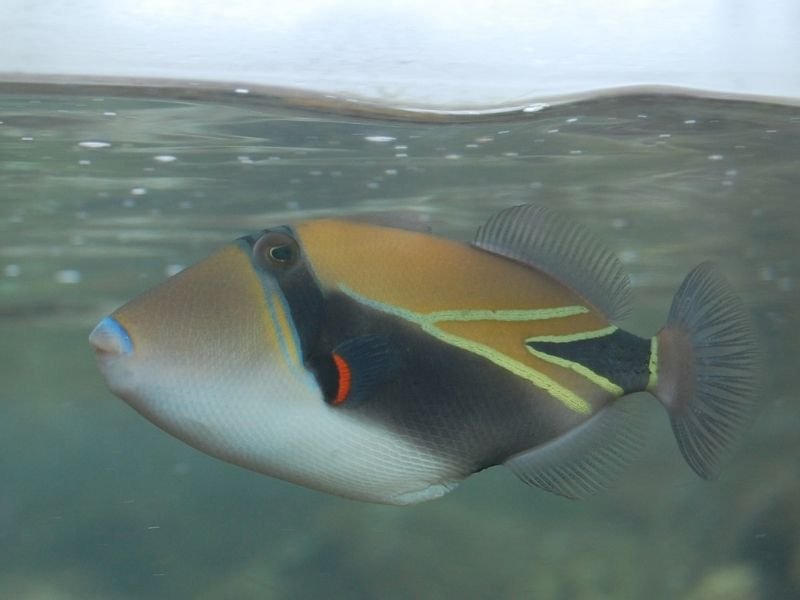 Check out the Pu'uhonua O Hōnaunau National Historical Park.
Right next to Two Steps is Pu'uhonua O Hōnaunau National Historical Park.
You should come here to learn about ancient Hawaiian culture and pay tribute to the rightful owners of Hawai'i.
The history of Pu'uhonua O Hōnaunau National Historical Park is that it was once a place of refuge, protected by the god Lono, the god of life.
Anyone who broke the law or needed to escape any kind of persecution could come to this place, and no harm would come to them. This place of peace is a worthwhile stop on any Big Island itinerary!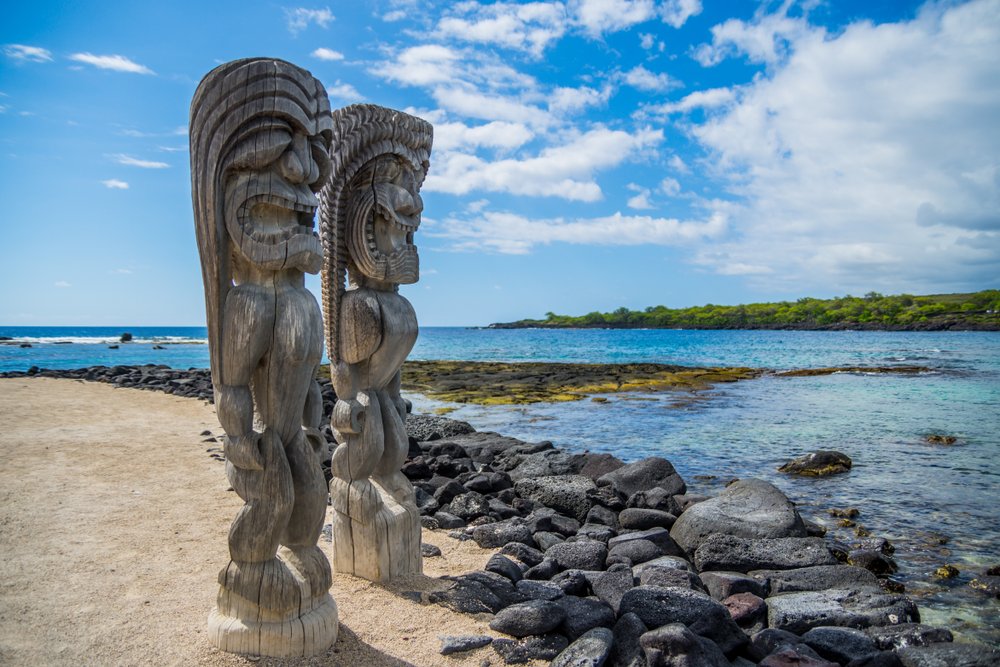 Spend the night at a luau.
Continue your journey of connecting with Hawaiian culture and aloha spirit with a luau!
There are many options for luau experiences on the island. We like Voyagers of the Pacific, Royal Kona Resort's luau, because of the hands-on experiences they provide.
You can make a lei, learn hula, and see demonstrations of Polynesian arts.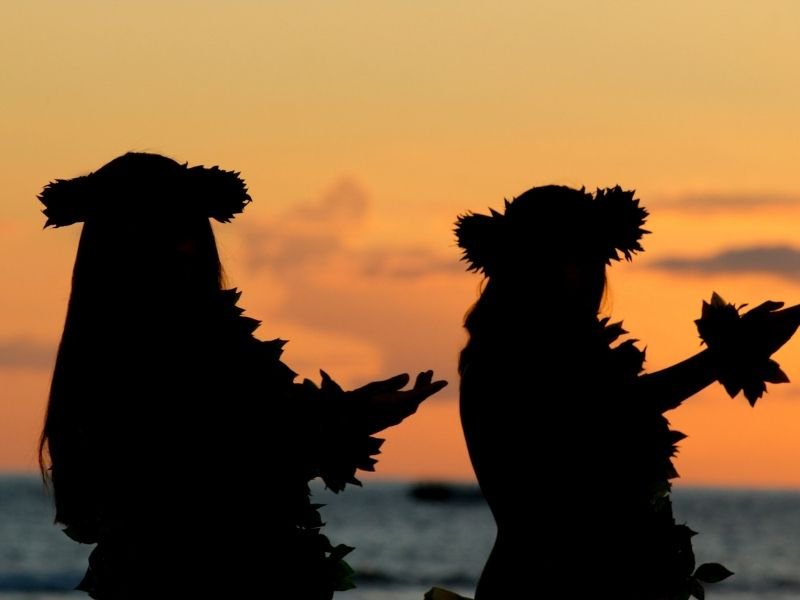 A luau is not complete without pig roasted in an "imu," an underground oven — which is exactly how they do it with Voyagers of the Pacific.
Your reservation at this luau includes all activities, a dinner buffet, and drinks from the bar.
There doesn't seem to be a better way to spend your last night on Kona side!
Day 4 of your Big Island Itinerary: Hilo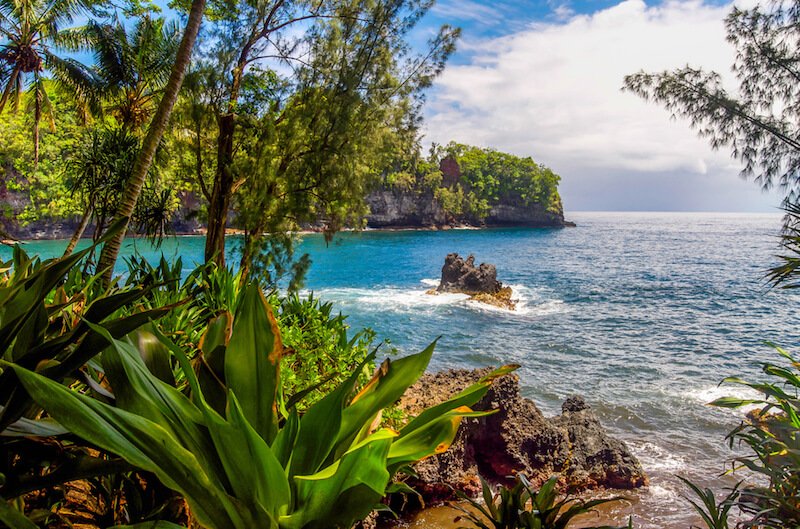 Hilo is your next destination on the Big Island!
Before you head out, make sure you fuel up for your drive, pack some snacks, and bring plenty of water.
We also suggest you get an early start to get the most out of your day, as this Hawaii itinerary is jam-packed.
I suggest making this day into a road trip type of day!
Google will tell you to take the Saddle Road from Kailua-Kona to Hilo, an hour and a half drive. However, you will miss out on some Big Island highlights going that way.
Head to Ka Lae, aka South Point.
Instead of heading west to east, head south and follow Highway 11. Your first destination will be Ka Lae, also known as South Point.
It is the southernmost point in the United States! It will take you about an hour and a half to reach South Point from Kailua-Kona.
Take note; there are no facilities here, so make sure you pack food and water. Despite that, the view is incredible!
You may even see people bravely jumping off the cliff into the ocean below. Do not jump if you are not a strong swimmer. There is a ladder to help you get back up onto land.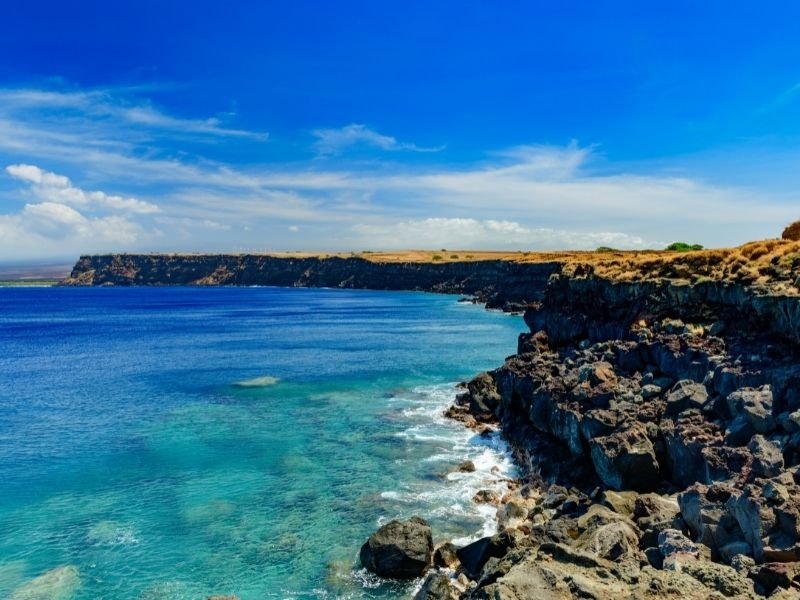 Marvel at the Green Sand Beach.
Papakōlea, also known as Green Sand Beach, is easy to reach from the parking area at South Point. You will need to walk south on the road which runs along the coast.
It is 2.5 miles one way, so keep that in mind – it's a long trek in the Hawaii sun!
Illegal roads have been "created" by 4WD vehicles, but these are extremely damaging to the ecosystem, and locals have asked visitors to stop and walk instead.
You can read more about this issue here.
Once you reach the beach, you may also want to go for a swim here if the water is not too rough. It can get pretty wild, so swim with caution.
Fun fact: Green Sands Beach is green from a natural phenomenon: olivine crystals that were formed in lava rock!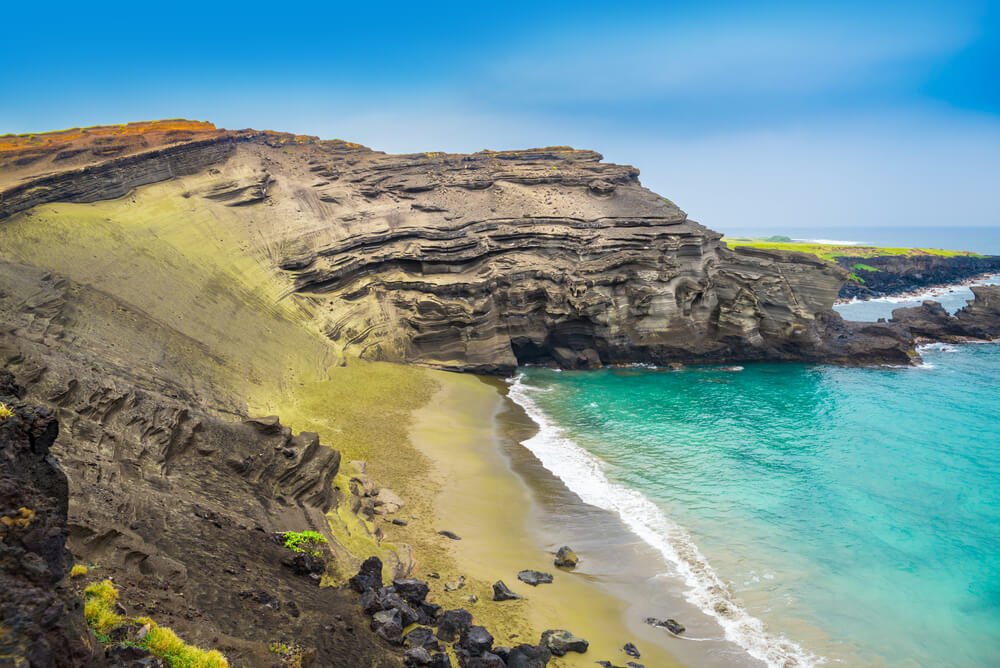 Head to Hana Hou for lunch.
Once you have completed your adventure at Ka Lae and Papakōlea, you will surely be ready for lunch!
Continue south on Highway 11 to Hana Hou Restaurant (the southernmost restaurant in the US!), less than 30 minutes away. Hana Hou means "bravo!" in Hawaiian – and the food is so good, it will have you saying just that!
This small family-run restaurant has some of the best burgers in the world! Plus, they serve traditional Hawaiian dishes and diner food. Sometimes there is live music by locals.
You may see patrons get up and dance the hula, too! You also may find yourself in a Hawaiian sing-a-long.
Even without all the fanfare, this is a wonderful place to connect with a small authentic Hawaiian restaurant.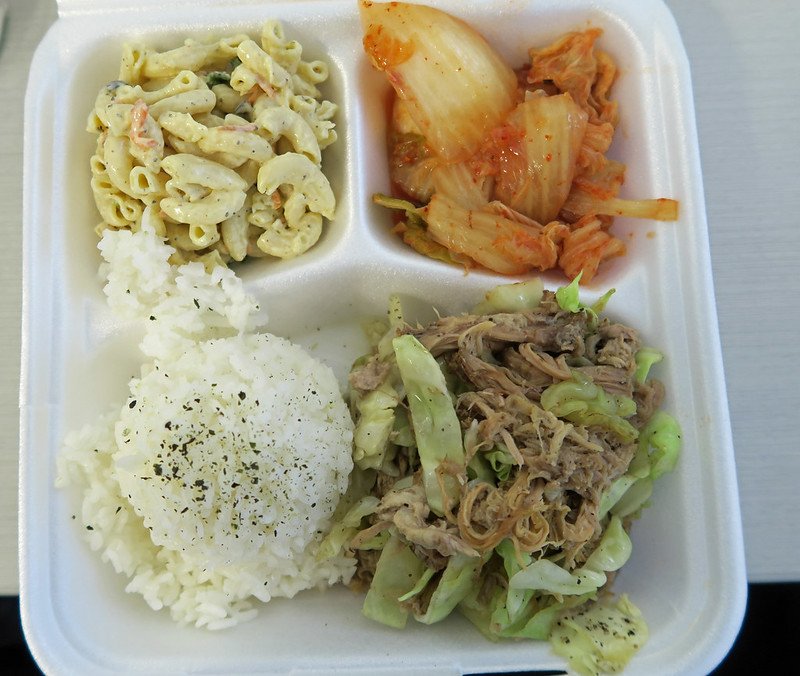 Eat malasadas at the tasty Punalu'u Bakery.
Just across the street is the world-famous Punalu'u Bakery, another must-stop on your road trip day!
Enjoy their sweet bread or a malasada. Malasada is a donut-like pastry stuffed with sweet fillings like lilikoi or pineapple.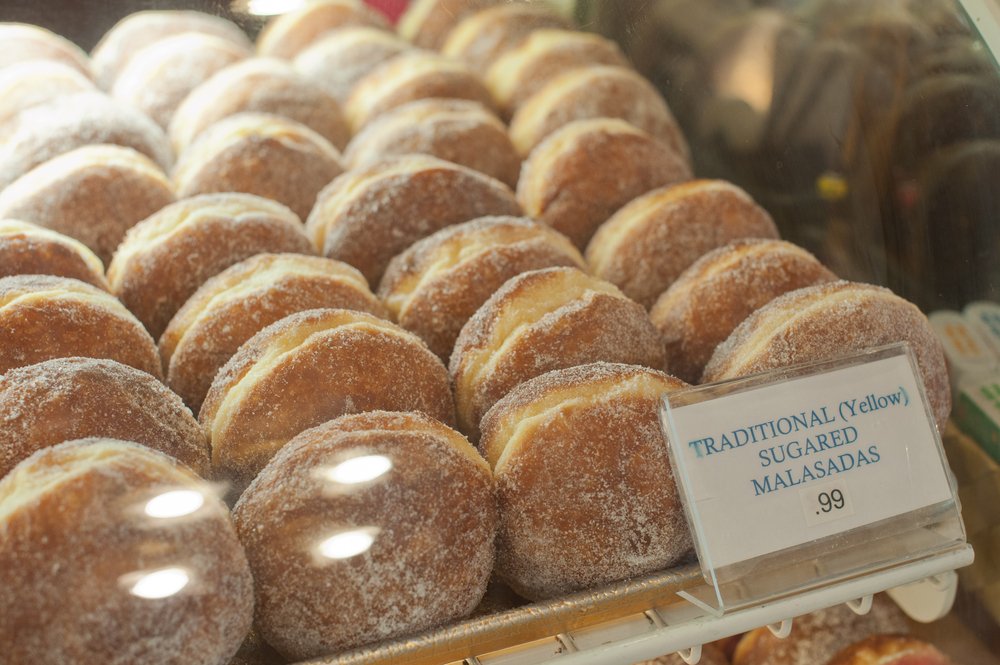 Make your way through Hawai'i Volcanoes National Park.
From Punalu'u Bakery, continue on Highway 11, making your way towards Hilo. You will enter Hawai'i Volcanoes National Park in about 45 minutes!
You can continue your road trip vibes with a journey down Chain of Craters Road.
There is a spot along this road to view petroglyphs and it ends at the Holei Sea Arch. Lava flowing into the ocean formed the sea arch — it's super cool.
At Hawai'i Volcanoes National Park, you can also see Kilauea Caldera at the crater rim and check out the beautiful steam vents. The caldera is incredible as it glows from the lava bubbling beneath.
Honestly, viewing the caldera is best at night, so if you wanted to, you could head back to the park later in the night or on your last day.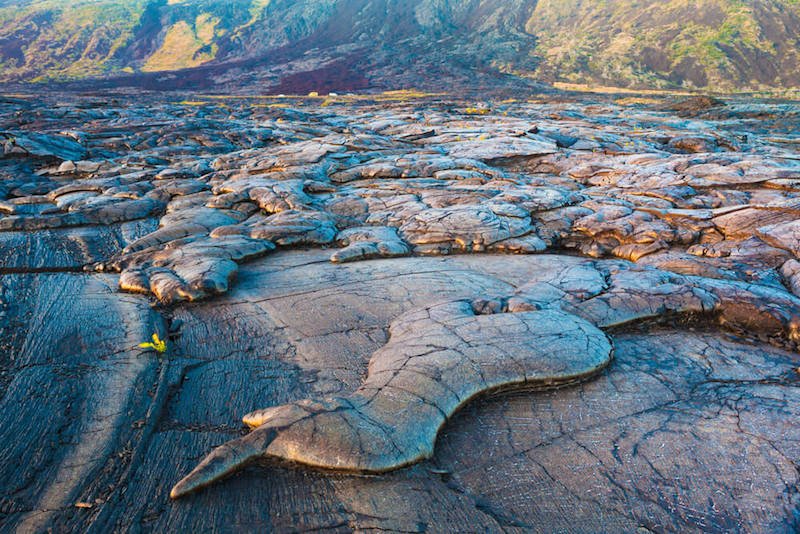 Try some tea wine.
Additionally, Volcano Winery is just a 5-minute drive from Hawai'i Volcanoes National Park. The wines are yummy, especially their tea wine!
It is one of the best alcoholic beverages I have ever had. Just be careful since you are driving to not overdo it.
The property is lovely and park-like, allowing for a nice relaxing time tasting wines. They do not serve food, but you are welcome to bring your own.
Continue your drive to Hilo.
From there it is just 45 minutes to Hilo. You want to time your trip so you arrive for your next tour by 3:30 PM!
If you didn't get an early start, you may need to tweak these road trip suggestions, perhaps skipping the Green Sand Beach which is the longest side-trip of this road trip, or grabbing a to-go lunch instead of having a sit-down meal.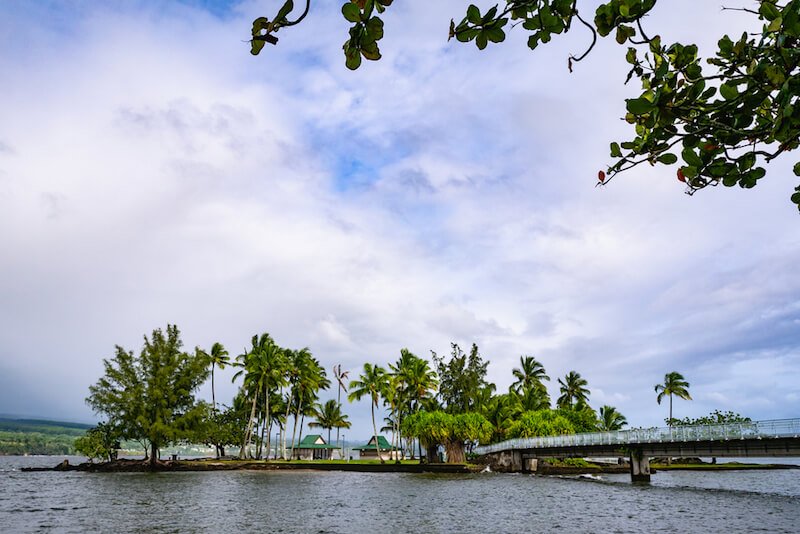 Take a stargazing tour on Mauna Kea.
This tour not only brings you up to Mauna Kea for nighttime stargazing, but it also will have you exploring Rainbow Falls, Boiling Pots, and the Kaumana Caves, three other essential things to do in Hilo.
You will then head along Saddle Road as you make your way past Mauna Loa and Mauna Kea, two of the largest volcanoes in the world.
You will then get to view stars and other celestial bodies through a telescope. Hawai'i has some of the darkest skies in the world, so it is by far one of the best places to view the night sky!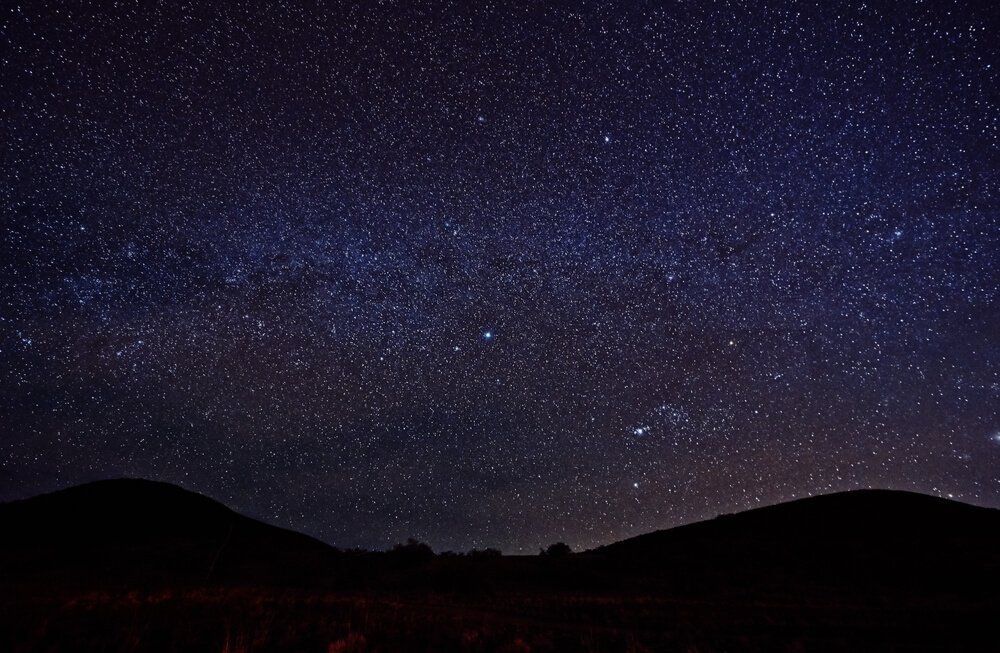 Mauna Kea (called Maunakea by Native Hawaiians, one word) has a complex history, and it is essential to mention this when speaking of this landmark, which is sacred to Native Hawaiians.
Maunakea is considered the "Mountain of Wākea"; Wākea is the first father of Hawai'i according to Native beliefs.
That's where the name comes from, shortened from "Ka Mauna a Wākea'" (Hawaiian for the Mountain of Wākea)
Not only is this his sacred mountain, but it was traditionally a burial ground.
While it is awe-inspiring to view the stars from a telescope on the mountain, the telescopes shouldn't be there in the first place.
Many Native Hawaiians protested the desecration of their sacred mountain, and they are still protesting about the new telescopes.
Still, the telescopes were built.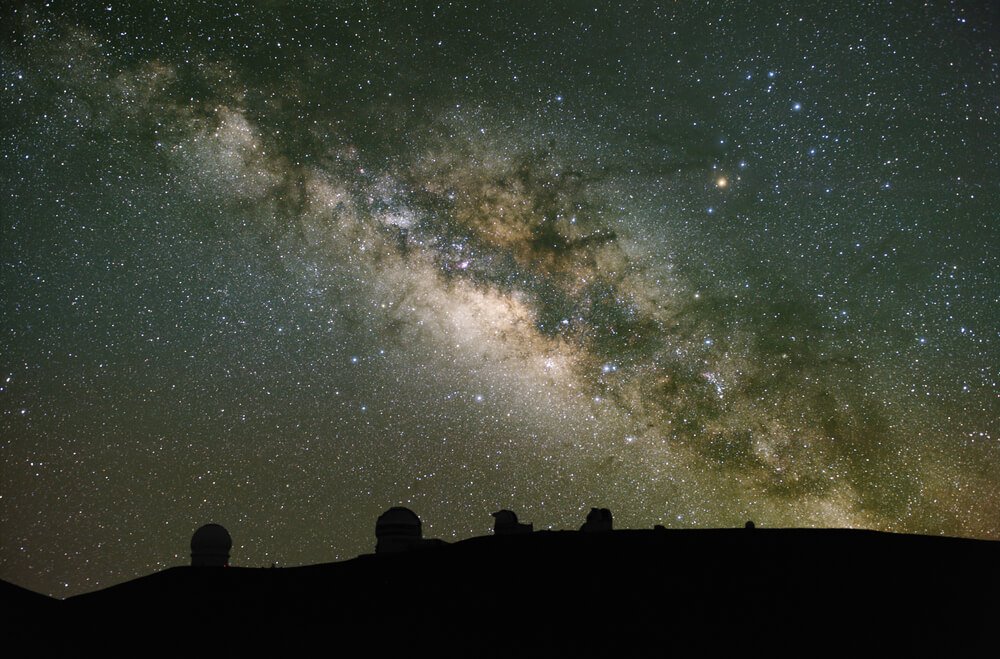 Note that on this tour, you won't be visiting the giant telescopes (those are scientific facilities rather than touristic ones) that the Hawaiians are protesting against.
Rather, you will be using smaller, portable telescopes, interfering less with the land than the giant telescopes.
I'm not here to say what the right or wrong answer is here about the telescopes, but be mindful that there is an ongoing debate about this and listen to Hawaiian volces.
Or finish the night off with a kava experience.
If you want a different kind of activity to cap off your night, head over to Bayfront Kava Bar for a pleasant, relaxing kava experience.
Kava has an ancient history on the islands of Hawai'i. The original Hawaiians brought kava with them when they left Polynesia over 2,000 years ago.
Who knows – you may actually be sampling kava that was grown from the same plant!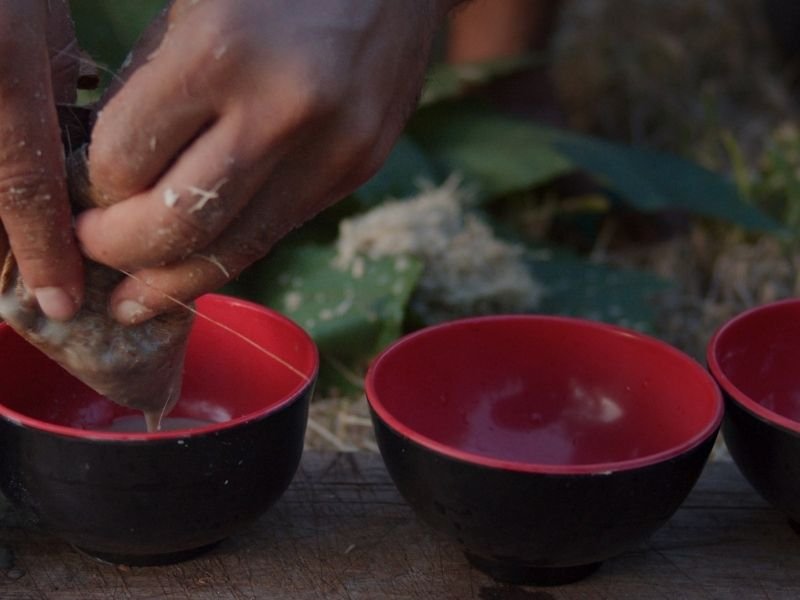 Drinking kava was traditionally steeped in the spiritual rituals of the ancient Hawaiians.
Before you drink your kava, you will want to honor this tradition. Ask your bartender to show you how to drink kava!
As kava is a calming, slightly psychoactive substance, you will probably be ready for bed after your trip to the kava bar.
Don't worry; you will not get high on kava; it is just very relaxing… though you may have more active dreams than normal!
Day 5 of your Big Island Itinerary: Hilo
Your last day on the Big Island will be another great day!
Here's how to tackle your last day in Hawaii.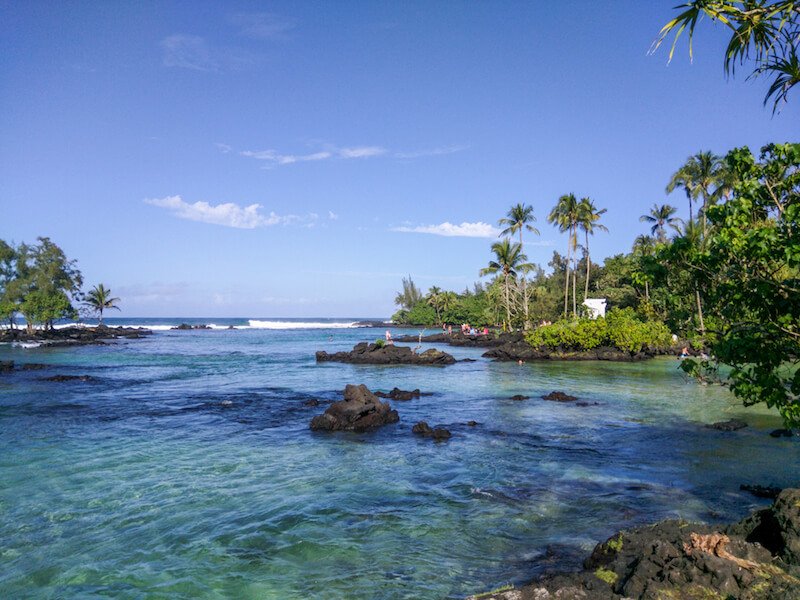 Grab a delicious breakfast.
Start the day with a visit to Hawaiian Style Cafe for breakfast. They open at 8 AM on weekdays and 7 AM on Fridays and weekends.
This place gets very crowded, so you might want to make a reservation. Also, keep in mind that we suggest an awesome tour at 9:30 AM, so you will want to arrive right around the time they open!
You will enjoy their Hawaiian-style breakfasts of steak and eggs, Hawaiian sweet bread, French toast, or their kalua hash.
After breakfast, it is time for your final snorkeling tour!
Visit the Sea Turtle Lagoon of Hilo Bay.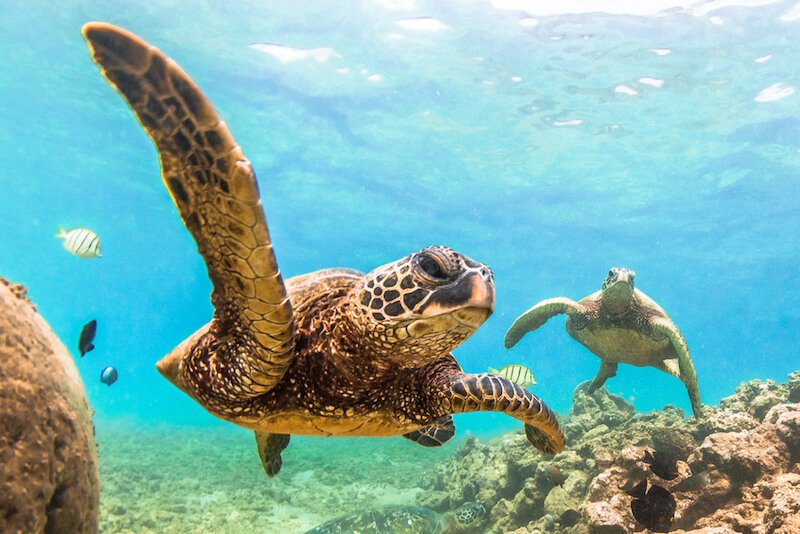 This 3-hour tour will show you what Hilo Bay is all about!
You will swim with sea turtles, dolphins, and octopuses amongst colorful coral reefs. Plus, you will check out black sand beaches!
They include local snacks and beverages along with this guided tour. It will be magic.
Grab lunch at the Booch Bar.
After your tour, it will be lunchtime. We suggest you hit up a local favorite, The Booch Bar. This restaurant features vegan and vegetarian food along with fresh-caught fish.
There are many great options featuring fare that is "alive," meaning that it is fermented and full of probiotics.
They also sell kombucha on draft from local kombucha makers, Big Island Booch. You can even get a growler of booch if you want. They also have wine, prosecco, and draft beer.
Check out Liliʻuokalani Park and Gardens.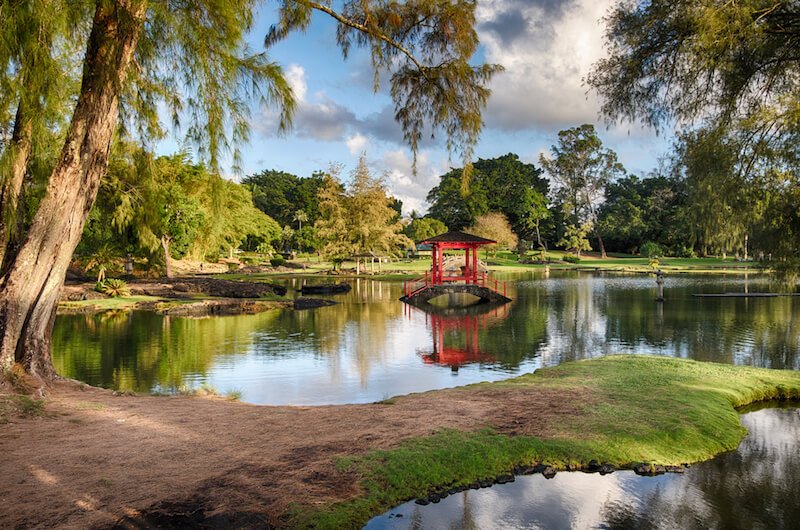 After lunch, make your way to Liliʻuokalani Park and Gardens for a lovely stroll by the bay off of Banyan Drive. The park is gorgeous and features a Japanese-style botanical garden.
It is also adjacent to Coconut Island, which is very small and easy to walk to via a footbridge. Plus, the tiny island has a cool history.
Coconut Island was initially called Moku Ola by the ancient Hawaiians. It translates to "healing island." According to lore, one could heal themselves by swimming around the island three times!
Plus, you can check out the banyan trees on Banyan Drive. These trees are massive and known for their beauty.
The trees on Banyan Drive are named for the celebrities that planted them. It is also called the "Hilo Walk of Fame."
Check out the beautiful 'Akaka Falls State Park.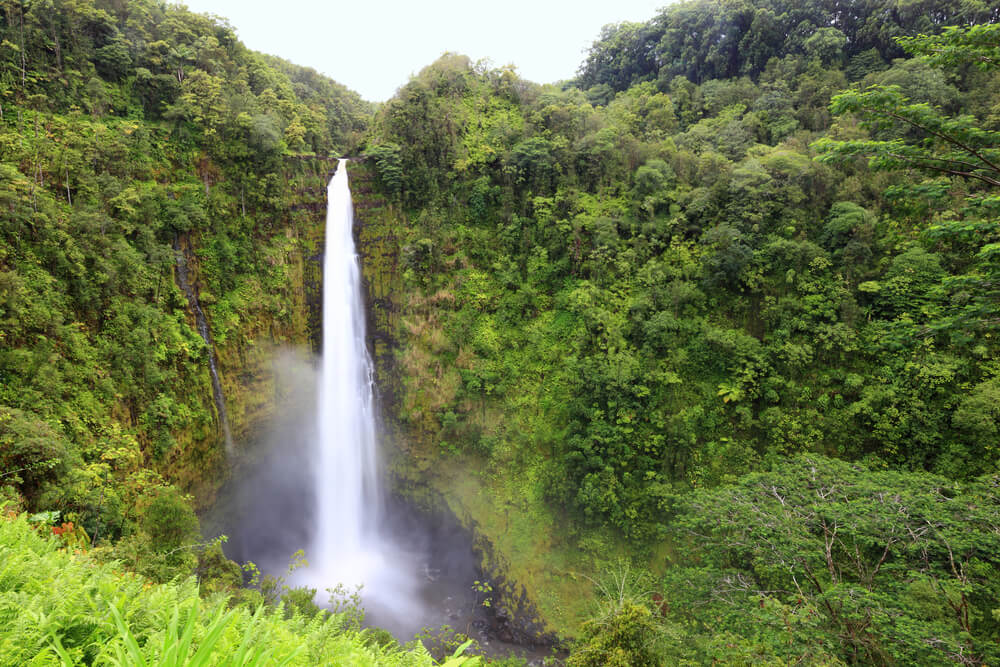 One of the most beautiful waterfalls on the Big Island is 'Akaka Falls, which is located about a 10-minute drive from Hilo.
The viewpoint for 'Akaka Falls is located about a 10-minute walk from the parking lot. It's an easy 0.5-mile loop that leads you past a view of this stunning 442-foot single-drop waterfall.
Walk around downtown Hilo.
Once you have enjoyed the parks and Banyan Drive, head to downtown Hilo for a stroll and get to know this small town!
There are bookstores, souvenir shops, restaurants, and even a thrift store to check out.
Additionally, there are galleries featuring art from local artists. You can also hit up the mall if you want to do some heavy-duty souvenir shopping at Prince Kuhio Plaza.
There may also be a farmer's market depending on the day of the week!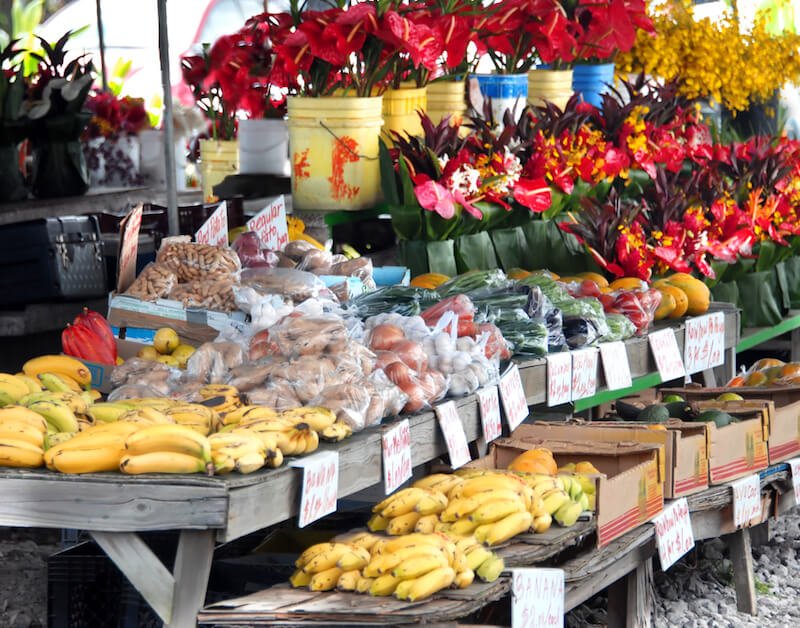 Have a final delicious dinner.
Once you've strolled around Hilo, you will probably be ready to eat dinner!
For one last dinner with a view, head to The Seaside Restaurant and Aqua Farm. This restaurant will provide you with some of the freshest sushi you have ever had.
The fish is sourced from their aqua farm. You really can't get any fresher than that!
In addition to fish, you can enjoy chicken, steak, and pasta dishes at this ono restaurant. It will have you saying, Mahalo Nui loa, which translates to thank you very much!
Enjoy your last night in paradise.
After this final meal, you will want to head back to your hotel to get ready to leave the island and do some chilling out.
We know you will have had an awe-inspiring experience on the Big Island!
You will have danced with dolphins, swam with sea turtles, and hiked to beautiful places. We sincerely hope that you will carry the aloha spirit with you on your travels!
***
You can learn an awful lot from the traditions of Hawai'i. Be open to this, and Hawai'i will transform you.
Respect the natural areas you visit, the history, and the locals. According to legends, Tutu Pele (the volcano goddess of Kilauea Caldera) may unleash her wrath upon you if you fail to do so!
She will definitely bring you bad luck if you take any artifacts, stones, or plants from the island. If you can manage to move with aloha, you will have a fantastic time on the Big Island!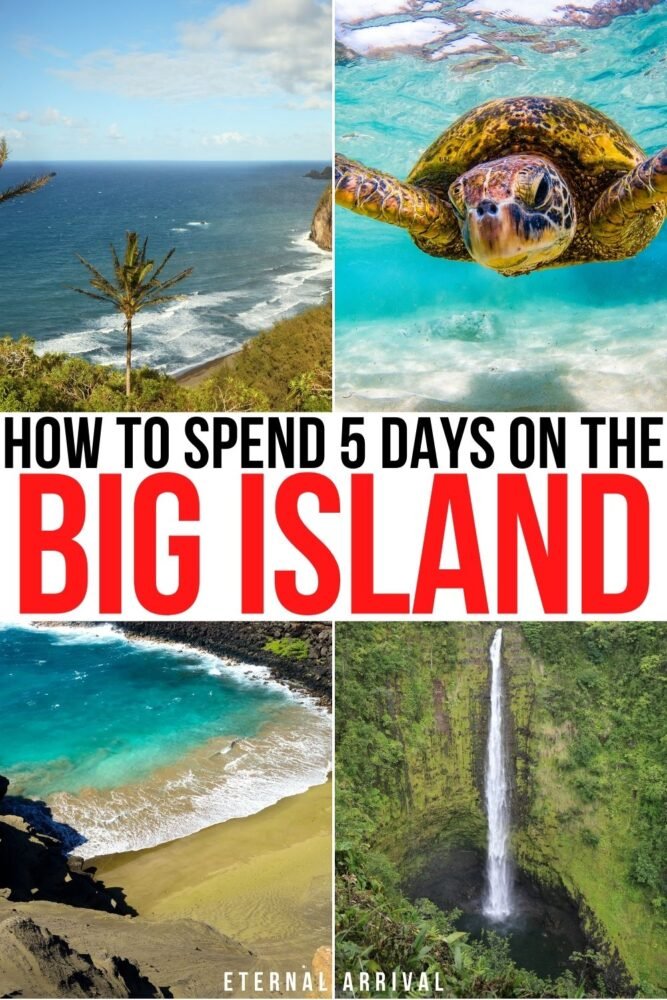 Mahalo and aloha to you.
Allison is a writer, herbalist, musician, and lover of nature. She is an avid traveler and backpacker, having traveled throughout most of the United States and through parts of Asia and Europe. She has lived in Hawaii, Philadelphia, New Jersey, Boston, and of course, California. Allison has lived in California for 5 years, working on farms and in Yosemite National Park. She has been all over the state, enjoying many cities and of course, the many amazing outdoor wonders California offers. She currently resides in Aptos, Santa Cruz County, CA.