If you are visiting Rome and you want to escape the huge crowds of most tourist spots, there are several day trips from Rome you can take not far from the capital city.
While there is so much to see and do in Rome that you'll never see the end of all Rome's main attractions and even its hidden gems, there is also much to discover only a couple of hours away by train or bus (or rental car!)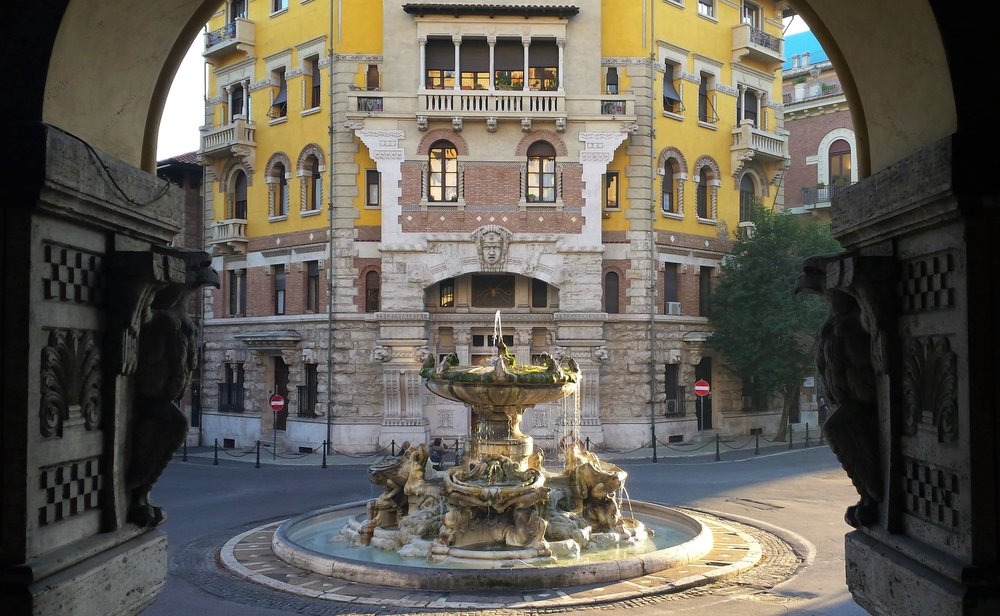 Note: This post contains affiliate links, which means I may receive a small commission if you purchase something through one of these links. Thank you for supporting the free content on this site! For more information on affiliate links and cookies, see my disclosure page for more details.
From medieval towns to archaeological sites and beautiful lakes, the area surrounding Italy's capital is rich in history, culture, and breathtaking nature.
Here are some of the charming places you can explore on a day trip from Rome.
The Best Day Trips From Rome
Tivoli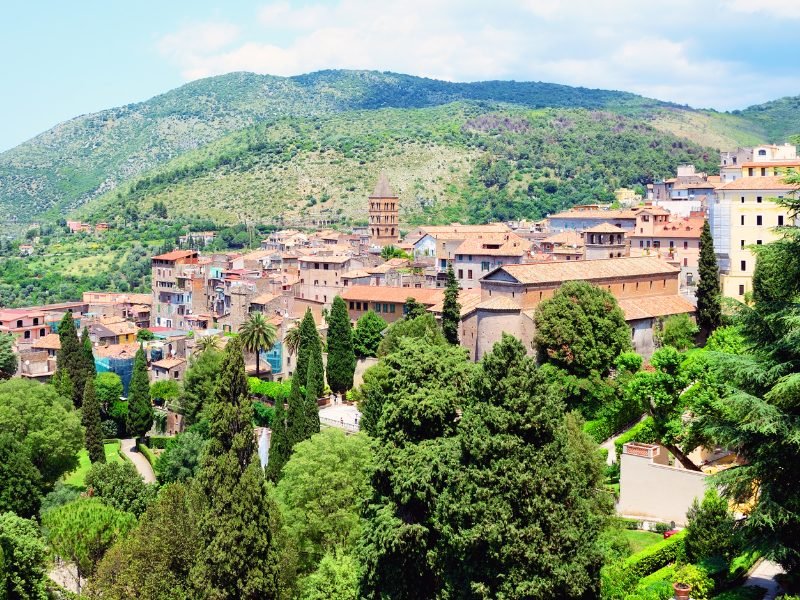 One of the day trips from Rome that no visitor should miss is Tivoli!
This small town east of Rome is home to two UNESCO World Heritage Sites, Villa d'Este and Hadrian's Villa.
Both sites are not to be missed, although Villa d'Este is conveniently located in the center of Tivoli, while Hadrian's Villa is an archaeological site just outside of town.
The town of Tivoli in itself is beautiful, with a charming historical center and lush greenery all around.
Some sights you shouldn't miss are Villa Gregoriana Park, the Gregorian Bridge, the Temple of the Sybil, and the impressive Aniene Falls.
How to Get to Tivoli from Rome
Tivoli is easy to reach by train from Roma Termini in under one hour.
There are regular departures, so you can easily make this trip fit into your schedule and even go for half a day if you don't have much time.
Prefer a guided experience, where you can learn about the archaeological sites from a licensed guide?
This tour covers both Villa d'Este and Hadrian's Villa, and includes round-trip transportation from Rome, as well as lunch!
Ostia Antica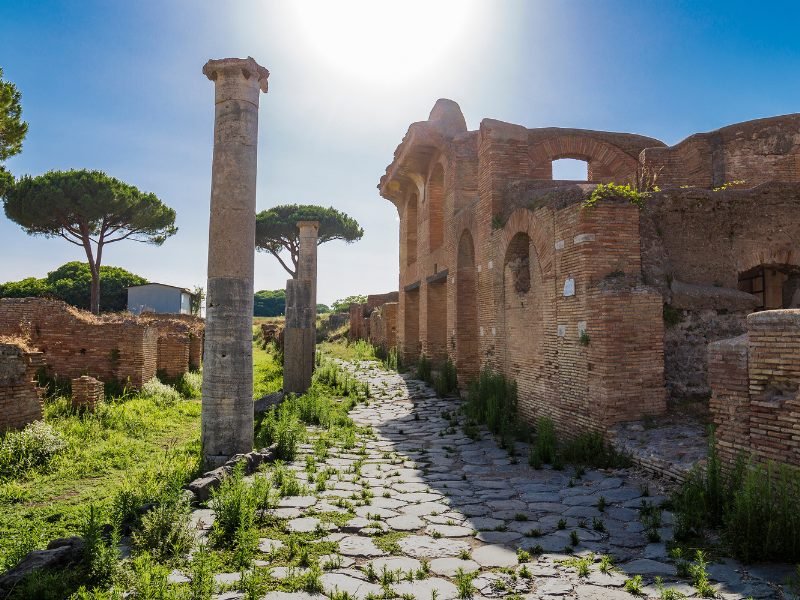 If you want to discover a place outside of Rome but don't want to go too far, Ostia Antica is the perfect option!
Near Rome's seaside neighborhood of Ostia, the now archaeological site of Ostia Antica used to be the harbor city of ancient Rome.
In Ostia Antica, you can walk through the ruins of ancient temples, baths, villas, and an impressive Roman amphitheater.
This is one of the best-preserved Roman cities in Italy, dating back to the 7th century BCE.
Fun fact: The city used to be by the sea, but due to silting, it now lies around 2 miles away from the coast.
How to Get to Ostia Antica from Rome
The best part about the archaeological site is that you can easily reach it in roughly half an hour by train from the Piramide station in Rome.
Just hop on the Roma-Ostia train and get off in Ostia Antica. It's the perfect easy Rome day trip!
Pompeii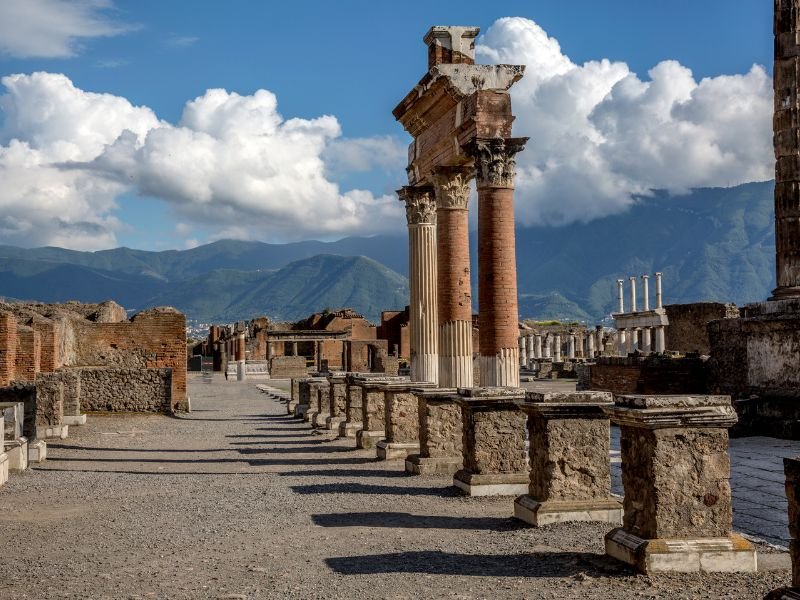 The archaeological ruins of Pompeii are a UNESCO World Heritage Site and a bucket list item for many!
While Pompeii is not as close to Rome as other cities like Naples, it's still doable as a day trip.
Pompeii is a massive archaeological site and can be intimidating to visit independently, so a guided tour can come in handy here.
Many people also like to combine a trip to Pompeii with a visit to Mt. Vesuvius — the volcano that doomed the city of Pompeii.
Some of the most beautiful sights include the Forum and the Amphitheater (the oldest one in Italy!), as well as the Temple of Isis and the Stabian Baths.
How to Get to Pompeii from Rome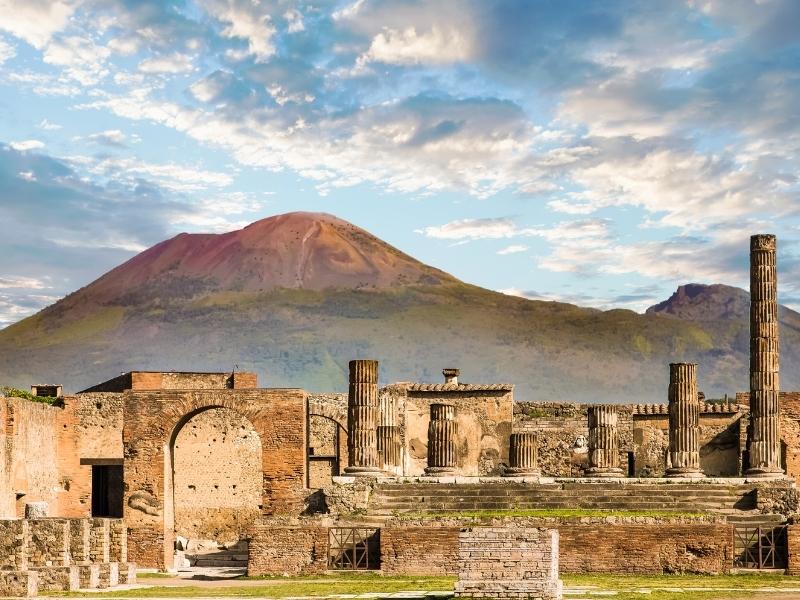 Pompeii is 250 km from Rome, so it's not the easiest day trip, but it is one of the most worthwhile.
To self-guide, you can take a high-speed train like the Frecciarossa between Rome and Pompeii.
There are several trains a day leaving from Roma Termini and stopping at Pompeii.
A more common option is taking a guided tour that brings you to Pompeii and Mt. Vesuvius on a day trip with transportation and guides organized for you.
The cost tends to level out when you consider the expense of high-speed train tickets, entrance tickets, fees for a guide, and adding on a visit to Mt. Vesuvius (which can be hard to do independently as a day trip from Rome).
Another popular combination is visiting Pompeii and doing a tour of the Amalfi Coast before returning back to Rome. This is a very full day, but it will tick off several bucket list items at once!
Depending on the season, you'll visit either Amalfi or Positano — two beautiful Amalfi Coast towns both worth a visit.
Castel Gandolfo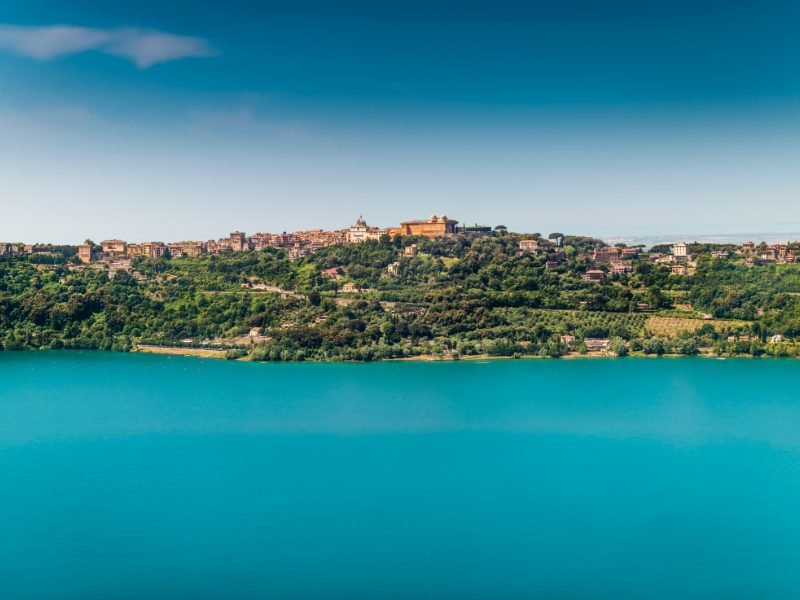 Castel Gandolfo is considered one of the most beautiful towns in Italy, so it certainly deserves a visit!
The town on Albano Lake is famous for being the site of the Pope's former summer residence.
In 2013, Pope Francis decided to stop using the residence as a retreat and to turn it into a museum instead.
Since 2016, the Papal Palace of Castel Gandolfo, together with the Pontifical Villas Gardens, are open for visitors!
In the Palace, you can visit around 20 rooms filled with paintings and relics that tell the story of former the papal residence.
Outside, the beautiful gardens of Villa Barberini used to be the private gardens of the Pope and are now open for everyone to enjoy.
After visiting the Papal Palace, don't forget to walk around the small town and enjoy the view of Albano Lake from above.
How to Get to Castel Gandolfo from Rome
You can reach Castel Gandolfo, with a 45-minute train ride from Roma Termini.
But before jumping on the train, remember to book your visit to the Apostolic Palace online! Tickets are limited.
Florence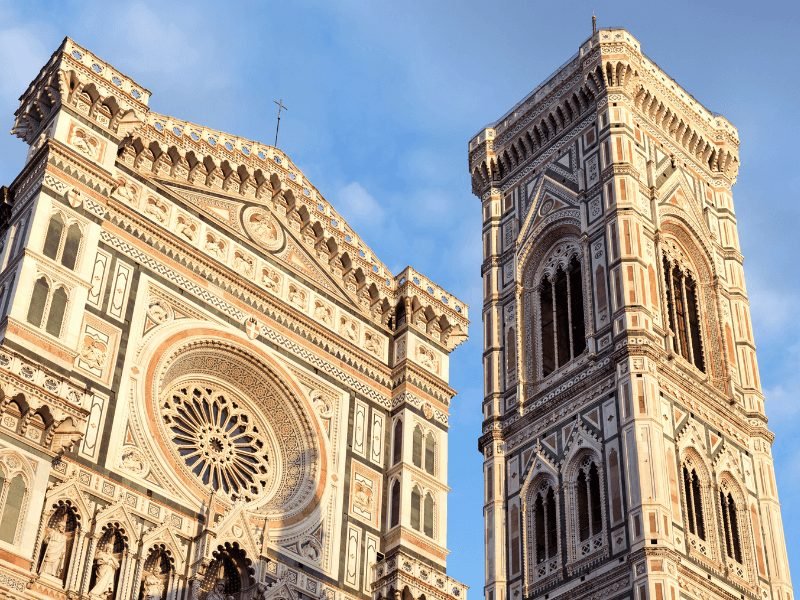 Florence (written Firenze in Italian) is one of Italy's most famous and culture-rich cities.
It wouldn't be a trip to Florence without checking out the famous Duomo (aka the Cattedrale di Santa Maria del Fiore), one of the most beautiful churches in Italy.
The view from the top, Brunelleschi's Dome, is one of the most stunning views over Florence.
The stairs to get to the top will have you gaping at the beautiful frescoes as you gasp your way up the nearly 500 stairs!
Tip: Be sure to book this in advance, as you need reservations to climb the dome.
The Uffizi Gallery is also a must-visit for art lovers, as well as the Boboli Gardens and the Pitti Palace, best accessed by crossing the Ponte Vecchio covered bridge on foot.
If you want to see the original Statue of David, be sure to visit the Accademia Gallery as well. Reservations to see David are needed, or you can join a tour.
How to Get to Florence from Rome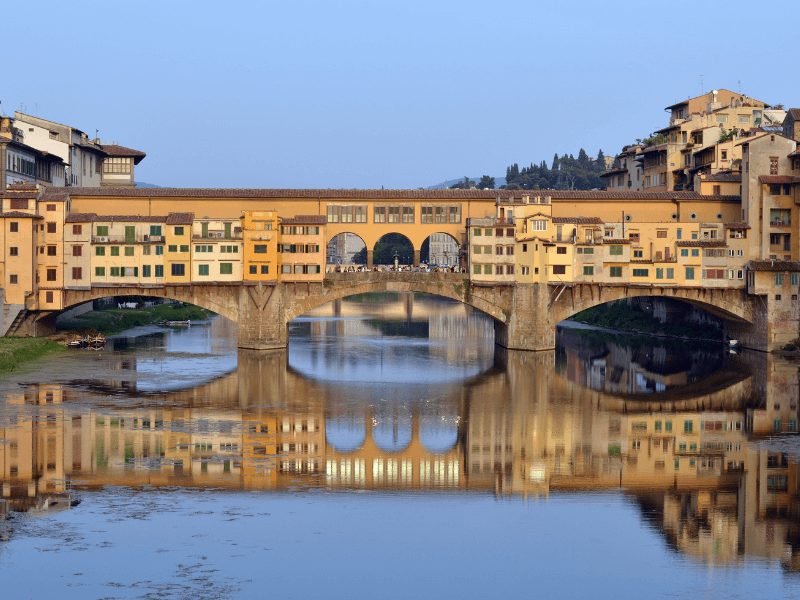 While you could easily dedicate 3 or more days to a comprehensive Florence itinerary, it is possible to sample a bit of Florence on a day trip from Rome thanks to the high speed trains that connect the two cities.
While Rome and Florence are 160 miles apart, a high-speed train will traverse the distance in just an hour and a half.
Frecciarossa trains (fast trains) depart Termini station about every 30 minutes, making it very easy to do an independent day trip to Florence.
There are also small group tours that include Florence and other destinations, such as this tour of Florence and Pisa
Nemi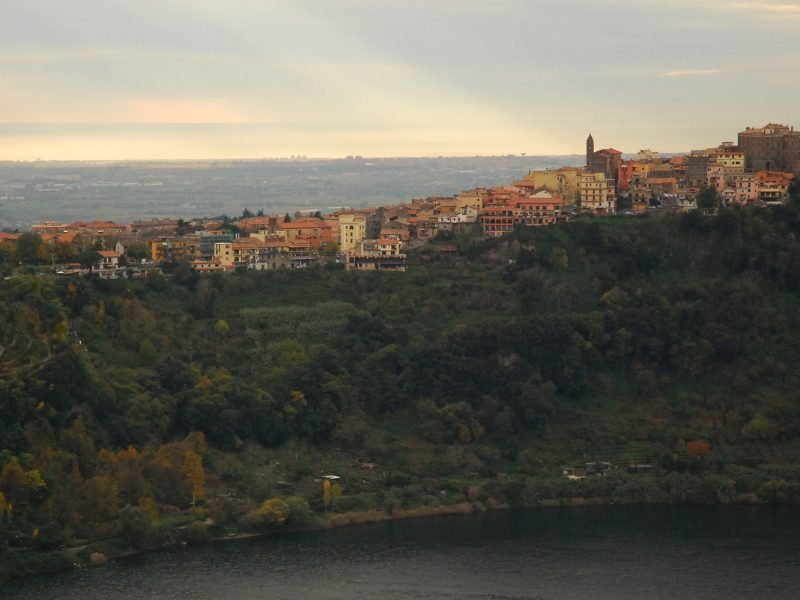 Overlooking the volcanic lake with the same name, the small town of Nemi is a little gem in the area known as Parco dei Castelli Romani (Park of the Roman Castles).
The protected area south of Rome gets its name from the many castles that once belonged to important families.
Many castles still exist and can be either visited or rented as event venues. In Nemi, you can check out Castello Ruspoli and its stunning Italian Renaissance gardens.
Not far from the castle, the so-called Lovers' Terrace has the best view over the lake.
Nemi is also famous for the ruins of an ancient Roman temple dedicated to Diana, just outside the old town.
And if you visit in late spring or early summer, you can sample the famous wild strawberries of Nemi. Try a delicious dessert or drink some local Fragolino!
How to Get to Nemi from Rome
To reach Nemi, you need to catch two Cotral buses (a regional bus company). You can check bus tickets in Italy on Wanderu.
Catch the first bus in Roma Anagnina until Genzano di Roma, then change for another bus that will get you to Nemi.
The entire trip takes around one hour and a half.
Frascati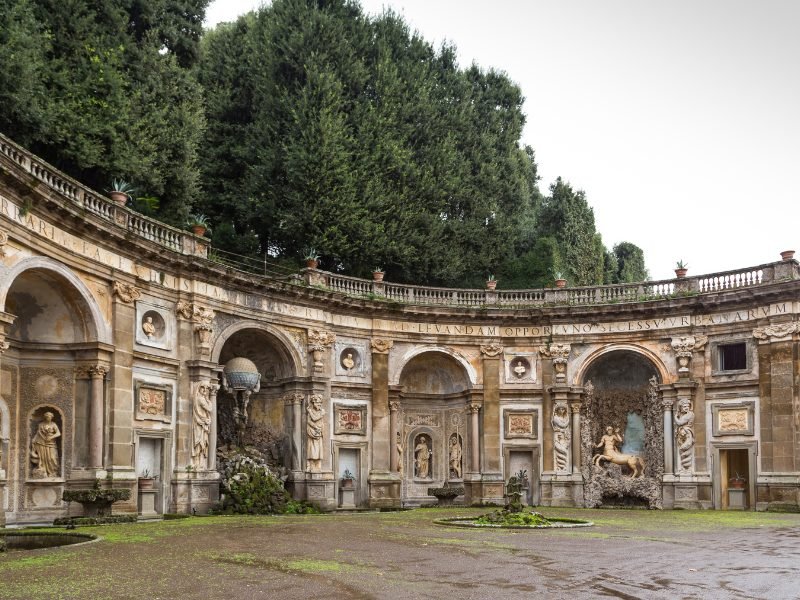 Another important commune in the Roman Castles area, Frascati is famous for the many villas that once belonged to noble families and the white wine produced in the area.
Some of the beautiful villas you should see in Frascati are Villa Lancellotti, Villa Taverna Parisi, Villa Falconieri, and Villa Aldobrandini (pictured above).
While you're in town, you should also visit the Frascati Cathedral, the Episcopal Palace, and Scuderie Aldobrandini, where you can learn about the ancient city of Tusculum.
If you have enough time, just outside of Frascati you can also visit the archaeological area of Tusculum, with ruins of the ancient city.
How to Get to Frascati from Rome
You can get to Frascati in less than one hour by train from Roma Termini.
There are plenty of departures every day, so you can leave whenever is convenient for you, making this one of the easier Rome day trips to coordinate.
Bracciano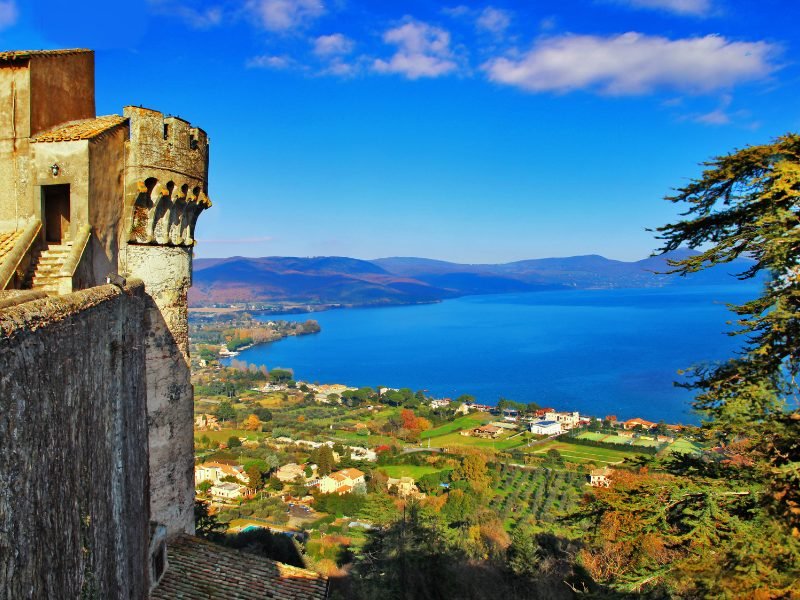 Another great day trip not far from Rome is to Lake Bracciano and the town of Bracciano.
You can visit the town during any season to explore the beautiful historical center and admire the gorgeous views over the lake.
If you visit during summer, you can descend to the lake and relax, sunbathe, and even go for a swim.
The main sight in town is Castello Orsini-Odescalchi, at the very top of the hill.
The castle is famous for being the set of movies and TV shows and for hosting important events, like celebrities' weddings.
The castle became even more popular after Tom Cruise and Katie Holmes got married there!
How to Get to Bracciano from Rome
The volcanic lake is just north of Rome.
It's easy to reach by train in just over one hour from Roma Tiburtina or Roma Ostiense.
San Gimignano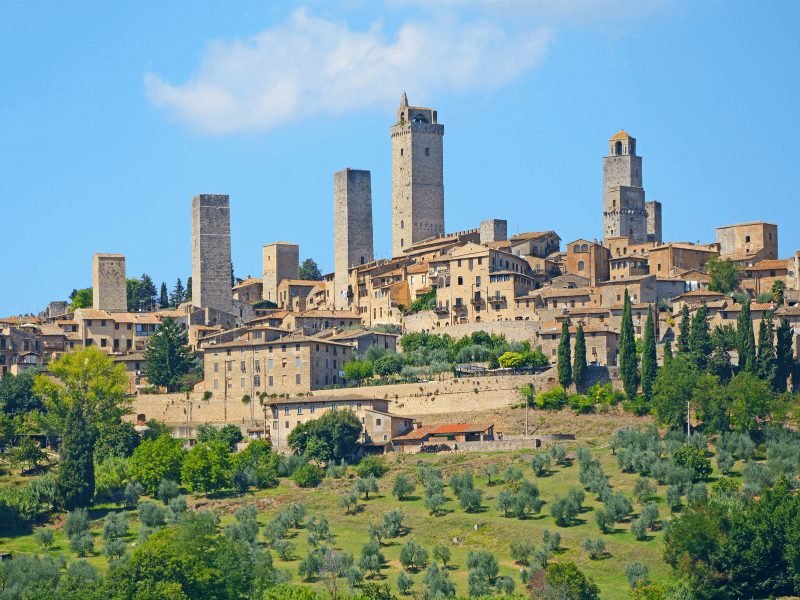 The medieval town of San Gimignano in Tuscany is a bit far away, but still doable as a day trip from Rome, especially on a guided tour.
This beautiful historic town has city walls that date back to the 13th century, which frame the city beautifully both from afar and up close.
The city is best-known for its medieval towers which distinguish the skyline of San Gimignano from other similar Tuscan hill towns.
Don't miss visiting the Duomo di San Gimignano, which dates back to the 12th century and has stunning fresco work in its adjacent chapel.
San Gimignano is also a great base for a wine-tasting themed day trip from Rome, where you visit a few Tuscan towns and cities in between wineries.
How to Get to San Gimignano from Rome
It is rather difficult to get to San Gimignano via Rome via public transportation. It involves taking a high speed train to Florence and then two buses… and that doesn't even factor in trying to get to wineries or other Tuscan destinations.
If you are interested in exploring Tuscany on a day trip from Rome, this small group tour covers San Gimignano, Siena, and Monteriggioni, as well as wine tasting and lunch.
You can also spend several days exploring Tuscany on a road trip, using San Gimignano as a base.
Montepulciano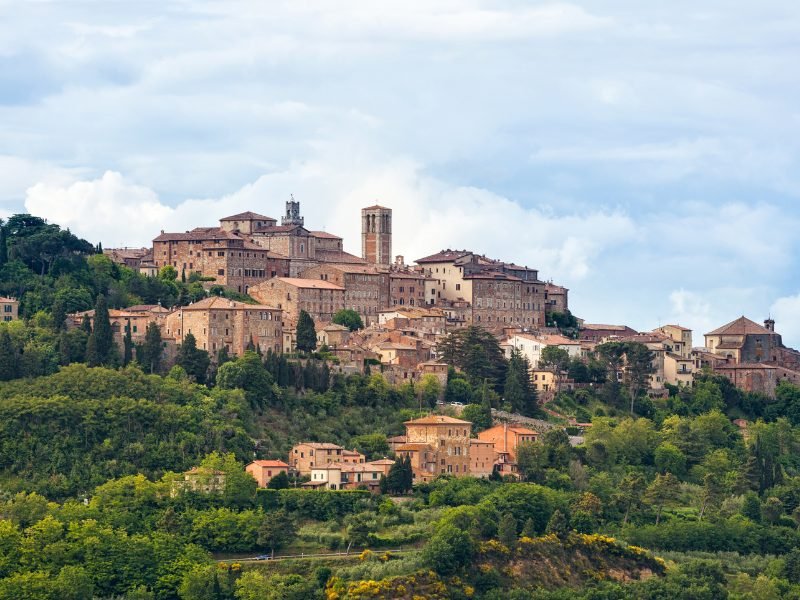 A stunning Tuscan hill town, Montepulciano is home to ruins older than Rome, incredible wine tasting, and beautiful churches.
Don't miss the scenic Church of San Biagio of Montepulciano, built in the 16th century in the Renaissance style. You can get a great view of it from the Medici Fortress.
Montepulciano is also known for its stunning views both from outside the city center and from within. Climb to the top of Palazzo Comunale for some of the best views over the city!
Montepulciano is home to many wine cellars built underneath the city, where its famous Vino Nobile di Montepulciano is often aged!
How to Get to Montepulciano from Rome
Getting to small Tuscan towns from Rome is not the most straightforward affair, which is why tours tend to be the better option if you are trying to do a Tuscany day trip.
You can take a train to Chiusi-Chianciano Terme, which takes about 2 hours, and then a bus or taxi onwards to Montepulciano.
However, an easier option is to take a small group tour, which will bring you to Montepulciano, the stunning Abbey of Sant'Antimo, and Pienza, including lunch and a vineyard visit.
Viterbo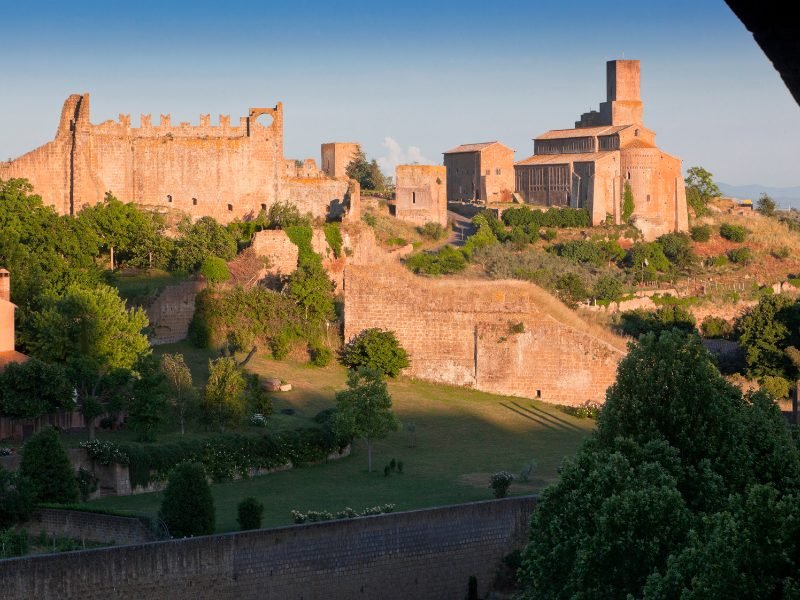 Viterbo is famous for being once the residence of the popes.
The old city north of Rome features a medieval center surrounded by old city walls, the Papal Palace that you can now visit, and the National Etruscan Museum Rocca Albornoz.
In the medieval center, some of the buildings and landmarks worth checking out are Palazzo Farnese, Palazzo degli Alessandri, Fontana Grande, Porta della Verità, Piazza del Plebiscito, and Casa di Santa Rosa.
Piazza San Pellegrino is probably the most iconic place in town, with well-preserved medieval buildings all around.
In spring, the square and surrounding neighborhood get covered in flower ornaments for the San Pellegrino in Fiore Festival. This is probably the best time to visit Viterbo!
How to Get to Viterbo from Rome
To get to Viterbo, you can catch the train from Roma Ostiense, Roma Trastevere, or even Roma San Pietro.
The train ride is less than two hours, making it fairly easy to do as a day trip from Rome.
Naples
Naples itself deserves several days on your itinerary if you can grant it, but if you are looking for a city day trip from Rome, Naples is a fantastic option if you are strapped for time.
Naples is Italy's third-largest city, so it can be intimidating to sample in a day, but you can absolutely get a small taste of it in a short amount of time.
Naples has several interesting castles worth a visit, including Castel Nuovo and Castel dell'Ovo, the latter of which has beautiful views on the Bay of Naples!
Its main plaza, Piazza del Plebiscito, is a fantastic place to start a walking tour of Naples and its many stunning sights, from its churches to its shopping to its pizzerias!
And of course, Naples is close to Pompeii and Herculaneum, and therefore its archaeological museum is one of the best in Italy!
How to Get to Naples from Rome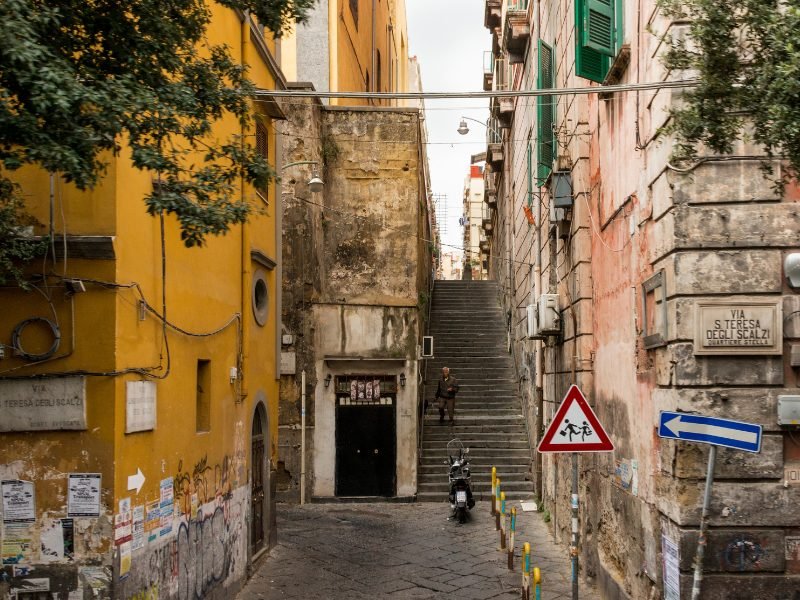 Visiting Naples from Rome is doable thanks to the high speed trains that connect these two cities easily.
There are over 100 daily trains connecting Rome and Naples, the fastest of which takes a little over an hour.
You can also opt to tour both Naples and Pompeii on a guided tour, which ticks off two potential Rome day trips in one jam-packed but rewarding day.
Book your guided tour of Naples (with a side trip to Pompeii) here!
Tarquinia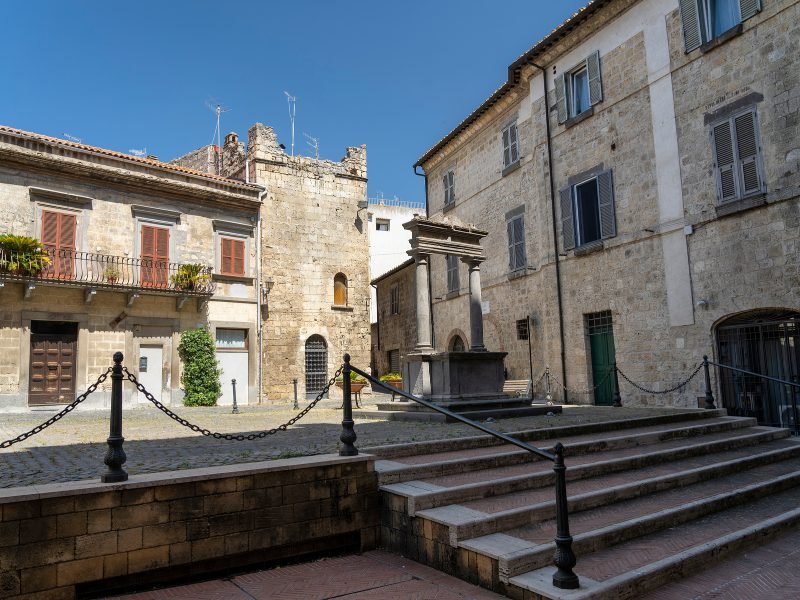 The ancient Etruscan city of Tarquinia was once wealthy and important.
Nowadays, it is mainly known for the Necropoli di Tarquinia, ancient Etruscan tombs that are now a UNESCO World Heritage Site.
You can visit the Necropoli together with the Tarquinia National Museum, housed in Palazzo Vitelleschi.
However, there is more to Tarquinia than the Etruscan tombs, which are an absolute must-see.
You can also visit the ancient city walls, Tarquinia Cathedral, St. Francis Convent, and St. Lucia Benedettine Monastery.
How to Get to Tarquinia from Rome
To reach Tarquinia, you can catch a train from Roma Termini, which takes a little over one hour.
There are hourly departures every day, so you have several options if this Rome day trip appeals to you!
San Felice Circeo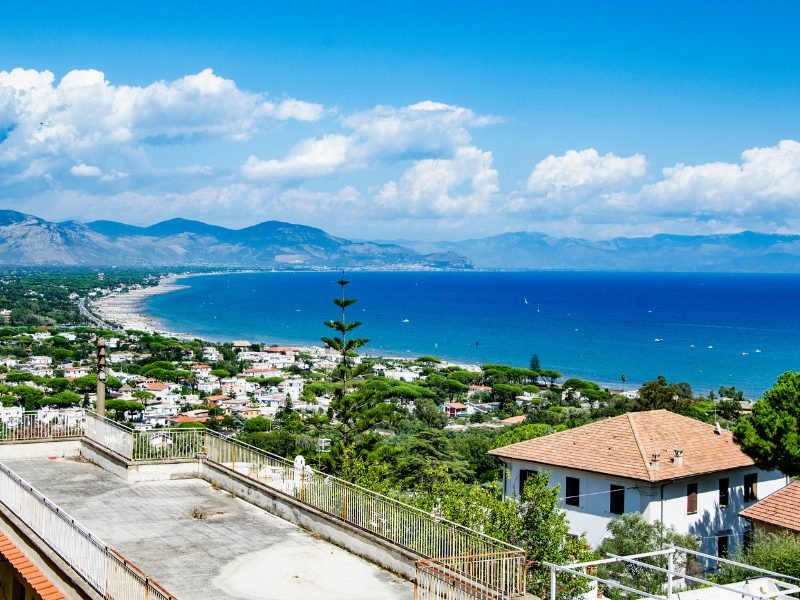 If you're looking for a pretty seaside place where you can swim in clear waters and escape the unbearable summer heat of Rome, head to San Felice Circeo!
The town is great for a day trip in summer, but it's also nice to visit in spring or autumn.
There is a lot to do in San Felice Circeo. You can explore the beautiful old town, relax at the beach, or even go for a hike on top of Mount Circeo.
The small mountain appears in Homer's Odyssey as the place where Ulysses's crew gets turned into swine by an enchantress. Her name was Circe, hence the name of the mountain and town.
How to Get to San Felice Circeo from Rome
To get to San Felice Circeo, you can catch a Cotral bus that takes roughly two and a half hours from Roma Laurentina.
The alternative is to go by train from Roma Termini to Priverno Fossanova and catch a Cotral bus.
This second option may be shorter but be sure to check the buses from Priverno Fossanova as there aren't many.
Terracina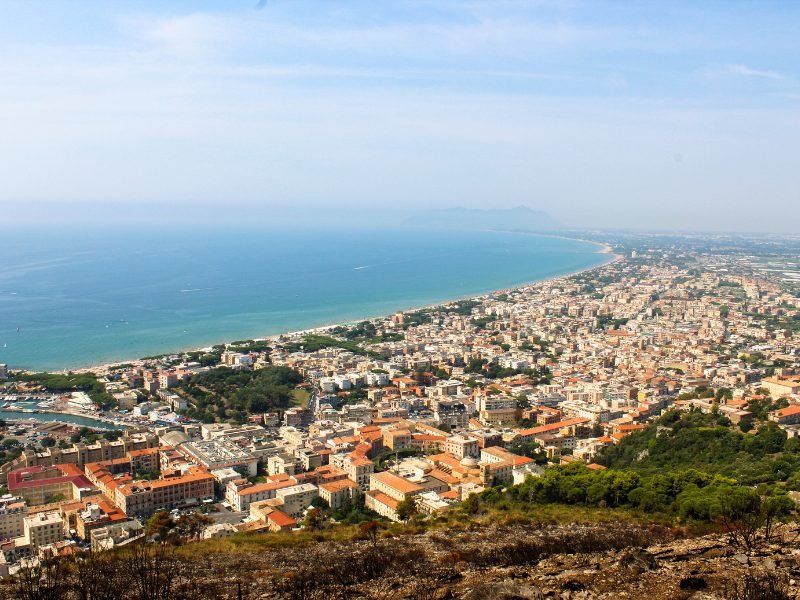 Not far from San Felice Circeo, Terracina is another charming seaside destination, great for sunbathing and relaxing at the beach but also for exploring a lovely historical center.
In the upper part of the city, you can visit the Temple of Jupiter Anxur, dedicated to the god who was once considered the protector of the city.
The temple is visible from virtually anywhere in the lower part of the city as it sits on the edge of the hill, overlooking the sea.
In the old town, you can also visit the town cathedral, built on the site of an ancient Roman temple, as you will notice from the remaining columns.
How to Get to Terracina from Rome
To get to Terracina, catch the train from Roma Termini to Monte San Biagio, which takes a little over 1 hour.
Once you arrive there, a local bus that will get you from the station to Terracina in a few minutes.
Gaeta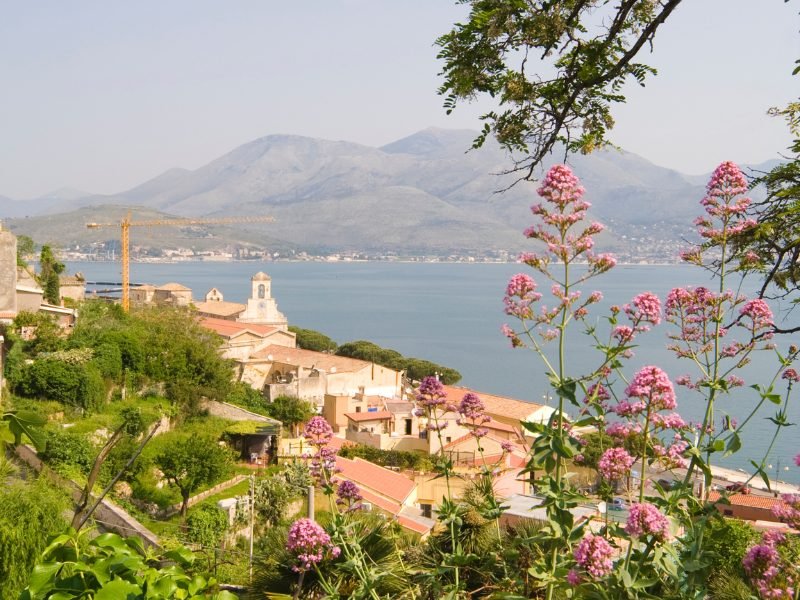 Further south of Terracina, Gaeta is another gorgeous city that combines beautiful nature and history.
Here you can swim in crystal clear waters, discover ancient legends, and explore a medieval center filled with history!
Visit the Aragonese-Angevine Castle, stroll along the John Cabot Promenade with the beautiful sea on one side and medieval buildings on the other, and get lost in the old town with the narrow alleys and beautiful churches.
Once you visited the medieval town, go to Parco Monte Orlando and check out the Cracked Mountain (Montagna Spaccata) to find out the legend of how it cracked open when Jesus died.
In the nearby Grotta del Turco, find the mark of a hand impressed on the side of the mountain. According to the legend, the mark was left by a Turk who didn't believe the story of the mountain cracking.
How to Get to Gaeta from Rome
Gaeta is only one hour and a half by train from Roma Termini.
The city center is easily reachable with a local bus from Formia-Gaeta train station.
Rieti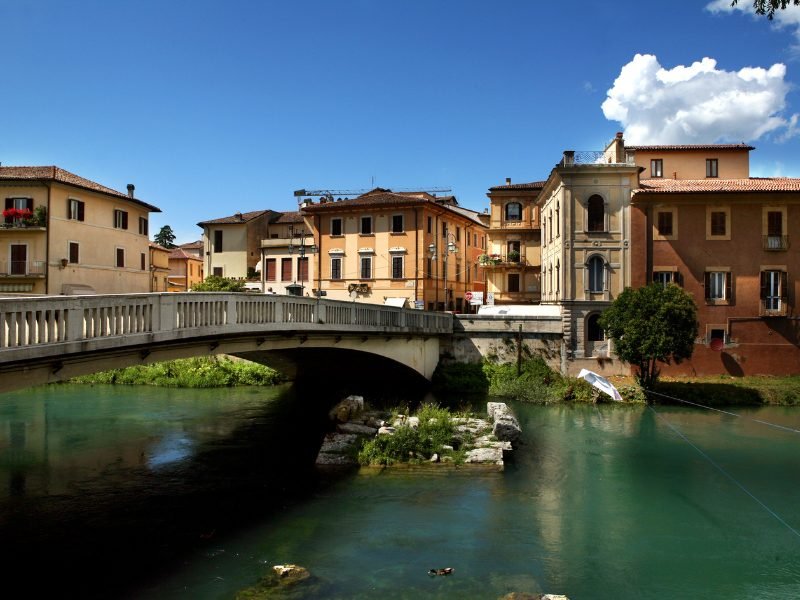 If you like places rich in history, you should not miss this town northeast of Rome!
Rieti dates back to ancient times, even before the foundation of Rome, probably around the 9th century BCE.
Most traces of ancient times are unfortunately gone, and only a few ruins remain.
Take a tour of Rieti Sotterranea (Underground Rieti) to learn about the history of Rieti, its ancient origins, and cool facts from ancient Roman times.
The medieval old town features the beautiful cathedral Santa Maria Assunta, the Episcopal Palace, and Piazza San Rufo, famous for a small monument that supposedly marks the exact center of Italy. You can also learn more about the city at Museo Civico di Rieti.
How to Get to Rite from Rome
To get to Rieti, you can catch a Cotral bus from Roma Tiburtina which takes less than two hours.
By train, you will need to change in Terni, and it will take around two and a half hours.
Narni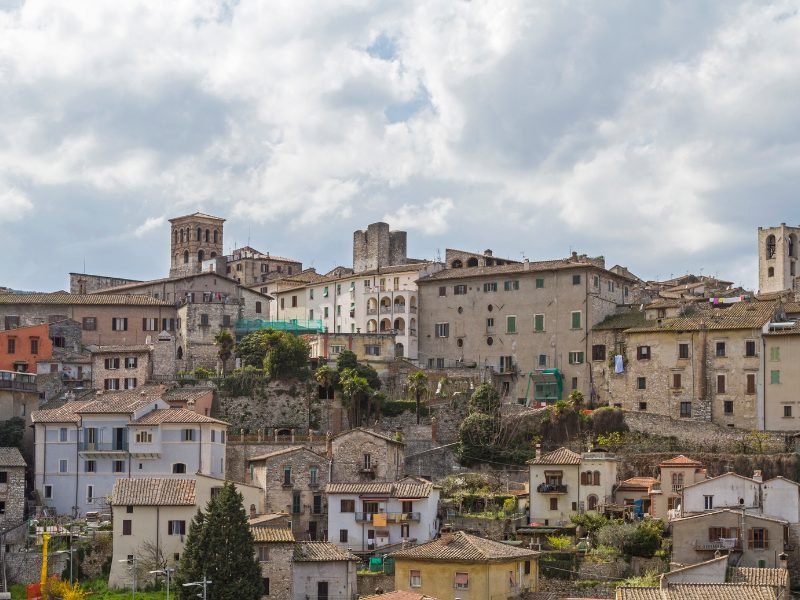 Another ancient town, Narni is not far from Rieti, but in the Umbria region.
The town is the rival of Rieti as it claims to be the site of the geographical center of Italy!
Like in Rieti, you will also find a landmark in Narni's historical center marking the spot.
The lovely old town of Narni with its charming little alleys is alone a reason to visit.
Pay a visit to the Cathedral of Saint Juvenal, check out Museo Eroli to learn more about the area, and climb to the top of the Saint Juvenal Bell Tower for an impressive view of the town.
If you want to enjoy the view of Narni from different perspectives, head to the Belvedere di Narni or visit the fortress Rocca di Narni.
The area surrounding the town is great for hiking if you have extra time and want to enjoy nature.
How to get to Narni from Rome
There's a train that will get you from Roma Termini to Narni in just over one hour.
It has several daily departures, making it easy to plan a visit to Narni as a Rome day trip.
Orvieto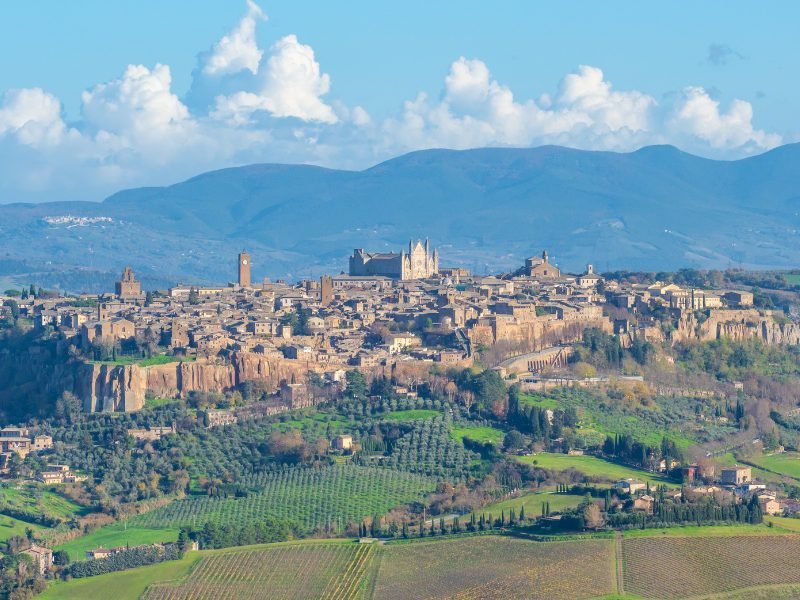 Orvieto is another beautiful city of ancient origins in the Umbria region.
Further north from Narni, Orvieto sits on the top of a cliff and is connected to the lower part of the city by a funicular railway.
Orvieto is of Etruscan origins, as you can learn from a visit at the archaeological site Necropoli Etrusca di Crocifisso del Tufo or at the Etruscan Museum Claudio Faina.
In the historical center, climb to the top of Torre del Moro for a panoramic view of the city and surrounding valley.
A sight you cannot miss is the 14th-century cathedral, Duomo di Orvieto, with an ornate gold façade.
How to Get to Orvieto from Rome
The city of Orvieto is well connected to Rome!
A direct train from Roma Termini to Orvieto runs several times per day, and it only takes one hour.
You can also take a guided tour that covers Orvieto and Assisi.
Venice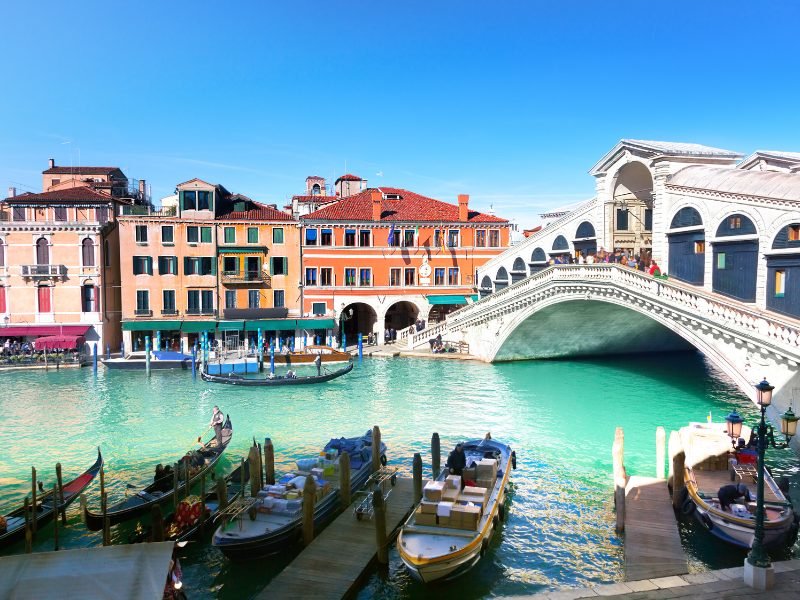 While you could easily fill up a 2 or 3 day Venice itinerary, it is possible as a day trip from Rome… if you plan it carefully and accept that you won't see it all!
On a day trip to Venice, you can see St. Mark's Square and the famous St. Mark's Basilica, one of the most well-known landmarks of Venice.
And of course, be sure to see the famous Rialto Bridge, one of the most scenic bridges in Venice!
Don't miss the Bridge of Sighs and Doge's Palace while touring Venice's city center, and be sure to save a little time to wander around Venice's beautiful canals and alleyways at your whim.
And of course, don't forget to sample Venice's delicious food scene, known for its cicchetti (bar snacks) best enjoyed with an apertivo, such as the famous Aperol spritz!
If you're traveling in the off-season, visiting Venice in winter is an especially good idea — it's the best way to avoid the crowds.
However, it's also worthy of visiting Venice on its own right, since it's also a great base for day trips!
How to Get to Venice from Rome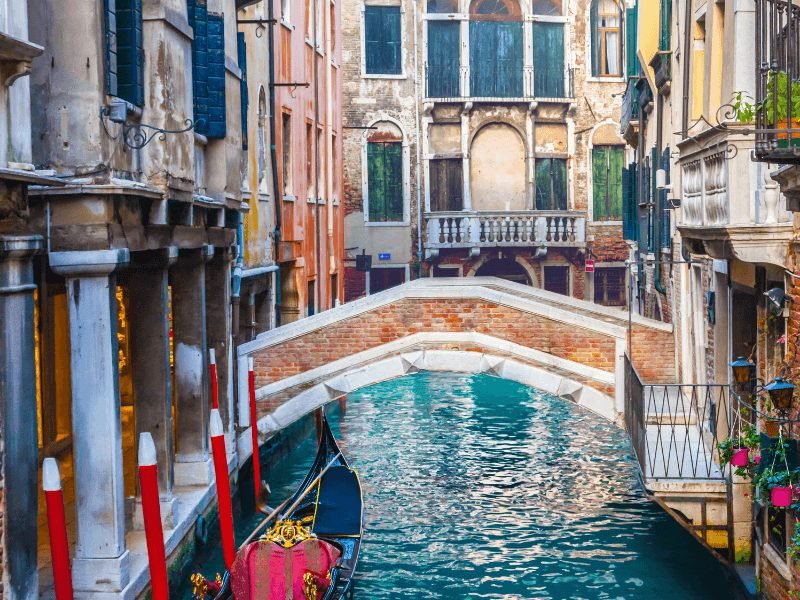 Touring Venice from Rome is possible to do independently, though it will be quite a long day!
You can take a high speed train from Rome Termini to Venice, which will take about 3.5 hours.
To maximize your day trip, it may be better to join a guided tour which will bring you to Venice in a day and ensure you see all of the best sights.
Book your guided tour of Venice from Rome here!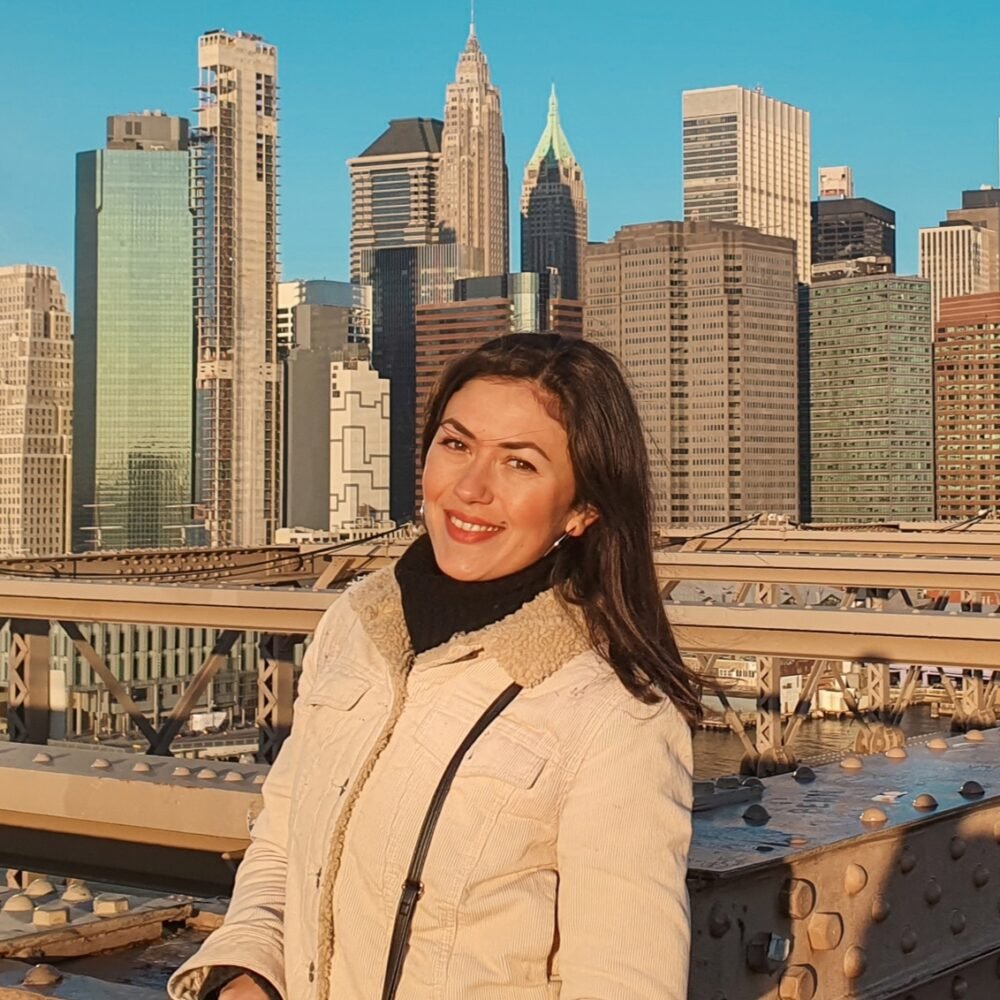 Roxana is a Romanian-born freelance travel writer who has lived in Italy for over 15 years. She has a Master's in Journalism and a Bachelor's in Film Studies, and she studied at Università degli Studi di Roma Tre. Besides her native Romania, Roxana has lived in Rome, Lisbon, and Berlin, and she has traveled through much of Europe in search of hidden gems, history, and culture.