Note: This post was written in 2018 prior to the invasion of Kyiv by Russian forces. It is obviously not safe to visit Kyiv at this time. I will not be updating this post until the war is over and it is safe to travel in Ukraine again. I stand with Ukraine and the Ukrainian people, as well as the brave Russians who risk their freedom to protest against this senseless war. I look forward to visiting Ukraine again when it is safe to do so. Slava Ukraini <3
Within minutes of stepping foot in Kyiv, I knew I had discovered one of my new favorite cities.
I had a feeling I would like Kyiv – after all, I did book myself two weeks there, with the intention of getting to know the city under its skin a bit. And I am so glad I followed that initial impulse and really got to know the city.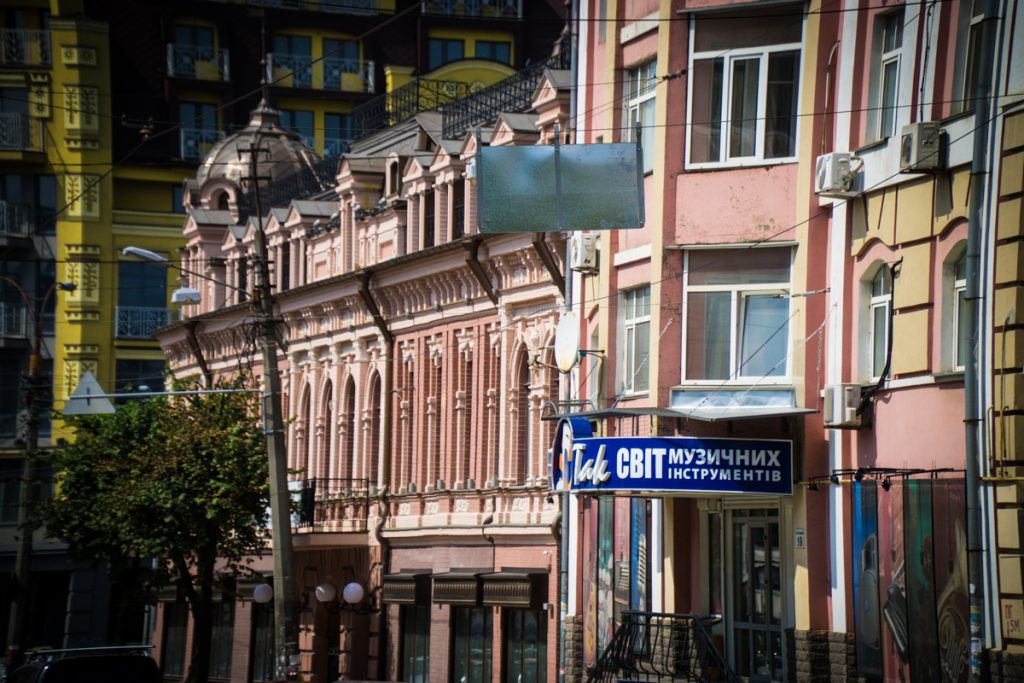 Note: This post contains affiliate links, which means I may receive a small commission if you purchase something through one of these links. Thank you for supporting the free content on this site! For more information on affiliate links and cookies, see my disclosure page for more details.
Kyiv to me feels like a city on the rise, improving rapidly. To put it simply, the energy in the city is electric.
There are new businesses opening up on every corner, catering to a new generation of locals who are more upwardly mobile than generations past and more excited for their country's future.
And it shows in the streets. Hipster coffee shops and trendy cafés are popping up on nearly every block. Street art is on every other corner. There are restaurants that serve brunch that would make an Australian weep with joy.
Yet meanwhile, the old way of Kyiv continues. Vintage trams totter along on shoddy streets, ancient metro cars roar along the well-worn tracks, and paint is peeling from every other facade.
Towering above the new and old, the polished and the decaying, are the stately, gold-domed cathedrals everywhere.
Standing tall above the city of Kyiv, they remind you just how important Kyiv has been – and will be – throughout the centuries.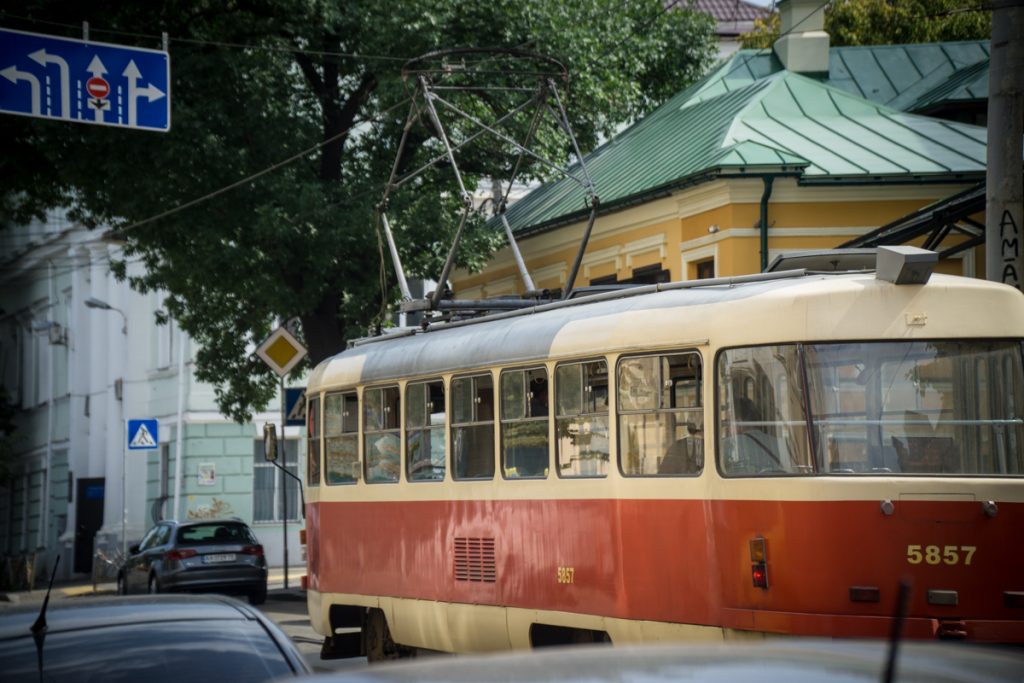 I could go on about why I'm so obsessed with Kyiv for hours – but I digress. Let's get down to business. After spending two weeks enjoying this beautiful city, here are my top things to do in Kyiv, Ukraine.
Discover the mummies of the Pechersk Lavra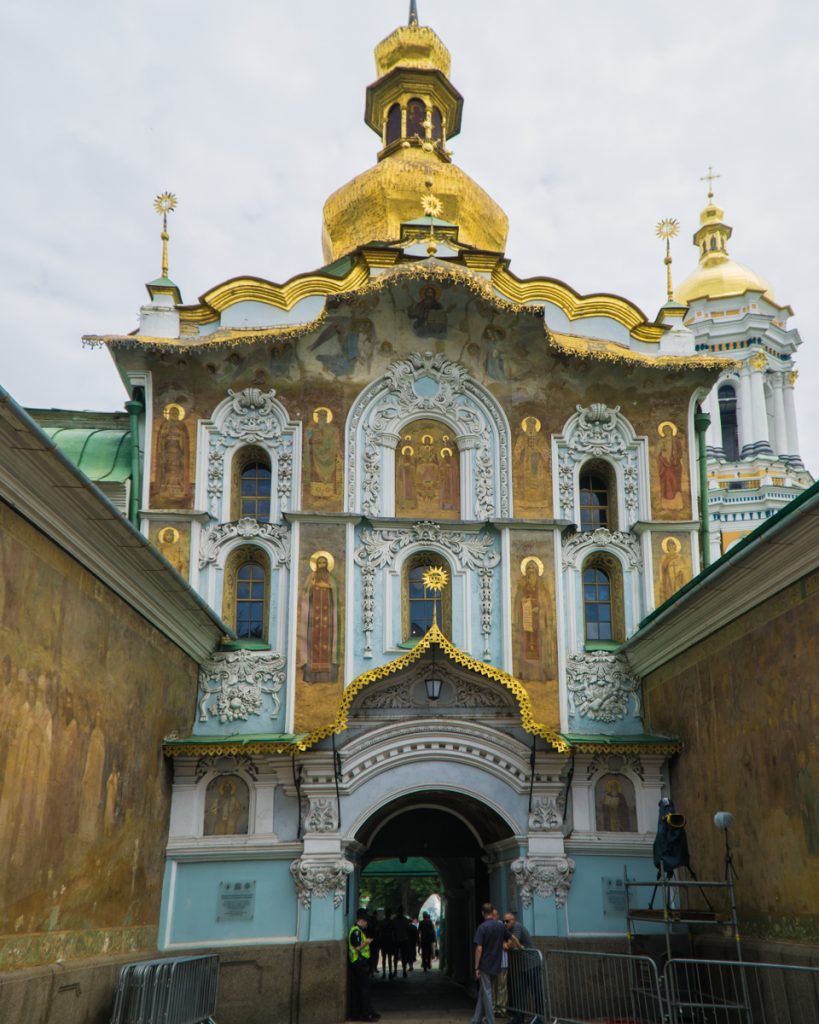 Also known of the Kyiv Monastery of the Caves, the Pechersk Lavra is hands-down the most interesting Orthodox monastery I've ever been to.
And considering I live in the Balkans and travel more in Eastern Europe than anywhere else in the world, that's a superlative that means something.
The Lavra complex is quite large. After paying for entrance into the complex (about 25 hryvnia, or ~$1 USD), you'll pass through a beautifully ornate gate with painted iconography and gilded in gold.
One of the first things you'll see is the Great Lavra Belltower, which at a height of nearly 100 meters was once the tallest belltower in all of Kyiv.
There are several churches within the Pechersk Lavra complex, but one of the most interesting is the Dormition Cathedral, which was built in the 11th century but completely destroyed in World War II.
The church was painstakingly restored and is now a convincing replica of how it used to be in its heyday.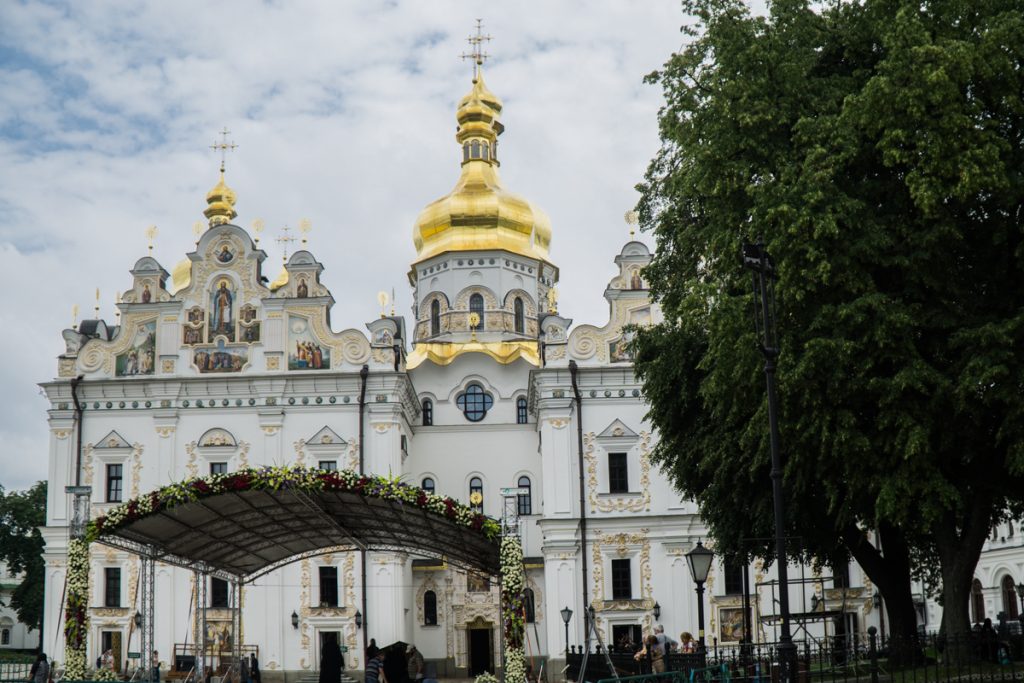 But I haven't gotten to the most interesting part of the Lavra yet: the labyrinthine cave monastery located further down the hill, which was built in 1051.
This complex of tunnels and crypts is every bit as unique as it is spooky. Admission is free, but purchase a candle for 3 hryvnia to light the way (and add to the creepy ambiance).
Over 100 important Orthodox figures have been buried in the Lavra complex over the past millennia.
If you look carefully at the coffins, you'll notice that under the robes, there are actual dead bodies — look for the telltale mummified hands. Undoubtedly, it's one of the creepiest, yet most interesting things to see in Kyiv!
Marvel at the Microminiature Museum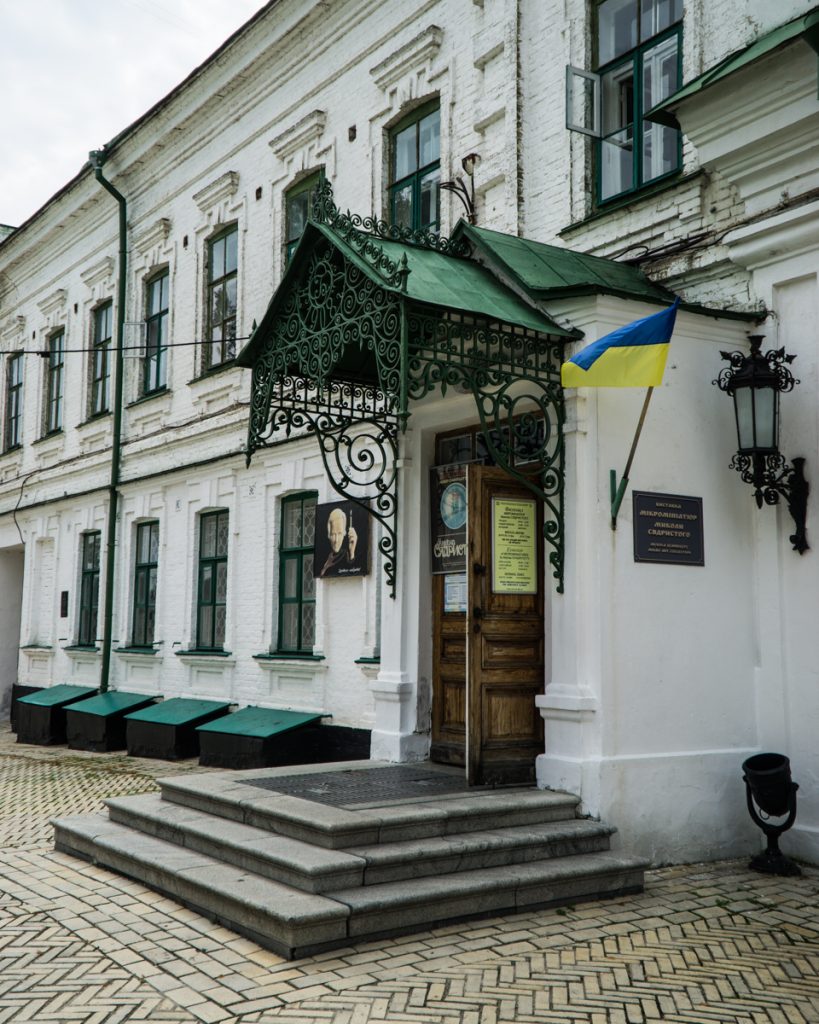 While I wanted to put this first, the Microminiature Museum is located inside the Pechersk Lavra complex so you'll have to pay for an admission ticket in order to even get into the area in which you'll find the museum.
After that, you'll have to pay separate admission to the museum, an additional 50 hryvnia.
The Microminiature Museum is exactly what it sounds: miniatures done on an extremely small scale, best appreciated through a microscope.
The level of technical prowess involved in creating these microminiatures is astounding, and Mykola Syadristy – the artist who created all of these miniatures – is unparalleled in the field.
In fact, even modern machines can't replicate what he was able to accomplish with these microminiatures. Photographs are not allowed in the museum, but even so – they wouldn't be able to capture what you see.
In the museum, I saw everything from a complete, perfect chess resting atop the head of a pin, to a camel and pyramid threading the eye of a needle, to a rose embedded in a single strand of hair.
The museum is small and can be seen in approximately 20 minutes, but it's the best thing to do in Kyiv in my opinion. I left feeling like a giddy child.
Stop and shop at Bessarabsky Market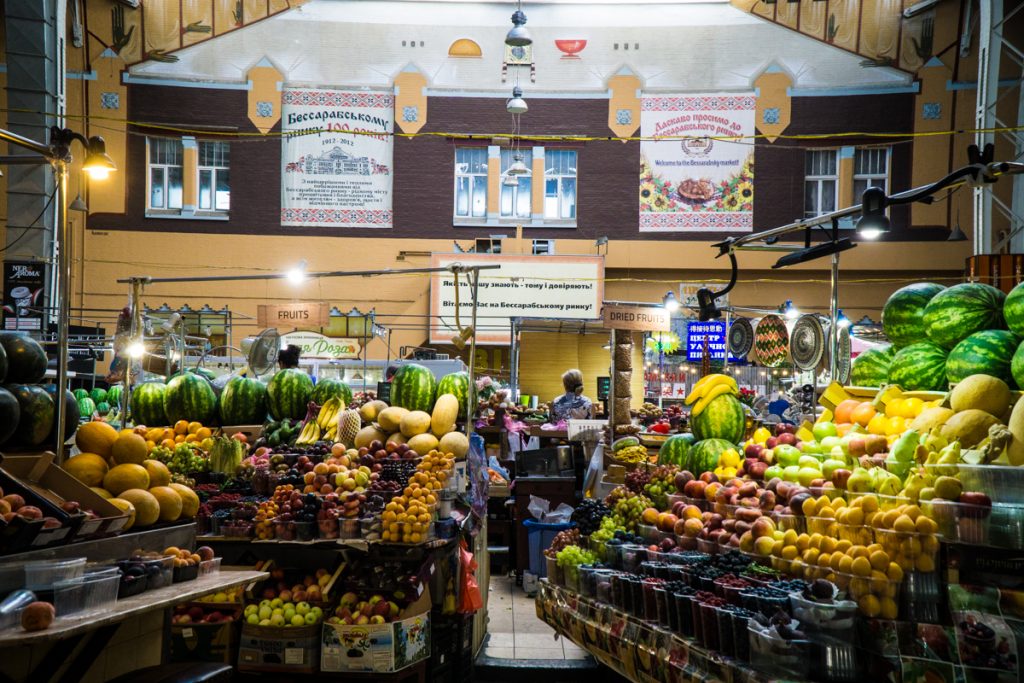 I went into Bessarabsky Market (Rynok) twice during my stay in Kyiv and loved walking around it.
The market is still used by locals today, even though it is rather upscale compared to other smaller markets you'll find dotting the streets of Kyiv.
The produce is stacked beautifully and you'll see lots of traditional Ukrainian products, like pickled everything and exotic caviar. I couldn't stop marveling at the beautiful jars of pickled and preserved everything!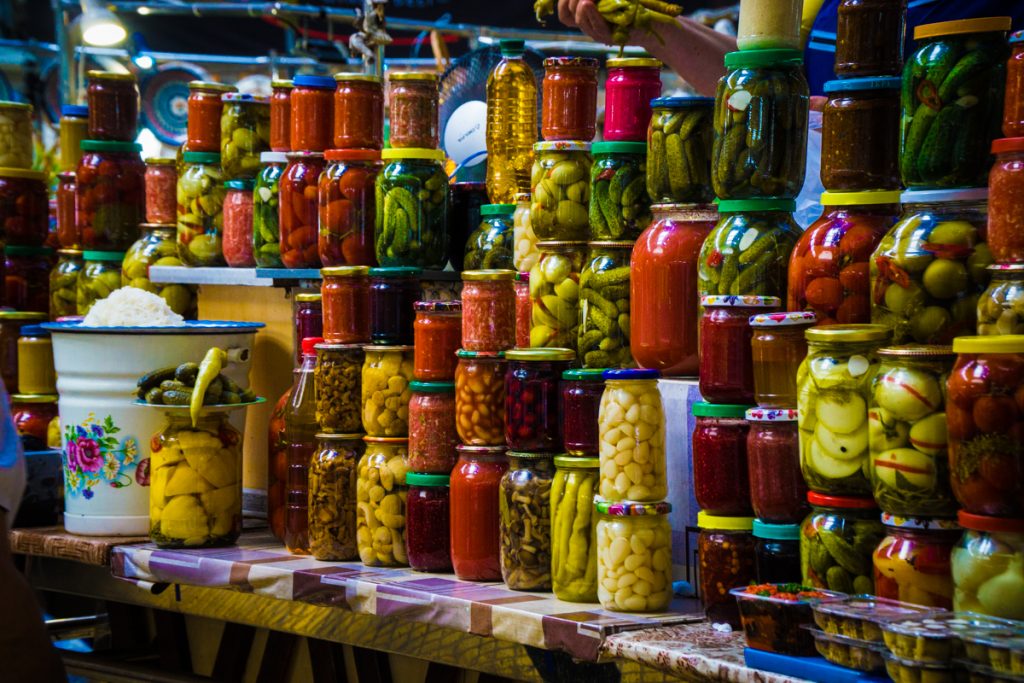 I should also pause here to give a shoutout to my favorite Ukrainian supermarket, Silpo, which is quite possibly the best supermarket in Europe and can be found in the ground floor of the Gulliver complex.
Seriously — you can't miss shopping at Silpo. It'll kill any stereotypes you ever had about traveling Ukraine – this place is like the Whole Foods of Eastern Europe, without the obnoxious price tags.
Enjoy the amazing third wave coffee scene
Forget any pre-formed ideas you have about Kyiv being a cold post-Soviet city — Kyiv is hip and modern as hell, and you'll see this more than ever in the specialty coffee scene.
The coffee scene in Kyiv is simply amazing and luckily my friend Megan has already navigated it in great detail in her excellent Kyiv coffee guide.
I meant to go to more places on her list, but since First Point was only two blocks from my Airbnb in Podil, I ended up there nearly every day, guzzling their delicious flat whites and snacking on their amazing quiche and lemonade cake.
I did manage to visit Blue Cup on one of the rare days I pulled myself away from First Point and wasn't disappointed either. Definitely a worthwhile stop for coffee if you're near Maidan Square or Khreshchatyk – and they look like they have delicious salads, too!
Pay your respects to the victims of the Holodomor
Many people are familiar with the Chernobyl tragedy in Ukraine, but fewer people realize the extent of the suffering of Ukrainians during the 20th century at the hands of the Soviet leadership.
In two short years between 1932 and 1933, somewhere in between 3.5 and 10 million Ukrainians were starved to death in a man-made famine orchestrated by the Soviet Union.
Many believe that Stalin was the architect of this famine, targeting ethnic Ukrainians in order to quelch the rumblings of an uprising — something that certainly wouldn't be out of character for a man like Joseph Stalin.
The Holodomor Genocide Museum is a poignant small museum located underground the Park of Eternal Glory, nearby the Pechersk Lavra complex. Admission to the museum is around 20 hryvnia.
There is not a lot of information in English available, but the most important symbols of the loss incurred during the Holodomor need no language.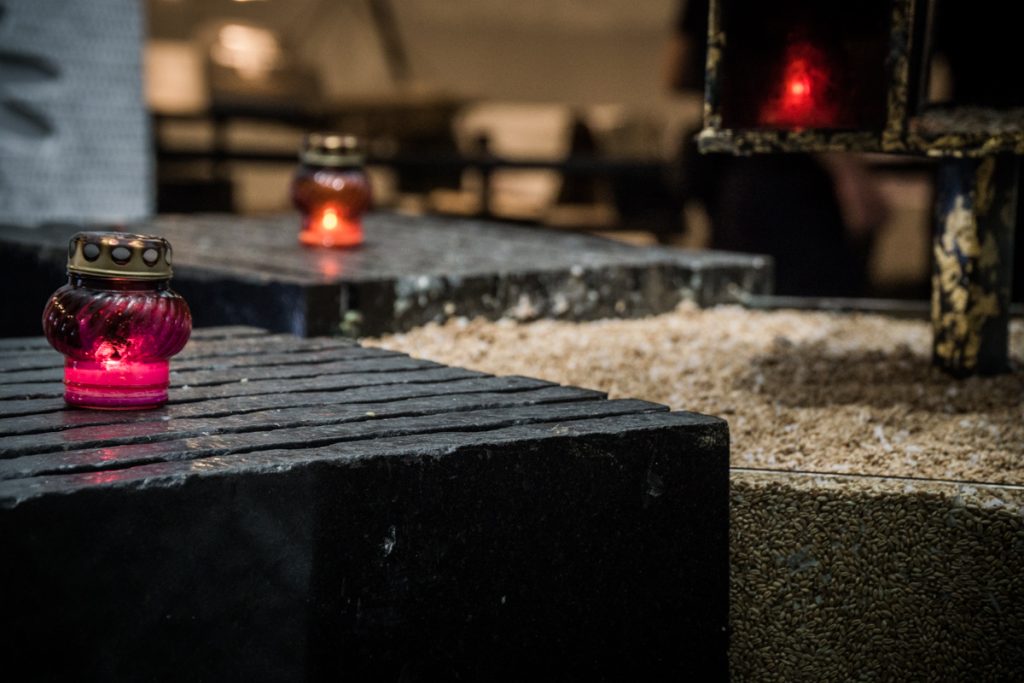 The museum contains several books listing the names of those who died in each district (oblast) in a series of tomes that form a circle around the room, each book far larger than it should be.
A monument in the middle of museum shows a silo filled with grains of wheat – each grain of wheat represents one soul lost.
It's a small museum that can be seen in a matter of 10 or 15 minutes, but visiting is an important part of understanding 20th century Ukraine, in my opinion.
Meet (and perhaps climb) Rodina Mat
During your time in Kyiv, it's almost inevitable that you'll catch a glimpse of Rodina Mat, otherwise known as Mother Motherland.
At a whopping height of 340 feet (over 100 meters, including her sword), located on top of one of Kyiv's hills, she's apparently the 18th largest statue in the world (suck it, Statue of Liberty, who is a measly #42).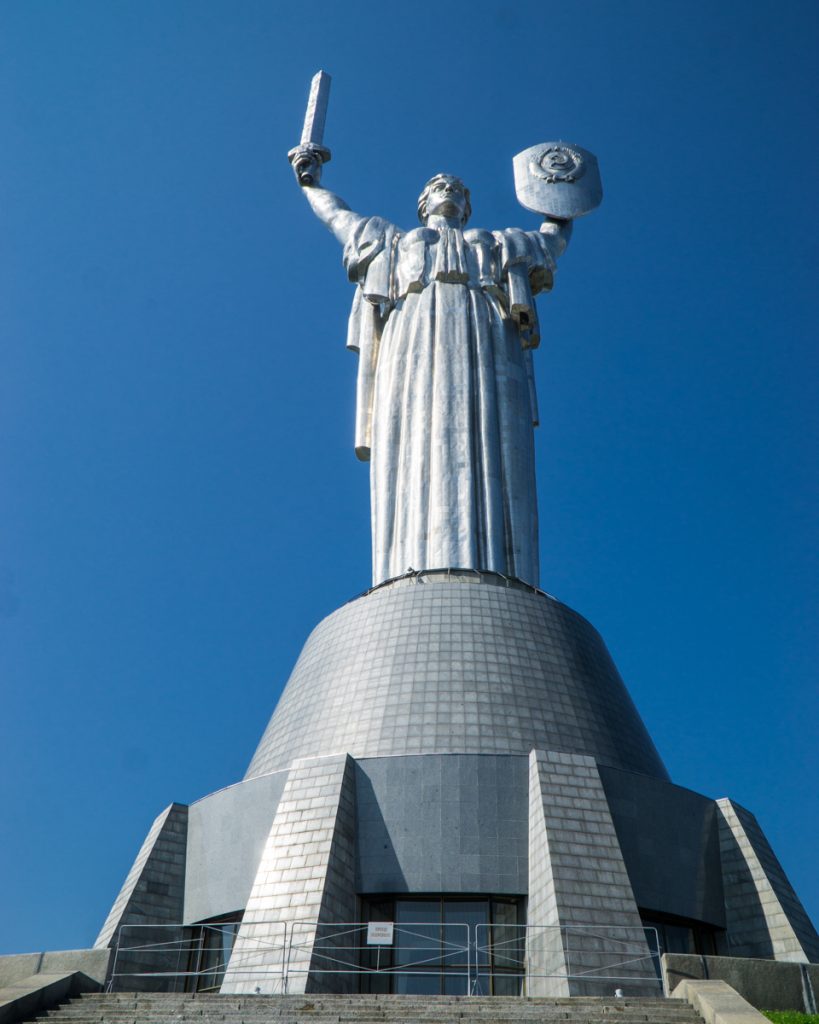 Nearly every SSR had some version of the Motherland monument – I've seen similar monuments in Yerevan and Tbilisi – but this one in particular is one of the tallest and most impressive.
Apparently, you can climb to the top of Rodina Mat's shield for an epic view over Kyiv, but I was in a hurry visiting Rodina Mat and the war museum nearby before my flight out, so I didn't ask around to figure out how to get up to her shield.
Hunt for Soviet architecture

Some of Kyiv's Soviet architecture is easy to find – Rodina Mat ain't exactly hiding, nor are the war monuments at her base (shown below).
But if you are a fan of hunting down Soviet architecture and monuments, Kyiv has plenty to offer.
I stumbled across the Hotel Salut while walking from Arsenalna towards Pecharsk Lavra with some friends, but if I were to actually go out on a hunt for Soviet architecture in Kyiv, I'd follow this awesome Soviet architecture guide by my friend Megan.
Learn about Ukraine's past in the World War II Museum
Perhaps the longest-named museum I've ever visited, the National Museum of the History of Ukraine in the Second World War is part of the Rodina Mat complex.
In the courtyard outside the museum itself, you'll find some Soviet-era statues and several disused army tanks – many times being used as a makeshift playground for tiny children.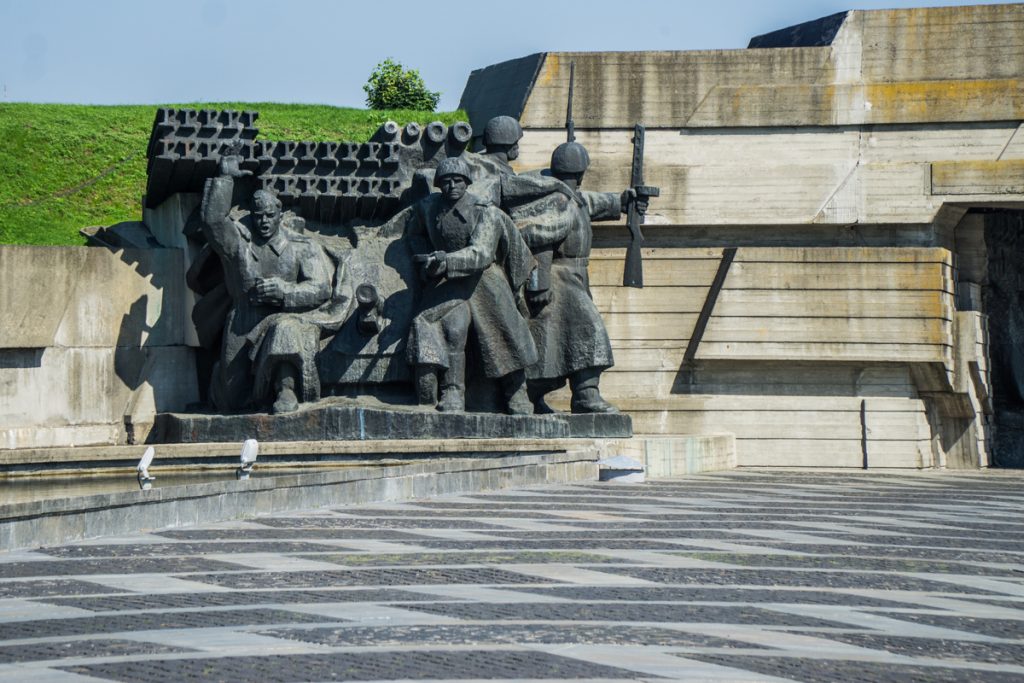 At first I thought this was the entirety of the 'museum' – turns out I nearly missed the enormous and excellent museum nestled at the base of Mother Motherland herself!
As the name purports, the museum is primarily dedicated to the history of World War II and its impact on Ukraine, but the ground floor at the moment is dedicated to a not-so-temporary exhibit about the ongoing struggle in Eastern Ukraine (Donbass) between Ukraine and Russia.
As the war has largely dropped out of mainstream media, but is still felt quite acutely by Ukrainians, it was important to visit this museum and understand the ongoing impact of the war in the East.
Check out the Kyiv underground economy
By this, I don't mean buying drugs – I mean marveling at all the economy that is taking place underneath Kyiv's walkways.
As with many post-communist countries, there are several underpasses at busy intersections.
While as a person with a pedestrian-first mentality, who believes it's shitty urban planning to make pedestrians go up and down stairs in order to cross a simple street just not to inconvenience the traffic, I actually like what Kyiv has done to their underpasses.
People buy flowers, espressos, underwear, odds and ends – these mini-market stalls truly seem to be a part of people's everyday life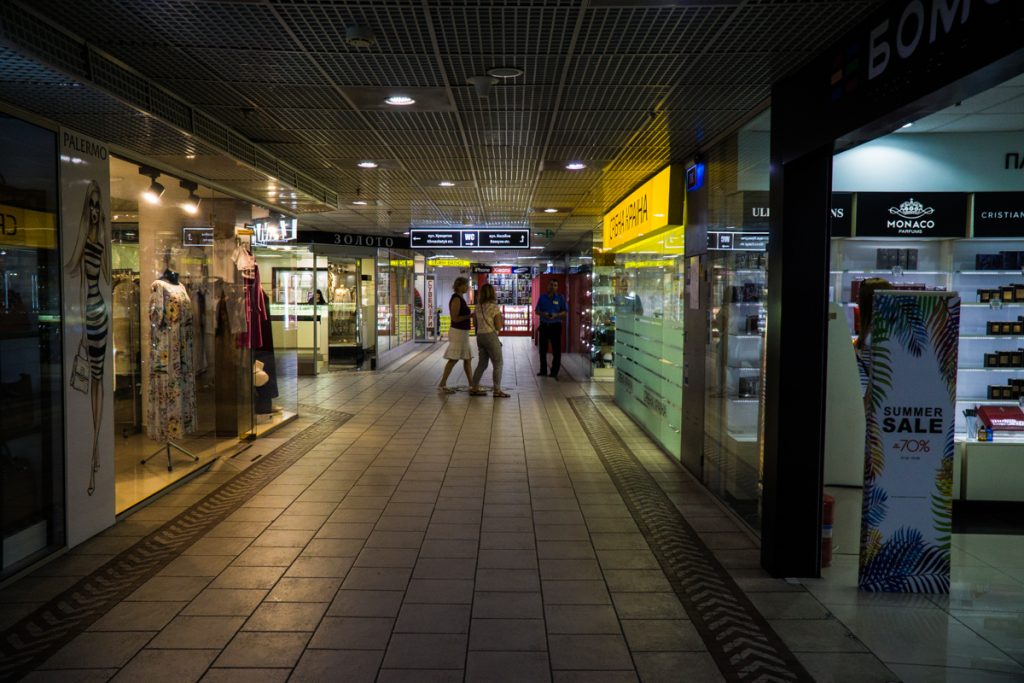 Take the metro to the deepest station in the world
I don't usually love riding the metro (I blame it on NYC-induced public transport PTSD). However, in Kyiv, I'm a whole different person.
The metro is an amazing and reliable way to get around, and at only 8 hryvnia for a single ride (after a recent price hike), it is extremely affordable.
Kyiv is built atop several hills, with plentiful sources of underground water. Great for building a city – not so great for building a subway.
As a result, the Kyiv metro is one of the deepest metro systems in the world, and Arsenalna Metro is the deepest metro station in the world, constructed a massive 105.5 meters underground (346 feet for my fellow metric-shunning Americans).
To get from the bottom of Arsenalna takes an ear-popping (yes, literally – for me, at least!) 5 minutes or so by the two escalators which bring you to the surface.
One other cool thing about Arsenalna is that the room between the two escalators forms a massive echo chamber. Make like a tourist and clap to hear the echo – it's quite amusing.
The Arsenalna metro stop is nearby the Pecharsk Lavra complex so it's not super out of the way to visit.
Visit the heart of Kyiv at Maidan Square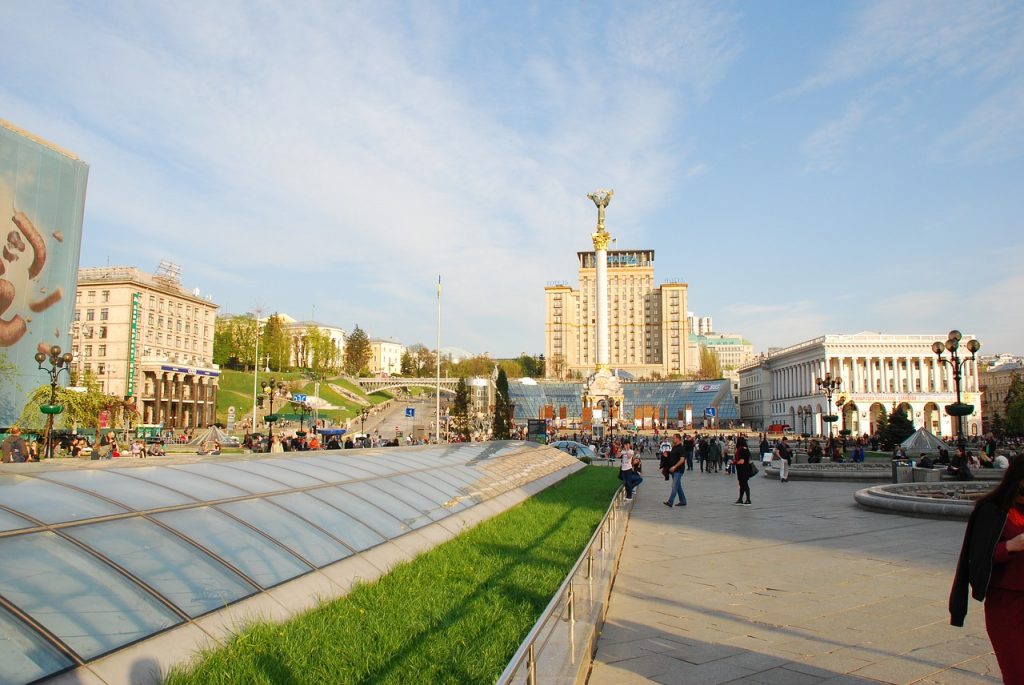 A lot of the recent history of Kyiv can be found in Maidan Square, a place you likely saw on the news during the Euromaidan Revolution.
Now, Maidan Square (Maidan Nezalezhnosti in Ukrainian – good luck pronouncing that!) is a peaceful place where friends meet up before going out or just sit and enjoy the weather on nice days.
Many of the free walking tours of Kyiv will start at Maidan Square, so if you do one of these tours it's quite likely you'll see Maidan Square and her tell-tale angel statue at some point during your stay.
Explore the craft beer & cocktail scene
I idiotically managed to get bit by a stray cat in Odessa and spent most of my time in Kyiv getting rabies shots (side bar: the American Medical Center in Kyiv is A+)…. and as a result, I wasn't able to drink in Kyiv the entire time I was there, so I have nowhere I can point you to personally.
However, I highly recommend checking out either Megan's guide to craft beer in Kyiv or Amy's excellent guide to craft cocktails in Kyiv.
If you prefer a more guided approach to learning about Ukraine's burgeoning craft beer scene, this craft beer tour comes highly recommended! Check prices, rates, and availability here.
Go on a self-guided street art tour
By now, it's common for European cities to have street art, but what I find so impressive about Kyiv's street art scene is the sheer scale of it.
Often, the street art pieces take up the entire 6+ story facade of a building, adding color and life to buildings that have seen better days.
There is so much street art in Kyiv that the city actually has its very own app for finding street art. Unfortunately, the app is only available for iPhones for now (click here for iOS if you have it).
However, Kathmandu & Beyond has also created an excellent web guide to street art in Kyiv with a map you can use offline, which you can find here.
If you prefer a guided tour, it is possible to book a guided street art tour online.
Eat amazing Ukrainian food
I think that Ukrainian food is probably my favorite of all the Eastern European cuisines. Here are a few of my can't-miss dishes: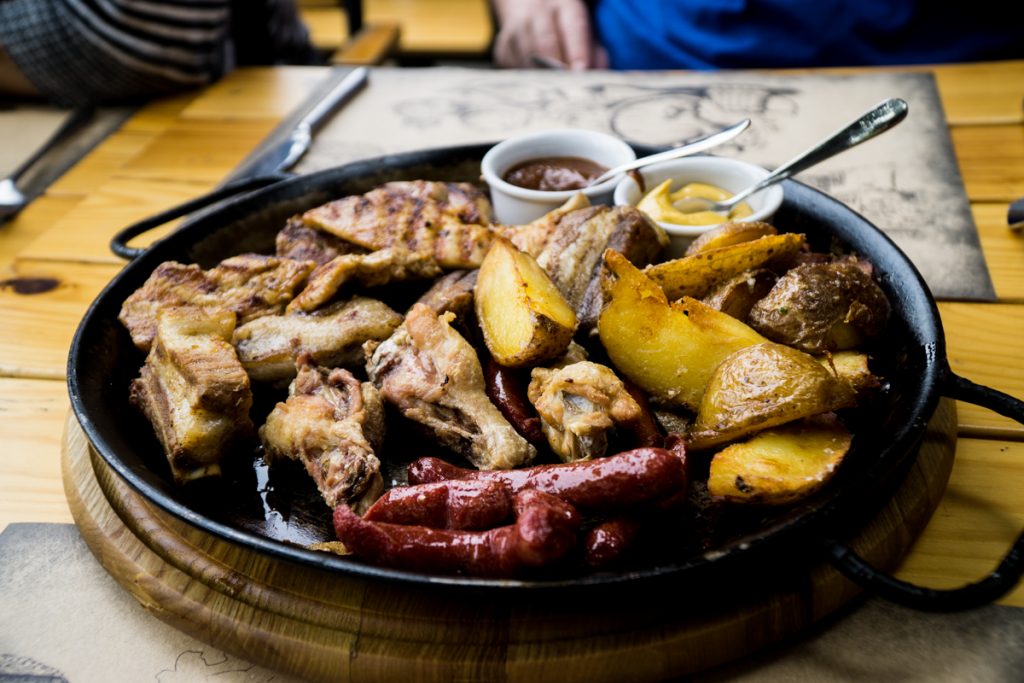 Borscht (duh): Both the red and green varieties are delicious, though of course red is more traditional.
Salo: Cured lard, essentially, but so delicious on Ukrainian bread!
Pickled herring: Also delicious on bread as an appetizer
Varenyky: Similar to Russian pelmeni or Polish pierogi, these Ukraninian dumplings are best enjoyed stuffed with cabbage, potato, or meat. Or some combination of the above! There are also sweet varieties.
Deruny: Potato pancakes served with sour cream, sometimes stuffed with other goodies like mushrooms
Mixed grill: Ukrainian BBQ is not for the faint of heart, but unless you're a vegetarian, you've got to at least try to mixed BBQ plate before leaving Ukraine. Your heart will not thank you, but your stomach will.
I ate traditional Ukranian food at a few different restaurants during my stay, but my favorites were Varenichnaya Katyusha nearby Bessarabsky Rynok and Kupidon near Khreshchatyk Avenue.
Interested in learning how to cook like a Ukrainian? Consider taking a half-day cooking class.
Or try some delicious international food
Long gone are the days where all you could find in Kyiv is Ukrainian food.
While Georgian food is huge in Kyiv, it's actually not one of my preferred cuisines so I took a risk and tried some of Kyiv's Asian offerings and I was blown away by the quality of food I tried.
I had excellent Vietnamese food at Chang including top-notch fresh summer rolls and excellent beef pho, polished off with a Vietnamese coffee with condensed milk – perfection the likes of which I'd expect from any Vietnamese restaurant in California or NYC (nothing can touch Vietnam, I know).
I also had quite good and very affordable ramen at Menya Musashi, which is a mini-chain of Japanese restaurants in Kyiv. I had mouth-wateringly delicious (and eye-wateringly expensive) Thai curry at San Tori and outrageously delicious Korean food at Pyan-Se Bar.
I had such good success with international food in Kyiv that I almost braved a Mexican food restaurant… before backing out because I remembered that Mexican food in Europe is never a good idea.
Stroll along the river Dnieper
One of my favorite things about Kyiv is that it is a city on a river – and a big, impressive river no less.
I recommend taking a walk from Podil past the St. Nicolas Wondermaker on the Water Church, stopping at Poshtova Ploshcha.
It's got beautiful views and you end in a cute square with a carousel and plenty of people out and enjoying the square.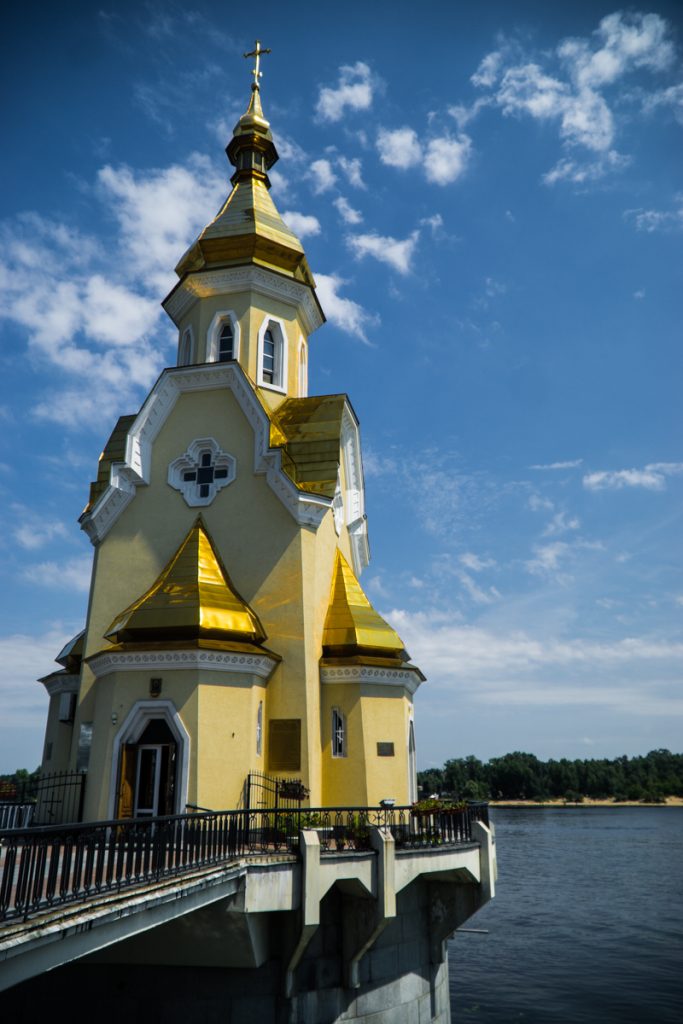 Many people don't know that Kyiv has beaches, but it's true!
It was pissing down rain nearly my entire stay in Kyiv, but I've been told Hidropark is the place to be in the summer when it's sunny.
You won't find many locals actually in the water — it looks quite polluted, to be honest — but it has a proper sandy beach and would make a fine place for reading a book and having a picnic on a summery day.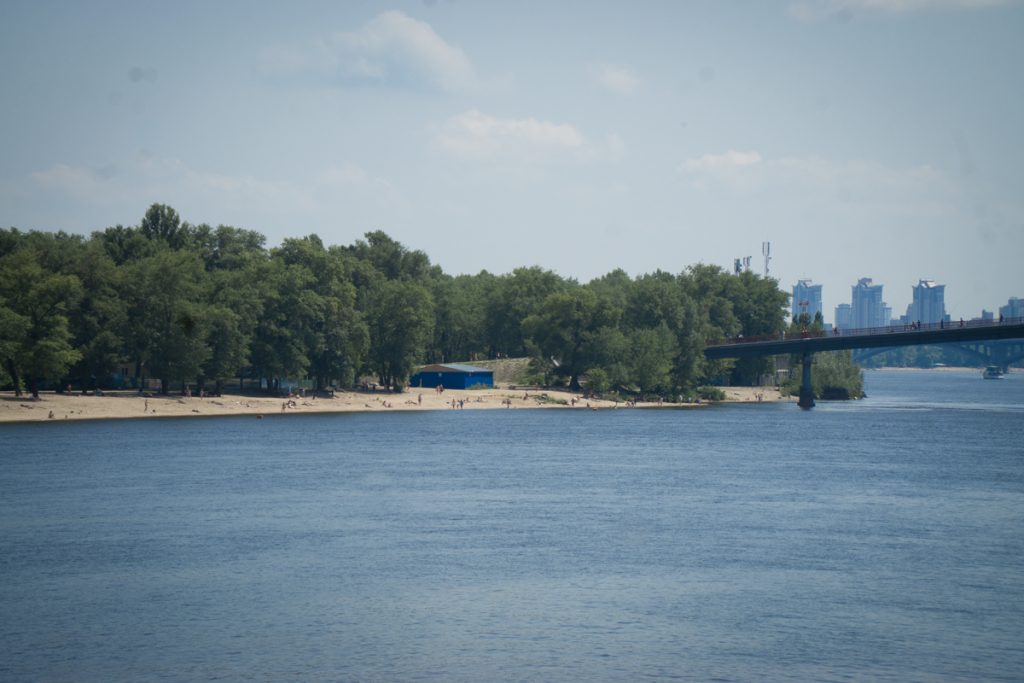 Admire St. Andrew's Church, the jewel of Kyiv
If there is one building more beautiful than all the others in Kyiv, it's St. Andrew's.
Perched high atop a hill (as it should be), the church is easily visible from many parts of the Kyiv skyline.
I love it for quite a silly reason – it's the exact shade of my favorite Crayola crayon when I was a kid (robin's egg blue, naturally).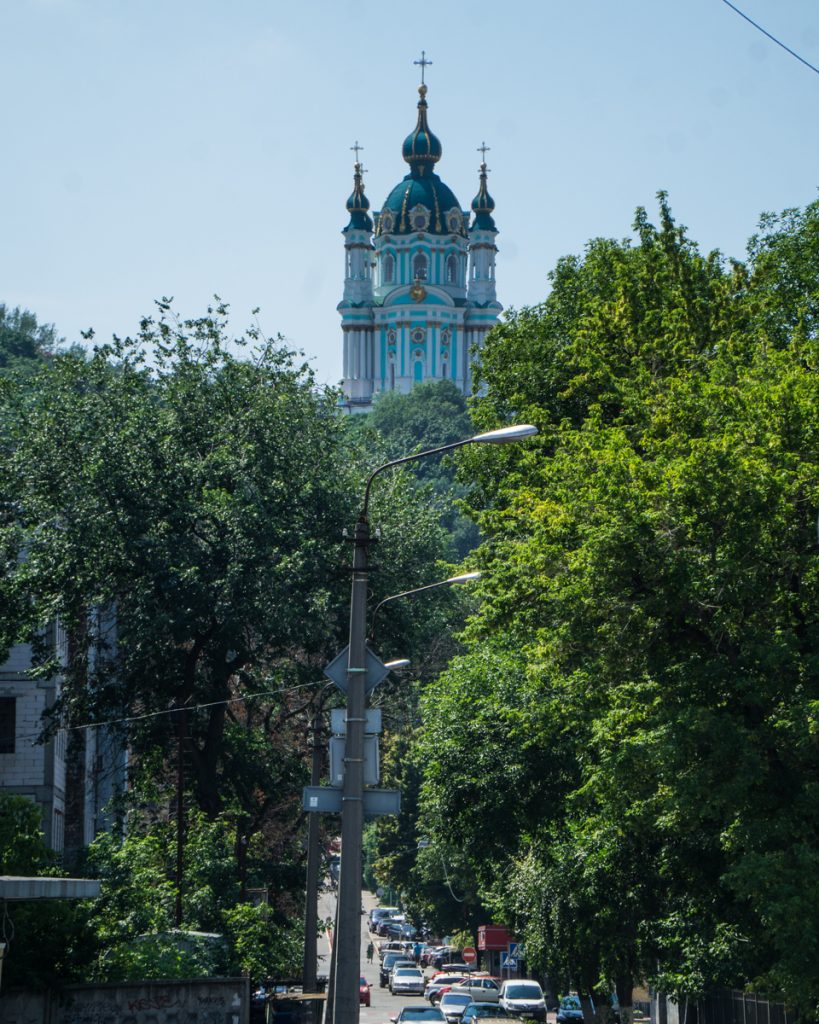 But it's lovable for more reasons than just that, obviously. It's one of the most exemplary pieces of Baroque architecture in Kyiv.
As gorgeous as the exterior is, the inside is just as lovely, with a red wall of saints and icons displayed prominently in the center.
Whereas many Orthodox churches are a bit round and plain for my taste, I love the gaudiness and ostentation of St. Andrew's Church, which looks almost a bit like a crown on the top of Kyiv's Andriyivska hill.
Explore the other blue church
Not far from St. Andrew's Church, my favorite in Kyiv, there is another blue church that makes pretty much every list of things to do in Kyiv — the St. Michael's Gold-Domed Monastery.
A functioning monastery, this blue-toned church was actually demolished by Soviets in the 1930s, but was restored in 1999, 8 years after Ukraine's independence.
Similar to St. Andrew's, St. Michael's exterior is done in a Baroque style, but what I find even more interesting is the reconstructed yet traditional Byzantine interior including gold-plated mosaics of beloved Orthodox icons.
Because of the walls surrounding the monastery, it is actually quite difficult to photograph St. Michael's without a proper wide angle lens on a full-frame camera… but a great hack is heading to the St. Sophia bell tower, w here you can get amazing photos of not only St. Michael's but lovely St. Andrew's as well.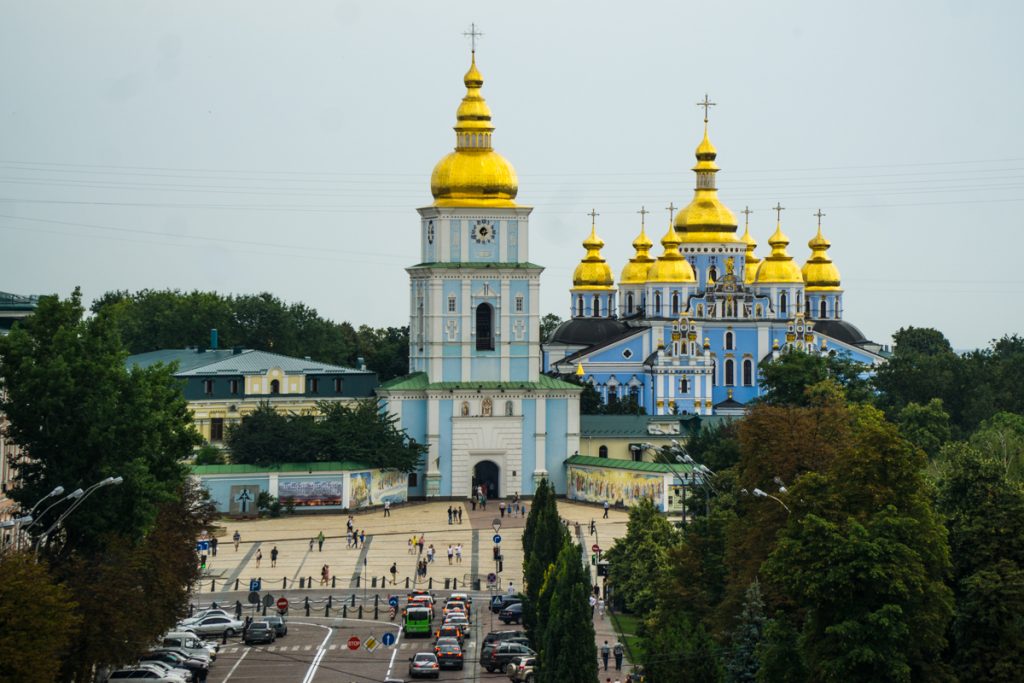 Check out the quirky One Street Museum
Located on Andriyivskyy Descent, which is colloquially referred to as "Kyiv's Montmartre" for all the galleries and artists on this street, it's easy to bypass One Street Museum.
But I recommend not giving it a pass if you're a fan of vintage oddities!
This odd museum – more of a collection, really – is home to lots of interesting antiques, including odd vintage postcards and pages from books from the Pechersk Lavra back in the 17th century.
It's also home to a strange collection of death masks, apparently, but when I visited in July 2018 these were no longer on display (perhaps on loan to another museum?)
Like most museums in Kyiv, it is small, easily manageable to see in under 30 minutes, and affordable (about the equivalent of $1 USD). So if you're nearby, I recommend giving it a peek.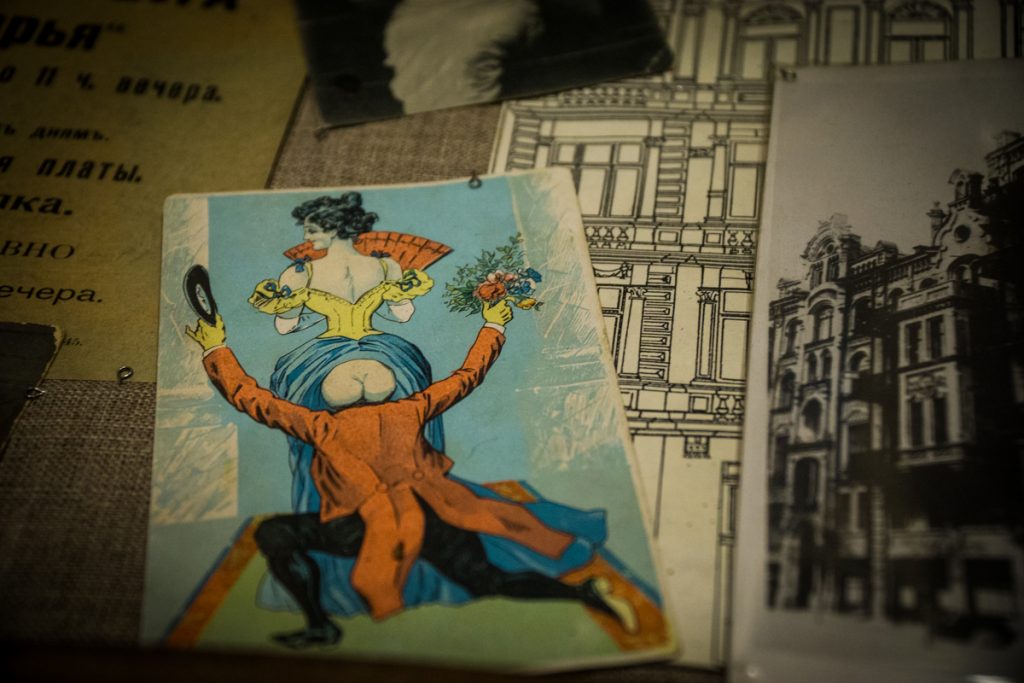 Peruse the open air markets of Andriyivskyy Descent
If you're already on this famous street to see the One Street Museum or St. Andrew's Church, you should definitely stop to check out the open air vintage markets along Andriyivskyy Descent.
You'll find all sorts of wares, from used books to vintage tableware and glassware, small pins from the Soviet era, and more.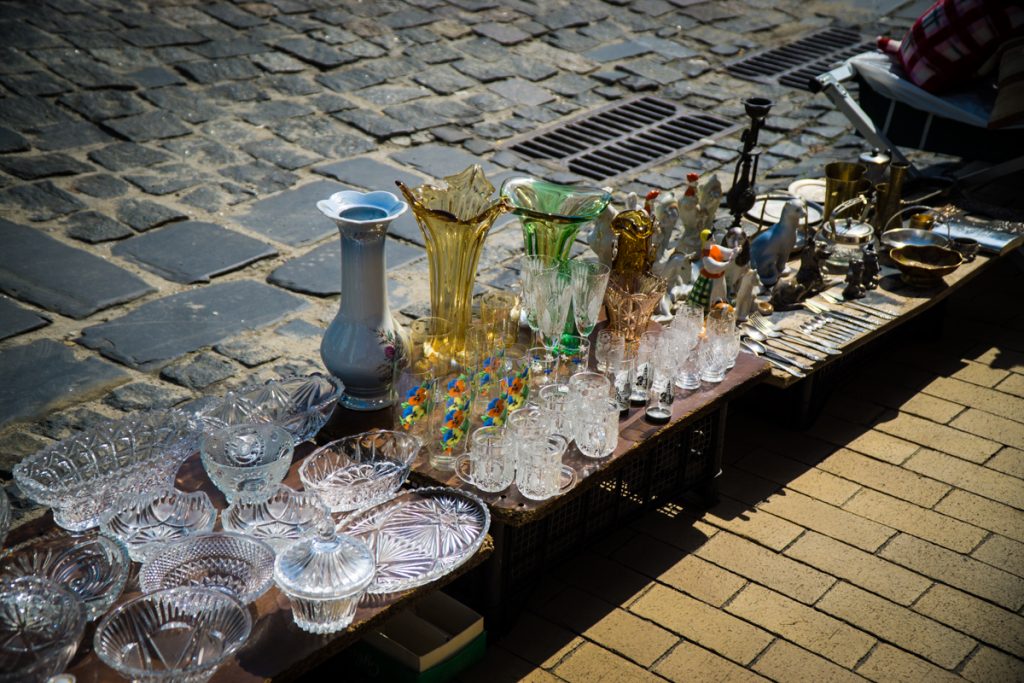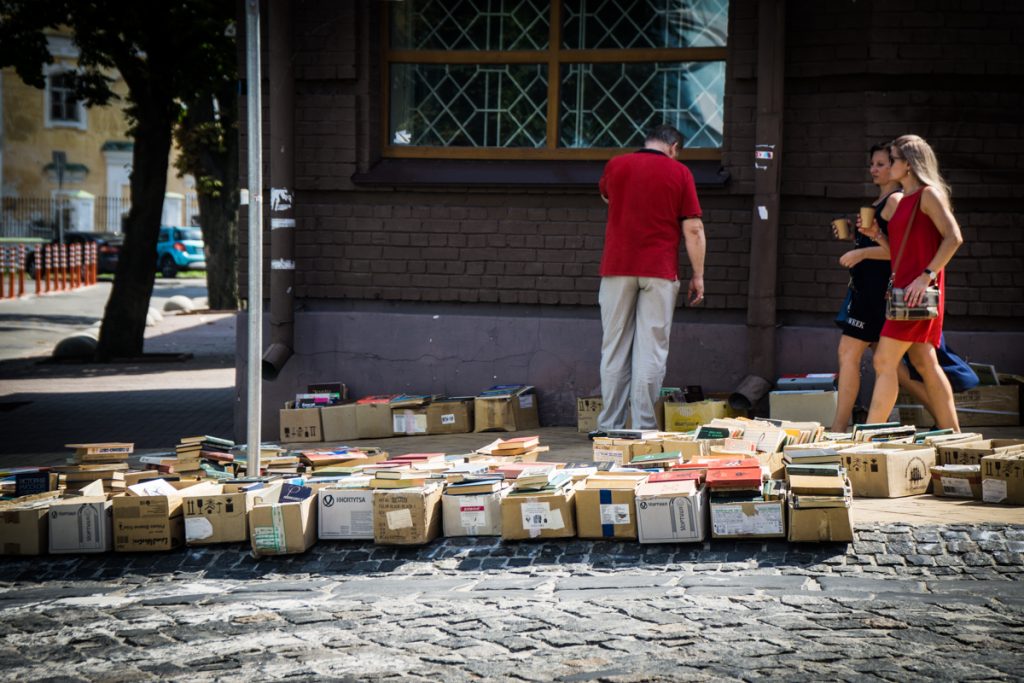 Ride the funicular or walk up Volodymyrska Hill
The funicular was closed for construction when I was visiting Kyiv in July 2018 (I'm not sure if it's finished yet), but the best views of the city are up here.
I wasn't about to climb the steps up to Volodymyrska Hill in 90 F/ 32 C temperatures, to be honest, but those who visit when the funicular is open or are less exercise-averse than I am will surely enjoy this beautiful view.
Here's a photo taken by someone less lazy than me: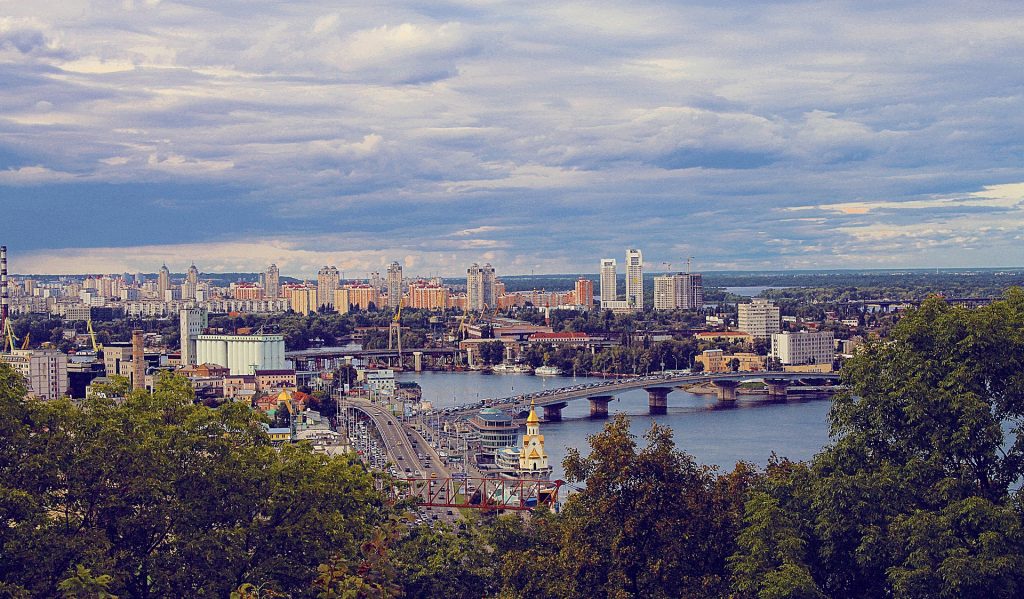 Marvel at beautiful frescos at St. Sophia
St. Sophia, alongside the Pechersk Lavra complex, makes up a joint UNESCO World Heritage Site in Kyiv, and with good reason. St. Sophia the church is lovely itself, but the real beauty is inside.
The frescoes inside are truly incredible, though it should be noted that you are not allowed to take photos inside due to the risk of damaging them.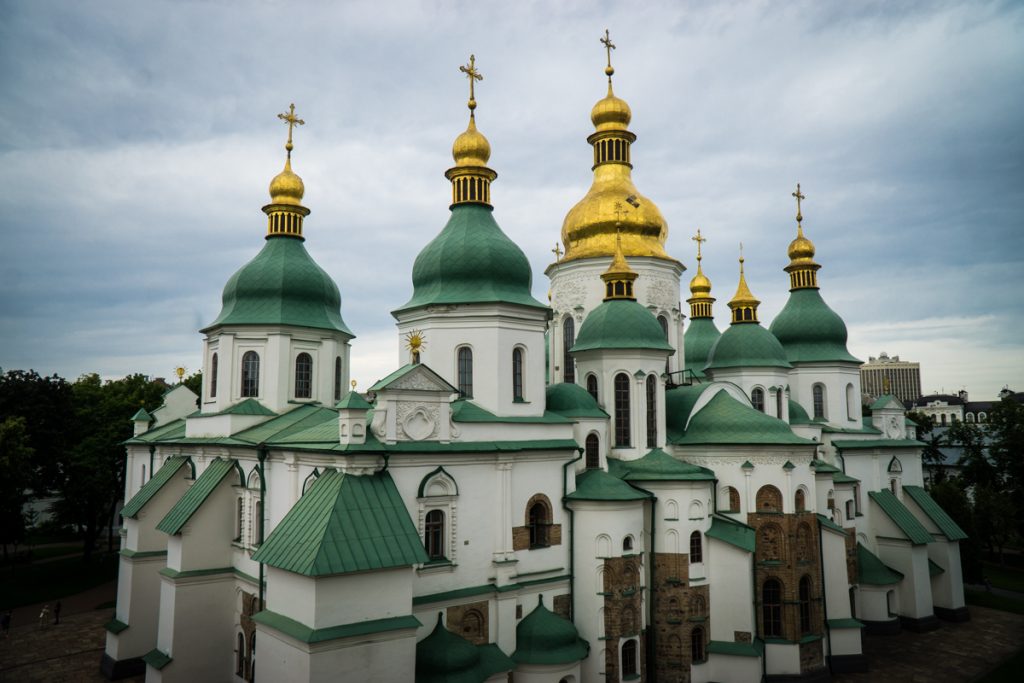 When purchasing your ticket, I recommend that just purchase a ticket to the grounds plus entry to the cathedral, and maybe add on the bell tower if you want to climb up for a great view over Kyiv. I bought the ticket that included everything, and I found a lot of the "extras" to not be worth the price.
The Bell Tower views were worth the extra 60 or so hryvnia, in my opinion: just look at those views!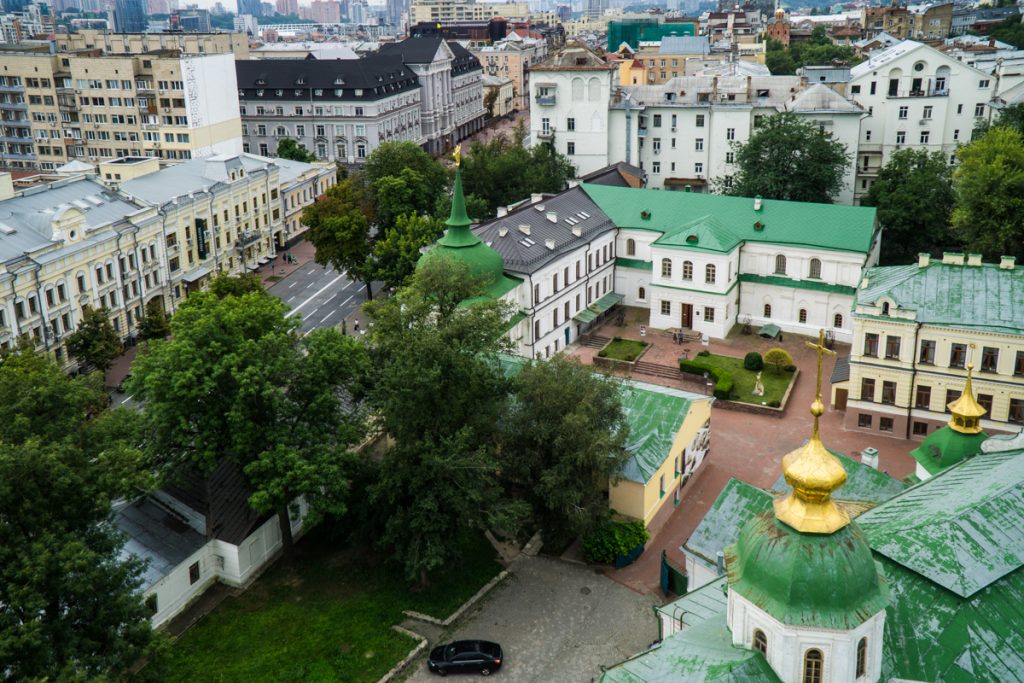 Catch an opera (if you're there in the right season)
I think I'm a bit cursed and I always go to cities with a vibrant opera culture during their summer seasons an never end up getting to see performances.
Which is a shame, because I actually really love opera and ballet…. especially in Eastern Europe, where seeing shows are insanely affordable.
As in, in Kyiv, the cheapest tickets to the opera cost about $2 USD.
Even if you go outside the opera season like I did (I visited in July), you should still stop and admire the amazing architecture of the opera house.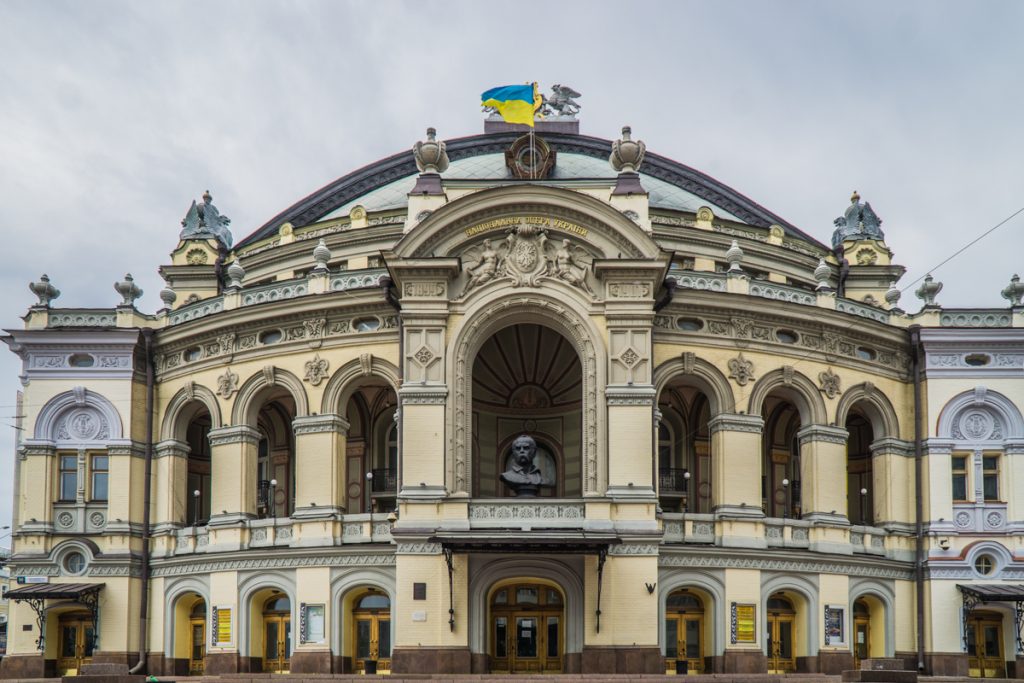 See Kyiv's version of the Golden Gate
Kyiv's "Golden Gate" is nothing like San Francisco's, so forgive me if I'm a bit biased (and unimpressed).
However, it is nearby several important sites (and my favorite Vietnamese restaurant) so I ended up passing by the Golden Gate twice during my time in Kyiv.
I think it's worth stopping by if you are in the neighborhood, but not necessarily going out of your way to see.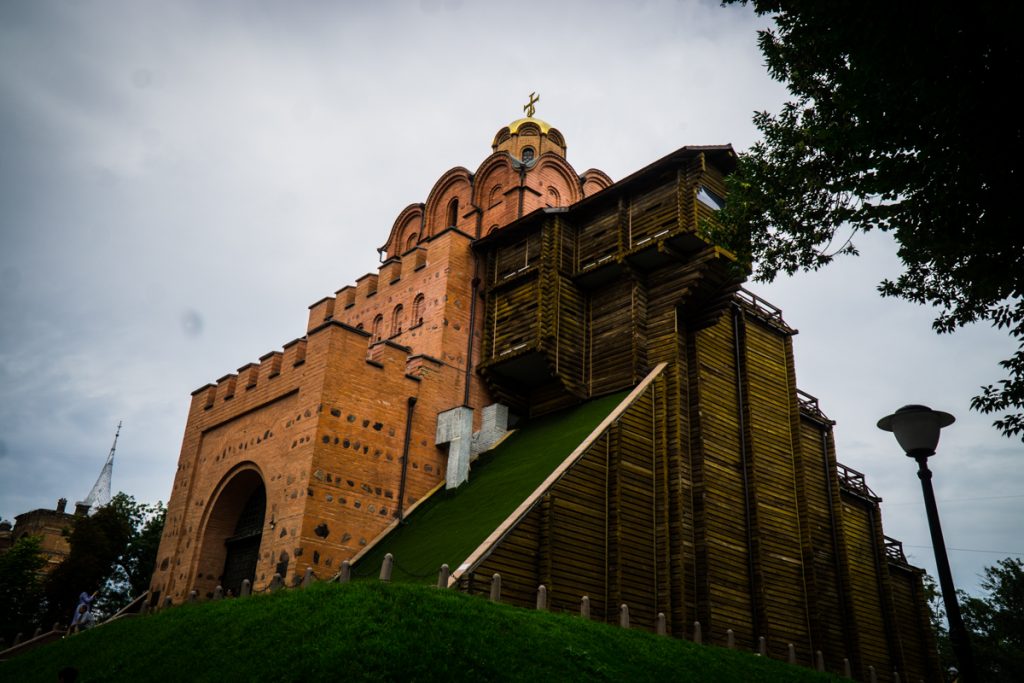 As with many of Kyiv's historical points, its original integrity has been damaged during the Soviet era.
The gate was completely rebuilt by Soviets in 1982 – supposedly to celebrate Kyiv's 1500 years of existence. There are no exact images of the previous gate to reference for authenticity.
Still, it's an important point of reference in Kyiv throughout history.
It was essentially used as a victory arch, modeled after the victory arch of former Constantinople, an arch the likes of which you see in Paris, Barcelona, and other cities around the world for centuries.
Now it's an oddly thrown-together tourist oddity.
It's not one of my top things to do in Kyiv, but it's worth a quick stop by if you are in the area (and you likely will be).
Stroll around hipster Podil
I based myself in Podil for my two weeks in Kyiv and it was a great decision, as it quickly became one of my favorite neighborhoods in Kyiv.
There is just so much going on here – there are countless bars and restaurants and cafés all around the neighborhood. It truly has a bohemian, revivalist feel that really resonated with me.
I don't want to give too much directions here as I think part of the joy of discovering Podil is wandering around without any specific purpose, with camera in tow. Here are just a few shots of my favorite parts of Podil. However, if you prefer a more structured exploration of the neighborhood, you can sign up for a guided walking tour of Podil.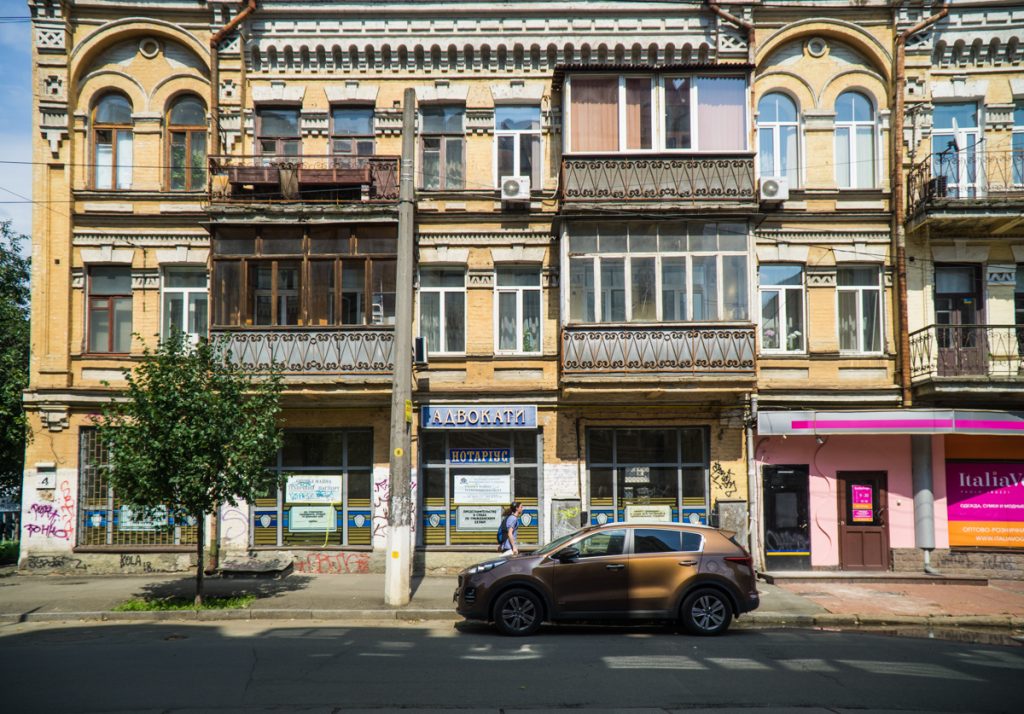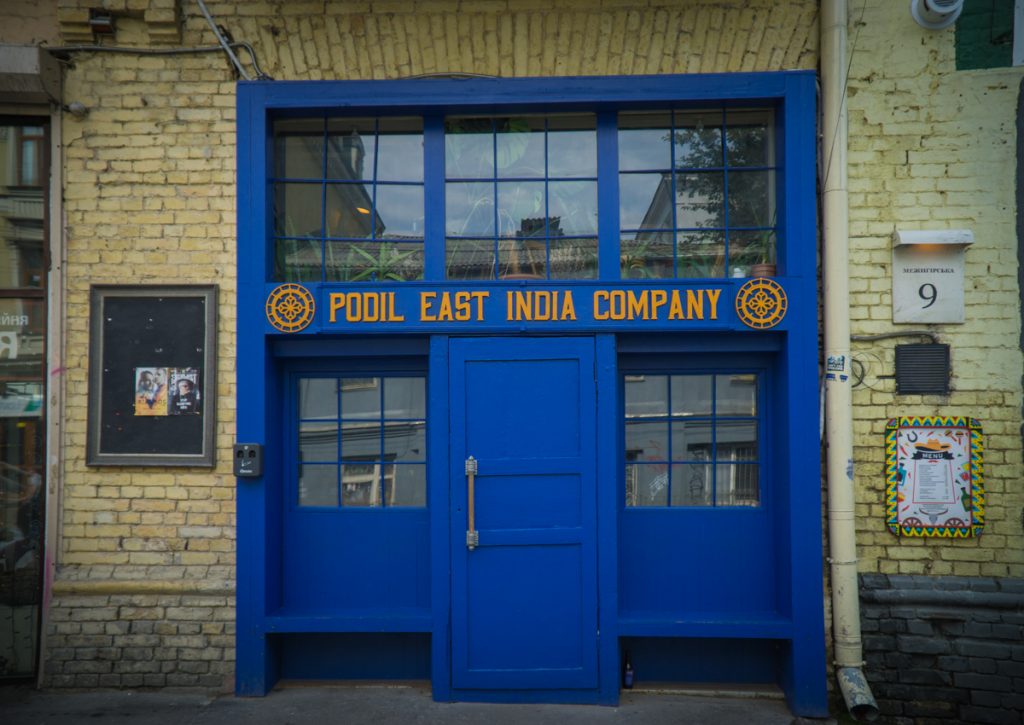 Check out the odd, interactive Chernobyl Museum
I personally decided not to go to Chernobyl during my time in Kyiv but I couldn't miss the Chernobyl Museum…
Especially considering it was two blocks away from where I was staying in Podil.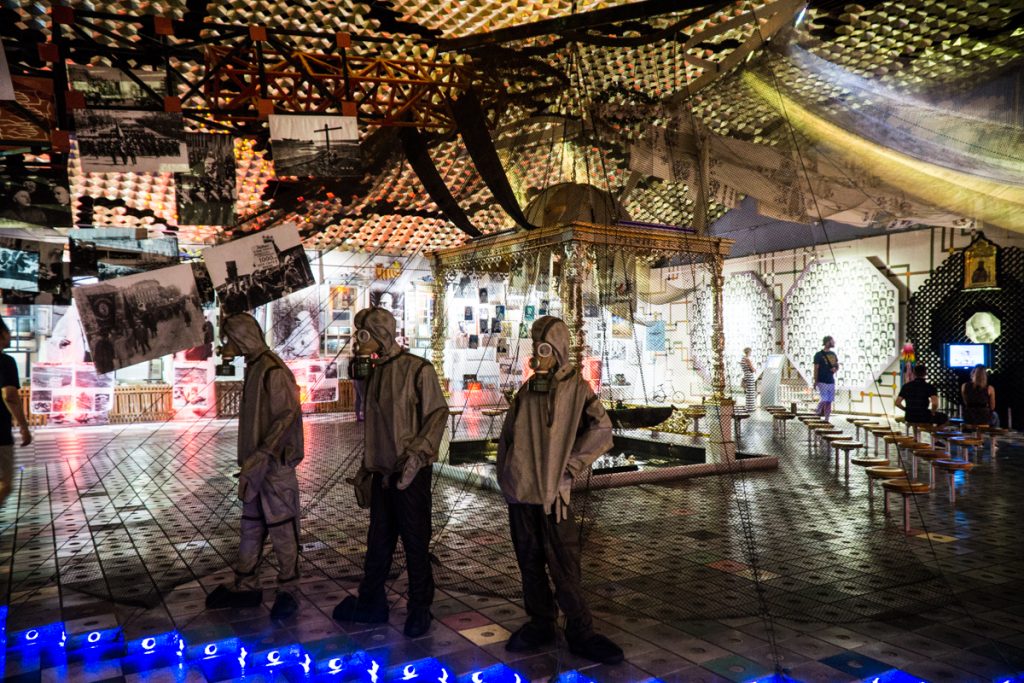 I didn't get the audio guide because I didn't have enough cash on me to cover the rental fee plus deposit (some 150 hyrvnia or so, more or less) and that was a big mistake.
The museum had very little information in English so all I could do was wander around the exhibits and look at the different artifacts. It was interesting for sure, but it would have meant a lot more to me with context, I'm sure.
However, what I found especially interesting about the Chernobyl Museum was all the art installations. It is a bit surreal to see the way that Ukrainian artists have chosen to represent the disaster. To characterize it, I'd say that it's a little gaudy, totally quirky, but ultimately a very symbolic and introspective endeavor.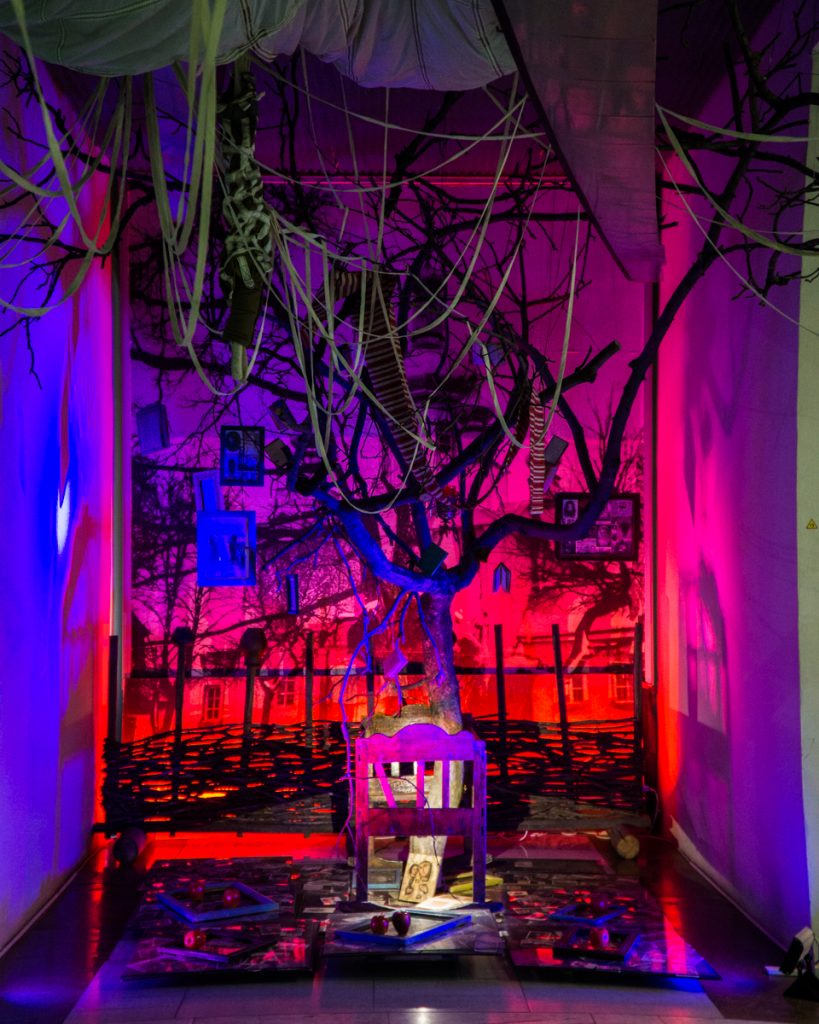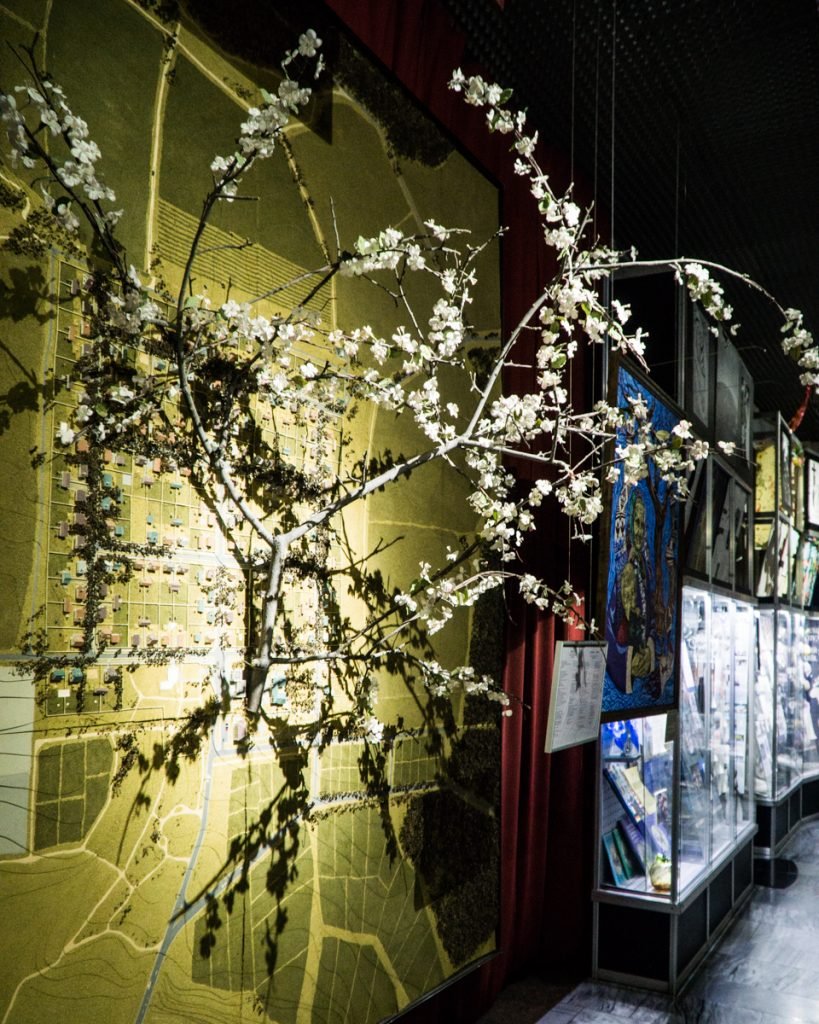 Or actually visit Chernobyl itself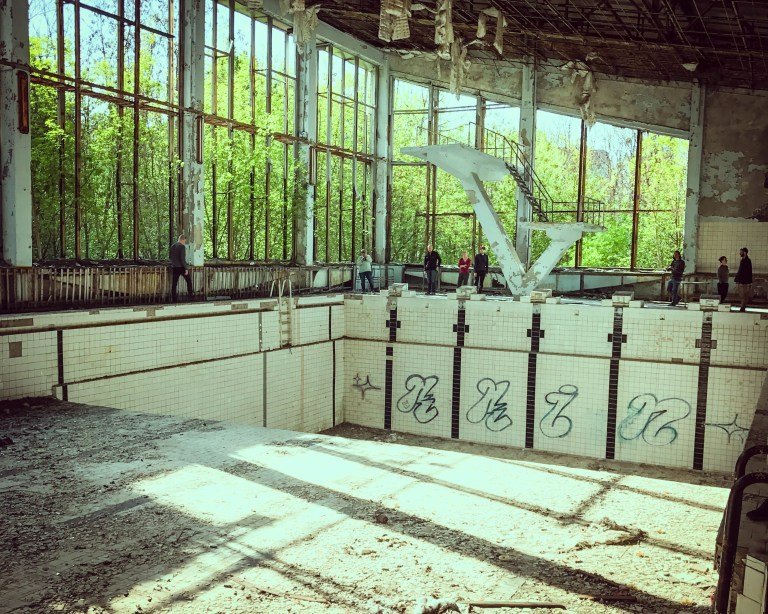 I personally opted not to visit Chernobyl, preferring to get to know Kyiv as a city during my stay.
While I'm sure I'll go in the future, I opted to spend my time getting to know the living, breathing Kyiv without the aura of Chernobyl's destruction clouding my perception of it.
However, if you think that this is the one and only time you'll visit Ukraine, I think you should try to go to Chernobyl if it interests you. I personally know I'll be back to Kyiv time and again, so not going wasn't a big miss for me.
Check out the Ukrainian-flag-colored St Volodymyr's Cathedral
It's surprising that many tourists skip St. Volodymyr's Cathedral as this is actually one of the more important cathedrals in Kyiv – it's the mother cathedral of the Ukrainian Orthodox Church, in fact.
The church narrowly avoided damage during the Soviet era, and in fact it was one of the very few places in the USSR where tourists were permitted to visit a working Orthodox church.
I've heard there are beautiful mosaics on the inside, commissioned by top Venetian artists, but there was a wedding taking place when I arrived at the cathedral so I wasn't able to take a peek inside.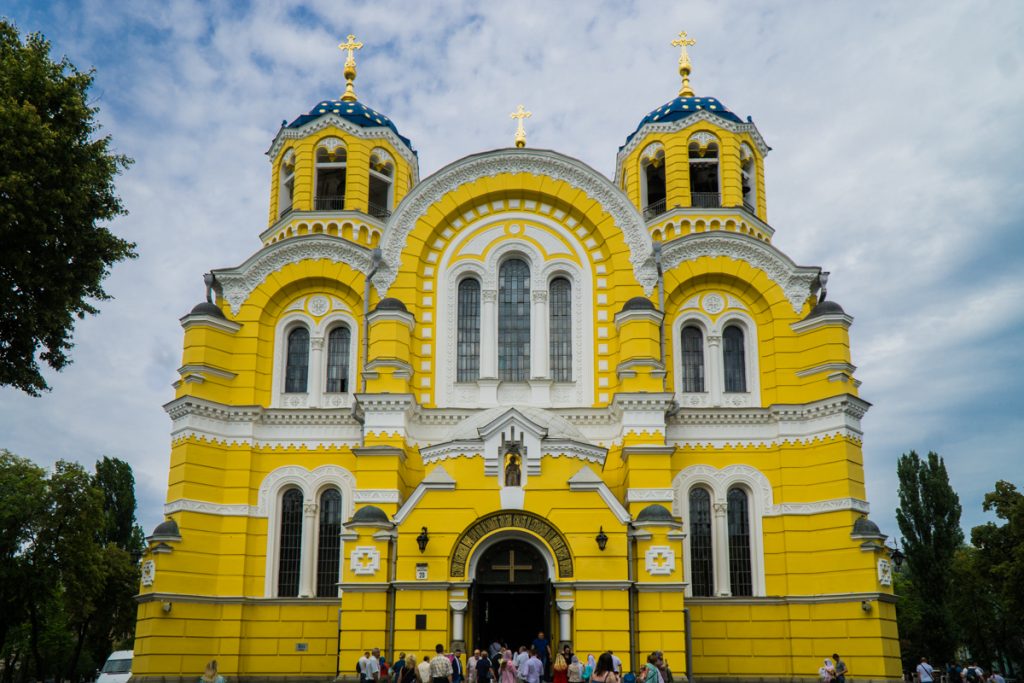 Cruise down the Dnipro River
The river Dnieper (also written Dnipro) passes through Kyiv, bisecting it into its central, touristy side where most travelers stay and its more industrial-looking side on the other half of the river.
One of the best ways to see the immensity of Kyiv is by taking a river sightseeing cruise down the Dnipro river.
Check out tours and availability here.
Explore the so-called 'Museum of Corruption'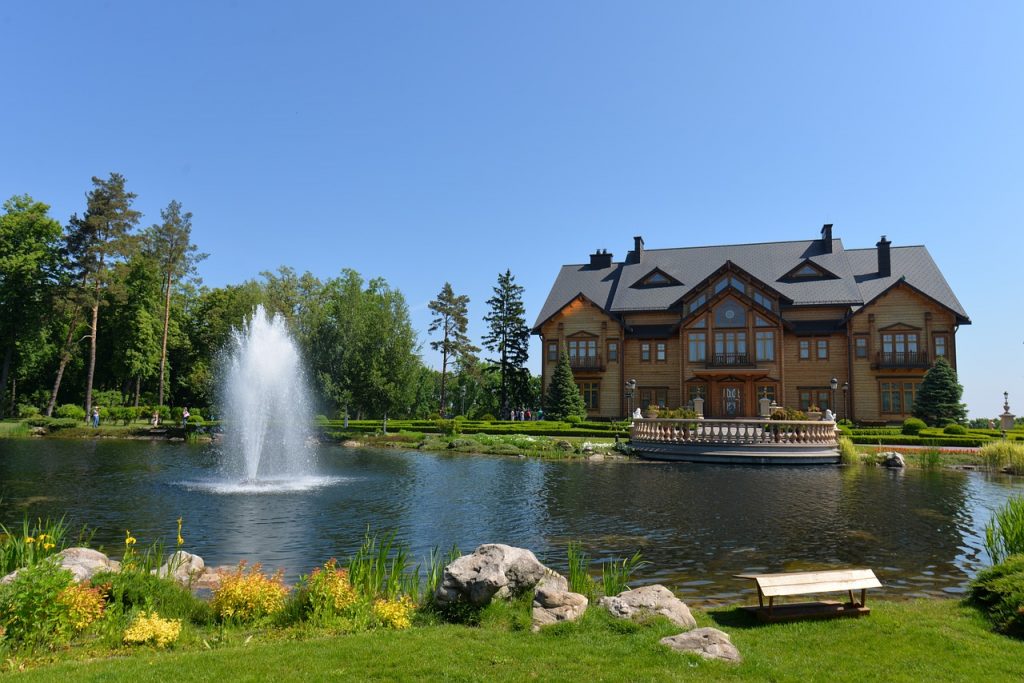 The Euromaidan Revolution of 2014 ended with the ouster of pro-Russian, ultra-corrupt Viktor Yanukovych, who fled to Russia amidst bloody protests. He left behind the Mezhyhirya Residence, which has become representative of his profligate spending.
Now, it's a common place to visit for people who are curious to learn more about Yanukovych and his corruption to visit. You need to visit with a tour guide, however, although if you simply want to visit the grounds without entering the house that is possible without a guide.
Check private tours of Mezhyhirya here or you can join a group tour of the residence here.
Where to Stay in Kyiv
Kyiv has a great range of accommodation options, from super budget-friendly to luxury. Better yet, the prices are quite affordable for tourists from the US or Western Europe due to a favorable exchange rate with the hryvnia.
I personally stayed in an Airbnb in Podil for my two weeks. I don't really recommend the Airbnb I stayed in as I had constant struggles with the hot water and electricity, and even though the host tried his best to fix the issues, it was still a huge pain in the ass over a two-week stay. However, I've listed a few recommendations from budget, mid-range, and luxury price brackets for those who prefer a hostel or hotel.
Budget: I very nearly stayed in Sky Hostel before realizing that me in a dorm for two weeks was a recipe for murder. I loved the airy décor of this place (so many hostels feel cramped and dingy, with zero attention paid to aesthetics). The prime Podil location can't be beat, either! Prices are very reasonable for Ukraine – not the cheapest, but definitely a very good deal. Check prices, reviews, and availability here.
Mid-range: Kyiv has plenty of affordable boutique hotels that offer a comfortable, trendy stay at a decent price. The Live Here Hotel (let's pause to quickly LOL at the name) has a great look and excellent reviews. The bedroom decor is super modern and spacious, with great leather detailing, comfortable beds, amenities like a desk you can easily work from, etc. Plus you can't beat the location! Check prices, reviews, and availability here.
For something truly different, you can stay in Hotel Salut, the Soviet-era hotel pictured above! A friend who organizes tours in Ukraine actually uses this hotel for his guests every time they visit, because while the exterior is a bit cold and Soviet-esque, the rooms are comfortable, the staff is friendly, and it's easy walking distance to the Lavra and several other monuments. Plus, who doesn't want to be able to say they stayed in a true Soviet hotel? Check prices, reviews, and availability here.
Luxury: Kyiv is a modern city that caters a lot to business clientele and as a result, you will see tons of luxury, business-oriented hotels in the city. For something luxurious but less stuffy, I recommend the funky MaNNa Boutique Hotel located in my favorite neighborhood, Podil. The rooms are huge and beautifully quirky, with fun and interesting décor in each room – whether it's an artful tumble of books, a pop art poster of a pug, or a more traditionally artsy room. Each room is very different so be sure to look through the photos of each room to ensure you're getting the style you like! Check prices, rooms, and availability here.
I personally love this kind of quirky-chic aesthetic, but if you prefer something more traditionally luxe, I would definitely recommend the Hyatt Regency, which will surely not disappoint. Ultra-luxurious with epic views over Kyiv, a gorgeous rooftop bar with views over St. Michael's, spacious clean white rooms, enormous bathrooms I'd happily consider an apartment in NYC — it's the most luxurious place in town. Check prices, reviews, and availability here – sometimes the prices are surprisingly affordable!
Like this post? Pin it to save for later!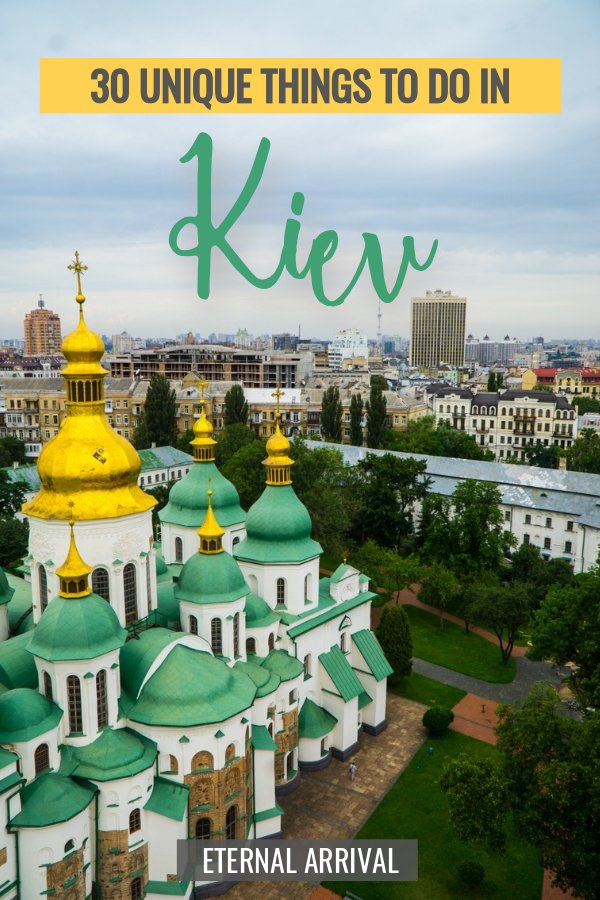 Allison Green is a former educator turned travel blogger. She holds a Masters in Teaching and a B.A. in English and Creative Writing. Her blog posts merge her educational background and her experience traveling to 60+ countries to encourage thoughtful travel experiences that both educate and entertain. She has been a speaker at the World Travel Writers Conference and her writing, photography, and podcasting work has appeared in National Geographic, CNN Arabic, CBC Canada, and Forbes, amongst others. Now based in the San Francisco Bay Area where she grew up, she has also lived in Prague, Sofia, and New York City.