Let's take a break from our regularly scheduled program to hear from a travel blogger friend of mine in my new guest post series, "Offbeat Travel" – highlighting lesser known destinations that I've yet to visit. Here's Nicole of Travelgal Nicole, a whirlwind of a world traveler who has visited over 90 countries to date, including some of the least visited – or even heard of – countries like Micronesia. Yes, that's actually a country, and not just a joke from Zoolander! She's even been to Nauru, which sees only 200 visitors per year! So, without further ado, here's Nicole telling you all about Livingstone, Zambia – things to do, what to see, and more!
***
Livingstone is located in the southwestern part of Zambia and is the tourist capital of Victoria Falls. Livingstone is a historic British colonial city and is named after David Livingstone, who first explored the area. It's a great place to base yourself while taking day trips to do other things from there. Here are some of the best things to do in Livingstone, Zambia and the surrounding areas:
1. Visit the Victoria Falls, or Mosi oa Tunya ("The Smoke that Thunders")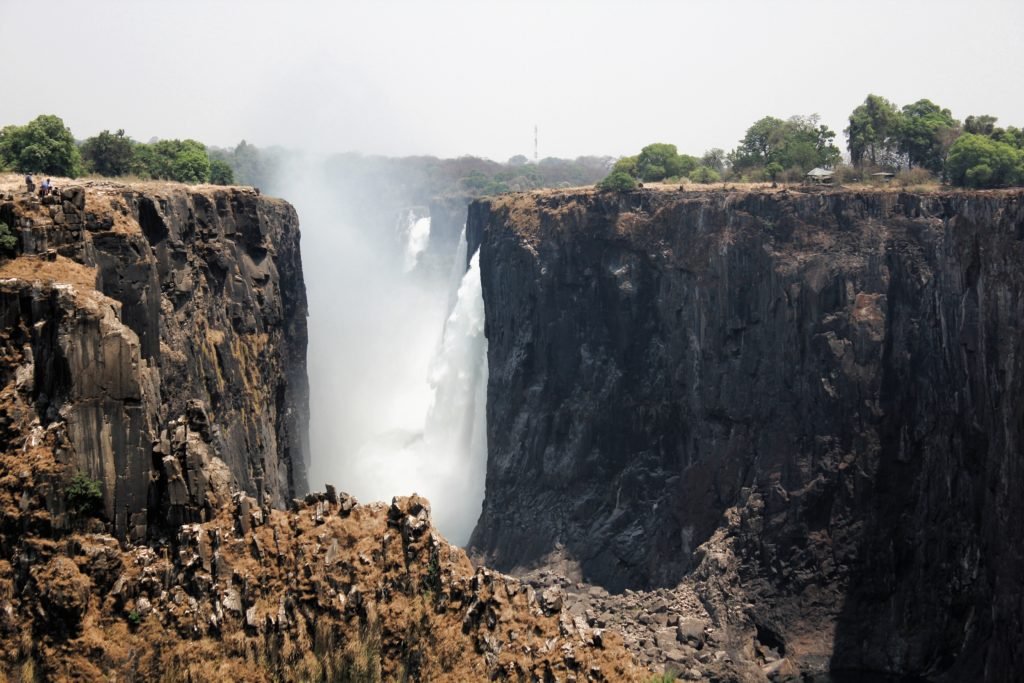 Note: This post contains affiliate links, which means I may receive a small commission if you purchase something through one of these links. Thank you for supporting the free content on this site! For more information on affiliate links and cookies, see my disclosure page for more details.
Victoria Falls is a UNESCO World Heritage site in Zambia. While it is not the tallest waterfall at 108 meters or the widest at 1708 meters, it is classified as the largest waterfall in the world for the combination of both. You can actually hear the waterfall in the surrounding area, which is why the locals have named it Mosi oa Tunya, "the smoke that thunders." At times there is so much spray from the waterfall that you can't actually see the water itself, but only the "smoke" surrounding it. The "smoke" from the waterfall can be seen up to 30 miles away! This is definitely number one of all the things to do in Livingstone.
2. Visit Victoria Falls from Zimbabwe (90% of the falls are on the Zimbabwean side)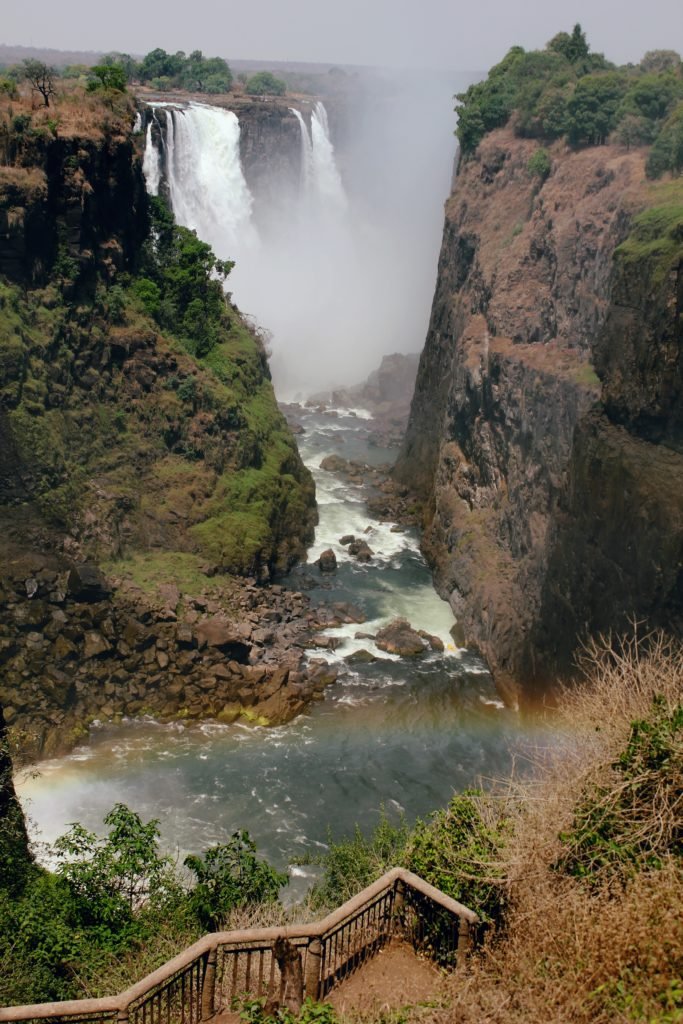 Which side to see the falls from? I say both! We walked about half an hour from the Zambia side to the Zimbabwe side of the falls (you can also take a bike ride tour). 90% of Victoria Falls is located on the Zimbabwean side. They have turned the area into a park with walkways and cafes. We started at the beginning of the trail, where we saw a rainbow over the falls. As I was there in the dry season, the Zimbabwean side was much more impressive.
3. Take a helicopter ride over the falls
I took a 30-minute flight over the falls in a helicopter. This was my first time in a helicopter, and I was sitting shotgun with the pilot. It's a totally different experience being in a helicopter! In a plane, you move side to side, whereas in a helicopter, you move nose to tail. It gets a bit windy up there. The flight itself is stunning: we flew over the falls and through the "smoke." The visibility was really good on the day we went and we were able to see elephants and giraffes from the helicopter as well. You can also go on a micro flight over the falls – another one of the great things to do in Livingstone, Zambia!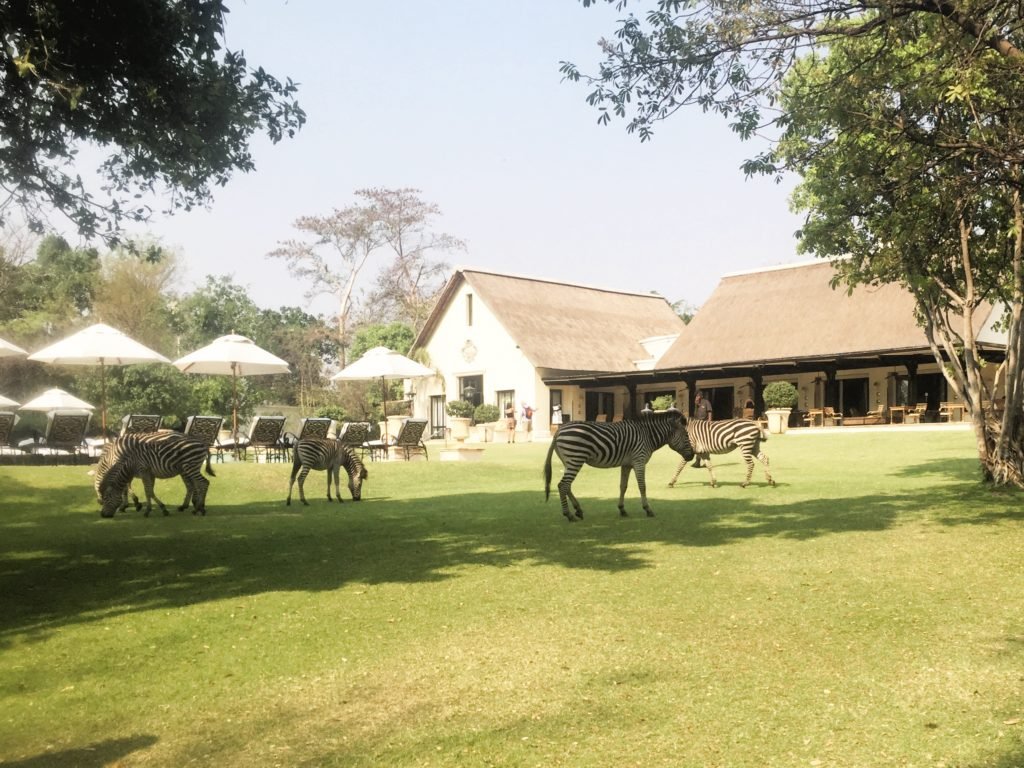 Sometimes you just need to treat yourself. I think high tea at a five-star resort is up there with treating yourself to a little bit of luxury! This hotel has everything you need after an adventurous day out enjoying all the things to do in Livingstone. We chilled on the deck overlooking the Zambezi, having a glass of wine and watching the hippos. Then we had some visitors to the gardens – zebras! I wasn't expecting them to show up as guests to our lunch date, but we were cool with that. Between the wildlife, the views, the cakes and teas, this hotel is definitely worth checking out. We even saw giraffes on the way in.
5. Go swimming in the Devil's Pool
Yes, you really can go into the waterfalls! In the dry season, the Zambezi River level drops quite a lot, and it is possible to walk in the river to the Devil's Pool where you can look over the side and swim in the pool — with a guide of course. It is only available from the Zambian side. There is nothing quite like looking over the falls to an almost 1 kilometer drop below as the water is rolling over the side! The Devil's Pool is a real adrenaline rush for anyone who has done it, and probably the scariest of all things to do in Zambia.
6. Take a Sunset Cruise down the Zambezi River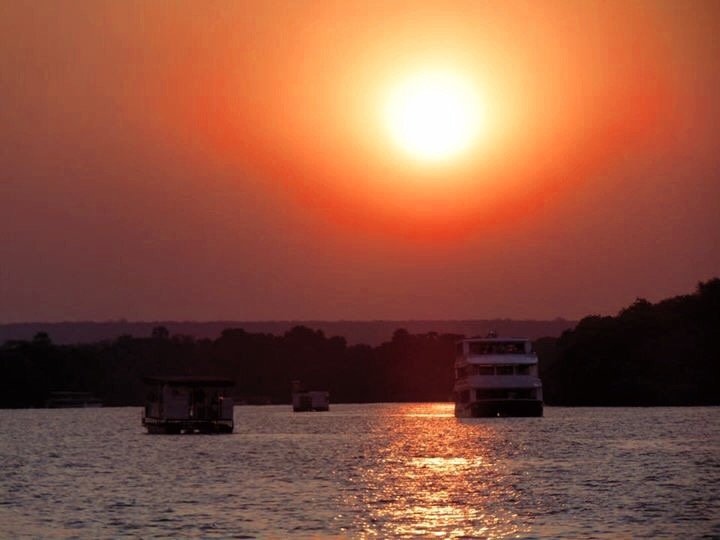 When it comes to exploring the river, a Zambezi sunset cruise is a must. Most of these turn into a bit of a booze cruise, but we had a really cool group of volunteers on our cruise and we ended up talking travel the entire time. We spent about two hours on the river meandering through the islands and enjoying the abundant wildlife along the banks of the Zambezi River. It was great to experience the serenity of the river while spotting elephants along the banks and more hippos and crocodiles than you can imagine.
7. Visit the Big Cat Rehab Center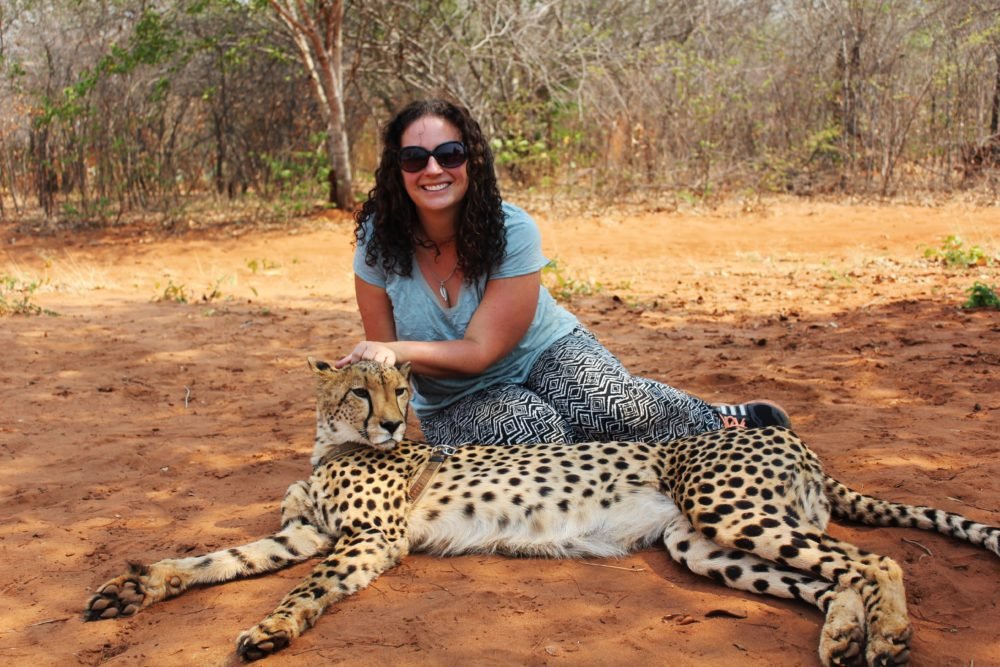 One of the highlights of my time in Livingstone was spending the day at a Big Cat Center where they take in orphaned lions and cheetahs. This is a volunteer facility that is working with the community to increase the numbers of big cats in Zambia. My experience with the cheetahs will always be one of my top wildlife experiences. My cheetah's name was Susan, and even though she was the fastest runner of the group, she was the slowest walker. That was okay because we really just ended up hanging out under the shade of a tree for most of our time together. I spent an hour petting her and listening to her purr. You can also interact with the lions here and go for a walk through the bush.
8. Eat like a local at the Café Zambezi
I heard about this place from some of the locals. It's a nice, clean café with huge portions and good service. Café Zambezi is on the main strip in Livingstone and serves some local delicacies such as crocodile ribs, mshina (local maize dish), kudu stew, impala stew – it's good food with an African vibe. It's a bit touristy but worth the hype to try dishes from this area.
9. Visit a local village nearby
I visited the Mukuni village just outside Livingstone. This was the first settlement Livingstone found when he stood at Victoria Falls and was looking for people around the falls. We spent three hours in the village learning about the culture and origins of this Zambian village. The village has over 5,000 people who live there, and they have been living there for generations. We toured their homes and saw how they lived and also checked out their arts and crafts for sale.
10. Visit Chobe National Park in nearby Botswana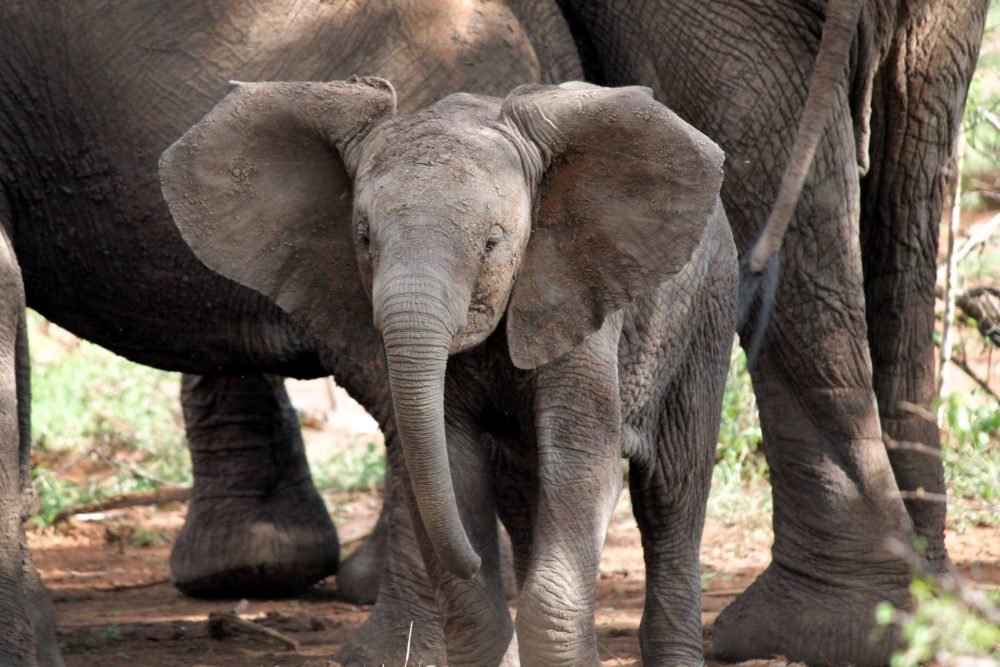 Chobe National Park is located in the northern part of Botswana, along the border of Zambia and Namibia, and is another one of the more popular things to do in Livingston, Zambia. We drove from Livingstone to the ferry (approximately one hour) and took a 15-minute ferry ride across to Botswana – but guided tours are also available for those without cars.
Our safari guides picked us up at the ferry and we had a quick 10-minute drive to the park. The day safari that I booked was a morning boat ride through the park, then lunch, and then back out again for an afternoon safari in an open top safari truck. The highlight of the trip for me was the morning boat ride. Chobe has approximately 120,000 elephants in the park and in the morning all the animals come to the river to bathe. This was the first time I had seen elephants swimming and playing in the water. I also saw a baby elephant that was only two weeks old. So cute!
Where to Stay in Livingstone, Zambia
Budget: There aren't that many hostels in Livingstone, but of the ones there are, two are widely considered to be the best — Jollyboys and Fawlty Towers, both of which have dorms with air conditioned rooms and pools.
Midrange: There are lots of mid-range options between about $40-80 per night which offer no-frills private rooms. Tabonina Guesthouse is a well-rated favorite with breakfast included and simple private rooms. ZigZag Town Lodge is a bit more pricy but has more modern design and a pool.
Luxury: There's no shortage of luxury digs in Livingstone. The River Club is the nicest hotel in town, with riverside rooms that overlook the Zambezi below where pods of hippos roam free, fine dining, and stunning decor — at a price. The Royal Livingstone Hotel by Anantara is another great luxury option, with free roaming zebras on the grounds. If you want luxury on a budget, AVANI will give you the best bang for your buck — plus they also have a live-in zebra and giraffe on property!!
Nicole LaBarge got her first taste for travel when she was 16 years old. Ever since then, she has been hooked and calls herself a travel-holic. She believes you can travel and have a career and she is halfway to her goal of visiting every country in the world. She is a serial expat who has lived in five different countries to date and is currently based in Wellington, New Zealand. She loves traveling and is currently planning a trip to visit all 12 countries in South America. You can follow her adventures on Instagram.
Pin it or share it!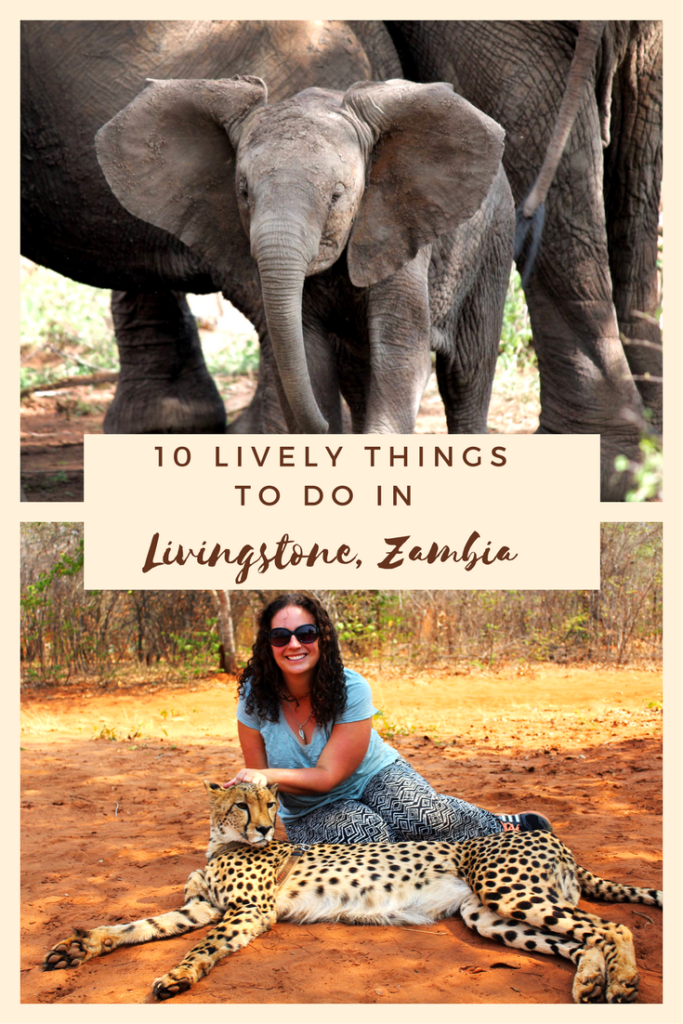 Allison Green is a former educator turned travel blogger. She holds a Masters in Teaching and a B.A. in English and Creative Writing. Her blog posts merge her educational background and her experience traveling to 60+ countries to encourage thoughtful travel experiences that both educate and entertain. She has been a speaker at the World Travel Writers Conference and her writing, photography, and podcasting work has appeared in National Geographic, CNN Arabic, CBC Canada, and Forbes, amongst others. Now based in the San Francisco Bay Area where she grew up, she has also lived in Prague, Sofia, and New York City.