Little Corn Island is a special place, unlike any other place I've been to before.
On a tiny island of fewer than 2,000 people, it doesn't take long to start feeling at home. Nearly 50 miles from the Nicaraguan mainland, without a single car, you'll breathe air so fresh and see water so blue the world feels like a dream you're lucky to have.
And that dream gets taken up a notch at the most luxurious lodging on Little Corn – Yemaya Island Hideaway.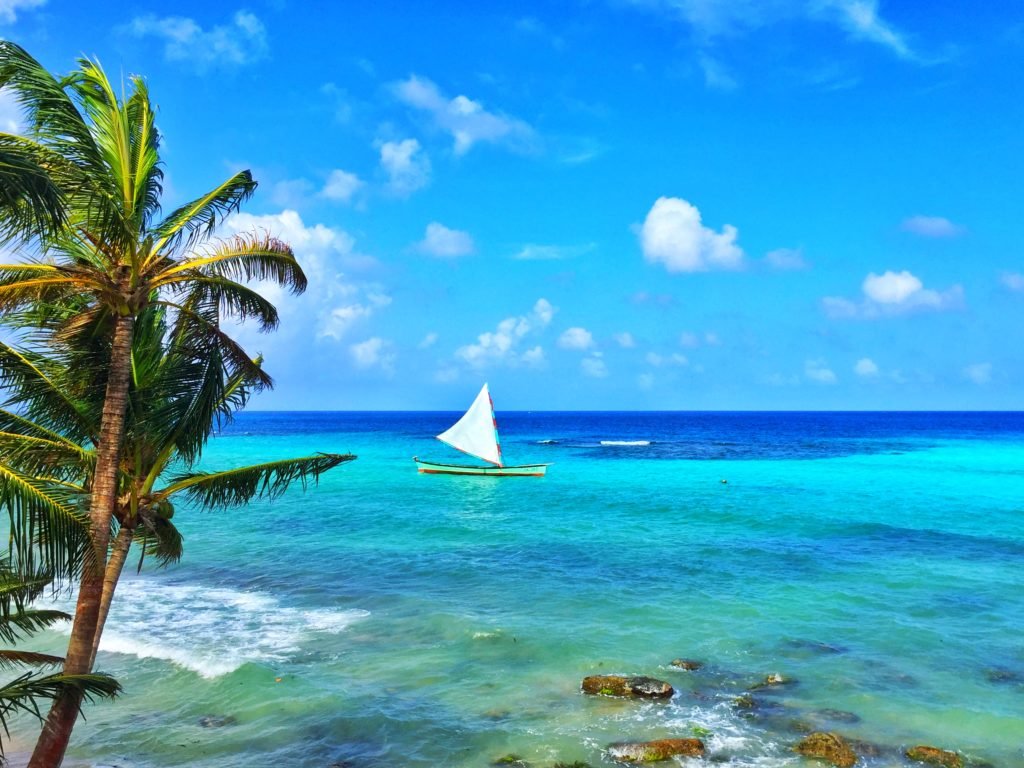 Note: This post contains affiliate links, which means I may receive a small commission if you purchase something through one of these links. Thank you for supporting the free content on this site! For more information on affiliate links and cookies, see my disclosure page for more details.
Rooms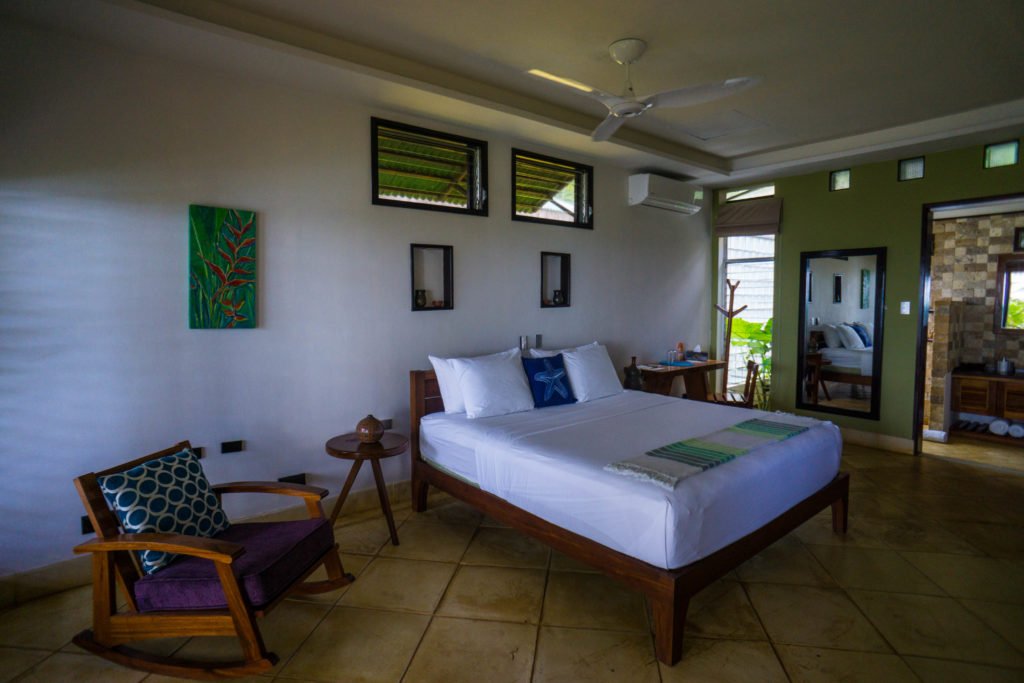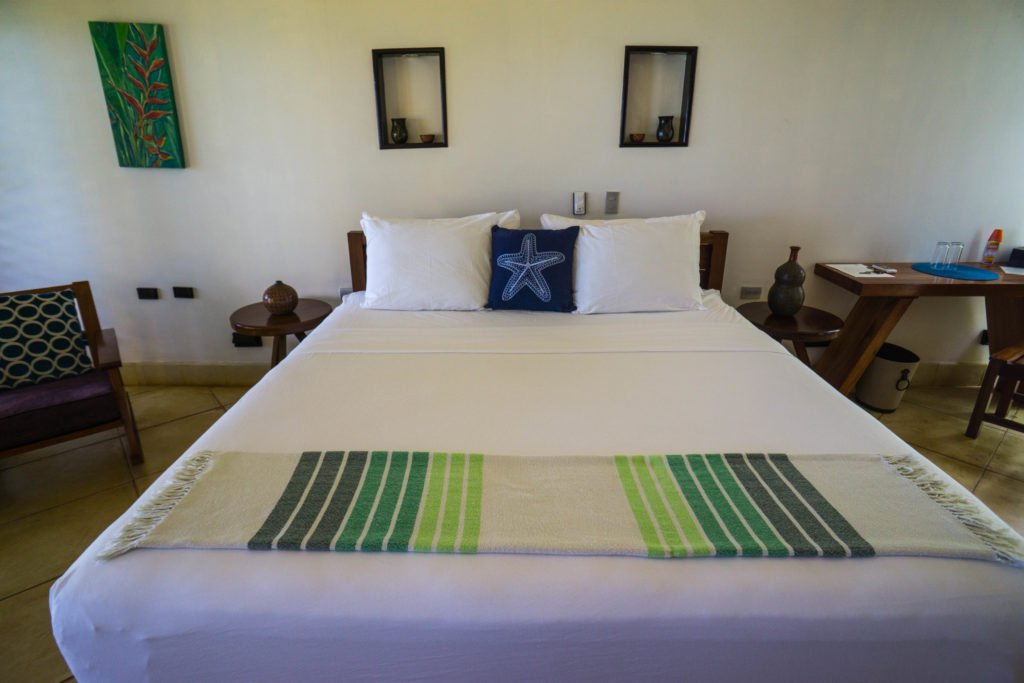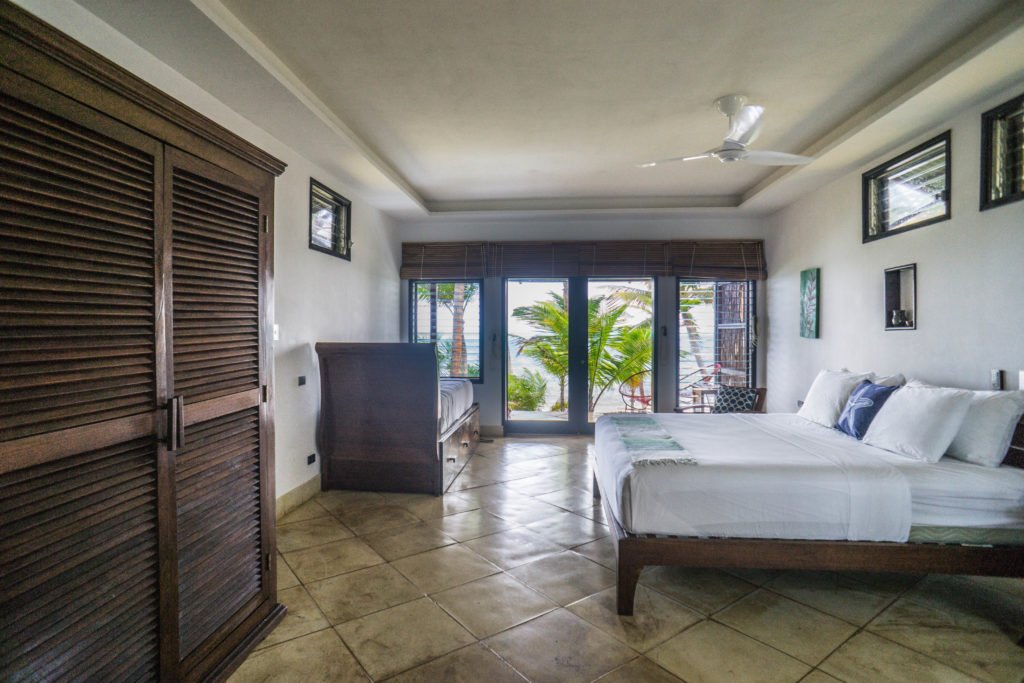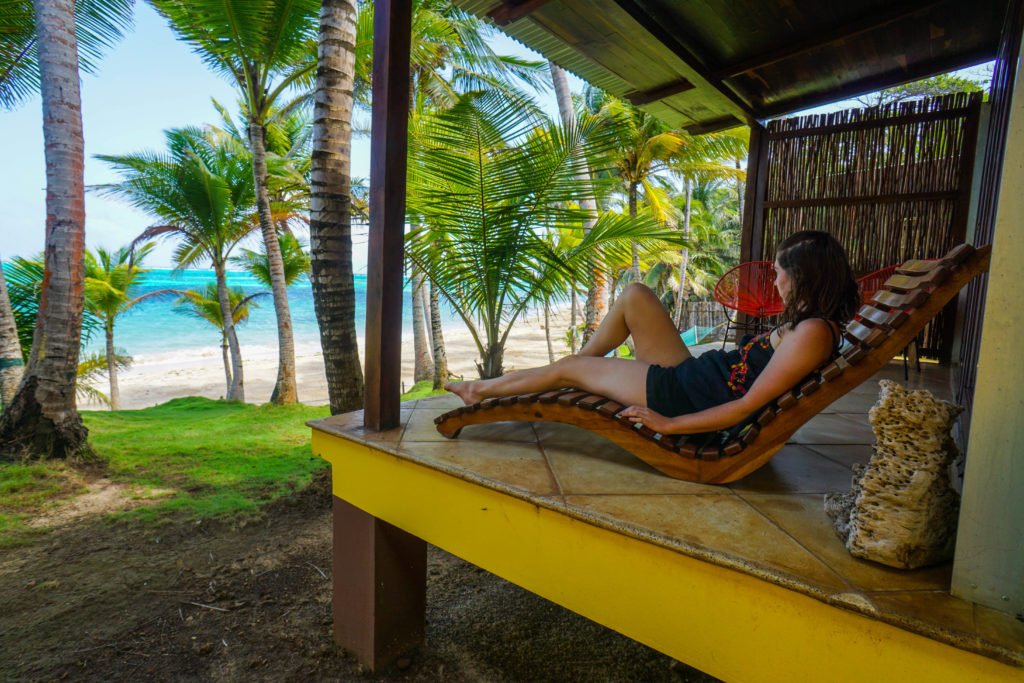 My cabana at Yemaya was spacious and airy, with a gorgeous seafront view. The decor was peaceful yet understated – with that sea view, there's no need for flashiness!
Each cabana has a terrace with amazing views of the blue, blue sea. I couldn't help but spend hours relaxing there and reading eBooks each day. Any guide to the Corn Islands will mention this famous strip of beach — it's the place to be during the day on Little Corn.
As someone who tries to travel more sustainably, I really appreciated the steps Yemaya is making to reducing waste. Hotels are often big offenders when it comes to single-use plastic waste — but not Yemaya.
Rather than offering plastic water bottles, they had reusable glass bottles of ice cold filtered water available in the mini-fridge. There were no plastic bottles for the complimentary toiletries, either – they came in refillable ceramic containers.
And we need to talk about this bathroom! The shower had the perfect water pressure and actually having reliable hot water again was a revelation. Maybe those sound like they should be a given at such a nice hotel, but after weeks of cold trickles masquerading as showers, I was in absolute heaven. The plants and the skylight streaming in natural light were lovely touches as well.
Check prices, availability, and room details here.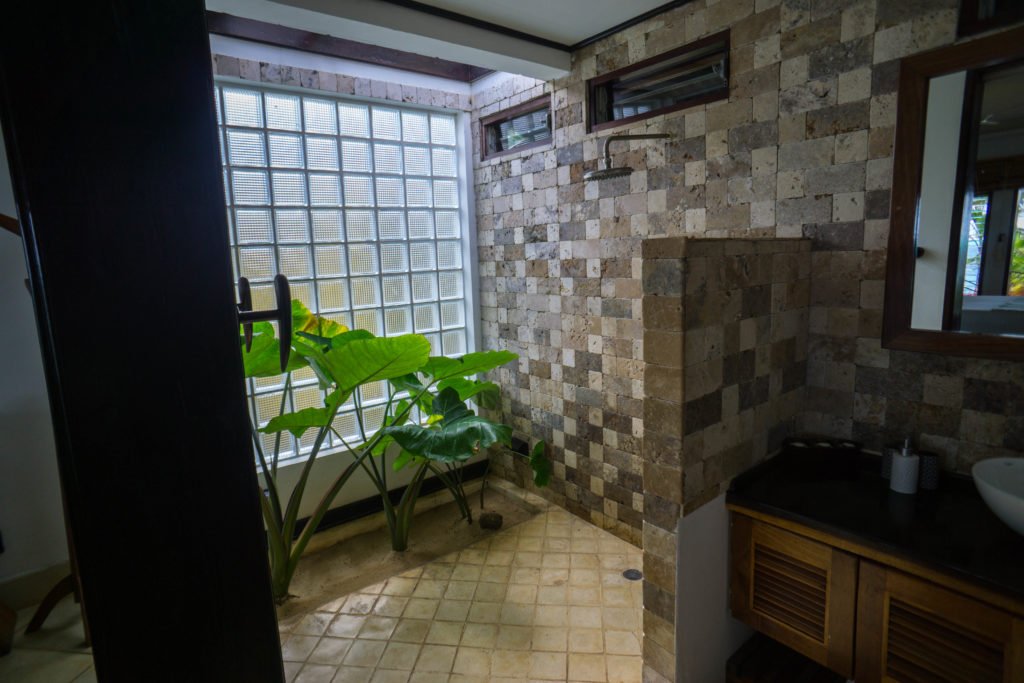 Grounds
Yemaya has an on-site spa offering a variety of facials, massages, and other treatments. I didn't partake, but I'm sure it'd be a heavenly experience if your budget affords it. I did, however, take full advantage of their jungle yoga studio!
They have mats, blankets, blocks, and other yoga accessories available for free use. You can also request classes taught by certified yoga teachers if you'd rather practice with an instructor's guidance.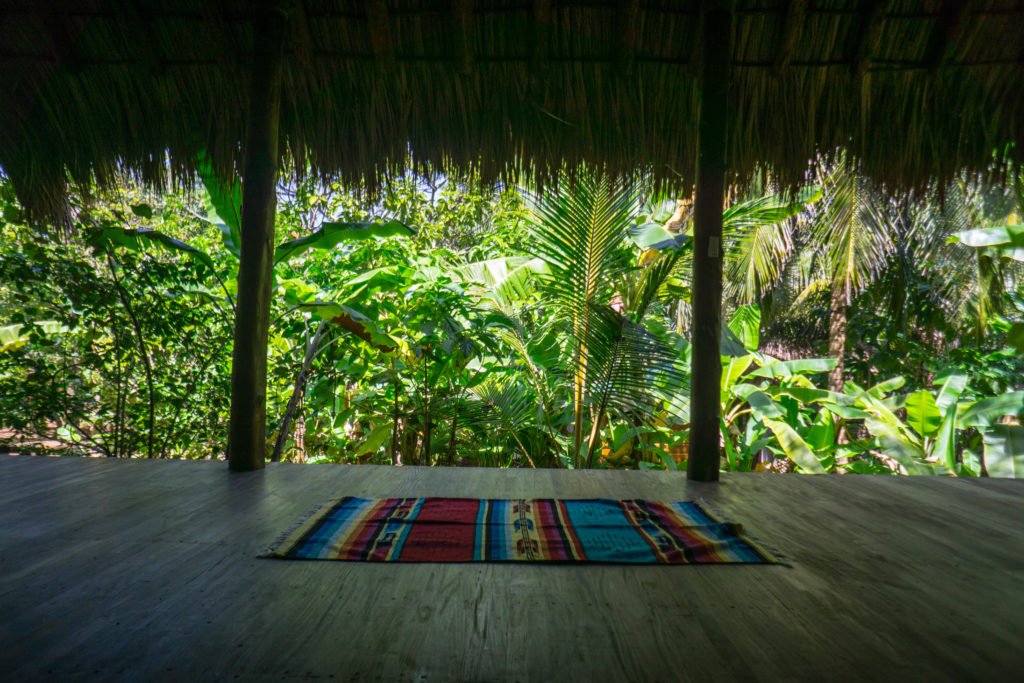 The restaurant is open for breakfast and dinner, and the beach bar is available for lunch. The breakfasts I ate at Yemaya were some of the best I've had in Nicaragua, and reasonably priced at about $8-10. They offer a much better value than the dinner, which was delicious but on the expensive side, with limited options.
The beach bar, on the other hand… now I could (and did) eat those lobster tacos every day!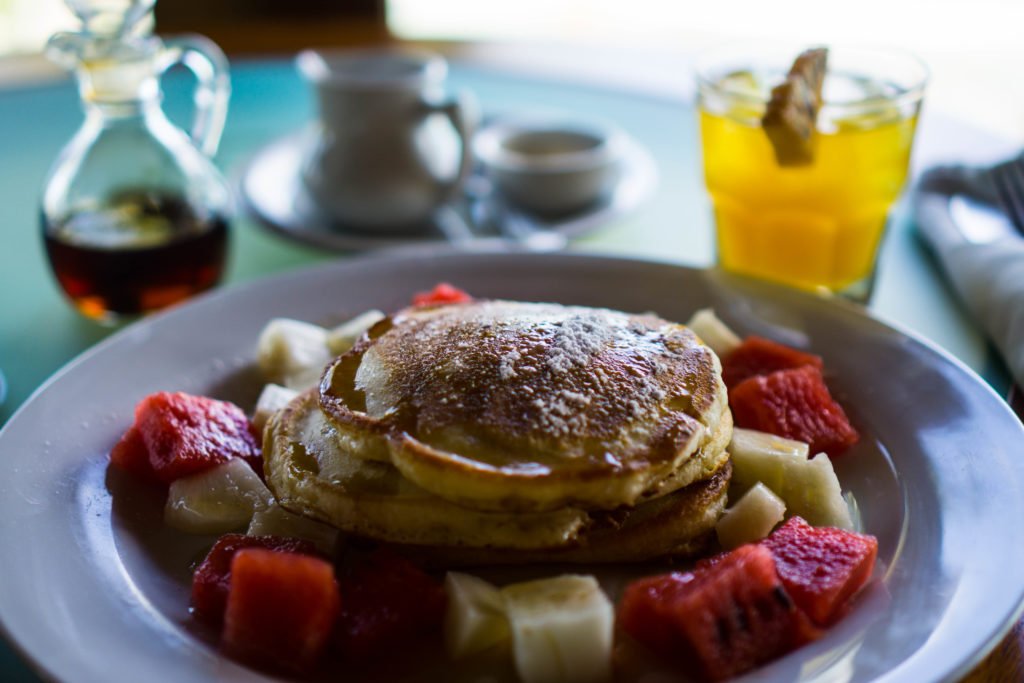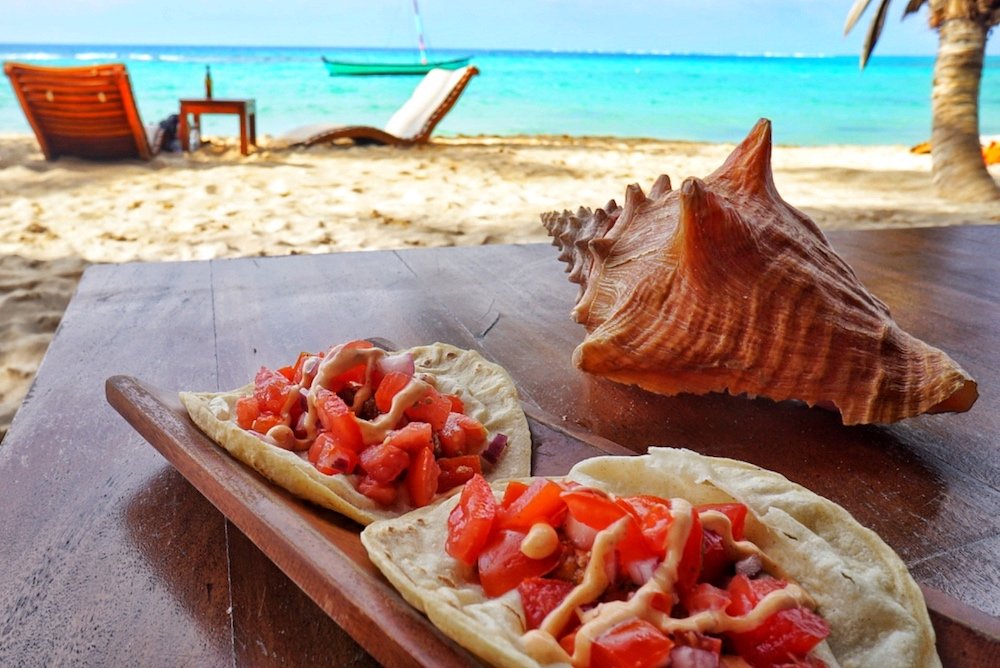 Activities
Yemaya offers complimentary stand-up paddleboard rental and kayaks for rent from the beach bar, and snorkel gear is available to borrow from the reception. I tried to paddleboard for the first time, but the waves were a bit much that day so it ended up being more of a sit-down paddleboard than stand-up. Still quite fun, though!
The snorkeling, on the other hand, was much more successful. Just off the beach, there are some amazing coral reefs with colorful fish swimming everywhere!
If you're looking for a more adventurous day out, Yemaya also offers snorkeling trips further out from the beach on their sailboat, deep sea fishing, and trips to the Pearl Keys. They can also arrange diving with one of the local dive shops.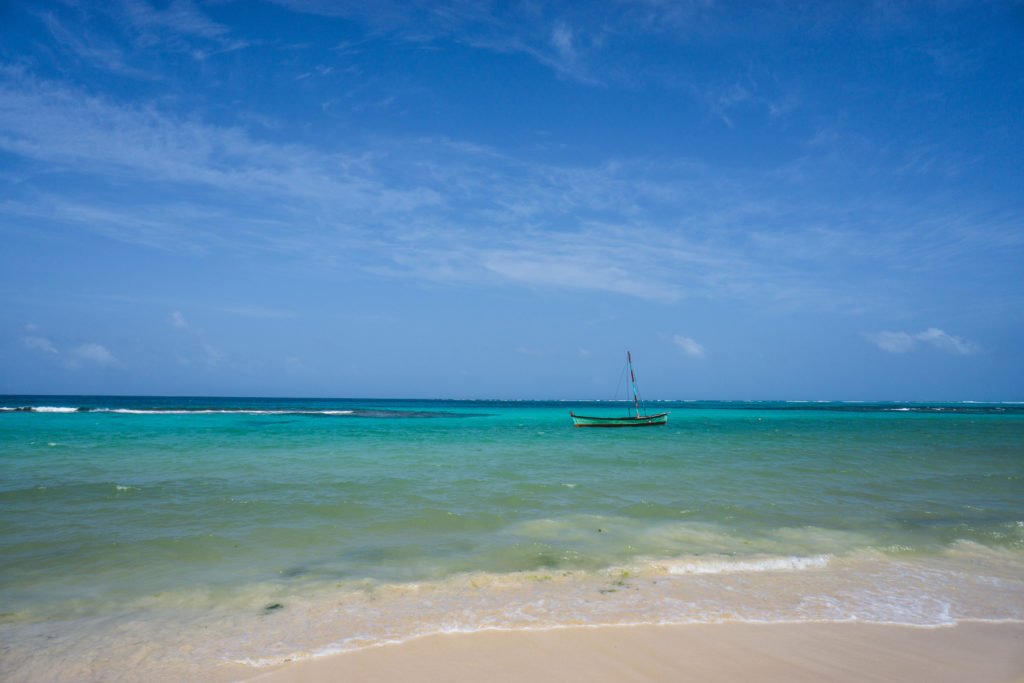 Final Thoughts
What impressed me most of all about Yemaya was not just their beautiful grounds or the comfortable rooms, but the staff's helpfulness and generosity.
When I spilled a drink on my laptop and it shut down completely, the staff brought me a container with what must have been ten pounds of rice to save it (and save it they did!). They also prepared me some ginger tea in advance of my boat trip back to Big Corn as I get seasick, which was a huge help.
Yemaya is definitely not a budget stay, but it offers excellent value to those who want a unique luxury experience.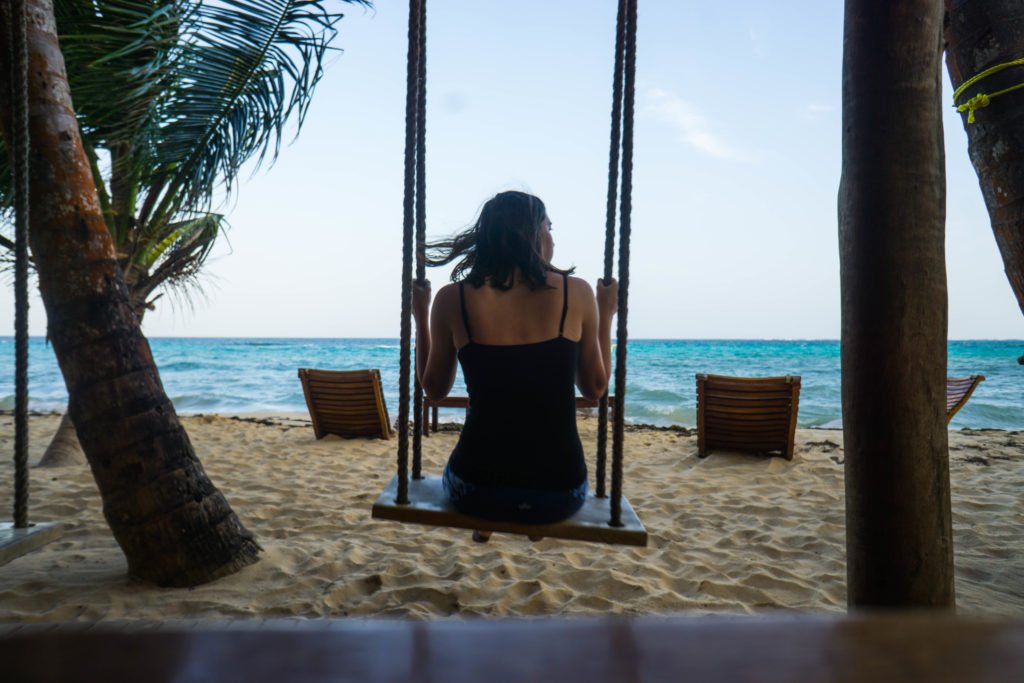 In short, there's really no place quite like Little Corn, and Yemaya's beaches are the best on the island.
For those who'd like a taste of luxury but can't afford the cost of renting a cabana, I highly recommend making a day trip to Yemaya and eating breakfast or lunch there to have a taste of their hospitality and their delicious food!
Click here to check out prices, availability, photos, and more details.
Pin it!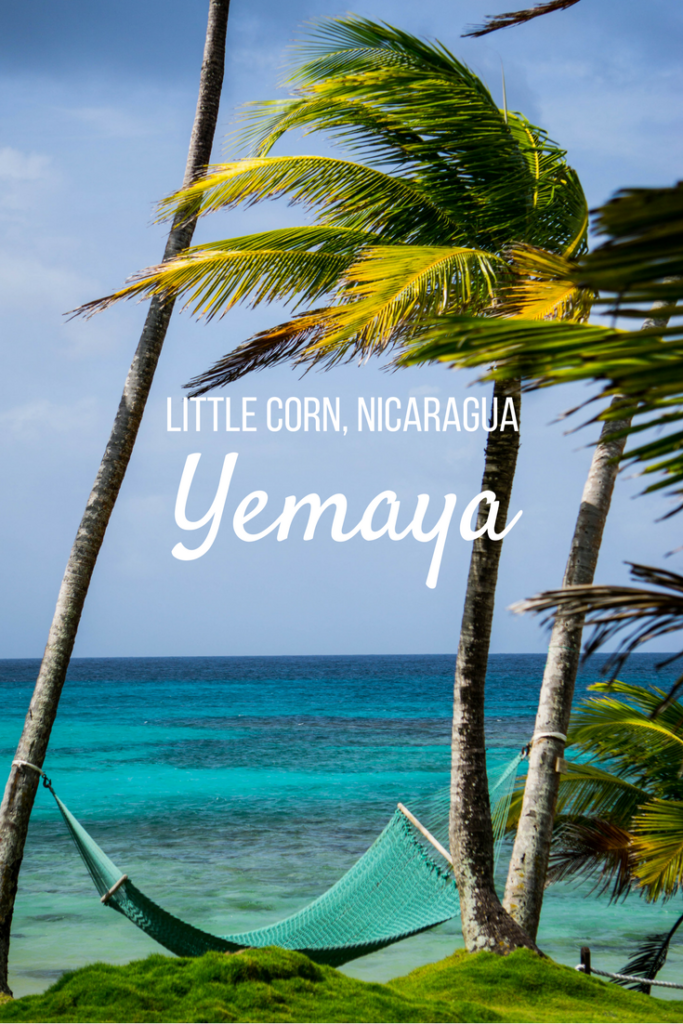 Note: I was provided with two nights of accommodations at Yemaya Island Hideaway in order to review it. All opinions shared are honest and sincere.
Allison Green is a former educator turned travel blogger. She holds a Masters in Teaching and a B.A. in English and Creative Writing. Her blog posts merge her educational background and her experience traveling to 60+ countries to encourage thoughtful travel experiences that both educate and entertain. She has been a speaker at the World Travel Writers Conference and her writing, photography, and podcasting work has appeared in National Geographic, CNN Arabic, CBC Canada, and Forbes, amongst others. Now based in the San Francisco Bay Area where she grew up, she has also lived in Prague, Sofia, and New York City.