Imagine finding yourself surrounded by nature, breathing in the crisp, cool, mountain air while hearing the rippling sounds of a stream nearby. You look up and see a woodpecker foraging as a pine marten swiftly crosses the path up ahead. These are just a few of the magical moments you might experience while adventuring through Rocky Mountain National Park!

Rocky Mountain National Park (RMNP) has so much to offer- from relaxing, scenic drives to heart-pounding hikes. RMNP is made up of 415 square miles of pristine mountain landscapes.
It offers snow cap mountain views in the winter and beautiful waterfall scenes during the summer. The park is located northwest of Denver and only about an hour and a half drive from the city and airport.
If you happen to visit the Mile High City, RMNP is an area you must see if you enjoy nature! Here are just a few of the best things to do in Rocky Mountain National Park if you're looking for some outdoor adventures!
Go for a Scenic Drive to see Beautiful Landscapes and Abundant Wildlife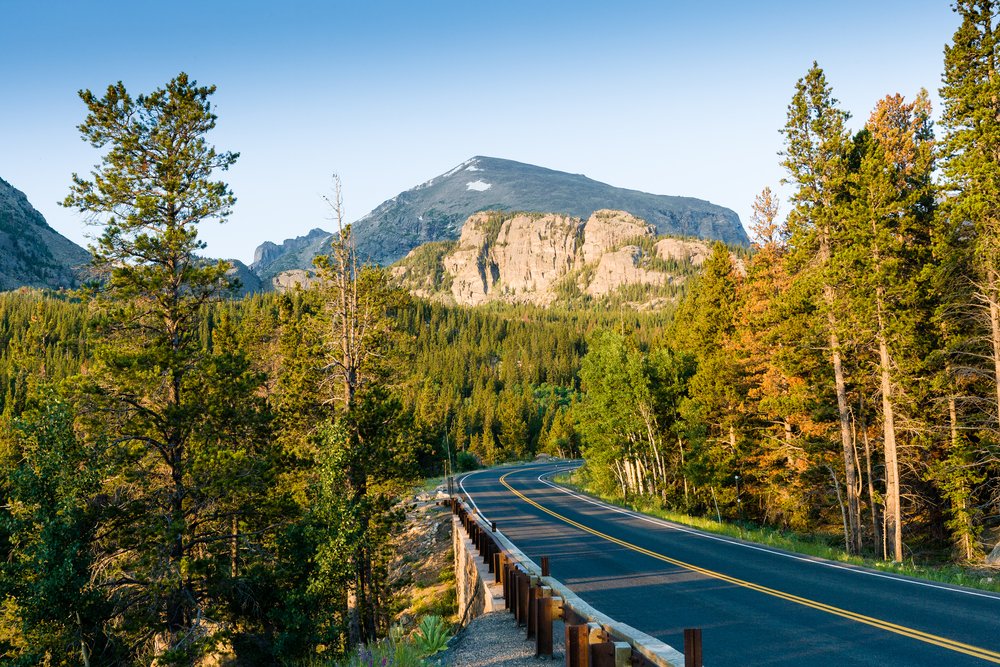 Note: This post contains affiliate links, which means I may receive a small commission if you purchase something through one of these links. Thank you for supporting the free content on this site! For more information on affiliate links and cookies, see my disclosure page for more details.
The park offers various scenic byways that showcase a variety of different landscapes and peaceful views. I live 45 minutes away from this amazing park and one of my favorite things to do is pack up the car and head over to RMNP for the day.
Upon arriving you will pass by the visitors center. This is a great place to take a quick bathroom break before starting the drive of your life!
The visitors center offers information on the history of the park, souvenirs, and daily updates regarding which trails and highways are open and/or closed in the park. I highly recommend always popping into the visitor's center to get any important news that might affect your visit.

The rangers at the visitor's center will also let you know which areas the elk are currently traveling through, along with the most recent reported wildlife encounters.
Gather information on the different trails to ensure you take the path that best suits what you are seeking!
My favorite tool I use to find different drives and hikes that suit my comfortability is the AllTrails app. AllTrails gives you the length of the trail/drive, the activities the trail offers (such as a waterfall or wildflowers), driving directions to the trailhead, and recent reviews so you can have a better idea of the weather conditions you may come across.

The early morning sunrise is the best time to hit the path if you are hoping to see elk foraging in the meadows or a moose wandering near the road.
However, if you are not fond of chilly morning temperatures, a sunset drive may be more appealing when you decide to pop out to capture a stunning picture! If you are just looking to see some beautiful, eye-catching views, then anytime during the day is a wonderful time to get out and experience a variety of extraordinary spots and stop for a picnic lunch.
Pick a Trail and Take a Hike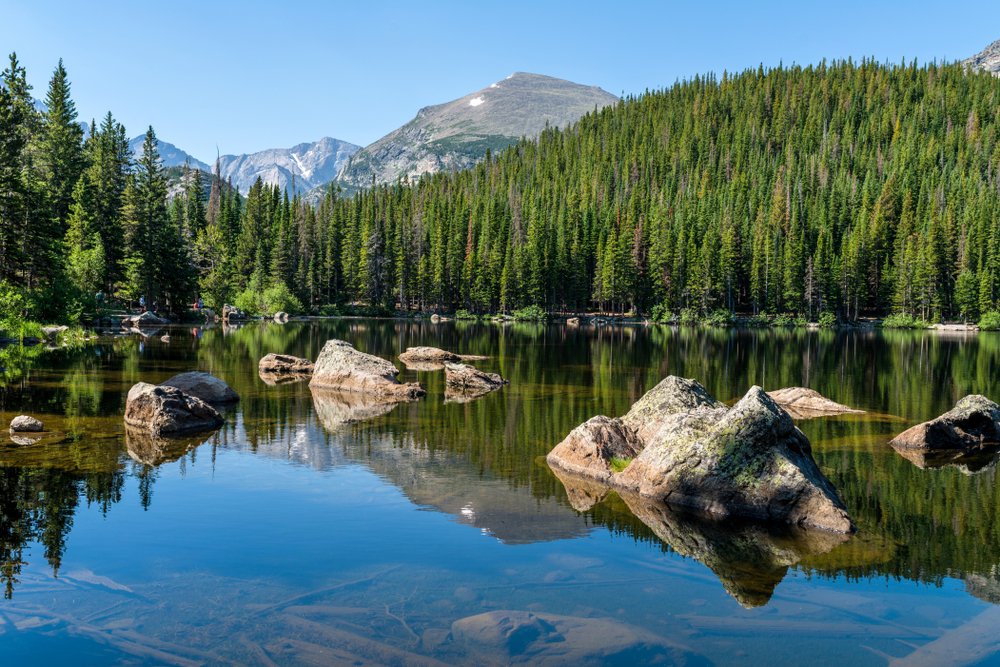 Rocky Mountain National Park is one of the best hiking areas in Colorado as it offers over 300 miles of hiking trails that range from easy to difficult, allowing anyone to find adventure!
Bear Lake is one of the most exquisite lakes and one of the easiest to get to. Visitors can drive right up to it and has an easy, flat walking path to the lake.
Emerald Lake is just a short walk from Bear Lake and comes with breathtaking views of an immensely blue lake with an alpine backdrop! Breathing at high altitudes and hiking up inclines can be challenging, but Bear Lake is accessible to folks of all abilities.
The lake area has more visitors during the summer due to the beautiful weather and the accessibility of a variety of hiking trail heads starting at the lake.
During the winter months, Bear Lake is covered in snow with small, yet impressive frozen waterfall features.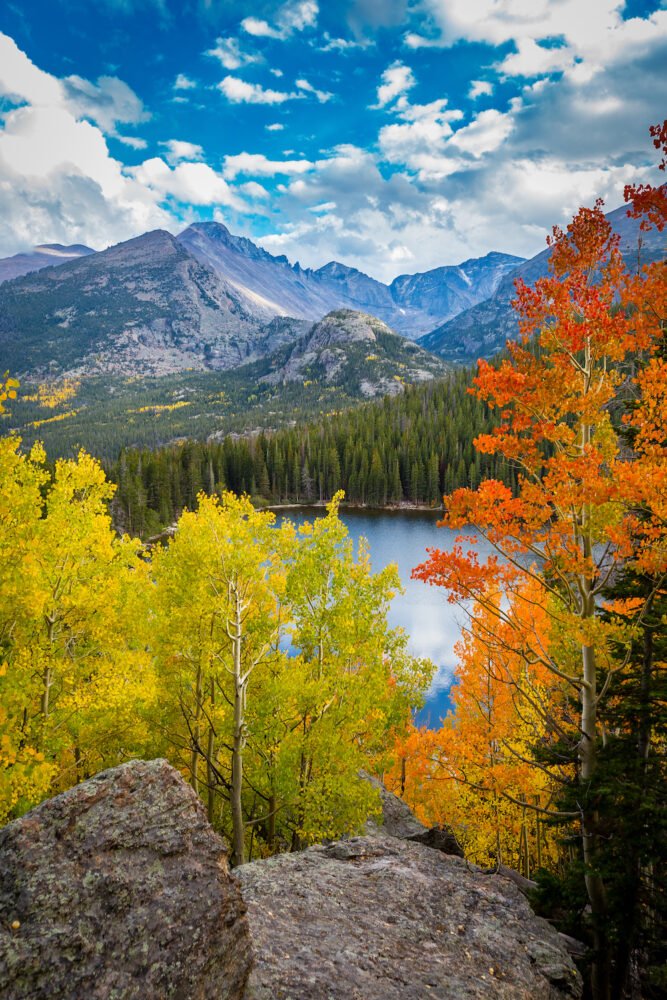 If you are more of a daring soul, I recommend the Sky Pond hike which starts at Bear Lake.
On this trail you will encounter three different lakes and a beautiful waterfall! I love hiking, but I was surprised when I did this hike in early June and there was still snow on the ground.
At first this adventure will seem fun and easy as you pass by beautiful lakes, raging waterfalls, and encounter a lot of wildlife as you hike up the trail. However, you will be tested when you get past Glass Lake on the last leg of the hike up to Sky Pond.
Climbing the waterfall is one of the more challenging obstacles you will encounter during this hike. One thing to note for this trail is you will need walking sticks or snow chains for your shoes. Even in the summer, these are necessary once you make it to the alpine portion of the hike.
Catch the Sunrise for Incredible Wildlife Photography Captures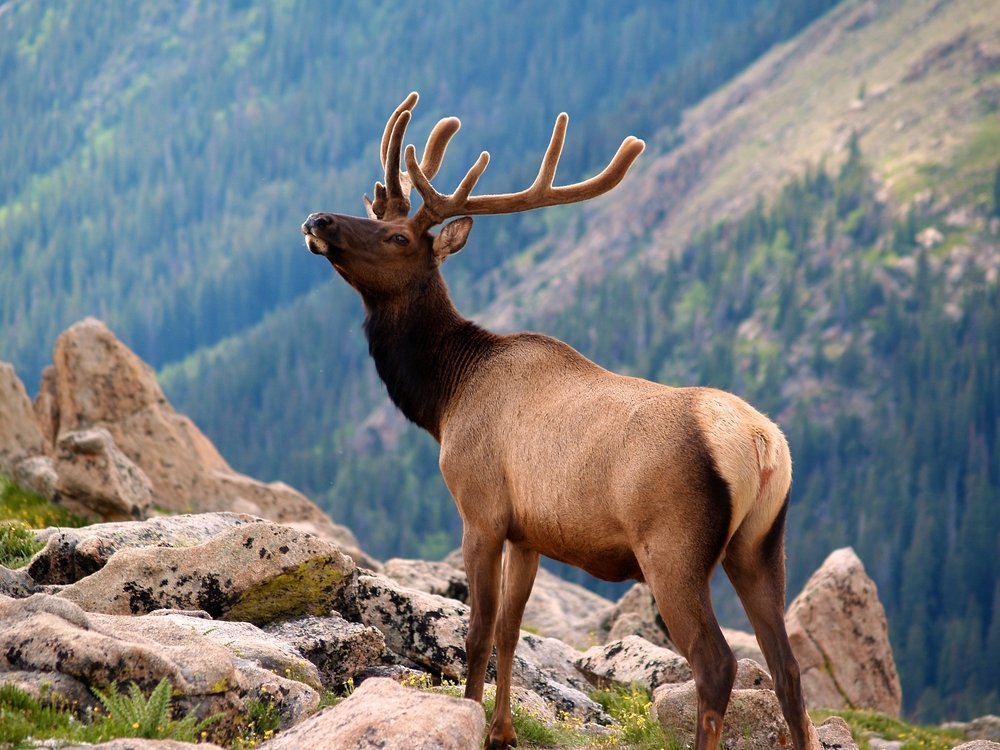 As a wildlife photographer, this is definitely one of my favorite things to do in the park.
I recommend getting to the park by sunrise before all the animals have gone into hiding for the day, and this will also help to avoid other tourists enjoying the sites.
During sunrise, you will have access to some incredible animal sightings including a variety of bird species, elk, moose, pine marten, yellow-bellied marmot, and pika. These are just a handful of the amazing creatures I have had the opportunity to capture within the park!

Aside from wildlife photography, the landscape photography within the park is absolutely breathtaking as well. If you enjoy peaceful mornings with your camera as much as I do, then you will not be disappointed by the pictures you will leave with!
I recommend taking a casual drive through the park before deciding where you find the most beauty. When you know where you are heading, you can set up by the time sunrise occurs!
Meadows and open spaces are the best place to set up if you are hoping to capture birds, elk, and moose. While higher in the rocky alpine is a better place to capture yellow-bellied marmots and pikas. Pine martens are sneaky, but if you are lucky you might come across one while hiking in the forest.
Go Rock Climbing to Feel the Thrill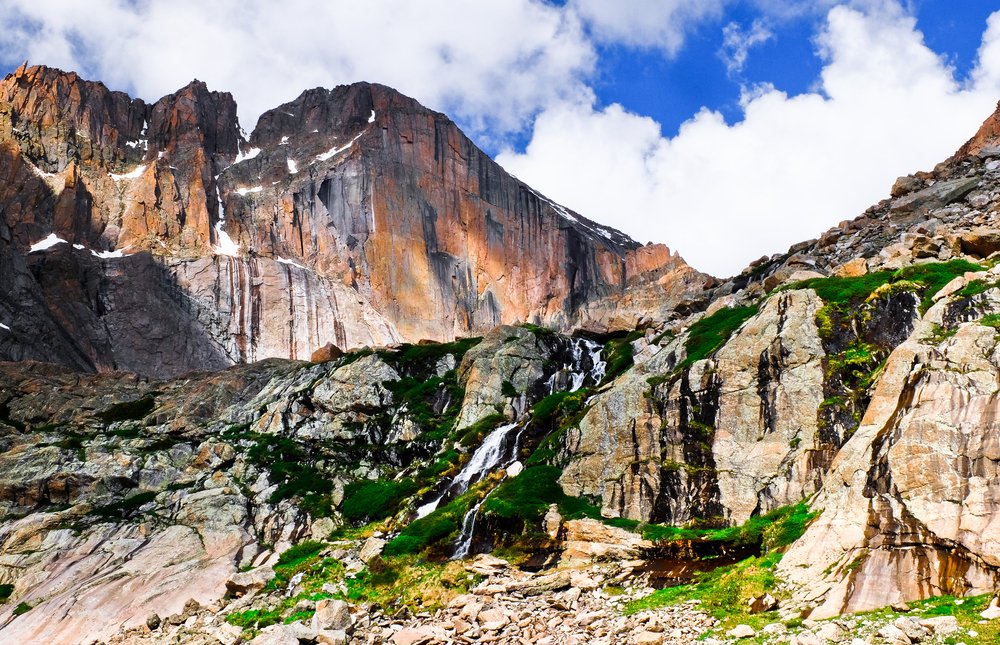 Rocky Mountain National Park is world-renowned for mountain and rock climbing, and it's easily one of the best national parks in the US for rock climbing.
However, most climbing within the park is very committing and should be taken into consideration for any experience level.
Almost all the climbing within the park is between 12,000 and 14,000 feet making it even more of a challenge to conquer climbing within this park.
A good climb for a beginner (with a guide) is the North Ridge of Spearhead, while a more advanced trail would be the steep Hesse-Ferguson on Hallett.

Climbing can be a safe and fun activity when completely prepared. Unlike other activities offered in the park, climbing can be extremely dangerous, so you should always make plans well ahead of time.
nform friends or family where you are going and give an estimate of how long you will be gone. If you decide to go climbing, gear up and strap in for some of the most stunning views you will come across in the Rocky Mountains and probably in your life!!

Note: a good website that offers information regarding weather patterns and important climbing info is Mountain Project. Always check snow and weather stats before starting your journey – the weather can change very fast in the Rocky Mountains.
Go Shopping in Downtown Estes Park and Stop by the World Famous Stanley Hotel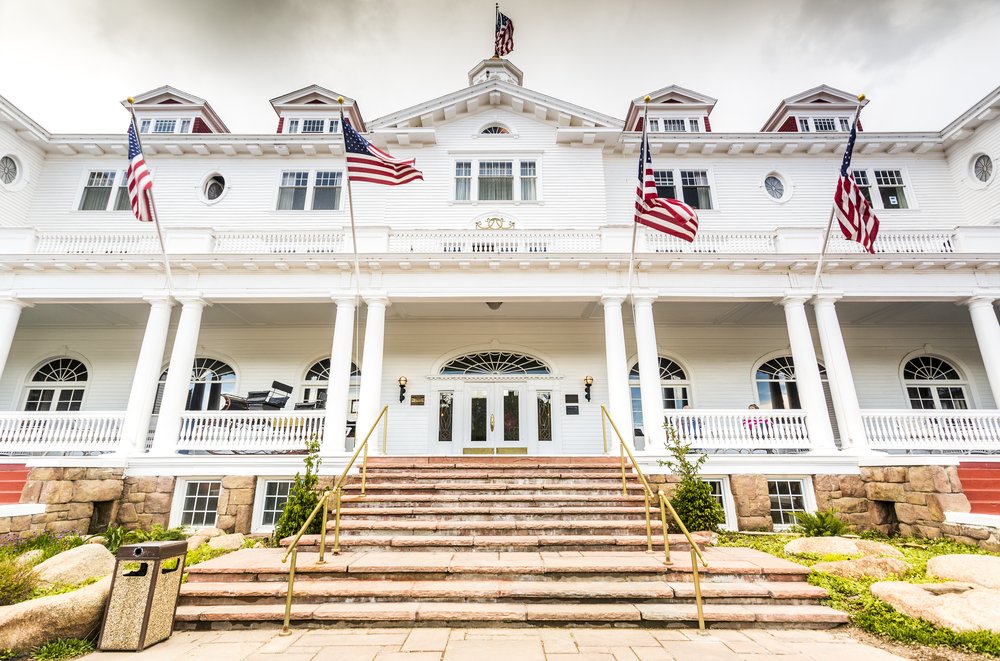 While taking a scenic drive through the park, another relaxing opportunity is to spend the afternoon in the town of Estes Park.
Estes Park is at the base of Rocky Mountain National Park and has a cute, small-town mountain vibe that leaves you wanting to see more!
In the winter, this little town looks like a scene from a movie and is picture perfect! My favorite part of the town is the stores selling local art and showcase how intimate the town is.
Parking is easy to find and there are loads of restaurants to choose from that offer delicious meals, and many use local meat and produce.

If you find yourself in Estes, you simply must drive five minutes up from the town center to the Historic Stanley Hotel! The Stanley offers day and night tours, an intimate restaurant, and a whiskey bar.
The Stanley is known from the iconic movie "The Shining" and although the building itself was not used in the film, it is where Stephen King got the inspiration for the movie.
Take a step back in time by visiting the free museum inside this 1909 Historic Hotel. It is always recommended to call ahead if you are hoping to get a tour; otherwise, the hotel is open to passers-by who pop in to see the small museum and grab a drink at the Whiskey Bar!
***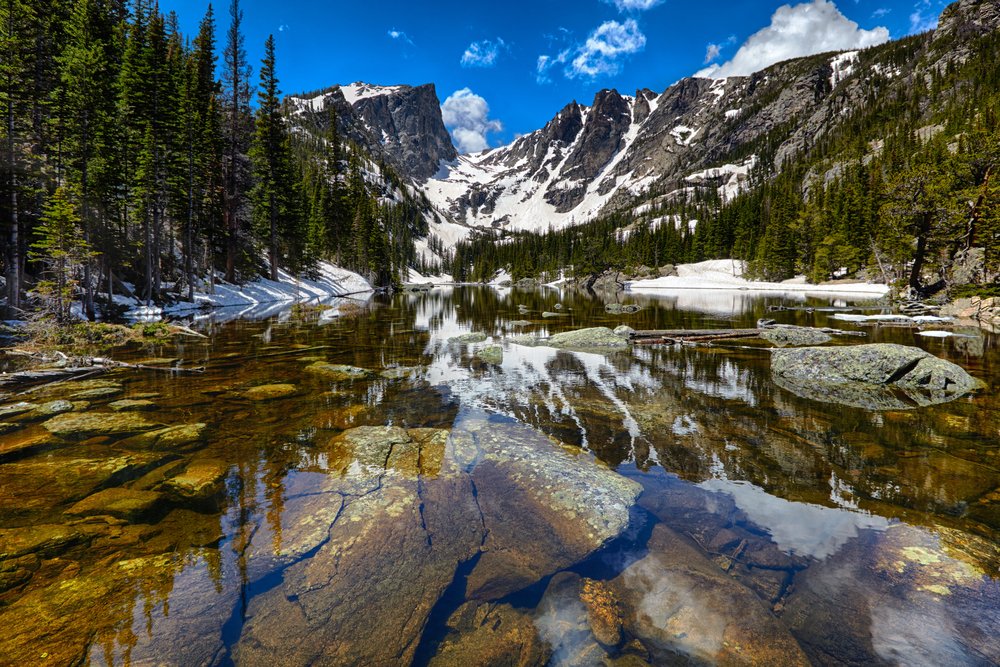 I hope by now you are packing your bags with excitement and on your way to visit Rocky Mountain National Park!
A few tips to plan your trip are:
(1) Always call to make sure roads are open: this is an area where heavy snowfall can result in road closures and these can change daily (October-May);
(2) Pack lots of water, a map, and gloves- these are always necessities I have found myself in need of;
(3) Have fun!! There is so much adventure to be found within this park, make sure you take your time and slow down during your trip to enjoy all the things to do that Rocky Mountain National Park has to offer!
About the Author
Christine is a travel writer and eco-enthusiast living in Denver, Colorado.
Allison Green is a former educator turned travel blogger. She holds a Masters in Teaching and a B.A. in English and Creative Writing. Her blog posts merge her educational background and her experience traveling to 70+ countries to encourage responsible, enriching travel. She has been a speaker at the World Travel Writers Conference and her writing, photography, and podcasting work has appeared in National Geographic, CNN Arabic, CBC Canada, and Forbes, amongst others. Now a full-time traveler, she has lived in Prague, Sofia, New York City, and the San Francisco Bay Area.