I'll admit it – my first few times in London, I never got the love for the city that everyone else seems to have.
But then I realized that I was planning an itinerary that was way too focused on Central London — basically, the same mistake that most tourists make when they visit New York City. Never leaving Central London is akin to never leaving Manhattan.
Once I started to get past London's most well-trodden sights, I started to really understand why people have so much love for this city and London's many neighborhoods.
I based myself in Shoreditch last time I visited London for a 3 day weekend and thought it was a fantastic base for traveling around London.
There are plenty of things to do in Shoreditch to keep you busy for several days, but it's also convenient enough to be close to anything you want to do in Central.
Prices are also significantly lower for food and drinks than Central London, and I found the selection and quality of the restaurants to be much higher as well — win/win!
My Top 12 Things to Do in Shoreditch
Please note that a handful of the suggestions are specific to Sundays, when Shoreditch really comes to life and is at its best. Sundays are also the most crowded – but the busy, outdoor atmosphere is part of what makes Shoreditch so enjoyable on Sundays.
Eat a salt beef bagel
Note: This post contains affiliate links, which means I may receive a small commission if you purchase something through one of these links. Thank you for supporting the free content on this site! For more information on affiliate links and cookies, see my disclosure page for more details.
Some things are just classic for a reason, and Beigel Bake's salt beef bagels are just one of those things. The line is long basically every time of day (and considering the place is open 24/7, that's saying something).
Normally I'm a long line skeptic. I associate them with Instagram fads like freakshakes and rainbow bagels and whatever crackpot, diabetes-inducing sugar bomb trend du jour is. But if it's a classic, I'll make an exception.
The line moves fast, the bagels are piping hot and tender, and it made this former New Yorker with strong feels about bagels (including the proper way to spell bagel) very, very happy indeed. Meltingly tender corned beef, a slick of hot mustard, and a juicy pickle — so simple, but so, so good.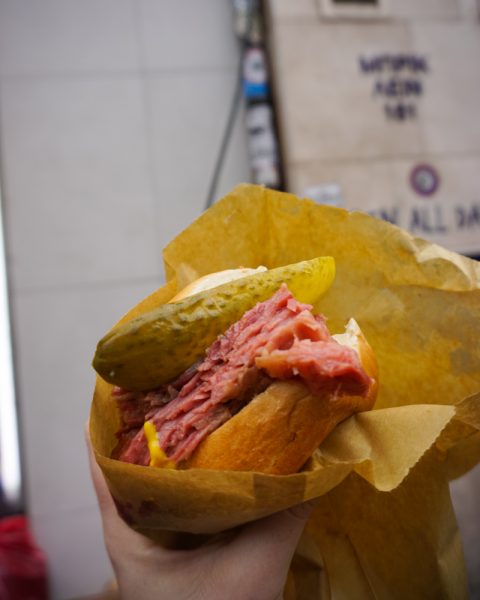 Admire the street art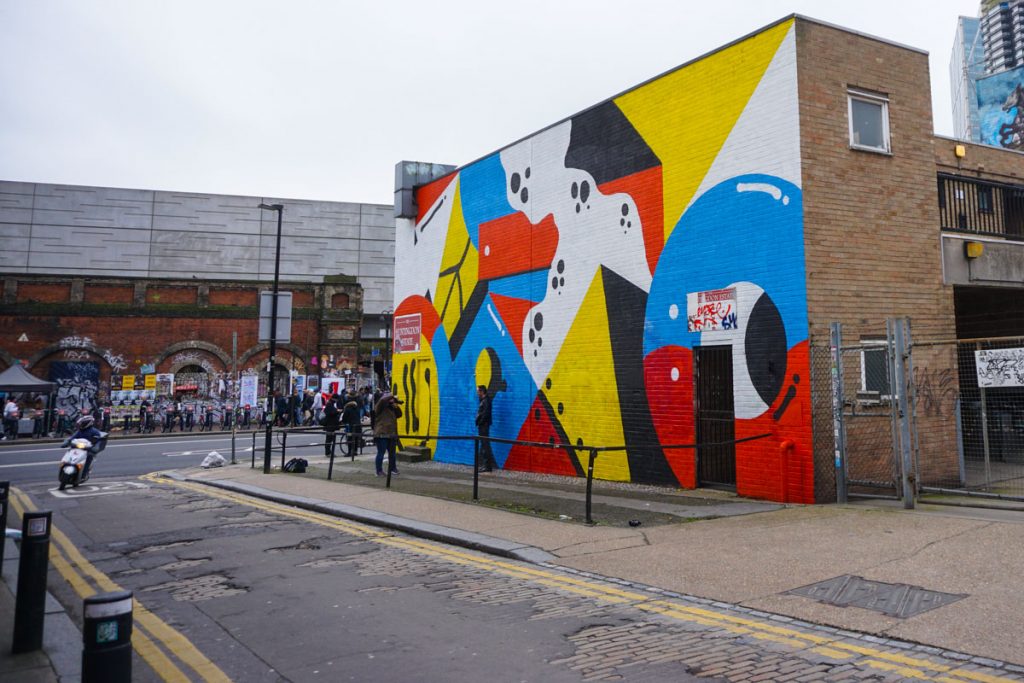 Shoreditch is probably best known for its vibrant street art scene, full of beautiful murals taking up entire buildings and walls. The street art in Shoreditch is incredible, probably some of the best I've seen anywhere. It's ever-changing, but the streets off of Brick Lane and Redchurch Street are probably two of the best places to start.
As a bonus, it's one of the best free things to do in London!
Here are a few of my favorite pieces from my most recent trip to Shoreditch. All the photos were taken in early March 2018 – so pieces will likely disappear and replaced by new ones over time.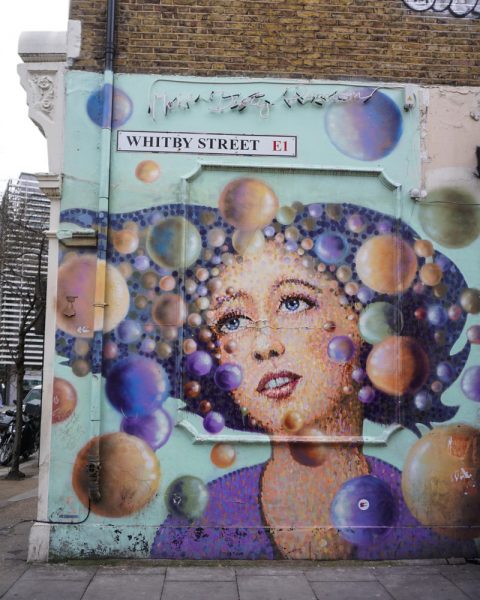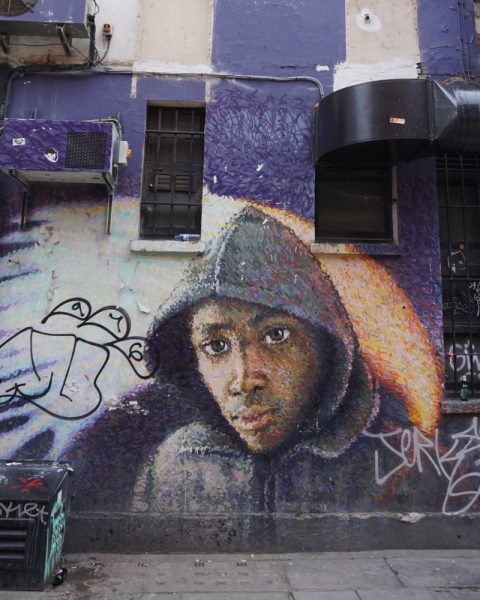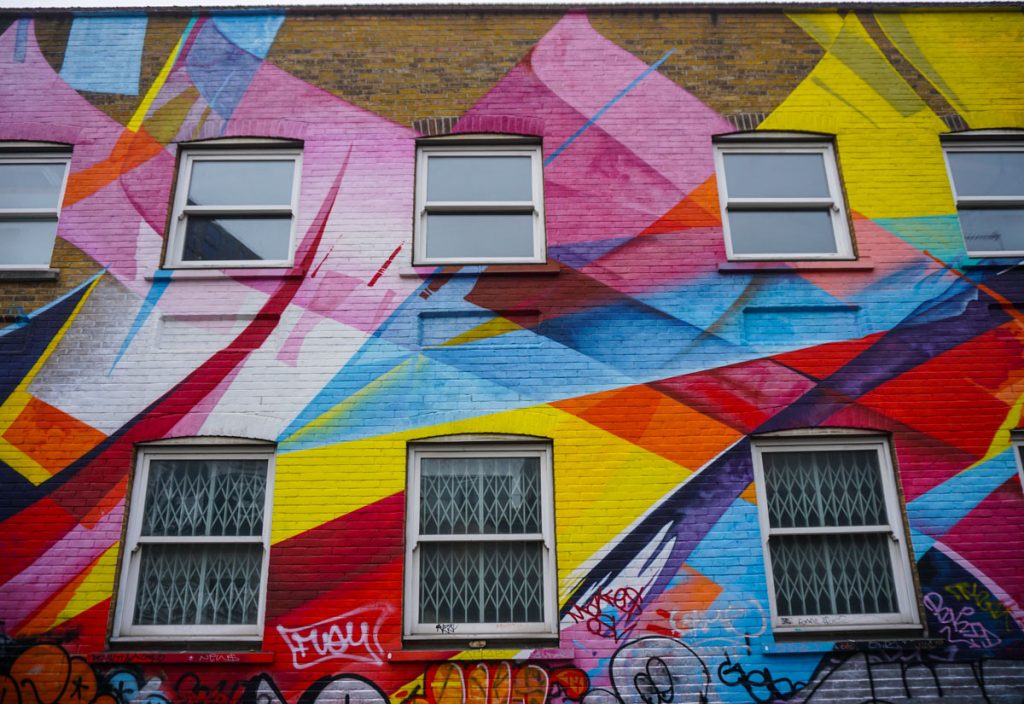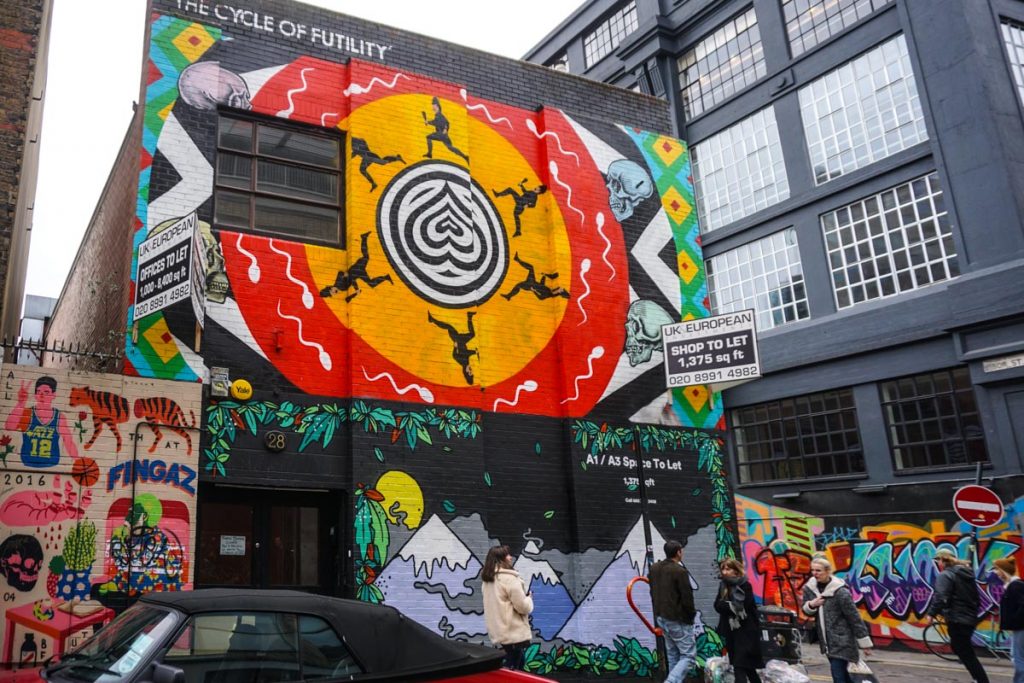 Not sure how to best experience the street art scene, or want to get some guidance on the history behind the neighborhood? Get Your Guide offers street art tours of Shoreditch and the East End that come highly recommended.
I didn't have time for it on my last trip, but I wish I had as it would have been nice to know the context of some of the art.
Eat delicious Indian food
I've gone for curry on Brick Lane twice and had mixed experiences. My first time, my dinner was excellent, but of course, I'm a bad blogger and can't remember the name of where I ate. The second time, I was determined to do more research. I had heard excellent things about Aladin – I mean, if it's good enough for Prince Charles, it's probably good enough for me, no? – but I was actually pretty disappointed with it. And I settle for inauthentic Bulgarian Indian food on the regular, so it's not even that I'm picky.
The samosas were just sad, with skin more like a wonton than the satisfyingly heavy pastry dough you typically get. The chutneys weren't right, either. My curry was decent, but nothing special, and all my friends felt pretty much the same about their food. They offered us a 20% discount outside, which was nowhere to be found on the final bill, and we had to inquire to get it removed.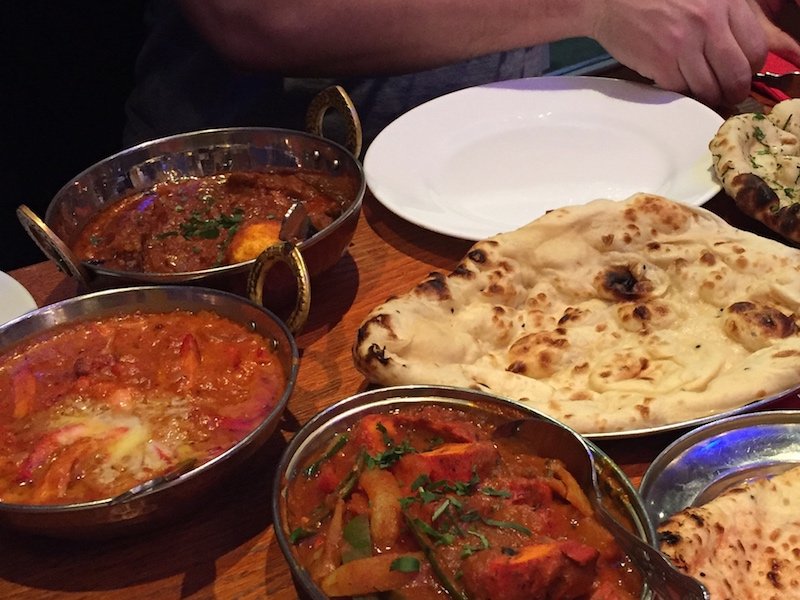 Instead, I'd recommend skipping hyped-up Aladin and trying another place on Brick Lane. Promoters of the restaurants are always outside touting special deals, which you can work off one another to your advantage. But for the best Indian food in London, you should try your luck at Dishoom, one of the best restaurants in London, a small chain of London-based restaurants serving up some of the best Indian food I've ever had in my life.
Lines are always long — I waited 20 minutes my first time at the Covent Garden location and was told I was lucky — and have been quoted at upwards of an hour on other occasions. But the food is excellent and worth the wait or the early dinner.
Or try some delicious Vietnamese food on Kingsland Road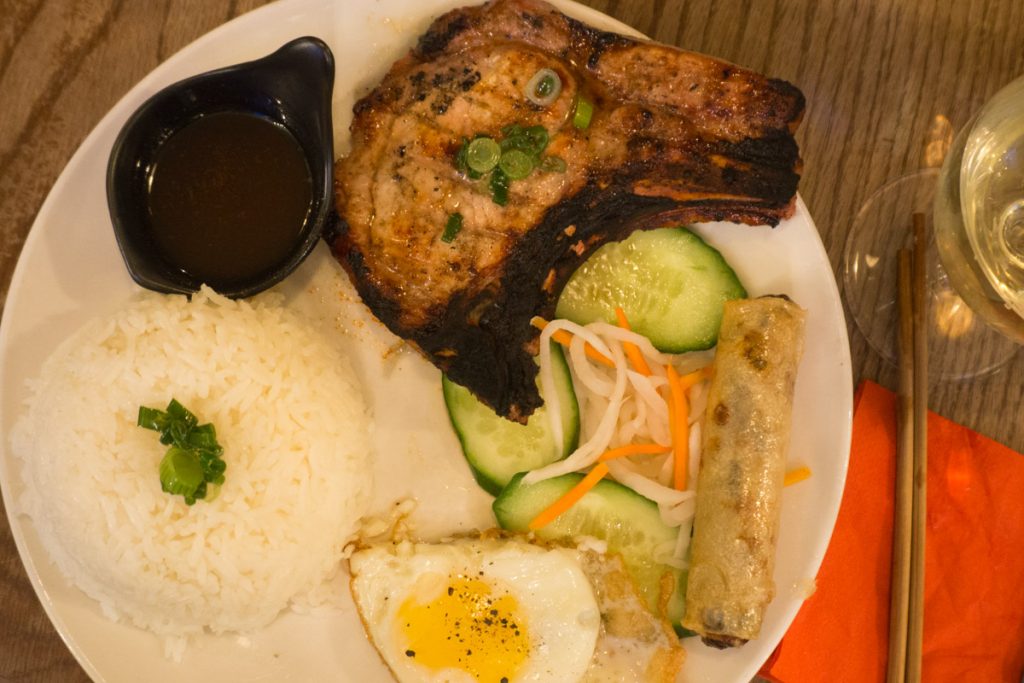 Shoreditch also has a great Vietnamese food scene, with tons of restaurants slinging pho and other Viet classics at affordable prices on "Pho Mile", aka Kingsland Road.
I'm pretty picky about my Vietnamese food — being from California will do that to a person — but I felt that the food was really authentic and delicious. My choice was Viet Grill – it had a nicer atmosphere then the others, plus specials and overall good prices. I got the pork chop plate with rice, fried egg, pickled carrot and daikon, and an imperial roll. So simple, but so good — why mess with a classic?
Check out the vintage markets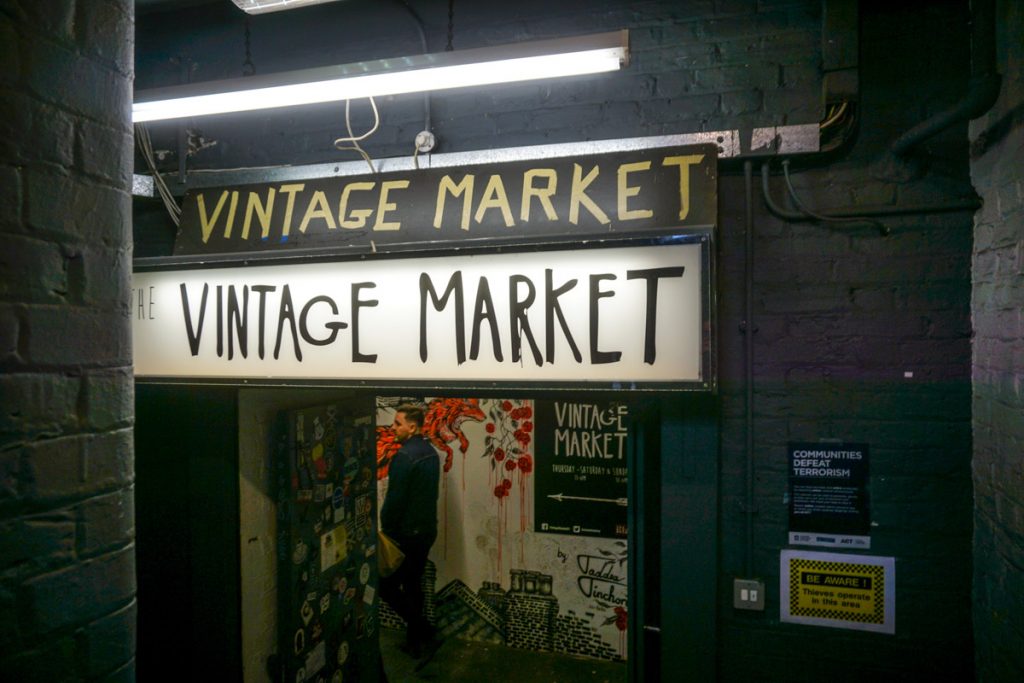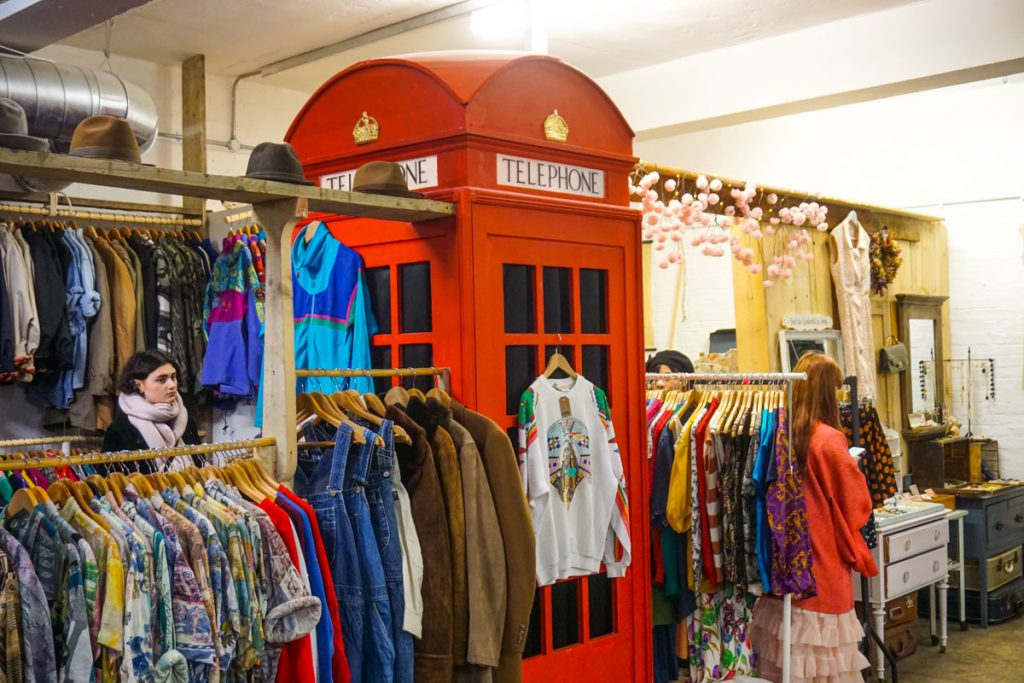 I'm definitely not cool or skinny enough to pull off vintage clothing — but I have a lot of fun browsing it, making up outfits in my head and playing with ridiculously oversize sunglasses.
The Vintage Market in Shoreditch is open in a downstairs warehouse just off of Brick Lane Thursdays through Sundays, and it's worth popping into for a quick browse or impulse buy!
Sample street food all along Brick Lane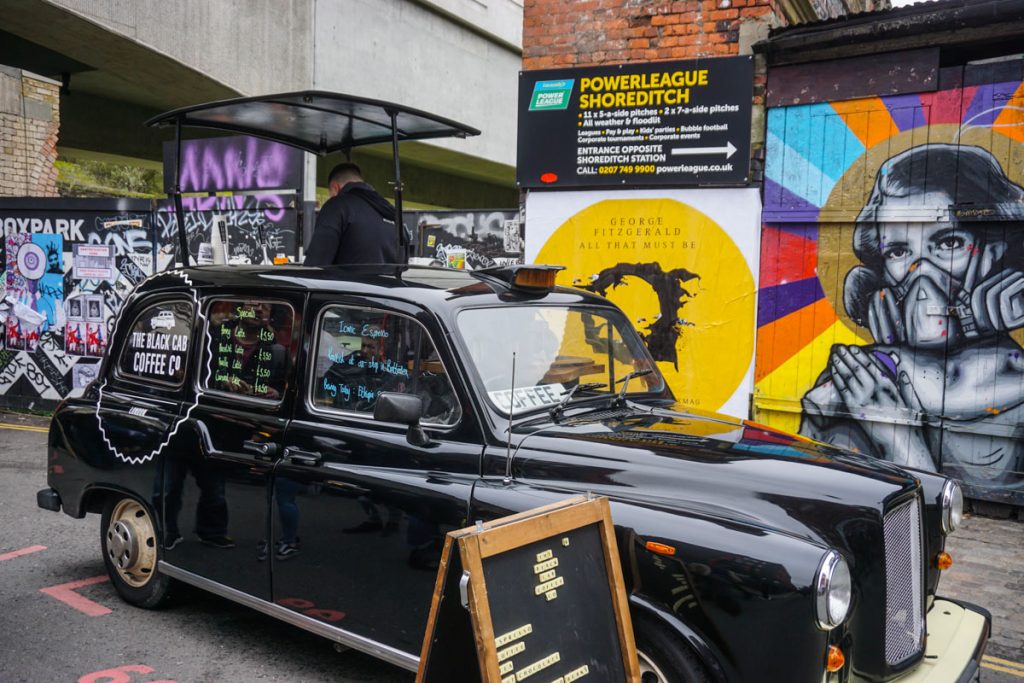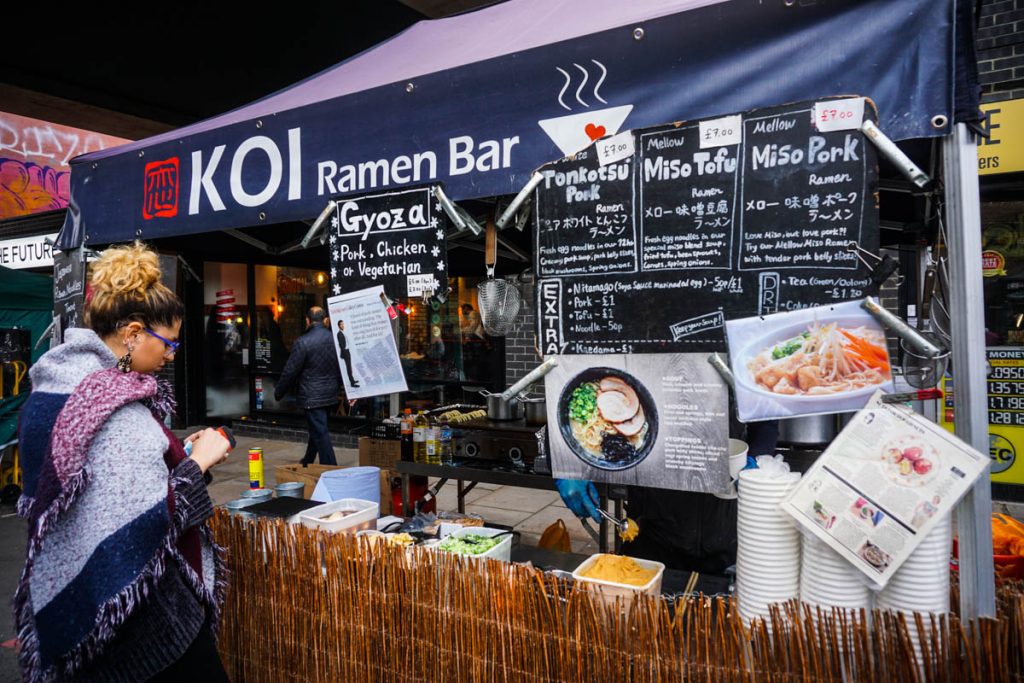 Brick Lane is one of the most famous streets in London for a reason, and it's vibrant on this street all week long in London. However, Sundays bring Brick Lane to life even more than it usually is, with tons of street food with cuisines from all around the world represented.
Everything from richly fatty tonkatsu ramen to Ethiopian food with spongy injera bread can be found on the streets and in the small markets just adjacent to Brick Lane. I could spend days and days eating my way through the stalls here, but I opted for tacos, since I have such trouble finding decent Mexican food in Europe, and was really pleasantly surprised by how delicious it was.
A little lost? For a Sunday street food tour that takes you from all corners of the culinary world in a single 3.5 hour tour, check out the Shoreditch Sunday street food tour, ranging from British to Ghanaian to Jewish cuisines and beyond.
Book your street food tour today!
Pop into all the tiny markets off of Brick Lane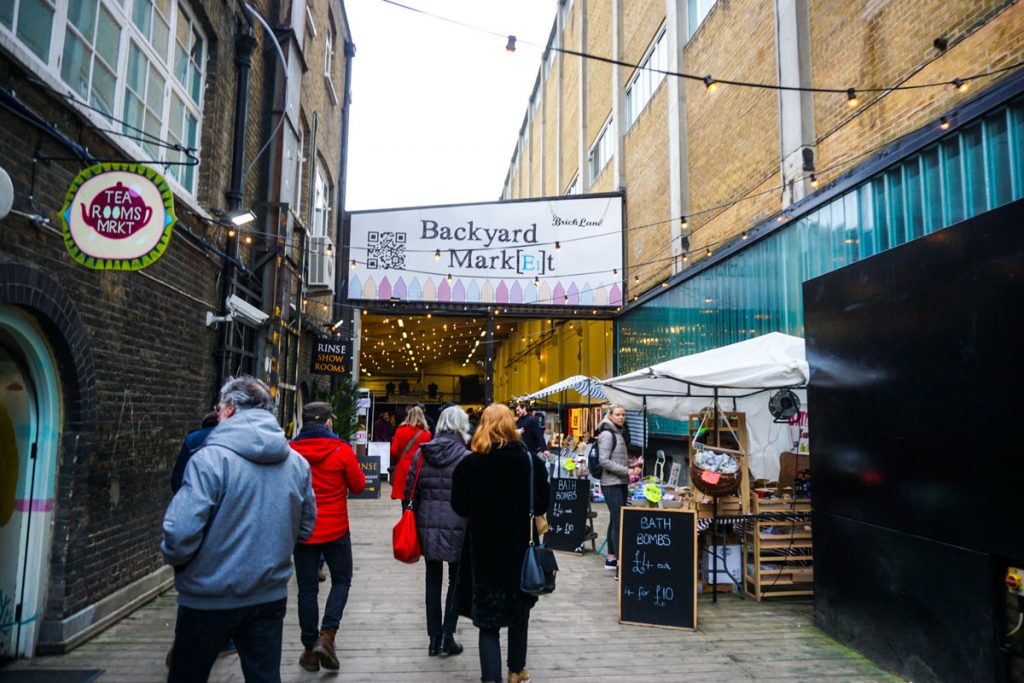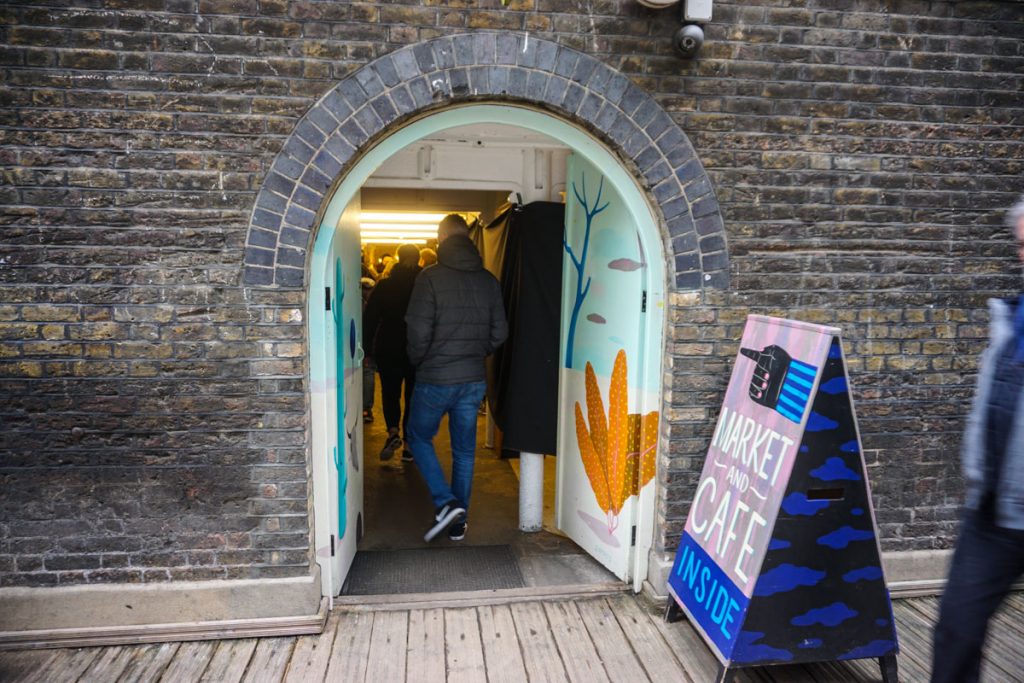 Brick Lane is the nexus of activity on Sundays, but there are lots of little alleyways and side street markets that are also worth a look for unique souvenirs and window shopping.
It's great to be able to support local artists through these pop-up markets. We went to the Backyard Market and the Tea Rooms Market, both located in an side street off of Brick Lane, and enjoyed perusing the stuff on offer there.
Visit the historic Spitalfields market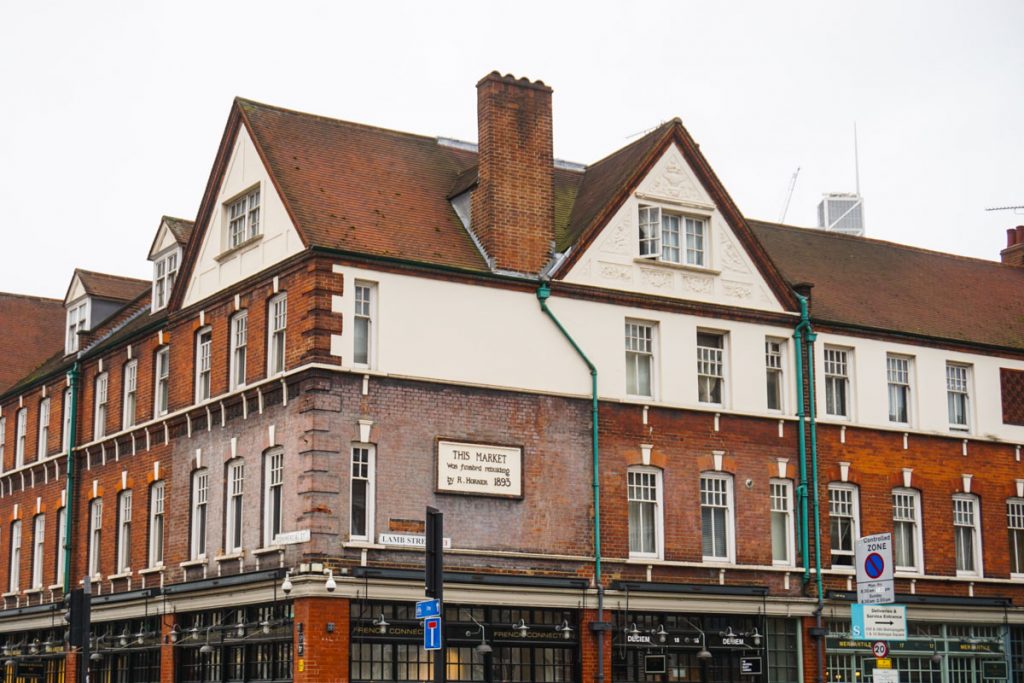 Another market? Hey, that's what Shoreditch is all about on the weekends.
The Old Spitalfields Market is a dynamic indoor market with more than 40 food stalls and 30 shops, where a market has been ongoing since 1638. It's one of London's oldest markets and is incredibly popular with locals and tourists alike.
Unlike the other markets mentioned above, the Old Spitalfields Market runs 7 days a week, so if you are visiting Shoreditch on a weekday this is one of the places you can't miss.
 Peruse the historic Spitalfields houses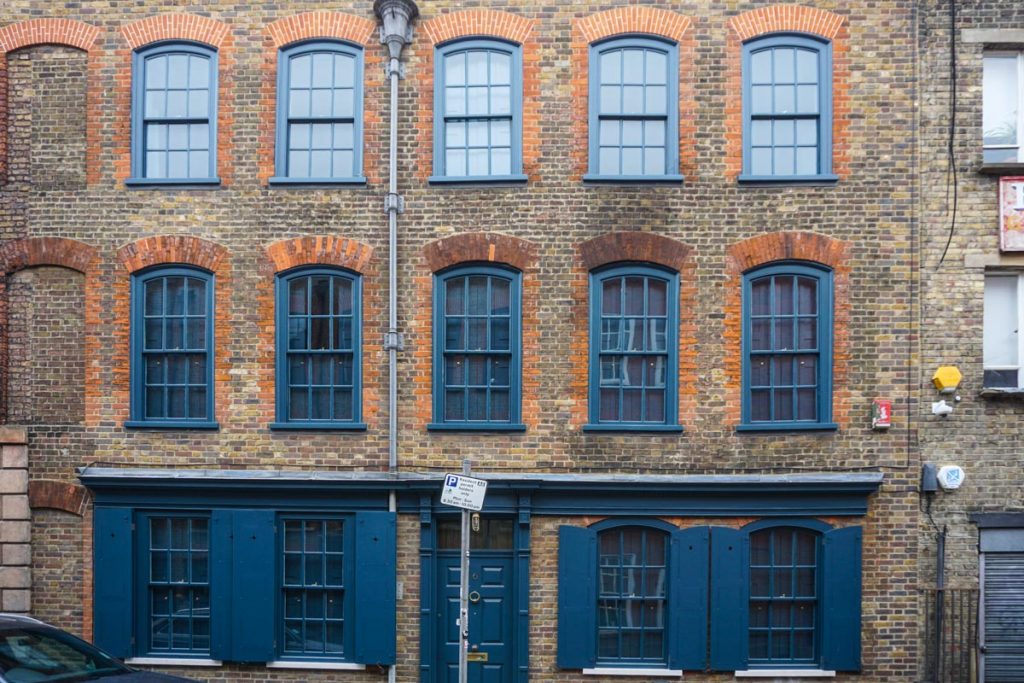 There's just something so aesthetically pleasing about the historic homes of Spitalfields, don't you think?
Princelet Street and Wilkes Street have some of the most beautiful Georgian-era architecture, with beautiful brickwork and perfectly painted shutters. If you're an avid Instagrammer, this is probably one of the more photogenic streets in all of London.
Love photography? You can also sign up for a travel photography tour in East London, where a professional photographer will help you set up your shots and develop a unique photography style with their guidance.
Save yourself a spot and book today!
Enjoy drinks on the roof of Queen of Hoxton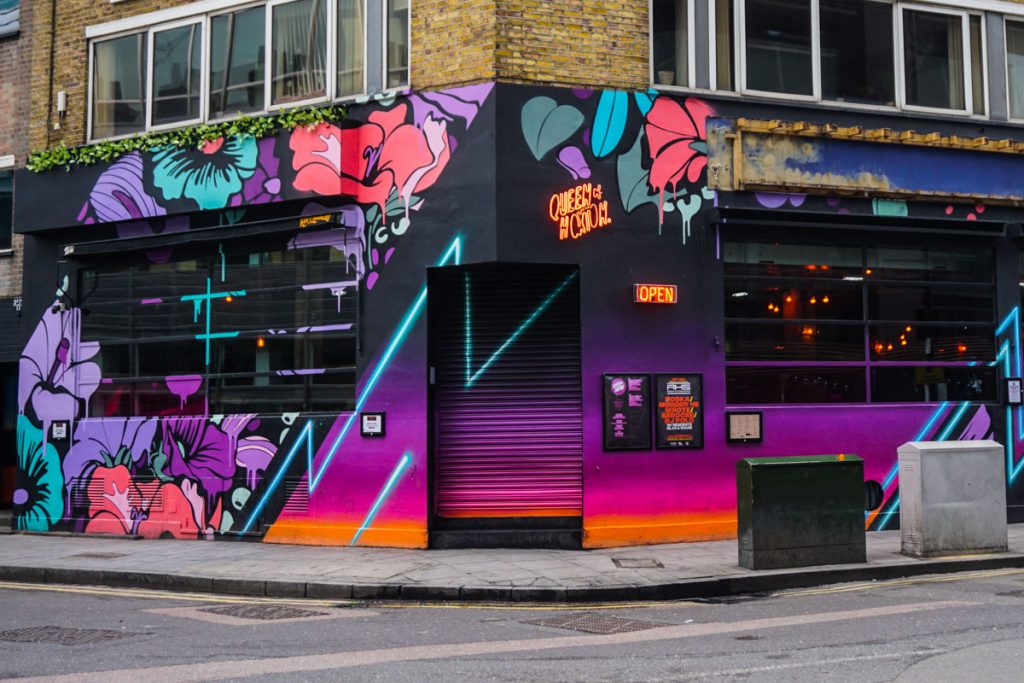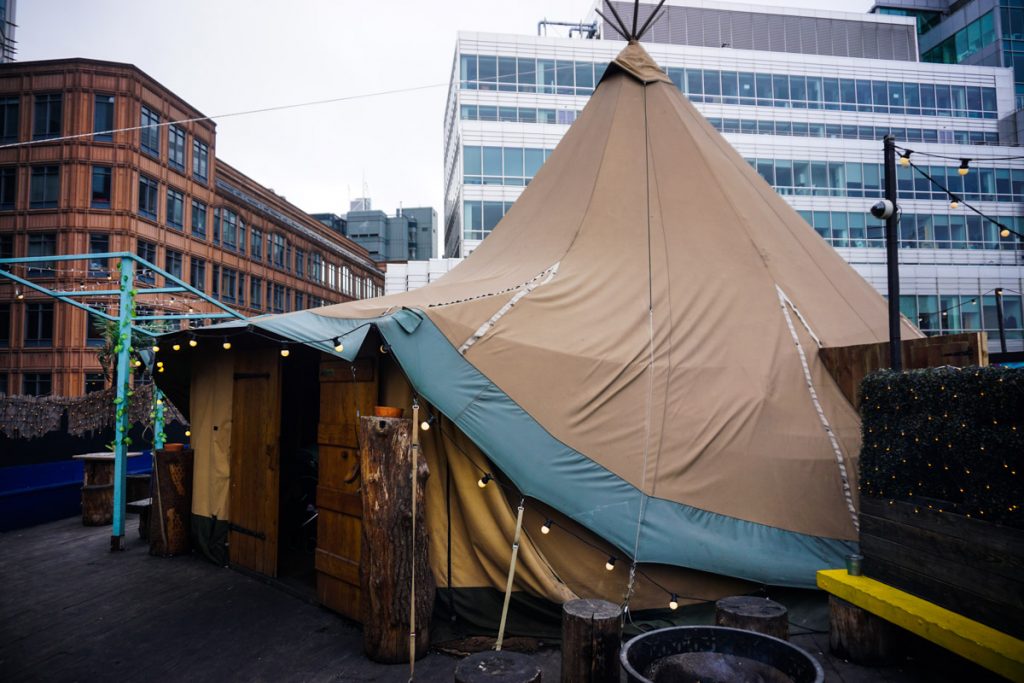 Queen of Hoxton is one of Shoreditch's best-loved bars, and its rooftop is especially loved in the summer.
It's still really cozy in the winter, as every year they bring in a giant themed tent (this year, the theme is Moroccan-inspired décor) so you can still enjoy the rooftop bar without freezing your butt off.
Want more rooftop bars? The city's got loads of them! Here are 10 more cool rooftop bars in London.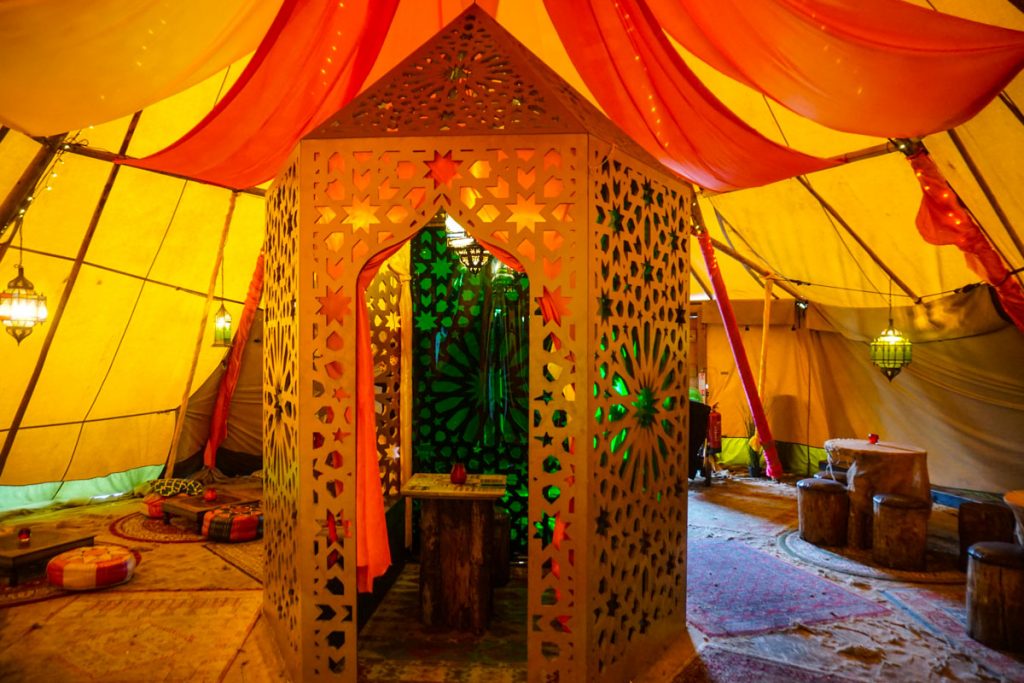 Explore the shops, stalls, and bars at Boxpark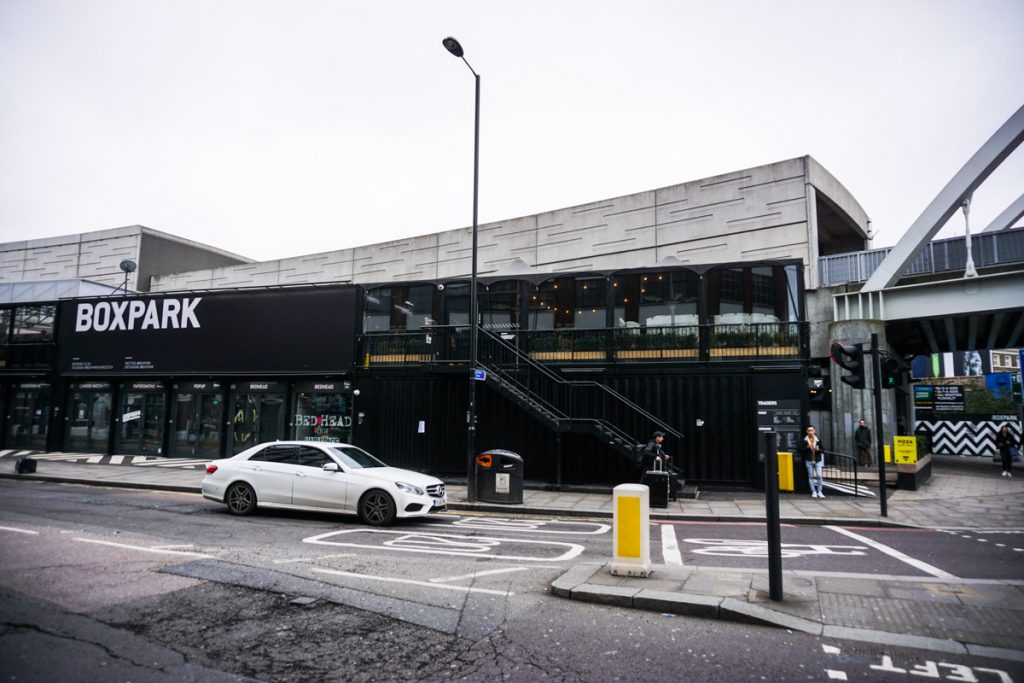 I have no idea why hipsters love shipping containers so much… but there's no denying that Boxpark is pretty freaking cool.
The bottom level is filled with quirky design shops, coffee shops, and affordable restaurants, whereas the top level is where you'll find the bars and some delicious late night eateries. Super compact and right in the heart of Shoreditch, you'll certainly end up walking past Boxpark at some point or another, so be sure to give it a visit!
Visit the Columbia Road Flower Market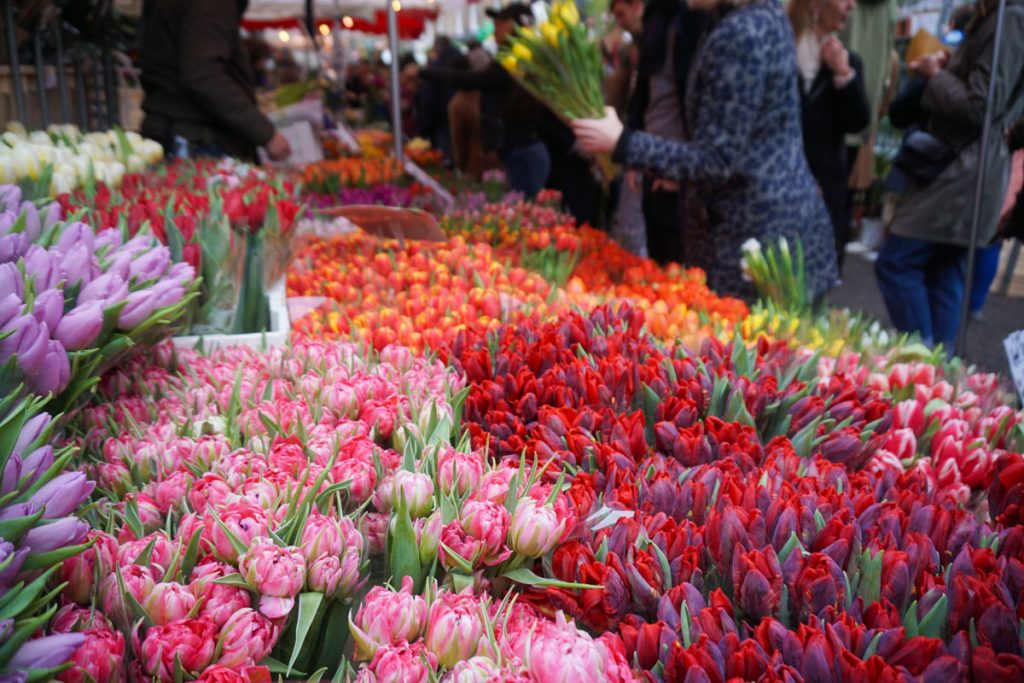 I wasn't expecting to be so impressed by the Sunday Columbia Road Flower Market… I mean, it is just a flower market!
But the flowers on offer are such a riot of beautiful colors, with all sorts of unusual types of flowers and plants that I don't normally see on offer.
Even standards, like the tulips pictured above, are more vibrantly colorful and unique than I've seen anywhere else in the world. For photography lovers, it's definitely one of the most Instagrammable places in London!
I was awfully tempted to buy flowers to take back to my hotel room — before I realized that my money would be better spend on more Indian food.
Where to Stay in Shoreditch
When I chose Shoreditch as my base for my most recent London trip, part of the appeal was getting to stay at the citizenM Shoreditch, which just opened in fall of 2016. I first heard of citizenM when visiting my friend Megan at her hotel at the Tower of London location and enjoyed the design.
The rooms aren't huge, but all in all, I was super happy with my stay at citizenM and would gladly book again in the future, and I would recommend it without reservations to similar-minded travelers to London. In a city as expensive as London, it's really rare to find mid-range accommodations in centrally-located parts of the city, so citizenM is filling a much-needed gap in the market.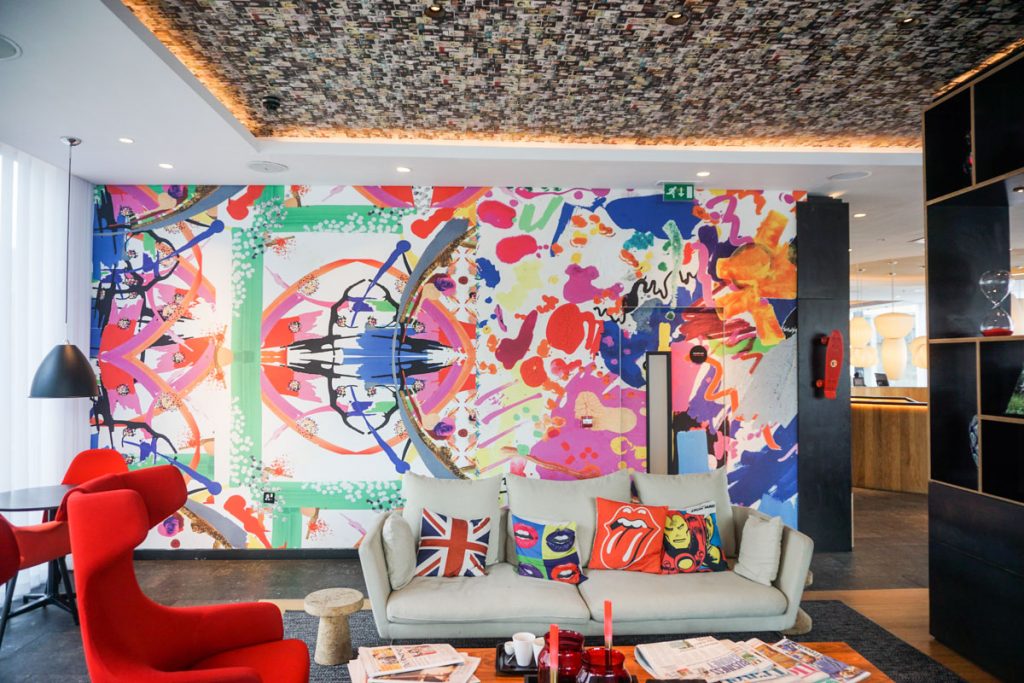 One of my favorite things about citizenM is how the public space is incredibly energizing and creative – design-focused without being stuffy or pretentious.
citizenM has reinvented the concept of the "lobby", turning it into a creative, communal space complete with a bar, long coworking tables, and tons of private nooks and crannies where you can enjoy a coffee, drink, or a chat. It also seemed to be quite a popular space to work.
Had I been in a more responsible mood that weekend, I likely would have taken advantage of the fast WiFi and the vibrant but relaxed atmosphere to get some work done.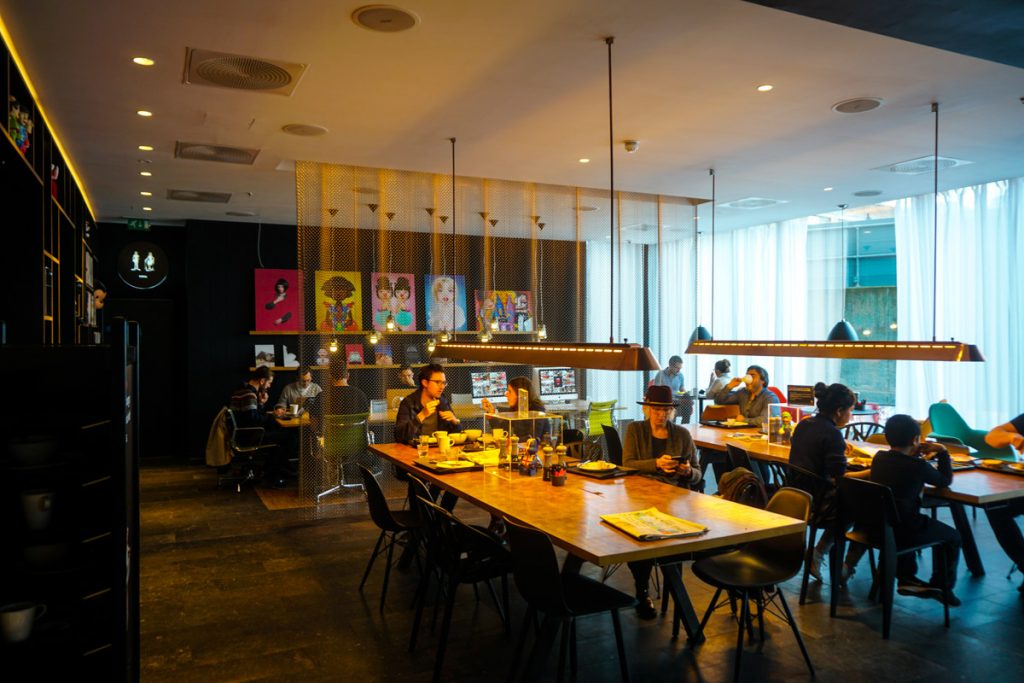 The rooms at citizenM are compact and utilize the small space well. However, if you're the kind of person who needs a super-spacious room to spread out all your stuff — citizenM is not the place for you. The rooms are comfortable with sufficient room for two people, but I wouldn't say they're roomy.
What the rooms lack in space, they make up for with super high tech perks like a wall-mounted flat-screen TV with lots of movies (including, um, an extensive and free selection of adult films) that you can watch for free from your in-room iPad. I especially liked all the bedside plugs (and loved how they had different socket types so that if you forgot your UK adaptor like I did, you weren't screwed). Touches like that are important to me and really improve the quality of my stay somewhere. As a blogger with approximately 17 electronics I need to charge at one point or another, having all the USBs and plugs in a convenient bedside location was a nice plus.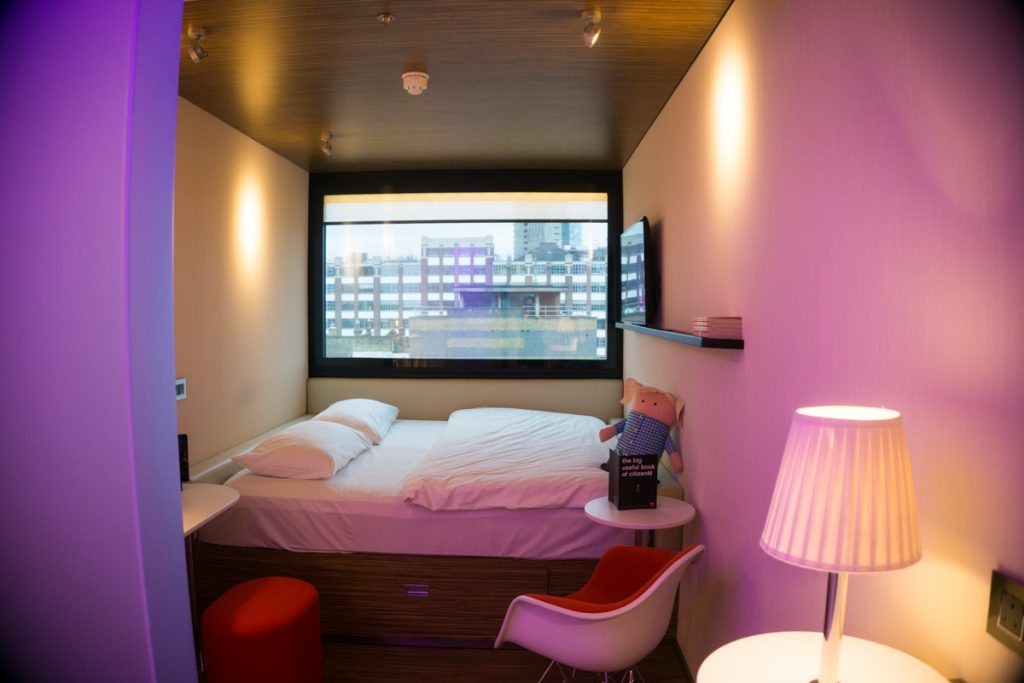 You could control the blinds and blackout curtains with a bedside switch and play with the lighting as well, which was a fun and super convenient touch. I felt a bit like I was in the Jetsons living in the future as I was playing with all the controls!
All in all, I was happy with my stay at citizenM and would gladly book again in the future, and I would recommend it without reservations to similar-minded travelers to London. In a city as expensive as London, it's really rare to find mid-range accommodations in centrally-located parts of the city, so I'm glad for places like citizenM. Check prices, rates, more photos, and availability here.
Have you been to Shoreditch? What have I missed that I should put on my list for next time?
Note: I received a complimentary night at citizenM and paid a media rate for the remaining two nights. All opinions are entirely my own.
Allison Green is a former educator turned travel blogger. She holds a Masters in Teaching and a B.A. in English and Creative Writing. Her blog posts merge her educational background and her experience traveling to 60+ countries to encourage thoughtful travel experiences that both educate and entertain. She has been a speaker at the World Travel Writers Conference and her writing, photography, and podcasting work has appeared in National Geographic, CNN Arabic, CBC Canada, and Forbes, amongst others. Now based in the San Francisco Bay Area where she grew up, she has also lived in Prague, Sofia, and New York City.