I'm a California native, but I lived in New York for nine years — just a year shy of becoming a "true New Yorker."
But considering that I've had a pigeon fly into my chest when taking out the trash and a rat run over my boot, I'm going to go ahead and say I deserve the New Yorker badge, anyway.
Like a real New Yorker, I willfully neglected to see a good half of New York's most famous attractions.
I never went to the Statue of Liberty, nor Ellis Island. I finally did make it to the Top of the Rock after 9 years (mostly because I was gifted a CityPASS) but the Empire State Building, nah.
But what I lacked in traditional tourist sights, I made up for in chasing the delightfully odd and the deliciously underrated: the true hidden gems that make New York the city it is.
I've previously written a comprehensive 5-day itinerary for New York, which I recommend reading if it's your first trip to NYC.
Some of the advice there will overlap here. If you're a New York veteran or a dedicated fan of the unusual, this guide may be better suited for you.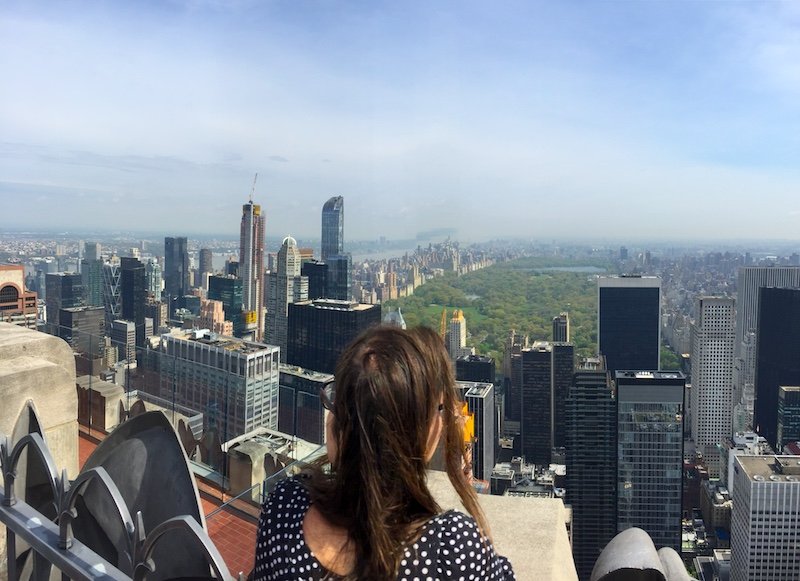 Note: This post contains affiliate links, which means I may receive a small commission if you purchase something through one of these links. Thank you for supporting the free content on this site! For more information on affiliate links and cookies, see my disclosure page for more details.
Tips for Exploring Off the Beaten Path NYC
New York is a city where new cultural happenings are a constant: new shows, galleries, and restaurants open up nearly weekly (and unfortunately, many close nearly as quickly). It's almost maddening to try to suss out what's new; being a hipster there is basically a full-time profession.
While it's hard to keep up with the pulse of New York, here are a few resources I often turn to when I want to find inspiration on what to do in NYC off the beaten path:
Time Out New York is probably the best, most comprehensively up-to-date resource about what's going on in New York. If you're looking to see what festivals, events, shows, or new happenings are on in this endlessly changing city, TONY is your best resource.
Checking out Atlas Obscura is one of my favorite ways to do research when visiting a new city. With 295 unusual things to do in New York currently on their list, if you saw one a day it'd take nearly 10 months to go through their list.
Untapped Cities is another great resource for finding hidden gems in NYC
For foodies, my favorite New York-based food websites are Serious Eats and The Infatuation. I'd often make it my weekend goal to go through one of their listicles and try as much food as I could in one of the highlighted neighborhoods.
My friend Ariel of Urbanist produces amazing Facebook Live and edited videos about New York City's many hidden gems. Recently, he explored occult symbolism in Grand Central Terminal and the history of coffee in Brooklyn.
Guided tours on a specific theme are a great way to dive into the nitty gritty of one aspect of the city and see familiar buildings through a new light.
Offbeat, Delicious, & Unusual Things to Do in Manhattan
Manhattan could be a city all on its own, and with 1.6 million residents, it's already double the population of San Francisco proper. While Manhattan is where you'll find many of the tourist clichés (I'm looking at you, Madame Tussaud's), you'll also find an incredible variety of culture there. Manhattan is also a history lover's dream, with a past rich with important literary, musical, and political figures.
Here a few of my favorite off the beaten path things to do in Manhattan.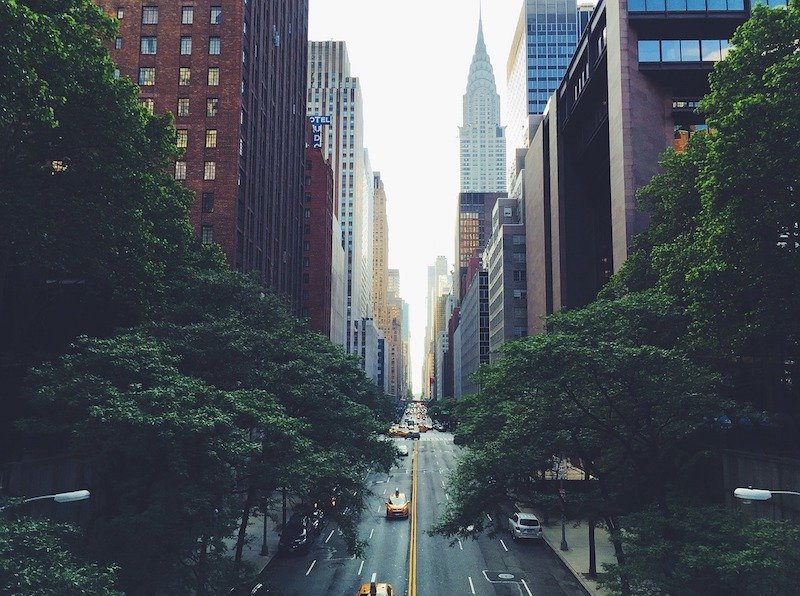 Check out the expressive street art of the Lower East Side
Now the hippest part of Manhattan, the Lower East Side was once in danger of being demolished by 20th-century urban planner Robert Moses in order to make room for an expressway. That fortunately never happened, and the Lower East Side has gone through a period of gentrification that has brought both incredible development and major growing pains. One of the best ways to explore the history of the Lower East Side is through its street art.
While you can do a self-guided tour of the street art, I often find it beneficial to learn about the context of the street art through a guide. I recommend the Alternative New York Street Art tour by Inside Out Tours (check out prices and availability here).
On this tour, you'll get to learn more about one of Manhattan's most culturally important neighborhoods. Traditionally been the home of immigrants arriving from Ellis Island, over time the Lower East Side came to be populated by artists, writers, and poets. This hybrid culture gave rise to a one-of-a-kind art scene that you can see for yourself on this tour. Starting at a classic  New York institution — Katz's Deli — you'll learn all about one of New York's most fascinating neighborhoods while also enjoying its incredibly expressive street art on a slow-paced 3-hour walking tour.
Check out NYC's tiniest museum
Mmuseumm is so small and obscure that even though it was open for 4 of the years that I was living in New York. I only learned about it after leaving through my friend Ariel's video of it!
It's located in an old elevator shaft on Cortlandt Alley between Franklin Street and White Street in Tribeca. A mere 60 square feet, this museum (and its "second wing" located 3 doors down) hosts a few curios from around the world, focusing on contemporary artifacts.
Drink at a speakeasy in the back of a hot dog restaurant
One of New York's worst-kept secrets, Please Don't Tell is the famously exclusive speakeasy bar which you enter via telephone booth in the back room of Crif Dogs.
It's best (though still difficult) to make reservations by calling at 3 PM on the day you want in, though you can try your luck as a walk-in any time it's open. Cocktails are extremely expensive, even by New York standards – like, $15 a pop – but their inventiveness and the speakeasy atmosphere makes it (a bit) easier to stomach the coast. Pair with a deep-fried or bacon-wrapped hot dog if you're feeling crazy.
Trace (and taste) Downtown Manhattan's immigrant history through its food
With influences from Chinese, Latin American, Jewish, African-American, and Italian culture — and countless more — Downtown Manhattan tells the story of New York in a microcosm. And what more delicious way to explore history than through food?
On this tour, you get to experience many different cultures at once in a 3-hour tour (check prices, availability, and ratings here). Explore Downtown Manhattan on a tour that starts at City Hall and takes you through Little Italy, the Essex Street Market, and Chinatown.
You'll learn more about how the first immigrants settled here while sampling food from all over the world — including New York icons like the potato knish. This tour is a great way to experience New York's multiculturalism and see how America's deep immigrant history makes our culture so much richer and stronger. Not to mention more delicious.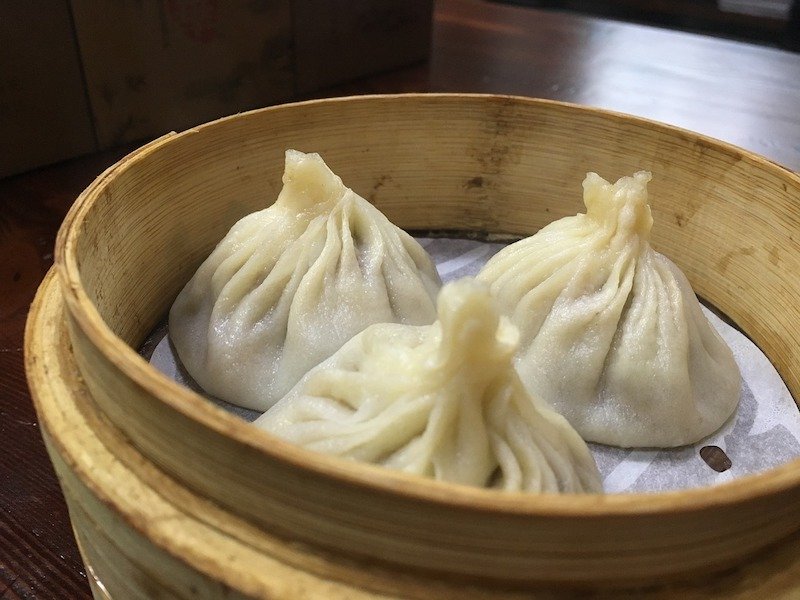 Find New York's hidden Highline
The Highline Park that goes from the trendy Meatpacking District up through Chelsea and Hudson Yards is now quite famous and always packed with people – but it wasn't the first elevated park in New York. The Elevated Acre in Downtown Manhattan is even less known, accessed only via an escalator or elevator at 55 Water Street, which is often easy to miss amidst scaffolding and construction.
Located 3 stories up, it's a quiet respite from the unrelenting hustle of the Financial District (well, if you can get past the helicopters constantly going by — it's right near the helipad. Nothing's ever perfect in New York). With an amphitheater hosting events as well as a beer garden, there's plenty to do to while away the time in this true New York hidden gem. Plus, it has great views of the Brooklyn skyline.
Explore Harlem's thriving and historic jazz scene
For decades, Harlem has been synonymous with jazz, from the greats like Duke Ellington, Ella Fitzgerald, and Miles Davis to today's performers carrying on the torch. There are plenty of excellent jazz clubs you can visit independently in Harlem. I also spent many a night at the Fat Cat in Greenwich Village as a young NYU student. Alternately, you can take a guided tour organized by Welcome to Harlem (prices and availability here), where you'll learn the life stories of the Harlem jazz scene's greats and see some of the first venues they performed in. Even better, the tour ends with a concert performance by some of the most talented musicians today while you enjoy lunch.
Check out the criminally underrated Cloisters museum
It may seem strange that a branch of the Met is considered off the beaten path NYC, but so few people venture up to the Cloisters due to how far uptown the museum is (well into the 200s, nestled in Fort Tryon Park). However, I think that'll soon be changing now that the Met is charging a mandatory $25 entrance fee and offering 3 days worth of admission to its 3 branches.
Still, those who do go will be richly rewarded with one of New York's most stunning buildings and a collection of art from medieval Europe, including some epic tapestries, all in one of the quieter museums in all of Manhattan.
See a section of the Berlin Wall
A fancy apartment lobby on perhaps the most capitalistic avenue in all of New York, Madison Avenue, is now home to a 5-section wide panel of the Berlin Wall
Painted by Thierry Noir and Kiddy Citny, this section of the Berlin Wall as brought across the Atlantic by boat in 1990 and used to live in the outdoor plaza nearby until it was threatened by water damage. Brought inside the lobby, you can now view it during everyday business hours, weekdays from 8:30 AM – 6 PM at 520 Madison Avenue.
Relive the punk rock days with a rock'n' roll walking tour
Now a playground for yuppies and NYU students, the East Village was once the birthplace of American punk rock. If you're a fan of the Ramones, Blondie, and the Talking Heads, you can't miss this rock'n' roll walking tour (there's one run by Rock Junket Rock n' Roll tours; check prices, availability, and ratings here)
On this tour, you'll explore New York City's East Village and learn how this neighborhood played in three important musical genres — rock, punk, and glam rock — hearing the stories of legendary bands such as the Ramones, New York Dolls, and Led Zeppelin. You'll also get to see legendary sites like the former CBGB's (now closed, and now a John Varvatos store – eye roll), Fillmore East, and the former residences of Iggy Pop, Joey Ramone, and Madonna.
Explore New York's hidden catacombs
If you're looking for a truly unique – and slightly spooky – look at New York City's history, then this is the tour for you. This tour will take you underneath the Basilica of St. Patrick's Old Cathedral (in Downtown Manhattan, not the famous one on 5th Avenue) to explore the catacombs below, lit by candlelight.
These catacombs have served as the final resting place for some of the city's most famous citizens for over 200 years. Access to the catacombs is only allowed by exclusive tours (check ratings, pricing, and availability here) so if you're curious to explore New York's spooky side by candlelight, book ahead to make sure you don't miss out.
Go buckwild on Korean food in K-Town
Manhattan's West 32nd Street is nicknamed Koreatown for a reason: countless, countless delicious Korean restaurants serving up BBQ into the wee hours of the night. You can't really go wrong anywhere, but my favorite is Jongro. Just be prepared to wait – I've waited up to an hour and a half on a weekend. It is expensive, but oh, so worth it.
Tip: try grilling your kimchi – it's even better that way! And they'll refill the banchan (side dishes) as much you like, so just ask.
Sail around Manhattan on an old school schooner
This tour will give you a look at New York City from a truly unique perspective. Don't settle for a tired old ferry ride to get your harbor views — sail instead on New York's largest sailboat, the Clipper City, a picture-perfect replica of the large schooners used over a century ago. From the Clipper City's deck, you'll get to see the Statue of Liberty, the Brooklyn Bridge, and Ellis Island. The deck is  comfortable and features a full bar — at a price, of course (this is New York, after all). Check out tickets and availability here.
Take the Roosevelt Island Tramway
One of Manhattan's best views can be seen for the low, low price of a MetroCard swipe ($2.75, at the moment). The Roosevelt Island cable car is one of the city's best-kept budget secrets, bringing you soaring above the Triboro Bridge straight the tiny residential Roosevelt Island, tucked between Manhattan and Queens.
The cable car is the main attraction – there's not too much to see on Roosevelt Island – so either take it both ways and return where you started, or take the F train onto Queens to explore some great neighborhoods like Long Island City (breweries!) and Astoria (try the Greek food!)
Strange, Alternative & Delicious Things to Do in Brooklyn
Brooklyn is a place that delights in the odd and unusual, making it a perfect base to explore off the beaten path New York. One of the most richly historic places in New York, Brooklyn was the site of several important Civil War battles and has been the landing grounds of countless immigrants. In fact, my very own uncle grew up in a Brooklyn candy store, the son of Polish refugees.
Brooklyn today is gentrifying rapidly, bringing changes both bad and good to historic neighborhoods. But look beyond Instagrammable bagels (please do — the rainbow bagel should die and rot in hell) and you'll find a rich synthesis of culture, expressed through food, street art, and performance.
Explore Bushwick's intriguing street art scene
Bushwick is virtually synonymous with Brooklyn's flourishing art scene. The best place to start is with Bushwick's dynamic street art scene, which you can see in the work of the Bushwick Collective, a famous group of graffiti artists. While it's free for all to visit the Bushwick Collective, you may find it beneficial to take a tour (check out ratings, availability, and pricing here)
On this tour, you'll get to see some of the beautiful outdoor works of the Bushwick Collective, a famous group of graffiti artists. You will learn more about the group's history and enjoy some truly incredible artwork from artists past and present. In addition to this, you'll also meet Joe Ficalora, the founder of the collective and one of its most respected artists.
Explore the transit of yore at the New York Transit Museum
I had long heard of this place, but never thought I'd find it so interesting. I actually only went there seven years into living in New York, when I guided a field trip there for my students. But I think I honestly had almost as much fun as they did.
The Transit Museum is located in the abandoned Court Street subway station and includes gems such as a perfectly preserved subway car from as far back as the 1920s (complete with old-fashioned subway ads). It's a fun way to step back in time (and it's a hundred times more enjoyable than riding the actual subway).
Drink your way through local breweries
Beer fans may be surprised to find that Brooklyn abounds in breweries, but it's true! You can independently visit one of Brooklyn's most famous breweries, Brooklyn Brewery, or take an Urban Adventures tour to learn what makes Brooklyn's beer scene one of the best in the U.S. (check availability, ratings, and prices here).
On a 2.5-hour walking tour, you'll get to see how your favorite beers are made at a local brewery — and of course, drink plenty of samples along the way ;). In addition, you'll visit 19th-century buildings from the pre-Prohibition era. And because nothing goes better with beer than pizza (except Asian takeout, but I'm biased), you end the tour with a stop at a local pizza joint to get a slice of that classic New York pizza.
Explore the massive, beautiful Green-Wood Cemetery
Hauntingly beautiful and one of the more serene places in Brooklyn, Green-Wood Cemetery is a can't-miss for cemetery lovers (where my fellow creeps at?).
In New York, even the dead are subject to ridiculously high rents — a plot at the exclusive Green-Wood cemetery costs of $20,000, whereas a mausoleum will set you back nearly half a million dollars. Even if you could never afford to be buried here, it's beautiful to walk around and see the sights (obviously, be respectful of mourners should you choose to visit).
See burlesque and circus arts at the House of Yes
A Bushwick institution, the House of Yes is home to circus and cabaret artists and countless dance parties. Ranging from burlesque dancers to contortionists, aerialists to fire dancers, the performers at House of Yes are anything but boring.
Check out their ever-changing events schedule (ignore the doors time — they're a joke — actual times of the events are on the ticket sales page)
Eat your way through a Brooklyn brownstone tour
Brooklyn's Smith and Court Street are some of the most beautiful streets in Brooklyn – I can almost guarantee you've seen them in film at one point or another. On this food and walking tour (run by Urban Adventures – check prices, availability, and ratings here), you can simultaneously explore some of Brooklyn's most iconic architecture while sampling local treats.
Instead of seeing the more famous restaurants, you'll be visiting small, artisan mom and pop shops to get a truly local look at Brooklyn's diverse food culture. Artisan cheese shop Stinky Bklyn, an authentic Italian pastry shop, a modern-day soda fountain, and the oldest Middle Eastern bakery in New York are just a few of the places you'll explore on this 3-hour food and history tour.
Walk through the living film set of Ditmas Park
The mansions of Ditmas Park feel completely out of place in contemporary New York. Preserved from the days when Ditmas Park was farmland, many of these mansions still remain — some derelict, others in pristine condition. The architectural styles range wildly, from Southern plantation-looking monstrosities to quaint Victorian-style houses.
For this reason, odds are if you're passing through Ditmas Park, a film set is either being set up, filming, or being dismantled. I used to live a few blocks away (in a much more modest area of Flatbush) and walking or biking through this neighborhood never got old. Just at the tail end of the Prospect Park Lake, near the new skating rink, a walk through this neighborhood is literally like stepping backward in time. Most of the mansions are located on the hoighty-toightily named Marlborough, Argyle, Rugby, and Westminster Roads between Albemarle and Cortelyou.
Forget cheesecake – eat the best Key lime pie you'll find outside of Florida
New York is synonymous with cheesecake thanks to Junior's cheesecake (delicious, but slightly overrated). But in my humble opinion, Steve's Key lime pies are an under-the-radar New York institution.
I've found Steve's Key lime pie served at a few different places in New York over the years, but what better way to enjoy them than at their source in Red Hook? Have the classic or try a "swingle" — a slice of his Key lime pie dipped in chocolate (and other goodies — I'm partial to the white chocolate and raspberry one).
Go wine tasting at one of Brooklyn's two wineries
Centuries back, when Brooklyn was mostly farmland, it was home to several vineyards. While these farms have given way to residences and businesses that support the 2 million plus inhabitants of Brooklyn, a few intrepid wine lovers have brought Brooklyn's past in line with its present.
Using grapes from the North Fork of Long Island, one of New York's two main wine regions (the other being in the Finger Lakes), winemakers have lovingly crafted wines right in Brooklyn, processing, barreling, and aging them right in New York City. You can sample them at the Red Hook Winery and Brooklyn Winery, which both host tours and tastings.
Drink vodka and ogle leathery old Russians on Brighton Beach
Forget Coney Island — Brighton Beach is my favorite beach in Brooklyn (though Queens has better beaches with actual waves). Mostly because of the food.
Stop in one of the many delis serving up Russian favorites to-go from an enormous deli counter. I always went to the same one, whose name I've unfortunately forgotten (I blame the brown bag vodka that always accompanied these Brighton Beach excursions). I'd load up on pickles, stuffed peppers, pierogis, cabbage, mushrooms, and more, grab a bottle of vodka and soda from the liquor store down the block, and watch old Russian men with giant silver foil sun reflectors get their tan on.
Get your artisan chocolate fix in Brooklyn
Who knew that Brooklyn was home to a chocolate renaissance? Stop by Fine and Raw chocolate (full disclosure: my friend may have worked there and I may have consumed a LOT of free chocolate from there over the years) in Bushwick for a delightfully hipster spin on a chocolate factory.
Or, for the real sweet tooths, take a longer 4-hour tour sampling 4 different chocolate shops spanning a variety of neighborhoods ranging from DUMBO to Red Hook, stopping for a picture-perfect view of the Statue of Liberty in Red Hook. If intrigued, check out tour pricing, availability, and ratings here.
Explore New York's least-known Chinatown
New York is home to several Chinatowns, but one of its best-kept secrets is the small Chinatown in Sheepshead Bay, centered around Avenue U.
Honestly, I likely never would have known this place existed had I not stumbled upon it when I was an in-house SAT tutor for rich kids. A few favorites are Long Wang bakery for delicious egg custard tarts and Wing Hing for classic dim sum, but this guide to Avenue U is more extensive.
Take a scenic nature walk… along one of New York's most polluted waterways?
It's kind of ironic that you'd find a self-proclaimed "nature walk" along one of the most polluted bodies of water in all of U.S. Surprisingly, walking along Superfund-site Newtown Creek is surprisingly enjoyable thanks to the work of architect George Trakas.
Located on the outer edges of Greenpoint, Atlas Obscura bills it as "an area of beauty amidst a history of environmental damage," which I think is an apt way to put it.
Delightfully Odd & Delicious Things to Do in Queens
Queens is New York's most diverse borough. It's considered the language capital of the world, with 800 unique languages being spoken in just this one borough alone. As a result, the best way to explore Queens is through your stomach — nowhere else in New York is home to as many delicious restaurants and unique cuisines as Queens.
While the food is really the star of Queens, there are plenty of offbeat hidden gems that are well worth a visit as well, including some of New York's most interesting museums.
Eat the best momos ever in the back of a phone shop
In the multicultural borough of Queens, Jackson Heights is among the most diverse. One of the most visible immigrant groups in Jackson Heights is the Himalayan community (namely Nepalese and Tibetan). And they've brought their delicious food (yak anyone?) with them.
There are countless delicious places to dine on momos, the Nepalese/Tibetan version of the humble dumpling best enjoyed with a heavy dose of hot sauce. But my favorite place to enjoy it is at Lhasa Fast Food, which is a bit hard to find seeing as it's located in the back of a cell phone shop (if you get lost, just ask and you'll be pointed in the right direction). There's often a wait, as the shop is tiny but well-loved in the neighborhood, so be prepared. But the deliciously fragrant beef momos are well worth the wait. If you're curious, you can try the butter tea as well, but it's not a favorite of mine, I'll be honest.
See New York in miniature at the Queens Museum
The Queens Museum is home to a sprawling, 9,335-square-foot replica of New York City. It's comprised of nearly a million buildings representing 320 square miles of NYC, and it's a sight to behold. Even New York's most iconic landmark, the Empire State, measures only 15 inches tall on this massive model of New York.
The model was originally created for the 1964 World Fair and was so well-loved that it was updated again in 1992 to bring it up to date. As a result, every building that existed prior to 1992 is immortalized in miniature form. I'm wondering if they'll update it agian — New York is such a fast-changing city — but I love how New York is forever frozen in this moment in time, in small scale. Truly a can't-miss.
Explore Fort Tilden, an abandoned nuclear base on a beach
There's an abandoned military base on the beach in Rockaway, Queens, which was built in 1917 to protect the U.S. from German and Russian fleets during World War I. Later, during World War II, they fortified the area, and during the Cold War, Fort Tilden became home to a massive arsenal of nuclear missiles — missiles twice as strong as those that levelled Hiroshima.
Fortunately, as the Cold War thawed, so too did the need for nuclear weapons on New York's beaches, and in 1972 the base was abandoned. Now, it's a little-known beach well-loved by — you guessed it — hipsters.
Eat the best Chinese food you'll find in an underground mall
Flushing is one of my favorite neighborhoods in Queens and in New York as a whole. Getting off the train during peak hours in Flushing almost feels like traveling to China. Virtually all signage is in Chinese, and that's the dominant language you'll hear as you explore Flushing. Slick, lacquered orange Peking ducks hang from the windows all up and down Main Street, and steam rises from bamboo baskets everywhere you look. Basically, it's a magical place.
The heart of Flushing Main Street is Golden Shopping Mall, in my opinion, loved by Anthony Bourdain and countless others. Two stalls here became so loved that they became larger scale enterprises: the tiny Tian Jin Dumpling House became the massive Dumpling Galaxy, and Xi'an Famous Foods became the well-known New York mini-chain it is today. Those are both worth stopping in (be sure to get the lamb and squash and/or vegetarian dumplings at Tian Jin, or the cumin lamb noodles at Xi'an). But another love of mine is Chengdu Tian Fu, serving up fiery hot, no-nonsense Sichuan food. You can't miss the cucumber salad slicked with Sichuan peppercorn and sesame oil, the ultra-thin and perfectly chewy dan dan noodles, or the twice cooked pork with leeks.
Eat dosas twice as large as your face at an underground temple canteen
A 20-minute walk from Flushing Main Street, you'll find the massive Ganesh Temple, which was the first Hindu temple ever built in the United States. That's impressive in its own right, but I'm bringing you here for the food.
Head to the downstairs canteen – it may take a little poking around and asking to find, but that's why you go off the beaten path, no? – and be prepared to be stunned with some of the most delicious dosas you'll find outside of South India. The paper dosa spans two plates  – literally – and is served with incredible chutney and sambar dipping sauces. But my favorite is the chili masala dosa, stuffed with insanely spicy potatoes — only for the brave. I'm also partial to idlis, a steamed fermented lentil dumpling (it tastes way better than it sounds!) — my best friend's mom in my teenage years always made them, and this is the only place that's come close to replicating hers.
Go on an around-the-world food tour
If you're a bit overwhelmed by Queens and all the food it offers, I can't say I blame you. These are not eateries for tourists; they're catering to large, vibrant immigrant communities (though of course, everyone is always welcome).
If you prefer a bit of hand-holding, or just some local advice, I've heard excellent things about Jeffrey Tastes' Queens food tours. Three different tours are on offer, and all sound equally mouth-watering – I'm holding myself back from booking a ticket back to NYC just writing this.
Unusual & Tasty Things to Do in the Bronx
I'll be honest, I don't know the Bronx nearly as well as I should. I've only gone a few times, for some specific purposes: a Yankees game, a trip to the Bronx Zoo with my students, the Botanic Gardens (too bad the Chihuly exhibit is now done!), and eating.
I know there's more to be seen in the Bronx – specifically, exploring the street art scene of the South Bronx, wandering Grand Concourse, or exploring Pelham Bay Park, thrice the size of Central Park.
But since the way to my heart is through my stomach, here are three culinary standouts of the Bronx that are worth exploring. Check out this guide to the Bronx by locals to build up ideas of what else to explore while in one of New York's more underrated boroughs.
Explore the real Little Italy
Forget that tiny, tourist-trappy, few-block radius of "Little Italy" in Manhattan, slowly being overtaken by Chinatown. If you want the real Little Italy, you're going to have to go out of your way, like a lot, to the Bronx.
Welcome to the Bronx's Arthur Avenue, where Italian-American families continue to shop and run businesses. Don't miss burrata at the Casa Della Mozzarella, imported goods from Tino's Deli, and ALL THE MEAT from Calabria Pork Store. If you prefer a little more guidance, there is an excellent food tour run by Urban Adventures (check prices, ratings, and availability here).
The tour starts with the famous Arthur Avenue Retail Market, where food arrives directly from Italy. From there, you'll visit nearly a dozen Italian restaurants and specialty markets, many of which have been around for almost a hundred years. If you're a true fan of Italian food and culture, then this is something you have to see.
Eat New York's best Mexican food
I first ventured to the Bronx to eat at Carnitas El Atoradero — which became too famous for its own good and has since closed and relocated to Brooklyn (predictably, it doubled its prices and slashed its portion sizes). But the Bronx is still home to some of New York's most legit Mexican food, as certified by a picky Californian and four-time visitor to Mexico.
For Oaxacan food including a variety of delicious moles, try La Morada, or for delicious mole poblano and chilaquiles, try Xochimilco Family Restaurant.
Try West African cuisine
The Bronx is one of New York's few quasi-affordable boroughs, and as a result, it's home to a larger immigrant population. West Africans are one of the largest of the Bronx's many diasporas, and this can be seen in delicious restaurants you'd be hard-pressed to find anywhere else in the U.S.
Try Accra or Papaye for Ghanaian food, Nabaya for Guinean food, or Patina for Nigerian food.
Explore the history of hip-hop through a tour
OK, so this tour technically covers the Bronx and Harlem, but I wanted to show the Bronx a little more love. If you're a fan of classic hip-hop, then this is something you can't afford to miss. On this tour, you'll be guided through the genre's early history and visit some of the most important clubs in its early development. On top of this, the guides for this tour are legitimate hip-hop celebrities, including Grandmaster Caz, Kurtis Blow, and Reggie Reg. If you'd like to see how your favorite music got started, then this is something you have to check out: you'll see street art, breakdancing, famous venues like Harlem's Apollo theatre, and a lot more on a comfortable, 4-hour bus tour. Check pricing, availability, and reviews here.
One Thing to Do in Staten Island (Just to Be Fair)
Sorry — part of claiming my New York badge is getting to constantly joke about Staten Island (to all Staten Islanders, I'm sorry, but we all kind of knew this was going to happen).
Staten Island doesn't get much love. It's largely residential, and honestly, I've never stepped outside the ferry terminal. I have, however, taken the ferry several times, so that almost counts. However, I've been told that Staten Island is home to some pretty epic Sri Lankan food as a result of the extensive Sri Lankan community out there, which is almost reason enough for me to leave the ferry terminal. Almost.
See the Statue of Liberty for free, with beer in hand
OK – the beer isn't free. But the ferry is! I'll never get tired of taking the Staten Island Ferry from Battery Park to Staten Island and back, taking in views of the Statue of Liberty and Downtown Manhattan all the while. Bonus, unlike most places in NYC, you're actually allowed to drink on the ferry — you can even buy it on board the ferry!
Unusual Places to Stay in NYC
Brooklyn
The Box House Hotel: Located in the ultra-hip Greenpoint neighborhood, the Box Hotel is one of New York's coolest. Made from a converted factory (of course, because #Brooklyn), this hotel has been lovingly converted into ultra-stylish lofts with funky designs from local New York artists. Even cooler, the Box House has its own vintage 1970s checker cab, which they use to shuttle you to the subway (which is a bit of a walk away). It doesn't get more Brooklyn than that! See photos, reviews, prices, and availability here.
Queens
The Paper Factory: Following the trend of factories-turned-hotels, the Paper Factory in Long Island City, Queens is one of the more atypical hotels you can choose during your time in New York. It's near other off the beaten path gems like the Museum of the Moving Image and Gantry State Park, which has amazing views over Manhattan. The hotel itself has lots of awesome design quirks, like authentic British red phone booths (perfect for confusing your Instagram followers) and vintage mini-fridges in your room. See photos, reviews, prices, and availability here.
Manhattan
The Library: If you're a book geek like I am, this hotel was pratically designed for you!  Not far from the iconic NY Public Library, this hotel is library-themed, and each room is dedicated to a different genre or topic of literature – each room has some hundred or so books for the guest to peruse. Plus, there's an enormous reading room (that you've likely seen photos of) — plus more books in the front desk, the restaurant, and beyond. The hotel also has a hip rooftop bar serving literary-themed drinks! See photos, reviews, prices, and availability here.
OK, fellow New York lovers and New Yorkers, hit me with your best shot — what are your favorite off the beaten path NYC gems?
Allison Green is a former educator turned travel blogger. She holds a Masters in Teaching and a B.A. in English and Creative Writing. Her blog posts merge her educational background and her experience traveling to 60+ countries to encourage thoughtful travel experiences that both educate and entertain. She has been a speaker at the World Travel Writers Conference and her writing, photography, and podcasting work has appeared in National Geographic, CNN Arabic, CBC Canada, and Forbes, amongst others. Now based in the San Francisco Bay Area where she grew up, she has also lived in Prague, Sofia, and New York City.