If I could pick only one mountain village to be the absolutely postcard-perfect symbol of Switzerland, I'd pick Wengen every time.
Sitting high above the Lauterbrunnen Valley, Wengen is everything you could ask for in a Swiss vacation. 
With its traditional chalets that haven't been tainted by modern architecture, rugged snow-capped mountains towering above you in every direction all year round, and perfectly groomed grass fields accompanied by the frequenting sound of cowbells, it's peace on earth!
The best part is, the entire village is car-free!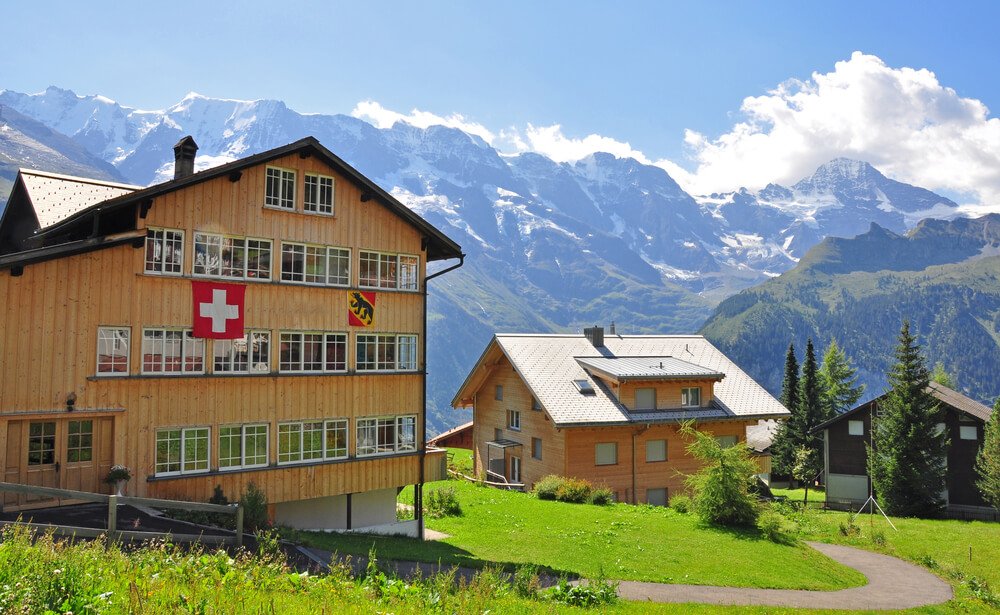 Note: This post contains affiliate links, which means I may receive a small commission if you purchase something through one of these links. Thank you for supporting the free content on this site! For more information on affiliate links and cookies, see my disclosure page for more details.
The only way to get to Wengen is by train from Lauterbrunnen (so, be sure to remember this when you're planning your trip). 
It's been this way since the late 1800s and if that doesn't scream old time charm then I don't know what does!
Sure, part of the reason it has remained car-free is probably because it would be extremely difficult to get a car up there, but hey I'm not complaining either way. 
Another great thing about Wengen is the fact that it's a year-round destination, so you can visit whenever you like. Just make sure its seasonal activities line up with your interests!
Located smack dab in the middle of the Jungfrau region, Wengen is a mecca for skiers (between December and April) with more than 20 lifts and 60 miles of slopes. So if you like to ski, winter is the season for you!
But with more than half of the year left to account for, there's plenty of time to enjoy all of the other awesome things to do in Wengen that this charming Swiss town has to offer.
Check out this list to learn more!
The Best Things to Do in Wengen, Switzerland
Build your own hike.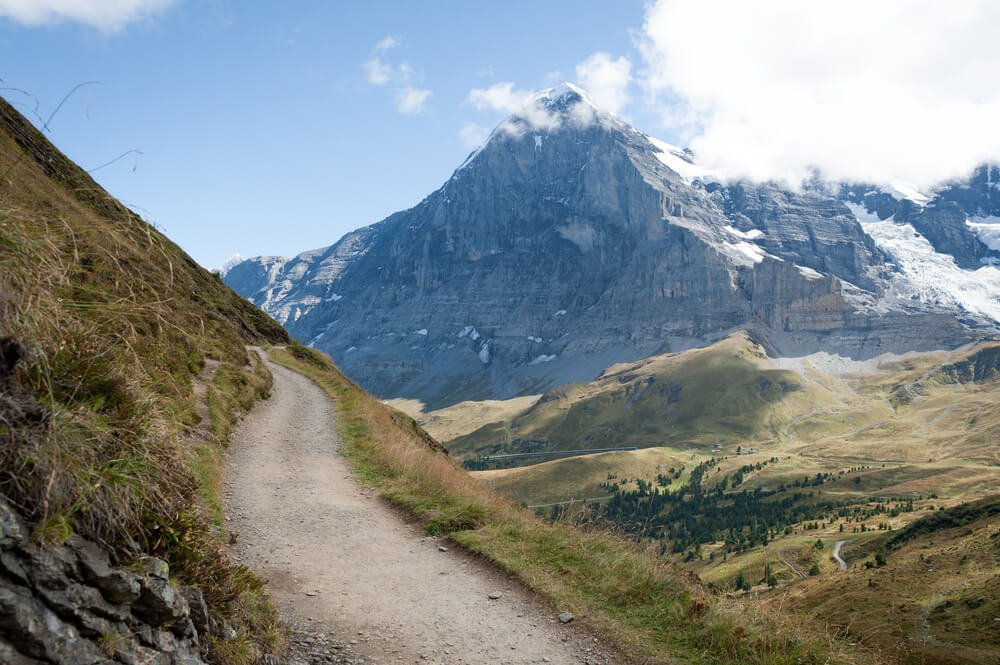 As an avid hiker in the U.S, I'm used to tripping over rocks and wandering off trail (even for just a second) on most of my hikes.
So I was shocked when I got to Switzerland and discovered that a lot of their trails were paved. Paved! 
Even the ones that weren't paved were some of the most well maintained trails I have seen in my entire life.
So, in a lot of ways, the trails were a lot easier than what I was used to. 
However, a well maintained trail with a big elevation change will still kick your butt… just sayin'.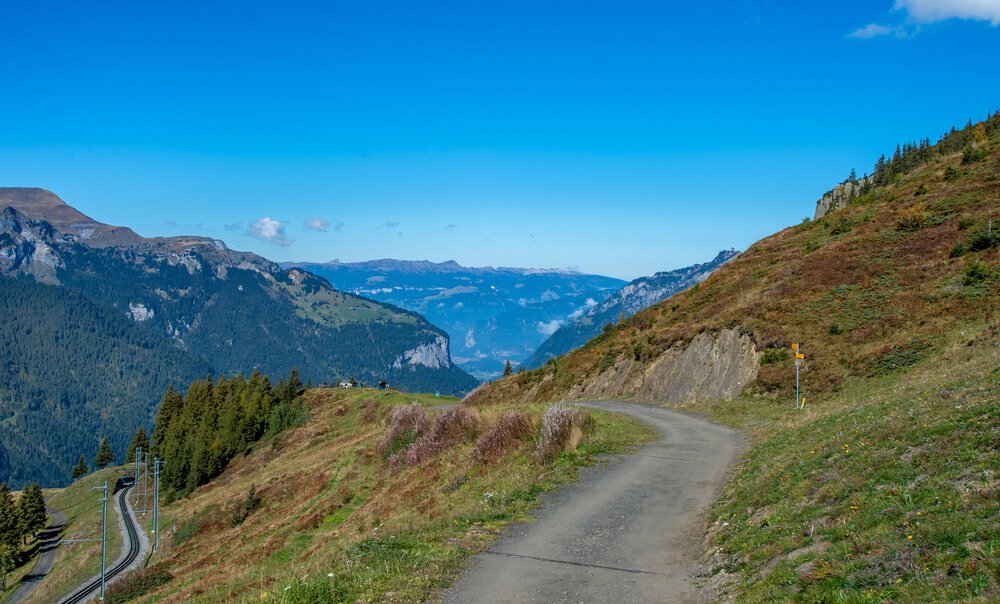 With that said, build a hike that works for you! You're literally surrounded by spectacular views.
You can walk in any direction and find enough gorgeous scenery to fill up your Instagram for weeks. 
You want to hike down to Lauterbrunnen (2 miles) and then take the train back up to cut out the elevation? Great!
Prefer to really get your heart pumping by skipping the cog railway and hiking all the way up to Kleine Scheidegg (5.3 miles roundtrip with 2,805 feet of elevation gain)? More power to you! 
The opportunities are endless.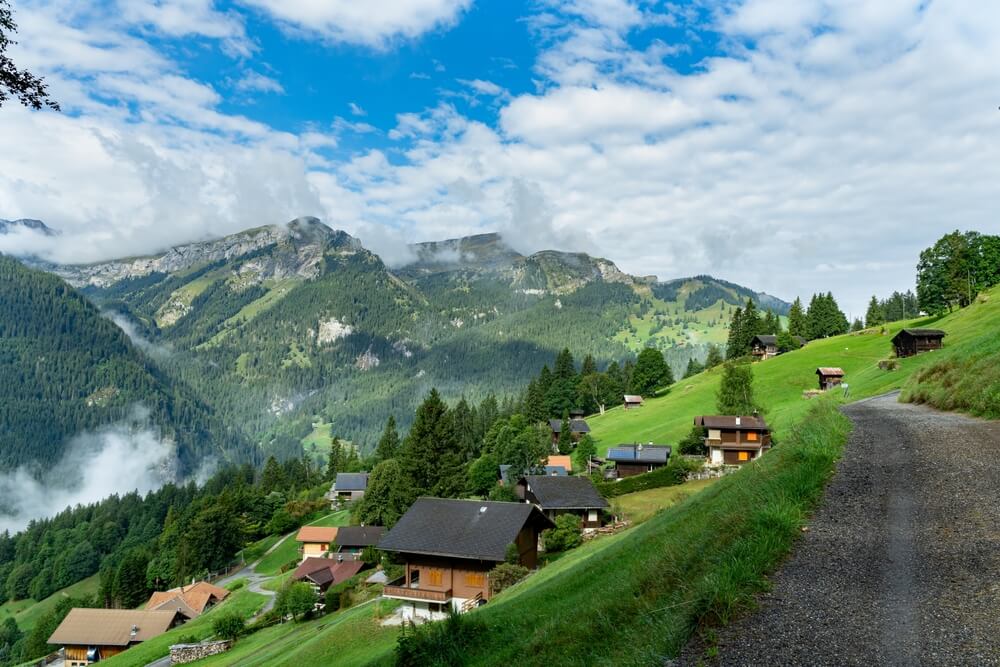 While you can go in any direction, a personal favorite of mine is the hike up to Leiterhorn. 
It's 3 miles roundtrip with enough elevation to get your blood pumping, but not enough to make you completely hate your decisions.
Plus, once you get to the top, the views overlooking the Lauterbrunnen valley are unmatched!
Shop 'til you drop.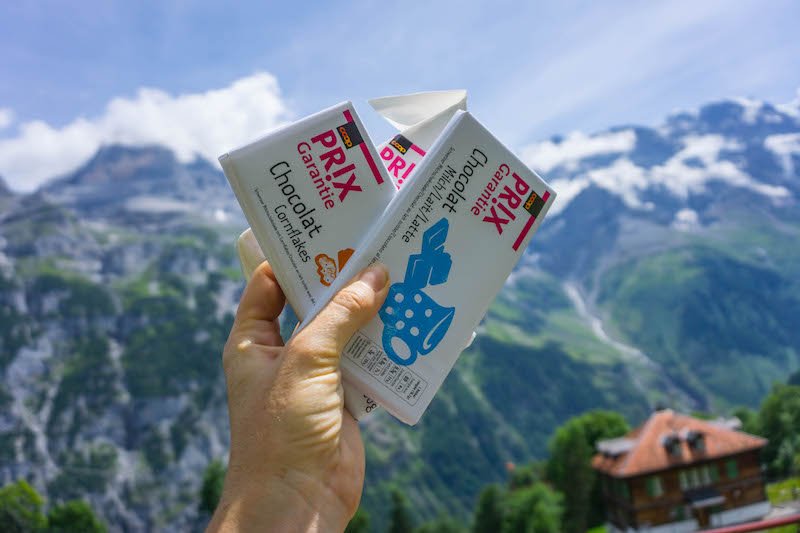 Are you really getting the full mountain village experience if you don't spend any time moseying about the streets and peeking your head into all the cutesy little shops?
Wengen has just enough to keep you busy for a couple of hours but not too much where you start to feel overwhelmed.
Buy yourself some delicious Swiss chocolates, a new pair of hiking pants, a little wooden cow, and a classic Swiss sweater. 
Or… If you're like me, find yourself repeatedly shocked by the high prices (that's Switzerland for you!), spend more time than you're proud of staring at the cuckoo clocks, and then settle for a magnet. 
Nothing wrong with window shopping, right?
Enjoy the Swiss diet.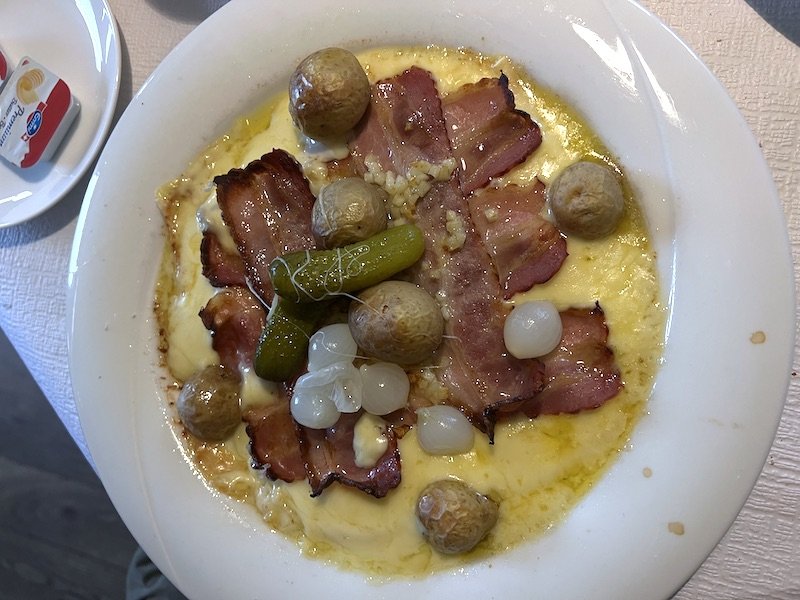 Did someone say cheese?
I'm pretty sure my stomach went into shock during my time in Switzerland because of the ridiculous amount of cheese I was eating each day… 
But oh, man, believe me when I tell you, it was so worth it.
Of all the cheesy goodness that I enjoyed, my absolute favorite was the raclette from Restaurant Eiger, topped with bacon, potatoes, and pearl onions, pictured above.
I remember thinking it was crazy that this plate of cheese was considered dinner, but that didn't stop me from devouring it and all the fresh bread that came with it! 
Speaking of bread… find every excuse to eat bread! Not that you need one, I guess.
I consider myself a bread connoisseur and I can honestly say that the bread in Switzerland is the very best I have ever had.
Also, just so happens that the little bakery in Wengen serves fresh bread every morning! Plus, pastries that I still find myself dreaming about… 
P.S. I can't find the name of the bakery online to save my life, but it's the only one in town, so you can't miss it!
Take a self-guided scenic tour.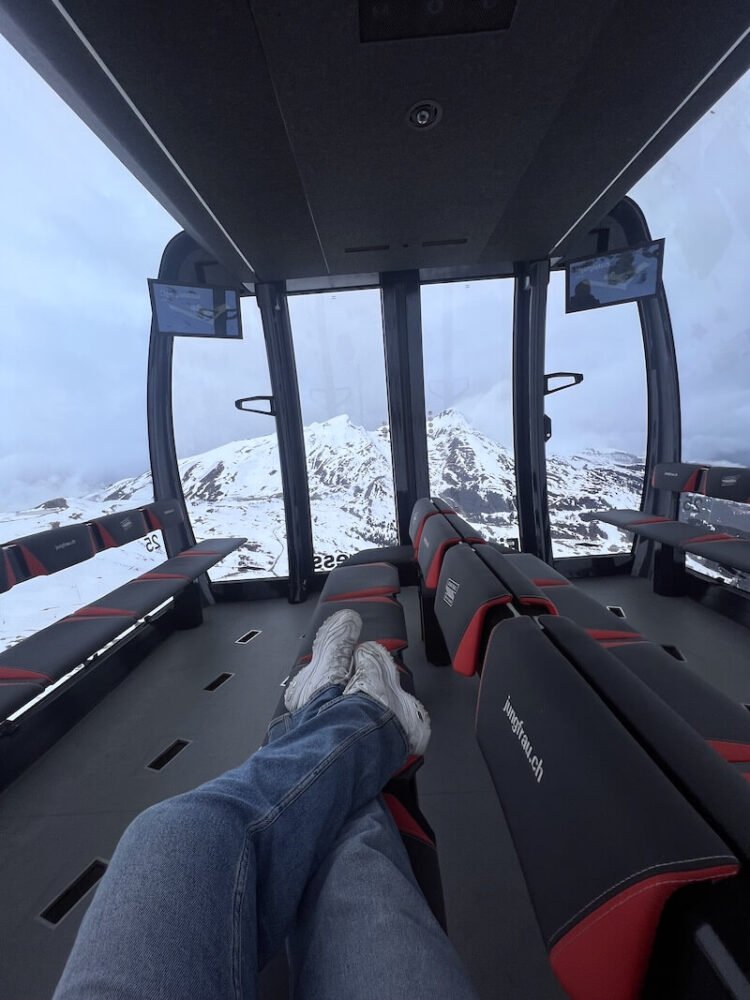 Rainy day got you down? Hop on the train!
During my trip to Wengen, it rained a lot of the time (naturally) but instead of letting it ruin my trip, I decided to buy the Jungfrau Travel Pass.
This incredible pass lets you travel amongst the interconnecting gondolas, cable cars, and trains to various scenic locations. 
Not only can you visit famous nearby towns like Lauterbrunnen, Mürren, Grindelwald, Mannlichen and more, but you can also visit the tops of mountains! 
So just choose your adventure: take the train along a glacial river, ride the cable car to spot wildlife amongst chalet-peppered hills, admire the tops of mountains from the gondolas, or do all of the above!
You really can't go wrong! A rainy day turned into one of the most memorable experiences I've had in Switzerland.
If you are interested in getting this pass (and you really should), I highly recommend you buy it at the beginning of your trip in order to make the most of the cost.
Stand at the "Top of Europe"!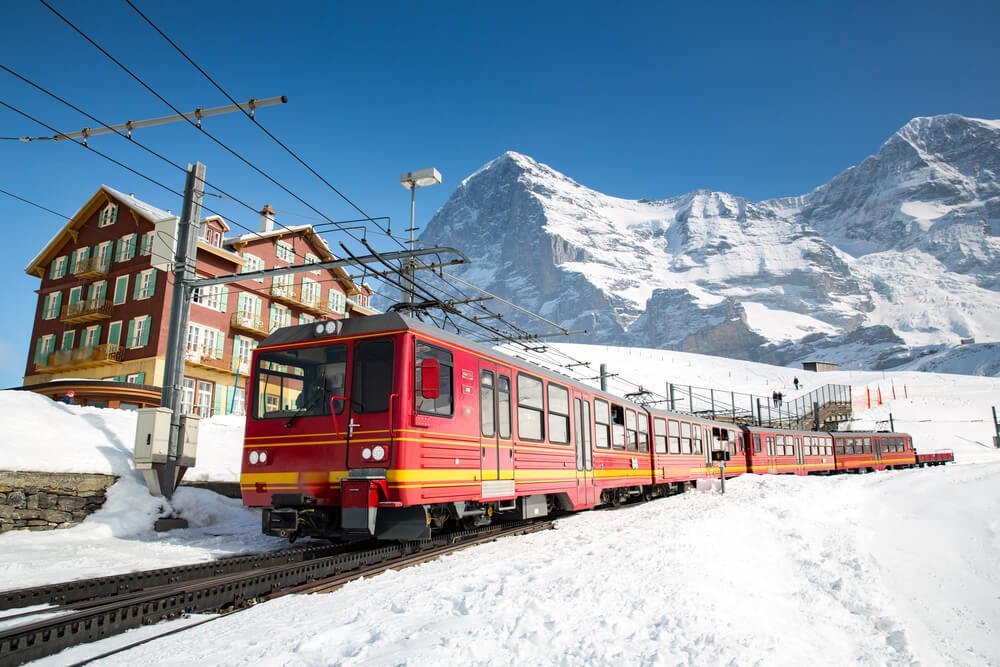 With a name like the "Top of Europe", it is no wonder that visiting Jungfraujoch is one of the most popular things to do in Switzerland.
However, what many people don't realize is that it's not actually the highest point that you can visit in Europe! 
It is, however, the highest train station in Europe, which you have to admit is still pretty cool.
Besides, at an impressive height of 3,454 meters (11,330 feet), the last thing you'll be thinking as you admire the rugged peaks below you is "yeah… but it's not really the highest".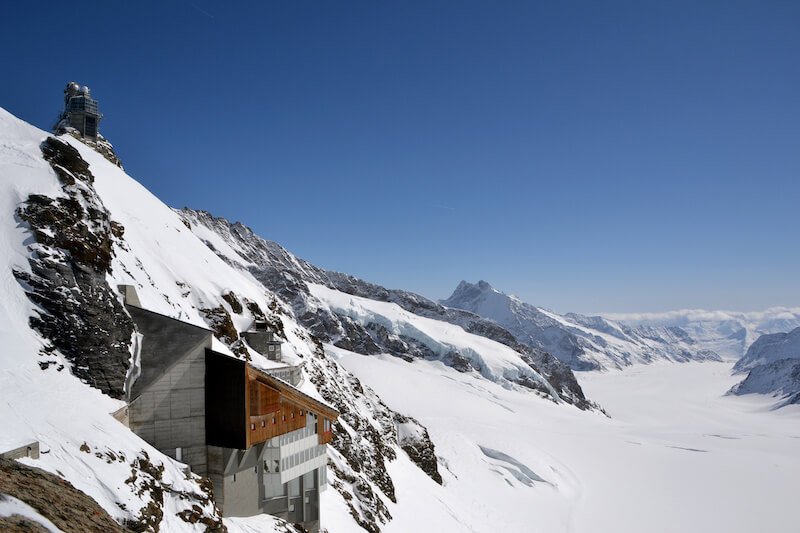 Nonetheless, I'm here to provide you the facts so there you have it…
… and while we are on the topic of blunt honesty, I should probably mention that visiting the Top of Europe is also one of the most expensive things you'll do in Switzerland, which is saying something. 
The price varies depending on where you start but most routes cost upwards of $200 per person (discounts are available with the Jungfrau Travel Pass!). 
So is it worth it? Depends on the budget. But I will say, visiting the Top of Europe is a whole day adventure!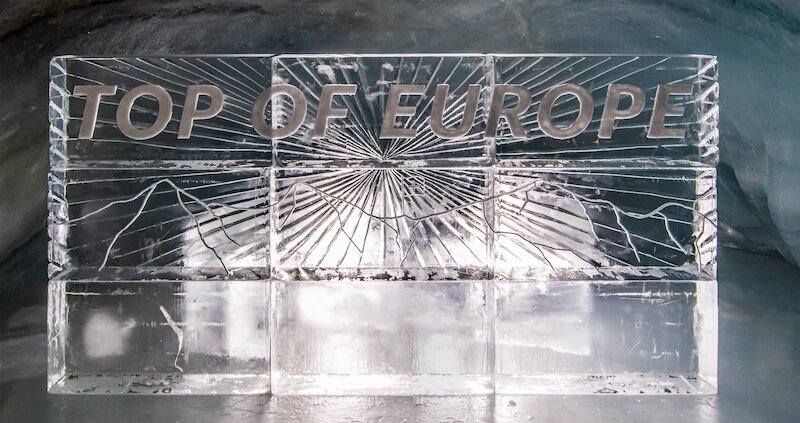 There's a train ride that offers out of this world scenery from start to finish, but that's just the beginning.
Once you get there, there's a terrace that boasts 360-degree views of the iconic Bernese Alps, a close up view of Europe's longest glacier, a spectacular mountain-top hike with a warming hut at the end to eat lunch, an ice castle carved right into a glacier, and so much more!
Just don't forget to bundle up, even in the middle of summer!
Participate in the Wengen bar crawl tradition.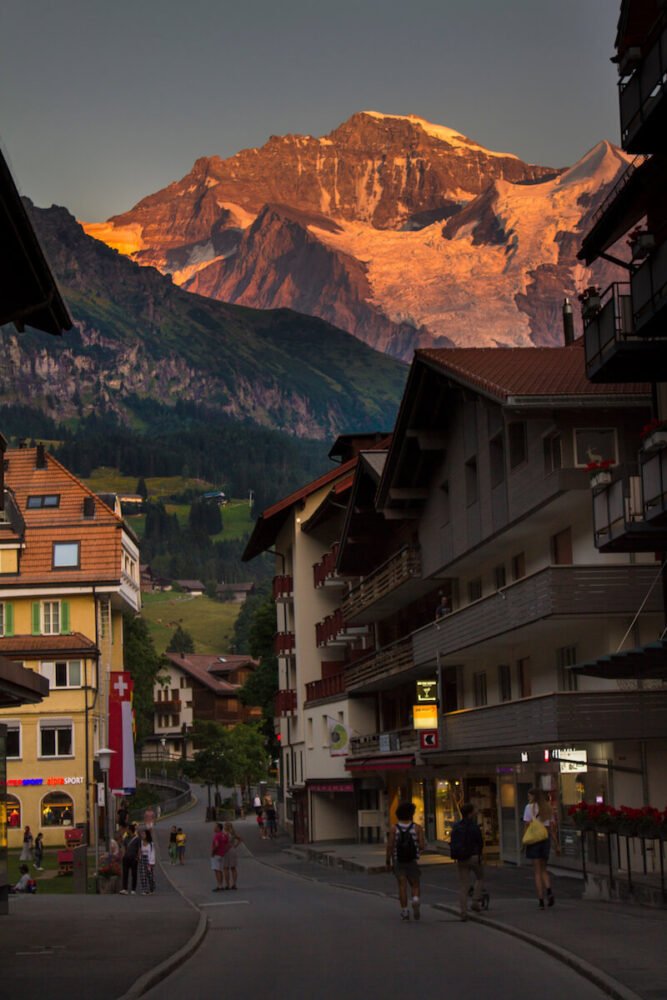 Perfectly designed for the skiers and hikers of the area, the perfect placement of the bars in Wengen make the bar crawl a post-adventure classic. 
Come down the slope (which doubles as a hiking trail in the off season) and pop your skis off right at the base of Restaurant Clarice for your first drink.
If it's summer, swap out those hiking boots for something more comfortable and follow suit the same way you would in winter.
From there you can zig-zag between bars just minutes apart from each other to keep the good times rolling!
Enjoy live music at On the Rocks, have your pick of quality beer at Crystal Bar, and head to the famous Tanne Bar Nelissen when all of the other places close for the night.
And remember, go in that order! 
Enjoy a Swiss sunset.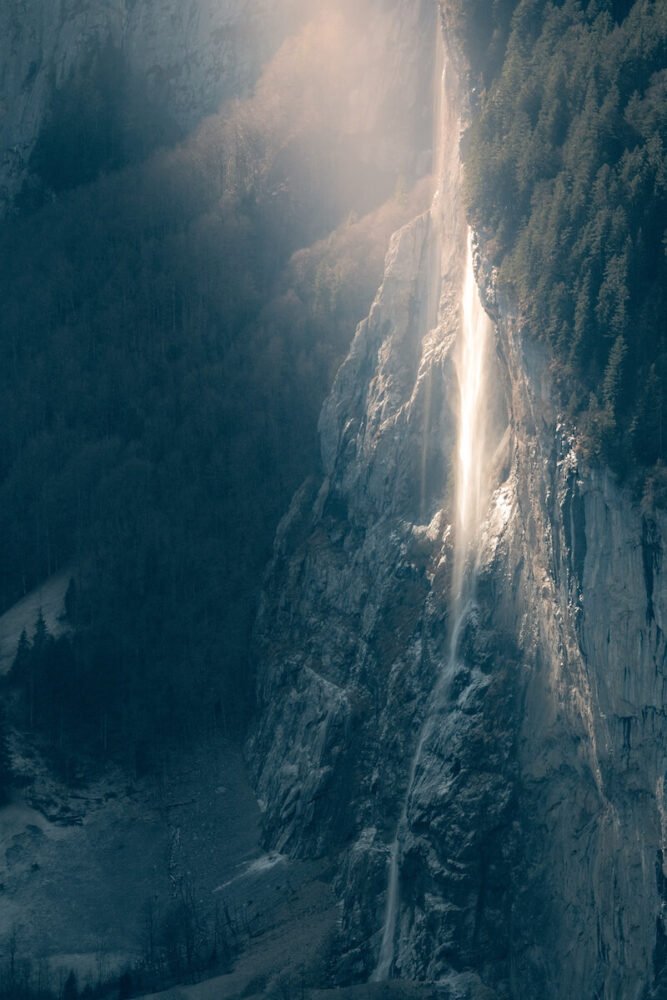 In a place like Wengen, you're going to have spectacular views from absolutely anywhere but to maximize your experience, check out one of these two spots for the sunset of your dreams!
The hike out to Hunneflue is 2 miles roundtrip and starts from the center of town.
On your way to the viewpoint, you'll be rewarded with spectacular views of the Lauterbrunnen Valley and its famous waterfall. 
Once you reach the top, you'll get to look down the other side of the valley towards Interlaken.
There are even benches so you can sit back and take your time to really enjoy the sunset!
Another great choice is the walk out to Staubbachbaenkli.
This short, 20-minute walk will guide you around a tranquil farm where you can admire its many occupants (aka horses and goats) before arriving at an unparalleled view of Lauterbrunnen and a straight shot of Staubbach Falls. 
If you're really lucky on this walk, you may even spot some ibexes!
Have a picnic, fondue-style.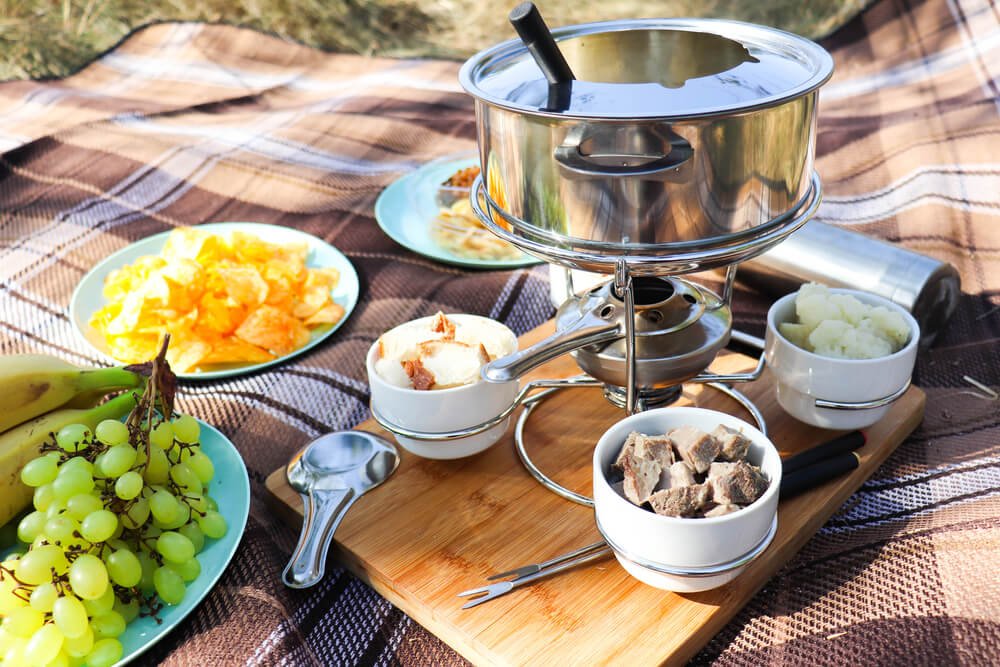 No trip to Switzerland could ever be complete without fondue!
But instead of enjoying your fondue at a restaurant like everyone else, why not take things up a notch by enjoying fondue with a view?
The Wengen Tourism Center offers fondue backpacks for 50 CHF + 15 CHF per person and it's exactly what it sounds like.
Find a bench or field with a spectacular view (it won't be hard) and get your fondue on. 
These backpacks come with everything you need to fulfill all of your Switzerland picnic dreams, from a portable caquelon to a heat source and everything in between.
Talk about a genius idea!
Just make sure you head over to the Tourism Center at least a day before (by 5 PM) to book your reservation.
Attend a traditional event.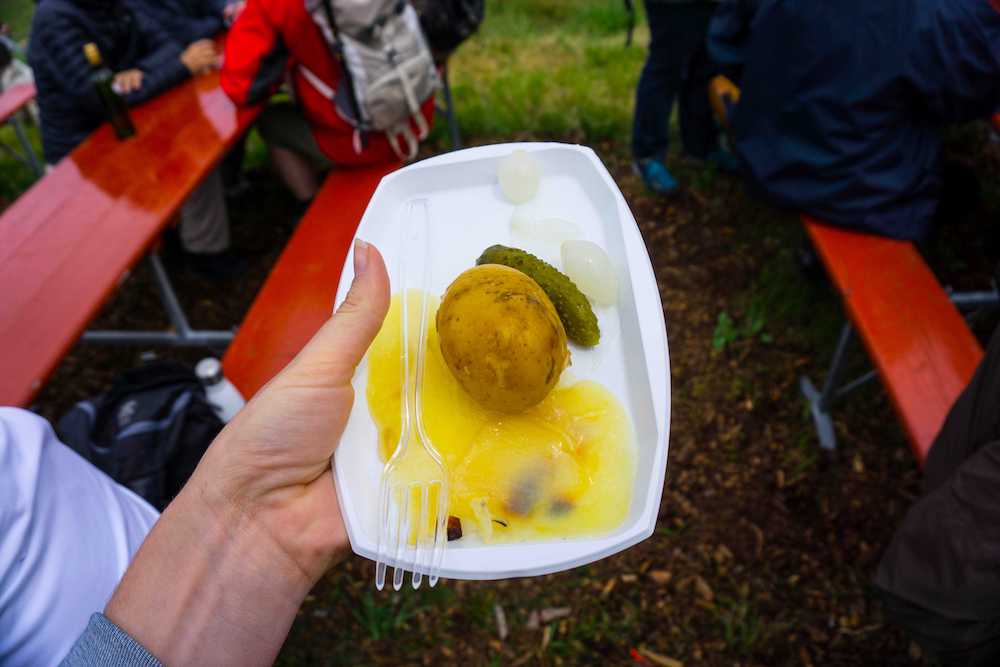 If you're planning your trip for the end of September, you're in luck! And if you aren't, maybe this will change your mind…
Every year Wengen hosts a Cheese Festival! The thought of it alone is enough to make my mouth water.
Just imagine the giant wheels of cheese everywhere. But that's not all!
This festival has a slew of activities to keep you busy all day long. For starters, prepare to eat.
Local chefs curate a delicious menu with items ranging from raclette (naturally) to pumpkin soup, to say nothing of the line of local vendors serving up their homemade treats.
There's even talk of a portable bread oven! 
When you need a break from eating, shop for some other local treats like wood carved trinkets, animal pelts, knitted clothing, and more. A
fter that, make your way over to the main stage to enjoy some live music, yodeling and the iconic sounds of the alphorn. 
Then, head outside for a competitive game of stone-toss where the grand prize winner gets to walk away with an entire wheel of cheese!
That's more than 10 pounds of cheese we're talking about, so get your throwing arm ready! 
Attend a Swiss disco.
Picture this: you decide to go for a late night stroll in a picturesque little mountain town after a day out on the slopes. 
You're walking under warm street lights and admiring the peaceful charm of Wengen's main strip at night.
You hear the occasional bit of laughter from the many bars that house cheerful locals and tourists alike. 
Suddenly, you hear what sounds like disco music. But could it be?
Your curiosity takes over and you find yourself following the noise until you reach its source.
In front of you there's a spiral staircase with bright orange walls and lights flashing from down below. It's time to party… Wengen style!
To find this nightclub, look under Hotel Silberhorn but personally I think it's more fun to skip the GPS and just follow the sound of music (no, not that kind — that's Austria you're thinking about) 'til you get there!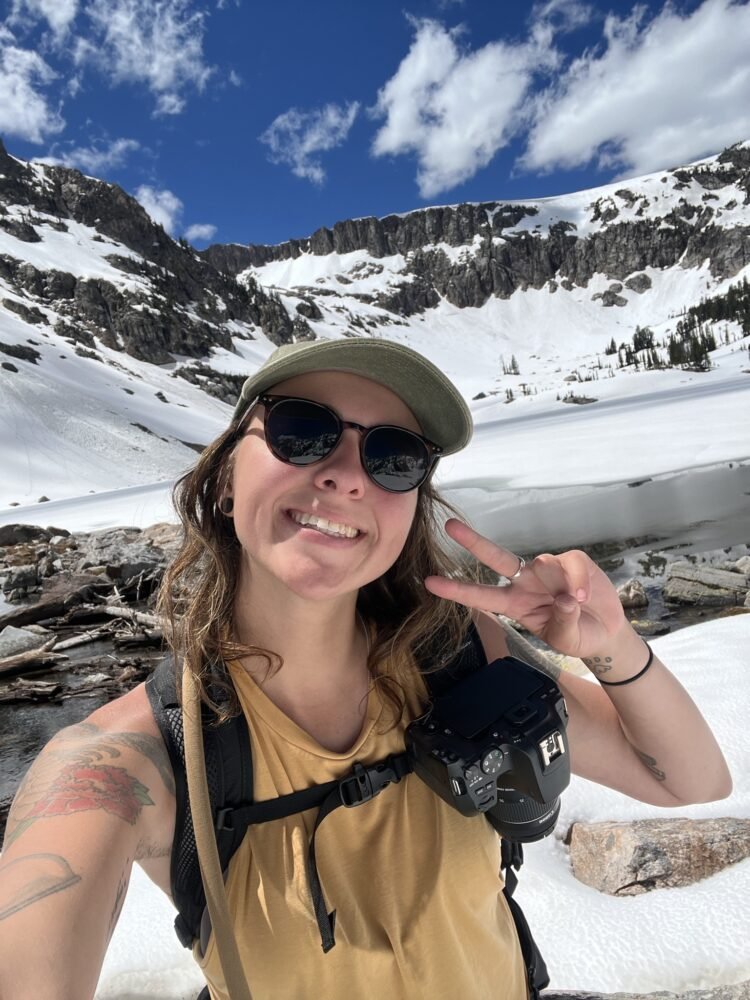 Nicole is a freelance travel writer who loves traveling and hiking in America's National Parks, particularly in Utah, Wyoming, and California. Her favorite place is just about anywhere where snow-peaked mountains can be seen in the distance.