Switzerland just may be the most beautiful country in Europe, especially in summer.
There's something about the way the mountains still glisten with snow even into the sunniest of summer days, the turquoise lakes, the fields of alpine flowers… it just goes on and on.
Whether you opt for a luxurious stay in Switzerland or try to experience the country on a budget, the best part is that many of the most stunning views in Switzerland are completely free!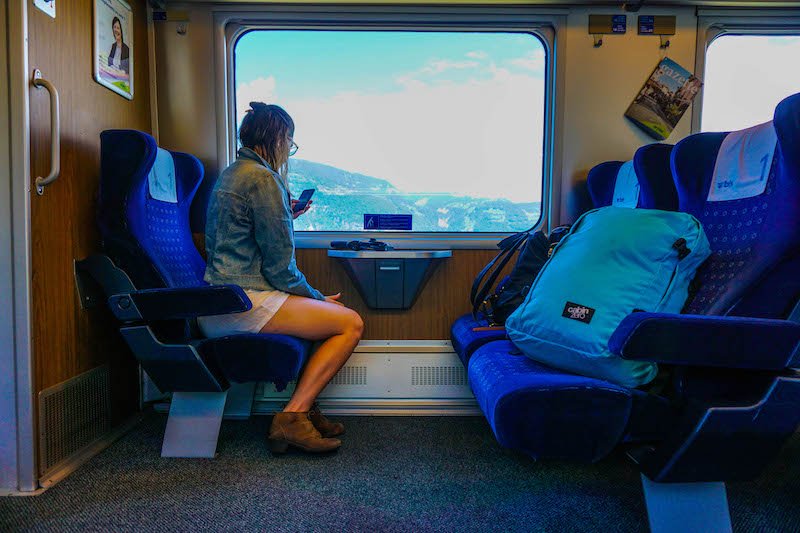 Note: This post contains affiliate links, which means I may receive a small commission if you purchase something through one of these links. Thank you for supporting the free content on this site! For more information on affiliate links and cookies, see my disclosure page for more details.
I used an 8-day Swiss Travel Pass to explore some of the best places to visit in Switzerland, all by train.
I've compiled a list of some of the most beautiful places in Switzerland to help you plan the best stops for sightseeing in Switzerland by train.
Rather than just give the usual Switzerland tourist spots, I've tried to show a handful of small town Switzerland highlights, plus popular cities like Zürich and Geneva.
Using my Swiss Travel Pass, I was able to take the Schynige Platte belle-époque railway, the steamboat across Lake Lucerne, the steepest cogwheel railway in the world up to Mt. Pilatus, and handfuls of scenic cable cars – all included in my ticket price.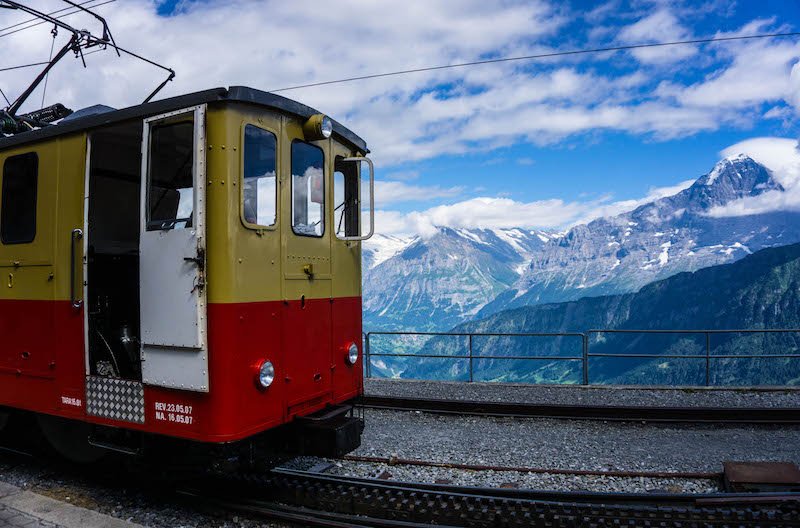 I also used the rail pass to get a discount on the Gornergrat in Zermatt to see the gorgeous Matterhorn up close.
The Swiss Travel Pass offers a variety of different passes for different budgets and trip durations. Check out pricing & details about the Swiss Travel Pass here!
Starting at around $239 USD for a 3 consecutive day 2nd class pass, there are also 4, 6, 8, and 15 day passes, offering more value the longer you stay. You can also upgrade to 1st class tickets if you want a slightly more luxe experience.
Traveling as a family? Kids under 16 travel for free with their parent or guardian, and youth aged 16-25 get to ride at a significant discount.
Check all the different options and prices for Swiss Travel Pass here!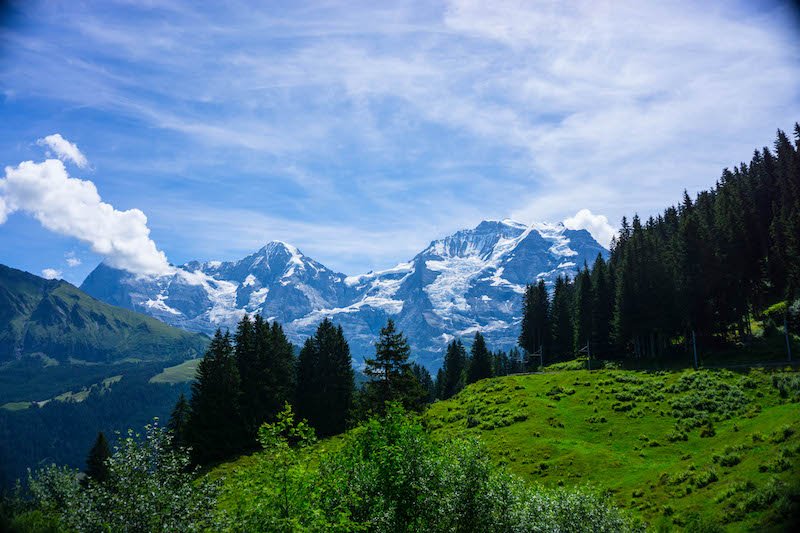 This guide will cover a variety of the most beautiful places in Switzerland.
If you want to see how to organize all these places into a logical itinerary, I've done the work for you and created a 10-day Switzerland itinerary!
That itinerary incorporates as many of the places on this list as I could while still not traveling at a breakneck pace so you can still enjoy your vacation.
In that post, I include recommendations as well for what to do if you have more or fewer days.
Wondering where to go in Switzerland? I've got you covered below, with several recommended stops for your Switzerland itinerary plus accommodation and activity recommendations.
My Top 11 Best Places to Visit in Switzerland
Montreux and Lac Leman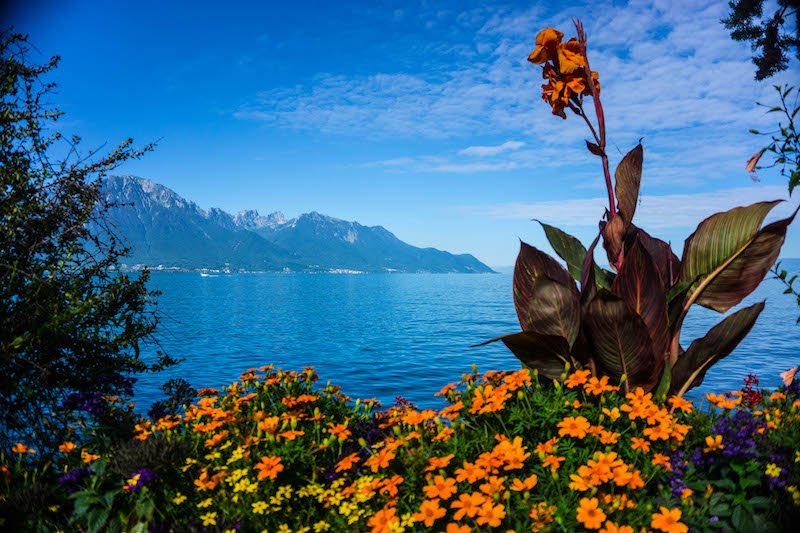 Montreux is a normally quiet town on Lac Leman near Geneva that pops off for two weeks each year when the Jazz Festival (and 200,000+ visitors!) come to town.
Try to line up your time in Montreux with the Jazz Festival, when tons of musical acts (not just jazz) come to town and street food is available all up and down the main lakeside promenade.
Or you can grab some food from the local Coop, take advantage of the open container laws, and have a lakeside picnic while buskers entertain you before the main acts at night.
What to Do in Montreux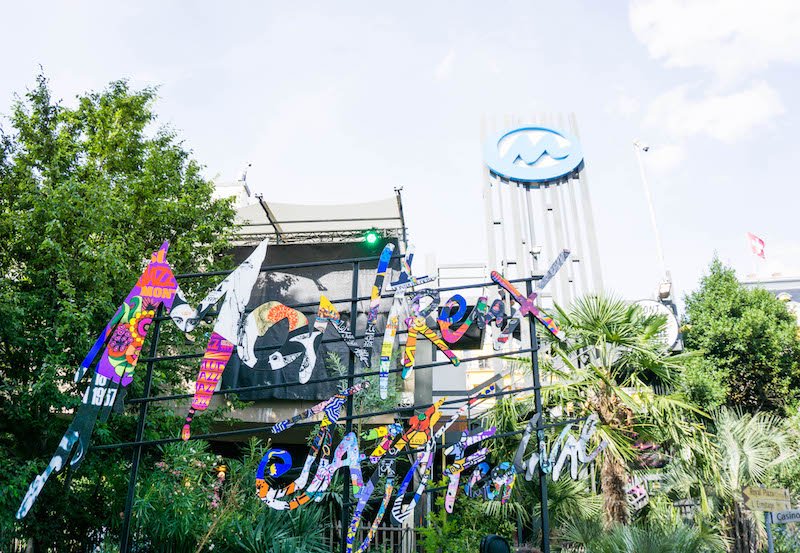 Montreux is at its best during its yearly Jazz Fest. But your timing doesn't line up, there's still plenty to do in Montreux to experience one of the most beautiful places in Switzerland to its fullest.
Montreux is home to the stunning island Chateau de Chillon, a castle that dates back to the 11th century and which has been marvelously kept up over the centuries.
It's certainly one of the most scenic places in Switzerland with stunning lake and mountain views framing the turrets of the castle.
Entrance is 12.50 CHF (about $13) but the entrance fee is included with your Swiss Travel Pass if you have one.
If you aren't using a Swiss Travel Pass, but paying for each train individually without a pass, you can pre-book your castle entrance ticket here and skip the line.
Of course, the Lake Promenade (which you can take to walk to the castle) is absolutely stunning and definitely worth dedicating some time to enjoying.
The nearby Chaplin's World is also a popular Montreux attraction. Charlie Chaplin, like many other celebrities, spent many years of his life enjoying Montreux and as a result you can enjoy a museum in his former home.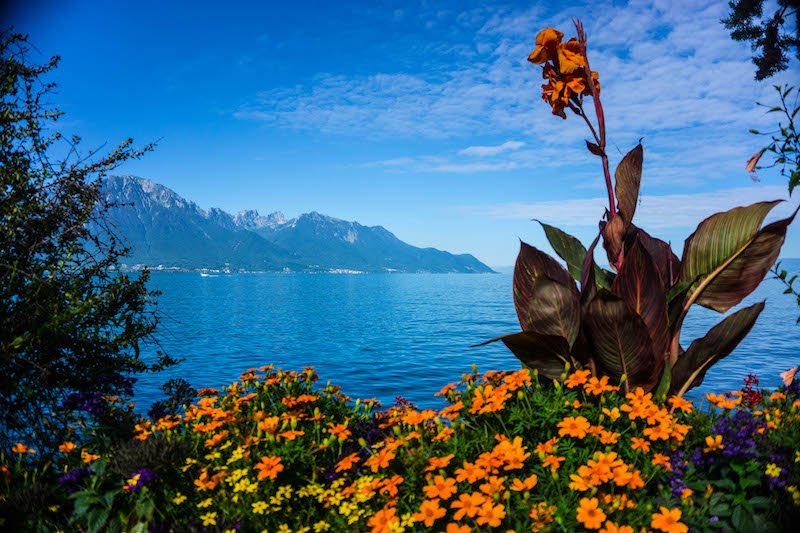 Day Trips and Tours from Montreux
Glacier 3000: A tour to the Glacier 3000 is one of the most loved day trips from Montreux. You start in the cute mountain village of Les Diablerets, where you can take a cable car up to a glacier.
At the glacier, there is a cool suspension bridge that connects two mountains, giving you impressive views of 20+ peaks over 4,000 meters — including the Matterhorn on a clear day. You can see snow even in the middle of summer here!
This is the most popular day trip from Montreux, so be sure to book in advance! Check prices, ratings, and availability of the tour here
Rochers de Naye: If time (and weather) permits, you can also take the scenic train up to Rochers de Naye for an aerial lake view.
Normally 70 CHF, if you have a Swiss Travel Pass you can make the journey for a much better 26 CHF roundtrip, as the first leg of the trip is included and you get a 50% discount on the second part of the trip.
Lausanne: A side trip to nearby Lausanne is a popular option for travelers staying in Montreux.
Lausanne is famous for its excellent Olympic Museum, the historic Old Town centered around Place de la Palud, and its gorgeous traditional architecture.
You can take the train to Lausanne in just a few minutes from Montreux – it's quite fast and inexpensive by Swiss standards.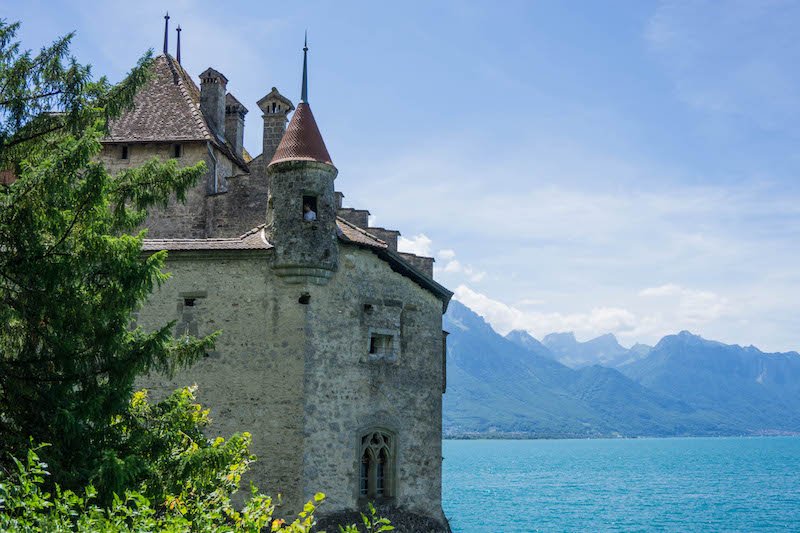 Where to Stay in Montreux
Budget: There's only one hostel in town that I'm aware of, and that's where I stayed (I was on a tight budget during my entire time in Switzerland).
I stayed at the Montreux Youthhostel. It includes breakfast– an excellent value in pricy Switzerland! Keep in mind their late 4 PM check in, which is common throughout Switzerland.
>> Check rates and current availability here.
Mid-Range: If you're on a bit of a budget, Le Coucou Hotel has excellent prices, a breathtaking view, and a well-reviewed restaurant.
It is a bit from Montreux proper, though it is close to a different train station (Haut-de-Caux).
>> Check lowest rates and availability here.
Luxury: A favorite of celebrities like the late Freddie Mercury, it's not surprising that Montreux offers no shortage of luxury options.
The best balance of luxury to price ration is Fairmont Le Montreux Palace. I mean, just look at that building façade — it's basically the architectural equivalent of the heart-eyes emoji.
>> Check lowest rates and availability here.
Geneva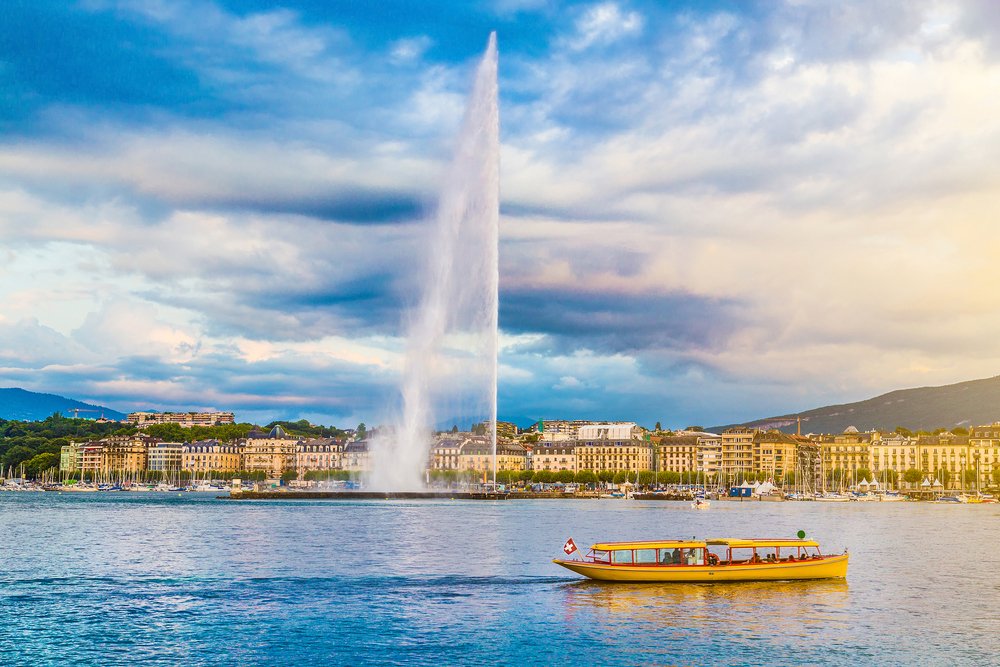 Geneva is one of the most common arrival airports for travelers visiting Switzerland, so there's a good chance that you'll be at the very least transiting via Geneva at some point during your Switzerland itinerary.
Located right on Lac Leman, despite its large size, Geneva is still one of the most beautiful places in Switzerland!
Geneva is also great for chocolate lovers – you'll find chocolatiers all over the city, as well as plenty of tours themed around sampling the best Swiss chocolate you can find.
Besides that, Geneva is known for its museums, its delicious fondue, and its stunning lake and mountain views.
Things to Do in Geneva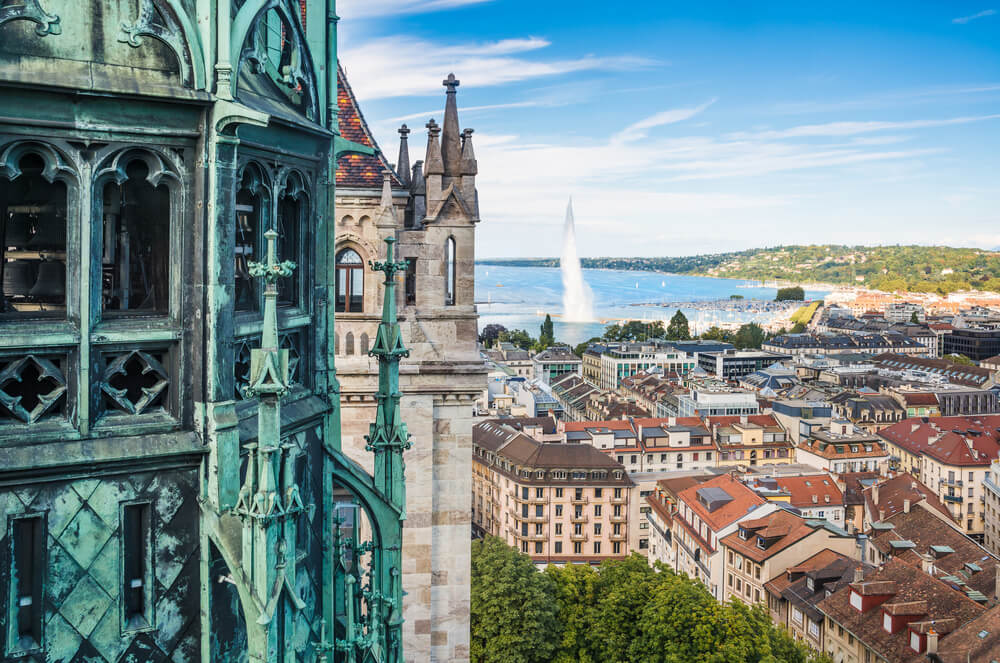 The best way to explore Geneva is by foot. Walk around the historic city and marvel at all the beautiful buildings and all the watches you'll never be able to afford.
Definitely stop into some of the different chocolate shops and sample some of Switzerland's finest!
A common must-see on Geneva itineraries is the Jet D'Eau, a massive water fountain shooting water up a massive 140 meters in the air on Lake Geneva — it's especially beautiful at night when it's all lit up.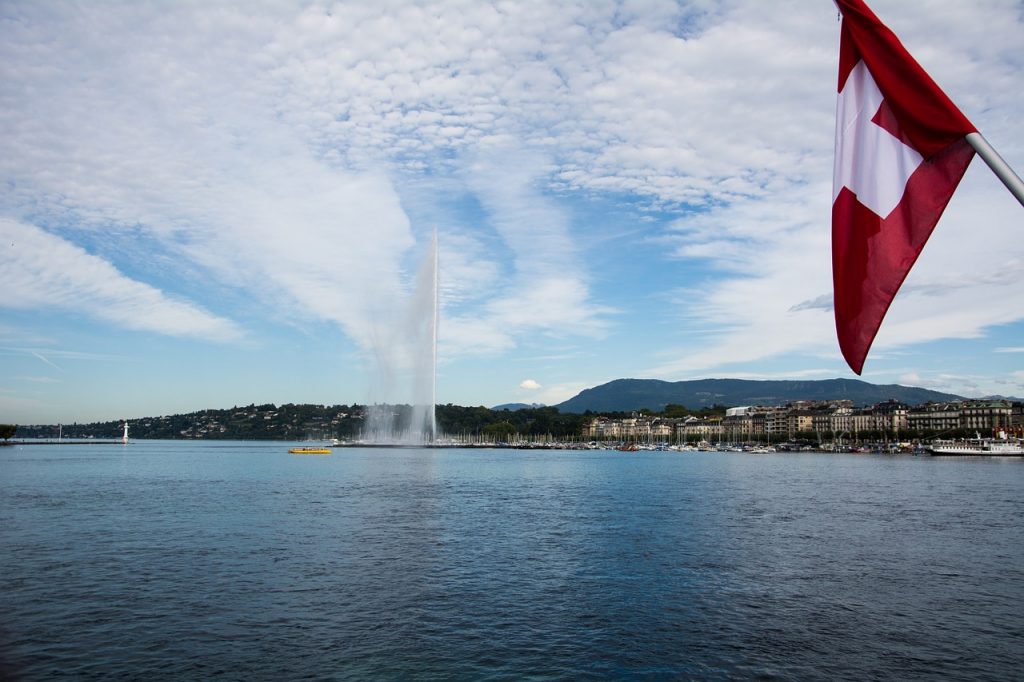 The Palace of Nations, home to a huge branch of the United Nations, is also quite popular to visit when in Geneva.
Geneva is also famous for having a ton of unique museums. The Musée Ariana is great for glass and ceramics lovers, whereas those interested in history will appreciate the Red Cross and Red Crescent Museum.
I recommend using Geneva Pass to save money if you plan on seeing a few museums and attractions as the savings will quickly add up.
If spending a few days in Geneva, the pass will be well-worth it, with admission to over 40 attractions plus included public transit. Click to prebook your Geneva Pass and pick it up when you arrive in Geneva.
Aside from museums, don't miss a steamboat ride on Lake Geneva, or visiting some of the vineyards of Lavaux (a UNESCO World Heritage Site) nearby!
Day Trips and Tours from Geneva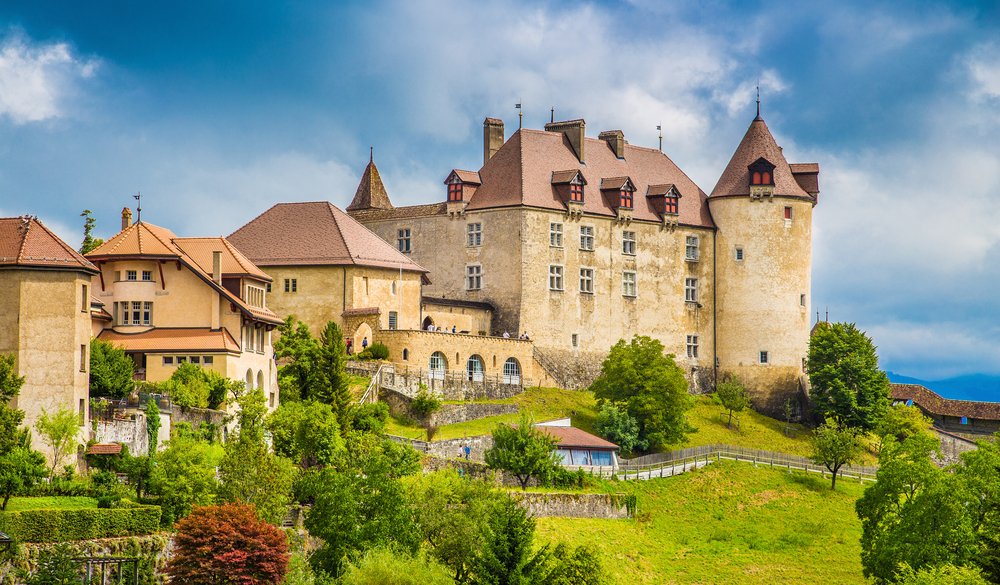 Gruyeres: If you want the whole Swiss bucket list in one go — trains, mountains, chocolate, and cheese — you can't miss a full-day tour to Gruyères – yes, that Gruyères!
You'll learn about chocolate making, meet Swiss cows, see how cheese is made in Switzerland, indulge in fondue, and get to ride the Golden Express, one of Switzerland's most famous trains.
Want the full experience with a ride on the Golden Express? Be sure to book in advance – it's #1 on many people's Swiss bucket lists. Book in advance here to not miss your spot!
Money-Saving Tip: For a cheaper option that doesn't include the train, you can book just a tour of the chocolate and cheese factories here.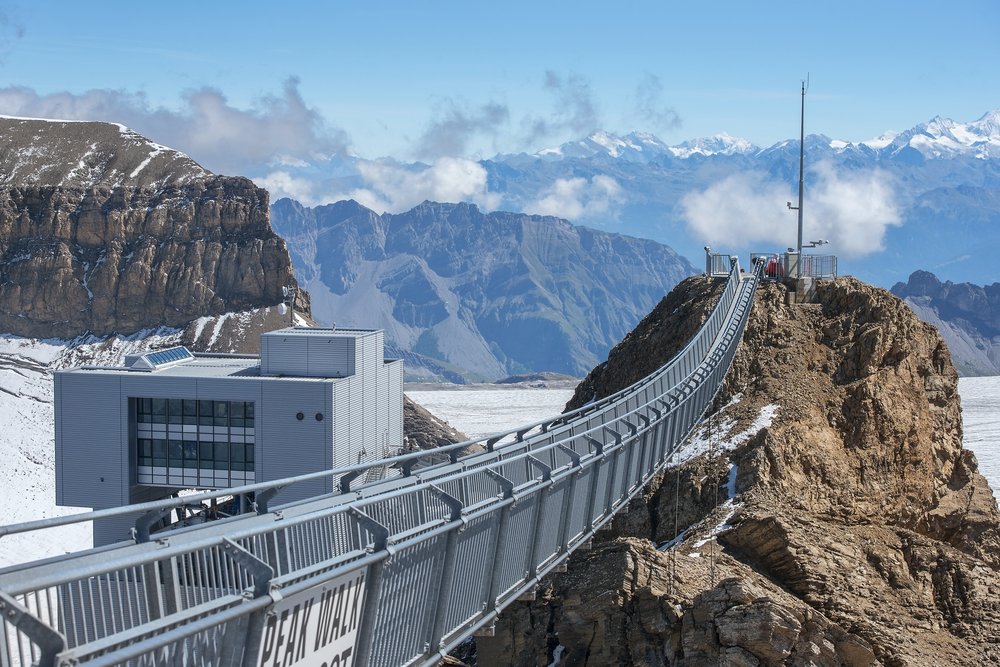 Glacier 3000: This is far and away the most popular day trip from Geneva! Similar to the tour from Montreux, the tour takes you to the picturesque village of Les Diablerets.
It then sweeps you up a 3,000-meter high glacier where you can embark on the Peak Walk, a stunning suspension bridge that brings together two peaks, over 4,000 meters high.
If traveling in summer, there's also a toboggan run which kids (and the young at heart!) will adore! It also includes a stop in Montreux on the way back.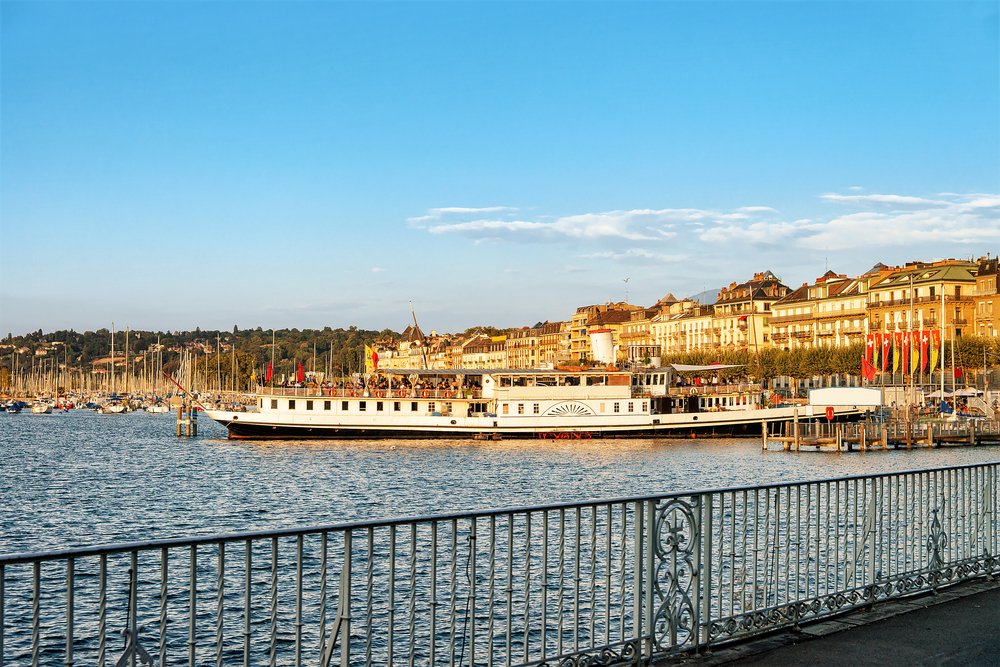 Steamboat on Lac Léman: A traditional steamboat ride on Lake Geneva (also called Lac Léman) is one of the most popular things to do in Geneva.
You can combine it with a city tour or if you have the Swiss Travel Pass it should be included on your ticket.
Book your steamboat ride on Lac Léman (plus a bonus city tour) today!
France! If you're keen to visit a bit of France, Geneva is also extremely close to Chamonix which is at the foot of Mont Blanc as well as the fairytale town of Annecy.
Both can be done as day trips from Geneva. There are very affordable half-day tours to Annecy (pictured below!) and slightly more expensive full-day trips to Chamonix (a great destination in summer as well as winter!) as well.
Check out affordable half-day tours to Annecy or full-day trips to Chamonix and Mont Blanc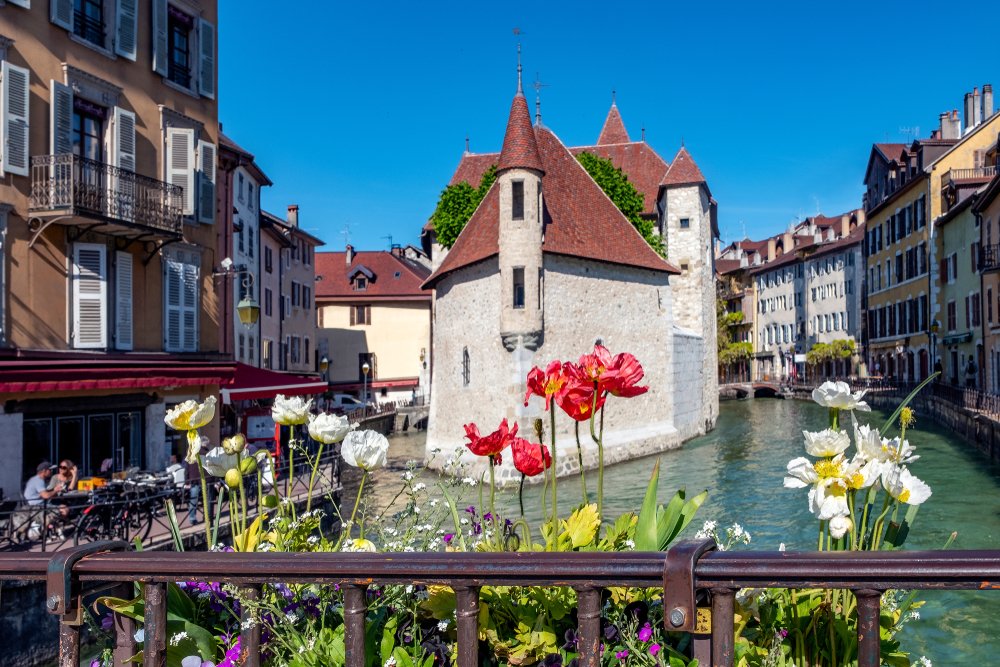 Lavaux: Love wine tasting? You'll love Swiss wines and these UNESCO-listed vineyards. The Swiss like to say that Swiss wine is too delicious to export, and they drink it all at home in Switzerland!
I have to agree — Swiss wines are especially tasty, similar to German or Austrian wines but with a terroir all of their own. This affordable tour visits Lavaux — and several other sites around the lake — with a group.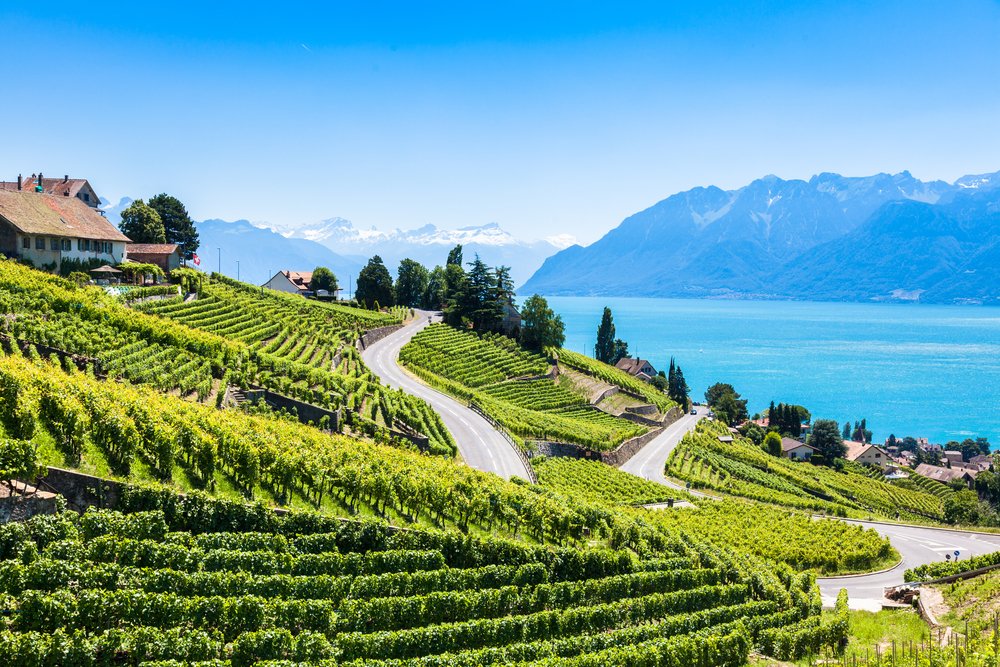 Where to Stay in Geneva
Budget: I flew into in Geneva and made my way over to Montreux for the night, so I haven't stayed in any Geneva hostels personally.
The best-reviewed hostel that several of my friends have stayed in is Geneva Hostel, which is no frills but quite affordable for pricy Switzerland.
It has spacious lockers, friendly staff, breakfast included, and best of all, it comes with a free travel card which will definitely help you save some money in pricy Geneva.
>> Check hostel availability and prices here.
Mid-range: Geneva has a decent selection of mid-range offerings. I'm a big fan of ibis hotels because they're always clean, reliable, private, and inexpensive.
They don't have the most personality, but sometimes you just want a clean, private room to rest your head in. There are several branches of ibis in Geneva, but ibis budget Petit-Lancy is the most affordable.
Like Geneva Hostel, it also includes a free travel card, which means that even though you're located a bit outside the center you can get into the heart of the city easily without spending a dime.
>> Check lowest prices and availability here.
Luxury: The Mövenpick is one of my most trusted luxury hotel brands, and the one in Geneva is well-reviewed and not absurdly expensive (for a luxury option in Switzerland, that is)
>> Check best prices and availability here.
Another option, Hotel de la Cigogne is an excellent 5-star hotel, but it's priced to match. Still, it may be worth it for the central location, luxury amenities, and artist-inspired décor.
>> Check availability and prices online.
Lauterbrunnen Valley and surrounding towns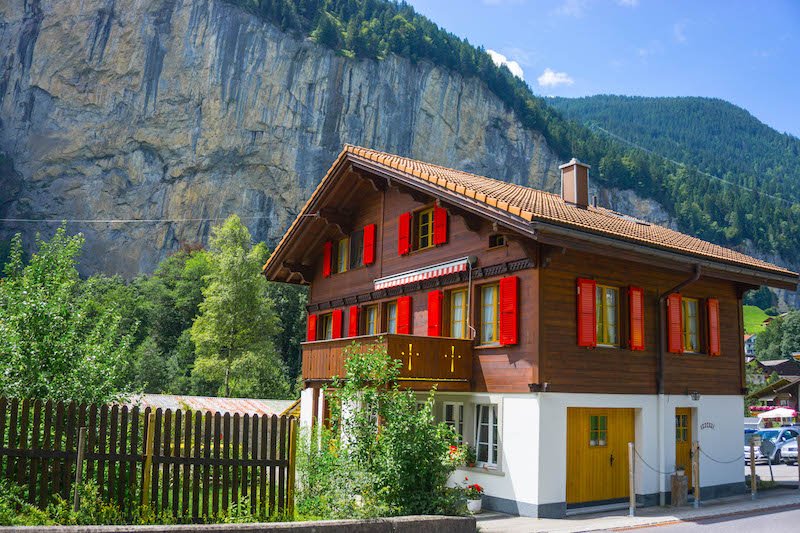 Lauterbrunnen is an adorable, typically Swiss town nestled in a mountain valley famed for being home to 72 waterfalls — two of which are prominently but casually hanging out in the center of town like it's no big deal.
It's definitely one of the top must-visit places in Switzerland with super traditional architecture and flower boxes.
Just 20 minutes from Interlaken, Lauterbrunnen is an oasis of calm with tons of opportunities for hiking if you're feeling tame and all sorts of adventure activities if you're keen to get your adrenaline pumping.
There's tons of things to do in Switzerland in the summer and Lauterbrunnen is one of the best bases to experience it from!
It's also one of the more affordable towns in Switzerland, with plenty of affordable accommodations choices, so it's a popular choice for those backpacking Switzerland.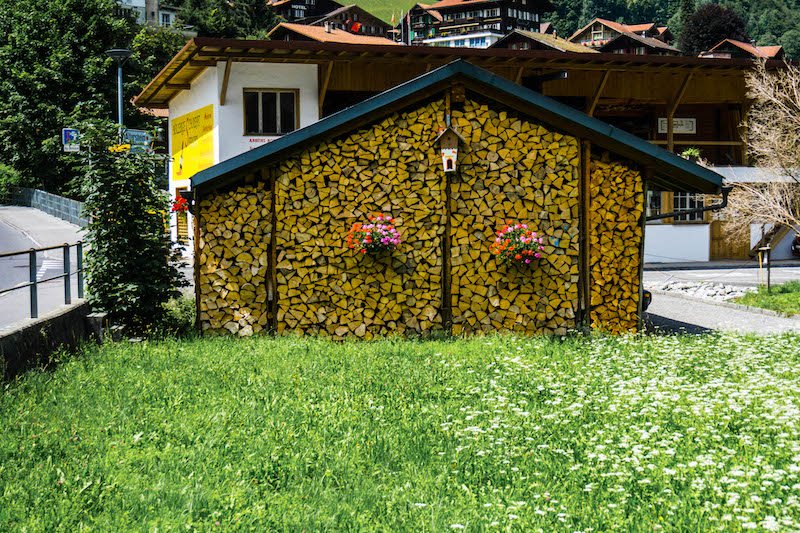 Things to Do in Lauterbrunnen
If you're a fan of waterfalls, you'll be in heaven here: Lauterbrunnen is the best place to go in Switzerland for waterfall chasing, as there are some 72 of them in Lauterbrunnen Valley alone.
There are countless hikes to embark on and other adventurous things to do in Lauterbrunnen to keep you busy for days.
Be sure to take the cable car and scenic train up to Mürren via Winteregg for stunning mountain and valley views — complete with lots of Swiss cows (and cowbells!).
Afterward, you can either hike down to Gimmelwald or take a cable car. When in Gimmelwald be sure to check out the Honesty Shop — Europe's first village store based entirely on trust.
No shopkeepers or cameras — just trust, and it works perfectly. For this jaded New Yorker, it was actually a bit of an emotional experience to see this shop in action.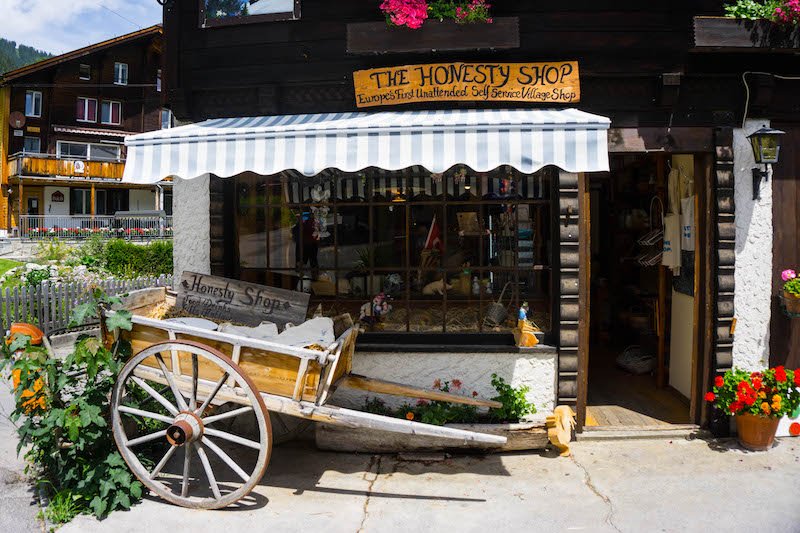 Finally, be sure to check out the insanely powerful Trümmelbach Falls in between Lauterbrunnen and Stechelberg.
It's a series of 10 glacial waterfalls which tumble INSIDE of a mountain, which has been carved out by both nature and man so you can see the insane power of the melting glacial water at work.
This is no dainty, Instagrammable waterfall — it's sheer force and power, and an absolute sight to behold.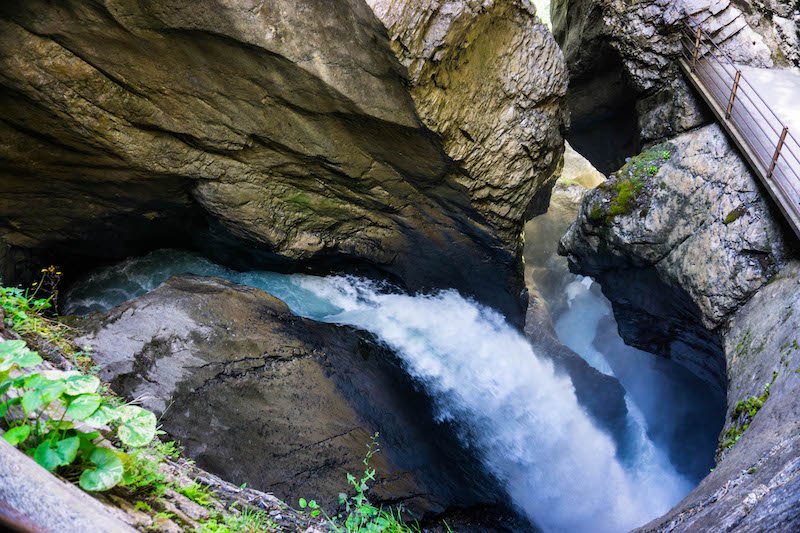 If you're keen to get your adrenaline pumping, there are several adventurous things you can do in Lauterbrunnen.
Common options include helicopter flights, paragliding, and skydiving, though of course — none of these activities come cheap!
If you're on a budget, stick to hikes and exploring the cable cars and scenic trains in the region.
There are also more expensive scenic trains such as to Jungfraujoch (the "Top of Europe") and Schilthorn (where James Bond was filmed) if you're keen to get some height without the adrenaline rush, but it won't come cheaply!
Where to Stay in Lauterbrunnen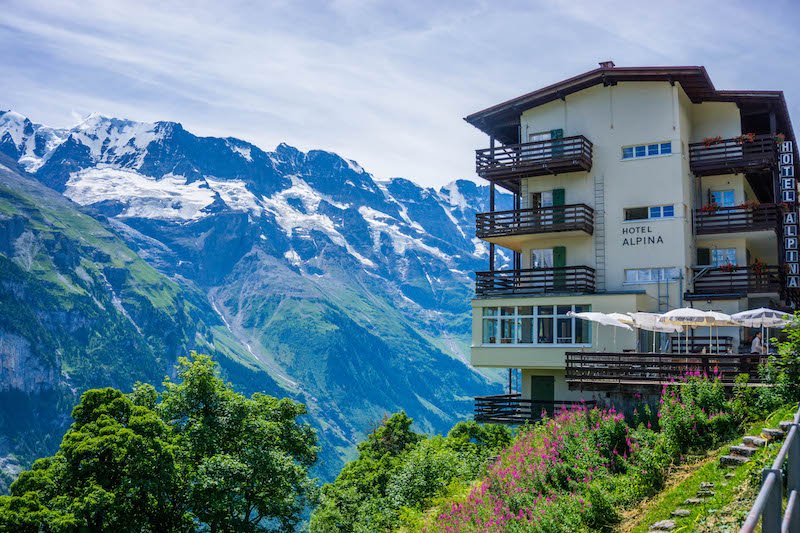 Budget: There are plenty of hostels in Lauterbrunnen. Even though Switzerland is expensive, I think Lauterbrunnen is one of the best towns to visit in Switzerland if you're on a budget.
I stayed at Schutzenbach Backpackers and it was the cheapest hostel I stayed at during my entire time in Switzerland.
It had an amazing location and everything was comfortable, but there were some weird quirks (like you had to pay for hot water by the minute and pay for using the electric burners!) that I found annoying. It's a short walk out of town (20 minutes) but you can also take a bus.
>> Check reviews and availability here.
Mid-range: If you have a medium budget, Hotel Staubbach is your best bet. It has great waterfall views and a super convenient location.
It's cozy, but not ultra-luxurious. You could also stay in Mürren, Gimmelwald, or one of the other cute mountain towns in the area!
>> Check lowest prices and availability here.
Luxury: For those with money to spare, Hotel Silberhorn is one of the nicest hotels in town. They have a beautiful sun terrace with an amazing panoramic view of the Jungfrau mountains and an Alpine-style restaurant. Check prices, reviews, and availability here.
Interlaken
Interlaken is between two lakes (hence the name), Lake Brienz and Lake Thun. Both are stunning, but Lake Brienz is a particular charmer, the same color turquoise as Insta-famous Lake Louise.
Interlaken is commonly known as the adventure sports capital of Switzerland. Here, you'll find activities such as paragliding and skydiving offered everywhere – though of course, being Switzerland, the prices are on the high side!
What to Do in Interlaken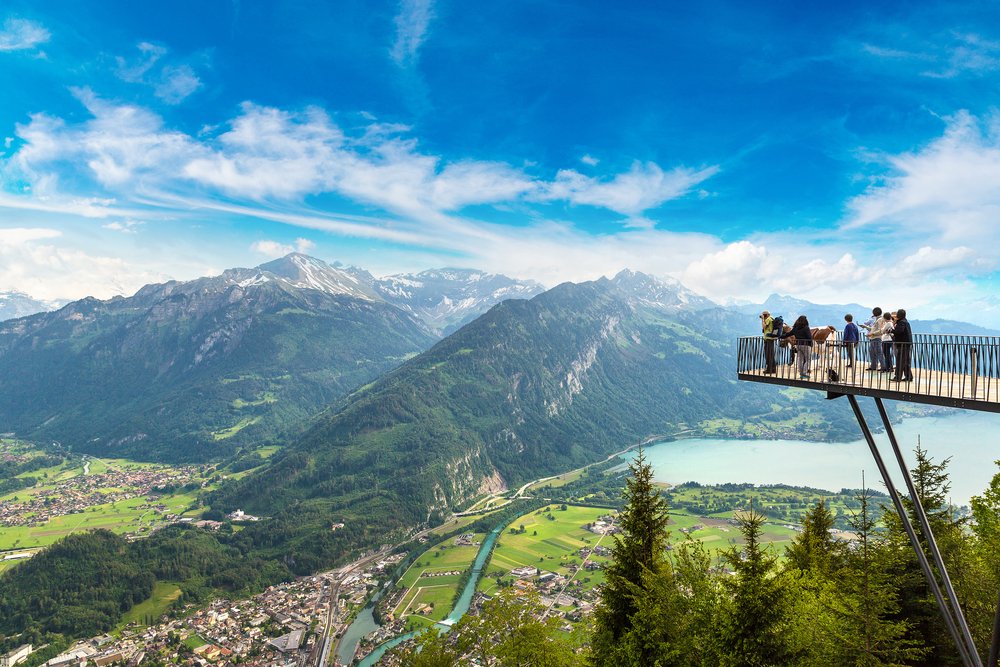 As Interlaken is a mecca for adventure lovers, you really should try to save room in your budget for at least one adventurous splurge.
Whether that's paragliding over the twin lakes of Thun and Brienz, taking a speedboat through one of the beautiful lakes, or even skydiving over one of the most beautiful parts of Switzerland, there's a lot to do in Interlaken that will get your heart racing.
The bravest amongst us can try their hand at paragliding over the twin lakes – one of the best views of Switzerland, which I can attest.
Admittedly, I was only brave enough to see it on my own two feet at the peak of Schynige Platte (anxiety and heights don't mix!)
If you're going to paraglide, ensure you're going with a reputable company that has a good track record. Flying over the mountains with only another person and a parachute is not a place to pinch a penny!
I would recommend this paragliding experience, which won the Best Adrenaline Rush from GetYourGuide in 2019!
Book your paragliding experience with a trusted, award-winning company here!
If you prefer a different kind of adrenaline rush, you can try river rafting down the nearby Lütschine River as well.
But if you keep your feet on the ground, or if you are working with a tight budget, don't worry – there are still plenty of other worthwhile things to see in Interlaken.
Indulge your sweet tooth at the Funky Chocolate Club, take the funicular 10 minutes up to the top of Harder Kulm for an epic view, or rent a kayak or paddleboard on Lake Brienz (or Thun, for that matter, but in my opinion, Brienz is way prettier).
Friendly Reminder: Whether you are doing crazy things like skydiving or having a more low-adrenaline trip, don't forget to buy travel insurance! I actually got insanely sick with a terrible summer flu in Switzerland and almost needed to visit a hospital - something that, had I not had insurance, likely would have cost me a fortune. I use World Nomads to cover me from anything from everything from trip cancellation to illness to injury on the road.
Day Trips and Tours from Interlaken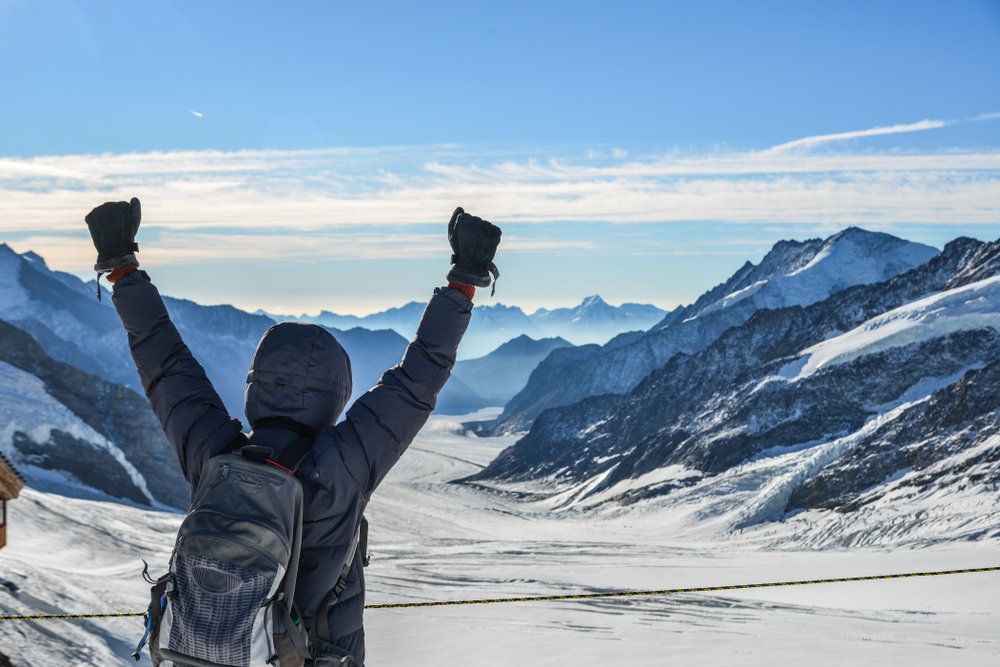 Jungfraujoch: This is the most popular day trip from Interlaken and with good reason: it's the highest train station in all of Europe and a UNESCO World Heritage Site!
Called "The Top of Europe," this impressive superlative has great viewing areas, an ice palace that you can hang out in (even in the summer), and stunning views of the Jungfrau region and its famous mountains.
It's not a cheap tour – check out prices here – but it's on the top of many people's Swiss bucket lists for good reason.
This tour is incredibly popular in summer, so book in advance here!
Castles: Interlaken is near several beautiful castles!
Check out the spectacular Thun Castle, or see the even more beautiful Oberhofen Castle on the edge of gorgeous Lake Thun.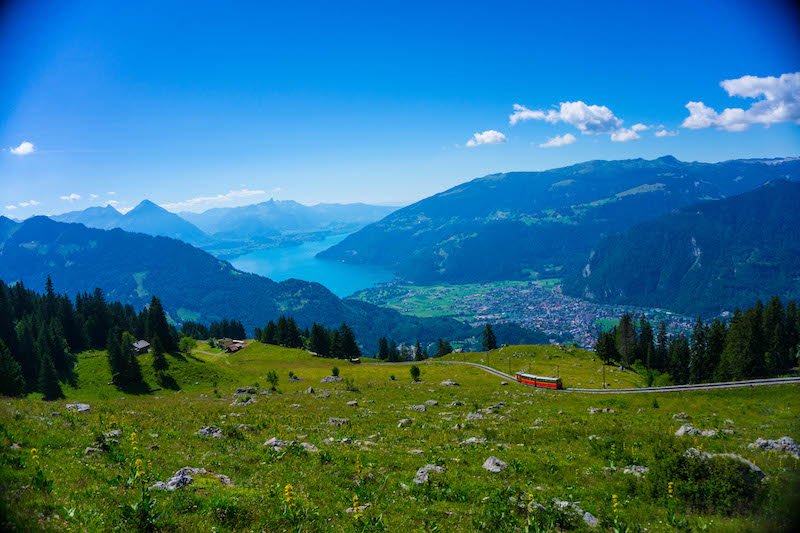 Schynige Platte: This is one of the best day trips in all of Switzerland and where you'll get the most spectacular views of Interlaken. Better yet, if you have a Swiss Travel Pass then it is already included in your ticket price.
If you're on a budget, I would recommend this over the Jungfraujoch train. The views are less impressive, but it's entirely free with a pass! I'll go into this in more detail below.
Where to Stay in Interlaken
Budget: Backpackers, rejoice! Interlaken is one of the most affordable cities in all of Switzerland. I'd recommend spending a little more time here if you're on a budget.
There are several hostel options (unlike in other Swiss towns and cities, where the options are minimal). One of the cheapest and best-reviewed is Balmers Backpackers Hostel, and since it comes with free breakfast, it's really a great deal for Switzerland!
>> Book in advance here as hostels in Switzerland often fill up early.
Mid-range: Switzerland doesn't have a ton of boutique hotels – more often, you'll choose between guesthouses and fancy chain hotels – but B3 Boutique Bed & Breakfast looks like a real charmer.
It's a touch outside of central Interlaken in a town called Gsteigwiler, but for the great price and rave reviews, it's a great choice in Interlaken.
>> Check availability and reviews here.
Luxury: The Royal St. James is a Sofitel property, a chain of hotels I trust.
It's a gorgeous building with a great location, spa and sauna, and raved-over breakfasts. I think it's one of the best luxury options in Interlaken.
>> Check prices and availability here.
Schynige Platte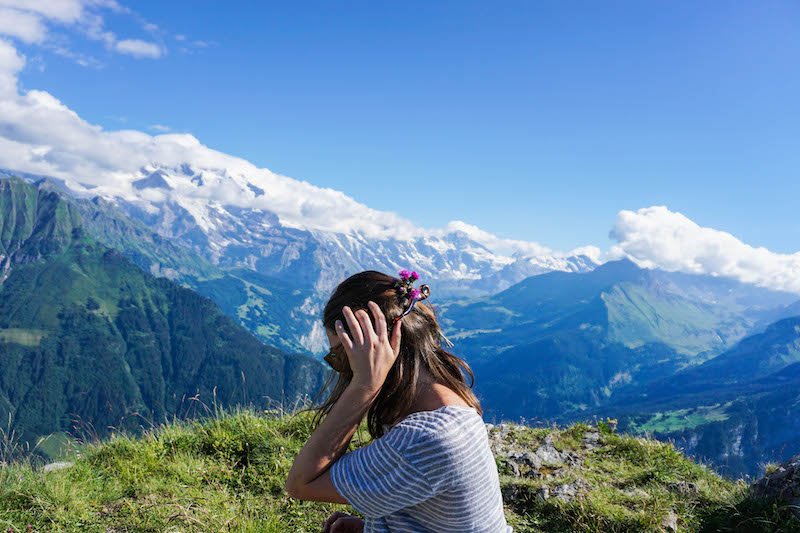 Wondering where to visit in Switzerland for the most sweepingly epic views? You can't miss Schynige Platte and its views over the twin lakes of Interlaken.
When staying in Lauterbrunnen or nearby Interlaken, you simply must take a day trip using the scenic train up to Schynige Platte alpine garden departing from Wilderwil, one of the best train journeys in Europe.
The scenic railway will take you up a hill to incredible views of Lake Thun and the even more stunning turquoise Lake Brienz.
You end at the top of a mountain with views of the three of the tallest peaks in the Jungfrau region – Eiger, Mönch, and Jungfrau.
The three mountains on one side; the lakes on the other… is this any wonder it's one of the most scenic places in Switzerland?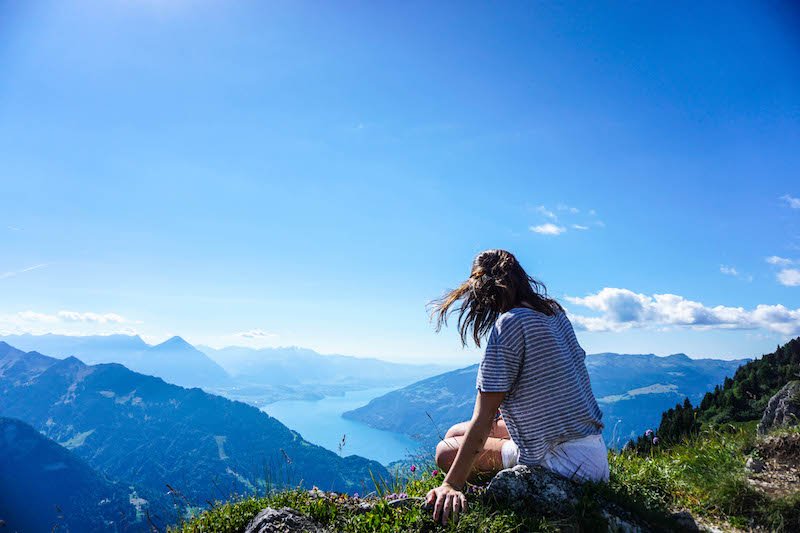 Up at the top, you can enjoy a ton of different hiking trails of mild to moderate difficulty.
There's a kiosk selling surprisingly affordably priced coffee, wine, and beer, as well as a restaurant if you really feel like splashing out and getting fancy.
But still, you'll enjoy relative peace and quiet, as this scenic train in Switzerland is not super well known, making it one of off the beaten path Switzerland's best-hidden gems.
The best part? A return trip to Schynige Platte is 100% included on your Swiss Travel Pass, making it one of the best places to visit in Switzerland in the summer.
Where to Stay for Schynige Platte
This is easy to do as a day trip from Lauterbrunnen, which I recommend, though you could also check out hostels and hotels in Interlaken if you want a bit more of a city feel than a small town vibe.
Check out check out hotel and hostel prices and availability in Interlaken if you prefer to stay in a hotel or guesthouse in one of the prettiest places in Switzerland.
Lucerne & Mt. Pilatus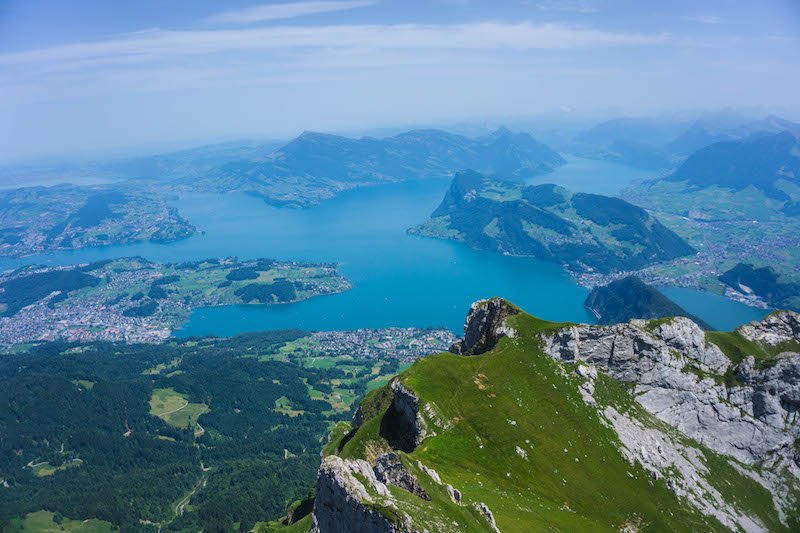 Lucerne is one of the best cities in Switzerland for proximity to mountain views!
Probably one of the most fun days I had in Switzerland was the day I took the steamer boat across Lake Lucerne to Alpnachstad, then the cogwheel railway up to Mount Pilatus at 2073 meters above sea level.
The cogwheel railway up to Mount Pilatus is literally the steepest in the world, with a staggering gradient of 48% incline!
The views at the top are spectacular, definitely one of the things you must see in Switzerland.
You can get some stunning views over Lake Lucerne from the top of Pilatus, do some hikes through alpine flowers, see the adorable mountain ibexes who call it home…. then go back down to Lucerne via cable car and bus.
Four distinctly different modes of transit in one day, all included on a travel pass — all running with insane efficiency.
Switzerland, you make my anxious heart very, very happy.
What to Do in Lucerne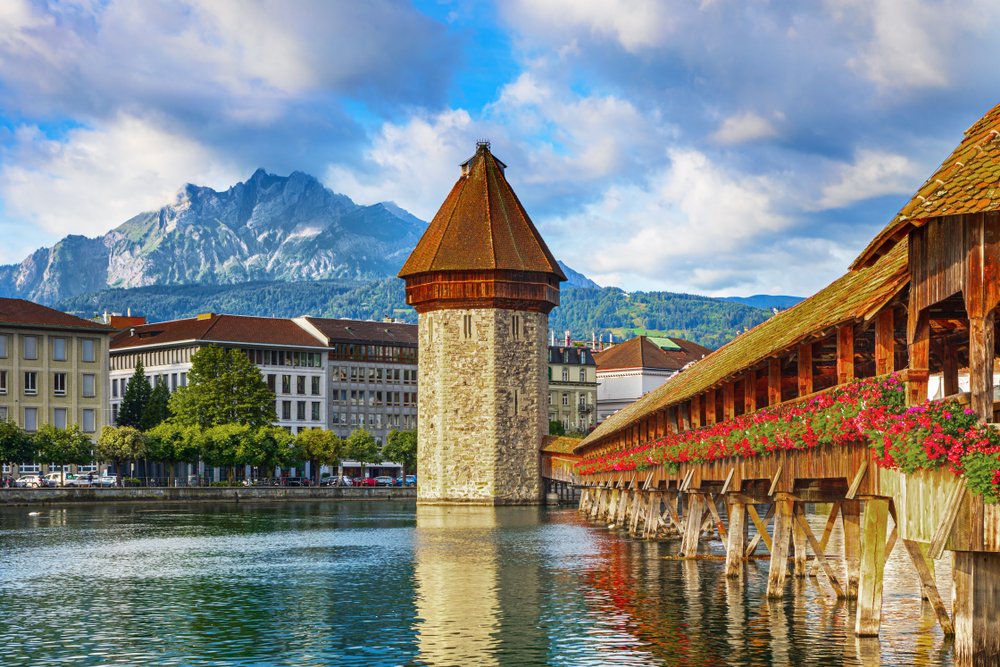 Lucerne is a lovely, walkable town, and there's plenty of things to see and do in Lucerne. You definitely have to enjoy a river cruise on one of the old-fashioned steamer.
It's also quite close to Mount Rigi and Mount Pilatus, both of which offer excellent views and hiking opportunities.
I chose Mount Pilatus, but I wish I had time for Rigi, too! These are included if you have a Swiss Travel Pass, or you can purchase tickets a la carte if you're not using a pass.
There is also the Lion Statue of Lucerne which is…. not very exciting, to be honest.
Kapellbrücke, however, is definitely worth the hype. This covered bridge dates back to the 14th century and it is absolutely gorgeous.
It's usually crowded during the day so if you want the best photos I recommend getting an early start.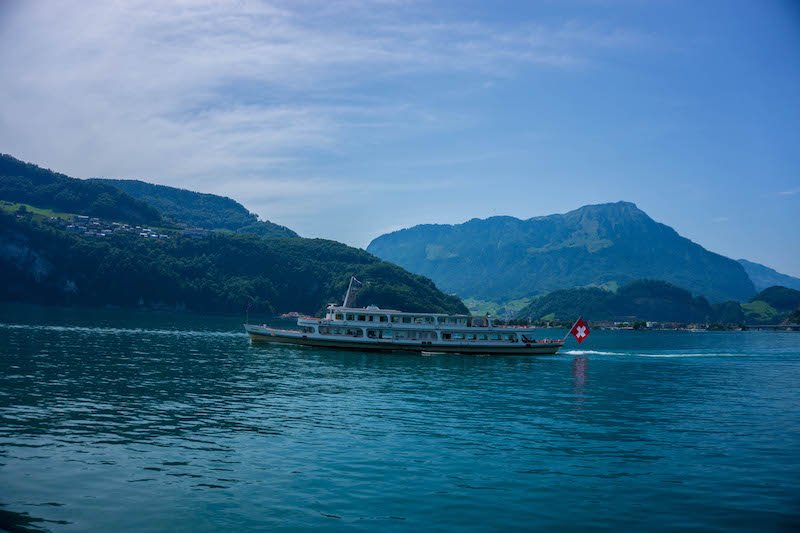 Finally, a cruise on Lake Lucerne is a must!
You can skip this if you are doing the trip to Mount Pilatus, as it's included in the excursion.
But if you aren't planning to go there, a panoramic yacht cruise is an essential (and surprisingly affordable) thing to do in Lucerne!
Day Trips and Tours from Lucerne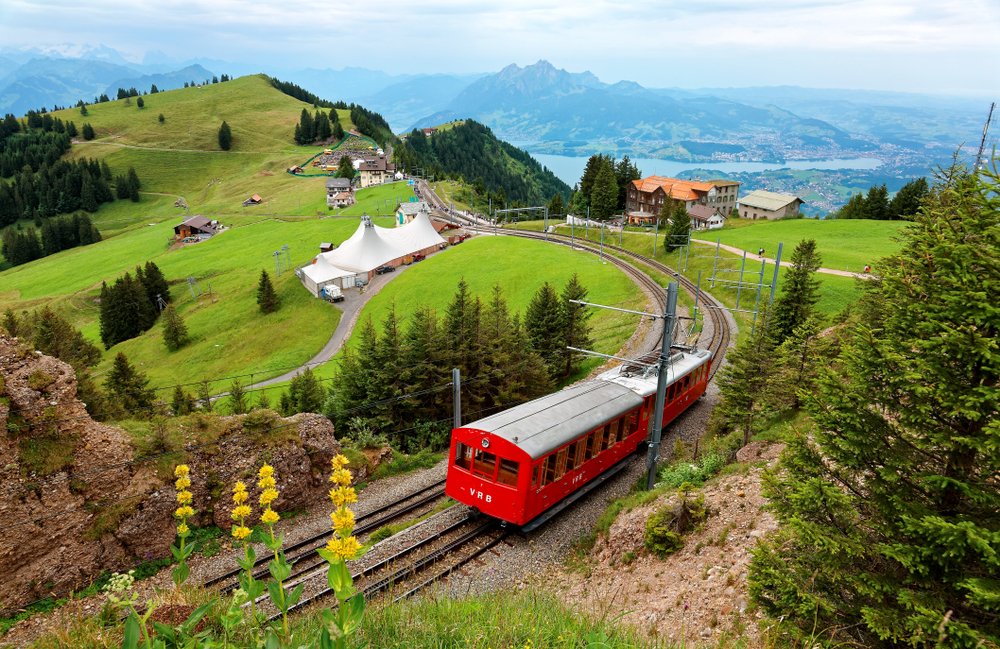 Mount Pilatus: This is the classic day trip option from Lucerne. It's included with a Swiss Travel Pass or you can purchase a day trip a la carte here.
This self-guided tour takes you across Lake Lucerne on a steamboat, ascends via the world's steepest cogwheel railroad, then you descend using a cable car (and finish your trip back to Lucerne by a short bus ride).
You can experience the awesome efficiency of Swiss transport in 4 different forms on this tour, with gorgeous views on all of them (well, I guess the bus is less spectacular).
Book the self-guided day trip if you don't have a travel pass!
Jungfraujoch: The highest point of Europe reachable by train, visiting the mountain station of Jungfraujoch is also available as a day trip from Lucerne if you don't have plans to make it to Interlaken.
It is a little further, though, so I'd only pick visiting Jungfraujoch from Lucerne if my itinerary totally skipped Interlaken/Lauterbrunnen.
Book the day trip to Jungfraujoch here!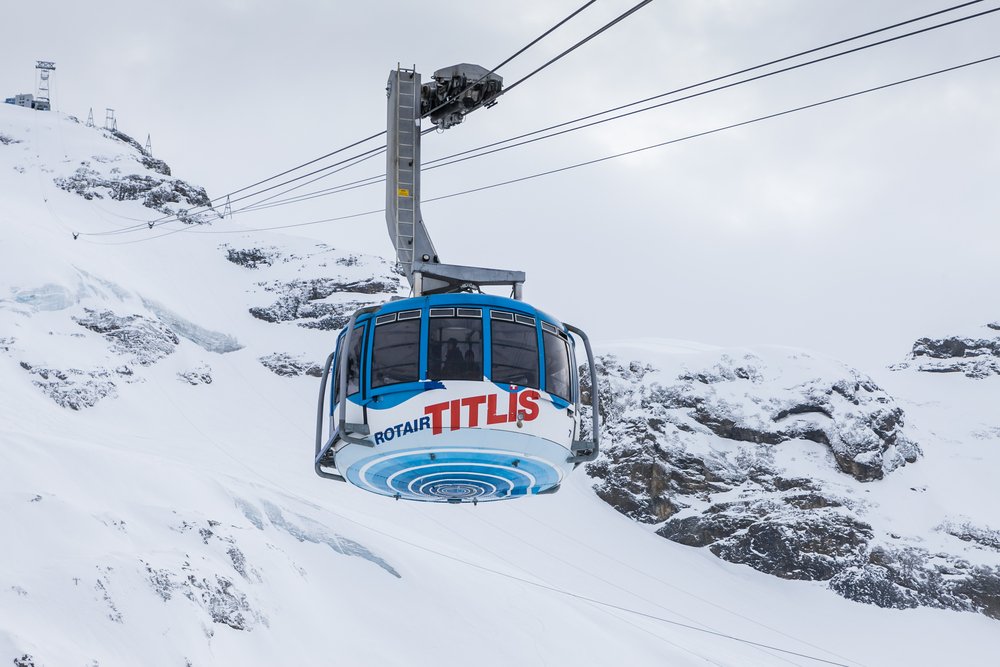 Titlis: For a nearer (and cheaper) day trip option if you'd like to see a glacier up close, Titlis is incredible!
The coolest thing about visiting Titlis is that you get to ascend to the glacier in a beautiful cable car, seeing a glacier from a totally different perspective than the typical train experience you'll get used to after some time in Switzerland.
Where to Stay in Lucerne
Budget: I stayed at Lion Lodge when in Lucerne. It's okay and friendly to the wallet, but nothing that great. I'd stay somewhere else next time.
If you're undeterred, you can check prices and availability here.
Mid-range: Had I not been traveling on such a strict budget, I likely would have opted for the ibis Lucerne. Ibis hotels are clean, affordable, and pretty inoffensive — but they're not exactly luxurious.
Still, if you want privacy and cleanliness, ibis is reliable. Just be aware it's about a kilometer's walk from town, though Lucerne is pretty well connected when it comes to public transport.
>> Check prices and availability here.
Luxury: If you want the best of the best, Hotel Schweizerhof can't be beaten. It's beautiful — just look at the front of that building all lit up at night! — with an amazing lake view, a Finnish sauna, a bio sauna (whatever that is), and a spa.
One cool quirk about the hotel is that each room is furnished to represent the personal style of a famous person who has stayed at the hotel in the past, making it a super unique place to visit in Switzerland.
>> Check the prices and availability here.
Zürich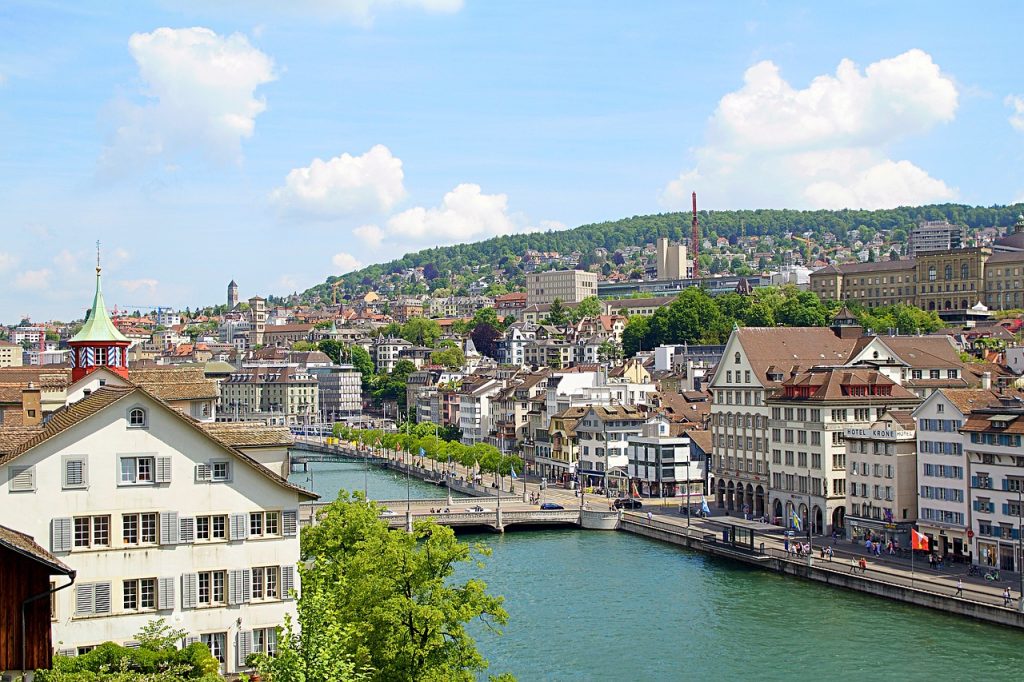 I didn't spend too much time in Zürich, but the little time I did spend there was gorgeous!
Zürich spans the beautiful Limmat River, which makes all the old architecture even more beautiful.
Zürich is also the most cosmopolitan city in Switzerland, so this is where you'll find a lot of different international cuisines in case you're starting to tire of fondue (yes, anything is possible!).
Zürich is also one of the major entry points to Switzerland, so if you find yourself transiting through the city, you'll likely want to give yourself at least a day to explore the city before getting out and seeing more.
What to Do in Zürich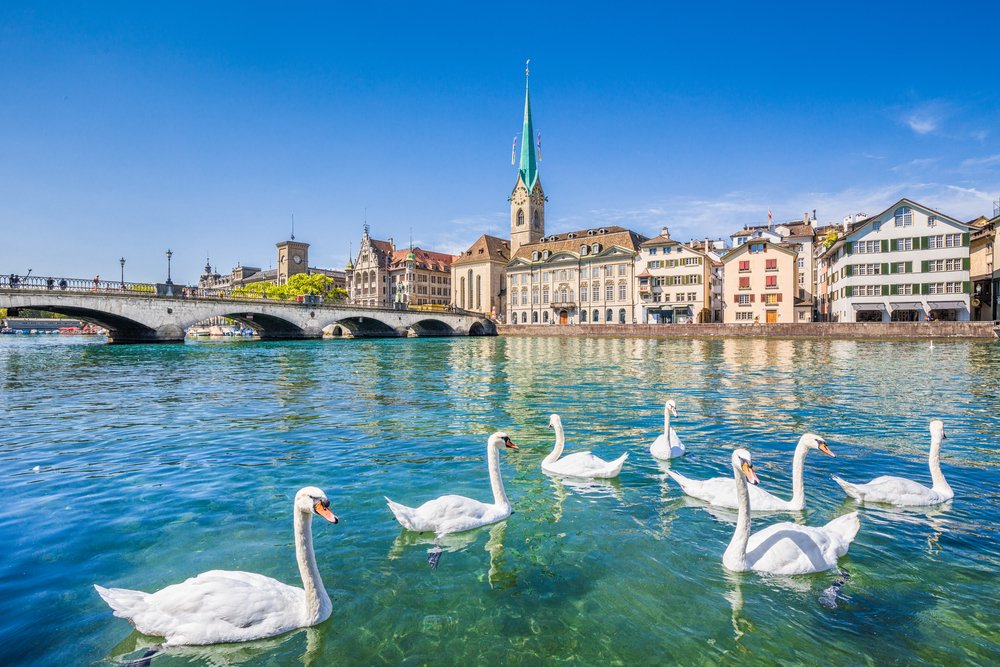 There's plenty to do in Zürich proper!
You can choose from exploring the beautiful churches of Grossmünster and Fraumünster, taking a walking tour of the Old Town, strolling down the luxurious shopping street of Bahnhofstrasse, or perusing some of the country's best museums at a discount using a Zürich Pass.
Note: The Zürich Pass is a good option if you have at least 24 hours in the city planned. It's inexpensive, covers museums and other sights you'd want to see, and covers public transit as well. Pre-book yours here!
However, if you have limited time in Zürich, I recommend this 4-hour tour which includes a ferry ride, a cable car, and coach tour of the city: you will cover the most ground and get the best views this way!
It's a quick and easy way to make the most of your time there.
For something a bit different: foodies can taste traditional Swiss chocolate at Maestrani's or take a culinary walking tour of the city.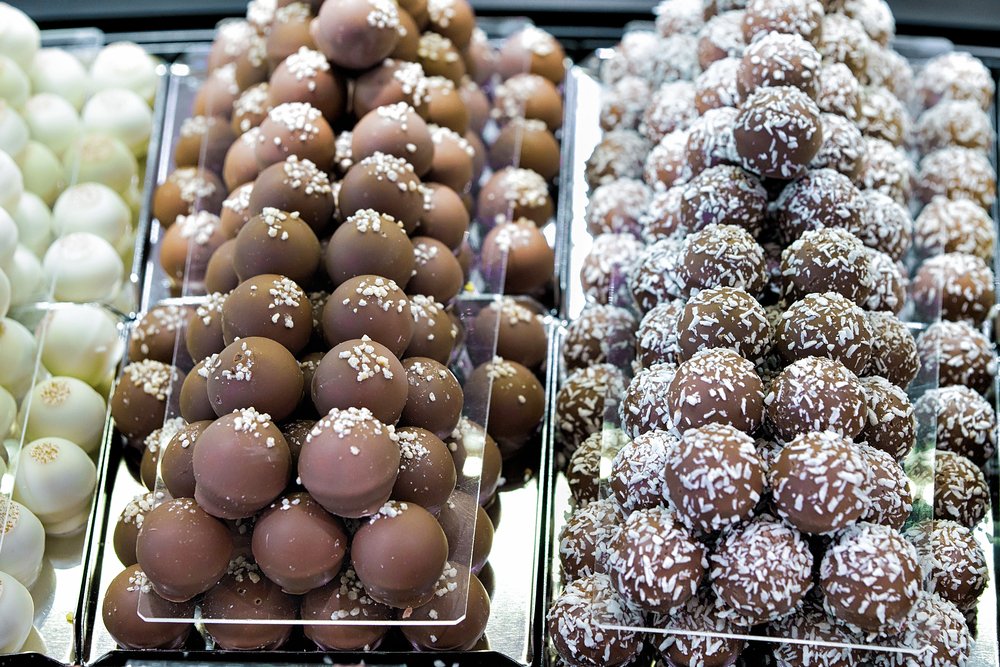 Those who like to hang out with the locals should not miss Frau Gerolds Garten.
This urban gardening project features container bars with craft beers, small boutiques, and wall murals – it's pretty cool!
As the biggest city in Switzerland and the entry point for many travelers, Zürich is a great place to base yourself while doing day trips to beautiful lakes and mountains in the Swiss countryside.
Bernese Oberland is nearby, as well as beautiful Lake Constanz.
Day Trips and Tours from Zürich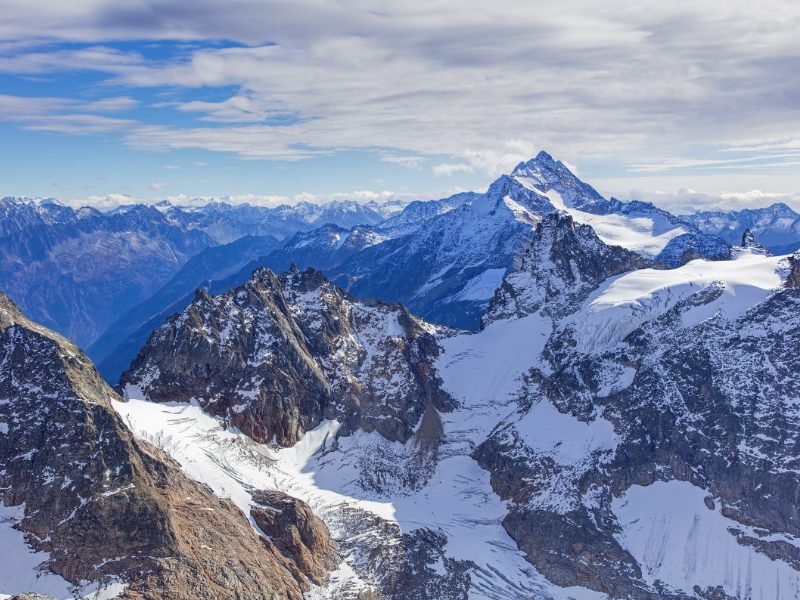 Mount Titlis: I mentioned it above for a day trip from Lucerne, but it is also a very popular option to do a day trip from Zürich to this beautiful glacier via cable car.
This trip is beloved by fellow travelers, with over 700 5-star reviews. Read the itinerary and book it here!
Jungfraujoch: Also available from Interlaken and Lucerne, you can also make this day trip from Zürich. Check it out here!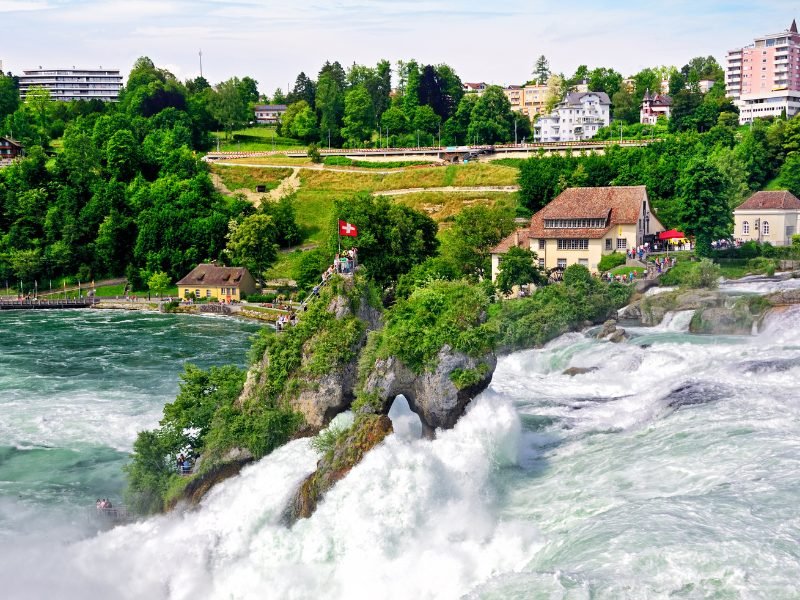 Rhine Falls: This is one of the most popular day trips from Zürich. It's been called Europe's biggest waterfall – but that's more for the sheer power of its rushing water than more impressive factors like width or height.
It's still incredibly beautiful and an absolute force of nature. You can also see the beautiful town of Stein am Rhein, one of Switzerland's most gorgeous small towns
Liechtenstein: You can take a day trip to Liechtenstein, one of Europe's smallest countries, if you are a country counter or just want to see some more beautiful mountains!
Take the train from Zürich to the Swiss border town Sargans. From there, you can catch bus #11 to Vaduz, the tiny mountainous capital of Liechtenstein. No guided tours are available, but it's easy enough to do independently.
Grindelwald & Interlaken: No time for a proper stop in Interlaken on your Switzerland trip?
Luckily, a day trip to beautiful Bernese Oberland is ultra-easy. Check out this tour here.
Where to Stay in Zürich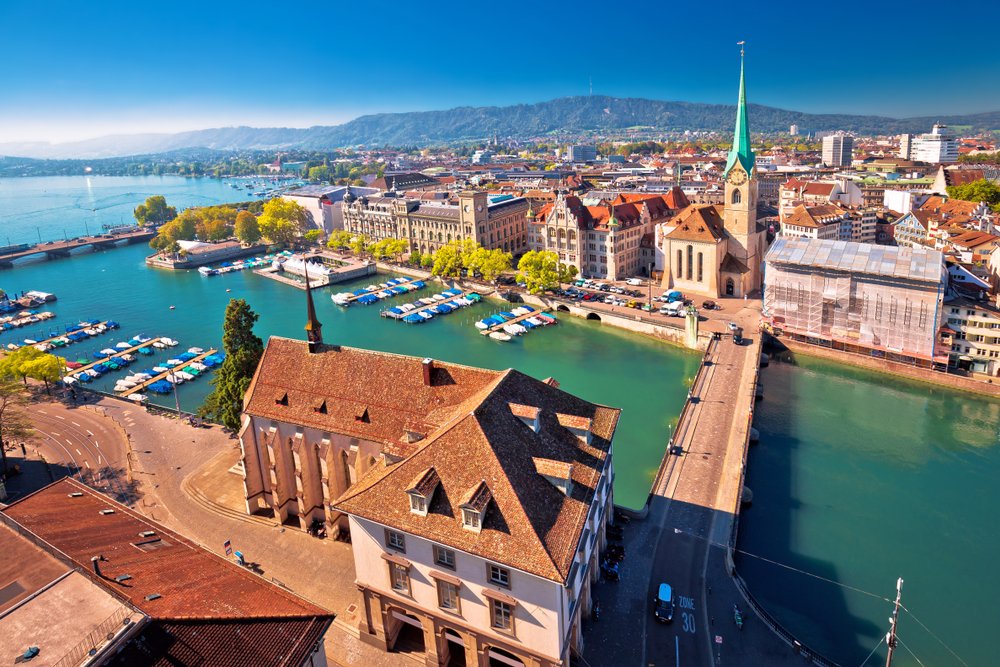 Budget: Zürich is one of the most expensive cities in the world, and the hostel prices match that.
City Backpacker Biber is the best combination of low-ish prices and good reviews, and with a central location, you'll save on transport costs which are no small matter in Switzerland.
>> Check prices and availability here.
Mid-range: If you can afford to upgrade to mid-range, this is where Zürich really shines.
The Motel One Zürich, despite the humble name, is one of the most gorgeous and conveniently located hotels in the city.
The design is gorgeous and trendy, the staff friendly, impeccably clean, and it's located only a 10-minute walk from the central train station.
>> Check prices and availability here.
Luxury: Of course, this being Switzerland, plenty of luxury options abound for travelers with deep pockets.
The Park Hyatt is probably the nicest hotel in the city, but costs approximately one kidney to book. I stayed at a Park Hyatt during a winter trip to Vienna with family once, and it was incredible!
A luxe but more affordable option would be the Hotel Schweizerhof Zürich, which certainly isn't cheap but is about half the price of staying at the Park Hyatt.
>> Check lowest prices and availability here.
Zermatt and the Gornergrat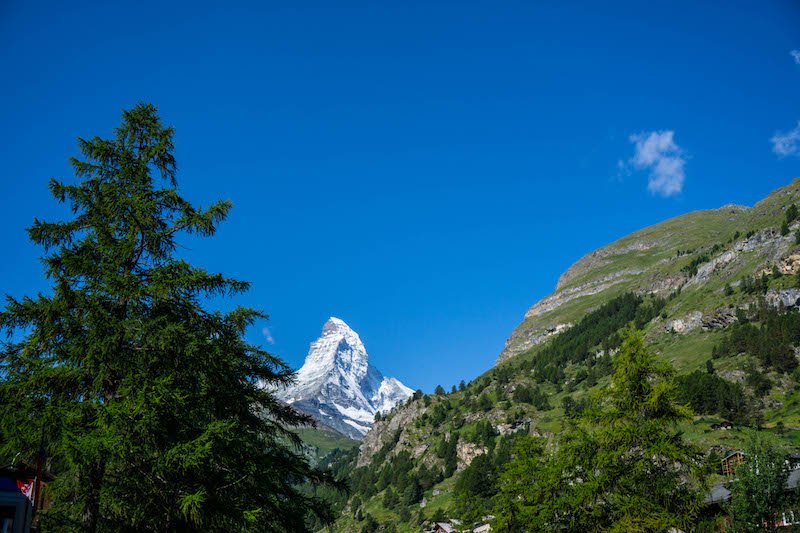 There's a reason why Zermatt is one of the best places to visit in Switzerland.
It's rightfully famous for the glimpse of the Matterhorn's famous silhouette which you can see from certain angles within the town.
On a sunny day, the peak is clearly visible – other days, the Matterhorn shrouds herself in clouds, which makes sighting her even more majestic when it finally happens.
What to Do in Zermatt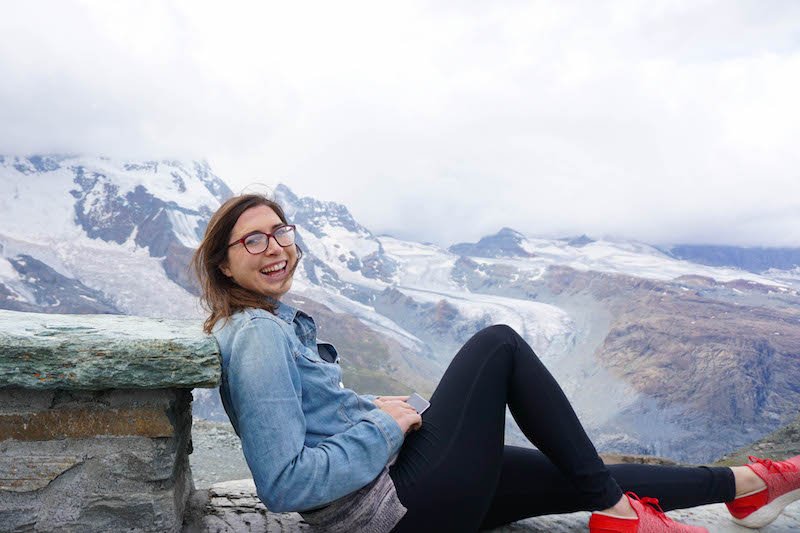 When you have a good weather day, it's definitely worth it to go up to the Gornergrat station on the scenic railway.
I took three mountain railways while in Switzerland and the Gornergrat was definitely the most awe-inspiring.
As in, I almost wanted to weep when I saw the Matterhorn peeking from behind the clouds on my last day in Zermatt!
The Gornergat is not 100% included with the Swiss Travel Pass, but you'll get a 50% reduction on the return ticket price of 94 CHF (for a total cost of 47 CHF, an insanely good deal for Switzerland).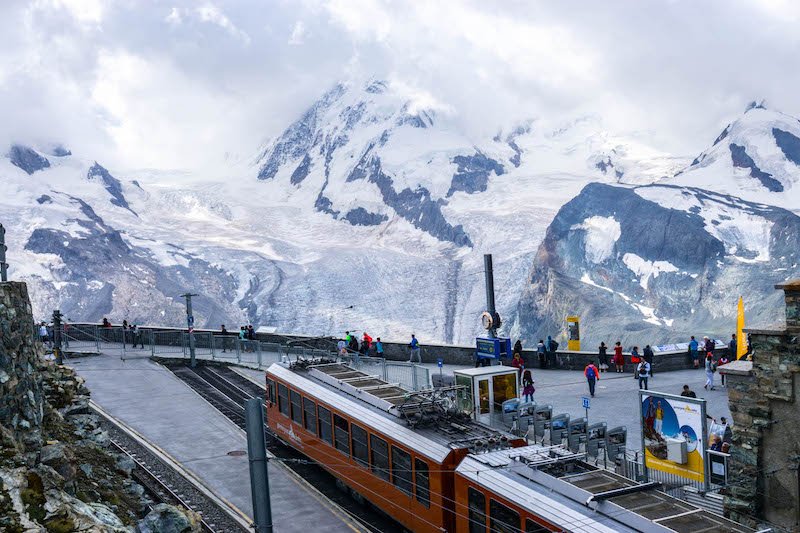 If you don't have the Swiss Travel Pass, you'll need to buy it individually. I strongly recommend buying online in advance to avoid the massive crowds at Gornergrat station.
After all, this is the picture-perfect Matterhorn viewpoint in the Instagram age, and it is crowded.
Be sure to stop at Rotenboden for stunning views of one of the many alpine lakes dotting the region — if you're lucky, you may get a glimpse of the Matterhorn hanging out reflected in the Riffelsee.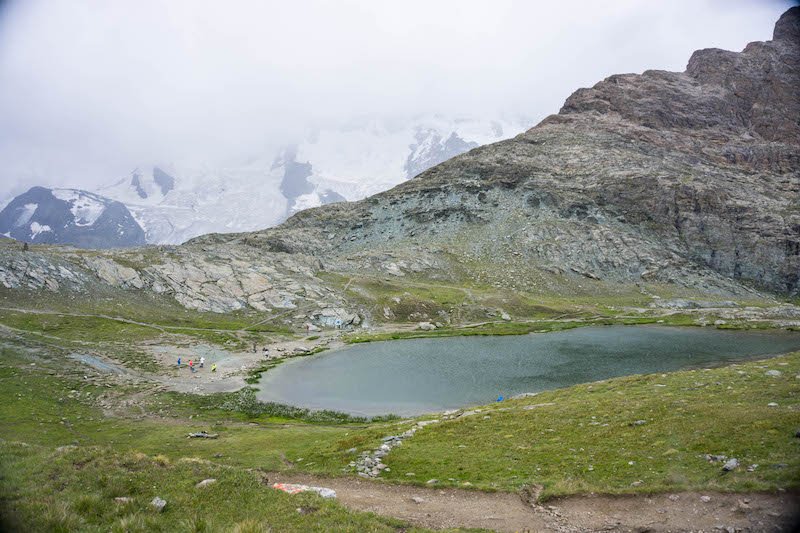 Unfortunately, as you can see, it was rather cloudy when I went up to Gornergrat, so my views weren't quite as good as they could be.
Check the forecast (or just look at the Matterhorn to see if you can see it!) before purchasing your tickets.
While looking at the Matterhorn from afar is great, hiking it is reserved only for serious alpinists.
Hike in the Gornergrat area instead if you are a casual hiker and not a serious mountaineer.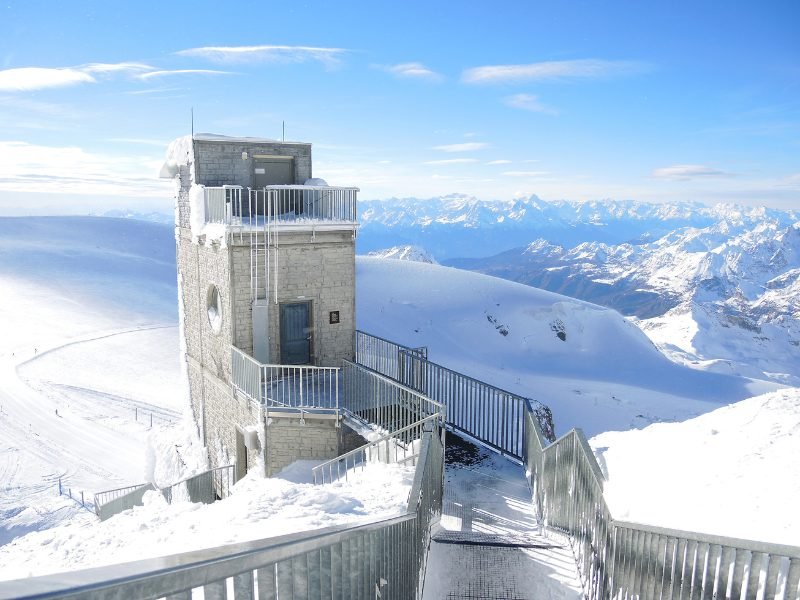 Another option — a newer one that wasn't available on my trip to Switzerland — is taking a cable car up to Matterhorn Glacier Paradise!
This experience includes a stunning cable car ride which will bring you to the Matterhorn Glacier Paradise area, where you can check out a glacier palace and admire stunning views at 3,883 meters (12,740 feet).
It's the highest mountain station in Europe (Jungfraujoch is the highest mountain station by train).
Where to Stay in Zermatt
Budget: As one of the more popular touristic places to visit in Switzerland, Zermatt has a wide range of options, but they go quickly.
I enjoyed my stay at Matterhorn Hostel and thought the price was really good for Switzerland!
Mid-range: A surprisingly good value is ARCA Solebad Wellness & Spa. It's right by the center train station and, as the name suggests, is home to an excellent spa!
It also has a salted heated swimming pool, steam bath, and sauna for the full-on relaxation experience.
>> Check prices and availability here.
Luxury: One of the most romantic and beautiful hotels in all of Zermatt is Romantik Hotel Julen Superior.
The outside of the building couldn't be any more adorably Swiss, with wood design and flower boxes everywhere. I also really loved the warm, wood interiors and amazing detailing.
Plus, the location can't be beat — after all, Matterhorn views are never far away.
>> Check prices, ratings, and availability here.

Nendaz and the Valais region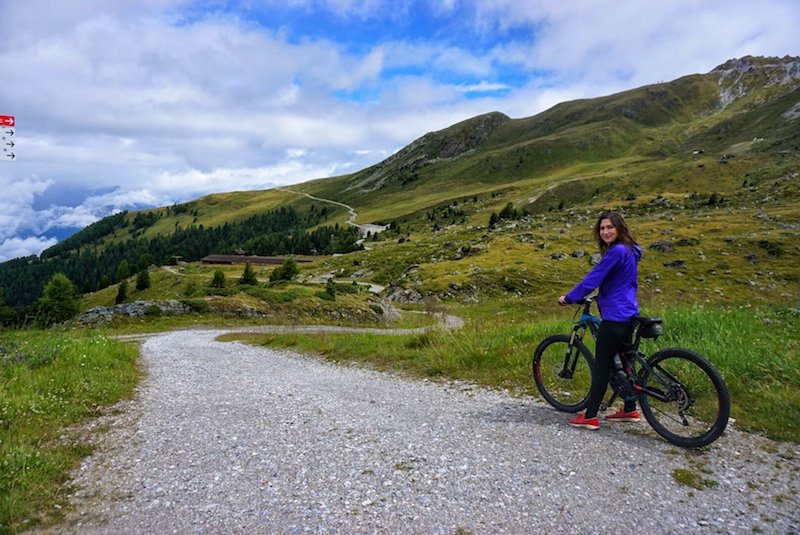 The Valais region is famed for its wines, cheeses, and mountains — literally three of my favorite things.
Virtually everywhere in the Valais is stunning, but the beautiful mountain town of Nendaz is a fantastic place to enjoy scenic mountain views and traditional Valaisianne cuisine and culture.
What to Do in Nendaz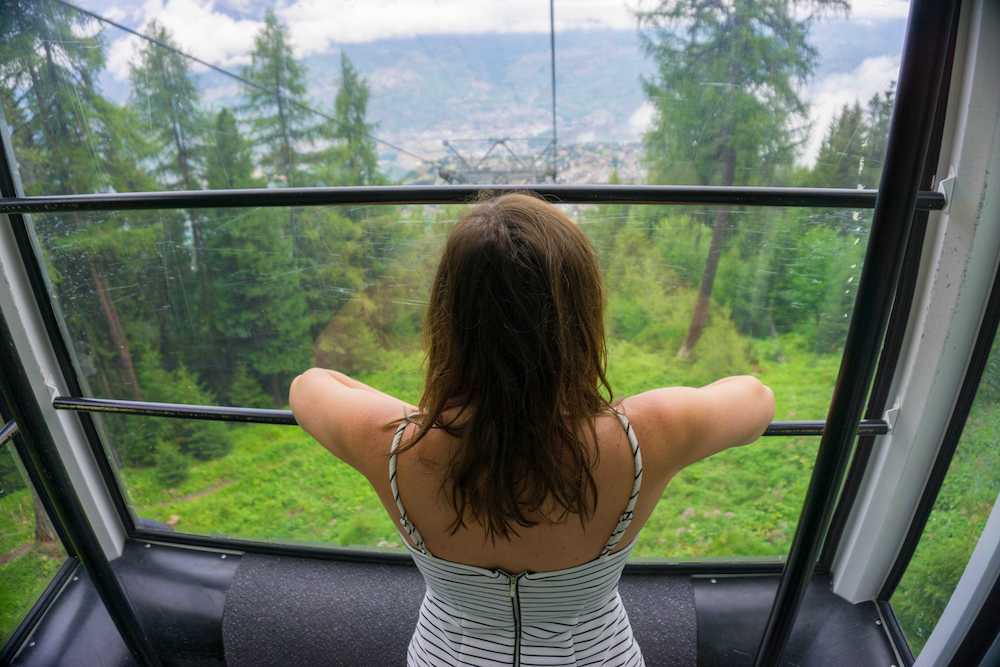 Nendaz is a ski resort town, but surprisingly, there is so much to do in the summer! I suggest trying to go when the summer alphorn festival is happening – it's a great cultural experience and the music is lovely, especially with those Swiss Alp views!
Otherwise, you can swim in one of the world's most beautiful public pools, take the cable car up to Tracouet for some beautiful hikes, relax in the spa at 4 Vallées with a day pass, taste lots of fondue, or even go mountain biking!
I spent an entire week in Nendaz and you're welcome to read all about it here if you want more detailed recommendations!
Where to Stay in Nendaz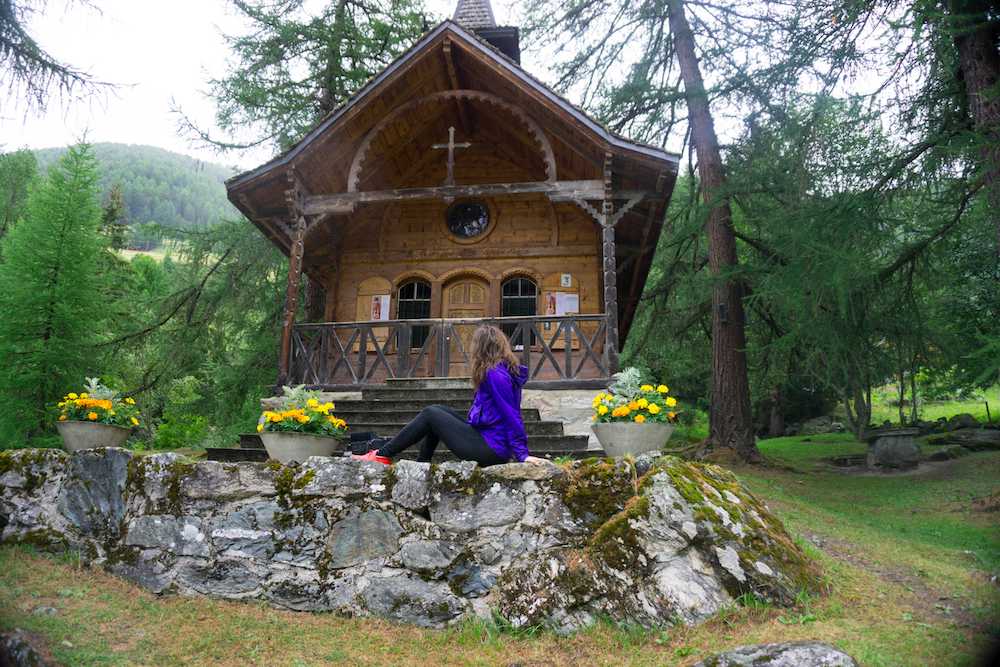 Budget: Nendaz is super small and there's really not much in the way of budget accommodation — certainly no hostels! I'd recommend doing an apartment rental if you're on a budget.
Mid-range: Your best bet if you are trying not to spend too much is to try to find an apartmental rental on Booking.com or to check out Airbnb.
Luxury: One of the best ways to enjoy the mountains is to book a luxury chalet rental in Switzerland.
If you prefer a hotel, I visited the spa at Nendaz 4 Vallées & Spa and holy heck guys it was AMAZING.
They have a ridiculous number of saunas and steam rooms, an ice room, indoor and outdoor pools, a salt/floating pool… and probably so much more that I've already forgotten.
Even if you don't stay here, I recommend visiting their spa on a day pass!
>> Check out reviews, availability, and prices here.
More Beautiful Places to Visit in Switzerland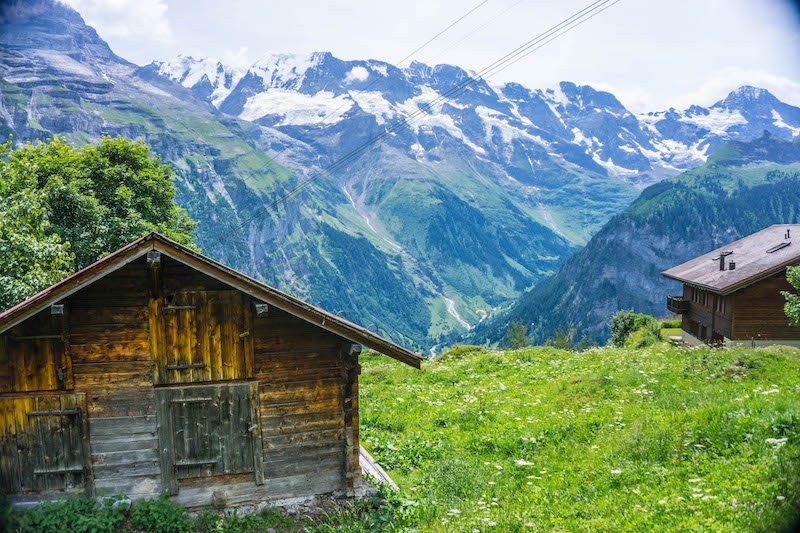 Above sums up my 11 favorite spots in Switzerland that I visited in my one week there… however, there is so much more to Switzerland than just that!
I tapped a few travel blogger colleagues to let me know their favorite parts of Switzerland, to share it with you. Here are a few of their top picks!
Ascona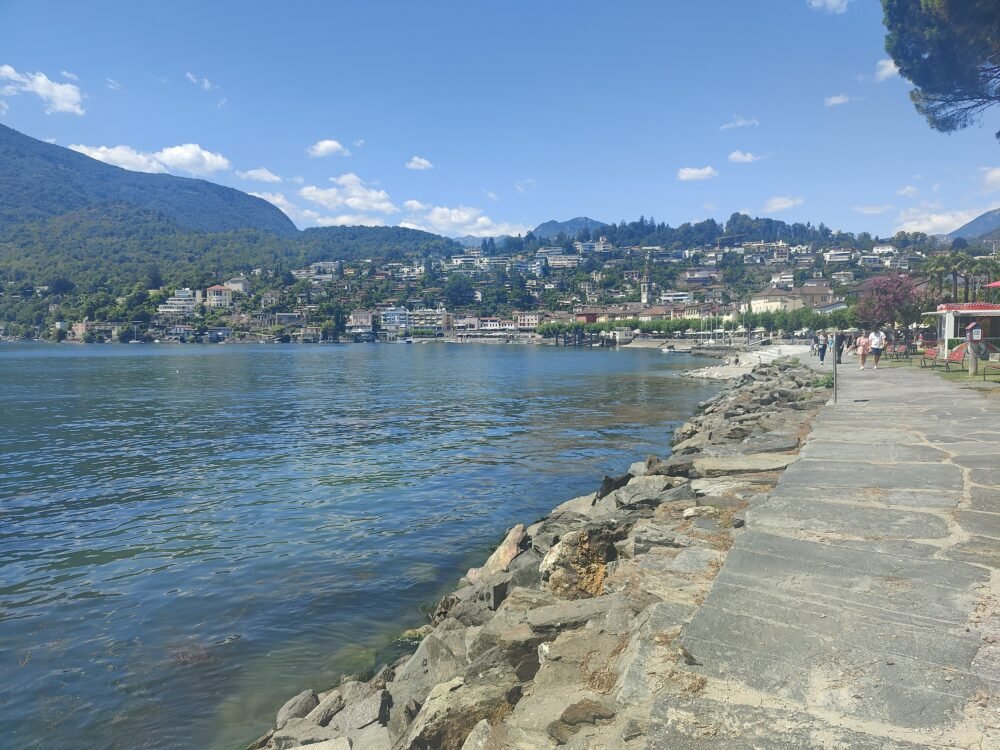 Written by Zoe from Together In Switzerland
For a pretty village to visit in Switzerland, find yourself walking the cobblestoned streets of Ascona!
This picturesque Southern Switzerland village is perfect place for exploring in the warm sunshine.
It's easy to reach with either a car or public transportation, with at least a day needed to enjoy the village best.
Ascona is very scenic with lots to see and do, situated along the waterside of Lake Maggiore and close to the surrounding mountains.
The view along from the promenade is gorgeous to sit and relax with.
There are many restaurants here, all ideal for sitting outside under the summer parasols for a bite to eat or a fresh cold drink.
They all have an Italian style and dishes, being so close to the border of Italy.
While looking out to the lake, you can spot many local and touristic boats.
These boats often visit the Island of Brissago, a stunning botanical garden situated on the island not far from the shore. It's open daily during the April to November season.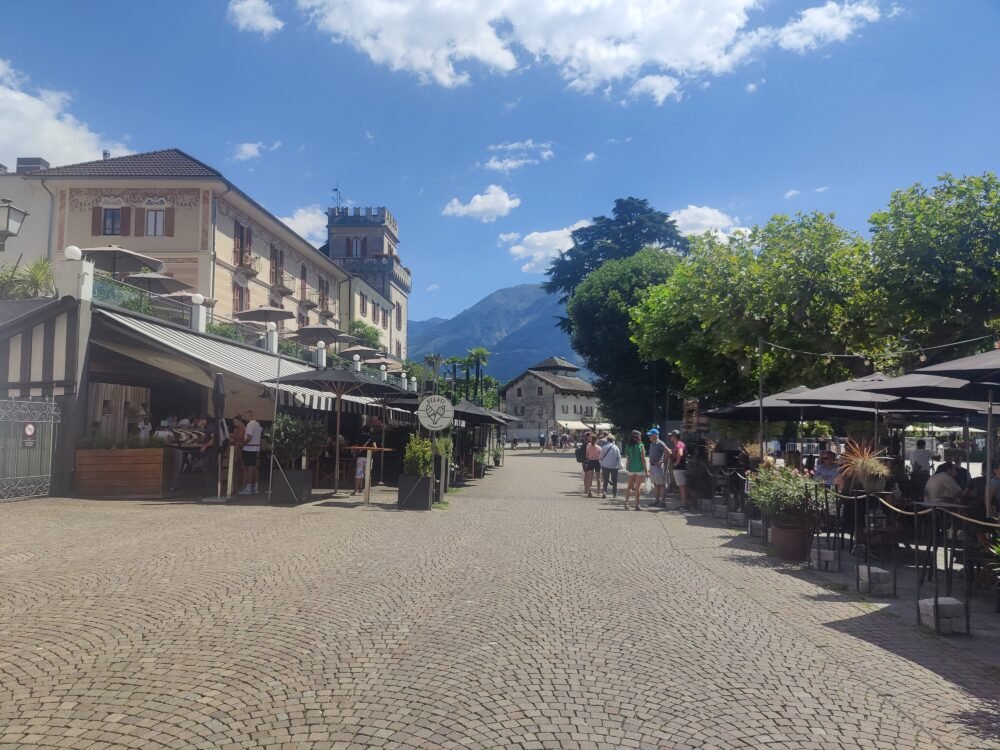 When not eating, drinking or enjoying the lake side, find yourself walking the streets of the village.
There are lots of boutiques with clothing and local souvenirs to enjoy!
There is also a famously known 'swing of the world' that you can swing on at for photos with a pretty mountain and lake background.
Ascona is small enough to explore easily in a day, but spending more time in Ascona will allow you to take in the summer social aspect of the village.
Where to Stay in Ascona
For a beautiful 5 star hotel recommendation, the Parkhotel Delta Wellbeing Resort is well worth a stay at for at least a night.
Alternately, for a more homely feeling at a 3 star hotel, Antica Posta is just as nice, just with fewer amenities.
Gruyères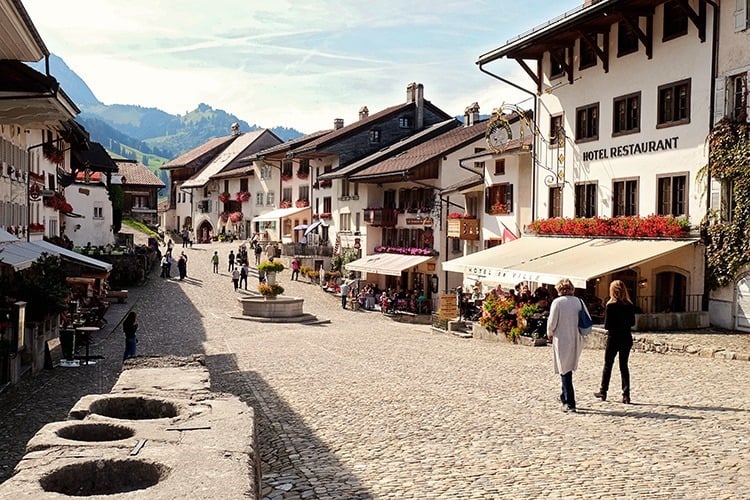 Contributed by Jolene from Wanderlust Storytellers
Gruyères is a medieval village located two and a half hours by train outside of Geneva.
Once you reach this charming village you will instantly fall in love with its charm and quaint architecture as you feel you have landed in a fairytale.
Although Gruyères is not known for its nightlife, it has so much to offer during the day which makes this small, cobblestone village a must see and great for a day trip from Geneva.
If you are a lover of cheese, then Gruyères is your heaven as this charming village is known for its cheese that is used in many delicious dishes around the world!
Make sure to try the village specialty dish, known as Moitie-Moitie (fondue), which is a dish made with the popular Gruyères and Vacherin cheeses – it is simply divine and to die for.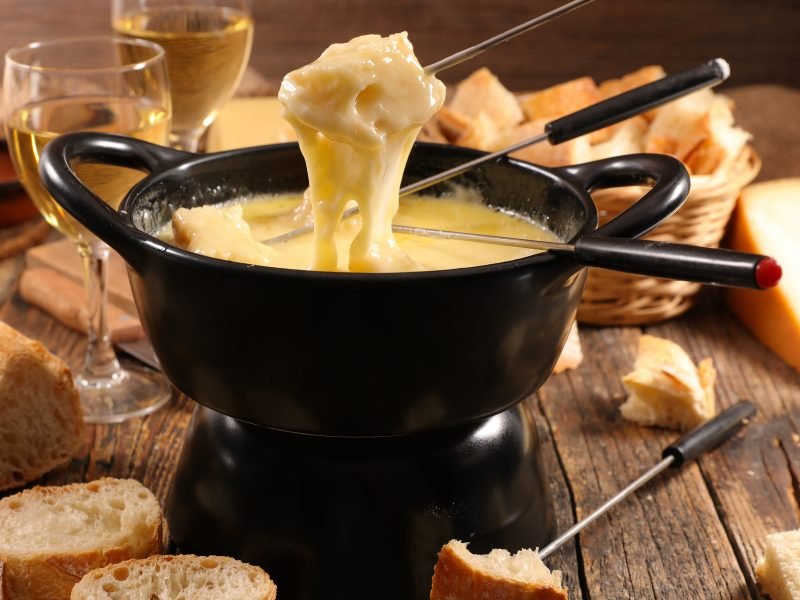 Not only can you enjoy eating the local cheese, but you can visit the Gruyères Cheese Factory to see exactly how they make the cheese.
Before indulging in the speciality dish, be sure to walk through the village along the cobblestone streets to do a little shopping.
The village boasts many boutiques with a variety of local village crafts, specialty dishes and unique souvenirs on sale.
Do not miss visiting the Medieval Gruyères Castle as the views of the surrounding hills from the castle are to die for!
When you are done visiting this gorgeous village, make a small detour to the town of Broc where you can visit the Cailler Chocolate factory.
Where to Stay in Gruyères
If you spend a day or two in Gruyères, book a room at the Boutique Hotel Alpenrose, a luxurious hotel with balconies giving you superb views of the mountains about 45 minutes outside of town.
Alternately, another good option is the Hotel de Ville which is located in the village center. This hotel is a chalet building with rooms that still retain traditional wooden features.
Lugano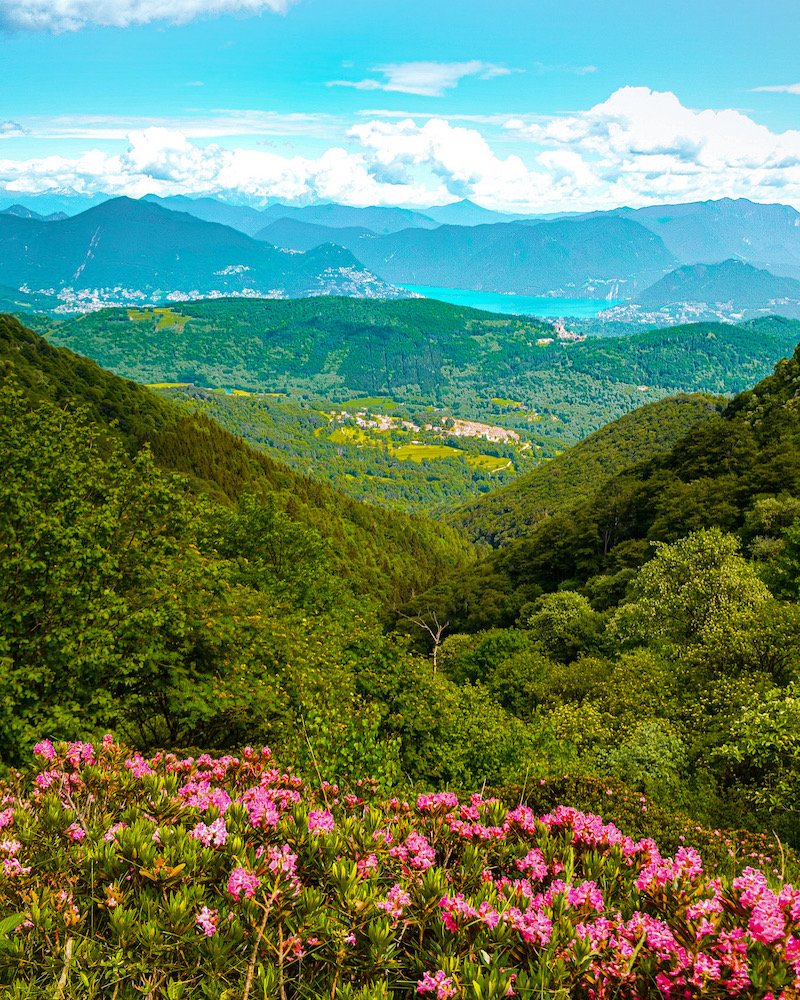 Contributed by Daria of the Discovery Nut
The largest city in the canton of Ticino, Lugano is a gateway to some of the best things art and culture.
Lugano is also a great starting point for your adventures, as you can take a drive or catch public transportation to many scenic places in the area.
While Lugano is a small city, it has plenty of things to do.
Take a stroll in Parco Cívico along the shores of Lake Lugano; stop at Museo d'Arte della Svizzera that is home to artworks of Swiss-Italian artists or make your way to Piazza della Riforma, Lugano's central square.
For the epic view of the area, make your way to the top of Monte Bre, the best spot in Lugano for enjoying the panorama of the city.
If you are in good shape, hike to the top of Monte Generoso that offers spectacular views of the entire area and even the snow-powdered Alps in the distance.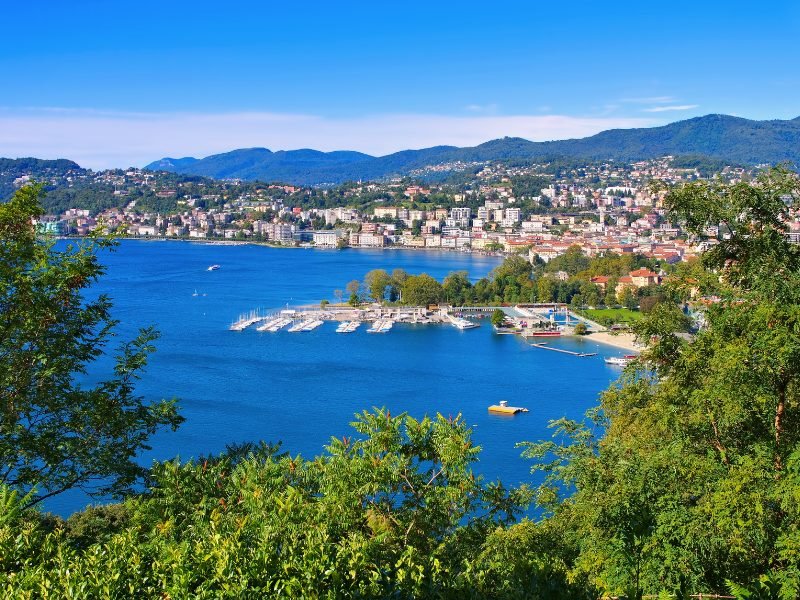 Some of the most popular day trips from Lugano are Valley Verzasca, home to Ponte dei Salti, a stone bridge that spans over the turquoise waters of the Verzasca River; and the famous Verzasca Dam, that was featured in one of the James Bond movies.
You can actually try bungee jumping, if you want to get a good dose of adrenaline and see what the movie stunt was all about.
Another popular day trip from Lugano is Valley Maggia home to the only German-speaking village in the canton of Ticino – Bosco Gurin.
Carved by the glacier, Valley Maggia boasts impressive landscapes with many trails, waterfalls and alpine villages. It's a great place to spend a day if you want to be in the nature.
Where to Stay in Lugano
For a comfortable stay in the heart of Lugano, look into Hotel de la Paix, housed in a beautiful Italianate-style 18th century building with amenities like a pool and on-sit restaurants.
For a stylish yet budget friendly option, the Hotel&Hostel Montana offers simple accommodations in a stunning former villa right in the heart of Lugano.
Bern
Contributed by Kriszti of She Wanders Abroad
Bern, the capital of Switzerland, is a charming city with well-preserved architecture and a lively cultural scene.
Situated on the Aare River, Bern is a popular tourist destination thanks to its many attractions, including the Bear Pit, Bundeshaus (Federal Palace), Zytglogge Clock Tower, and numerous churches.
With its narrow cobblestone streets and medieval facades, Bern feels like it's straight out of a storybook.
There are plenty of things to do in Bern, from exploring the city's museums and art galleries to strolling through its picturesque parks. Travelers can also enjoy the city's vibrant nightlife and dining scene.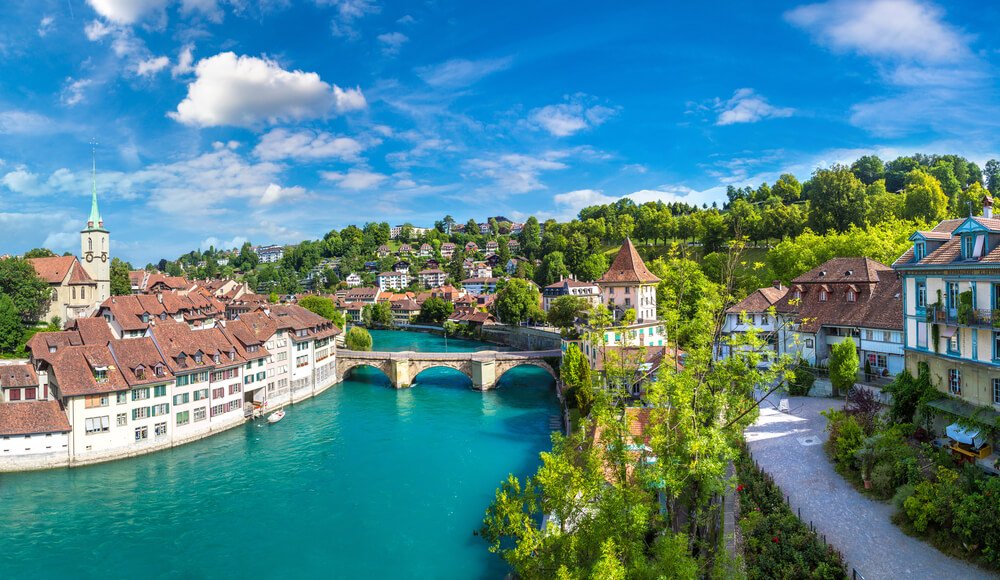 Despite being the capital of Switzerland, Bern is actually pretty small so you can easily see the highlights by spending one day in Bern.
However, if you have longer, Bern is also an excellent base for exploring the rest of Switzerland, as it's centrally located and well-connected by public transportation.
Some of the best day trips from Bern include excursions to the nearby towns of Interlaken and Grindelwald.
If you're planning a trip to Switzerland, be sure to add Bern to your itinerary!
Where to Stay in Bern
For an elegant place to stay in Bern, Hotel Landaus has spacious and stylish rooms in an old house just a 5-minute walk from the Old Town, with views of the Aare River.
If you're on a budget, Bern Backpackers Hotel Glocke is an excellently-priced, well-reviewed hostel in the heart of the Old Town, just 300 feet from the Zytglogge Tower.
Champex-Lac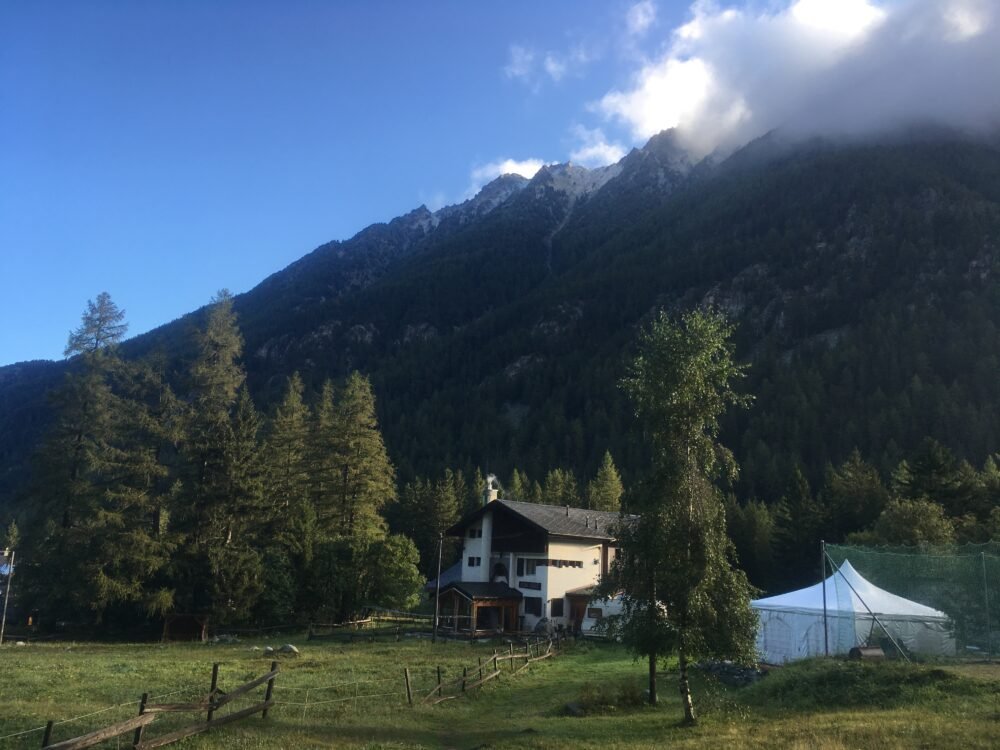 Contributed by Dean and Laynni at Routinely Nomadic
Nestled in the beautiful Val d'Arpette among the fabulous mountains of southwestern Switzerland, the sublime Champex-Lac is one of the top year-round locations in the country.
An outstanding ski resort in winter and popular hiking destination in summer, Champex-Lac has something to offer just about every type of visitor.
Probably best known as one of the nicest stops along the world-famous Tour du Mont Blanc long-distance trek, a spectacular 170-kilometre circuit of epic Mont Blanc itself.
However, even those who aren't ready to commit to 10 days of strenuous hiking can enjoy a wide range of outstanding day hikes around Champex-Lac, the most impressive of which is the high-altitude Fenetre d'Arpette crossing.
Art lovers, on the other hand, should check out the excellent collection of wood carvings along the relatively easy Mushroom Route.
In winter, the skiing is fantastic (both downhill and cross-country) and the glassy surface of Champex-Lac becomes one of the most scenic ice skating spots in Switzerland.
Where to Stay in Champex-Lac
There are many good mountain chalets and comfortable apartments to choose from in Champex-Lac!
However, if you feel like splashing out, spending a few nights in the luxurious, lakefront Au Club Alpin will make for a truly memorable vacation!
Basel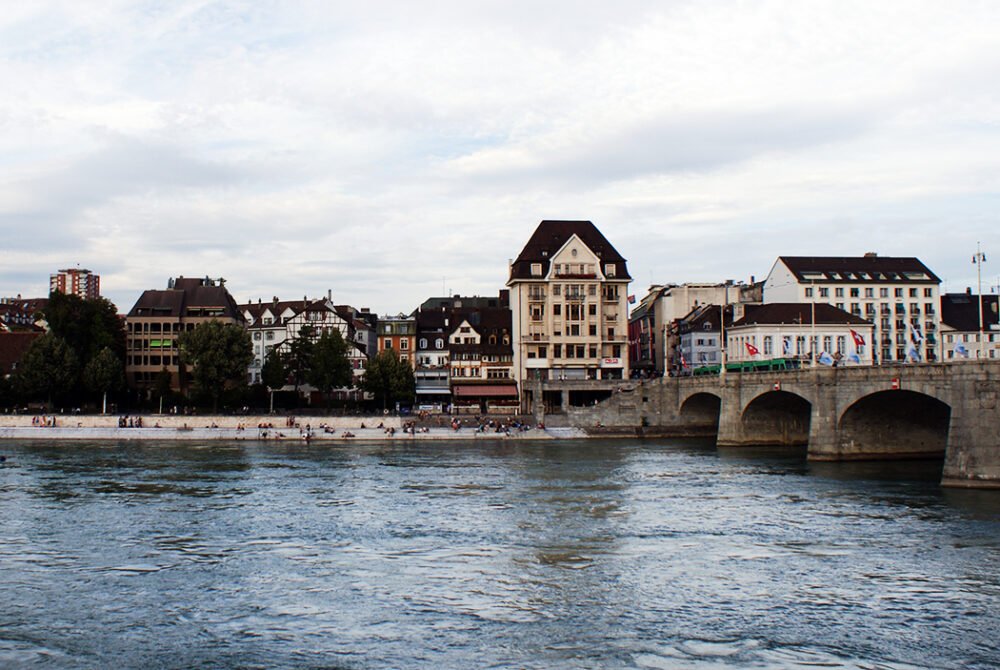 Contributed by Paula of UK Every Day
With its unique architecture, historic streets, and Rhine River, Basel is one of the best places to visit in Switzerland!
During summer you can swim in the river which is an amazing activity to spend a day out in the city.
However, Basel is also abundant in many other attractions. One of the prettiest places is Spalentor – a fairytale city gate.
This medieval structure from 1400 looks like a little castle that will take you back in time.
If you love architecture, the Basel Exhibition Center is a must-see attraction. The huge hole in a roof, known as the "window to heaven" designed by Herzog & de Meuron, will take your breath away.
This famous architectural practice always impresses with modern designs which you can admire among others in Basel!
Where to Stay in Basel
One of the best hotels in the city is ART HOUSE Basel. It offers a contemporary interior and a great location!
This 4-star hotel is just a 10-minute walk from the Jewish Museum of Basel or a 7-minute walk to the Zoological Garden.
If you are planning to travel on a budget, Community Hostel & Lounge by Hyve Basel SBB is a perfect choice.
It is next to the train station and getting to the city center from the hostel should not take more than 15 minutes walk.
3 Key Switzerland Experiences
5 Important Things to Pack for Switzerland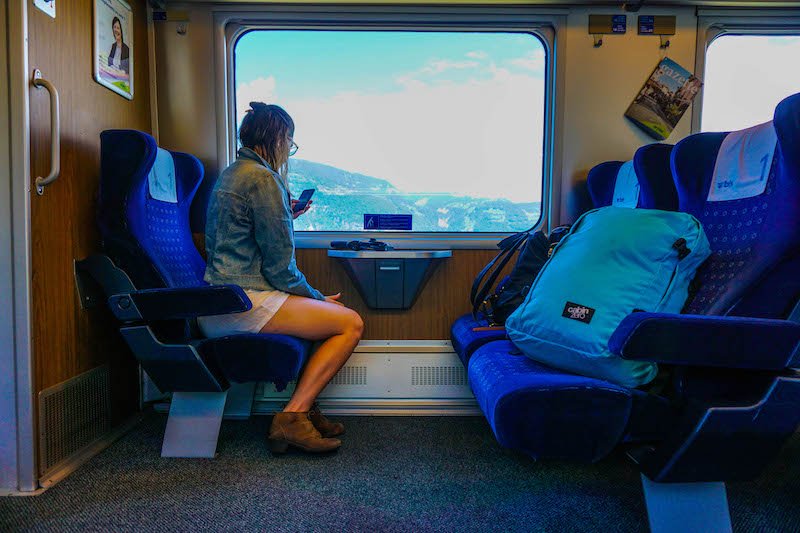 I've actually written a whole all-season packing list for Switzerland (for men and women) but here are the 5 essentials in case you want the quick version.
An adaptor: Annoyingly, Switzerland uses a slightly different outlet (Type J) than the rest of continental Europe. While sometimes continental Europe adaptors will work in some outlets, some are more fussy, and I ended up needing to buy a Switzerland-specific adaptor. This Type J adaptor has several outlets so you can plug in multiple devices into one adaptor, which is handy.
A guidebook: While I use travel blogs for much of my travel research, I love a good old-fashioned guidebook as well. Lonely Planet Switzerland is recently updated and full of excellent travel inspiration and budget restaurant advice. Rick Steves' Switzerland is also a winner. I typically download the Kindle version and bring it on my Kindle Paperwhite to minimize how much space it takes up in my bag
A rain jacket & packable down jacket: Switzerland can occasionally be quite rainy, so having a lightweight waterproof rain jacket is a must. I love my Marmot PreCip rain jacket and bring it with me everywhere – it's lasted me years. If you plan on visiting any mountains, you'll likely want to bring an extra layer with you – it's cold up there even if it is sunny! I love having this packable down jacket that I can easily roll up and place in my bag.
A theft-proof bag: While Switzerland is generally pretty safe, there is a risk of pickpockets in the major cities like Geneva, Zürich, and Lucerne. I deter thieves by carrying a fashionable travel backpack with security features like locking zippers, RFID blockers, and slash-proof material. PacSafe is my favorite travel security item brand (this is the exact PacSafe backpack I love and bring on every city trip).
A reusable water bottle: Water in Switzerland is safe to drink everywhere and you will find public fountains in most cities spouting out pure, glacial water that is better than anything you can buy. Save some serious money and the environment by carrying your own reusable water bottle like this Klean Kanteen.
Friendly Reminder: Don't forget to buy travel insurance before your trip. I've been using World Nomads for the past 3+ years of travel, to cover me from anything from trip cancellation to illness to injury on the road.
More Switzerland Travel Resources
Need help planning your perfect Switzerland trip? First, check out my guide to planning a trip to Switzerland.
I've written up this itinerary for 10 days in Switzerland, as well as suggestions for how to modify the itinerary if you have more or less time.
I have posts on all the best day trips from Interlaken as well as the best day trips from Geneva, including side trips to France!
Finally, be sure to check out this Switzerland packing list for all seasons and genders! It's your one-stop shop for everything you need to bring to Switzerland.
Note: Swiss Travel Pass offered me an 8-day pass to test out their product. I can honestly say I loved it and wouldn't travel Switzerland any way!
Allison Green is a former educator turned travel blogger. She holds a Masters in Teaching and a B.A. in English and Creative Writing. Her blog posts merge her educational background and her experience traveling to 60+ countries to encourage thoughtful travel experiences that both educate and entertain. She has been a speaker at the World Travel Writers Conference and her writing, photography, and podcasting work has appeared in National Geographic, CNN Arabic, CBC Canada, and Forbes, amongst others. Now based in the San Francisco Bay Area where she grew up, she has also lived in Prague, Sofia, and New York City.