The Albanian Riviera very well may be the most underrated summer vacation spot in Europe. From its cheap, delicious seafood to its friendly locals and stunning beaches, I was wondering: why the hell had no one told me about how amazing Albanian beaches are?
I almost don't want to spoil the secret of the Albanian Riviera and just how amazing it is… but I can't keep these beaches in Albania to myself. Albania is a country which has so much potential for tourism, yet people seem to be blinded either by ignorance or by stereotypes from enjoying just how beautiful the country is.
I visited two years ago and was blown away by how spacious and beautiful the beaches were, even in peak summer season. But who knows how long things will remain this way? Tourism by Albania's seaside is growing quickly – go now, before everyone else does and turns it into another Croatia or Montenegro.
Picking Your Home Base on the Albanian Riviera
You have quite a few choices when it comes to deciding where to stay on the Albanian Riviera, depending on your budget, comfort level, and the number of amenities you want around you.
For me, Himarë (Himara) is the Goldilocks home base: not too big, not too small, not too basic, not too flashy. This is where I based myself during my time in the Albanian Riviera and I found it perfect.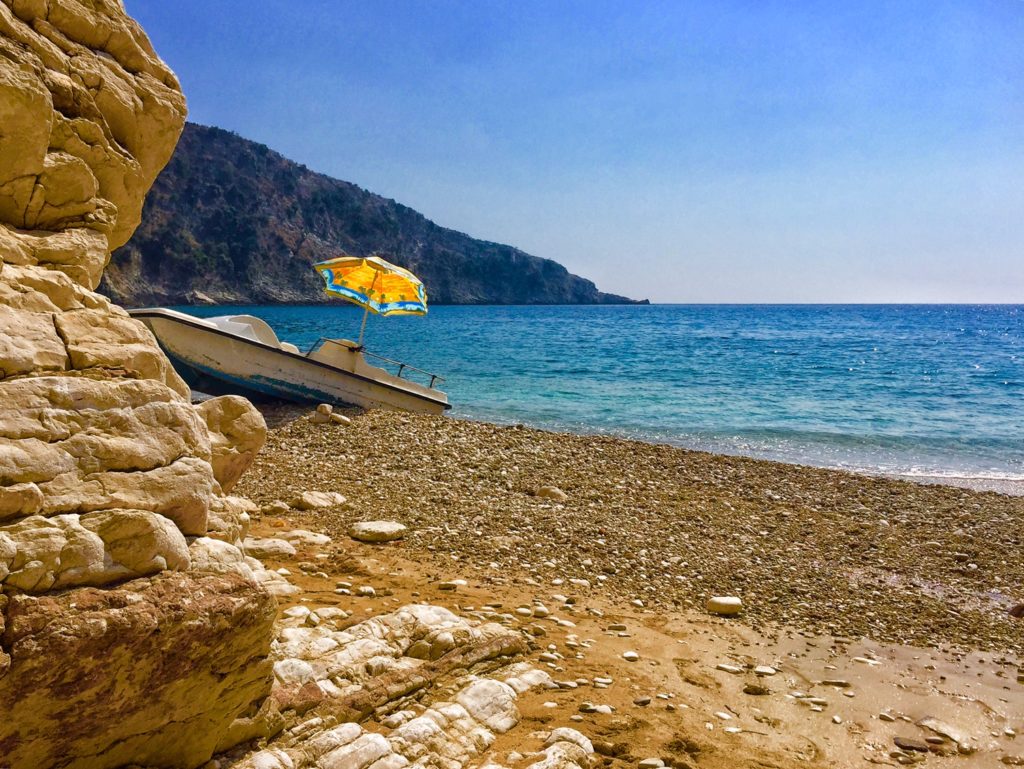 Note: This post contains affiliate links, which means I may receive a small commission if you purchase something through one of these links. Thank you for supporting the free content on this site! For more information on affiliate links and cookies, see my disclosure page for more details.
If you want a little more upscale, try Dhërmi, which is as close to luxury as you'll find in Albania (though I can safely say you won't find any 5-star resorts here). For more bare bones accommodation, try the tiny village of Vuno.
If you really want to really rough it, you can camp on the beach in Himara, Gjipe, Livadhi, and I'm sure at plenty of other amazing Albanian beaches right along the Albanian Riviera. Wild camping is permitted in much of Albania, and there are several "hostels" that provide tents and campground amenities for a cheap price, so you have a lot of options.
Saranda is another popular place due to its proximity to Ksamil beach, but honestly – I think Saranda's a bit overrated, and I much prefer the Albanian beaches an hour north or so. You can also go up north to the area around Vlora beach, but in my opinion, the best parts are in the stretch between Himara and Dhermi.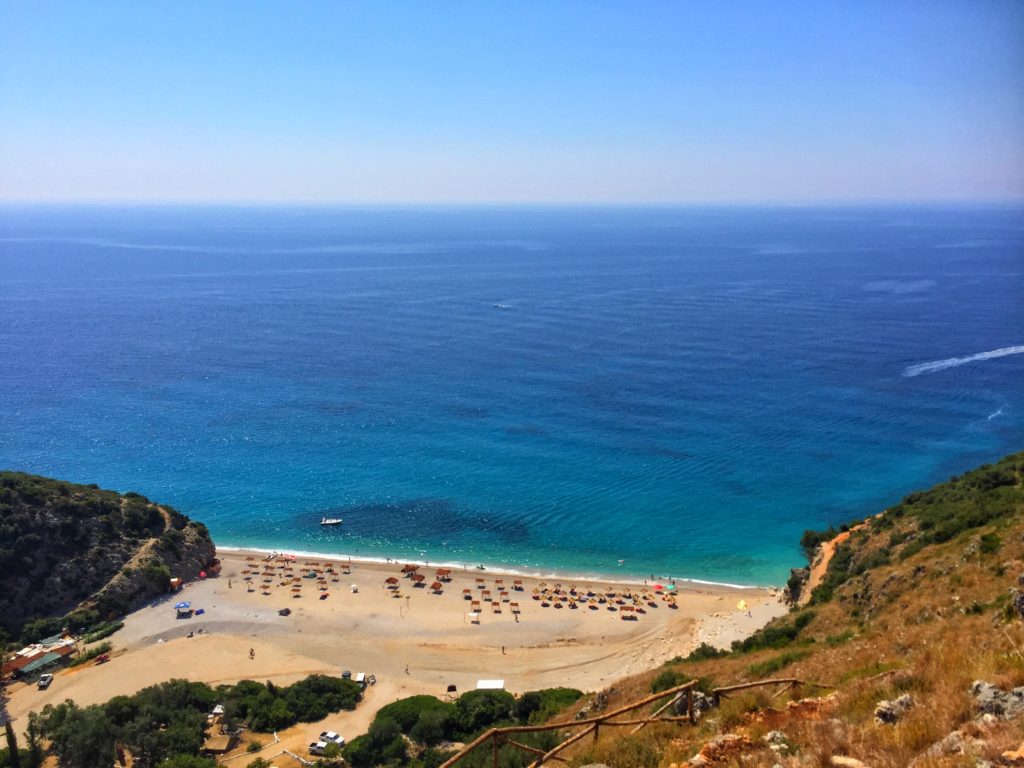 Himara
This sleepy little seaside town is my top pick for a base when visiting the Albanian Riviera.
It has it all: central location, a fantastic hostel, and delicious food. I'm talking the best pork gyro I've had in my life, which is not a crown I bestow lightly, right next to the best gelato I've had outside of Italy, where you can get a scoop for a mere 50 lek (about 35 cents).
The beach in Himara proper can be a bit crowded (for Albania) but for the convenience to beauty ratio, it does the trip. If you walk along towards the south end of the beach, it gets less and less crowded and you can find a secret beach – but more on that later. All in all, Himara is one of the best places to visit on Albania's coastline.
Where to Stay in Himara
For a hotel, I recommend Margarita Guesthouse (9.2 rating on Booking.com): Comfortable rooms, breakfast included, excellent hospitality, and stunning sea views – this would be my top choice for where to stay in Himara, and it's quite affordable as well.
For an apartment, I recommend Ionian View (9.1 rating on Booking.com): Affordable apartments with kitchenettes, balconies and terraces overlooking the sea, and an on-site bar, plus rave reviews for the host. Affordable prices.
For a hostel, I stayed at and highly recommend Himara Downtown hostel (8.8 rating on Hostelworld): Amazing and super kind staff, great outdoor garden and socializing area, a combination of private and shared rooms, and excellent free breakfast every morning.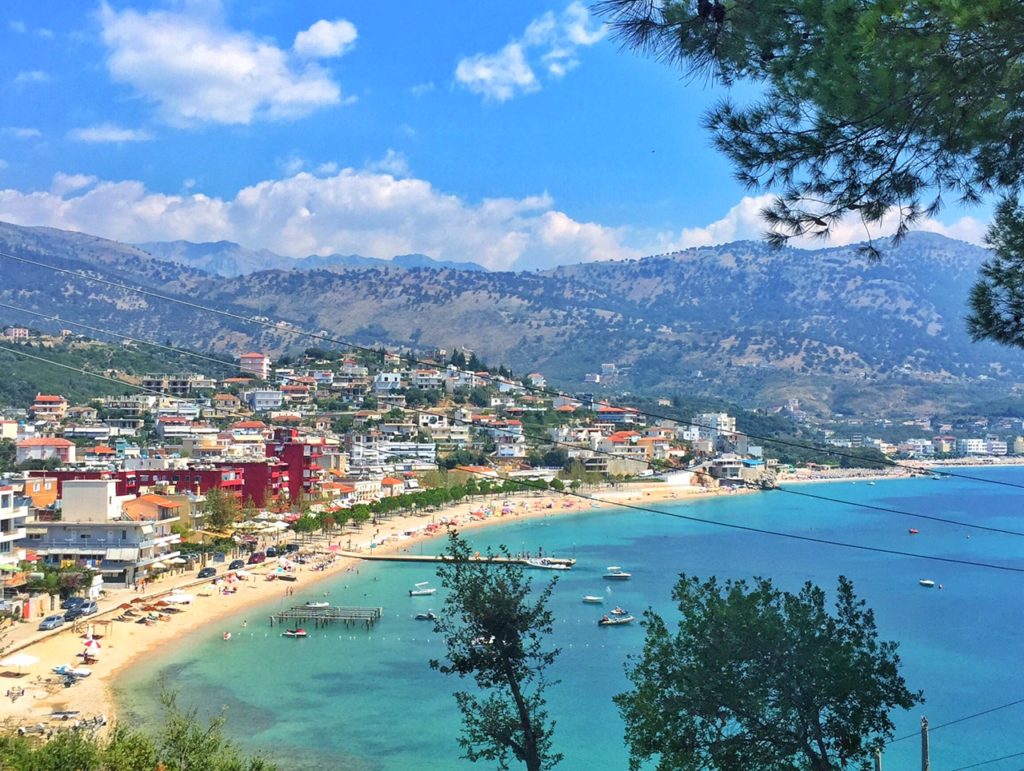 Vuno
If you really want to get off the beaten path, check out even sleepier Vuno. This village is nestled in the hills, so there's no easy beach walk, but you're close to some great choices, with Jale Beach and Gjipe Beach on each side of you.
Where to Stay in Vuno
There's just one hostel here, and it comes highly recommended by Tomi from SR Backpackers, the great hostel I stayed at in Saranda. However, I didn't stay at it so I can't speak for it personally. It's called Shkolla Vuno (8.7 rating on HostelWorld) and is located in a former school building.
Dhermi
I chose not to stay near Dhermi beach because I heard from locals that it's a little more upscale and expensive than the rest of the Albanian Riviera.
However, like I said above, "upscale" is relative. Don't expect crazy luxury to be available; however, you will find plenty of nice restaurants and shops, and you'll have more choices when it comes to accommodations.
Where to Stay in Dhermi
For a hotel, choose Royal Blue Hotel (8.8 rating on Booking.com). Right in front of the beach, next to amazing restaurants and has a great in-house seafood restaurant, sea views, and great staff are the reasons this is one of the most-loved properties in Dhermi.
There are no hostels to my knowledge in Dhermi, but Villa Blue Drimadhes (8.5 rating on Booking.com) is the best budget offer. If you're backpacking in the Albanian Riviera, I'd recommend staying at one of the hostels in Himara or Vuno instead.
The Top Must-Visit Albanian Beaches
Gjipe Beach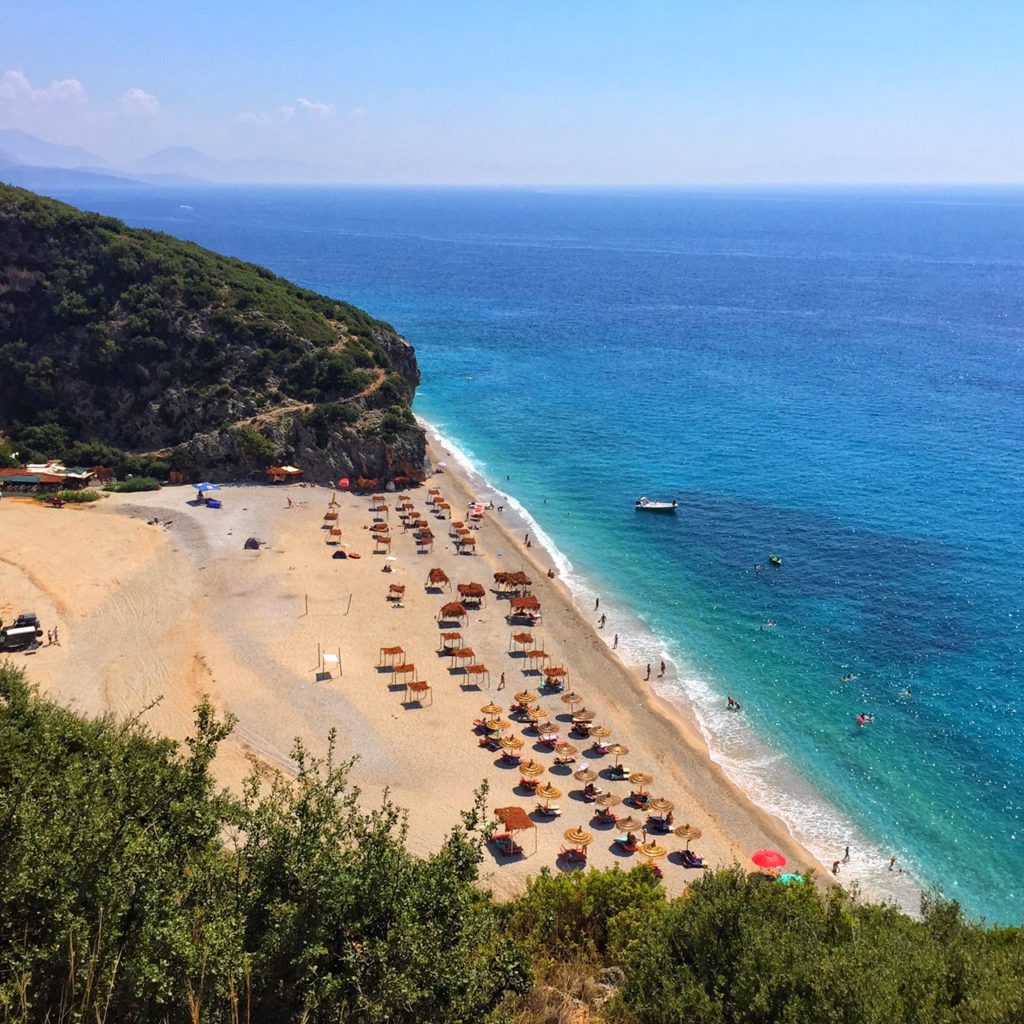 This is easily one of my favorite beaches of all time, let alone of Albania. However, it doesn't come easily. It's a 3-kilometer hike down to the beach, and it's worth every bead of sweat.
The views going down the hills make the perfectly lukewarm water that much sweeter. Once you arrive there, the water is crystal clear – you can see what seems like 30 feet to the bottom. There's an awesome network of caves you can explore too, if you swim to your left if you are facing the beach. I'm not a great swimmer and am terrified of getting stuck in a cave in the water… but my friends were really enjoying this.
You can also camp on the beach if you want. They provide the tents and mattress pads. Friends who did the camping spoke highly about it, so an overnight here is a must-do when I return to this beautiful part of the world. Just be aware that you'll have to bring all your stuff up and back the giant hill, which can be really rough in the heat. I'd recommend avoiding mid-day if you choose to do this hike with all your stuff!
Himara Beach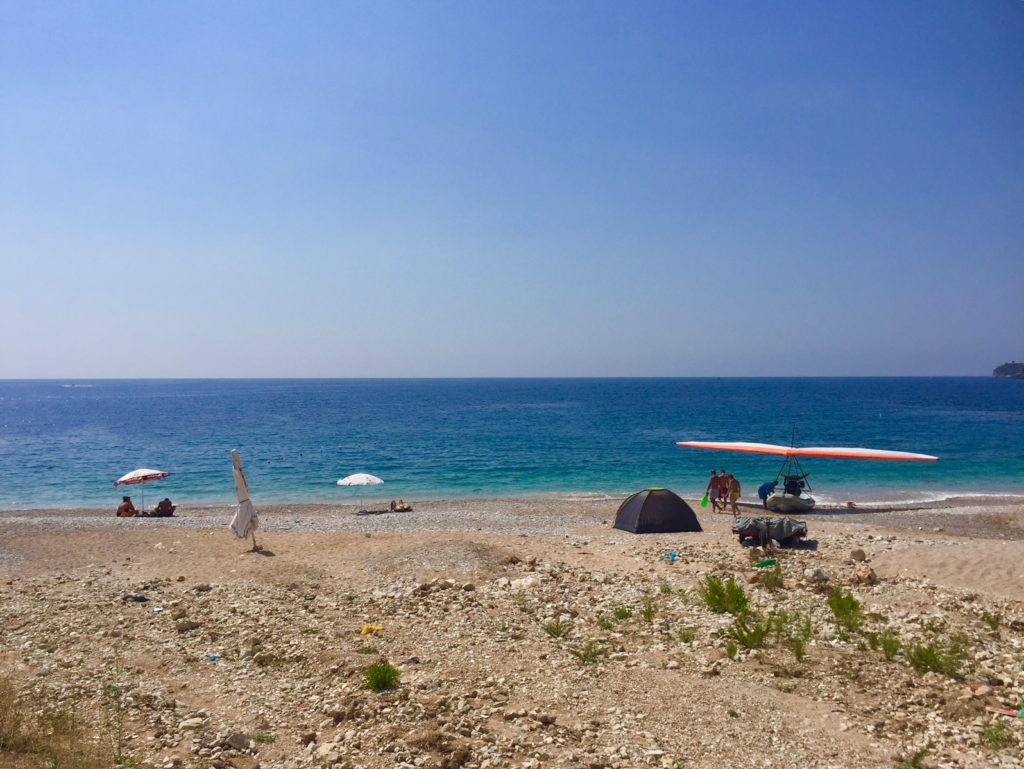 This is not only a great home base but also just an all-around great beach. The main beach near the town center can get a bit crowded, but walk even just 15 minutes to the south end of the beach and you'll have it almost all to yourself.
If you're a daredevil with 50 euros burning a hole in your pocket, you can pay a guy to fly you in a boat/plane contraption all along the coast of the Albanian Riviera. It's just as odd as it sounds, and I'd be curious if any brave souls have taken the journey! I took a pass.
Livadhi Beach
Besides the main beach in Himara, this is the closest one to town (except for the hidden beach of Himara, which I've saved for the end!). You can get there by foot, which takes about 30-4o minutes, depending on how fast you walk and how often you stop for photos.
It's popular with locals, so it can be a bit crowded in the peak season, but it's still one of my favorite beaches in the Albanian Riviera. There are beach bars, restaurants, and lounge chairs and umbrellas for rent, so it's one of the best-equipped beaches.
It also has a camping grounds if you'd like to stay overnight here. If you prefer a more hotel-style option for accommodations on Livadhi beach, Scala Bungalows has excellent reviews and low prices.
Jala Beach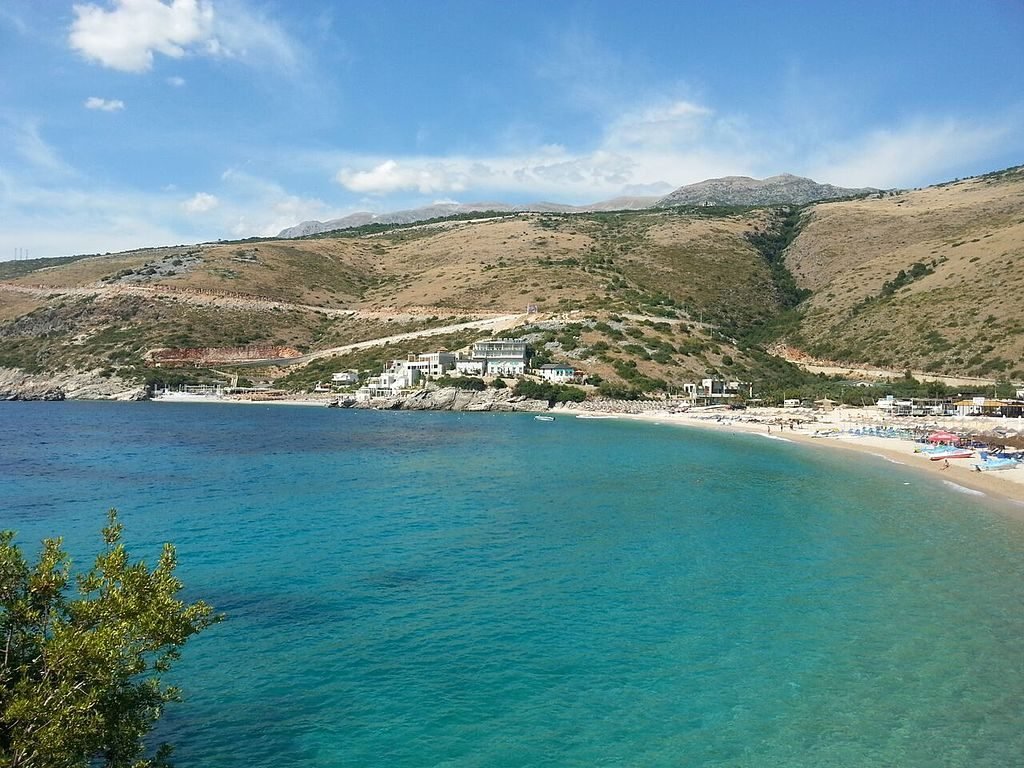 This beach is sometimes called "Glass Beach" for its crystal clear waters. Next after Livadhi, this is one of the closest beaches to Himara, and as such, it's often a bit crowded. Though, again, this is Albania and crowded is relative! Even the most crowded Albanian beach (Ksamil) doesn't come close to the crowdedness you'll find in Croatia or Montenegro.
Jala Beach is also a common camping spot, with a campground you can rent a tent and foam mattress pad from. However, don't expect a peaceful night's sleep if you choose to camp here; it's common to have people playing music, dancing, and chatting into the night.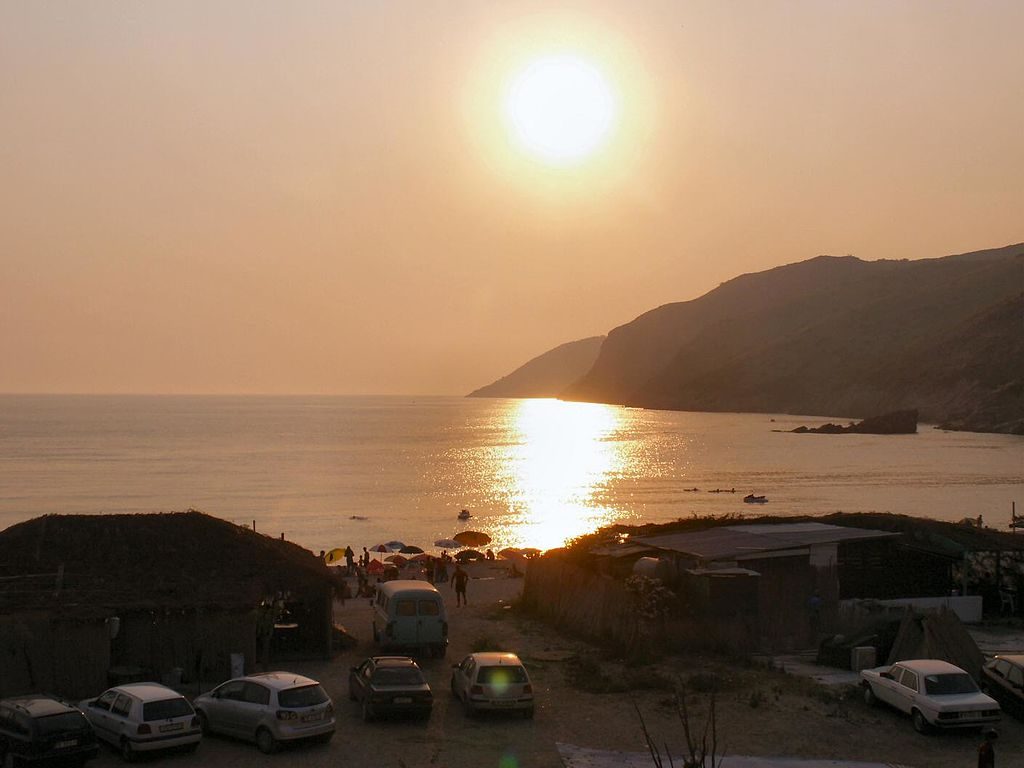 While the party scene at night may not be what you're after, Jale Beach is a great place to watch the sunset — just look at that sky!
Porto Palermo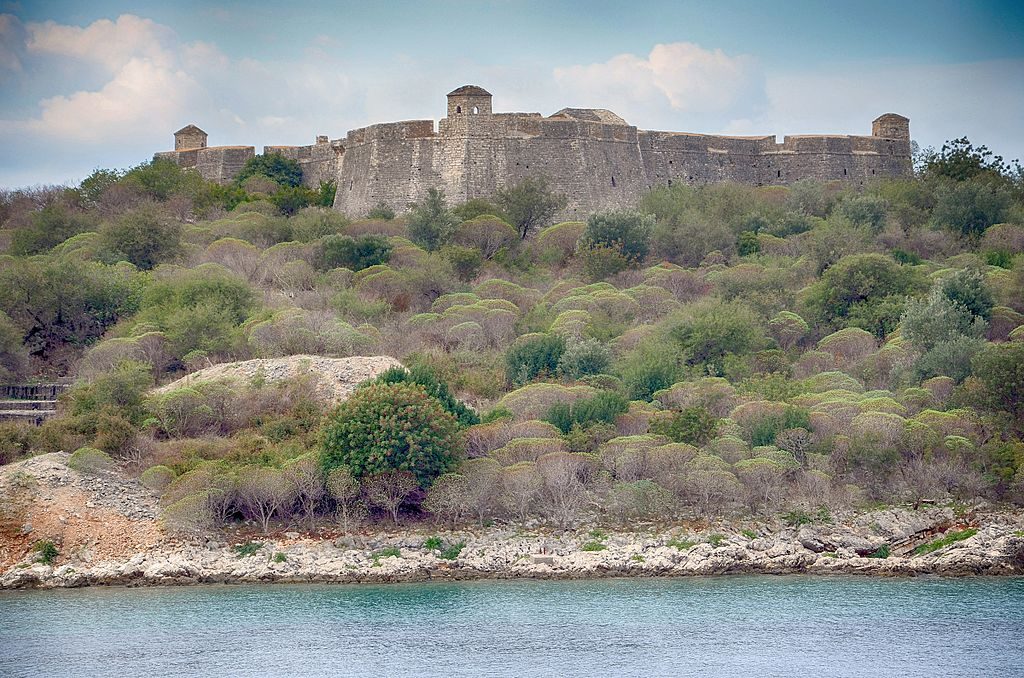 If you want a side of castle with your beach, you've got to check out Porto Palermo. Located just a few kilometers south of Himara, this castle dates back to the times of Venetian rule in Albania, and was refurbished during the 19th century. During the communist regime, the fort served as a submarine base.
Now, its semi-abandoned state makes it a tourist curiosity, and its proximity to Himara make it a common day trip for travelers staying in Himara proper.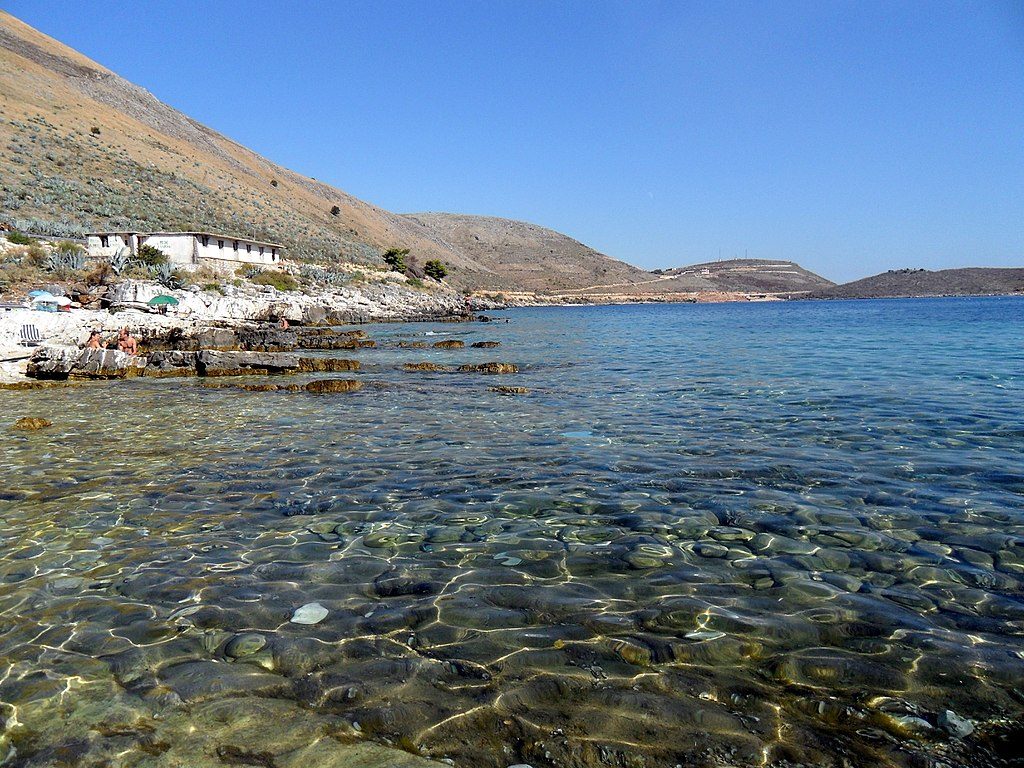 It's located on the bay of Porto Palermo, which has crystal clear waters the likes of which you'll find all over the Albanian Riviera. Don't be surprised if you share your beach with some curious goats, either – they tend to run around in these parts.
Borsh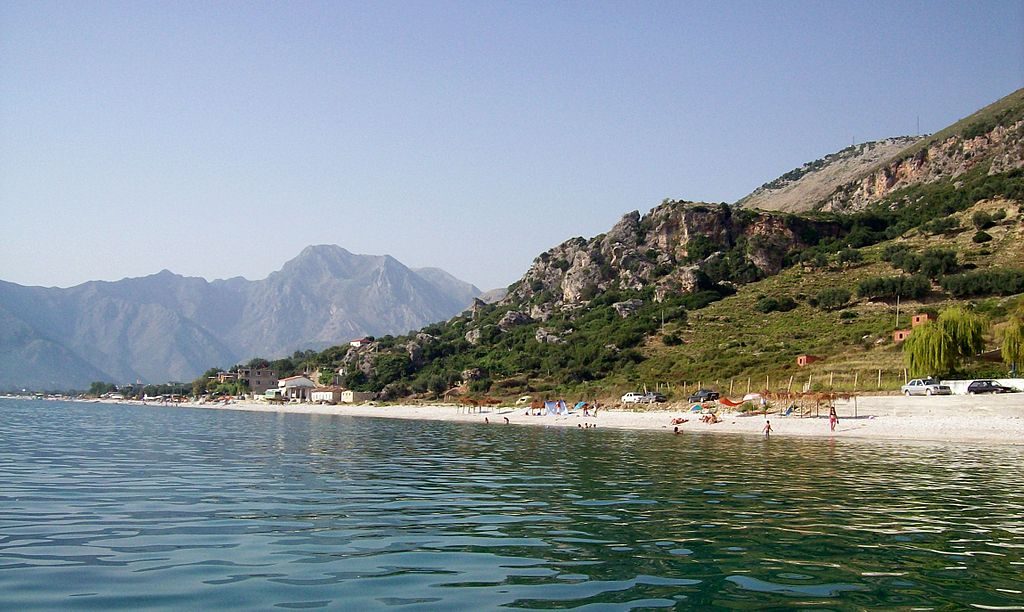 Just a bit further south of Himara, Borsh is one of Albania's best-loved beaches, partly for the fact that you can enjoy a castle and a beach in the same day (similar to Porto Palermo).
Borsh Castle is also known as Sopot Castle and used to be an acropolis in the Byzantine era and has been reconstructed several times. The subsequent Ottoman conquest added a mosque to the fortifications, which is the most visible feature of the castle now.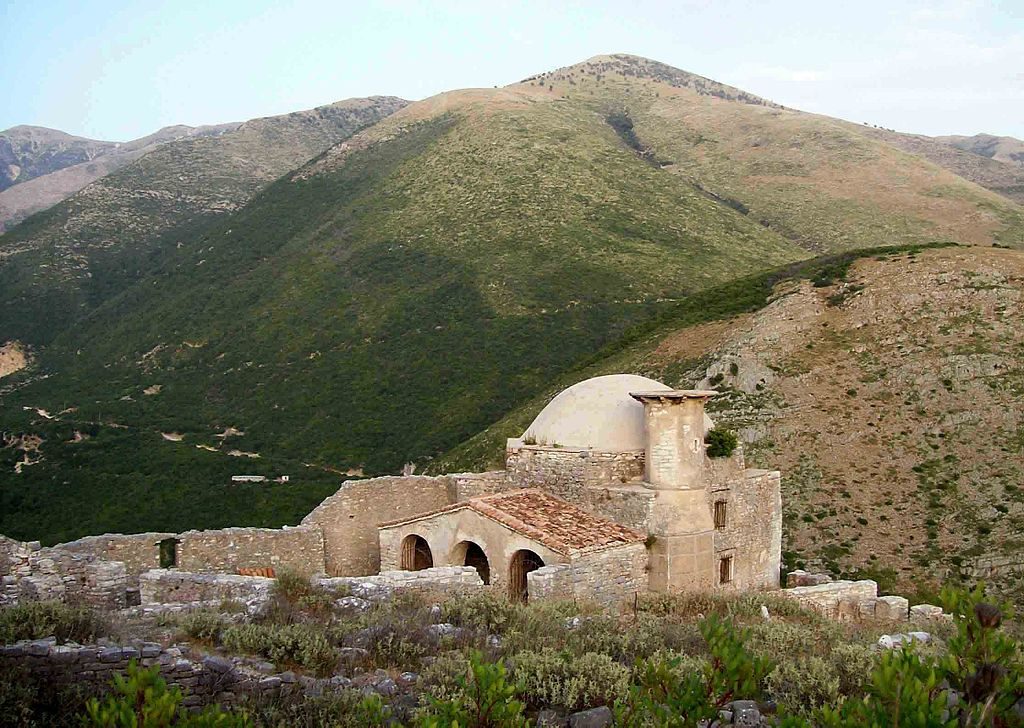 By Decius [CC-BY-SA-3.0], via Wikimedia Commons
Hidden beach of Himara
This beach doesn't appear on any map, nor do I know its actual name, but it's my favorite of all the great places on the Albanian coast. Getting here is not easy, which is why it's so amazing. You have two options, one smart one and one stupid one. I'll let you guess which one I did.
If you want to go by foot (the stupid way), walk to the southern edge of Himara beach and climb the hill. When you get to the restaurant gates, turn left off the dubious "path" edged with prickly bushes until you reach a rope to help you get down. This is not necessarily safe, nor do I have any better directions than this, so do so at your own risk.
The smart way: hire a boat for about 2000-2500 lek roundtrip ($15-20). All the boats were busy so, undeterred, I did the former. I managed it and I have the hand-eye coordination of a drunk toddler; your comfort level may vary.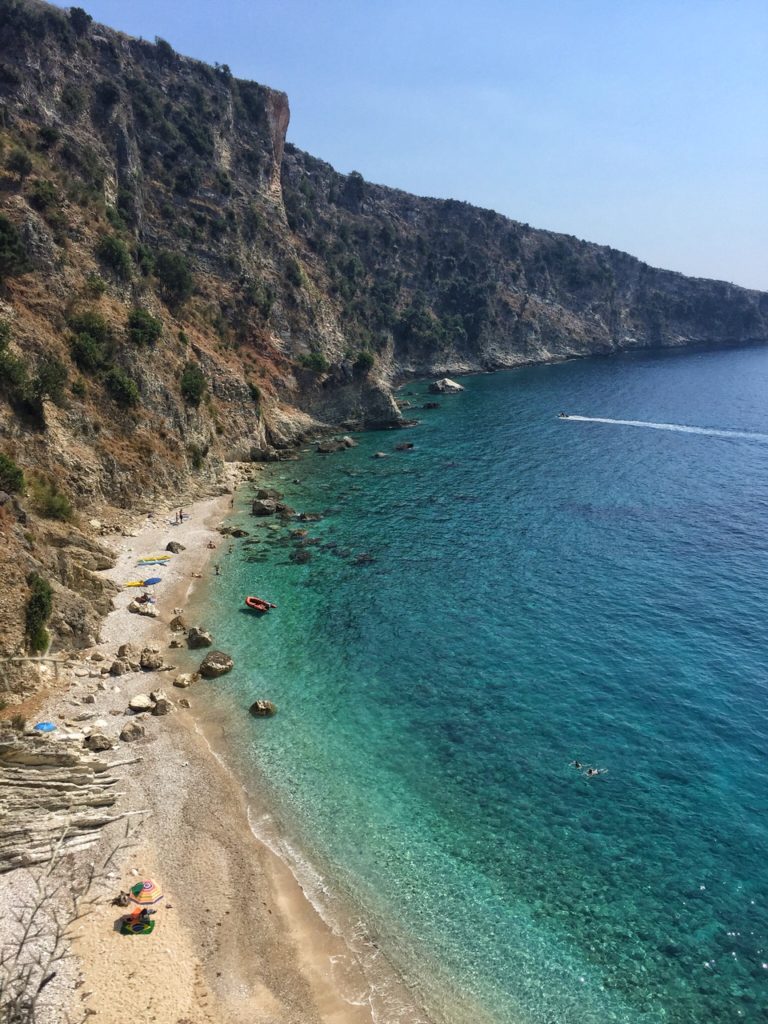 Getting Around the Albanian Riviera
This is Albania, a country that's changing so quickly that anything I write is virtually outdated by the time I put a period on a sentence. Take my recommendations as a mere frame of reference, and confirm with your Albanian hosts once you're here.
You won't get far in Albania unless you're willing to ask questions. People make a big deal about how difficult the transit here is; in my three weeks in the country, I found it really quite easy given that I was willing to ask for help. Luckily, Albanians love to help outsiders.
If you're staying in Himara and you want to head north to Jala, Gjipe, Livadhi, or Dhërmi, you can hop on the coastal bus headed towards Vlora or Tirana, which leaves around 11 or 11:30. Again, ask any Albanian because this will have likely changed. A bus in the reverse direction tends to go by around 6; again, ask to confirm. If you want to go south, you'll have to seek out a bus headed towards Saranda.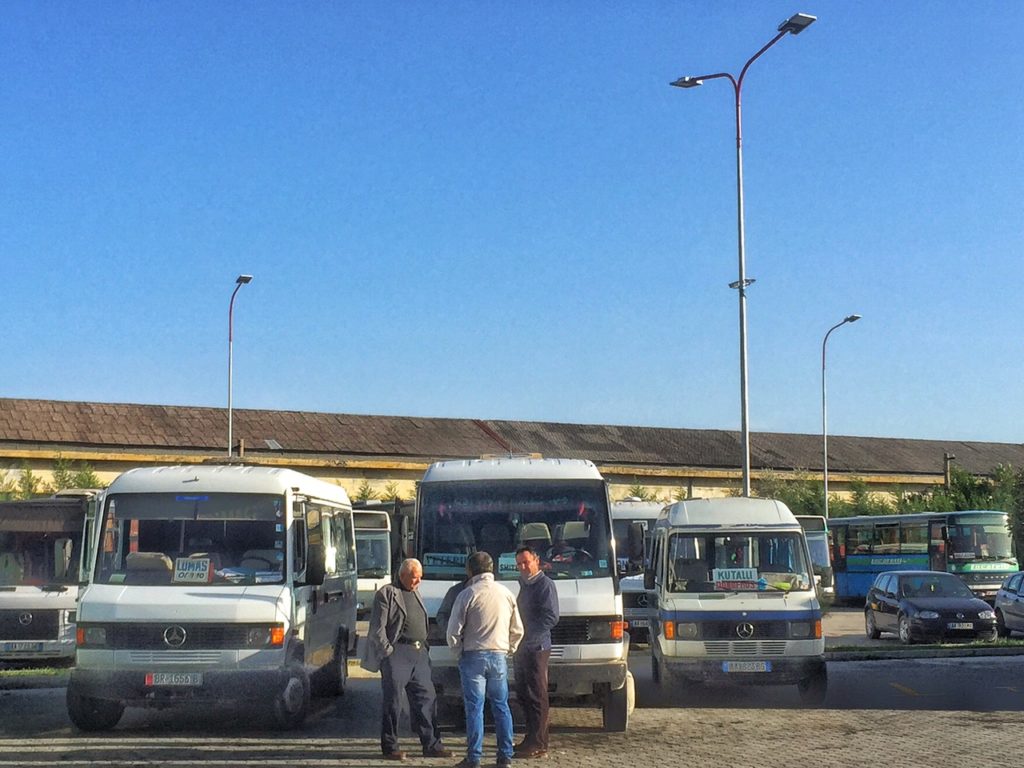 Buses will pick you up anywhere along the way, even if you're just on the side of the highway, so don't worry about trying to find bus stops. As long as you're on the right road that they pass (which, considering there's only really one road that constitutes the Albanian Riviera, is pretty easy) and you wave them down, you'll get picked up.
The easiest way to get around would definitely be renting a car. I found the horror stories about the quality of Albanian roads to be overblown. The coastal road is well-paved and well-maintained, and while there are plenty of twists and turns, I think it would be fine for any confident driver. However, the rumor about Albanian drivers being a bit maniacal is pretty true. So if you choose to rent a car, make sure you're properly insured and drive carefully, especially around turns.
If you don't have a car rental and want to get to and from the best beaches in Albania, I recommend hitchhiking. It's quite safe, extremely easy, and incredibly common. Albanians are really friendly and hospitable people, and even if they don't speak much English, most will be more than happy to drop you off at your destination.
In my time hitching in the Albanian Riviera, I never waited more than five minutes for a ride. I was always traveling with someone from my hostel, which gave me an added sense of security. First-time hitchhiker? Check out these great hitchhiking tips from an experienced solo female hitchhiker.
So there you have it! Visit the Albanian beaches before the crowds and cruise ships do!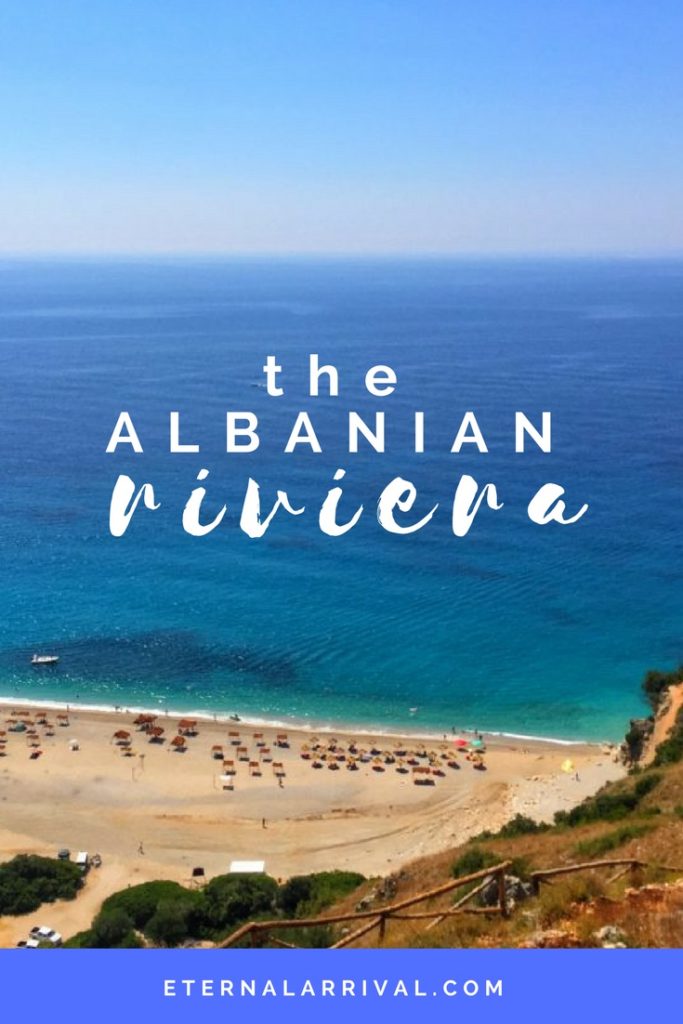 Note: This post contains affiliate links. That means that if you purchase something using one of these links, I will receive a small commission at no added cost to you. 
Allison Green is a former educator turned travel blogger. She holds a Masters in Teaching and a B.A. in English and Creative Writing. Her blog posts merge her educational background and her experience traveling to 70+ countries to encourage responsible, enriching travel. She has been a speaker at the World Travel Writers Conference and her writing, photography, and podcasting work has appeared in National Geographic, CNN Arabic, CBC Canada, and Forbes, amongst others. Now a full-time traveler, she has lived in Prague, Sofia, New York City, and the San Francisco Bay Area.