Albania is a hidden gem that's only now starting to get its rightful moment in the sun. Just north of Greece, Albania has a beautiful coast line with delightful pebbly beaches and some of the bluest waters you'll see anywhere in Europe.
In fact, while the Albanian coastline is the same as Croatia's and much of Greece's, you'll probably spend half or even a third of the price in Albania.
Albania's coastline is home to some of the most stunning beaches in Europe, and one favorite with tourists is Ksamil Beach, near Saranda and Corfu.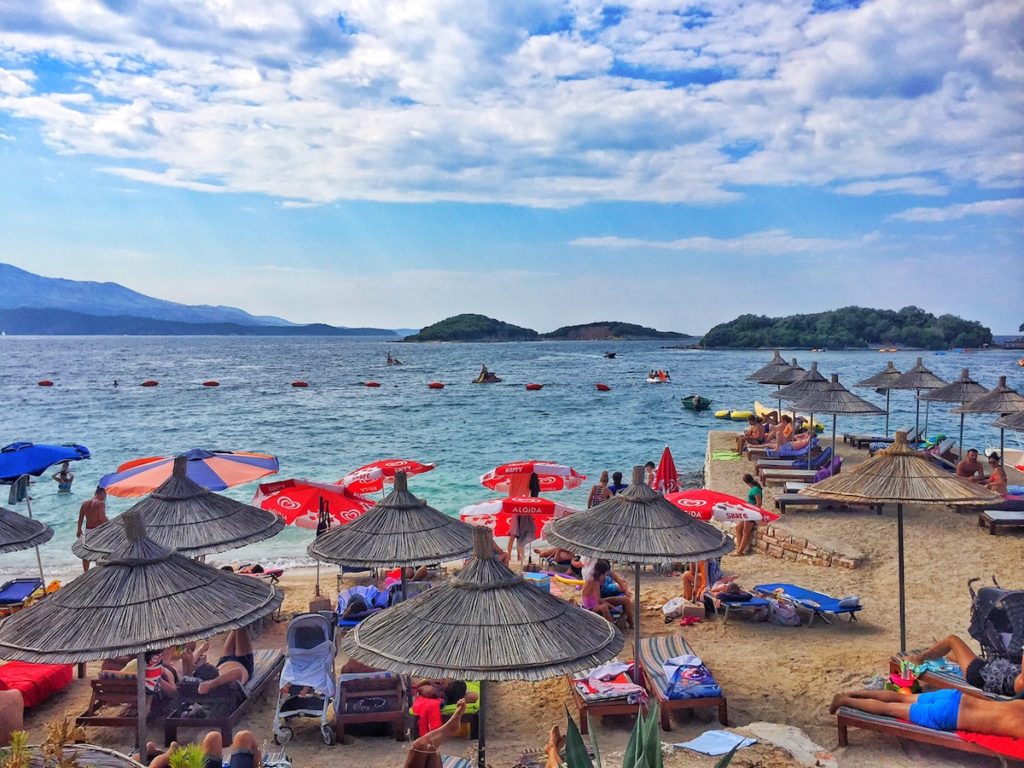 Note: This post contains affiliate links, which means I may receive a small commission if you purchase something through one of these links. Thank you for supporting the free content on this site! For more information on affiliate links and cookies, see my disclosure page for more details.
Why Visit Ksamil Beach?
Ksamil Beach has most conveniently located beach in all of Albania, in my opinion, and it's also incredibly beautiful. For one, Ksamil is very close to Saranda, which is the entryway to Albania to anyone coming from Greece. For another, Ksamil Beach is within a short drive of two different UNESCO heritage sites: Butrint and Gjirokastra. With all those different cities and UNESCO sites in close driving distance, there's so much to be seen in this beautiful part of Albania.
However, I'll be honest. Ksamil Beach is beautiful, but in my personal opinion, it isn't the most beautiful beach in Albania. It can be a bit crowded with families, especially during the summer. So finding a little patch of beach on Ksamil to enjoy is kind of difficult. You're better off swimming or taking a boat to one of the other islands rather than the part of Ksamil Beach that is part of the mainland.
For me, the honor of most beautiful beach goes to Gjipe Beach further up in the Albanian Riviera. However, Ksamil Beach is still incredibly lovely and definitely worth a visit — it's just not my favorite beach in Albania.
Ksamil Beach also has some great restaurants serving super fresh seafood with Albanian and Italian touches. Whereas many of the beaches in Albania aren't that developed, Ksamil has a pretty wide variety of restaurants and cafés to choose from on the beach. Plus, it offers chairs and umbrellas – not every beach in Albania does!
How to Get to Ksamil Beach
Even though transportation in Albania leaves something to be desired, Ksamil Beach is relatively well connected by public transportation. I personally took the bus and found it really easy to get around, even on my first day in Albania before I knew how everything worked.
Getting to Ksamil from Saranda
To get to Ksamil Beach, you'll always want to start in the port city of Saranda. From there, it's a simple 10-minute taxi (about $5 USD) or 30-minute bus ride (about 70 cents).
There are many bus stops scattered around the city. I recommend going to the first one, the one near the giant oak tree in the roundabout by the ferry (welcome to Albanian-style directions) so you can snag a seat. Trust me — they will pack those Albanian buses in a way that puts the Japanese metro to shame. In case you want more Google-able directions, it's at the intersection of Rruga Mitat Hoxha and Rruga Jonianet. (Note: This was true as of the summer of 2016; however, directions in Albania frequently change so you probably want to ask your guesthouse to double check)
A bus ride will cost you 100 lek (less than $1 USD) and takes about 30 minutes to get to Ksamil Beach. Buses typically run every 1-2 hours, though, so be sure to ask someone as your guesthouse when it will arrive or you'll be waiting a long time.
You can also take a taxi, which will cost you approximately $5-10 each way, depending on your luck and bargaining skills. This is a good option if you have a few people with you or if you don't mind spending a little more money for less stress.
If you're not already in Saranda, I'll list a few of the most popular ways to get there below.
Getting to Saranda (Ksamil) from Corfu
If you're in Greece and want to make your way to Albania, it couldn't be easier to get there from Corfu. Simply go to the main port in Corfu Town and take the ferry. The ride takes about 1-1.5 hours, and it will cost you about $25-30 USD during peak season.
Crossing the border in Saranda is very easy and only takes a few minutes if you are one of the first people off the ferry. The border agents speak good English and you should have no problems getting into Albania given that you are eligible for a visa on arrival (for those nationalities who need a visa, check here). But if you have a Schengen visa for Greece, you will automatically be granted entry into Albania, so visiting couldn't be easier.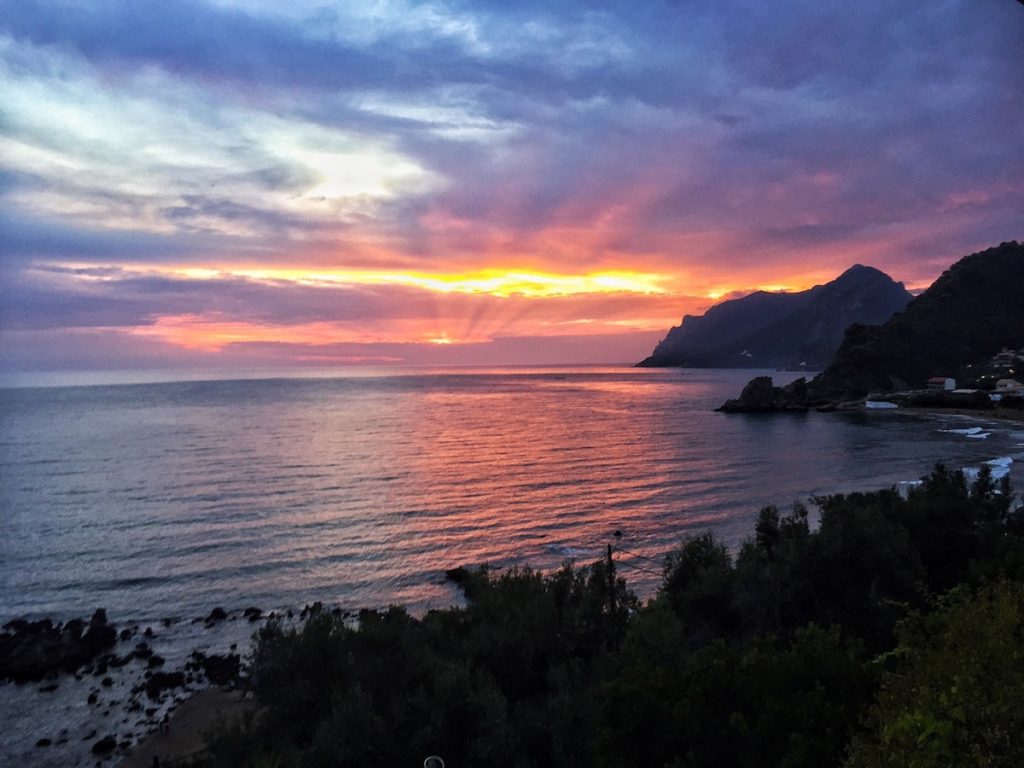 Getting to Saranda (Ksamil) from Tirana or elsewhere in Albania
Saranda is about 6-8 hours away by bus or furgon (minibus) from Tirana, the only international airport in Albania. Buses leave a few times a day from various points within the city. I wish I could be more specific than that, but bus times change often and rapidly in Albania.
It's also quite easy to get to Saranda from any point on the Albanian Riviera (Durres, Vlora, Dhermi, or Himara) if you are heading to Ksamil Beach from any point further north. Himara is about 2 hours away from Saranda; Dhermi, 2.5; Vlora, 3.5 or 4; Durres, 5. These are all rough estimates and will vary based on traffic and other factors.
How to Budget for Ksamil Beach
Ksamil Beach is slightly more expensive than other places in Albania; that said, it is still quite a bargain compared to other countries. Tourism in Albania is still in its early stages, and while Ksamil is more developed than most places, you'll still enjoy lower prices.
For an average hotel room, expect to pay around $20-30 USD per night. A villa fitting about 4 people will cost more like $80 USD per night.
Food in Ksamil is also relatively cheap. A pasta will cost you between $3-5 USD, whereas a seafood plate will cost you around $5-10 USD depending on what you get. There are also various "fast food" options like gyros which will cost you much less, usually around one dollar. Alcohol in Ksamil is also quite cheap, costing around $1-2 per beverage, and even less if you're brave enough to try rakia – the Albanian national spirit consisting of distilled grapes.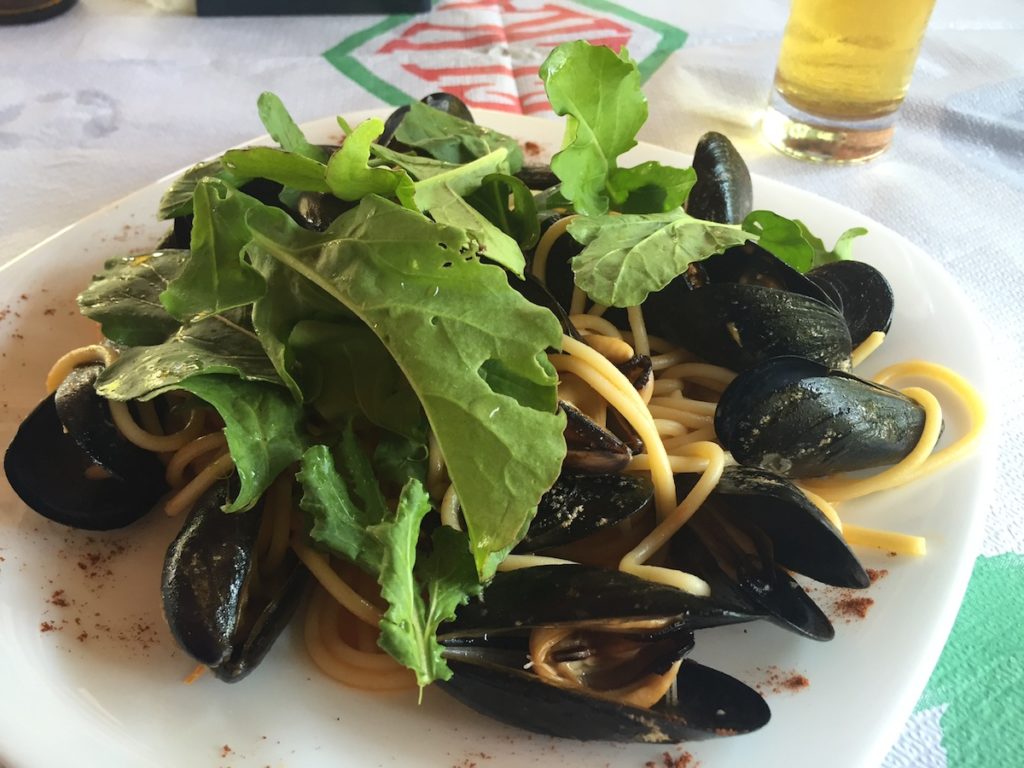 You may want to stay in Saranda where there are more hotel and restaurant options and transit to Ksamil during the day – it's really up to you and what kind of holiday you prefer. I personally chose to stay in Saranda and do day trips from there.
Altogether, for two people splitting a room, your cost will be about $50 a day to live and eat lavishly — or $25 around per person. Not bad for a beach holiday!
What to Do in Ksamil
Ksamil is composed of a handful of islands and a few beaches on the mainland. The beaches connected to the mainland can be quite crowded during the peak summer season.
If you'd prefer a more secluded beach, you can either take a boat to one of the smaller islands or, if you're a strong swimmer, it is possible to swim over. The distance isn't that far. However, I'd recommend that you carry all your belongings in a dry bag as there is no access to lockers in Ksamil Beach, as far as I'm aware.
There isn't much to do in Ksamil except swim and sunbathe. However, there are tons of day trips you can take easily and cheaply, such as visiting the Blue Eye (Syri I Kalter), the UNESCO World Heritage Site of Butrint, and the ancient "stone city" of Gjirokastra, also a UNESCO World Heritage Site, if you want to go a little further afield.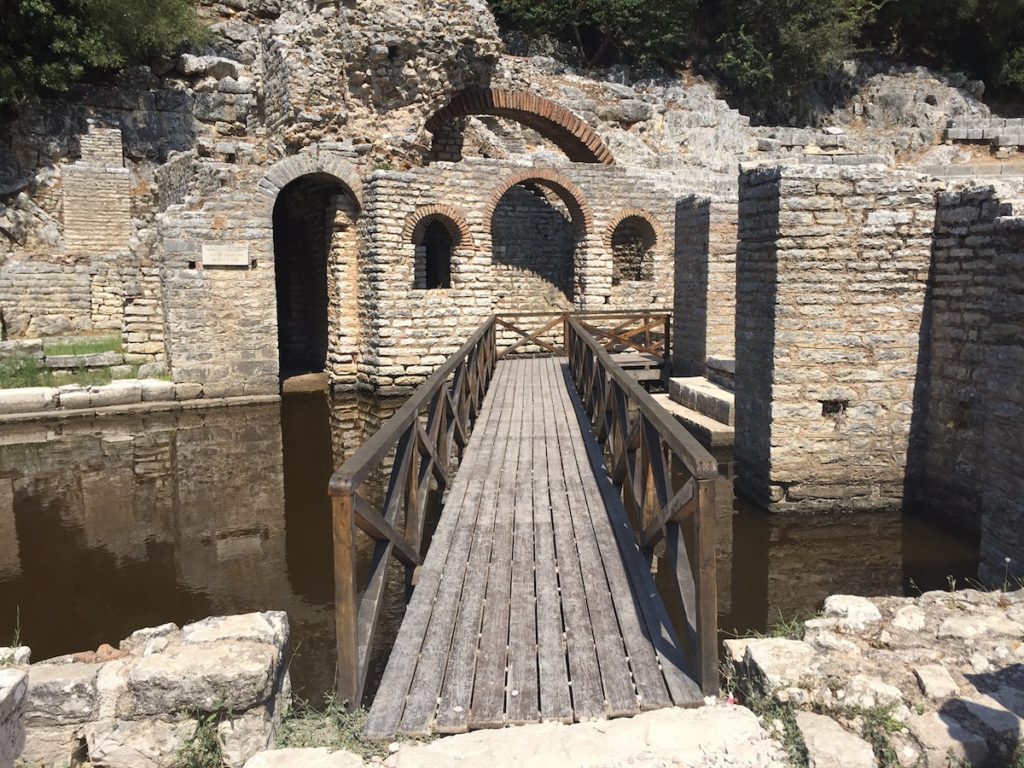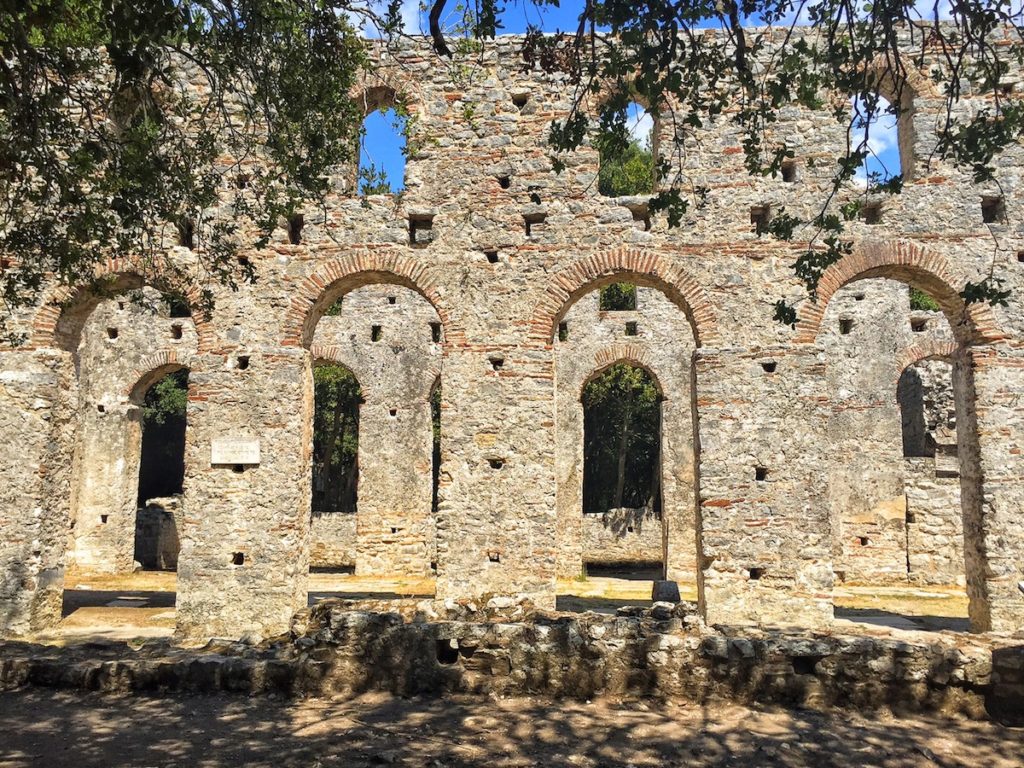 Butrint is definitely my top recommendation for a day trip from Ksamil Beach. It's a UNESCO World Heritage site that rightfully deserves the honor. It's been ruled by Romans, Venetians, Byzantines, and Ottomans, all of whom have left their mark on Butrint. For being over 2,000 years old, it's in great shape.
You can see a theatre, a baptistery with one of the world's best-preserved mosaics, a basilica, and even ruins of an ancient suburb. The best part is that almost no one was there, even in the peak season (late August). I maybe saw 15 to 25 other tourists in the entire two hours I spent wandering the park. It's also surrounded by a beautiful freshwater lake with crystal blue waters. Nature and history all in one… On a scale of one to life in prison, how illegal do you think it is to squat in a UNESCO site?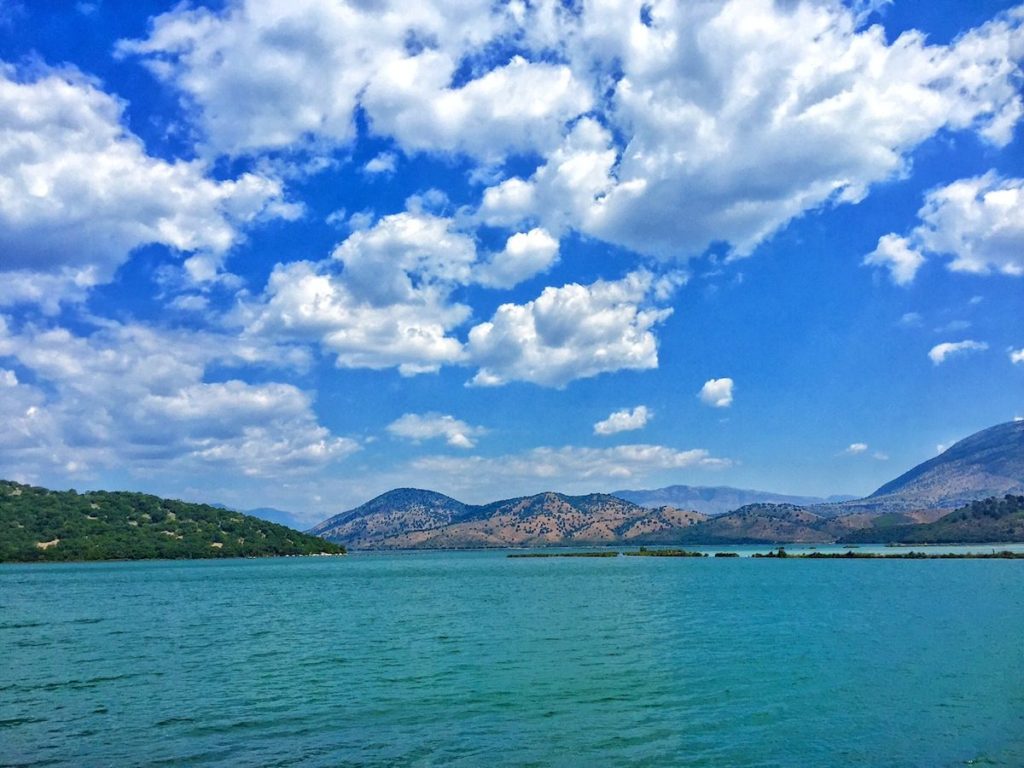 Where to Stay in Ksamil
You can stay in one of the many hotels or handful of hostels in Saranda, or there are a few options in Ksamil Beach too if you want.
If you're traveling solo, I recommend staying in Saranda. Stay at SR Backpackers, which is run by the wonderful Tomi – he will give you a crash course in the legend that is Albanian hospitality.
Upon hearing that the first few words out of my mouth were about Albanian food, he correctly ascertained that I was a little bit obsessed with food. That led to a promise from him to cook dinner for me the following night, and he treated me to delicious home-cooked pasta with a squid and tomato sauce. The night after that, he threw a beachside barbecue for the entire hostel, stuffing us full of pilaf, pork souvlaki, and shepherd salad, and only asking for the equivalent of a buck or two in return.
Allison Green is a former educator turned travel blogger. She holds a Masters in Teaching and a B.A. in English and Creative Writing. Her blog posts merge her educational background and her experience traveling to 60+ countries to encourage thoughtful travel experiences that both educate and entertain. She has been a speaker at the World Travel Writers Conference and her writing, photography, and podcasting work has appeared in National Geographic, CNN Arabic, CBC Canada, and Forbes, amongst others. Now based in the San Francisco Bay Area where she grew up, she has also lived in Prague, Sofia, and New York City.