The Albanian Riviera very well may be the most underrated summer vacation spot in Europe. From its cheap, delicious seafood to its friendly locals and stunning beaches, I was wondering: why the hell had no one told me about this place (except for my many Albanian coworkers back in NYC, thanks guys!)?
I almost don't want to spoil the secret of the Albanian Riviera and just how amazing it is… but seeing as my blog readership is so small, I don't worry about this post imploding the scene. My middling success is your gain. Still, tourism by Albania's seaside is growing quickly – go now, before everyone else does and turns it into another Croatia or Montenegro.
Picking Your Home Base on the Albanian Riviera:
You have quite a few choices when it comes to deciding where to stay on the Albanian Riviera, depending on your budget, comfort level, and the amount of amenities you want around you. Himarë (Himara) is the Goldilocks home base: not too big, not too small, not too basic, not too flashy. If you want a little more upscale, try Dhërmi; for more bare bones, try Vuno; to really rough it, you can camp on the beach in Himara, Gjipe, Livadhi, and other amazing Albanian beaches right along the Albanian Riviera.
Saranda is another popular place due to its proximity to Ksamil beach, but honestly – I think Saranda's a bit overrated and much prefer the Albanian coast an hour north or so. You can also go up north to Vlora beach, but in my opinion, the best parts are in the stretch between Himara and Dhermi.
Himara
This sleepy little seaside town is my pick for a base when visiting the Albanian Riviera. It has it all: central location, a fantastic hostel, and delicious food. I'm talking the best pork gyro I've had in my life, which is not a crown I bestow lightly, right next to the best gelato I've had outside of Italy, where you can get a scoop for a mere 50 lek – about 35 cents.
Himara beach can be a bit crowded (for Albania) but for the convenience to beauty ratio, it can't be beat. If you walk along towards the south end of the beach, it gets less and less crowded and you can find a secret beach – but more on that later. All in all, Himara is one of the best places to visit on Albania's coastline.
Find cheapest accommodations in Himara
Vuno
If you really want to get off the beaten path, check out even sleepier Vuno. This village is nestled in the hills, so there's no easy beach walk, but you're spoiled for choices with Jale Beach and Gjipe Beach on each side of you. There's just one hostel here, and it comes highly recommended by Tomi of SR Backpacker fame, though I didn't stay at it so I can't speak for it personally.
Dhermi
I chose not to stay near Dhermi beach because I heard from locals that it's a little more upscale and expensive than the rest of the Albanian Riviera. But if you're looking for a touch more comfort, perhaps Dhermi beach is your best bet. It has more restaurants and shops and far more choices when it comes to accommodations.
Compare prices for hotels in Dhermi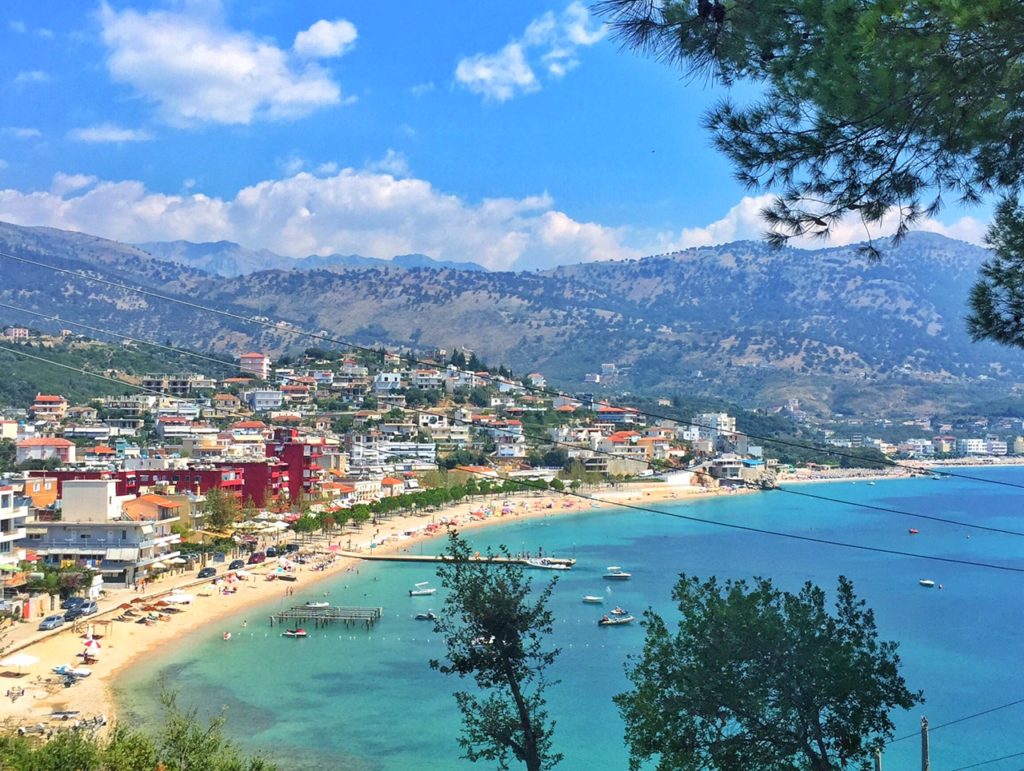 Himara from above – not too shabby, right?
Must-Visit Albanian Beaches:
Gjipe Beach
This is easily one of my favorite beaches ever, let alone in Albania. It's a 3 km hike down to the beach, and it's worth every bead of sweat. The views going down make the perfectly lukewarm water that much sweeter. Once there, the water is crystal clear – you can see what seems like 30 feet to the bottom. There's an awesome network of caves you can explore too, on your left if you are facing the beach. You can also camp on the beach – they provide the tents and mattress pads. Friends who did the camping spoke super highly about it, so an overnight here is a must-do when I return to this beautiful part of the world. Just be aware that you'll have to bring all your stuff up and back the giant hill, which can be rough in the heat.
Himara Beach
This is not only a great home base but also just an all-around great beach. The main beach near the town center can get a bit crowded, but walk even just 15 minutes to the south end of the beach and you'll have it almost all to yourself. If you're a daredevil with 50 euros burning a hole in your pocket, you can pay a guy to fly you in a boat/plane contraption all along the coast of the Albanian Riviera. It's just as odd as it sounds, and I'd be curious if any brave souls have taken the journey!
Jale Beach
This beach is sometimes called "Glass Beach" for its crystal clear wasters. This was next on my list to visit, but due to misplaced trust in Albanian sunscreen — oh, excuse me, "sun milk" — I had to skip it on this trip as I was burned to a florescent, inhuman shade of pink.
Hidden beach of Himara
This beach doesn't appear on any map, but it's my favorite of all the great places on the Albanian coast. Getting here is not easy, which is why it's so amazing. You have two option. One: walk to the southern edge of Himara beach and climb the hill. When you get to the restaurant gates, turn left off the dubious "path" edged with prickly bushes until you reach a rope to help you get down. This is not necessarily safe, so do so at your own risk. Two: hire a boat for about 2000-2500 lek ($15-20). All the boats were busy so, undeterred, I did the former. I managed it and I have the hand-eye coordination of a drunk toddler; your comfort level may vary.
Honorable Mentions (aka Albanian beaches I plan to go to next time): Porto Palermo, Livadhi, Borsh, Vlora, Lukova.
Getting Around:
This is Albania, a country that's changing so quickly that anything I write is virtually outdated by the time I put a period on a sentence. Take my recommendations as a mere frame of reference, and confirm with your Albanian hosts once you're here.
You won't get far in Albania unless you're willing to ask questions. People make a big deal about how difficult the transit here is; in my three weeks in the country, I found it really quite easy given that I was willing to ask for help. Luckily, Albanians love to help outsiders.
aIf you're staying in Himara and you want to head north to Jala, Gjipe, Livadhi, or Dhërmi, you can hop on the coastal bus headed towards Vlora or Tirana, which leaves around 11 or 11:30. Again, ask any Albanian because this will have likely changed. A bus in the reverse direction tends to go by around 6; again, ask to confirm. If you want to go south, you'll have to seek out a bus headed towards Saranda.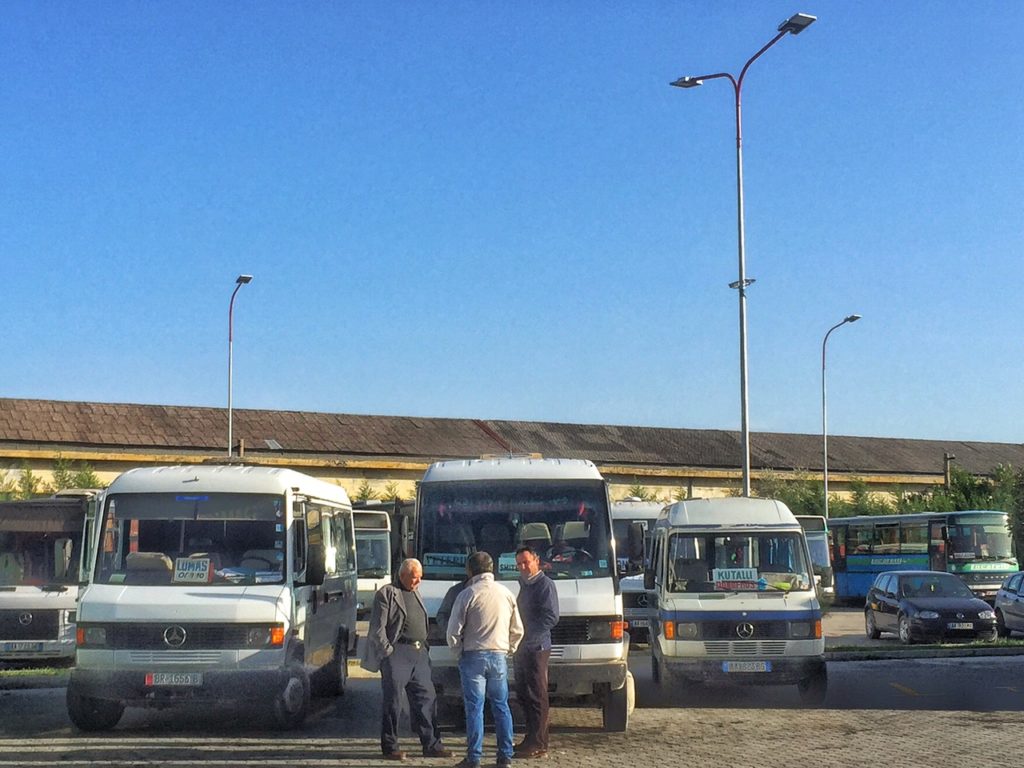 Buses will pick you up anywhere along the way, even if you're just on the side of the highway, so don't worry about trying to find bus stops. As long as you're on the right road that they pass (which, considering there's only really one road that constitutes the Albanian Riviera, is pretty easy) and you wave them down, you'll get picked up.
I do recommend hitchhiking to and from the beaches in Albania. It's quite safe, extremely easy, and incredibly common. Albanians are really friendly and hospitable people, and even if they don't speak much English, most will be more than happy to drop you off at your destination. In my time hitching in the Albanian Riviera, I never waited more than five minutes for a ride. I was always traveling with someone from my hostel, which gave me an added sense of security. First-time hitchhiker? Check out these great hitchhiking tips from an experienced solo female hitchhiker.
So there you have it! Visit the Albanian coast before the crowds and cruise ships do!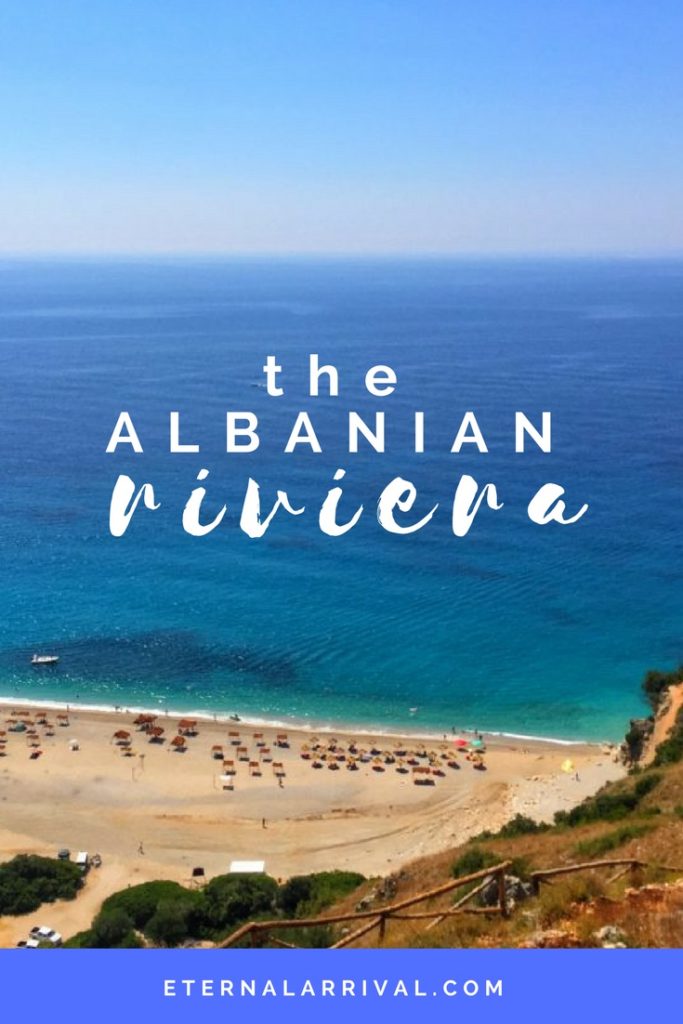 Note: This post contains affiliate links. That means that if you purchase something using one of these links, I will receive a small commission at no added cost to you. No BS – I only recommend accommodations, services, and products I truly believe in.