If you're like me (in which case, God help you) you'll do anything to get out of your home base for the weekend and see a new place. As in, take a 2:45 AM flight back from Puerto Rico and roll up to work with sea salt still in your hair kind of anything. So naturally, when I lived in New York, I was obsessed with finding the best budget weekend trip from NYC, and guys? Spending 3 days in Montreal is exactly what you need in your life.
Unlike Europeans, whom I am endlessly envious of, it's a bit harder – and more expensive – for us to get out and explore a new country for a weekend getaway. While there is a lot of beauty to see in the U.S., sometimes we just want the fresh jolt of an entirely new culture and country to stimulate our senses and break our routine. Sorry, America. It's not you, it's me.
Enter beautiful, glorious Canada, the country run by a real life Disney prince. The country where people say sorry when you bump into them. The country who gave the world poutine and Shania Twain.
If you're one of the 20 million people who have the dubious fortune of calling New York City home… Montreal will save your tired, dead, grubby soul. Friendly, beautiful faces. Diverse population. Those accents. Delicious food. Cheap prices…. really, why couldn't I have been born a Canadian?
In case you're not convinced, here are five reasons why Montreal is an amazing budget weekend getaway for New Yorkers, followed by a budget breakdown showing you how you can have a 3-day weekend trip to Montreal for just under $200!
1. It's cheap and easy to get to Montreal – if you don't mind sacrificing a bit of comfort.
Flights to Montreal are plentiful but a little pricy, usually clocking in at at least $250 roundtrip – which is more than the cost of this entire weekend getaway I've laid out here. The train is cheaper, but at 11 hours – all during the day – it's a terrible option for a brief weekend trip.
Enter my low-budget love, the overnight bus! Greyhound or Trailways can get you there for $100-130 roundtrip, depending on when you travel and how far in advance you book. Even better, they offer tons of different overnight options, which means that you really don't waste a moment of your weekend.
You leave Friday evening around midnight to arrive in time for a full Saturday, and you can leave late Sunday or Monday at night, just in time to get home for a quick refreshing shower before heading off to work with envy-inducing stories.
Sounds terrible? Well, yes, it is – but isn't breaking the monotony and crossing a new city off your bucket list worth the neck cramp from trying not to snooze on your neighbor's shoulder? Bonus – it also saves you on a night or two's worth of accommodation costs.
Here's the (other) downside – you don't just get to sleep the entire time you're on the bus. Usually, they make you get off for about 15 or 20 minutes in Albany, about 3 hours in, and you'll have to get off the bus to go through passport control. Still, I think it's totally worth the savings of time and money, but your ability to cope with overnight bus shenanigans may vary. As I demonstrated in my opening paragraph…. overnight shenanigans are welcome if it means I GTFO of New York City.
2. Hostels and hotels are cheap, cheerful, and plentiful
There are plenty of cheap places to stay in Montreal. I stayed at the Auberge Saint Paul when I first went to Montreal. Pluses include: super clean, great facilities, right in the middle of Old Montreal, and walking distance to cool neighborhoods like the Plateau. For $18 USD a night including breakfast, I thought it was a great deal.
The only downside was that the common room was a bit loud at night, as it tended to attract a fairly young crowd… most likely under-21 Americans who were thrilled to be able to drink legally. If you're not a 70-year-old masquerading as a 26-year-old like I am, you probably won't care. Just bring good earplugs – I love my Hearos – and carry a jumbo bag full of them with me everywhere.
The next time I went to Montreal, I went with one of my best friends, and we shared a private room at Hotel Latin Quarter for about $24 USD each per night. Sure, we were right above a strip club, but it's Canada, where even the strip clubs are more civilized than our Walmarts. I really had no reason to complain, so I kept my mouth shut and stuffed with extra sandwiches with all the money I saved.
3. It's so easy and affordable to get around the city
Bixi is one of the original bike share programs, and it's hard for me to think of a city that's done it better. For $14 CAD (about $11 USD), you can take unlimited rides within a 72-hour period, or for $5 CAD ($4 USD), within a 24-hour period.
The metro is also $3 CA ($2.30 USD) per ride if you buy two tickets at a time. It goes up to $3.25 CAD or $2.50 USD if you buy tickets individually, about on par with most city subways. But unlike most city subways, Montreal's subway is like, really classy, and with 95% less rodents, garbage, and general fuckery.
Montreal is also super walkable, so you may not even need that Bixi or subway pass!
4. Cheap eats is Montreal's wheelhouse
Holy crap, Montreal knows how to eat. I could — and should — do a whole post just on the food alone. Here are a few of my favorite places:
La Banquise: You need to try poutine when you're in Montreal… if you don't, you just might be insane (or lactose-intolerant, in which case, poor you; or vegan, in which case, side eye). La Banquise is the most famous spot, and it's open 24 hours. One portion is freaking huge. Bring a friend or a giant appetite. Prices vary depending on what you get but almost everything will run you under $10 CAD ($7.50 USD).
Pho Bac 97: Great pho and bun noodle bowls. Expect to pay about $10 CAD for an entree (which is $7.50 USD) Pho Bang New York is also pretty good; expect similar prices. Montreal native and Vietnamese food expert Jodi of Legal Nomads recommends Ca Phe Con Leche and Pho Tay Ho. You'd be a fool not to take her up on her suggestions. I, unfortunately, discovered them too late.
Qing Hua: If you want to feel like you never need to eat again and spend less than $8 CAD ($6 USD) doing so, make sure you check out Qing Hua. Their pork dumplings with mushrooms are LIFE. But if that's not your jam, don't even worry, because there's plenty of other options.
Schwartz's: Three words: smoked meat sandwich. It'll set you back about $10 CAD ($7.50 USD) and you will love every moment. I honestly prefer this to Katz's in NYC. Sorry.
Saint-Viateur: As a non-native New Yorker, I have strong feelings about bagels. Which is that they should, always and in every any form, be in my stomach. Loyalty be damned, the Montreal bagel is quite different – it's more dense and a bit sweet – but still super tasty.
Vua Banh Mi: Imagine Subway. Subtract the nasty burned tire mixed with sweet bread smell (seriously Subway, what sorcery do you use to make bread smell so damn bad?). Add daikon radish and carrot pickles and BBQ pork. Repeat as often as you like, no judgments. Around $4 CAD ($3 USD).
5. Fresh food and cheeses at excellent prices.
I am absolutely obsessed with Marché Jean-Talon and its impeccable array of cheeses. Much to the delight of my fellow bus riders, I brought some Quebecoise bleu cheese home with me to enjoy for lunch at work the next day. Suck it, customs, I will not declare my deliciously unpasteurized cheese. Can I live?
There's a definite Frenchiness in the way they display their fruits and vegetables – it is just so damn cute! It almost shows a giddiness with fresh produce, which makes sense given that Quebec is basically Winterfell.
The Budget Travel Breakdown:
So, how much will this all set you back?  Here's a low-end estimate for your typical traveler on a budget. If you eat at pricier places or stay in a fancier hotel, your cost will naturally go up. If you're a savvy traveler, you could try lowering the cost of your trip by couch-surfing, ride-sharing, hitchhiking, or eating from markets rather than restaurants.
Here is a sample cost of an itinerary for 3 days in Montreal, priced in USD:
Hostel at Auberge Saint-Paul: $18/night * 2 nights (since you come in on an overnight bus) = $36
Transport to and from Montreal: $100 and up
Food: $15/day * 3 days = $45
Transit Within City: $11 for a 3-day Bixi pass
Admission Costs: up to you, there's a ton of free things to do in Montreal!
Total: $192 USD! A small price to pay to get away from Garbage Island (as I pseudo-affectionately call New York City) for a glorious weekend in North America's version of Paris.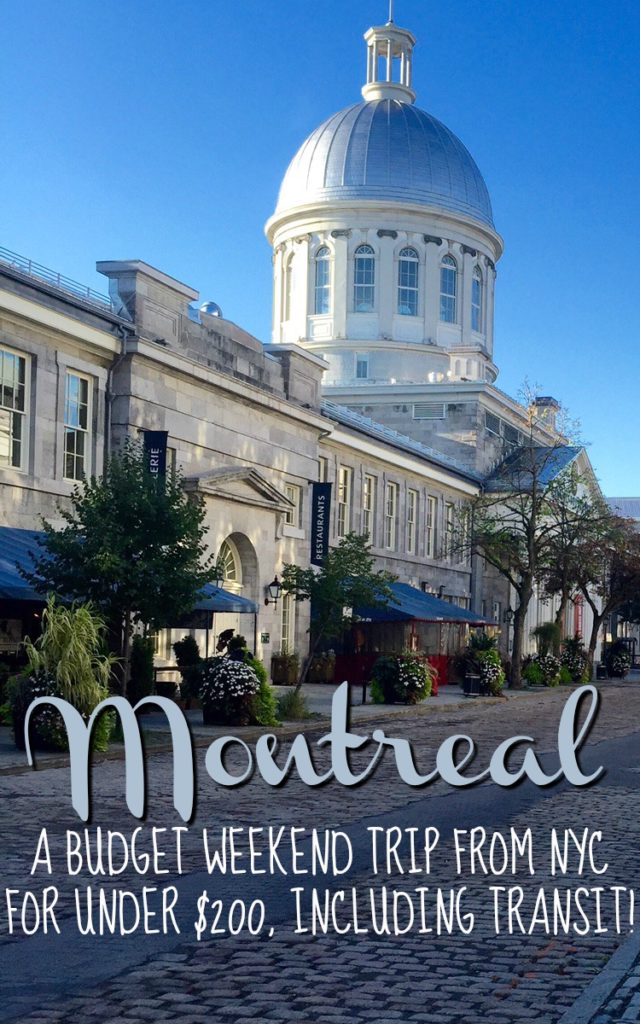 Have you visited Montreal before? Are you obsessed with it as I am?