Seemingly endless opportunities for adventure wait for you on this Yellowstone National Park itinerary.
With 3,500 sq. miles of wilderness terrain, over 10,000 hydrothermal features, more than 500 active geysers, and approximately 1,000 miles of exciting hiking trails, it's hard to know where to start in this giant outdoor playground.
Where do I go first? What attractions do I absolutely need to see?
There's no need to feel overwhelmed by the massive selection of recreation and site seeing options in America's first national park because we have put together the ultimate 2 days in Yellowstone road trip itinerary.
You'll get to make the most of your visit with famous attractions, insider tips, hidden gems, and a thoughtfully designed driving route!
Have your camera, binoculars, and park map handy while tackling this Yellowstone itinerary! We have a lot of exploring to do.
How This 2 Day Yellowstone Itinerary Works
Note: This post contains affiliate links, which means I may receive a small commission if you purchase something through one of these links. Thank you for supporting the free content on this site! For more information on affiliate links and cookies, see my disclosure page for more details.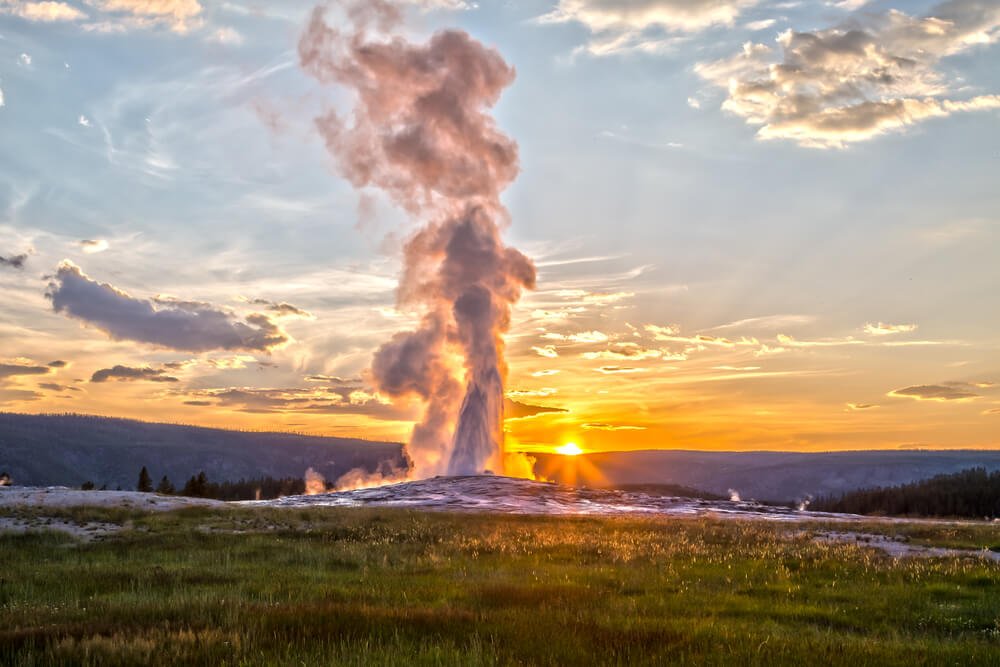 Yellowstone is one of the largest national parks in America, so of course, there is simply no way you can see all of Yellowstone National Park in 2 days.
Since time is limited, we've picked the most essential sights in Yellowstone. I mean, you can't visit Yellowstone and NOT go to the Grand Prismatic Spring or Old Faithful, right?
But as magical as those spots can be, they can also be rather crowded. With 4 million annual visitors, most of those in the summer months, you're definitely not alone!
So we've also filled in the gaps between those busy-but-beautiful spots with some (relatively) off the beaten path suggestions. These will allow you a chance to break away from the crowds a bit and experience the beauty of Yellowstone for yourself, away from masses of selfie sticks!
Of course, "off the beaten path" is relative for a place as well known as Yellowstone National Park. But Yellowstone is a park where most people simply drive between overlooks and drive-in spots, so allocating time for some of these short Yellowstone hikes that I've outlined is the best way to get away from the crowds and experience the beauty of the park as it was intended to be experienced, before a time of mass tourism.
This 2 day Yellowstone itinerary is intended to be done by self-drivers, those with their own car or a rental car.
You don't need any sort of 4×4 or special bells and whistles on your car, though if you are visiting in the early spring or fall, you may need tire chains depending on road conditions (check with the Yellowstone website for up-to-date information).
Be aware that Yellowstone is almost entirely closed to vehicle traffic in winter — more on this below.
Visiting Yellowstone in 2 days actually divides quite neatly due to the structure of the park's main roads, which form a figure 8. On the first day, we'll tackle the lower loop, and on the second day, we'll tackle the upper loop. This way, you'll see the main park highlights and some lesser-known spots without backtracking excessively and wasting precious time of your two days in Yellowstone!
Renting a Car for Yellowstone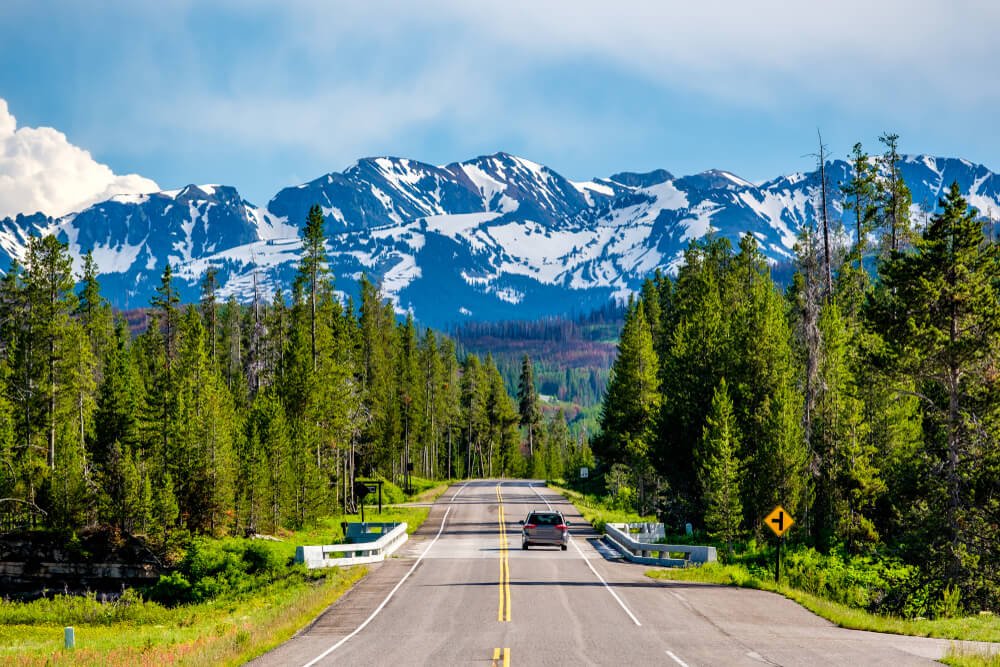 If you're road tripping to Yellowstone from your home state, disregard this section.
If you need to fly in to get to Yellowstone, I suggest flying to Jackson Hole Airport (JAC). In peak summer season, 15 destinations fly directly to Jackson Hole, including NYC, Chicago, LA, Denver, Salt Lake City, Dallas, and others. American Airlines, Delta Airlines, United Airlines fly to Jackson Hole year-round, and seasonally, Alaska and Frontier also service the airport.
At Jackson Hole Airport there are plenty of car rentals available. I've rented cars dozens of times through various search engines and have settled on Discover Cars as the best car rental search engine – it searches over 500 trusted rental companies to find the cheapest price for your rental! Compare prices for car rental from Jackson, WY here.
There is also the West Yellowstone Airport, but flying here is usually more expensive and car rentals are often pricier here. I don't recommend this one if you are on a budget.
Another option is the Bozeman-Yellowstone airport in Montana, though this requires a 1.5-hour drive to the park. That said, you may be able to find cheaper car rentals via Bozeman.
How to Do 2 Days in Yellowstone Without a Car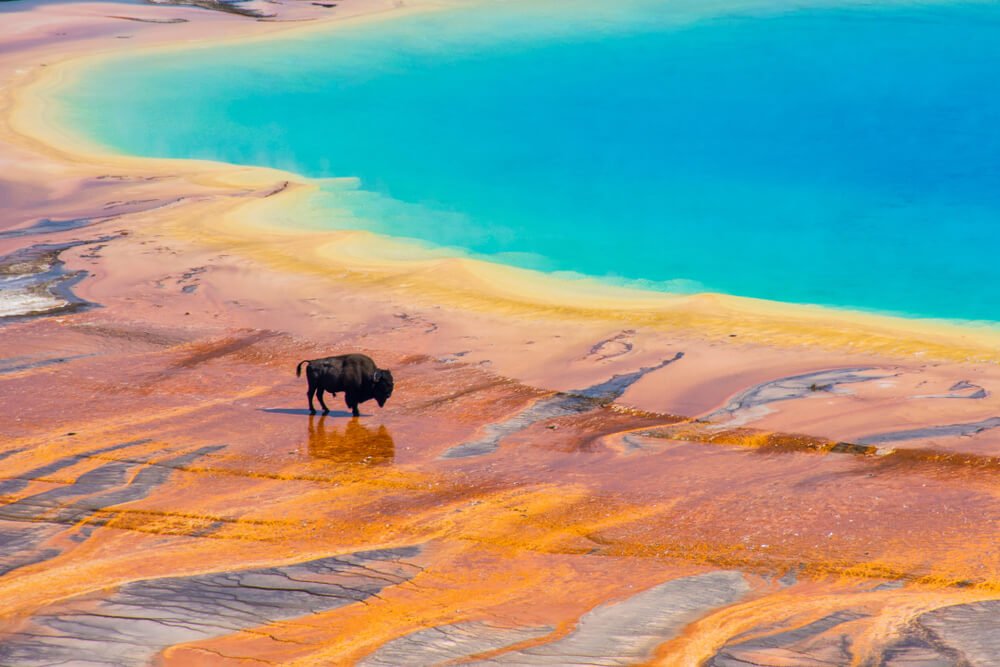 If you don't have a car, you may be wondering how to tackle this 2 day Yellowstone itinerary. Honestly: it'd be basically impossible to do it without either A) your own car or B) a guided tour.
Unlike other national parks, Yellowstone does not have its own shuttle service, and there are no local buses that serve Yellowstone (just the area around Jackson Hole).
So, if you don't have a car or don't want to drive, you'll definitely need to take a guided tour. I recommend staying in Jackson or West Yellowstone where most tours depart.
From Jackson: I recommend this two-day Yellowstone tour which covers both the Upper and Lower loops. It's a bit pricy but you will see all the best things to see in the park without missing out. Alternately, you could do this Lower Loop tour for Day 1, which pretty closely tracks this itinerary, and on Day 2, you could explore the lovely Jackson Hole area which has plenty to see!
Another option if you're staying in Jackson is doubling up on National Parks and visiting two-in-one with this 2-day Grand Teton and Yellowstone tour. The parks are surprisingly close together and it's quite easy to combine the two into a tour that's been organized for this purpose. This tour is wildlife-focused so it's perfect for people who are more interested in wildlife over landscapes.
From West Yellowstone: This full-day Yellowstone tour will cover most of the best things to see in the park in just one day, including most of the Lower Loop such as Old Faithful, Fountain Paint Pots, and Grand Prismatic Spring. For your second day, you can go on a zipline adventure or rafting trip departing from West Yellowstone.
Best Time of Year to Visit Yellowstone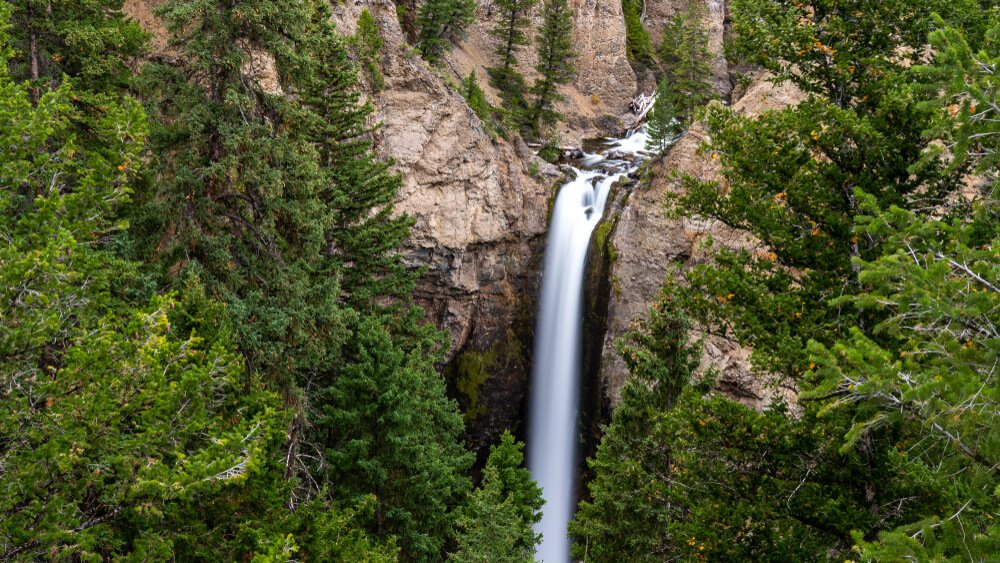 This itinerary is really only suitable for late spring, summer, and early fall, when you are able to drive yourself into the park and self-guide. This is because once there is significant snowfall, the main roads in Yellowstone all close to passenger vehicles, and the only way to access the park becomes by snowcoach tour (which can get pricy!) or by snowmobile (even pricier, unless you happen to already own your own!).
While Yellowstone in winter is an absolutely incredible experience, and one that I have no qualms recommending, this itinerary simply will not work in winter because you won't be able to access the roads needed in order to see the sights in the order suggested. If you're planning a winter Yellowstone trip, I suggest you read this post on 30 things to know before visiting Yellowstone in winter, written by a Big Sky local.
I would suggest that the best time to visit the park would be in the shoulder season just before or just after summer. May and September are brilliant months to visit Yellowstone, especially if you don't have kids (or if you're homeschooling), since the park definitely fills up with families during the summer vacation months. You'll find better prices on accommodations as well outside of the peak season.
A nice thing to know about visiting Yellowstone in the summer is that temperatures are never that hot! Even in July, the hottest month in the park, the average high temperature is 72 degrees F. It can get quite cold in the evening due to the high elevation (8,000 feet!) though, so you'll want to come prepared with layers for the evening chill!
Your Perfect 2 Day Yellowstone National Park Itinerary
Day 1 of Your Yellowstone Road Trip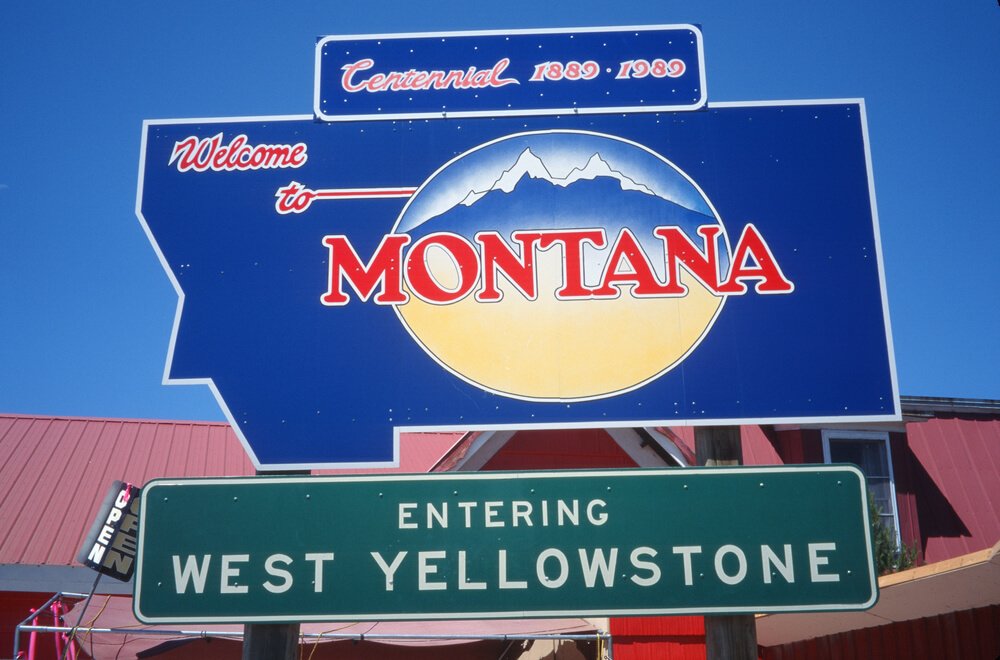 Rise and shine! After spending a restful night in the gateway town of West Yellowstone, you're conveniently located right near Yellowstone National Park's West Entrance.
There's no time to waste because your first day is going to take you on an exciting tour of the Yellowstone Lower Loop.
What's the Lower Loop? Take a quick look at your map. Notice how Yellowstone National Park's road system is shaped like a figure 8, which is broken into three loops, as follows:
Upper Loop: the northern circle of the figure 8
Lower Loop: the southern circle of the figure 8
Grand Loop: the outside perimeter of the figure 8
Now that you have a better idea of where Day 1 is taking you, we're ready to get into the fun stuff — the heart of this Yellowstone itinerary!
Start at the West Entrance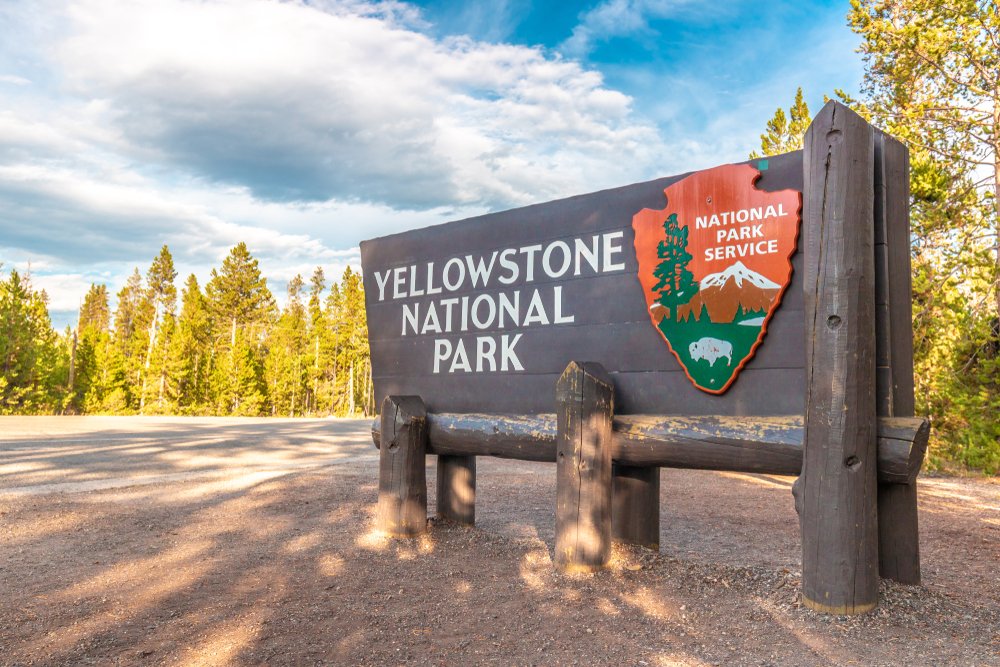 Welcome to Yellowstone! Excited?
This first section from the West Entrance to the Madison Junction is famous for phenomenal fly fishing.
The Madison River hugs the road providing the perfect view to spot anglers and the occasional moose wading the waters.
As you approach the Madison Junction, look to your right for a view of National Park Mountain standing 7,500 feet tall with the junction of the Firehole River and Gibbon River in the foreground.
We're headed south at the junction to work the Lower Loop counterclockwise.
Firehole Canyon Drive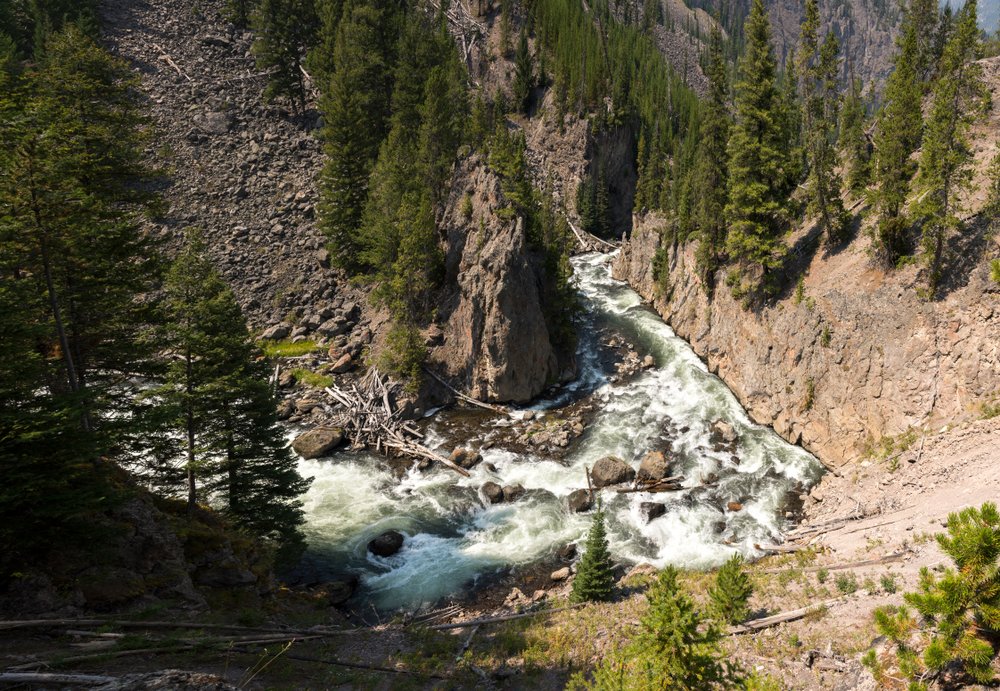 Trust us… You do not want to miss the scenic Firehole Canyon Drive. The turn comes up pretty fast on the right, so be ready!
On this 2-mile detour, you'll get an up-close look at the 40 ft tall Firehole Falls. We have a little bit more driving to do before the first hike of this Yellowstone road trip, but it's coming!
For now, take a pullout and scope the hillsides with your binoculars. You're bound to spot some wildlife in the Firehole River Valley.
Fountain Paint Pots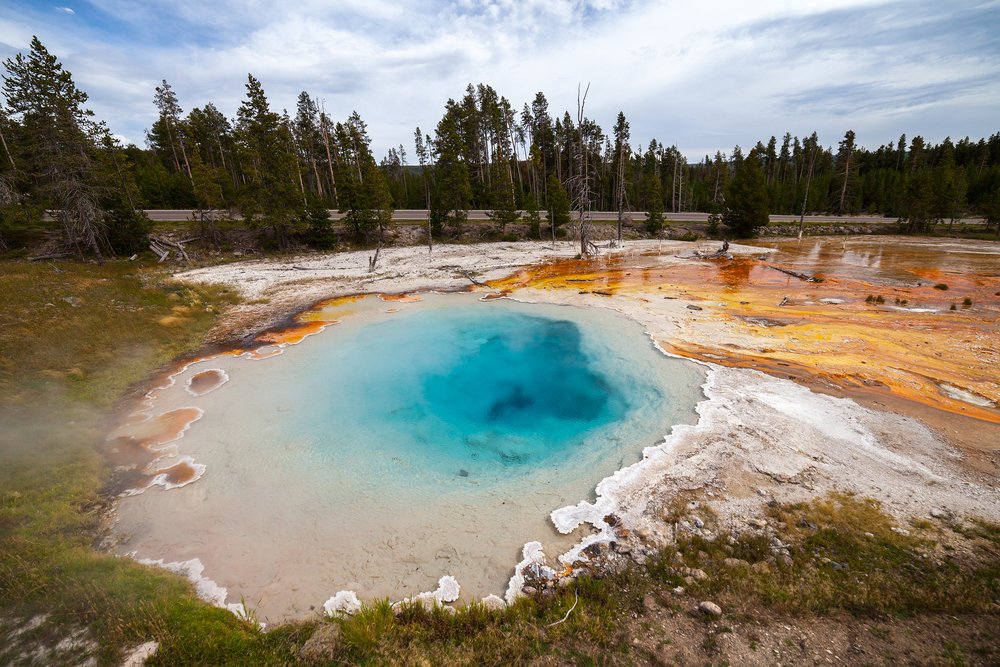 Yellowstone National Park is famous for its colorful hydrothermal pools and you're going to witness them first hand.
The 0.6-mile loop at the Fountain Paint Pots will bring you past a variety of colorful pools. Don't forget your camera!
Grand Prismatic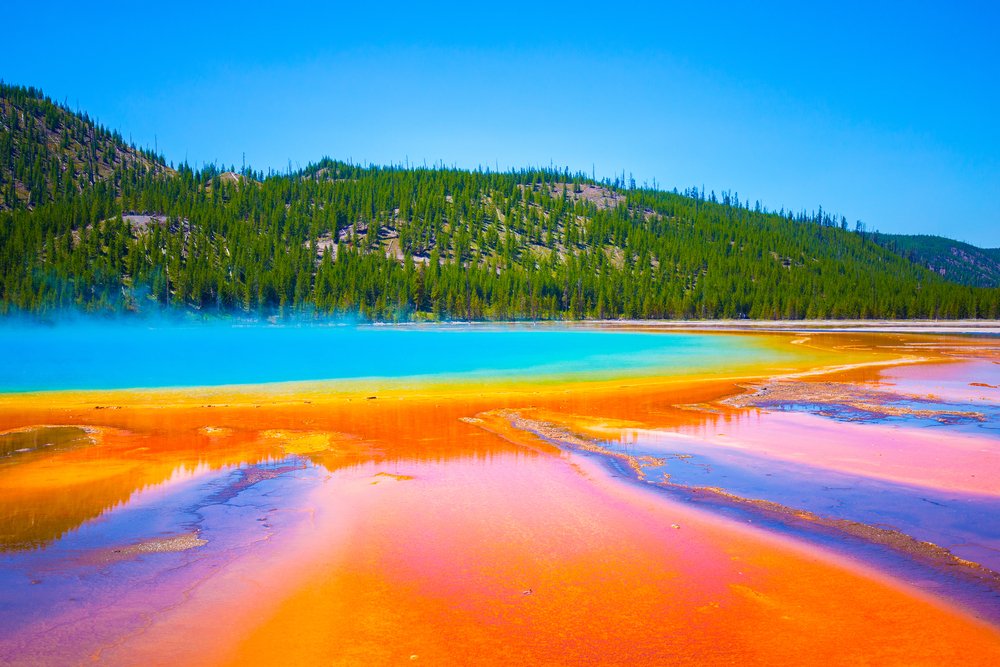 The next hot spring is surely one you have seen before in photographs, but there's nothing quite like standing in front of the real thing with its beautiful rainbow of colors.
There's no way you can skip putting this on your Yellowstone National Park itinerary — it's probably why you came in the first place!
Most visitors stay on the lower boardwalk loop to see Grand Prismatic, but if you're looking for the best view available on foot, we know exactly where to go.
Note: Always stay on the boardwalk or designated hiking trail – it's illegal and extremely dangerous to walk off the path here!
If you're visiting Yellowstone with kids, be sure to be extra cautious here!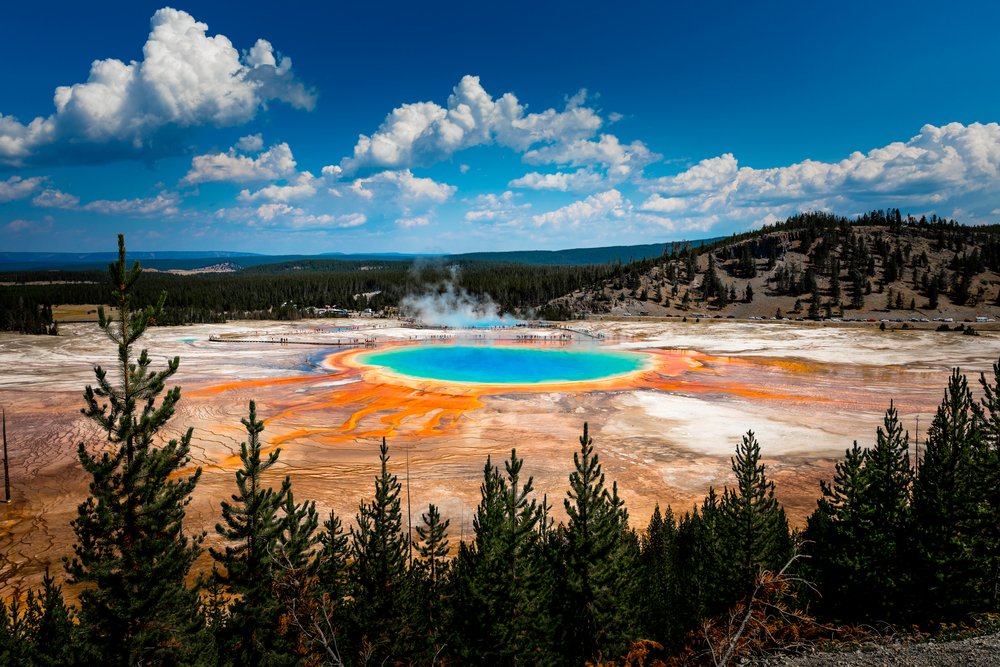 This excursion can take 1 – 2 hours and is 1.2 mile out and back hike beginning and ending at the Fairy Falls Trailhead.
From the trailhead, you'll gain about 105 ft of elevation before ending up at the scenic overlook.
Remember: Anytime you're hiking in bear country, carry bear spray and understand how to use it.
Old Faithful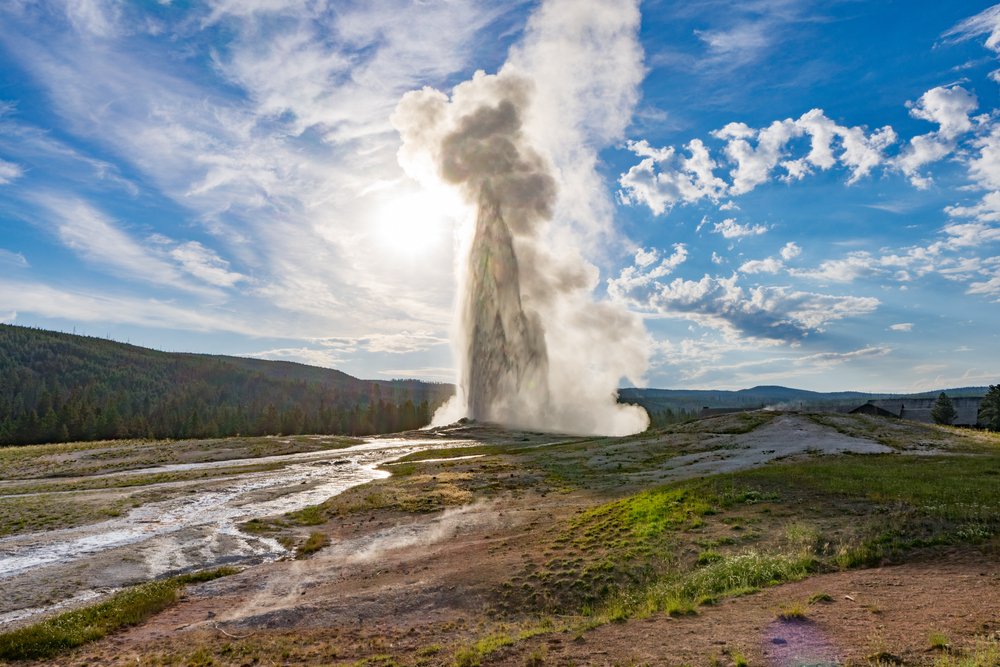 Just outside the Old Faithful Visitor Center, there are rows of benches set in front of the geyser for a stadium-style viewing.
But… That's not actually the best place to view the eruption of Old Faithful!
Insider tip: After checking the next eruption time in the visitor center, take the Observation Point – Geyser Hill Trail for a birds-eye view of Old Faithful!
This 2.3-mile loop is well worth the hike and will bring you past some less-trafficked thermal features like Doublet Pool and Giantess Geyser!
West Thumb Geyser Basin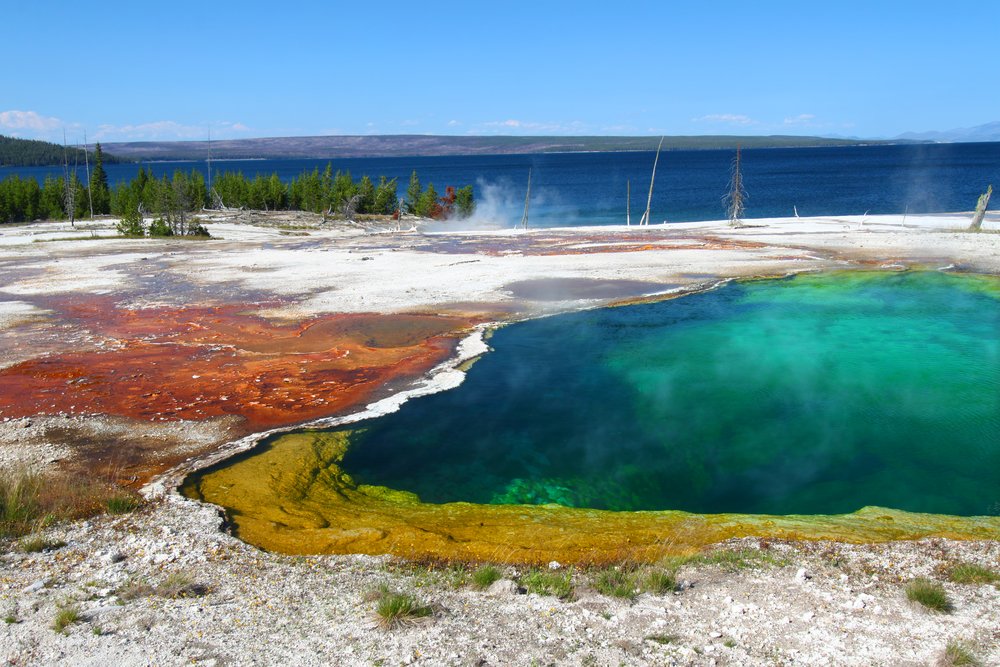 Take the boardwalk along Yellowstone Lake and check out the geysers that hug its banks.
This is also a perfect spot for a picnic lunch if you didn't already stop for a bite at Old Faithful!
Hayden Valley wolves and grizzly bears on your must-see Yellowstone wildlife list? This is one of the best places to spot bears, wolves, and many other YNP residents roaming the valley.
Be patient, scan the landscape with your binoculars, and use the pullouts off the main road for thorough searches.
Grand Canyon of The Yellowstone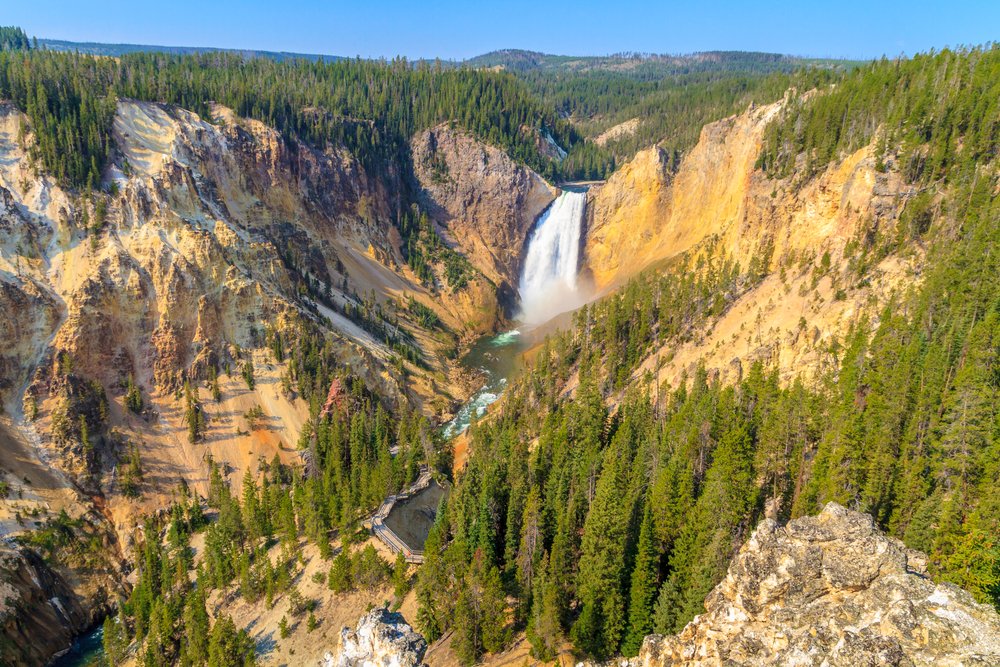 As you approach the Canyon Village area, turn right onto South Rim Drive towards Artist Point.
This is one of the most iconic viewpoints of the 308 ft tall Lower Falls. You definitely don't want to miss the view on this short 0.1-mile paved walk!
Gibbon Falls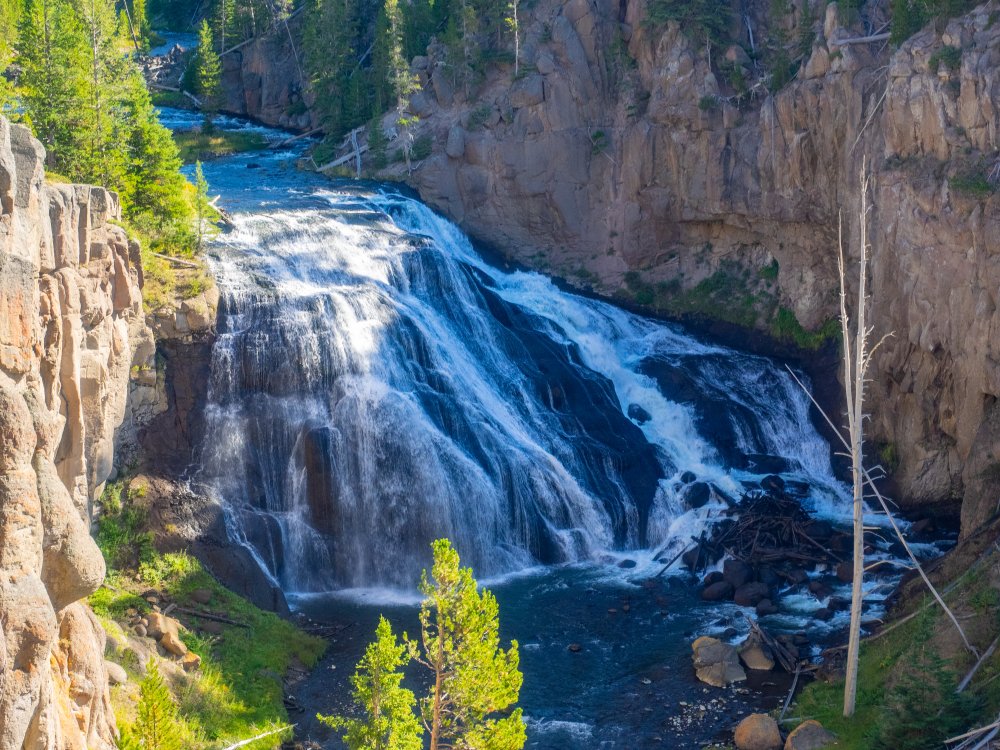 The 84 ft Gibbon Falls is another must-see waterfall. With its convenient location right off the road, there's no reason not to stop and take a look!
There's also an easy 0.5-mile roundtrip walk down to the falls if you'd like to get closer.
For a convenient starting point on your second day, we recommend camping at Madison Campground or Norris Campground.
If camping isn't in the books for this Yellowstone road trip, there are cabins and hotel accommodations in the Canyon Village area near the Grand Canyon of the Yellowstone. Get a good sleep to tackle the next day of this Yellowstone itinerary!
Day 2 of Your Yellowstone Road Trip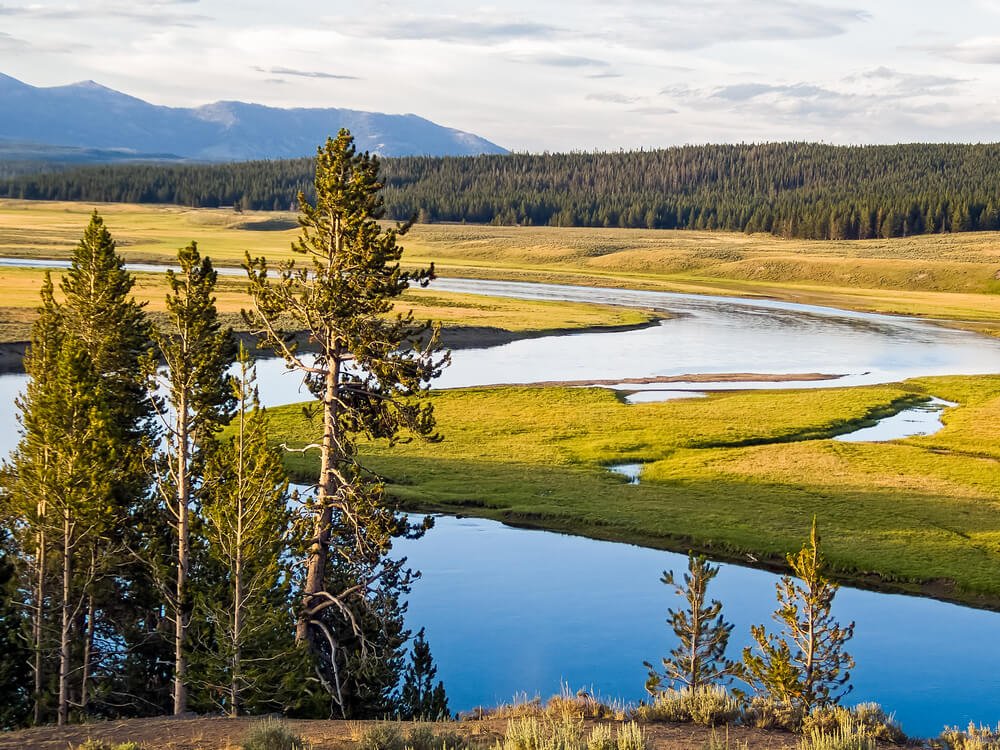 There's still so much to see, and an early start gives you a better chance for some exciting wildlife sightings!
Today, we are going to visit the best of the Upper Loop.
We'll start at the Norris Geyser Basin Area and head North towards Mammoth Hot Springs to take the loop clockwise.
Obsidian Cliff
This National Historic Landmark is a neat way to start the day!
The obsidian from these cliffs was first collected by hunters and gatherers over 11,000 years ago and has been traced across the country along historic trade routes. Obsidian was once used to make arrow and spear heads!
Sheepeater Cliff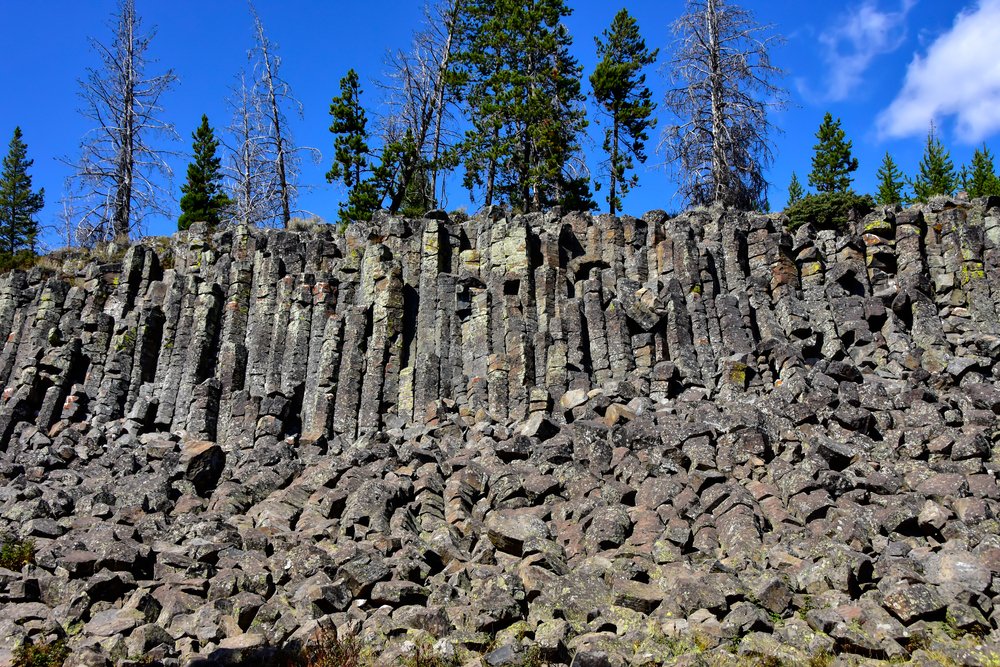 Here's another interesting geological site that's worth the stop.
If you're ready to give your legs a morning stretch, take the fishing trail out of the picnic area. Follow the trail about for about 0.5 miles to get awesome views of the Gardner River and a small falls.
How's that for a morning stretch?
Mammoth Hot Springs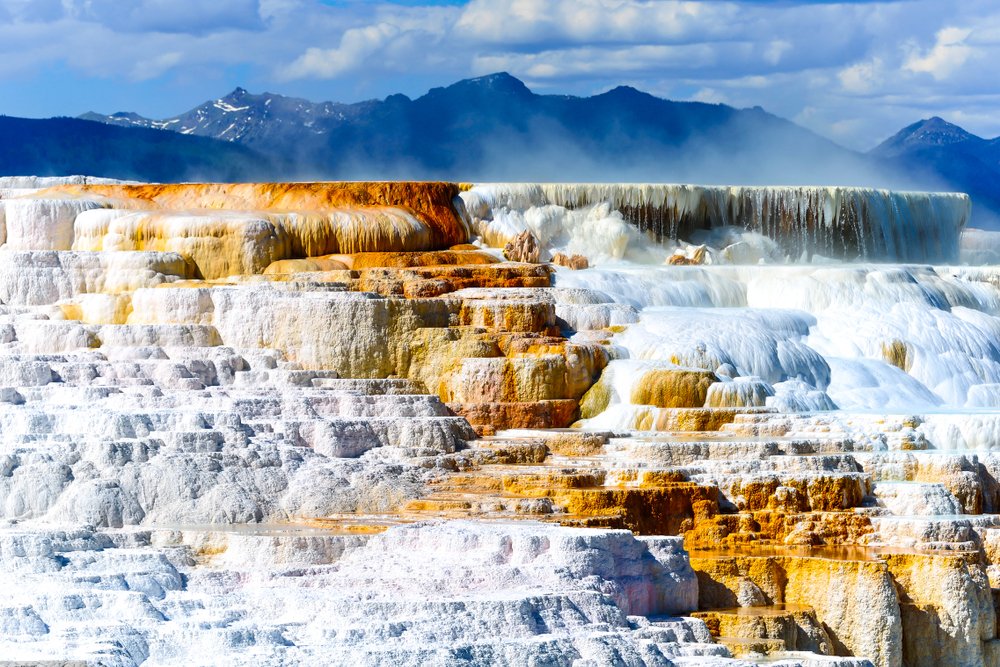 Park in the Lower Terrace Parking Area and hop onto the intricate boardwalk paths that weave around the many hot springs. It's easy to spend over an hour exploring these intriguing thermal features.
This is a popular area to spot elk. Look in the grass below the terraces and around the cone-shaped Liberty Cap, which one of the area's most prominent feature standing at 37 ft tall.
Blacktail Plateau Drive
After you've taken a thorough tour of the Mammoth Hot Springs, head west to continue on the Upper Loop.
This section is famous for wildlife viewings, so keep your eyes peeled. It's never a bad idea to take the scenic route! Right? Turn onto the Blacktail Plateau Drive and get off the main road for 6 miles.
Petrified Tree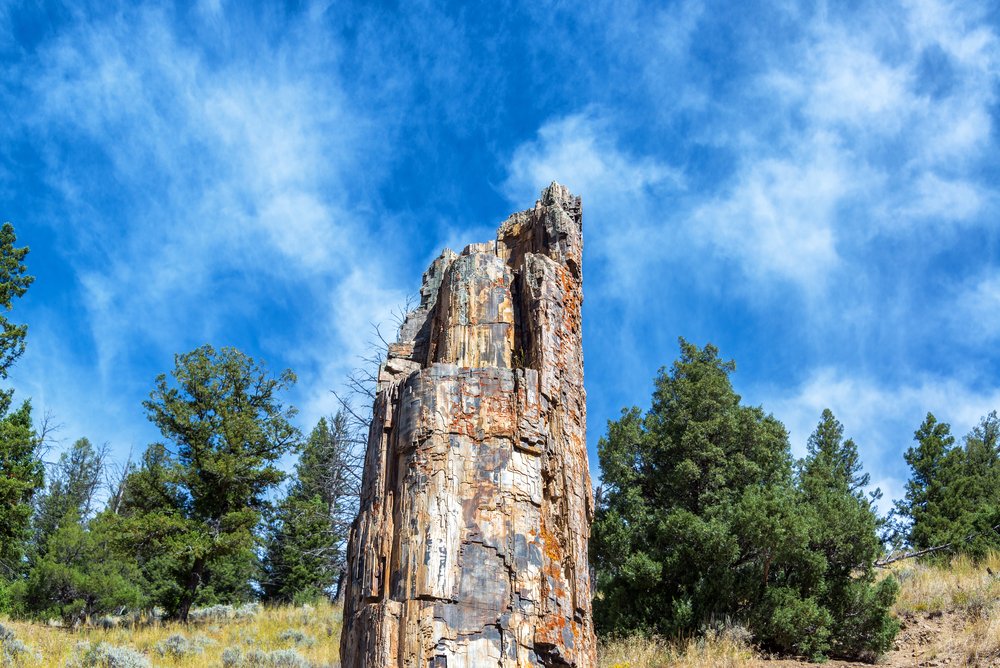 Almost immediately after rejoining the main road, the turnoff for the Petrified Tree will be on the right.
Is it a tree or a rock? Worth the very short walk up the trail to get a closer look!
Tower Falls Optional Detour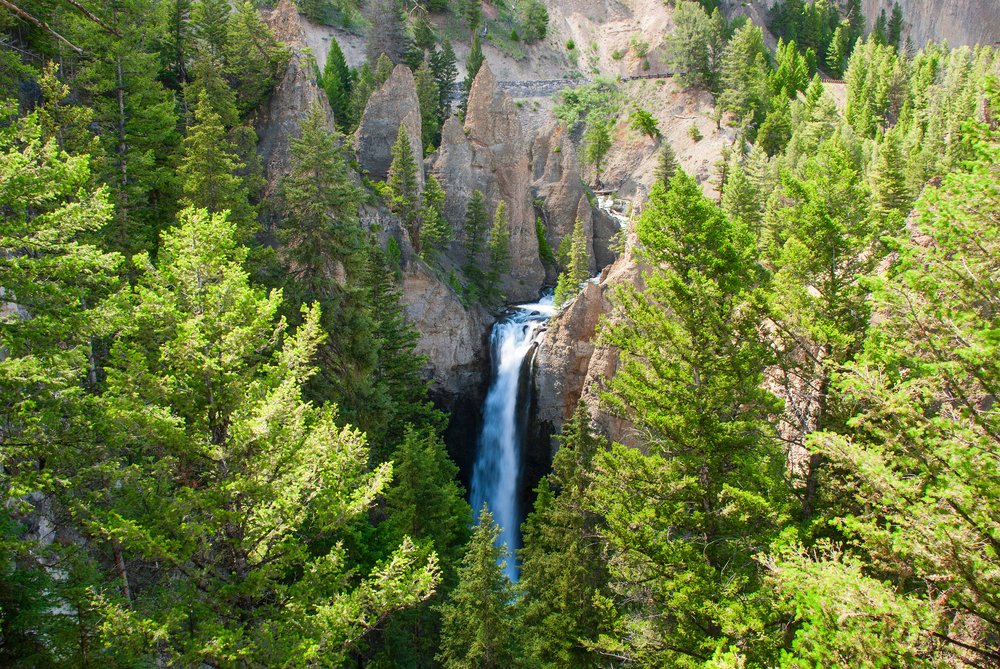 If you're interested in checking out the 132-foot drop of Tower Falls, it's only a short detour south at Tower Junction. The rock pinnacles framing the massive falls truly make it a sight to see. The trail to the viewpoint is less than one mile round-trip.
After the falls you will head back to the intersection and turn towards Lamar Valley… Have your binoculars in hand!
Insider tip: The Yellowstone River Picnic Area in the Lamar Valley is a great spot to stop for lunch. It even comes equipped with a quiet scenic trail down to the Yellowstone River.
Lamar Valley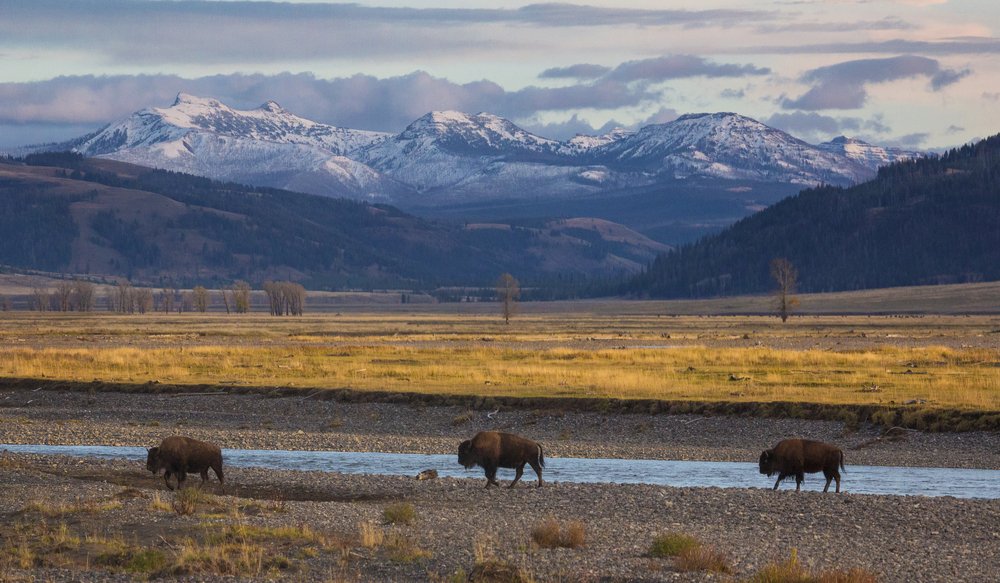 Lamar Valley is a wildlife lover's dream. Take your time driving through this section and use pullouts frequently to scan the hillsides with your binoculars or scope.
Bison and antelope sightings are almost a guarantee, but you'll have to be very observant to spot the resident bear and wolf packs.
For a short hike following your wildlife safari, check out Trout Lake. The trailhead is a small signed pullout on the main road. This lollipop loop trail is only 0.6 miles, and offers beautiful mountain views!
Beartooth Highway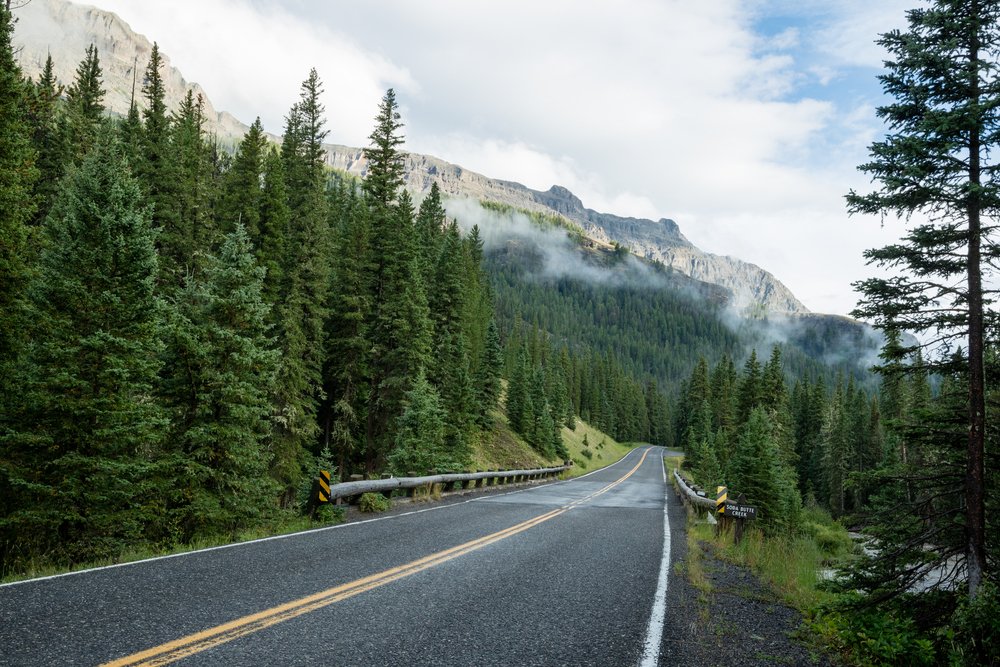 As you approach Cooke City after your hike, prepare to say goodbye to Yellowstone National Park as you exit via the scenic Beartooth Highway to head towards the fun mountain town of Red Lodge!
This is where we leave you to discover your next adventure — hopefully you enjoyed this Yellowstone itinerary!
What to Pack for 2 Days in Yellowstone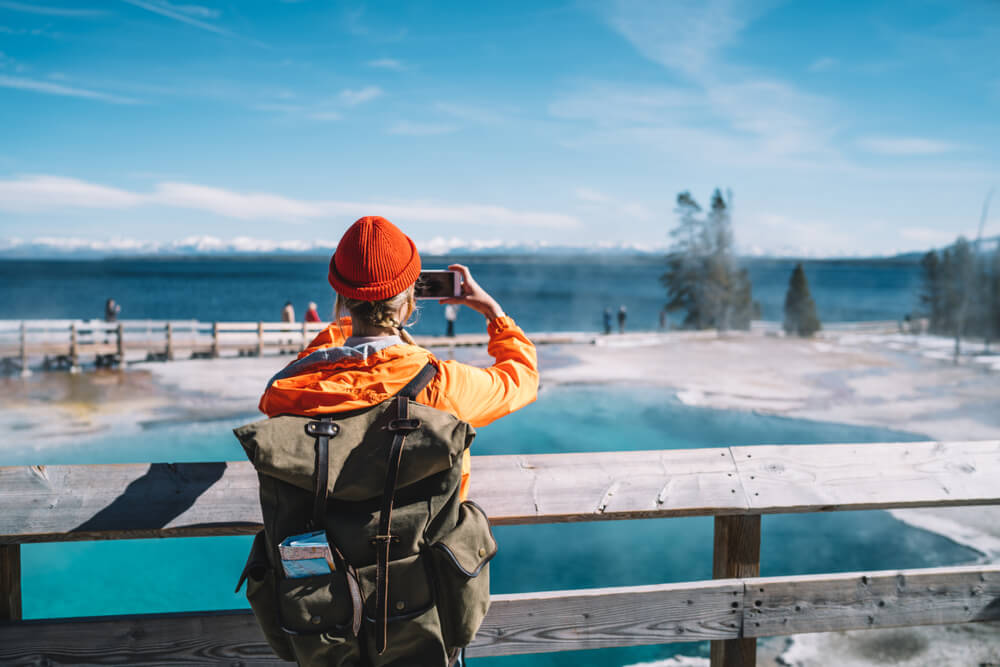 Layered Clothing: Even if you are visiting Yellowstone in summer, due to the high elevation, it can get chilly at night so plan accordingly!
You'll want at least 2 shirts (synthetic or wool, long and/or short sleeve depending on the season), 2 pairs of leggings or pants, 2 pairs shorts, 1 fleece outer layer, a waterproof jacket, beanie, gloves, and 3 pairs of socks.
Comfortable Footwear: You can go with sneakers or hiking boots (I love my Ahnu Sugarpine boots for women, and for men, I suggest theKEEN Durand boot.) However, if you pick sneakers, make sure they have good traction and are comfortable enough for 2-3 mile hikes.
Sunscreen: At 8,000 feet elevation, it's so much easier to get sunburned even on a cloudy day (I learned this the hard way in Quito, Ecuador!). Bring and wear sunscreen every day of your trip, and be sure to reapply it every couple of hours. I like this chemical-free organic sunscreen.
Sunhat: I recommend a packable hat like this one which has a strap. It won't blow off in gusts of wind (Yellowstone can get windy — it's that high elevation!) and you can easily wear it on your back when you don't feel like wearing it on your head.
Day pack: A compact day pack is helpful to have when in Yellowstone so you can easily put everything you need accessible and handy. I like this inexpensive and lightweight Osprey day pack.
Snacks: None of these Yellowstone hikes are particularly intense, but you should have some snacks just in case you get hungry and don't want to waste time on your Yellowstone itinerary sitting down for a long lunch. Pack or pick up a picnic lunch or have plenty of snacks for the day. I recommend protein bars (I love CLIF bars), nuts, or other high-density snacks that give you a lot of energy for their weight.
Camera: I use and love my Sony A6000! It's mirrorless, so it's lightweight and perfect for a high-quality camera that won't weigh your pack down. I suggest bringing a zoom lens for wildlife and a wide-angle lens for landscapes.
First aid kit: Don't let things like blisters or scrapes ruin your Yellowstone trip! I recommend tossing a first aid kit like this HART Weekend First Aid kit in your day bag. It's lightweight, but if you ever need it, you'll be so glad to have it.
Headlamp (and extra batteries): If you want to do any sunrise or sunset hiking, I recommend bringing a headlamp like this Petzl headlamp.
Water filter bottle: While there are water fountains around Yellowstone, I still suggest having a water bottle with a filter so you can fill up anywhere there's a water source! There are a wide variety of water filtration systems and treatments, but I love the GRAYL Geopress, which allows you to filter water from any source — perfect for filling up on a hike if you see water. It's compact and easy to use and filters out 99.99% of microplastics, viruses, bacteria, and particles.
Don't forget travel insurance!

Travel insurance is essential, especially if you're traveling from out of state. Coverage helps you recoup your losses in case of emergency, accident, illness, or theft. I've relied on World Nomads for my travel insurance coverage for four years with no complaints, and I'm a happy paying customer. I recommend them highly to fellow travelers!

Get your free quote here.
Where to Stay in Yellowstone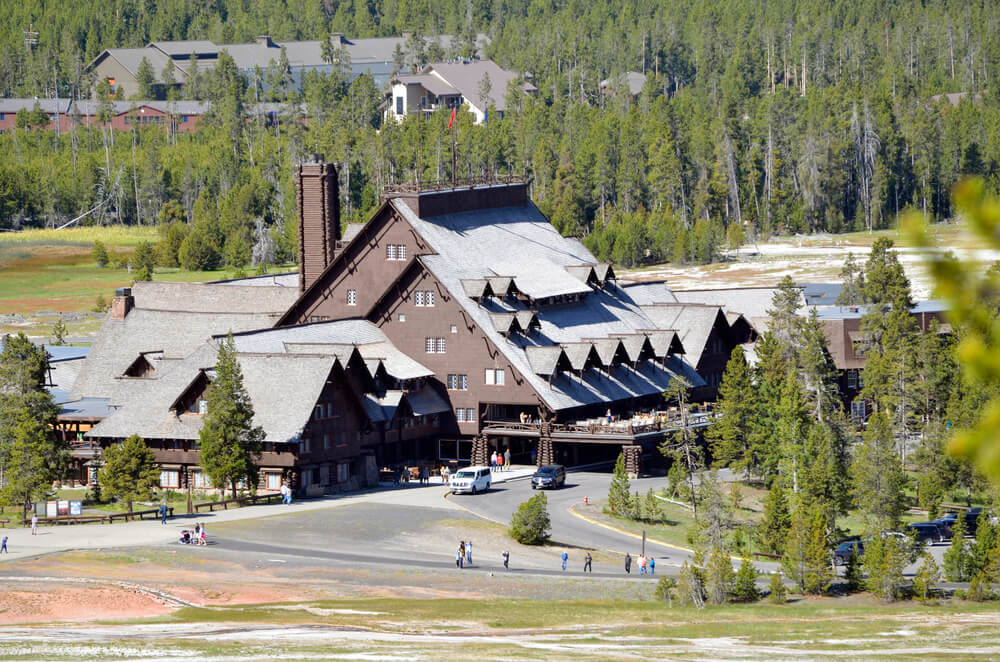 There are so many options for where to stay in Yellowstone! I'll make a few suggestions both inside and outside of the park.
Between May and October, some lodges are open in Yellowstone. You can find the full list here, which is also where you can book the accommodations. You cannot book these accommodations on other booking portals, only directly. You must book several months in advance… like, we're talking 6+ months!
If you didn't book your lodge inside Yellowstone on time, or if you'd prefer to stay outside the park, I'd suggest either West Yellowstone or Jackson as your base.
West Yellowstone is closer to the park entrance and is better for following this itinerary. It's where I strongly recommend you stay!
However, Jackson is doable if you are also planning to visit Grand Teton during your stay, and it can be done as long as you get an early start each day of this itinerary.
West Yellowstone Accommodations
CABINS | If you want to stay in a self-contained cabin (great for social distance!), Explorer Cabins at Yellowstone is ideal. The grounds are made up of 50 cabins which have plenty of space between them, and each unit is self-contained so there are no communal areas except for the fire pit (where you can toast your welcome s'mores!). Plus, they're dog-friendly, and just a few minutes from the West entrance to the park!
>> Check photos and reviews here.
BOUTIQUE | For design lovers who want a hint of luxury, I suggest the hip The Adventure Inn. This stylish spot has a minimalist style, with a Scandinavian sensibility mashed up against a woodsy edge. It's like a Brooklyn loft and a mountain cabin had a baby: it's beautiful.
>> Check photos and reviews here.
BUDGET | If money is a concern but you want a place that's comfortable, clean, and convenient, it doesn't get much better than Kelly Inn. This cozy, rustic hotel has perks like an indoor pool, sauna, and hot tub while not breaking the bank. However, the rooms are a little dated, but for the price, it's perfect.
>> Check photos and reviews here.
Jackson Accommodations
BOUTIQUE | If the design and the personality of a hotel is important to you, I suggest Wyoming Inn. This cozy inn features Western-style decor complete with a roaring fireplace, warm woodsy colors, rustic design touches, and large, modern rooms.
>> Check photos and reviews here.
BUDGET | If you're traveling Yellowstone on a budget and want to stay in Jackson, I'd pick The Elk Country Inn. It's highly rated by fellow travelers and affordable (well, by Jackson standards). It's located just 4 blocks from Town Square in central Jackson, and the rooms are modern, spacious, and clean.
>> Check photos and reviews here.
LUXURY | If cost is not a factor, the stunning Teton Mountain Lodge and Spa (a Noble House Resort) is a no-brainer. Located in Teton Village, the rooms all have their own fireplace and cooking area, and there are rooms from everything to queen studios to two-level, two-bedroom suites. There are indoor and outdoor pools and hot tubs (all heated year-round) and a massage and spa center for those who want a little luxury on their Yellowstone trip.
>> Check photos and reviews.
Pin This Yellowstone Road Trip Itinerary for Later!