Seemingly endless opportunities for adventure wait for you on this Yellowstone National Park itinerary.
With 3,500 sq. miles of wilderness terrain, over 10,000 hydrothermal features, more than 500 active geysers, and approximately 1,000 miles of exciting hiking trails, it's hard to know where to start in this giant outdoor playground.
Where do I go first? What attractions do I absolutely need to see?
There's no need to feel overwhelmed by the massive selection of recreation and site seeing options in America's first national park because we have put together the ultimate 2 days in Yellowstone road trip itinerary.
You'll get to make the most of your visit with famous attractions, insider tips, hidden gems, and a thoughtfully designed driving route!
Have your camera, binoculars, and park map handy while tackling this Yellowstone itinerary! We have a lot of exploring to do.
Your Perfect 2 Day Yellowstone National Park Itinerary
Day 1 of Your Yellowstone Road Trip
Rise and shine! After spending a restful night in the gateway town of West Yellowstone, you're conveniently located right near Yellowstone National Park's West Entrance.
There's no time to waste because your first day is going to take you on an exciting tour of the Yellowstone Lower Loop.
What's the Lower Loop? Take a quick look at your map. Notice how Yellowstone National Park's road system is shaped like a figure 8, which is broken into three loops, as follows:
Upper Loop: the northern circle of the figure 8
Lower Loop: the southern circle of the figure 8
Grand Loop: the outside perimeter of the figure 8
Now that you have a better idea of where Day 1 is taking you, we're ready to get into the fun stuff — the heart of this Yellowstone itinerary!
Start at the West Entrance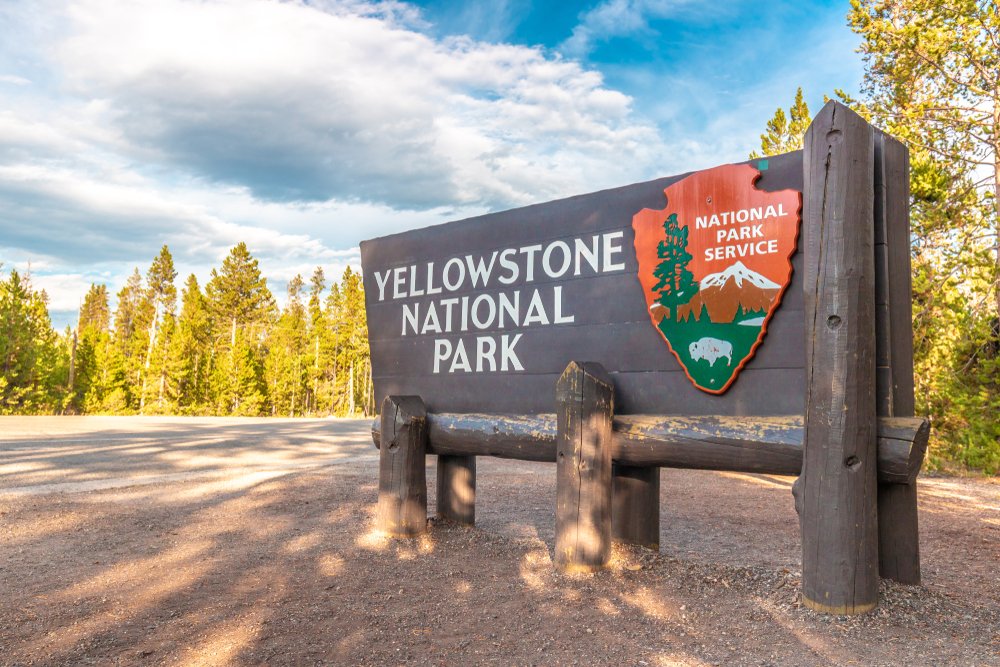 Welcome to Yellowstone! Excited?
This first section from the West Entrance to the Madison Junction is famous for phenomenal fly fishing.
The Madison River hugs the road providing the perfect view to spot anglers and the occasional moose wading the waters.
As you approach the Madison Junction, look to your right for a view of National Park Mountain standing 7,500 feet tall with the junction of the Firehole River and Gibbon River in the foreground.
We're headed south at the junction to work the Lower Loop counterclockwise.
Firehole Canyon Drive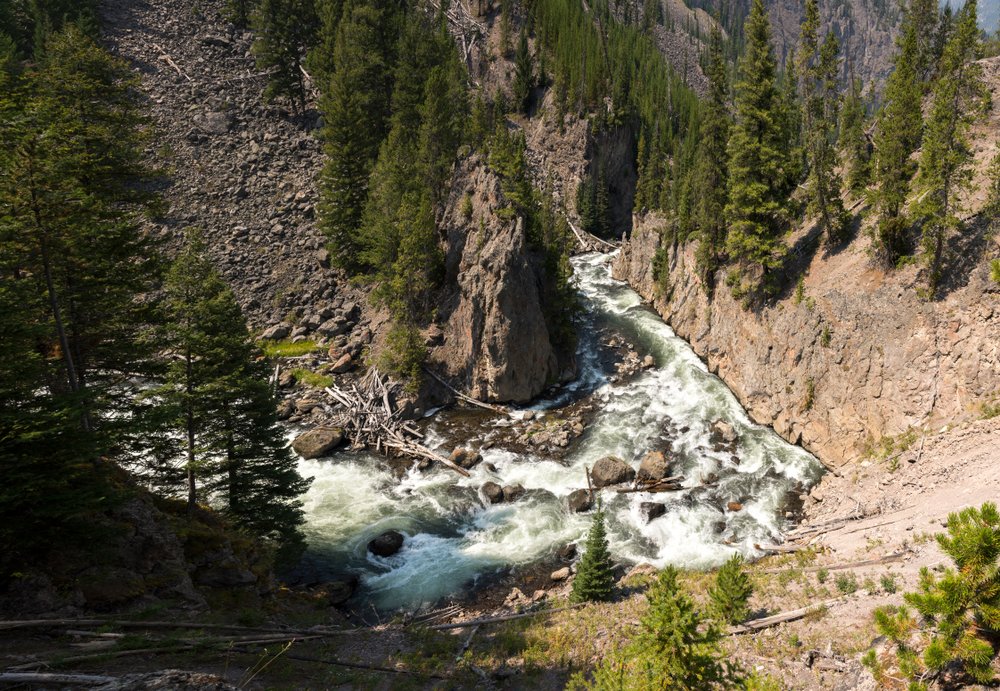 Trust us… You do not want to miss the scenic Firehole Canyon Drive. The turn comes up pretty fast on the right, so be ready!
On this 2-mile detour, you'll get an up-close look at the 40 ft tall Firehole Falls. We have a little bit more driving to do before the first hike of this Yellowstone road trip, but it's coming!
For now, take a pullout and scope the hillsides with your binoculars. You're bound to spot some wildlife in the Firehole River Valley.
Fountain Paint Pots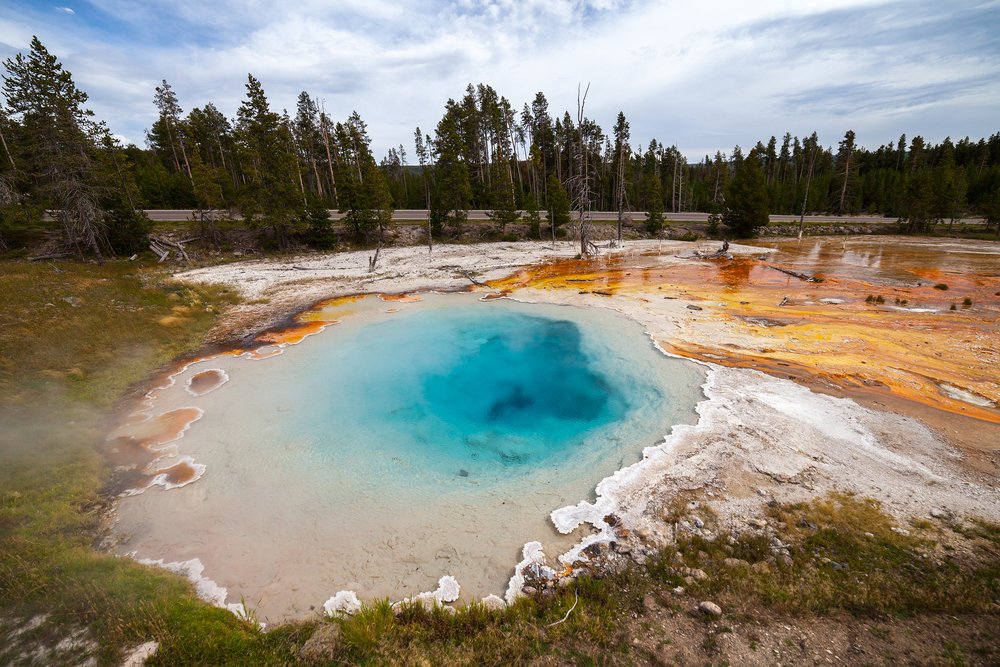 Yellowstone National Park is famous for its colorful hydrothermal pools and you're going to witness them first hand.
The 0.6-mile loop at the Fountain Paint Pots will bring you past a variety of colorful pools. Don't forget your camera!
Grand Prismatic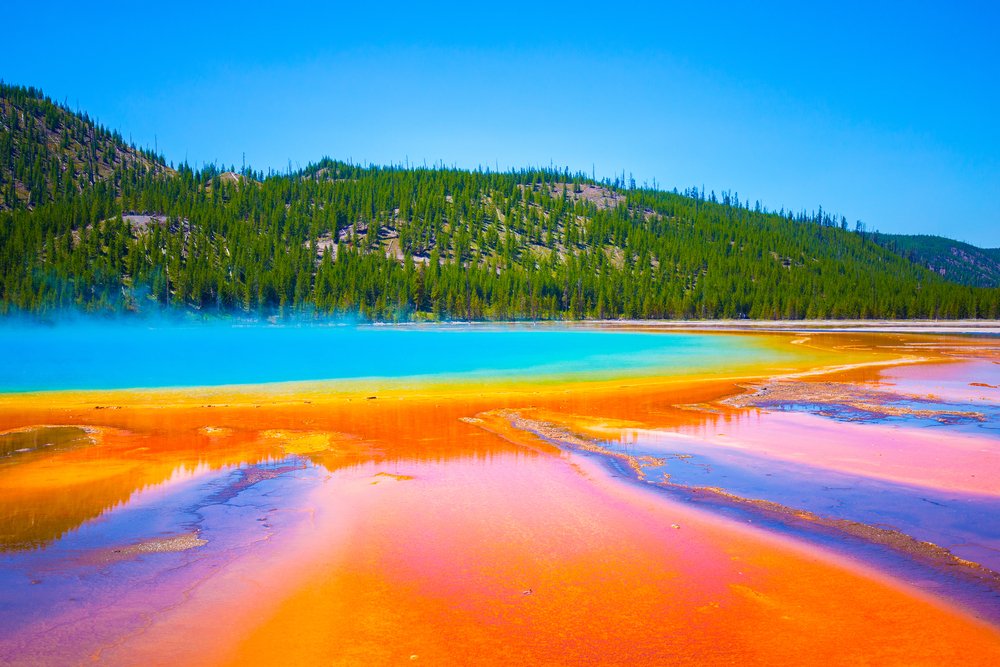 The next hot spring is surely one you have seen before in photographs, but there's nothing quite like standing in front of the real thing with its beautiful rainbow of colors.
There's no way you can skip putting this on your Yellowstone National Park itinerary — it's probably why you came in the first place!
Most visitors stay on the lower boardwalk loop to see Grand Prismatic, but if you're looking for the best view available on foot, we know exactly where to go.
Note: Always stay on the boardwalk or designated hiking trail – it's illegal and extremely dangerous to walk off the path here!
If you're visiting Yellowstone with kids, be sure to be extra cautious here!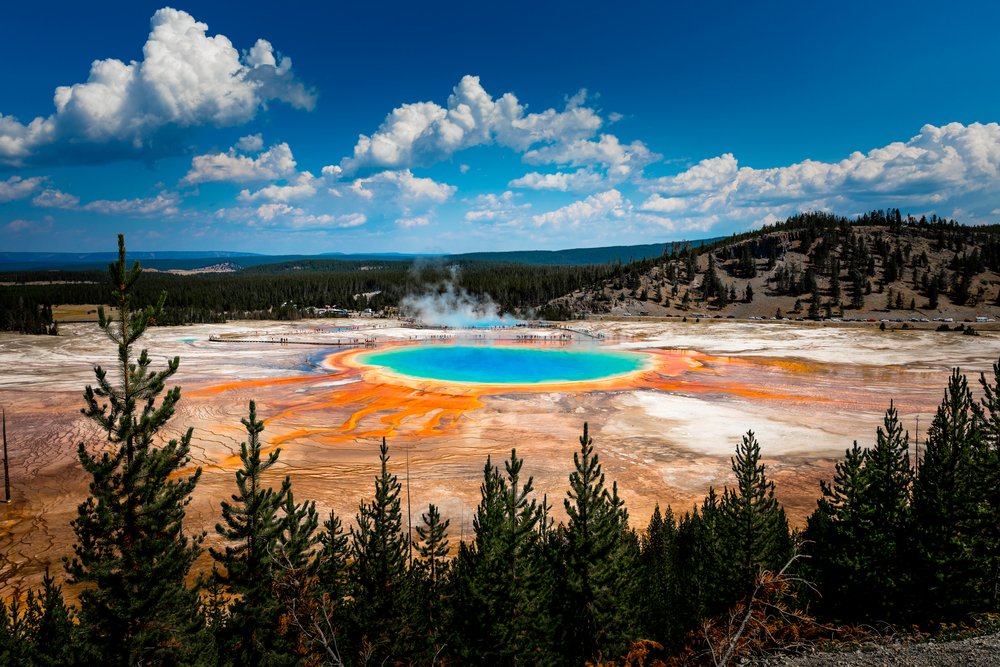 This excursion can take 1 – 2 hours and is 1.2 mile out and back hike beginning and ending at the Fairy Falls Trailhead.
From the trailhead, you'll gain about 105 ft of elevation before ending up at the scenic overlook.
Remember: Anytime you're hiking in bear country, carry bear spray and understand how to use it.
Old Faithful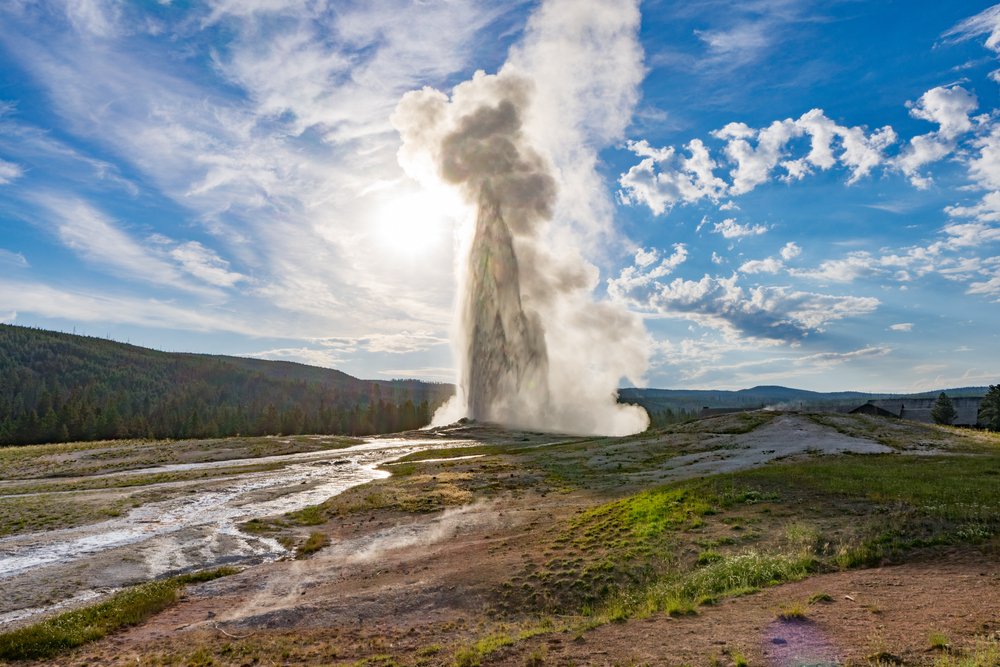 Just outside the Old Faithful Visitor Center, there are rows of benches set in front of the geyser for a stadium-style viewing.
But… That's not actually the best place to view the eruption of Old Faithful!
Insider tip: After checking the next eruption time in the visitor center, take the Observation Point – Geyser Hill Trail for a birds-eye view of Old Faithful!
This 2.3-mile loop is well worth the hike and will bring you past some less-trafficked thermal features like Doublet Pool and Giantess Geyser!
West Thumb Geyser Basin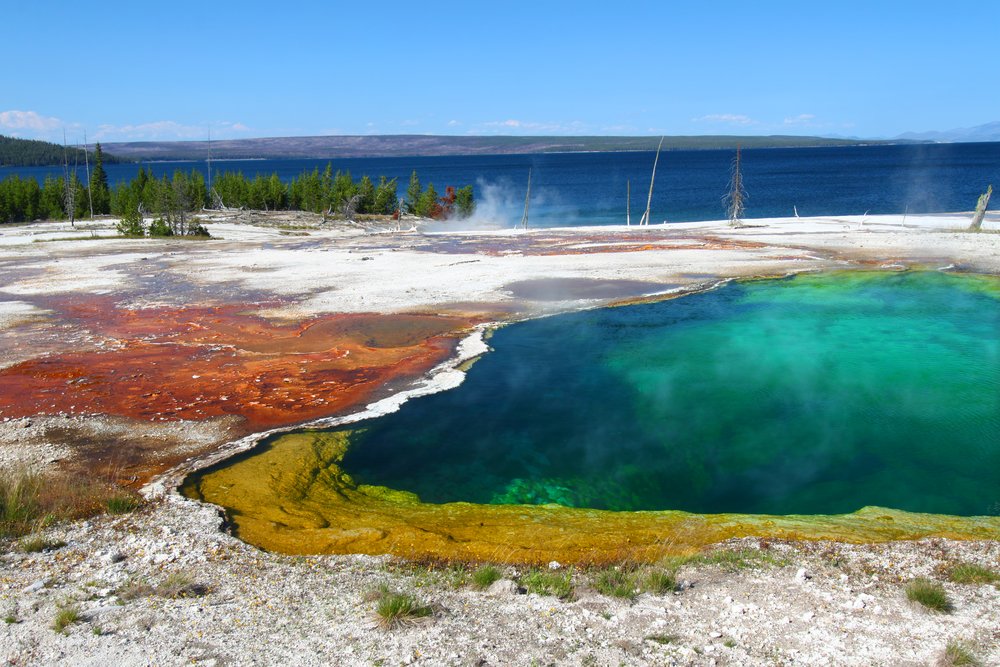 Take the boardwalk along Yellowstone Lake and check out the geysers that hug its banks.
This is also a perfect spot for a picnic lunch if you didn't already stop for a bite at Old Faithful!
Hayden Valley wolves and grizzly bears on your must-see Yellowstone wildlife list? This is one of the best places to spot bears, wolves, and many other YNP residents roaming the valley.
Be patient, scan the landscape with your binoculars, and use the pullouts off the main road for thorough searches.
Grand Canyon of The Yellowstone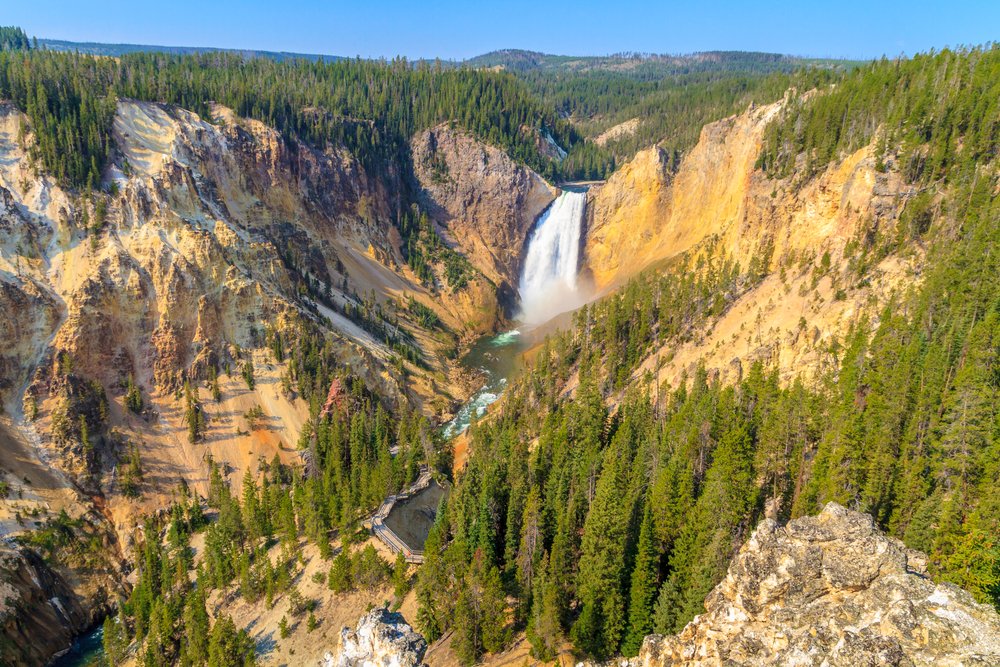 As you approach the Canyon Village area, turn right onto South Rim Drive towards Artist Point.
This is one of the most iconic viewpoints of the 308 ft tall Lower Falls. You definitely don't want to miss the view on this short 0.1-mile paved walk!
Gibbon Falls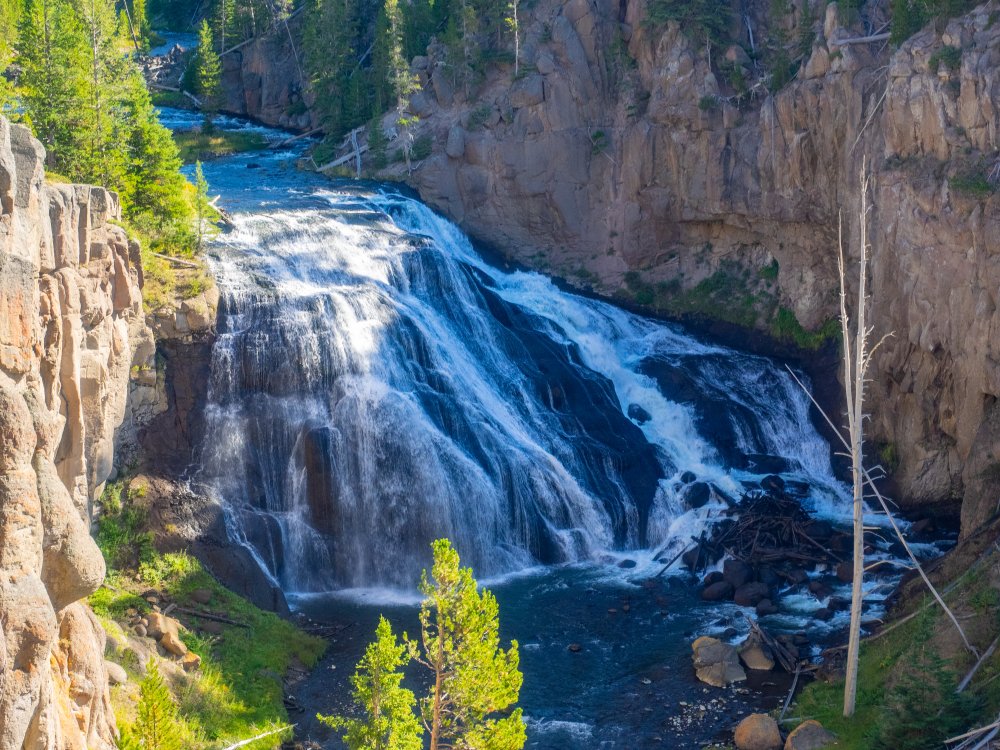 The 84 ft Gibbon Falls is another must-see waterfall. With its convenient location right off the road, there's no reason not to stop and take a look!
There's also an easy 0.5-mile roundtrip walk down to the falls if you'd like to get closer.
For a convenient starting point on your second day, we recommend camping at Madison Campground or Norris Campground.
If camping isn't in the books for this Yellowstone road trip, there are cabins and hotel accommodations in the Canyon Village area near the Grand Canyon of the Yellowstone. Get a good sleep to tackle the next day of this Yellowstone itinerary!
Day 2 of Your Yellowstone Road Trip
There's still so much to see, and an early start gives you a better chance for some exciting wildlife sightings!
Today, we are going to visit the best of the Upper Loop.
We'll start at the Norris Geyser Basin Area and head North towards Mammoth Hot Springs to take the loop clockwise.
Obsidian Cliff
This National Historic Landmark is a neat way to start the day!
The obsidian from these cliffs was first collected by hunters and gatherers over 11,000 years ago and has been traced across the country along historic trade routes. Obsidian was once used to make arrow and spear heads!
Sheepeater Cliff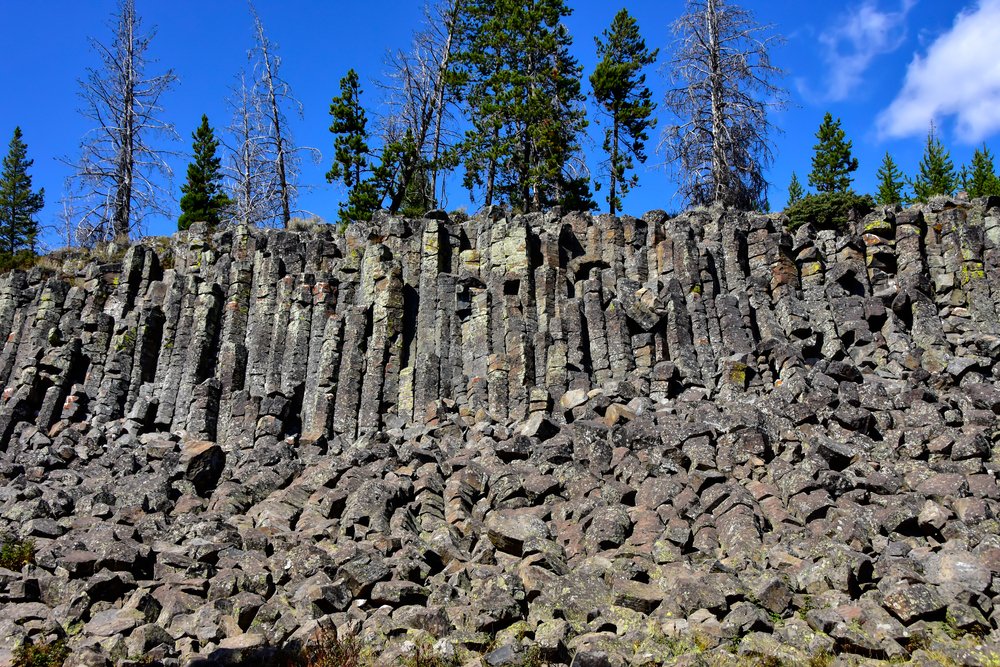 Here's another interesting geological site that's worth the stop.
If you're ready to give your legs a morning stretch, take the fishing trail out of the picnic area. Follow the trail about for about 0.5 miles to get awesome views of the Gardner River and a small falls.
How's that for a morning stretch?
Mammoth Hot Springs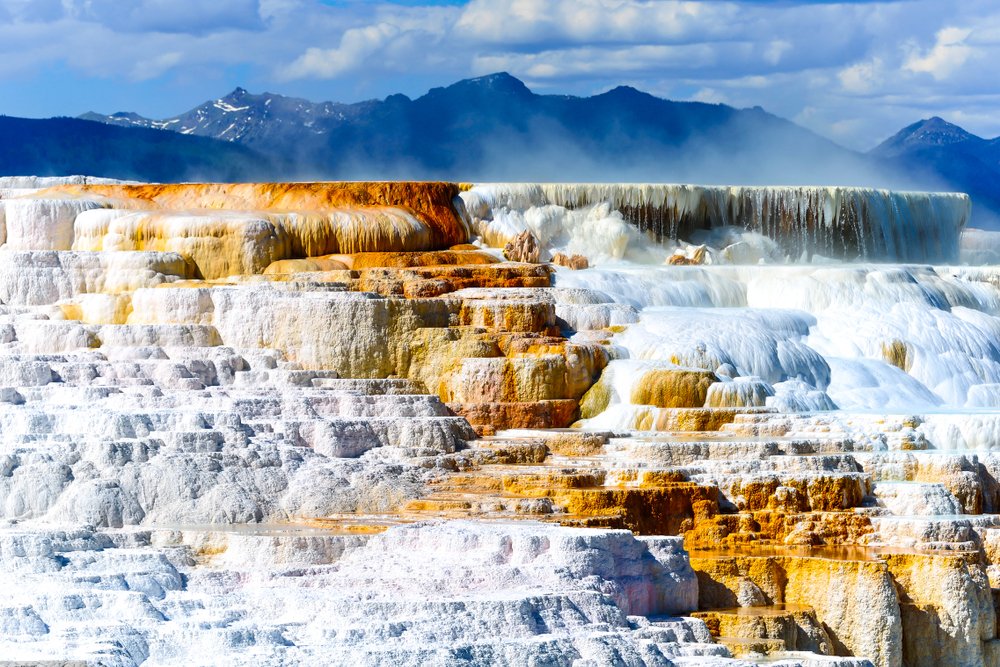 Park in the Lower Terrace Parking Area and hop onto the intricate boardwalk paths that weave around the many hot springs. It's easy to spend over an hour exploring these intriguing thermal features.
This is a popular area to spot elk. Look in the grass below the terraces and around the cone-shaped Liberty Cap, which one of the area's most prominent feature standing at 37 ft tall.
Blacktail Plateau Drive
After you've taken a thorough tour of the Mammoth Hot Springs, head west to continue on the Upper Loop.
This section is famous for wildlife viewings, so keep your eyes peeled. It's never a bad idea to take the scenic route! Right? Turn onto the Blacktail Plateau Drive and get off the main road for 6 miles.
Petrified Tree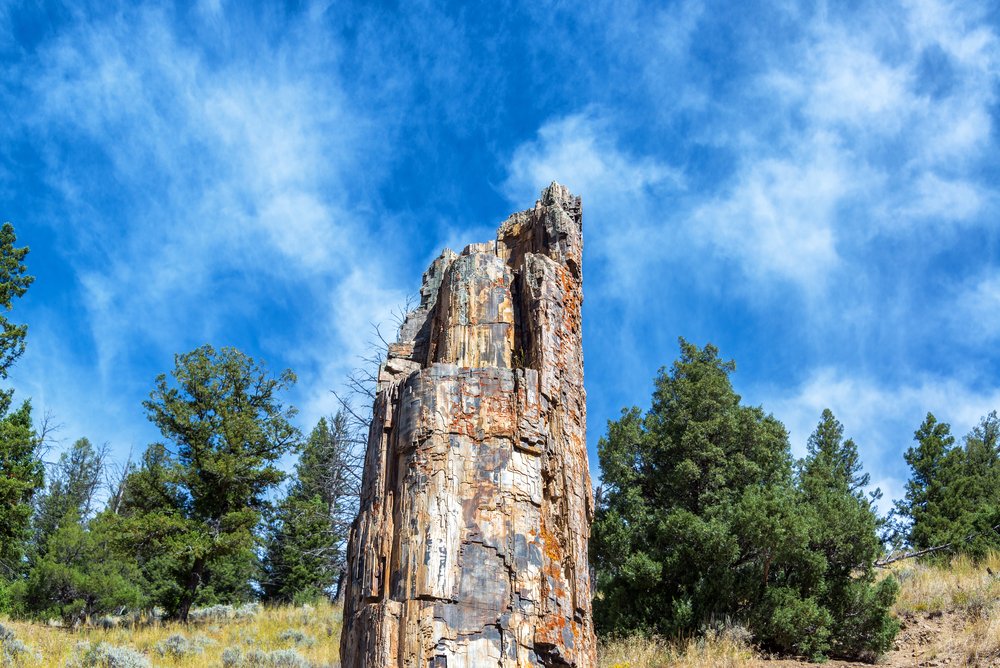 Almost immediately after rejoining the main road, the turnoff for the Petrified Tree will be on the right.
Is it a tree or a rock? Worth the very short walk up the trail to get a closer look!
Tower Falls Optional Detour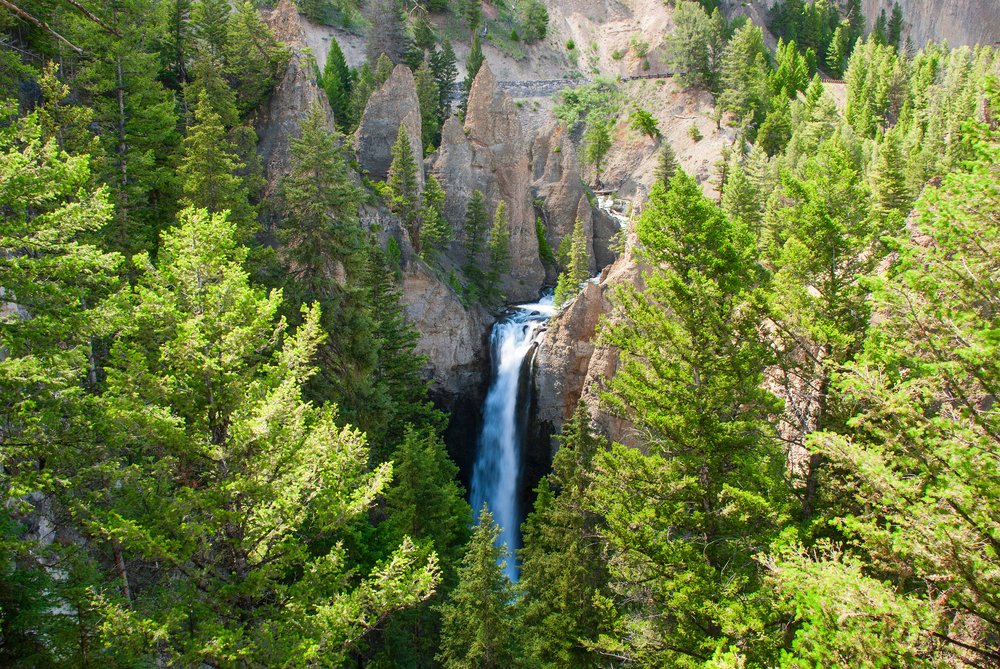 If you're interested in checking out the 132-foot drop of Tower Falls, it's only a short detour south at Tower Junction. The rock pinnacles framing the massive falls truly make it a sight to see. The trail to the viewpoint is less than one mile round-trip.
After the falls you will head back to the intersection and turn towards Lamar Valley… Have your binoculars in hand!
Insider tip: The Yellowstone River Picnic Area in the Lamar Valley is a great spot to stop for lunch. It even comes equipped with a quiet scenic trail down to the Yellowstone River.
Lamar Valley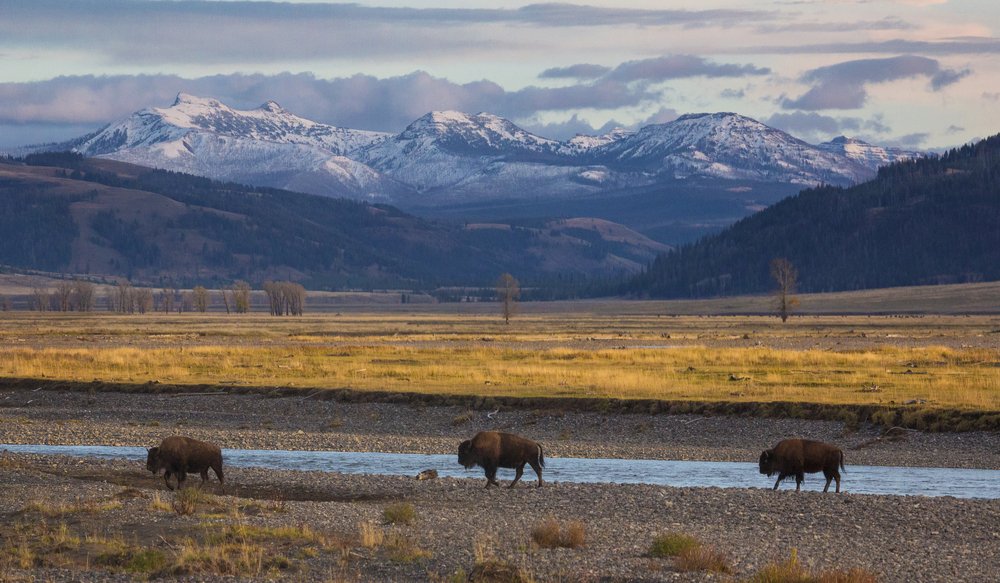 Lamar Valley is a wildlife lover's dream. Take your time driving through this section and use pullouts frequently to scan the hillsides with your binoculars or scope.
Bison and antelope sightings are almost a guarantee, but you'll have to be very observant to spot the resident bear and wolf packs.
For a short hike following your wildlife safari, check out Trout Lake. The trailhead is a small signed pullout on the main road. This lollipop loop trail is only 0.6 miles, and offers beautiful mountain views!
Beartooth Highway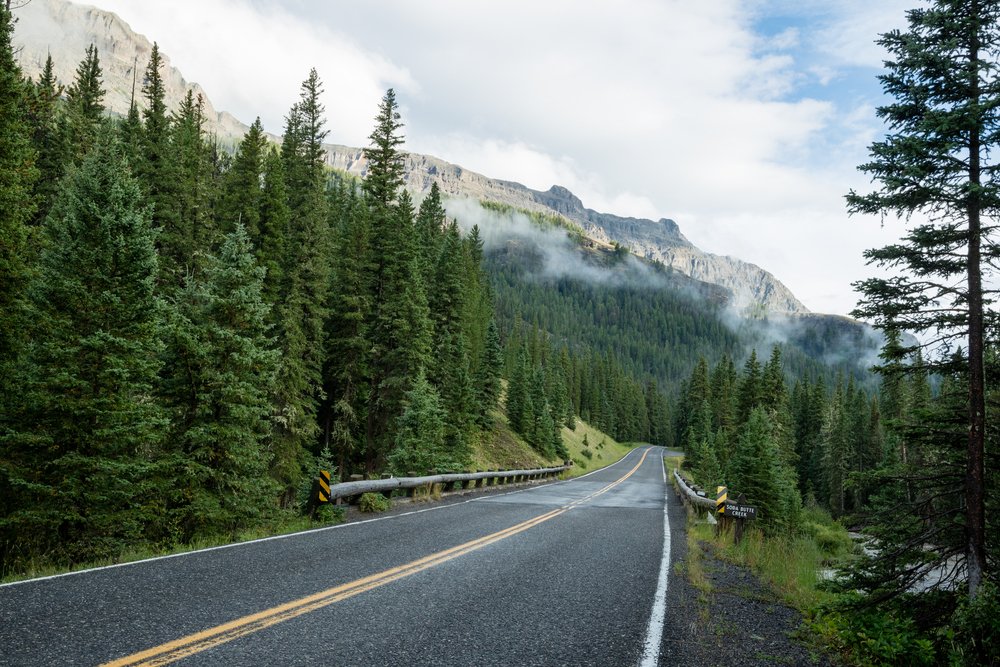 As you approach Cooke City after your hike, prepare to say goodbye to Yellowstone National Park as you exit via the scenic Beartooth Highway to head towards the fun mountain town of Red Lodge!
This is where we leave you to discover your next adventure — hopefully you enjoyed this Yellowstone itinerary!
Pin This Yellowstone Road Trip Itinerary for Later!