I'm sold on the virtues of packing light for a European getaway, having had lots of practice. I spent five years living and traveling around Europe, typically doing getaways for a week or two at a time.
I've also done a five-month Europe backpacking trip which spanned three distinct seasons — in just a carry-on!
I started off in Southern France, Spain, and Morocco in the summer, made my way through the Balkans in the fall, and ended in snowy Denmark.
And yes, I did that all in a carry-on backpack (I'll recommend exactly which one below!) and I've since adapted that original Europe packing list for shorter trips.
So if you're wondering what to pack for two weeks in Europe, I've got you covered — no matter the time of year.
While this packing list is designed for traveling for two weeks in Europe, it can also cover everything from a months-long backpacking adventure to a shorter jaunt through Europe.
This packing list for 2 weeks in Europe is your guide to packing light, no matter the season or even the trip length. Just do laundry every one or two weeks, as you would at home, and you're golden!
I've created two separate clothing packing lists for Europe, one for spring/summer/fall and the other for winter.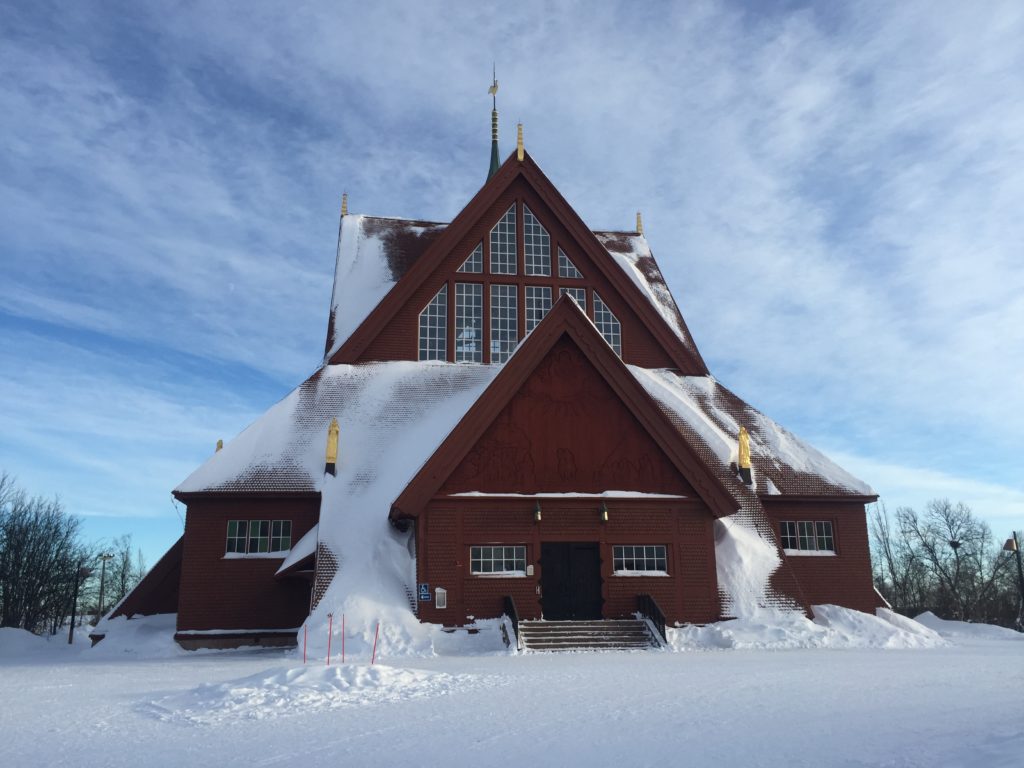 Note: This post contains affiliate links, which means I may receive a small commission if you purchase something through one of these links. Thank you for supporting the free content on this site! For more information on affiliate links and cookies, see my disclosure page for more details.
Spring and fall aren't too harsh in Europe, so you can mostly bring the same things as you'd bring for summer, just with a few more layers.
Winter in Europe, however, can be downright brutal, so I'm coming at you with some tips that helped me out even when I was north of the Arctic Circle (and nope, I'm not joking!).
Don't worry even if you're packing for Europe the first time – this list is comprehensive.
Not only is it comprehensive, it's travel-tested and filled with only products I have actually used (and still use) over the last seven years of traveling the world and running this blog — not just ones I've heard about or taken from other packing lists.
Packing List for 2 Weeks in Europe
Backpack and Related Gear
When I total it up, I've spent at least a year of my life backpacking across Europe, which is kind of insane to think about.
As a result, these products have been tested time and time again, and I've eliminated anything that I've given up on the road (which is a lot).
For the record, I've paid for every single item on this list out of pocket – not one thing on this packing list here is sponsored (and even if it were, you could expect my honest opinions, anyway).
The only exception is that when I asked to become a Tortuga affiliate (because I loved their product so much), they sent me the newest version of their bag to test out.
I had previously purchased their original version out of pocket and loved it, and tested this one to be sure it was still as good as their old offering, so that I could be sure I'd still recommend it to my readers.
It definitely passed the test and from 2016-2022, Tortuga has been my go-to travel backpack when I'm packing light and using a carry-on.
Travel Backpack
While you certainly can travel with a suitcase, I prefer traveling around Europe with a carry-on bag — and a backpack in particular.
Between cobblestone streets and cute little guesthouses that have no elevators and only stairs, you'll be grateful for having something that is easily carried on your back.
When it came time to begin my travels, I chose a Tortuga 45L Backpack because they're compact, carry-on friendly, and don't scream "backpacker" as loudly as other bags.
I used their original version for 2.5 years before Tortuga recently sent me me their newest version to test out, and I love it even more than the original.
Why do I recommend Tortuga so much? Here's why: this bag is 45L and has three main compartments: one for a laptop and other flat objects like papers and books, one giant rectangular compartment perfect for packing cubes stuffed with clothing, and one smaller compartment with pockets for passports, pens, odds and ends, etc. that I stash all my extras in.
It also has one small outer zipper pocket for anything you want quick access to. It also has a water bottle holder on the outside as well as buckles so that you can strap something like a yoga mat to the outside.
Plus, it's quite comfortable to wear, with a padded hip belt and comfort-molding shoulder straps complete with a chest strap so that you can distribute weight perfectly across your body in the event that you need to wear your backpack for longer than usual. Check out more specs and details here.
Now, what many people ask: Does it pass budget airline requirements in Europe? For me, yes. I've literally taken my Tortuga backpack as my carry-on luggage on 50+ budget airline flights at this point and never once been asked to check it in.
However, one of my travel tips is that when I fly on a low-budget airline, I pay for priority boarding. I do this not to board first, but so that I can also bring my travel daypack as my personal item.
This only adds a few dollars onto my budget airline ticket, whereas adding checked luggage usually more than doubles my ticket cost — and incurs a long wait at the airport to pick up my bag.
Toiletry Case
I absolutely love love love my eBags Pack-it-Flat Toiletry Kit which works kind of like magic – you won't be able to believe how little space it takes up, yet how much it can fit.
It's kind of like the Mary Poppins bag… just when you think nothing else can come out it, there's more. It has a ton of separators that help keep my toiletries organized when I travel.
Although it's flat and compact, it fits virtually all my toiletries, which as a bit of a girly-girl I have a lot of!
An absolute must-have for your sanity when on a two week trip through Europe, a toiletry case will keep you organized and never have you searching for random odds and ends.
Remember, though: if you are traveling carry-on, you will still need to put your liquids in a clear quart-sized toiletry bag.
Packing Cubes
I keep everything sorted and tidy with my eBags Packing Cubes.
I use my large packing cube for bottoms and dresses, my medium packing cube for tops, and my small packing cube for socks and undies.
They're one of my top packing tips for keeping things organized and sane on a longer trip!
Laundry Bag
Even if you're only traveling for two weeks in Europe, I like having a separate bag for all my laundry day needs.
This travel-themed laundry bag from Kikkerland is beyond adorable!
Small Travel Backpack
Finally, I use a smaller day pack for all my day-to-day needs. I'm absolutely obsessed with my CitySafe backpack – it's adorable, trendy, but also super secure.
It's slash-proof and has zippers that interlock and fasten, adding multiple levels of security a thief would need to go through in order to successfully pickpocket you, which unfortunately is a big problem in Europe — especially when visiting large capital cities of European countries.
And I can't stress enough how cute it is! Check it out here.
If you really don't like backpacks, I would suggest a crossbody purse for more security, but frankly, I find these difficult to wear for a full travel day of sightseeing, as they put a lot of strain on just one shoulder.
Documents & Other Essentials
Travel Insurance | Especially in this day and age, it's foolish to travel without travel insurance. I always use World Nomads for my international travel. I suggest printing out a photocopy of your insurance in case of emergency.
Passport | You're going abroad, aren't you? You'll need your passport with you, obviously!
Driver's License & International Driving Permit | For many European countries, just your driver's license won't do — you may also need an International Driving Permit, which you can get ahead of time from AAA for about $20. Personally, I've never been asked for one when renting a car, but I have heard that you can be fined (quite a bit!) for driving without one if you are pulled over.
Guidebooks | While blogs are great, I also love having paper guidebooks for my travels. If you agree — bring some. I suggest paperback travel guides, as they're simply not as practical to have on the Kindle.
Credit Cards and Debit Cards | I suggest having a spread of credit cards and debit cards available to you, and not always carrying them all at once when possible — and carrying them in two different places (e.g., one in your wallet and one deep in your backpack) when you do. Nothing puts a wrinkle in your plans more than suddenly losing access to your cards, so bring more than one and keep them in different places to avoid any issues.
Photocopies of Important Documents | Whether it's a photocopy of your drivers license, passport page, etc., it's nice to have photocopies for peace of mind.
Essential Clothing to Pack for Europe for Women & Femme People (Spring, Summer, Fall)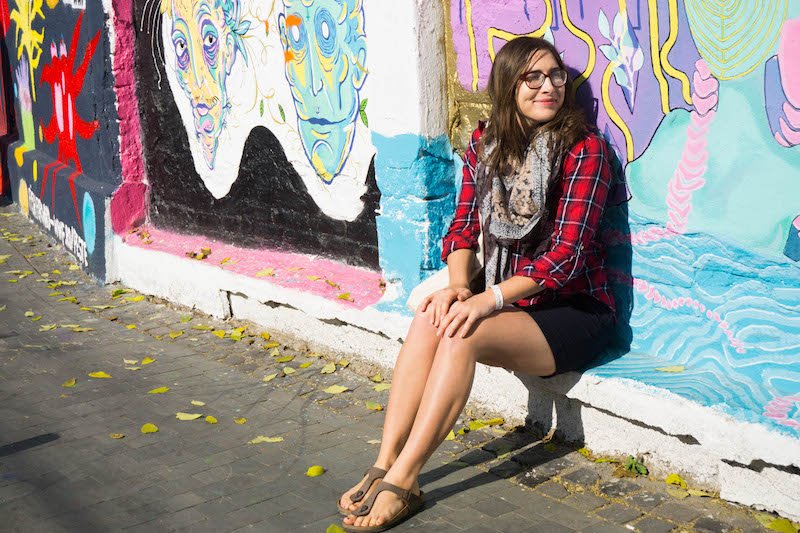 Wondering what to pack for Europe for two weeks in the spring, summer, or fall?
Here are all the things you should cram in your travel backpack (with packing cubes, naturally — we're not monsters, here) – for the people who love options yet hate checking luggage.
Note on semantics: I recognize the limits of the gender binary but in the context of this Europe travel packing list post, I'm focusing on the kind of clothing I enjoy wearing as a cis woman who dresses anywhere from slightly femme of center/vaguely androgynous to high femme, depending on my mood.
Some things may apply to you; some may not. Take what helps and leave whatever doesn't serve you — the way you dress is valid and wonderful!
Shirts
T-Shirts | Skip 100% cotton T-shirts! Instead, pick fabrics that also utilize materials like bamboo and hemp which wick moisture away from the body, allowing you to stay cool and sweat less. I love this simple hemp/bamboo/cotton blend that comes in a variety of colors. I suggest about 3 T-shirts. If traveling in spring or fall, you may want to swap some long sleeve T-shirts into the mix as well.
Blouses | If you like to look a little dressier, throw in some shirts like this casual, gauzy white collared shirt or some long sleeve linen blouses that will make you look super European as you travel around!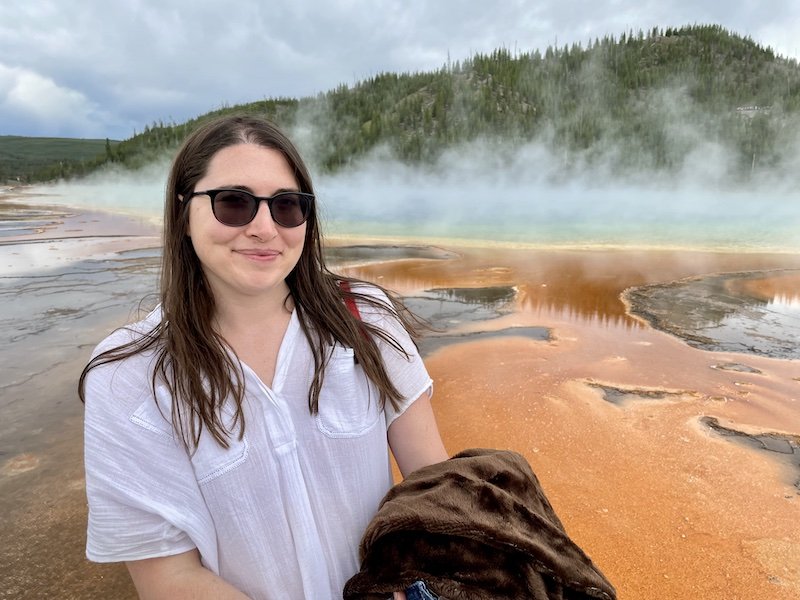 Tank tops (summer) | If traveling in summer, throw a few tank tops into the mix! I also suggest a hemp or bamboo blend like these simple, classic tanks.
Chambray Shirt | I love these because you can wear it either as a light jacket over a tank top for cooler summer evenings in the summer, or it can be a shirt of its own when buttoned up and paired with bottoms. I also will sometimes wear these over a dress as well for a casual look! I love this cute tencel blend chambray shirt. Tencel is a soft, cozy fabric made from eucalyptus and wicks moisture away better than cotton.
Cardigan or Hoodie | No matter what time of year you are traveling, you'll likely be grateful to have one of these, at least for the plane. In summer, A/C on public transit and in museums, etc. can be blasting so don't forget this. Bring either a cardigan or a cozy hoodie, whatever fits your style best.
Medium-weight Jacket (spring/fall) | If you're visiting in the spring or fall, or visiting mountainous areas in the summer, you'll want to bring a medium-weight jacket. Preferably, you should pick something water-repellant like this cute water-resistant black cotton jacket or a faux leather jacket which is also water-resistant in case there is rain.
Bottoms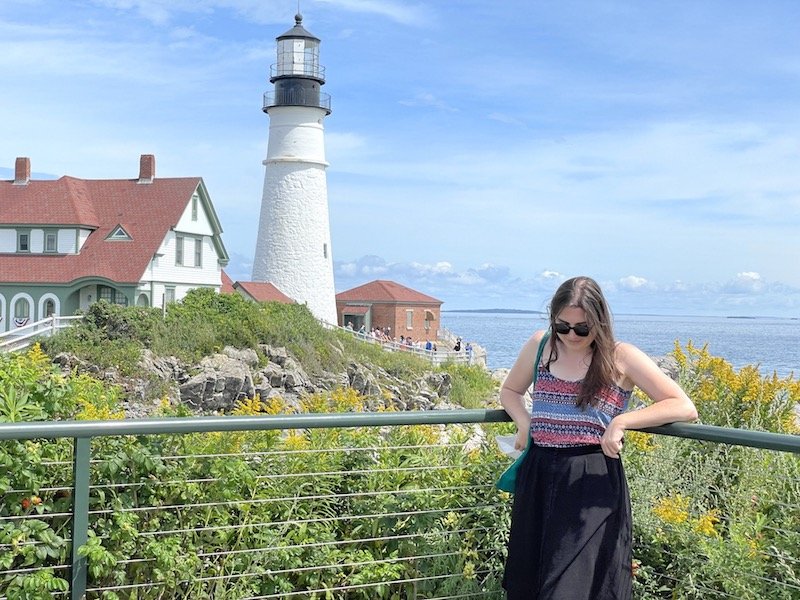 Shorts (summer only) | Everyone says that Europeans don't wear shorts. I don't really think that's true, but when they do wear shorts, they tend to be dressier and well-fitting, like these high-waisted linen shorts. I especially love these for the longer inseam — less thigh-chafing! Denim shorts aren't as popular in Europe, but if you pick something trendy like these Paris-chic high-waisted denim shorts, you won't be out of place.
Midi Skirts | I absolutely love midi skirts — they're great for hot weather as they create their own breeze, but they also cover enough of your leg in spring/fall to keep you fairly warm. They also pair well with tights and boots if you want to make them a little more cool-weather appropriate. I absolutely adore this polka dot midi skirt as well as these fun summery print skirts.
Jeans (spring/fall only) | Unless you'll be in the mountains, you probably won't need jeans in Europe in summer. I like to have a black pair of jeans and a pair of light-wash jeans (yes, I'm Team Mom Jeans over here) to be the most versatile.
Tights & Leggings (spring/fall) | If you want to mix and match some of your dresses with leggings to make them more versatile into the other seasons, I love adding leggings and boots. I have and love these black leggings!
Dresses / One Pieces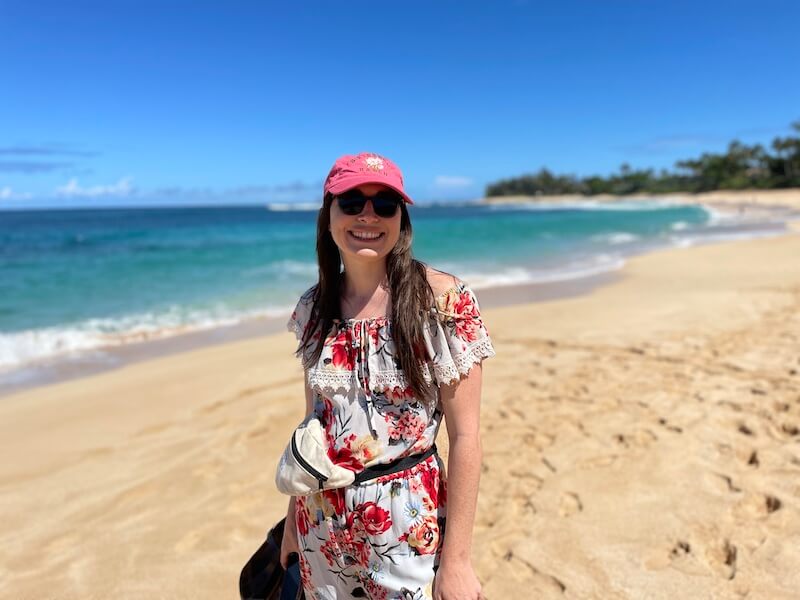 Rompers | If you love the simplicity of a dress without worrying about your thighs chafing, rompers and jumpsuits can be a great choice. I love this sophisticated short sleeve belted romper which comes in a variety of colors, or this long sleeve loose-fitting romper. For spring or fall, I like these full-length, long-sleeve jumpsuits.
Lightweight Summer Dresses (summer) | These can be any style you like! I suggest a mix of mini, midi, and maxi dresses so you can vary up your look. If you get chafing / 'chub rub' when you wear dresses like I do, I suggest throwing in a few pairs of slip shorts like these which save my thighs from themselves every summer.
Sweater Dresses (spring/fall) | All the ease of just throwing on a dress (just add leggings) with the warmth and comfort of a sweater! I love slim fitting options as well as more boxy sweater dresses like this one.
Accessories
Scarf | Great for when the A/C is blasting, you want to make a surprise church visit, or you just want some flair to change up your outfit. I suggest a large but lightweight scarf like this, great for spring, summer, and fall!
Socks | Depending on the kind of shoes you're bringing and the time of year, you'll want to either bring just a few pairs of socks or quite a few. I suggest merino wool socks like these which are odor-resistant, so you can wear them multiple times on your trip without the smell.
Underwear & Bras | You can either bring 7-8 pairs of underwear and do your laundry once on the road, or bring enough for the full trip if you really don't want to deal with laundry. If you wear bras, I suggest bringing a few different bras, like a sports bra, a bralette, and a more standard strappy bra so that you have options.
Swimsuits | I strongly recommend bringing at least two bathing suit options — there is nothing worse than having to put back on a still-wet swimsuit! I love these options for two-piece swimsuits and these cute color-block one-piece swimsuits.
Pajamas / Sleeping Clothes | I love having cute dedicated sleeping clothes. I make room for them even when packing for a short trip! It's one of those things that still makes me feel at home on the road. I love silky or satiny sleeping clothes like this adorable pajama set. That said, you could also just wear your leggings and T-shirts.
Footwear
Water Shoes (summer) | Many European beaches are pebble beaches and not the most comfortable for your feet! I love Tevas because they look cute both in and out of the water and dry quickly. They're water-friendly, but don't scream "I'm wearing water shoes out in public!". I have these quirky pastel rainbow 90s Tevas and adore them. Leave the flip-flops at home — these are much better for beach days.
Sandals | Depending on the weather during your trip, a pair of sandals will go a long way. As a card-carrying Northern Californian hippie, I wear Birkenstocks until there is a frostbite risk, basically. I love my Birkenstock Gizeh sandals and they're one of the few pairs of shoes that can hold up to everything European travel throws at them.
Versatile Sneakers | I love casual sneakers that are cute enough that you can pair them with anything, even dresses. For summer, I love white sneakers like these ones, and in spring and fall I tend towards my black Nikes.
Flats | For going out at night and looking a little more put together, a pair of fold-up flats is nice to have and take up barely any room in either your suitcase or your day bag.
Ankle Boots (spring/fall) | A pair of comfortable ankle boots is a must for shoulder season travel. I love a good pair of Doc Marten Chelsea boots in either black or brown.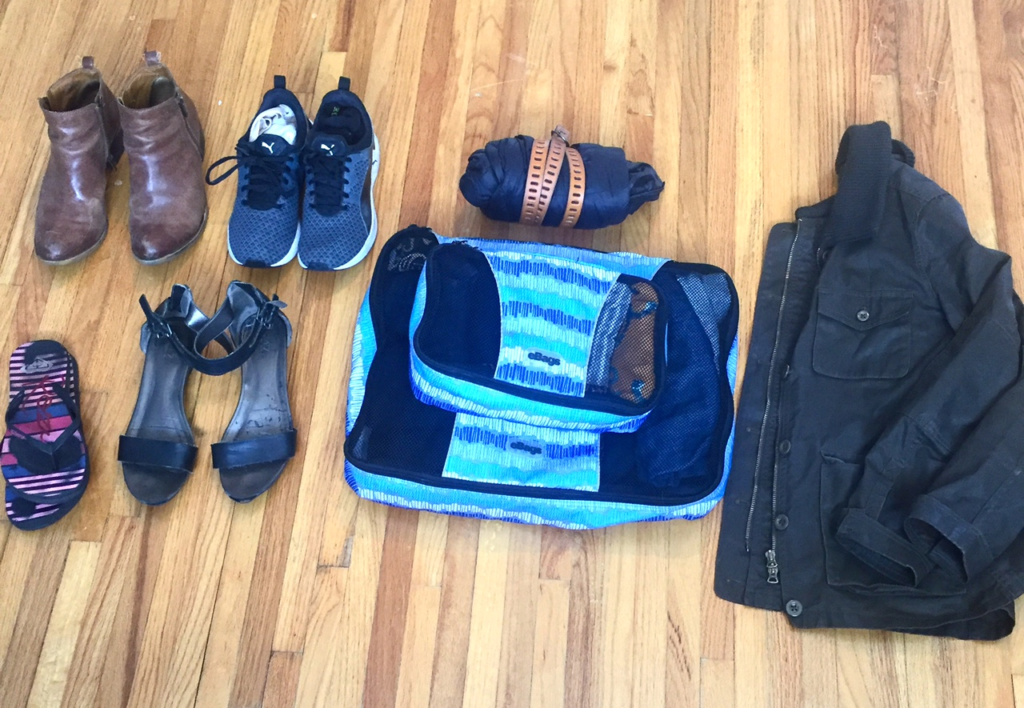 This sounds like a lot — well, it is!
But it all managed to fit into two packing cubes (I actually didn't even need to use the third one, as I kept all my underwear, socks, and sleepwear in pockets that come with my backpack).
Depending on how much you pack and how attached you are to your clothes, it's always an option to send some of your belongings or souvenirs you bought on the road… especially if you like to shop once you reach your destination and find yourself needing extra room!
Tip: You can use an international shipping service like Shiply to compare rates on different shipping services to send home items more affordably.
Essential Clothing to Pack for Europe For Women & Femme People (Winter)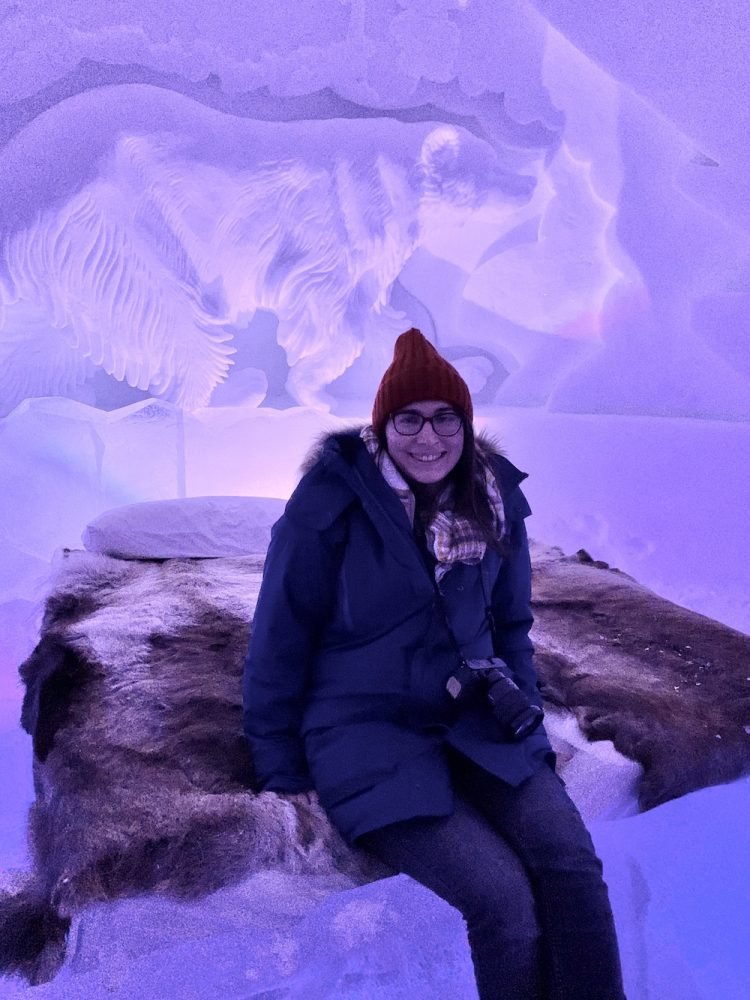 Packing for winter in a carry-on isn't that hard — just think smart, wear your heaviest clothes on the plane, and think about layering as much as you can.
This will work for even super cold weather, but not for something extreme like a ski holiday, where you need more specific gear like waterproof pants, etc.
PSST – Planning a longer winter trip? Here's my guide to packing for a long-term winter trip in Europe.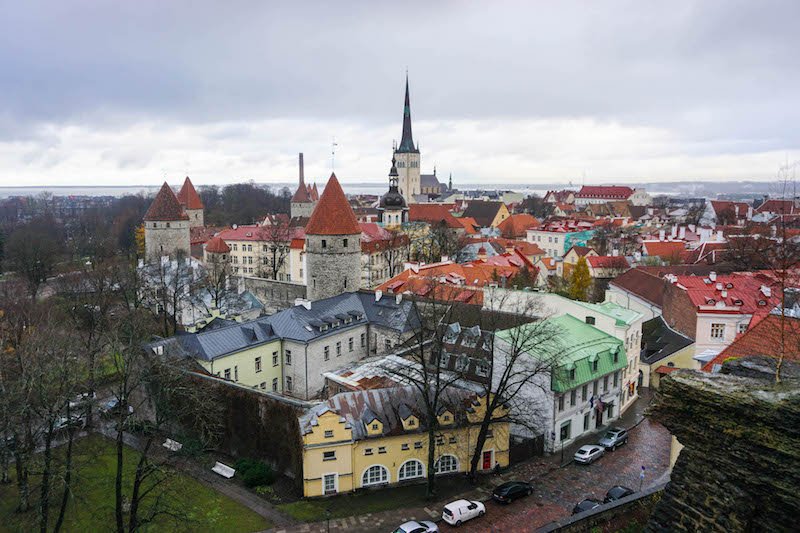 Winter Clothing Essentials for Europe
Jeans | Same as above, but you'll want to add more jeans to your collection — at least 3-4 pairs is recommended. I opt for more black, gray, and dark denim in winter, personally.
Warm Leggings | I love fleece-lined leggings, but other people swear by merino wool leggings. It will depend on what your tolerance for wool is (mine is pretty low — I can wear wool socks, and that's about it!)
Sweater Dresses | Like I recommended above — I'd opt for 3-4 of these if you like to wear dresses in winter.
Large, Warm Wrap Scarves | I suggest bringing at least two different big wrap scarves so you can swap them out since they will be a big part of the photos you take! I like these ones which come in a variety of styles.
Beanie | You'll want a tight-fitting hat that covers your ears! Again, I suggest bringing at least two to add some variety to your photos, if you care about that kind of thing.
Touchscreen-Friendly Gloves | Nothing is more annoying than having to take your gloves on and off to use your phone while you are traveling, for accessing vouchers, getting directions, making payments, etc. Get some touchscreen-friendly gloves so that this isn't a problem!
Thermal Tops | Bring a few thermal tops to wear underneath some long sleeve shirts or sweaters. You can change these out more often so you can swear the same sweaters more often without them smelling. Merino wool layers are even more odor-resistant, so if you don't mind wool, it's even better!
Sweaters | I recommend bringing at least 2-3 warm sweaters for your trip, and you can layer a thermal top underneath them if you need extra warmth.
Waterproof Knee-High Boots | I love these boots from Blondo and have owned a similar style for 10+ years — they've stood up from everything, from slushy, salty New York City winter streets to the Arctic Circle! They're great walking shoes and they're also warm and comfortable.
Waterproof Ankle Boots | You'll want something with traction as well as waterproof so that they are useable in case of snow or rain. I love these black waterproof Chelsea boots — they're waterproof but don't look like rain boots
Warm Wool Socks | Don't underestimate the power of warm wool socks in the winter — they will keep you super toasty! And even though I generally don't like wool, I don't mind them for socks, as the skin on my feet is a lot less sensitive there.
Underwear | Same as above — you'll want 8-15 pairs depending on whether or not you plan to do laundry on your trip, as well as 2-4 bras depending on what you have planned for your Europe trip.
Parka | If it's going to be really cold, I suggest this North Face parka which I've worn all over cold European cities in the winter as well as throughout many frigid New York winters! It's a little pricy, but it will last you a lifetime (and comes with a lifetime repair or replace guarantee!)
Light Down Jacket | Sometimes it's not really that cold and a full-on parka is a bit overkill — on days like those, I'm grateful for have a small, packable down jacket that keeps me warm but doesn't take up much extra space in my carry-on.
Toiletries & Hygiene Supplies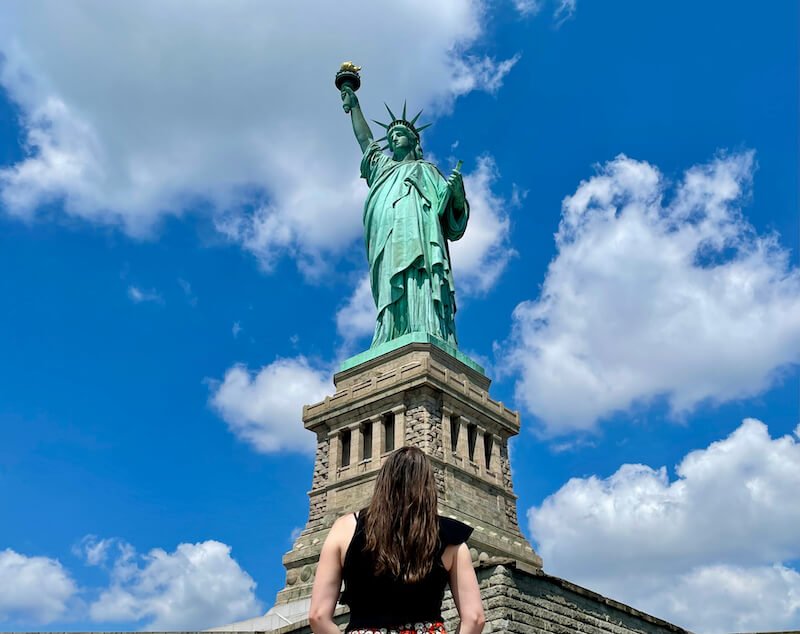 Period Supplies | If you're a person who gets periods, you'll want to be prepared! I barely menstruate any more due to my contraceptive implant, but when I did, I loved traveling with my Diva Cup. It's better for the Earth and better for your luggage — the Diva Cup is reusable, hygienic, and actually way more convenient than tampons or pads as they need to be changed less frequently. They're really comfortable once you get used to them and carry a lower risk of TSS or leaking. That said, periods are a personal matter and everyone has their preferences, so do what makes you comfortable!
Toiletry bottles | Rather than buying small travel-sized containers of shampoo, conditioner, etc. I take my favorites from home and put them in GoToobs. These reusable, easy-squeeze bottles are great for filling with your need-to-have toiletries that are hard to source on the road.
Toothbrush | I like having a folding toothbrush for travel. Personally, I have those stupid clip-on toothbrush protectors — they always get lost or broken in my bag!
Solid Shampoo | It's really nice to have solid shampoo when you're on the road and you need to save some room in your quart-sized bag of liquid toiletries.
Dry Shampoo | I love having powdered dry shampoo to freshen up my hair between washes or on days when I feel particularly greasy or blah.
Hair Ties | For days when getting out dry shampoo is just too hard
Mini Hairbrush | I always rip out the brush part of those folding hairbrushes (I have thin hair that knots easily), so instead I stick to a small but sturdy mini hairbrush like this one.
Tweezers | Because god forbid I go more than a few days without plucking those random chin hairs that love to pop up overnight… and my eyebrows. I like a slanted tip one.
Solid Sunscreen |Who doesn't love a good solid for liquid swap? Solid sunscreen is great to keep in your bag without worrying about sunscreen explosions. I tend to bring this from home and keep it in my day bag, and I'll buy liquid sunscreen if I'm having a beach day and really need to continually layer up.
Razor | It can be hard to find my favorite brand abroad sometimes, so I always bring my favorite razor brands with me, especially since I'm really prone to strawberry legs.
Anti-Friction Stick | I swear by having an anti-friction stickat the ready during summer travels, because if you got thick thighs like I do, this is a godsend against fighting the devil that is chub rub. Vaseline also works in a pinch!
Deodorant | As an American, I'm always horrified by the deodorant selections in Europe. Let's just say that Fa is not acceptable. Bring some from home — I swear by Secret Clinical Strength because I sweat and stink like crazy when I sweat.
Make-up | This is such a personal category that I'm not going to go into too much detail here. You know what make-up you do and don't like to wear! I personally bring some lightweight CC cream, concealer, mascara, a creme blush/highlighter duo, and several different lipsticks.
Other Toiletries | Again, another hyper-personal category. This includes things like face wash, moisturizer, body wash, shaving cream, etc. — everyone has their own preferences, so bring whatever you want from home. Just make sure they are travel-sized (less than 100 milliliters/3.3 ounces). If not, put them in a GoToob in a size suitable for a two week trip to Europe.
Travel Medicines & First Aid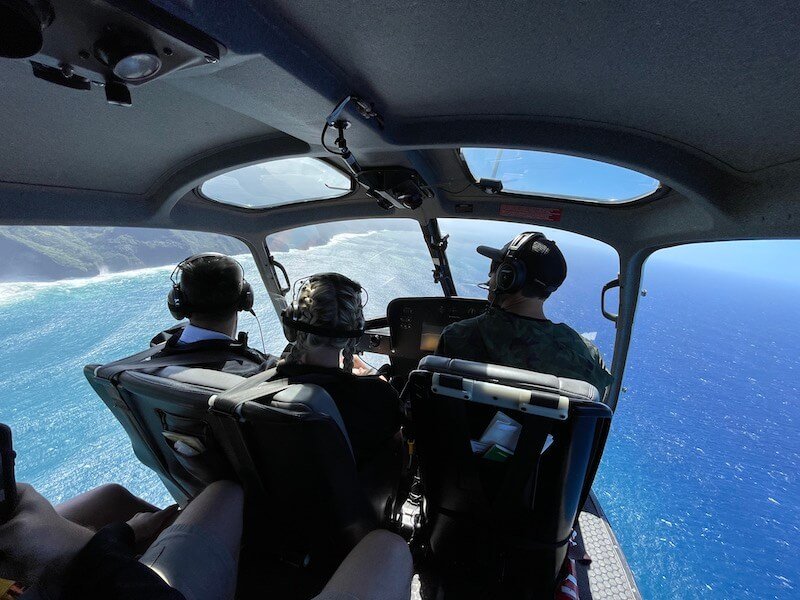 Travel Medicines for Nausea & Stomach Issues | For me, this includes 1 bottle Pepto Bismol tablets (because the last thing you want when you're having an upset stomach is to try to find a pharmacy that speaks your language), 1 bottle Imodium (for real D-Day intestinal emergency days), and Pedialyte rehydration packs (theoretically it's for babies with diarrhea; I use it for hangover emergencies, because I'm an adult).
Pain Medicines | For me, this is always bringing a bottle of Aleve. I can never find Aleve outside of the US and I find that it works better than other painkillers for me personally. I also bring Excedrin Migraine, and you should tooif you're prone to migraines like I am, since this another medicine I also think is difficult to find in Europe.
Motion Sickness | I always carry a bottle of Dramamine with me for bus trips, boat trips, plane trips, etc., and you should too if you're prone to motion sickness like I am (why do I travel, again?)
Bandaids & Neosporin | If you are a clutz like I am, you will want to bring some Bandaids and either some alcohol wipes or some Neosporin.
Tiger Balm | Don't know what this magical ointment is? Well, I don't really know what's in it either, only that it seems to work for just about everything. I fell in love with it traveling Southeast Asia, and now I use Tiger Balm for everything. It works for everything from headaches to hangovers to sore muscles to mosquito bites
Bug Repellent | You can buy bug spray, but I always forget to bring it with me. I now pack mosquito repellent wipes in my day pack so I can apply around sunset, when the mosquitos get really active!
Random Odds & Ends That Make Life Less Terrible

Sleep Mask | I need a lot of darkness to sleep, so I carry a contoured sleep mask with me for travel and hotel rooms that just don't get dark enough.
Earplugs | After trying many different earplugs in my year or so living in hostels, I've found these to be the best in class, able to withstand even a 12 person dorm!
Journal | Moleskine notebooks are my favorite journals, like the hipster wannabe I am.
Water Bottle | Tap water is drinkable in virtually all parts of Europe, so bring a reusable water bottle. Many cities in Europe even have public fountains for public use, especially in places like Switzerland, Italy, and Spain. Make the planet suck less – use less plastic!
Reusable shopping bags | Not only good for shopping, they're also great for separating nasty clothes from tolerable ones, or for shoving random things that won't fit in your backpack or suitcase at the last minute when checkout is rapidly approaching. I find having 2-3 reusable shopping bags essential.
Travel Towel | I swear by having a large microfiber travel towel. They're great for beach days since microfiber repels sand. It's also useful for those random European hotels that give you something the size of a hand towel and swear it's a bath towel.
Electronics & Camera Equipment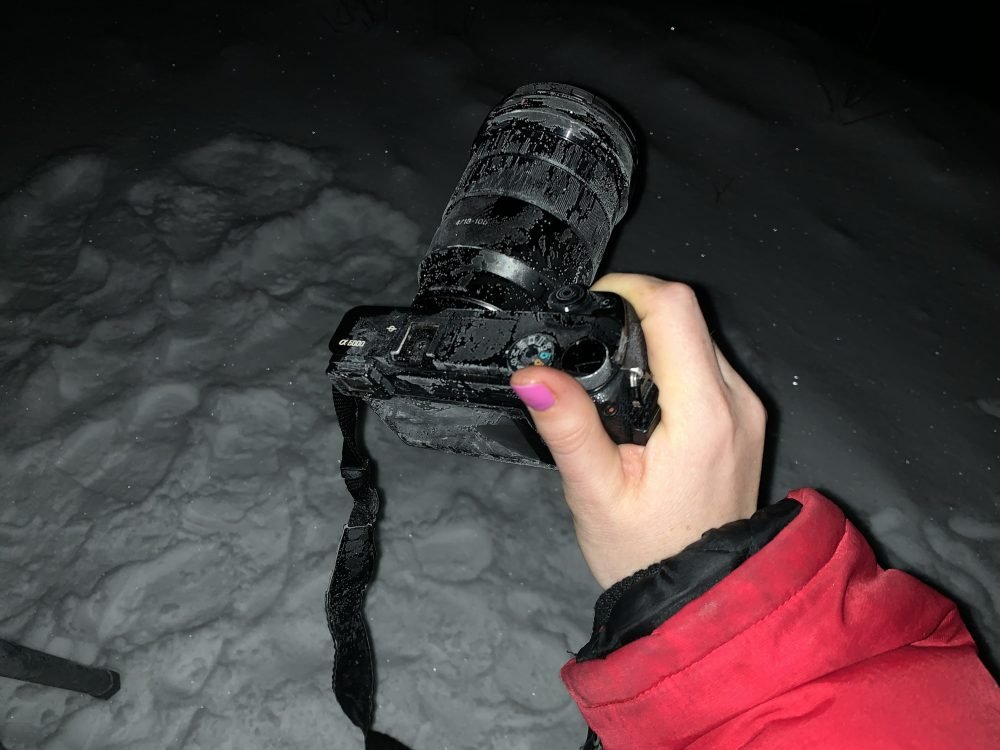 Laptop | As a blogger, I bring my Macbook Air everywhere but other people may prefer a tablet other type of computer. However, this is only necessary if you want it — you may just enjoy the opportunity to leave it at home!
Smartphone | Who even leaves the house without one these days?
E-Reader | While I do love the romance of a paper book, I also am pragmatically obsessed with my Kindle Paperwhite. Depending on where you travel, English-language bookstores can be few and far between, but I can get books on my Kindle any time I have WiFi. I love the Kindle Paperwhite because the screen is glare-free, making it easy to read even in direct sunlight.
Travel Camera | I used to use the Sony A6000 (now discontinued), and now I use a Sony A7 full frame camera for my photos. This may be overkill if you don't need to take photos professionally, especially now that smartphone cameras are so good!
Portable Charger | I'm always running out of battery, as I use my smartphone for everything when I travel. I rely on Anker portable chargers on every trip abroad.
Adapter | If you are coming from the US or Canada, you will need an adapter for your electronics. Also, keep in mind that if you are visiting both the UK and continental Europe that they use different plugs (and even within, there are exceptions: for example, Malta uses UK plugs!). Bring a universal adapter that you can use on your Europe travels and beyond. You likely won't need a converter. Leave the hair-dryers at home, as most European hotels have them for you to use.

Disclaimer: This post contains affiliate links. That means that if you purchase something using one of these links, I will receive a small commission at no added cost to you.
No items were sent to me for this Europe packing list for two weeks; all are products I've purchased independently or something as close to it as possible as I could find.
The sole exception is the Tortuga Setout Backpack – I bought the original version with my own money, and when I asked to become an affiliate of their program, they sent me the new one to try out and ensure that I still like it and can recommend it, as the one I carried was discontinued. .

Further reading: Want more ideas on what essentials to bring on your trip to Europe? Check out this guide to travel gear and resources from Europe Up Close.
Allison Green is a former educator turned travel blogger. She holds a Masters in Teaching and a B.A. in English and Creative Writing. Her blog posts merge her educational background and her experience traveling to 60+ countries to encourage thoughtful travel experiences that both educate and entertain. She has been a speaker at the World Travel Writers Conference and her writing, photography, and podcasting work has appeared in National Geographic, CNN Arabic, CBC Canada, and Forbes, amongst others. Now based in the San Francisco Bay Area where she grew up, she has also lived in Prague, Sofia, and New York City.