If you're visiting Bali, a trip to the southern Bukit peninsula, commonly known as Uluwatu, is an absolute must!
The area is quite spread out, so I definitely recommend renting a motorbike if you're comfortable driving or hiring a driver for the day — it can be really inexpensive in Bali. 
Located about an hour south of popular digital nomad and travel destinations like Canggu and Ubud, Uluwatu is the perfect place to escape for the weekend and truly relax.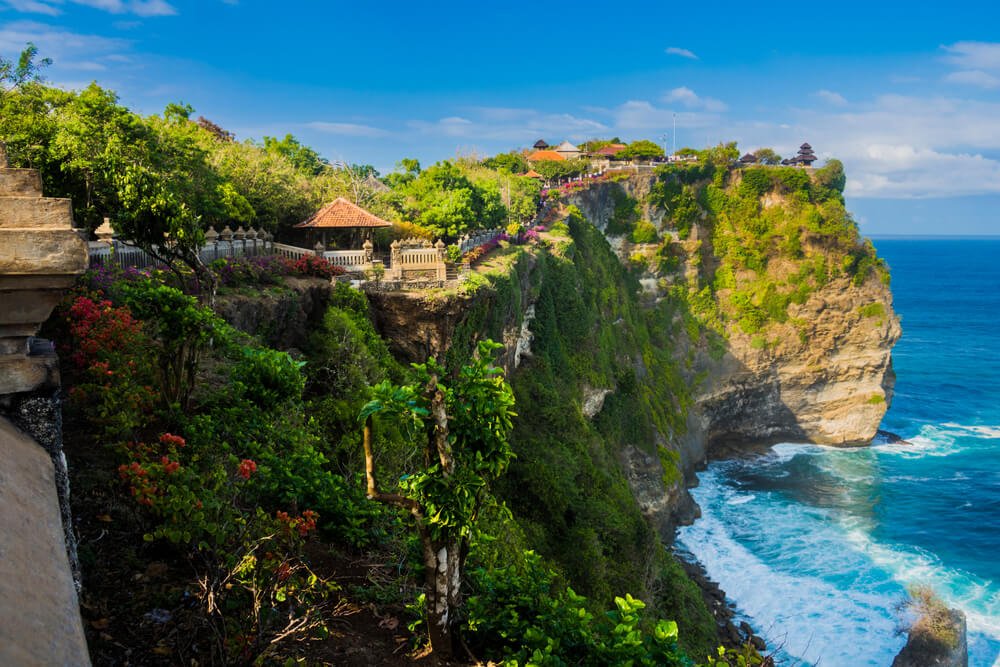 Note: This post contains affiliate links, which means I may receive a small commission if you purchase something through one of these links. Thank you for supporting the free content on this site! For more information on affiliate links and cookies, see my disclosure page for more details.
I've been living in Bali for over two years now, and Uluwatu is one of my favorite destinations.
Let me show you around a perfect two day Uluwutu itinerary, including all my favorite spots as someone who has named Bali their new home.
Day One of Your Uluwatu Itinerary: Beaches & Pool Clubs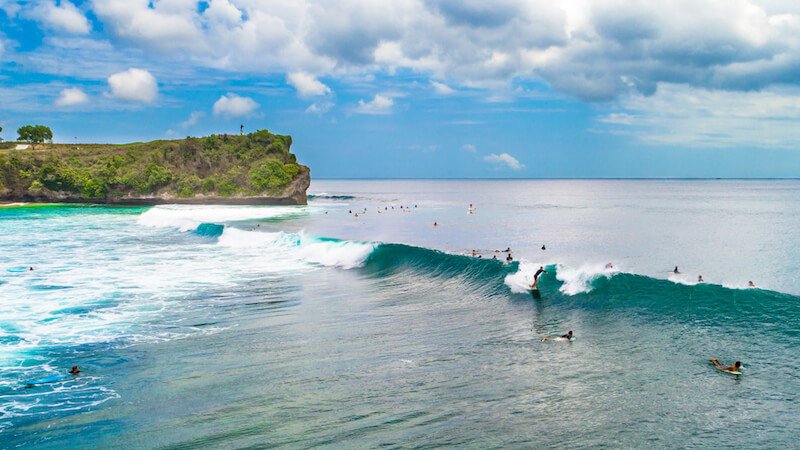 The first day of this Uluwatu itinerary is a beach day, of course.
That's why everyone comes to Uluwatu, after all!
Whether your style is hitting the waves all day on a surfboard or you prefer relaxing on the sand, Uluwatu beaches are sure to deliver a perfect day out in Bali.
Here's how I recommend you line up your first day in Uluwatu.  
Fuel up for the day with brunch at Drifter Cafe.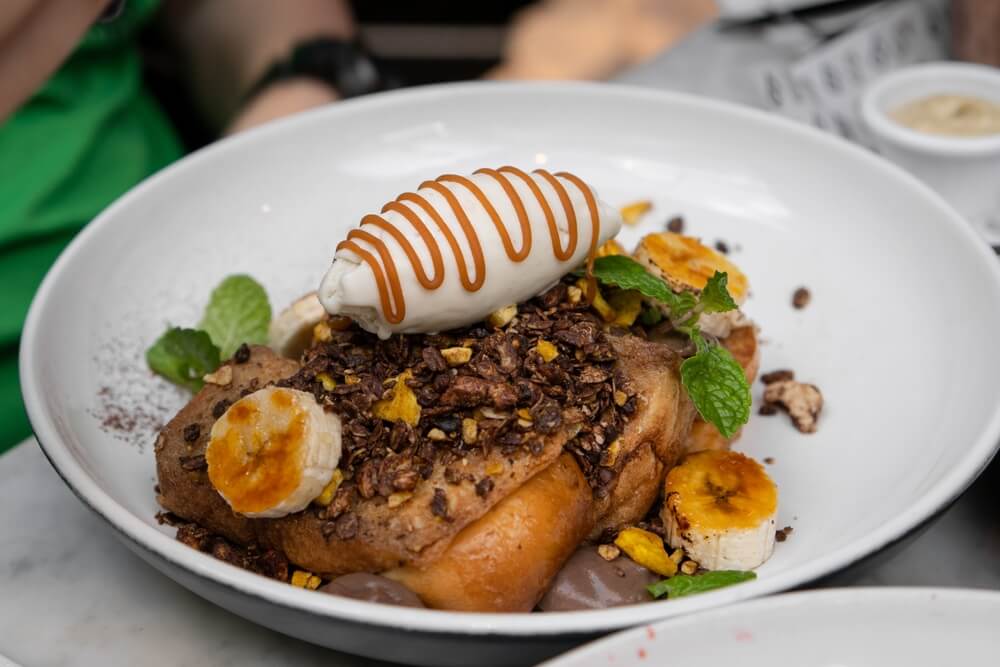 After the drive south to Uluwatu, you're sure to want to grab a bite!
Drifter Cafe has classic Uluwatu vibes, chill and surfer-friendly, with an attached shop if you want to peruse books for the beach or a crystal necklace to remember your stay. 
Enjoy perfectly brewed Sumatran coffee (from a neighboring Indonesian island) and one of their great plant-based or pescatarian meals.
This is the perfect spot to kick back and relax with some people-watching while you wait for your meal. 
My personal favorites are the mushroom burger and the mahi mahi tacos, but they also serve breakfast all day, so you're sure to find something to hit the spot!
Soak up the sun at Padang Padang Beach.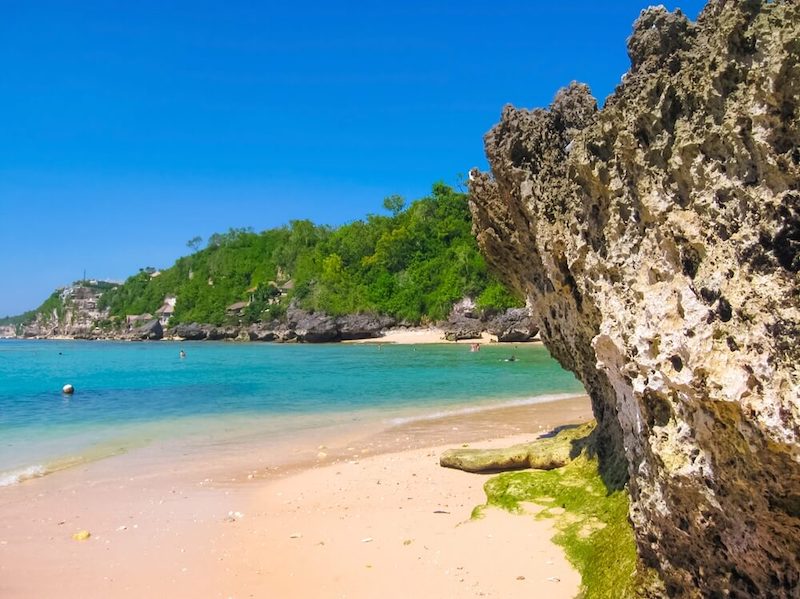 Uluwatu is known for having the best beaches on the island, so how can you know which one to choose for your ideal beach hang? 
Padang Padang Beach, made famous by the ubiquitously-referenced movie Eat Pray Love, is a favorite with good surf and plenty of space to relax. 
You'll even get the chance to see monkeys here!
Just make sure to hold on to your phone and sunglasses, since the monkeys are attracted to shiny things! 
There are even vendors on the beach, so you won't have to go far when you're in need of a sarong to lie down on or a cold Bintang beer (a local favorite). 
You'll have to pay a small fee to enter, and there's a fair amount of steps you'll have to go down to reach the beach.
This is quite common in Uluwatu because of the cliffs, compared to the flatter land up north.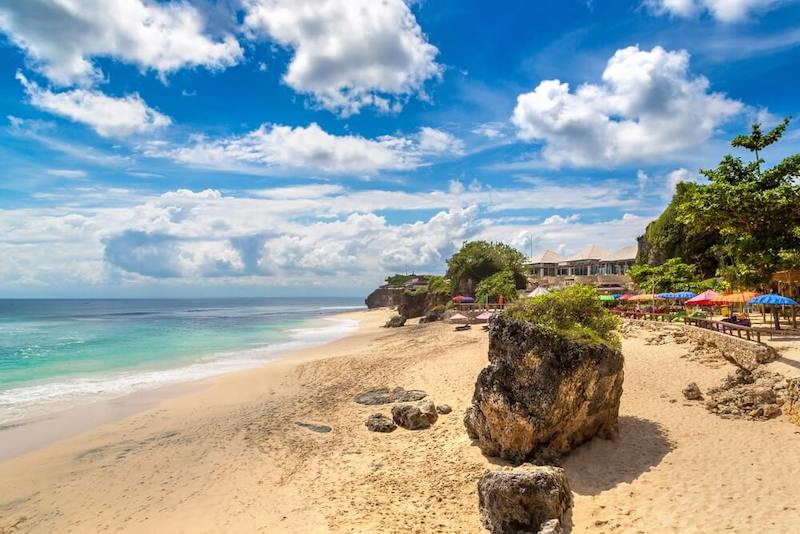 If you are mobility-limited or looking for somewhere without a fee, check out Dreamland Beach about 10 minutes north, another favorite of mine. 
This beach is also popular amongst surfers so it's a great place to lay down your beach towel and watch surfers tackle the famous Uluwatu waves.
It's also a great beach to get an inexpensive massage, and there are plenty of small vendors set up along the beach in case you want to purchase any drinks or snacks for your beach day.
Enjoy pool time and drinks at Single Fin.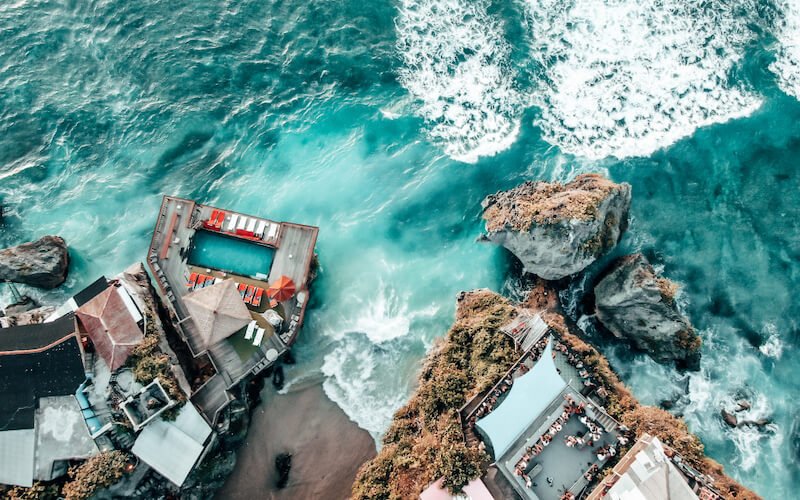 Sunset in Bali is something of a big event, especially in Uluwatu.
Everyone flocks to the coast to secure a good spot and a refreshing coconut (or cocktail) to enjoy with the gorgeous views. 
Sure, you could stay at the beach, but by this time you're probably getting hungry, so let's head to the famous Single Fin!
Located a mere 8 minute drive down the coast from Padang 2, Single Fin is one of my favorite sunset spots.
If you're looking for the perfect view, it's a good idea to head over a little earlier to secure a seat — this place gets quite crowded!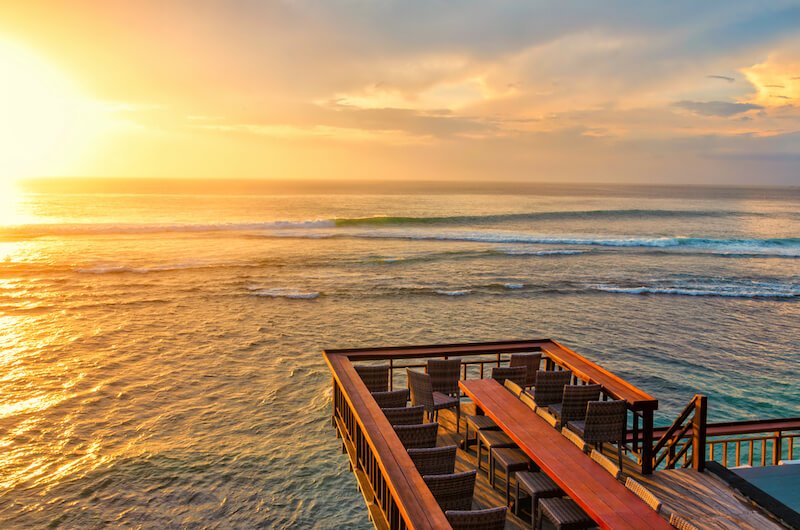 Of course, there's a swimming pool, in proper beach club fashion, but the vibe is more relaxed than that of other popular beach clubs Savaya or Potato Head. 
There's a nicer restaurant hidden on the very top floor, which is my personal favorite secluded sunset spot — this is a great place to have dinner in Uluwatu too.
However, if you're feeling up for more of a lively atmosphere, grab a drink and join the crowd along the bar facing the ocean. 
It's always fun to watch the surfers from here!
Even better, if you're there on a Sunday, the bar area turns into a dance floor with a DJ for one of the best parties in the Bukit. 
Day Two of Your Uluwatu Itinerary: Rejuvenation and Culture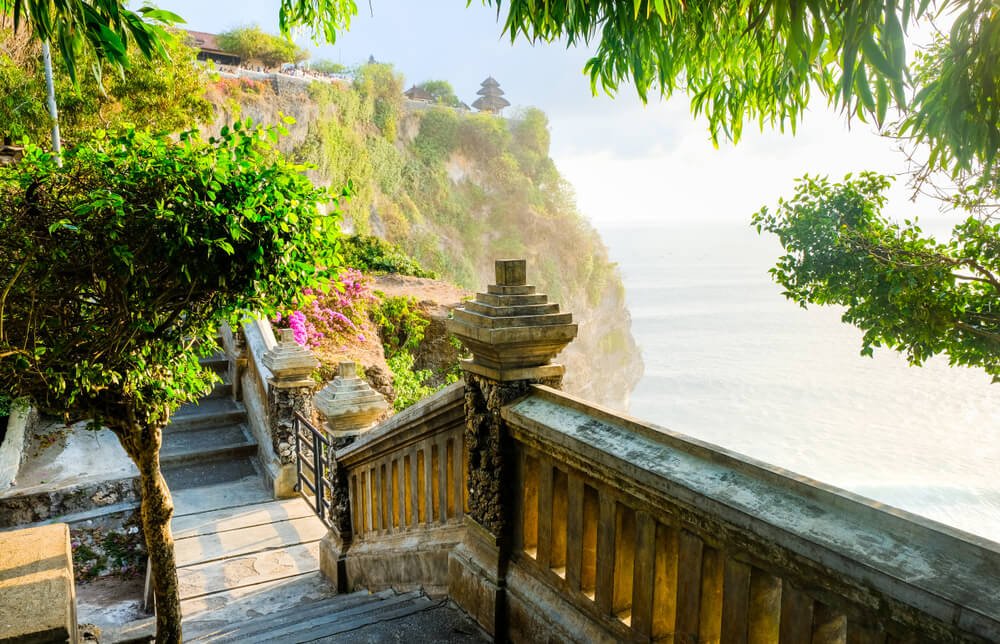 Uluwatu is a calmer part of the island, so people come here to relax and treat themselves to a bit of pampering.
Today, our Uluwatu itinerary is all about relaxing and taking in the culture: having a spa day followed by an epic evening of culture!
Let's get to it!
Take a spa day in Uluwatu.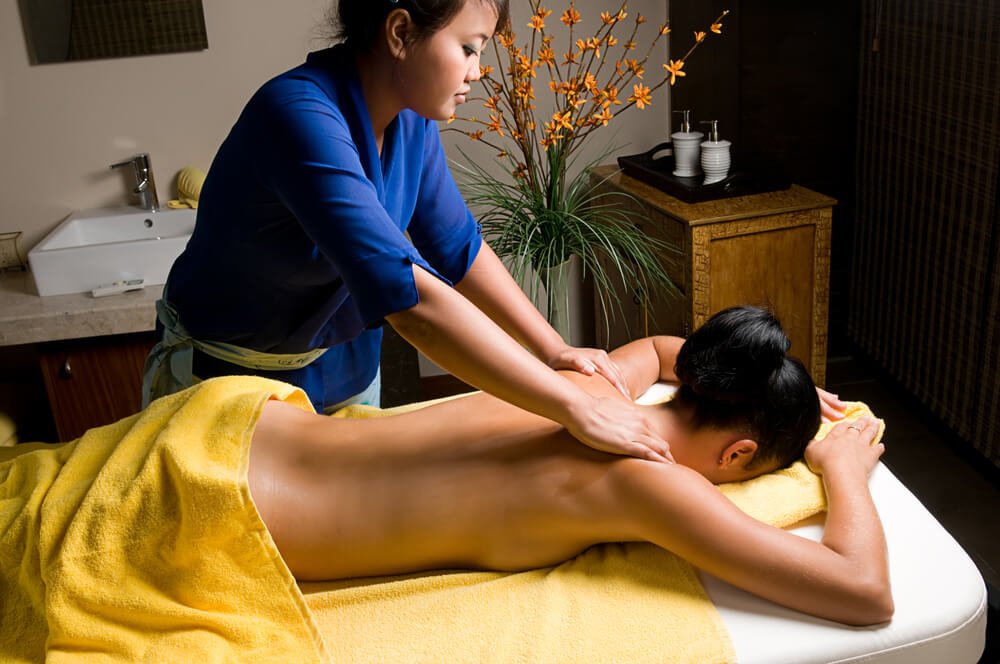 One of the best spots to do this is The Istana, a wonderful spa in Uluwatu!
While they also offer unique experiences like hyperbaric chambers and cryotherapy, The Istana is known for their spa packages.
These package deals include a treatment but also give you access to their top-notch saunas, ice baths, and an infinity pool with an absolutely breathtaking view of the ocean. 
It's got to be seen to be believed – just remember to book ahead!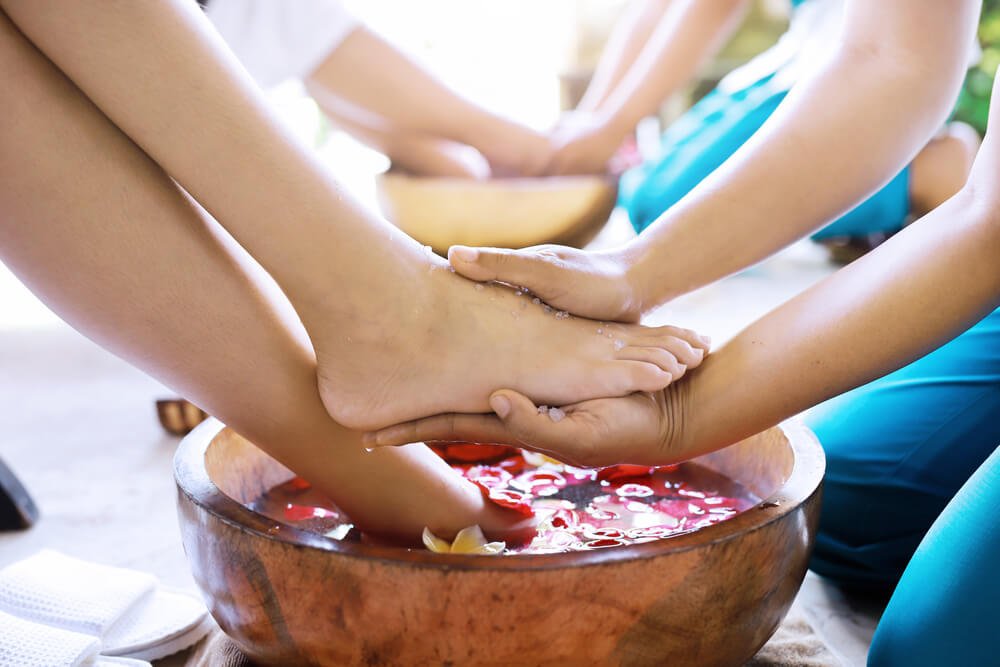 As an alternative, if you'd prefer a more personalized spa treatment, I definitely recommend OURS Spa.
Here you'll find more traditional spa offerings, like massage, nails, Olaplex hair treatments, and more. 
I can honestly say this is one of the best massages I've had on the island, and as a former massage therapist, I've tried quite a few!
Have a delicious lunch and one of the best infinity pool views at oneeighty°.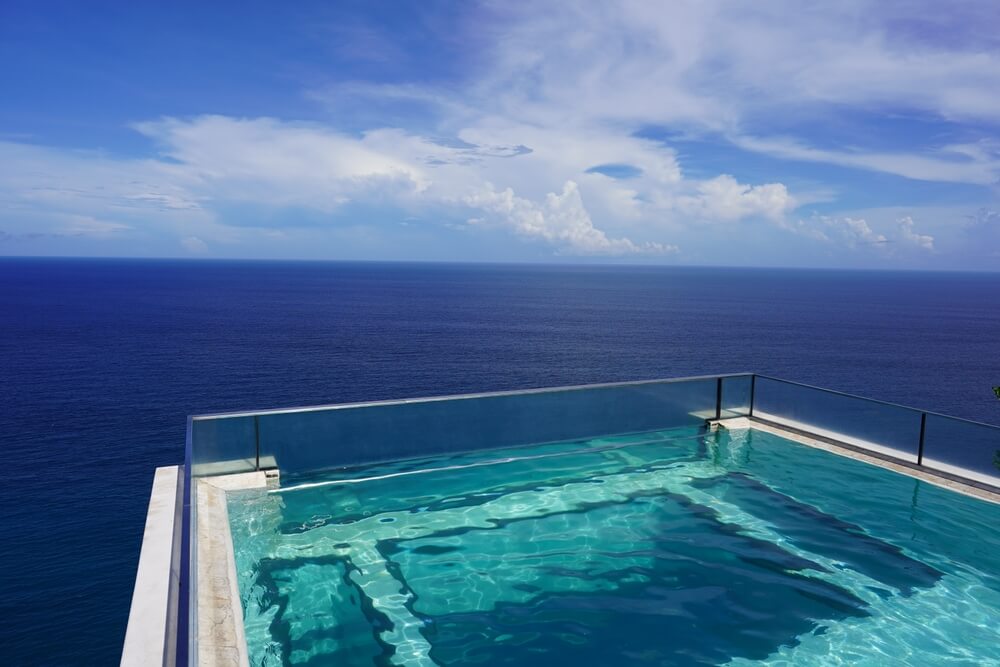 For an epic way have lunch before the next item on our Uluwatu itinerary, have lunch and take a swim break at the epic oneeighty°, a clifftop day club with views to die for.
With an infinity pool more than 150 meters (500 feet) above the ocean, this isn't necessarily one for those with a fear of heights.
But for those who love an epic view, your jaw will drop at the glass-bottom sky-pool, which extends out 6 meters (20 feet) from the cliff edge to give you eye-watering views of the Uluwatu coastline.
This day club in Uluwatu is ultra-popular, so you'll want to book at least 3 days in advance.
Regular admission is 500,000 IDR ($32.50 USD) for a 4-hour stay with access to the pools and amenities, which includes 400,000 IDR credit towards food and drinks.
If you're traveling with friends and want to splurge, you can book a cabana for the day.
It costs 4,500,000 IDR ($292 USD, or $73 USD per person) for up to 4 guests.
Of that, 2,000,000 IDR ($130 USD) can be used as credit towards food and drinks.
It also includes welcome granitas for everyone, free-flowing water and cold towels, a bottle of imported wine (and it's hard — not to mention expensive! — to find good wine in Bali!) with oysters and salmon canapés on the house.
If you want to book the fancy cabana option, book on the official website.
Enjoy Uluwatu Temple at sunset followed by a fire dance.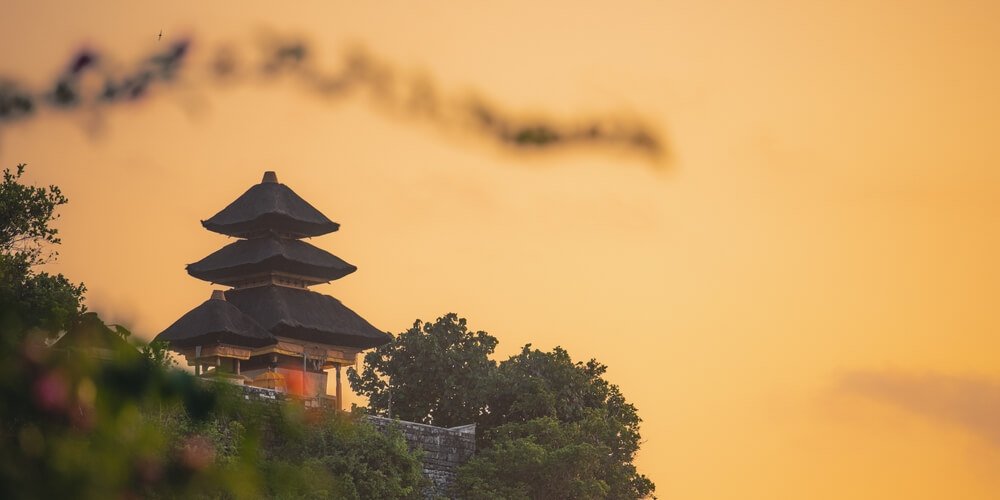 One of the must-sees in Uluwatu is the temple, of course!
Most people get (understandably!) excited about the prospect of seeing the traditional kecak fire dance and arrive around sunset. 
That's exactly what I did my first time there too – but after the show, the sun had set, and I wasn't able to explore the temple!
Lucky for you, you get to learn from my mistake, and arrive earlier in the afternoon.
This tour includes time to visit the Uluwatu Temple as well as tickets to the fire dance, which can often sell out if you wait to buy them in person.
This way, you'll have time to marvel at the temple's beauty, watch the sunset over the cliffs, and still get to see the marvelous kecak dance.
Note: There are monkeys here as well, so have your camera at the ready and a tight grip on your phone.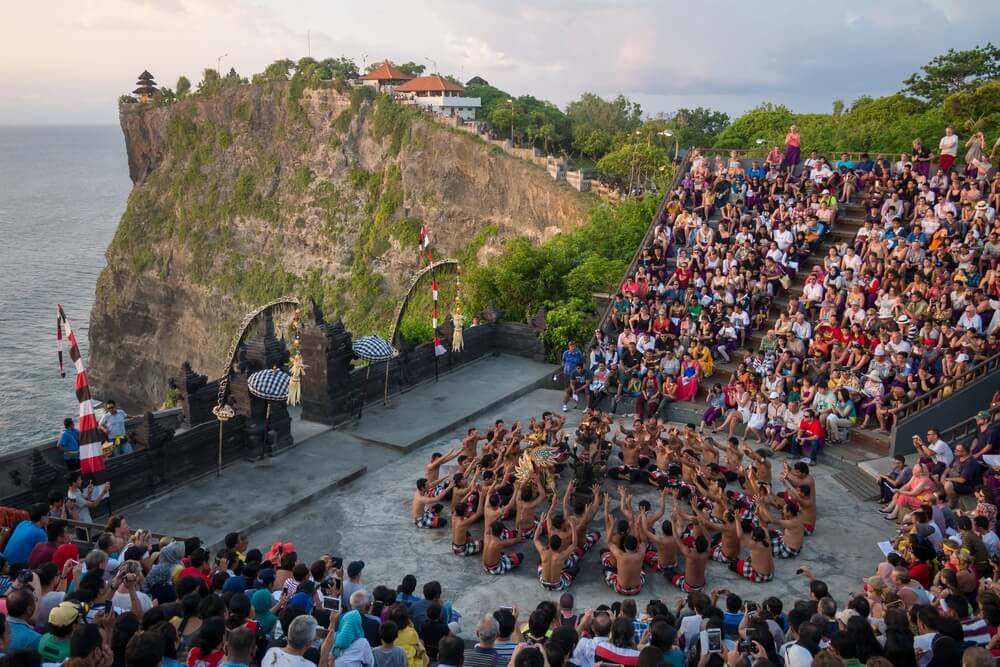 The famous kecak fire dance at Uluwatu Temple is nothing short of mesmerizing, a vibrant testament to Bali's rich history and culture that sets it apart from other parts of Indonesia.
As the sun disappears for the day, painting the sky in vibrant colors as it says goodbye, the historic Uluwatu Temple gets ready to come to life.
At the kecak dance, you'll watch as men clad in traditional sarongs form circles around a ceremonial fire, chanting"cak, cak, cak," in a hypnotic rhythm.
Amidst this trance-like chorus, a tale from the Ramayana (a Sanskrit epic, a nod to Bali's Hindu beliefs) unfolds.
Dancers in ornate costumes and makeup portray characters like Rama, Sita, Hanuman, and most entertaingly, the demon king Ravana, telling a story of love, abduction, and the pursuit of good over evil.
The ceremonial fire in the center becomes an integral part of the narrative, and at one point, a dancer even dances amidst the flames and coals.
As darkness of night sets in, the intensity of the performance reaches its climax during a dramatic confrontation between Rama and Ravana.
Finally, as the tale reaches its end, the chants gradually diminish, leaving the audience in quiet awe of what they witnessed.
Enjoy dinner, dancing, and drinks at Hatch Bar.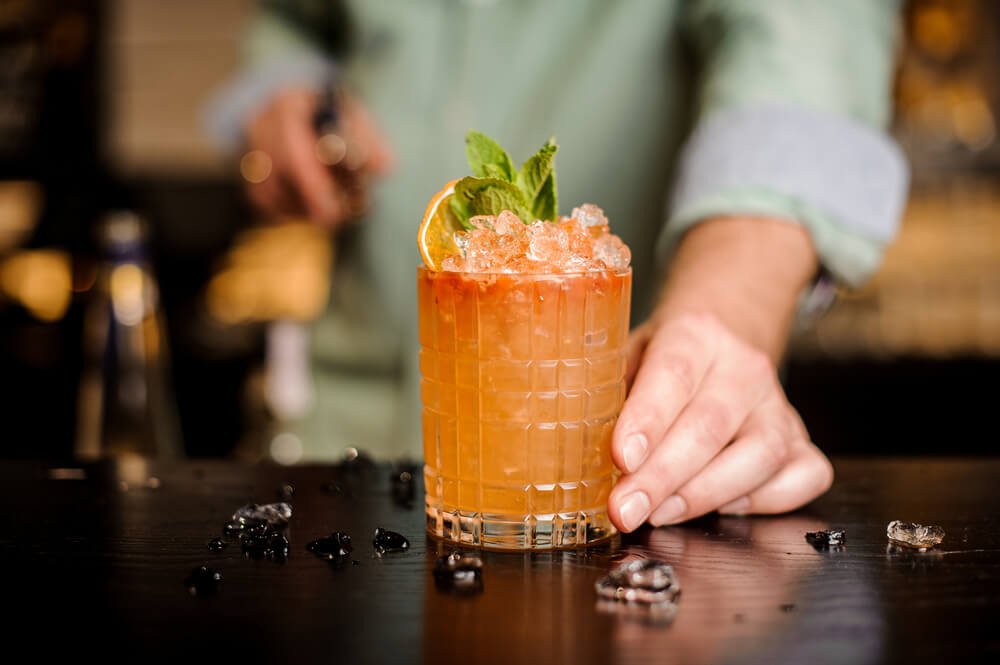 Uluwatu used to be known as a sleepy side of the island, with amazing beaches but not much else to do after sunset.
This is starting to change due to new bars and music venues popping up since the pandemic. 
Hatch Bar has psychedelic-themed colorful decor and is one of the few places in the Bukit playing music until 2 AM.
Latin music and dancing is on Saturdays – don't worry if you're not a pro, it's just as fun to watch as well! 
The other nights have other music themes, so be sure to check their website for the current line up.
If you're not looking to get your groove on, Ulu Garden is a chill cafe surrounded by twinkling string lights and lots of greenery for you to grab a bite in a calmer setting.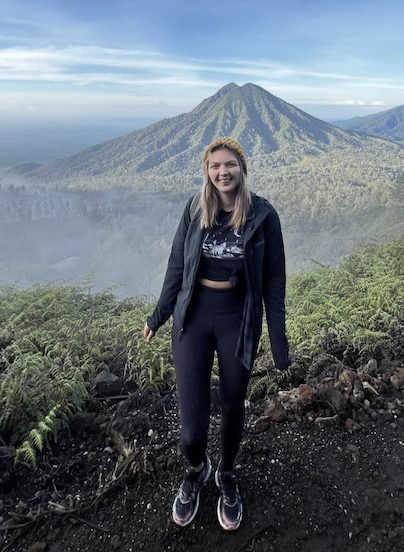 Meg is a writer and editor from San Francisco, California, with a passion for travel and adventure. She worked for several years as an TESOL-certified English teacher in Barcelona, Spain and in Southeast Asia. Currently based in Bali, she enjoys hiking, seeing live music, and curling up with a good book.