Fuerteventura is the second largest of the Canary Islands, after Tenerife — but it's actually the oldest, geologically speaking at least.
Plus, its unique geological features won it UNESCO's approval in 2009, when it declared the island a biosphere reserve.
The island of Fuerteventura is ideal for exploring stunning natural landscapes, relaxing on spectacular beaches, and discovering charming little towns and fishing villages.
Note: This post contains affiliate links, which means I may receive a small commission if you purchase something through one of these links. Thank you for supporting the free content on this site! For more information on affiliate links and cookies, see my disclosure page for more details.
While cultural activities are also available, the island's unique and spectacular natural scenery is what really draws visitors.
I spent two incredible weeks exploring Fuerteventura, hiking through otherworldly landscapes, swimming in turquoise waters, and devouring delicious Canarian food.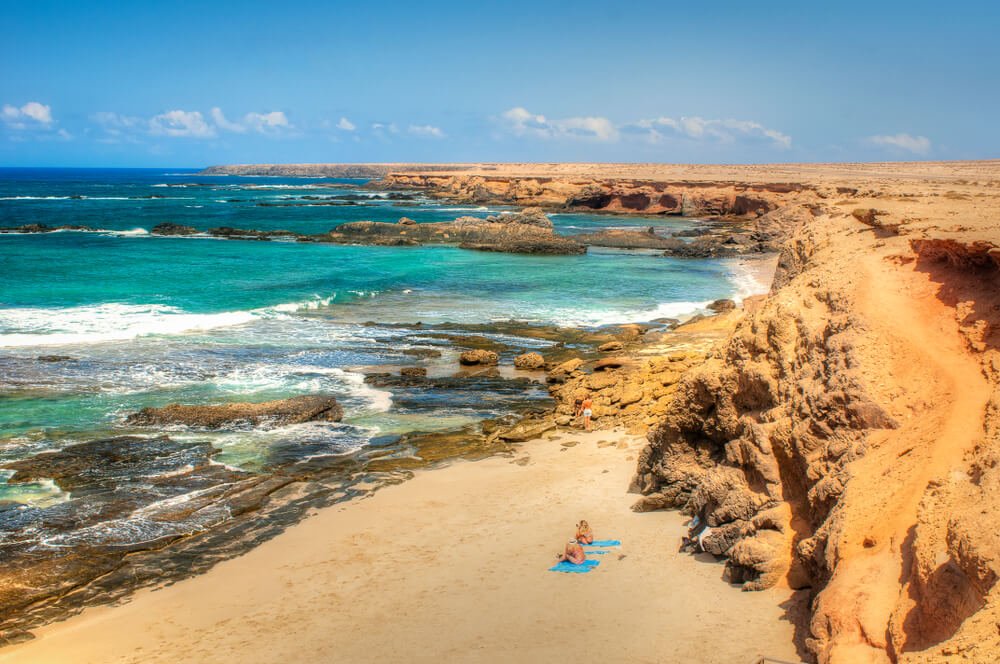 But I know not everyone has that kind of time when it comes to planning their Fuerteventura itinerary, so I've narrowed down the highlights from my 2-week trip into a quick-paced trip.
In this three or four-day itinerary, you'll find the island's highlights, including the most popular tourist hotspots and a few lesser-known places.
Getting Into Fuerteventura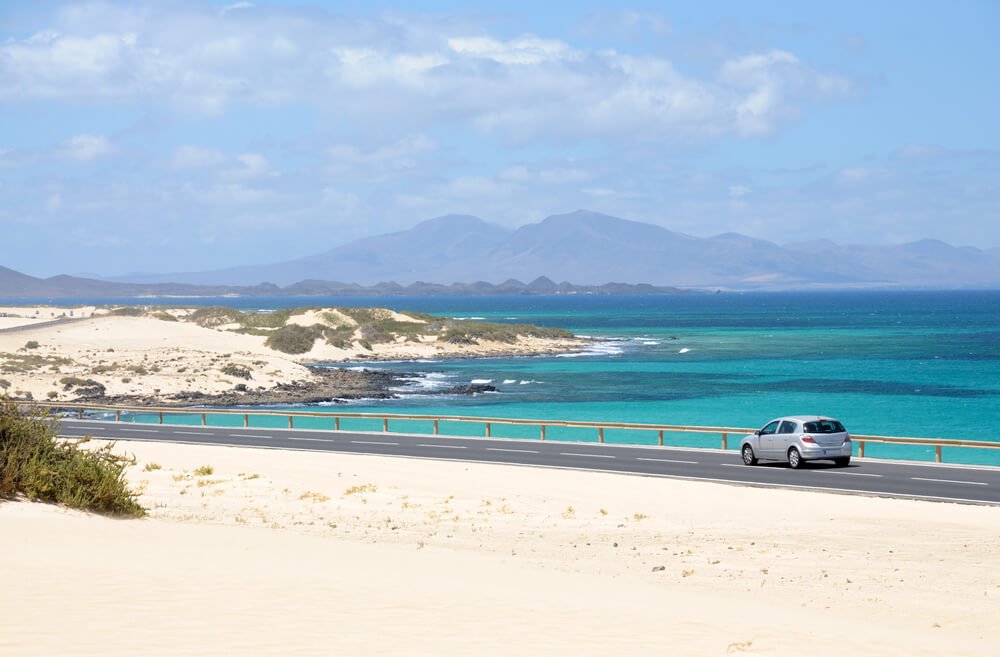 The Fuerteventura airport is just 5 kilometers away from Puerto del Rosario (where I suggest you stay in this itinerary), in the town of El Matorral.
This Fuerteventura itinerary only works properly if you've rented a car, so I suggest picking it up at the airport right away.
Before you rent, check out this guide to renting a car in Fuerteventura, as the island does have a few quirks to note!
Most Important Note: A few of the roads in this Fuerteventura itinerary, namely any gravel or dirt roads as well as the road to Playa de Cofete are unpaved — and driving on unpaved roads can be considered driving 'off road' and may invalidate your rental car insurance. Many people do so anyway, but you've been warned — drive them at your own financial risk!
I use Discover Cars to search for the best price on my rental cars whenever I'm traveling Europe (and beyond).
They search through 500+ rental companies, large brands and small local agencies alike, to give you the best possible price on your rental.
They're also very upfront with all the terms and conditions — what insurance is included, what mileage policies are, how to filter out the kinds of cars you want, etc. — and there's no bait & switch in their pricing.
Plus, Discover Cars has their own internal rating system for all the different rental companies, so you can check past customer experiences easily, which can give you peace of mind when renting from an unfamiliar local company.
I suggest picking up your car from Fuerteventura airport for the best prices and the smoothest start to this itinerary.
Where to Stay in Fuerteventura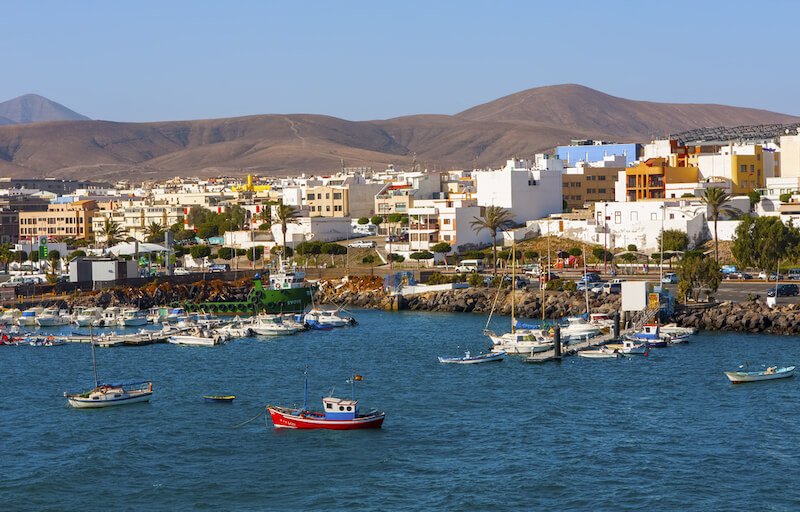 The island is quite long, so I recommend staying in Puerto del Rosario, a good central departure point for exploring most of Fuerteventura.
Corralejo is also a popular spot, but it's at the far northern tip, so it's not exactly the ideal base for exploring the south.
That said, we'll start our Fuerteventura itinerary there, so you will definitely get a chance to visit!
Here are a few places I recommend in Puerto del Rosario:
BEACH VIEW | A few hundred feet from Playa Blanca, the lovely Hotel El Mirador de Fuerteventura is an excellent mid-range choice with spacious rooms with stunning ocean views, many with their own terrace with chairs so you can properly take in the views.
FOR LARGE GROUPS | For a larger group, the holiday home El Olivar has 6 bedrooms, 3 bathrooms, and can sleep up to 9 guests, located within walking distance of Playa Chica and just outside of the main town of Puerto del Rosario.
BUDGET CITY APARTMENT | For an apartment rental fully equipped with a kitchen, Casa Rosy offers one and two bedroom apartments in the center of town, with free parking. Its rooms are compact but cozy, perfect for a budget-friendly stay.
Day 1 of Your Fuerteventura Itinerary: Corralejo
Explore the buzzing town of Corralejo.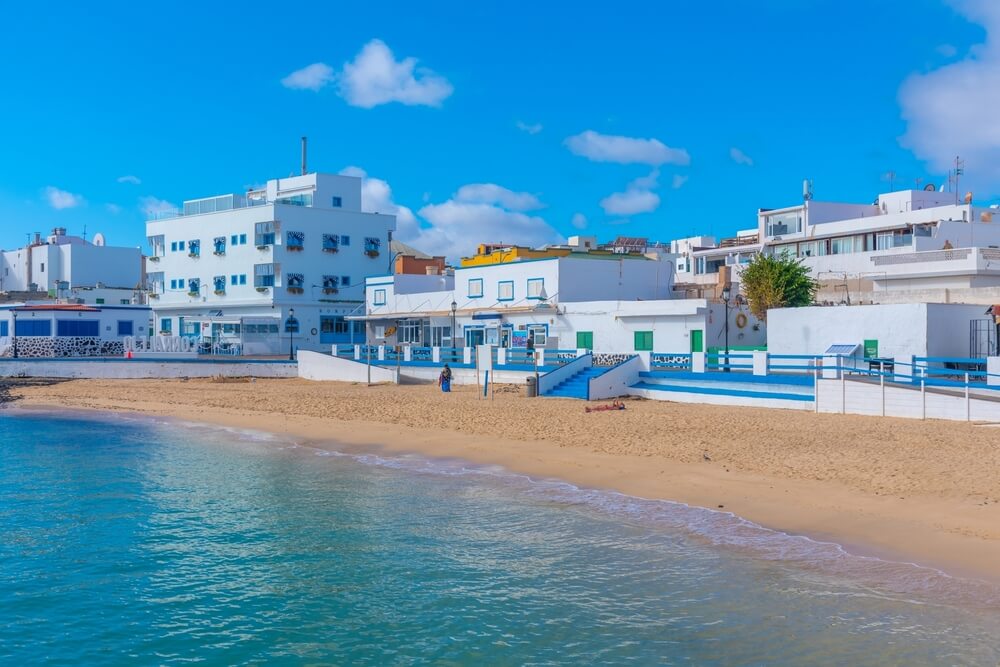 Half an hour's drive north of Puerto del Rosario, Corralejo was once a small fishing village.
But that was before it was transformed into one of the main tourist hotspots on the island!
These days, the town is constantly buzzing with life, from the visitors reaching the island via ferry from Lanzarote to those heading to Isla de Lobos, plus a big expat community that has settled here.
To start your day off right, spend the morning wandering the lively streets and strolling along the gorgeous Paseo Marítimo Bristol.
If you haven't had breakfast, stop by Cafetería Dolce & Salato or Sucré for great coffee and baked goods.
Relax at the beach.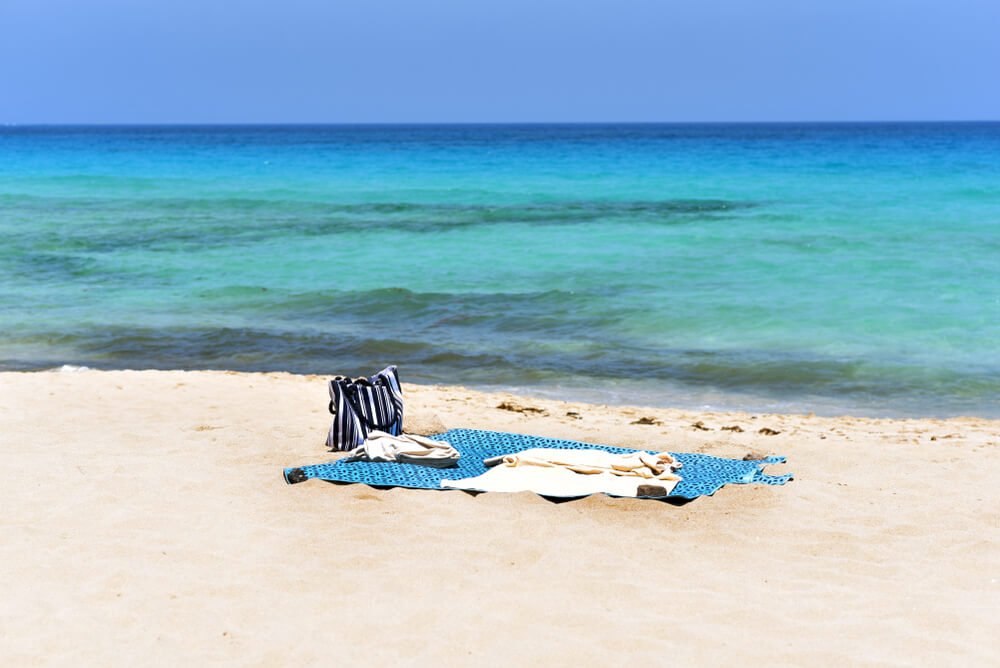 You can spend the rest of the morning relaxing at the beach.
If you prefer to stay local and hit the beach in Corralejo, you have two options in town.
There's Playa de los Verilitos and Playa de Corralejo Viejo: both beautiful, but I prefer the latter, pictured above — just look at those waters!
Make a side trip to the unique "Popcorn Beach".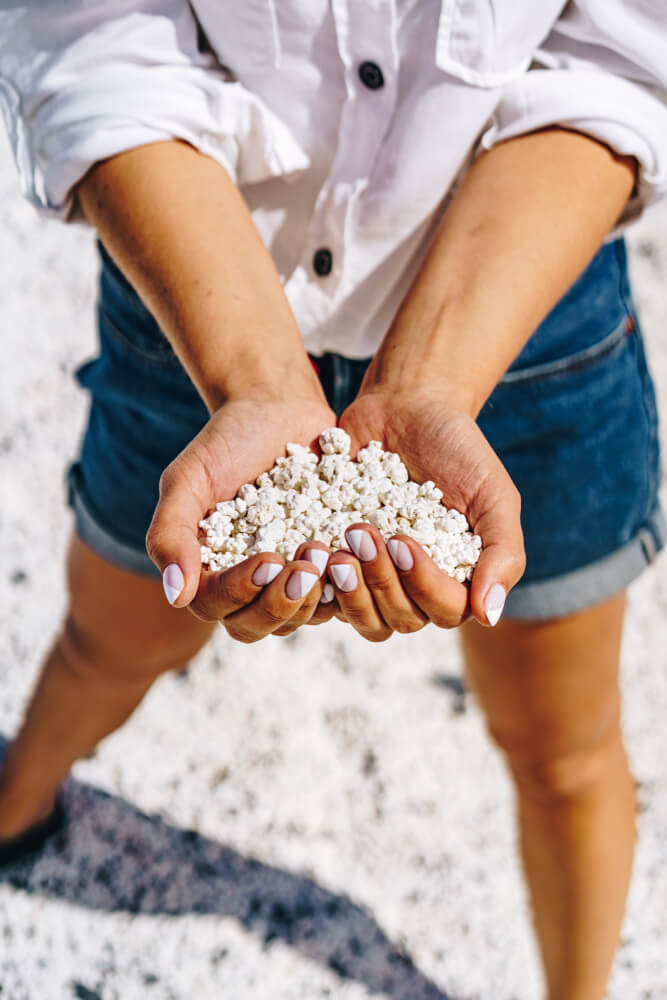 If you're up for a short drive, head out to Playa El Mejillón, roughly 15 minutes northwest of Corralejo.
This beach is also known as Popcorn Beach due to the unusually shaped calcareous stones resembling (you guessed it!) popcorn.
While not the most comfortable beach for lounging (who would have thunk it?) and sunbathing, it is quite a unique stop to make on a Fuerteventura road trip.
Have lunch in Corralejo.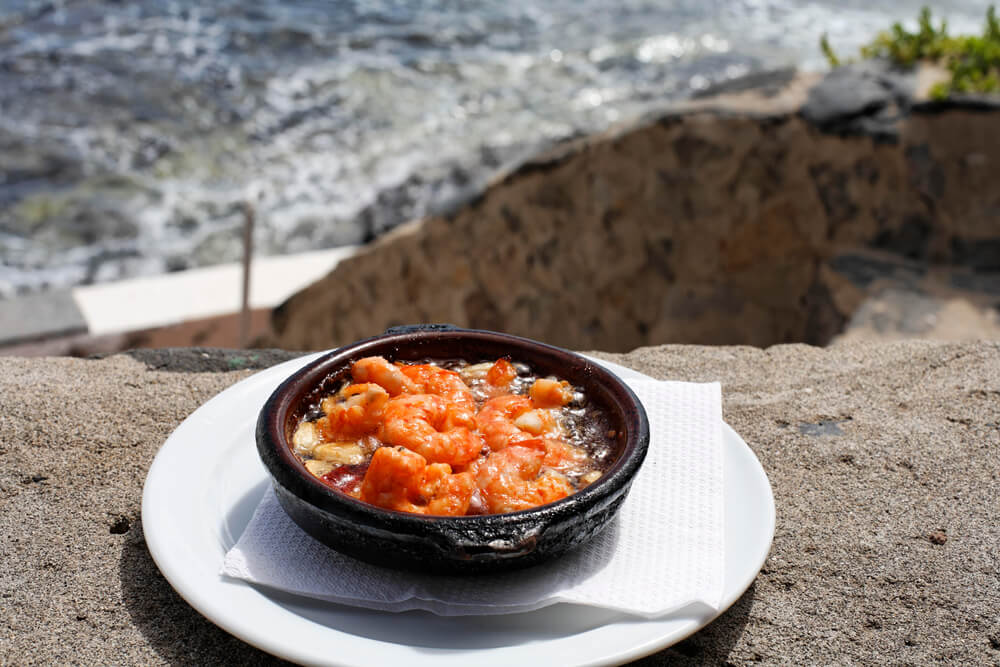 Before exploring the impressive Corralejo dunes, fuel up with a lunch break in Corralejo.
You won't find many other places once you head into the natural park, so pack snacks and bring water.
Corralejo offers a variety of restaurants, with everything from traditional Spanish to international cuisines.
Have some tapas or a Spanish main at Avenida Restaurante, or try the delicious Cajun & Creole cuisine with a Canarian twist at InFusion – Louisiana Restaurant.
Explore the Dunas de Corralejo.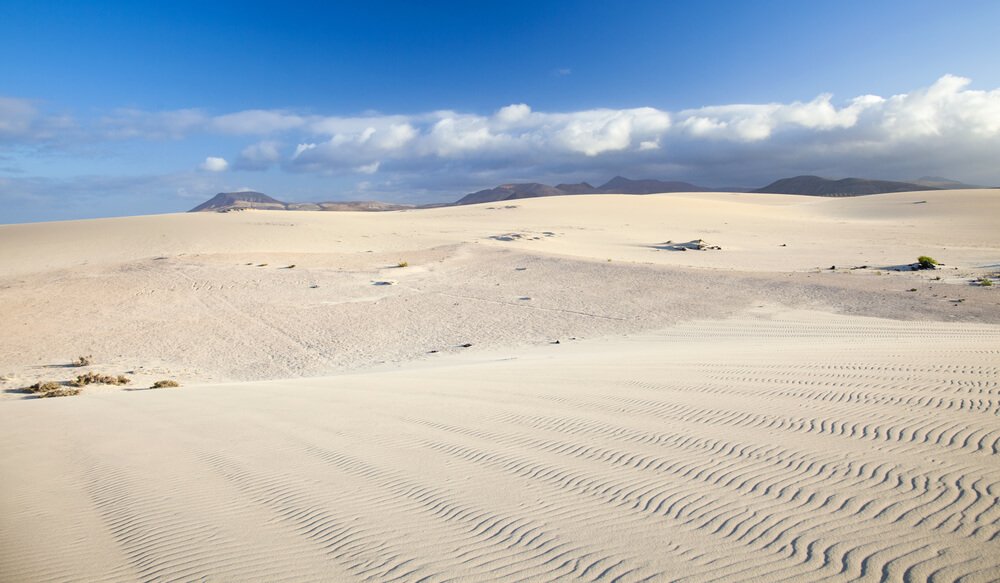 After lunch, it's time to explore the Corralejo Sand Dunes (part of the Parque Natural de Corralejo).
You can do this by car and by foot, or you can rent an off-road buggy excursion if you want to explore a more offbeat side of the park.
Note though that you cannot drive on the dunes as they are a protected part of the park!
This impressive nature preserve extends for 10.5 kilometers to the south of the starting point and goes 2.5 kilometers inland.
This park is an exercise in opposites: the northern part of the park features spectacular white sand dunes and amazing beaches in a striking contrast with the turquoise waters, while the southern part is more volcanic, with a rugged brown and reddish coastline.
Drive along the coast toward Playa del Pozo and park your car at the beginning of the beach.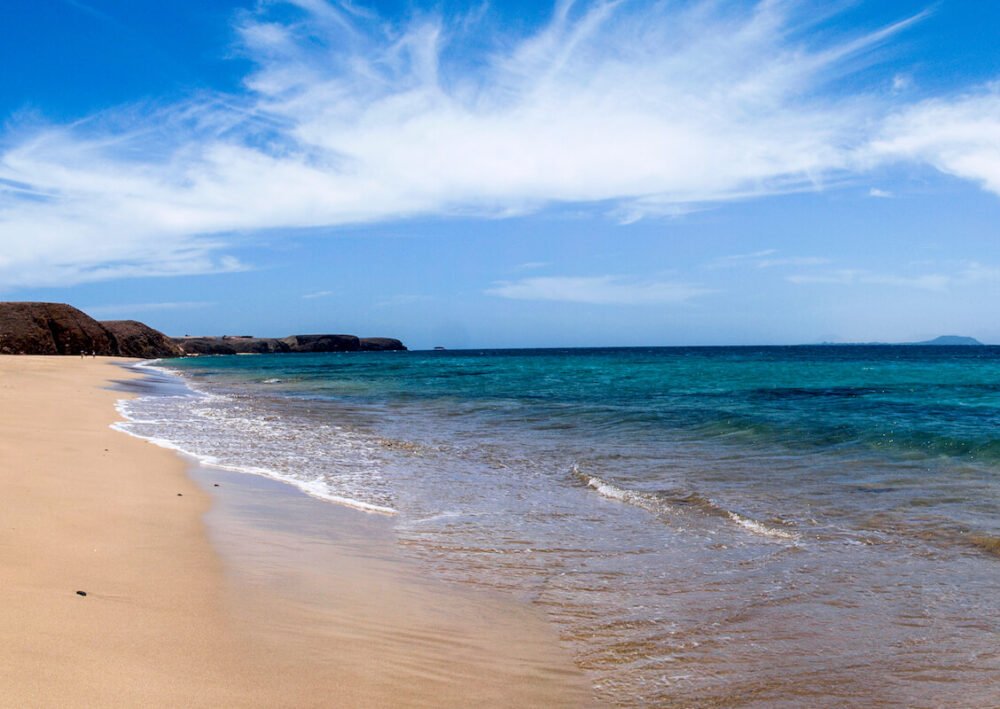 Once you arrive, you'll also find the quirky Villa Tabaiba, the home of Carlos Calderón Yruegas, a Sevillan architect and artist.
Unfortunately, since it's a private house, you can only see the outside, but it's a truly unique building.
From this point, you can start exploring the nature preserve. Walk by the stunning beaches and make your way to the dunes.
Note that it's a bit of a long walk to the dunes, roughly one hour. However, the landscape is stunning, and you can have short breaks or even go for a swim to cool off.
If you want to walk less, you can also drive further south.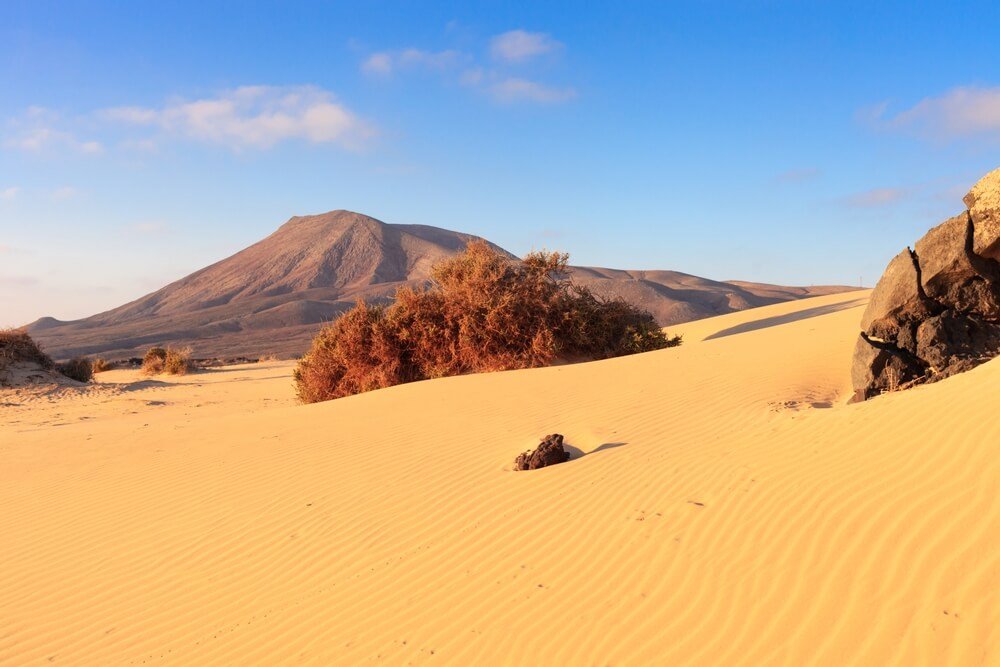 Once you've explored the dunes, it's time to check out the volcanic side of the nature preserve.
The area surrounding Montaña Roja features an arid landscape with deep yellow, brown, and red colors.
If you're in the mood for a challenge, you can hike to the top of Montaña Roja to enjoy sweeping coastal views.
It's considered a moderate hike, clocking in at about a 2-mile loop with 500 feet of elevation gain, and should take about an hour to complete.
Alternately, try your hand at water sports.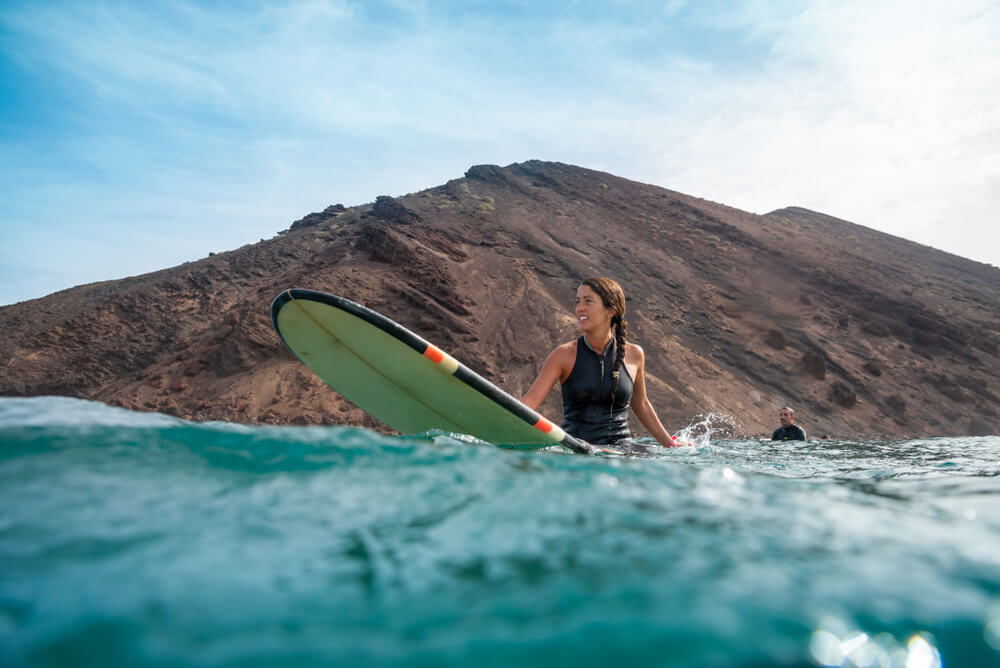 This area of Fuerteventura is renowned for water sports, mainly surfing, windsurfing, and kitesurfing.
If you're already familiar with these sports, you can rent equipment at Flag Beach and hit the waves.
If you want to take some lessons instead, these usually take place in the morning, so you may need to plan your schedule accordingly.
You can book on-site lessons at Flag Beach or join one of the available group activities from Corralejo, like this surf lesson for all levels or this introduction to windsurfing class in El Cotillo.
Note: The latter departs from Corralejo but takes place in El Cotillo, on the western coast; they'll handle transportation.
Protect your travel investment!

Travel insurance coverage helps you recoup your losses in case of emergency, accident, illness, or theft.

I rely on SafetyWing for coverage when it comes to trip interruptions and cancellations as well as accidents and medical emergencies.

It offers great rates starting around $12/week with clear, easy-to-read coverage.
Visit the small traditional town of La Oliva.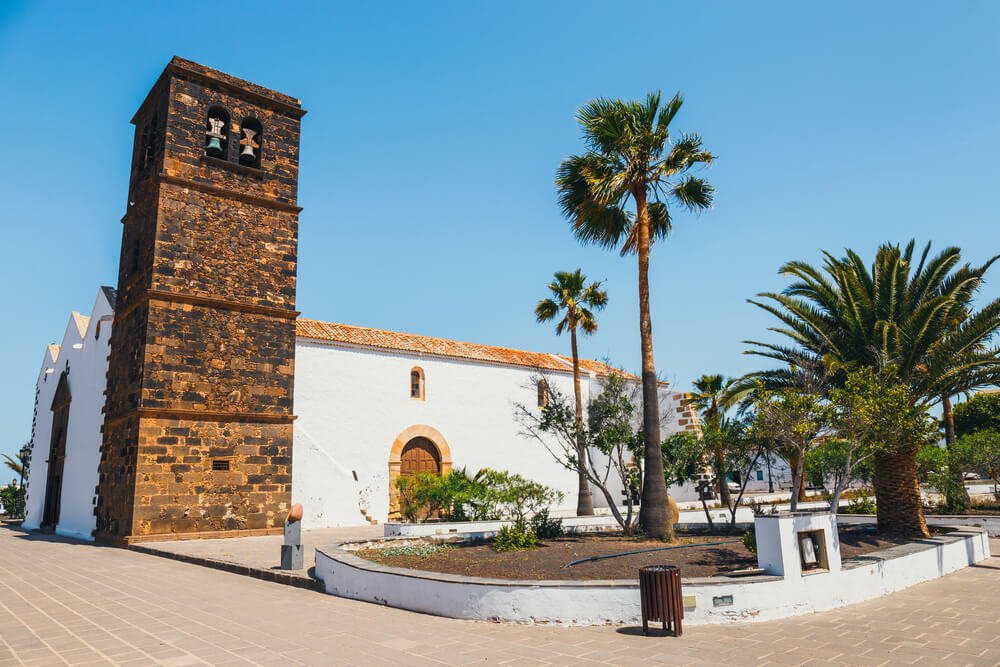 If you have time left before sunset, drive through La Oliva and Villaverde on your way back to Puerto del Rosario.
These are two small towns with traditional Canarian buildings, lovely squares, and a peaceful atmosphere perfect for winding down at the end of your day.
In La Oliva, wander around the tiny historical center and visit the Church of Nuestra Señora de la Candelaria.
There are other charming corners to explore in this little town, but this is the most scenic part.
Admire the windmills of Villaverde and have dinner here.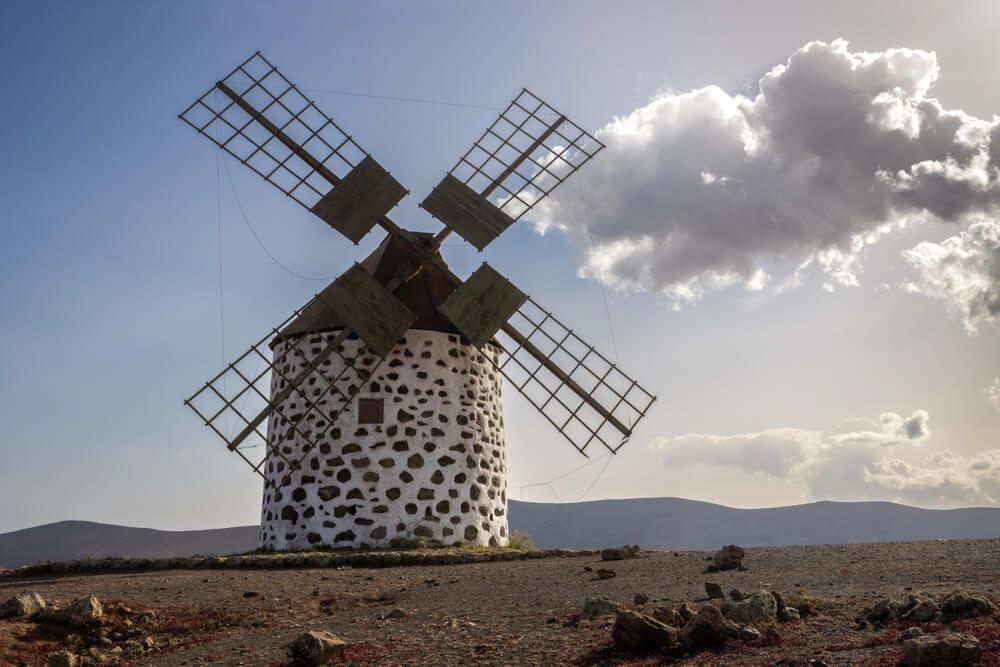 In Villaverde, be sure to check out the charming historic windmills, Molinos de Villaverde.
You can even stay for dinner in Villaverde before driving back to your accommodation.
The small town offers amazing authentic dining options, like Restaurante Casa Marcos, Restaurante El Moral, or Restaurante El Horno.
These places are some true culinary gems, far from the tourist spots!
Day 2 of Your Fuerteventura Itinerary: Tindaya and Parque Rural de Betancuria
Drive to Tindaya.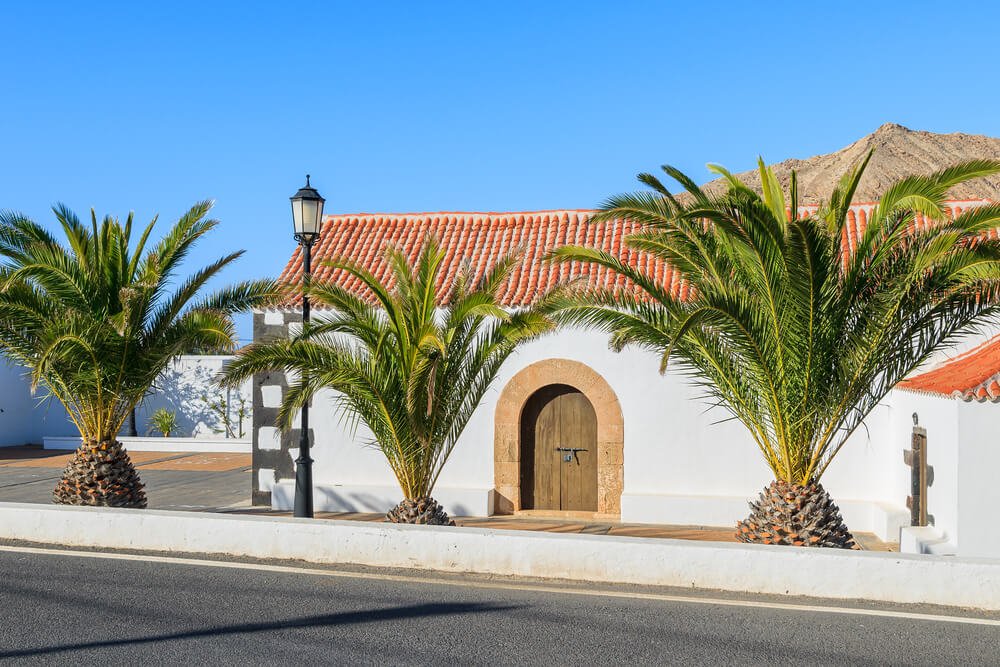 Ready for day two? Start off by driving from your accommodation to the small town of Tindaya.
From there, you can take the dirt road that leads to Montaña Sagrada de Tindaya, a mountain considered sacred by the Mahorero (also called Maho), the Indigenous inhabitants of the Canary Islands.
Tindaya is likely one of the first volcanic formations to originate on the island, roughly 20 million years ago.
Tindaya translates to "large mountain" in the Indigenous language once spoken in the region, Guanche, which unfortunately has been extinct for several centuries now.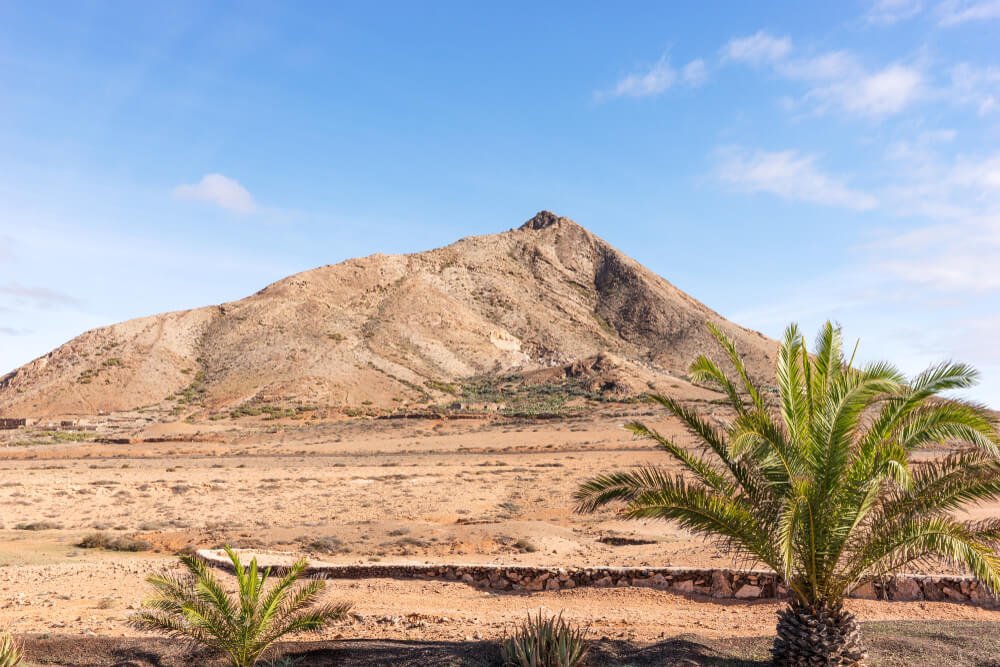 According to stories, people would climb to the mountain summit to worship the stars, pray for rain, and perform other rituals. The mountain is well known for the images of human feet engraved into the rock.
If you want to hike the mountain, you must either join a guided tour (which I can't find online) or request a permit from the Consejeria de Medio Ambiente del Cabildo in Corralejo or Puerto del Rosario.
Alternatively, you can still walk along the other trails surrounding the mountain and enjoy the stunning views.
Explore the beaches on Fuerteventura's west coast.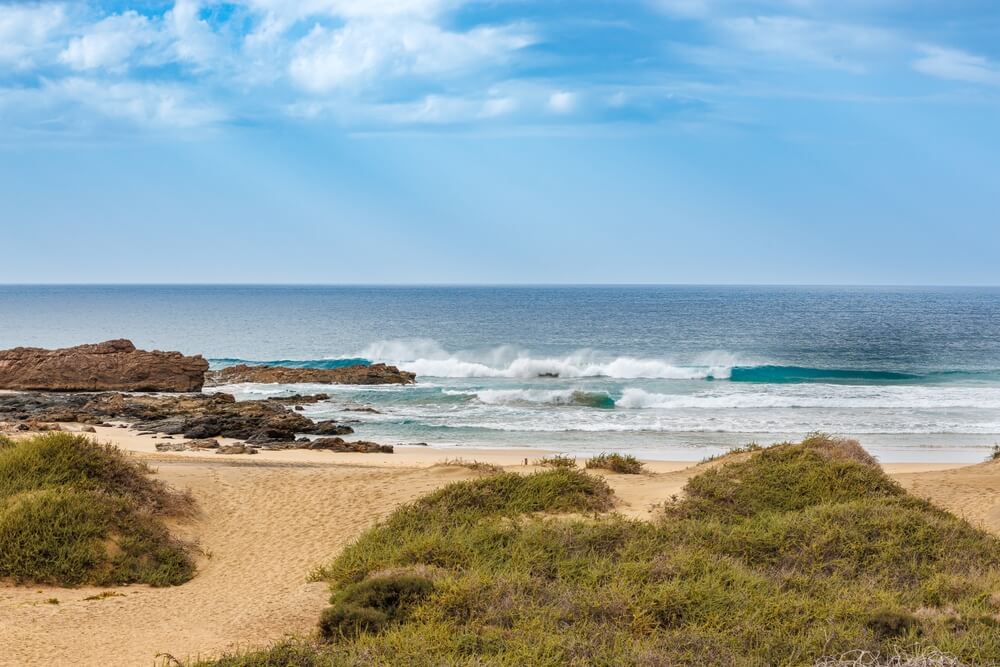 If you want to explore some less popular beaches, the west coast is the place to go.
From Tindaya, you can drive along a dirt road to reach Playa de Tebeto, a wild and secluded rocky beach where you can relax and enjoy some moments of peace.
There's a bit of a hike to get to the beach, but it's not too difficult, and the beach is so worth it.
After you've had your fill of the beach, drive south toward Puertito de los Molinos.
You'll find a few more beaches along the way if you need a little more beach time, like the spectacular Playa de Jarubio.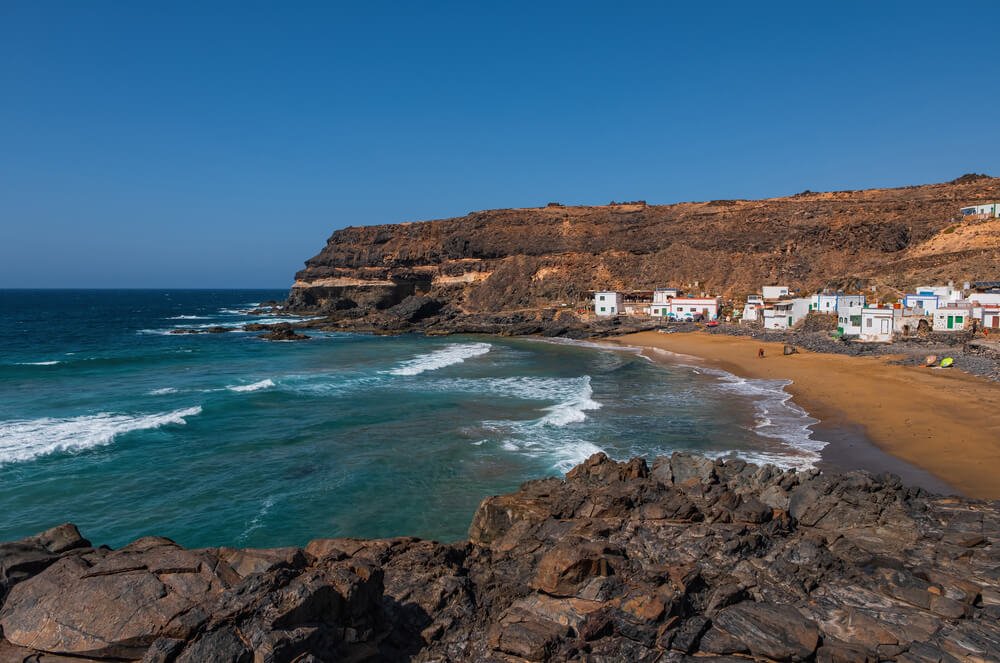 The small village of Los Molinos consists of just a few whitewashed houses built around the main beach.
You can walk around for a while before continuing your trip south to Betancuria.
If you want to avoid driving on dirt roads, you can also go straight to Betancuria from Tindaya, skipping these beaches.
The drive from both Tindaya and Los Molinos takes roughly half an hour.
Stop for lunch in Betancuria.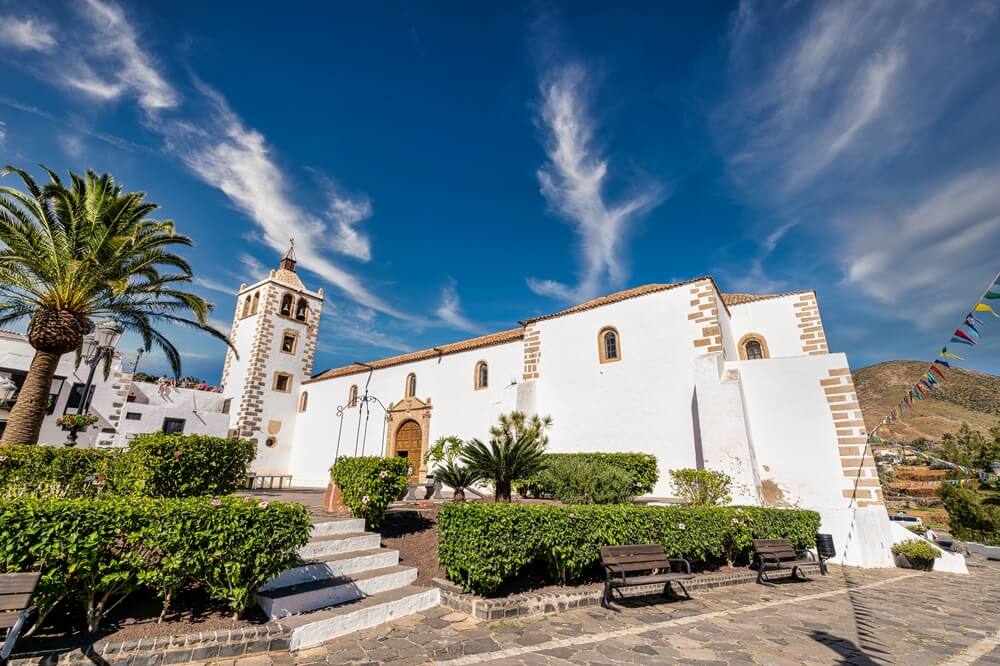 For fans of history, take note: Betancuria was briefly the capital of the Kingdom of the Canary Islands.
This happened shortly after the conquest led by French explorer Jean de Béthencourt, who also founded the town.
From 1405 to 1834, the town served as the capital of Fuerteventura.
Betancuria lies in a valley surrounded by the Betancuria mountain range, which is now part of the protected area of Betancuria Rural Park.
The area features impressive red and brown hills and mountain peaks.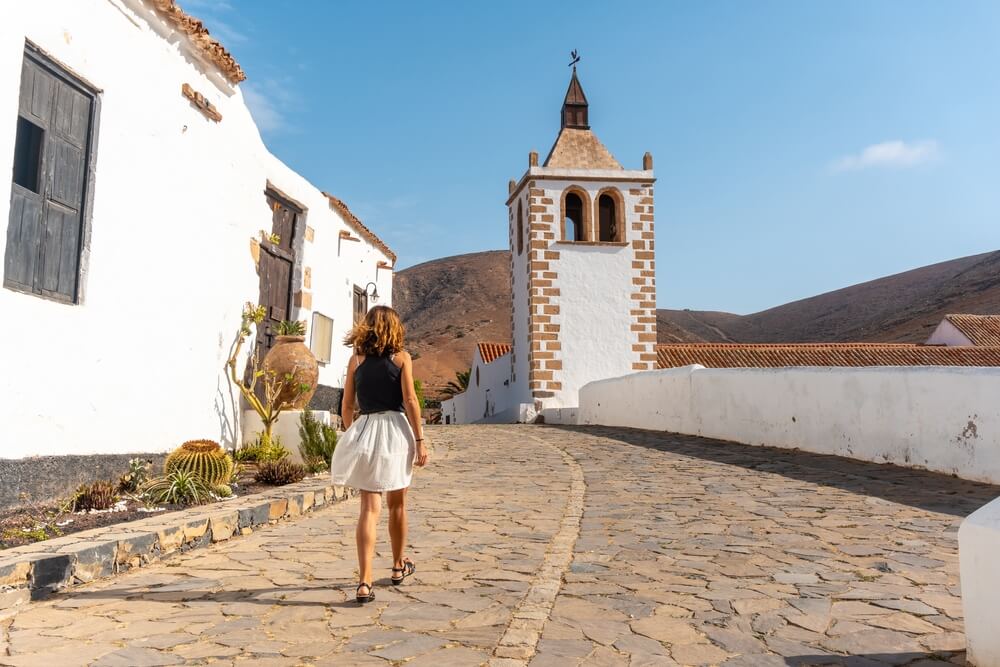 The white houses of Betancuria and occasional palm trees really stand out in the reddish background, so if you're looking for some striking photos to remember your trip, be sure to bring your camera!
Most of the activity in Betancuria revolves around the main square, Plaza Santa Maria, which is dominated by the Church of Santa María de Betancuria.
Stop for lunch in one of the many lovely restaurants, like the charming La Sombra or the authentic Restaurante Valtarajal.
Explore Betancuria Rural Park.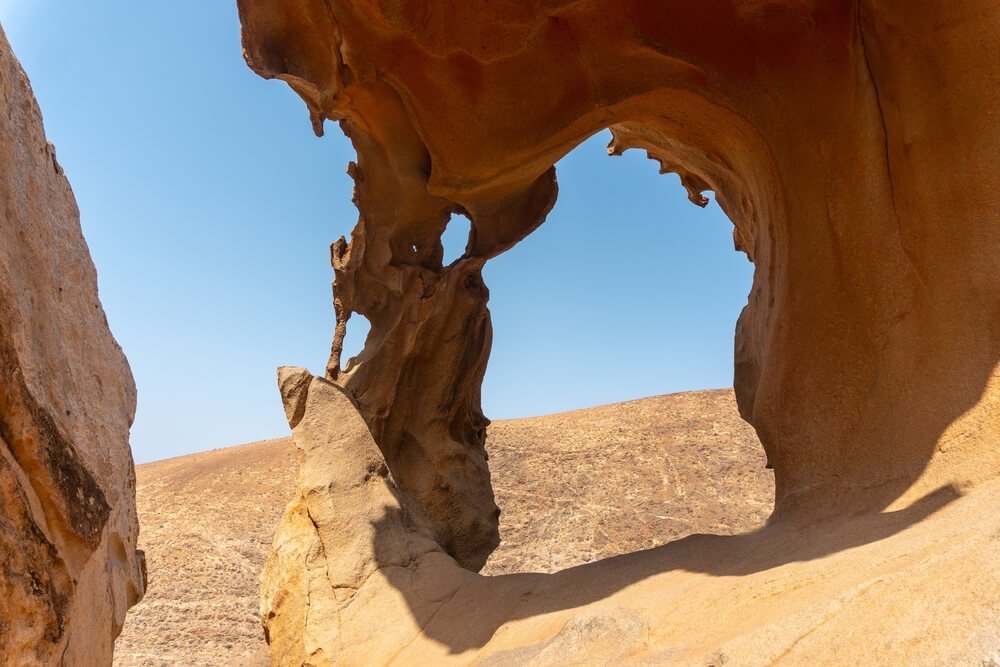 After lunch, it's time to explore Betancuria Rural Park. Several hiking trails depart from Betancuria, allowing you to explore the impressive landscape.
A particularly beautiful trail connects Betancuria to the small town of Antigua through the mountains and offers sweeping views of the surrounding valleys.
The hike takes about 4 hours to complete and is moderate to hard in difficulty, 6.5 miles roundtrip with 1,700 feet of elevation gain.
If you're looking for a shorter but challenging hike, head to Arco de las Peñitas. This natural arch lies at the top of a hill near Vega de Río Palmas.
It may be only 1 mile roundtrip and 300 feet of elevation gain, but the hike isn't easy by any means; there is no real trail all the way to the arch, and you'll have to scramble over slippery rocks.
However, if you're careful and take it slow, you'll be rewarded with a spectacular view!
While you could walk to the arch from Betancuria (starting by this route, then continuing onwards), it's easier to drive to the parking area (Google Maps has it listed here: Parking Area "Arco de LAS Penitas") and start walking from there.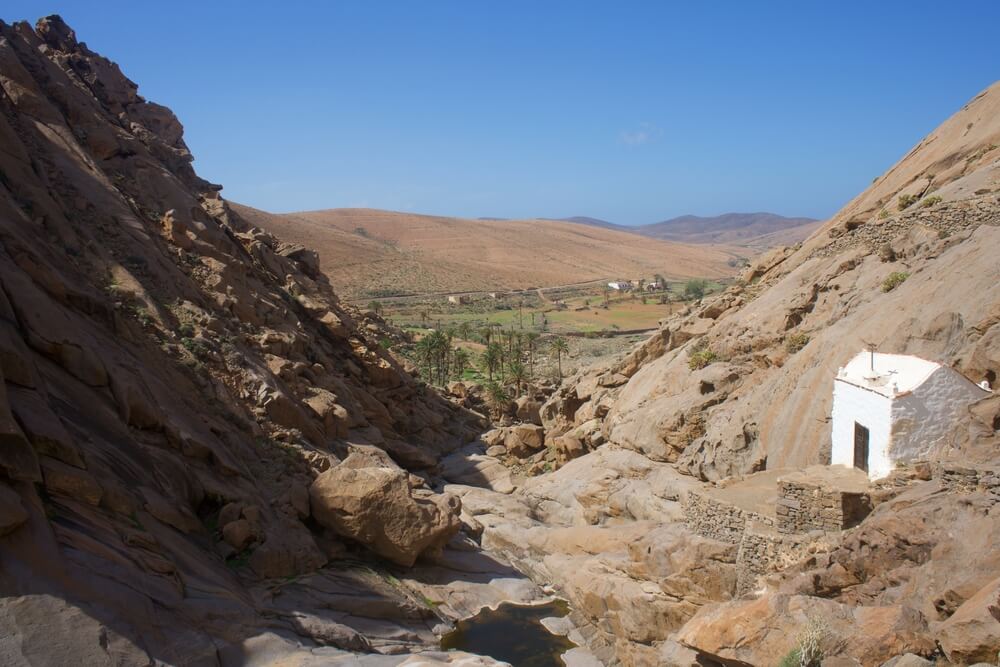 Along the way, you'll also come across Ermita de la Peña, a little chapel built on the side of a hill.
After the chapel, it's time to go around the mountain and start climbing and scrambling up the rocks until you get to your viewpoint.
The path isn't clear, but the general direction is up — it helps to have a map downloaded so you can orient yourself in the right way and not get lost.
Once you've finished hiking, drive south toward Pájara for some spectacular viewpoints.
Stop by Mirador Las Peñitas, Mirador del Risco de Las Peñas, and Mirador Barranco del Aceituno to enjoy panoramic views of Betancuria Rural Park — this time, without the steep hikes.
Visit Ajuy Caves.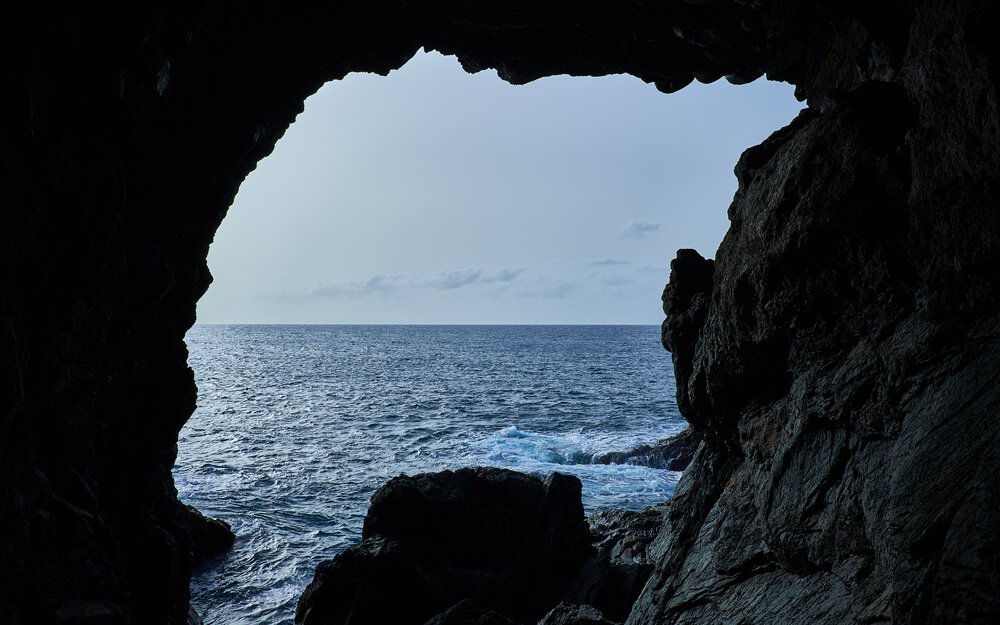 From Pájara, you can either drive back toward your accommodation or visit the small fishing village of Ajuy if you have time and energy left.
The village is best known for the Ajuy Caves, a set of natural sea caves created on the side of the cliffs by lava flows.
You can reach the caves within a short walk from the village. Along the way, enjoy beautiful coastal views and try to spot the cute little squirrels wandering around the island!
The Barbary Ground Squirrel is a species originally from Morocco and Algeria, introduced to the Canary Islands in 1965.
However, please don't feed the squirrels, as they are already spreading and endangering the local flora and delicate ecosystem!
Have dinner in Puerto del Rosario.
From Ajuy, drive back to Puerto del Rosario for dinner. The drive takes nearly an hour, so take that into account!
For dinner, you can try the tapas at Restaurante La Jaira or enjoy tasty burgers at Hamburguesería El Argentino.
Day 3 of Your Fuerteventura Itinerary: Southern Fuerteventura
Stop by the abandoned village of La Florida.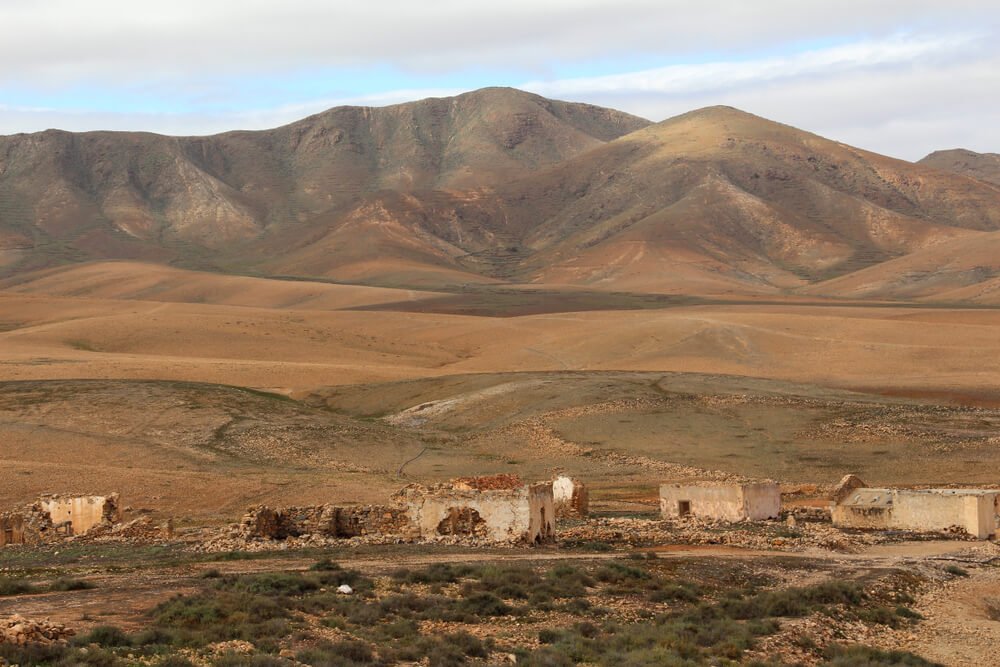 Start the day by driving to Costa Calma, one hour south of Puerto del Rosario.
Along the way, you can make a small detour to check out the abandoned village of La Florida.
The village lies along a narrow road south of Tuineje.
While there isn't much to do here, the ruined houses are a unique and eerie sight in the arid and empty landscape.
Stop by the bustling resort town of Costa Calma.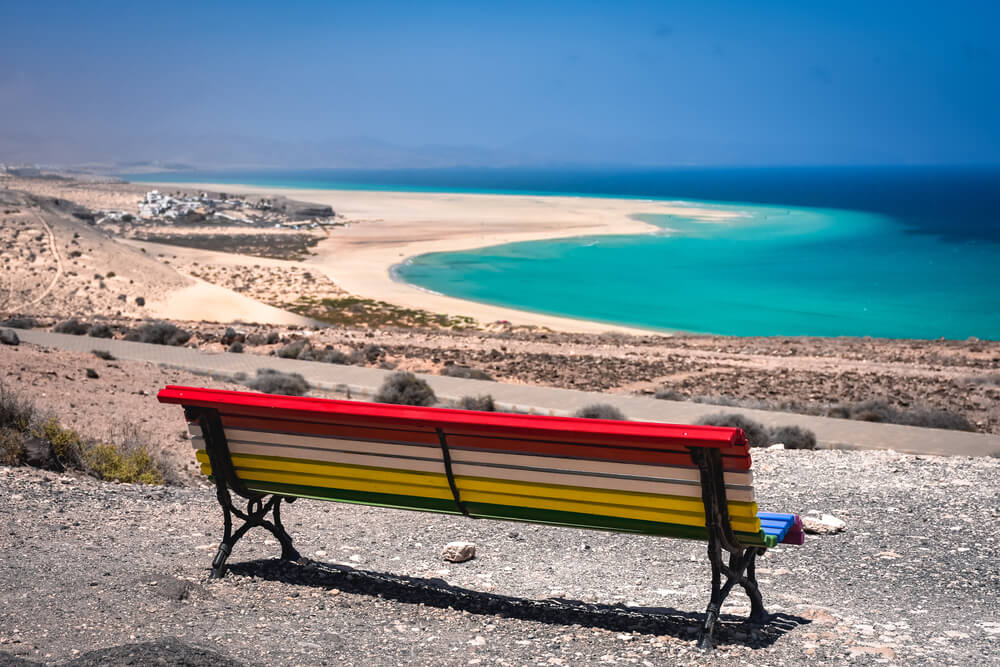 Costa Calma is a stark contrast to the abandoned La Florida.
The resort town on the southeastern coast features luxury hotels and stunning sandy beaches stretching for miles!
The spacious beaches are ideal for enjoying a few hours of relaxation and swimming in beautiful turquoise waters.
For some beach time, head to Playa Esmeralda or Playa de Sotavento (the latter is pictured and highly recommended!).
After a few hours at the beach, head back to Costa Calma for lunch.
Try healthy salads and sandwiches at Rapa Nui SurfBar or the delicious tapas at El Bar de Marko.
Both places have lovely terraces overlooking the sea, so you don't have to stop looking at the view!
Explore Parque Natural Jandía.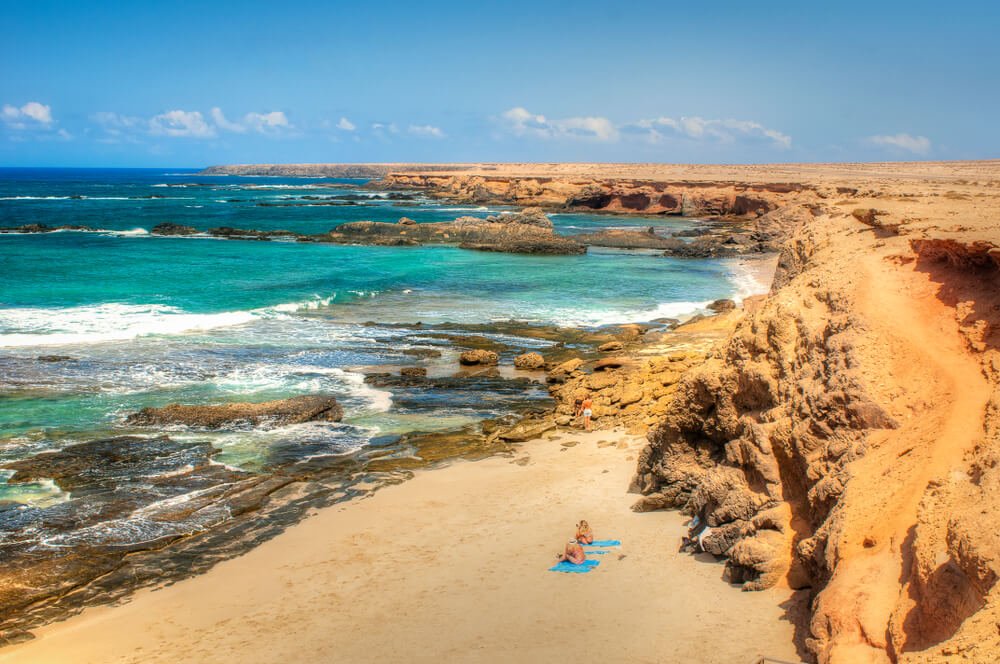 After lunch, drive farther south to explore the impressive Parque Natural Jandía.
The natural park is quite large and not very popular among tourists, so it's a great place to escape the crowds and enjoy unspoiled natural landscapes.
There's so much to see in Jandía, but Playa de Cofete and Villa Winter are the musts.
NOTE: The road to Cofete is unpaved and unmaintained. If you have any issues or damage, the GPS in your car can track where you've been and it may invalidate your rental insurance coverage. To avoid any issues, you can always book a 4×4 tour of Cofete.
Admire the marvelous Cofete Beach.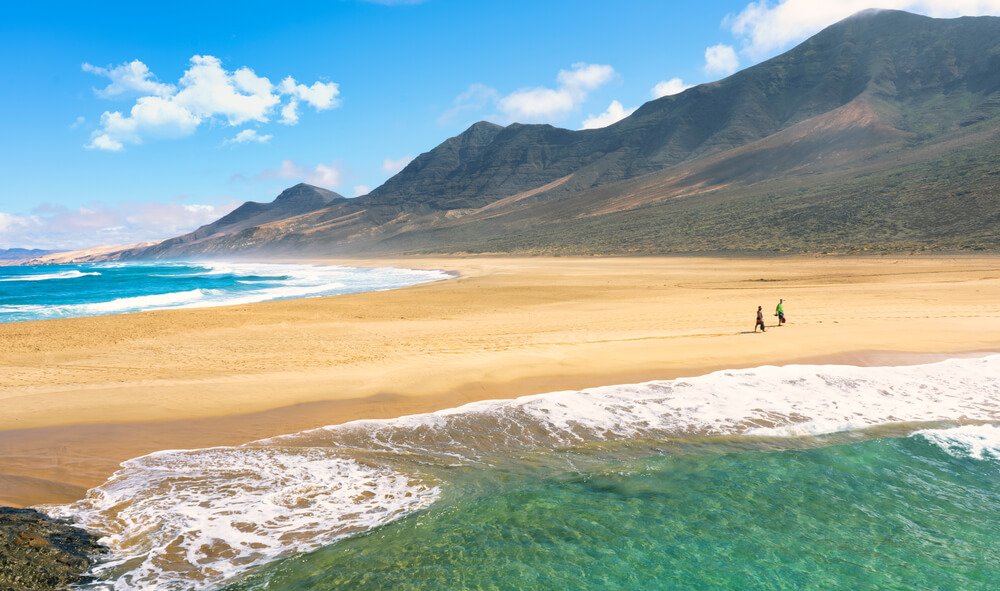 From Costa Calma, drive south for around 50 minutes until you reach the signs for Playa de Cofete.
From there, turn right to head toward Playa de Cofete.
Before you get to the beach, you'll pass by Mirador de Cofete, a must-see viewpoint overlooking the awe-inspiring coastline.
After that, it's only a five-minute drive until you reach the coast. You can go for a stroll along the beach or stay for a couple of hours and go for a swim.
Playa de Cofete is considered the most beautiful beach in Fuerteventura and one of the most beautiful in Europe, so be sure not to miss it!
Check out Casa Winter.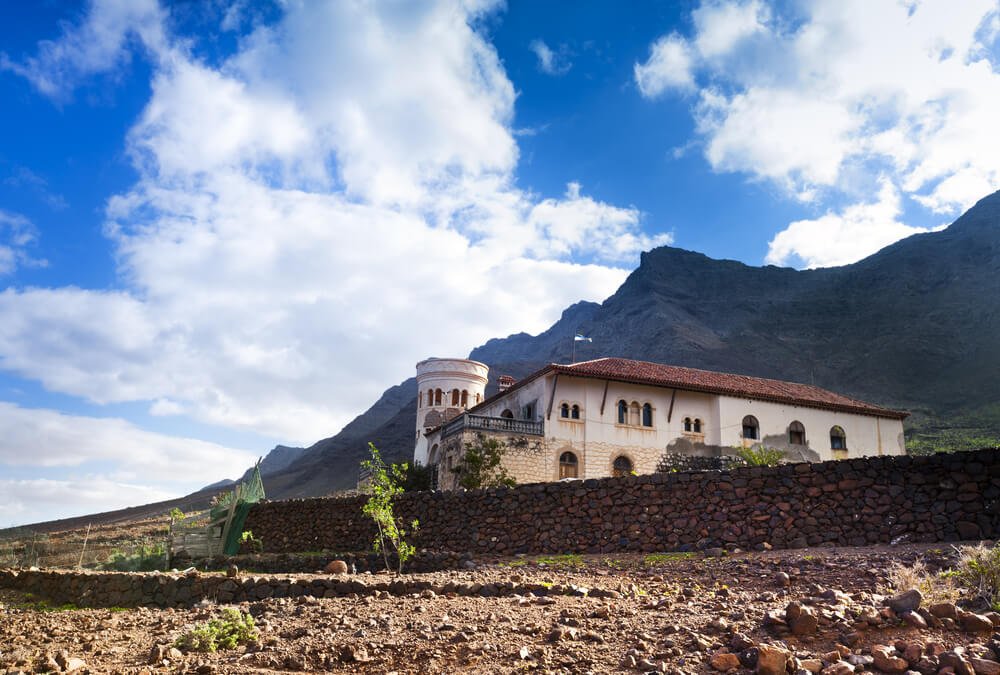 Not far from Playa de Cofete, you can visit Villa Winter, a villa built by German engineer Gustav Winter.
The villa is surrounded by mystery, including one regarding an alleged connection to the Nazi party, but that particular story was never confirmed.
Nevertheless, Villa Winter is able to be visited (no entrance fee, but the groundskeeper will expect a small tip) that you can visit to learn more about the isolated villa.
Note that the road to get here is very poorly-maintained, so it's best in a car with high clearance.
Alternatively, stay a little longer in in Morro Jable.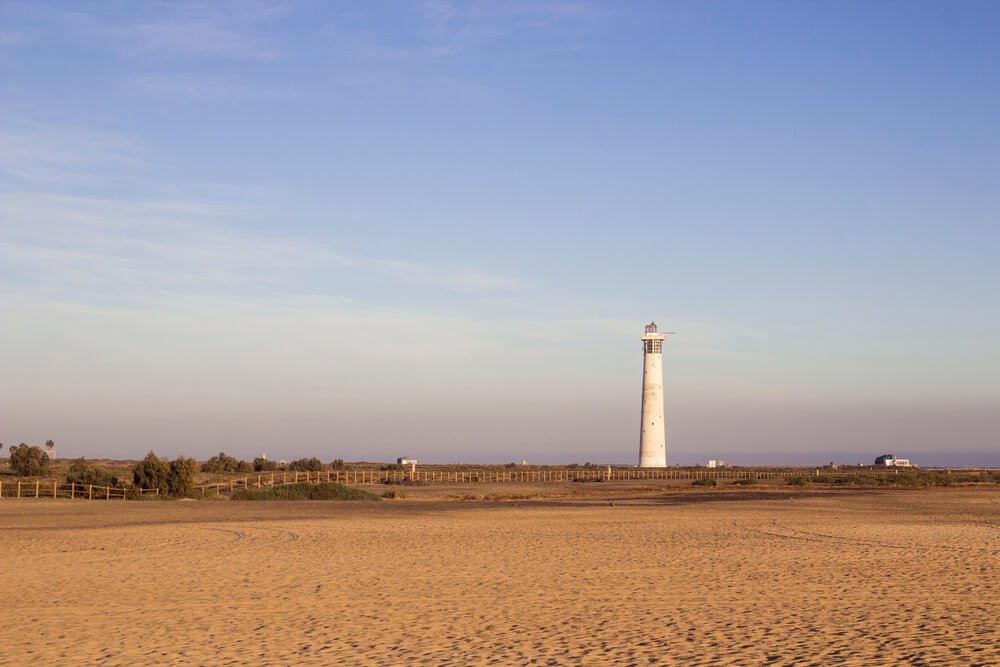 Be aware that the roads in this part of the island are unpaved. The paved portion ends around Mirador Playa Coloradas.
If you don't want to drive on dirt roads, you can always stop in Morro Jable and enjoy exploring the beautiful resort town and its beaches.
This is also a great departure point for the whale watching and dolphin watching tours in Fuerteventura: book your tour here.
The Morro Jable Promenade follows the gorgeous Playa del Matorral, offering amazing views.
Walk to the Morro Jable Lighthouse and stop for a swim in the crystalline waters.
If you choose to drive ahead to Playa de Cofete, you'll have to drive back the same way, so you can also stop in Morro Jable on the way back.
Have dinner in Morro Jable or Puerto del Rosario.
You can stay for an early dinner in Morro Jable or drive back to Puerto del Rosario.
I've given you some tips for Puerto del Rosario above, so refer to those and try one of the restaurants you haven't been to yet.
In Morro Jable, try the tasty tapas at La Bodega de Jandia or have a delicious paella or fresh fish at Restaurante La Puntilla Casa Menso.
Optional Day 4 of Your Fuerteventura Itinerary: Excursion to Lobos Island
If you have one extra day to spend on a Fuerteventura itinerary, the best way to take advantage of it is to go on a day trip to Isla de Lobos.
You can take this trip independently or join a guided tour.
Take a ferry from Corralejo to Lobos Island.
The advantage of an independent trip is that you can spend as much time as you wish exploring the island.
However, you do need a permit to visit the island.
You can request the free permit up to five days before the date of your visit or book a ferry trip that includes it, like this Ferry Ticket with Entry included.
The ferry cost is approximately 18 euros anyway, so you have nothing to lose by buying the ferry ticket online — it's much easier that way, to be honest, I'm just offering you an alternative.
If you choose an individual visit, drive to Corralejo to catch the ferry that will leave you near El Puertito. Here, you'll find the only restaurant on the island.
Check opening times in advance and book a table to have lunch there. Alternatively, bring your own food, as there are no shops on the island either.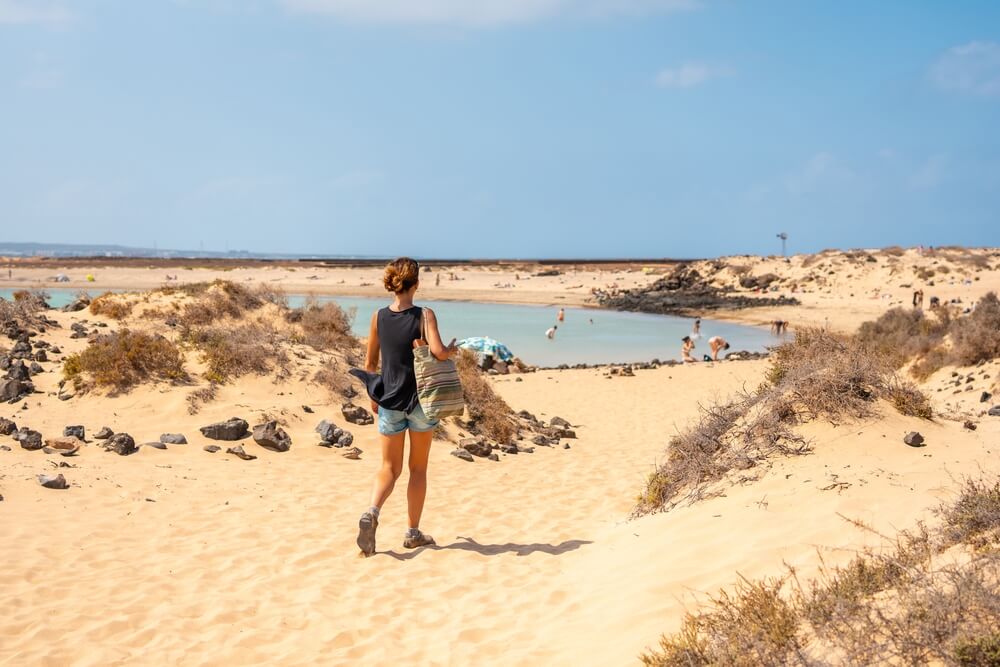 You can walk around the island in less than two hours if you keep moving without stopping.
However, it's best to take your time and admire the stunning landscape.
Check out the lighthouse of Punta Martiño and relax on Playa De La Concha De Lobos.
If you have the energy, hike the Montaña de La Caldera Isla de Lobos for sweeping views of the island.
Join a guided boat trip of Lobos Island.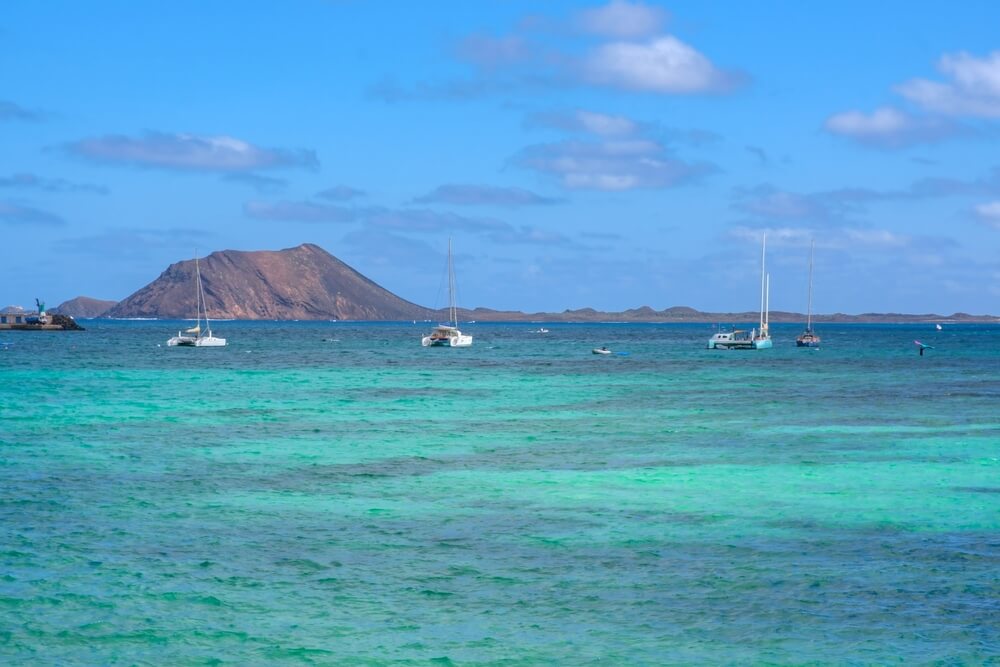 If you prefer to join a guided boat tour and have something do the hard work for you after 3 days of road tripping Fuerteventura, you've got a few great options.
This half-day Catamaran Tour includes a short tour of Lobos Island, a paella lunch, and several water activities, like snorkeling, kayaking, or paddleboarding.
This trip is ideal if you prefer to spend more time on the boat or in the water, snorkeling, kayaking, and swimming, instead of walking around the island at your own leisure.
This option is similar, but is specified to be adults-only, so if you're traveling alone, with friends, or as a childfree couple and don't want to be around any children, it's a great choice.
If you've never dove before but you're curious about it, you can try this unique discover diving experience which allows you dive comfortably at 6 meters (20 feet) without any prior SCUBA training.
This tour skips all the crazy equipment you need for traditional SCUBA diving, leaving the heavy air tank and all the gear behind, using a special floating Peter Diving System.
And if that's a little much for you, you can always snorkel, too.
Visiting more of the Canary Islands? Check out my guides to Lanzarote, Gran Canaria, and Tenerife here.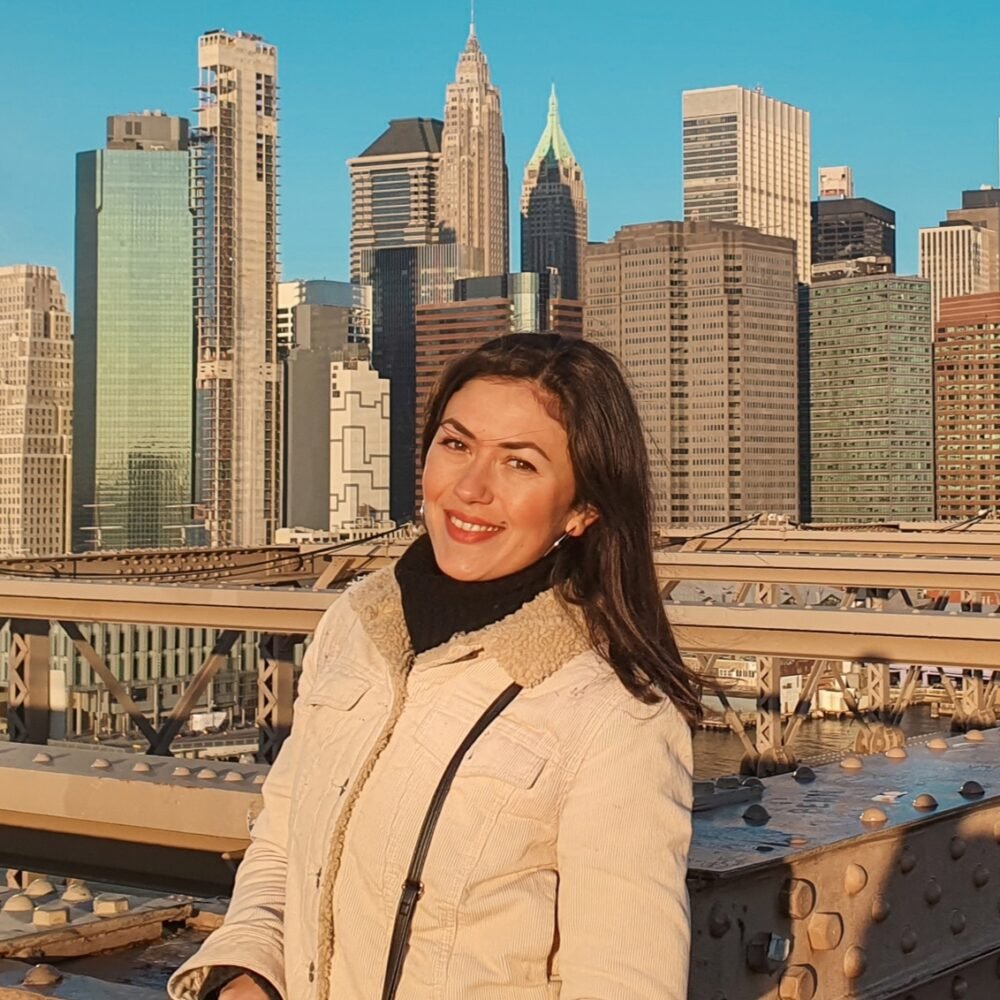 Roxana is a Romanian-born freelance travel writer who has lived in Italy for over 15 years. She has a Master's in Journalism and a Bachelor's in Film Studies. Her mission is to find hidden gems, even in the most popular travel destinations, and to inspire people to explore new places and cultures with the same curiosity! When she is not traveling, writing, or planning her next trip, she is either binge-watching TV shows or reading books.