Travel doesn't have to be expensive. In fact, I've found that I often spend less when I travel than when I spend a month at home in the US.
When thinking of the world's cheapest countries to travel to, destinations in Southeast Asia probably immediately come to mind first.
While that's a great place to start, I wanted to go a step further and create a definitive list of the cheapest countries to travel beyond the usual spots.
To get the very best and most complete list possible, I asked travel bloggers to help me come up with some of the cheapest countries to visit in the world.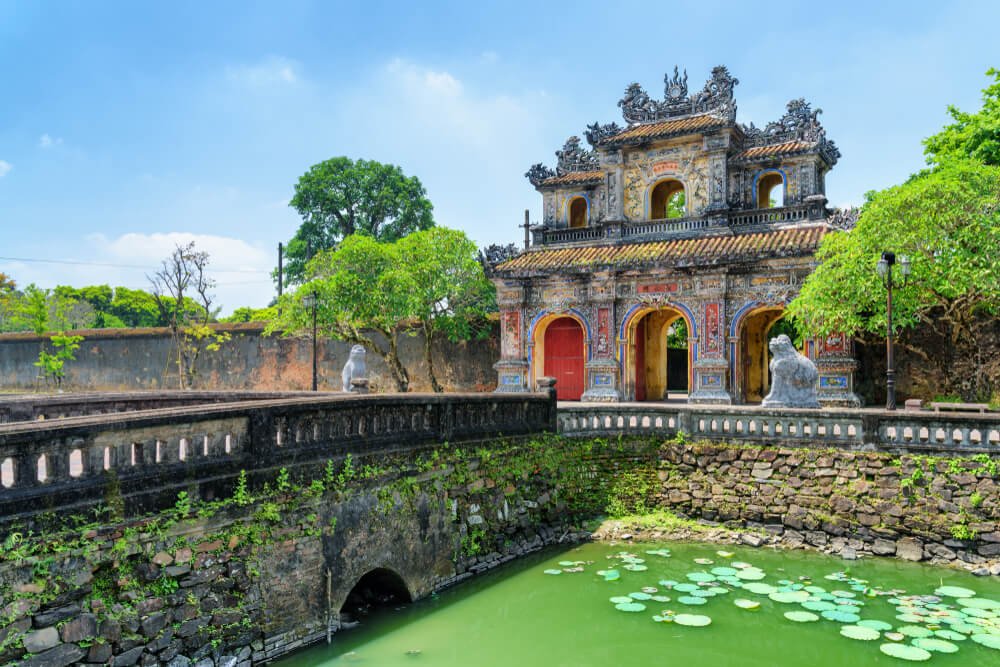 Note: This post contains affiliate links, which means I may receive a small commission if you purchase something through one of these links. Thank you for supporting the free content on this site! For more information on affiliate links and cookies, see my disclosure page for more details.
Note: This prices in this post are from 2018. While I've updated this post to reflect safety information and other significant changes, I have not been able to personally verify the costs of traveling to these destinations in 2023.

Due to global events since 2018, including inflation, pandemic changes, and ever-fluctuating currencies, this update doesn't attempt to correct all the prices.

Instead, I've changed the "floor" for "cheap countries" to be those where it is possible to backpack on a $40/day budget, instead of a prior $30/day budget.

Spending $40 in a day in Vietnam will look very different than spending $40 for a day in, say, Spain — but both are possible with careful budgeting.
The answers I got span five continents and a multitude of regions, topographies, and cultures.
And as commenters have noted — I still have yet to scratch the surface of some other amazingly affordable countries.
So before you go saying you can't afford to travel, take a look through this post and have another think
Cheapest Countries to Travel in Asia
Thailand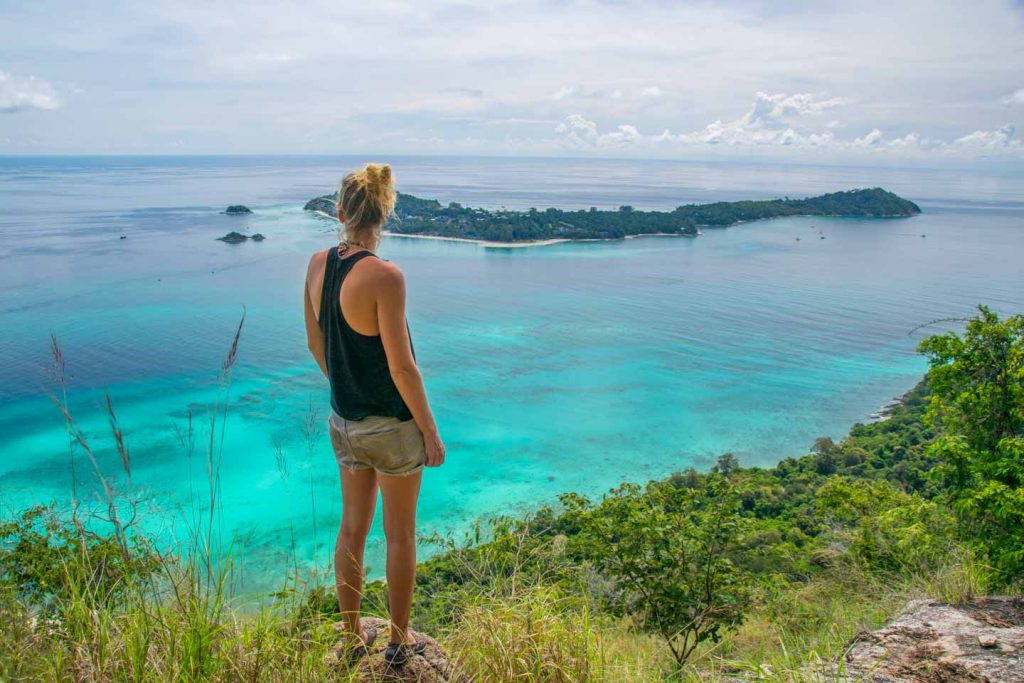 By Hannah & Adam of Getting Stamped
Travel in Thailand can be super cheap or you can even get a 5 star hotels for under $100.
If you prefer to spend less and travel longer, then Thailand is definitely one of the cheapest countries to visit.
You can easily find a really nice hostel in Bangkok for $10, or even much cheaper for a more basic hostel.
If you are looking to go to the beaches you'll realize fast accommodation can be pricey BUT did you know some islands have camping?
On Koh Adang you can rent a tent complete with bedding for 2 people for 200 baht a day — that's less than $3 a person a night and it's even cheaper if you have your own tent at 30 baht (0.85 cents).
The only accommodation on the island is in the National Park which offers a few chalets for 600 baht ($16.50) or camping.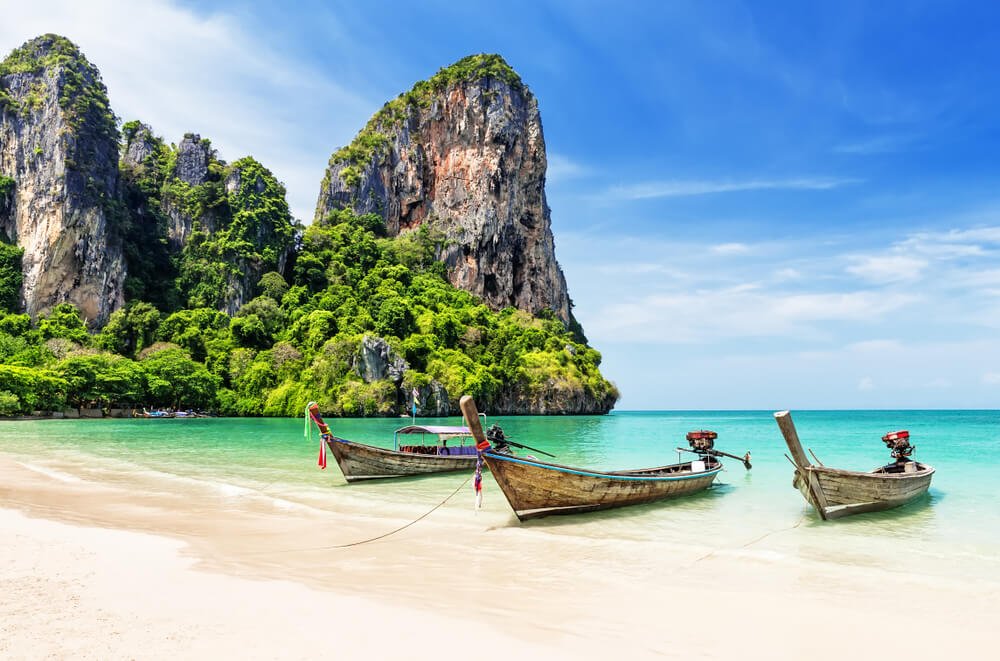 Here's a breakdown of traveling to Koh Adang, Thailand: $3 a night camping in a 2 person tent, $1 rent snorkel gear, $5.50 round trip long tail boat from Koh Lipe island, $8 for three meals at the restaurant on the island, and $5-10 snacks and beers bought at 7/11.
You could spend as little as $10 a day exploring Koh Adang. There are several waterfalls to hike, beaches with amazing snorkeling, and epic viewpoints.
You could even spend less than $30 and stay in the really nice chalets on the island.
There aren't many other islands in Thailand where there are very few tourists and you can basically have the beach to yourself!
Laos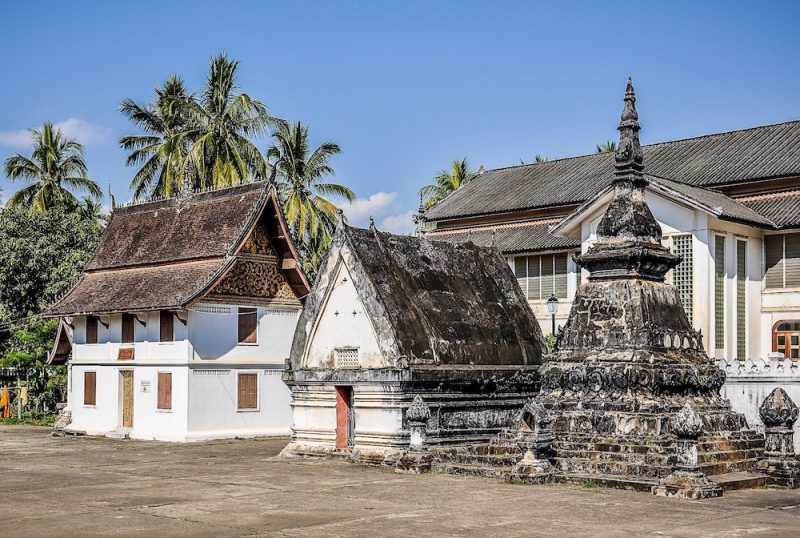 By Gabor of Surfing the Planet
Laos is definitely not one of the most popular destinations in Southeast Asia.
This is the only country in the region without beaches, and hence tourists prefer to visit the neighboring countries.
Nevertheless, partly due to the lack of tourist hordes, Laos is a very authentic destination with beautiful landscape, inspiring culture and very friendly people.
In the North of Laos you can explore the dense rainforest and visit several communities with different ethnic groups.
In Luang Prabang, the ancient capital of Laos, you can admire the mixture of French colonial architecture and ancient Buddhist temples.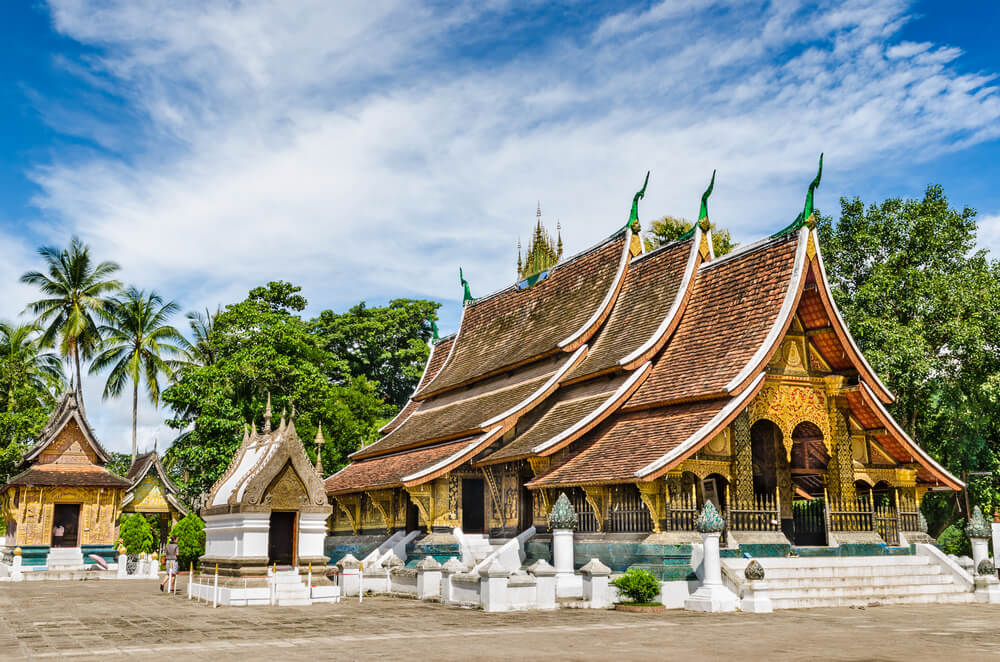 Vientiane is surely the calmest capital of the region, where you can visit the national monument of the country.
In the South you can get lost between coffee plantations and picture perfect waterfalls in the Bolaven Plateau, and then take a rest on one of the 4000 islands on the River Mekong.
In Laos we spent as little as $20 per person per day.
We spent around $7 on food, $6 on transport and $8 on average for double rooms ($4 per person), and the rest on other stuff.
Laos is one of the cheapest destinations in the world, perfect for backpackers on a tight budget.
Vietnam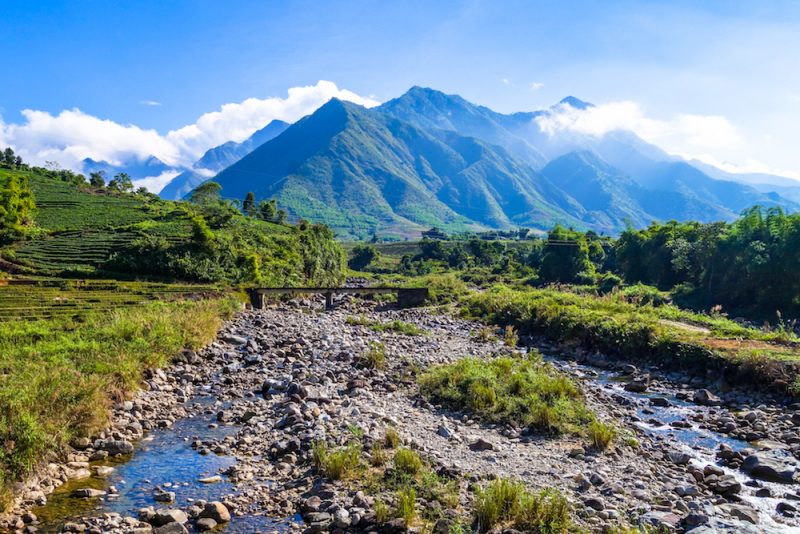 By Alesha and Jarryd of NOMADasaurus

Besides being one of the most beautiful, captivating, and cultural countries in all of Southeast Asia, Vietnam is also one of the cheapest!
Even without checking your budget every day it's easy to live on less than $30 a day!
It is completely normal to find private, ensuite rooms in modern hotels for around $10 a night, even in the major destinations of Ho Chi Minh City, Hoi An and Hanoi.
A typical meal can cost anywhere from $0.50 to $2, and in some places we were even buying banh mi (Vietnamese sandwiches) for as little as $0.20!
A bia hoi (draft beer) is about $0.10-0.20 on the streets of Hanoi, and transport ranges from $0.25 for public transport up to $15 for overnight tourist buses.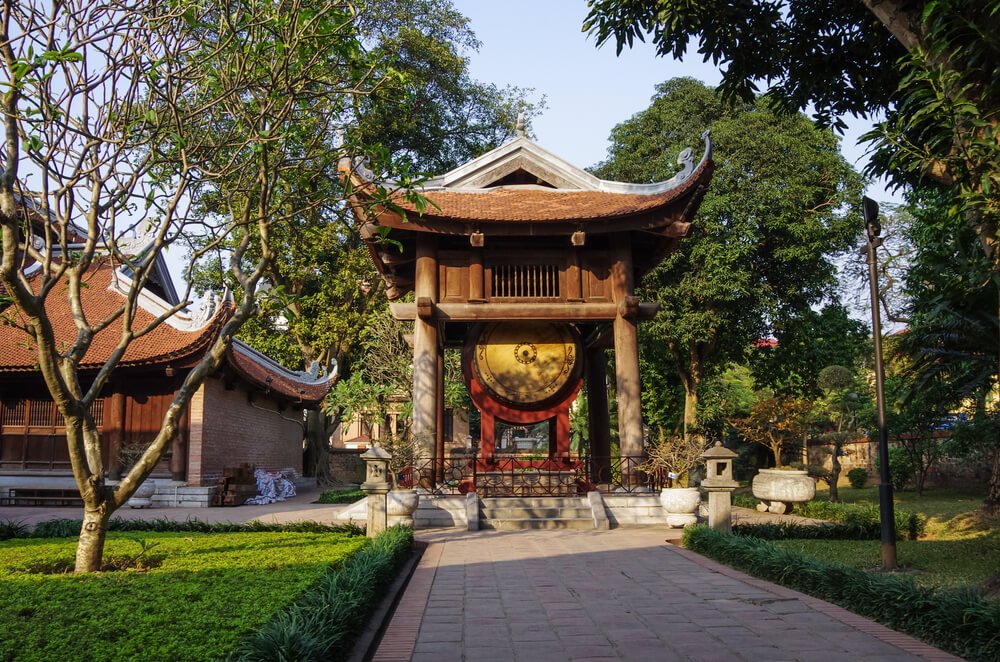 One of the most popular ways to travel in Vietnam is by motorbike, and this can bring your costs down even lower.
We were living on about $10 a day each with our own transport, as fuel was so cheap and we could avoid getting taxis and buses everywhere.
You can buy a motorbike in Vietnam for about $250, and sell it for the same price when you are finished with it.
Some activities can be quite expensive, such as Halong Bay cruises, or trekking to Hang Son Doong, the largest cave in the world (which costs $3,000 USD!).
Despite some luxury outliers, in general, Vietnam is one of the cheapest countries to travel to in the world!
China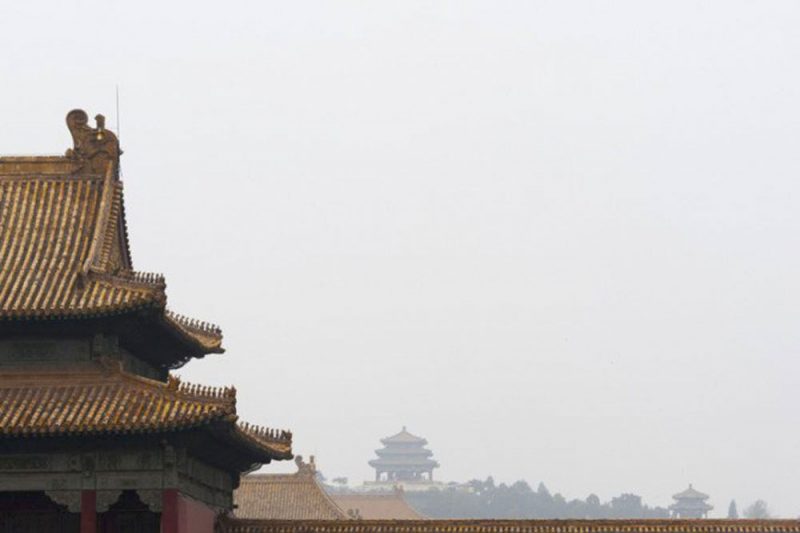 By Margherita of The Crowded Planet
To be honest, I thought China was going to be much more expensive than it actually was.
We travelled around the country for one month in 2014 and our budget was an average of $30 per day.
Our trip started in Inner Mongolia, and then we moved on to Datong, Pingyao, Xi'an, Shanghai, Suzhou and Beijing, where we spent the final week visiting friends.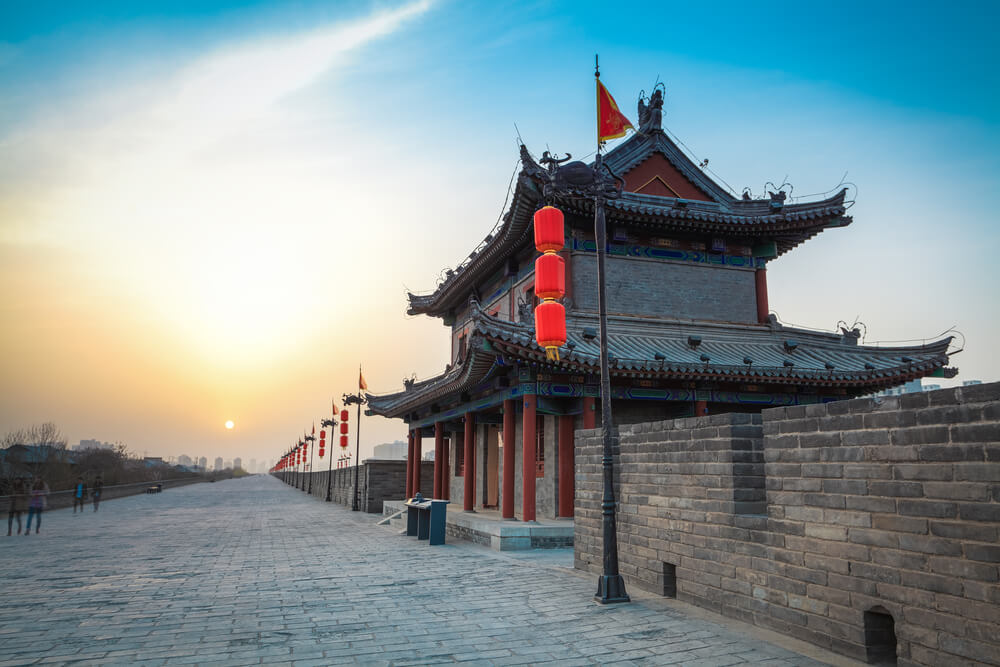 We loved the Chinese capital – there are so many unusual places to see in Beijing that we never got bored!
There are many hostels in China – accommodation ranges between $8-10 for a dorm and around $20 for a double away from the main cities.
Simple street food like noodles or dumplings can be had for as cheap as $1, or even less, while a sit-down dinner would probably be around $5-10 in a simple restaurant.
Overnight buses and trains were also a huge help to keep our budget down, as they were usually comfortable.
On the other hand, entrance tickets are quite expensive, usually around $15 or so – so be careful!
TIP: Transit can be expensive, so minimize stops to save when planning your China itinerary!
Malaysia

By Jub of Tiki Touring Kiwi
Peninsula Malaysia is often overlooked as a destination for long term backpackers in Southeast Asia.
Malaysia may not quite be as cheap as 'the big four', but still definitely possible to travel well under $30/day.
The majority of hostels range from 20 – 30 RM ($5 – 7). The quality of these will range from city to city, but the popular tourist destinations will have something for your comfort.
The food, wow! Malaysia is known for its food scene with a heavy influence of Chinese, Indian and Malay cultures ensuring you can try new dishes for weeks.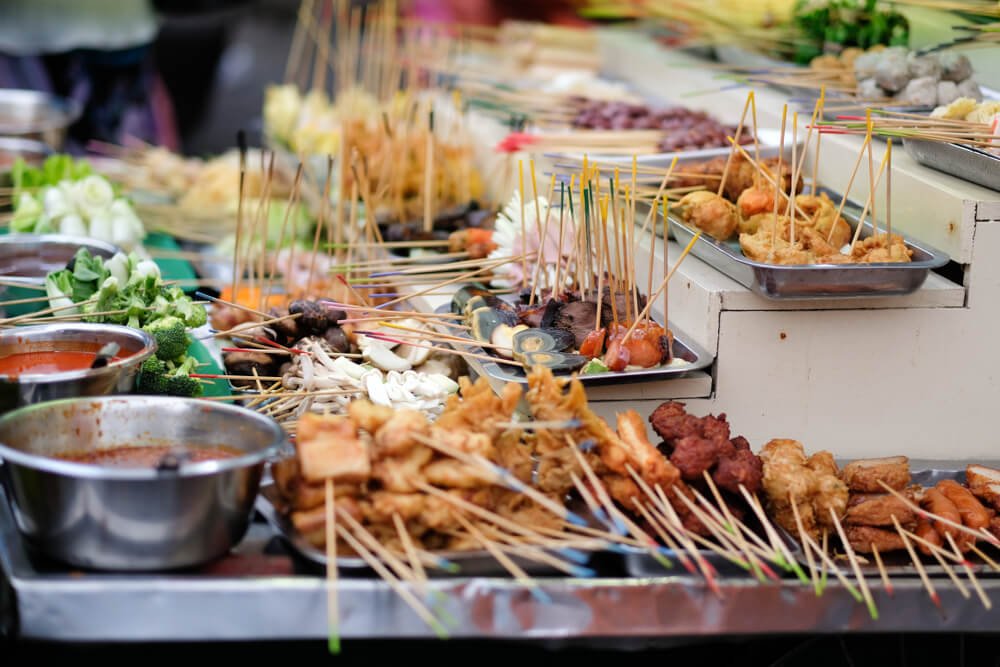 Street food can be found for $1 – 2, and meals at local restaurants will go for $1 – 4. Each city has its own specialties to enjoy.
Getting around Malaysia is best done by the affordable buses that can connect you to everywhere on the Peninsula. Prices vary; for example, Ipoh to Penang (4 hours) is ~$6.
Alcohol is where the trickiest part of backpacking in Malaysia for less than $30/day comes into play.
As a (mainly) Muslim country, alcohol is highly taxed, especially in bars and restaurants.
There are a couple of exceptions. Langkawi is duty free and in Penang, look to head to the shop 'Cheapest Beer In Penang' where you can get three cans of Singha for $3 and meet new friends in front of the shop.
India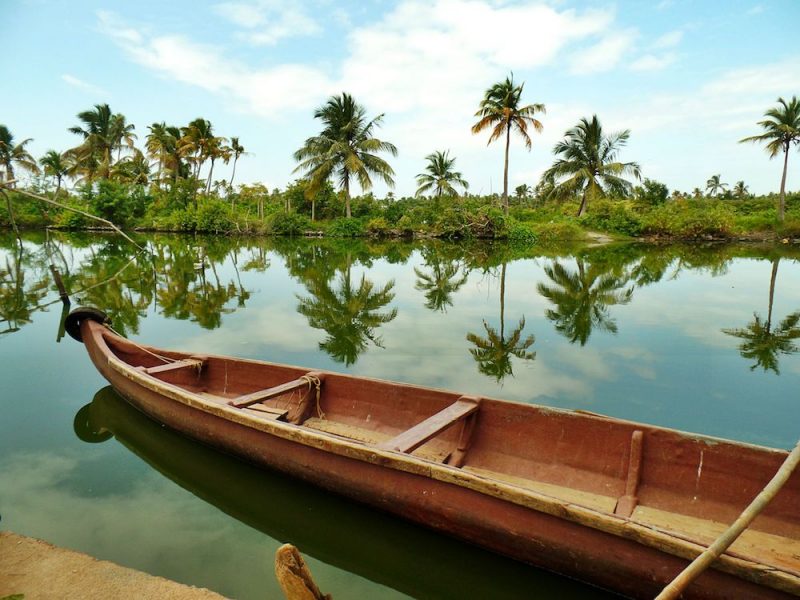 By Nicole of Wee Gypsy Girl
For budget backpackers, it is difficult to find a country that offers as much as India.
Due to the vast size of the subcontinent, you could spend months there and still feel like you've not scratched the surface.
Plus, you'll probably find you've not skimmed much off your bank balance, either.
To experience the laidback, tropical vibes of India, head South to Kerala.
Here you can hike for miles through tea fields, cruise the iconic backwaters and spot wildlife at one of the many vast, unspoiled national parks.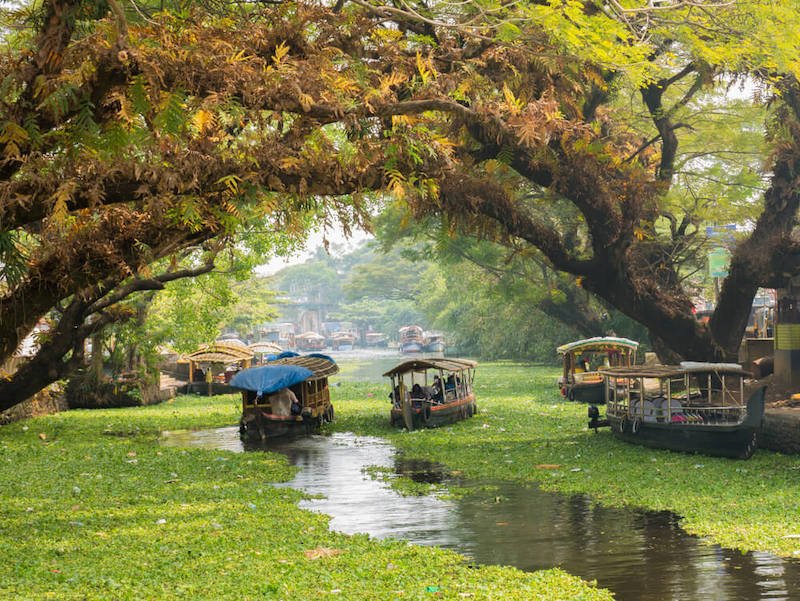 As a backpacker, you can live comfortably on a budget of between 1,000 INR and 1,500 INR ($15 to $22).
Double rooms can be found in local guesthouses for as little as 300 INR ($4).
Dorm rooms in hostels are usually around 500 INR ($7.50), as this is a relatively new concept in India.
However, the facilities are usually outstanding with air con, breakfast and luxurious hot showers included in the price
One of the best things about traveling in India is the food.
Expect to pay around 100 INR ($1.50) for a "veg thali"- an Indian set meal consisting of rice, several curries, yoghurt and flatbreads.
You'll never go hungry with such amazing food this cheap!
Cambodia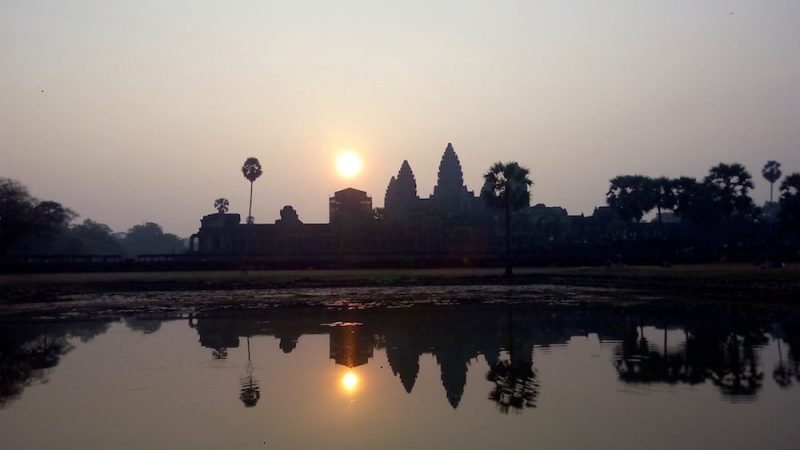 By Claudia of My Adventures Across the World
Cambodia must be one of the cheapest places I have ever visited.
Siem Reap, despite being the ultimate tourist destination in the country due to its proximity to the complex of Angkor Wat, is very budget friendly.
A boutique hotel is as cheap as $15 USD per night, and a meal in an exclusive restaurant costs no more than $10.
But it is Battambang, which is a bit less explored, that is truly budget friendly.
During my time there, I paid $3 for a bed in a 6 beds mixed dorm – and I even had air conditioning in the room.
I added around $2 for breakfast, and $4 for a full meal.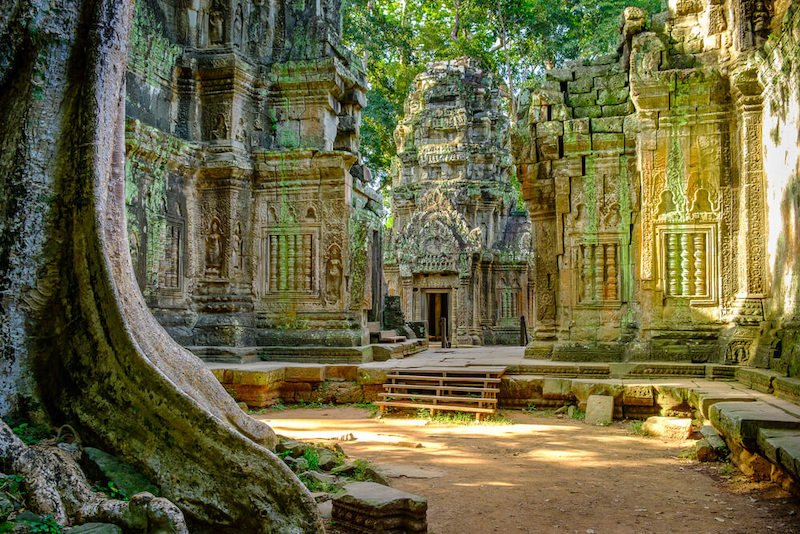 When I took the Bamboo Train I paid $5 – I waited for someone I could share the train with.
A full day tour around the city and to the nearby villages and archeological sites costed me no more than $15.
Depending on one's expectations and style of travel, the average daily costs for a backpacker are between $10 and $30 per day.
That's what I call being budget friendly!
Taiwan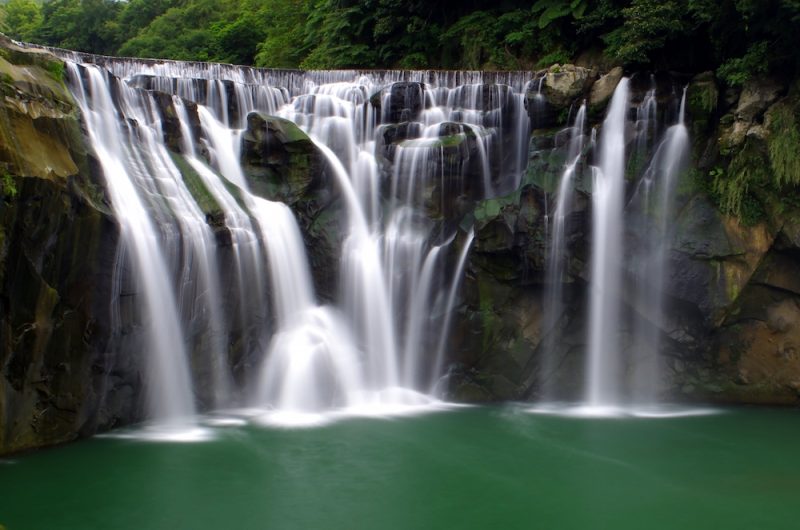 By Kirk of Taiwan's Waterfalls
Taiwan might get confused with a popular Southeast Asian country by many, but it is more similar to Japan in many ways.
Taiwan is one of the world's most densely populated countries, but its high mountains and lush valleys are practically unknown to many that haven't visited.
Southeast Asia is easier to travel on a $30/day budget, but here are three ways to explore Taiwan's lush valleys and incredible mountains relatively inexpensively.
The easiest option is to use mass transit from the major cities to access incredibly lush places that unbelievably exist near the big city.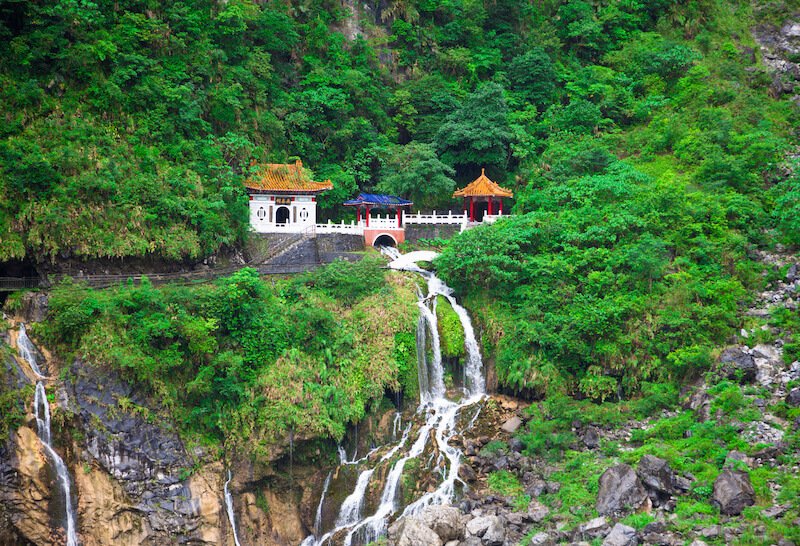 You'll pay on average $10 USD per night for a nice hostel and $15-20 per night for the more stylish hostels.
A meal will cost from $2-5, and transit will run you about $2-5 per day for MRT/bus fares. Luckily, most hikes and national parks are free.
There are two other great options for exploring Taiwan on a budget.
The more adventurous (with international driver's licenses) can rent scooters and others can get mountain permits and backpack to the numerous 3,000 meter peaks.
Philippines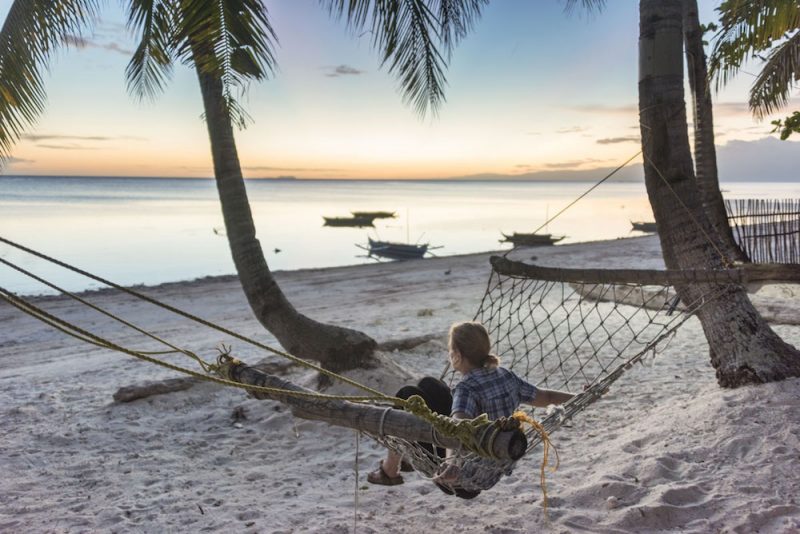 By Margherita of The Crowded Planet
The Philippines are one of the cheapest countries to visit, and it's definitely affordable on $30 USD a day.
A dorm bed usually costs under $10, and a simple roadside meal will only be a few dollars.
As long as you don't fly too much, or arrange your flights well in advance, transport won't break the bank either.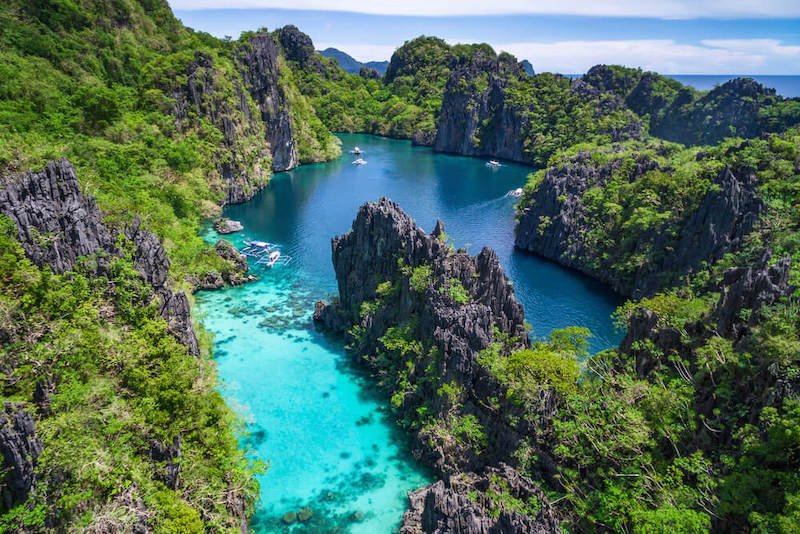 As an example, a 2-hour ferry booked on the day of travel will usually cost less than $10.
The Philippines are a perfect place to treat yourself – we paid less than $30 for a stunning beachside bungalow on Siquijor Island!
Even adventure activities are quite affordable – a dive can be as cheap as $25!
To make matters even better, the stunning nature, beaches and sunsets of the Philippines are free for everyone to enjoy.
Pakistan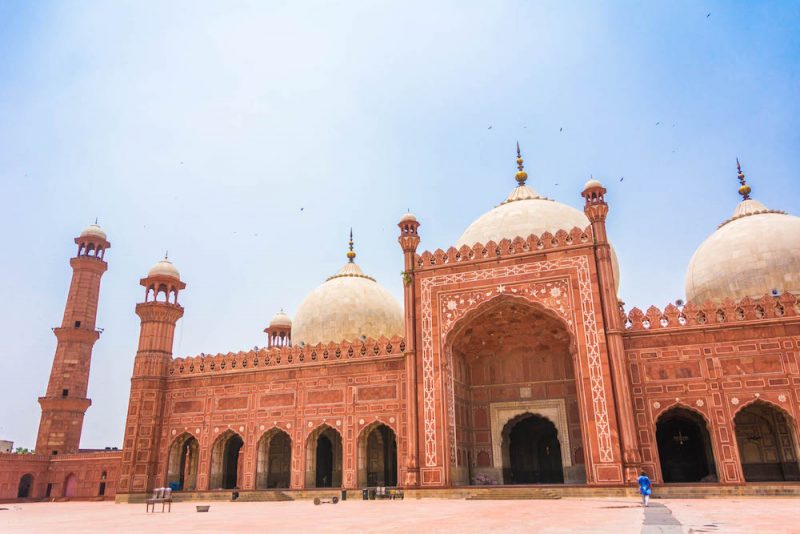 By Alex of Lost with Purpose

How does cheap transport, endless street food, and plentiful cheap sleeps (less than $7 a night) sound?
How about all of that, plus a country filled with people so excited to see you, you wouldn't have to pay for anything anyway?
Easily traveled for less than $15 a day, backpacking in Pakistan is a dream.
It's an offbeat country filled with the friendliest people you'll ever meet in your travels.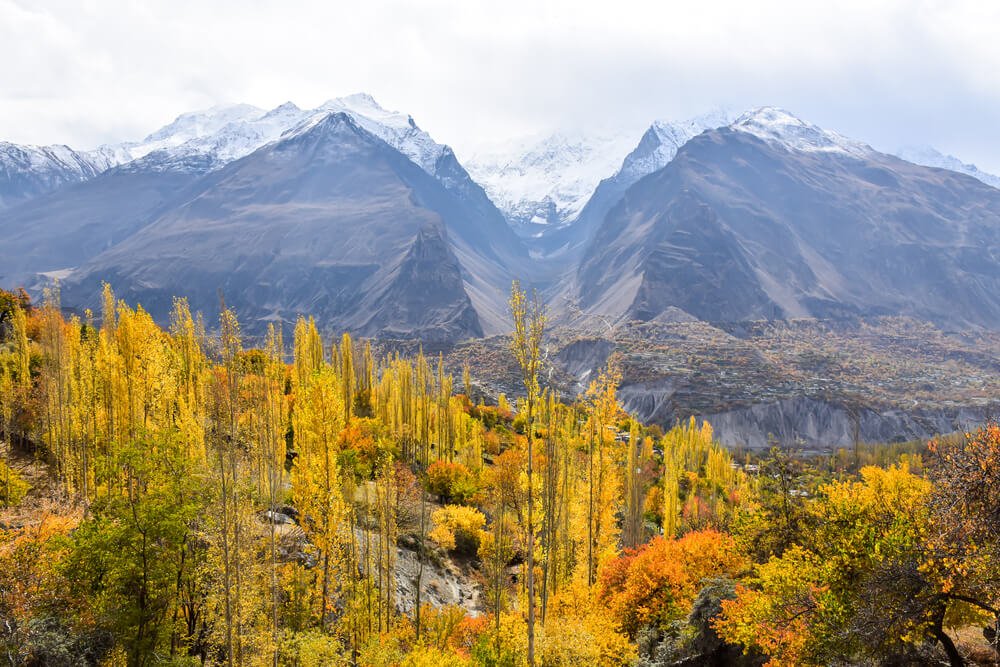 The chance you'll meet someone wanting to host you — and show you around and pay for everything— is 110%. Though of course, that's not something to take advantage of or expect.
Beyond being a cheap travel destination, Pakistan has something for everyone.
Whether you want to camp in the presence of the tallest mountains in the world, have entire Mughal-era wonders to yourself, or drown yourself in spicy delectables day in and day out for less than $3 per day, Pakistan is sure to be worth your while.
Armenia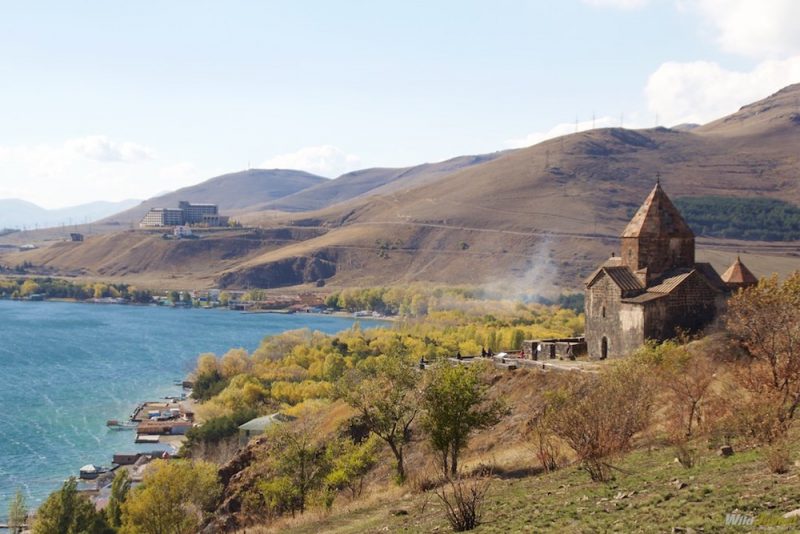 By Nellie of Wild Junket
2023 Update: While traveling to Armenia in general is safe, there are occasional violent flare-ups in the contested region of Artsakh/Nagorno Karabakh due to the Armenia-Azerbaijan border crisis. Avoid this region and the rest of Armenia is safe.
Armenia isn't usually an instant hit with travelers, but I fell in love with Armenia at first sight.
Perhaps because of my propensity for unconventional places or my interest for places with a tragic past.
Regardless, Armenia won my heart despite the short amount of time I spent there.
In comparison to its Caucasian neighbors, Armenia is truly unique in its culture and history.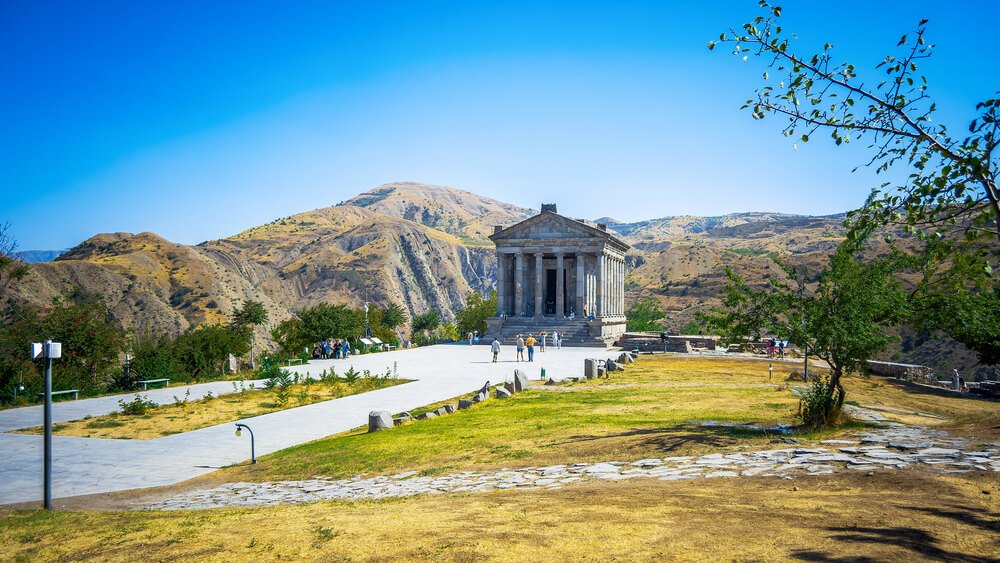 The country has its own alphabets and language family, own ethnicity, and cultural identity.
At times it feels like Asia and at times it's very much European. The charming blend of East and West is very evident in this intriguing country.
What's more, it's cheap and safe to travel, and easily accessible from most parts of Europe.
Some expected costs are as follows. The cost of hotel/hostel starts from $15 USD per night.
An average meal costs $5 in a simple diner. A marshrutka, or mini bus, ride in the city is less than $1, and a day tour is around $15.
Oman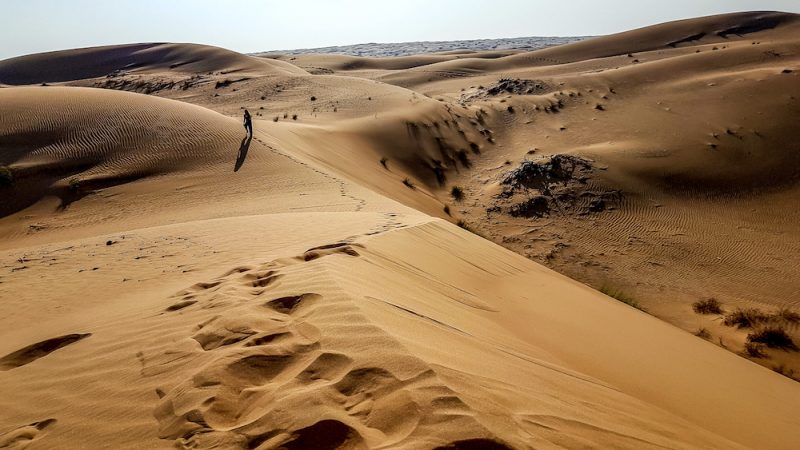 By Dan of Dan Flying Solo
Oman is packed full of incredible nature!
You can wake up in the morning on a beach, watching turtles laying their eggs, and by sunrise be walking through a desert surrounded by camels.
Hospitality is a big deal here, so expect to be invited, fed, and spoilt by any locals you make a connection with.
Whilst most people think Oman is not doable on a budget, and with traditional accommodation and tours it wouldn't be, there are a few ways to keep your costs low.
Wild camping is possible in most of the country, whether you are in the desert, on a beach, or high upon a mountain range – grab your tent and sleeping bag and you get nature's best bedrooms for free.
Most attractions also cost nada, from beautiful wadis of crystal clear water, incredible beaches, desert treks, or exploring magnificent mosques; as of yet, tourism hasn't attached a price.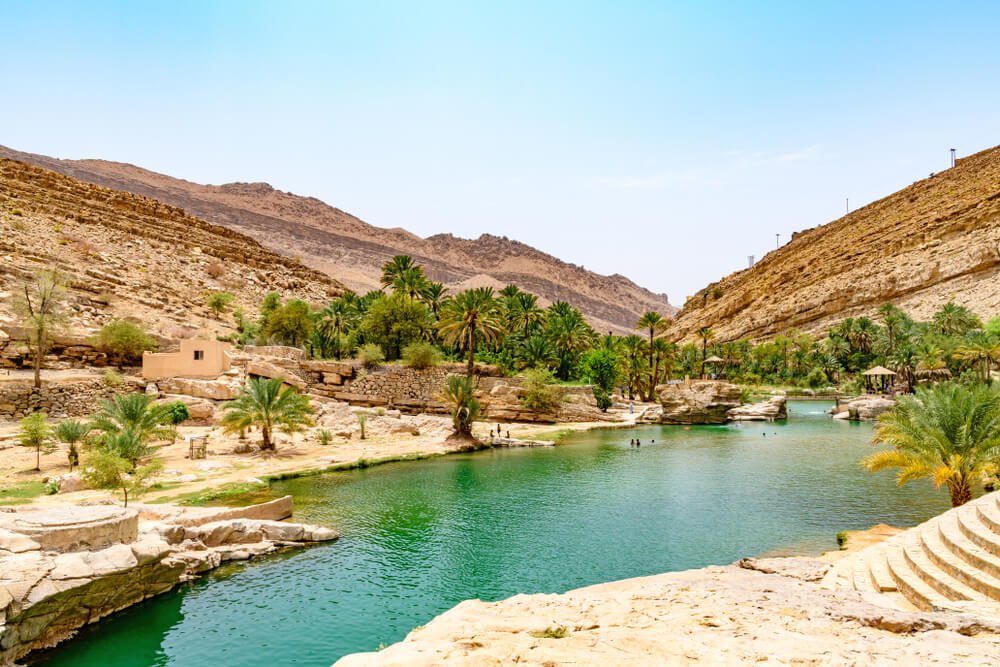 Your biggest expense will be a car, 2WD start around $25 a day and 4WD $60.
A 4WD is essential if you plan on driving deep into the desert or true off roading. For those less adventurous a 2WD will suffice.
So, grab a few mates to split the costs, stock up on affordable food at a supermarket or enjoy cafe meals for a few bucks.
Then you can easily do Oman for under $30 a day, and trust me, it will be a trip like no other!
Bangladesh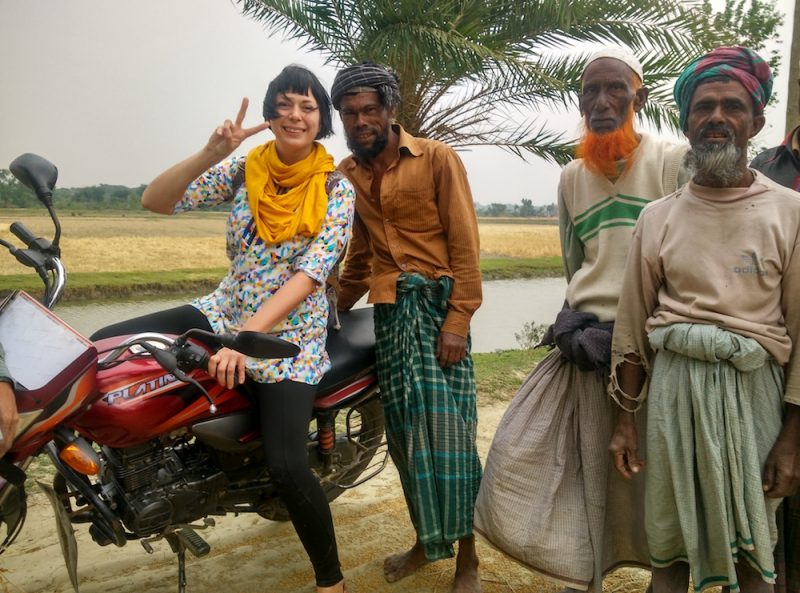 By Alice of Teacake Travels

Bangladesh is not everyone's first choice. It's dangerous there, right? Women shouldn't go there, right?
Well, I backpacked Bangladesh for a month straight, met other women who were doing it too, and if you're looking for cheap, you're going to the right place!
This is one of the poorest countries in the world but I cannot stress enough how kind and generous the locals are to make up for it. Their generosity is endless.
There are so many reasons to come here but the most famous are that Bangladesh has the largest mangrove forest in the world and the longest beach in the world. Cool huh?
Plus, it has a hot pink palace!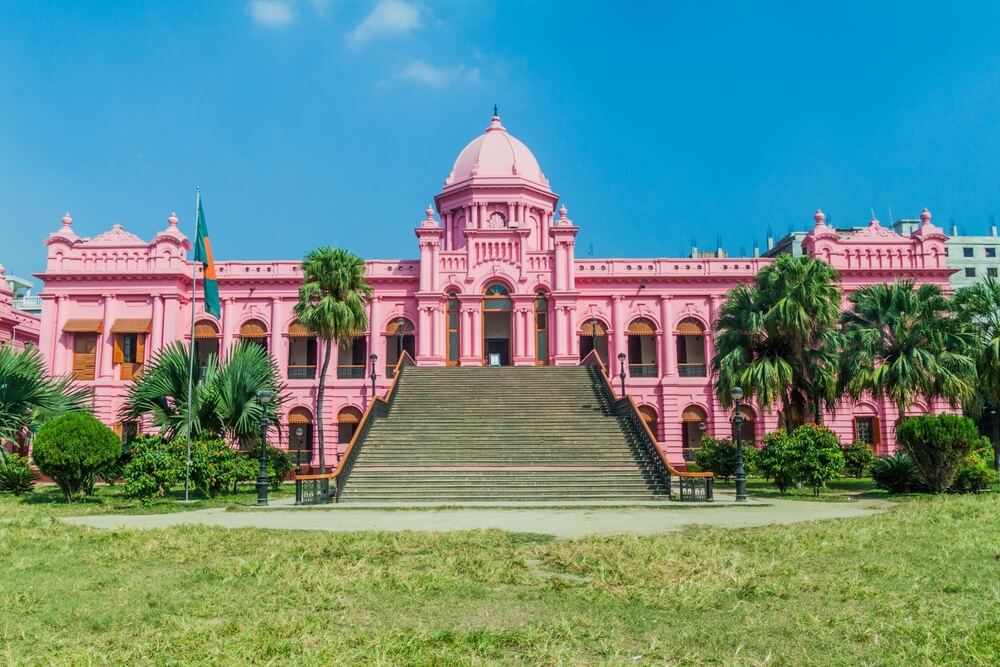 To whet your appetite, literally, Bangladesh has some of the most amazing food I've ever tasted.
Their curries are just so delectable and varied, starting from just $1 USD in a local restaurant.
Don't even get me started on the tea! For just 7 cents you can have the most glorious milky sugary cup of chai ever. Watch out… you will get addicted to it.
Hostels/hotels can be as cheap as $4.50 USD for the night and taking a bus from one end of the country to the other (admittedly dangerous in terms of crashes, but the best way to mix with the locals) costs as little as $1 USD.
Unless you're staying in the crème de la crème of hotels, spending $30 a day is going to be very difficult!
Russia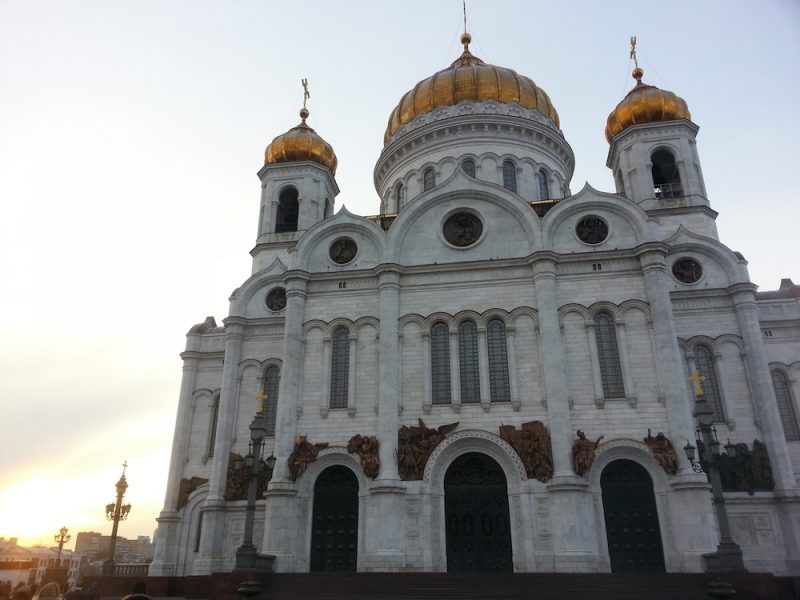 By Rohan of Travels of A Bookpacker
2023 Update: Due to the ongoing Russo-Ukrainian war, travel to Russia is not recommended, as it has a level 4 Do Not Travel advisory from the US State Department and several other foreign agencies. I am leaving this in the post in hopes of better days for Ukrainians and Russians alike, when citizens are safe and tourism can return to both their countries.
The biggest expense in Russia is the visa. Once you are in, it is very affordable to get around, eat, and enjoy the sights.
I have only spent time in Moscow and St. Petersburg but can only assume that the other parts are even cheaper.
Dorm room accommodation starts from $5 USD and is of a decent standard. Couchsurfing is also active and accommodating in Russia.
The Moscow metro is a tourist attraction in itself as the stations look more like museums and a ride will cost you just 50 cents for as long as you like.
There are also great free walking tours in both cities which will allow you to orientate yourself and see some of the major sights.
We loved the Space Museum in Moscow and then wandering around the parks surrounding it which are filled with impressive statues and buildings.
Food in Russia varies and, despite the large scale of just about everything else in this country, portions can be small.
We applied the rules of budget travel (eat away from main attractions, check the prices before going in, ask locals for recommendations) and ate decent food for around $3-5 USD per meal.
Russia's main cities are incredibly beautiful and impressive and can easily be enjoyed for under $30 USD a day. 
Myanmar (Burma)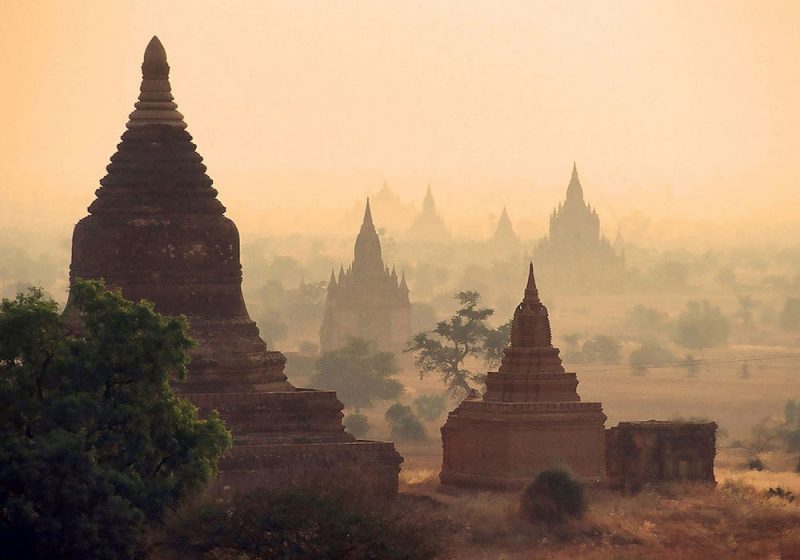 By Becki of Borders of Adventure
2023 Update: Due to the ongoing Myanmar civil war, I do not recommend traveling here at this time. Out of hope for the future, I'm keeping this on the list for better times.
Myanmar still falls under Southeast Asia travel budgets, but just tips the daily average price slightly while it still adjusts to a tourism level on par with its neighbors.
But not by much – and by that I mean $5-$10 more per day, depending on if you are sharing a room and what activities you choose.
Myanmar costs on average of $35 per day, though it can be done for less, including food, drink and accommodation. Buses are between $10-$15, which is your only extra expense.
This is adaptable according to your type of travel. I shared rooms with fellow solo female travelers I met on buses, or other travelers in a small group.
If solo, your main cost will be on accommodation, where a single room can cost around $25+ per night when you can't find a $10 dorm.
You can choose to eat street food or head to local eateries, rather than dine in bigger restaurants. Nightlife is limited which lowers spend on alcohol.
However, most highlights of travel here are free or very cheap – Myanmar is one of the cheapest countries to visit in the world.
My top two budget activities? Riding the Yangon circle line train – a commuter route through the countryside, which for a few hours will count as the best $1 you've ever spent.
And crossing the Goteik Viaduct – the highest railway bridge in Myanmar you ride from Hsipaw to Pyin Oo Lwin – is a hell-raising ride for $3.
Cheapest Countries to Travel in the Americas
Mexico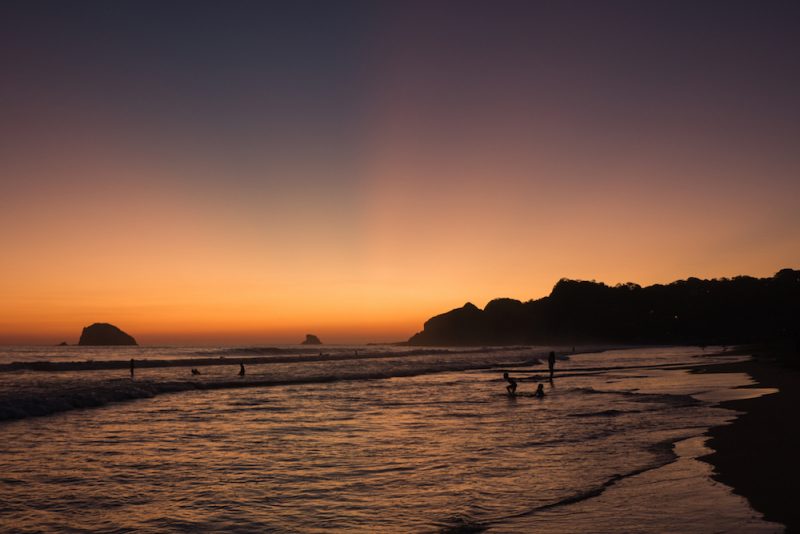 By Crystal of Castaway with Crystal
Mexico is the ultimate destination for traveling cheap! And it has everything! Mountains, waterfalls, beaches, surfing, diving, deserts.
If you've never been to a cenote – that's something you definitely need to try out.
Even in the most expensive tourist areas you can get street food for cheap as chips and hostels for a steal.
If you want it to be cheap, easy, if you want to do something luxurious, well that's easy too!
The average street food stall will cost you around $2 USD for a decent bit of food.
In the restaurants you'll be looking at between $7 to $20 for food and drinks. Beers bought in the Oxxo general stores are around $1 USD a bottle and sometimes they even have lime to put in your Corona!
When drinking at the bars you're looking at about $5 USD per drink.
For backpacker hostels you can find some good ones for around $10 a night. If flashpacking you'll be looking at about $20-30.
As for getting around you have a couple of options… You can take taxi collectivos (shared taxis) between cities for really cheap (Playa del Carmen to Tulum, 2 hours is $4 USD) or catch buses.
If you can speak Spanish you'll be able to catch the local buses, which are ridiculously cheap (Mexico City to San Cristóbal de las Casas, 12 hours is $15).
Alternatively you'll be able to grab a tourist bus around most of the popular spots (same trip as above, $40).
Obviously the longer you stay somewhere, the easier it is to save money since traveling between places costs a bit. I spent around $10 USD a day while living on an island.
But including travel and attraction expenses you'll be able to do it on $30 a day as long as you're budgeting.
Nicaragua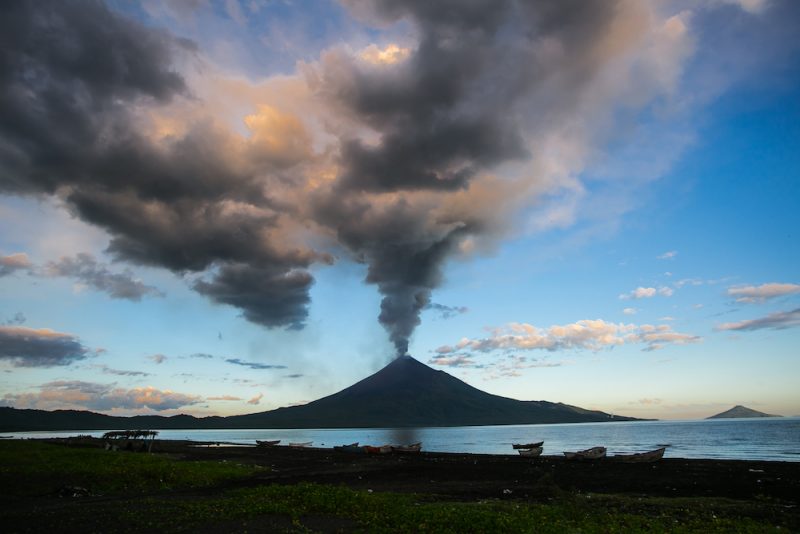 By Ben and Jazzy of Road Affair
There is way too much fun to be had when backpacking Nicaragua!
The best part is it won't empty out your wallet, as Nicaragua is one of the cheapest countries to travel to in the Americas.
That is, if you do it right, of course. Doing it right would be on a budget of $25-30 USD a day with activities included.
Nicaragua has so many cool things to do, like boarding down a volcano or riding a motorbike on Isla Ometepe.
You can also go diving on the Corn Islands, partying until you drop in San Juan del Sur, or catching sweet waves at Maderas Beach.
Whatever tickles your fancy, I am sure you will find something cool to do there.
To give you an idea of what things cost in Nicaragua, a dorm bed can cost as low as approximately $6, and you can get a single room for $10 USD.
Public transportation within the city (chicken bus) costs $0.30-0.50 USD.
A full meal can be had for $2 – 4 USD. A local beer will set you back $1.30, and a mojito costs about $2.50 USD.
Guatemala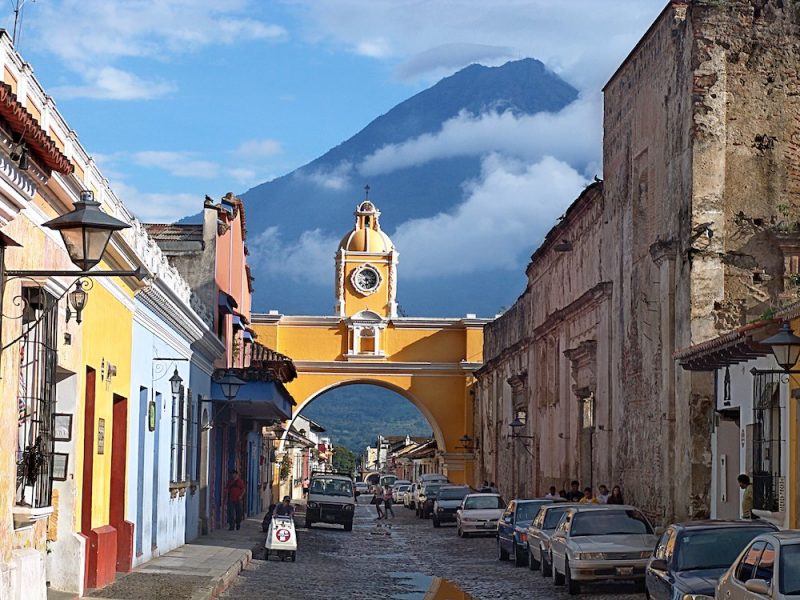 By Ben and Jazzy of Road Affair
Backpacking Guatemala is exciting, memorable, and of course cheap.
The country's vibrant and colorful culture and rich history draws thousands of backpackers each year.
After all, you can climb active volcanoes and walk the cobblestone streets of the UNESCO World Heritage city all from Antigua.
Alternately, you can enjoy a boat ride on one of the world's most beautiful lakes (Lake Atitlan), take a Spanish speaking course, or visit the most breathtaking Mayan ruins (Tikal) in the world on a budget of just $20 USD a day.
The amount of cheap things you can do in Guatemala is endless.
On $20 USD a day, a budget backpacker can drink a few beers, sleep in a decent budget hotel, eat out twice a day, take local transport to and from their hotel and still have some change left over in their pocket.
It's a backpackers' paradise!
To give you an idea of what things cost in Guatemala, here are the average prices.
A dorm bed will cost about $6-8 USD. Taking public transport within the city on a chicken bus will cost $0.40-1 USD.
A full meal is about $2-4 USD. The average attraction fee is about $13. A local beer will cost you $2, and bottled water will run you 50 cents.
A one week Spanish course for five hours a day will cost $120 USD. No wonder Guatemala is one of the cheapest countries to backpack in the Americas!
If the "cheapness" of Guatemala doesn't make you want to fly there now, we are pretty confident the vibrant culture, rich history, gorgeous landscapes, and unique attractions will.
Panama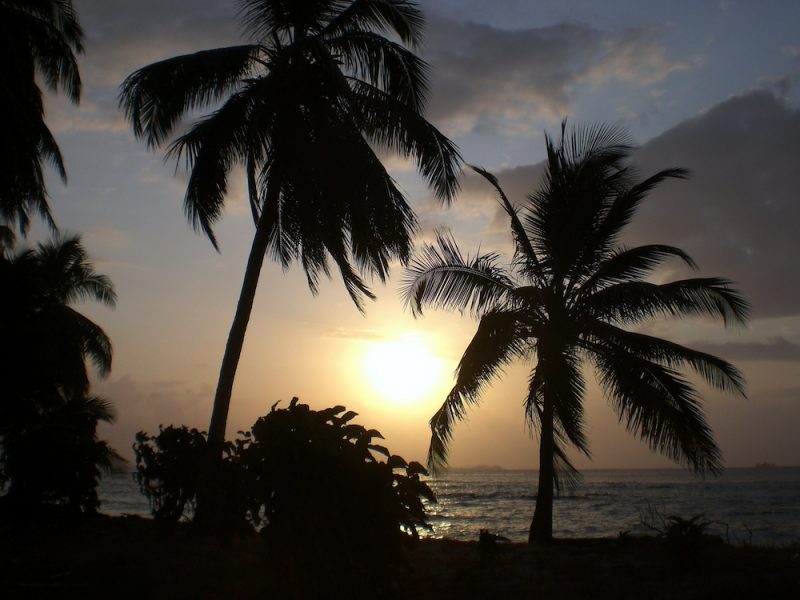 By Claudia of My Adventures Across the World
Panama is one of the most interesting places to visit in Central America, and it is quickly getting an increasing flow of tourists.
From the Caribbean beaches with fine white sand and clear waters to the Pacific ones with waves galore; from the hiking trails of the Boquete region to the jazz festival and the beautiful sights of Panama City, there is something for just about anybody.
Panama isn't the cheapest country to visit in Central America, and the fact that the US dollar is the official currency may have something to do with it.
But it can be done on a backpacker's budget, even in the most touristy places such as Bocas del Toro.
Here, a bed in a dorm costs around $10 USD, and a meal in a local eatery between $3 and $5 USD.
Using public transportation to get to the beaches helps keep the costs down, while organized tours that go around the archipelago to the places that are a bit more difficult to reach is a bit more expensive.
The most expensive thing to do in Panama is by all means the sailing trip to San Blas that then continues to Colombia.
It costs an average of $550 USD for around 5 days, and includes everything from transportation to food (but not drinks).
Many backpackers opt for the sailing trip to cross the border as there is no land crossing between Panama and Colombia and it is a good way to visit the San Blas islands.
However, flying is by far the cheapest option.
Peru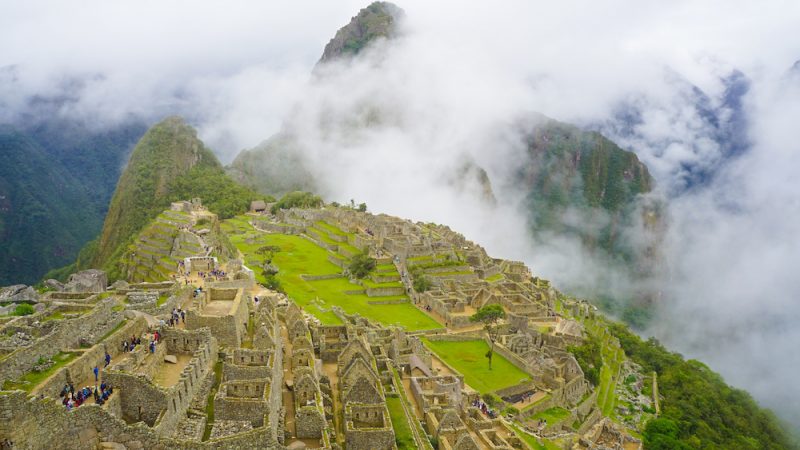 By Jordan of Inspired by Maps
Peru in Quechuan (the language of the Incas) means abundance and that's what you will find on a trip here.
Abundant nature, culture, food, and warm weather.
There are gorgeous coastlines, vast deserts, picturesque mountains, the AMAZON (and its Amazon jungle hotels!) – really, they have everything!
One of the cradles of civilization – this exotic destination is just being re-discovered by tourism and the prices everywhere outside of Machu Picchu reflect this!
Peru is one of the cheapest countries to visit in South America. Dorm beds are around $6 USD per night and private rooms at $12 including basic breakfasts.
Set menu lunch and dinners – common everywhere, look out for the blackboards – cost $2-4 USD including a drink!
An overnight bus for 8 hours is around $10 USD and about half the price during the day, and a taxi trip in most towns is around $2 USD.
Traveling here for under $30 USD per day is easy.
For those on a true budget you could get by on $15 USD per day but $20 – $25 would be more comfortable with a few luxuries!
Chile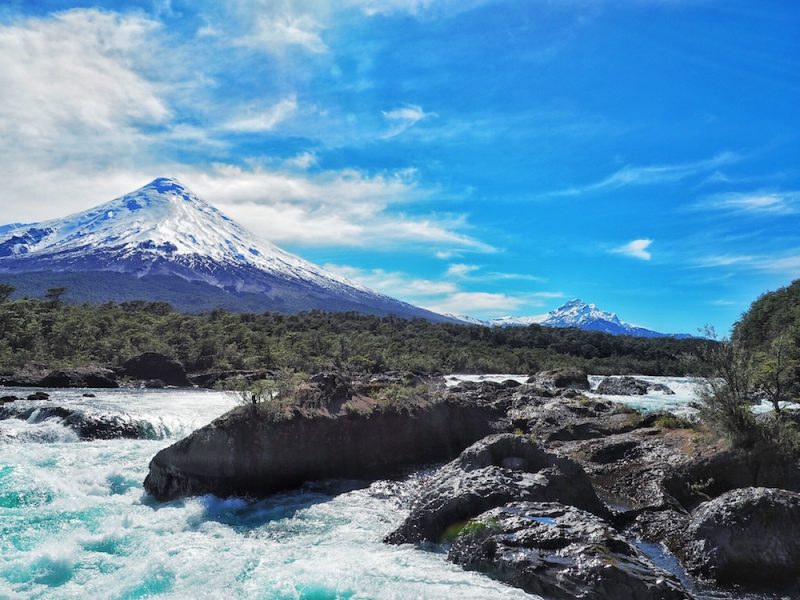 By Viktoria of Chronic Wanderlust
Before I travelled to Chile I heard from many, many travelers that Chile would be very expensive compared to other Latin American countries.
Therefore, I gave myself a higher budget for my month in Chile.
When I arrived I was surprised that it was not so expensive as I've had heard.
It isn't the cheapest country to travel to in South America, but it can be done.
Dorms in hostels are found for $10 USD per night. Of course it's cheaper to buy food in a supermarket and cook it in the hostel, but there are also cheap and tasty empanadas (but there are awful ones too, so be prepared!) for little money.
If you use long distance buses and take night buses you can save a night at a hostel.
The bus from San Pedro de Atacama to La Serena took about 15 hours and cost me $22 USD.
Getting around for $30 USD is definitely possible in Chile, but you won't make it for that money on Easter Island unless you camp somewhere (food is quite expensive there).
On the mainland, on the other hand, if you wish to do some of the adventurous stuff such as skydiving, rafting or volcano hiking, $30 USD a day won't be enough.
To save, you can still go hiking on the many other paths and enjoy the gorgeous landscape on your own.
Bolivia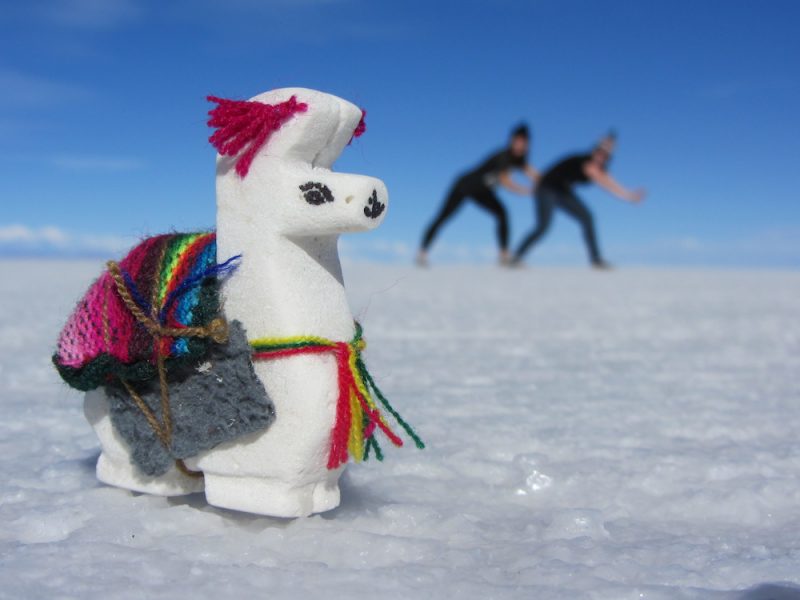 By Raphael of Journey Wonders
Out of all the South American countries I have visited, Bolivia is definitely one of the cheapest countries to visit when it comes to value travel.
Usually, when you hear the word cheap you imagine something of low quality.
Trust me, hotels and hostels in Bolivia are so comfy that you won't believe that a night in a private room can cost less than $10 USD sometimes.
Did I mention the $1 USD awesome huge meals? For less than $20 USD a day, you can enjoy Bolivia as much as I did.
Some of my best suggestions for Bolivia include the awesome Titicaca Lake which it shares with Peru, the photo-worthy Uyuni Salt Desert, and the isolated archeological ruins of Tiwanaku located just outside the capital La Paz.
Ecuador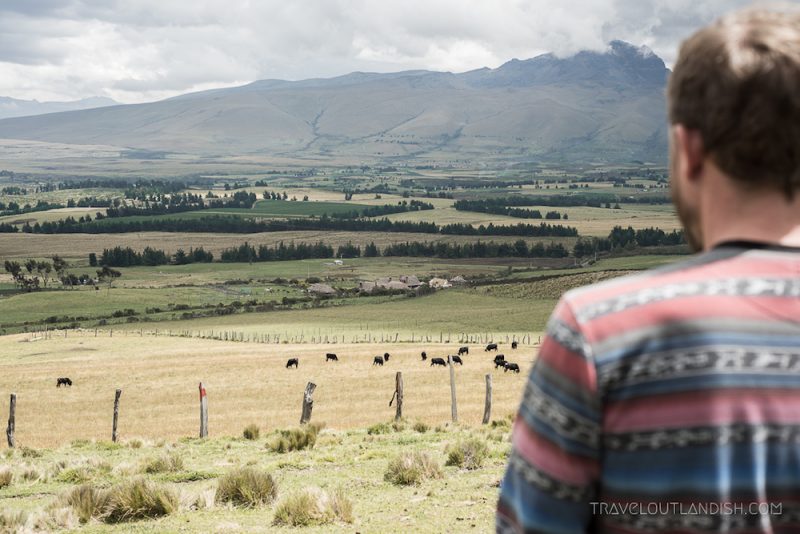 By Taylor of Travel Outlandish
While many people skip out on Ecuador for lack of a Galapagos budget, those who take the time to explore the mainland are in for a time.
With a jungle full of wildlife, a coastline blessed with perfect waves, modern cities, and culturally rich mountain towns, it seems there's something perfect for any type of traveler.
So what makes Ecuador one of the cheapest countries to travel to in South America? A backpacker can get by on just $20/day without cutting too many corners!
With dorm rooms costing as little as $5 and private rooms starting at $12, it's easy to stay as long as you want in the smaller towns, and easy enough to navigate the cities.
Menu del dia — the set lunch menu — will only run you $2-$3, and beer is even cheaper at $1 per big bottle.
While the busses aren't the comfiest we've ever used, tickets come in cheap at about $1-2 per hour of travel. Adventures are easy to find with lots of free treks, cheap bike rentals, and full day trips starting at $20.
Even the most costly of endeavors (like a trip to the Amazon) can be had for as little as $60/day.
If you're looking for amazing nature and an altogether wonderful place to travel in South America, be sure to take the time to experience all the unique things to do in Ecuador!
Colombia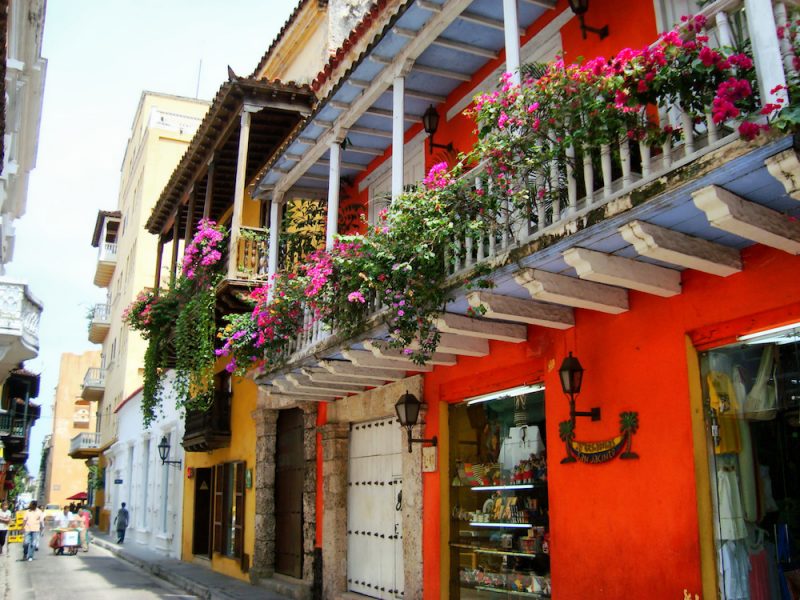 By me
Colombia is full of beauty, from the lush countryside full of coffee plantations to the Caribbean coastline.
Cartagena in particular is especially beautiful with its colonial charm. Hostels are cheap as can be in Colombia, typically about $10 for a dorm, and around $20 for a private room.
It isn't the cheapest country to travel in the world, but you get a lot for your money, making it excellent value.
Meals are similarly affordable, with delicious soups like ajiaco, the national dish, only costing around $4 or so for a delicious and fulfilling meal.
Bogotá is a fun and young city, with cheap nightlife and plentiful street art. It's definitely worth a visit, and easily done at $25 to $30 per day!
Cheapest Countries to Visit in Africa
Ethiopia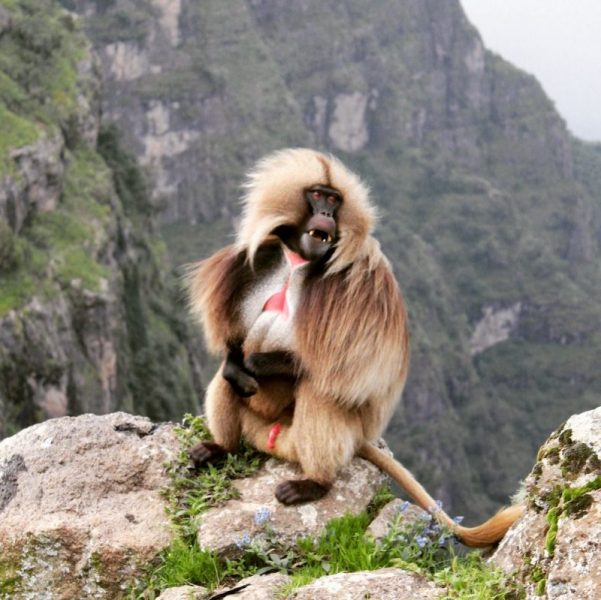 By Nicole of Travelgal Nicole

Ethiopia has something for everyone. It's a diverse country with something for everyone such as culture, history, food and wildlife.
One of my favorite cities in Ethiopia is Gondar in the north near the Simien Mountains.
It is often called the Camelot of Africa for what it used to be – the home of the Emperor and the Royal Enclosure and Castles. Entrance to the Enclosure is 100 birr ($4.50).
While generally Africa is not home to the cheapest countries to travel to, Ethiopia is a pleasant exception.
Traveling through Ethiopia is fairly cheap with accommodation in a two star hotel for around $10/night for two people.
Local food is especially cheap. I would start my mornings with a proper Ethiopian Coffee for 9 Birr (40 cents) and then move onto a healthy breakfast smoothie of mango and avocado with a splash of lime for 10 birr (50 cents).
Ethiopia also has fasting days which are fasting from meat so the vegetarian options are amazing.
Most meals with meat cost about $4 and those without meat were less than $3. Most meals start with injera which is an Ethiopian bread which you will find has a slightly sour taste!
Morocco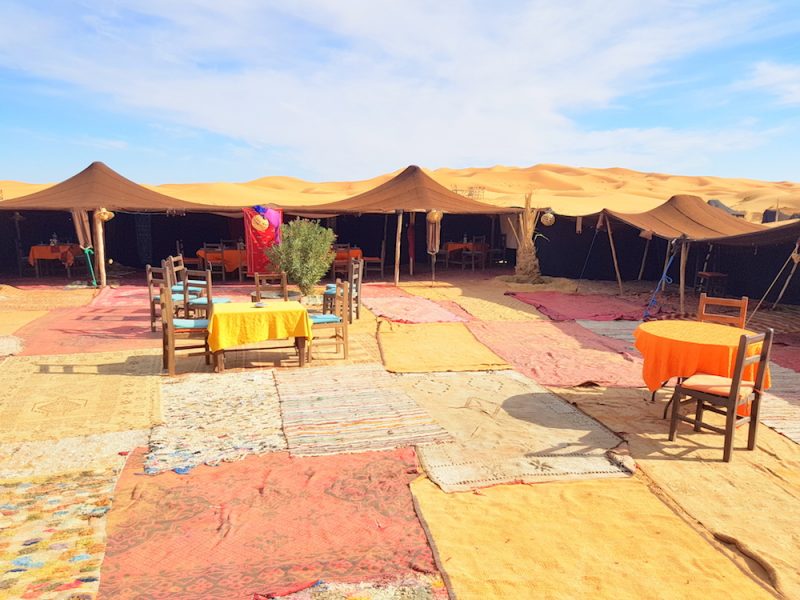 by João Leitão of Nomad Revelations
Halfway between Europe and Africa, Morocco is one of the most exotic destinations around the world.
A tangle of Berber, Arab, African, and European influences give this country a certain "je ne sais quoi" that makes people want to visit.
Apart from a great and vast history, Morocco offers unspoiled coastline with fabulous beaches, endless cedar wood forests, stunning waterfalls, desert landscapes with dunes as far as the eye can see, and high snowy mountain peaks above 13,000 feet.
What I love most about Morocco is the optimism, generosity, and friendliness of its population. Lively markets, everlasting blue skies, and a wide variety of fresh fruits and veggies also get my attention.
Some expected costs for Morocco are as follows. A single room in a major city will cost $10-15 USD per night. Breakfast, such as a bowl of fava bean soup or an omelet with bread and tea, can be for 70 cents to $1 USD.
Lunch and dinner can be 60 cents to $3 USD, for options such as a fish sandwich, harira soup and pastry, or a meat tagine.
Transportation is cheap as well; a 4-hour train ride from Rabat to Marrakech is about $13 USD and a 4-hour bus ride would cost you about $8 USD. A backpacker can easily do Morocco ranging from $15 to $30 per day.
Egypt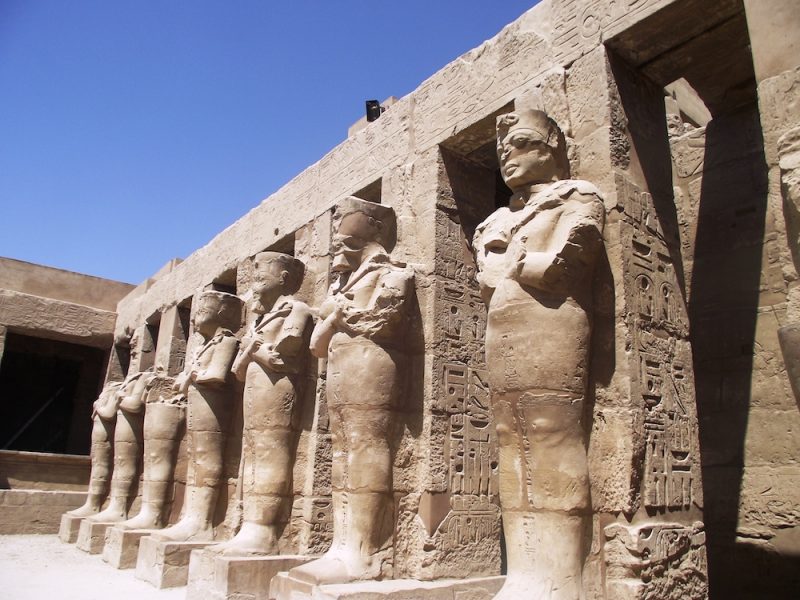 By Rohan of Travels of a Bookpacker

Despite recent civil unrest, Egypt remains an amazing travel destination and is very easy for budget travel even in major cities.
Hostels in Cairo start at around $4 USD in a dorm room and are even cheaper in the rest of the country.
The easiest and most efficient way to get around is using Uber as it is cheaper than taxis and there are no language issues as you input your pick up and drop off locations.
There is no shortage of amazing activities to do in Egypt and almost all of them cost $5-10, including the Pyramids of Giza!
In Luxor there are a number of affordable tours which include the Valley of the Kings, the Temple of Hatshepsut and the Temple of Karnak.
Every price is negotiable which makes it easier to find a bargain, especially with the low numbers of tourists in Egypt at the moment.
We felt completely safe travelling in Egypt and used the local trains and buses to travel between cities.
An overnight train from Cairo to Aswan cost us around $10 and, although it was seats only, it was comfortable enough to get some sleep.
Food is incredibly cheap both on the street and at local and more Western style restaurants.
Overall a backpacker could be very comfortable on $20 a day including an attraction, making it easily one of the cheapest countries to travel to in Africa.
South Africa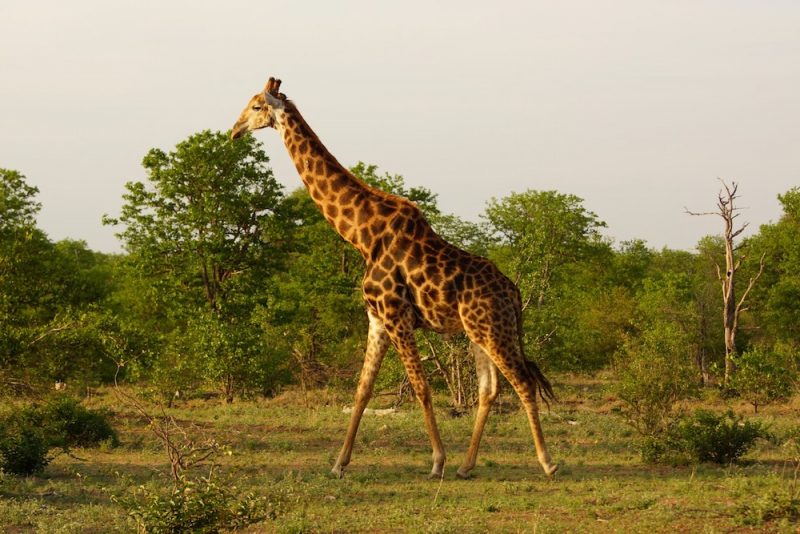 By Emma of Luxury Backpacking
We LOVE South Africa — without a doubt, it's in our top 3 favorite countries, just because it never fails to impress us no matter how many times we visit.
It's full of so much diversity: you can go on safari, go wine tasting, or even ski in winter!
There are SO many unique and amazing activities you can partake in, cage diving, sky diving, or canyon swinging.
For the more tame witnessing the third largest canyon in the world, which is absolutely breathtaking!
Plus, due to the currency exchange rate, South Africa is still super cheap for outside travelers!
You can hire a car for under $20 USD a day including insurance, and stay in a rest camp in Kruger for around $10 USD a day.
You can have a BBQ on site from the local shops to save a ton of money, and take in the local surroundings.
If you're not into hiring a car, public transport is very cheap and easily accessible in cities such as Johannesburg and Cape Town.
You can certainly get a lot for your buck in South Africa, and as long as you use common sense, South Africa is no more dangerous than most American cities!
Cheapest Countries to Visit in Europe
Estonia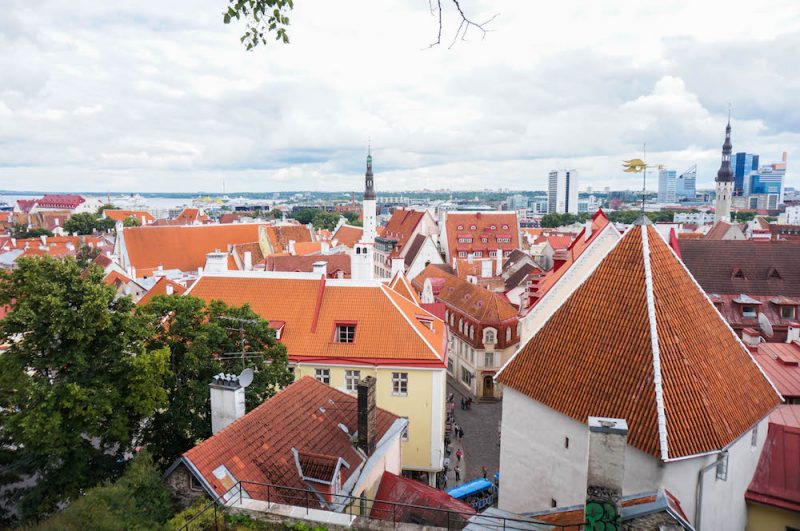 By Natalia of My Trip Hack
Estonia – the best value destination for 2016 according to Lonely Planet. I have to admit, this country has exceeded my expectations by the quality of experience it offers.
In addition to fascinating scenic nature, the mix of architecture, and nice people, I love Estonia for its connectivity.
As Wi-Fi access plays an important role in choosing a destination nowadays, in e-Estonia you will find free Wi-Fi almost everywhere: from intercity buses to the streets of the cities.
Here's a breakdown of expected travel costs. A hostel costs about 9-13€. The common price is 10€ even during the peak season.
My daily food budget was around 10€ (1-2€ breakfast, 4-5€ lunch, 3€ cooked dinner).
The 2 course lunch in canteen-restaurants (e.g. LIDO) can come around 4€.
You can also find nice business lunch deals within the price range of 4-6€ (outside Tallinn it will be a bit cheaper).
There are also ready cooked meals in supermarkets if you wish to decrease the price further.
In terms of transportation, in Tallinn you can buy a card for 1, 3, or 5 days. A 5 day card costs around 6€, so it comes to around 1.20€ per day.
In Parnu, Tartu, Viljandi and other small cities everything is within a walking distance.
As for sightseeing, it starts from free up to 5€ per site entry with few exceptions. If you are a student, sightseeing and transportation fees will be discounted.
To sum up, accommodation, food and transportation can come around $20-22€/day (about $21-23 USD).
Further on, you can add sightseeing according to your taste. Read this Estonia travel guide to better plan your journey.
Lithuania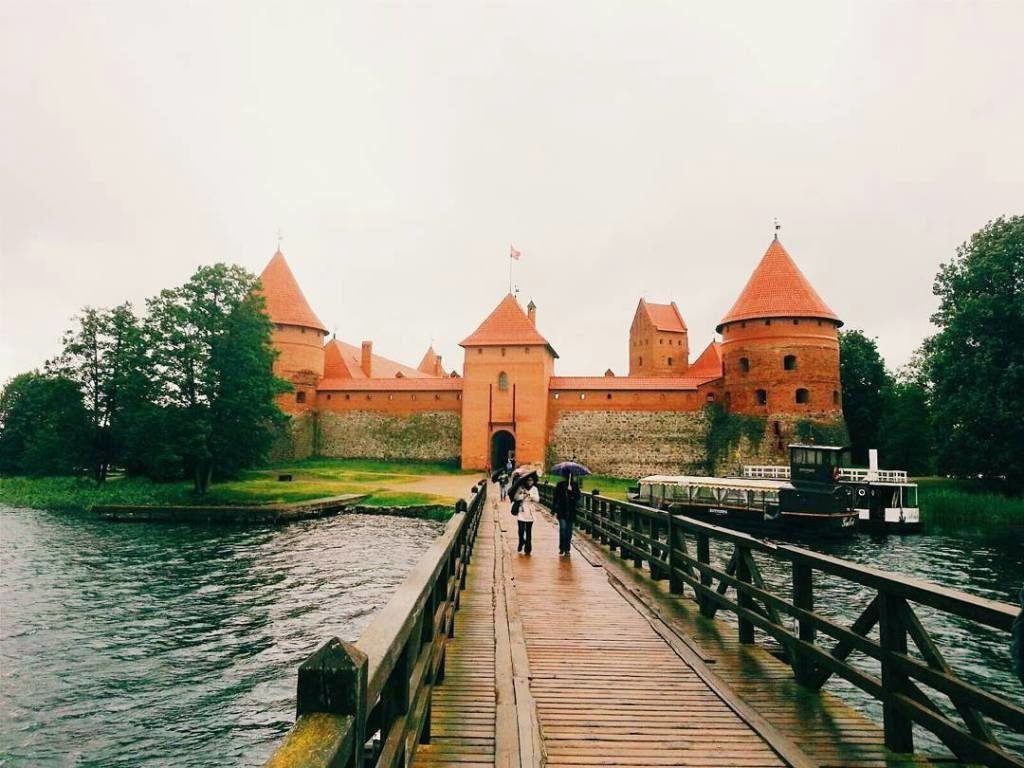 By Ruben of Gamin Traveler
Lithuania is a special destination to visit when in the Baltic countries. There are various plans to do in Lithuania.
Visiting Vilnius the capital is a nice first contact with the country. There are amazing beaches with white sand and warm water like Klaipeda.
That said, my favorite place to visit is Trakai. It's a quiet town with a castle inside an island, which is very nice and picturesque.
Lithuania can be visited on a budget for around $15-25 USD per day.
You can sleep in a hostel for $6-8 and you can get transportation for even less than a dollar. You can get a local meal for $3-4.
And if you want to hang out for beers, prices start from $1-2. The beer in Lithuania tastes so good!
On top of being able to travel on a budget, Lithuanian people are also very friendly. The landscapes are great and it's very easy to meet locals.
Latvia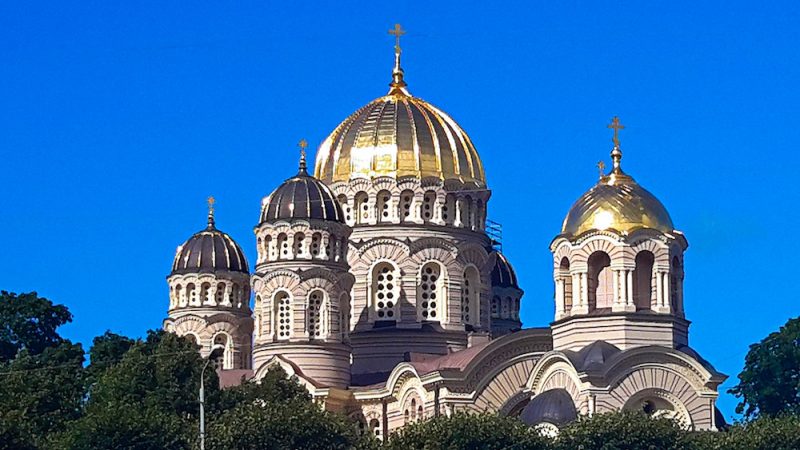 By Skye of Skye Travels

If you're a budget traveler headed to Europe, you might want to consider heading to the Baltic States.
Lithuania, Latvia, and Estonia are usually overlooked as holiday destinations. However, they happen to be some of the most beautiful locations in Europe.
A particularly key city to visit is Riga, Latvia. With a perfect climate, beautiful Old Town and plenty of culture, you'll never want to leave.
Making your dollar (or $30) last is a piece of cake. There are dozens of hostels, all charging from $5-10 USD a night.
Tourist restaurants will charge $10 for a plate, but the local shops and street food are more like $3 a meal.
Make sure to make it to the Riga Central Market. Or if you have a stable place to stay, you can get groceries for a whole week for $30.
Attractions are $5-10, although the best attraction – the free walking tour – is, well, free (though you should tip!).
There isn't as much to do in Riga as some of the capitals in Europe, but realize that the Old Town is less than 1% of the city's total size.
You could easily spend a week there and not run out of things to do.
North Macedonia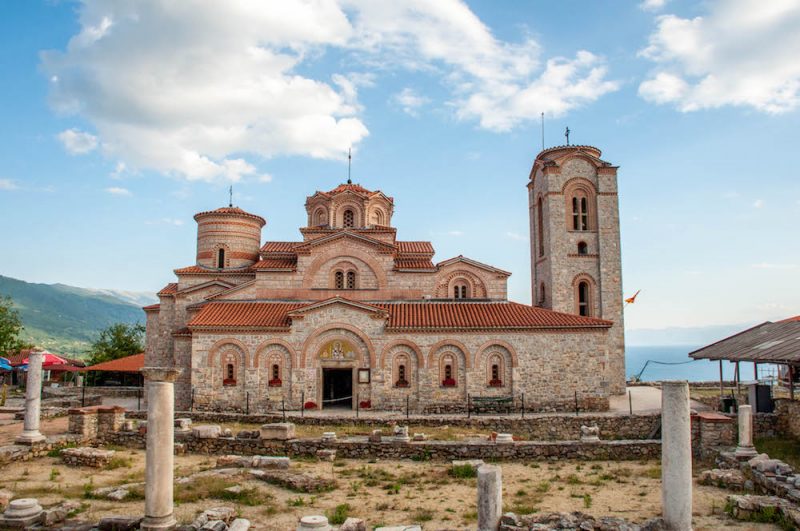 By Lance and Laura of Travel Addicts

One of the most affordable places we've ever been is North Macedonia.
Most of the Balkans are cheap by European standards, but North Macedonia is particularly cheap.
It is easily possible to travel in North Macedonia on less than $25 or $30 USD per day.
In both Skopje (the capital) and the Lake Ohrid region, hostels range from $8-14 on a shared basis. You can find budget hotels for $20 per night with private bathrooms.
Meals are where your budget can go further!
An average meal, including a glass of beer, can run around $4. You can get a 3-course meal for two people for less than $15.
We also found that many attractions are free or nearly free.
North Macedonia is a beautiful country with lots of mountains, an amazing wine region and absolutely delicious food!
Bosnia & Herzegovina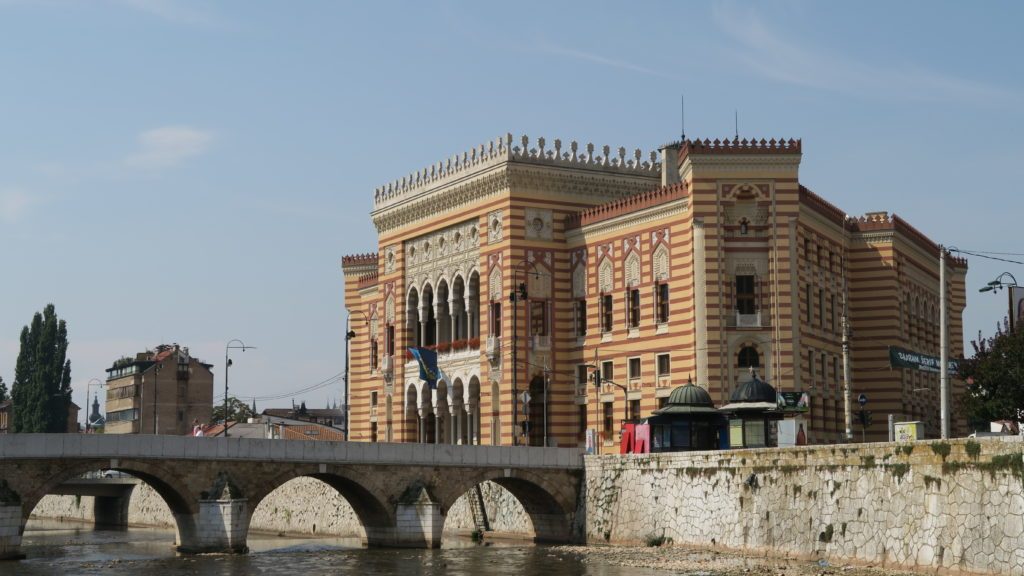 By Evan Kristine of Pretty Wild World

You'd be surprised to know that it is highly possible to visit Europe without breaking the bank.
I know it is a well-known fact that Europe is expensive but trust me, it is big with tons of places unknown to the masses which you can visit and stretch your budget that will truly blow your mind
Sarajevo, the capital of Bosnia and Herzegovina, did blow my mind!
I was not so sure how cheap or expensive the city would be as I did not previously research what to expect and boy, was I surprised.
A basic hostel will cost you between 9-15€ per night, depending on the location and the quality of the hostel, of course.
However, I must say that the one I stayed at ran at a pretty good price of 10€ a night, and it was a good hostel!
Also, food is cheap, and you can buy a cevapi with beer for 5€ – what a steal I must say. Also, other activities such as visiting the bobsled site and the tunnels will cost you about 15€ for a private tour.
If you're too cool for private tours, hiking to the bobsled track will take you about an hour or two and it is free, and the entrance to the tunnels are about a few euros.
If you're interested in nightlife, Sarajevo won't disappoint either, and you can go knock yourselves out with local brews for a euro a pop.
You have to see for yourself but all backpackers I've met were amazed at how they managed to stretch out their budget whilst in Bosnia. It is quite amazing.
Albania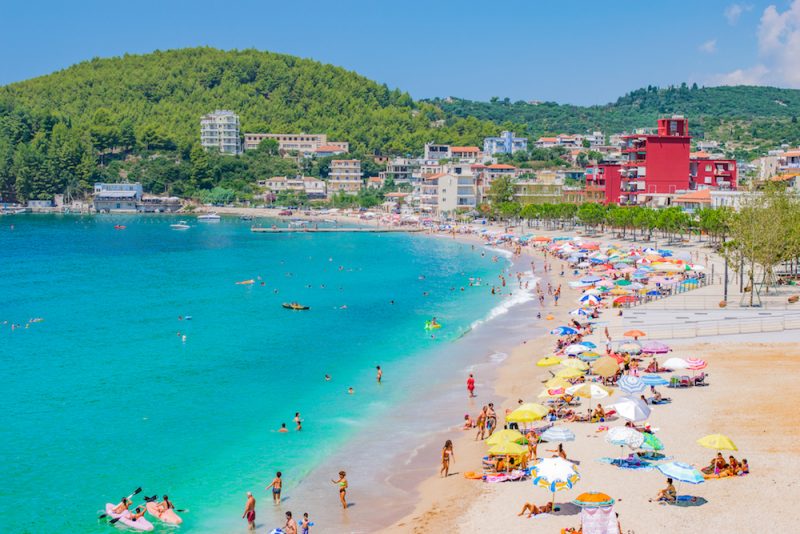 By Dave of Jones Around the World
I spent around 10 days exploring Albania this past summer, and I was completely in awe about how amazing of a country it is.
The people were some of the friendliest I've encountered, and every destination I went to was absolutely stunning!
Whether you're looking for gorgeous lakes, massive mountains, or pristine beaches — Albania has got you covered.
The most important aspect about traveling Albania, is renting a car and exploring it on your own!
You can rent a car for pretty cheap, especially if you travel during the shoulder seasons.
While I did enjoy the entire country, I'd say you definitely can not miss Sarande and the Albanian Riviera.
The average costs of hotels is only $20-$30 USD per night, and you can get a nice meal for less than $10!
If you're a backpacker, there are plenty of budget hostels to meet fellow travelers for only $8-$15 USD per night!
It's one of the cheapest places to travel in Europe. It's a gorgeous country with tons to do, and you definitely won't be spending too much!
Ukraine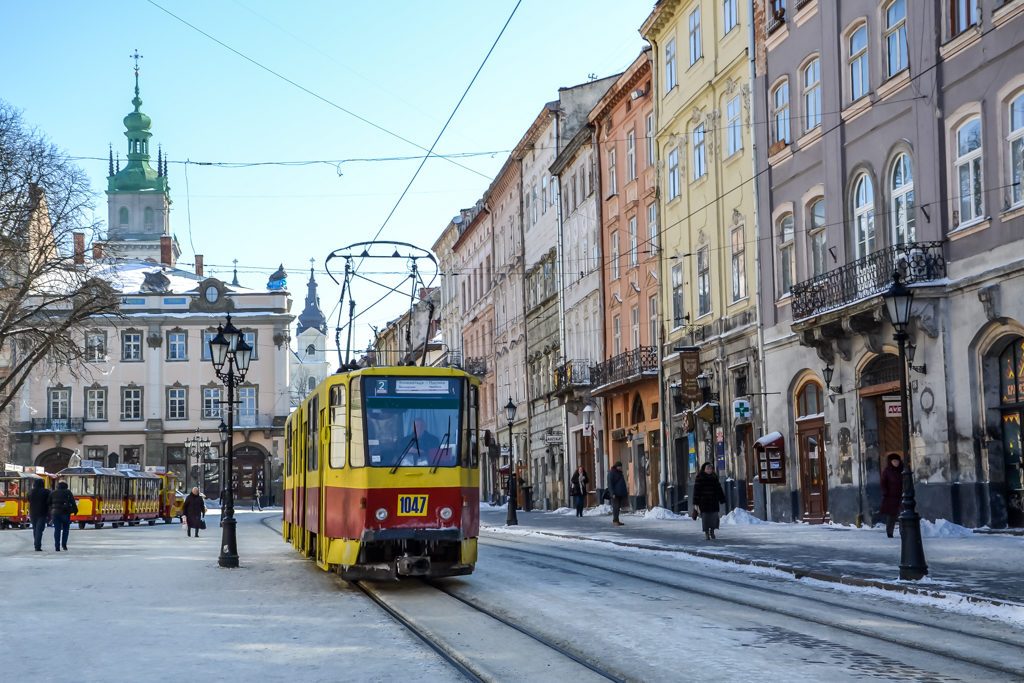 By Kami of Kami & The Rest of the World
NOTE: Traveling in Ukraine is currently not recommended due to the ongoing war; this was a recommendation from 2018.
Due to the recent political situation and economic crisis, Ukraine is probably the cheapest country to travel to in Europe, or even the world.
The local currency – hryvnia – is worth three times less than in 2013! During my latest visit there for the first time ever I felt bad for paying so little for just about everything.
A double room in the oldest hotel in Lviv (with hearty breakfast included) was just $20 USD/night, while the spacious apartment in the center of Kiev, enough for up to 4 people, was $30/night!
Eating out is very cheap, you can get a decent meal for as little as $5 and even if you choose upscale restaurants it still will be a price you wouldn't find anywhere else.
Cities in Western Ukraine have an amazing cafe culture, you can spend the whole day cafe hopping and your bill will be maybe $10 at the end of the day!
Traveling around is even a bigger bargain. An overnight train from Kiev to Odessa on the Black Sea costs can be just $5 in the cheapest class (yet you still get a bed with a linen!).
Ukraine is a safe country to visit as long as you stay away from the Donets area in the East and visiting it now is the best idea ever!
Portugal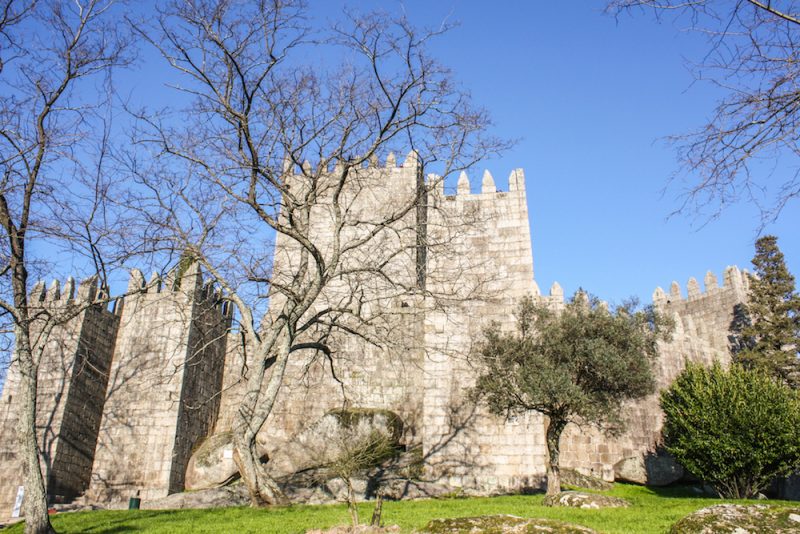 By Hugo of Breathe with Us
Portugal is one of the hottest travel destinations of the moment.
For a relatively small country, it has a vast and rich history of almost 900 years, interesting culture, countless beaches, and food to die for.
Plus, on top of all this, it's one of the best value countries in Europe for travelers.
The hotspots are Lisbon, Porto, and the South coast.
But if you're looking for more there are plenty of places worth checking out such as Évora, Coimbra, Aveiro, Guimarães, Braga or the archipelagos of Madeira and the Açores.
And this just to name a few!
Portugal is a perfect destination and one of the best places to backpack.
Food is of excellent quality, diverse, and not very expensive, with a pretty decent meal costing between 5 and 10€.
Groceries are also budget-friendly. Lodging starts at 10/15€ for a hostel bed and 35/50€ for a basic yet decent hotel, depending on the location.
Transportation, namely trains and buses, is punctual and not on the expensive side.
Spain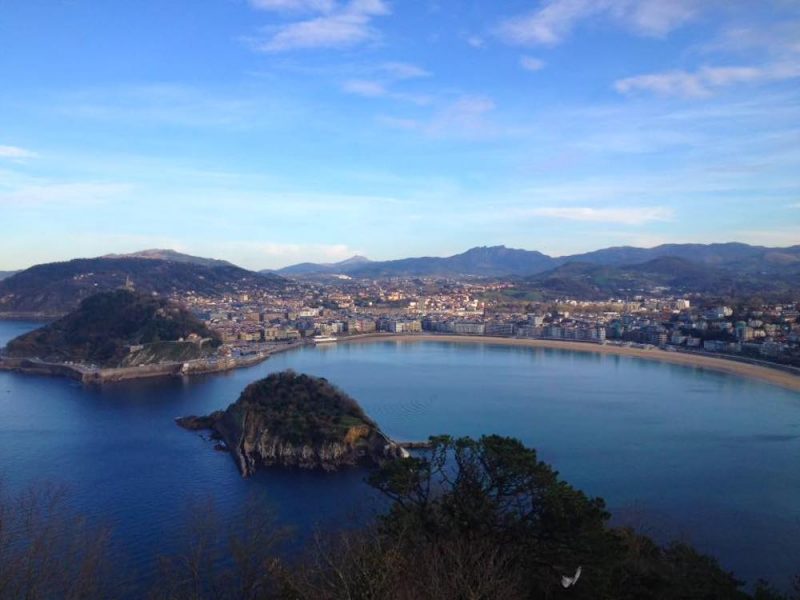 By Tom of The Travelling Tom
Spain is famous as the land of sun and sangria, but it's actually much more diverse than that.
You can find rugged mountains and deserts in the South; it's a big country, with great contrasts.
Contrary to belief, Spain can be one of the cheapest places in Europe, especially in off-season!
A bed in a hostel can be as cheap as 8 euros, while a 2 course lunch, can cost as little as 7.90 in places such as Valencia!
If you're savvy, you can travel around Spain quite comfortably on a budget!
Kosovo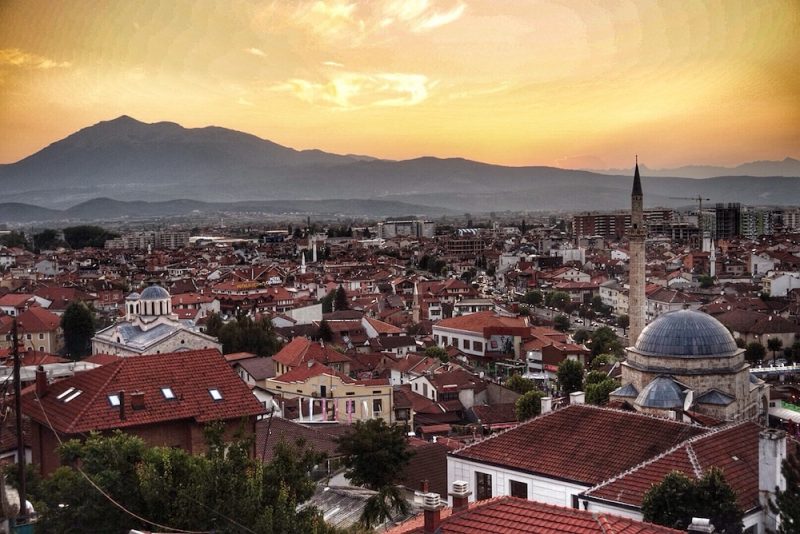 By Stefania from Every Steph – Green & Glamorous Travel
Kosovo might be the most underrated country in Europe, and it certainly should be on your bucket list.
From chasing waterfalls to visiting mosques and sipping the best espresso outside of Italy, there's so much to do in this tiny country.
Don't forget to include Prizren in your Balkans itinerary.
This little gem of a city is filled with UNESCO-listed monuments and mosques, friendly locals, and a young vibe.
Try and visit the city during the month of August, when Prizren hosts the DokuFest which brings thousands of people to the city.
If you are on a tight budget, you will soon find out that you can spend less than $25 a day in Kosovo.
Eating out will set you back $3-5, and a night in a hostel dorm will cost you about $10-12.
If you are traveling in a couple, sharing a double room will cost you approximately the same.
Public transportation is super cheap as well compared to the rest of Europe: the ride from Pristina-Prizren costs about $5, for example.
Greece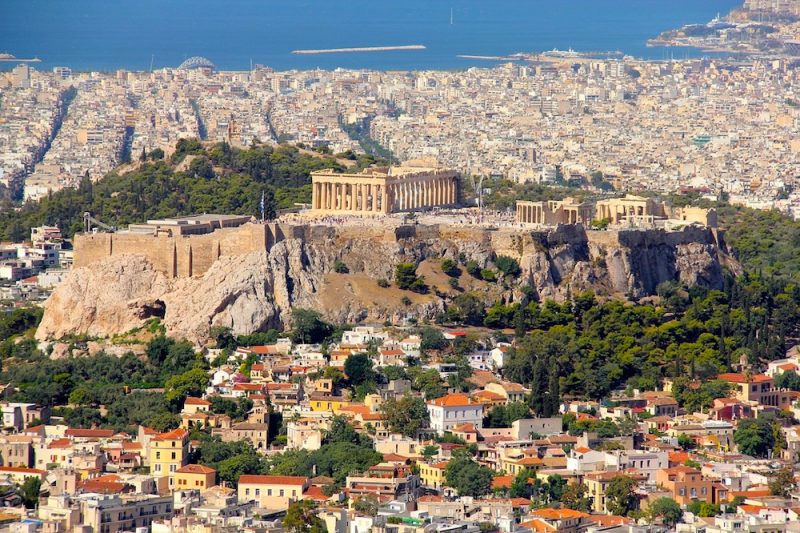 By Cristina of LookNWalk Greece
Greece has always ranked high among the destinations loved by budget travelers.
The capital, Athens, is an excellent place to explore during the low season, specifically between November and March.
The tourists are almost non-existent and thus the prices for everything are affordable.
The wealth of historical sites will keep you busy for a good while (days!).
Make sure not to miss exploring the Acropolis. There's a combined ticket (costing 30 EUR or $31.40 USD) which allows you to visit six archeological sites.
Book your hotel in advance you will pay about 20 EUR / $21 per night in a double, in a hotel located close to the heart of Athens (Plaka and Acropolis).
If you don't mind dorms, then you can find beds starting at 8 EUR.
Food wise, the cheapest option is the gyro (from 2 EUR), which is meat grilled on a spit and served in a pita bread, together with some veggies. Coffee starts at 1.5 EUR.
Don't be afraid to ask for recommendations; your best bet is to go in tavernas with no menu in English.
Serbia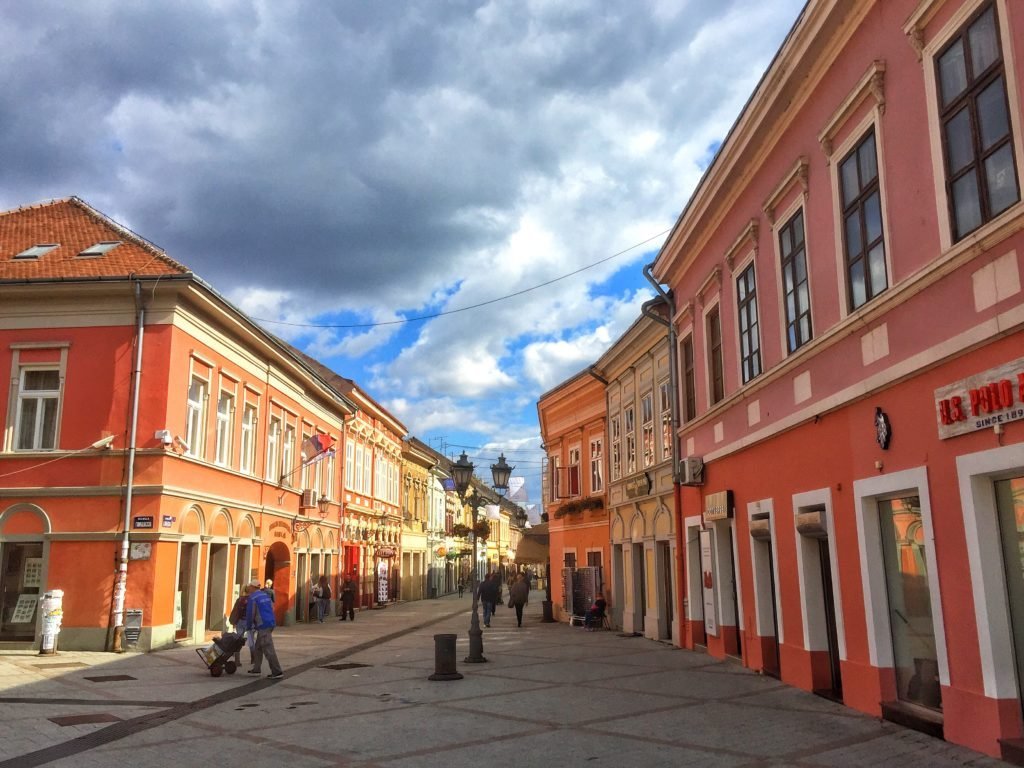 By me
Serbia is one of the cheapest destinations in the Balkans!
Even Belgrade, one of the most developed cities in the whole region, is ridiculously affordable to travel.
I stayed at the awesome Sun Hostel within walking distance of downtown, where I treated myself to a private room for around $18 a night in peak season.
Meals are incredibly cheap, at about $1-3 for "Serbian fast food" which includes tasty options like pljeskavica, which is essentially a Balkan burger.
I even went crazy and got a fancy sushi dinner after having serious Asian food withdrawal syndrome (it's a real thing, guys) – for two delicious, fresh rolls and a beer I paid about $11!
Bus transit is about 50 cents a ride within the city, and buses between cities are usually $10-15.
Be sure to check out cute, colorful Novi Sad an hour north of Belgrade — your buck will stretch even further there!
Have a unique hostel experience at Varad Inn for luxury on a budget. For a European experience on a Southeast Asia budget, you can't beat the Balkans.
Note: All prices in this article are approximate and will likely vary in the future, as exchange rates and average costs change over time.
Allison Green is a former educator turned travel blogger. She holds a Masters in Teaching and a B.A. in English and Creative Writing. Her blog posts merge her educational background and her experience traveling to 70+ countries to encourage responsible, enriching travel. She has been a speaker at the World Travel Writers Conference and her writing, photography, and podcasting work has appeared in National Geographic, CNN Arabic, CBC Canada, and Forbes, amongst others. Now a full-time traveler, she has lived in Prague, Sofia, New York City, and the San Francisco Bay Area.