While Nicaragua is not a tourist hot spot quite yet, there is one thing it's well-known for: volcano boarding down Cerro Negro, Central America's youngest volcano located a short distance from León.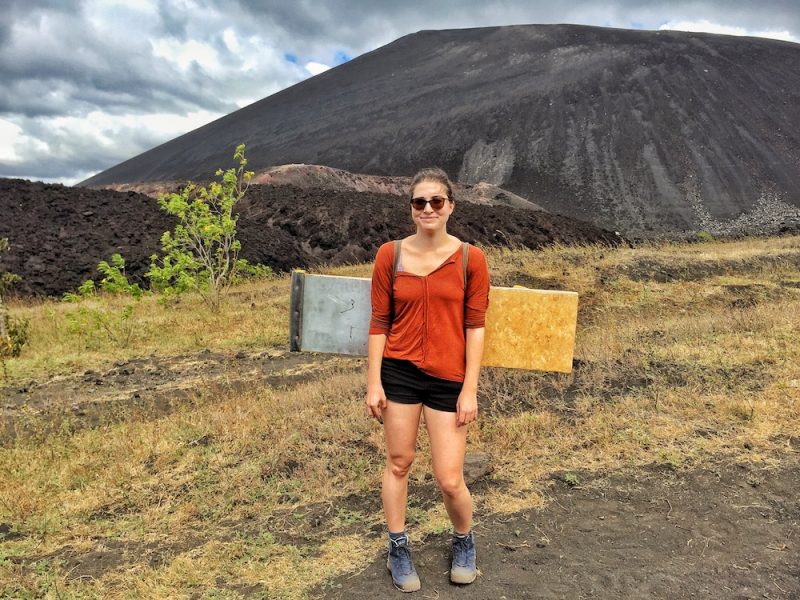 Note: This post contains affiliate links, which means I may receive a small commission if you purchase something through one of these links. Thank you for supporting the free content on this site! For more information on affiliate links and cookies, see my disclosure page for more details.
There are many companies that offer volcano boarding tours, typically for $25 to $30. Bigfoot Hostel is one of the better-known operators, thanks to their catchy, photogenic orange jumpsuits on offer. Many say the hostel's former owner, Daryn Webb, invented the sport. Meanwhile, Mas Adventures's Anry claims to be the first to ever board down Cerro Negro. Who knows what is true! Meanwhile, I opted for Quetzaltrekkers, as they donate all profits to local nonprofits that work with at-risk youth. As a bonus, they're the only company that allows you to board down twice.
All over Nicaragua, you'll see backpackers in volcano boarding shirts, and it seemed like a foregone conclusion that I'd end up going down nature's biggest slide. Yet as I watched the group go before me, I began to ask myself when the hell I became to susceptible to herd mentality. The hourlong hike up had been gorgeous, though a bit tough on the knees. Loose black brittle rock was everywhere, a reminder of Cerro Negro's youth and temperamentality. Meanwhile, everywhere you looked that had been untouched by this volcano's fury was lush and green. You could see the very edge where Cerro Negro's lava stopped flowing, a black border drawn in the jungle.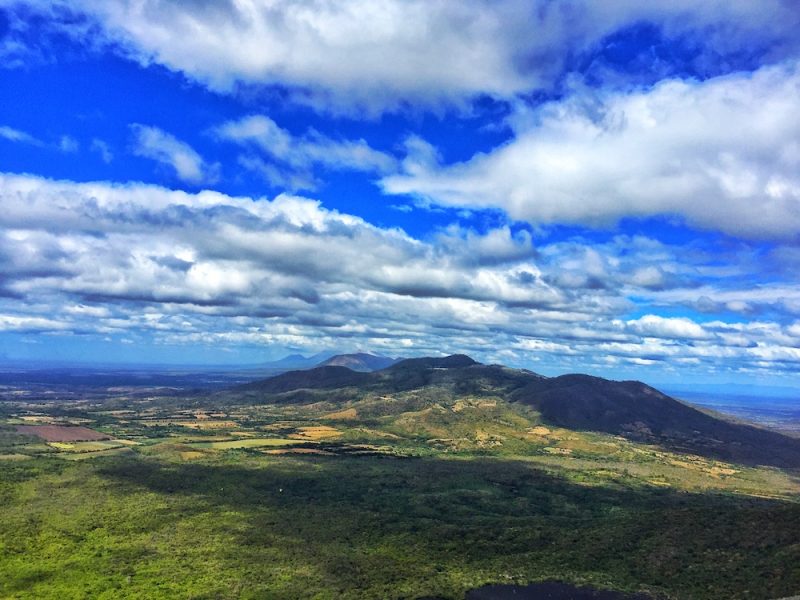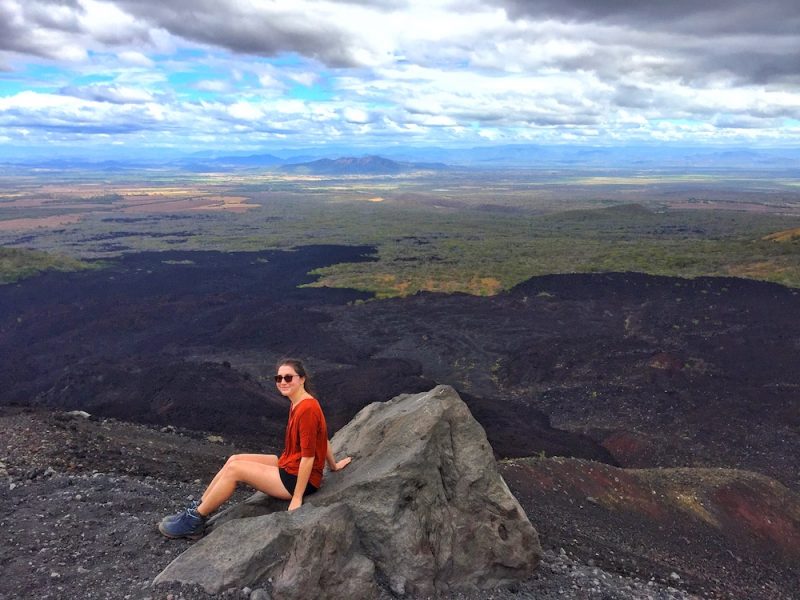 At the top,  I became more aware of just how high I was…. 2,388 feet up, to be exact. Now, I'm not typically afraid of heights. I'm also not typically wrapped in a thick denim jumpsuit on a flimsy piece of plywood flinging myself down volcanoes for sport.
As we got ourselves into our jumpsuits and protected every square inch of skin, I began to realize just how stupid of an idea this was. I watched as person after person slid down the mountain without serious injury, and a pleasant sense of complacency washed over me.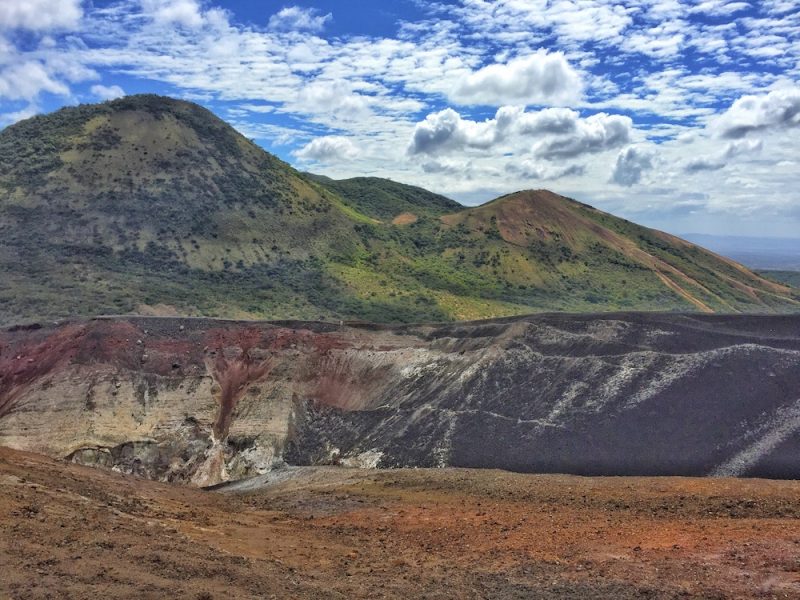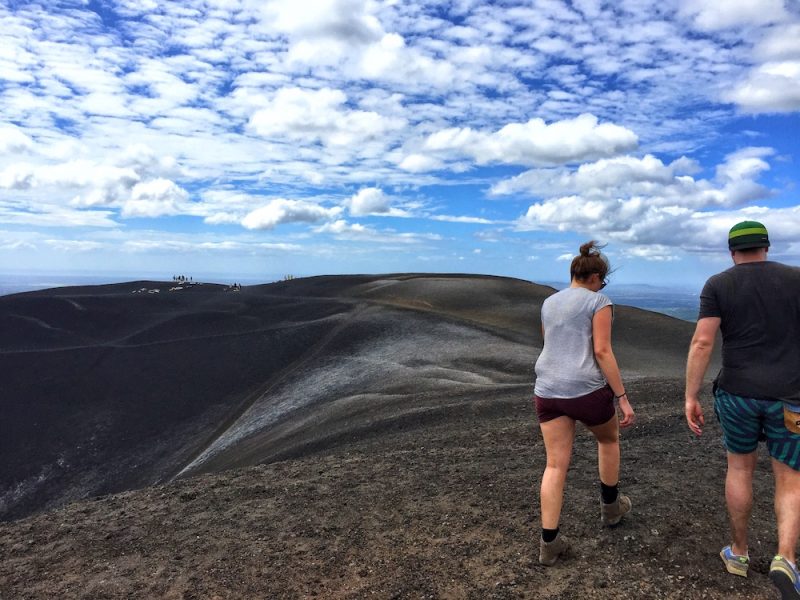 Soon enough, my turn arrived. I got off to a slow start before picking up speed and falling over sideways. I picked myself back up quickly and continued on, fairly unfazed. A first time became a second, and yet fear didn't really kick in yet – I was more irritated with myself that I couldn't just slide down a volcano like a normal person. I got back on the board and got to the steepest part of Cerro Negro, where I must have reached about a speed of about 30 mph…. before I veered off to the left, yet again, and flipped board-over-heels. Twice.
The wind knocked right out of me, it took me a second to remember to get up and give the guides the signal that I was all right. I sat back on my board, feeling a bit dizzy and more than a little anxious. I still had a good half of the volcano to go, at what seemed like at least a 30-degree slope. I'd already fallen three times, flipped my board, and gotten volcanic gravel in my eyemask. So yeah, not exactly rocking this whole volcano boarding thing. Yet I didn't want to admit defeat and walk down the rest of the way.
So I split the middle – I planted one hand firmly behind me as I went the rest of the way down, slowing my speed down to a good 15 mph and making it safely down the volcano. Not the biggest adrenaline rush, granted, but at that point my objective was to just get down the volcano without needing to find out firsthand the generosity of my travel insurance. By the way, it should go without saying, but if you're dumb enough to try to board down an active volcano, please at least be smart enough to purchase travel insurance! I use and recommend World Nomads.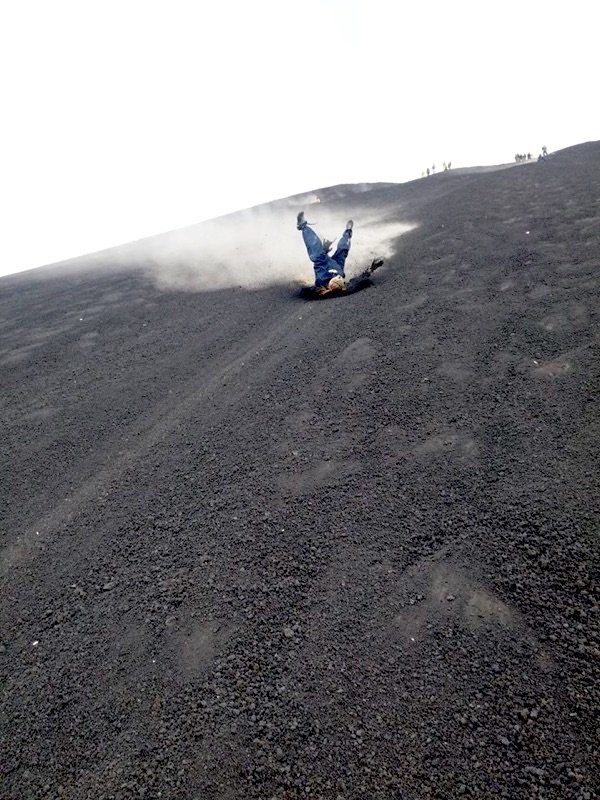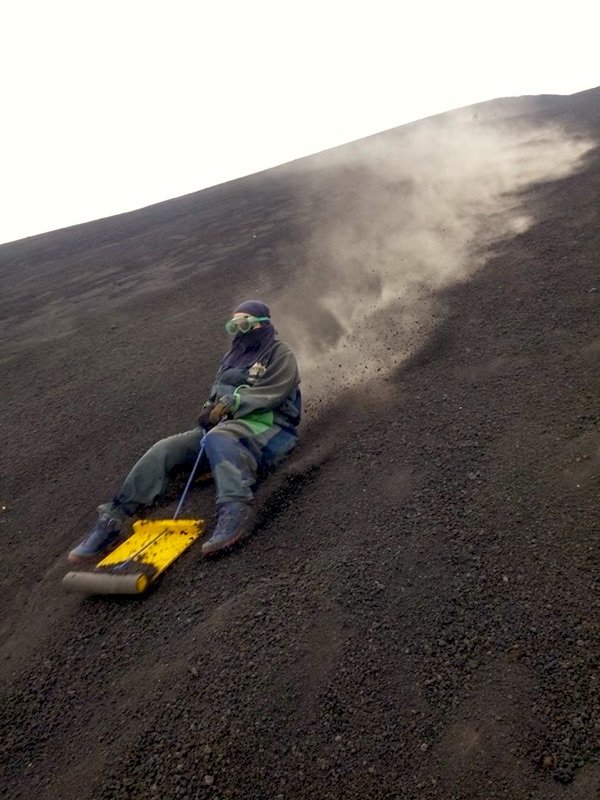 I must give credit where credit is due: despite my multiple wipeouts, I had little more than a tiny scrape on my arm where some gravel had managed to get into the tied-up wrist of the jumpsuit. And a few purplish-yellow bruises, though to be fair, I've bruised myself far worse by walking into a newspaper dispenser on New Years' Eve after the terrible decision of trying Fireball whiskey. While volcano boarding is undoubtedly a dangerous activity, the guides do make every attempt to keep you (as) safe (as you can be while you hurdle down a very-active volcano at speeds approaching 45mph).
When our guide asked if we wanted to give it a second go, my brain screamed, "oh hell no!" Perhaps not surprisingly — no one else on my tour that day felt compelled to give it a second go. I felt relieved. I may have been a wimp, but I was a wimp in good company. Oh, and alive. Yeah, that's good too.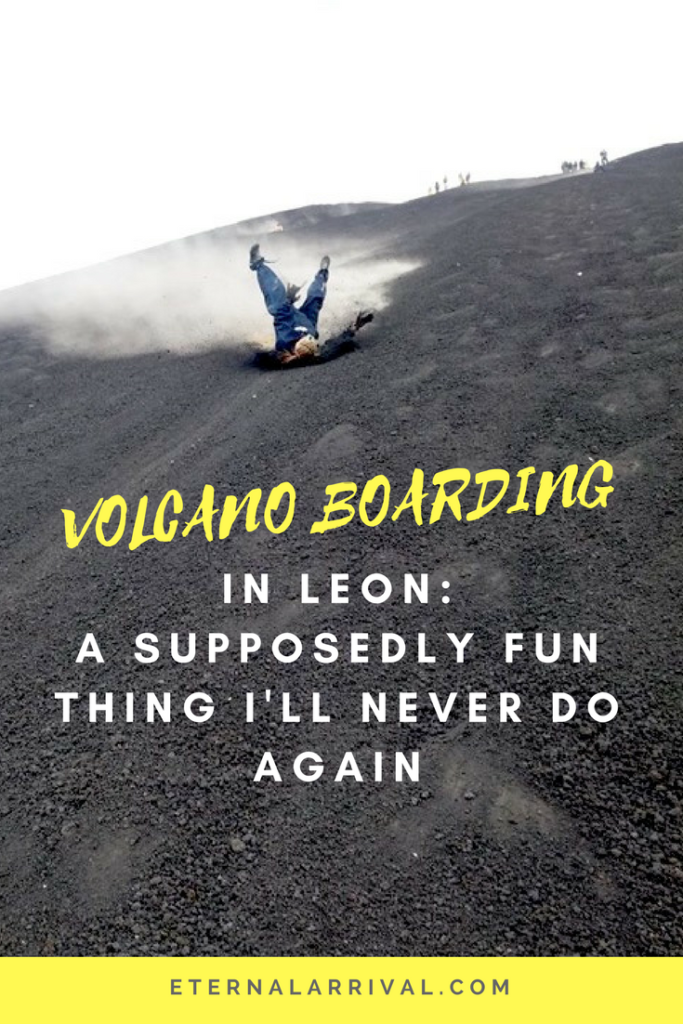 Note: This post contains affiliate links. That means that if you purchase something using one of these links, I will receive a small commission at no added cost to you. No BS – I only recommend accommodations, services, and products I truly believe in.
Allison Green is a former educator turned travel blogger. She holds a Masters in Teaching and a B.A. in English and Creative Writing. Her blog posts merge her educational background and her experience traveling to 60+ countries to encourage thoughtful travel experiences that both educate and entertain. She has been a speaker at the World Travel Writers Conference and her writing, photography, and podcasting work has appeared in National Geographic, CNN Arabic, CBC Canada, and Forbes, amongst others. Now based in the San Francisco Bay Area where she grew up, she has also lived in Prague, Sofia, and New York City.