Perhaps I should have been worried when they told me they had to cancel the Telica Volcano hike two days prior due to a "minor eruption."
Or perhaps I should have hedged a bit when we set up our campsite just past this ominous sign.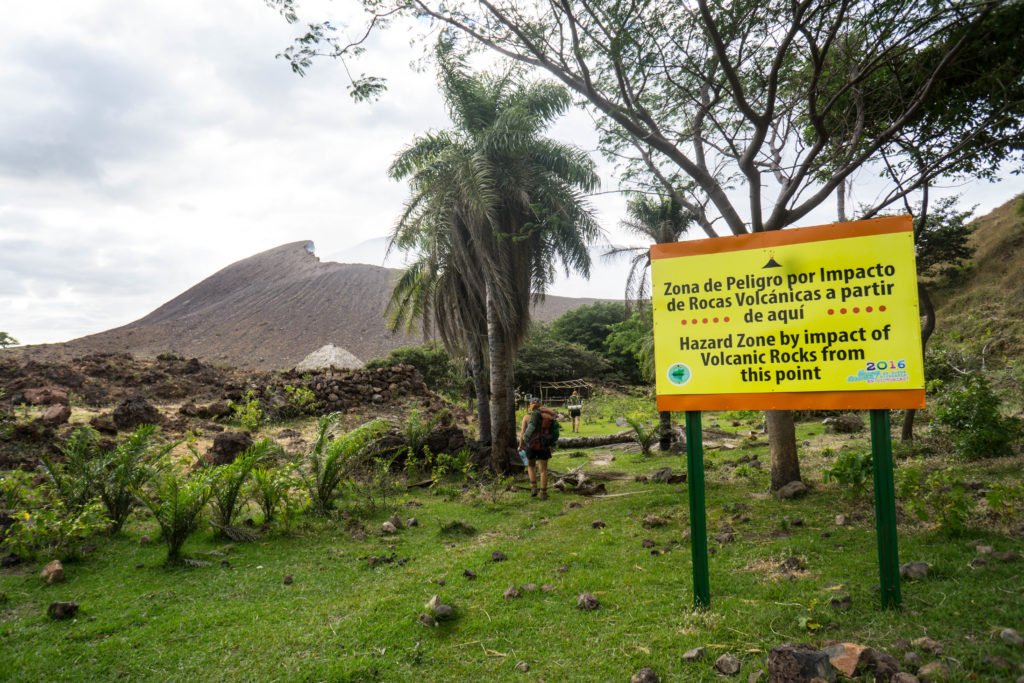 Note: This post contains affiliate links, which means I may receive a small commission if you purchase something through one of these links. Thank you for supporting the free content on this site! For more information on affiliate links and cookies, see my disclosure page for more details.
Perhaps I shouldn't have been so excited about spending a night just a few minutes' walk from Telica's constantly smoking volcanic crater on the Ring of Fire.
But then I wouldn't have had this view, or this story, and I remember that my goal for 2017 was to say yes to anything that intrigued me – even if it scared me. Even if it meant sleeping atop Telica Volcano – one of Nicaragua's most active – for the night.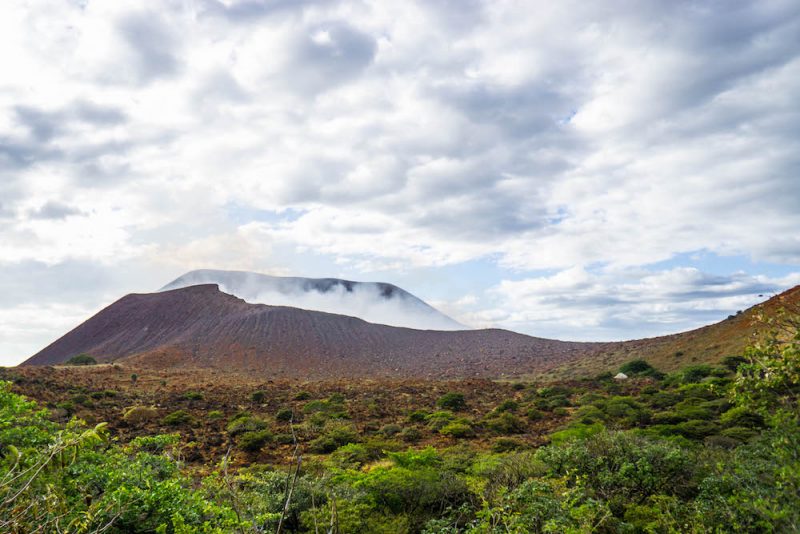 What It's Like to Hike Telica Volcano?
I awoke the day of the Telica volcano hike, body and ego both bruised from volcano boarding the day prior. A migraine had pounded in my head all the previous night, and I was prepared to call off the hike and beg for a refund. But remarkably, I woke up with a clear head and actual energy for a change, as if I had sleepwalked and drank a pot of coffee in the middle of the night.
So I grabbed my gear and walked to the Quetzaltrekkers office, where a delicious and hearty breakfast of eggs, potatoes, veggies, and toast awaited – the closest thing to a proper Western breakfast that I've had since in Nicaragua.
We loaded up our backpacks with tents, 8 liters of water, and other camping gear, and that's when I had my first "oh shit" moment. I have a terrible back and shoulders, just part of life being a secret 80-year-old. I felt the pack dig painfully into my shoulders right away. As we wove an intricate and seemingly random series of turns through the streets of León towards the bus station, I rued each and every step.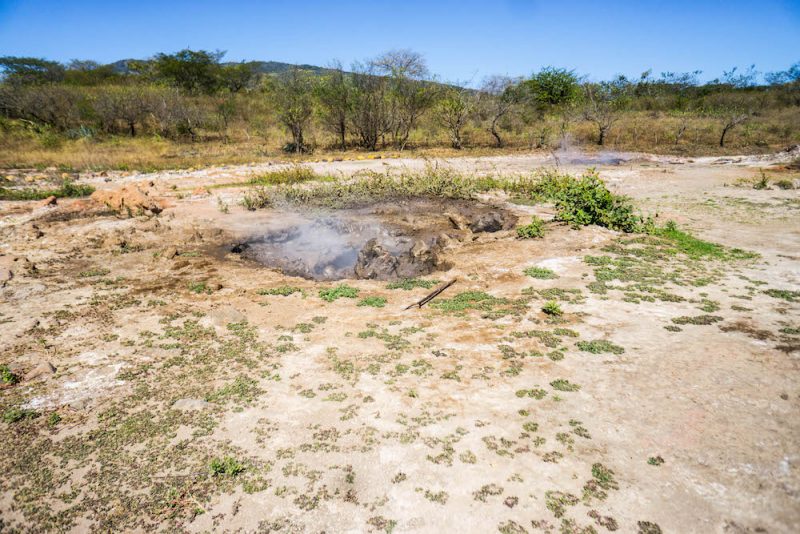 After getting off the bus in San Jacinto 30 minutes later, we were greeted with the smell of sulfuric pits, where geothermal activity made mud gurgle in the sun, like water left to boil on the stove too long. We walked through the dried husks of abandoned corn fields, occasionally stepping over a low point of a barbed wire fence. I was glad I splurged on a guided tour — the trails were not clearly marked for tourists and could have potentially resulted in a lot of backtracking with a heavy pack in the hot sun.
After about 45 minutes of walking through the hot sun on flat terrain, straps digging firmly into my shoulders, my shoulders ached, my enthusiasm flagged, and I was wondering how the hell I was going to do this.
Luckily when I shared my concern with one of my guides, he saw that I wasn't distributing the pack's weight properly. He helped me jerry-rig a solution, tying the waist belt tighter to sit on my hips and creating a chest strap out of a spare T-shirt (the backpack I borrowed for the trek didn't have one). As with everything I do, it was the pinnacle of fashion.
I felt like a whole new person — I had no idea how much having my hip belt fitted properly could make a difference (I'm still a hiking newb, y'all). I marched on with renewed enthusiasm until we reached the base of Telica Volcano.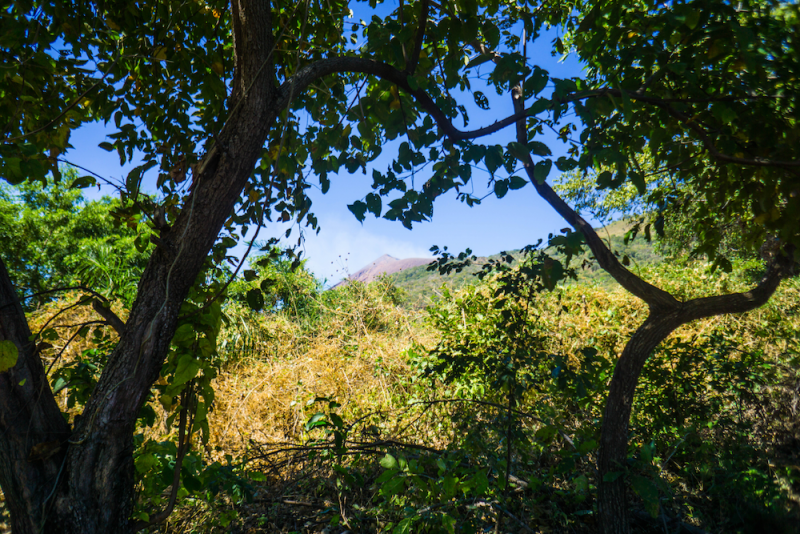 Luckily, Telica is not that tall – just over 1,000 meters (3,481 feet for my fellow metric-shunning Americans out there). This meant we could do the major part of the ascent in just over an hour, though the climb was admittedly rather steep. Luckily, portions of the hike were quite well-shaded, and there are three designated resting places on the hike – one about 10 minutes in, one about 30 minutes in, and another basically at the top.
I blew past the first resting spot and didn't want to break momentum; nearing the halfway point, I started to walk more slowly, focusing on my breathing. With the sun on my face, pack on my shoulders, and eyes fixed on the trail, I felt like I was truly meditating for the first time in my life: focused almost entirely on that present moment, the sensations in my body as I simultaneously pushed it and listened to it.
The last thirty minutes were a little harder, but I kept pushing through it, relishing the moments of shade and picking up my pace in the sunny patches.
We stopped at a local cooperative on the top of the volcano for lunch, and holy shit, gallo pinto had never tasted so good. It was a simple meal – rice and beans, scrambled eggs, tortillas, and hot sauce, but I greedily ate every bite of my enormous portion.
We set up our camps and afterward made our way to the crater, where I took some spooky shots, then walked over to the sunset viewpoint for the most epic sunset of my life.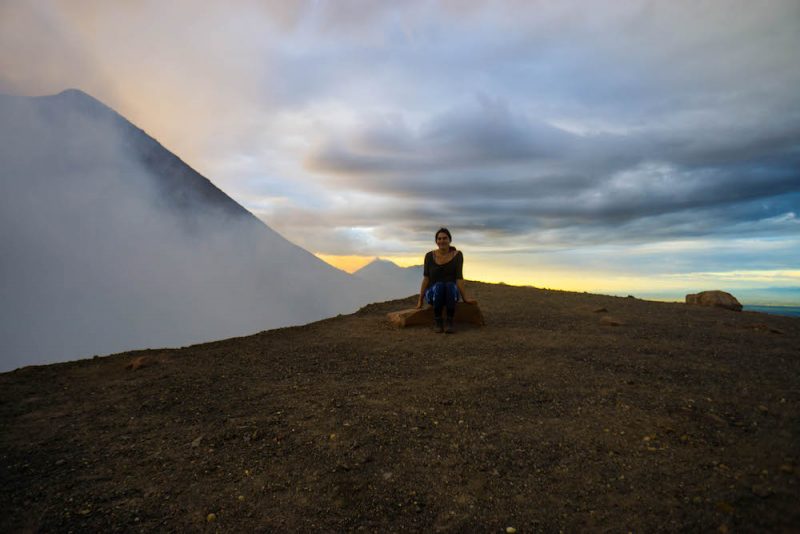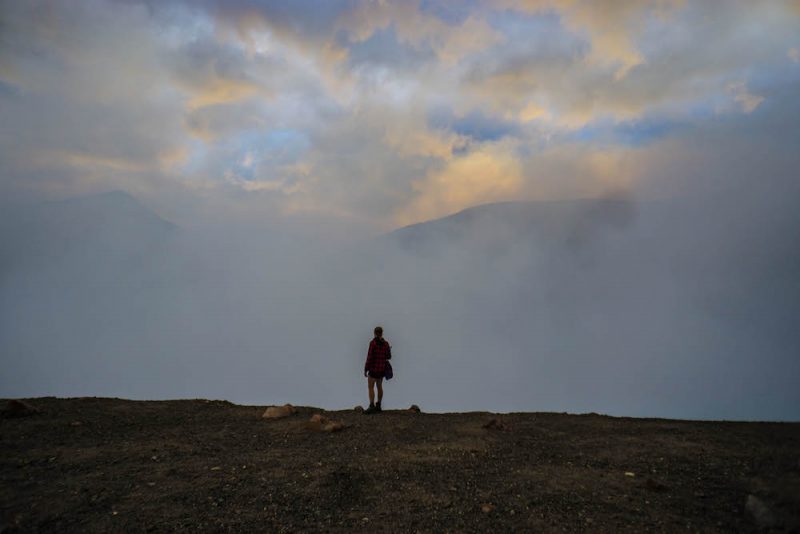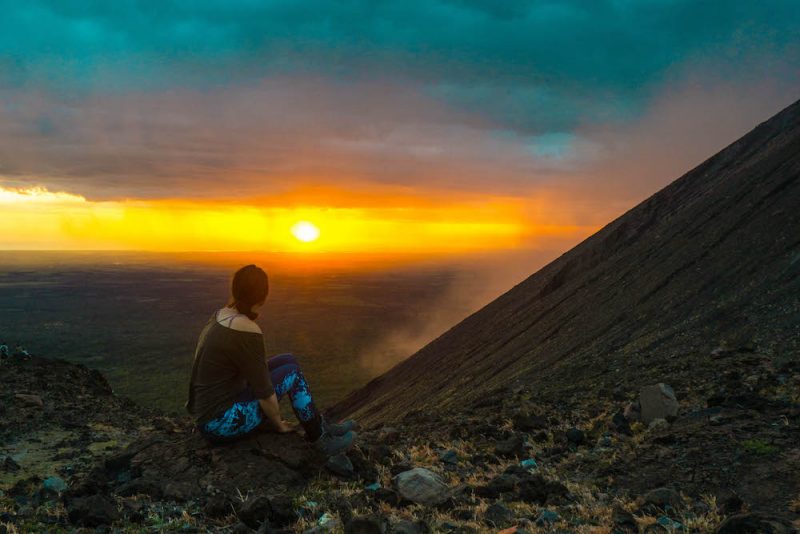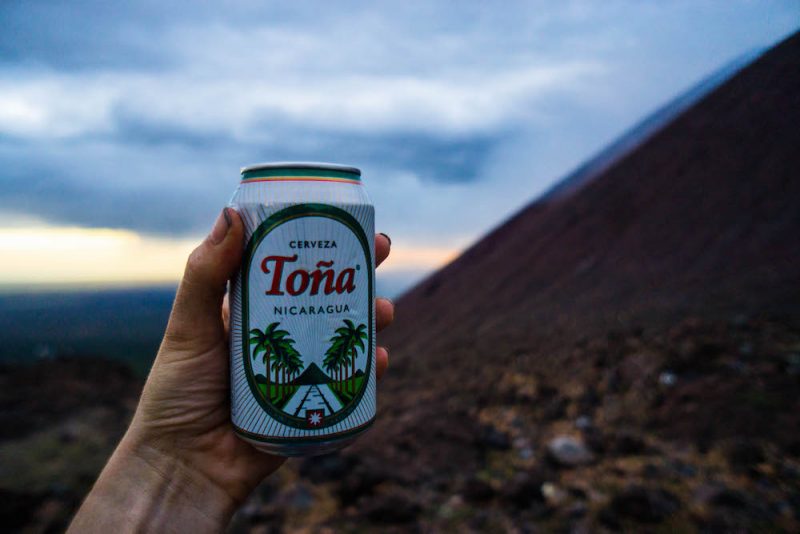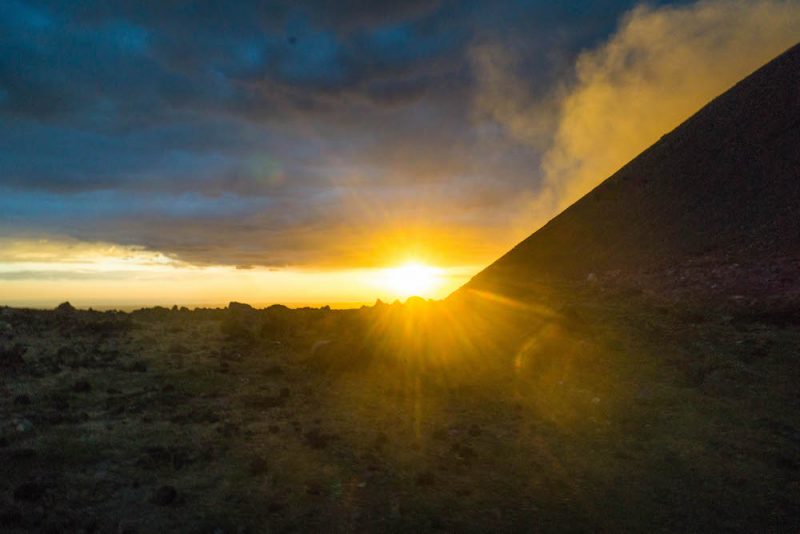 After the sunset, we tried to peek into the crater to see the magma below, but it wasn't visible that night – the sulfur cloud was too thick. We had a delicious meal of pasta with vegetables and fire-roasted marshmallows for dessert.
Twilight slipped into the darkest night sky I've seen since the Sahara, and countless stars sparkled overhead. Without wifi or artificial light to distract me, exhausted by the climb, I slipped into sleep in my tent by 9 that night.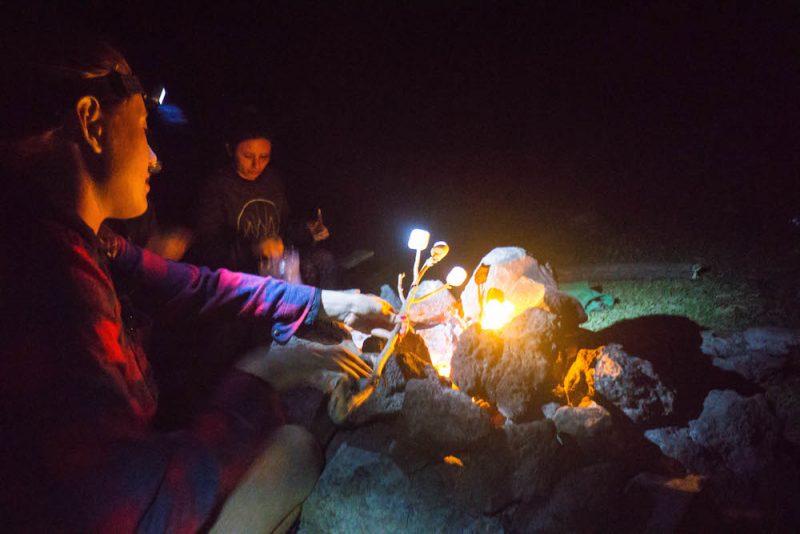 I awoke at 3 in the morning with the sudden remembrance that I was atop a highly active volcano in a highly seismically active region. Try going back to sleep after that thought.
I somehow managed – thank you, long hike and carb OD- and was awoken at 5 in the morning to make the short trek to the sunrise spot. Using our head torches, we walked and walked until we reached the spot. We waited and waited… and then this happened.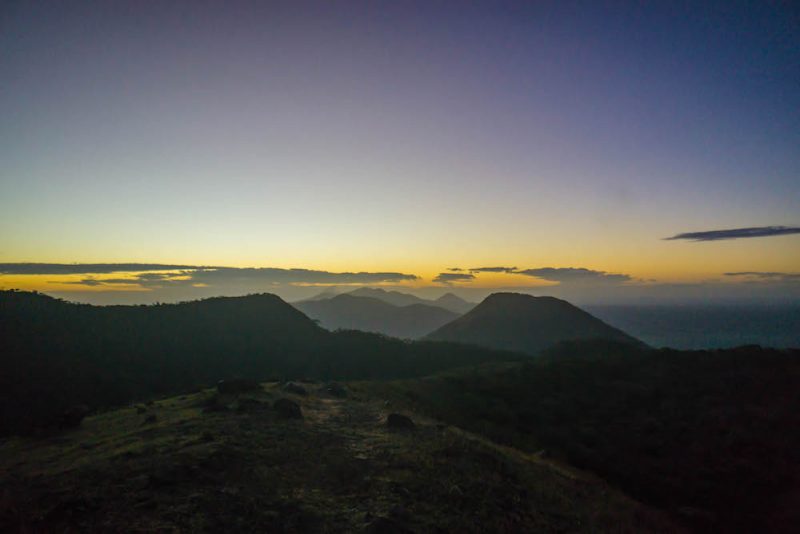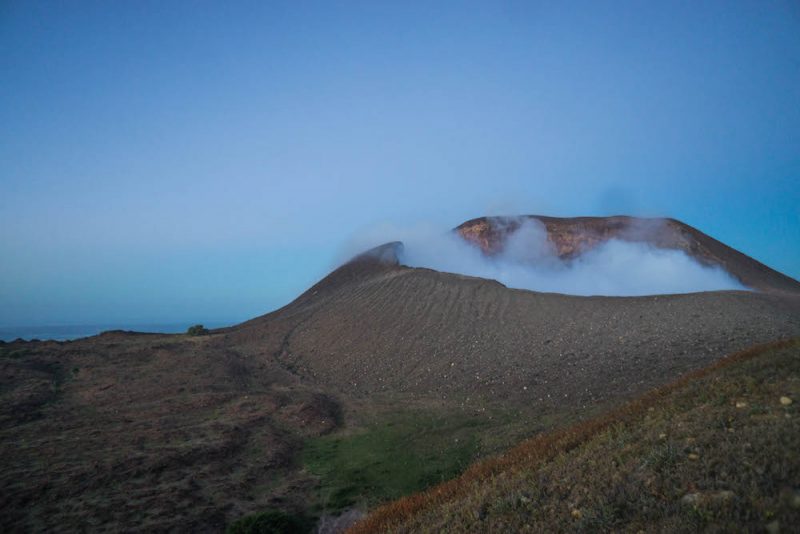 Imagine watching the sky turn from pitch black to yellow-blue, illuminating the peaks of five volcanos all lined up in a row like highly dangerous dominoes…. and then turning around to see this crater smoking peacefully a couple hundred meters away.
After some oatmeal and a small struggle with my tent, we packed up our bags, mercifully lighter after having eaten and drunk the majority of their contents, and set back off to civilization. Behind us, Telica Volcano continued to smoke and gurgle, active yet peaceful. For now.
Tips for Hiking Telica Volcano
Unless you're a very inexperienced hiker, Telica Volcano shouldn't present any particularly crazy challenge.
I was very grateful that I brought proper hiking boots (I love my Ahnus), though it definitely would have been possible to do the hike in running shoes if that's all you have with you.
I highly recommend going with a tour guide, as the path is not very well-marked and our guide was taking on a strange path through corn fields and over fences. I would have struggled to find the right path, but I did meet other hikers who had done the hike independently up to the top, so it is possible. I went with Quetzaltrekkers and would recommend them to others happily.
If you go without a guide, be sure to talk with locals to make sure there hasn't been any recent activity. The volcano is still very much active, but there are monitoring stations on the volcano so it is possible to get up-to-date information.
Ensure you have enough water for the hike – I'd recommend having 4 liters or so.
Be sure to pack in and out all your garbage and leave no trace
Allison Green is a former educator turned travel blogger. She holds a Masters in Teaching and a B.A. in English and Creative Writing. Her blog posts merge her educational background and her experience traveling to 60+ countries to encourage thoughtful travel experiences that both educate and entertain. She has been a speaker at the World Travel Writers Conference and her writing, photography, and podcasting work has appeared in National Geographic, CNN Arabic, CBC Canada, and Forbes, amongst others. Now based in the San Francisco Bay Area where she grew up, she has also lived in Prague, Sofia, and New York City.