One of the greatest things about Seattle is how close to nature everywhere in the city is. It's a place where the Pacific Northwest landscape seems to blend seamlessly with urban design, making Seattle feel more calm than many other large American cities.
But also, sometimes you just have to plan a brief weekend getaway from Seattle to explore all that the PNW has to offer and appreciate your home city.
I teamed up with fellow Washington-savvy travel bloggers to get their insight on what the best weekend trips from Seattle are.
I've divided this list for weekend getaways from Seattle into drives shorter than 3 hours and longer than 3 hours, so you can decide based on distance and how far you're willing to drive for a short Seattle weekend getaway trip or even an overnight trip from Seattle.
From national parks to wine countries to the Olympic Peninsula and even a dip into Canada, here are the best weekend getaways from Seattle for every type of traveler!
Weekend Getaways from Seattle (Under 3 Hours Drive)
Olympic National Park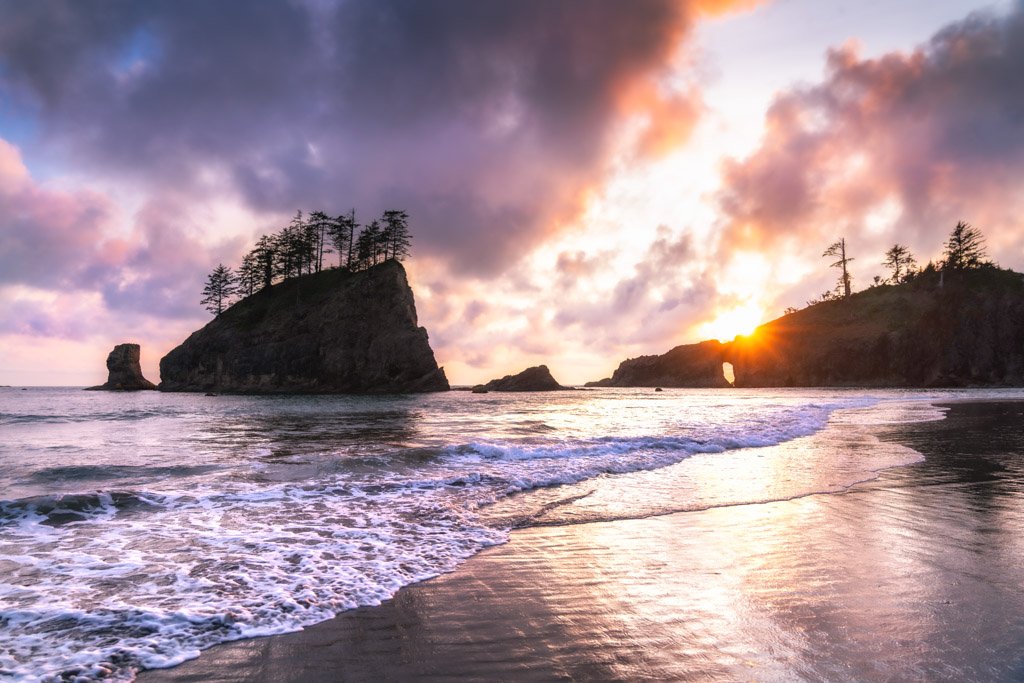 Note: This post contains affiliate links, which means I may receive a small commission if you purchase something through one of these links. Thank you for supporting the free content on this site! For more information on affiliate links and cookies, see my disclosure page for more details.
Contributed by Adam Marland of We Dream of Travel
Located 2.5 hours from the bustle of Seattle's city center is the entrance to one of the most eco-diverse National Parks in the US. Within the Olympic National Park borders, you can explore glaciated mountains from Hurricane Ridge, watch crystal clear water plummet into the lush greenery of the Sol Duc forest, get lost in the vibrant green mosses of the Hoh Rainforest, and watch the sun set over the rugged Pacific coastline… and you can do it all in the same day!
Oh, and did I mention there are hot springs as well?!
Olympic NP is a natural treasure trove, but it is important to understand that the park is extremely large and spaced out. While much can be seen in an overnight trip from Seattle, you will have to plan carefully, and may need to prioritize the destinations and hikes that interest you most.
There are numerous destinations for all types of visitors, each providing essential services such as food and accommodation.
Coastal visitors will find "Second Beach" the most photogenic option, with the town of La Push offering services nearby. Be sure to try the seafood at the River's Edge Restaurant!
Mountain-lovers, meanwhile, should plan time for exploring the trails of Hurricane Ridge. There is a visitor center at the top with facilities and a small cafe. In addition to above-the-cloud views, expect numerous wildlife encounters!
Forest, waterfall, and nature lovers will have their hands full with options! Sol Duc Falls is my favorite destination, and it doesn't hurt that the hot springs are located nearby.
A comprehensive guide to photographing Olympic National Park can be found on the We Dream of Travel website.
Leavenworth, WA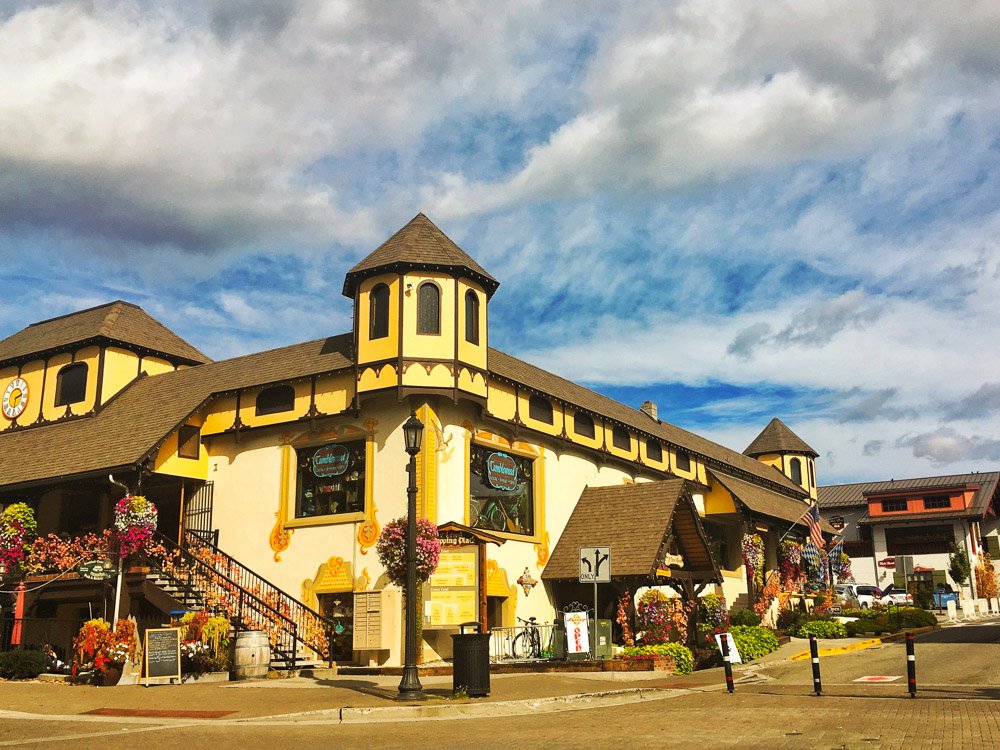 Contributed by Nathan of All About Glamping
Drive just two hours east from Seattle and you'll find yourself transported to Bavaria. The charming town of Leavenworth, WA is surrounded by the Cascade Mountains and is modeled after an authentic Bavarian village complete with alpine chalets, german restaurants, beer gardens and Bavarian-style cultural events and festivals.
This is a year-round destination that's perfect for an overnight or weekend getaway from Seattle. In the warmer months you can go hiking, cycling, or rafting or simply stay in the village and relax on the patios and in the main square. During the colder season there's usually snow for winter activities and for the month leading up to Christmas the town of Leavenworth turns into a winter wonderland of Christmas lights and holiday events.
All year long you can shop in the lovely boutiques and galleries, enjoy a delicious meal at one of the many restaurants or sample wine at the local tasting rooms. There are also several festivals throughout the year including, of course, a hugely popular Oktoberfest. It seems there's always something going on in Leavenworth.
As for accommodations there's everything from romantic guest houses to full resorts and of course Bavarian-style chalets. You can even go cave glamping in Leavenworth for a really unique experience!
Bellingham, WA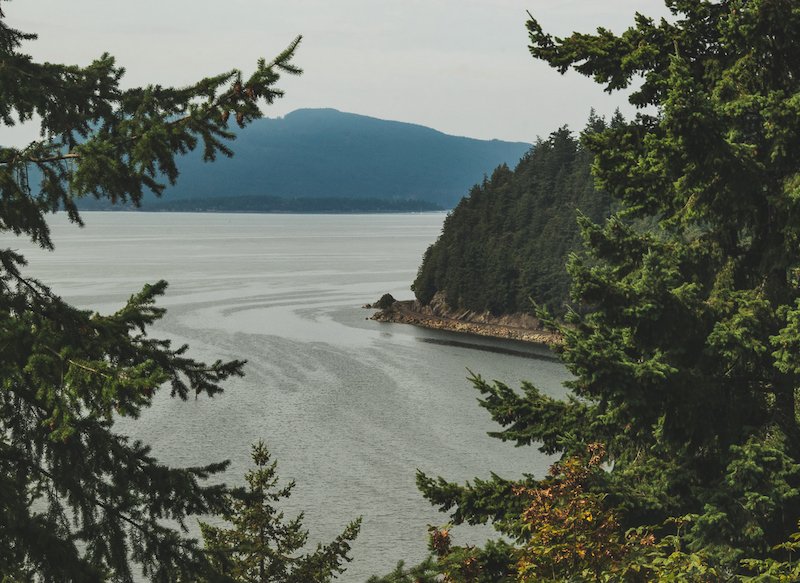 Contributed by Hannah of That Adventurer
Only 1.5 hours away from Seattle, the town of Bellingham is the perfect place for an adventurous weekend accompanied by great food and drink. The town is made up of downtown Bellingham and the historic (and very pretty) Fairhaven district slightly to the south.
The best things to do in Bellingham include driving the scenic Chuckanut drive which runs along the coast and has plenty of places to stop off at including antique stores, seafood restaurants and beaches. For an awesome short hike, try the Oyster Dome Trail along Chuckanut Drive. From the summit, you'll get amazing views of Bellingham Bay and Lummi Island. Adrenaline seekers should take their mountain bike with them and hit the trails! Galbraith Mountain and Chuckanut Mountain include mountain biking trails for all abilities.
You're spoilt for choice when it comes to where to eat in Bellingham. A must-do is Taylor Fish Shellfish Farms. This restaurant right on the water serves up freshly caught, grilled seafood and oysters. You can buy the fish grilled, or grill it yourself as there are grills at each table. Tables fill up quickly so expect to wait! In town, be sure to check out Makeworth Market for delicious cakes, teas, coffee and a beautiful interior.
Weekend Getaways from Seattle (3+ Hours Drive)
Walla Walla, WA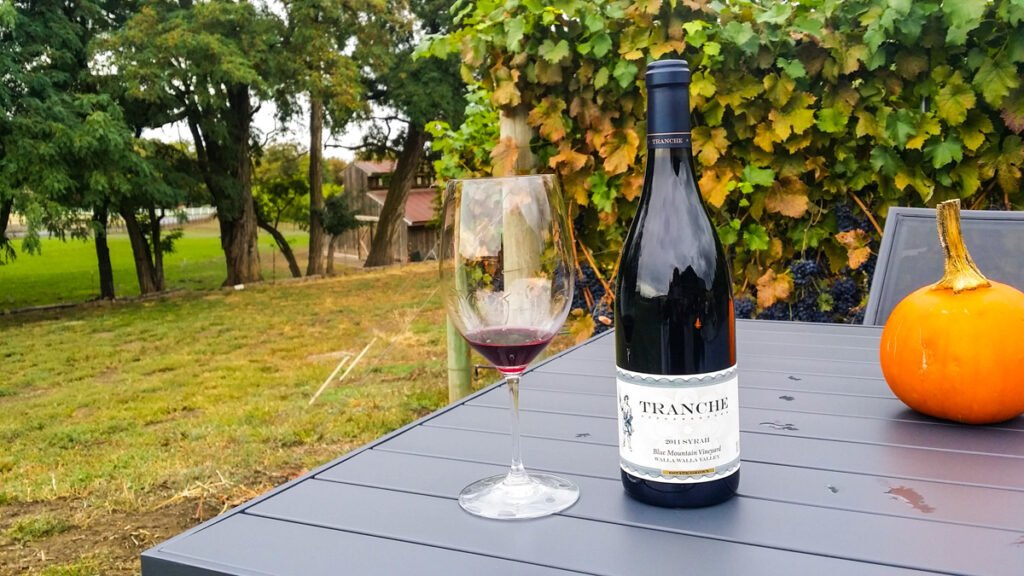 Contributed by Sarah & Nathan of Discover the PNW
Just over 4 hours southeast of Seattle lies Walla Walla, Wa. The town and county with the funny name but amazingly good wine and food. Italian immigrants began making wine here in the 1800s and the region was designated as an American Viticultural Area in the mid 80s. But, it's only fairly recently become known as a wine tourism destination.
If you're driving in at the right time of year you'll see the scenery change from golden fields of wheat with the Blue Mountains as a backdrop to multi-colored rolling hills and lush green vineyards before arriving at the quaint town of Walla Walla. The town itself is charming and peaceful with a downtown historic core lined with boutiques, cafes, restaurants and of course wine tasting rooms. The residential streets around the center are tree-lined with many lovely houses of Late Victorian Queen Anne style architecture. Spending an hour or more exploring the area on foot is highly recommended.
Drive out of town in any direction and you'll be spoiled for choice when it comes to Walla Walla wineries and wine varietals. The more than 100 wineries are separated into districts such as Downtown, Southside, Westside, Eastside, and Airport and part of the wine region even lies within the Oregon border. Whichever districts you decide to visit you will find beautiful scenery and a refreshingly laid back and unpretentious vibe which is welcoming to all wine lovers.
As for food, there's no lack of delicious options. You can find pretty much any type of cuisine in Walla Walla but be sure to try the funky and unique Andrae's Kitchen: 5 star gourmet food served in a gas station. Also, you can't go wrong with a meal at Saffron Meditteranean Kitchen or Passatempo Taverna.
Portland, OR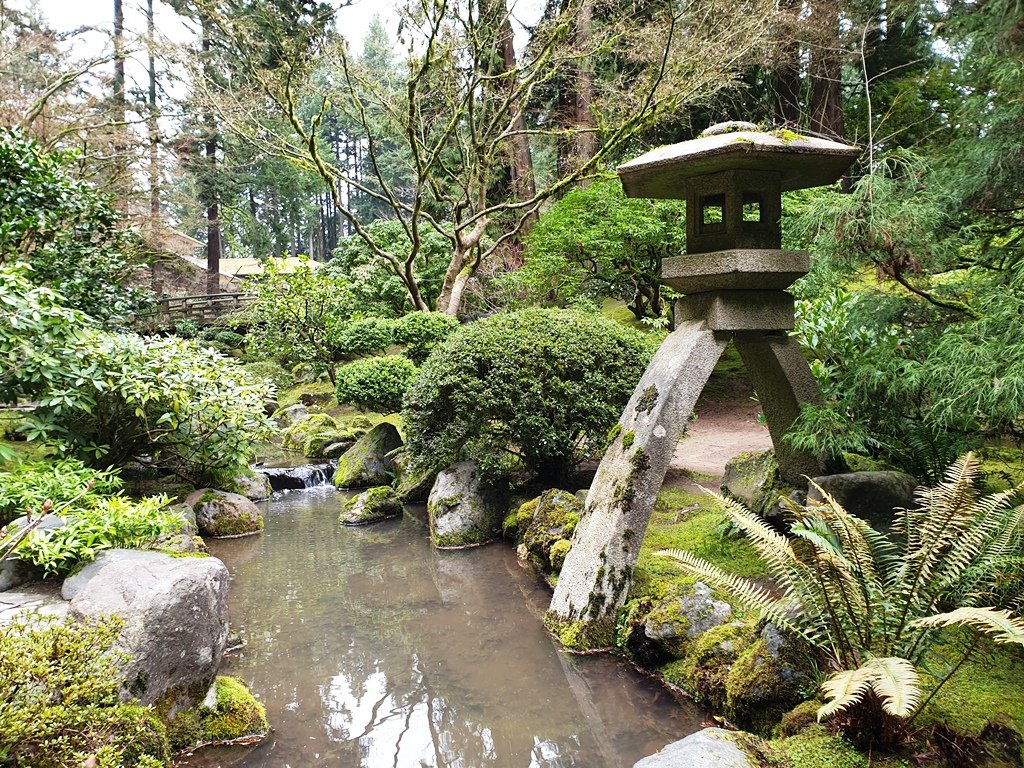 Contributed by Chrysoula of Travel Passionate
If you're staying in Seattle and looking for other local destinations that you could visit for a day or two to get out of the city. Portland, Oregon is one such destination.
Lying just three hours from Seattle, Portland is a charming city that boasts an incredible food scene, some great street art, a bunch of weird and wonderful attractions, and some excellent outdoor activities. Whether you like brunching, biking, markets, music or simply strolling round parks and gardens, Portland most definitely has you covered.
Cycling is pretty standard practise in Portland, with most locals and lots of tourists choosing two wheels to get around. So, pick up a rental bike and start cycling along the waterfront down to the Portland Saturday Market. The sheer mix of goods on sale at the market represent the eclectic nature of the city, with everything from local handicrafts and souvenirs to jewellery, art and home interiors.
You can continue your day with tasty treats from around the city such as Saint Cupcakes, doughnuts from Voodoo and popcorn from Poplandia with every flavour imaginable. You certainly won't go hungry here in Portland!
When you're ready to walk off the calories, head over to Washington Park or the Portland Japanese Garden to witness creatively curated flowerbeds, tranquil tea gardens, and myriad other attractions.
And, when you're done exploring the top city sights, you can consider visiting the Willamette Valley wineries, the nearby Hood River, or the small artistic town of Eugene.
Orcas Island, WA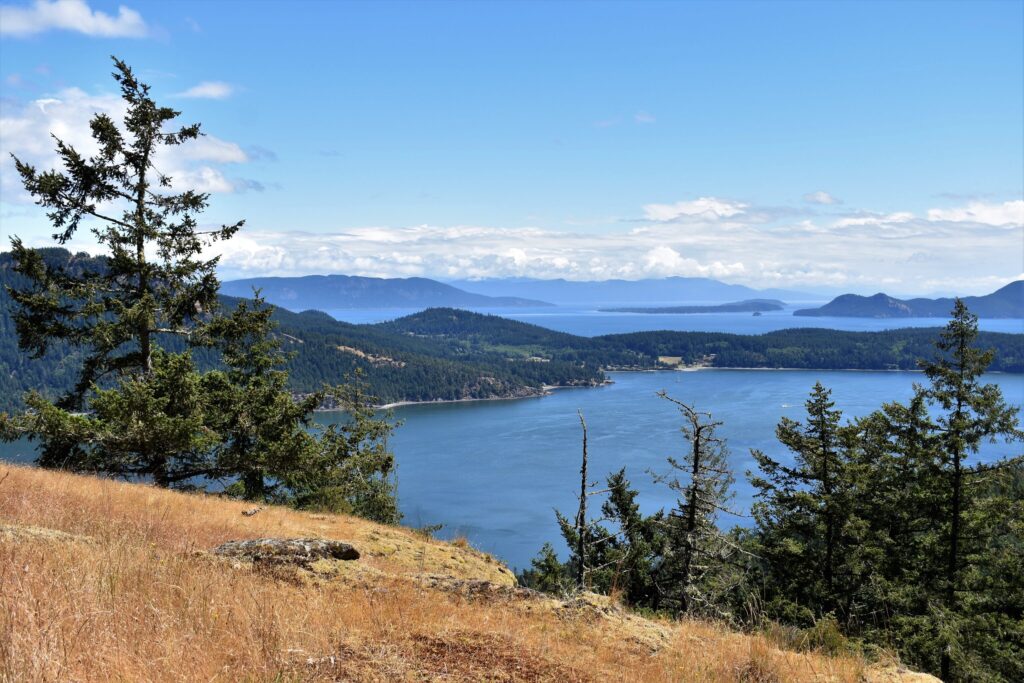 Contributed by Kay of The Awkward Traveller
Orcas Island is part of the San Juan Islands off the coast of Washington, about 3 hours from Seattle (which includes a 1.5hr ferry ride). If you really want to immerse yourself in the nature of Orcas Island, consider setting up camp at one of the gorgeous sites inside Moran State Park.
During peak season, campsites can run ~$27-37USD a night. However, if you are looking for lodging on the less rugged side, grab a room at the Orcas Hotel which is right across from the ferry terminal and is also pet friendly!
There are tons of things to do on Orcas Island, though hiking is a must. Cascade Falls trail is one of the most beautiful hikes, but this short 1/4 trail is as steep as it is beautiful! For beginner hikers, the Cascade Lake Loop is relatively flat and is easily accessible!
After working up a sweat, indulge yourself in the locally run restaurants around town! Visit New Leaf Cafe for breakfast, Roses Bakery Cafe (Vegan options!) for lunch, and Island Hoppin' Brewery for dinner! After all, you're in the Pacific Northwest, you gotta sample the local microbrews!
Orcas Island also has a surprisingly lively downtown area in the summer, so you can browse the rows of cute boutiques and shops selling handmade goods. However, you can't leave Orcas Island without checking out Mt. Constitution, the highest point of all the San Juan Islands! At the summit, there is a stone tower offering 360 views of the island, and the perfect vista photo for your memory books!
Victoria, BC (Canada)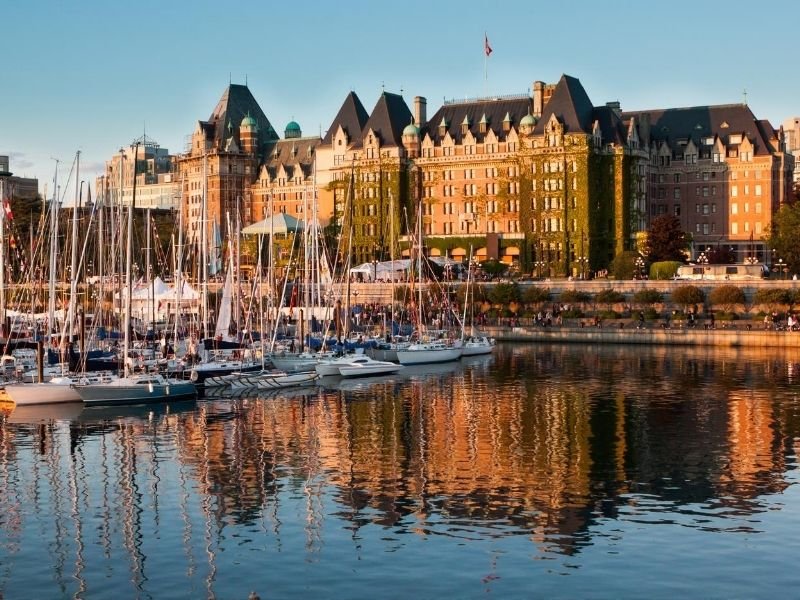 Contributed by Daisy of Beyond my Border
Despite being in two different countries, one of the best overnight trips from Seattle is Victoria, BC.
As the capital city of British Columbia, Victoria sits at the corner of Vancouver Island. Noted for its numerous historical architecture, diverse outdoor activities, and gorgeous seaside view, Victoria is one of the most popular destinations in Canada.
From Seattle, simply hop onto the Clipper ferry at Pier 69. This scenic 3-hour ride will bring you straight to the Belleville Terminal in downtown Victoria. It's best to visit this city during the summer months as the weather will be more suitable for outings.
Known as "The Garden City", Victoria is famous for its vast greenery and pleasant harbor life. There is no surprise that there are many things to do in Victoria BC.
Be it a visit to the Craigdarroch Castle, a stroll along the Inner-harbour pathway, or an excursion at the Beacon Hill Park, the city will captivate you with its charming entwinement of nature and modernity.
Some of the best places to cure your hunger are at the floating food stalls in the Fisherman's Wharf Park. You can venture out to the nearby dockside restaurants and dine at the finer establishments such as the Fish Store or Pizza Pizza Co. Since you are right by the harbor, seafood is a must!
Vancouver, BC (Canada)
Contributed by Dhara from It's Not About the Miles
Looking for a great overnight getaway from Seattle? Consider Vancouver BC! The vibrant cosmopolitan Canadian city is just 2.5 hours away by road, but border crossings will probably make it closer to 3+ hours.
There are tons of fun things to do in Vancouver that can keep you engaged for much longer than a couple of days. On a short visit, focus on a few iconic places. Stanley Park and the Seawall are great for a morning walk. Take in the beautiful boats and buildings as you walk.
For panoramic views of the city, head to the Vancouver Lookout. It is especially beautiful at sunset, and you can watch as the lights of the city come on. After dark, Canada Place is a must-stroll, to see the illuminations. Visit some of Vancouver's quirky neighborhoods: Gastown is known for its fun vibe and nightlife, and it also has a quaint steam clock.
If you enjoy gardens, Vancouver's botanical garden is famous, and Queen Elizabeth Park, nearby, has lots of gorgeous plantings as well as great views of the city skyline.
Take the Aquabus across False Creek to Granville Island, where you can browse all the food stalls in the public market and grab something delicious to eat. Nightingale, the casual eatery by Chef Hawksworth, is a great place for a special dinner.
Pin These Great Weekend Getaways from Seattle for Later!
Allison Green is a former educator turned travel blogger. She holds a Masters in Teaching and a B.A. in English and Creative Writing. Her blog posts merge her educational background and her experience traveling to 60+ countries to encourage thoughtful travel experiences that both educate and entertain. She has been a speaker at the World Travel Writers Conference and her writing, photography, and podcasting work has appeared in National Geographic, CNN Arabic, CBC Canada, and Forbes, amongst others. Now based in the San Francisco Bay Area where she grew up, she has also lived in Prague, Sofia, and New York City.