Rocky Mountain National Park is a winter wonderland located outside the adorable mountain town of Estes Park, Colorado.
The park is 415 square miles and only a two-hour drive from Denver, Colorado, making it an excellent day trip from Denver or an easy addition to your Denver itinerary.
Rocky Mountain is known for its snowy winters and massive peaks. Snow normally begins in late October and ends well into the middle of May.
This pattern attracts ski bums and winter enthusiasts to the area each year. Ice climbing, cross country skiing, and winter hiking are the most sought-after activities here, in this national park that is known for being a winter playground with stunning views of the snow-capped Rocky Mountains.
The activities are limitless and this guide to visiting Rocky Mountain National Park in winter will help you navigate them all!
Rocky Mountains Winter Packing List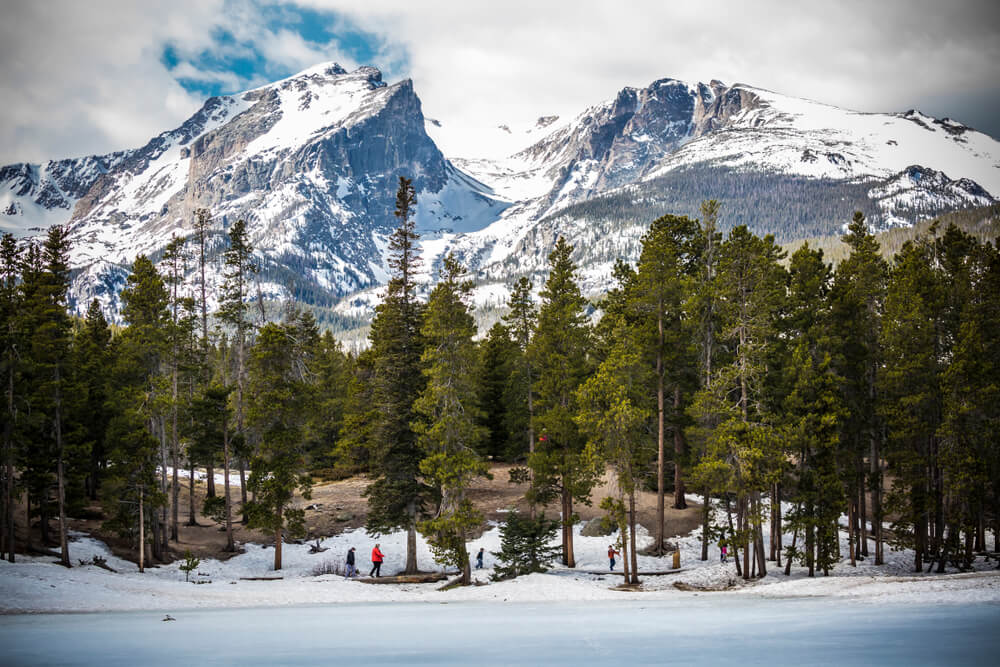 Note: This post contains affiliate links, which means I may receive a small commission if you purchase something through one of these links. Thank you for supporting the free content on this site! For more information on affiliate links and cookies, see my disclosure page for more details.
Locals joke that you need to pack for every season when visiting or hiking in Colorado… well, that joke is actually true!
Sometimes you might start your hike with the weather being sixty degrees and sunny, but as you climb, the higher your elevation is, putting yourself in more extreme weather situations.
The temperature can drop to single digits, with added wind chills on top of it. Layers, layers, and even more layers are the key to staying warm!
Your first layer should be your base layer. Merino wool is known to keep you the warmest and is very comfortable and breathable — we suggest these ones by Merino.tech (leggings + top layer), which use 100% merino wool from farms in New Zealand.
Your middle layer is your insulation layer, which helps you retain body heat. Using fleece (like this one from North Face) as your middle layer is highly recommended and extra comfortable.
Your outer layer is your final layer and where you will be spending most of your money. Heavy winter jackets with protective layers and a hood are preferred — I also use North Face for this layer, in particular, their insulated Metropolis parka (which I've had for 15 years and loved!).
In Colorado, you want to make sure you have a reliable windshield in your outer layer, as the wind chill above the treeline or mountains cuts you totally differently. If you also get caught in a snow or rainstorm, this will help keep you dry and protect your other layers.
It is okay if you do not wear all three layers at the start of your adventure — just have them available, as the higher you get, the colder it will get.
That is why it is recommended to have all of these options in your backpack, so you can easily add or remove layers, depending on the weather.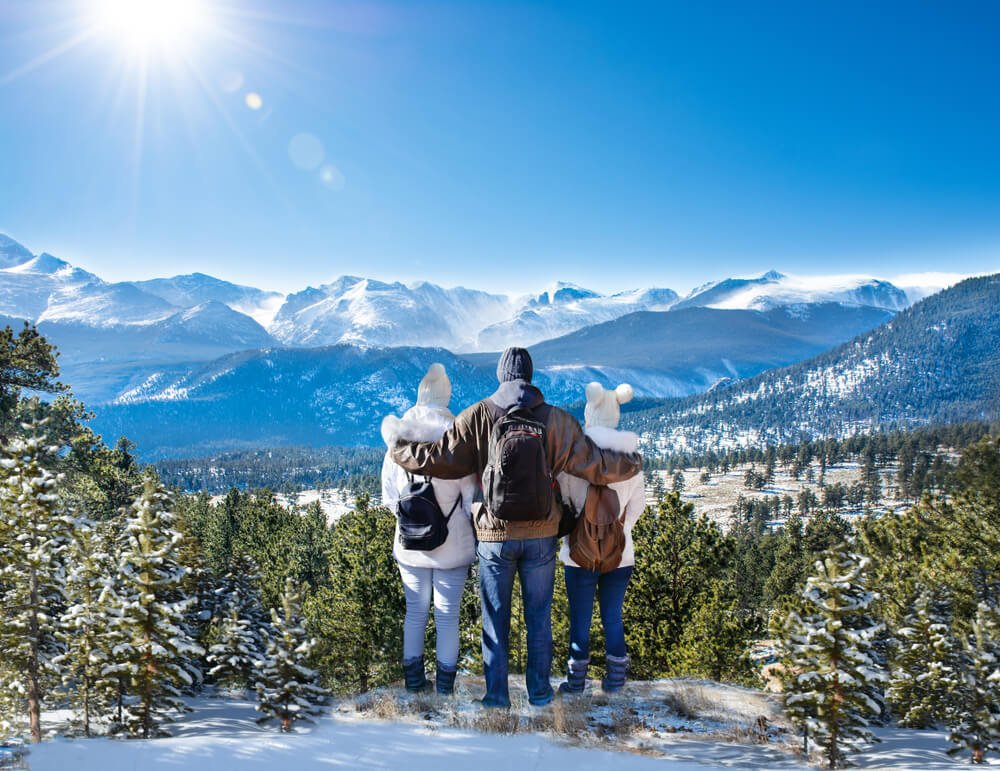 A warm winter hat and insulated, waterproof gloves are a must-have. Use fabrics that will not get soggy when wet.
Multiple pairs of socks (preferably wool socks) should always be in your backpack. This is important in case you step into a heavy snowpack or puddle when hiking.
Your socks could become frozen, risking hypothermia or frostbite. Having multiple pairs of socks you can layer up with if you get wet or extra cold is key. It is an extremely lightweight but important hiking hack for winter.
Always remember that when it comes to playing in the winter snow, you must prepare for the worst while hoping for the best. Being over-prepared could save your life — or others around you.
Microspikes and/or snowshoes (depending on the amount of snow on the ground) are needed when attempting any winter hiking.
Microspikes help keep your grip with chains or small spikes that slip over your hiking boots. They help you stay grounded on icy trails and will prevent you from falling. I used and loved these Yaktrax while hiking in Arctic Norway.
They are a lifesaver and it is rare to spot hikers without them! There is nothing worse than losing traction and sliding down an icy mountain.
In addition, after a heavy snowfall, you will need snowshoes. The mountains get pounded with multiple feet of snow and it takes a while for it to become packed down.
In these conditions, one wrong step could have you post-holing, covering your body in the snow!
Snowshoes will keep you above the soft snow instead of having you fall through it out.
Most of the time, you will start off with microspikes until you reach a higher elevation. That is when you swap them out for the snowshoes. They are a dynamic duo for winter mountain hiking and will make your life ten times easier!
Most hiking trails are not even accessible without them. It is ideal to always bring them with you, even if you think you won't need them.
Snowshoes can be expensive — you can get a cheap-ish pair on Amazon, or invest in a heavier-duty pair from REI — so many people choose to rent a pair in Estes Park if they don't plan to hike in the snow frequently.
Avalanche Awareness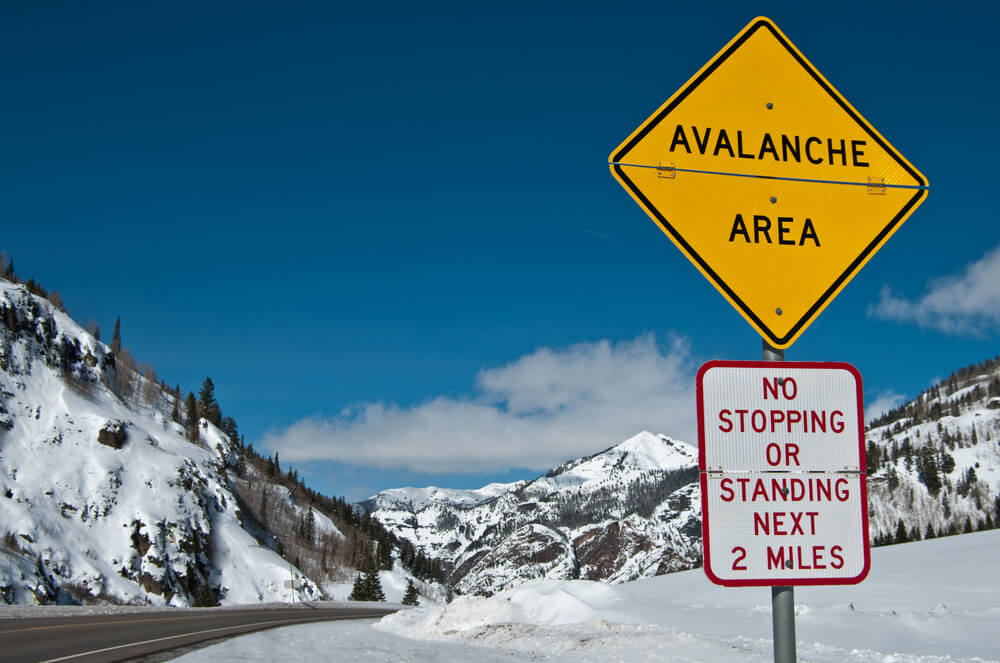 According to reports from the CAIC, Colorado Avalanche Information Center, there are over two thousand avalanches in Colorado every season.
It's important to be avalanche-aware whenever you head out into the winter backcountry.
If you see an avalanche heading towards you, do not try to run away from it. The best thing you can do is move to the side, grab something sturdy, and hold one arm up.
If you have one arm up and get buried, the rescue team will be able to locate you faster, increasing your chances for survival.
Even though getting caught in an avalanche is slim, it is very important to be prepared!
Having an avalanche transceiver (and more importantly, knowing how to use it) may save your life.
If you stick to more traversed areas of the park, this is likely not necessary, but if you want to go into the backcountry, it is essential.
You are probably wondering how avalanches even start. Simply put, an avalanche occurs when a layer of snow collapses and slides downhill.
There are four factors that cause this natural wonder: a steep slope, heavy snow cover, a layer of snow that is weak, and of course (as all the movies have shown!) a trigger.
Backcountry skiers, snowboarders, and snowmobilers are the biggest cause of avalanches, due to the vibrations from machinery and boards. Some other causes are earthquakes or even rain and wind combined with heavy snowfall.
Warming temperatures can be a common factor, causing the melted snow to become heavier.
The CAIC has a map on their website that shows the Rocky Mountain Range, including Rocky Mountain National Park.
It is updated every day in the winter months to display what level of threat is in the area: 1 being the lowest and 5, extreme, being the most dangerous.
It is highly recommended to make this website your winter tool before any outdoor activities in the Rocky Mountains. You can view the conditions map here.
Winter Road Closures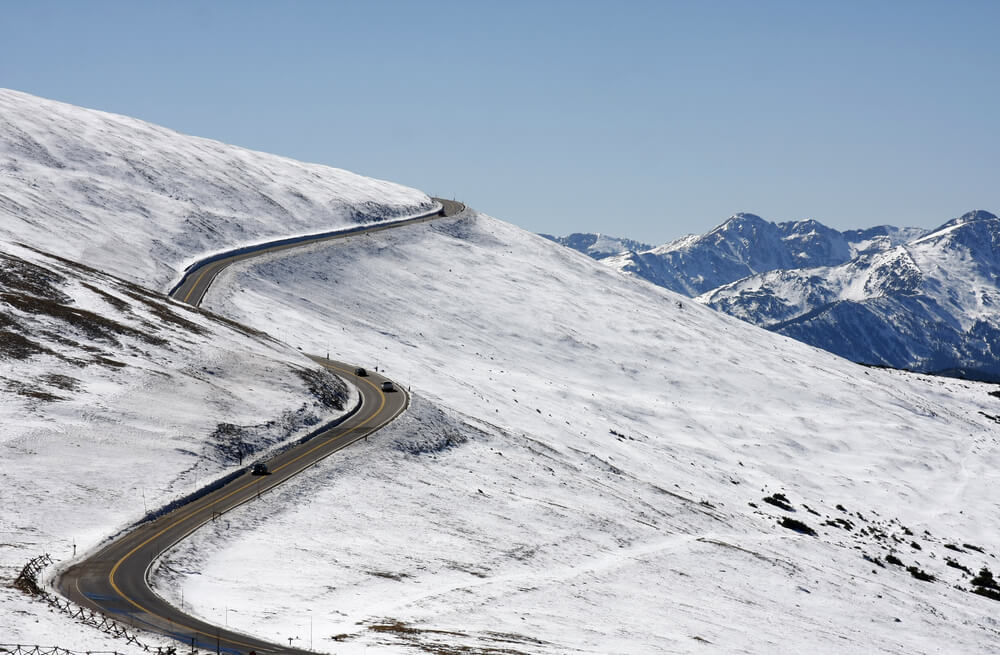 Trail Ridge Road is 48 miles with an elevation of 12,183 feet at its highest point.
It is one of the most talked-about and famous roads in all of Colorado, and a popular Colorado scenic drive, drawing over 900,000 visitors each month in the summer.
This drive is not for the faint of heart and can be downright terrifying to most people! This is caused by the lack of guard rails and very steep drop-off.
In the summer, you can take the road from Estes Park which is the east entrance of the park, all the way to Grand Lake, which is the west entrance of the park, allowing you to visit both of these Rocky Mountain towns.
Driving the road is allowed in the summer months, depending on when the snowfall declines. It normally reopens around late May to mid-June.
Don't worry, you can still explore it during the winter months, but only by foot and by ski!
The road is plowed up the viewpoint section of Many Parks Curve; cars are not allowed past this point.
Trail Ridge Road is the only road that officially shuts down every winter from October until Memorial Day weekend. The other roads in the park are very well maintained, even after heavy snowfall.
All of the roads are paved and plowed throughout the park, keeping winter visits popular and safe to visitors.
Winter Weather in Rocky Mountain National Park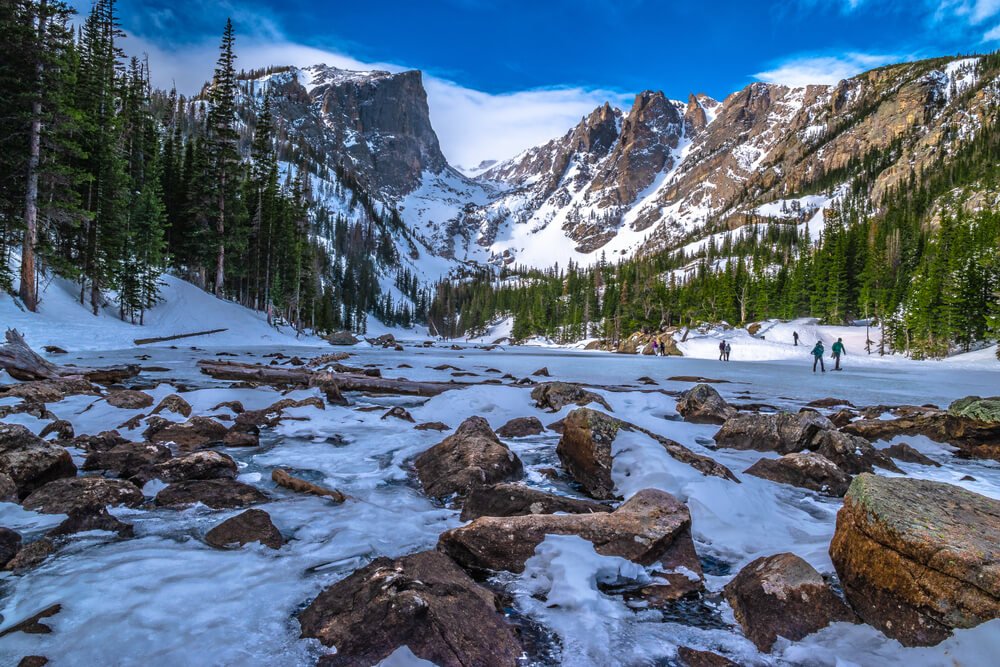 Weather can be tricky at Rocky Mountain National Park in winter!
Colorado is known for its 300 days of sunshine and also snowy destinations, an odd combination for knowing what to expect.
Weather can — and does — quickly change from fifty and sunny to blizzard conditions frequently!
Checking the weather before your departure is always recommended. Being prepared for all weather conditions is a must.
Snow typically begins falling in October and doesn't stop until late April to mid-May., but keep in mind that every year is different.
You can call the Rocky Mountain National Park information line at 970-586-1206 for the latest conditions and snow reports.
Things to Do in Rocky Mountain National Park in Winter
Ice climb the frozen waterfalls.
Ice climbing is a hard but popular mountaineering activity in Colorado. This fun winter activity includes climbing frozen waterfalls or large rocks covered with ice.
Luckily, Rocky Mountain National Park is home to a remote and scenic ice climbing area, making it a bucket list winter destination for ice climbers.
In the Wild Basin area of the park, you'll find Hidden Falls, located twelve miles south of Estes Park near the Longs Peak Trailhead.
There will be signs for the horse trail about one hundred yards from the ranger station: that is where the trailhead begins.
If you are interested in ice climbing but don't know where to start, we've got you covered!
This waterfall freezes in mid-winter, drawing skilled climbers to the region. The trail to Hidden Falls can get very snowy and icy at times. It is recommended to be prepared and have the correct equipment before taking on this challenge.
The American Alpine Institute provides technical climbing education to new students.
This mountaineering school offers courses in ice climbing, rock climbing, glacier skills, and more. They even have an Introduction class to Alpine Ice Climbing, a six-day course led in different locations all around the country.
Whether you want to take on the hobby long-term or just try it out, they are there to ensure you are doing it safely. Check out their courses on their website here.
No time for a long course? The Kent Mountain Adventure Center in Estes Park offers one-day intro classes that get you started on ice climbing.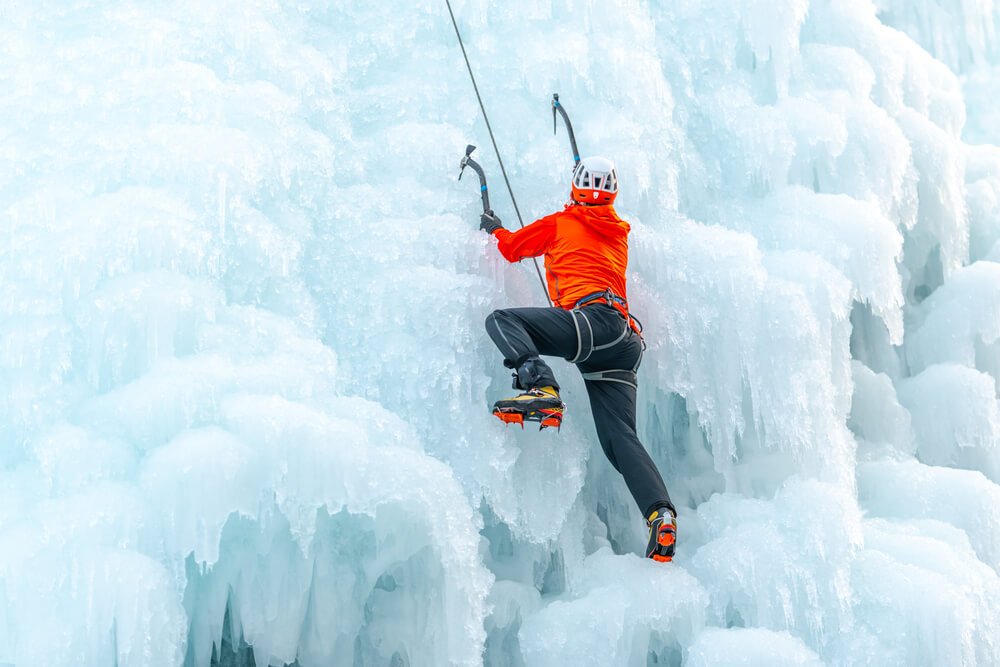 Have winter fun in the Hidden Valley Snow Park.
Once a ski resort in the 1950s until the 1990s, Hidden Valley was a popular spot for locals to ski and snowboard.
Initially, chair lifts were not available at the resort, causing the skiers to hike up the runs and ski down. Later, lifts were built, creating a full ski experience.
However, the National Park Service eventually closed the slopes in the early 1990s.
Today, the lifts are gone and it has become a backcountry skiing and snowboarding destination. The runs are narrow, allowing skiers to alternate turns down the slope.
In order to get there, enter from the Estes Park entrance and drive to the Hidden Valley picnic area. You will see signs for parking, and a lot of people getting ready to enjoy the area!
If snow tubing is more your speed, then Hidden Valley has got you covered. The bunny hill from the old ski resort is now used for sledding and tubing!
After heavy snowstorms, families and large groups flock to this area. Be sure to bring your own tubes and sleds (or rent them in Estes Park before entering Rocky Mountain National Park) as there are no rentals inside the park!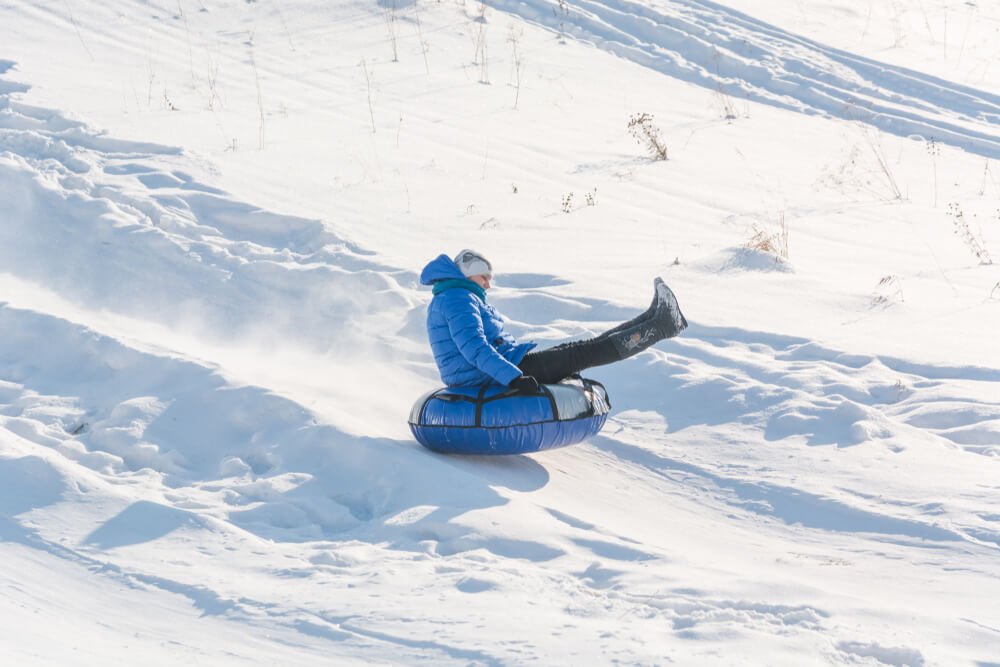 Go cross-country skiing.
Cross-country skiing is a fun sport that involves gliding across the snow while getting a fantastic workout.
Cross-country skiing requires skiers to use a back and forth motion with their legs, as if they are running with skis on. No wonder it's such a good workout!
In Rocky Mountain National Park in winter, Trail Ridge Road closes to vehicles, allowing cross-country skiers to use the road as their playground, with a stunning workout view at 12,000 feet in the air.
The road is a steady uphill climb on the way up — which makes it even more enjoyable coming back!
Cross-country skiing is a great winter activity in Colorado, and there are lots of options to choose from in RMNP in winter.
If Trail Ridge Road is a little out of your league, you can try Glacier Basin Campground Loop: a beginner-friendly 2.7-mile loop through a forest with stunning views of the surrounding lake!
Tackle some winter hikes.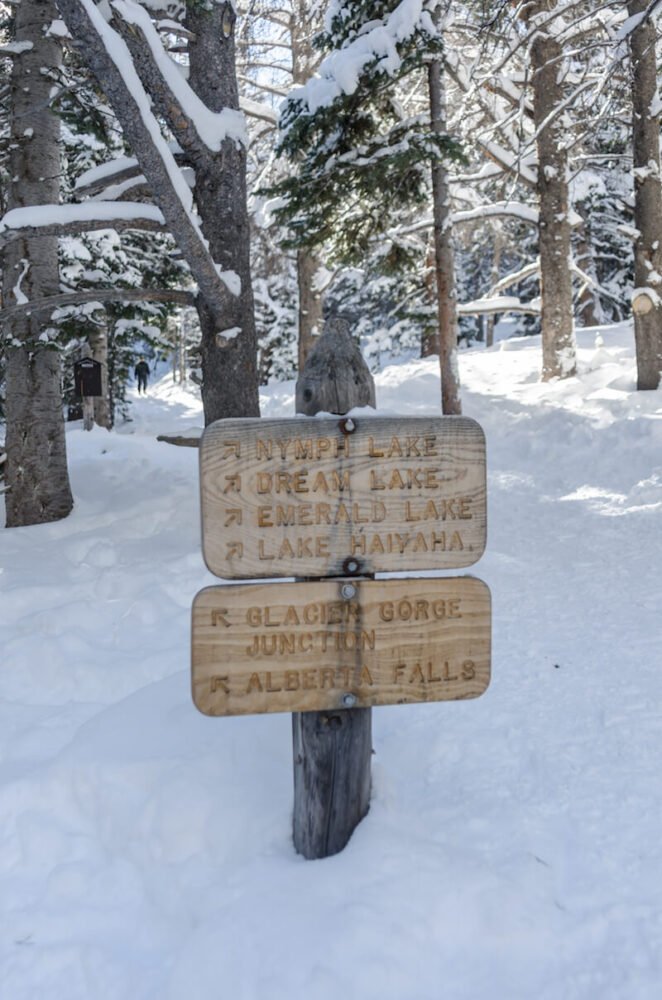 Dream Lake – Easy
One of the most photographed locations in Rocky Mountain National Park is the famous Dream Lake.
The name fits the scenery and this spot is perhaps even more stunning in the winter! The snow falls around the crevices in the mountain, creating a dreamscape of a winter wonderland.
In cold temperatures — typically by around January — the lake freezes over and is covered with snow, allowing you to walk out to the middle of the lake for that perfect photo opportunity! Note: Be sure to ask a park ranger if the lake is safely frozen over before embarking on this hike
The hike itself is rated as easy and only two miles long. Due to the high elevation of the park, the elevation gain of 426 can be moderate for those sensitive to uphill gain.
Either way, seeing this view in person is worth the extra effort!
You even pass Nymph Lake on your hike back to Bear Lake parking lot, which is another gorgeous place to extend your hike if you want more winter scenery.
Keep in mind that the Bear Lake Parking lot fills up relatively quickly in both the winter and summer months. It is important to get there early as the park rangers will close the road off once it fills up!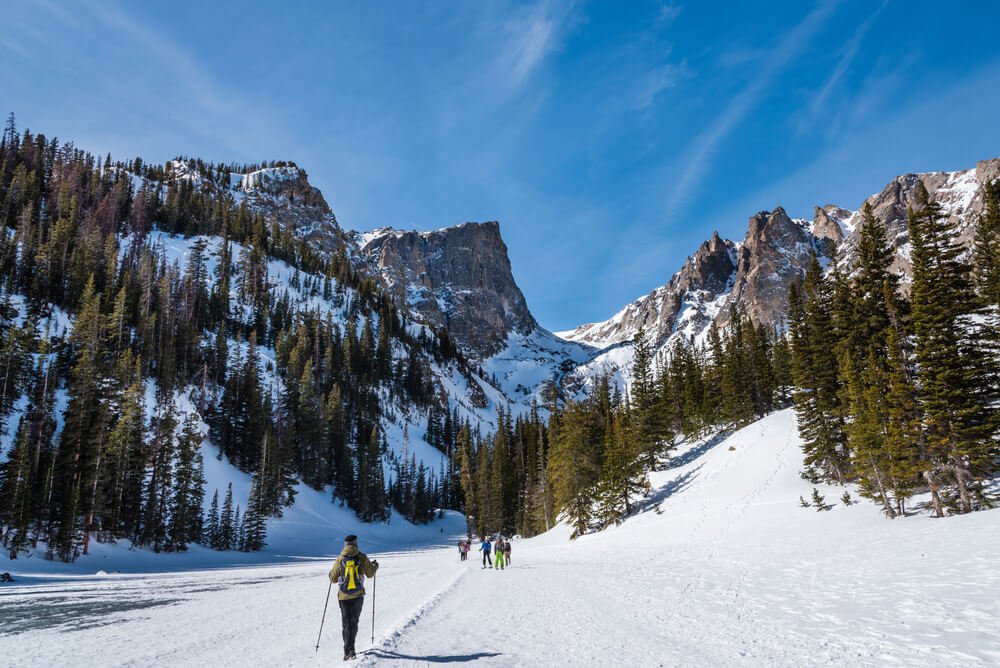 Emerald Lake – Moderate
About a mile after Dream Lake is Emerald Lake, making it a great addition to your winter hike in Rocky Mountain National Park if you want to get some extra mileage in with even more gorgeous views!
The trail is 3.2 miles and starts at the Bear Lake parking lot, similar to the previous hike mentioned. Once you get to Dream Lake, you will continue north on the trail around the shore of the lake, bringing you through a very lush pine forest.
You will then arrive at Emerald Lake, where you will be able to see the views of Flattop Mountain! The views become even more breathtaking around sunrise and sunset.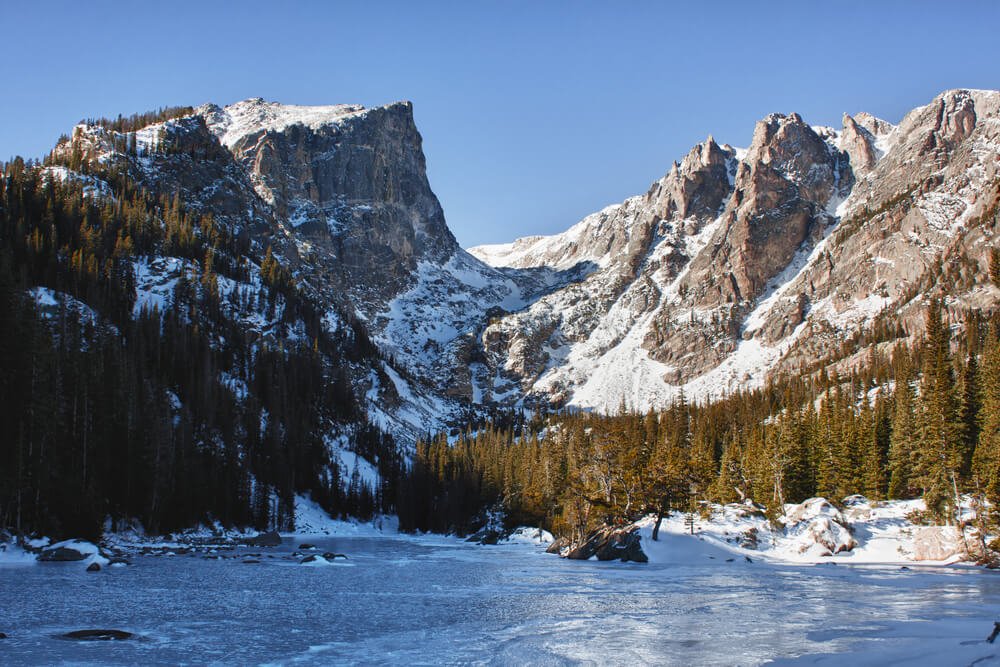 Sky Pond via Glacier Gorge Trail – Hard
This is a winter hike that is rated as hard but makes it on most visitors' bucket lists — only tackle it if you are an experienced winter hiker!
Making it to Sky Pond in the winter months is a great achievement for hikers: this 9.4-mile trek through the snow and ice is only recommended to be taken on by hikers with some experience.
If you've never hiked in the winter before, stick to one of the previous two hikes, and add this to your Rocky Mountain National Park winter bucket list for future years!
Start at the Glacier Gorge Trailhead parking lot, then begin your journey through the snowy forest.
Eventually, you will reach Loch Lake, which is normally frozen over in the winter months. You can either walk on the lake or around it, depending on how thick the ice is (you may want to ask a ranger before embarking on this hike).
From there, continue on until you reach Lake of Glass. You may think your hike is almost over once you reach this lake, but it is not!
You will then have to climb the falls to the top where Sky Pond is. This can be especially difficult in the winter, but it is doable. It is important to go slow and make sure you have proper hand and footing.
Due to the slipperiness of the icy rocks, it is important that you bring your microspikes!
This hike may be difficult, but the views are breathtaking for the whole 9.4 miles. Be sure to pack some lunch and enjoy it at Sky Pond before heading back.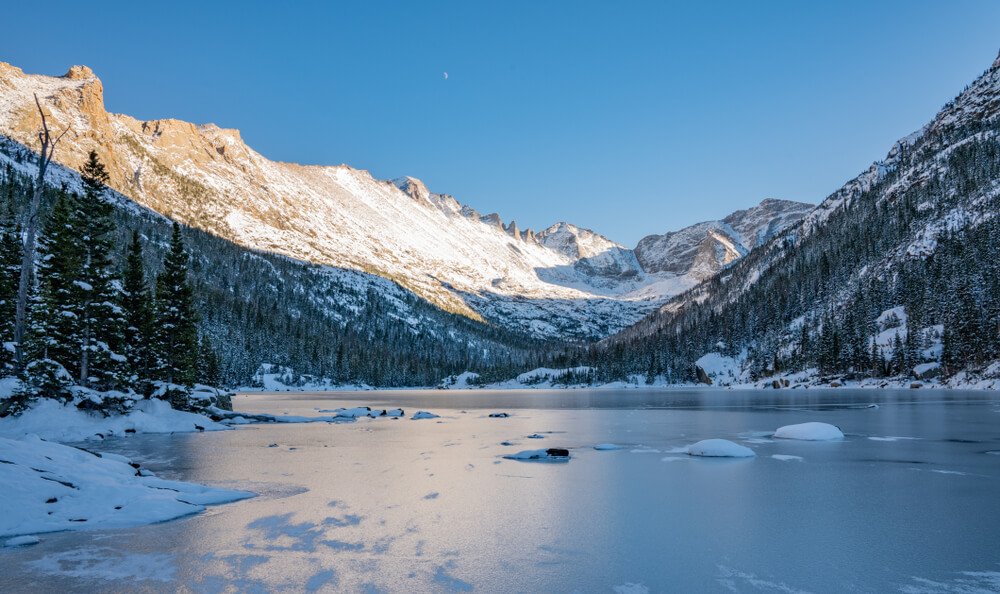 Long's Peak – Extremely Difficult
This is a Colorado 14er that is rated dangerous and sometimes deadly — so only undertake this with sufficient experience.
Be sure to follow all safety guidelines, let people know where you are going, and have an GPS-enabled SOS device on you such as the Garmin InReach Mini, which can send out an alert in case you get injured or lost without cell reception (which you will most definitely not have out on this hike!).
For the uninitiated, a 14er is a mountain peak that sits at 14,000 feet or more. Colorado has 58 of them located all over the state.
For those trying to tackle all 58 of Colorado's 14ers, Long's is a staple in Rocky Mountain National Park, one that is only encouraged to be taken on by mountaineers who are properly trained — especially in the winter.
20,000 people come to Rocky Mountain every year in an attempt to summit this mountain, but only half of those climbers make it to the top and back down. It is rumored to be the most tried and failed fourteener in the state!
Unfortunately, there have been 58 people who have died while trying to complete this hike since the year 2000, so it is not without its risks (hence our suggestion for a SOS safety device).
The difficulty is due to the distance of 14.8 miles and the scramble at the top. The hike turns into a climb accompanied by very steep drop-offs.
One wrong move can become fatal, so experience in climbing is a must. Since the distance is so long, most hikers get an overnight camping permit to break it up. This can also be dangerous due to the quickly changing weather, especially in the winter months.
Long's Peak is a once-in-a-lifetime experience and it takes most people that long to accomplish it. Even though it can be scary, it is a beautiful peak and a good goal to have for those who take it seriously.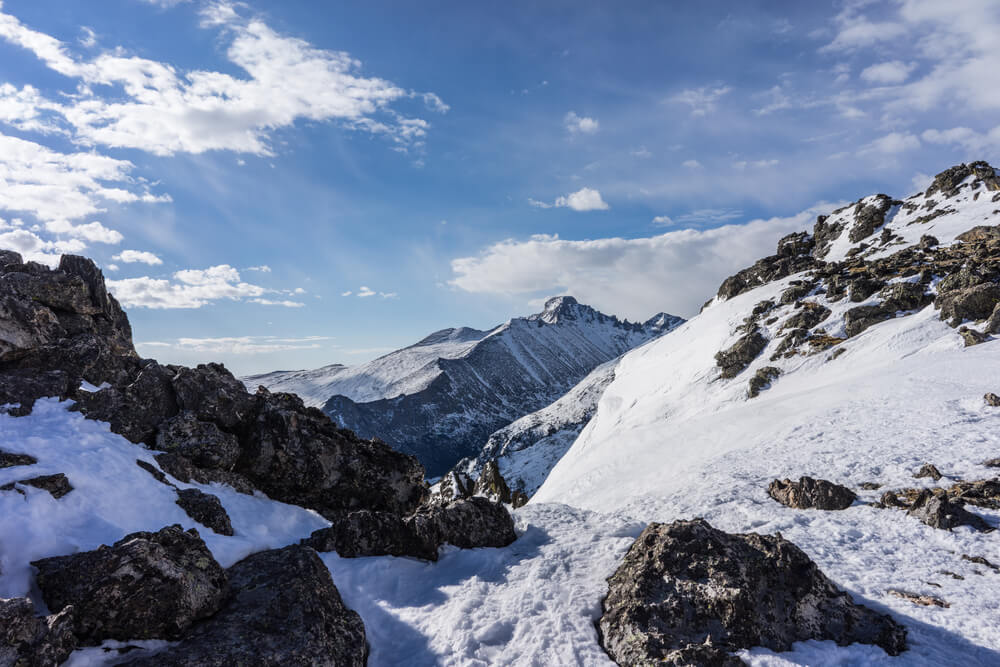 Go snowshoeing.
Hiking trails become snowshoeing trails in the winter in Colorado, and Rocky Mountain National Park in winter has plenty of trails to bring them on!
It is common to see the above trails filled with snowshoers in the winter. After heavy snowstorms, hiking the trail without them becomes impossible.
Sometimes the snow is too fresh and can be as high as your chest! The snowshoes allow you to stay above the powder, keeping you safe from falling through.
If you are visiting the area you can rent snowshoes at local mountain shops in the town of Estes Park, Colorado for the day.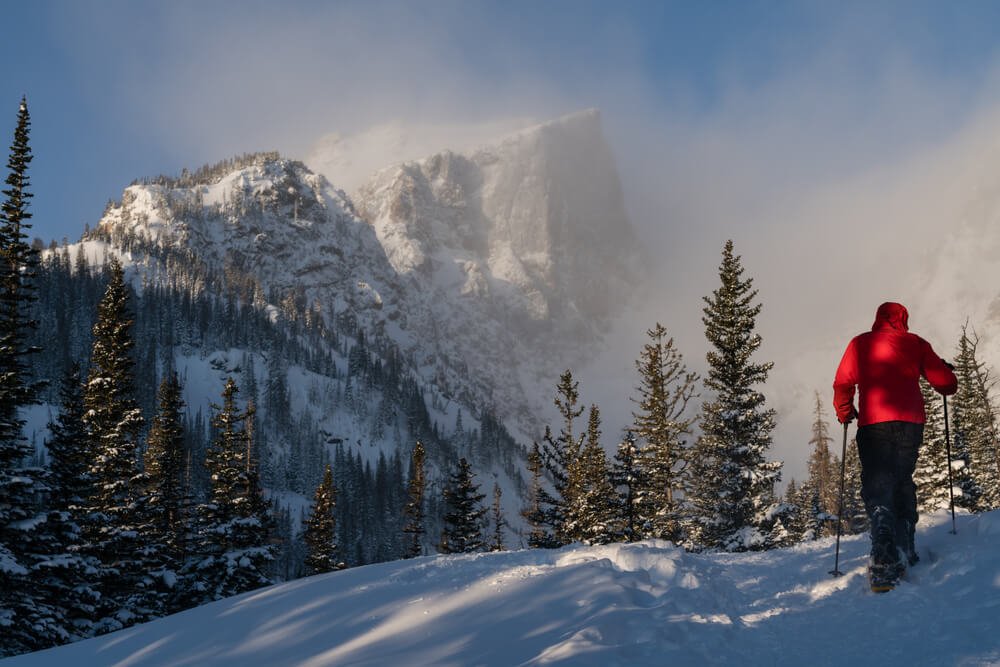 Explore the cute mountain town of Estes Park.
The east entrance of Estes Park is the most popular entry point in the winter season.
Since Trail Ridge Road connects you to the west entrance, and it is closed in the winter, there are not many winter activities available on that side of the park.
As a result, the already bustling Estes Park gets even more lively in the winter, as it's the primary access point into the park.
In the winter, Estes Park resembles a picturesque snowy postcard, filled with mountain views and wildlife. Moose are commonly spotted roaming the streets downtown and outside lodging facilities!
Restaurants and shops line the streets of their quaint downtown area to enjoy after your action-packed day.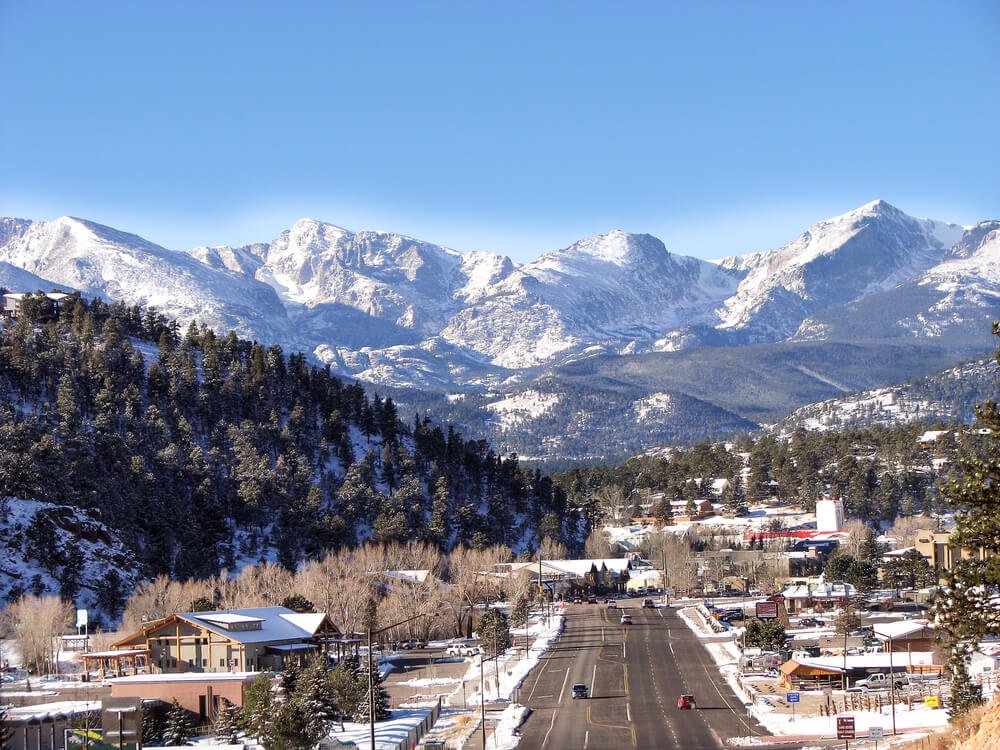 Enjoy accommodations in the area such as cozy winter cabins or their spooky Stanley Hotel.
The Stanley Hotel is famous in the area, known for its haunting encounters. Author Stephen King stayed at the hotel, which inspired his book and (that was later turned into the famous movie) The Shining.
You can even tour the Stanley Hotel during the day if staying overnight is out of your comfort zone!
Local ranches and farms offer horseback riding activities, even in the winter.
You will drive through the downtown area of this town when leaving and entering Rocky Mountain National Park.
Even if you're just passing through, it is a convenient place to grab snacks or gear prior to spending the day in the park.
End your adventure by spending some time at Lake Estes, a 185-acre lake with views of Rocky Mountain National Park from afar.
It's also a great place to visit in the holiday season when the lights are up all over town!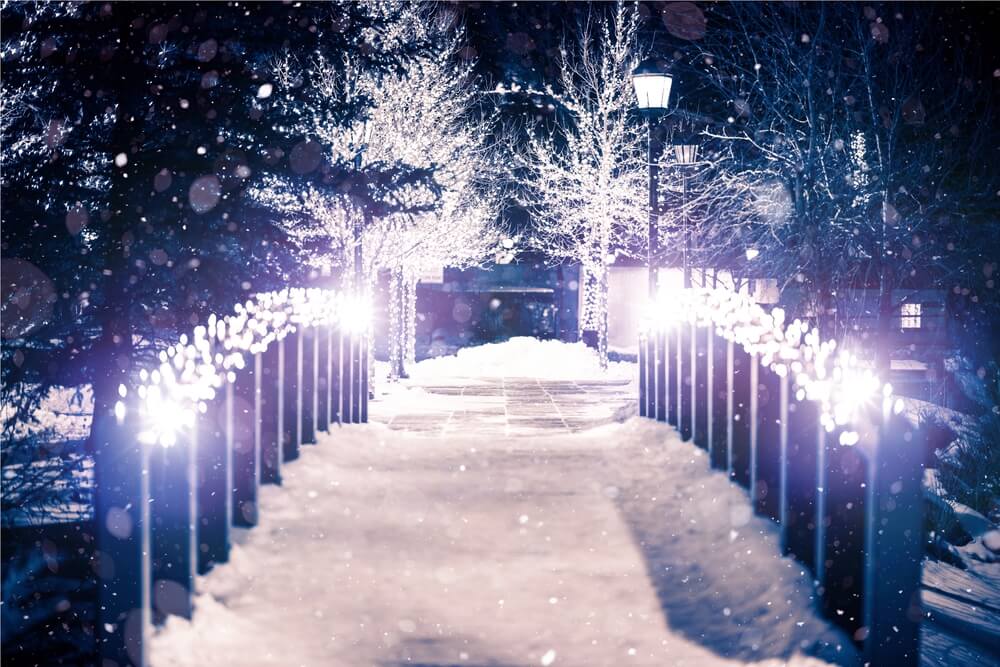 Rocky Mountain National Park Tips
With endless winter activities and stunning views, Rocky Mountain National Park is a winter lover's paradise!
Making sure you have the proper equipment and gear for winter activities is beyond important in Colorado. A well-stocked hiking backpack will be your best friend in these adventures!
There is a $25 vehicle entrance fee into the park, but if you are planning on visiting multiple times over the course of the winter or multiple national parks, I suggest you buy an America the Beautiful Pass.
It's just $80 for an annual pass (good for one entire vehicle!) for all the national parks and 2,000+ federally-managed sites!
Finally, Rocky Mountain National Park is requiring reservations from May 28 to October 11, with their new timed entry permit system. If you are visiting in that time frame you will need to make a reservation online.
It is not stated if they will be extended into the winter months as of yet, but be prepared for that to be a possibility.
The Rocky Mountains are waiting for you to explore their snowy peaks. Come see this real-life winter wonderland for yourself.