Let's be honest about New York: no one lives there for its weather.
There are few things that New Yorkers can agree upon, but the fact that fall is the best season to be in New York is surely one of them.
New York's winters are about three months too long, stretching on so that it feels like half a year.
Spring lasts about three weeks, only in bits and pieces, teasing you before plummeting back into winter temperatures or before giving itself over to a miserable, scorching summer.
Oh, summer. That time of year when the subways feel like saunas (only smellier and far more crowded), throngs of families finally able to travel on their school breaks flood the streets, and there's a pervasive heavy humidity to the air that so that walking feels like wading through water.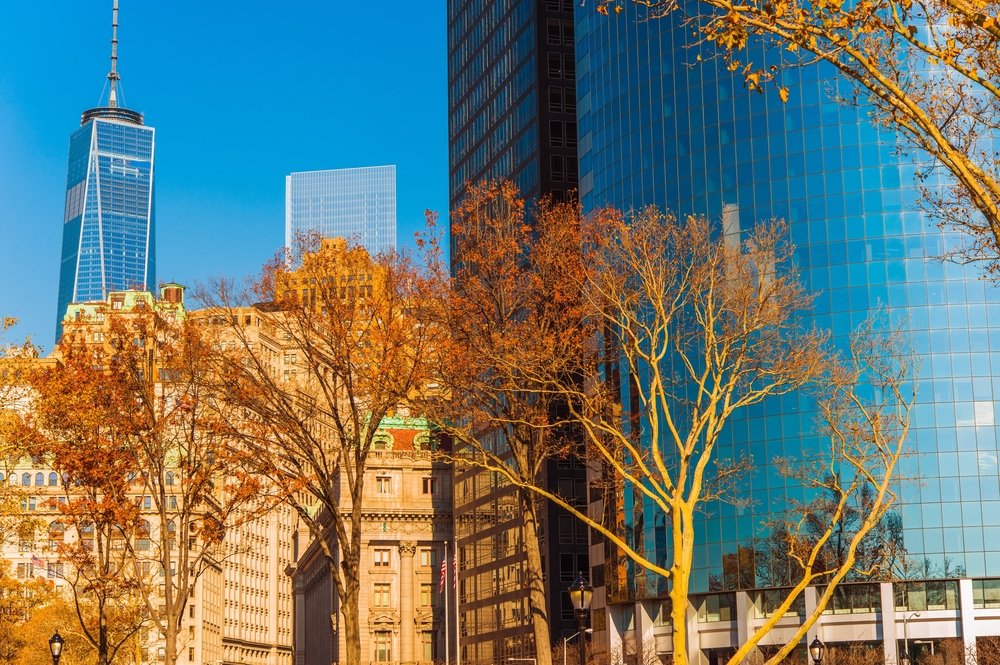 Note: This post contains affiliate links, which means I may receive a small commission if you purchase something through one of these links. Thank you for supporting the free content on this site! For more information on affiliate links and cookies, see my disclosure page for more details.
But fall, fall is the promised land when it comes to New York seasons. The smothering humidity lessens to a crisp, fluttering breeze.
The leaves on the trees do their yearly magic to ripen to red slowly, before fluttering down onto the streets in a cascade of satisfyingly crunchy leaves.
Chafed thighs and underboob sweat are banished (until the following year). It's the little things.
The best thing about visiting New York in fall is that you can actually make the most of it and see as much of the city as you set your heart to.
Sure, you may not have those endless summer days, where the sun doesn't set until nearly nine at night, but you also aren't constantly maneuvering through crowded, sweaty streets desperately seeking out your next hit of A/C.
Visiting New York in fall means that you can actually visit it the way it's best experienced: slowly, deeply, and on foot.
What to Pack for New York in Fall: The Essentials
A high-quality guidebook like Moon New York City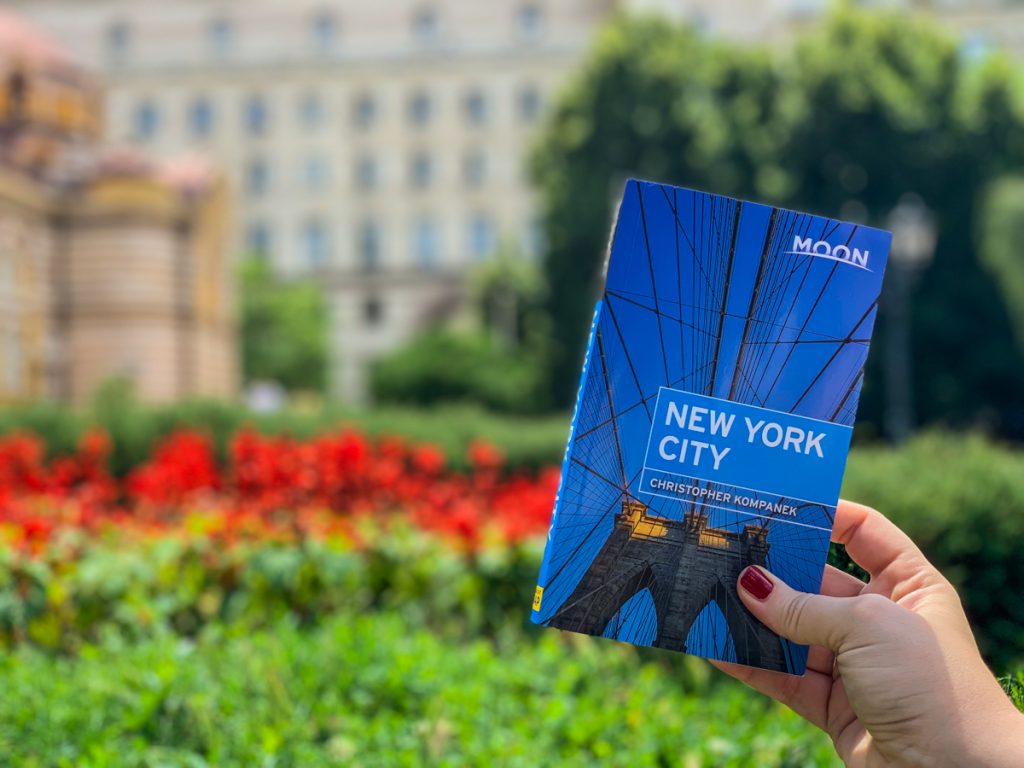 Travel blogs are great for pre-travel research, but nothing beats the convenience of having a well-curated guidebook in your day bag or purse. While I rely on blogs for much of my travel planning, when I travel I still often grab a coffee and sit down with a guidebook to strategize and get some neighborhood tips without having to trawl through the internet.
Moon Travel Guides sent me a copy of their latest New York guidebook to review, and I'm impressed by the quality of the recommendations in the book. Moon New York City is written by a New York native and features some serious insider knowledge. And fall is the perfect season to travel with a guidebook in hand, leisurely following one of the suggested neighborhood walking tours or eating your way through the city.
As a former New Yorker, I love seeing tourists directed towards the city's finest (and away from the endless tourist traps). I love when tourists get a chance to see the city through our eyes: through our local under-the-radar restaurants, hidden speakeasies, craft beer bars, and offbeat neighborhoods.
Many of my personal favorite places are featured in the guidebook, giving you an idea of what New York means to New Yorkers beyond just the tourist sites that, honestly, most New Yorkers ignore. Get the guidebook on Amazon or wherever books are sold.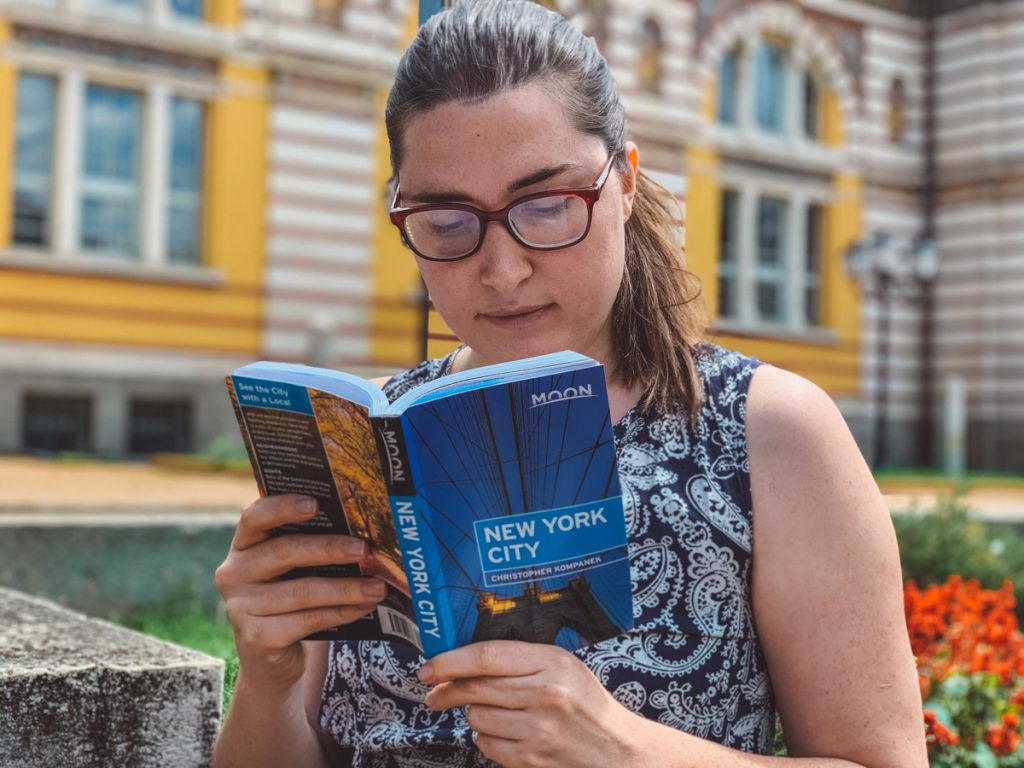 Comfortable walking shoes
Since fall in New York gives you the best possible conditions to explore the city, I strongly recommend that you pack the most comfortable shoes possible, so that your travels aren't interrupted by pinched toes or chafing blisters.
I'm originally from California, so anything below 70 degrees is 'boot weather' on my warped inner thermometer. I wear these Blondo waterproof leather boots nearly all fall and winter long for the last decade and they've held up beautifully that whole time, though I did get them re-soled about five years ago to keep them looking their best. They're ultra-comfortable to walk in and great if there's some rain in the forecast or if it's on the chilly side.
If it's on the warmer end of the fall months, I swear by my Birkenstocks; otherwise, I find a comfortable but stylish running shoe like my black Nikes are the way to go to keep myself pounding the pavement without getting tired.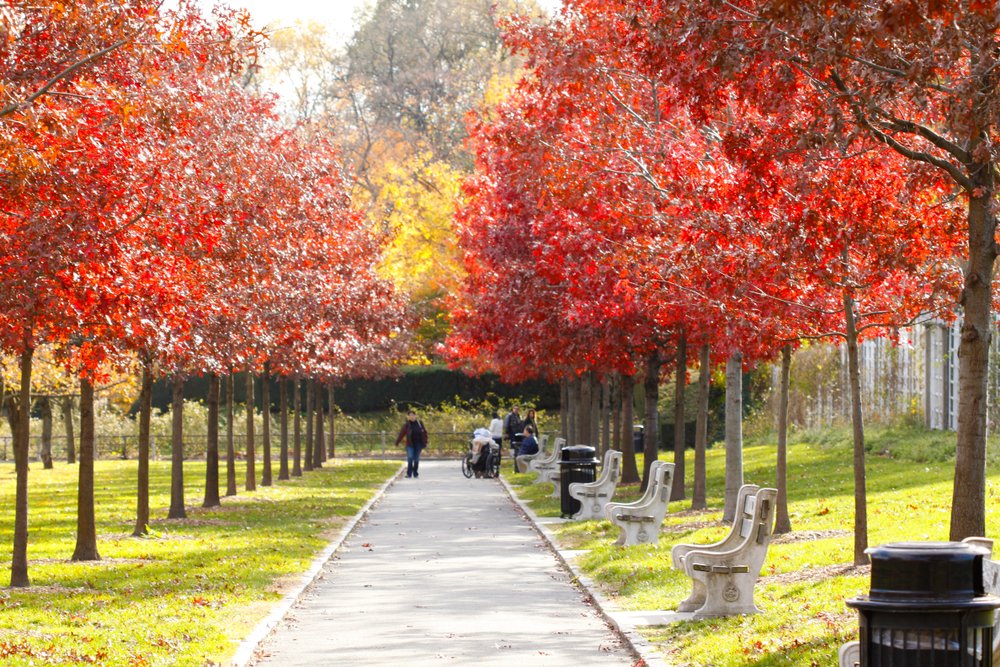 Camera & charger
New York is an epic city with so many amazing angles to capture. Don't be caught off guard and miss a photo-perfect moment.
My current photography set up is the Sony A6000 mirrorless camera with the 18-105mm f/4 lens, which lets me get everything from street scenes to super zoomed-in detail shots. The lens is definitely a bit on the bulky side, but the A6000 is so lightweight that it all balances out.
More and more, I find myself reaching for my iPhone X out of laziness when I'm photographing food or general street scenes. I generally find that it performs as well as my mirrorless camera in most daytime scenarios and can sometimes outperform it in low light conditions. However, in times when I want to zoom in on a particular composition, I love having my mirrorless camera + zoom lens combo. The zoom on camera phones is still pretty terrible, so if you want a diversity of shots, I recommend a versatile lens like the 18-105 I recommended above.
Of course, make sure you have some spare batteries as well as your camera battery charger to keep your camera juiced up and ready to capture the fall beauty of New York! Also, unless you're coming from the Americas or certain parts of Asia, you may need a universal adaptor for American outlets, which use Type A and B sockets.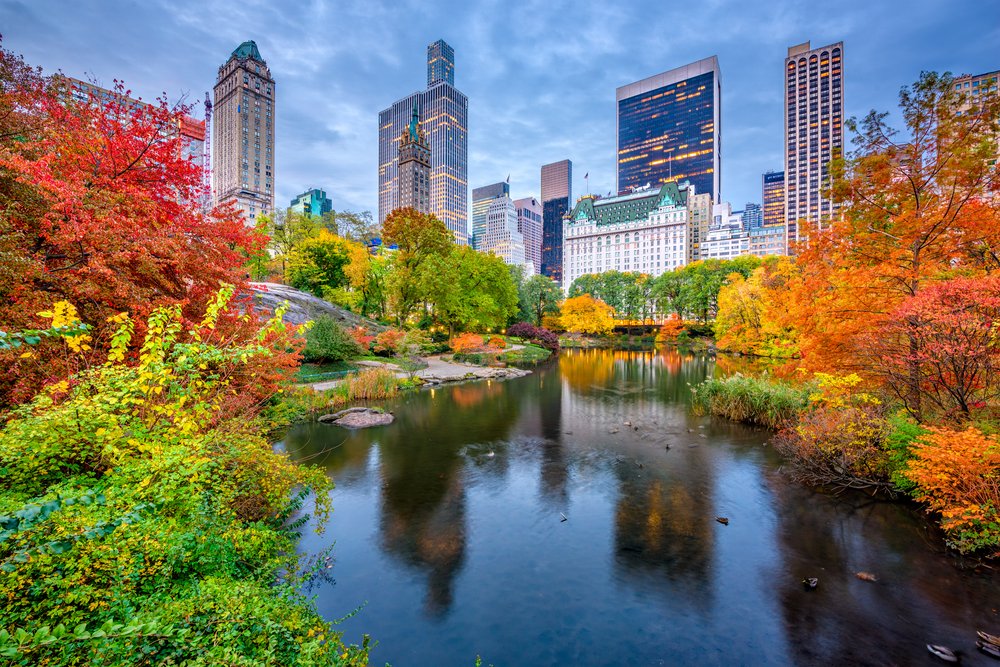 External battery pack
More and more, we rely on our smartphones for getting us around as we travel, whether it's navigating unfamiliar streets on Google Maps, using it as our primary camera, uploading to Instagram Stories, hailing Ubers, or using it to present skip-the-line tickets bought on mobile apps.
Make sure your smartphone can keep up with your jam-packed trip to New York and bring along an external battery pack. My personal favorite brand is Anker, which I have used for years and find to be the best combination of powerful, compact, and reliable.
Reusable water bottle
Cut down on plastic waste during your trip to New York and take advantage of the fact that New York City has some of the cleanest urban tap water in all of the entire United States.
Using a reusable water bottle, you'll save a ton of money over buying bottled water, not to mention keep plastic waste to a minimum, and any coffee shop, restaurant, or bar will be happy to refill your water bottle for you (or you can fill it up at any water fountain which you'll find throughout the city's main sites and museums).
While we're at it… be sure to bring some reusable tote bags as well to avoid creating plastic trash!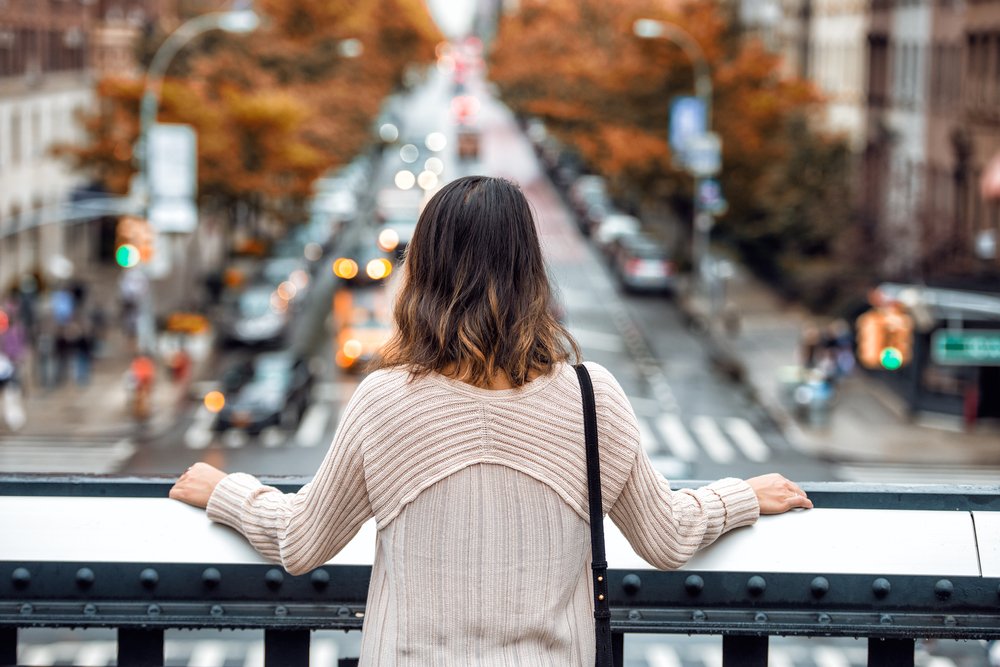 What to Wear in New York in the Fall: Clothing Packing List
Let me put in a quick note on what the weather is like in New York City in fall. If I had to put it in two words, it would be this: changing rapidly.
September average temperatures range from lows of 61° F to highs of 76 ° F. For you metric folks, that's 16° to 24° Celsius.
Then by October, temperatures drop pretty significantly and range from lows of 50° F to highs of 64° F (in Celsius, 10° to 18°).
November is when fall in New York really starts to fade away and merge into winter. Don't be surprised if you see a bit of snow in November!
The average low is around 42° F and the average high is around 55° F (for Celsius, 6° to 13°). Of course, much lower (and higher) temperatures are possible than this!
Those are just to give you some ideas of what to expect from New York fall weather, so that you can better adapt your New York in fall packing list.
As you can tell by the temperature averages, what you'd wear in New York in September is much different than what you'd wear in New York in November.
So, basically: adjust this generic list according to the temperatures you think you'll experience but also what you're used to.
A Californian like me will have a much different idea of "cold" than a Chicagoan or Londoner!
Also, please note that this is my packing list for women in New York — men, you'll want to make adjustments where it doesn't apply to you, keeping in mind the temperature ranges I listed above.
Now, without further ado, here's what to wear in New York in September and onwards!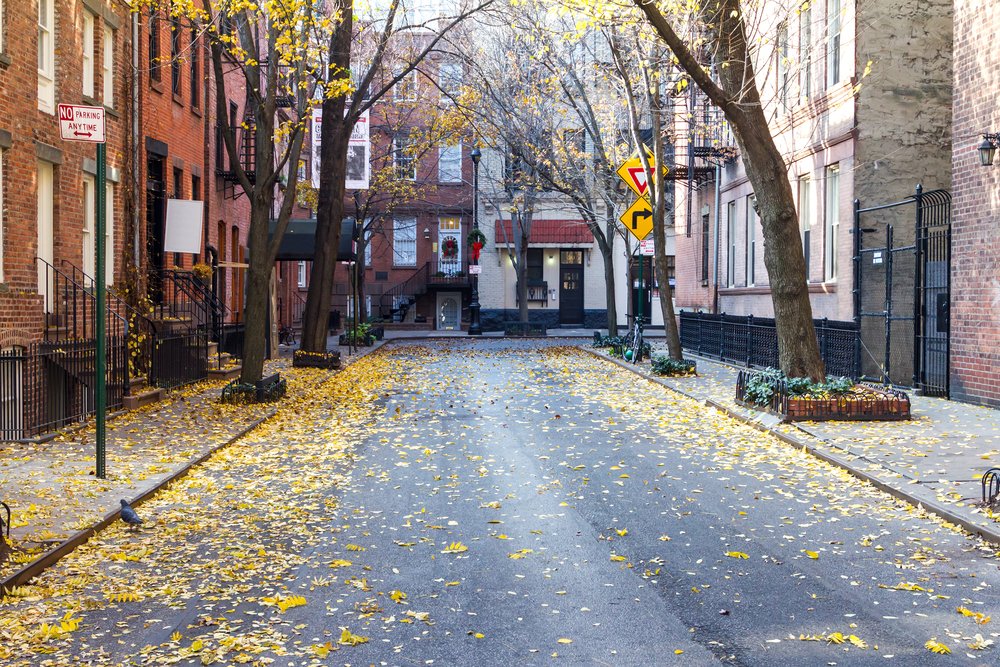 A warm, versatile jacket
As I hinted at above, my recommendation for what kind of jacket to wear in New York in fall depends on when exactly in fall you are visiting.
Fall in New York really has two distinct halves – the one that is the tail-end of summer, and the one that is the harbinger of winter.
So, if you're deciding what to wear in New York in September, I'd recommend bringing a lighter jacket rather than a full winter coat.
This is the perfect time to wear your favorite leather jacket (or vegan leather jacket!) – bonus points if it's black, so you'll fit in with all the other New Yorkers. The crisp fall air is perfect for your leather jacket.
In addition to this, a simple black cardigan or a chambray shirt which can be worn unbuttoned is a great and lightweight addition to your New York fall capsule wardrobe.
I love these options because they are perfect to wear for the daytime before transitioning to your heavier jacket at night, and they don't take up much space in your bag.
If you're planning what to wear in New York in October or November, it gets a little trickier. The end of October is particularly finicky.
I've experienced everything from literal snowstorms to literal hurricanes in the final week of October!
Of course, both of those are freak occurrences and not likely to happen during your fall in New York, but just be aware that it's not unusual to have extreme weather in the late fall in NYC. 
If you're planning on visiting in October/November, it's better to bring a warmer jacket as your primary jacket and a lightweight jacket as your backup in case of freakishly nice weather. I love the UNIQLO packable down jacket (here's a similar version) as a stylish but lightweight alternative to heavier winter jackets, and I find that mine keeps me warm in temperatures as low as 40° F / 4° C. If necessary, you can layer the two, as the down jacket is quite light — I do this often!
A rain jacket and/or umbrella
New York isn't particularly rainy in the fall – expect an average of 7 days of rainfall per month, about a quarter of the time. However, it's always better to be over-prepared than under-prepared in my book!
I love my Marmot PreCip jacket and used it in New York all the time. It kept me dry even on long bike rides through the rain in the city!
If you don't want to bring a raincoat, I'd still throw an easy folding travel umbrella in your bag. Whenever it rains, you can easily grab an umbrella on the street in the touristy parts of New York – they proliferate as if out of thin air – but they'll be overpriced and break within a few uses and just add to landfill.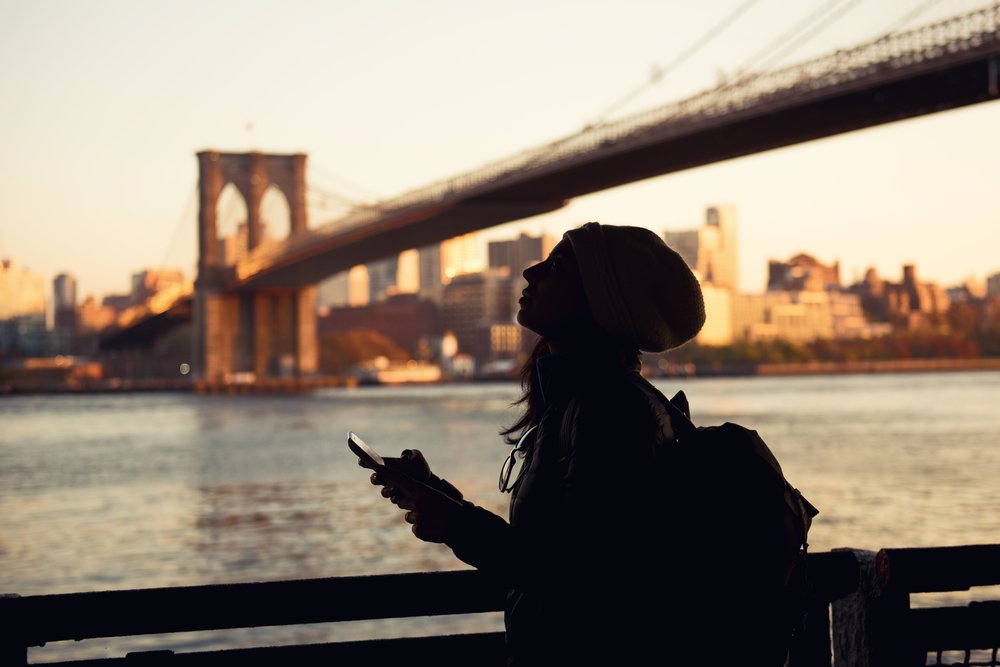 A knit hat and scarf
I find that my ears and neck get cold first, before any other part of my body. I strongly recommend bringing a knit hat with you, as well as a lightweight scarf. They're easy to pack and will bring versatility to the clothes that you bring.
I find that if I just accessorize what I would wear on a summer day with some extras – a jacket, a hat, a scarf, some leggings – that's the perfect recipe for a fall in New York outfit.
Comfortable leggings
I love leggings for travel. To me, leggings plus a dress plus boots equals the ultimate travel outfit. Not much to match, and it's hard to beat the stretch and comfort of leggings.
In the early fall, I recommend simple cotton/spandex leggings (I usually buy mine at H&M); by the time late fall rolls around, you'll often find me in my favorite fleece-lined leggings, one of my favorite ways to stay warm when the temperature drops in New York.
Your favorite travel outfits
What I recommend you wear in New York in fall depends on what your personal taste is, and that isn't really for me to dictate! You could be a jeans and sneakers kind of person, or you could be a dresses and leggings kinda girl (raises hand).
Generally, for one week of travel in the fall in NYC, I would bring the following: 1 pair jeans, 3 pairs leggings, 3 long-sleeve shirts, 2 short-sleeve shirts, 2 skirts, 3 dresses, 1 chambray button-up, 1 leather jacket, 1 ultra-light down jacket, and my favorite travel-friendly shoes.
Pro packing tip: Pick neutral colors for your shirts and skirts and prints for your dresses so that you can easily mix and match your separates!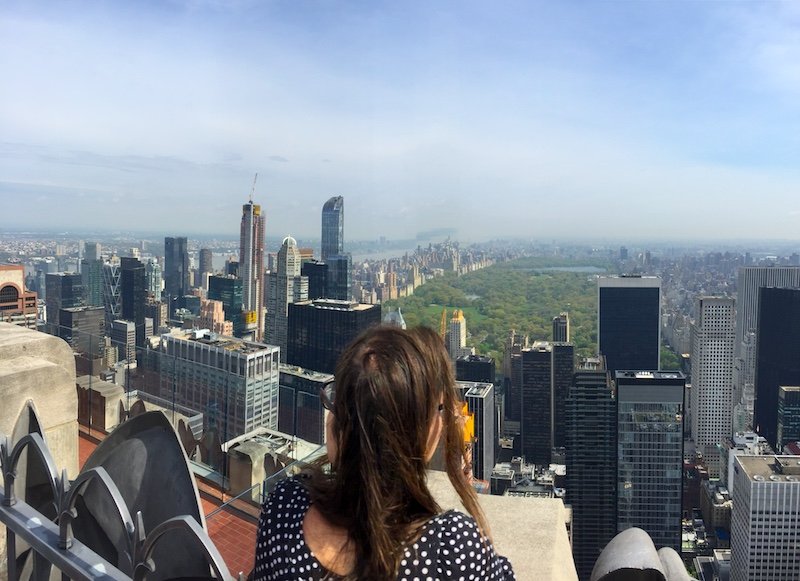 Underwear and other essentials
Of course, don't forget to bring enough bras and underwear for your trip! I don't recommend doing laundry in NYC if you can help it – it's expensive and a pain in the ass – so bring enough to last you your trip unless you'll be in New York for such a long time that it's not feasible to do so.
For one week, I would bring 2 bras and 8 pairs of underwear, as well as 7 pairs of socks.
A travel daypack or purse
While in general, pickpocketing is not a major issue in New York the way it is in many European cities, that doesn't mean it doesn't happen – especially in crowded places like Times Square or a rush-hour subway car.
I lived in NYC for nine years and was never the victim of theft (well, okay, once someone stole the front wheel of my bicycle while I was at dinner, but that hardly counts).
However, if you're going to be spending a lot of your time in touristy places in New York, I do recommend investing in a bag with some security features.
Make sure it's one that you like so you can use it in other cities around the world! I am obsessed with my PacSafe backpack and it's been with me to nearly 30 countries since purchasing it. 
It has interlocking zippers, RFID blockers, and slash-proof construction and is basically theft-proof (I mean, I could barely get into my own bag when I first got it, so that tells you how a thief would do with it!).
It's also actually cute and stylish, so you won't look out of place in New York. Be sure to put it in front of you while on the subway – it's polite, but it's also the best way to prevent theft.
Of course, if you don't like carrying a backpack, a purse also works. I recommend a cross-body bag you can wear in front of you so you can keep an eye on it.
Odds & Ends to Pack for New York in the Fall
Your everyday toiletries
Shopping for odds and ends in New York is likely twice as expensive as it is back home, so I recommend stocking up on what you need beforehand and bringing it with you to New York rather than shopping once you arrive.
Here is what I would bring, but adjust it for your own needs: lip balm, everyday makeup, a moisturizer with SPF for day time, deodorant (please for the love of God), shampoo and conditioner, body wash, a razor, a hairbrush, and hair ties.
Hand sanitizer & Kleenex
How shall I put it nicely? The New York subway is likely where the superbacteria that will take us all out will form.
I've seen all sorts of nastiness go down on a New York subway car, so try to avoid touching the railing if you can. And if you can't, be sure to use hand sanitizer (squirt a little hand sanitizer into a Kleenex to clean the rail if you're rightfully germophobic).
Kleenex is also handy as finding a free restroom in New York is like finding a needle in a haystack and finding one stocked with TP is like winning the lottery.
Headphones & earplugs
You'll love having headphones on the New York subway, trust me! And I'd strongly recommend bringing earplugs as well. Even if you're staying in a quiet neighborhood, New York can be one hell of a loud city, with sirens blaring, horns beeping, and the occasional drunk reveler bellowing show tunes from many floors below…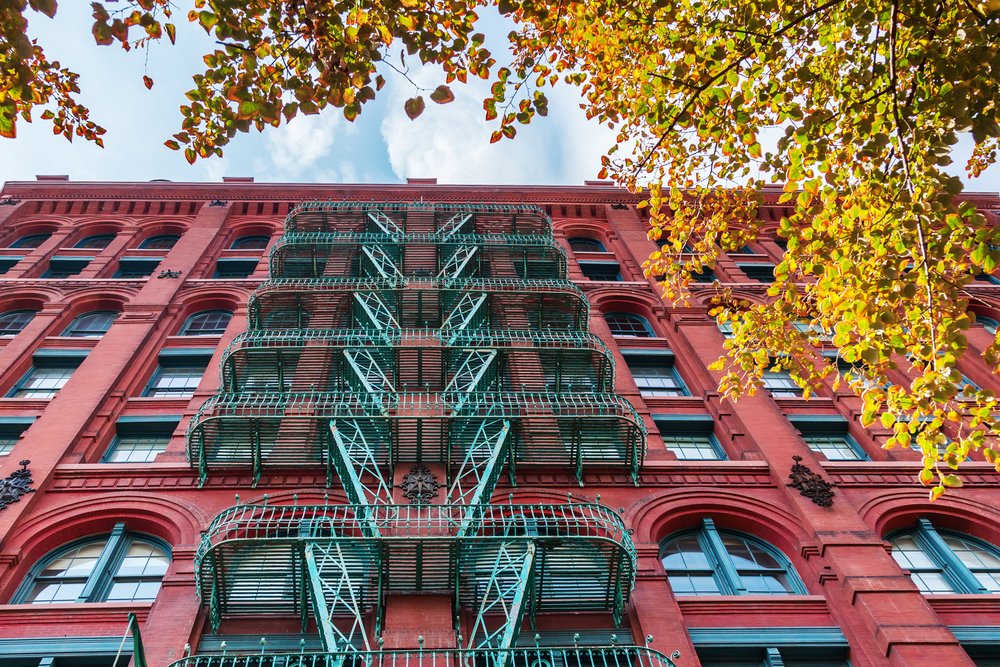 Complete New York in the Fall Packing List, in Bullet Form
Just want a quick and dirty New York in fall packing checklist? Here you are:
ESSENTIALS
Your camera, spare batteries, & a charger
Your smartphone
External battery pack
Reusable water bottle + reusable tote bags
CLOTHING (ASSUMING 1 WEEK OF TRAVEL)
1 or 2 jackets, including 1 waterproof option
2 or 3 pairs comfortable walking shoes (I recommend one pair of boots and one pair of sneakers, plus throw in a pair of sandals if visiting in early fall)
1 pair of jeans
3 pairs comfortable leggings
3 long-sleeve shirts
2 short-sleeve shirts
2 skirts
3 dresses
1 chambray button-up or cardigan
2 bras
8 pairs of underwear
7 pairs of socks.
1 scarf
1 knit hat
TOILETRIES + ODDS & ENDS
Umbrella
Lip balm
Everyday makeup
Moisturizer with SPF for day time (and one without for nighttime)
Deodorant
Shampoo and conditioner
Body wash
Razor
Hairbrush + hair ties
Kleenex
Hand sanitizer
Headphones
Earplugs
Allison Green is a former educator turned travel blogger. She holds a Masters in Teaching and a B.A. in English and Creative Writing. Her blog posts merge her educational background and her experience traveling to 70+ countries to encourage responsible, enriching travel. She has been a speaker at the World Travel Writers Conference and her writing, photography, and podcasting work has appeared in National Geographic, CNN Arabic, CBC Canada, and Forbes, amongst others. Now a full-time traveler, she has lived in Prague, Sofia, New York City, and the San Francisco Bay Area.