When the Northern hemisphere begins to heat up, New Zealand becomes one of the very few ski locations around the world.
As the days shorten and the mercury drops, many head to New Zealand's most idyllic town – Queenstown.
Located in the very south of New Zealand's South Island, Queenstown is a winter lover's paradise.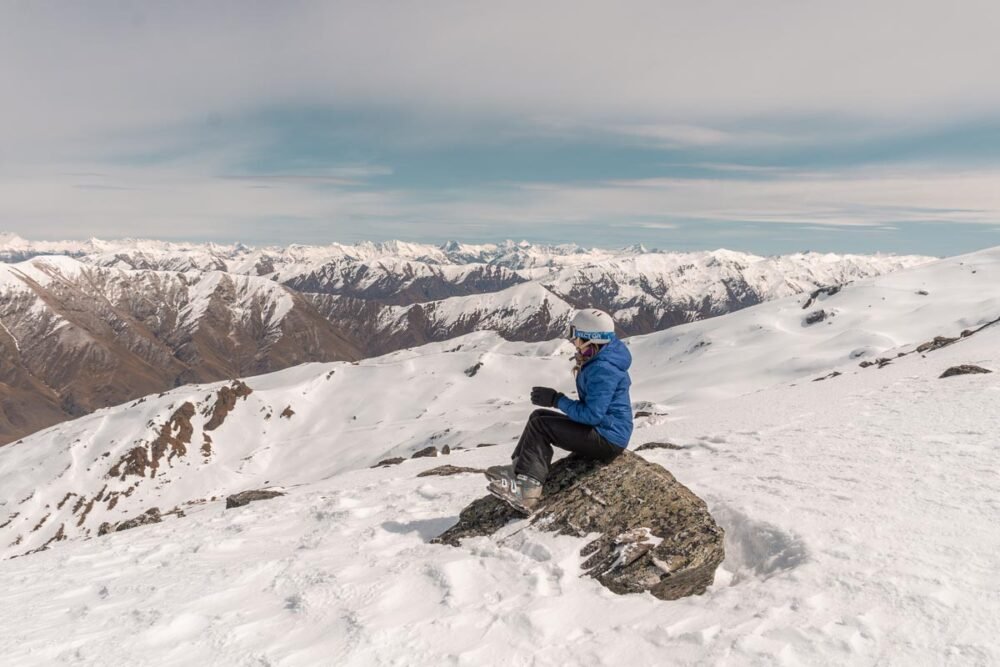 Note: This post contains affiliate links, which means I may receive a small commission if you purchase something through one of these links. Thank you for supporting the free content on this site! For more information on affiliate links and cookies, see my disclosure page for more details.
The surrounding mountains are dipped in snow, warm mulled wine is sold in every bar, and winter sport enthusiasts fill the town. It's vibrant, fun, and a little bit cold!
Winter is the perfect time to explore Queenstown and there's so much to see and do!
From festivals under lights, fireworks over the lake, and of course ski parties up in the mountains, you won't get bored during winter in Queenstown.
So without further ado, here's a guide to enjoying winter in Queenstown including events, things to do, and more!
About Winter in Queenstown
Winter in Queenstown officially runs from June to August; however, cold temperatures begin in early May and you can expect snowfall as late as November.
The ski fields around Queenstown also open in early June and stay open until the middle of October. Depending on the year, these dates can change (but only slightly.)
During the Australian and New Zealand school holidays which run at different times in late June and early July, Queenstown is at its busiest in winter.
At these times, hotels in Queenstown completely book up and those wanting to visit should be prepared by booking accommodation and tours well in advance.
Despite summer being Queenstown's busy season, winter in Queenstown still draws a large crowd. With plenty of festivals and off-season prices on tours and attractions, winter is a surprisingly cheap time to visit Queenstown.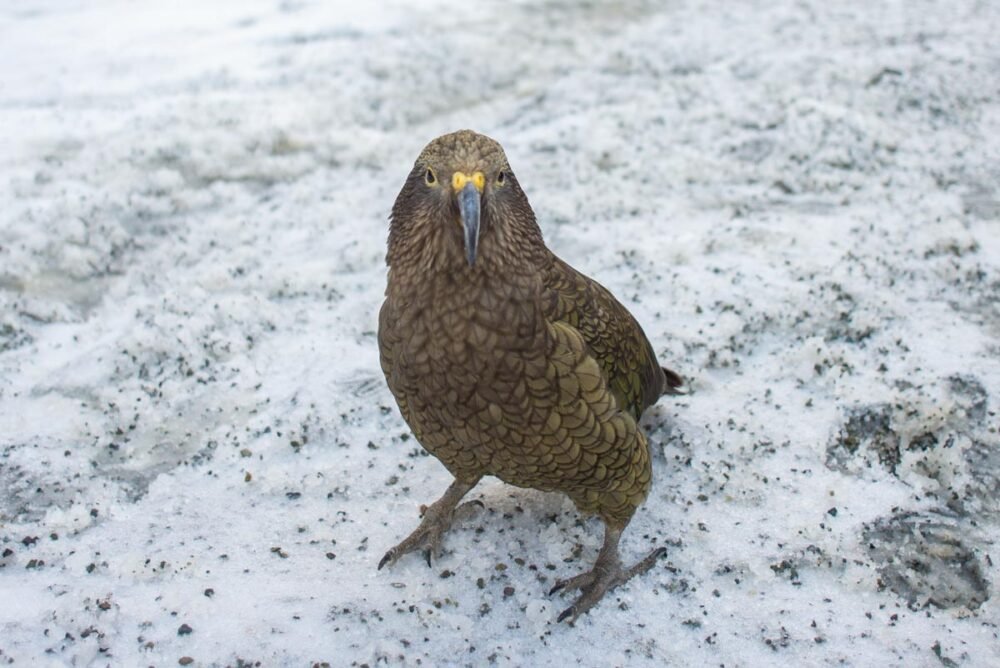 Winter Weather in Queenstown
Queenstown doesn't get that cold when compared to other winter destinations around the world such as Canada.
In fact, winter temperatures throughout the season average highs of 9C and lows of 0C. With that said, it's common to see temperatures drop to –5C in town and –10C in the mountains, even during the day.
For this reason, visitors should come prepared with winter clothing like warm jackets, beanies, and gloves.
Winter in Queenstown usually brings lots of sunshine with the odd snow shower. Throughout the winter, Queenstown sees around 3 to 4 snow days where heavy snow will cause issues such as road and business closures in town. Other than that, snowfall is limited to the mountains with light rain usually reaching Queenstown.
Road conditions in Queenstown are fine during the winter, but on surrounding mountain roads such as the route to Wanaka via Crown Range Road and those to the ski fields, can become icy and carrying snow chains are required! If you plan on driving in the winter months, allow time for delays during your visit.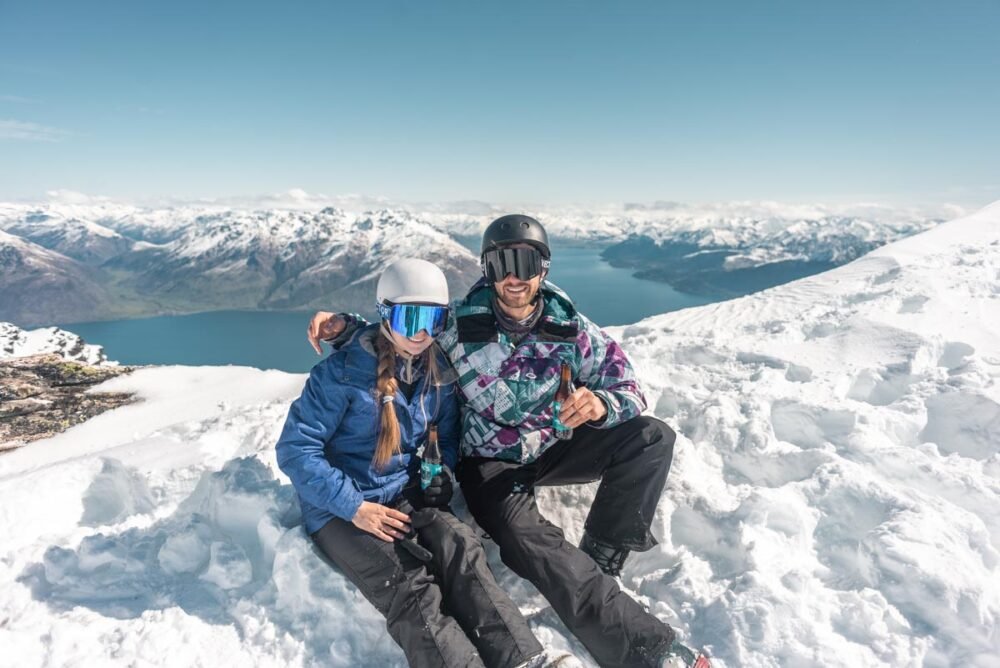 Winter Events in Queenstown
LUMA
LUMA is a light festival held in the Queenstown Gardens that's been running since 2015. During the event, organizers fill the Queenstown Gardens with impressive light displays that expand every year. Within the gardens, there are also pop-up bars and food stalls.
LUMA is an annual event that that runs on the Queen's Birthday long weekend on the first weekend of June. Although a smaller event than the Queenstown Winter Festival, LUMA still draws a crowd and is a really fun event.
Queenstown Winter Festival
The Queenstown Winter Festival is one of the largest festivals in Queenstown. The yearly event is huge and usually runs for four days around the 3rd week of June. Dates do change every year so be sure to check the Queenstown Winter Festival website for official dates.
During the four-day event you can expect lots of entertainment including the Red Bull Rail Jam (where skiers and snowboarders perform tricks down a rail in the middle of town), live music from popular New Zealand bands, and even fireworks.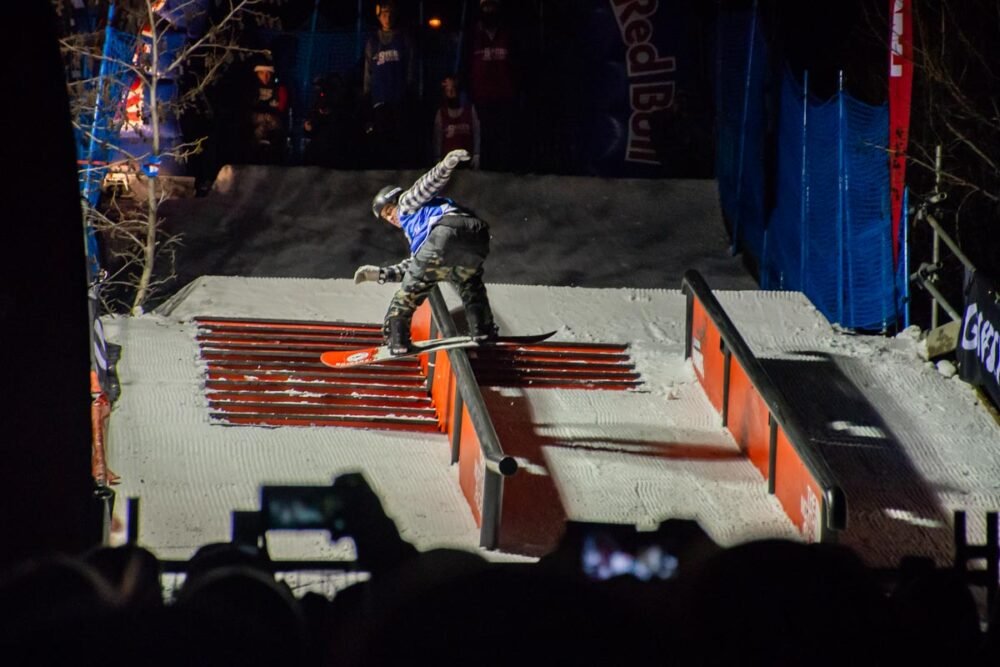 Winter Pride
Queenstown is a place known for its diversity, inclusion, and acceptance of everyone from all walks of life. It's one of the reasons I love this place so much and why Winter Pride is such a huge event.
In 2021 Winter Pride will run from the 27th of August to 5th of September. Although some of the entertainment is free, there are also paid events such as dinners, private parties, even comedy nights.
During Winter Pride the streets of Queenstown are buzzing, and it's a great time to visit!
10 Best Things to Do in Winter in Queenstown
Head up the mountain for skiing or snowboarding
It should come as no surprise that the best things to do in Queenstown in winter is hitting the slopes. There are three different ski fields all located within close proximity to Queenstown – so it's safe to say you have plenty of choices!
The closest ski field to Queenstown is Coronet Peak but this ski field really struggles to get good snow. Instead, venture a little further and go to The Remarkables. This is my favorite ski field in Queenstown and my local recommendation.
The third ski field you can visit from Queenstown is Cardrona. Although I love it there, it's over an hour drive away making it just a little far to go on a regular basis.
You can either drive yourself to the ski felids that all have ample parking, or take a shuttle from Queenstown centre for about $20 NZD per person.
Regardless of which one you choose, you'll always have fun skiing or snowboarding from Queenstown!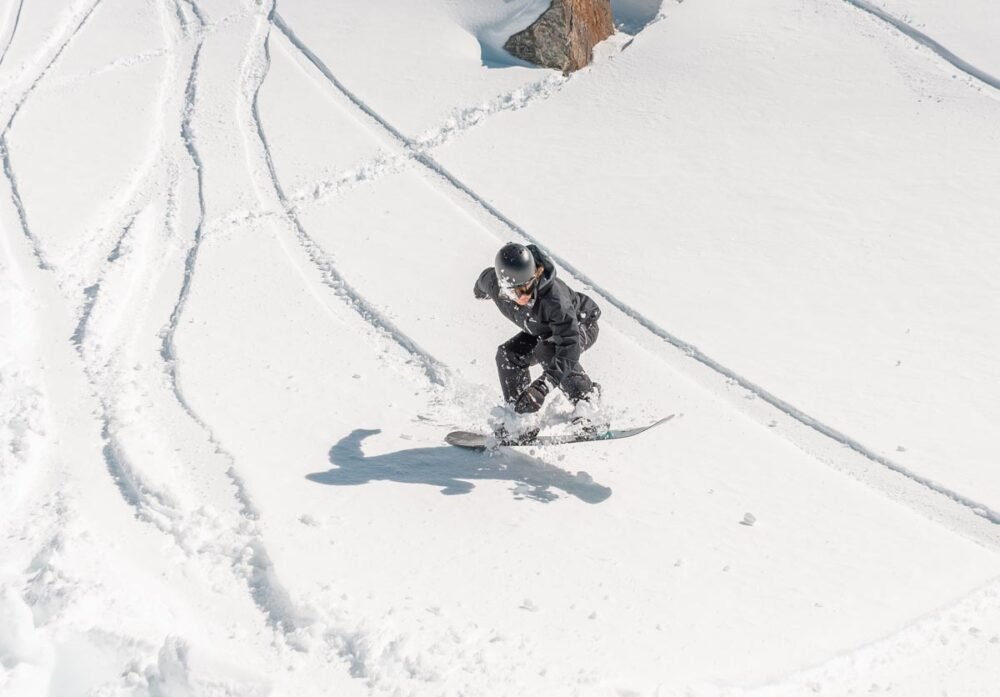 Enjoy a scenic cruise
The best thing about winter in Queenstown is how beautiful it is. There's just something about snowcapped mountains that I love! One of the best ways to admire the views is on a scenic lake cruise.
There are a few scenic cruise options in Queenstown but they all more or less follow the same route on Lake Wakatipu. For budget travelers, the Spirit of Queenstown cruise is a good option as it starts at only $39 NZD per person. This cruise lasts for 90 minutes and has a bar on board that sells snack, tea, and coffee, as well as beer and wine.
Another cruise, and the most popular, is the TSS Earnslaw.
Although more expensive, you'll get to cruise Lake Wakatipu on a 1930's steamship (and it includes a BBQ feast!)
This lunch cruise with a BBQ feast lasts 3.5-4 hours with a lunch or dinner stop at Walter Peak High Country Farm. The views from out on Lake Wakatipu are unrivaled!
Go on an epic road trip
Winter road trips are the best. Not only are the road much quieter but the scenery is even more beautiful. From Queenstown you can go on quite a few including the road trip from Queenstown to Wanaka. However, my favorite is the drive to Glenorchy.
On this epic road trip, you'll be able to take in views of Lake Wakatipu as you wind you're way to Glenorchy. Along the way, you can stop at Moke Lake or enjoy hikes such as Bob's Cove Track. It's truly beautiful, and the best part? You get to enjoy all the best things to do in Glenorchy once you arrive.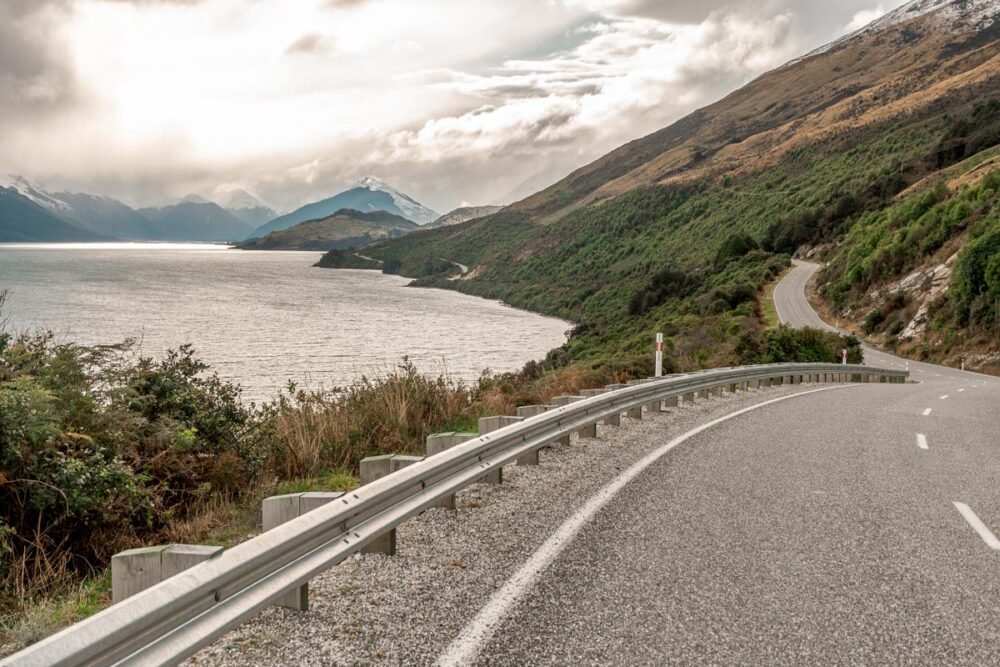 Eat Fergburger
What better way to warm up than with Queenstown's best burger. Fergburger is famous all around New Zealand and it's easy to tell when you see the huge line out the door every day. During lunch and dinner hours you'll need to wait over an hour to get your burger, but seriously it's worth it!
Their "Classic Ferg" burger costs $12.95 NZD so it's definitely one of the cheaper things to do in Queenstown. They also have lots of different burgers including venison, vegetarian, chicken, and pork. With that said, you can't beat the classic with extra cheese!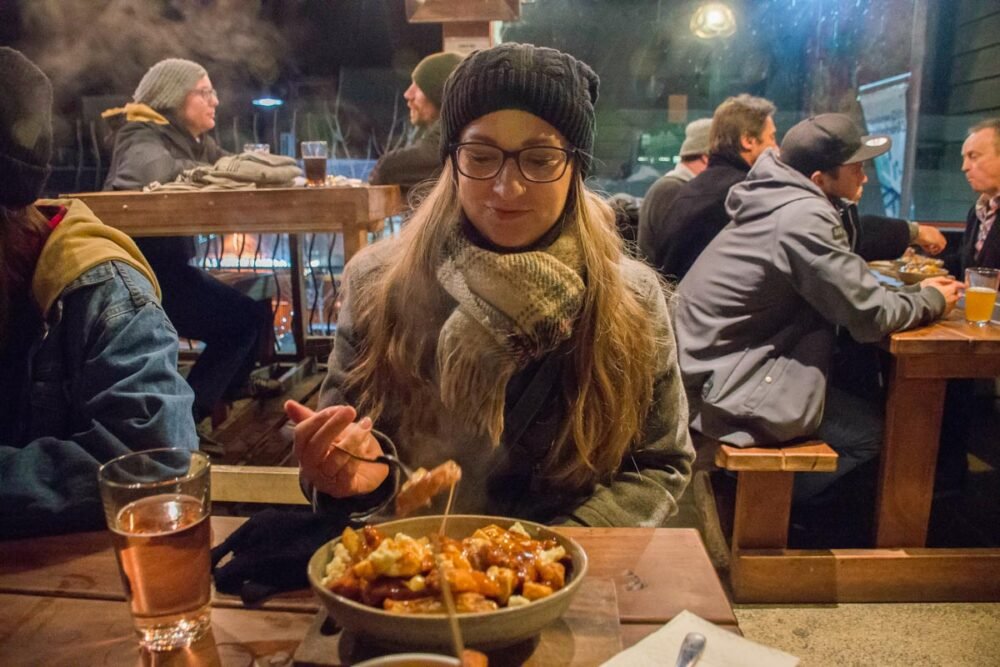 Visit Milford Sound
A day trip to Milford Sound is easily one of the best things to do in Queenstown!
Every day thousands of people make the journey there to cruise through this stunning fiord and enjoy breathtaking views.
In winter, not only is Milford Sound more beautiful, but it's much less busy. With fewer boats, fewer people, and less noise, you'll actually get to enjoy the calm of Milford Sound.
Visiting Milford Sound is most commonly done on an organized tour from Queenstown. These include your transport, guide, and cruise for around $200 NZD.
Book a top-rated tour of Milford Sound online here – this tour even includes a picnic lunch, as well as a 2-hour Milford Sound cruise and photo stops at Te Anau, Eglinton Valley, and Mirror Lakes.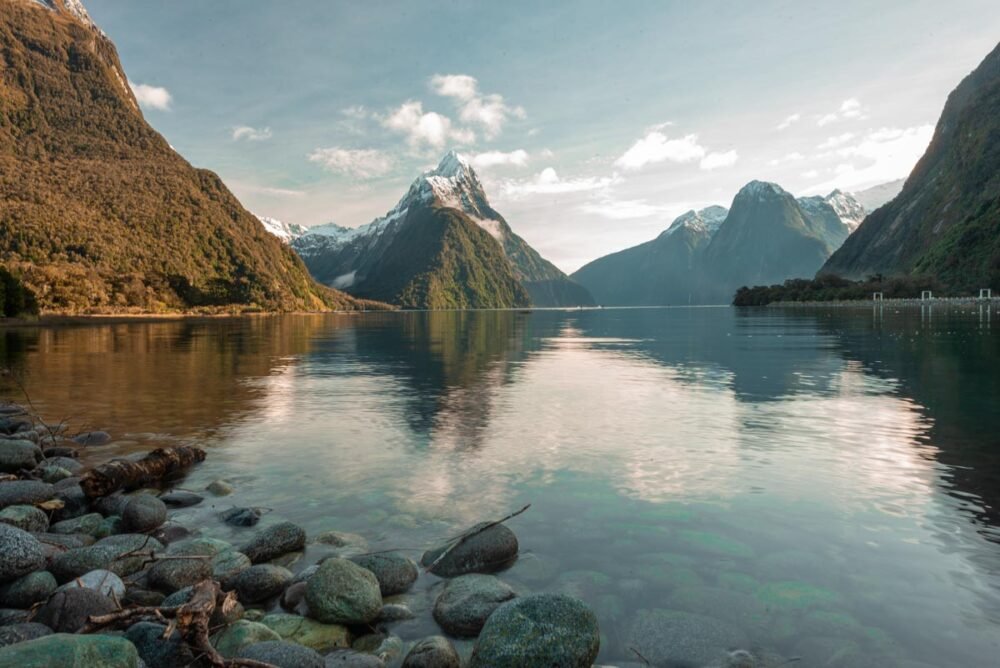 Drink mulled wine
Mulled wine wasn't invented in New Zealand but during the winter it's so common you'd think it was. For those who don't know, mulled wine is just warm wine that's flavored with spices… it's delicious!
One of my favorite things to do in the winter months in Queenstown is to head into town and visit one of the rooftop bars to enjoy a mulled wine by the fire.
The best place in Queenstown for this is at The Sundeck. They have lots of heaters at every table and serve amazing mulled wine!
Relax at the Onsen Hot Pools
Onsen Hot Pools are the most famous hot pools in New Zealand. Seriously, if you want to enjoy Onsen Hot Pools you'd better book soon as this place often books up months in advance for the entire winter!
Of course, if you are one of the lucky ones who secure a booking, you'll get to enjoy a steaming hot private pool overlooking the Shotover Canyon.
The pools are large enough for up to four people (but two is most comfortable in my opinion.)
For two people it cost $126 NZD for an hour soak and there are both semi-indoor and outdoor tubs – but all have breathtaking views!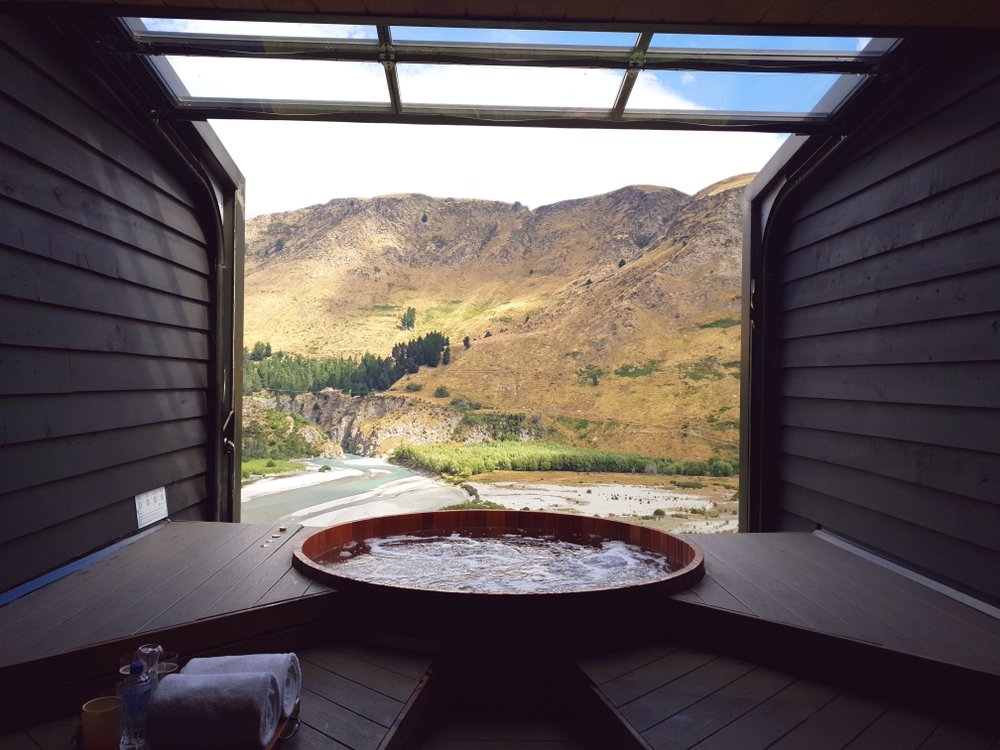 Go on a hike
Hiking in winter is not only more fun, but the lack of people makes it even more peaceful.
There are a few easy trails in Queenstown for those without winter hiking experience including Mt Crichton Loop Track and the famous Queenstown Hill. Both are relatively easy and although icy conditions can occur, most of the time the trail is fine without crampons.
If you're more experienced then you could tackle one of the best hikes on the South Island – Ben Lomond Track. This grueling hike is even harder in winter and involves a 1,400-meter elevation gain over 7 kilometers one way.
All up, it'll take you 7 to 8 hours in winter and you'll need alpine equipment and experience to summit Ben Lomond.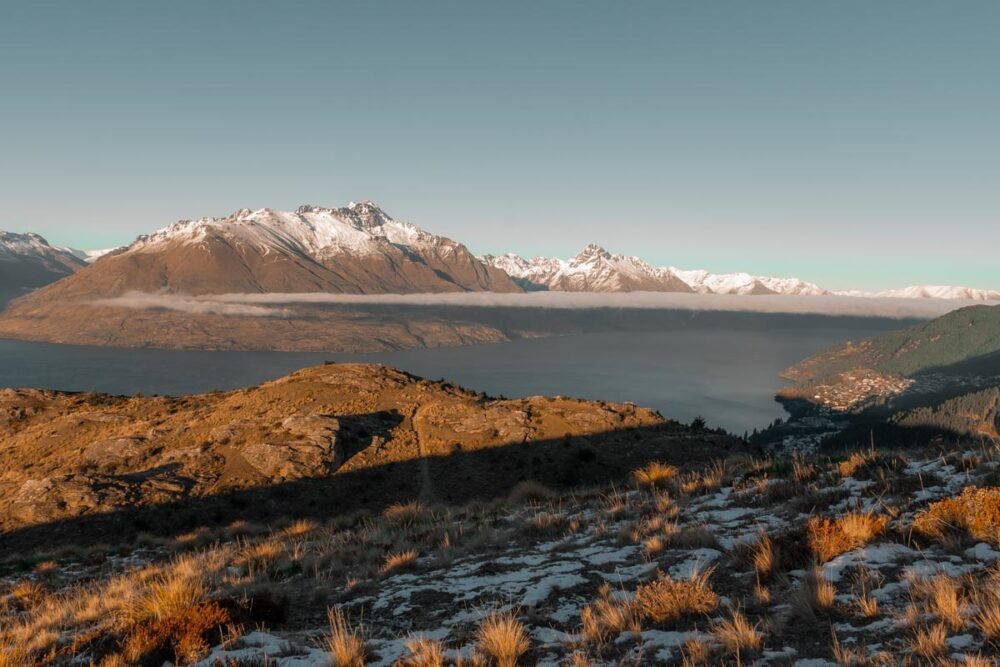 Visit an ice bar
It's already cold outside, so why not head to one of Queenstown's ice bars? In fact, depending on the day it may be warmer inside!
With a warm jacket on you'll get to sip cocktails or mocktails in a bar completely made of ice out of a glass made of ice. Cool, huh?
Queenstown is home to two ice bars called Minus 5 Ice Bar and Below Zero Ice Bar. Both are much the same and prices are almost identical so it doesn't matter which one you go to.
Entrance to both is $32 NZD for adults and includes one cocktail. It's a unique experience that you have to do once!
Taste wine in the Gibbston Valley
The best part about wine is that you can drink it at any time of the year. In Queenstown, the closest and best wine region is the Gibbston Valley. This region is famous for producing some of the best Pinot Noir in the world. It's seriously good!
From Queenstown, you can either do a self-drive tour, hop-on-hop-off tour, or full guided tour with lunch!
I've done all three and prefer either the self-drive option or a full guided tour. On a guided tour you can sit back and relax while your guide does all the work for you.
All you have to do is taste wine and eat great food! Who wouldn't want to do that?!
Book your guided wine tour online here – this tour includes 18+ wine tastings across 4 unique wineries and a tour of New Zealand's largest underground wine cave!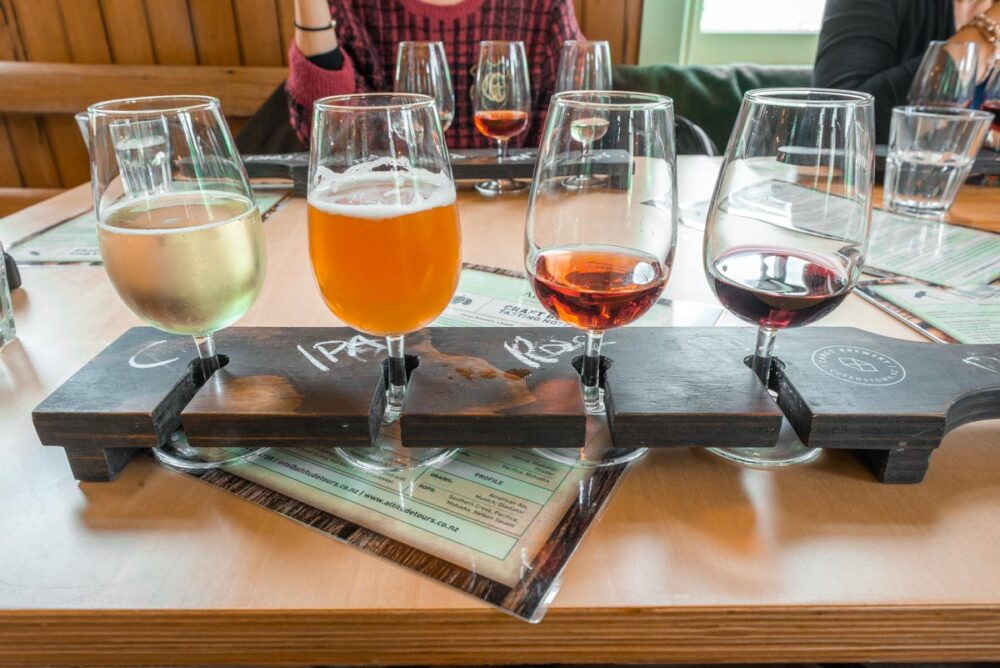 Where to Stay in Queenstown
When it comes to picking a great place to stay in Queenstown during the winter it's important you know exactly what you're coming for.
That's why below you'll see recommendations based on winter specific attractions.
You can also check out different family-friendly accommodations in Queenstown if you're traveling with kids.
JUCY Snooze Queenstown: For budget travelers, there are a few great options in Queenstown but my favorite is JUCY Snooze. This hostel is clean, comfortable and they have a rooftop bar and restaurant that serves amazing pizza. They have both dorm rooms and privates for guests and it's located in the heart of town!
>> Check photos, reviews, and availability here
Hilton Queenstown Resort and Spa: If you plan on skiing up at The Remarkables Ski Area then the Hilton is the closest hotel to the ski field. In fact, you'll actually save yourself around 5 minutes each way! The Hilton is also beautiful inside and out and with a free shuttle to town it's convenient too!
>> Check photos, reviews, and availability here
Swiss-Belresort Coronet Peak: If Coronet Peak is your chosen ski field then Swiss-Belresort is a top choice. It's actually located just below the ski field access road so you can be at the chairlift in 10 minutes! The hotel also has a free shuttle to town.
>> Check photos, reviews, and availability here
Crown Plaza Queenstown: For those who love to stay close to town Crown Plaza Queenstown is perfect. It's conveniently located in the heart of town along St Omar Park. They even have rooms with lake views!
>> Check photos, reviews, and availability here
Conclusion
Winter in Queenstown is a magical time to visit this remote mountain town. From fun in the mountains to fun in town, there's no shortage of amazing things to see and do in Queenstown in winter!
The best part is you'll avoid the crowds at many of the best attractions as well as enjoy cheaper prices on tours and excursions in winter in Queenstown. It's a win-win if you ask me!
Author Bio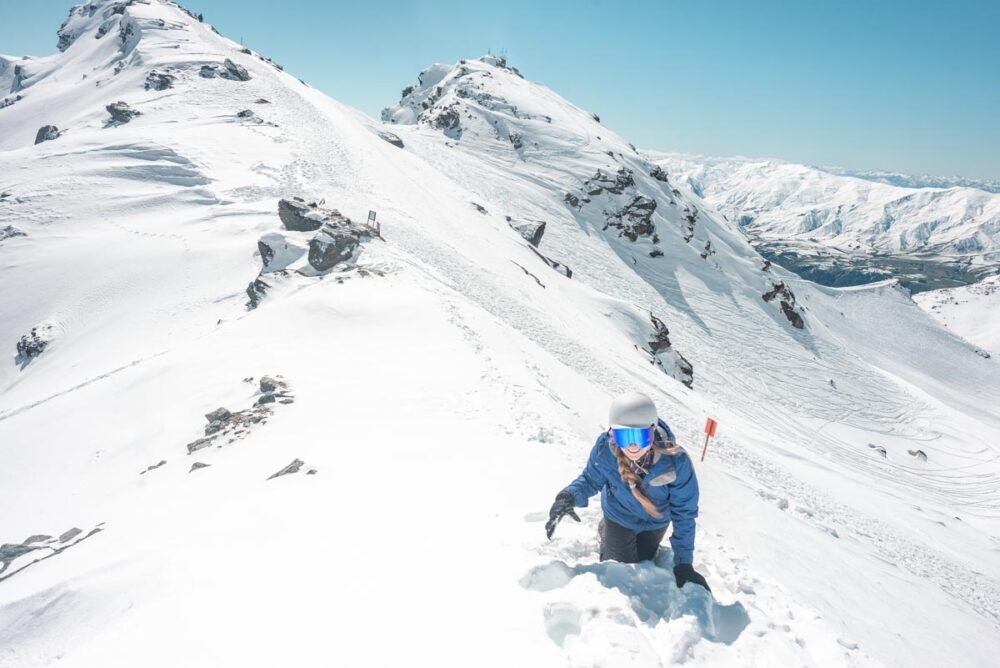 Bailey is a full-time travel blogger who visited Queenstown on a working holiday. However, after spending a year there, Queenstown stole her heart and she has since decided to make the move there permanently. Her blog, My Queenstown Diary, documents her love for Queenstown in the form of travel guides. If you liked this article be sure to follow along here for more!
Pin This Post!
Allison Green is a former educator turned travel blogger. She holds a Masters in Teaching and a B.A. in English and Creative Writing. Her blog posts merge her educational background and her experience traveling to 70+ countries to encourage responsible, enriching travel. She has been a speaker at the World Travel Writers Conference and her writing, photography, and podcasting work has appeared in National Geographic, CNN Arabic, CBC Canada, and Forbes, amongst others. Now a full-time traveler, she has lived in Prague, Sofia, New York City, and the San Francisco Bay Area.