Prague is a truly spectacular city that, personally, I could visit and revisit endlessly.
I spent six months living in Prague studying abroad, and even in those six months, I never found myself running out of places to explore or new hidden gems to uncover.
Returning to the city many years later, I fell in love with it all over again, re-dedicating myself to exploring and finding little hidden corners of the city to fall in love with, and eating as much Czech food as could possibly fill my stomach.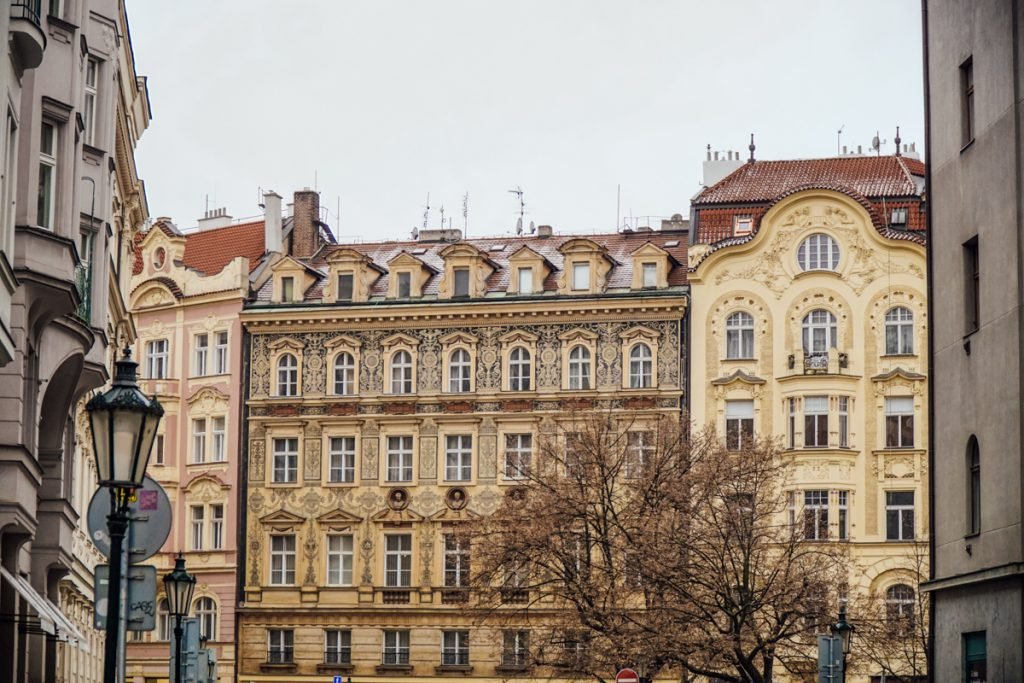 Note: This post contains affiliate links, which means I may receive a small commission if you purchase something through one of these links. Thank you for supporting the free content on this site! For more information on affiliate links and cookies, see my disclosure page for more details.
I'm hoping to convey my love to Prague for you in this quick one day Prague itinerary, helping you to see the city through the eyes of someone who lived there, loved it, and will always keep a piece of Prague in their heart.
I hope you enjoy this quick 1 day in Prague itinerary and that it helps you capture a piece of Prague for your own heart, too!
How This One Day in Prague Itinerary Is Structured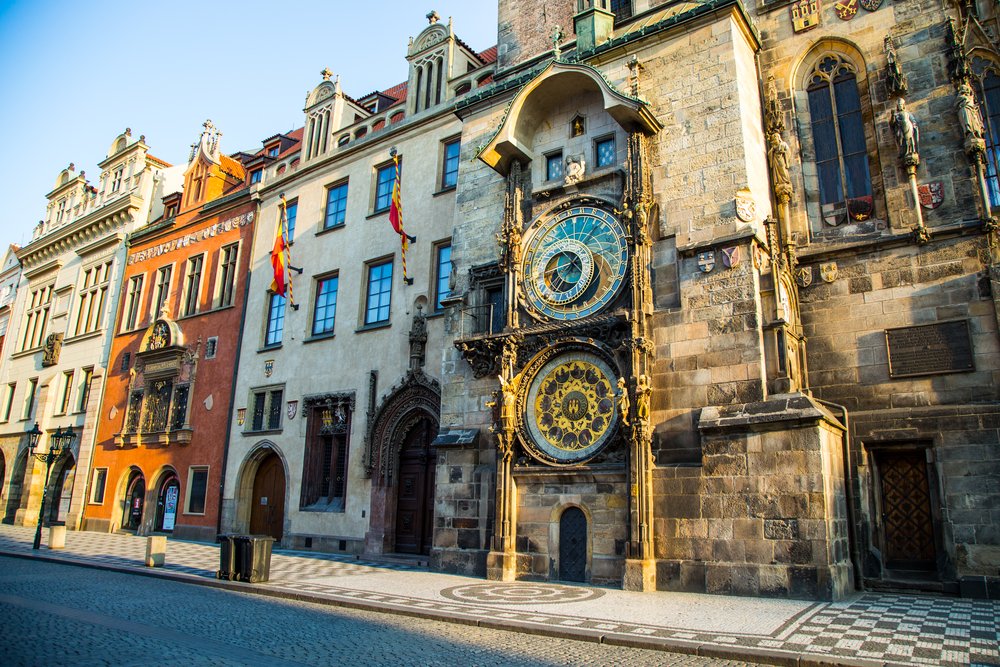 This post is your one-stop guide to tackling the best of Prague in one day.
During my six months living in Prague, several friends came to visit, and I had the opportunity to show several visitors around the city in my days there!
As a result, I've figured out the best way to route a single day in Prague itinerary without missing any of the highlights, but still adding on a few of Prague's hidden gems.
This one day in Prague game plan skips the tourist traps and brings you straight to the essential attractions, while also granting you an inside glance at one of of the prettiest cities in Europe and one of my favorite places on the planet.
This Prague mini-itinerary includes a few guided tours where it helps you save time or adds essential historic context, but for the most part, it leaves you free to roam around the city for independent exploration and fortuitous wanderings down beautiful streets.
This tour is primarily focused for those visiting Prague in summer (or spring or fall) — if you visit Prague in winter, I suggest reading my guide to that so you can also include some of the Christmas markets and museums that would make a good addition to this one day itinerary.
Is 1 Day in Prague Enough?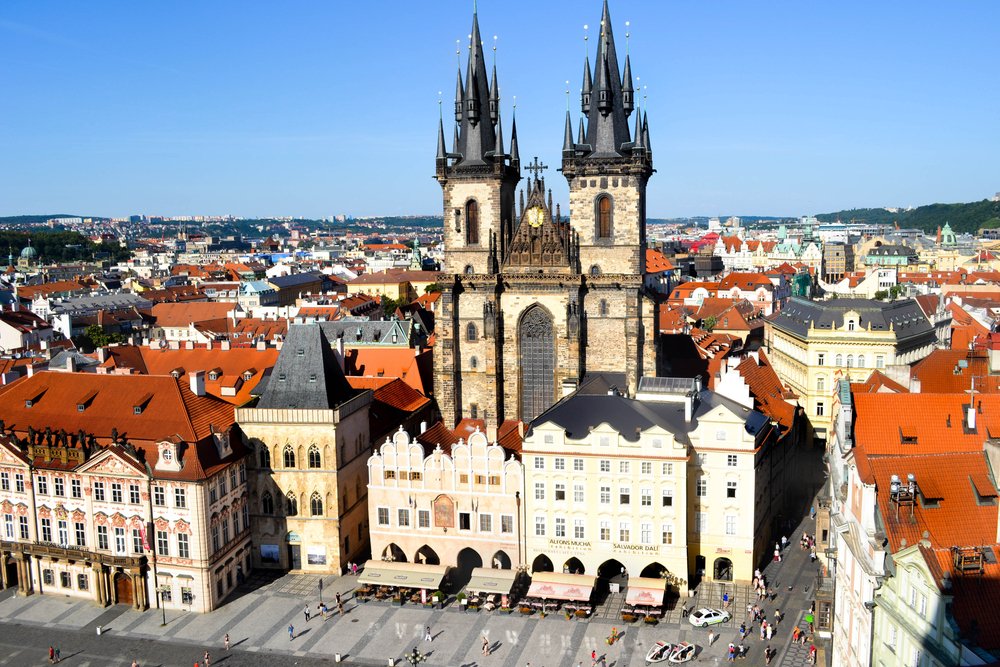 If you ask me, not quite…. but don't despair just yet! One day in Prague is just the right amount of time to enjoy an introduction to the city and its main attractions.
With only a day in Prague, you won't quite get a feel for the city outside of its most popular attractions, but it is definitely enough time to snap plenty of beautiful photographs, see the top attractions, and swear up and down that you'll come back to Prague another day to spend more time in this beautiful, magical city.
On this 24 hour Prague itinerary, we'll cover some important attractions — Prague Castle and the St. Vitus Cathedral, Charles Bridge, the Astronomical Clock, the Old Town — but we won't quite get to everywhere. But we'll do our best!
One Day in Prague Map
Your One Day Prague Itinerary
Morning: Kolaches, the Charles Bridge, & Prague Castle
Start the day with a tasty koláč.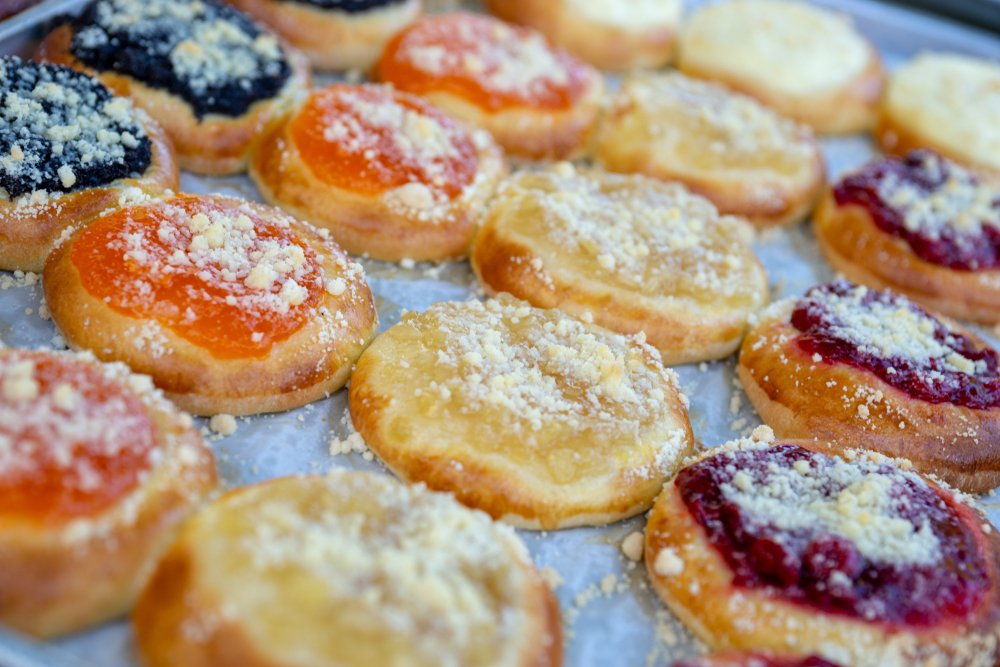 Start your day bright and early so you have time to tackle this one day in Prague itinerary properly! I suggest getting a start at 8 AM if you want to be at the Charles Bridge by 10 AM for the tour. But first — breakfast!
If you've ever had a kolache in the Midwest or Texas, you may not have known it, but you were eating a traditional Czech pastry!
What is known is Czech as koláč (koláče in plural form) has been transliterated into English as kolache — I guess in default as plural because it's pretty much impossible to eat just one!
Koláče in Czechia are lightly sweetened pastries similar to a small, handheld pie, consisting of dough baked with a sweet filling or either jam or poppy seeds (my favorite!).
You can find them all over the city, but my favorite are at the cute gingerbread shop Perníčkův sen in the Old Town.
While they specialize in gingerbreads, their other pastries are absolutely delicious as well, as it's a great place to grab a Prague souvenir for a loved one!
Walk through Old Town to the Kafka Monument.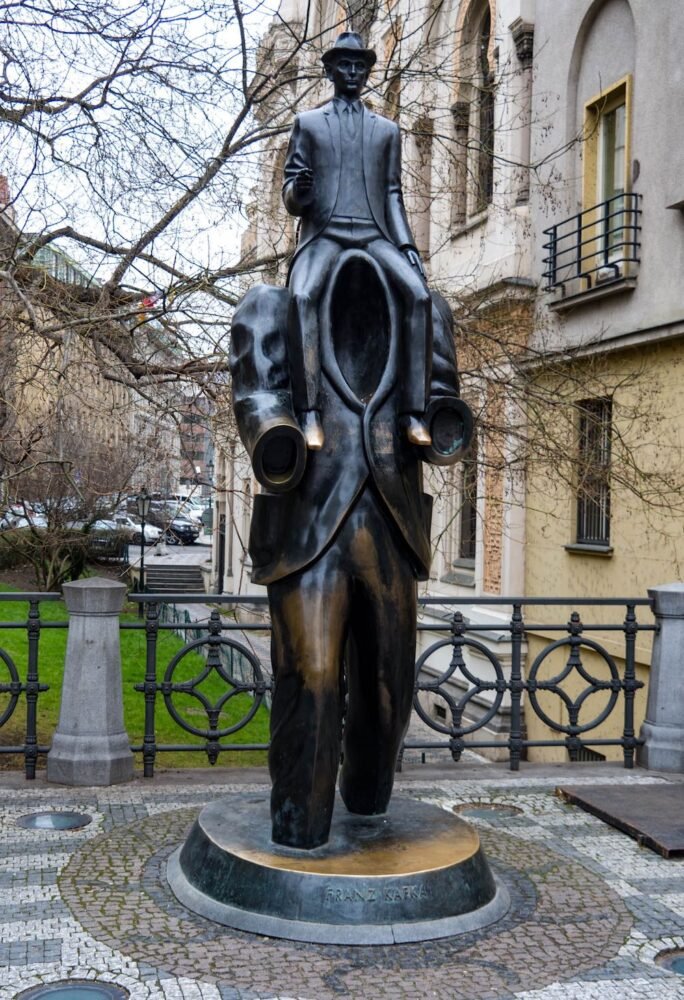 Prague is, rightly, proud of one of the city's most famous writers, Franz Kafka.
As a matter of fact, you'll find countless Kafka references all around the city, in the form of museums, placards, tongue-in-cheek statues, and more.
As you walk through the Old Town towards the base of the Charles Bridge down, you'll notice a strange statue: a headless, armless giant man with a man (Franz Kafka) sitting on top of it.
Why a headless man? It's a tribute to one of Kafka's strangest and earliest works, "Description of a Struggle."
It's located right in front of the Spanish Synagogue in the heart of Jewish Prague — don't worry, we'll come back here later in the afternoon for even more sightseeing.
Admire the the Rudolfinum.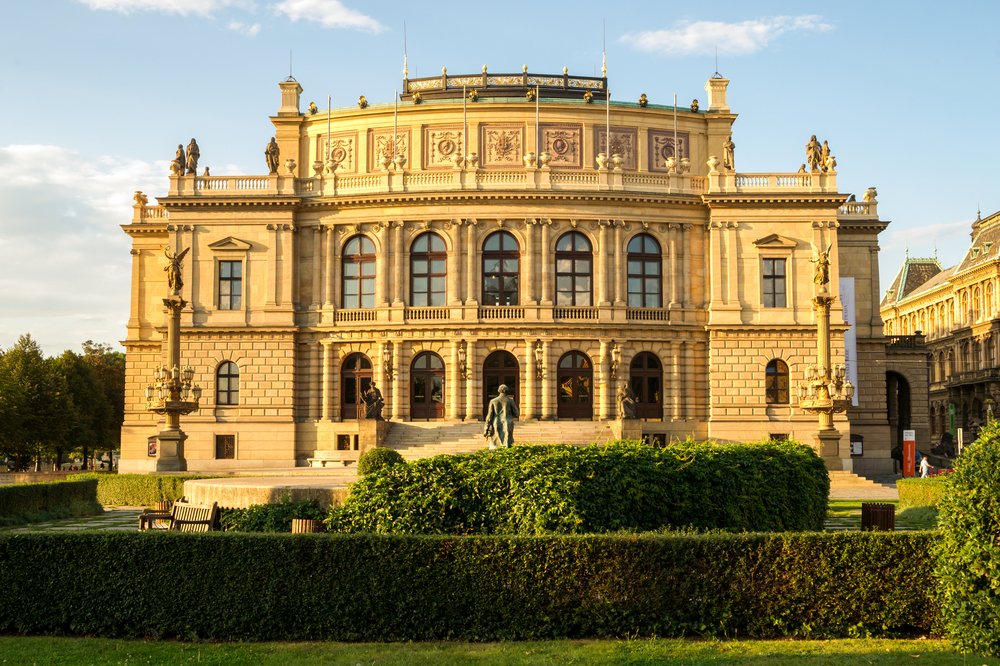 This stunning pale yellow music hall is home to the Prague Philharmonic. It's one of my favorite buildings in Prague, a perfect example of the delicate, pastel 19th century architecture that defines the city.
We'll just stop here briefly to admire the architecture and the views over the Vltava River — it's onto our next stop on this Prague itinerary. Also while here, don't miss the statue in tribute to Prague's most famous composer, Antonín Dvořák.
Side note: If you're a fan of modern sculpture, you can take a quick detour to the Jan Palach memorial, a two-part memorial featuring The House of Suicide and the House of the Mother of Suicide.
Jan Palach was a Czech student who lit himself on fire in Wenceslas Square to protest the Soviet's violent repression of the peaceful Prague Spring reforms. His self-immolation shocked Czech society and led to several other such suicide protests in then-Czechoslovakia and other Soviet-occupied countries.
There is another more traditional memorial to Jan Palach and Jan Zajíc in front of the National Museum in Wenceslas Square, but personally, I like the abstract nature of this piece.
Walk across the Charles Bridge to Malá Strana.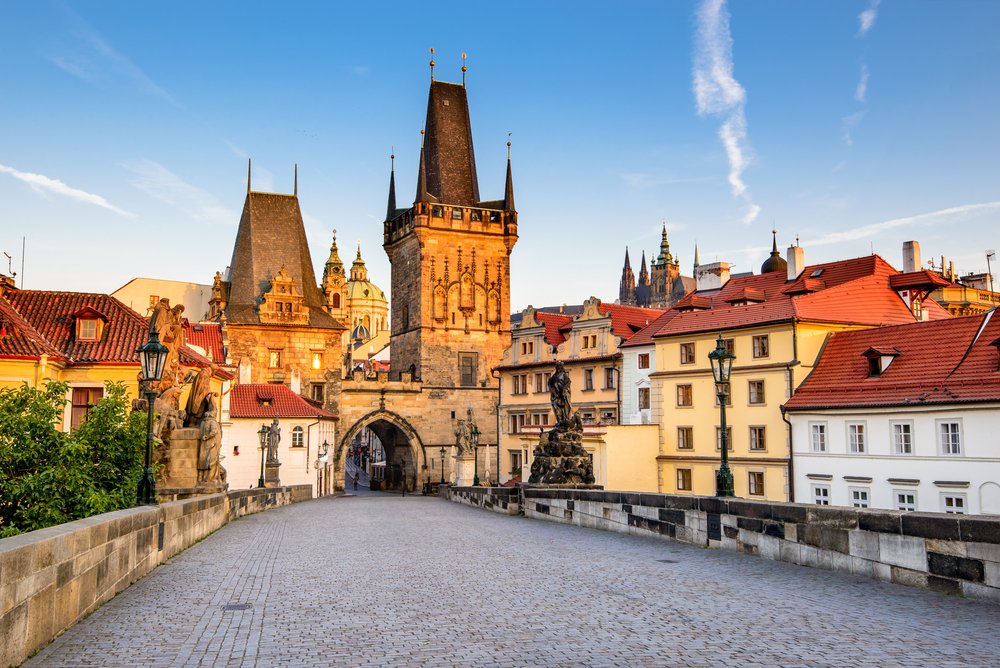 Stroll down Křižovnická to the Charles Bridge (Karlův most), where you'll cross the bridge over the Vltava. This beautiful river bisects Prague into the Castle side and the Old Town side.
As you cross the Charles Bridge, admire the beauty of this bridge which was begun in the 14th-century (construction finished in the 15th century) and still stands today.
You'll pass by many statues as you cross the bridge — 15 on each side, 30 in total — all replicas after being replaced due to theft and vandalism.
As you cross the bridge into Malá Strana (Lesser Town) and Hradčany (the Castle District), look back over the bridge to the Old Town — it's a spectacular sight!
Note: Pickpockets love to lurk on Charles Bridge and other popular tourist destinations, so be sure to have a secure day bag to thwart would-be thieves.

Skip the money belt (you're not fooling anyone) and opt for a secure bag instead. I've carried this PacSafe backpack to 30+ countries with me, and it's my #1 travel companion. This chic, sleek backpack has double-interlocking zippers, slash-proof construction, and RFID blockers! Pick from one of seven colors — I have and love the classic black one!
Once you get to the other side of Charles Bridge, turn right and walk up U Lužického Semináře through the Lesser Town (Malá Strana), passing the beautiful Vojanovy sady park until the street turns into Klárov, then turning left once you hit the Old Castle Stairs (Staré zámecké schody).
Marvel at the majestic Prague Castle and St. Vitus Cathedral.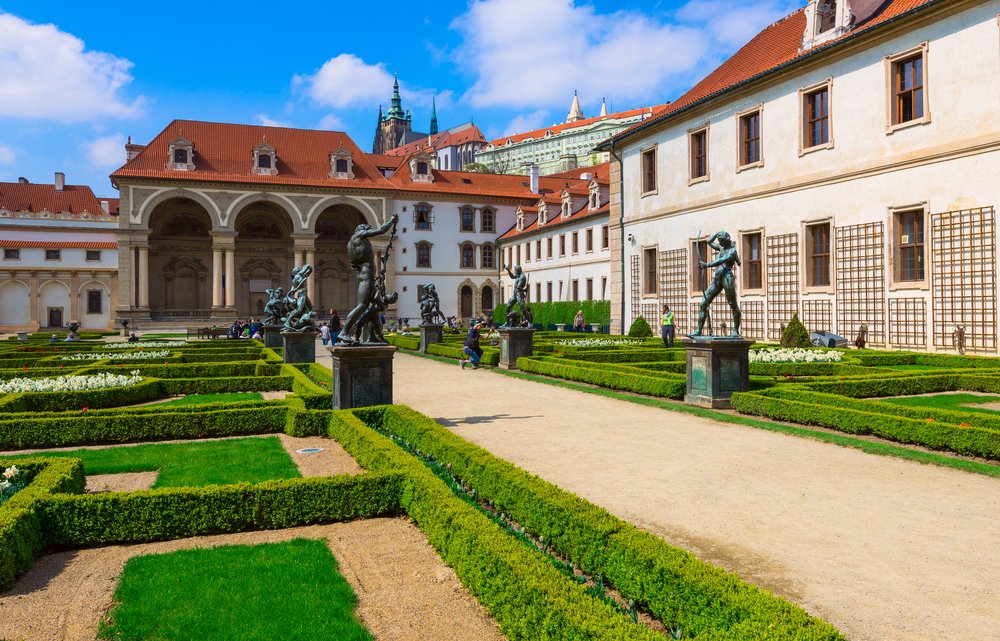 Welcome to the Prague Castle complex!
The Prague Castle is the number one tourist attraction in all of Czechia, so you'll definitely want to be strategic about your visit if you only have one day in Prague.
If you just show up at the Prague Castle in the middle of the day without a ticket pre-booked, expect to wait at least an hour, if not more — a lot more in summer, in fact.
I strongly suggest buying a skip-the-line ticket and tour online in advance, so that you can make the most of your time in Prague but also to fully understand the immense amount of history behind the Prague Castle.
While there is some signage and you won't be totally lost at sea without a tour, having a guide to bring the story of the castle to life and imbue the sights with historical color amps up the experience times ten. Also, skipping the line like a VIP is pretty cool!
There are so many points of interest in the Prague Castle complex that I'd be doing you a disservice to try to describe them all briefly in this article, which is why I strongly suggest a tour.
If time is really limited and you can't do a tour, make sure you visit the following main attractions: St. Vitus Cathedral (an absolute must), the Old Royal Palace, and the Story of Prague Castle permanent exhibit which details as much history as possible into a short exhibition.
The Golden Lane is also beautiful and infinitely Instagrammable — and as an added bonus for literature fans, #22 used to be the house of Franz Kafka' s sister, and where Kafka wrote some of his works!
Afternoon: Lunch, A Walk in Petřín, & the Old Town
Grab lunch and beer at Strahov Monastery.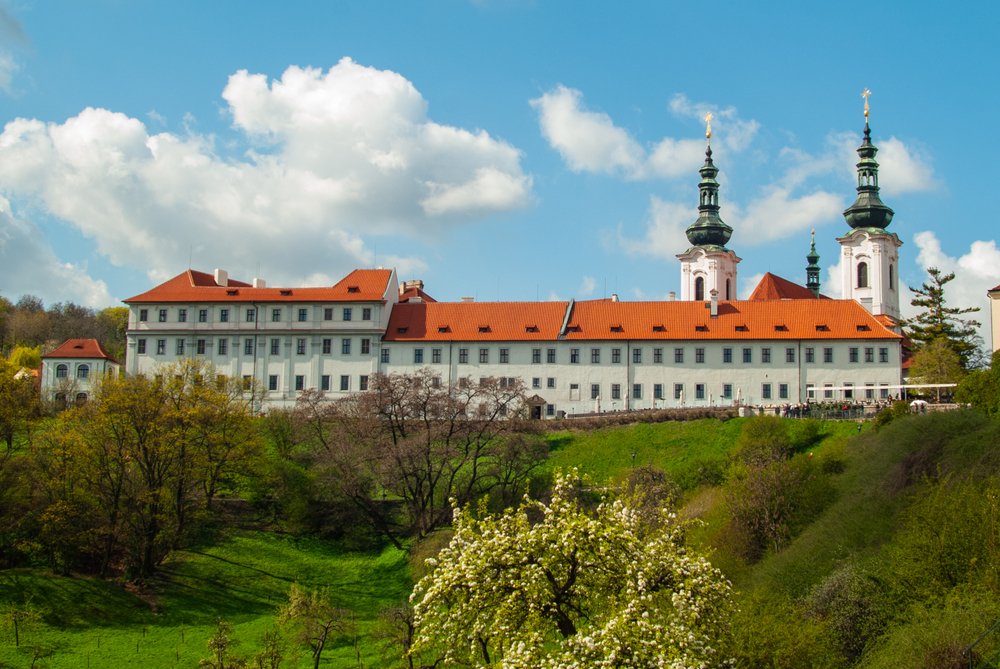 One of the coolest places to have a meal and a beer near Prague Castle is at Strahov Monastery, a nearly 900-year-old monastery!
While in my American mind, it's a bit strange to equate monks and beer, in reality, monastery-brewed beer has a long tradition in Europe… and it's delicious).
Klášterní Pivovar Strahov, the monastery brewery, serves over 25 beers brewed on the monastery premises as well as a selection of food.
Recommended dishes include beef tartare (Prague is famous for it!), goulash with bread dumplings (guláš s knedlícky), and pork schnitzel, but you can check their menu here.
Prices are reasonable given the location, about $10 USD per main dish, though of course, you can find some cheaper meals elsewhere in Prague. However, with only one day in Prague, why skimp?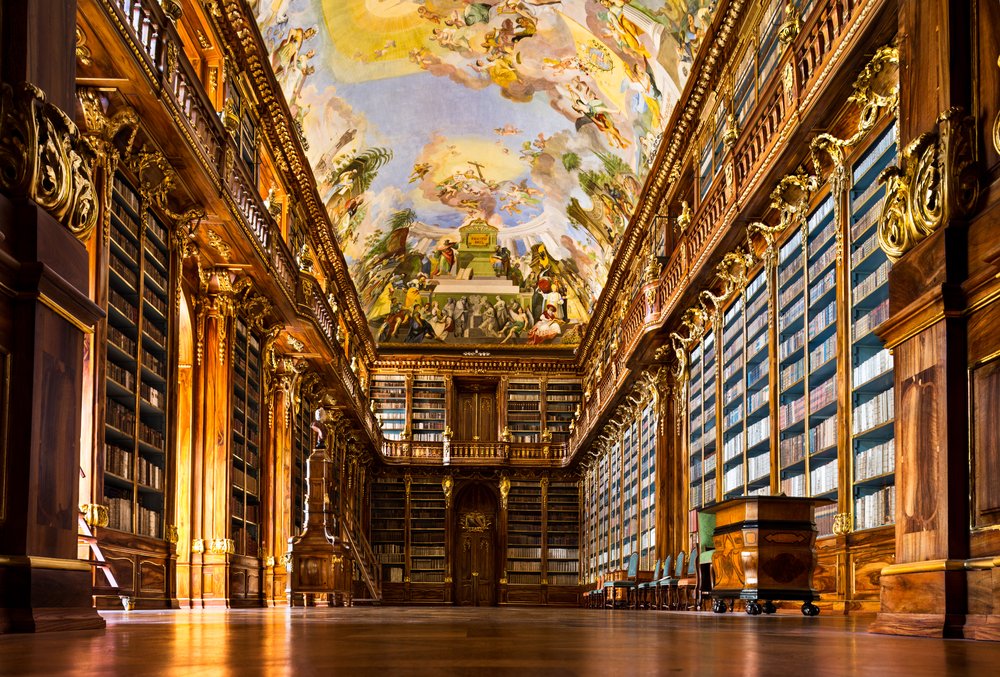 Insider Tip: If you have time, be sure to check out the Strahov Library!
A visit to the library (plus photography permission) is 200 CZK, about $9 USD, and it's well worth it to see one of the most beautiful libraries in the world. An absolute must for bibliophiles. Check here for more details.
Scale up Petřín Tower's 300 stairs.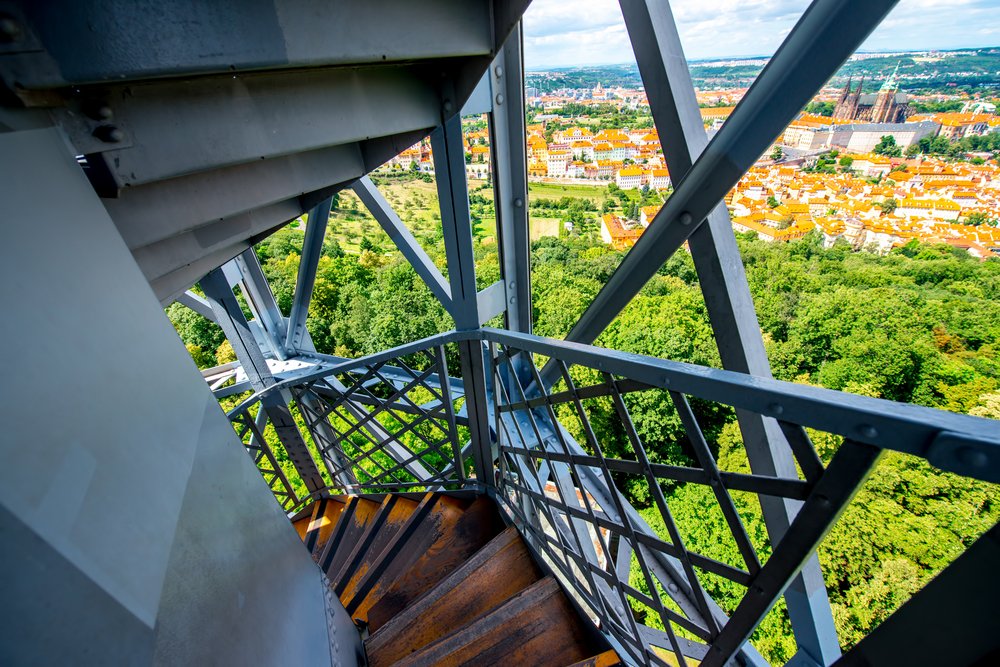 For one of the most incredible views in Prague that's just a little bit off the beaten path that most tourists trod, head to the lovely and underrated Petřín Park.
The walk up to Petřín Tower is a short walk from the monastery, but if you want to cut some corners on the way down, you can take the funicular down.
We'll explore the park in more detail in a bit, but first, head straight to Petřín Tower. This cool observation tower measures 63.5 meters (208 feet) tall, but its placement on Petřín Hill means the views are even more extraordinary than its height would suggest!
Petřín Tower resembles the Eiffel Tower quite a bit, making it a fantastic photo spot, and the views from the top are spectacular… and well worth the 300 stairs you need to climb for the view. Note that there is no elevator. Admission is 150 CZK (about $7 USD).
Admire the statues and gardens in Petřín Park.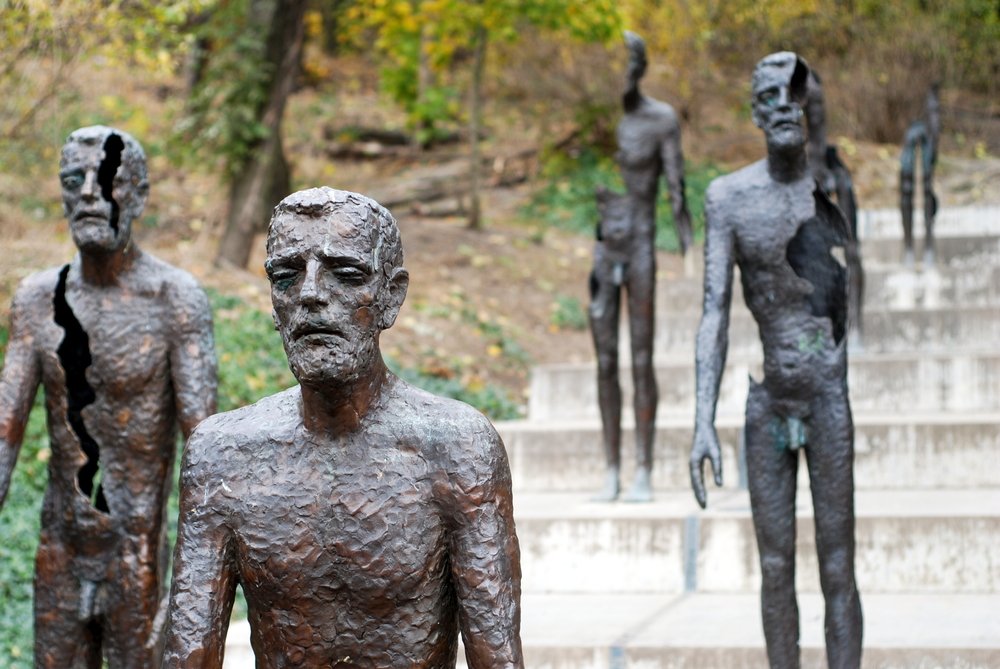 There a lot more to beautiful Petřín Park than just its tower, though! This park is home to some of Prague's most beautiful gardens. I particularly love the Kinsky gardens, which is an English-style garden with a fantastic view.
Another interesting thing to see in the park is at the bottom of the hill, the Memorial to the Victims of Communism. This haunting memorial commemorates the losses of thousands of lives while Czechoslovakia was under Communist occupation as well as the hundreds of thousands who fled and emigrated.
The piece is particularly interesting when you start looking at it more closely.
"In the upper part of the memorial, you can see 7 persons walking on stairs. The first person seems to be all right, but one can clearly observe that the others are missing something of their anatomy, which should symbolize the suffering of the prisoners, their courage and resilience."

Prague.eu
Grab a coffee at Café Savoy.
After all that walking around Petřín, it's a good time to stop and rest those feet for a second in one of Prague's most beautiful coffee shops.
There are a number of traditional Prague coffee houses to go to, but let's stop at Café Savoy, a beautiful coffee shop whose wood-carved interior evokes the coffee houses of Vienna after which this café was modeled.
Prices are a little high, but it's worth it for a coffee and perhaps a slice of cake in one of Prague's prettiest, most nostalgic cafés.
Cross Legion Bridge.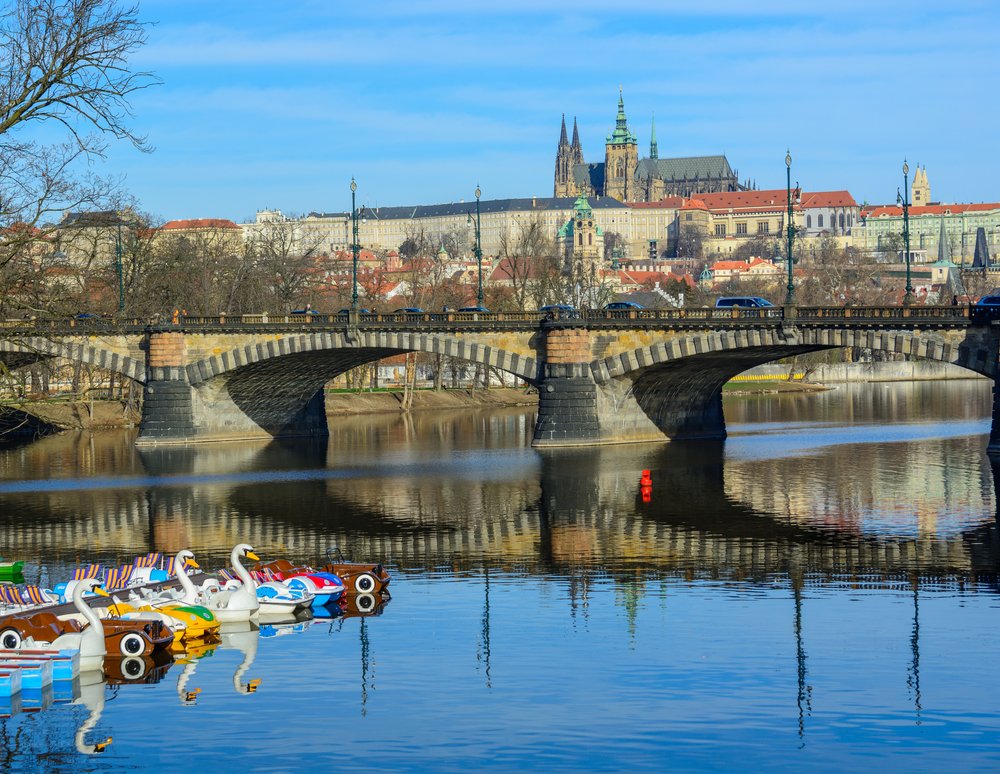 Legion Bridge (Most Legií in Czech) is another bridge connecting the two sides of Prague, and it's great because it'll give you a different perspective of the famous Charles Bridge!
Once you reach the other end of Legion Bridge, you'll notice the beautiful National Theater (Národní divadlo), where you should stop for at least one or two photos!
Walk towards Wenceslas Square, where we'll learn a bit about the history of this famous place in Prague.
Take in the history of Wenceslas Square.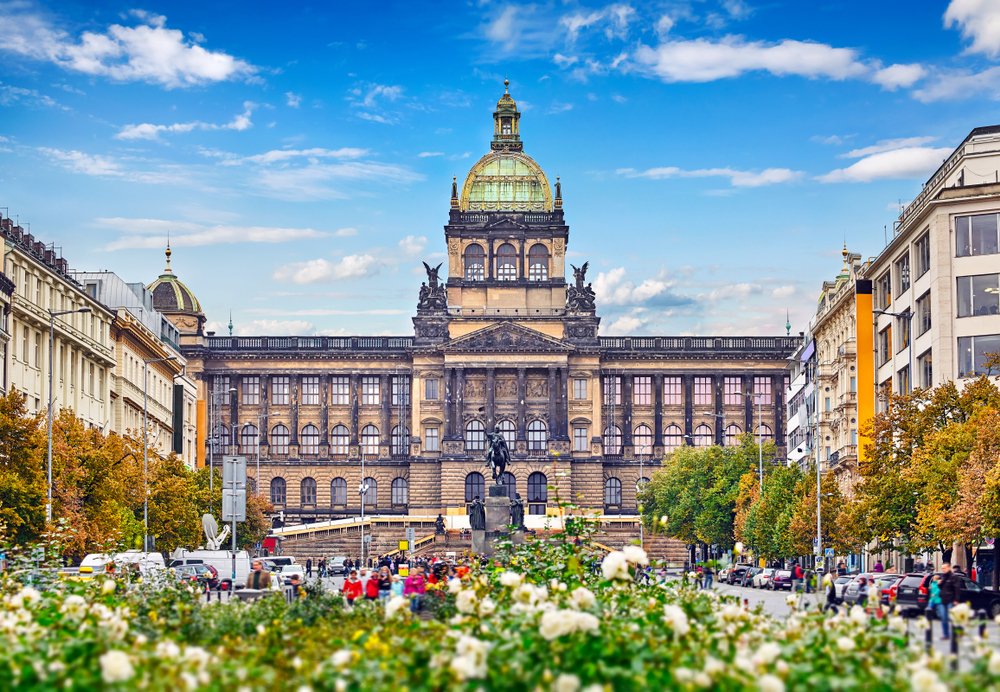 Wenceslas Square (Václavské náměstí in Czech) is one of the most important places in Prague's history for a number of reasons, and it's played a particularly pivotal role in the country's history in the last century as a place for protest, resistance, and remembrance.
Wencenlas Square is truly massive, capable of holding at least a hundred thousand people (and it often has), which means it's been the inflection point for several important historical events in Prague, such as the Prague Spring and the Velvet Revolution.
It was the site of Jan Palach's historic self-immolation act of protest mentioned earlier in this article, and you'll find a memorial to him in front of the National Museum, reopened in 2018 after nearly a decade of renovation.
You'll also see the famous Statue of Saint Wenceslas in front of the museum, as well as several beautiful Art Nouveau buildings (Hotel Paříž and Hotel Evropa both come to mind) lining Wenceslas Square.
Stroll to the Old Town.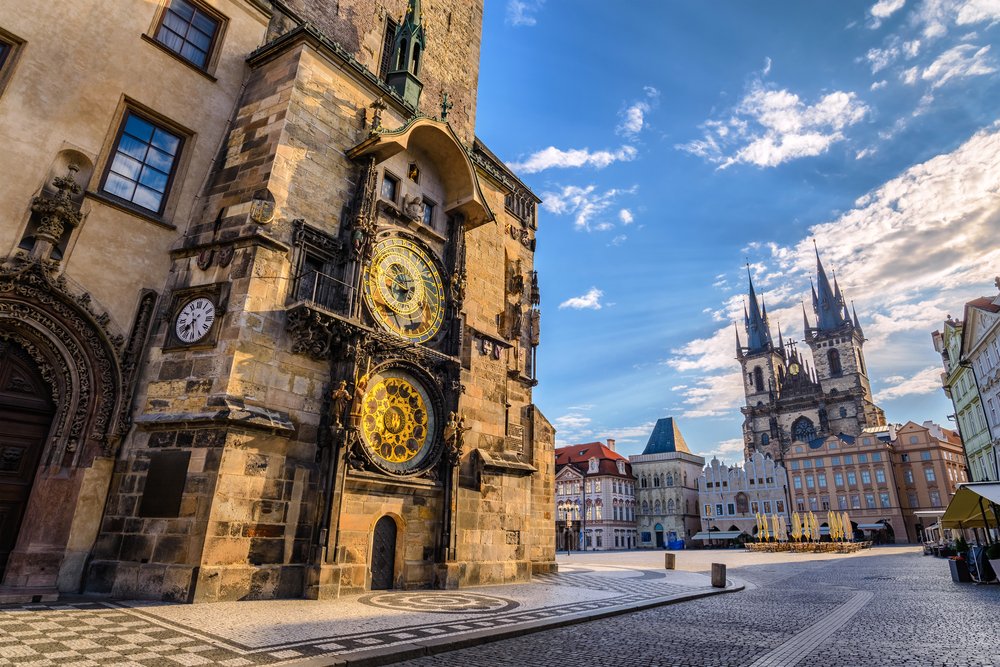 Once you've checked out Wenceslas Square, you'll want to stroll over to the Old Town… luckily, it's quite a short and pretty walk.
I think the most beautiful way to enter the Old Town past the Mustek metro stop and through Melantrichova. I'm partial to this walk because it was my daily commute when living and studying in Prague, but I think it stands for itself!
Once you arrive in the Old Town, prepare to be amazed: this is one of the most beautiful Old Towns in Europe, and I've seen enough of them to feel confident making that claim!
Look immediately to your left once entering the Old Town to see one of my favorite buildings in Prague, Dům U Minuty (House at the Minute). This beautiful building dates back to the 15th century and is adorned with exquisitely detailed sgraffito work on the facade. It was also Franz Kafka's home from 1889 to 1896!
And of course, you can't miss the Astronomical Clock, which is mounted on the Old Town Hall (Staroměstská radnice). The clock dates back to 1410, making it the oldest still-operational astronomical clock in the world.
Be sure to ascend the tower at the Old Town Hall for stunning views over the Old Town. Save time by prebooking your ticket to the town hall's observation tower — you can pick it up right at the 3rd floor where you can exchange a mobile voucher for a paper ticket.
Other places you must see while in the Old Town include the beautiful Church of Our Lady before Týn, with its two Gothic towers that soar 80 meters (260 feet) in the air. St. Nicholas Church is another church in the square, smaller and done in the Baroque style but no less lovely (and a frequent host of organ concerts!).
A few other points of interest in the Old Town Square include a branch of the National Gallery of Prague located in the lovely Kinsky Palace and the enormous Jan Hus monument in the center of the Square.
Arrive at the Jewish Museum.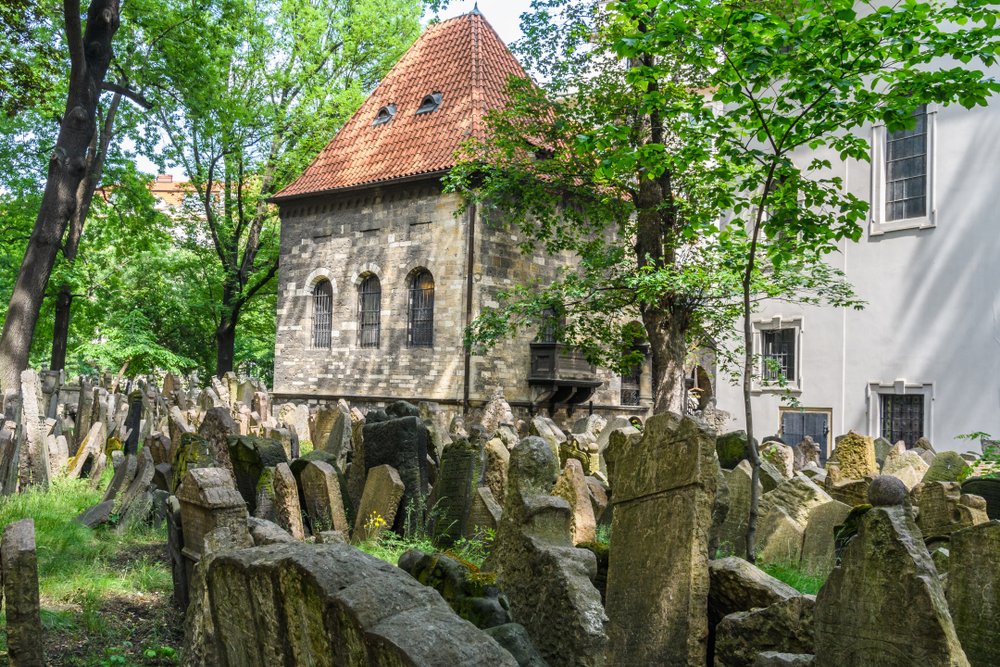 Finally, hurry to the Jewish Museum! Try to arrive no later than 4:30 PM in order to properly have enough time to see this museum, which is more of a complex of buildings, before it closes at 6 PM.
The Jewish Museum consists of four synagogues (the Maisel, Pinkas, Spanish, and Klausen synagogues), the Old Jewish Cemetery, some archives and galleries, and more.
The museum contains over 40,000 exhibits of artifacts and objects related to Jewish life and history, so it can be a bit overwhelming to take in. If you have limited time, prioritize the beautiful Spanish Synagogue as well as the Old Jewish Cemetery, home to over 100,000 graves.
For three centuries, it was the only place Jews could be buried in the city, and it is the oldest existing Jewish burial ground in Europe.
For more information on Prague's rich Jewish history, read here.
You can buy your tickets online here.
Evening: A Dazzling Dinner Cruise & Exploring Prague by Night
Dine with Vltava views.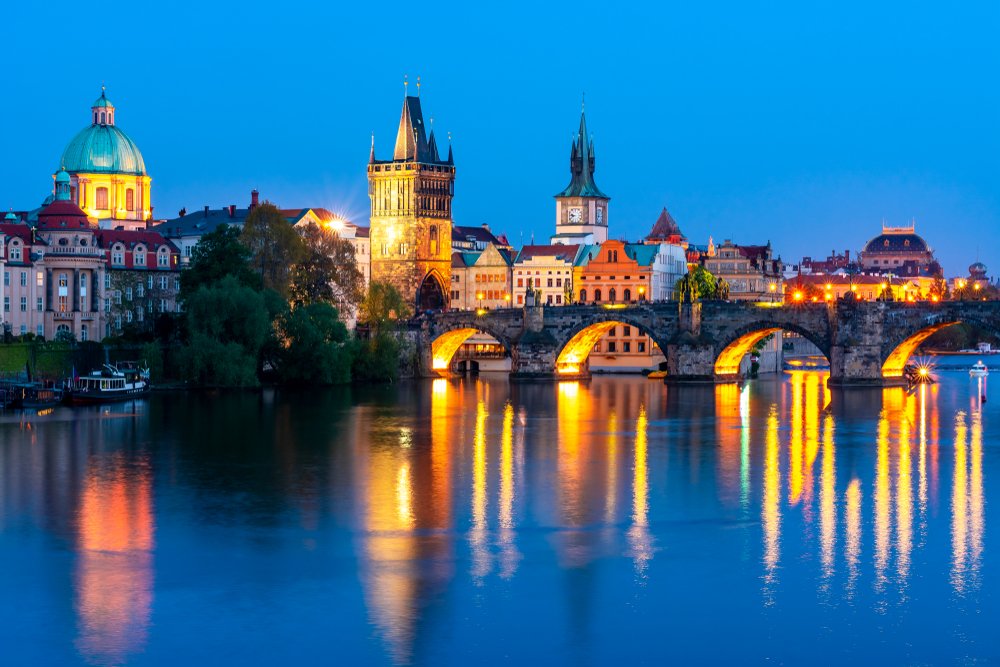 Once you've wandered all over Prague, you're probably dying for a little time off your feet!
But if you don't want the sightseeing to end, a dinner cruise on the Vltava River is a phenomenal way to end your one day in Prague.
You'll get stellar views of the Castle District, the Old Town, Lesser Town, the waterfront, and more while toasting with a complimentary glass of prosecco and enjoying a traditional Czech meal to the sound of live music.
Dinner cruises last 3 hours, from 7 PM to 10 PM, and they arrive and depart by Čechův Bridge.
Tip: For a romantic option or a special occasion, be sure to request a window seat!
Traveling with kids? You may prefer this medieval-themed dinner, which includes swordsmen and jugglers and all manner of performers… while adults can kick back and enjoy unlimited drinks! Book your medieval dinner here.
Walk over to the Dancing House.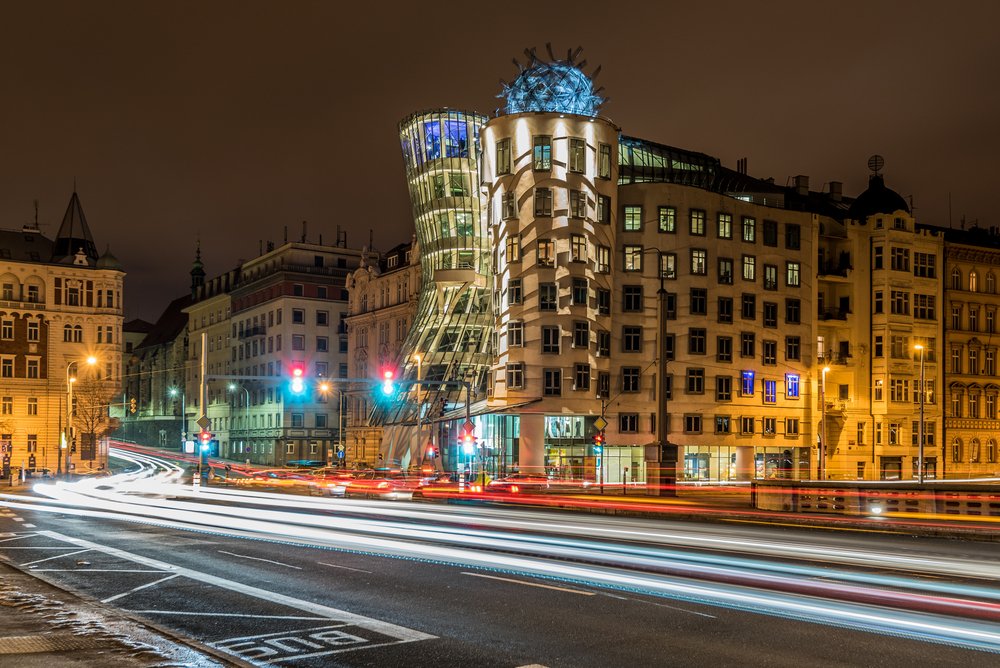 As your day in Prague draws to an end, make one final stop at the Dancing House (Tančící dům), also known as Fred and Ginger.
This whimsical architectural marvel is a collaboration between the Croatian-Czech architect Vlado Milunić and Canadian-American Frank Gehry.
At night, the beautiful building all lit up is even more lovely and magical!
Call it a night or continue exploring Prague nightlife.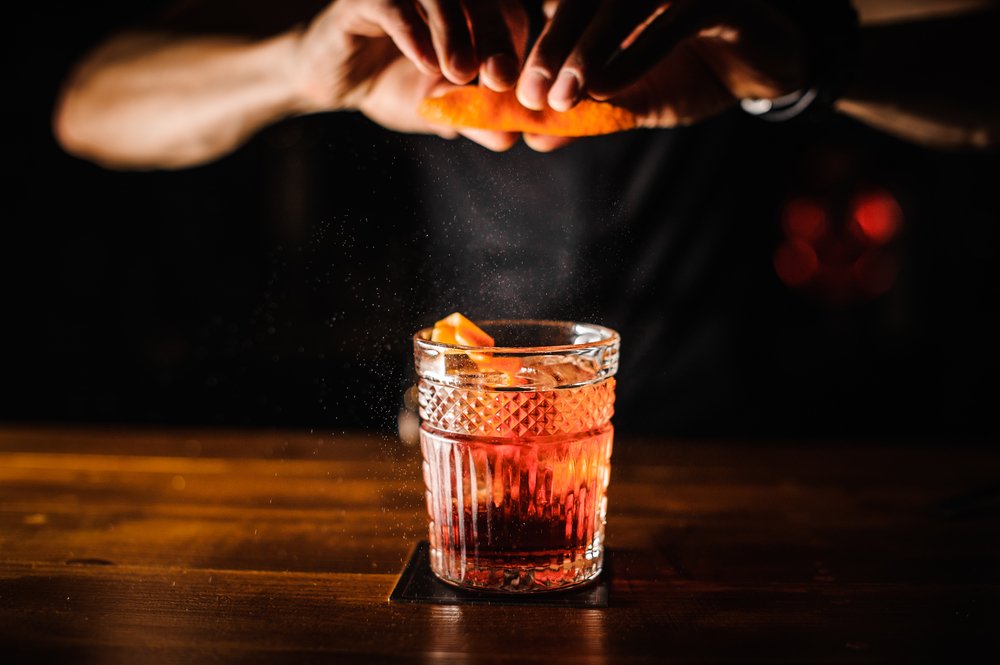 By now, I certainly wouldn't blame you if you wanted to call it quits and turn in for the night!
However, if you wish to keep the night going, I do have a few suggestions.
If you'd like to a see a quiet, hip side to the city, leave the Old Town and head to Vinohrady, my favorite neighborhood in Prague.
Manesova Bar & Books is a chic cigar bar with a cozy library feel and is a great place for a nightcap if you don't mind a little smoky ambiance.
If it's the summer time, join the locals at Riegrovy Sady beer garden. And finally, if you want to check out Czech wine (and you should!), Vínečko Wine Bar is a great place to grab a low-key glass of wine.
If you don't mind going a little further afield, Holešovice is a super-fun neighborhood off the beaten path in Prague — check out Cross Club for a guaranteed fun night out.
Where to Stay for One Day in Prague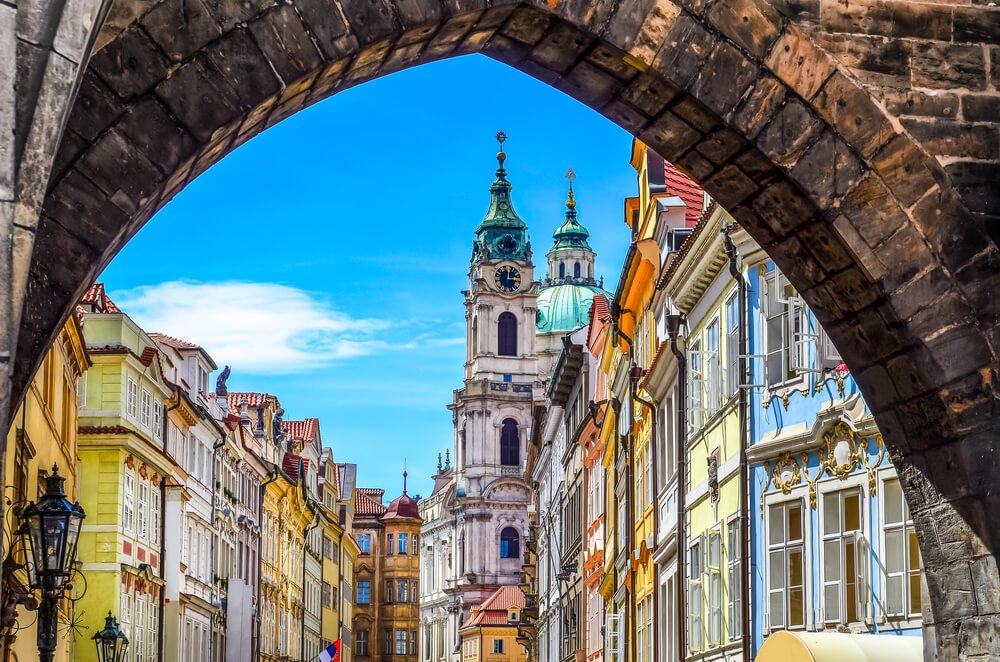 For tourists, Prague 1 and 2 are the most popular districts. I personally prefer the area around Vinohrady and the Old Town, though some people may prefer to be closer to the Castle District (Malá Strana and Hradčany)
I've noted my top picks for each type of traveler – budget, boutique, and luxury travelers – to make the hard choice a little easier!
Budget | Czech Inn
Combining beautifully European architecture and budget prices, this hostel provides affordable luxury to their guests with a fun vibe.
Most of the interiors are designed by Olga Novotná, a beloved Czech designer, and she uses eclectic kinds of materials to create a cozy and warm feeling for guests in the common areas and rooms.
They have private rooms, apartments, shared rooms and premium dorm room, all with huge windows that allow natural lighting inside.
The best part of the hotel is the Czech Inn Bar, which is situated underneath the hotel. It's a great place if you're looking for a budget-friendly stay with a social vibe.
→ Check prices, availability, reviews, and more photos here.
Boutique | Le Palais Art Hotel
Want to feel like you're staying in an art museum? That's Le Palais in a nutshell. Upon entering its main hall, you will see a grand chandelier, matched by exquisite décor and furniture A lot of paintings are also on display in its hallways and rooms, which almost act as if a gallery.
Luxurious Ligne St. Barth toiletries are provided in their ensuite bathrooms. Some rooms even have a tub where you can soak after a long day of sight-seeing!
There's also a wellness center and fitness center, and several other fantastic 4* amenities to make your stay in Prague both stylish and comfortable.
→ Check prices, availability, reviews, and more photos here.
Luxury | Aria Hotel Prague
This beautiful luxury hotel (which has a partner hotel in Budapest) offers 5-star amenities with a tasteful music theme. The rooms are all inspired by the different types of music like opera, jazz, and classical music. They also named each room after famous musicians and music personalities.
The rooms have a classic, simple, and elegant style taken up a notch with velvet upholstered sofas and seating. The suite-type rooms also have a living area and kitchenette that easily helps you feel right at home.
Inside, Coda Restaurant has an art deco interior located on the rooftop terrace.
→ Check prices, availability, reviews, and more photos here.
Pin This One Day in Prague Itinerary!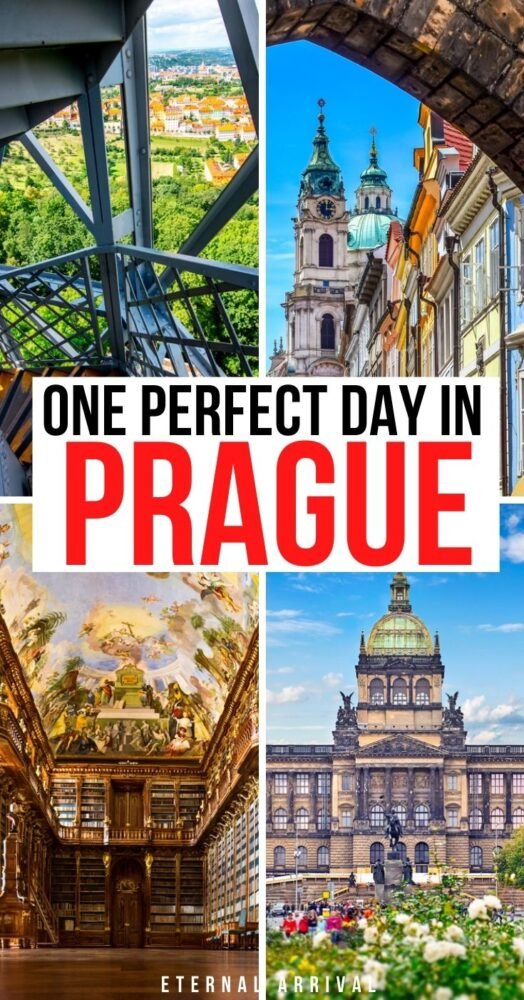 Allison Green is a former educator turned travel blogger. She holds a Masters in Teaching and a B.A. in English and Creative Writing. Her blog posts merge her educational background and her experience traveling to 70+ countries to encourage responsible, enriching travel. She has been a speaker at the World Travel Writers Conference and her writing, photography, and podcasting work has appeared in National Geographic, CNN Arabic, CBC Canada, and Forbes, amongst others. Now a full-time traveler, she has lived in Prague, Sofia, New York City, and the San Francisco Bay Area.