Towering peaks, lush meadows, alpine lakes, and abundant wildlife sightings await visitors in Glacier National Park no matter the time of year.
A well-known piece of the Crown of the Continent, Glacier National Park is home to over 700 miles of hiking trails, making it a paradise for outdoor adventures!
In the summertime, grizzly bear can be spotted grazing in the meadows and the tall peaks of the Northern Rocky Mountains reflect in the icy blue waters of Lake McDonald. The highest peaks in Glacier can hold deep snow all summer long depending on the year, but many of the hiking trails are accessible without snowpack between June and September.
Glacier National Park quickly begins to transform into a winter wonderland come late fall. Although the backcountry in Glacier National Park is more accessible during the warm season, there is still much to explore and see once the snow begins to fall.
However, a winter vacation to Glacier National Park still requires some forethought and planning due to challenges that snow and closures present. Here's everything you need to know about visiting Glacier National Park in winter!
Glacier National Park Winter Road Conditions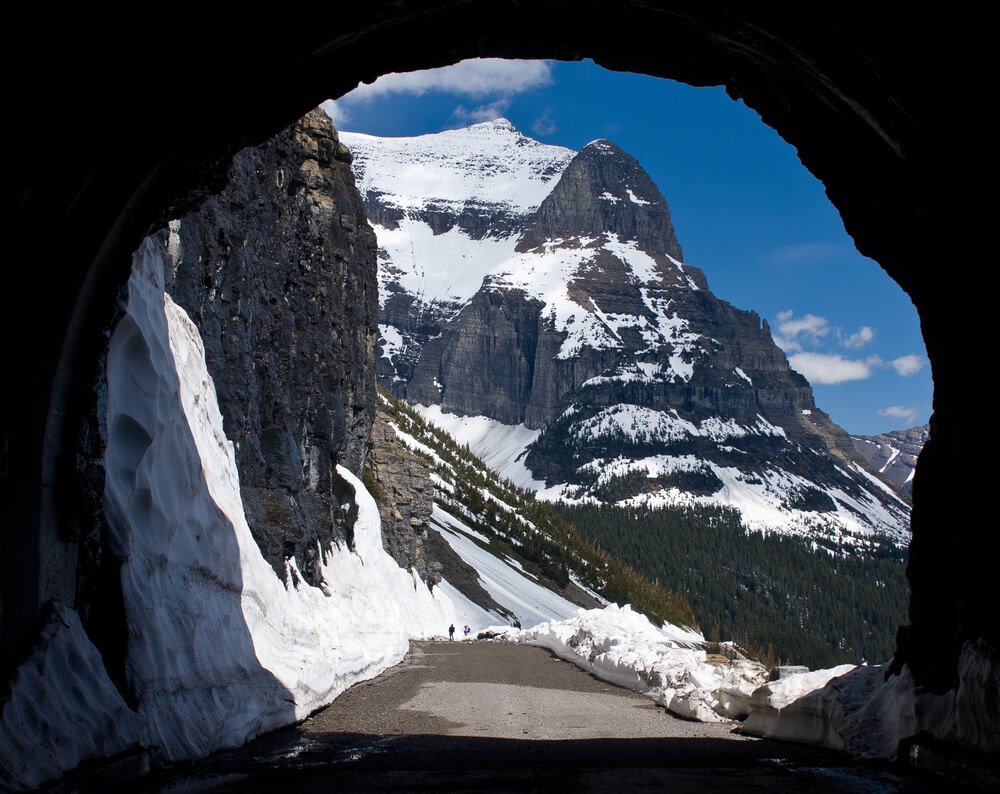 Note: This post contains affiliate links, which means I may receive a small commission if you purchase something through one of these links. Thank you for supporting the free content on this site! For more information on affiliate links and cookies, see my disclosure page for more details.
Going-to-the-Sun Road
The stretch of road between the Lake McDonald Lodge and St. Mary Entrance is closed throughout the wintertime. When the road closes is entirely dependent on weather and road conditions.
The Going-to-the-Sun road reopens again once the national park operators can plow the alpine section of road clear of snow and it is deemed safe for private vehicle traffic. Due to the somewhat unpredictable mountain weather, there are no set opening or closing dates.
This road is considered one of the best scenic drives in the USA, but in the wintertime, it is socked in under many feet of snow with even deeper snowdrifts!
Once spring approaches, the road sees various stages of reopening. Be sure to call ahead for an accurate and updated road conditions report.
West Entrance to Lake McDonald Lodge
This is the only section of road that stays open year-round, weather permitting. This ten-mile stretch of road from the West Entrance to the Lake McDonald Lodge is plowed throughout the winter to allow for private vehicle traffic.
Just beyond the Lake McDonald Lodge, the road is gated to prevent further travel.
Many Glacier Road
The road to the Many Glacier Hotel is closed between November and April due to impassable winter road conditions. Folks who wish to explore this section of the park in the snow must either snowshoe or ski down the road.
Two Medicine Road
This road also goes unplowed during the wintertime and is considered closed once the snow is impassable. Call to talk to a ranger at Glacier National Park for current road conditions.
Inside North Fork Road
The Inside North Fork Road travels the western boundary of Glacier National Park leading travelers towards the Canadian Border. During the summer, the road is bumpy and is best taken at a leisurely pace. Once the snow begins to pile up, the road closes to private vehicle traffic.
Camas Road
The Camas Road, which connects West Glacier to Polebridge closes due to impassable snow conditions. However, it does transition into a fun scenic snowshoe trail once the snow is deep enough.
Winter Weather in Glacier National Park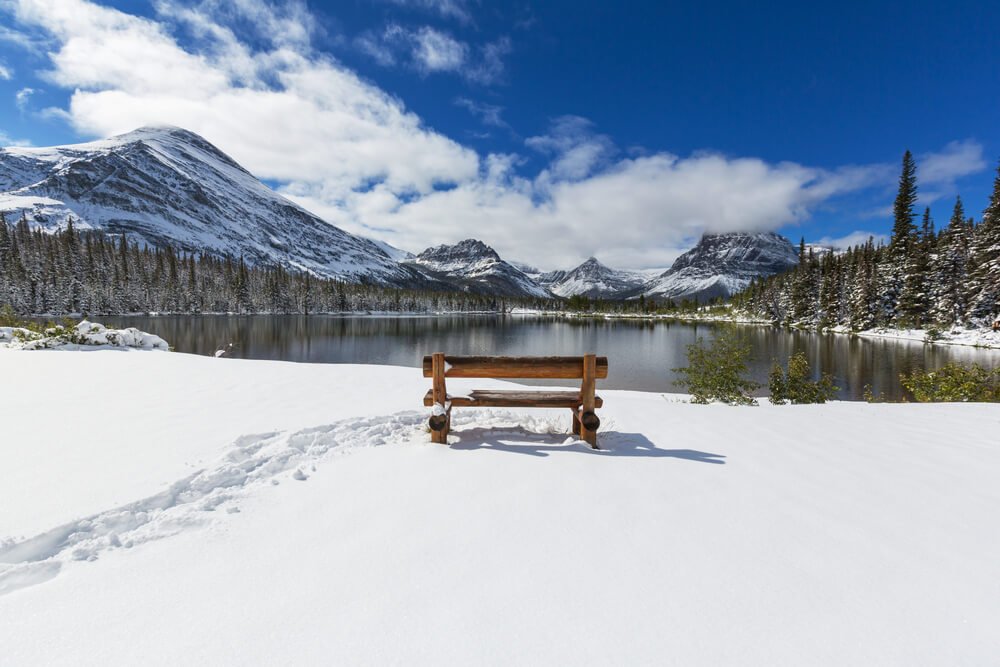 Winter in Glacier National Park can be summed up in a word: cold. I mean, the word 'glacier' in the name should be a hint!
Here is the average temperatures for winter months in Glacier National Park (which I'll call November through March)
November: Average highs of 33° F and average lows of 21° F, with approximately 19 days of rain or snow.
December: Average highs of 27° F and average lows of 14° F, with approximately 19 days of rain or snow.
January: Average highs of 30° F and average lows of 17° F, with approximately 19 days of rain or snow.
February: Average highs of 32° F and average lows of 14° F, with approximately 16 days of rain or snow.
March: Average highs of 39° F and average lows of 20° F, with approximately 18 days of rain or snow.
Winter Hours of Operation and Facilities in Glacier NP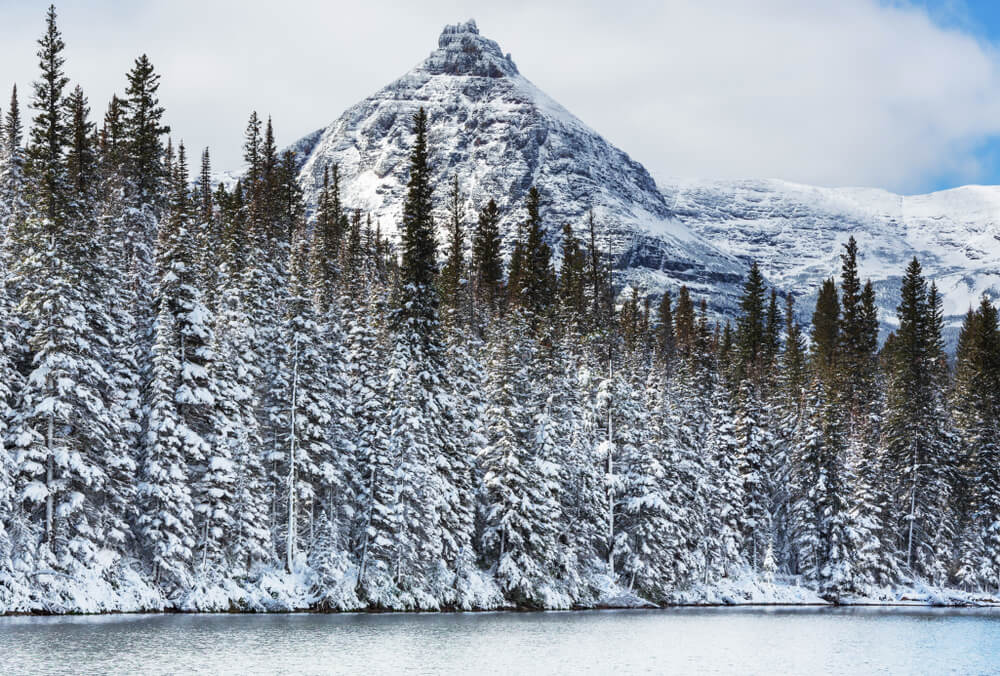 Although recreation in Glacier National Park is technically open year-round, some of the facilities undergo reduced hours of operation or close completely come wintertime.
However, note that restrooms and potable water are available at the Apgar Visitor Center year-round.
If you are planning to visit Glacier National Park during the off-season, which is between late September and early May, you will want to be aware of these changes to facility operations:
Apgar Visitor Center: Closed during the winter. Outdoor informational exhibits are open year-round.
Logan Pass Visitor Center: Closed during the winter.
St. Mary Visitor Center: Closed during the winter.
Apgar Village Camp Store: Open intermittently throughout winter.
Backcountry Permit Offices: Call to assure staffing.
Note: All in-park lodging is closed during the wintertime, so you will want to stay in a nearby town, like West Glacier, Hungry Horse, or Whitefish.
Since Glacier National Park is home to such a rugged winter environment, it is a good idea to begin your trip by calling ahead to talk with a park ranger.
Where to Stay near Glacier National Park in Winter
Since you can't actually stay in the park in the winter, you'll have to stay nearby. Luckily, there are plenty of great options: these ones are all in Whitefish, which has the most options in terms of accommodations, but you can also look at West Glacier, Hungry Horse, or Kalispell.
Luxury
Lodge at Whitefish Lake: This cozy 4-star lodge boasts a beautiful location, an on-site spa, cozy rooms, and an award-winning restaurant — what else could you want when visiting Glacier in winter? The Spa is a great place to relax after a day recreating in Glacier National Park, with massages, facials, treatments, a steam room, a hot tub, a relaxation room, and more in their wellness center!
>> Book your stay the Lodge at Whitefish Lake here
Mid-Range
The Firebrand: This chic boutique hotel is one of Whitefish's newest offerings, and it's a great place with tons of personality. Amenities include a fitness center, ski storage and ski pass sales, and on-site restaurants and bars. Cozy robes and luxe en-suite bathrooms make each room feel spa-perfect.
>> Book a stay at the Firebrand here
Budget
Grouse Mountain Lodge: This cozy lodge is no-frills, but it's a lovely place to stay in the winter when all you want is a roaring fireplace, lovely log cabin vibes, and snow-covered scenery! It has some great amenities including an outdoor firepit and hot tub as well as an indoor pool and a Finnish-style dry sauna.
Winter Camping in Glacier National Park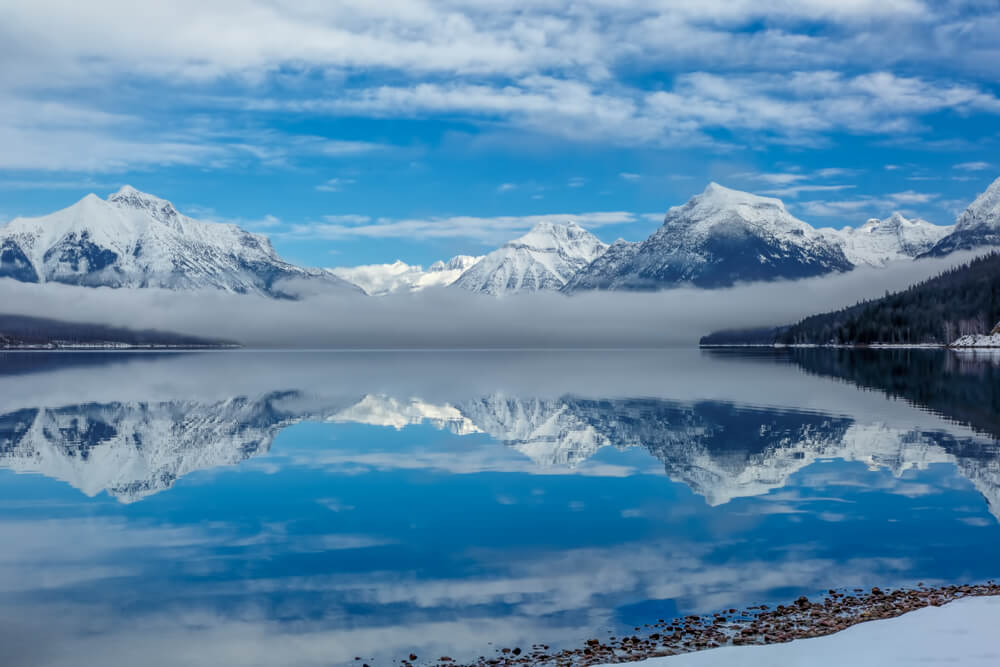 Many national park travelers like to camp during their outdoor adventures. Glacier National Park is home to thirteen front-country campgrounds, which are spread throughout the one million acre park!
During the busy season between May and most of September, many of the popular campgrounds are on an online reservation system and are full each night.
Out of the thirteen front-country campgrounds, Apgar Campground on Lake McDonald is the only one that stays open year-round.
The campground sees reduced site availability and primitive camping only during the cold season. Primitive camping in Glacier National Park means there are vault toilets open, but no potable water available.
Luckily, if you are unable to snag a site inside the park, there are plenty of camping opportunities and lodging accommodations ranging in levels of luxury nearby in West Glacier and Hungry Horse.
Winter Safety in Glacier National Park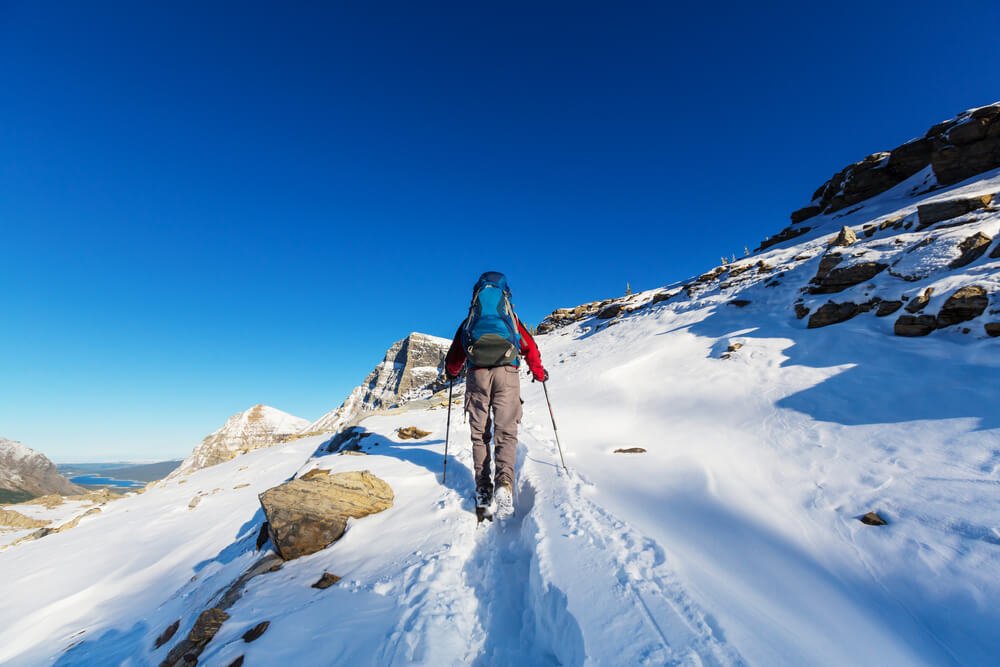 Hypothermia
When your body temperature falls to dangerously cool levels, you begin to experience hypothermia. Wet clothes combined with freezing outside temperatures can create a high-risk environment.
To avoid hypothermia, the park service recommends wearing non-cotton clothing and doing everything possible to avoid submerging yourself in water.
According to the National Park Service, water is the number one cause of fatality in Glacier. If you are recreating near water, avoid walking on slippery rocks and crossing over moving water on thin snowbridges.
Staying Found
Trails covered in a fresh layer of snow can become difficult to follow. As you snowshoe, ski, or hike along, pay close attention to trail markers and junctions signs. Cell phone coverage is spotty to nonexistent in most areas of Glacier National Park. If you do become lost, stay where you are, and wait for rescue.
Always pack a map with navigation tools, and remember to tell someone where you are going before departing for the trail. If you are unsure of your abilities, always go with companions.
Avalanche
The deep powdery snow combined with the steep mountain terrain in Glacier National Park is the perfect formula for avalanches.
If you plan to recreate in the backcountry during the winter season, you should be professionally trained in avalanche safety and know how to use the appropriate safety gear.
Snowbridges
The thin layers of snow and ice covering water, crevasses, or massive snow caves can be difficult to detect. The fragile ice can give way to your body weight and leave you victim to the hazards below.
Before recreating on glaciers, in snowfields, or near bodies of water in the winter, be sure to talk to a park ranger about snowbridge safety.
Wildlife
Glacier National Park is home to diverse and magnificent wildlife. Although there will be many great opportunities to view wildlife, always make sure you are doing so safely. If it is a hoofed animal, such as moose, elk, sheep, and goats, keep back 75 feet. For grizzly and black bears, always try to maintain a distance of at least 300 feet.
Although bear hibernate in the wintertime, Glacier National Park is still grizzly country. Carry bear spray and follow appropriate bear aware protocol while recreating.
Things to Do in Glacier National Park in Winter
Go for a Scenic Drive
As you have learned, many of the roads in Glacier National Park shut down due to impassable snow in the wintertime. However, there is still enough roadway open to private vehicle traffic for a fun drive through the snowy mountains!
The section of road between the West Entrance and the Lake McDonald Lodge remains open year-round due to the exceptional plow operators. The 10-mile stretch of road winds along the scenic and picturesque shore of Lake McDonald.
Although you may not get to see the lake's colorful rock shores in the wintertime, you can still appreciate the towering peaks, such as Stanton Mountain, McPartland Mountain, and Heavens Peak, in the background.
This drive is perfect for photographers hoping to capture the beauty of Glacier National Park's front country. As you drive along, use the frequent turnouts to access the lake's shore and capture every accessible angle.
It is common to spot whitetail deer roaming along the roadway, but keep an eye out for other wildlife like moose, elk, fox, and coyote.
The bear may be fast asleep during your visit, but if you're coming during the late fall or early spring, it is possible to spot bear grazing along the shore.
Go cross-country skiing and snowshoeing
Winter is the dominant season in Glacier National Park and all of northern Montana, since all the other seasons are so short-lived!
To make the best of the snowy months and continue exploring, strap on a pair of snowshoes or cross country skis.
The Apgar Village has a variety of ski and snowshoe trails for everyone to enjoy. For a short 3-mile outing, consider exploring the Lower McDonald Creek Trail.
Those who are looking for something a little longer in the Apgar Village area might like the 6-mile round trip trail to Rocky Point, which offers multiple viewpoints featuring Lake McDonald and surrounding peaks!
Take a scenic snowmobile ride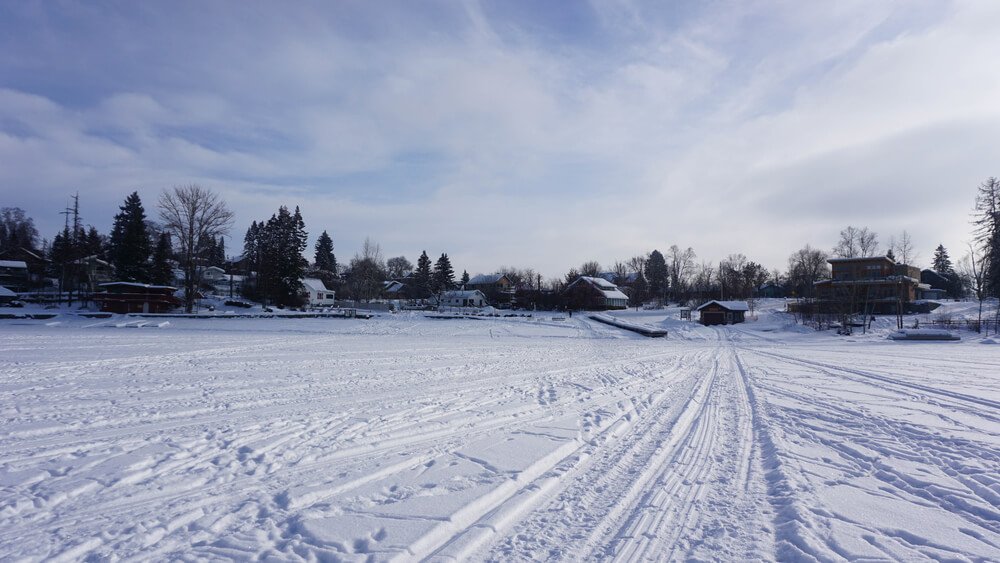 For those looking for a little high-octane adventure, rent a snowmobile and explore the backcountry areas around Glacier National Park for yourself.
While snowmobiling is not permitted within the park itself, you can snowmobile just outside of the park's limits. Snowmobiling is one of the most popular winter activities for visitors to Northern Montana, with snowmobile tours departing from common bases like Whitefish and West Glacier.
I recommend traveling with Action Rentals, who offer independent and guided snowmobile rentals departing from Whitefish, MT.
Go ice climbing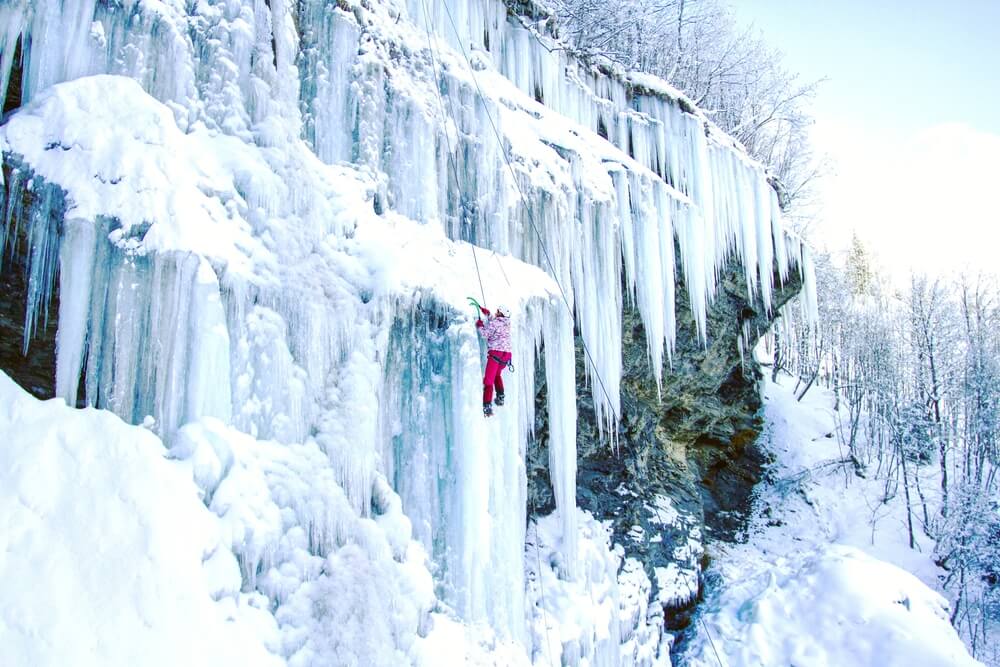 Winter's answer to rock climbing is ice climbing!
This fun activity allows you to scale up beautiful, otherworldly landscapes like frozen waterfalls and icy, snow-covered cliff edges, equipped with little more than ice picks and a harness.
Ice climbing is dangerous to do solo, so make sure you go with a trusted guide like Whitefish Vertical Adventures.
What to Pack for Glacier National Park in Winter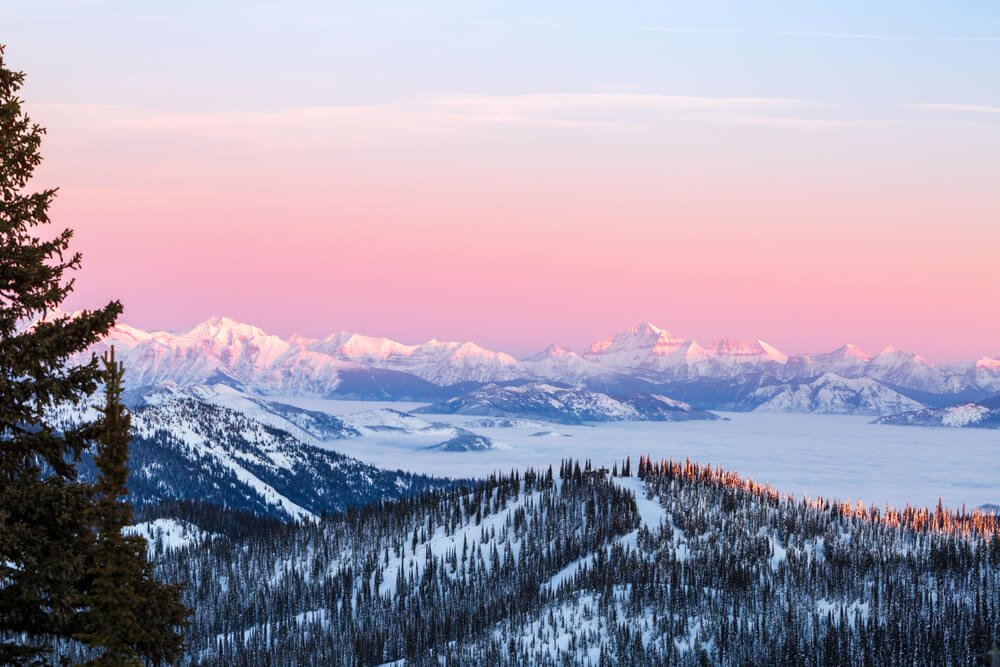 Waterproof Parka: In the snow of Glacier in winter, you'll want a really warm winter jacket, like this ultra-insulated North Face parka. I admit it's a bit pricy, but it comes with a guarantee that it'll last a lifetime.. and I tested this guarantee by sending in a zipper to be fixed which got damaged after 4 years of abuse wearing it every winter day to cycle 15 miles — my jacket came back like new and better than ever.
I've had my North Face parka for literally 10 years, and it's held up from winters biking through New York City to multiple trips north of the Arctic Circle in places like Tromso and Abisko. It'll serve you well in Glacier in winter!
Waterproof Pants: If you're cross-country skiing or snowboarding or doing some winter hiking, you'll absolutely want waterproof pants. Jeans put you at risk of hypothermia if you get wet, so avoid at all costs.
Snow Boots: Since you'll likely be trudging through quite deep snow both in Glacier National Park and wherever you set up your base, you'll absolutely need proper snow boots for a trip to Glacier in winter. I love these stylish and warm Sorel boots for women, which are waterproof and warm but also have plenty of traction. For added steadiness on your feet, throw on some Yaktrax to the bottom for grip on icy surfaces and pathways. These are a godsend (they saved me from eating it many times when I was in Tromso!)
Warm Leggings: There are two choices when it comes to a cozy base layer for your bottom half: fleece-lined for people with sensitive skin like me, and merino wool for people who don't find wool itchy like I do. I own several pairs of these fleece-lined leggings in a variety of colors (I have black, gray, and maroon). Be sure to wear waterproof layers over this if you'll be out in the snow, though! For people who like wool, merino wool leggings are the way to go – the absolute warmest you can get. However, it's too much wool for me to handle, but I have particularly sensitive skin.
Fleece-Lined Knit Hat: If you enjoy fashion, winter can be a bit of a drag because you basically commit to one jacket (typically in a neutral color) for an entire season. I absolutely live for livening up my look with tons of different colors of knit hats. I have one in virtually every color, but I love red and yellow best for the best 'pop' of color against the snow. Since I have so many hats, I don't really have anything special: just a snug knit hat lined in fleece and with a pompom that does absolutely nothing to add warmth but I love them anyway.
Thermal Top Layer: Again, what kind of thermal you go for will definitely depend on whether or not you have any skin sensitivities and if you can handle wool. I hate wool on anything but socks, so instead, I go for thin performance thermals like this Heat Plus layer from 32 Degrees. However, if you're a fan of wool, a merino wool base layer will keep you insanely warm. Better yet, wool doesn't trap odors the same way other materials do, meaning you can re-wear it several times before your under-layers will need to be washed — great for people who pack light!
An Enormous Scarf: I go for big, warm, and infinite-style scarfs. I tend to opt for bright, bold colors to liven up my look. I love these ones — they're cheap and feel cashmere-soft, but they aren't pricy like it.
Touchscreen Friendly Gloves: You'll likely want to have your hands out of your pockets at times when you're navigating on Google Maps, looking up something you've bookmarked (maybe this blog?), etc.! Most gloves these days tend to be touchscreen-friendly, but check before you buy. These gloves are cute, smartphone-compatible, and inexpensive.
Waterproof Gloves: You'll also want to layer waterproof gloves over your touchscreen gloves if you're snowshoeing or cross-country skiing, or anything where you are out and about in the snow and need your hands out for balance or gripping poles, etc.
Headlamp (and Extra Batteries): Glacier National Park in winter can get dark early — and quickly! — due to the early sunset time that naturally occurs in winter… plus the mountains making it get dark long before that! Bring a headlamp in case any outdoor excursions take longer than expected. You don't want to get lost after dark in the snow. This Petzl headlamp is highly-rated and affordable.
Waterproof Backpack: You'll want to keep your belongings dry, especially if you're doing long treks on cross-country skis or snowshoes in the snow or freezing rain. Bring a waterproof backpack — you won't regret it, especially if you're carrying pricy camera equipment.
Snowshoes (optional): Many trails in Glacier National Park in winter will require proper snowshoes (different than snow boots — these allow you to 'float' on top of snow instead of sinking through it!) as well as trekking poles if you want to do some winter exploring. You can also rent them, but they're pretty cheap to buy and will last you for future winter trips, so I recommend investing in them if you are a fan of snow travel.
Camera: You'll want a camera to capture all that Glacier National Park winter beauty. I use and love my Sony A6000! It's mirrorless, so it's lightweight and perfect for a high-quality camera that won't weigh you down. Be sure to bring a handful of extra batteries! Trust me, I've learned from many an experience in the cold photographing the Northern Lights that batteries burn out sooo much faster in the cold.
Battery Pack: Going off of what I said above, extend that to your phone as well! Cold weather depletes cell phone batteries extra quickly, so if you're using your cell phone as your primary camera and navigation device (and who doesn't these days?) you'll absolutely want the ability to power up without a wall outlet while you're out enjoying nature. I rely on an Anker battery pack to keep all my devices charged in the cold — and as a blogger who takes frequent winter trips to the Arctic and beyond with way more gear than a normal person needs, it's served me very well!
Emily is a freelance travel and outdoor recreation writer from Big Sky, Montana. Her adventurous spirit has led her to the high peaks of the Sierras and the largest wilderness areas in the lower 48. When she's not writing, Emily can be found backpacking, road tripping to outdoor destinations, climbing, or rowing whitewater.