One of the most popular activities in the Monteverde Cloud Forest area is taking one of the many Monteverde zipline tours through the mist-shrouded canopy.
Why wouldn't it be? Costa Rica is one of the best places to zip line in the world (this country invented it, after all!).
And ziplining in Monteverde is especially magical: with wisps of mists curling through the the canopy, the bird's eye view of the stunning cloud forest ecosystem is like nowhere else.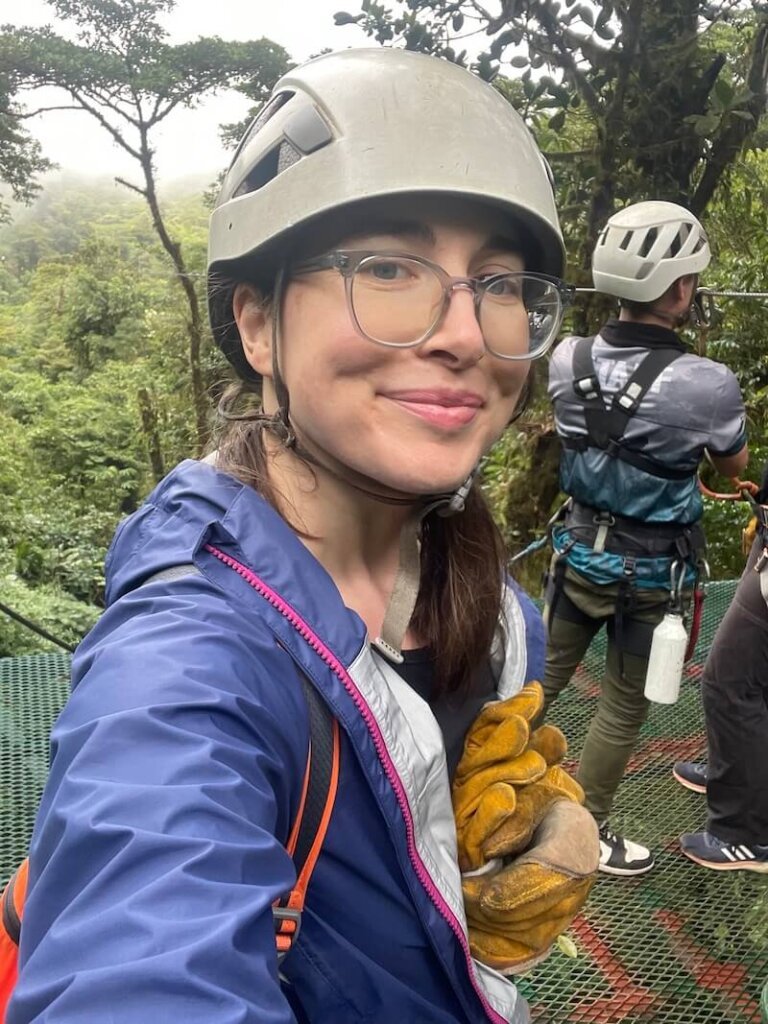 Note: This post contains affiliate links, which means I may receive a small commission if you purchase something through one of these links. Thank you for supporting the free content on this site! For more information on affiliate links and cookies, see my disclosure page for more details.
After all, cloud forests only make up 1% of the world's forest area, since the conditions required are quite rare and hard to line up!
There are a few places you can take zip line tours in Monteverde, since it's a big hot spot for ziplining in Costa Rica.
I'll go over the options in this post, as well as walking you through which Monteverde canopy tour I chose (and why!) and what my experience was like.
My Personal Experience Ziplining on a Monteverde Canopy Tour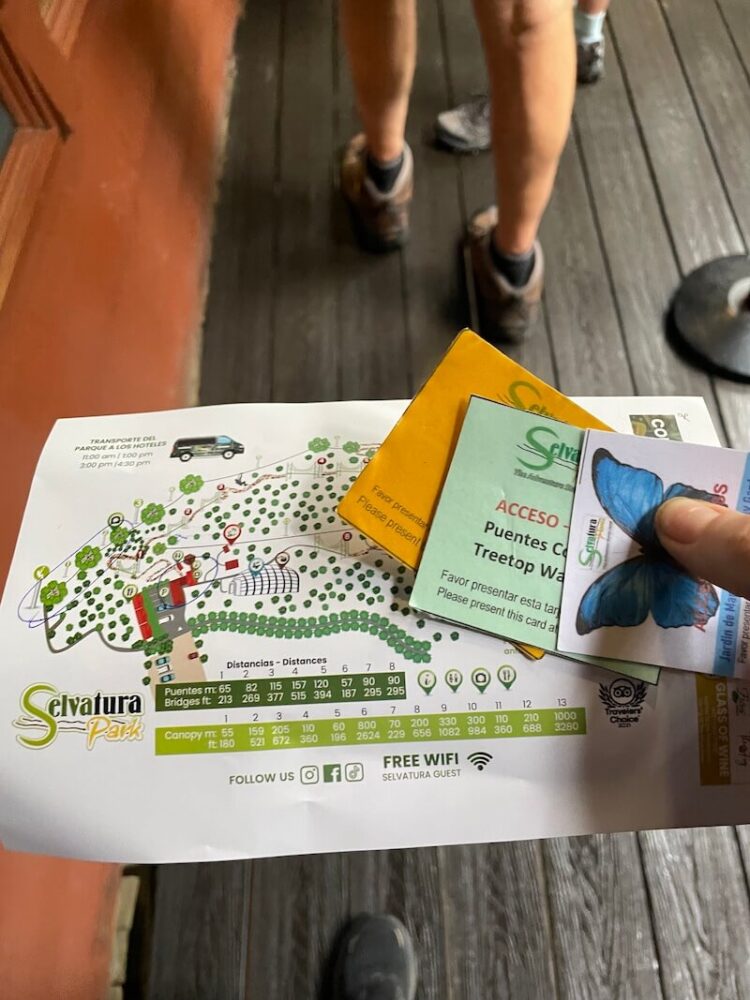 I ended up choosing to go ziplining in Monteverde at Selvatura Adventure Park, right near the Santa Elena cloud forest, as part of this combined canopy tour and hanging bridge walk.
I picked Selvatura Park because it has a big of everything that I wanted to experience in Monteverde, all in one place.
Not only did I get to go ziplining, but I also got to go on a walk through its famous hanging bridges (puentes colgantes) as well as check out their nature exhibits, including a butterfly garden, a reptile and amphibian area, and even a sloth habitat.
I'll cover the ziplining portion of the tour here, and in another post, I'll write more about the other parts of Selvatura that you can experience.
Selvatura's Monteverde canopy tour takes about two hours to complete, as you soar across 13 ziplines, with the optional (free) Tarzan swing in addition.
For an additional cost of $13 added on at the counter, you can tackle the longest zipline in a unique way: aerial Superman style!
Personally, I didn't try it this way, but it did look like a lot of fun.
I'll admit that I thought the canopy tour was a little expensive at first. And in general, yes, Costa Rica is an expensive place to travel, especially in the Central America region.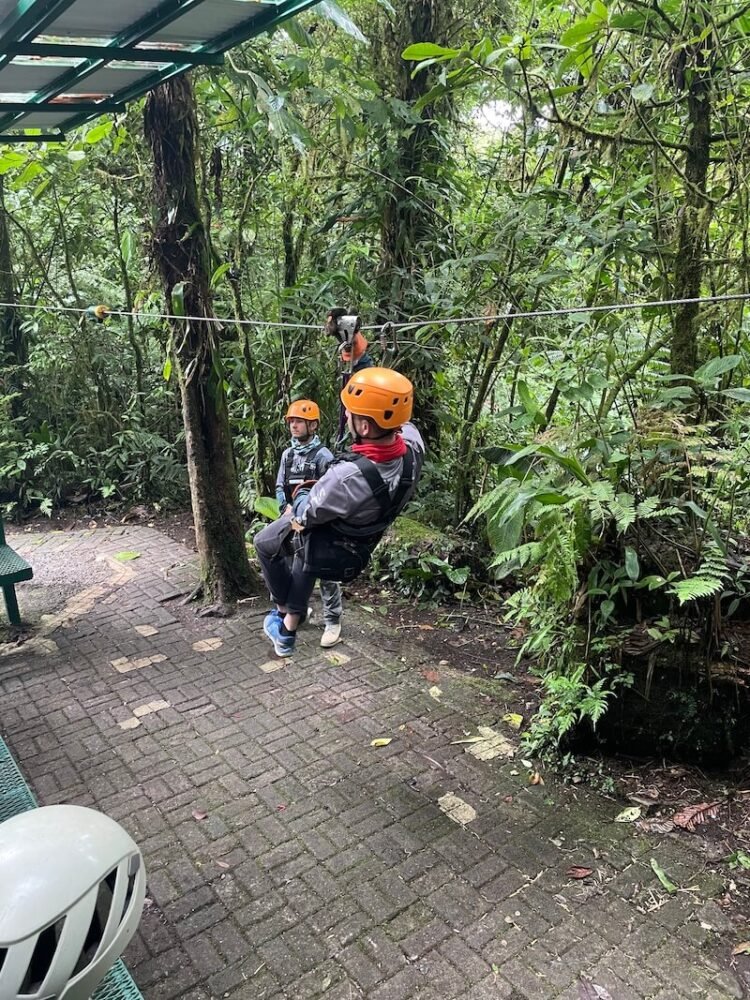 But when I realized how many people it took for one canopy tour to run like a well-oiled machine, I realized it was worth the price.
For our tour group size of 28 people, it took 5 friendly bilingual guides to keep us running smoothly and safely, without waiting too long between ziplines and always having someone double- and triple-checking our safety gear.
Personally, I feel like the zipline cost is worth it, and the hanging bridges by themselves are a little overpriced — when combined, it's a pretty good deal.
I would only pick the hanging bridges as a solo option if I was too afraid to go ziplining, but honestly, ziplining is super safe and exciting, so unless you have an actual phobia of heights, you should go for it!
Book your Monteverde canopy tour and hanging bridge walk here!
The Best Canopy Tours in Monteverde
Selvatura Hanging Bridges & Monteverde Canopy Tour – MY CHOICE – Book Here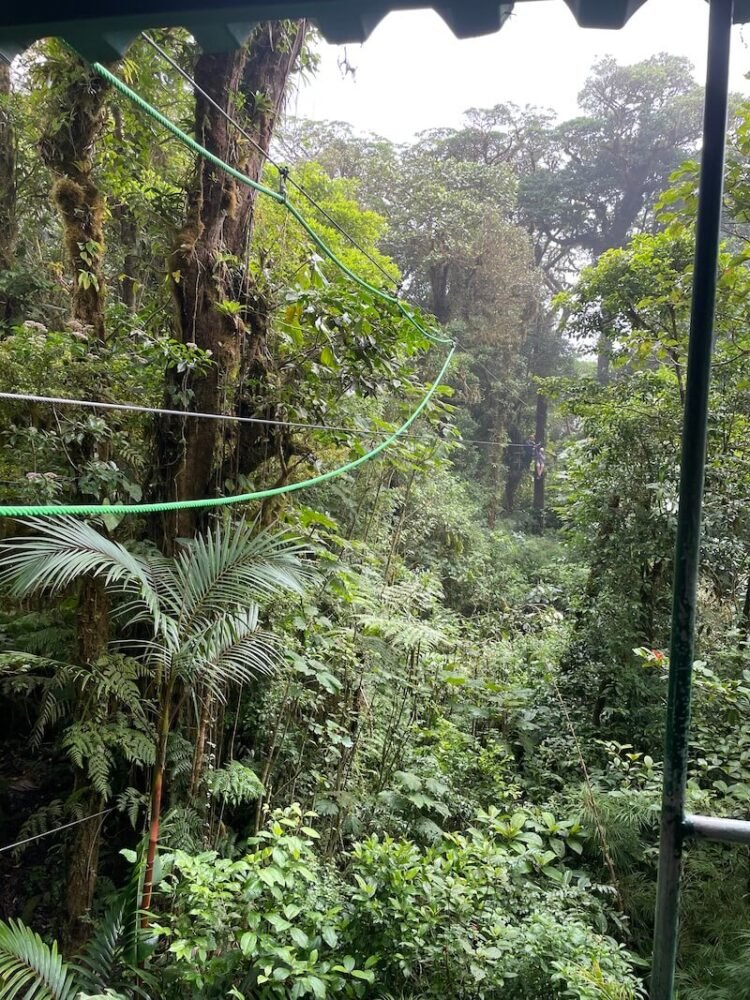 The ultimate canopy tour in Monteverde combines both ziplining and hanging bridges, so you can experience these two distinct Costa Rican classic experiences all in one day.
Your adventure begins with a quick yet crucial safety session. Your guides will get you suited up, strapped into your harness safely, and your gloves on and helmet secured.
Now, let's get to the exciting part: the ziplines. Ahead of you await 13 adrenaline-pumping cables that stretch across the jungle canopy, the longest of which is a whopping kilometer (more than half a mile) — which you can take like Superman, flying above the treetops!
Prepare for a breathtaking aerial tour of the rainforest through these cable systems, soaring over treetops and through the mist of the stunning cloud forest.
For the brave-hearted, there's the optional Tarzan swing. Harness your inner jungle king (or queen) for a more adrenaline-pumping experience, complete with a stomach-churning free fall before you catch and swing back!
That's also the chance to add on the Superman ziplines, for an additional $13 USD.
After you've finished the aerial part of your tour, you can go for a walk on its famous hanging bridges, seeing the same treetops you were soaring past from a different angle.
Enjoy a serene walk along a 3-kilometer (2-mile) circuit of hanging bridges — the peace and quiet only spoiled by the occasional squeal of an excited zipliner ahead.
These marvels of engineering are really unique: some of these hanging bridges are as long as 510 feet and are elevated a dizzying 180 feet above the forest floor.
At different elevations throughout the park, these bridges offer a closer amazing views at the intricate layers of the cloud forest canopy.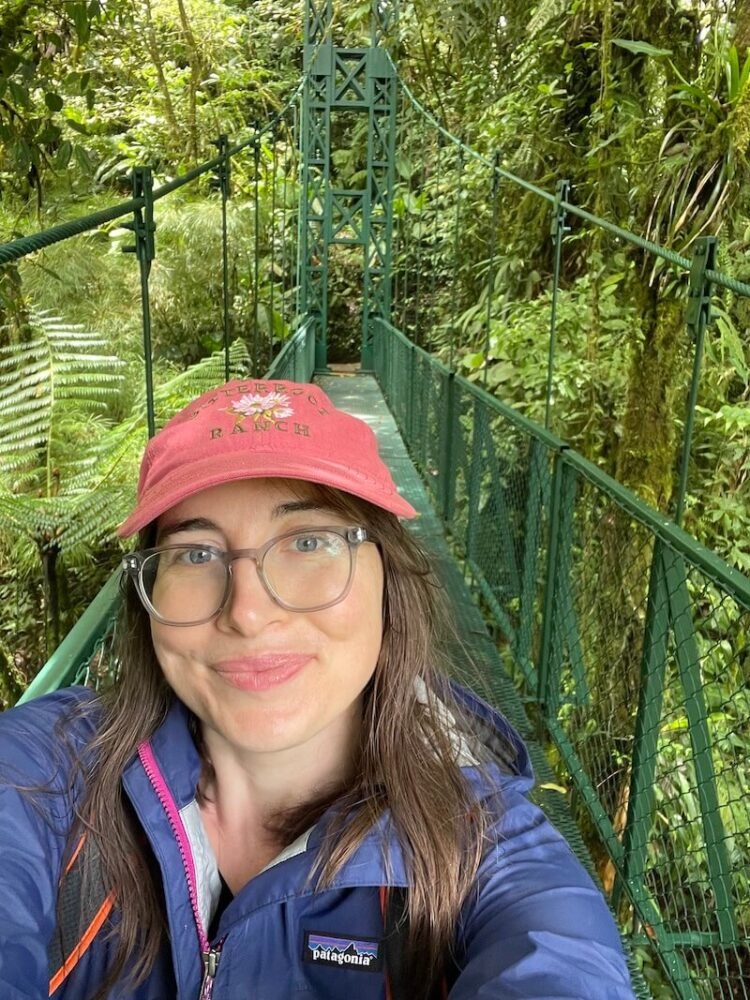 You can look out for countless species of plants and trees, plus the critters who call the cloud forest home, ranging from resplendent quetzals and other bird species to slow-moving sloths.
Keep your eyes peeled for those elusive tree-dwelling critters — they're not easy to spot!
Tip: You can add on a naturalist guide at the reception center if you want help spotting some of these critters.
Once you've had your fill of the park, the ticket also includes access to the butterfly garden.
Here, a guided tour will introduce you to Costa Rica's dazzling array of butterflies in all their iridescent glory, including the stunning Blue morpho.
For an additional thrill (and additional fee), consider adding the reptile and amphibian area, or the chance to see the park's sloth sanctuary that houses some 20 of these adorable creatures.
These Monteverde canopy tours include free transportation if desired (or you can drive yourself in case you want to be more in charge of when you arrive and leave).
Note: There is a maximum weight restriction of 280 pounds and children must be aged 4 and up.
Book your Selvatura combined canopy and hanging bridge tour here!
Selvatura Park Canopy Tour Only — Book Here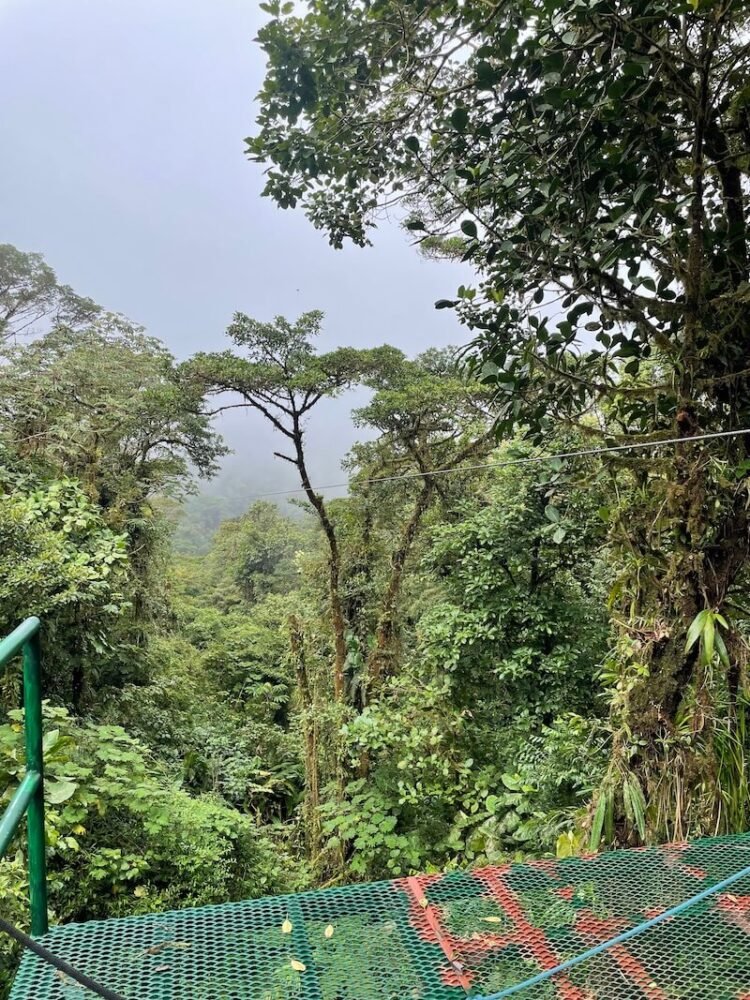 Basically, this Monteverde canopy tour is as described above, but you don't have access to the hanging suspension bridges or the butterfly garden after your canopy tour.
If you just want a pure ziplining experience, with or without the superman cables for the last cable, this is the better option at Selvatura, because it only includes the canopy tour.
That also makes it more budget-friendly than some of the other tours at Selvatura.
The other tours are Selvatura offer a combined zipline experience with other things like the hanging bridges, butterfly gardens, etc., so they are naturally more expensive as they're completely different experiences.
That said, there are some cheaper tours, so it may not be the best option.
I think the main thing that Selvatura offers is the all-in-one experience of being both a great eco-tour as well as a ziplining experience.
If you want just active aerial adventure, without the eco tour or hanging bridges, some of the other tours like the one below may be a better choice as they are more economical.
100% Aventura Park Combo Tour — Book Here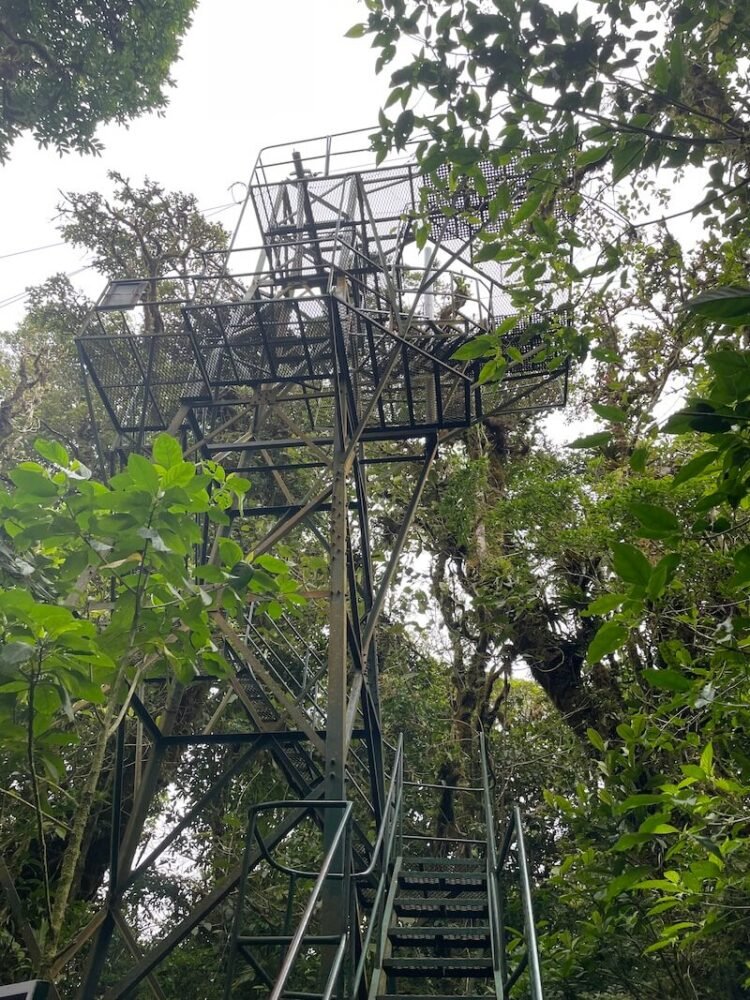 Located at the 100% Aventura Adventure Park, this is one of the more budget-friendly zip line tours in Monteverde.
For a heart-pounding exploration of the lush Costa Rican cloud forest, try all sorts of aerial adventure at the 3-hour combo tour offered by 100% Aventura.
This isn't just your average Costa Rica zip line tour; it's a white-knuckle adrenaline rush ranging from ziplining to ATV riding to rope bridges!
100% Aventura's canopy tour includes 11 pulse-racing zip lines, nine regular zip lines but also not one but two Superman zip lines that are included in the price (no extra fee!).
Note that these are fewer in number than at Selvatura, but these cables pack a punch, since it includes the longest zipline in all of Latin America!
The longest Superman zipline stretches a mind-boggling 1.2 miles—nearly twice the length of Selvatura's longest cable, by comparison!
You'll also get to traverse rope bridge suspended high above the jungle floor, enjoy a ATV buggy ride along bumpy forest trails, and perhaps the biggest adrenaline pumper of all, their signature Mega Tarzan Swing.
With a heart-stopping drop from 45 meters (that's 148 feet!), this swing will get your adrenaline pumping like nothing else.
Scream, laugh, or simply hold on tight as you swing out over the jungle like the king of the apes!
This tour does combine a lot of forms of aerial transportation… but ground transit is not included in the package, so you'll need your own car to get here.
But for the affordable price of this tour, it's quite worth it!
This tour is great for adventure-seekers on a budget, and those who really want bang for their ziplining buck with experiences like the longest zip line in Costa Rica and two Superman ziplines.
However, this tour doesn't incorporate the eco-aspect of the tour as much as Selvatura.
For example, there isn't a hanging bridge circuit that you can take after the canopy tour, nor are there habitats for butterflies, reptiles, and sloths like there are at Selvatura.
So keep that in mind when trying to narrow it down between the two! It's the best zipline tour for adrenaline junkies, but for eco-geeks, other adventure parks offer a more well-rounded experience.
Note: There is a maximum weight restriction of 240 pounds and children must be aged 6 and up. For Superman, rappelling, and Tarzan swing, the maximum weight is 220 pounds.
The Original Canopy Tour Monteverde – Book Here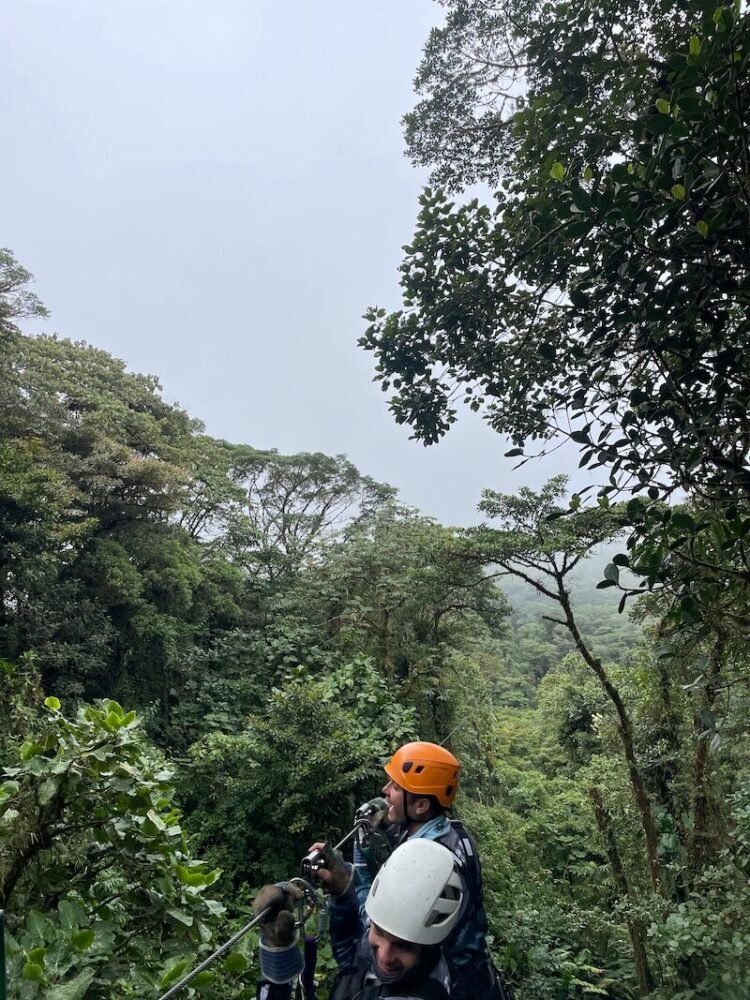 Another option when looking for zipline tours in Monteverde is the Original Canopy Tour: true to their name, they're the pioneer of zipline escapades in the region.
Nestled in the heart of the Monteverde region, their section of the cloud forest is a little denser and teeming with more old-growth forest than its Santa Elena counterpart. Think Jurassic Park vibes!
This classic tour combines your traditional zipline experience with some adrenaline-popping additions, like finishing your canopy tour with a 150-feet rappel straight down to the lush forest floor — talk about a finale!
And if you haven't had your fill of excitement, you can ascend back to the treetops through a system of ladders for the optional Tarzan swing experience.
This 2.5-hour tour also includes transfers in the Monteverde area, so that your trip to and from the canopy is a breeze, leaving you with more time to soak up the magic of your surroundings.
Note: There is a maximum weight of 250 pounds and young kids must be aged 5 and up.
Sky Adventures Combo Canopy Tour – Book Here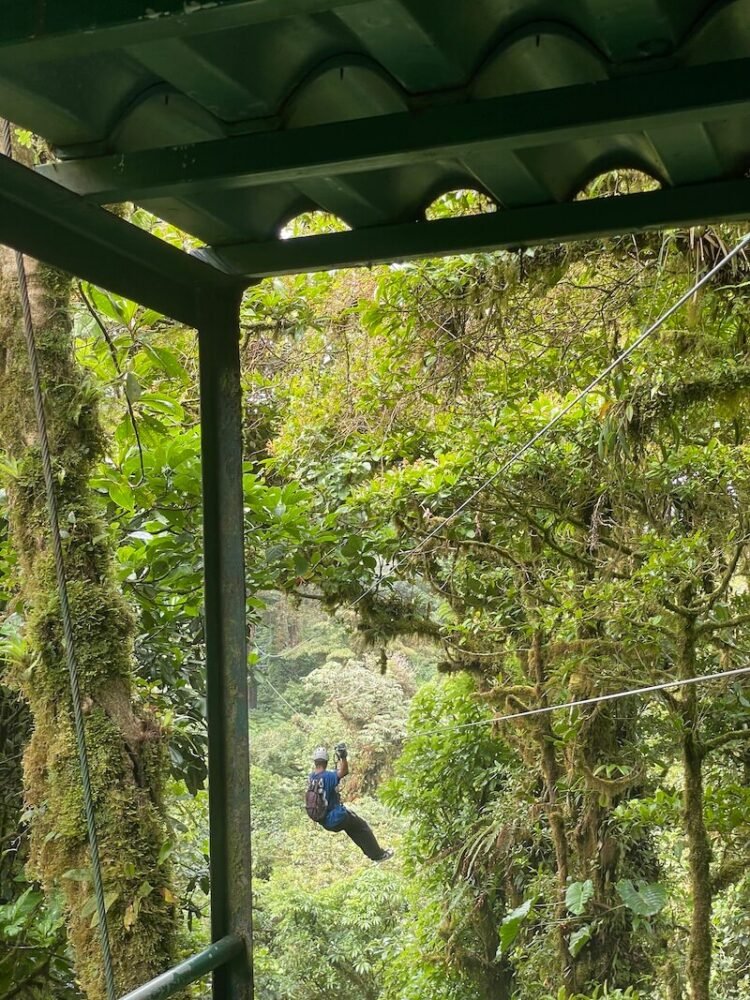 For a unique spin on the zipline tour, Sky Adventures Monteverde has a Combo Canopy Tour, with something new added into the mix: an aerial tram tour!
This isn't your ordinary day out in the cloud forest; it's a wild journey through, over, and above the trees in three different ways, at three different speeds.
There's the epic Sky Walk, a serene yet spine-tingling series of high-flying hanging bridge where you can meander through the lush cloud forest canopy, walking across bridges suspended high above the jungle floor. It's like strolling through the sky!
Next up, try the Sky Tram, a heavenly gondola ride that sweeps you up and over the treetops. Glide above the lush canopy with breathtaking views over the sprawling rainforest and towards the towering mountains beyond.
Of course, what you came for: the Sky Trek ziplines!
With seven cables covering a combined distance of 2.5 miles, it's not the longest zip line route in Monteverde but it is still quite impressive.
Their longest cable stretches a whopping 2,500 feet, nearly half a mile of pure thrill at speeds up to 40 mph.
Plus, five epic observation towers dot the park, offering breathtaking views over the cloud forest.
After the high-speed rush of the ziplines, these towers provide a moment of tranquility, a chance to pause, catch your breath, and admire the view while standing on your own two feet.
All three of these extraordinary experiences—Sky Walk, Sky Tram, and Sky Trek—are included in the ticket price.
The entire adventure takes about 5 hours, and it includes transfers to and from Monteverde or Santa Elena.
Allison Green is a former educator turned travel blogger. She holds a Masters in Teaching and a B.A. in English and Creative Writing. Her blog posts merge her educational background and her experience traveling to 60+ countries to encourage thoughtful travel experiences that both educate and entertain. She has been a speaker at the World Travel Writers Conference and her writing, photography, and podcasting work has appeared in National Geographic, CNN Arabic, CBC Canada, and Forbes, amongst others. Now based in the San Francisco Bay Area where she grew up, she has also lived in Prague, Sofia, and New York City.