Imagine picturesque seaside villages with cobblestone alleys filled with fragrant flowers and colorful tiny homes — all with some of the best food you can dream up.
Sounds too good to be true? It's anything but: the UNESCO World Heritage Site of the Cinque Terre, in the Italian region of Liguria is where you'll find all this and so much more.
These five old fishing towns perched along the coast of the Italian Riviera are best visited by walking along the ancient system of footpaths, which take winding paths through the mountains that bring you from one village to the other.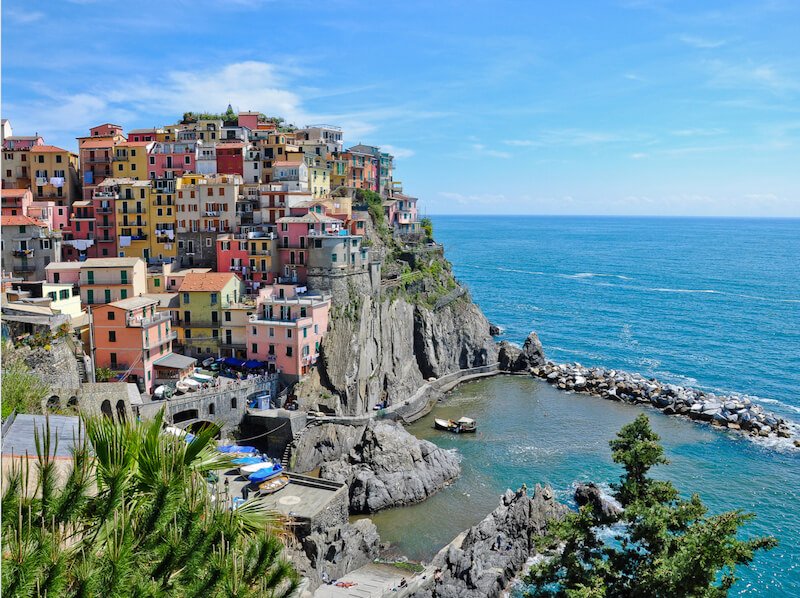 Note: This post contains affiliate links, which means I may receive a small commission if you purchase something through one of these links. Thank you for supporting the free content on this site! For more information on affiliate links and cookies, see my disclosure page for more details.
Over the centuries, the beautiful landscape of the coastal region has been shaped by the different terraces carved into these seaside towns.
These terraces were carefully built in order to cultivate grapes and olives on the steep lands facing the Mediterranean Sea, and beautiful colorful houses came to accompany them, creating a truly magical landscape.
This post was written by Gabi Ancarola, a full-time travel blogger and writer who currently lives in Crete (and blogs about it here), but spent over a decade living in Italy (Milan) and traveling all around the country.

In this post, she will share all her local insight from her many years traveling Italy in order to show you how to spend a two-day Cinque Terre itinerary -- and how to make the most of your time visiting Cinque Terre.
Where Is Cinque Terre?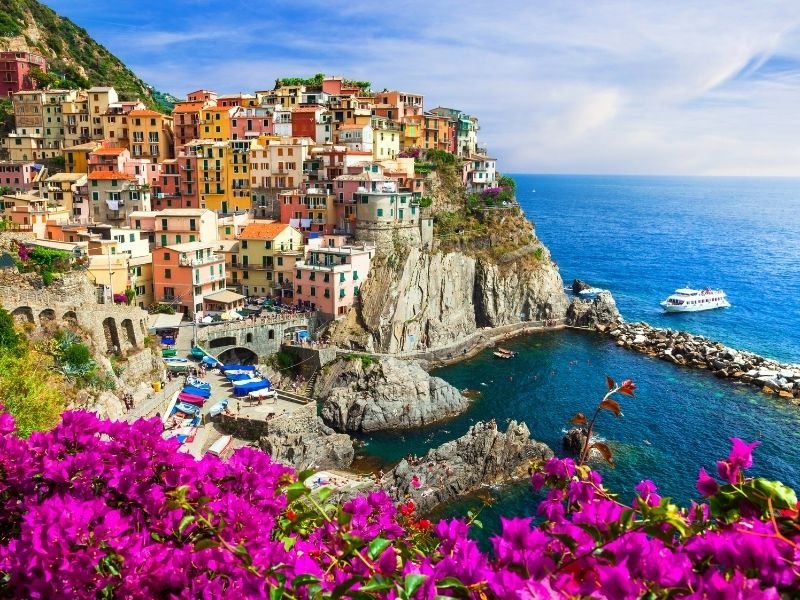 The Cinque Terre (literally translating as Five Lands) is a ravishing coastal area in Liguria, on the northwest of Italy facing the Ligurian Sea.
This is one of the most beautiful places in Europe, and it features highly on nearly every traveler's bucket list!
The five villages of Cinque Terre are Monterosso al Mare, Vernazza, Corniglia, Manarola and Riomaggiore.
The villages as well as the surrounding hillsides and the coastal area belong to the Cinque Terre National Park, which is why the natural landscape is so beautifully preserved in this part of Italy.
How to Move Around in Cinque Terre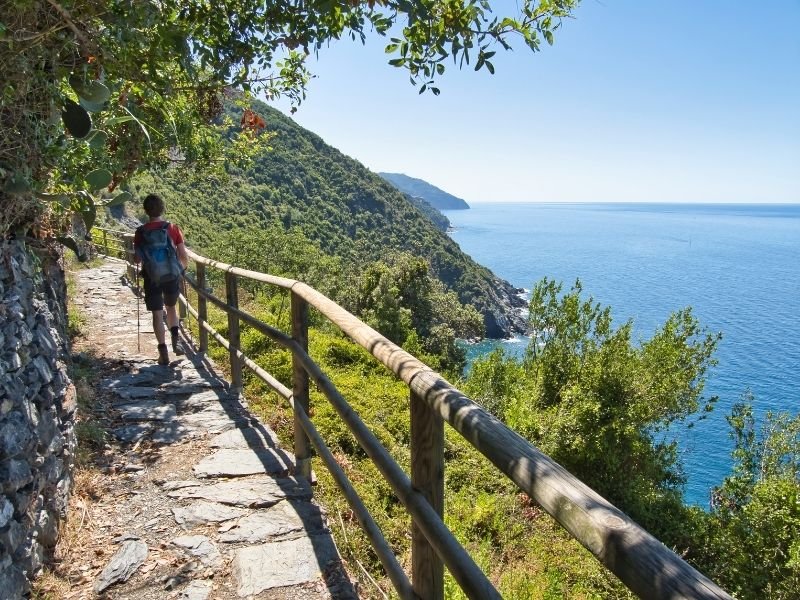 The villages of the Cinque Terre teeter over the manmade terraces that were built on the rugged landscape up the steep hills facing the sea.
The five villages are linked via hiking trails, train, and boat trips — there are no cars in all of the Cinque Terre, so if you've rented a car in Italy, you'll need to leave that behind.
Although the best way to discover the area is on foot, you can also explore the little towns by train or boat.
If you go by foot, you'll travel along the Sentiero Azzurro, which means the Blue Trail, named for the stunning ocean views you'll be admiring the entire time!
Planning Your Cinque Terre Itinerary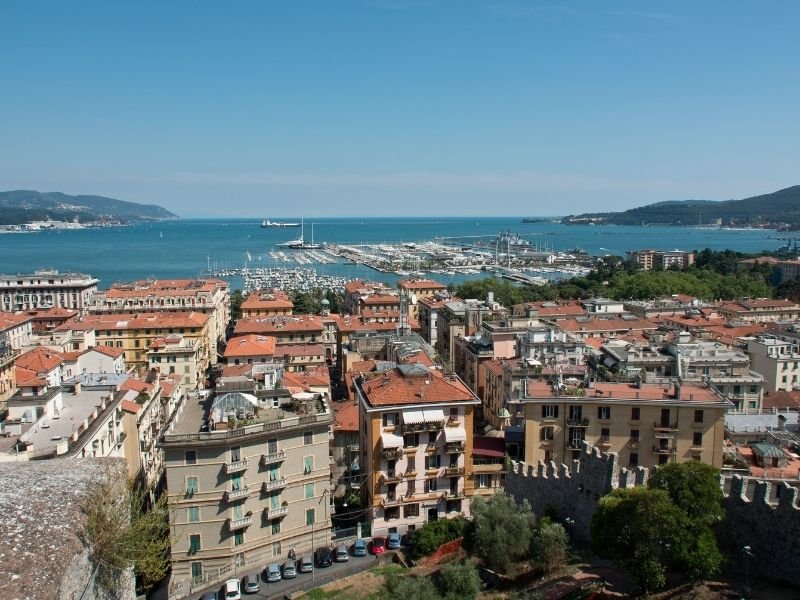 The best way to reach the Cinque Terre is by train from either La Spezia or Levanto, since they are all connected to the train line that runs between the Cinque Terre villages.
Genoa (Genova) is also another popular place to start, as it offers more alternatives when it comes to train connections and accommodation.
However, it is further away and not directly connected to the main Levanto —> Cinque Terre —> La Spezia train line, so you will have to take two trains.
I don't recommend basing yourself there while you visit the Cinque Terre itself, though it makes a good place to visit either before or after your time in Cinque Terre.
Since La Spezia is the closest large city to Cinque Terre, it makes it the best solution to start your journey, as it's located on the south end of the seaside villages.
Levanto is another great option for starting your Cinque Terre visit, and it's an adorable seaside town in its own right, but it's a little smaller than La Spezia and has fewer accommodation options.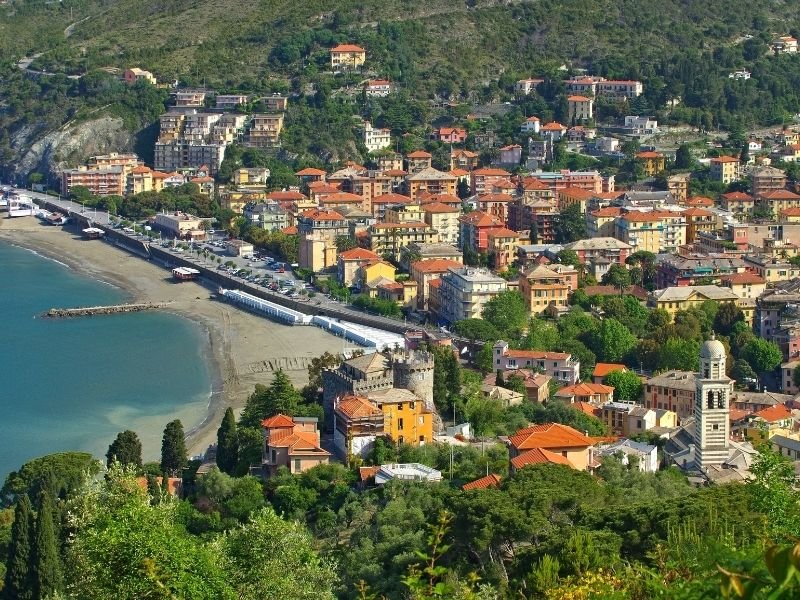 If you plan to travel by train ride, there is a train which runs between Levanto and La Spezia, making stops in each of the five villages of the Cinque Terre. You can check out the timetable online here.
No matter which village you choose to start your Cinque Terre itinerary from, the best way to go about the Cinque Terre is to move along the coast following the villages in order.
You can start your journey in the northern or southern villages, depending on whether you start in Levanto (on the north side) or La Spezia (on the south side) and move along the coast visiting one settlement after the other.
Note that if you are hiking between the towns in the high season (any time between April and October), you will need to buy a Cinque Terre Card.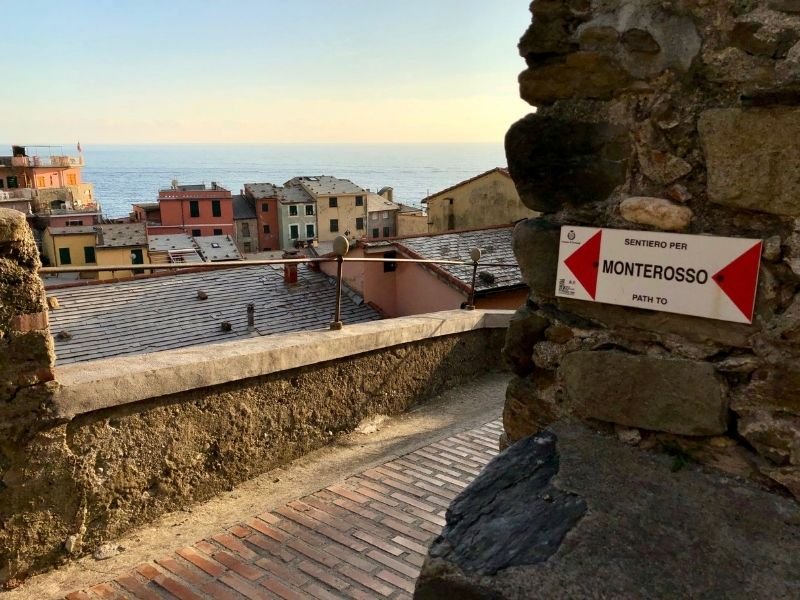 As of 2022, it costs 7.50 euro for a day pass (which you can buy at the entrance to the trail) or 18.20 euro a day for the Cinque Terre Card that also includes train usage.
For a two day ticket, which would make the most sense for this Cinque Terre itinerary, it costs 14.50 for a trekking-only ticket or 33 euro for a trekking and train ticket.
You can check up-to-date ticket prices and more details on the official website here.
If you are visiting in between November 1 to March 30, the hiking trails are free and you can just buy individual train tickets as needed, which are just about 2.50 euro per one-way ticket, and therefore a Cinque Terre Train card is not really necessary.
Which is the Best Town to Stay in the Cinque Terre?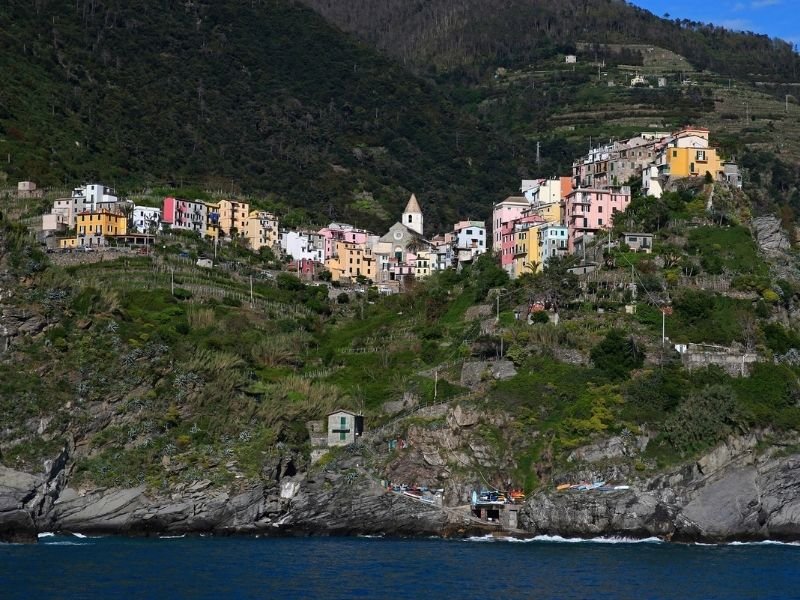 I have a full guide to where to stay in Cinque Terre here, but you can also keep reading for my personal perspective.
Staying one night in the center of the coastal region in the village of Corniglia allows you to divide your Cinque Terre itinerary into equal parts.
If you do this, I recommend staying in a hotel in Levanto or La Spezia beforehand, and seeing if you can leave your luggage in the hotel while you travel the Cinque Terre with just what you need for an overnight.
It allows you to devote one day to the northern villages of Monterosso and Vernazza, and the second day to the southern villages of Manarola and Riomaggiore.
If you're traveling from La Spezia, the first village you will reach is Riomaggiore.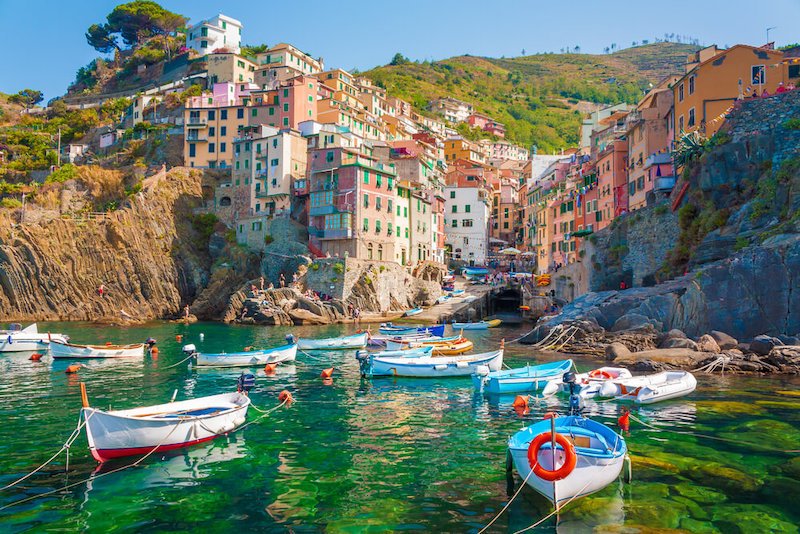 Probably not as picturesque as Manarola or Corniglia, it is nevertheless a good place to stay because there are plenty of accommodation choices, places to eat, and entertainment.
Another alternative is Manarola, arguably the most beautiful of the five villages.
Keep in mind that this comes at a price: Manarola is often overcrowded, finding accommodation is not as easy, and prices tend to be quite high.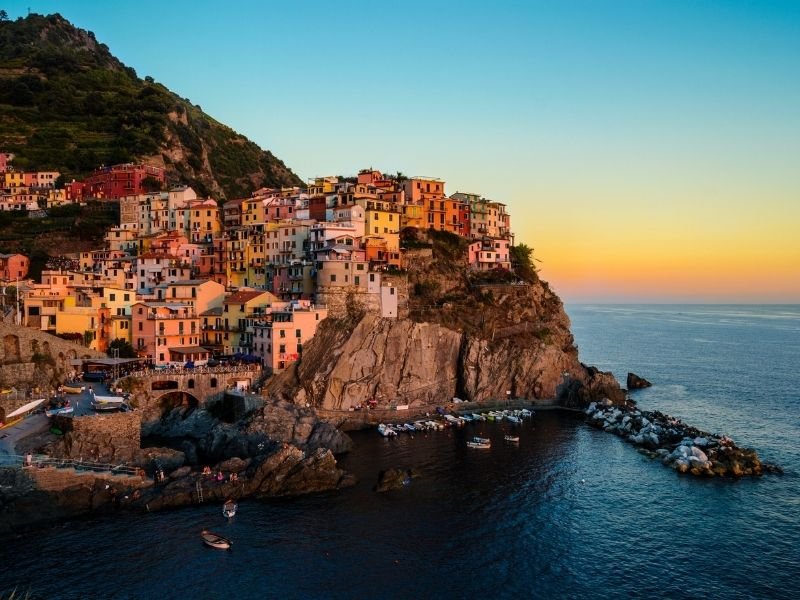 Corniglia is another alternative, although not the easiest one of all. The town is hard to access as it lies perched upon a hill, while the train station is below.
As a consequence, reaching the town needs to be done on foot (that means climbing over 300 steps), or by bus.
Despite this minor flaw, I suggest you consider a stay in Corniglia because it is located right at the center of the Cinque Terre, allowing you to organize the visits to the other four villages more easily.
Next on the coast comes Vernazza, also beautiful and charming, not as crowded as Manarola and a great alternative for accommodation as well.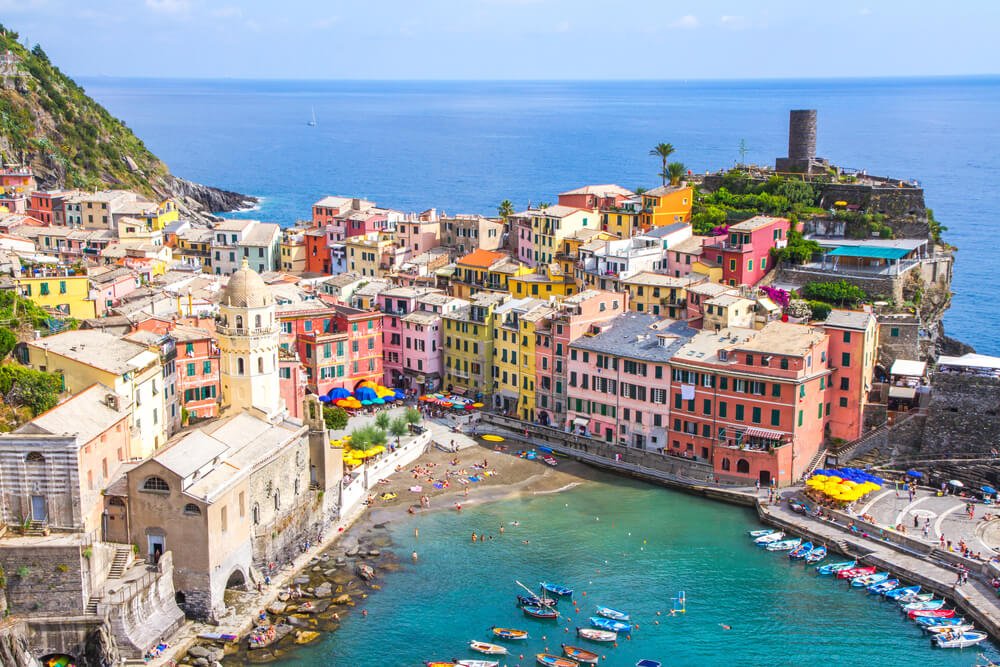 Finally, Monterosso al Mare offers easy access with less flocks of stairs. Monterosso is also a good place for entertainment, local cuisine, and the best beaches in Cinque Terre.
It is a good and more affordable alternative to stay in La Spezia and discover the different villages by train.
This itinerary for Cinque Terre starts in the northernmost village of Monterosso al Mare and ends in Riomaggiore, and combines a mix of hiking and train/bus/boat travel.
Accommodation Recommendations for Each Town in Cinque Terre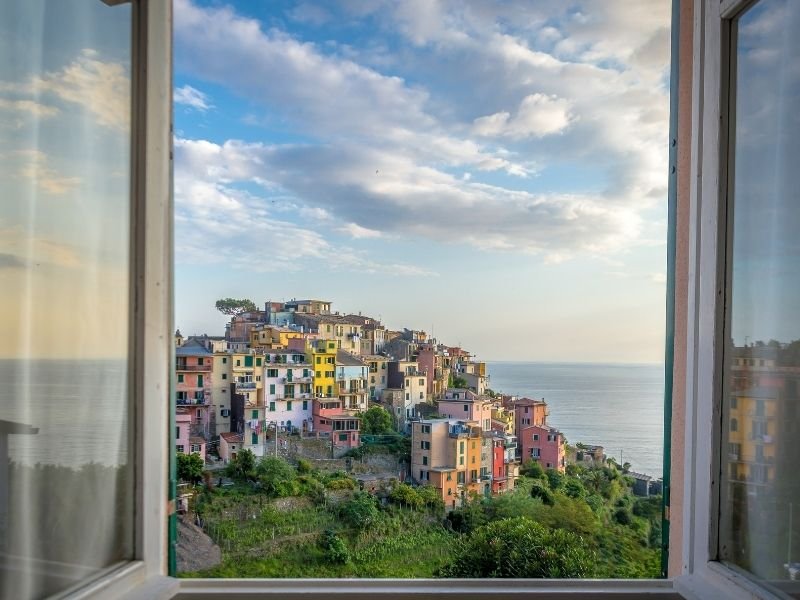 There are an absurd amount of options for where to stay in Cinque Terre.
After all, there are five towns in Cinque Terre and two towns bookending it with easy train access to all the villages.
Normally I give a lot of detail about each hotel option but at the risk of this Cinque Terre itinerary becoming a million words long, I'll just quickly list the best options in a few words for each.
These are listed in from north to south. Levanto and La Spezia will be the cheapest options because they are not in Cinque Terre proper but offer easy access via the train.
LEVANTO | Affittacamere Il Borgo (beachfront, easy walk to the train) or Park Hotel Argento (high luxury with pool, sauna, spa, and Turkish baths)
MONTEROSSO AL MARE | Piccolo Principe Affittacamere (charming boutique guesthouse) or Zia Letizia Bed and Wine (lovely hotel near the best beach in Cinque Terre)
VERNAZZA | Candidina (best view in all of Vernazza!) or MADA Charm Apartments (large suite-type apartments with kitchens and bathtubs, central location)
CORNIGLIA | AMARE IL MARE Affittacamere (beautiful terrace and boutique design in an apartment-style accommodation) or Residenza Solferino (two-story apartment rental in heart of Corniglia)
MANAROLA | Arpaiu (modern minimalistic design hotel with stunning terrace views) or La Torretta Lodge (high luxury suites with in-room hot tubs and sweeping terraces in a converted medieval tower)
RIOMAGGIORE | Giadere Penthouse (great views from a top-floor apartment) or Agave Room Rental (cute design hotel with great views and a lovely hot tub)
LA SPEZIA | Affittacamere Casa Dane' (sustainable, affordable boutique hotel 350 feet from the train station) or The Poet Hotel (hip and modern hotel in the heart of town)
Things to Know Before Visiting Cinque Terre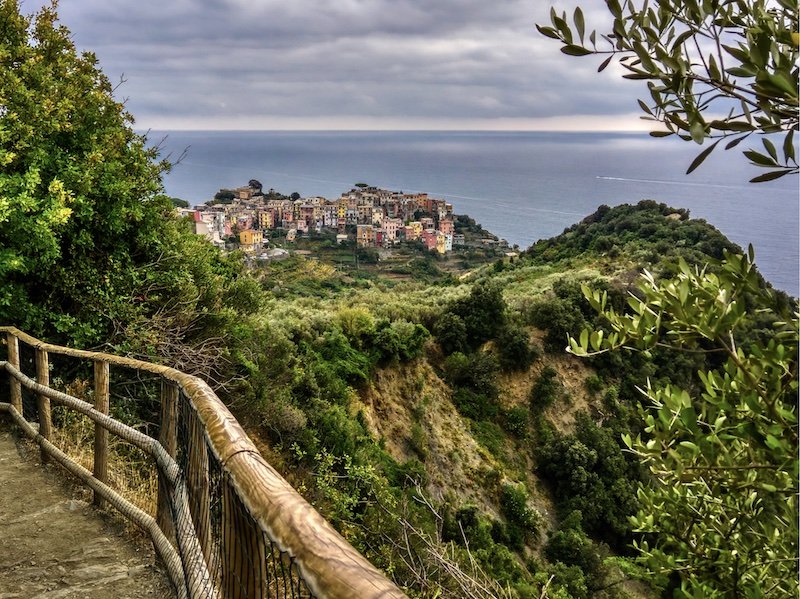 Hiking Passes: To hike the Blue Path (SVA or 592 path) it is necessary to purchase the Cinque Terre Card. You can choose between two different passes that also allow you to access other services:
Cinque Terre Trekking Card: Access to Blue Path and local shuttle buses (1-day pass: €7.50, 2-day pass: €14.50)
Cinque Terre Treno Card: Access to the Blue Path, the buses, and train travel between the villages (1-day pass: €18.20, 2-day pass: €33.00)

When to Visit: If you are trying to visit Cinque Terre on a budget, avoid the crowds during the summer. If you can, visiting right before summer (late May) or in September. During these months you will also find better prices for accommodation and food. However, avoid the real off-season: winter is not the best time due to heavy rains and potential for landslides.
Day 1 of Your Cinque Terre Itinerary: Monterosso al Mare and Vernazza
Take the train to Monterosso al Mare.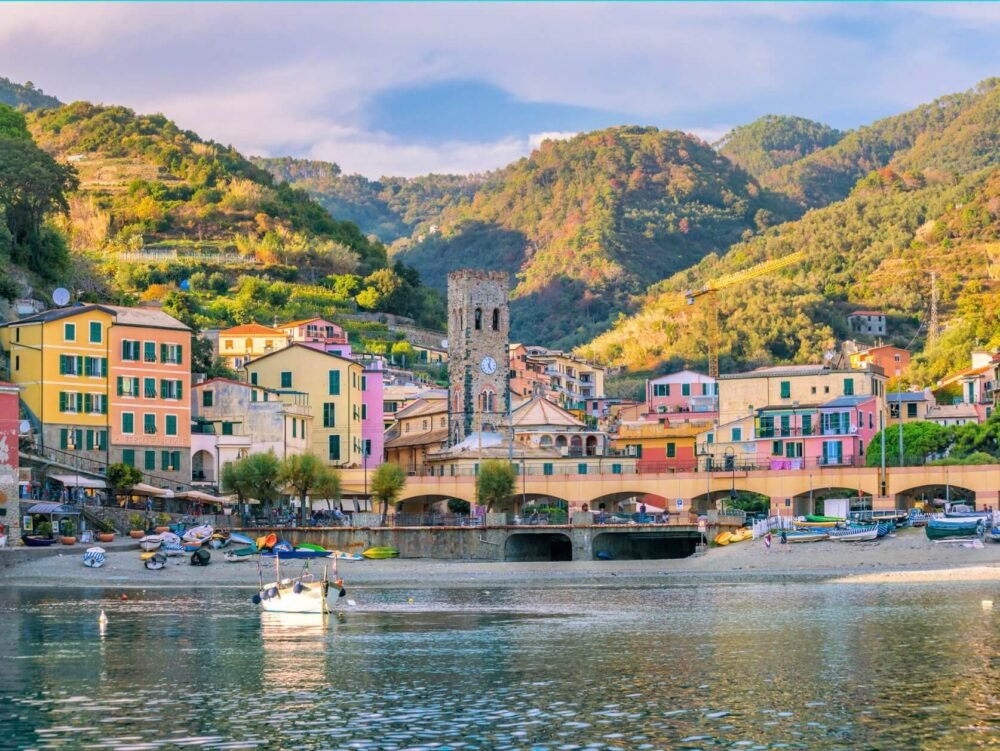 Start your first day in Cinque Terre early by taking a morning train from La Spezia or Levanto to Monterosso al Mare.
Even from La Spezia, which is the furthest point away, the ride is only 20 minutes!
Monterosso al Mare is the village on the northernmost extreme of the Cinque Terre, so it makes the perfect place to start your Cinque Terre itinerary.
It is one of the most visited villages of the five, attracting tourists for its gorgeous beach, especially in late spring and summer.
If timing is not a limit, or if you love sunbathing and swimming, you could easily spend a day in this village alone!
Monterosso al Mare is also a great starting point for hiking. Stop at the tourist office (look for a brown sign marked with an "i") to check if there are closed hiking paths. This is not uncommon as the area is prone to landslides due to the abundant winter rains!
However, since you only have two days in Cinque Terre, you'll have to restrain yourself and make the most of your time, so we'll offer an abbreviated suggestion for what to do in Monterosso.
Explore the charming village of Monterosso al Mare.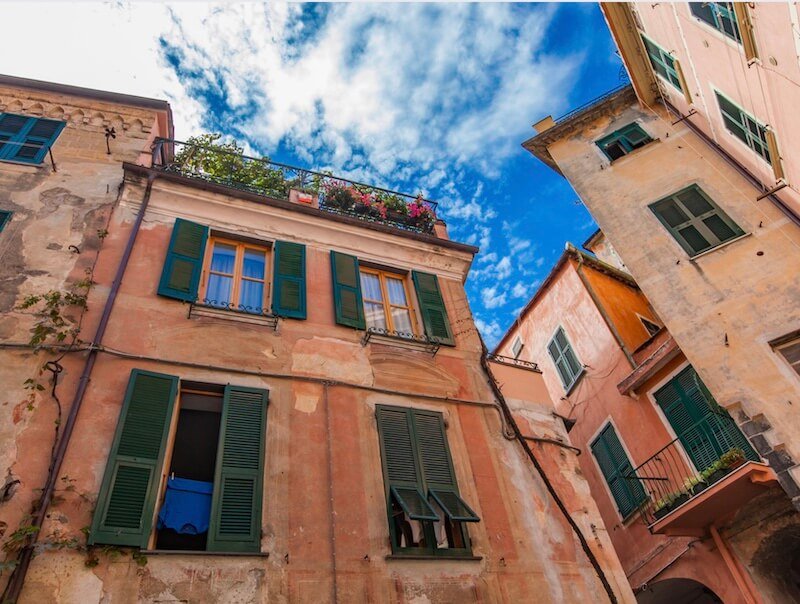 Located on the hills with plenty of lemon trees, olives, and vineyards, Monterosso in the largest of the five towns of the Cinque Terre.
The town is divided into a modern, more vibrant and touristic part, Fegina. The landmark of Fegina is the famous Giant, a statue of Neptune that is a symbol of the town.
The older town features the ruins of an ancient castle, typical winding medieval roads (locally known as carruggi) and colorful houses.
Spend some time on the beach at Spiaggia Fegina or take a kayaking tour.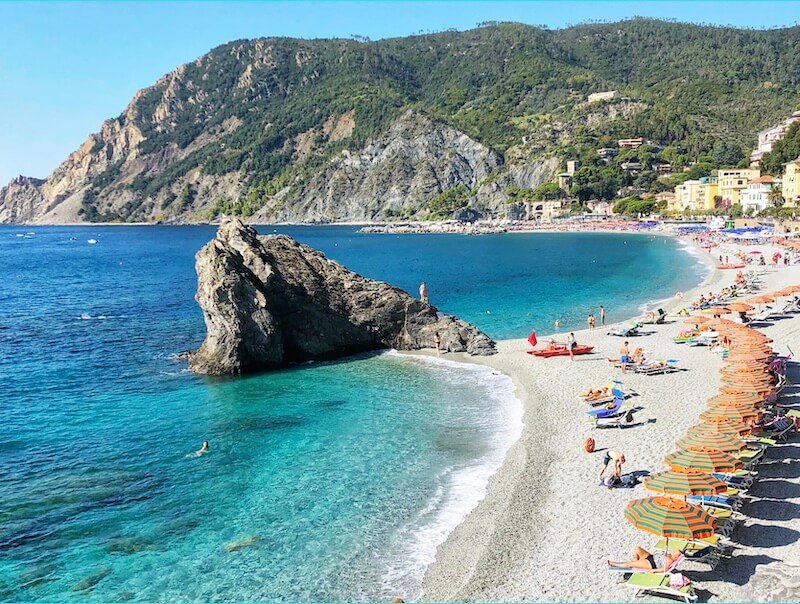 Monterosso is best-known for its amazing beach, Spiaggia Fegina — the largest sandy beach in Cinque Terre — whose crystal clear waters features unique reefs, perfect for snorkeling and swimming.
Spiaggia Fegina gets really crowded, and while there is a small section of free beach access you can enjoy, you'll likely need to rent an umbrella and chairs at a lido in order to have a space.
If you've ever seen those iconic teal and orange striped umbrellas on the beaches of Cinque Terre — that's exactly what I'm talking about!
It costs about 30 euro for an umbrella and two chairs, and you'll still want to show up early. I recommend doing this early in the morning so you can enjoy it before it gets too hot.
If you prefer a more active way of exploring the area around Monterosso, with scenic views of the villages of Cinque Terre up above you, I highly recommend this kayaking tour.
It departs from Monterosso at 10:30 AM and lasts three hours as you kayak past Vernazza and Corniglia and head back, with the pastel buildings perched atop the cliffs contrasting beautifully against the turquoise sea.
Wander around the Old Village of Monterosso.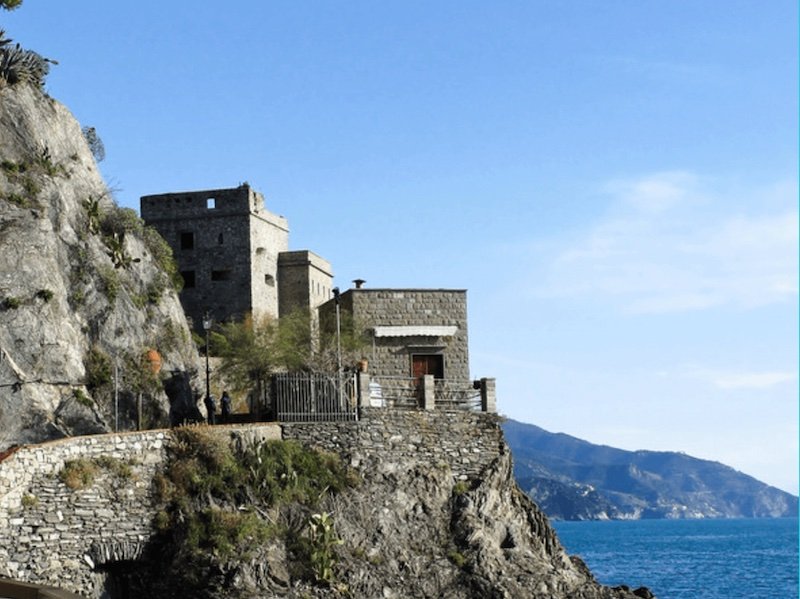 Before heading to the next village via the Blue Trail, take some time to walk around the Old Village of Monterosso.
The town square with its souvenir shops are a charming place to take photos, and you can also visit the ruins of the ancient Castle of Monterosso.
It's more ruins by now than a proper castle, but it's still a fantastic place to visit, not least for its spectacular sea views!
Grab lunch before your hike.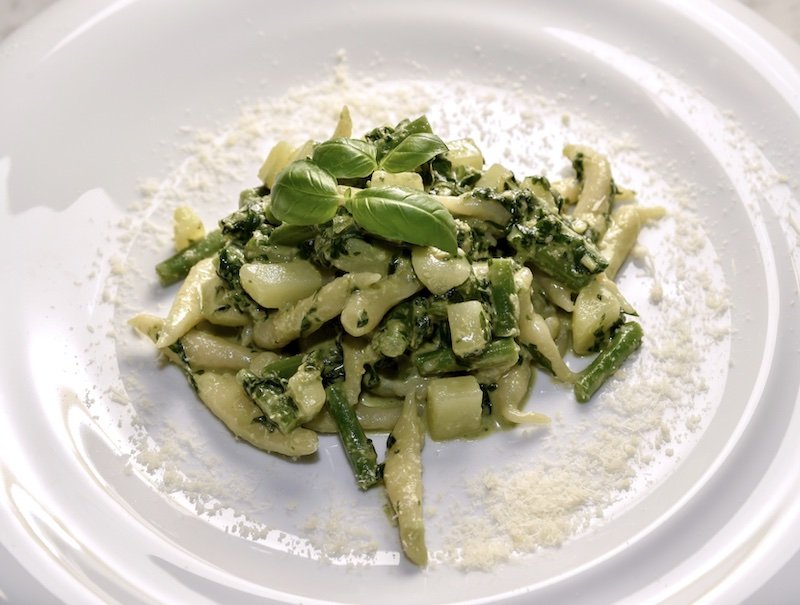 Before you head to Vernazza, you'll probably want to grab a hearty and delicious lunch to prepare you for your hike!
For a quick bite so you can continue your sightseeing, stop at Il Frantoio for delicious pizzas made atop focaccia bread — they're famous for their pesto and tomato one, and their stracchino cheese one is also a favorite.
If you prefer a sit-down lunch, another great option is Da Eraldo, an unfussy trattoria specializing in seafood (as well as pasta) on a cute little piazza off the main street up through town.
Hike to Vernazza.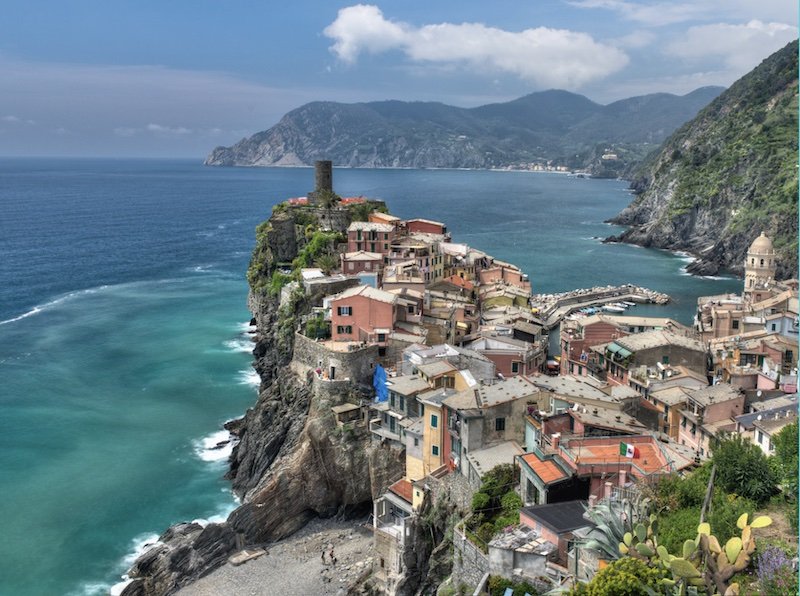 Once you've wandered around the old town of Monterosso, head towards the departure point for the Blue Trail and start hiking to Vernazza.
There are plenty of signs that indicate the way, so don't worry about getting lost — it's virtually impossible in this town!
The hike towards Vernazza is rated as moderate on AllTrails, 2.2 miles (3.5 km) with about 688 feet of elevation gain along the way.
The hike takes about 2 hours at a slow pace and considering the uneven rocky portions along the path but also a few stops to admire the landscape, take pictures, and take a rest.
You will begin the trail climbing a steep stairway, but it will soon turn into a flat path with fantastic sea views.
This trail is pretty unshaded, and you'll likely be hiking in the middle of the day, so be sure to wear plenty of sunblock, a sunhat, and bring along plenty of water.
Explore the beautiful village of Vernazza.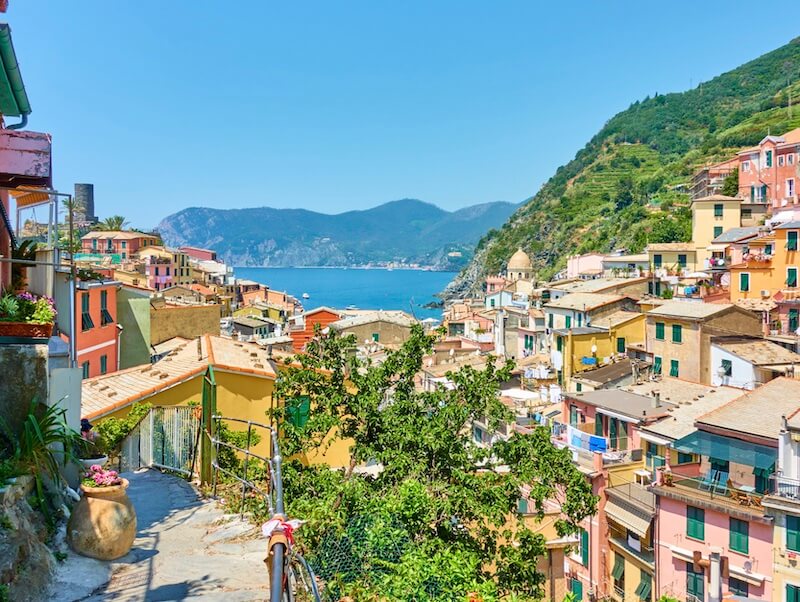 Your next stop is Vernazza, one of the most breathtaking villages in all of the Cinque Terre, with an old town founded back in the year 1000 AD.
As a result, this charming seaside town is home to a medieval castle, Castello Belforte, which was built mostly to prevent the village from pirate sieges!
Vernazza features a myriad of gorgeous pastel houses, a charming port, and a picturesque small beach called Vernazza Port Beach.
If you want, you can visit a more private and secluded beach, called Vernazza Beach, which hidden from the main town area.
You can reach it after passing under a small bridge, but note that this is a rocky beach so you'll want to have water shoes for this type of beach. It's better for a quick dip than a relaxing beach lay-out.
Hike or take the train to Corniglia.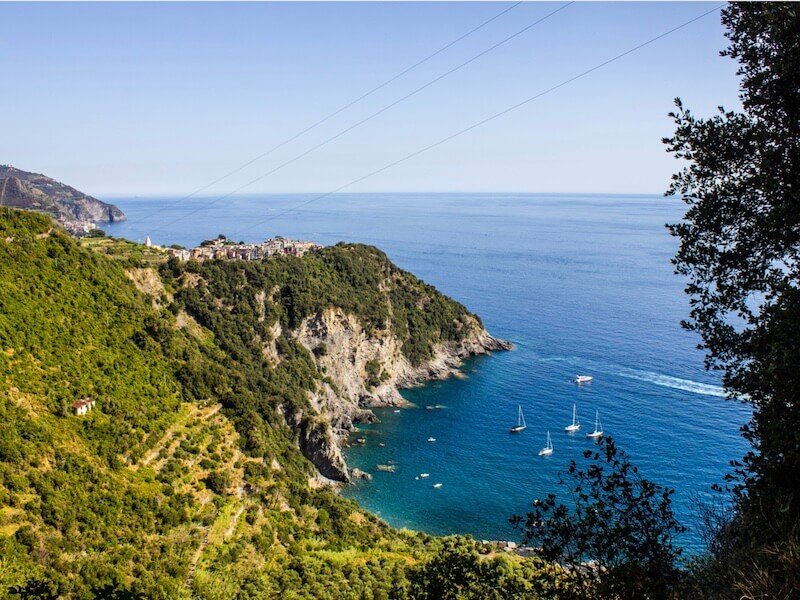 Around mid afternoon, get back on the trail to reach Corniglia, the place where I recommend you spend the night.
You will find the access path that puts you back on the Blue Trail in the center of Vernazza, which is well sign-posted.
If you hike, it's another moderate trail, similar in difficulty to the hike between Monterosso and Vernazza.
As per AllTrails, the hike is 2.1 miles long (4 km) with 501 feet of elevation gain, and it should take no more than two leisurely hours allowing for rests and to take photos, though most people complete it in about an hour and 15 minutes.
The hike from Vernazza to Corniglia is even more beautiful than the one from Monterosso to Vernazza, offering even better views of the sea and the villages below.
Vineyards and olive groves alternate along the way adding an extra touch of green to the scene. If you're doing this part of the trail in summer, pack enough water as the trail is steep and can be more tiring in hot weather!
As an alternative, you can take the train to Corniglia if you don't feel like hiking any further or if it's gotten too late to hike safely; bear in mind that you cannot reach Corniglia by boat as it is a clifftop village with no sea access.
If you are not staying in Corniglia: Organize your routine accordingly if you are going back to La Spezia/Levanto to spend the night. You can choose to either hike to Corniglia for dinner and then to La Spezia or Levanto to spend the night at your accommodation by train.
Alternately, you can go back to La Spezia or Levanto directly from Vernazza and start your second day in Corniglia.
Have dinner and explore a bit of Corniglia.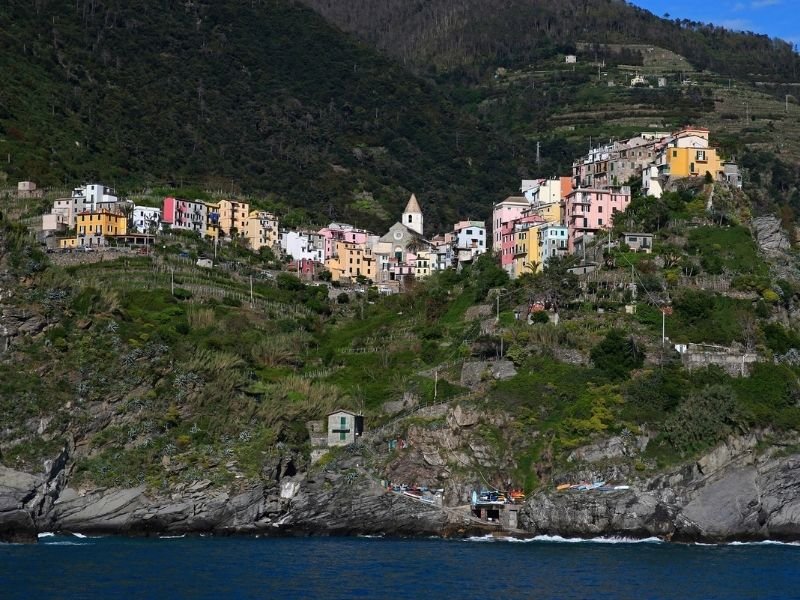 You will arrive in Corniglia late in the afternoon or early evening, probably tired if you have hiked all the way from Monterosso!
I suggest you head directly to the hotel, have a shower, and take a rest before going out for dinner.
Corniglia is located about a hundred meters above the sea and it cannot be accessed with a boat (it's the only village that can't). If you walked along the Blue Trail, then you will not need to climb or walk any further.
However, if you traveled from Vernazza by train, you need to know that the train station is close to the sea… so reaching the village can only be done after climbing the more than 300 steps that take you up the hill!
The path is known as Lardarina and it features exactly 377 steps — but don't worry, if you've come by train and feel too tired to climb the stairs that take you to the village, you can use the local bus shuttle!
Note about the shuttle bus: There are 2 to 3 buses departing per hour from Corniglia train station and that reach the center of town on the top of the hill. Most people opt to take the bus instead of climbing the trail, so the service can be disorganized and overcrowded.
The main trait of this ancient Roman village is its important agricultural tradition which makes it more similar to a rural mountain village than to a coastal settlement, unlike the other villages of the Cinque Terre, which have strong fishing village traditions.
With awe-inspiring vistas over the sea, there are tons of great restaurants with stellar views to dine at. Even though it is not as popular to visit as other Cinque Terre villages, you will still find some very good restaurants for dinner!
If you're a wine lover, then check some of the wine bars in town and ask to be served some of the local labels. There is nothing more refreshing than a glass of chilled white Ligurian wine after a tiring day hiking the coastal path of the Cinque Terre!
The Cinque Terre is a designated DOC (denominazione di origine controllata) which only produces white wine that is a delicious blend of three main grape varietals: Bosco (must be at least 40%), as well as Albarola and Vermentino.
The wines of the Cinque Terre are simple but intense with persistent aromas, typical of a coastal town where the sea breeze play an important role in the grape production.
Day 2 of Your Cinque Terre Itinerary: Manarola and Riomaggiore
Decide your day's itinerary.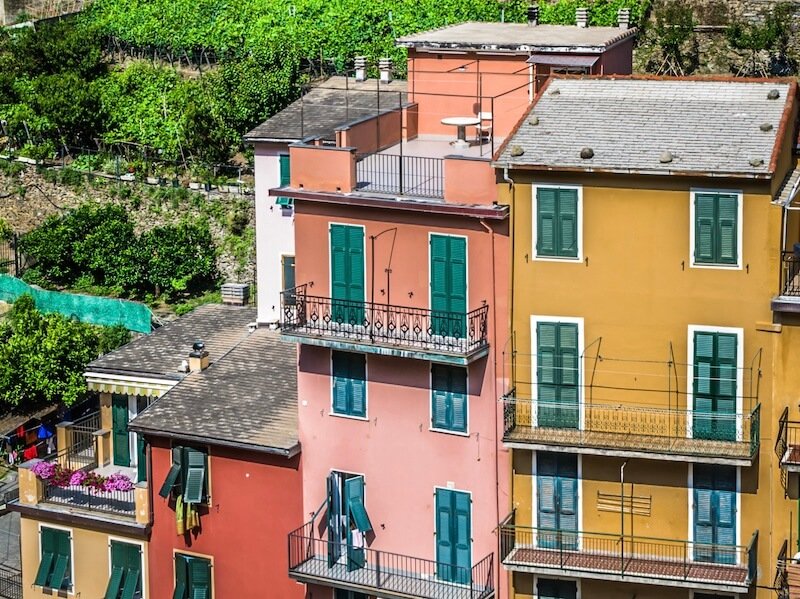 Get an early start on this second day if you want to check out Corniglia in the morning light a bit before heading to the next destination, Manarola.
Unfortunately, due to some heavy mudslides, the path between Corniglia and Manarola is currently closed as of the time of writing (April 5, 2022) as per the national park website.
Therefore, you will need to descend towards the sea and board the train to Manarola, or you can also take an alternate route for hiking if you are really ambitious!
Hiking Bypass: Although the Blue Path is closed, there is another way to get to Manarola hiking, ascending through alternative paths. For instance, it is possible to go from Corniglia to the town of Volastra.
From there, you can descend about 10,000 steps to Manarola. Both the way up and the way down are very steep and strenuous, so it's only recommended for very experienced hikers! Read more about it here; you will need to take the following three trails: 506, 586, and 587, which you can see on the trail map here.
Keep in Mind: Manarola is probably the most gorgeous and romantic of all the villages in the Cinque Terre, and although this makes for stunning photo opportunities, it is also the reason why it gets crowded and waiting in line is practically the rule for everything!
It is a good idea to reach Manarola as early as possible to avoid hordes of tourists, or, even better, you can skip Manarola and travel directly to Riomaggiore to spend most of the day at Riomaggiore's beach.
Then you can head back to Manarola before sunset: the vistas are spectacular, and most tourists have already reached either Riomaggiore or Corniglia.
We're going to outline an itinerary that puts Manarola first, but know that you can do the itinerary either way depending where you want to catch the sunset!
Visit the charming village of Manarola.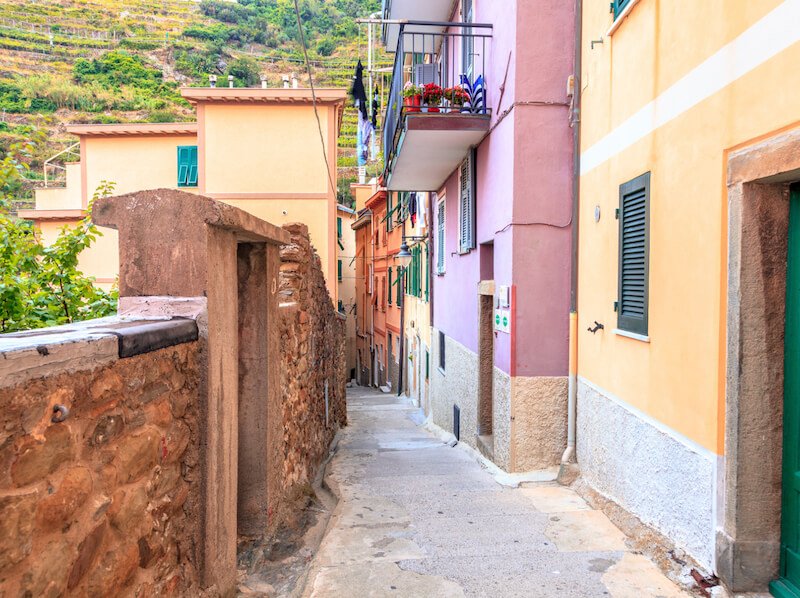 The village of Manarola stands more than 200 feet (about 70 meters) above the sea, with stunning views nearly everywhere you look.
Its tiny harbor has a boat ramp allowing easy access to boat tours that depart from this area if you want to take a short little excursion to give you a view of the village from sea level.
Manarola also has a small piazza with plenty of restaurants and cafes. That classic view of the picturesque multicolored houses facing the sea are the most iconic view you'll see: it's what you likely think of when you think of the Cinque Terre!
In the upper part of Manarola, you can visit the Chiesa di San Lorenzo, which has a remarkable bell tower that served in the past as a watch tower to protect the town against pirate attacks.
If you love to snorkel, it's a great bonus that Manarola offers some of the best snorkeling experiences in Cinque Terre, specifically at Back Manarola Beach.
Another characteristic trait of Manarola are the steep alleys (carruggi) that lead from the town to the sea, making for gorgeous walks down to the sea.
When in Manarola, take some time to explore the narrow alleys, enjoy lunch in a trattoria with an amazing view.
Be sure to taste the delicious pasta al pesto typical of Liguria (best served with local hand-rolled trofie pasta).
And of course, indulge in some gelato from one of the many gelaterias after lunch before you head towards Riomaggiore!
Remember: Manarola is a more picturesque village than Riomaggiore, so don't rush to leave! Make the most of Manarola, as it's perhaps the most beautiful of the five Cinque Terre towns, and take your time.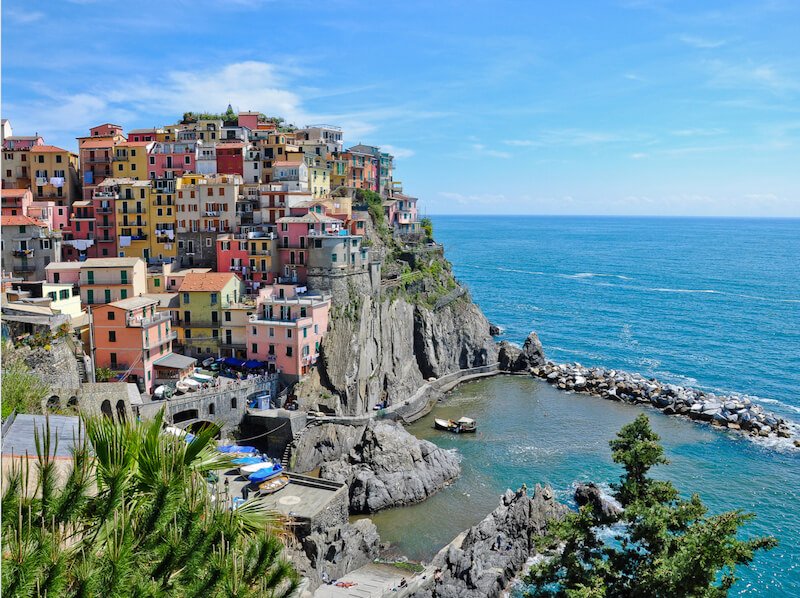 Normally, the section of the hike between Manarola and Riomaggiore is rather easy, along the Lovers' Lane (Via dell'Amore) which brings you over the rocks along the seaside in an easy 40 minute walk that is less than a mile (about 1.5 km).
However, the landslides that took out the previous portion of the hike also affected the Via dell'Amore and this trail likely won't reopen until 2024.
You can still hike from Manarola to Riomaggiore, but just via the old hiking path that used to connect these two villages, which is a lot more difficult.
You can hike via Route 531 which is still only 0.9 miles or 1.5 km, but involves a pretty steep climb of 650 feet (200 meters) between the two villages, and it's a fairly strenuous trail only recommended for experienced hikers.
Sounds a little too intense? You can easily reach Riomaggiore by train if you are tired. A boat is also a romantic alternative!
Spend the rest of the day in Riomaggiore.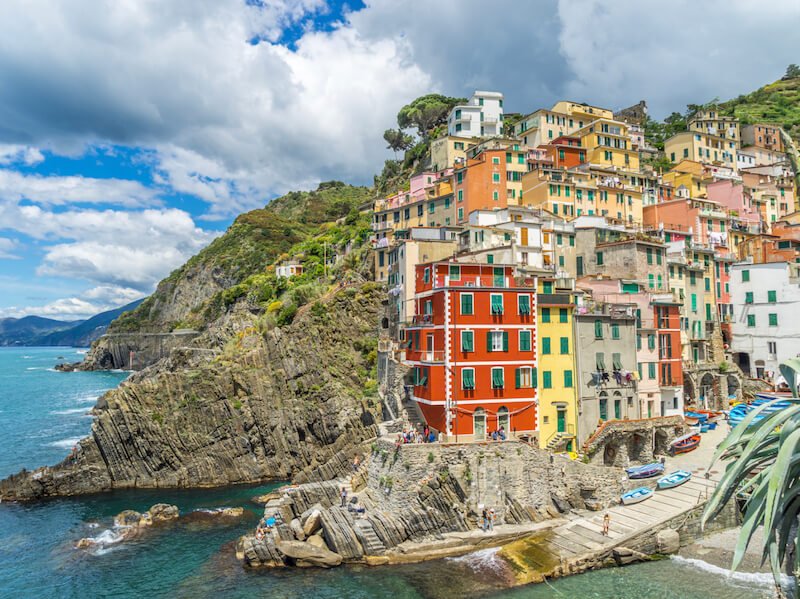 When in Riomaggiore, devote some time to explore the coastal area. This is the most picturesque part of the village, with its stone houses with colorful facades and characteristic roofs perched on the slopes of the hill.
In fact, the town climbs up overlooking the sea making it a wonderful location that rewards you with incredible picture-perfect views!
There is a pebble beach a bit of a walk away from the town that you can enjoy a refreshing tip in — just remember to bring those water shoes, as the pebbles are not the most comfortable thing to walk on!
Prefer a Guided Experience?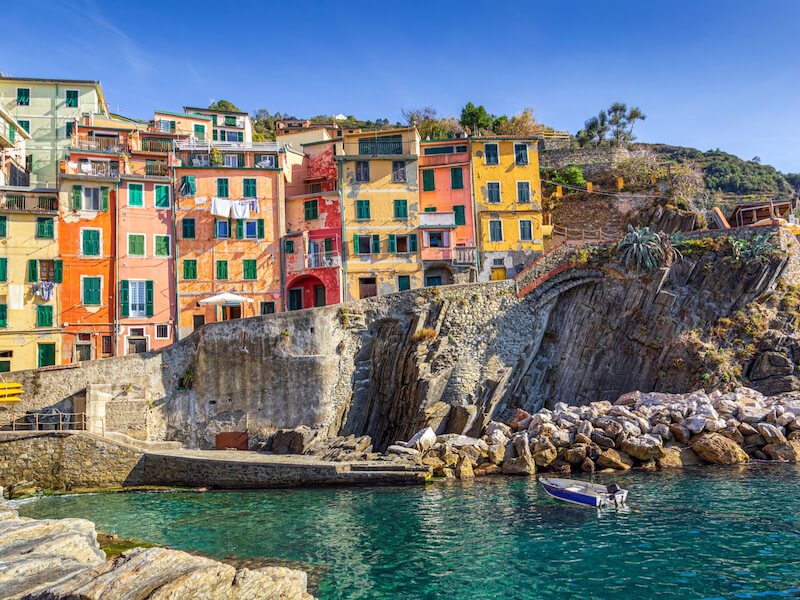 There are several ways to visit Cinque Terre with a guide — either on a private tour or on a small group tour — if you prefer having people do the legwork for you in terms of planning so you can just enjoy.
These tend to be day trips, so you can combine a tour of the Cinque Terre with some experiences in La Spezia, which has the most excursion options.
PRIVATE | Take Walks offers a wonderful 6-hour day private day tour of Cinque Terre departing from La Spezia — perfect if you want to explore Cinque Terre at your own pace, customized to your own travel tastes.
SMALL GROUP BOAT TOUR | If you want to combine sightseeing on foot with sightseeing from a boat, this small group boat tour is one of the most scenic ways to see Cinque Terre… without all the hiking! It departs from La Spezia and covers all five villages, as well as Porto Venere — plus places only accessible by boat!
CRUISE EXCURSION TOUR | If you're taking a cruise that stops in La Spezia, this option is a great way to see the Cinque Terre on a budget. The group will be larger, but the price is hard to beat! It includes a guide, train tickets, and even a limoncino tasting (the Cinque Terre's spin on limoncello)!
Can You Take a Day Trip to Cinque Terre?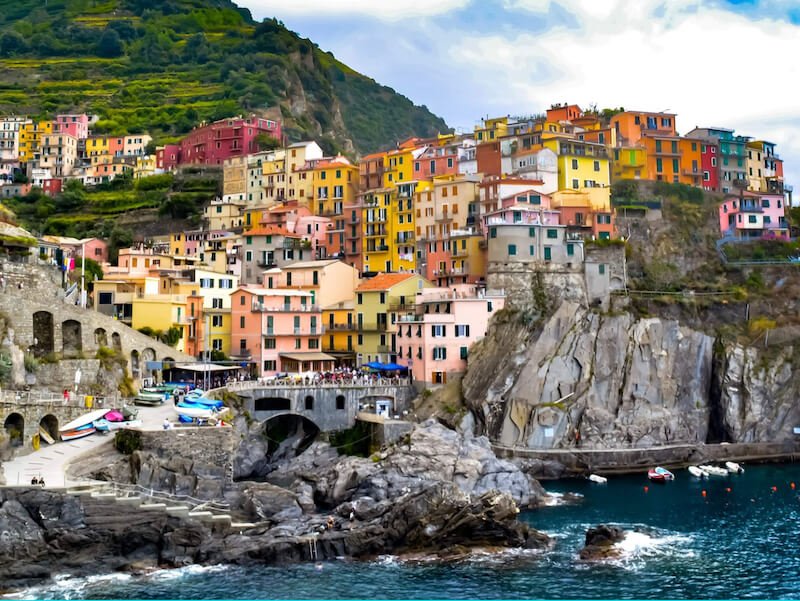 As this itinerary for Cinque Terre suggests, two days in Cinque Terre is much better if you can swing it on your Italy itinerary!
But if you only have a short amount of time, there are guided day tours of Cinque Terre that leaves from popular Italian destinations.
This popular day tour leaves from Florence and includes time in all five villages.
After leaving Florence, you'll arrive in Cinque Terre and begin your whirlwind tour.
You'll start in Manarola, then go to Corniglia, where you'll have the option to hike from Corniglia to Vernazza or take the train.
Then you'll have time in Monterosso (with a boat tour if weather allows) before finishing the tour in Riomaggiore before heading back to Florence via private transportation.
You can also book a similar itinerary from Milan or from Pisa.
These tours will allow you to get a good overview of Cinque Terre if you have limited time, but frankly, spending two days in Cinque Terre independently is a much better option if you can!
What to Pack For Cinque Terre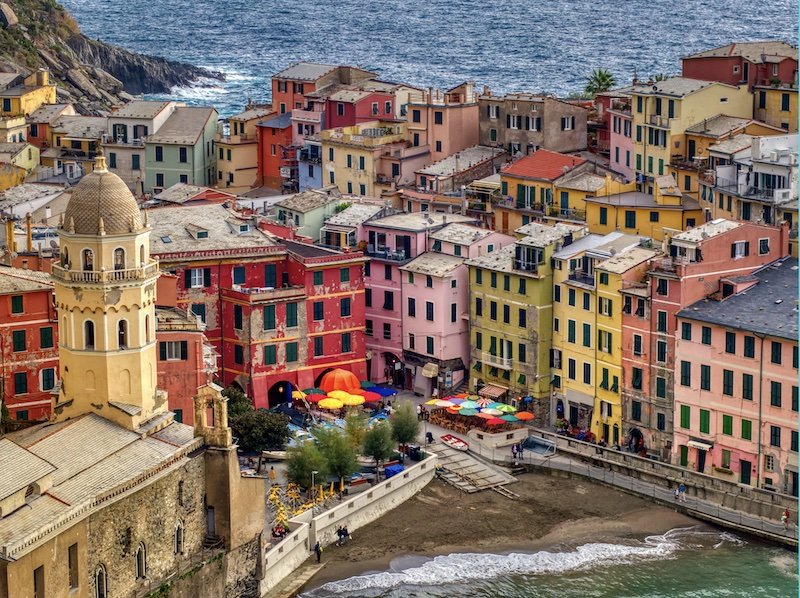 Comfortable hiking shoes: You are not allowed to hike in flip flops. And honestly, you would find it too hard and steep for flip flops! Pack comfy hiking shoes or hiking sandals in summer. (I love these cute red & brown hiking boots from Danner or these surprisingly cute hiking sandals from KEEN)
Refillable water bottle (or a water bladder backpack if you're hiking a lot): Remember to carry water with you at all times. A good refillable water bottle works just fine, but if you're hiking, I really recommend a daypack that has a water bladder inside where you can sip from a straw that rests on your shoulder, without having to constantly reach for your water bottle. This is the best way to keep you protected!
Sunhat: You'll want to pack a hat (preferably a packable, rollable one like this one) to protect you from the sun while hiking between Cinque Terre towns. It also looks great in photos! I have and love this foldable sunhat and can attest that it holds up well to being jammed in a suitcase!
Sunscreen: Of course you'll also want to wear sunscreen to help protect you from sunburn! I recommend SunBum SPF 50 sunscreen which is octinoxate-free and oxybenzone-free, making it a better alternative for keeping marine life and reefs healthy if you take a dip in the waters around Cinque Terre!
Bug spray: Mosquitos can get vicious in the summer, so bring some bug spray, and be sure to reapply before sunset when they are at their highest activity! I like this natural lemon eucalyptus spray, but I also carry some After Bite Itch Eraser in case I get bit anyway.
Breathable clothing: Hiking in summer means that you will sweat a lot! Choose clothes made of breathable and natural fabric — skip anything polyester! I love REI's moisture-wicking, easy-breathing hiking pants like these Savannah Trail Pants (plus they're not hideous!) and a simple quick-dry T-shirt like this one.
Swimwear: You will certainly want to get in the sea after a long hike under the sun, so be sure to bring swimwear as well as a swim cover-up so you're not wandering around the village in just a dripping wet swimsuit. I have and love this cute swimsuit, which goes well with this cover-up.
More Time After Visiting Cinque Terre?
Have some more time to explore Liguria? Check the following nearby places after you've visited Cinque Terre:
Porto Venere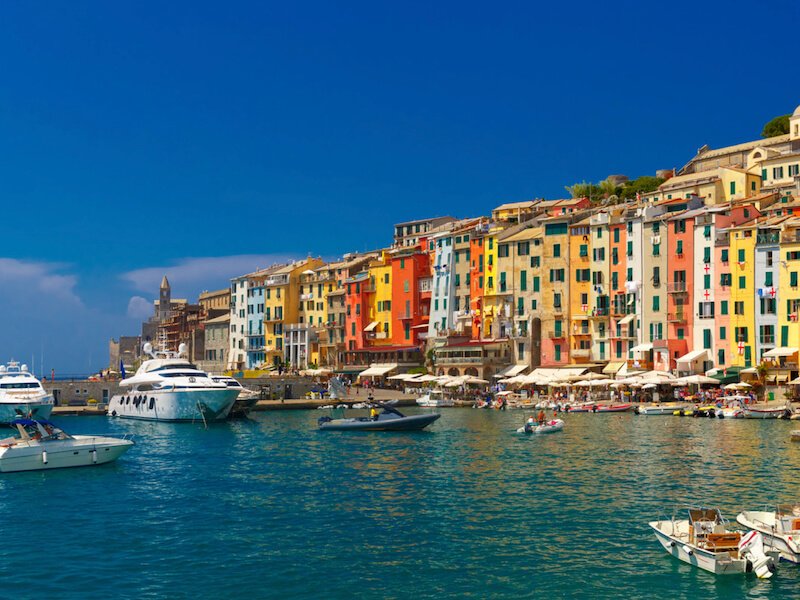 Known as the Gulf of the Poets (Golfo dei Poeti), Porto Venere is a fantastic coastal town a few minutes from La Spezia, at the end of the southern part of the Cinque Terre Trail.
This romantic coastal town features a beautiful coastline with pretty colorful houses, a magnificent castle.
It's also home to one of the most impressive churches in the area, the fortified church of Saint Peter, on top of the promontory overlooking the sea!
La Spezia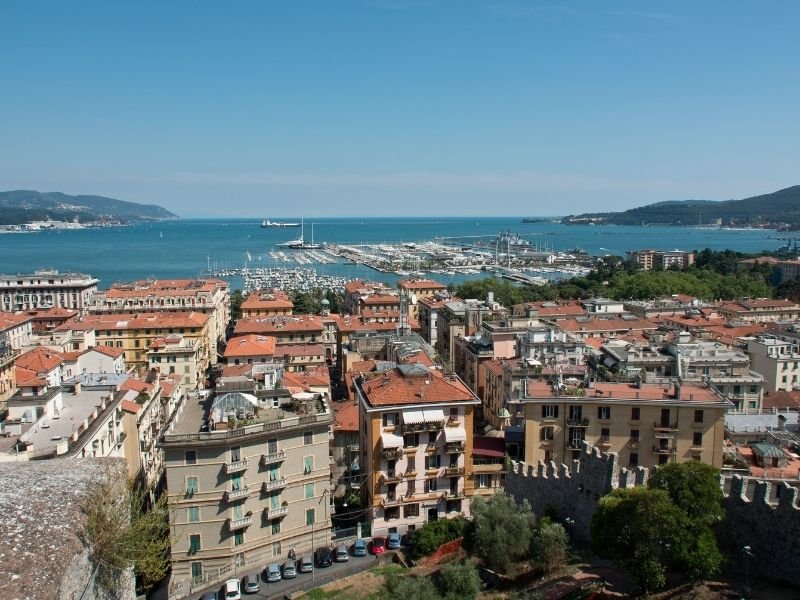 La Spezia is the second largest city in Liguria, after Genoa, which has been continuously inhabited since the prehistoric times. It also became an important commercial port of the Roman Empire.
Today, La Spezia is the most common departure point to explore the Cinque Terre as well as a popular tourist seaside resort in its own right!
Genoa (Genova)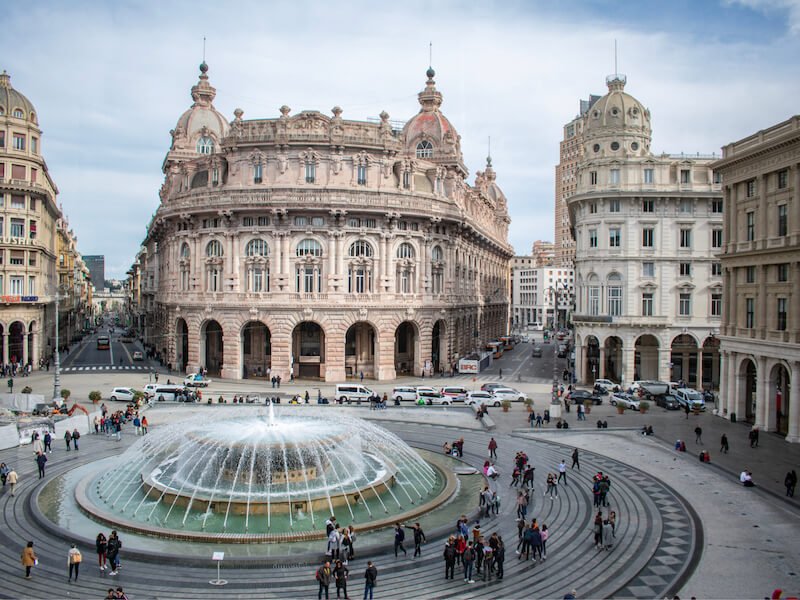 You cannot miss at least a day in Genoa after (or before) visiting the Cinque Terre.
You can get to Genoa by train. The two main stations are Genova Piazza Principe (that receives trains from Milan and France) and Genova Brignole (with arrivals from Rome and Turin).
If you have limited time, head directly to the marina to visit the Genoa Aquarium, one of the best in the world!
Genoa's Old Town or Centro Storico features big and heavily decorated buildings dating fromMiddle Ages, built by the wealthy trader families of the city.
Don't forget that Genoa was one of the four maritime republics (Repubbliche Marinare) of the Mediterranean, which was composed of four city-states together with Venice, Amalfi and Pisa — this is why it has such rich history.
Because of this history, the atmospheric streets of the medieval Old Town of Genoa are listed as a UNESCO World Heritage Site!
For lunch or dinner, there is nothing quite like the restaurants on the waterfront near the port!
Must-try dishes include impepata di cozze (mussels with pepper and cooked in white wine), trofie al pesto (pasta with pesto sauce often served with potatoes and green beans in the Liguria region), and focaccia (a flat bread similar to pizza, with no sauce and made with chickpea flour).
Lerici
Last but not least, The gorgeous coastal town of Lerici belongs to the province of La Spezia and it is a great place to spend the day by the sea once you're done visiting the Cinque Terre!
Close to the beach you can visit the beautiful 12th-century Pisan-Genoese Castle or seek some privacy by the sea in the unique Cala Marmozza.
The Lido of Lerici is a popular beach with plenty of restaurants and trattorias along the waterfront and the small tourist marina.
When in Lerici, devote some time to explore the small historic quarter and the crescent-shaped piazza!
Gabi is a full-time travel blogger, tour guide, and freelance writer currently living in Crete, Greece. Born in Argentina, Gabi spent a decade of her life living in Milan and traveling around Italy. She is one of two featured Italy experts on Eternal Arrival. She shares her knowledge of Crete and Greece on her blog, The Tiny Book, where she has also published several digital travel guides. She has 25 years of experience in writing and translation. She holds a BA in Languages and Translation, an MA in Translation for Tourism and a degree in Copyediting.