If you're planning a trip to Bologna, it better be to eat.
This Northern Italian city is full of some of the best food in the country, which for a country as famed for its food for Italy is truly saying something.
But besides its delicious claim to fame as one of Italy's top foodie cities, Bologna is also full of charm. While it doesn't have the same draws as other Italian cities — there is no touristic equivalent to the Vatican, the Last Supper, or the Duomo here — Bologna is delightfully liveable, the kind of city where you fall into a more local pace and fantasize wildly about what it'd be like to call it home.
And the food is so good that it makes it extra hard to leave.
This Bologna itinerary assumes that you have two days in Bologna, and that you'll spend the first walking around the city and discovering it on foot, and that the second day, you'll be enjoying the marvelous food and wine scene in Bologna (which, let's face it, is probably the reason you're coming).
If you have more time for the Emilia-Romagna region, slow travel around Bologna region like the Apennine mountains or in other cool cities around Emilia-Romagna like Parma and Modena.
Day One of Your Bologna Itinerary
This Bologna itinerary will walk you through the most important cultural landmarks of Bologna — and introduce you to some of its tastiest food as well.
This itinerary for Bologna has been designed to be like a self-guided walking tour on the first day, followed by a food tour on the second day.
However, if you prefer some guidance, you can always book a tour for the first day — I suggest this customizable private tour with a Bologna local, who can help orient you and cater a tour to your interests.
If you'd rather strike it out on your own and that's why you're reading this two day Bologna itinerary — get ready, because it starts below!
Map of Your First Day in Bologna Itinerary
Start with the landmarks of Piazza Maggiore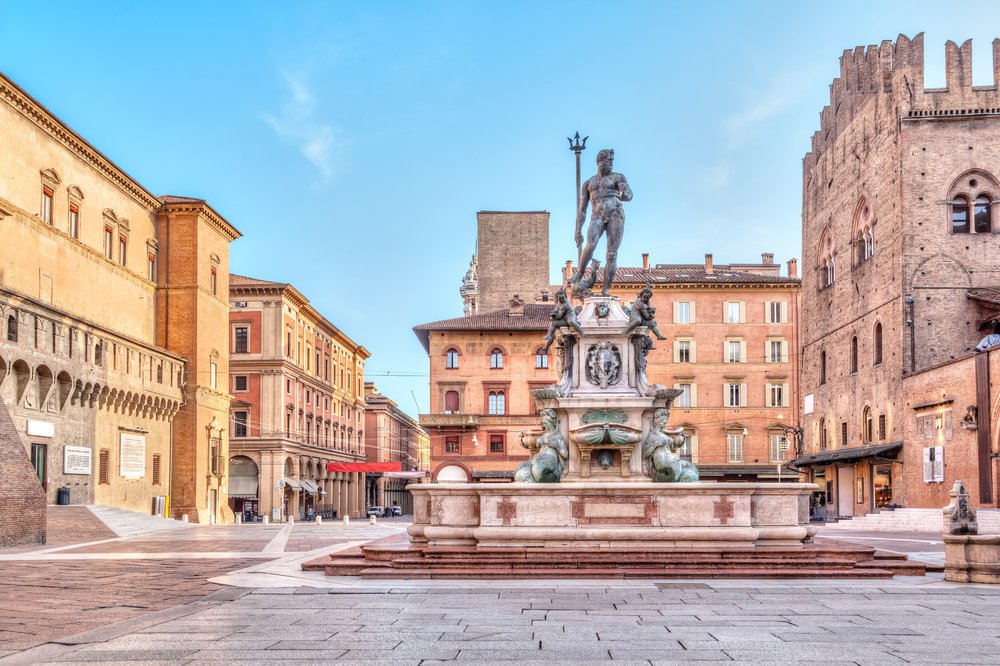 Note: This post contains affiliate links, which means I may receive a small commission if you purchase something through one of these links. Thank you for supporting the free content on this site! For more information on affiliate links and cookies, see my disclosure page for more details.
The main square of Bologna is the city's heart, and you'll find many of its most beautiful buildings and attractions within a stone's throw of this piazza. Four palazzos (palaces) make up a rectangle around the piazza, boxing it in with gorgeous architecture.
There's the Palazzo d'Accursio, aka the Town Hall, which dates back to the 1300s and is absolutely stunning from the outside. Just adjacent to it, you'll find another palace, the Palazzo Re Enzo. Between these two, you'll find the lovely Neptune Fountain.
Finally, the Palazzo dei Notai makes up one more flank of the piazza, as well as Palazzo dei Banchi.
Finally, the crown jewel of Piazza Maggiore is its stunning church, Basilica di San Petronio. The brick and marble facade is unfinished, but that doesn't diminish from its beauty. Inside, it's home to exquisite frescoes as well as 22 chapels along the sides of the basilica, adding to the grandeur.
Check out the view from San Petronio's Terrace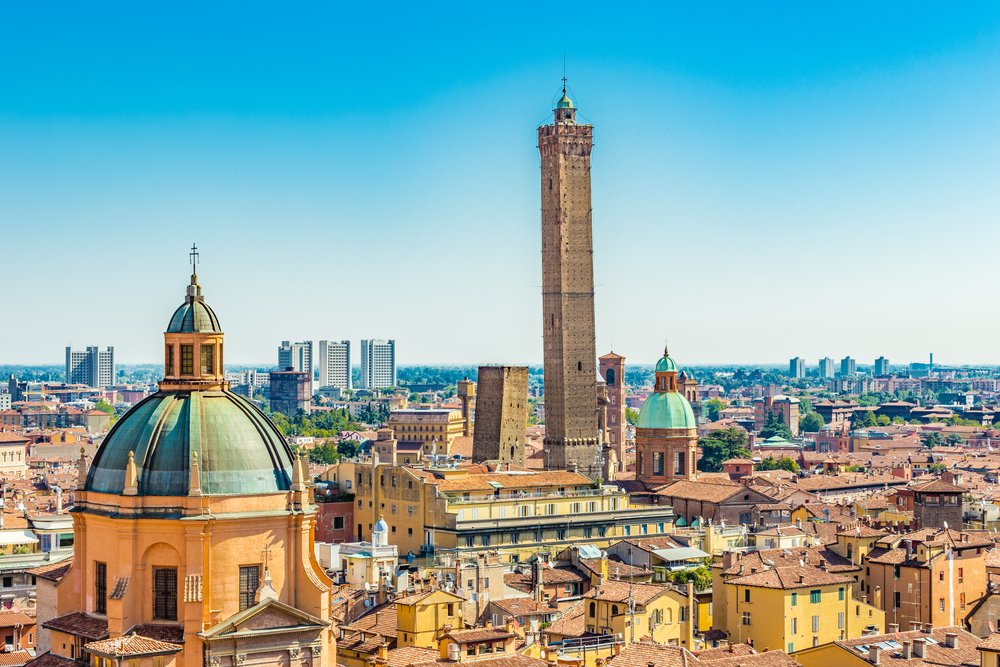 While you're in Piazzo Maggiore, you might as well get the best view of the city (well, one of the two!).
Head into the beautifully unfinished Basilica di San Petronio, first stopping to marvel at the interior, with its impressive 15th-century altarpiece, frescoes, and nearly two dozen side chapels.
After, pay €3 to ascend the scaffolding that gives you an impressive view over the center of Bologna – including of the 'twin leaning towers' of Bologna. Enter via the back of the cathedral, located in Piazza Galvani. There are stairs or you can use the service elevator to access this beautiful vantage point.
Visit the Archiginnasio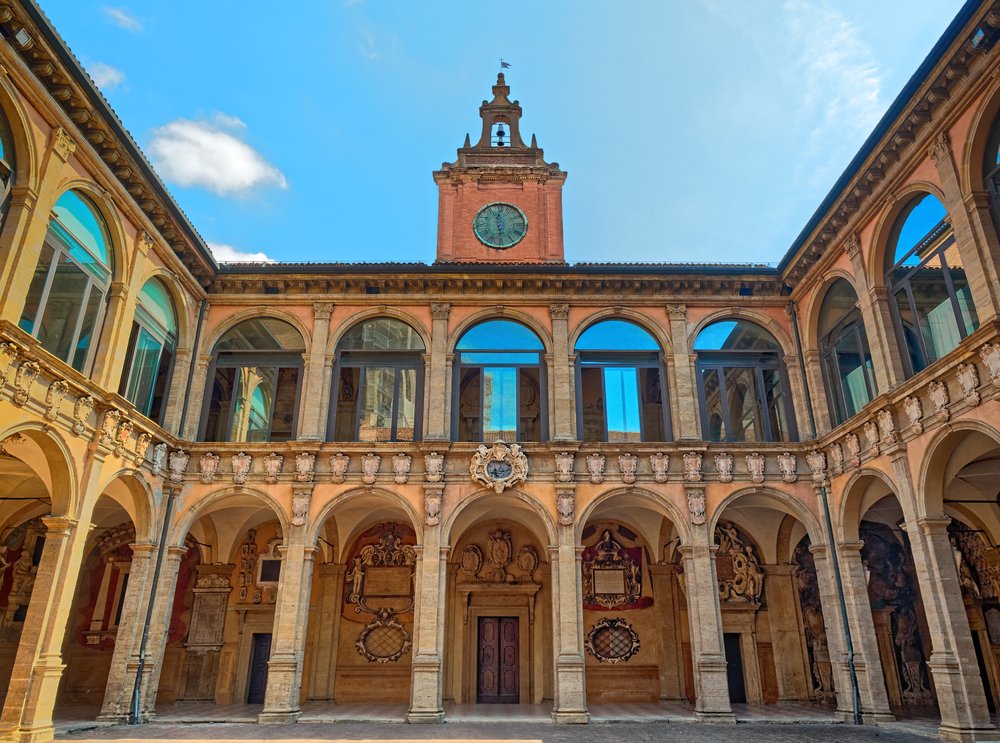 One of the most architecturally interesting buildings on this Bologna itinerary is the lovely Archiginnasio.
It used to be the main building of Bologna University, which is the oldest university in the world, founded in the 11th century. Now, it is no longer used as a university, but instead, it is home to both the Archiginnasio Municipal Library and the Anatomical Theater.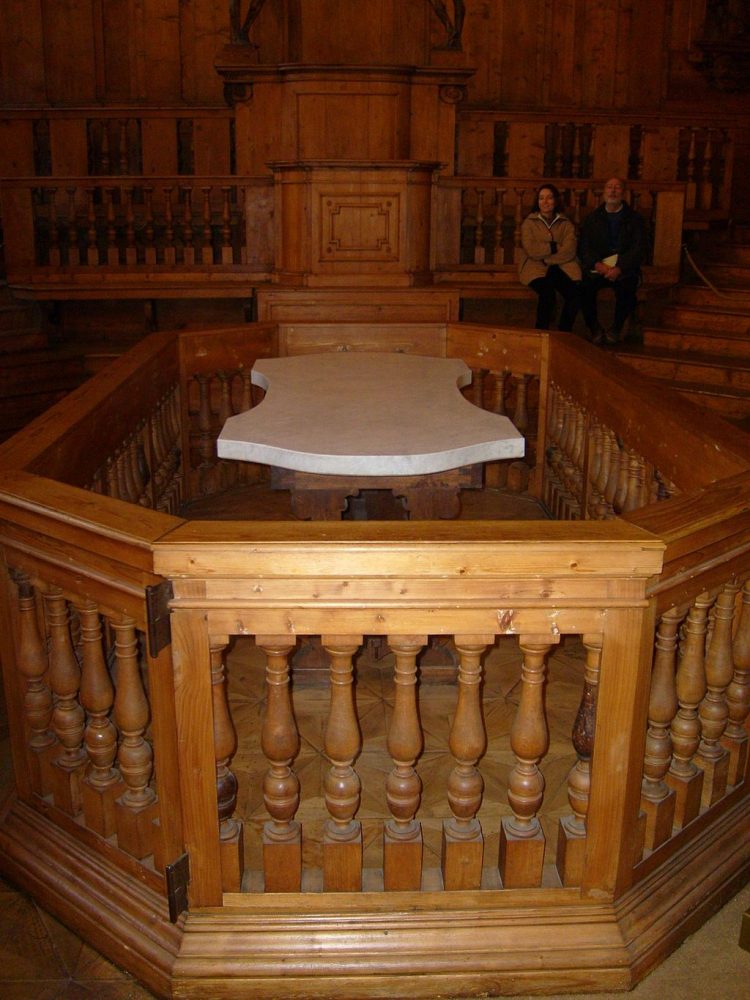 Of particular interest to many — especially the lovers of the quirky and macabre — is the Anatomical Theater, which was used by medical professors for various anatomy lectures and public dissections (yes, that marble slab you see is where a cadaver would be on display!).
It was built in 1595 and modified several times after; it was even nearly completely destroyed during bombings of World War II, but it was renovated back to its original appearance, complete with statues of various important figures in medicine, like Hippocrates.
Admission to the Anatomical Theater costs €3 for adults and it is open daily from 10 AM to 5 PM on weekdays (hours modified until 7 PM on Saturdays and until 2 PM on Sundays and holidays)
Marvel at the roof of the Salaborso Library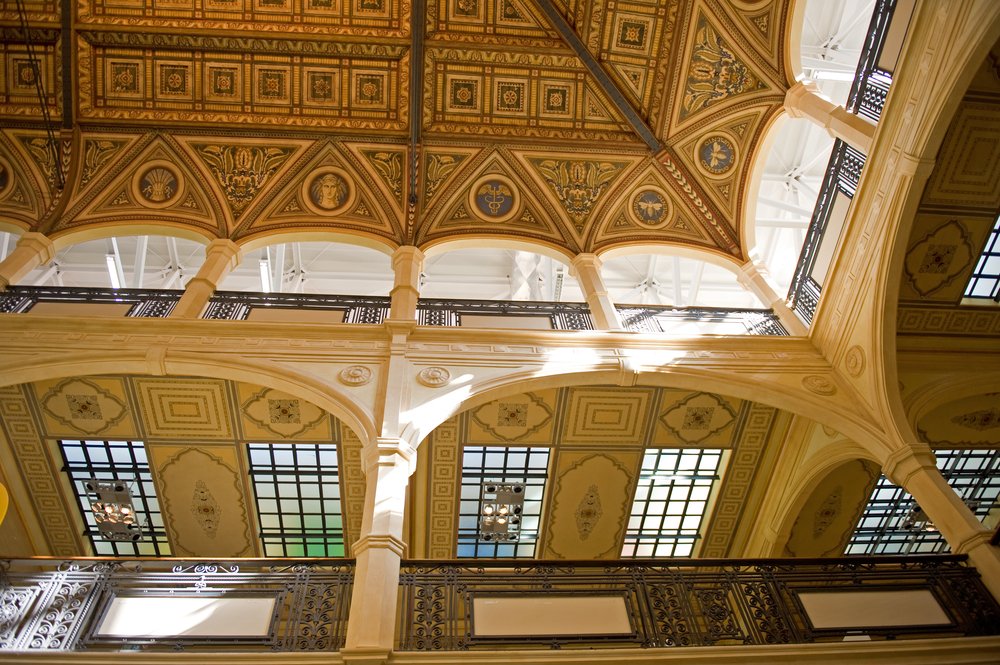 Next, double back towards Piazza Maggiore to see one of the most beautiful libraries in the world – the Salaborso Library.
Located inside the Palazzo d'Accursio, one of the buildings making up the ring of palaces around Piazzo Maggiore, Biblioteca Salaborsa has been the main public library in Bologna since 2001.
One of the coolest things about it is the displays of archaeological excavations which took place on the site of the library, which are now on display: showing elements of a former Roman basilica, medieval tower houses, and other public buildings.
But in my personal opinion, the real showstopper at Biblioteca Salaborsa is the architecture, and in particular, that incredible ceiling!
Access to the library is free. It is open from 10 AM to 8 PM on Tuesday through Friday, 10 AM to 7 PM on Saturdays, and 2:30 PM to 8 PM on Mondays. It is closed on Sundays and every Saturday in August.
Eat at the Mercato de Mezzo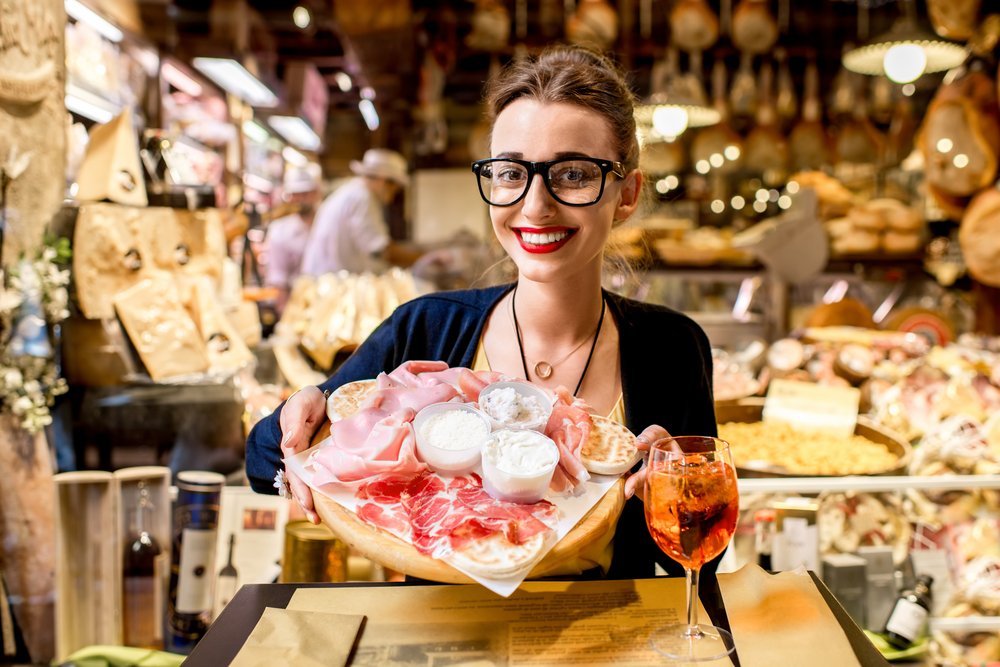 After all that sightseeing you've done so far on this Bologna itinerary, you've probably worked up a bit of an appetite! Head over the Mercato de Mezzo, not a far walk from the central square.
The market is compact and small, not too overwhelming but with plenty of options. There are several great options for where to eat and drink in the market, but seating can be scarce, so I recommend going with an open mind (and empty stomach!) and eating wherever there's room — it's hard to go wrong!
Particular stand-outs to me were the stuffed tortellinis (the fig-stuffed ones will forever haunt my dreams!), ragu (obviously – this is Bologna, and this is their city's main dish), and tasty charcuterie plates filled with delicious mortadella, which has been bastardized outside of the city to the point where it is totally unrecognizable and yet still called 'bologna'.
Pro tip: this is about the right time for your first Aperol spritz of the day, so order up!
Visit Bologna's towers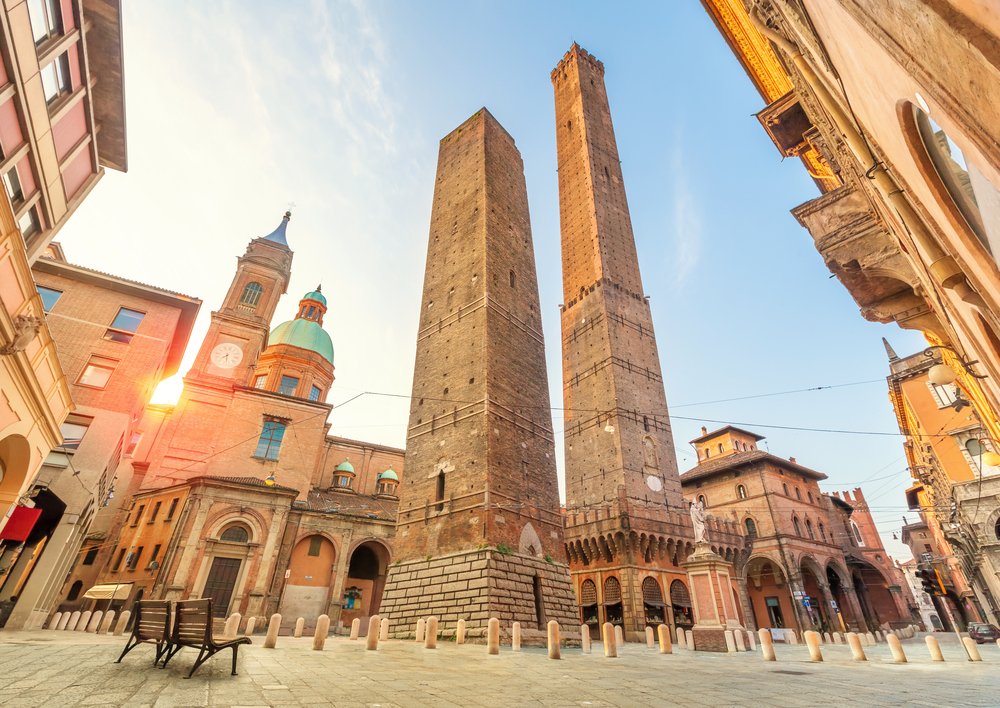 The most iconic sight in Bologna are 'Le Due Torri' – the two towers of Bologna, Asinelli and Garisenda, one of the landmarks of Italy.
Asinelli is the taller of the two and offers a stunning viewpoint over all of Bologna… if you can brave her 498 stairs, that is. What, you expect a medieval leaning tower dating back to 1109 to have an elevator?
Be warned that these stairs are not for the claustrophobic or those with fears of heights. The stairs are very narrow, with only a small railing that makes you well aware of each meter's height you gain (and at 97 meters high, that's quite a few!). So be prepared, and maybe don't have more than one aperitivo before braving the stairs. But the view will be worth every huff and puff (and shudder of fear when you look down).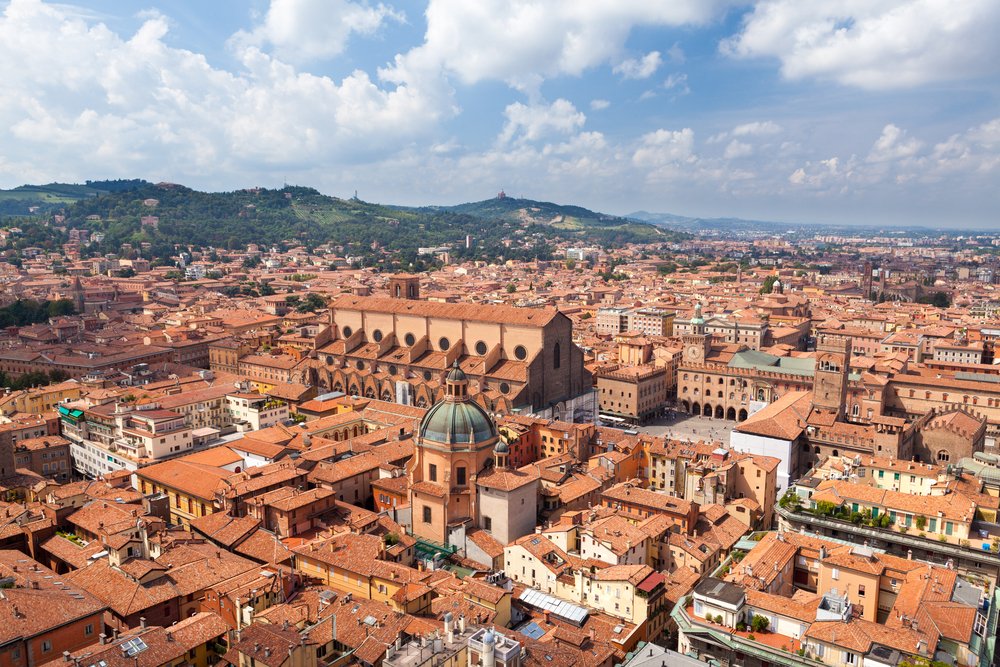 You'll get gorgeous views all over Bologna, giving you a real reason to understand why one of Bologna's three nicknames is 'la rossa', 'the red one', for its gorgeous coral-red architecture.
To avoid lines, you can buy tickets on their website here.
Walk to the Basilica of Santo Stefano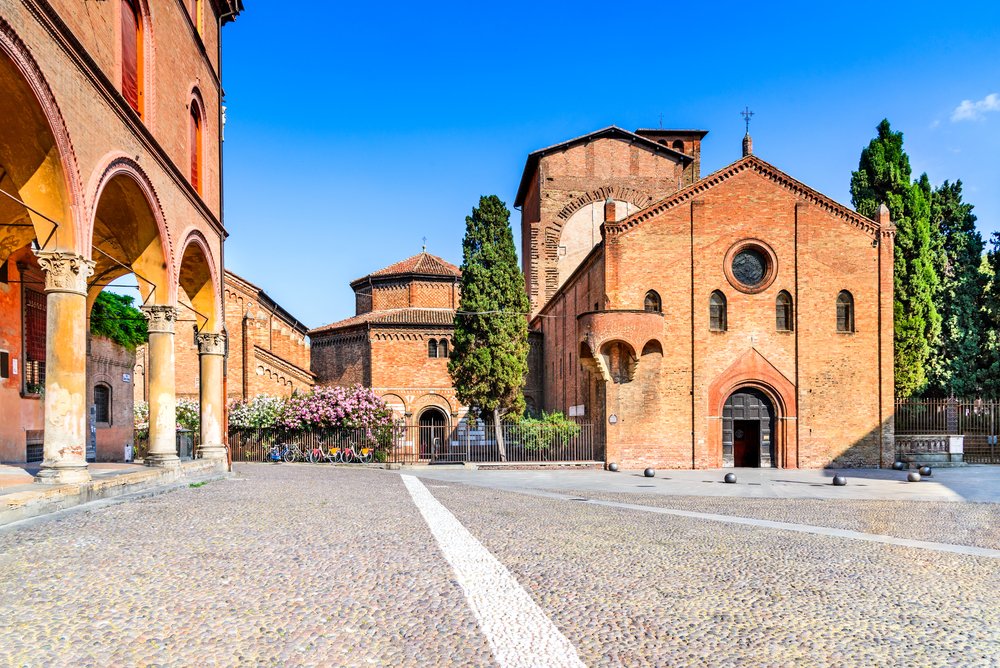 Once your feet are back on solid ground, it's time to stroll towards your second church of the day, Basilica Santo Stefano. The name is a bit of a misnomer, as it isn't actually one church, but a complex of several: seven, in fact.
Depending on your interest level in churches, you can see one part of it or as much as you like. I'm not a huge fan of churches, so I just wandered into the main church before moving on, but someone more interested in religious architecture and history than me could easily spend an hour or two discovering all the different elevents of the 'sette chiese,' the seven churches.
Stroll the porticoes down Via dell'Indipendenza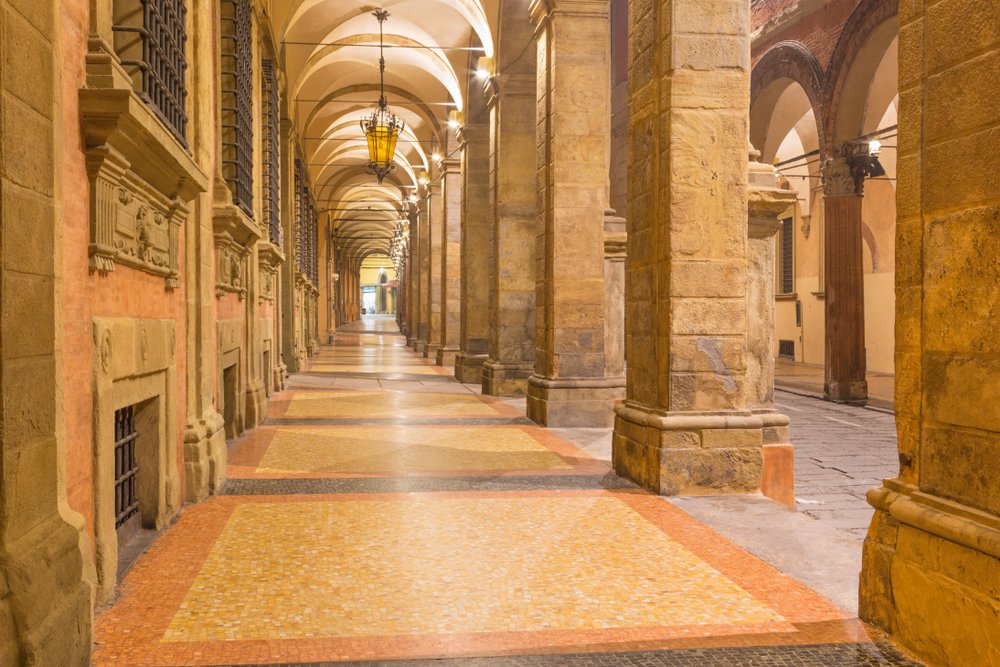 One of the defining aspects of Bologna is its porticoes: its many kilometers (40, in fact) of covered outdoor walkways which shelter Bolognans from the heat in summer and the rain on cold, wet days.
In fact, Bologna's portici (plural of portico) were actually nominated as a UNESCO World Heritage Site, as they are a unique phenomenon in the world, with nothing else quite like it.
While you'll find porticoes all over Bologna, stroll down one of its main shopping streets, Via dell'Indipendenza, to get a real sense of the heart of the city's urban center.
Peek at one of Bologna's "canals"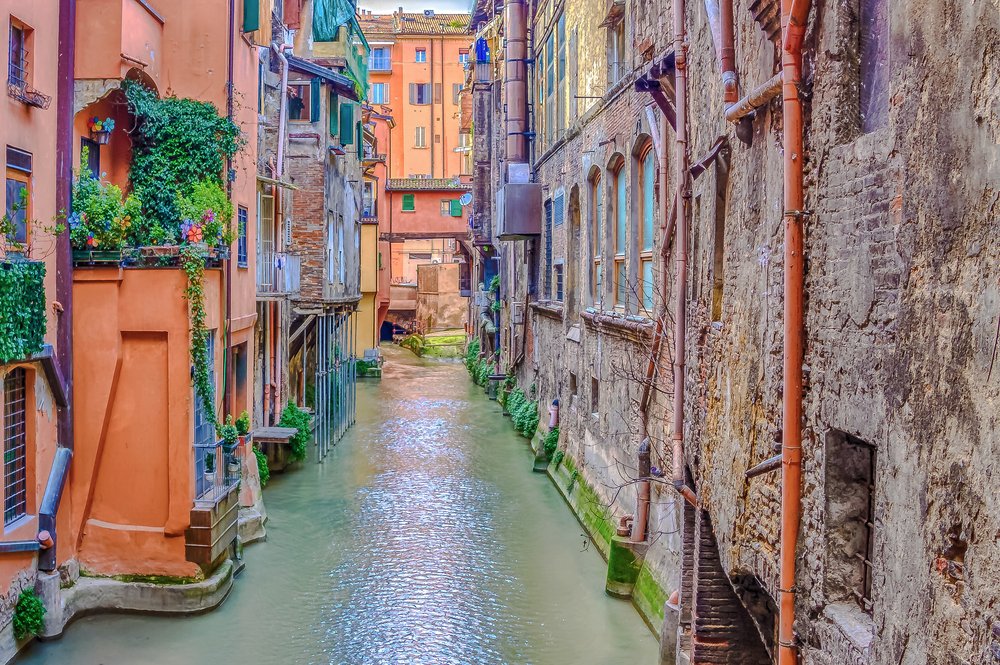 After strolling a bit down Via dell'Indipendenza, turn right at Via Augusto Righi and then again at Via Piella to arrive at "Finestrella", aka 'Little Window'.
Here, you'll see a tiny hole in the wall cut out to make a little window, showing you one of Bologna's small canals. I'll be honest, it's got absolutely nothing on Venice, but it sure does make for a gorgeous photo.
There's usually a line of people waiting to take photos here, so you won't miss it, but you do have to be a bit patient.
(Optional) End at the Sanctuary of the Madonna di San Luca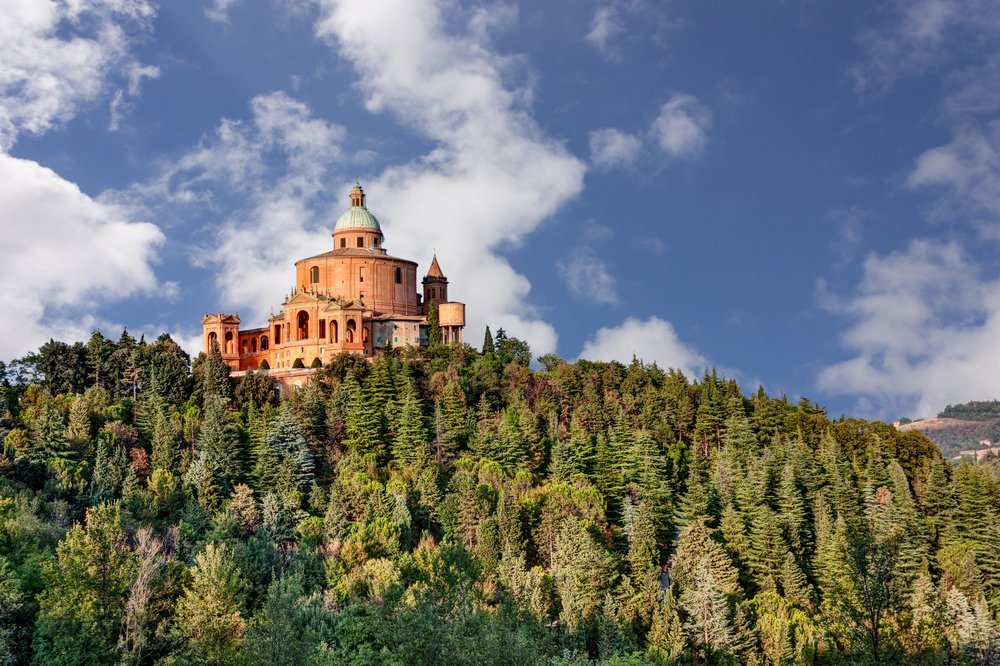 Depending on how much energy you have left on your first of two days in Bologna, you can either end your sightseeing for the day and enjoy an aperitivo in one of Bologna's many piazzas, resting your feet before a delicious dinner or you can make one last, albeit rather out-of-the-way, stop.
The Sanctuary of the Madonna di San Luca is about 4 kilometers outside the center of Bologna and there are several ways to get there.
The easiest way is taking the San Luca Express, which costs €10 for a return ticket to and from Piazza Maggiore. You could also take the public bus there, #58, if you are on a budget.
However, the most traditional way to get here is walking via the porticoes, which were originally built for the pilgrims who would bring a sacred icon of Mary from the basilica to the city once a year in May for a festival. The porticoes were built along this way to protect the icon of Mary as well as the processioners.
It is rather steep near the top, as it is 300 meters above the city of Bologna, so it's not for the faint-hearted!
If you do go, though, be prepared to be rewarded with exquisite views, a gorgeous basilica well-worth exploring, and a sense of accomplishment for viewing this gorgeous piece of Bologna that many people skip.
Day Two of Your Bologna Itinerary
So, the first day of this Bologna itinerary was all about sights. The next of your two days in Bologna is all about food, food, and more food.
You may want to skip breakfast today, because your stomach has only a finite amount of real estate, and that is a precious, precious resource in Italy.
I'm going to recommend three different ways to spend a foodie day in Bologna; you're welcome to pick the one that best suits you and your group's interests.
The Classic Food Tour: Prosciutto, Parmesan, and Balsamic Factories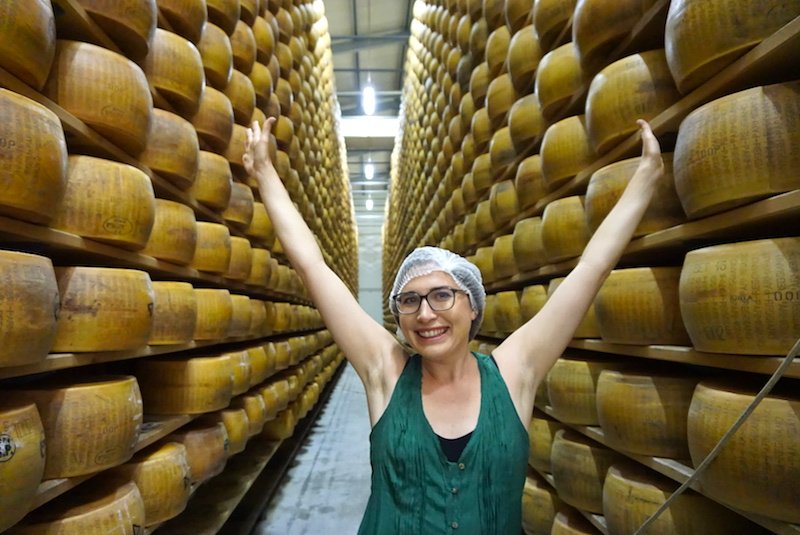 Bologna is a haven for foodies not only for the city of Bologna itself, but for its proximity to several DOP (Denominazione d' Origine Protetta) products which can only be produced in that exact place. Those three main ones are prosciutto de Parma (produced only in Parma), Parmigiano reggiano (also produced only in Parma), and DOP balsamic vinegar (which can only be produced in Modena).
I went on a phenomenal food tour that showed me all of the above, plus a winery, followed by a 6-course lunch (which at this point was enough to almost make me burst!). It was an exquisite way to spend the day and it's my #1 choice for how to spend a foodie day in Bologna.
Food & Ferraris: Fun for the Whole Family!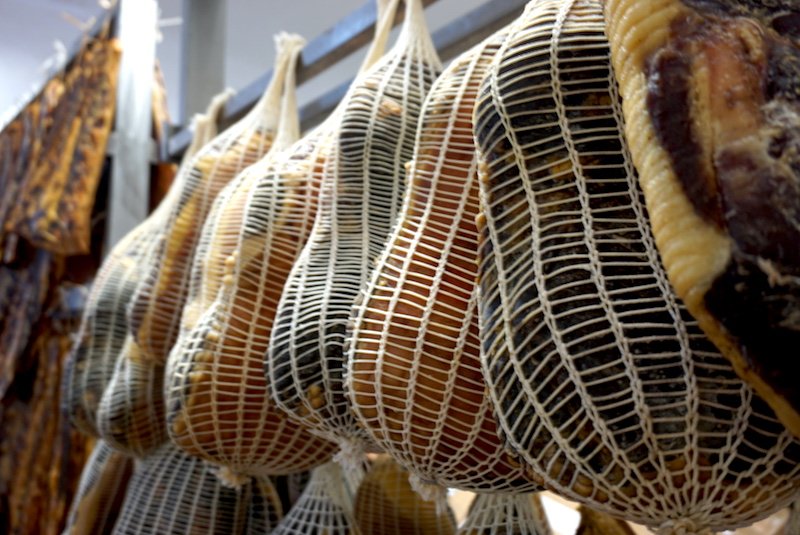 If you're traveling to Bologna with kids, they may lose interest in learning the exact stories of DOP this and DOP that, and what exactly makes balsamic vinegar from Modena so much different than balsamic vinegar from your local grocery store.
To compromise, schedule a tour that includes both stops at three different DOP producers, a 4-course lunch, as well as the nearby Ferrari Museum — a wonderful stop for everyone in the family to enjoy, kids and adults alike.
Bologna Foodie Walking Tour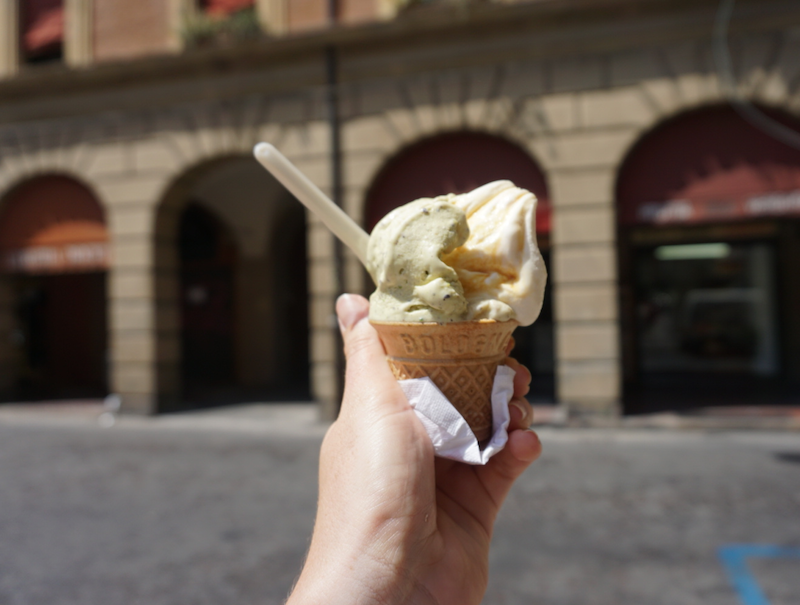 However, if you're not as interested in leaving Bologna to see the different DOP producers and learn about parmesan, prosciutto, and balsamic, you may be better off staying in Bologna and doing a combined food and walking tour!
This 3-hour secret Bologna food tour gets you off the beaten path of Mercato de Mezzi and other well-known foodie hotspots and into the local favorites that make Bologna so well-loved by its residents.
This tour includes six stops in Bologna and allows you to try traditional Bolognese cuisine, from traditional cornettos (a breakfast pastry) to local cheeses to homemade pasta to traditional cold cuts, artisanal gelato, local wines, and even a taste of that coveted Modena balsamic vinegar!
Book your offbeat Bologna food tour here!
Where to Stay in Bologna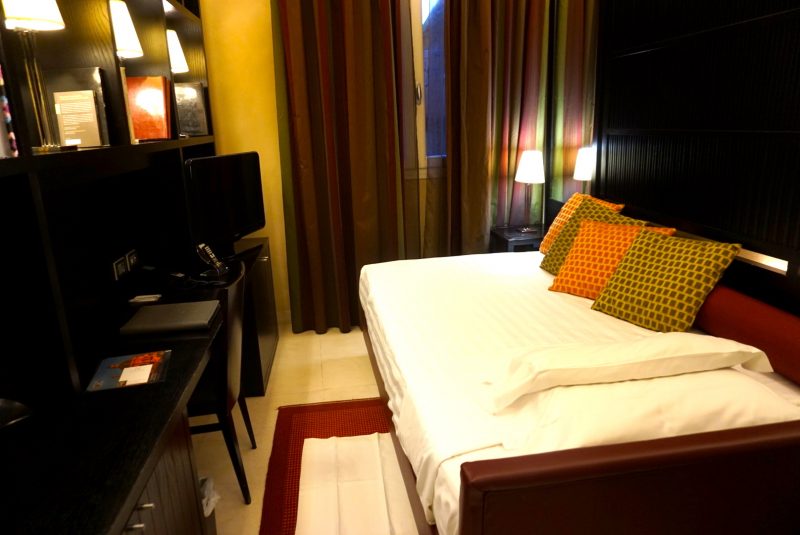 If you're planning a trip to Bologna, Hotel Novecento is one of the best four star hotels in town.
My single room was clean and comfortable, with thoughtful amenities like cookies, coffees, and teas refreshed daily (not that I ever needed to eat any with all the food I gorged on). I appreciated the artful details like the funky pillows, floor-length curtains, and stylish lamps.
Plus, the fact that it had a proper workspace was a huge bonus for me!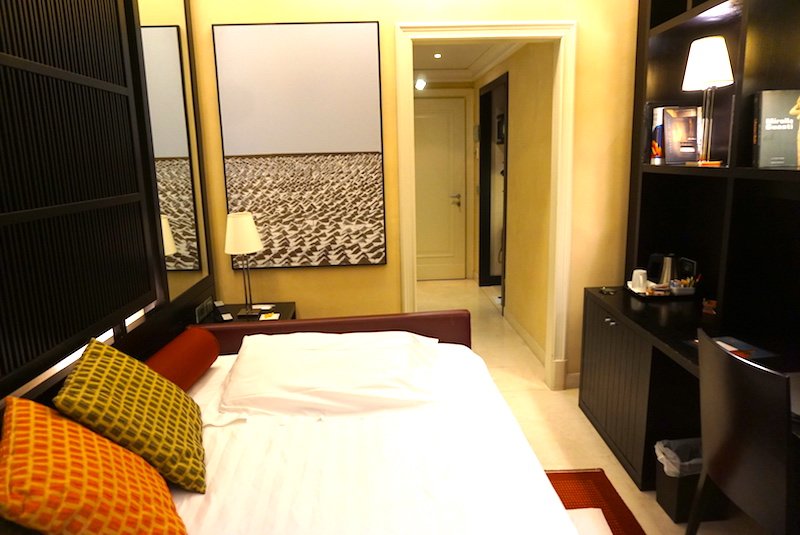 The rooms are small (as most rooms in the historic centers in Italy are), but my single was comfortable and plenty of space for one.
They also have double rooms if you're traveling with a partner or just want extra space to stretch out in.
>> Check out rates and availability now!
Allison Green is a former educator turned travel blogger. She holds a Masters in Teaching and a B.A. in English and Creative Writing. Her blog posts merge her educational background and her experience traveling to 60+ countries to encourage thoughtful travel experiences that both educate and entertain. She has been a speaker at the World Travel Writers Conference and her writing, photography, and podcasting work has appeared in National Geographic, CNN Arabic, CBC Canada, and Forbes, amongst others. Now based in the San Francisco Bay Area where she grew up, she has also lived in Prague, Sofia, and New York City.