If you're planning a trip to the beautiful city of Matera, you're in for a treat.
On my recent trip through Puglia and Basilicata, Matera was a stand-out: far more beautiful than I had imagined, and far more interesting as well.
This guide will show you what to do with one day in Matera, so you can easily plan your Matera itinerary.
While Matera is interesting enough to spend 2 or 3 days experiencing — especially if you opt to stay in one of their chic boutique hotels in one of the renovated caves — most people only allocate 24 hours in Matera, if not less, visiting Matera as a day trip from Bari.
This guide will show you the best way to structure your one day in Matera to maximize what you see!
How to Plan a One Day in Matera Itinerary
Start the day with a guided walking tour of Matera (10 or 10:30 AM, seasonally)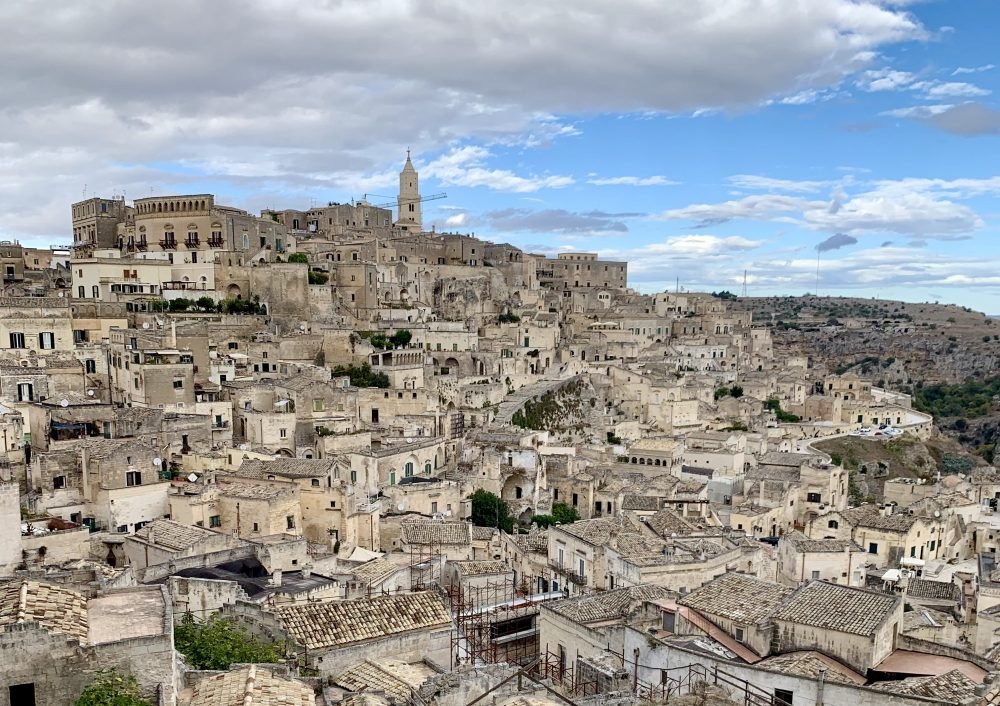 Note: This post contains affiliate links, which means I may receive a small commission if you purchase something through one of these links. Thank you for supporting the free content on this site! For more information on affiliate links and cookies, see my disclosure page for more details.
After being primed on the history of Matera, embark on a walking tour of the city, which will help connect the story of the sassi you just heard with the actual landscape and orientation of the city.
This is the guided tour I recommend, with tours daily even in the off-season. It lasts two hours and will give you a great overview of the history of Matera.
You'll learn about its Paleolithic-era foundations nearly 10,000 years ago, the many changes of hands under empires it faced, the extreme poverty of Matera in the 1800s, the attempted forced relocation of much of its population in the 1950s, and the subsequent revival of Matera's sassi due to renewed interest and government investment as a burgeoning film and tourism location in Italy.
Book your tour today!
A group tour is the most economical option, but if you are traveling with a large group or just prefer the flexibility of a private tour, you can also opt for a private tour.
Have a tasty lunch in Matera (12:30 PM)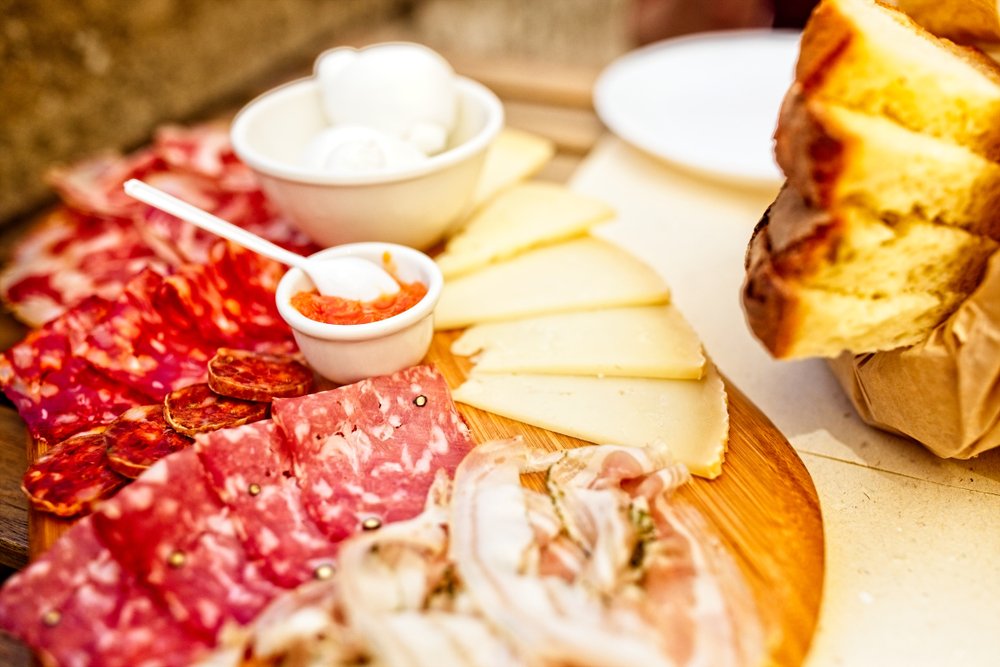 After a walking tour, you'll likely want to rest those feet and have a delicious meal. It's nearly impossible to have a bad meal in Italy, and Matera is no exception.
We opted for a quick lunch at Da Nonna Rosa, as we wanted to maximize our sightseeing time. This restaurant offers quick service options that are already made and heated up for you to order; it seems to be a popular place mostly amongst locals taking a quick lunch break. It was tasty, though definitely not our best meal in Italy.
If you want a more leisurely lunch, try one of the following highly-reviewed restaurants, which all should be open for lunch (though do check the exact working hours, as often restaurants take off one or two days a week): Spaghetteria Miseria & Nobiltà Matera, Sassapora, or Dedalo.
Visit the Church of Saint Peter 'Caveoso' and its viewpoint (1:30 PM)
This Catholic church is situated right next to one of the most stunning views of Matera.
While the church itself is lovely and worth a visit, the real draw here is the view slightly to the left of the church if you're facing it!
Explore the rock churches of Matera (2:00 PM)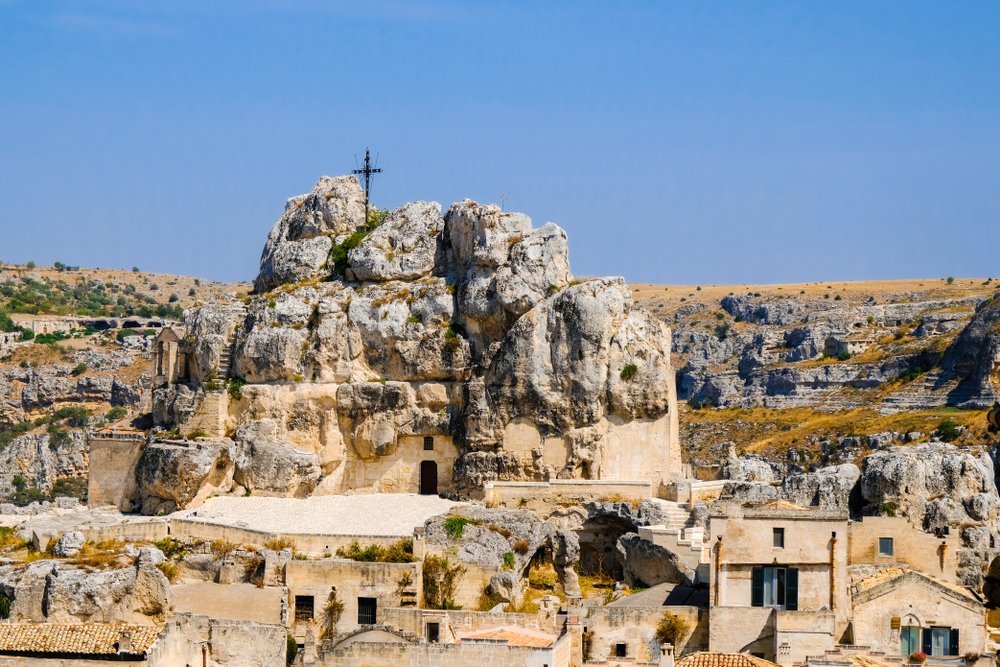 There are several cave churches that are scattered across the sassi of Matera. Here are the best not to miss!
Church of Saint Mary of Idris
Chiesa di Santa Lucia alle Malve
Chiese Rupestri di San Nicola dei Greci e Madonna delle Virtù (which currently hosts a Dali exhibition of his sculptures as well)
You can buy a ticket to each one individually at about 3-3.50 Euro each, or buy a pass to two or three churches for slightly more (around 5 Euro for two or 7 Euro for three sights, but I don't recall the exact pricing).
Personally, I thought the Church of Saint Mary of Idris was the most interesting, but everything in Matera is rather exquisite and worth seeing for its incredible place in history.
Stop for espresso or pastry in Piazza del Sedile (3:30 PM)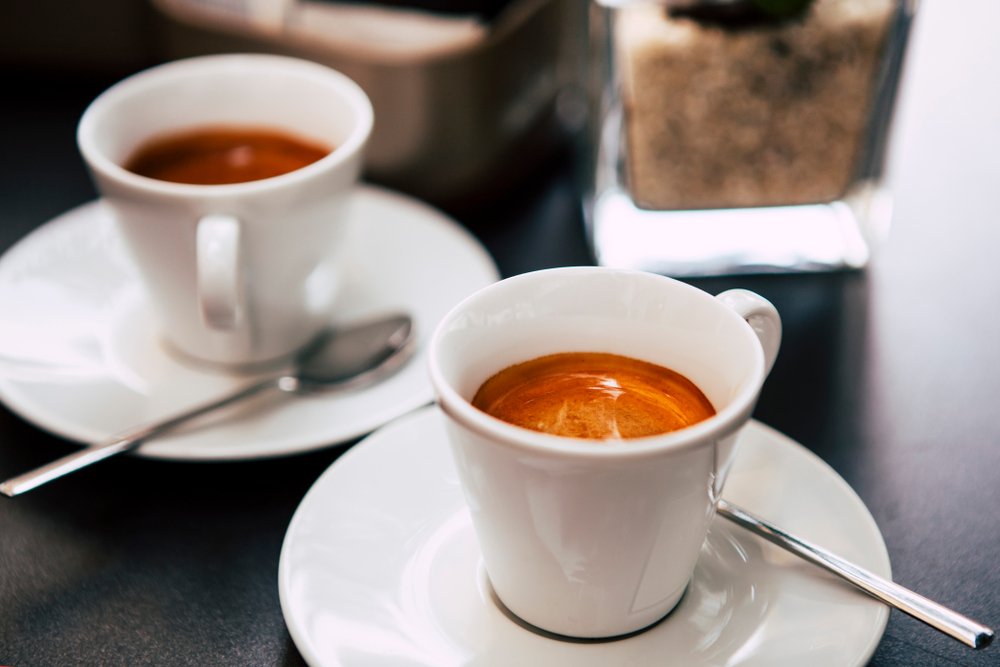 I don't know how Italy makes the best espresso in the world, but they really do!
On your way to the next stop on this Matera itinerary, the Matera Cathedral, stop in the Piazza del Sedile after marveling at the lovely facade of the Palazzo Sedile.
With this gorgeous view, take a seat at Bar I Due Sassi where you can sip on an espresso either at the bar like an Italian or resting your feet at one of the outdoor tables like a tourist (we admittedly sat down — Matera's neverending stairs have a way of wearing you out!)
Marvel at the Matera Cathedral (4:00 PM)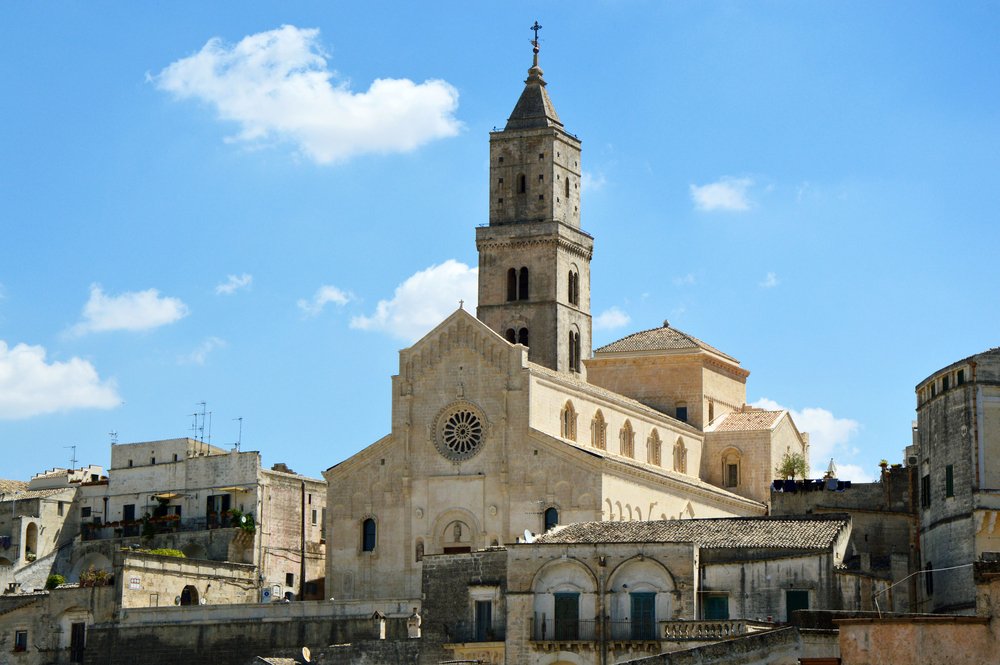 Now that you've seen Matera's gorgeous rock churches, it's time to see something a little more contemporary!
The Matera Cathedral was constructed in the 13th century and features beautiful frescoes from the 13th and 14th centuries, which have been gorgeously preserved over the ages.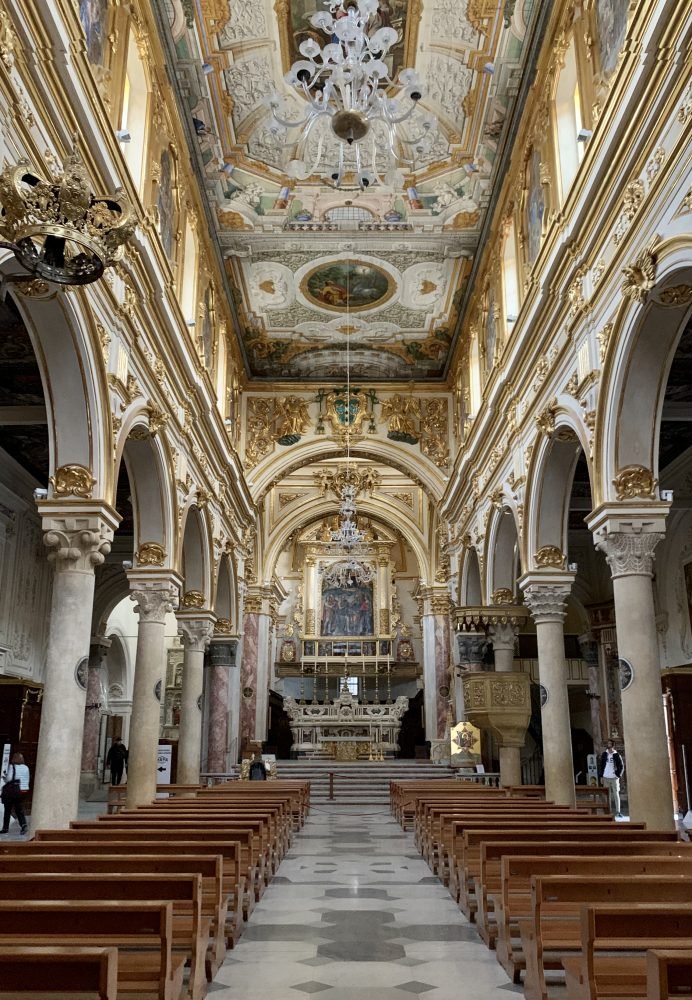 Finish the day's sightseeing at Casa Noha (4:30 or PM)
We capped off our day in Matera with a visit to Casa Noha, which was a wonderful way to remind ourselves of the incredible transformation of Matera from "the shame of Italy" to one of Europe's two Capitals of Culture in 2019.
It sealed in just how impressive Matera is, not in spite of what it has overcome, but because of it.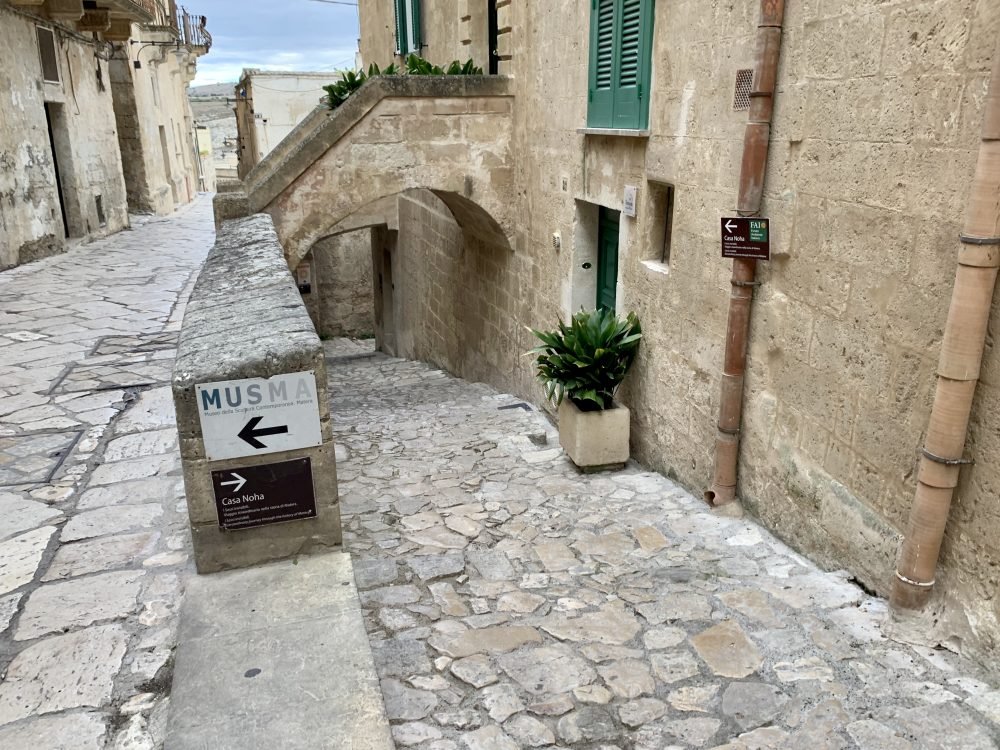 Casa Noha shows a series of videos, giving you a 25-minute overview through film to the history of Matera. And what a history it is, spanning millennia, ranging from shame to triumph. You watch the videos in a few different rooms, in a cave-dwelling that used to be someone's home in Matera before it was donated to the museum, which brings the stories even more to life.
Casa Noha is open from 9 AM to 7 PM in the high season (April 1 to end of October). From November 1 to January 10 and February 28 to March 31, the hours are 10 AM to 5 PM, and there is a break between January 10 and February 28 where presumably the museum is closed. The last admission is 30 minutes before closing, so please be aware. Admission is 6 euro per person.
Have an aperitivo (5 PM)
Now that you've done as much sightseeing as any sane person can do in a day, it's time to reward yourself with one of Italy's best traditions: the aperitivo.
An aperitivo is a drink you have when the day's work (or sightseeing, as the case may be) is over and you're unwinding before dinner. Because Italians tend to eat on the later side — usually around 8 PM or 9 PM — aperitivo is time for some light drinking and snacking.
Nearly any bar in Italy will serve up some aperitivos, but for an epic view, check out Terrazza Contact Bar.
Catch the sunset near the Cathedral (Depending on time of year)
For epic sunset views, I recommend walking back towards the Matera Cathedral and stopping just before you reach it, in between the Piazza del Sedile and Piazza Duomo.
The views here are spectacular!
Have a fantastic dinner (Depending on time of year & preference)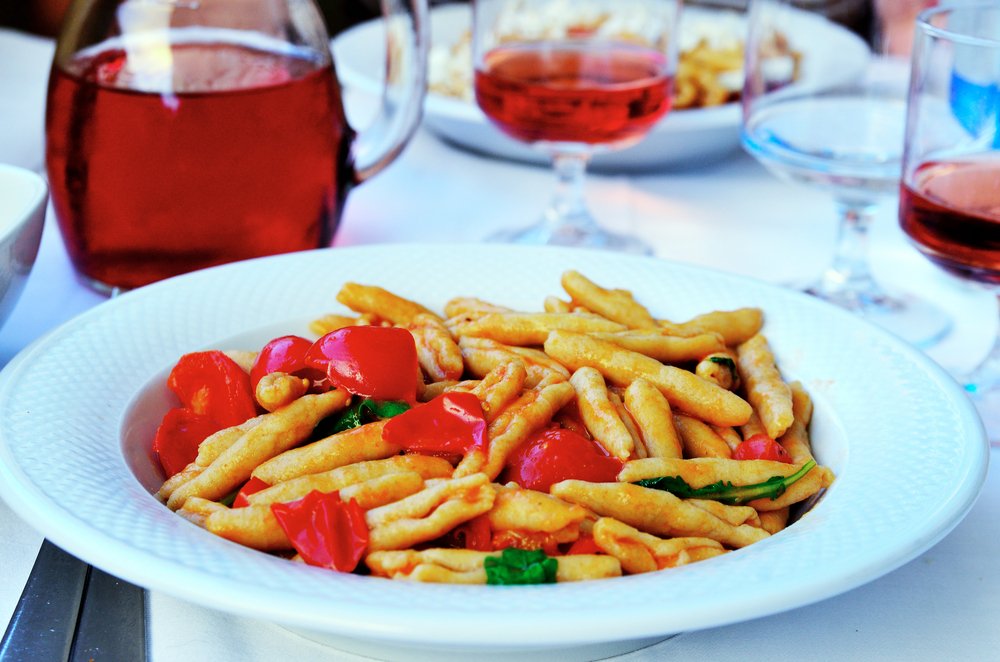 Like I said before – there's hardly a bad way to eat a meal in Matera.
For an unforgettable dinner meets cultural experience, why not dine with a local in their own home? This dining experience has you enjoying a 4-course meal in a family home, complete with appetizer, pasta starter, main course, and dessert, including a cooking demonstration so you can bring home a little of the magic of Italian cuisine with you as a souvenir!
Book your home-cooked dinner today!
Alternately, there are several fantastic restaurants in Matera serving delicious dinners to suit a variety of budgets. For a tasty but budget-friendly restaurant, check out Osteria al Casale. For local wine and small bites, choose enoteca dai tosi. For upscale cave dining, try Baccanti.
If you're traveling in the high season, between May and September, be sure to book a restaurant in advance if you have your heart set on anything.
Where to Stay in Matera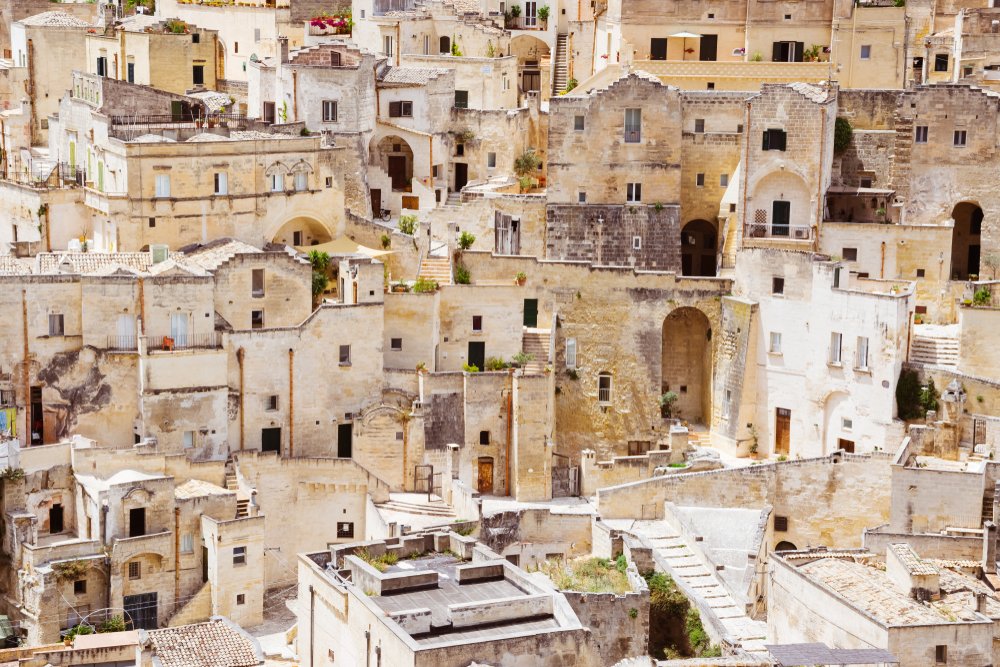 If you only have one day in Matera, you may not be planning to stay overnight and you may be driving back to your original destination.
But if you are, here are one of the hotels I recommend — all situated in caves, so you can stay in Matera sassi-style!
Budget: Stone Rooms
With traditionally dug cave rooms perfect for families, couples and solo travelers, Stone Rooms offer great value for their accommodation. The nightly rate already includes a sumptuous breakfast in a special room which will soon become a museum!
The rooms are mostly furnished with modern Italian furnishings. Bigger families can book interconnected rooms or a larger family room. A/C and heating also provide perfect climate control if needed, but often, the caves ventilate themselves well without any need for that!
»» Check out guest reviews, prices, and availability at Stone Rooms ««
Boutique: Le Dodici Lune
Le Dodici Lune perfectly embodies what you see in the sassi from afar – the stone dug cave dwellings! This hotel was originally a building in ruins until they decided to transform it. When renovating it seven years ago, they maintained a lot of the original elements, such as the stone walls. It's truly worth staying in this hotel, and that could well be expressed by the fact that it is quite difficult to book! If you're lucky enough to book one of their rooms, you are surely up for a spacious and relaxing stay, one that's right inside the UNESCO Heritage Site of Matera.
They have multiple room configurations and rooms for even larger guests (up to a maximum of 7 in one room!) — great if you're traveling with a big family. Depending on what you want, they have it; there's even a caveroom with a spa bath! Charming glazed iron and wooden bed frames are used in the rooms, complete with elegant décor which adds a rustic appeal. The rooms are the perfect definition of something perfectly imperfect!
»» Check out guest reviews, prices, and availability at Le Dodici Lune ««
Luxury: Locanda Di San Martino Hotel & Thermae Romanae
This luxury hotel, Locanda di San Martino, is popular due to its Thermae Romanae, a spa facility that was carved out of the limestone thousands of years ago! It has this otherworldly elegance that reminds me a bit of the epic luxury hotel Cavo Tagoo in Mykonos.
The hotel offers plenty of room types for all guests – some in a separate building like the suites and apartment types. All rooms are furnished with antique-looking rustic furniture with a couple of contemporary pieces to add a modern touch. It has the typical arched ceilings you'd find in a cave suite, and the ensuite bathrooms are spacious and livened up with colorful tiles.
There are several terraces in the property, and you will love the different angles of the Old Town it gives you. You can also grab your breakfast at their breakfast hall, which has rustic blue chairs and plenty of selection – someone who has a big appetite will enjoy the food. They also have valet service with a parking affiliate, great if you're doing a Southern Italy road trip, as cars are not allowed in the historic Sassi part of town!
»» Check out guest reviews, prices, and availability at Locanda Di San Martino Hotel & Thermae Romanae ««
Allison Green is a former educator turned travel blogger. She holds a Masters in Teaching and a B.A. in English and Creative Writing. Her blog posts merge her educational background and her experience traveling to 60+ countries to encourage thoughtful travel experiences that both educate and entertain. She has been a speaker at the World Travel Writers Conference and her writing, photography, and podcasting work has appeared in National Geographic, CNN Arabic, CBC Canada, and Forbes, amongst others. Now based in the San Francisco Bay Area where she grew up, she has also lived in Prague, Sofia, and New York City.